If you're a big fan of neutral interiors and white kitchens, this "Beautiful Homes of Instagram" will make your day. 🙂 Talking about this series, I truly don't know how to express how much we all should be grateful to all of these homeowners who are willing to participate in it. Just the thought of taking pictures of our home and posting them online can make some feel a little scared, right? Now, imagine having to do it all on your own and also provide a list of details needed for the post… the "behind of scenes" of this series requires so many details and time from all of us involved that I need to share my appreciation for all those involved.
Here, Lindsay Johnson, from @lindsayannejohnson, waited months to finish her home renovation, decorated her home and hired a professional photographer to share this with you today. These wonderful homeowners go through all of this hard with the hope you will feel inspired by their work and follow them along their journey on Instagram, pin the images and help us spread the word. I certainly do my best to do the same with my own followers and I have the pleasure and honor to do this here, with each and every one of you, my faithful and supportive readers. I truly am grateful for each and every one of you.
Now, get to know Lindsay – I know you will love her home as much as I do! 🙂
Hi everyone! My name is Lindsay (@lindsayannejohnson & @parkergreyinteriors) and I'm honored that our home is being featured on Home Bunch today! I was thrilled when I connected with Luciane about this exciting opportunity and couldn't believe that our home was going to be featured on Home Bunch, alongside all of the beautiful homes that I've seen on her blog over the years.
I have loved houses ever since I was a little girl. I remember when I was growing up my mom and I would go on car rides to the fancy neighborhoods to look at pretty homes, and I always felt so inspired. Growing up I always thought I would do something dealing with homes, but when I went off to college I decided to go the business route, instead of channeling my love for homes and my creativity. Later on, when I met my husband and moved into his home, we started talking about doing some remodeling. We had plans drawn up, but it wasn't until after we were married that we decided to pursue them. My husband had bought a great home in a wonderful neighborhood, very close to where we both grew up, but it was a dated ranch style home that desperately needed some TLC. He had demoed our whole lower level so it was down to the framing and cement floors, so a big chunk of our home wasn't even functional. After weighing our options, we made the decision to turn his house into our home, a place where we'd raise our children, and that reflected our needs and personal style.
Designing our home was truly an incredible experience for me. I spent hours searching through blogs and pinning spaces I loved on Pinterest, and enjoyed every second of it. Gathering all of this inspiration enabled me to create an overall vision for our home, and translate that into each and every room, and then watch it all come to life. I was truly in my element during the whole process. It has been about two and-a-half years since we remodeled our home, and we have since welcomed a baby boy to our family. I decided to leave corporate America when we had him and just recently decided to launch my own company as an independent decorator (@parkergreyinteriors) so I can help others create beautiful, functional spaces they love, too. The company is named after my son and my favorite color, grey. I'm so excited to see where this new opportunity takes me!
Our home underwent a big transformation from a dark and dated ranch style home, to a bright and airy, traditional home with hints of a modern farmhouse, too. I love clean, uncluttered spaces, and lots of neutrals with a hint of greenery and/or fresh flowers. Every single day (no joke!) I look at our home and wonder how I can make the space even more beautiful… with wall coverings, decor, furniture, etc. I spend a ton of time reorganizing the open shelves in the kitchen, and rearranging the built in shelves in our master. I just love making our space perfectly tailored to our style and am always striving to improve it.
We have two additional levels in our home that are not pictured, our lower level which is mostly filled with kids toys, and our basement level that is unfinished. Hopefully I can share those spaces in the future! Thanks so much for taking a look at our home.
Beautiful Homes of Instagram

One of my favorite transformations in our home was our front entryway. We changed the exterior color of our home to white shake, and replaced our 7' solid wood doors with 8' french doors adorned with big windows that lets the morning light pour into our home. I didn't want to paint the doors white because I felt like that was a little too matchy-matchy, so I opted for my favorite color, grey, and I love the way it turned out! It's a great contrast against our all-white home.
Exterior Door paint color: Fine Paints of Europe
Foyer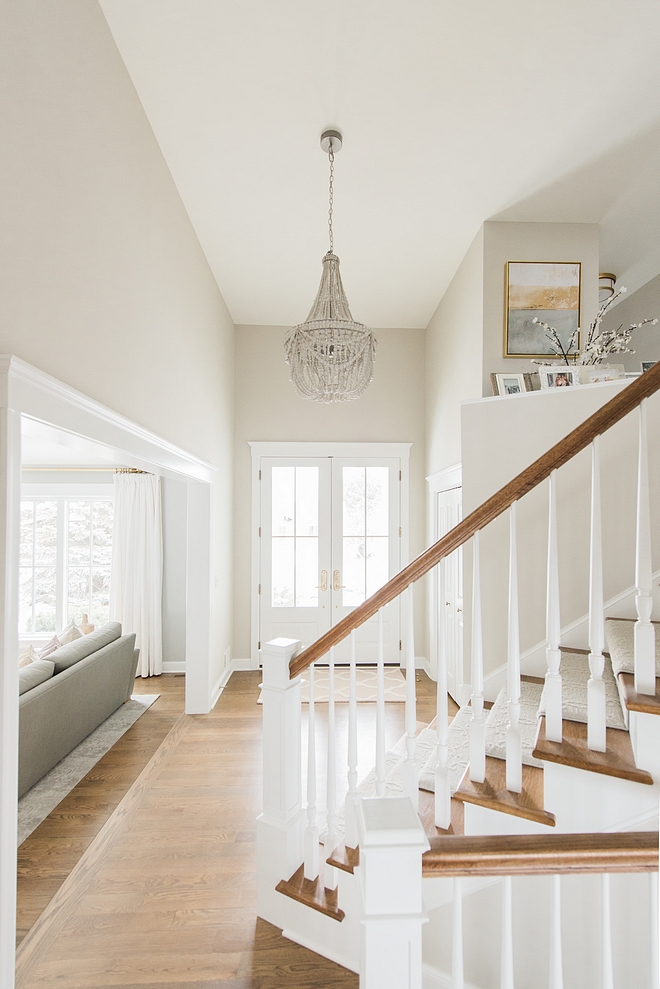 When you walk into our home to the left are staircases leading to our upper and lower levels, and to the right is our family room that is open to the dining room and kitchen. Paint color is Sea Salt by Benjamin Moore CSP-95.
Rug: Here
Chandelier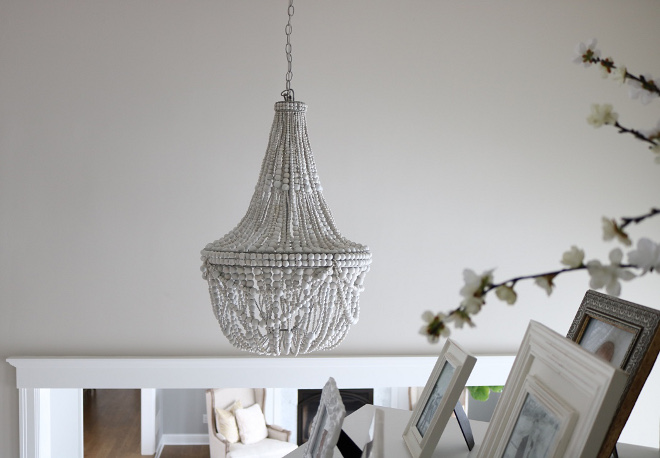 Gorgeous chandelier with greywash beads.
Chandelier: Here
Living Room


Prior to our remodel our main level was divided by a three-quarter-length high wall, closing off the kitchen from the formal dining and living room. This new, open floor plan has really opened things up and makes our home feel much larger than before.
Sofa is Pottery Barn.
Coffee Table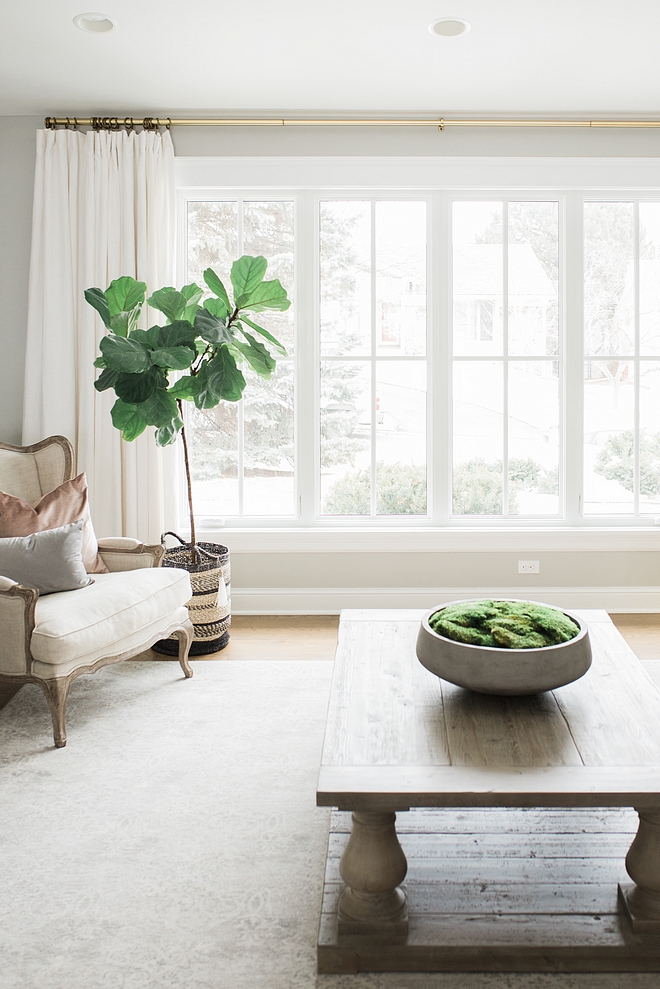 Coffee Table is from Restoration Hardware – similar here.
Similar "Moss Bowl": Here
Drapes: Linen Drapes & Brass Window Hardware.
Paint Color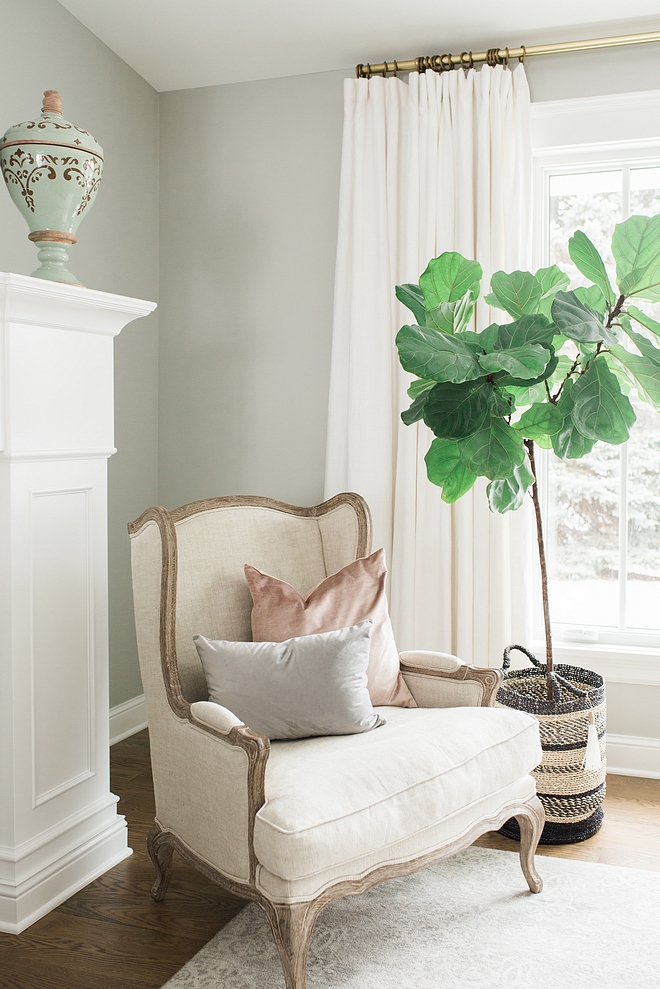 Paint Color: Harbor Gray by Benjamin Moore
Faux Fiddle Tree: here
Chairs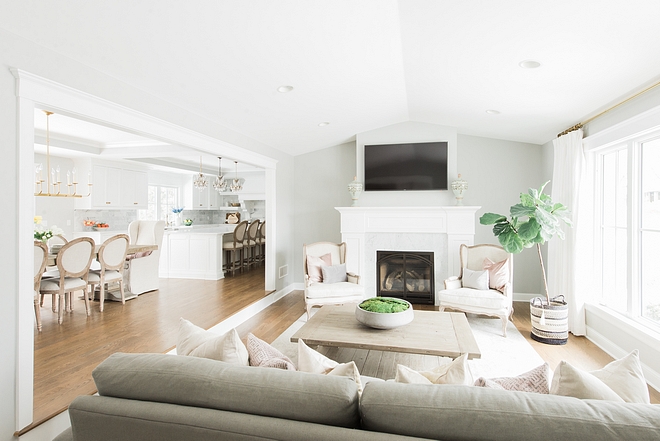 Chairs are RH – similar here.
Dining Room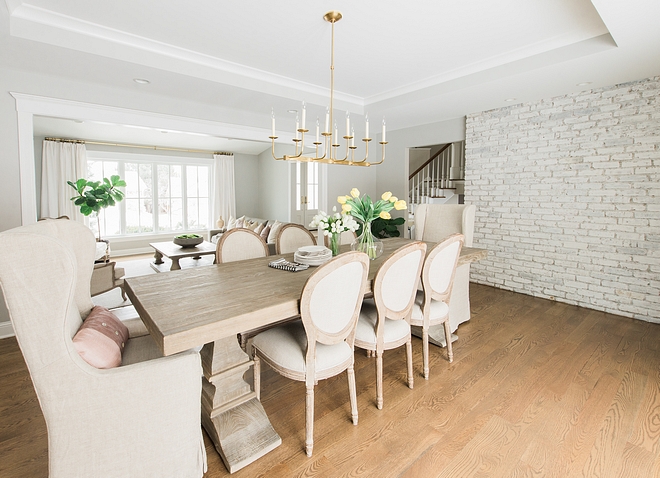 Our dining room serves as both our casual and formal dining space, so I was very mindful of this when selecting the furniture and lighting so that I could make it function for both purposes.

Dining Table: Restoration Hardware – similar here, here & here.
Chandelier

I never thought I'd chose a linear chandelier for this space, but I ended up loving it.
Brass Linear Chandelier: Here
Dining Table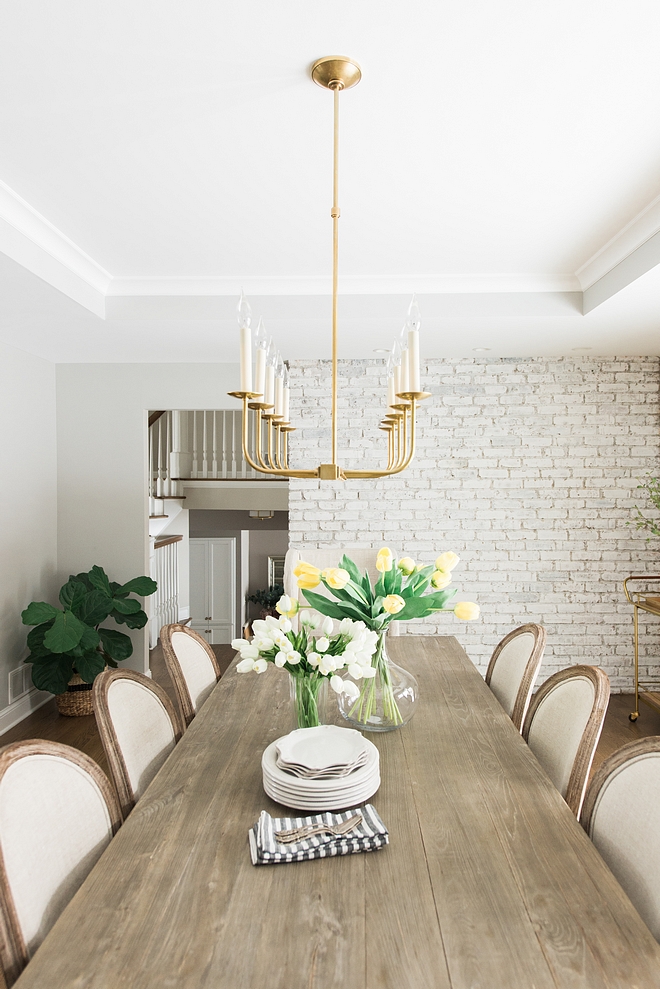 I love the natural, rustic feel of our dining table.
Flowers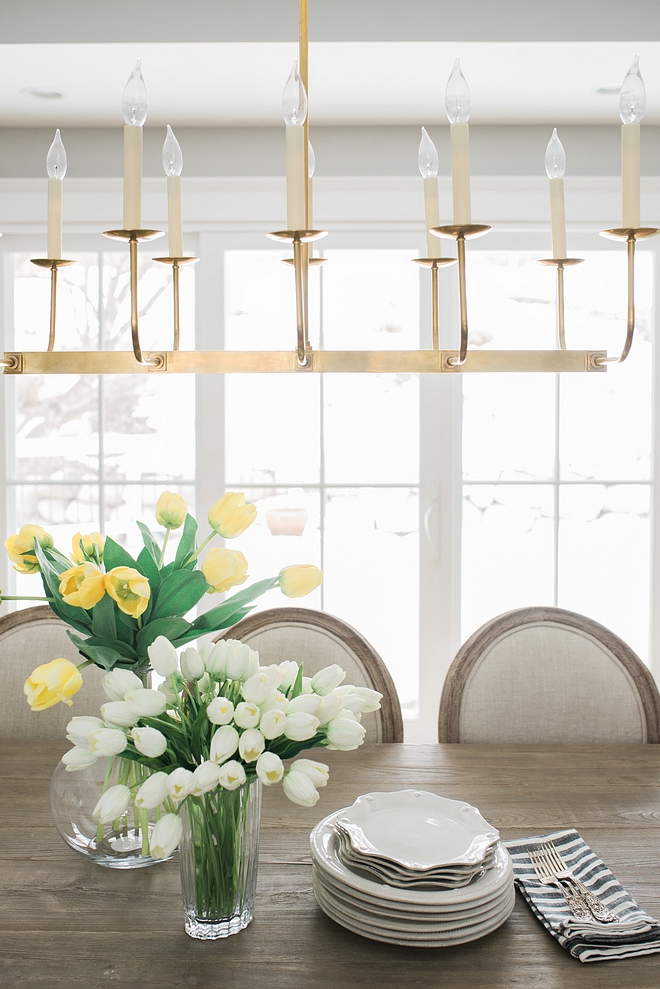 How stunning are these flowers?!!!
Painted Brick

The dining room features a painted brick accent wall.
Paint Color


Grey Dining Room Paint Color: Harbor Gray by Benjamin Moore
Host Dining Chairs: RH – similar here.
Side Dining Chairs: RH – similar here.
Layout

Wouldn't be great to dining with a view like that? I love Lindsay's kitchen!!!
Flooring

Oak hardwood floors continue to the dining room and kitchen area.
Kitchen

Prior to our remodel, we had a white and grey kitchen, but it was really dated.
Counterstools


Counterstools are Clintwood 24" Counter Stool (Set of 2).
Grey & White


Kitchen features white marble backsplash tile.
Inspiration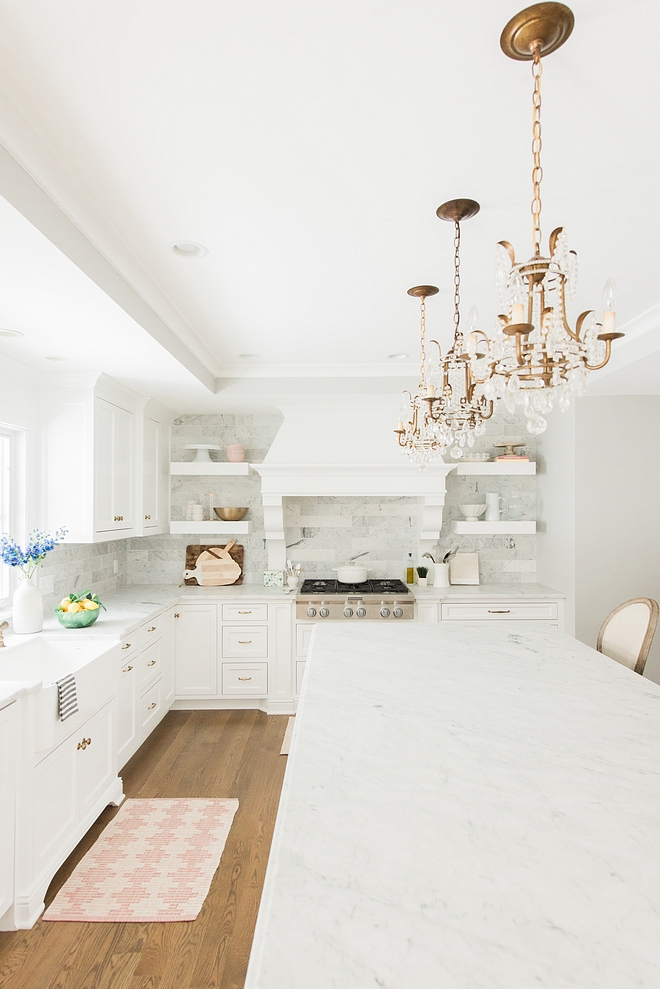 I fell in love with blogger Rachel Parcell's kitchen – the oversized range hood and open shelving with a marble backsplash that ran to the ceiling. I loved every detail so I worked with my builder to incorporate as many elements of that inspiration as possible into our space.
Backsplash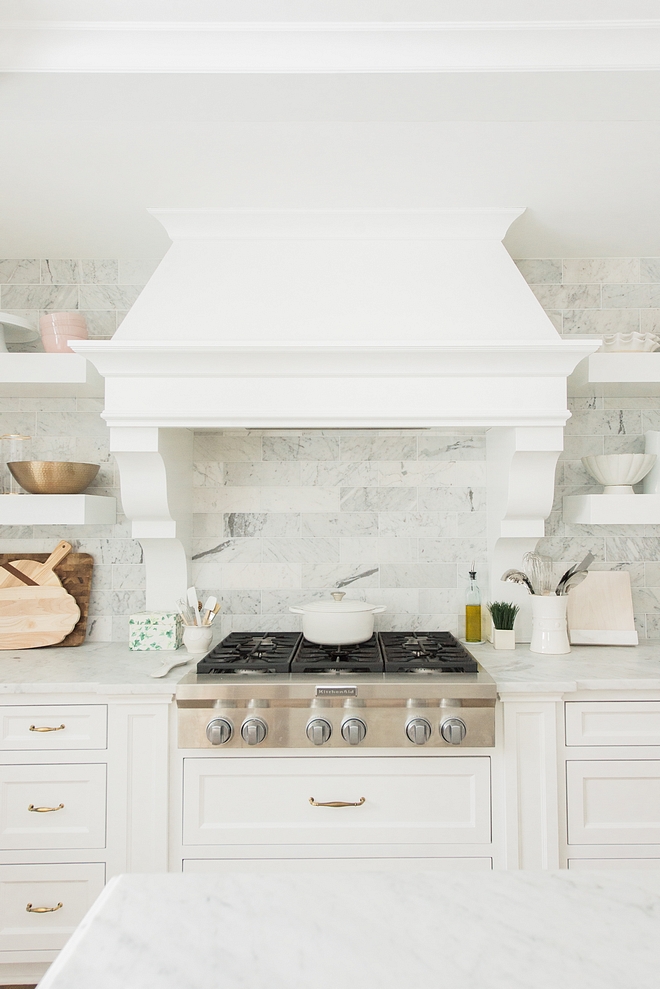 Backsplash: Carrara Marble Tile, Honed.
Hood Corbel


I absolutely love this corbel. Lindsay did such an incredible job designing it. Also, notice the beautiful kitchen styling!
Kitchen Shelves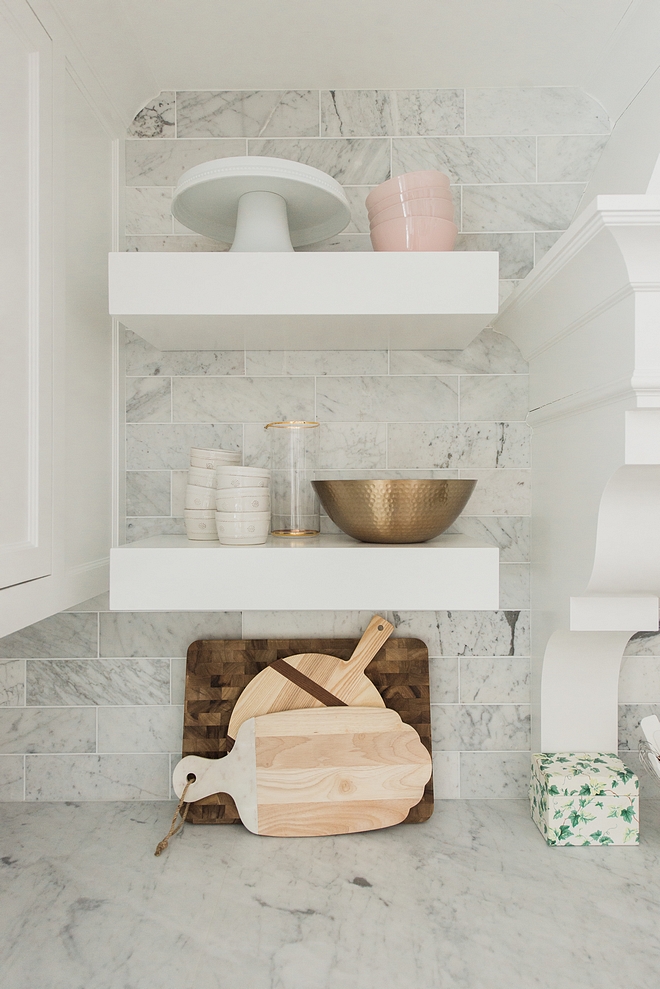 Kitchen features chunky white floating shelves over white marble backsplash.
Cabinet Paint Color


Cabinet color: Extra White by Sherwin Williams (matched by Benjamin Moore).

Kitchen Hardware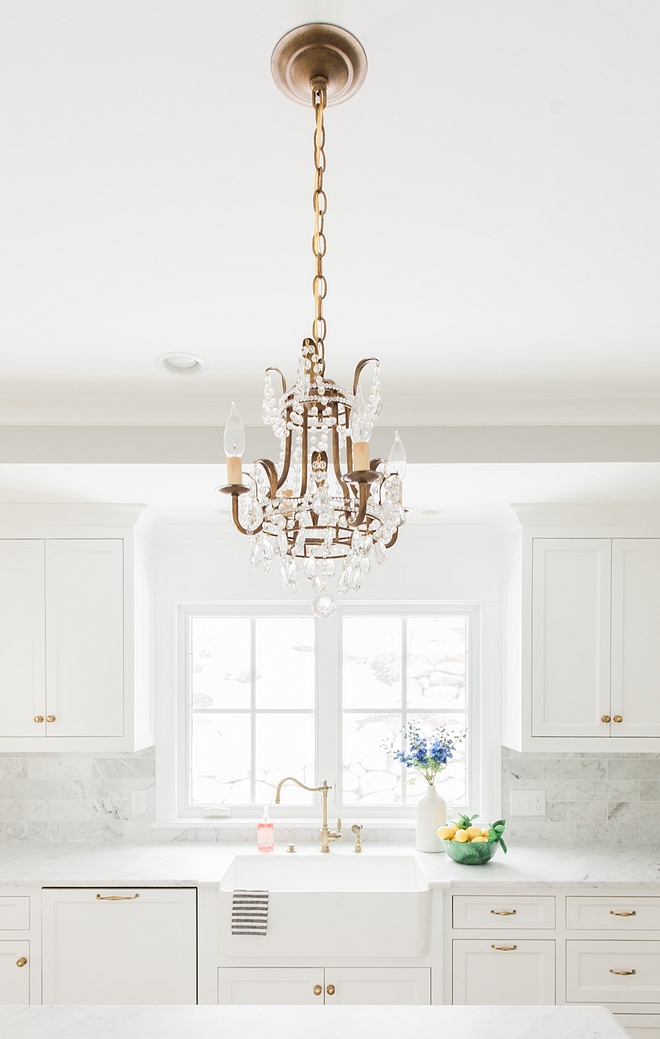 Knobs & Pulls: Charlie's 8" Brass Pulls (3" for smaller drawers), knobs, in antique English.
Kitchen Sink


White Farmhouse Kitchen Sink: Here
Kitchen Faucet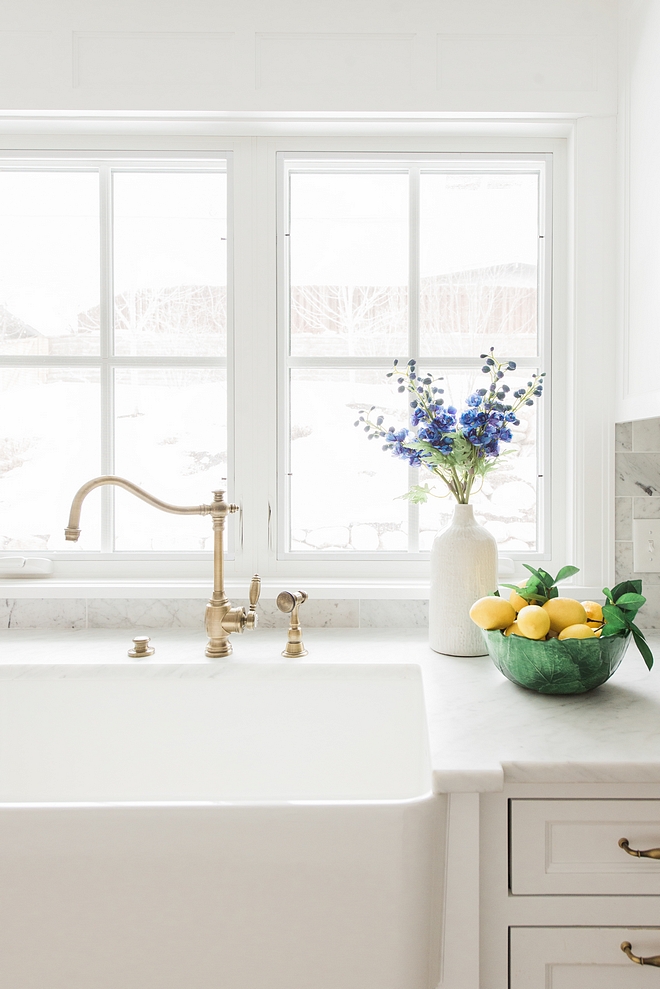 Kitchen Faucet is Waterstone. Similar Traditional Brass Kitchen Faucet: here.
Countertop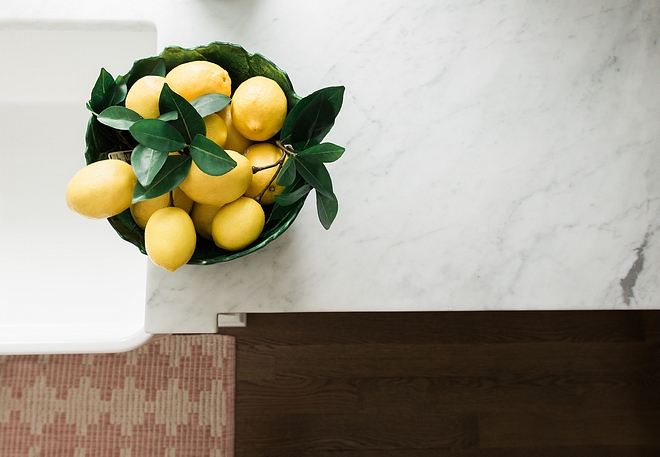 Counters are Carrara Marble, Honed
Kitchen Lighting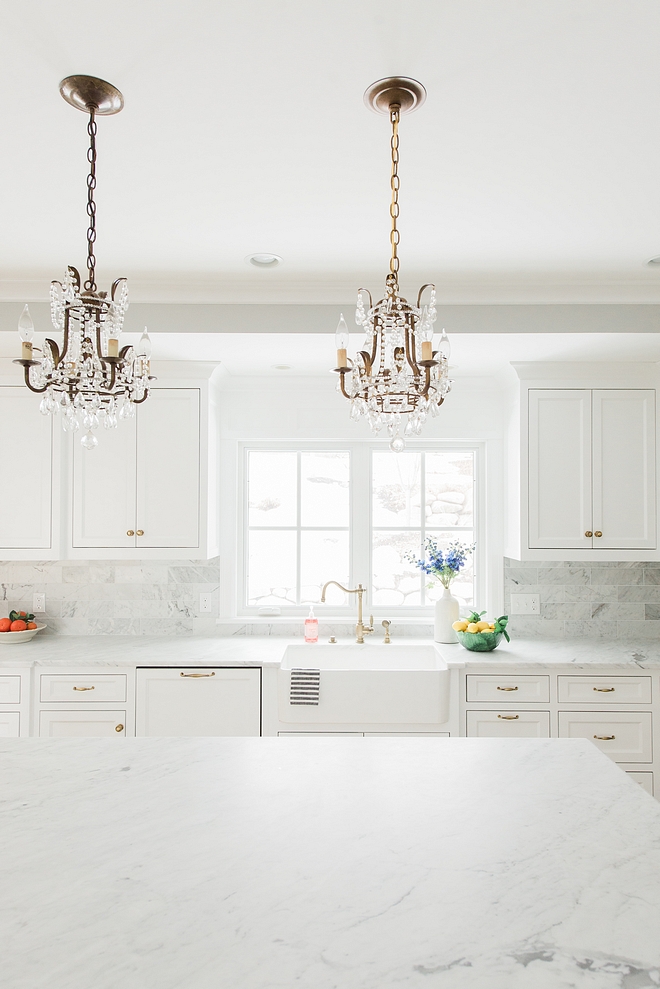 Chandeliers: Currey and Company 9543 Rhine Gold Laureate Chandelier.
Before & After

How shocking is this kitchen transformation, right?!
Powder Bath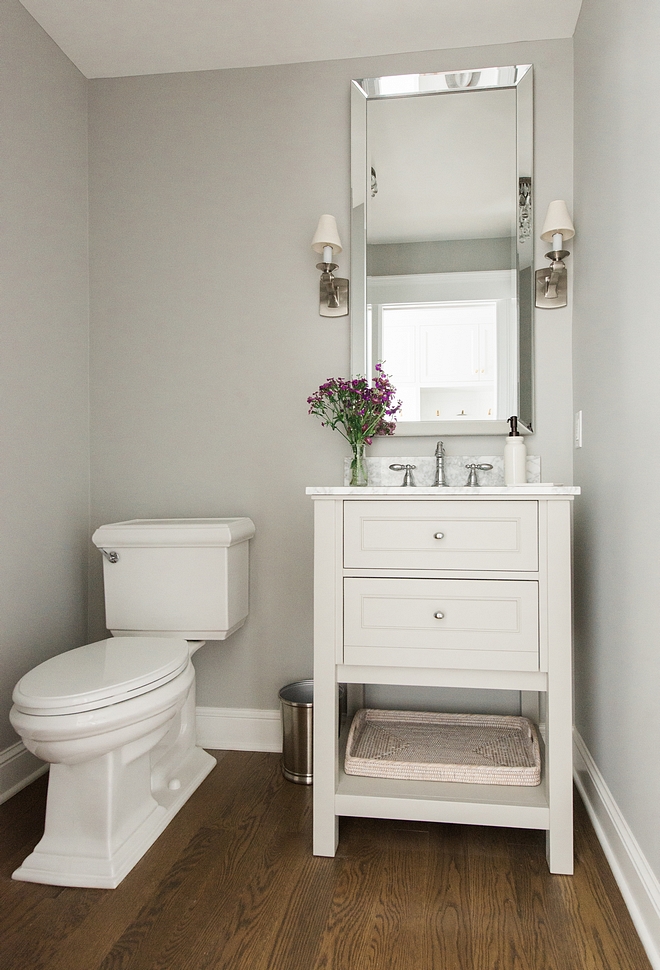 Small Vanity: Pottery Barn – similar here.
Nursery

The last space that I designed was the nursery. We were pregnant when we were in the midst of our remodel, twice actually, but lost the baby both times, so this was a space that we finished off with paint and carpet but left empty until we were blessed with our son about a year later. Designing this space was extra special when the time came. I wanted to create a beautiful, serene space, that was calming and relaxing for a little one to play and sleep in. I went for a neutral tones, and absolutely fell in love with this crib. The velvet tufting detail is somewhat feminine, but I love how it adds texture to this space, and I thought that it wasn't too girly in the dark grey color. I then added the animal prints and pops of gold with the mirror over the changing table and the hare lamp, and love how the space all came together. We were also able to add an additional bathroom to the upper level, for the nursery which is really convenient for bathtime.
Lamp: Gilded Hare Table Lamp.
Tree Stump Side Table: Here – similar here.
Crib & Art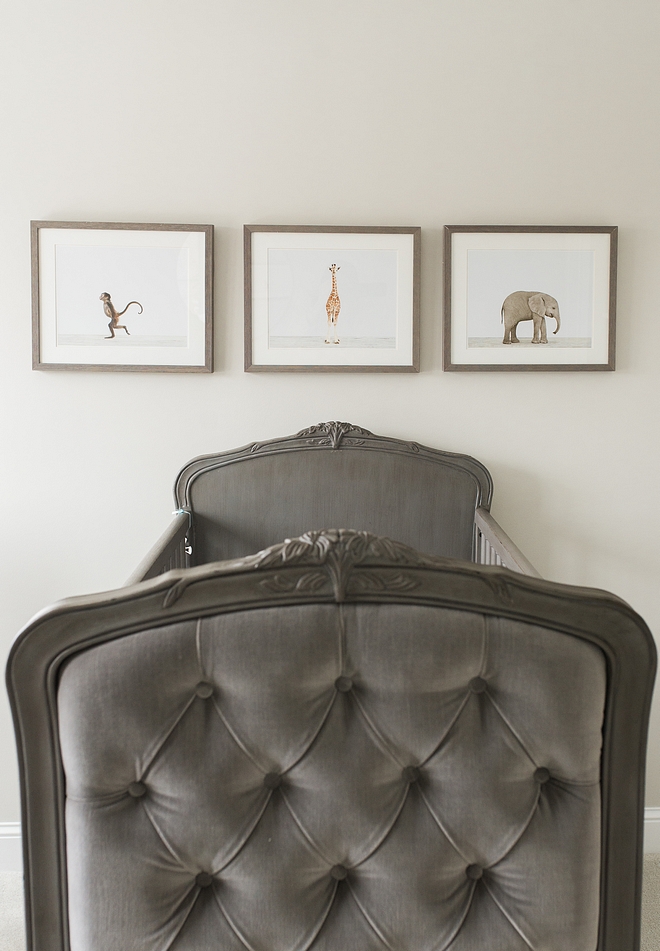 Crib is RH – no longer available – Other Cribs: here, here & here.
Cute Nursery Framed Art: here.
Neutral Paint Color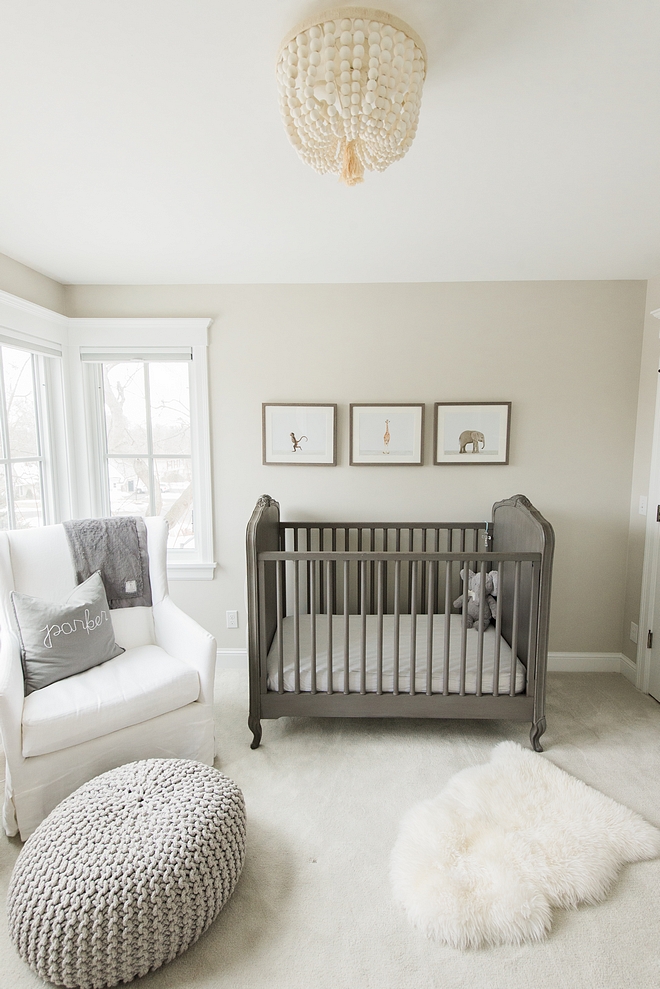 Sea Salt By Benjamin Moore.
Knitted Pouf: Here.
Lighting: here.
Changing Table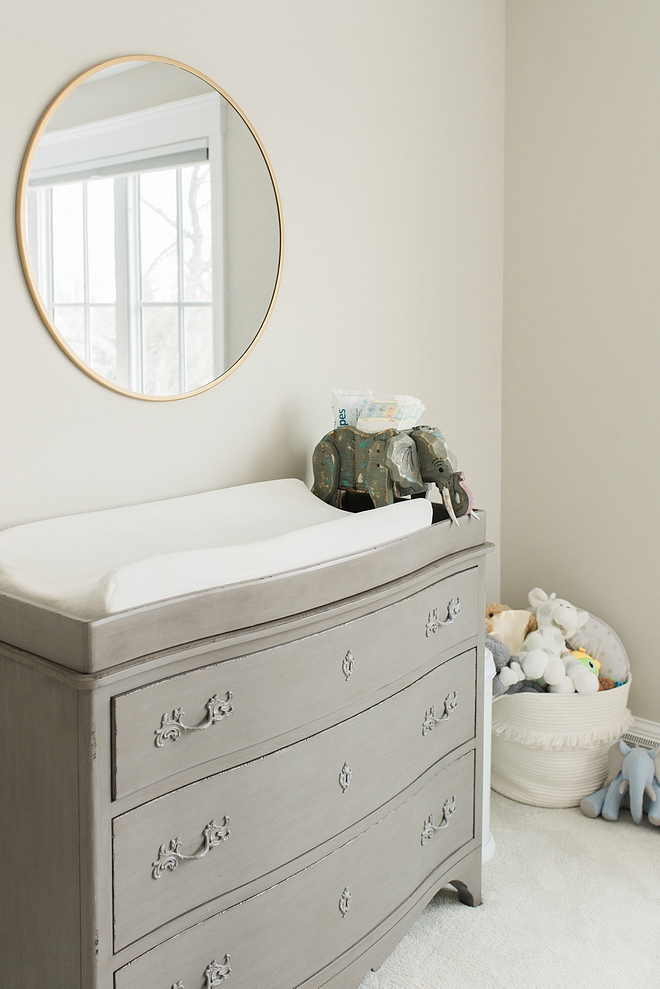 The grey changing table isthe Harlowe Dresser from Restoration Hardware.
Mirror: Here
Bookshelf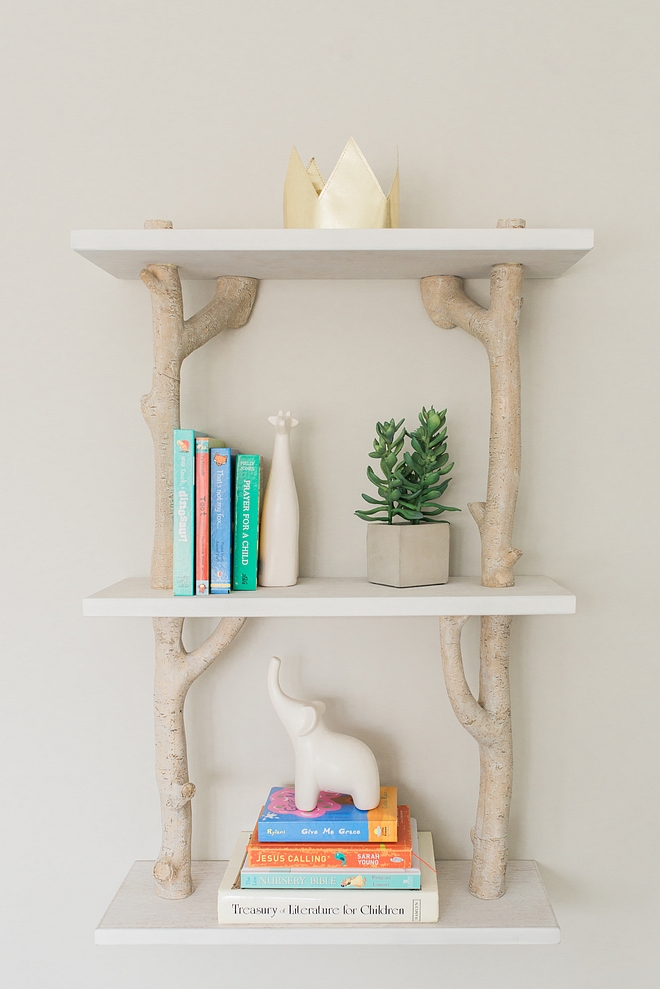 Bookshelf: Here
Master Bedroom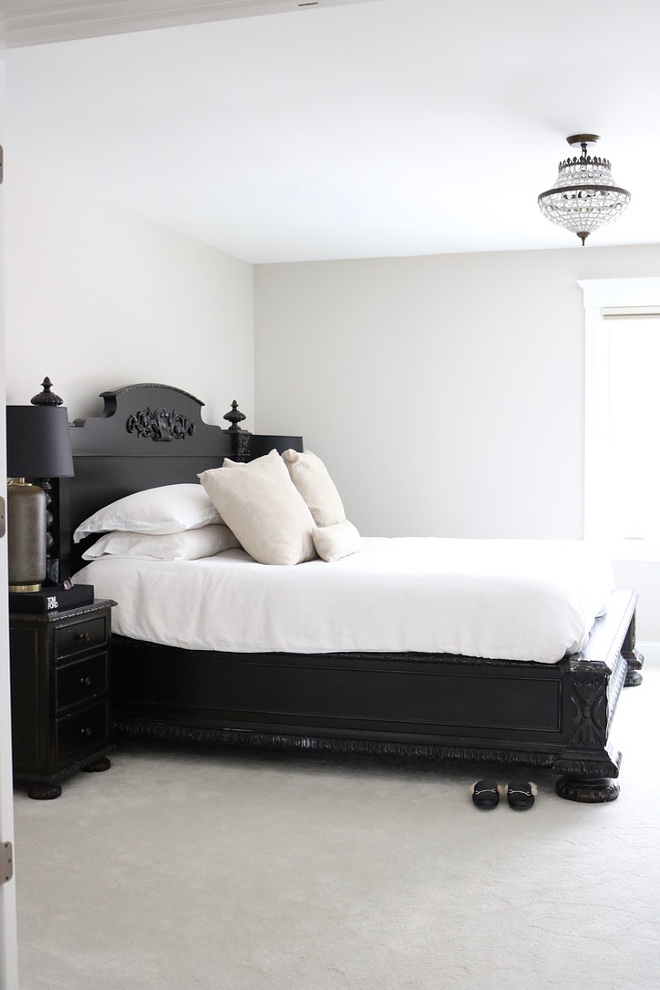 We also made some significant changes to our upper level in regards to the floor plan. We knocked down the wall between our master bedroom and the office to create a master suite.
Bed: Restoration Hardware French Empire Panel Bed in Antiqued Black – Others: here & here.
Nightstand


Nightstand: Restoration Hardware French Empire 24″ Closed Nightstand – Others: here & here.
Fireplace

The wall with the fireplace and built-ins was originally in the old office space.
Flooring

Carpet: Phenix Moire in Honey Beige
Bookshelf Decor


Lindsay kept the bookshelves neutral but still very interesting.
Desk

The built-in bookshelf features a desk. Great usage of space!
Paint Color


An archway leads to this beautiful area with built-in vanity. Wall paint color is Benjamin Moore Sea Salt.
Sconces

Sconces can be found here.
Countertop

Vanity countertop is polished Carrara marble.
Master Bathroom


We also changed a bit of the footprint of the master bath, creating a his/her vanity and we closed off the access from the upper level hallway to the master bath.
Mirror: Uttermost.
Pulls: Here.
Bathroom Faucet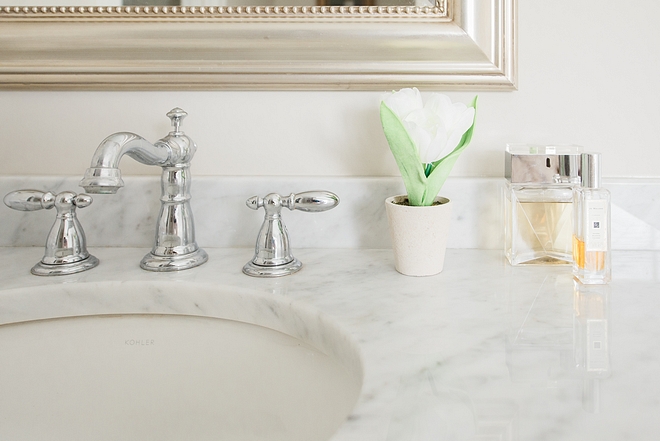 Timeless bathroom choices! This bathroom features classic white marble countertop, undermount sink and chrome bathroom faucet.
Paint Color


The bathroom paint color is Sea Salt by Benjamin Moore.
Floor Tile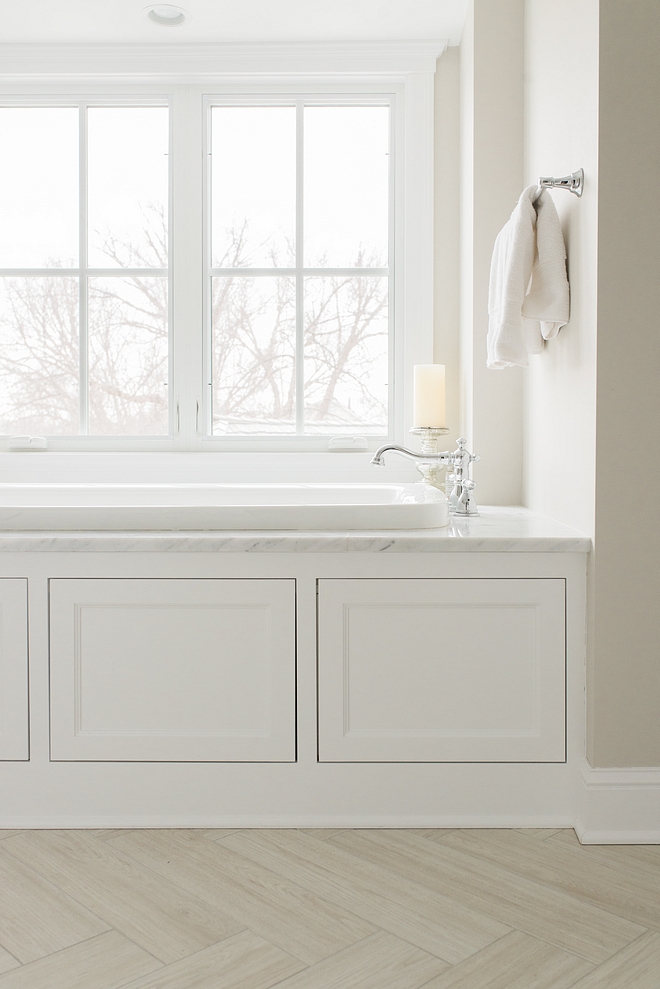 Bathroom features a wood-looking tile, set in a herringbone pattern.
Shower

Similar Shower Tile Combination: White Subway Tile, Marble Accent Wall Tile.
Pulls: here
Closet


Before we remodeled my husband had his clothes in the guest bedroom and I had mine in the master closet and the other guest bedroom and it was such a pain!
Laundry Room


In changing our main level, we no longer had space for our laundry room on that level, so we needed to find a new place for it. We had a large guest bedroom upstairs (now the nursery), so we took some space from that room and created a laundry room on the upper level, right outside the nursery. That is the BEST decision we've made, it's SO convenient! My husband likes to say "who was right?" jokingly about that decision, because I said that I wanted more space on the upper level and to just move the laundry to the basement. That would've been a huge mistake, because I would hate lugging our things down there.
Floor Tile: here.
Similar Storage Basket: here.
Mudroom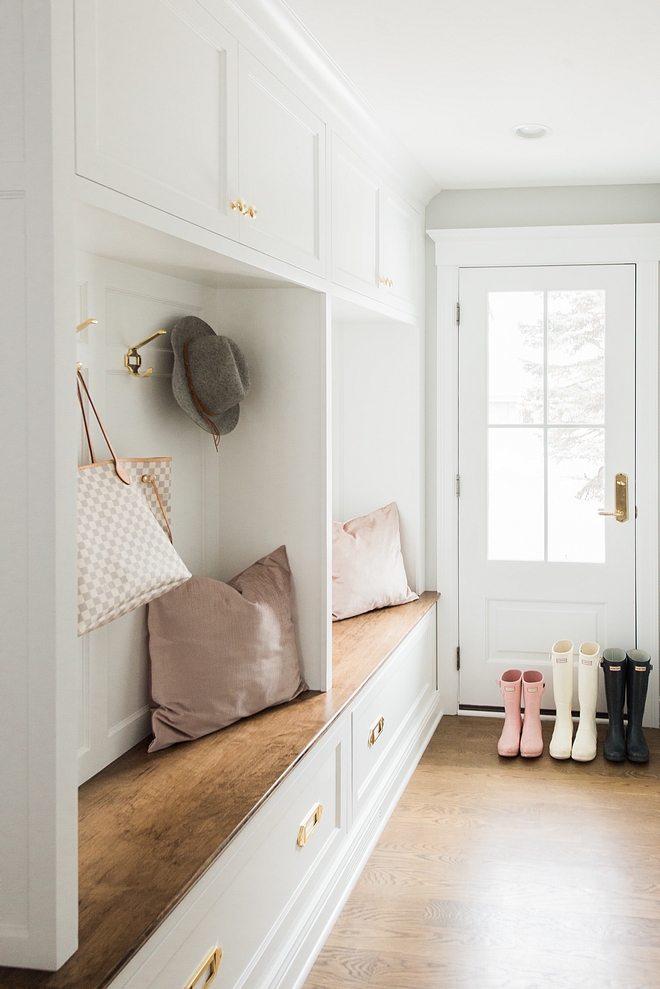 Mudroom features white lockers with stained wood bench and hardwood floors.
Locker Hardware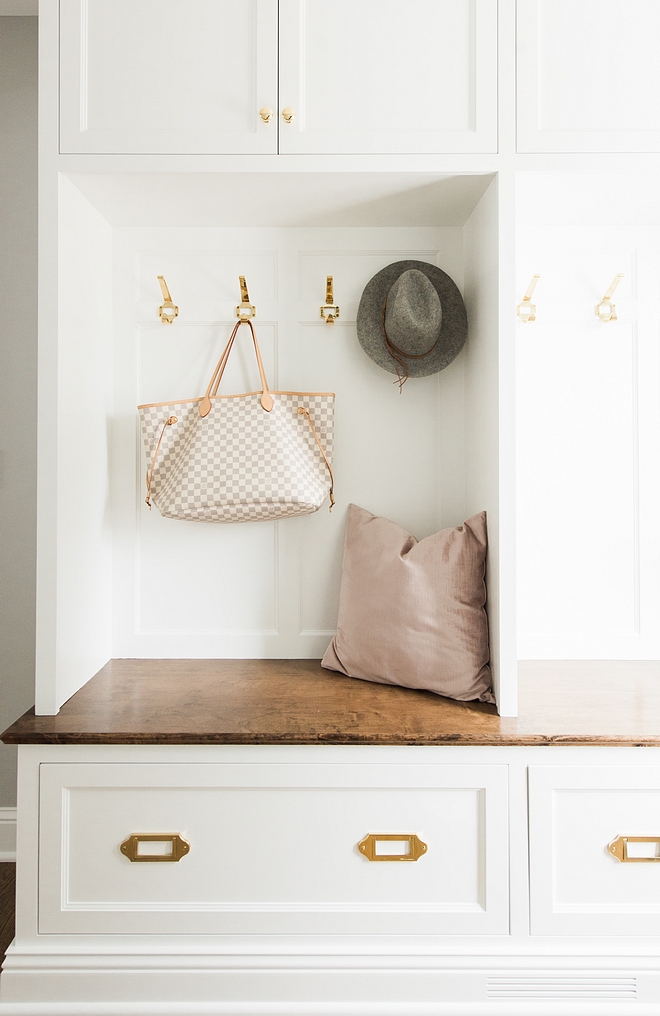 Mudroom Hardware: Knobs, Hooks.
Paint Color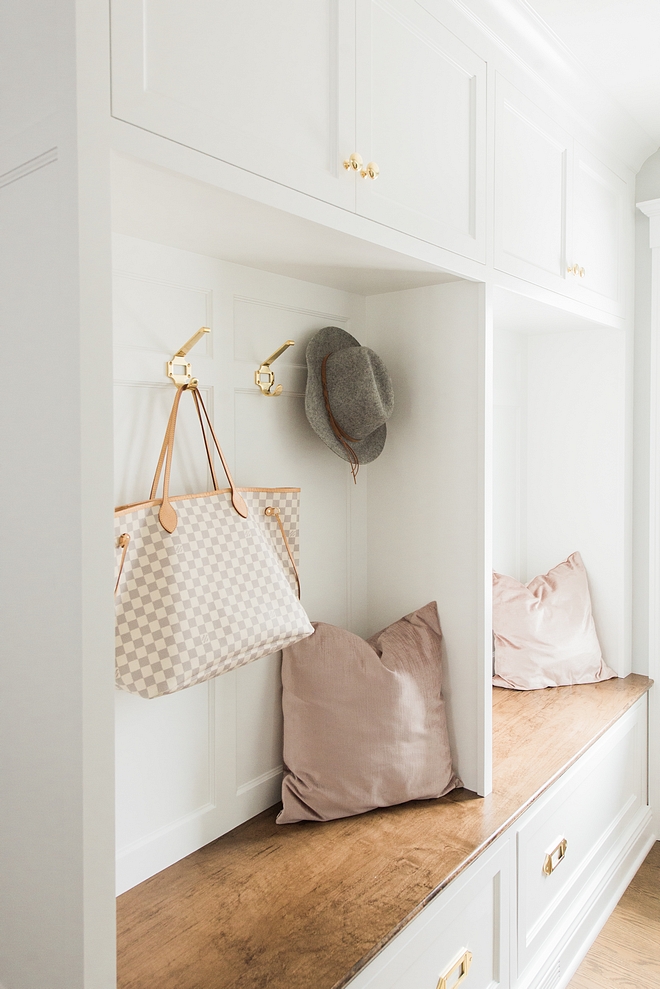 Sherwin Williams SW 7006 Extra White.
Styled by @lindsayannejohnson, with thanks to Ampersand Galleria and Tonkadale for providing decor and flowers.
Photography: Nicole Autumn Photography.

Home Bunch's New Finds:

Click on items to Shop:
Best Sales of the Month: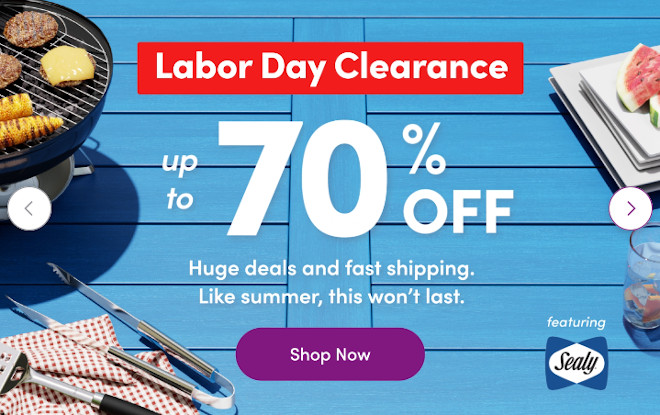 Thank you for shopping through Home Bunch. For your shopping convenience, this post may contain AFFILIATE LINKS to retailers where you can purchase the products (or similar) featured. I make a small commission if you use these links to make your purchase, at no extra cost to you. Shopping through these links is an easy way to support my blog and I appreciate and I am super grateful for your support! I would be happy to assist you if you have any questions or are looking for something in particular. Feel free to contact me and always make sure to check dimensions before ordering. Happy shopping!
Popular Posts: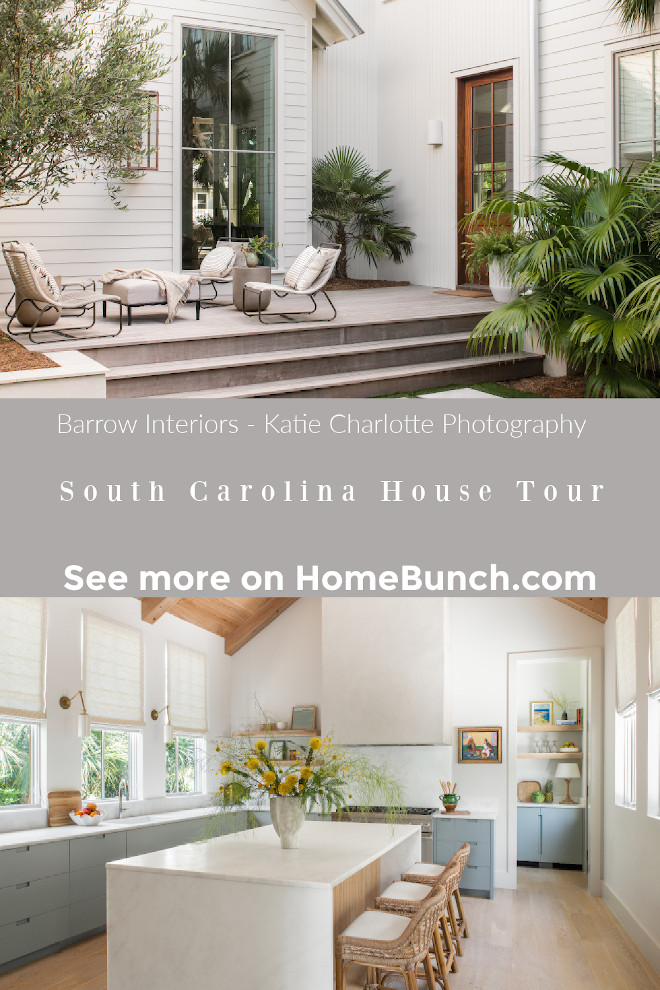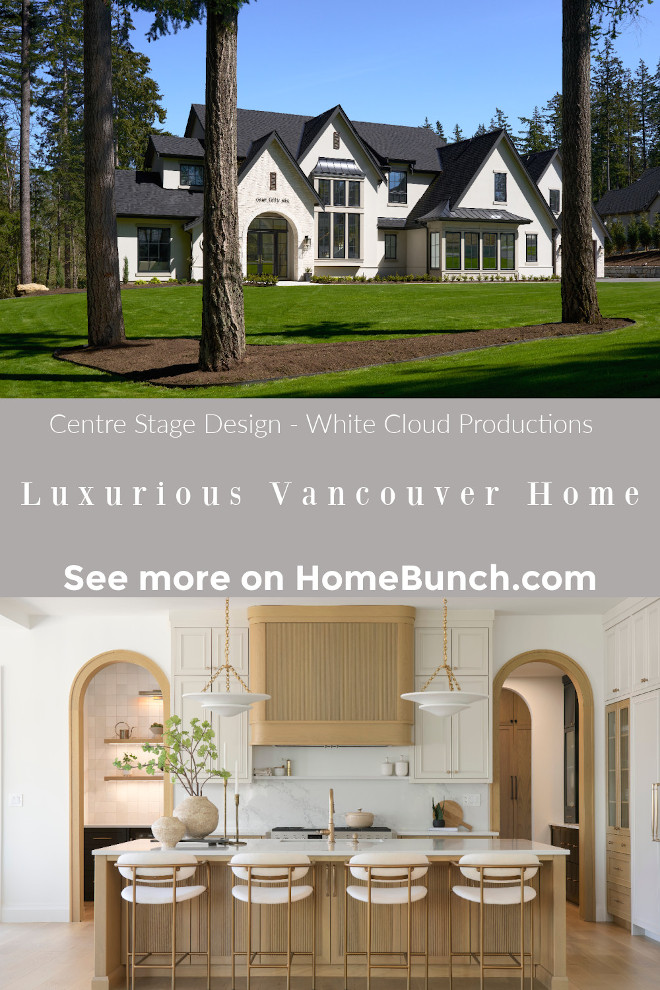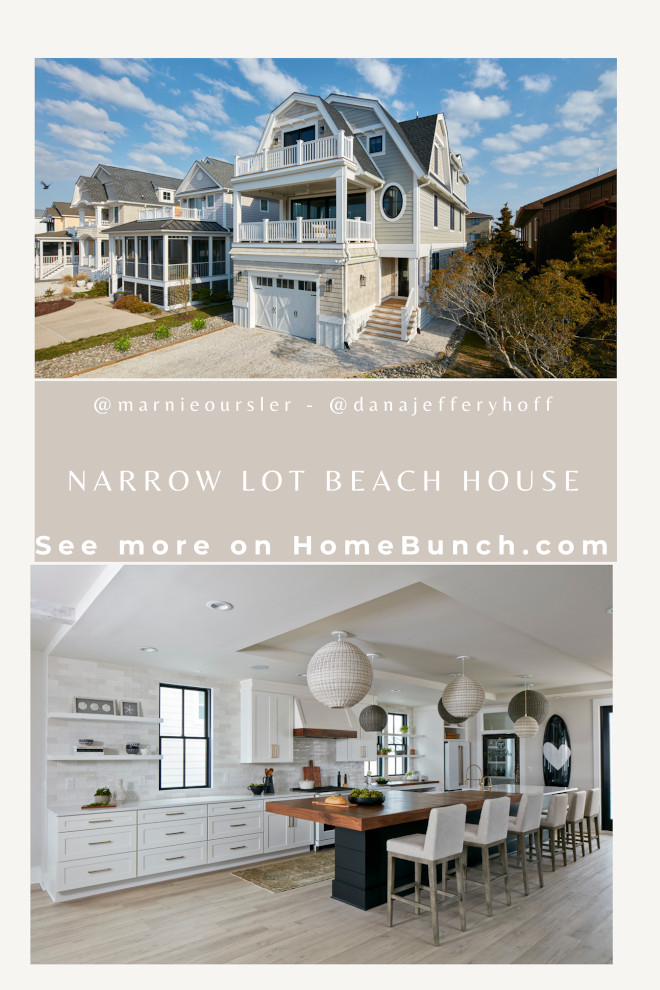 Follow me on Instagram: @HomeBunch

"Dear God,

If I am wrong, right me. If I am lost, guide me. If I start to give-up, keep me going.
Lead me in Light and Love".
Have a wonderful day, my friends and we'll talk again tomorrow."
with Love,
Luciane from HomeBunch.com