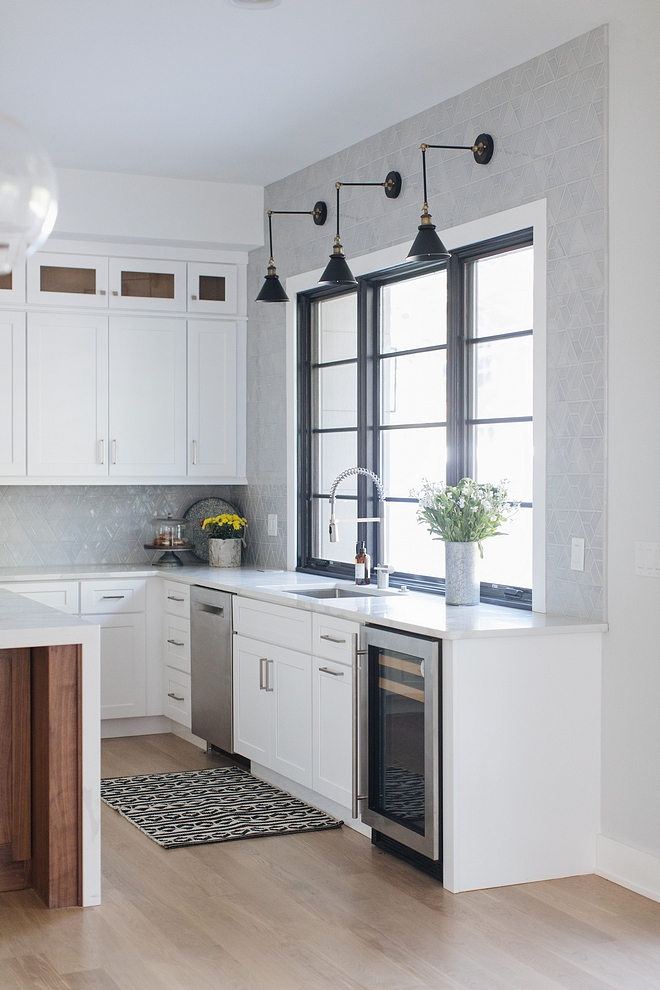 The importance of having a good faucet in the kitchen cannot be overemphasized. In fact, any small problem with the faucet is enough to cause a significant amount of inconvenience to its users. This is the reason why home or establishment owners have to work hand in hand with professional contractors when planning a highly functional kitchen that is not prone to damage and other issues. Part of planning a functional kitchen is the installation of a good faucet.
However, searching and determining the perfect faucet for your type of kitchen may prove to be daunting. To make this process a lot easier for you, we have the best kitchen faucets reviews for you to check out. Spoiler alert: You may fall in love with more than one faucet, so choose wisely.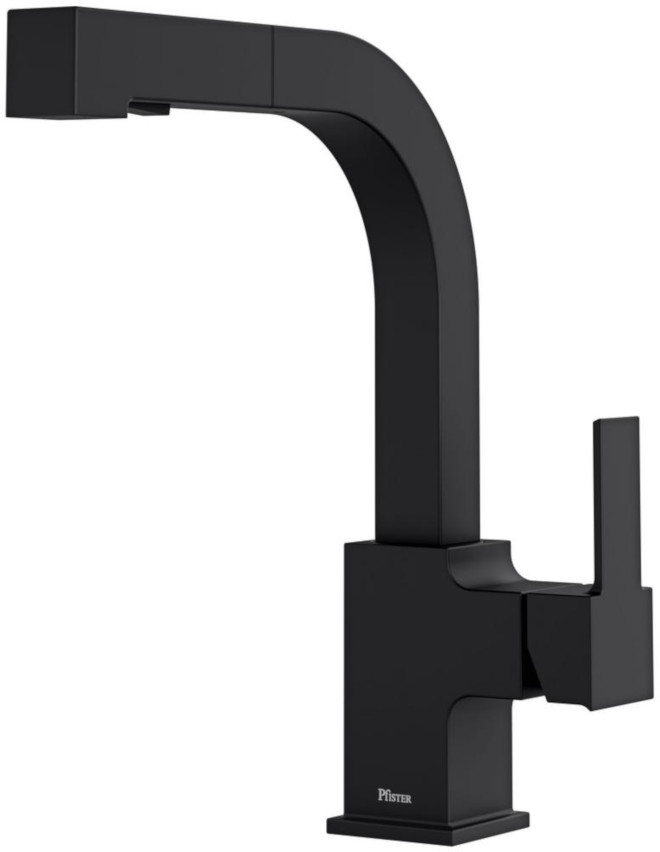 This faucet is perfect for people looking to have a faucet endowed with a metropolitan minimalistic design which is capable of accommodating tight backsplashes. Its visual angularity works beautifully with its clean, sleek and modern look. Everything about it never fails to enhance the interior surrounding where it will be installed.
It has a pull-out spray head mechanism along with its 1.8 gpm that gives you the chance to adjust the amount of water that goes out from its spray head. Plus, its toggle feature also enables people to toggle between a stream mode and a spray mode.
Its lever handle can only be pulled forward which helps ensure that you don't damage your backsplash. You're also guaranteed of its efficiency with its CEC or California Energy Commission seal.
Pros:
It has a high arc spout that gives more room for reach and clearance.
Pull out spray head makes rinsing or cleaning easier as it can be extended or detached.
This product also complies with lead-free plumbing requirements as an adherence to U.S. Safe Drinking Water Act
This product comes with a decorative deck plate.
Product is ADA/ANSI A117.1 certified which guarantees easy access to person with disabilities.
Its squared corners make handling more comfortable.
It has a Pforever Seal™ that guarantees no leakage.
Toggling between stream and spray mode can be done easily.
The spout can swivel for up to 36 degrees.
It's designed to exceed CALGreen criteria that promotes water conservation.
Easy to install and easy to clean.
Cons:
Water may come out with much force so a kitchen with shallow sinks may have more water splattering out.
The handle cannot be mounted on the left hand side.
This product doesn't come with flexible supply lines.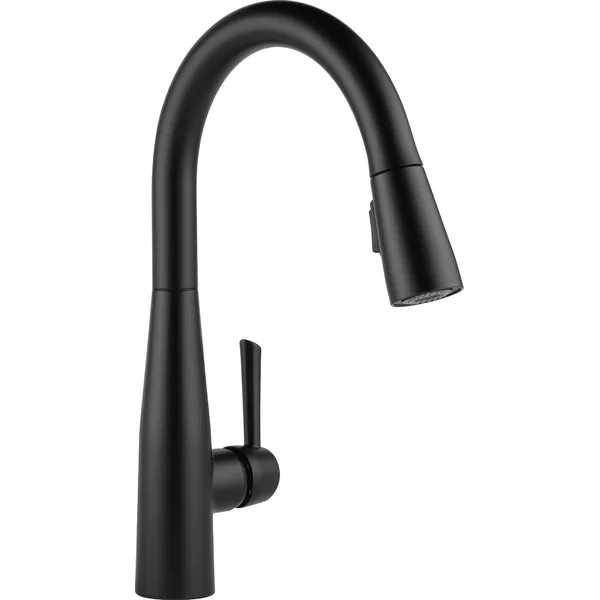 Delta Faucet Essa 91130 has all the basics that make faucets capable of giving the best cleaning experience for its users. There is more to its function rather than its form as it also ensures good sink access. It also boasts of easy clean features. This one is available in four different types of finish, with each design suitable for a 3-hole or 1-hole sink.
Delta Faucet Essa 91130 has a pull-down spray head, with a rear-facing button that allows easy switching between spraying. Its Magna Tite docking enables the wand to stay in place and this translates to limited leaks and drips. So if you hate leaks, better have this one. This MagnaTite docking feature ensures that the sprayer keeps docked into the faucet, and will not lose hold over a period of time.
Another feature that makes this Delta Essa Faucet stand out from other faucets is its diamond-embedded ceramic disc to ensure consistency, which is something that is hard to find in other types of faucets these days. This faucet is also designed in a way that the risk of the spray head drooping is greatly reduced. Besides, it has a Touch-Clean feature that makes removal of calcium and dirt build-up such a breeze. Its pull-down feature can extend for up to 24 inches while its height clearance is 16.5 inches.
Pros
The product comes with a deck plate.
Its rubber nozzles are not difficult to clean.
It also allows full 360-degree swivel action.
This product also comes with one-piece supply line.
Cons:
The reach of its gooseneck is extended further than the standard faucets and this increases the likelihood of the water spray splattering into the top part of the counter.
Accidental activation of Touch-Clean button could be possible.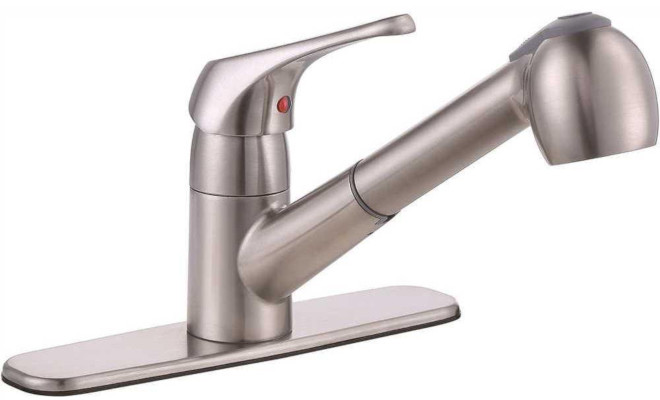 This is one of the Premier's best-selling kitchen faucets. The Premier 120161LF Sonoma Faucet is a combination of simplicity and functionality at its best. It may not possess the kind of elegance and style that many homeowners look for in a faucet, but the efficiency it offers can be unparalleled.
Premier 120161LF Sonoma Kitchen Faucet comes in chrome and nickel color. The possibility of corrosion or rusting is eliminated as it is made from strong brass that is 100 percent lead-free. Its pull-out sprayer comes with a retractable hose that extends for up to 48 inches. It is equipped with a single metal lever that does a good job in regulating temperature and in controlling the flow rate which is 2.2 GPM. This can be installed on a 3 or 4-hole sink.
Premier 120161LF Sonoma Faucet's brushed nickel design provides a wonderful neutral option that homeowners won't find it difficult to fit with their kitchen's interior design. Scrapes and knocks that may show up later won't become apparent because of its brushed nickel finish.
You can also match this faucet with a Premier soap dispenser which you can purchase separately.
This faucet also comes with ceramic discs that prevent leakage and are wear-resistant.
Pros
Its brass finish ensures strength and durability.
Its 48-inch retractable hose provides better reach.
This faucet is easy to install.
This product also features lead-free waterways.
It has a detachable deck plate to enable 1, 3 or four-hole sink installation.
This product has passed the standards of Uniform Plumbing Code.
Cons
Its manual has poor details for instruction.
Some users in California complain of very high water flow.
Mount system can be complicated to work on.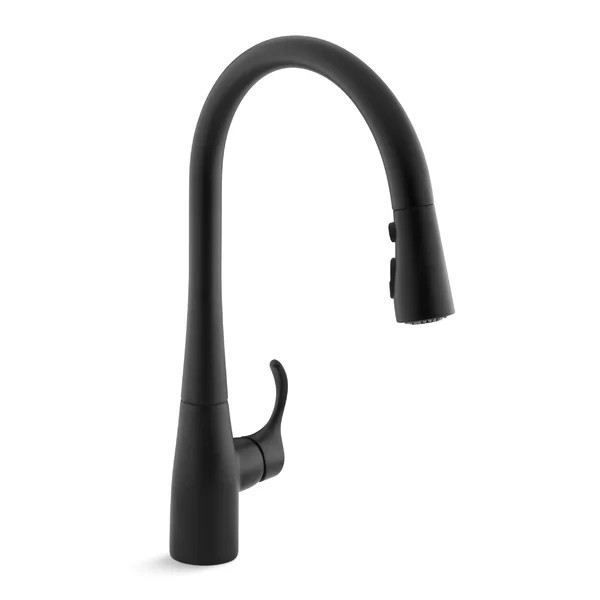 Kohler K-596-CP is a high 16.6 inch arch, dominant looking faucet with polished chrome finish will definitely serve as a great addition to anyone's modern kitchen. This high arch spout can rotate at a 360 degree angle and has the ability to pause, sweep spray and stream. It is equipped with a magnetic docking system to make sure it stays in place when it's not used.
Kohler K-596-CP faucet also features a masterclean sprayface that allows easy cleaning and prohibits building-up of minerals. Before purchasing, check if your sink and counter spaces are enough. This faucet has the dimensions 28.8 x 12 x 3 inches and requires deck mounted installation.
Water conservation will cease to be an issue with this Kohler K-596-CP faucet. With a flow rate of only 1.8 GPM, it will only consume less than two gallons of water per minute. In other words, using this faucet will more likely lead to lower water bill. And this is perhaps the greatest advantage that this faucet has compared to any other faucets out there.
Its ProMotion technology allows a 360-degree swivel feature that provides users a full range of motion that makes it easier for them to clean hard to reach areas or sides of the sink.
It is equipped with DockNetik technology that makes use of magnetic force so that the hose can be attached back to its place without much hassle.
Pros
It has a 68-inch hose.
The button can easily be seen on the spray so that switching between different water flows can be conveniently done.
Installation is easy and can be done as a DIY task.
Its valve is known to withstand wear and tear for a long period of time.
Cons
Leakage can be found in the rubber gaskets, especially when installed in environments that have colder temperature.
Moen 7594ESRS Arbor sink faucet is equipped with Motionsense technology, which makes it perfect for modern kitchens. This technology can also be found in other types of faucets such as the Kohler Sensate but with Moen's 7594ESRS Arbor model you can definitely have it at a much lower price. Besides, Moen Arbor offers two types of hands free operation. Users may opt to use the top sensor whenever they need to wash their hands. They just have to wave their hands on top of the faucet and the water will automatically come out. They need to wave their hands again to be able to turn off the water.
Its motion sensor at the bottom can be turned on whenever something is right in front of it. This means that to turn it on, you just have to place your hands in front of the bottom sensor and water will start coming out. As your hands leave the sensor, it will also automatically stop the flow of water.
This Moen 7594ESRS Arbor faucet also has a built-in pull-out sprayer attached to its hose. The hose has a length of 68 inches which is quite massive. This gives extra manoeuvrability for users and this spells convenience during cleaning and washing. Its hose will also attach back automatically to its place and such feature is made possible by its magnetic docking system.
Pros
The installation process does not pose much difficulty.
It offers quick-connect installation system through its Duralock feature.
It comes with batteries that can be replaced whenever the need arises.
This faucet remains functional even when the Motionsense sensor is not activated.
Cons
This product would need batteries to activate the Motionsense feature.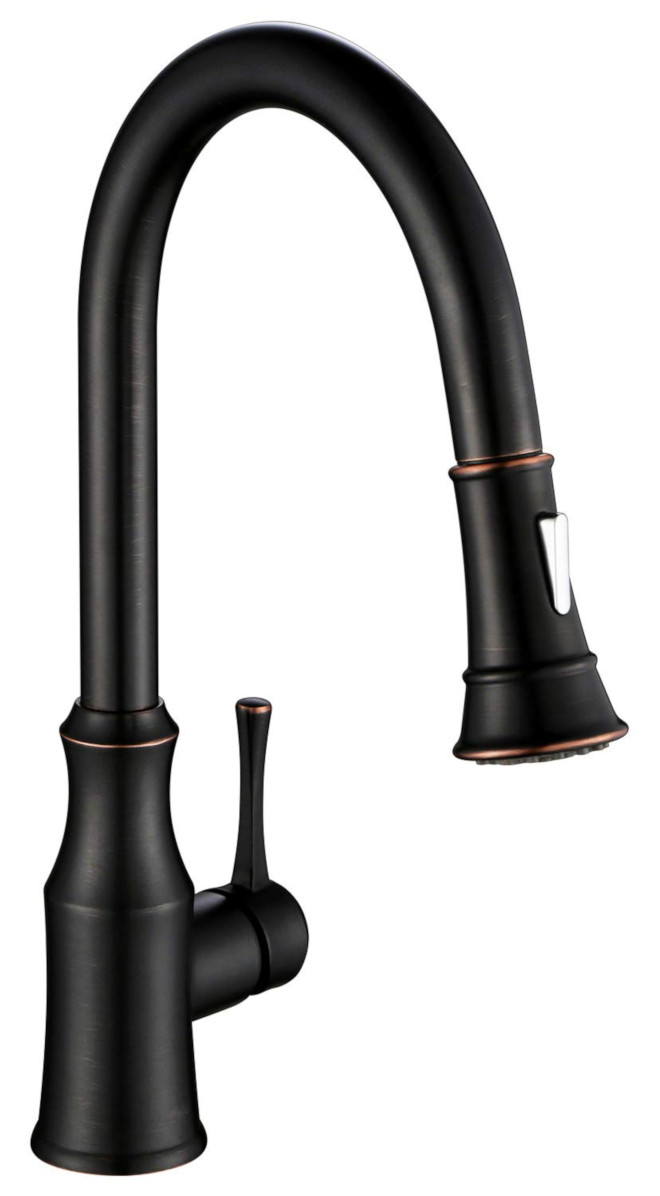 A good flow rate and a long reach are two characteristics of a faucet that are very important, especially in a home where a large family resides. A good flow rate helps washing too many plates so much easier. Moreover, for it to have a long reach it should also possess a pull-down feature so that hard-to-reach areas and large pans can easily be cleaned. Luckily, you can have these two features in one faucet and that is the AguaStella AS94ORB.
To ensure convenience when cleaning, this AguaStella AS94ORB faucet also has a 360 degree spout swivel. Besides, its oil-rubbed bronze finish makes it a thing of beauty in the kitchen, coupled with a solid brass construction that guarantees longevity and durability. Its rust-resistant finish makes cleaning one less thing to worry about.
The AguaStella AS94ORB Kitchen Faucet also has an SPX inner hose material that is less likely to produce a pungent smell, unlike other faucets that make use of EPDM.
Pros:
It has a very stylish look.
Its solid brass construction ensures that this product can be used for a long period of time without the need to worry about discoloration.
The installation process only takes about 20 minutes.
This product also features anti-clog screen collect that automatically filters particles and sediments, making this ideal for hard water.
Cons
There is no other color available for this product.
It does not come with a deck plate.
When choosing a faucet for your kitchen sink, remember that you have to factor in several things to find the perfect one. Some of the things that need to be taken into account include the number of holes. If you purchase a faucet that requires only one hole on top of your sink and yours have three holes, you may need to cover the excess holes with a deck plate.
It is also important to consider the faucet height. Your faucet needs to have the right amount of vertical clearance for it to be fully functional. Some faucets are installed in front of a window which means faucet height may not be much of an issue. But, if the faucet has to be installed below kitchen cabinets, proper measurements have to recorded prior to purchasing any faucet.
Last but not the least, keep in mind your kitchen's interior design as well as your personal preferences. This way, you won't end up regretting splurging a hefty amount on a single faucet.
Many thanks to the designer for sharing the 1st photo above!
Builder: M House Development (Instagram – Facebook – Make sure to follow them! 🙂)
Photography: Stoffer Photography Interiors.
Click on items to shop:
Best Sales of the Month:
Thank you for shopping through Home Bunch. I would be happy to assist you if you have any questions or are looking for something in particular. Feel free to contact me and always make sure to check dimensions before ordering. Happy shopping!

Serena & Lily: Amazing Rug Sale!
Wayfair: Up to 70% OFF on Furniture and Decor!!!
Joss & Main: Up to 70% off "Don't Think Twice Sale"!
Pottery Barn: 40% OFF plus free shipping. Use code: FREESHIP.
One Kings Lane: Outdoor Sale Up to 60% Off.
West Elm: Up to 40% Off on Sofas, Sectionals & Chairs!
Anthropologie: New Fall Arrivals!
Nordstrom: Sale – Incredible Prices!!!
Posts of the Week: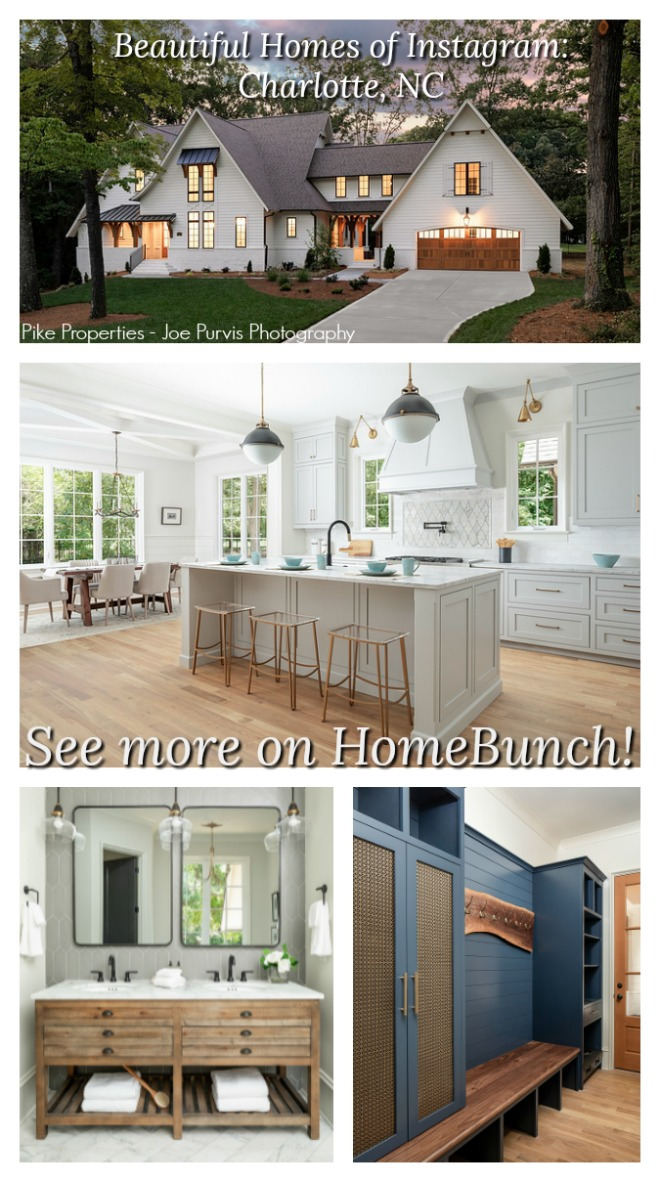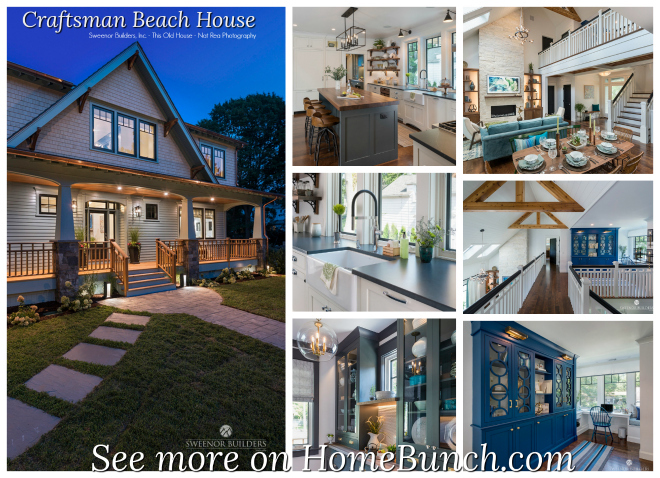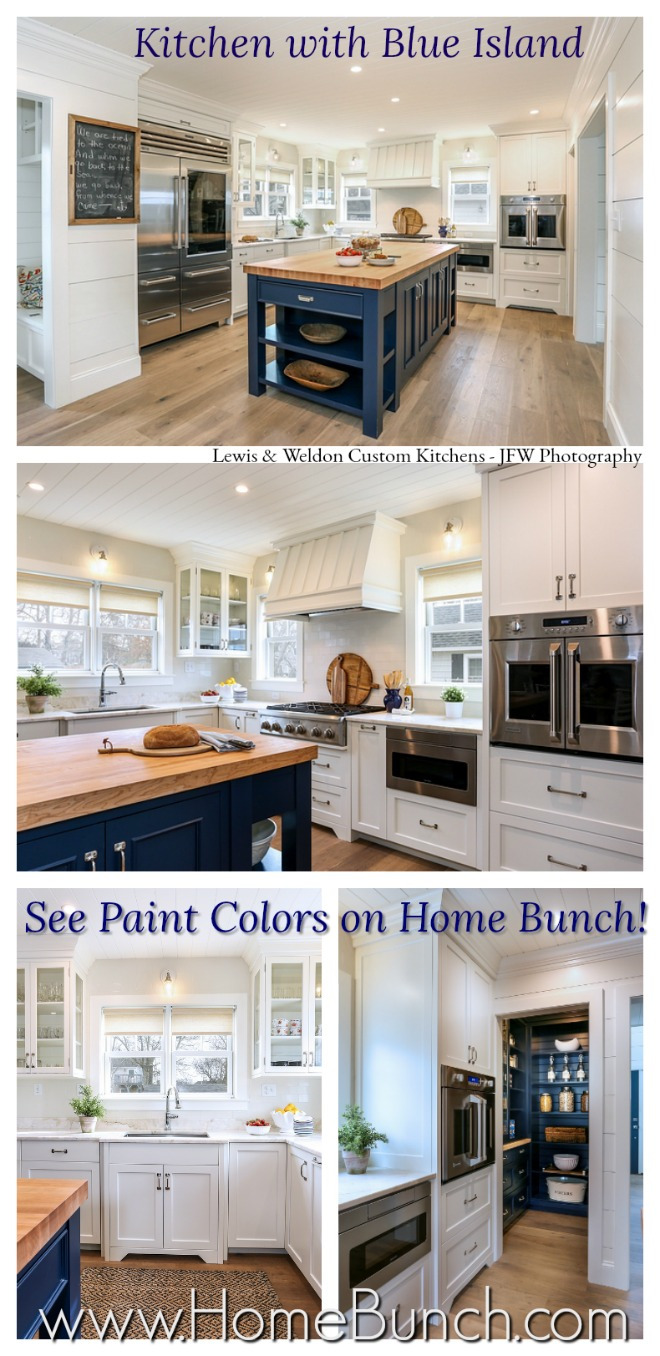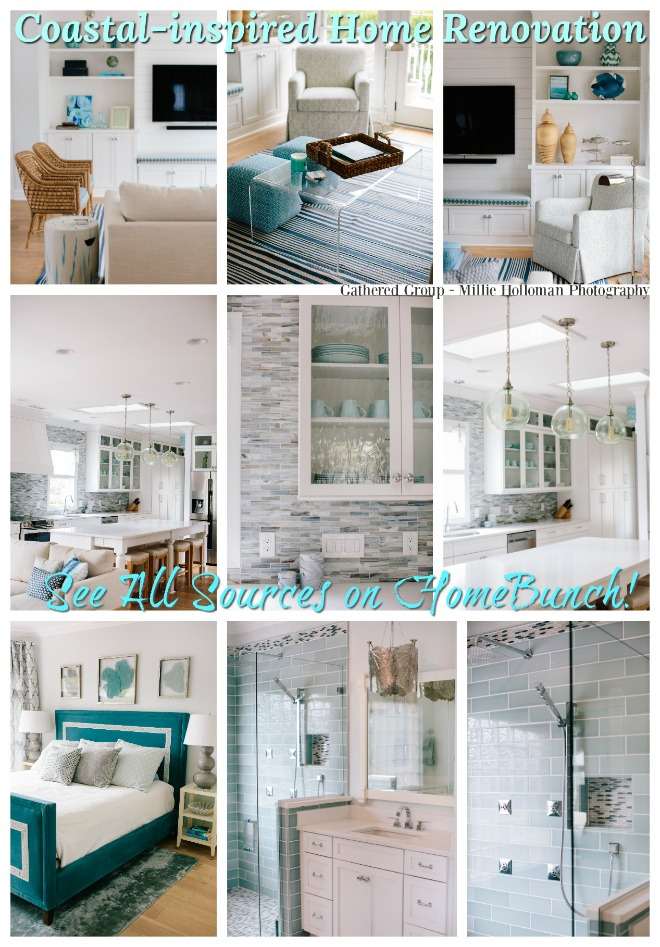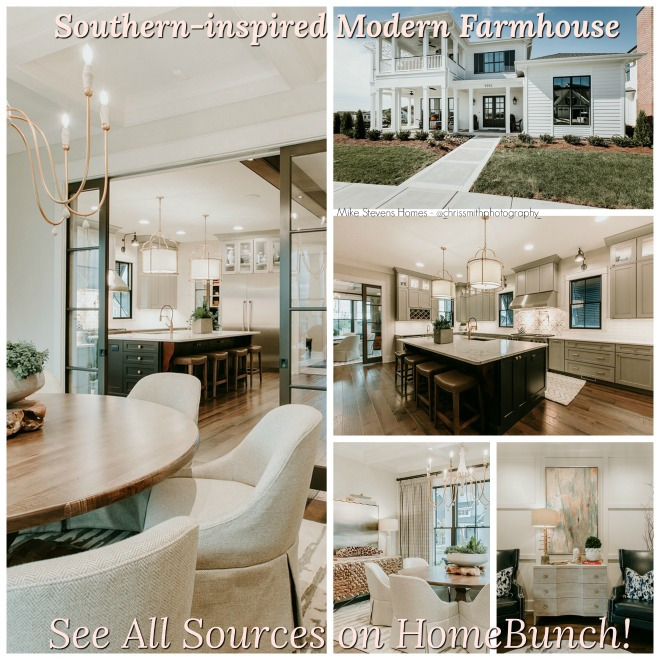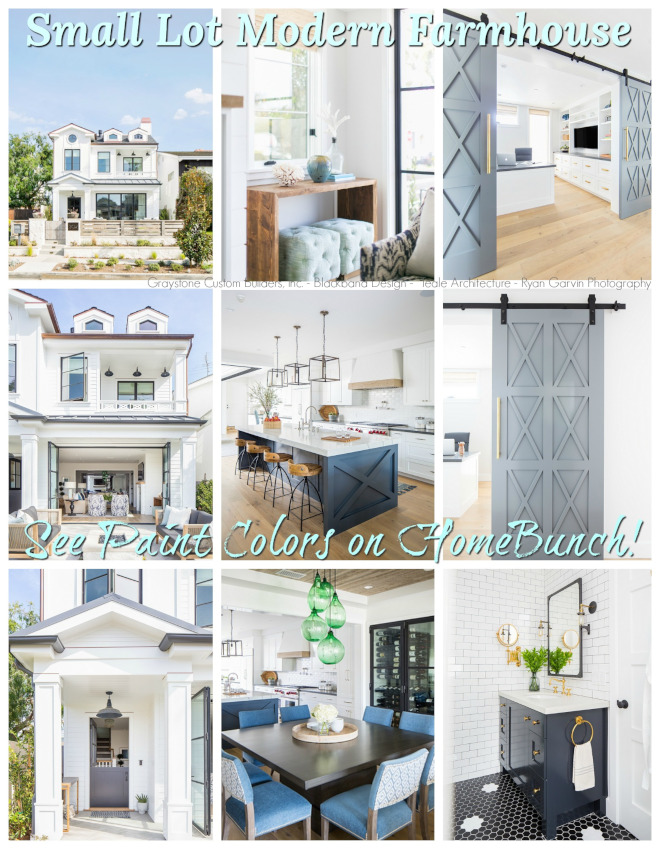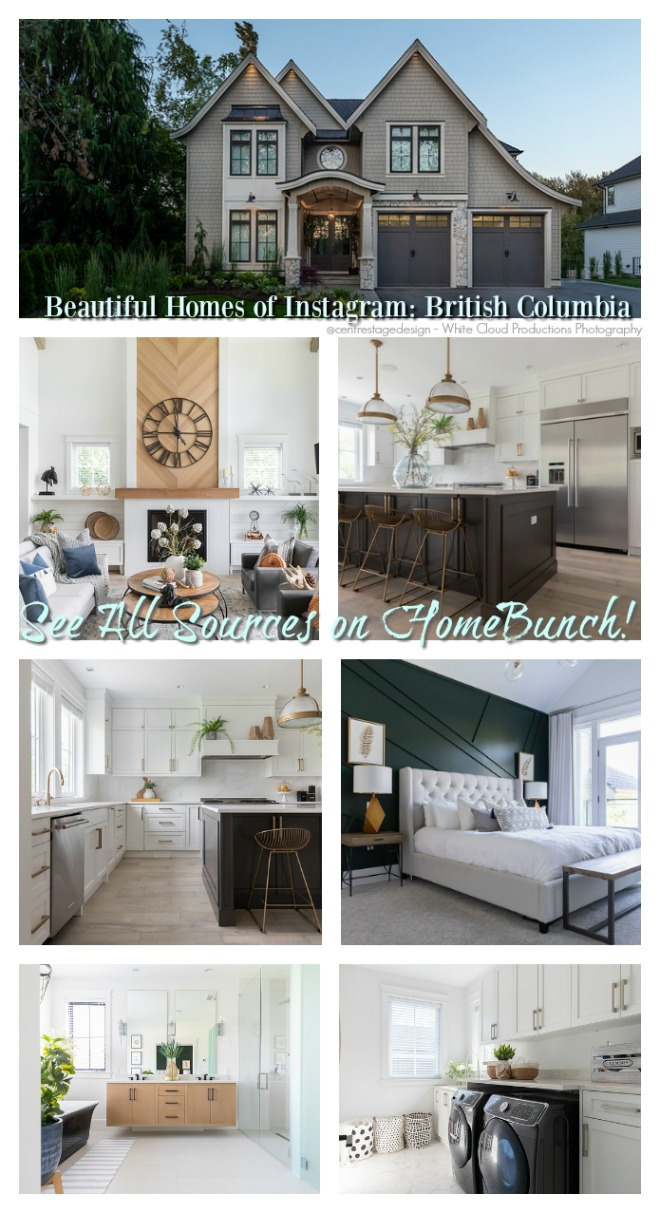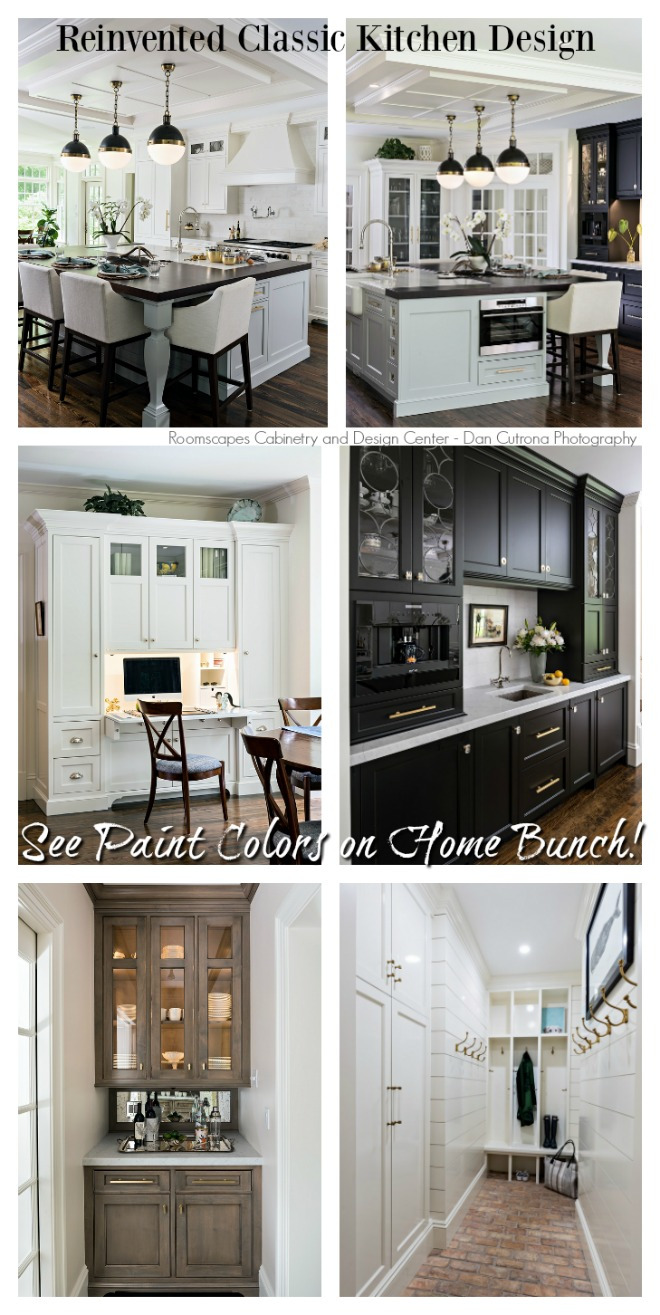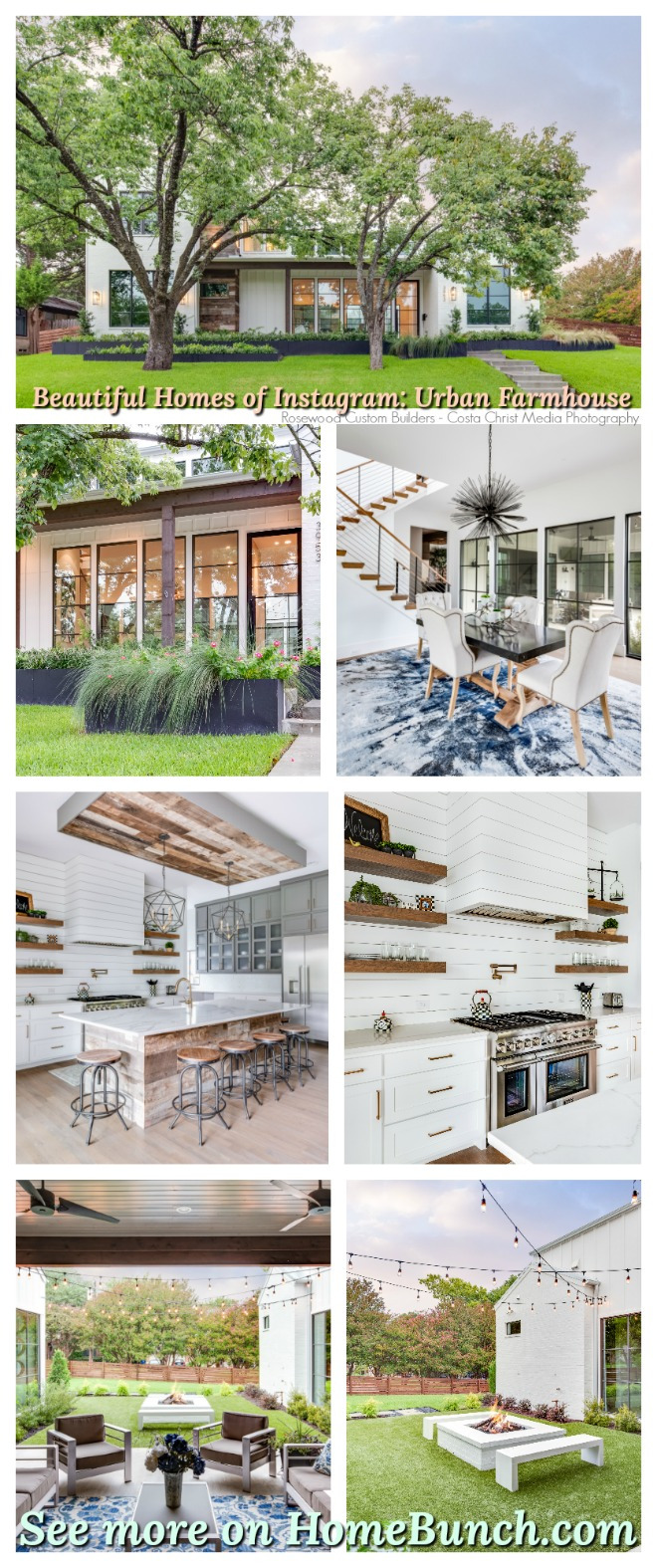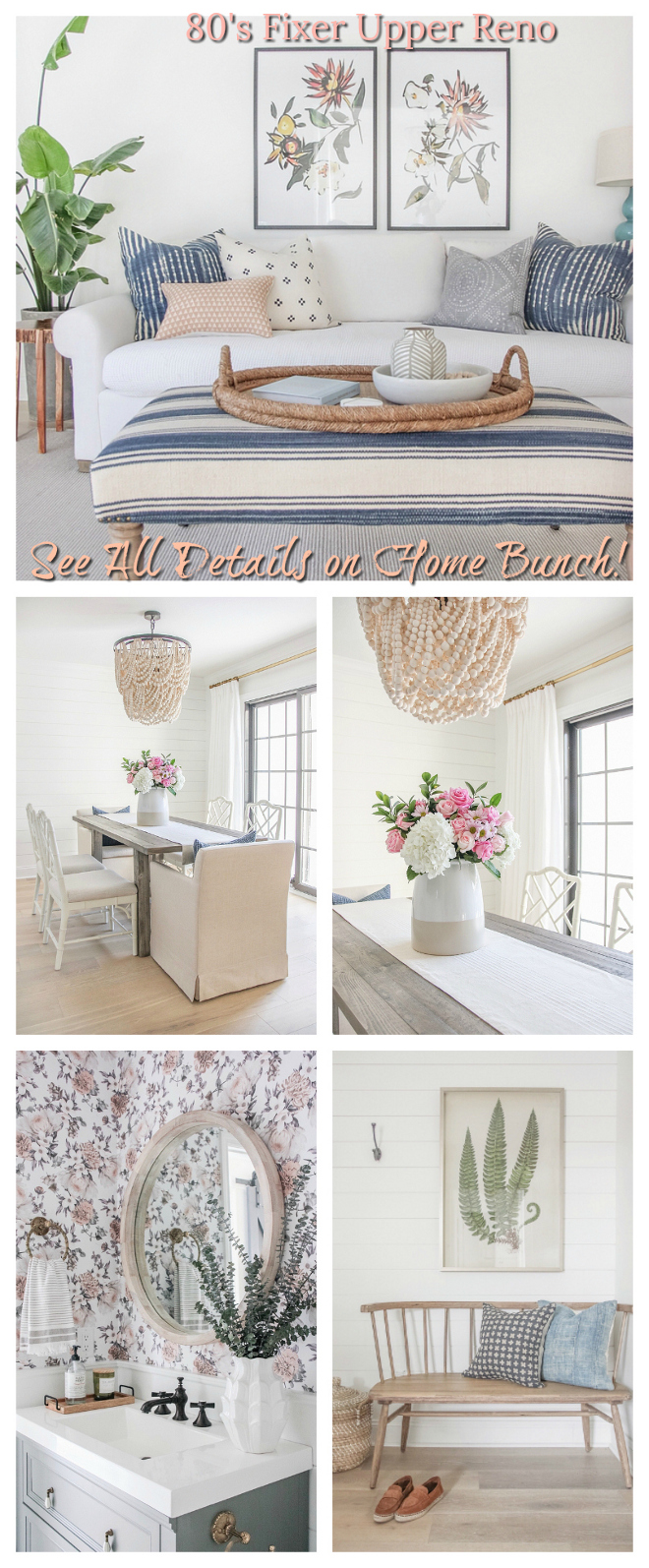 Follow me on Instagram: @HomeBunch

See more Inspiring Interior Design Ideas in my

Archives.
"Dear God,

If I am wrong, right me. If I am lost, guide me. If I start to give-up, keep me going.
Lead me in Light and Love".
Have a wonderful day, my friends and we'll talk again tomorrow."
with Love,
Luciane from HomeBunch.com
Get Home Bunch Posts Via Email

"For your shopping convenience, this post might contain links to retailers where you can purchase the products (or similar) featured. I make a small commission if you use these links to make your purchase so thank you for your support!"