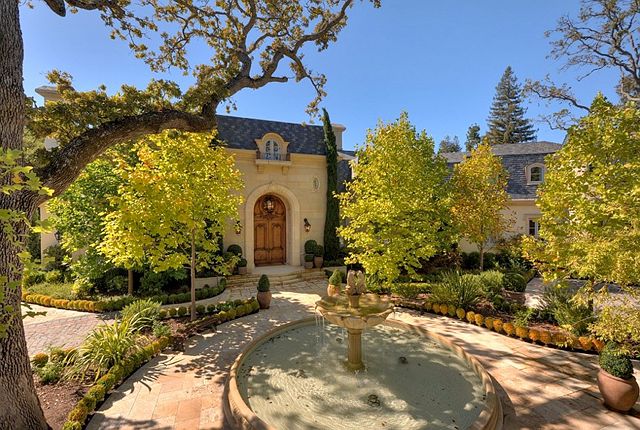 This French inspired chateau will make your heart race a little faster. The moment I saw it I knew I wanted to share this place with you all because it's a house that feels formal, but at the same time its elegance is worthy of appreciation.
The house is located in Atherton, California and was built in 2008. With 6 bedrooms, 8 full and 2 half bathrooms, 1.04 acres, a kitchen that will make you drool (sorry, but I almost did!), a two-story living room, home theater, a 4,500 Bottle wine cellar (and it seems to be full!) and a professional spa that makes any hotel feel shabby, but wait until you see the master bathroom! Oh, la la! This 17,000 Sq. Ft. home is for sale and the price tag is as big as the square footage of this place: $24,000,000. But we can still dream, right?
Knock Knock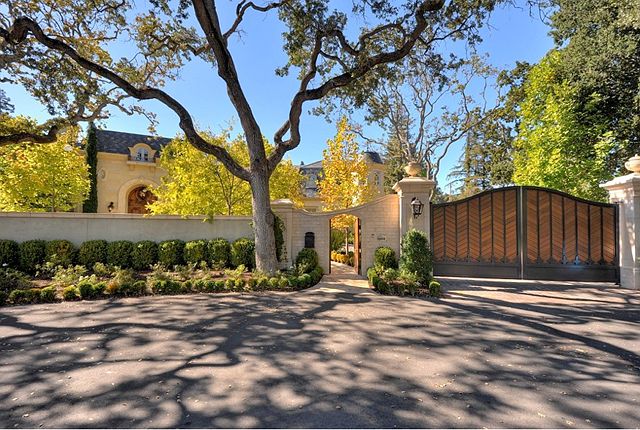 Impressive.
Drive-In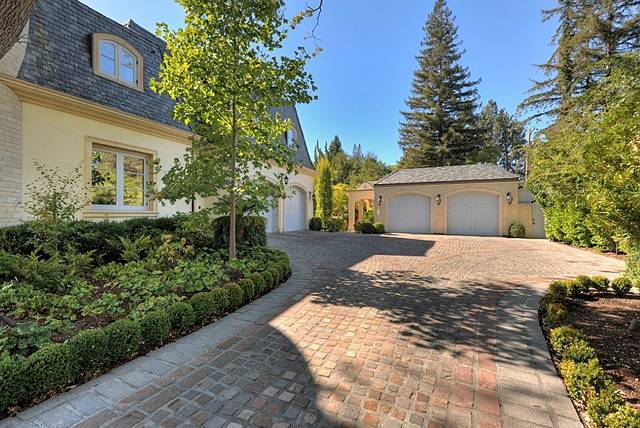 Stunning in every direction.
Welcome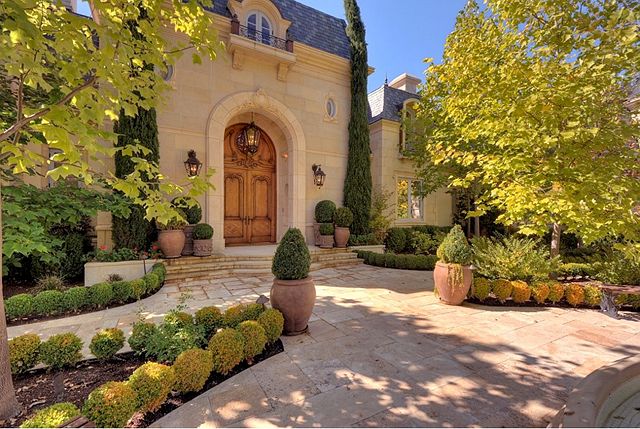 Notice the beautiful gardens and architecture of this house.
Now You See Now You Don't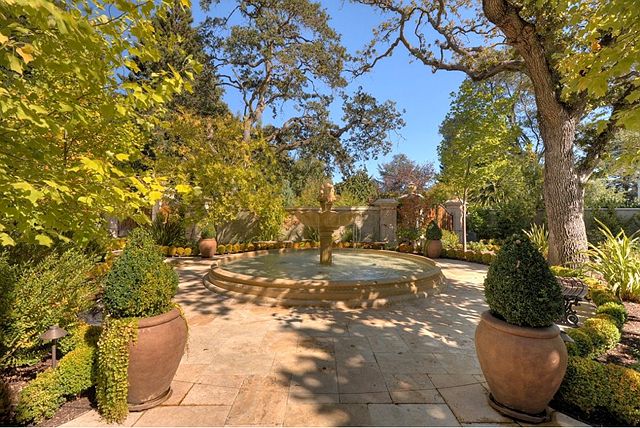 Trees add some privacy to this property.
Foyer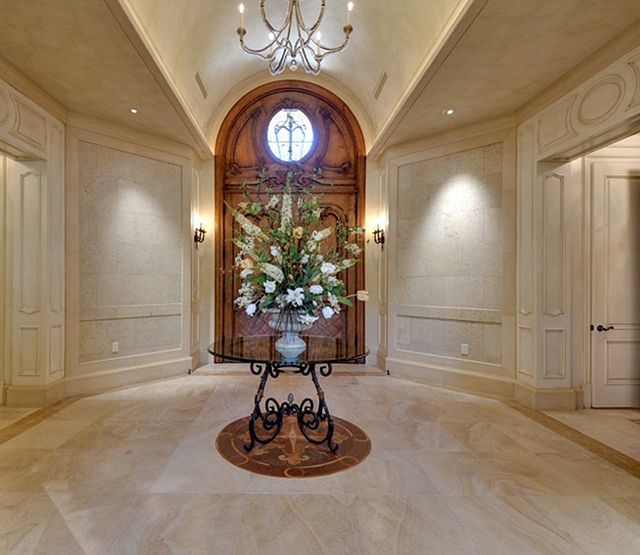 Very elegant foyer and the front door is simply amazing.
Staircase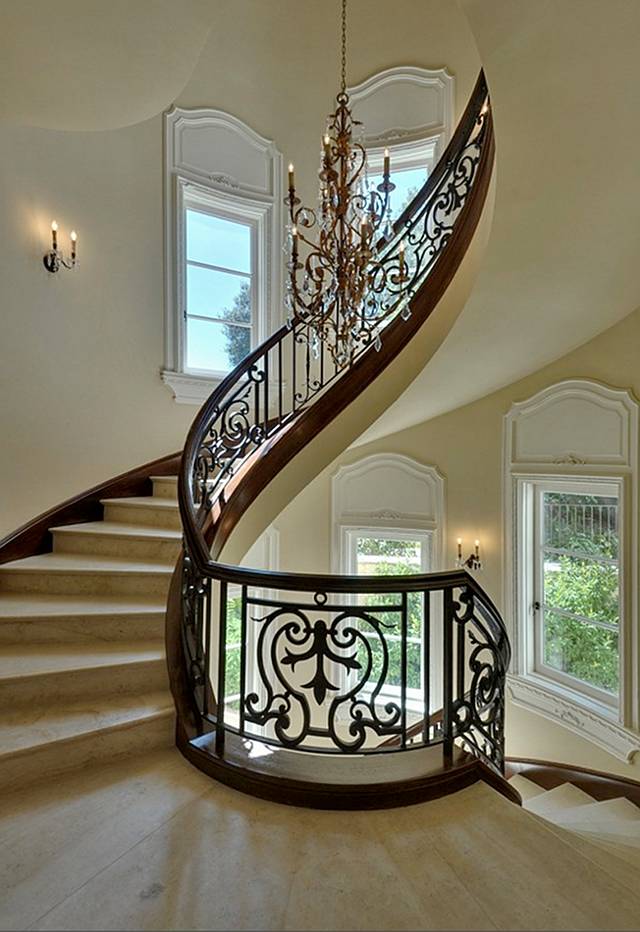 This is the kind of staircase that makes you stop, take a look and admire the craftsmanship.
Living Room
The two-story living room is very formal, but this kind of house asks for a room like this one.
Up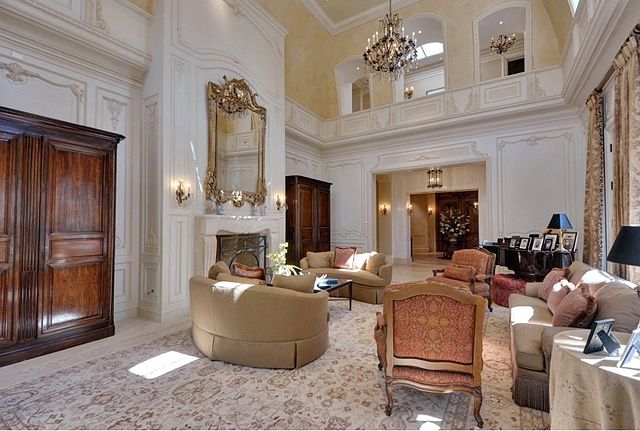 Please, take a moment to look at the details of this beautiful room.
Dining Room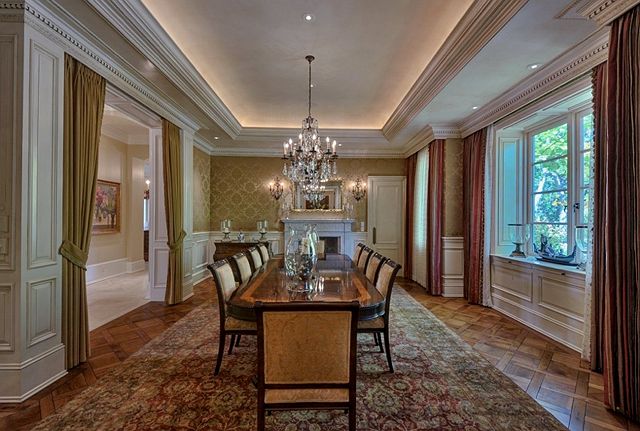 I like the warm colors in the dining room.
The Room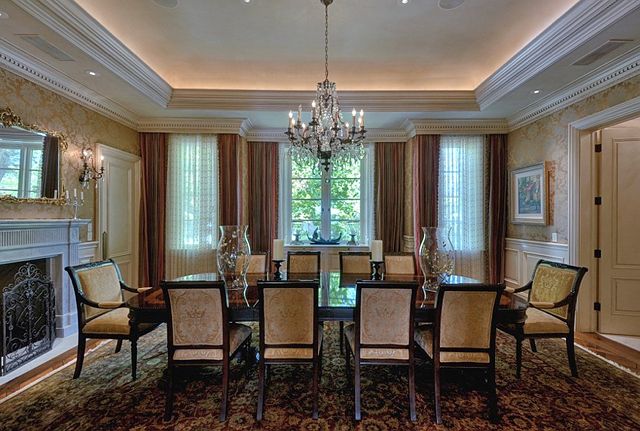 Another view of the dining room.
Study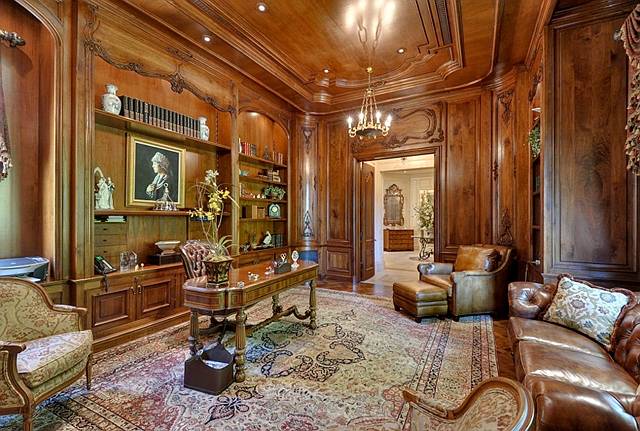 Look at this paneled study! Even if this is not really your style, I'm sure you can admire the details of this room.
For The Man of The House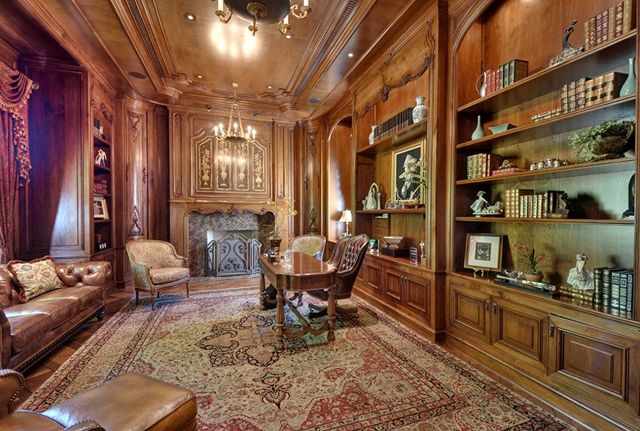 Dark paneled walls always feel very masculine, but also timeless.
Hallway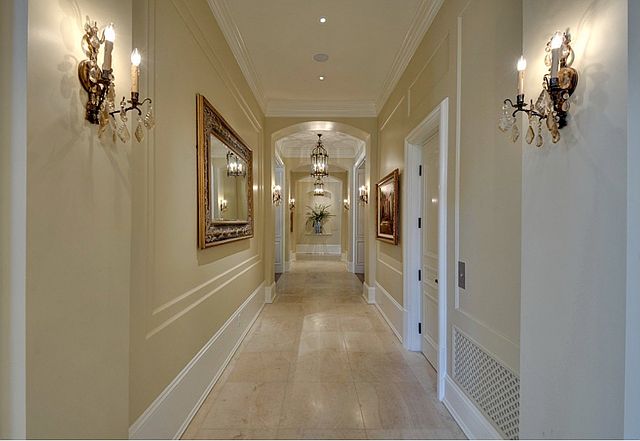 Nothing was overlooked in this house, including the hallways.
Family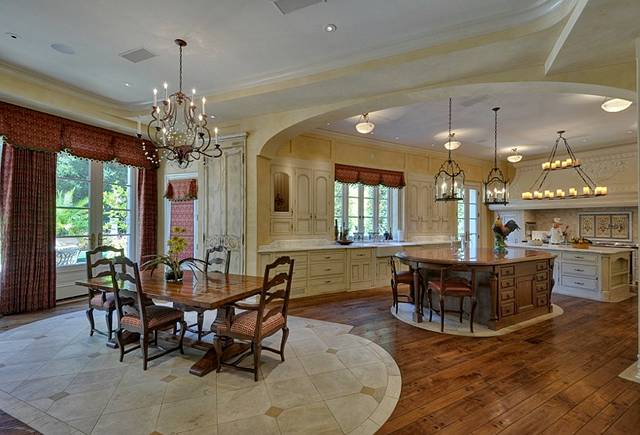 Where the family actually lives.
The Islands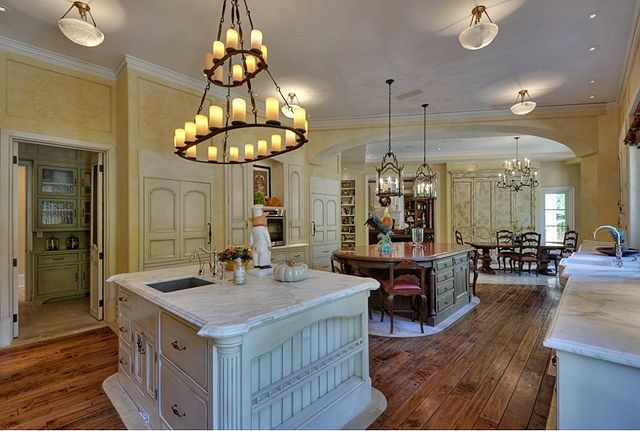 There's two very distinctive islands in this kitchen, and please notice the pantry on the left.
Space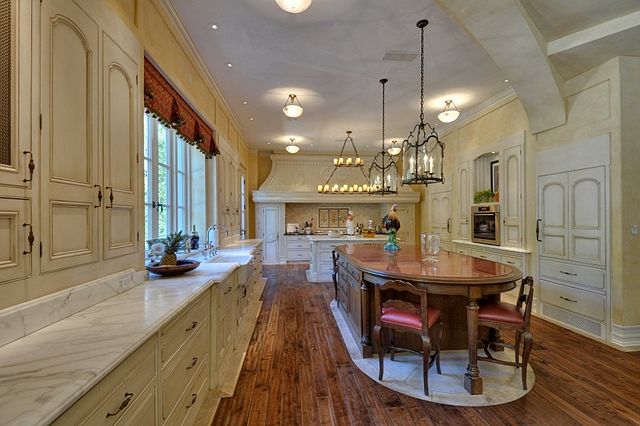 This kitchen feels very spacious. The light fixtures were beautifully chosen.
Eating Area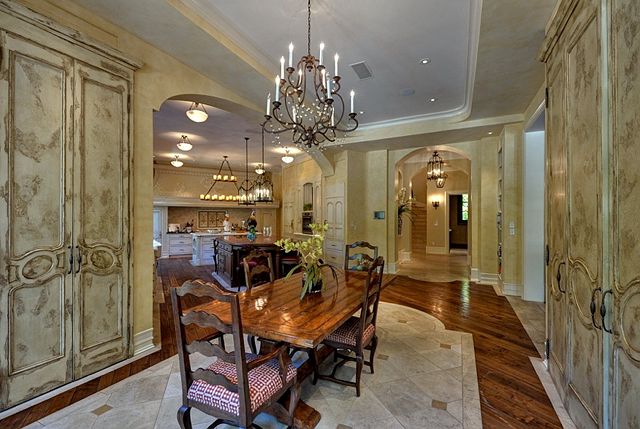 Very French.
Family Room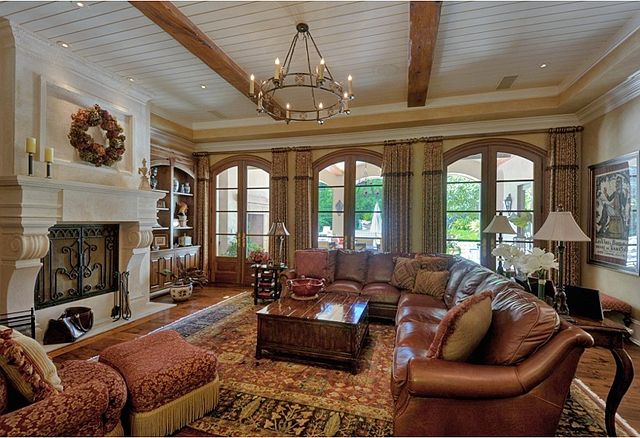 I love seeing big couches in the family room. It's a room that should feel really comfortable and have space for everyone.
Relax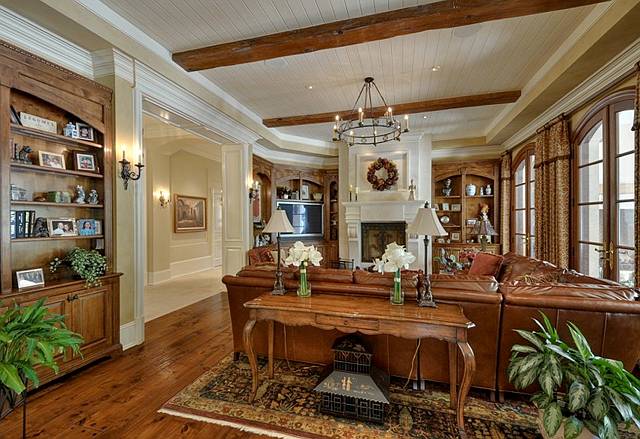 Well done.
Powder Room
I usually like lighter bathrooms but I can't say this powder room doesn't feel elegant and "right" for this house.
To Upstairs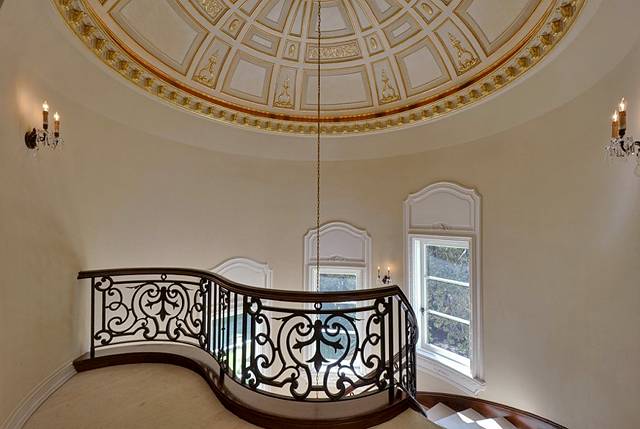 Landing to the upper level of the house. I really adore these three windows.
Loved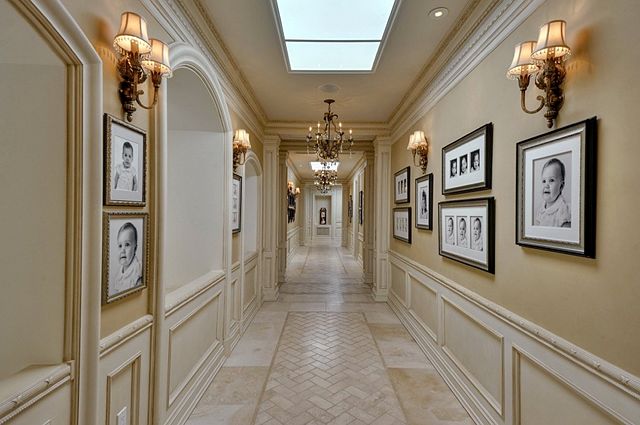 Gorgeous architecture and adorable baby!
Master Bedroom's Landing Area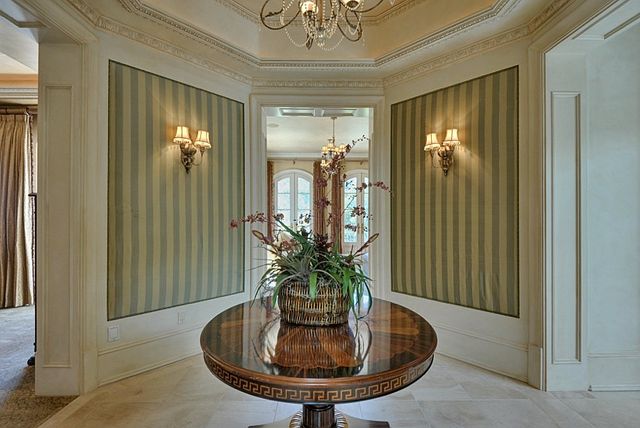 This is so beautiful! I love every single detail here.
Master Bedroom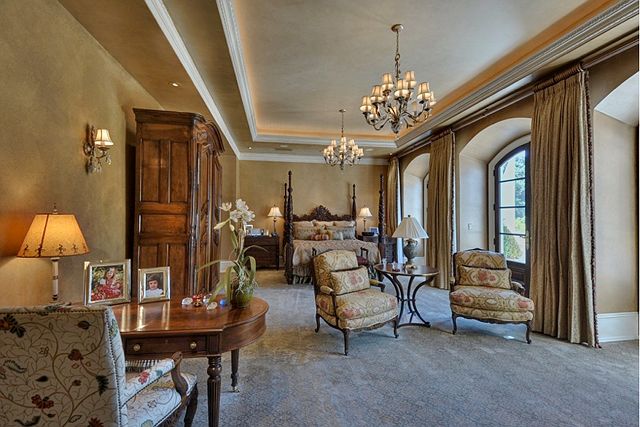 The elegance continues into the master bedroom.
Hotel Room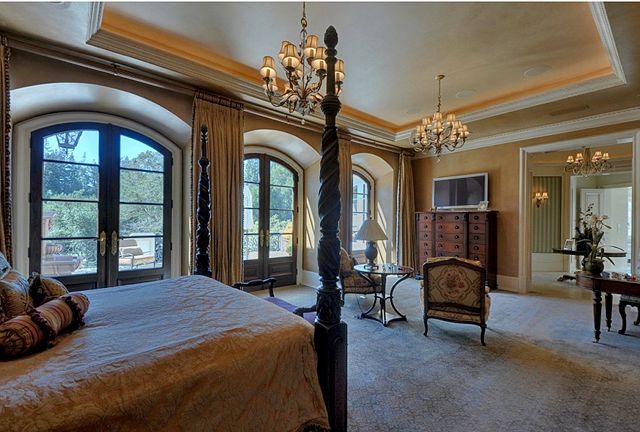 This bedroom feels very hotel-chic inspired.
Balcony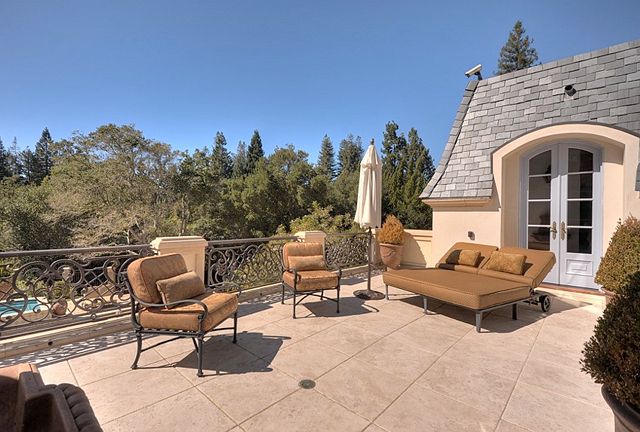 The balcony off the master bedroom.
Master Bathroom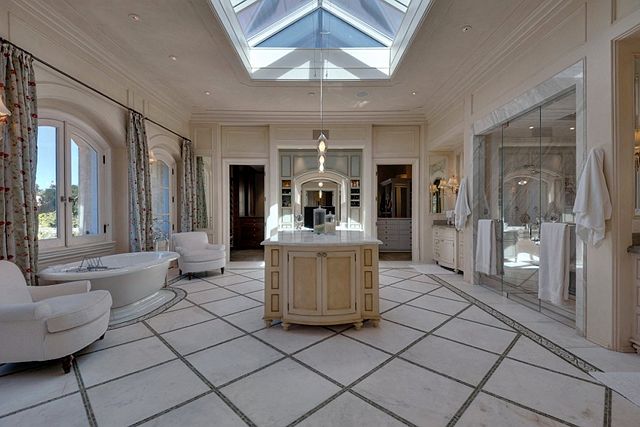 This is my favorite part of the house. I adore this super spacious bathroom. Notice the separate closet in each side.
The Island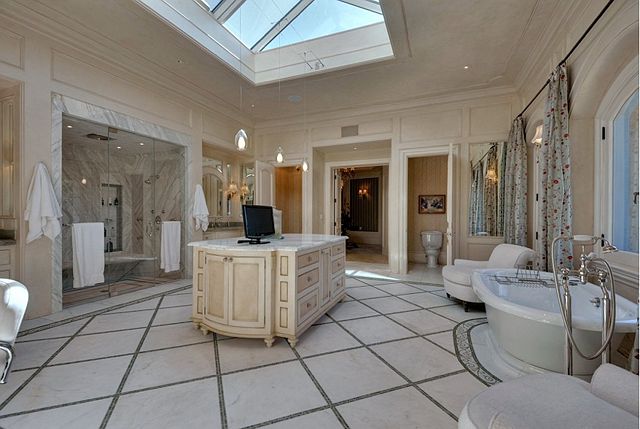 We rarely see islands in bathrooms, but I think it's a brilliant idea. The sinks are on each side of the shower.
Guest Bedroom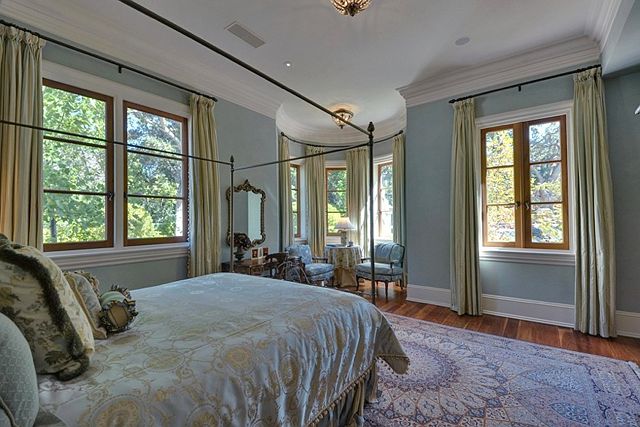 The colors are so relaxing. Perfect for a bedroom.
Guest Bathroom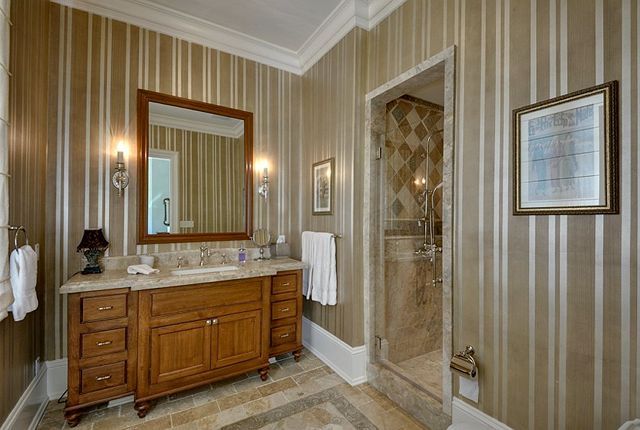 Nicely done.
Pink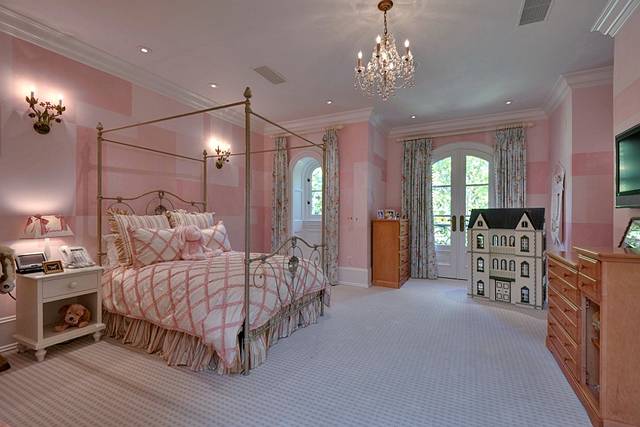 I really like this girl's bedroom and yes, it's pink and girlish! I can admire some kids rooms that the kid can "grow" with, but we're a kid only once and I feel bad when I see kids' bedrooms that are filled with dark and heavy elements. We should embrace our children's childhood and make it a little more magical, a little more enchanted and why not, a little more "child-like"!
Little One's Bathroom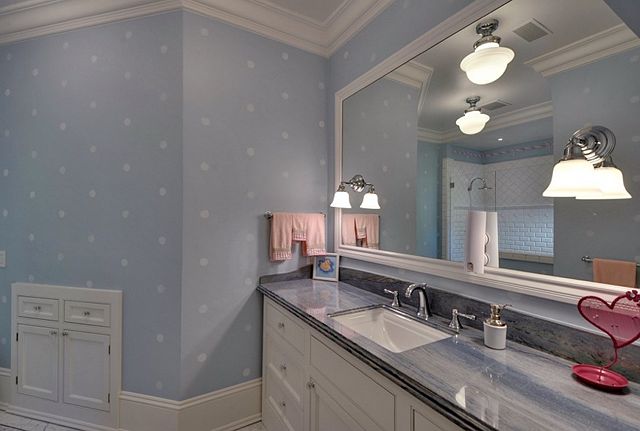 This is going to my "inspiration file". I wish I could see more of this bathroom, but I love the wallpaper, the color pallet and the subway tiled shower that can be seen through the mirror.
Basement Landing Area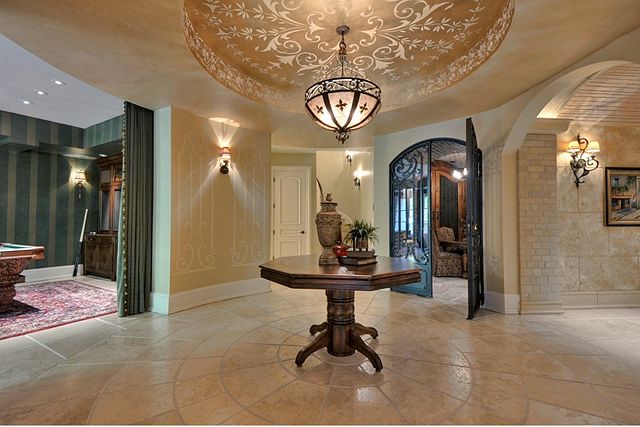 This is the area you come when you want to have some fun!
Hallway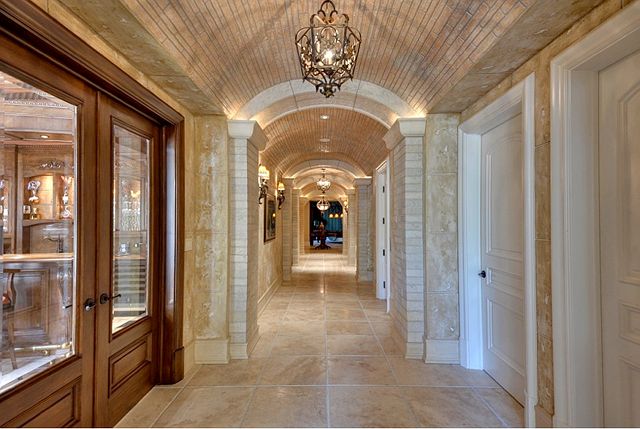 Take a look at the barrel ceilings.
Wine Room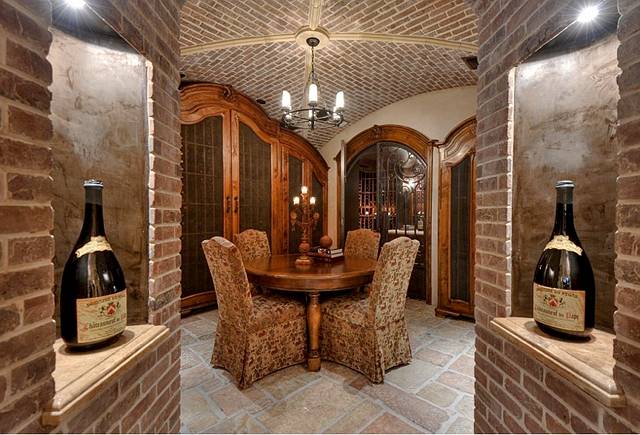 How stunning!
Just For the Special Ones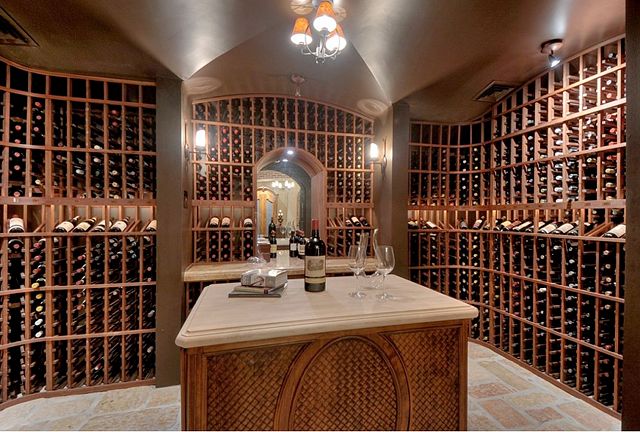 The 4,500 bottle wine cellar!
Movies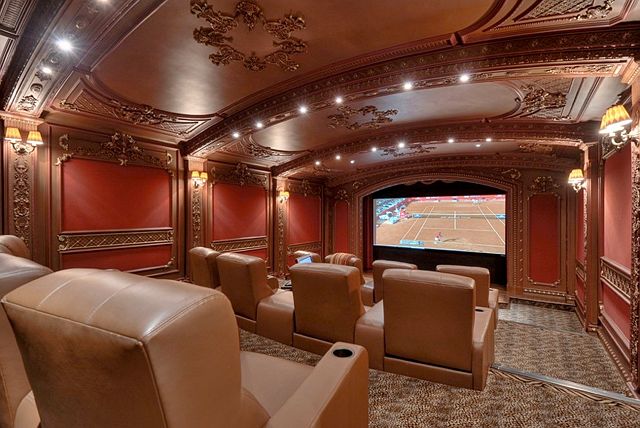 Dreamy "home" (are you sure this is at a home?) theater.
Spa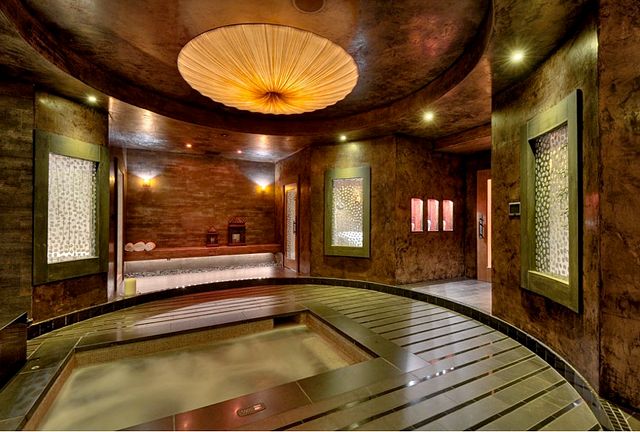 The incredible spa area.
Right Here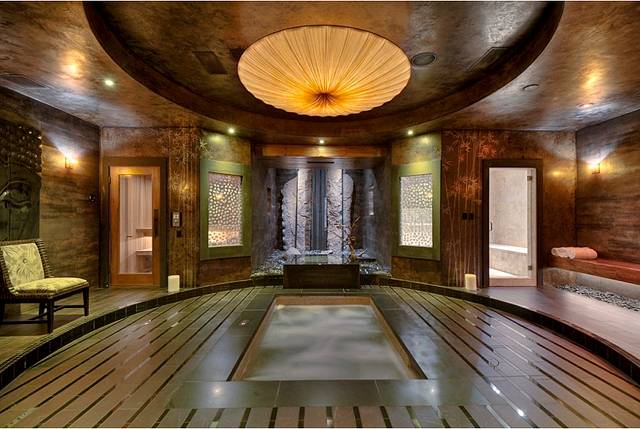 Wouldn't you love to have something like this at home?
Let's Go Outside!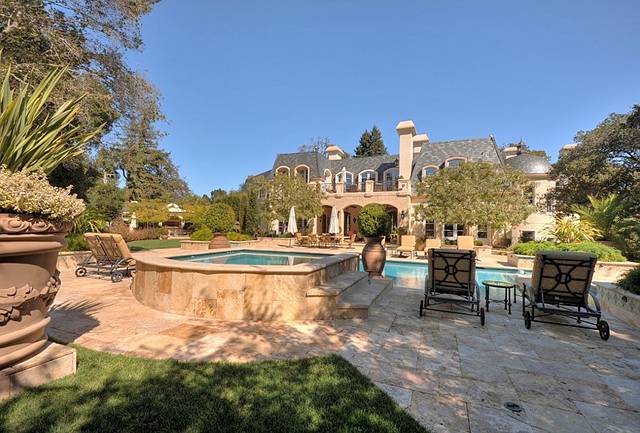 If you ever get bored staying indoors, take a look at what awaits you outdoors!
California Dream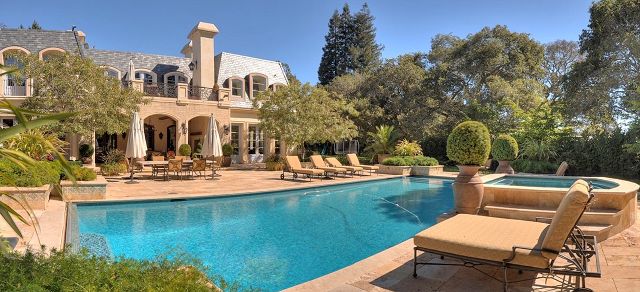 Any day, any time!
Blue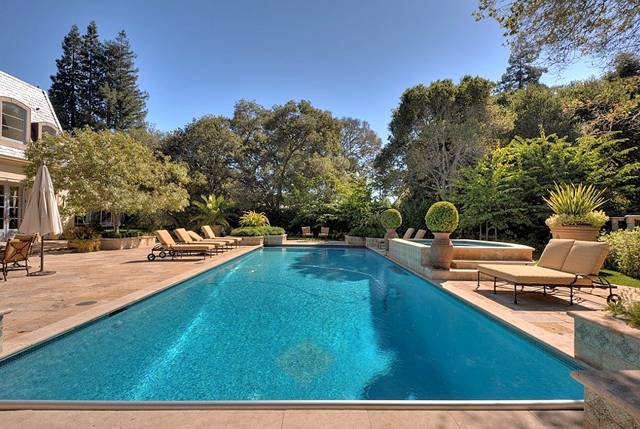 I'd love to swim here!
Fire Pit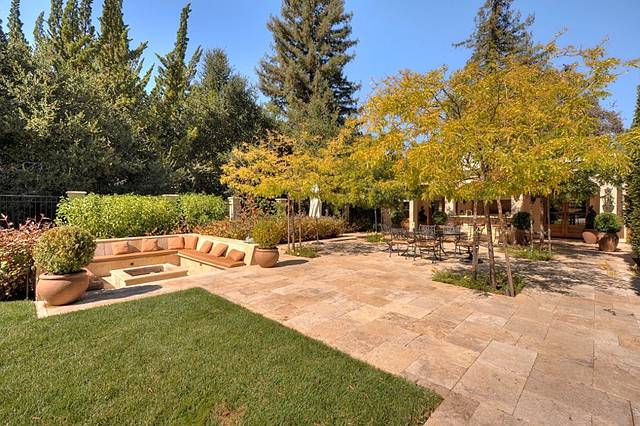 A look at the fire pit and the pool house.
Pool House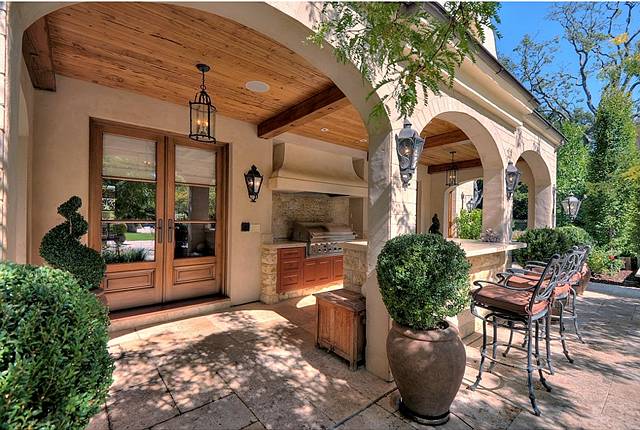 Isn't it the perfect pool house with its own outdoor kitchen?
Quiet Time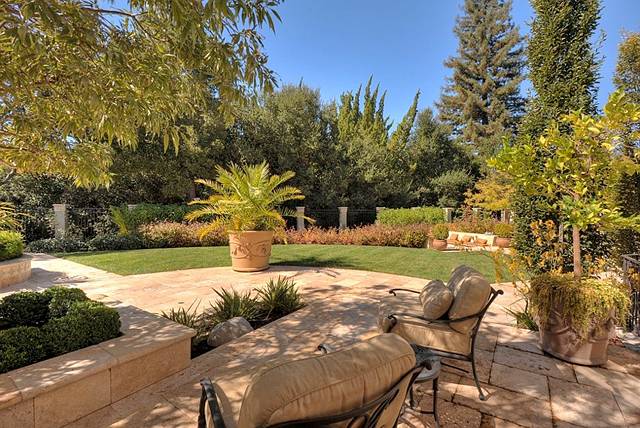 A place to sit and enjoy your backyard.
Slowly In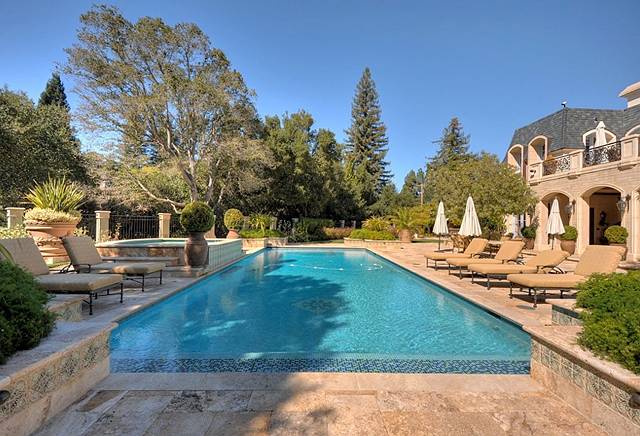 I really like how this pool was done. You don't have to dive, you can get in slowly, perfect for small children.
The Property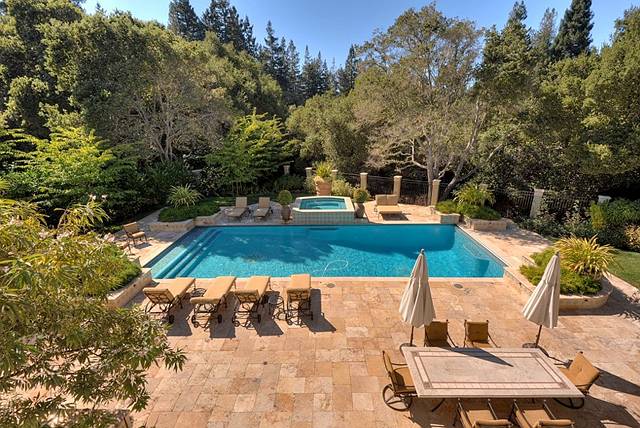 A nice view from above.
Did you enjoy seeing this house today? There's so many gorgeous spaces to be admired, don't you think? I'd love to know what you think of this place!
How was your weekend? It was raining here all the time, so we stayed indoors with the kids but it was really fun. My husband is teaching the kids to play chess and they're loving! It's so cute seeing the three of them together. I worked a lot and tried to relax a bit and read to the kids whenever I could. It was definitely a good, calming weekend and I just turned 38 weeks pregnant on Sunday. Not everything is always the way we want in this life, but I have to say that I feel that we're where we're suppose to be in this exact moment of our lives and recognizing this is a blessing.
Talking about blessings, let's make of this week a week where we embrace every blessing that comes our way. Let's keep our eyes open for them. You'll probably will notice many more blessings just because you're open for them.
Wishing a great week, with a big hug!
xo
Luciane at HomeBunch.com
Get My Help with Interior Design: HB's Design Service.
Come Follow me on Twitter: Twitter/HomeBunch
Source: Priceypads