Posted in:
Architecture
,
Classic Design
,
Color Palette
,
Colorful Interiors
,
Home Decor
,
Interior Design Blog
,
Interior Design Ideas
,
Interior Paint Color Ideas
,
Kitchen Design
,
Neutral Interiors
,
Paint Color
,
Small Space Design
,
Traditional Interiors
,
Transitional Interiors

0 comments
This is the time of the year that most homeowners decide to go ahead with the renovations they usually waited so long to happen. Good weather and free time during summer are good reasons to pull our sleeves up and start working on the project of our dreams. This, many times, means the kitchen!
As we know, the kitchen is one of the most renovated rooms in every home. Trends come and go and the way we see kitchen design often changes with them. White kitchens tend to stay classic and they're always a good idea if you don't like to take big risks, which is smart, since kitchen renos never come cheap.
When the right time arrived to renovated her kitchen, interior designer Lori of Redo Home & Design made sure to incorporate everything she loved, keeping her style and budget in mind. The designer chose to design a kitchen that constantly feels fresh with a green kitchen island, that not only brings a pop of color but also makes this kitchen stand apart from any cookie-cutter kitchen design we are so tired to see.
I hope you feel inspired and this kitchen helps brighten up your day just a little more.

Kitchen Design with Green Kitchen Island
This kitchen is modern, young and unafraid, which is so refreshing to see! You look at this kitchen and you can't miss the kelly-green painted kitchen island.
Green Kitchen Island Paint Color
The kitchen island paint color is Jade Green 2037-20 Benjamin Moore.
Kitchen Cabinet Hardware
The interior designer designed the stunning brass hardware and had it custom made for her kitchen.
 Kitchen Shiplap Backsplash
The backsplash is a place where clients and homeowners often struggle: finding a timeless material without being too mundane. Here the designer decided to wrap the whole room (including the backsplash) with shiplap. She used smooth-finish cement board, an exterior building material. It is easy to install, waterproof, easily cleaned and quite inexpensive. I love how crisp and fresh it looks!
White Paint Color
Walls and cabinets were painted in Benjamin Moore White Dove OC-17.
Color
Color makes this kitchen feel unique and happy. I am loving all of it!
Splash of Hapiness
This stunning artwork by Britt Bass Turner.
Kitchen Cabinet
 Beautiful yet simple shaker cabinets were added to this kitchen.
Decor
Glass kitchen cabinets allow you to add beautiful and useful decorative pieces such as these boxes from HomeGoods.
 Summer
 It's always summer in this kitchen! I love the color palette used here. Notice the lightly stained hardwood floors.
 Layout
 The kitchen layout offers a great layout for cooking and family living.
  Choosing Your Kitchen Color
The designer loves color but when it comes to design her kitchen she wanted to honor the integrity of her traditional, brick colonial house. She chose a green paint to add some character to the island but kept everything else simple to honor the integrity of the house while expanding the space for modern living. Like she says, "white kitchens come in and out of the spotlight, but never go out of style"! I really couldn't agree more.
Soap Dish
Did you notice this cute antler soap dish is from Anthropology.
Cabinet
This tall kitchen cabinet display pretty china and decor, while the doors bellow hide the groceries.
White China
White china is classic and timeless. I would never replace it with other color, especially when displaying them.
Slipcovered Barstool
The kitchen slipcovered barstool is by Restoration Hardware.
The white pendant lighting were designed by Redo Home & Design.
Choose White Kitchen Countertop Like a Pro
This is what the interior designer had to say about white kitchen courtertop: "I adore white countertops, but have seen too many homeowners regret using marble… for me, quartz is the way to go for white, maintenance-free, counters".
Backsplash
This is a first to me, but shiplap backsplash was added even behind the range.
Kitchen Hardwired Under Cabinet Outlet Strip
Whenever I am designing a kitchen, I always recommend my clients to use under counter mounted outlet strips. My clients and I like the idea of having more outlets, and having them hidden.
Design a Kitchen Like a Pro
For the designer, designing her kitchen all alone would be too overwhelming that's why she called in more experts. She asked for help with layout configurations, material advise, lighting plan suggestions, appliance expertise, and made use of her design team when it was time for color, lighting and styling. A kitchen renovation is typically the most expensive investment you make in your home… getting professional advice is a must!
Kitchen Bar
A simple kitchen bar was beautifully integrated into this kitchen.
Tulips
Don't wait to receive flowers… always buy them simply because you deserve them!
Gold
Gold Kitchen Hardware: Redo Home & Design.
Notice the design of each hardware. Beautiful!
Fresh Love
Tulips are my favorite flowers… Aren't these beautiful?
Kitchen Island Faucet
This modern faucet adds beauty and practically to this kitchen island.
Raspberries
Pretty and yummy!

Kitchen Sink
The stainless steel apron sink is by Kohler.
 

Doesn't this place, with all of its colors, make you a little happier? For me, any day would feel a little brighter in this kitchen.
See more Inspiring Interior Design Ideas in my

Archives.
Interior Design Ideas:

Paint Color
It's a good day here! In a few hours, I will be driving to the airport to get a very close friend that I don't see since 2011. I can't tell you enough how much I need a good friend by my side right now.
The kids love her also and we have so many plans for her. It should be very special!!!
Enjoy your day, my friends.
Be good, be safe and be happy! You deserve that.
with Love,
Luciane at HomeBunch.com
Interior Design Services within Your Budget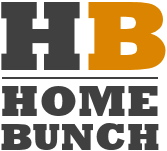 Get Home Bunch Posts Via Email

Sources: Style Me Pretty. Redo Home & Design. Photos by Alyssa Rosenheck Photography.


Posted in:
Architecture
,
Classic Design
,
Color Palette
,
Colorful Interiors
,
Home Decor
,
Interior Design Blog
,
Interior Design Ideas
,
Interior Paint Color Ideas
,
Kitchen Design
,
Neutral Interiors
,
Paint Color
,
Small Space Design
,
Traditional Interiors
,
Transitional Interiors

0 comments