Hello, my friends! How are you today? I am so happy to be able to share our annual "Christmas Decorating Ideas" post featuring many homeowners that were featured on my "Beautiful Homes of Instagram" series. They are really creative and when it comes to Christmas decor, they do not waste any time! Their homes are filled with the Christmas magic and I am sure that they will leave you inspired and wanting to add more of this magic right to your home.
Make sure to follow them on Instagram, pin your favorite 2018 Christmas ideas and get ready to celebrate this beautiful season with your loved ones. This is the main reason we work hard on this… to make sure we create beautiful memories in our homes with the people that matters the most to us.
Now, let this Holiday Season begin!
2018 Christmas Decorating Ideas
@CesHome6:

I wanted to keep a more traditional look for my Christmas decor outside the house this year. I feel that it matched the style of the home the best. I took wreaths from Michaels and added an outdoor red bow from Walmart and hung them on the windows and doors with command hooks. I put a pre-lit garland from Walmart on the upstairs balcony and added a couple of swags from Michaels as you walk up to the home and that was it for the outside.
Follow @CesHome6 on Instagram.
Christmas Decor


For my indoor Christmas decor I love to add a lot of red and plaid. My home is so neutral year round so I go crazy with color this time of year. I add red or plaid bows to my wreaths I already have up and change out my pillows and blankets for more red and plaid. I found these red pillows at At Home for only $5 each and the black and white plaid blanket from Walmart for only $3. I love a bargain. My chairs are from Nebraska Furniture Mart in their Ashely Home Store line and they are the most comfortable little chairs.
@CesHome6
Dining Table


My dining table decor was very simple to create by just adding 4 Target trees, a few wooden deer from Hobby Lobby, some Dollar Store candles and a few picks that look like garland from Hobby Lobby.
@CesHome6
Christmas Kitchen Island Decor


I created the Merry Christmas garland above my oven with sticker letters on wood slices strung on twine. I like to make my own bows for my wreaths too. My tiered tray is one of my favorite purchases because I can easily change out the decor to match any season. Pine cones and berry stems can be put anywhere in the house to add the Christmas season to any space.
@CesHome6
Counter Decor


I like to keep certain decor out year round because it's just easier that way. For fall I added apples and pears to this greenery and for Christmas I added some snow covered pine cones and berry picks.
@CesHome6
Details

My favorite place to shop for Christmas decor is Target. I'm sure you can agree that Target has it all. I made this cute, simple little vignette in my kitchen with items from Target and Michaels.
@CesHome6
Console Table Decor


I kept all my main decor pieces in this space and just added some red ornaments from the Dollar Tree, NOEL letters I painted red from Hobby Lobby, some cotton stems to make it look more wintery, and a plaid bow I made with leftover ribbon from my tree.
@CesHome6
Christmas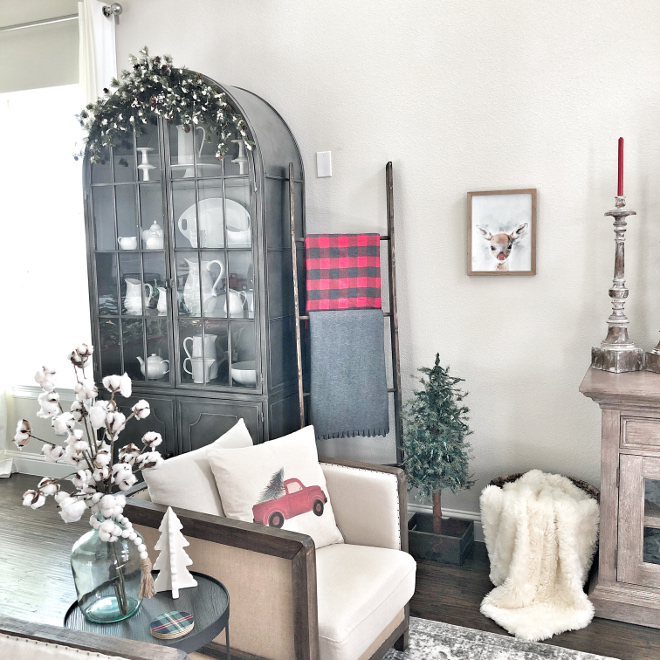 Reindeer printable is from Etsy at NMinetstore.
@CesHome6
Plaid Christmas Tree


My Christmas tree is 9 feet from At Home and it's been going strong for 3 years. I've never had to replace a bulb. I found my ornaments at Target, At Home, and Hobby Lobby. My tree skirt, garland, white houses and comfortable fuzzy blanket are all from Target too. The beautiful pillow is from my favorite IG pillow shop @linenandivory. I stuff the adorable Santa bags I found at Michaels with packing paper to make them look like they're filled with gifts. With having 4 kids I like my decor to still be fun for them.
@CesHome6
Close-up

I add plaid ribbon from Michaels weaved in and out of the tree because it adds so much to the tree.
@CesHome6
Fire

Since I don't have a fireplace I have to make do with Netflix Christmas Fireplace. 🙂
@CesHome6
@Cindimc.IvoryHomeDesign: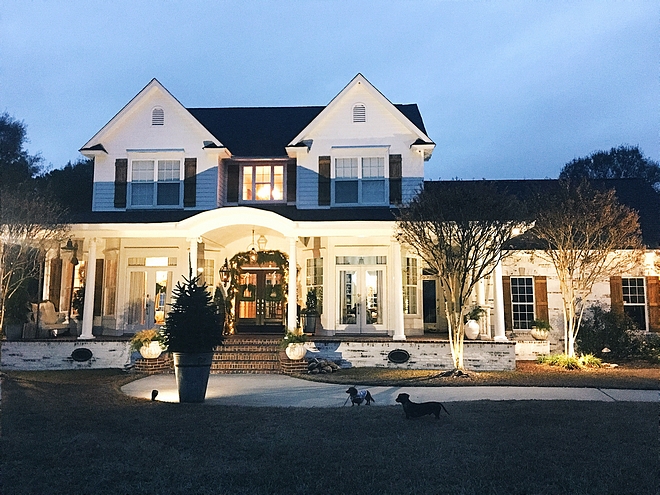 It's a beautiful Mississippi night! Have you started Christmas decorating? I hope you're having a wonderful holiday season friends!
Follow @cindimc.ivoryhomedesign on Instagram.
Front Door Christmas Decor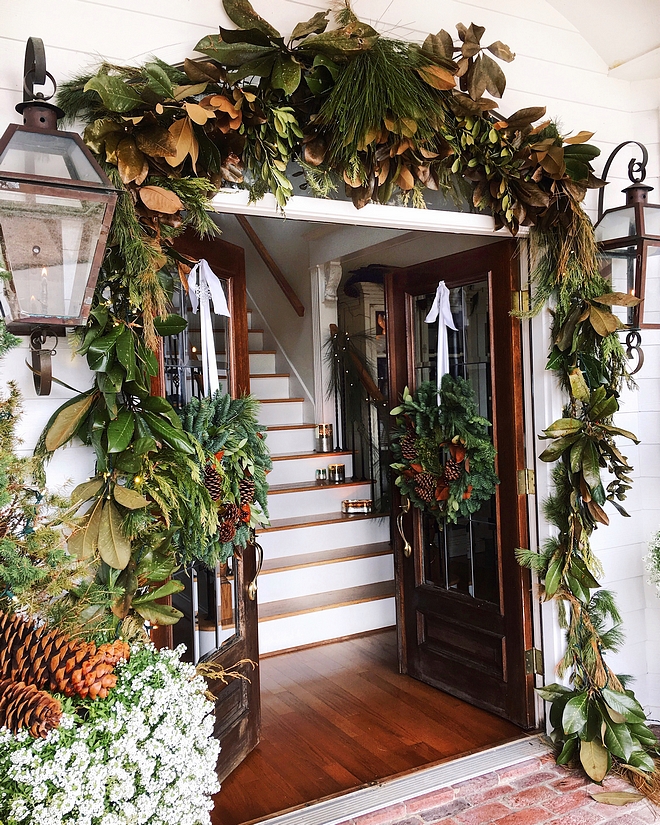 @cindimc.ivoryhomedesign
Porch Swing


@cindimc.ivoryhomedesign
Dining Room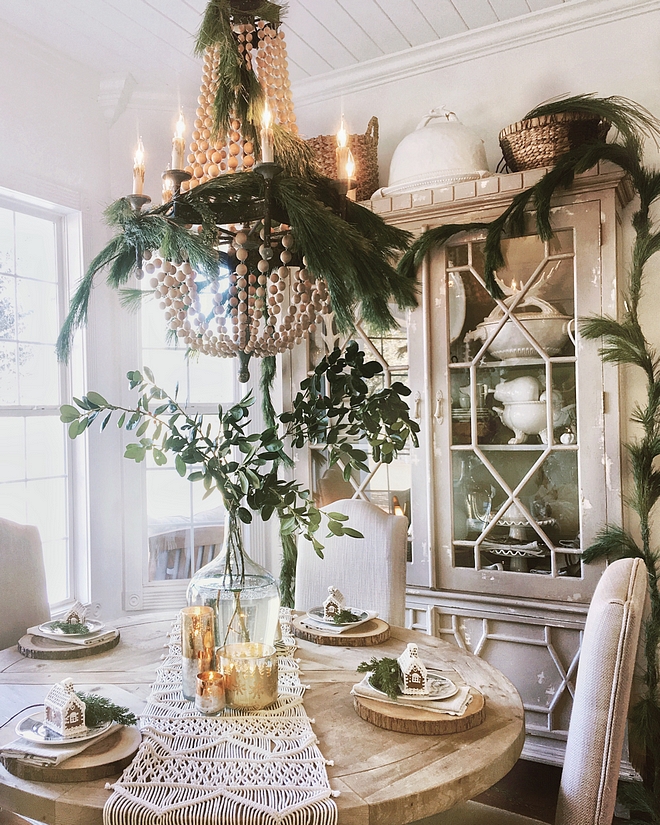 I'm so thankful today for God's love and Mercy! Gratitude works miracles, try it! It shifts your mood in seconds! Think positive thoughts today and have a blessed day!💚
@cindimc.ivoryhomedesign
The Magic of Christmas


I had plenty of good help today decorating this 12 ft Fraser Fir Christmas tree!🌲
@cindimc.ivoryhomedesign
Oh, Christmas Tree!


Special memories!🌲 Make someone smile today, and it will make you happier! Enjoy your day!💚
@cindimc.ivoryhomedesign
Nesting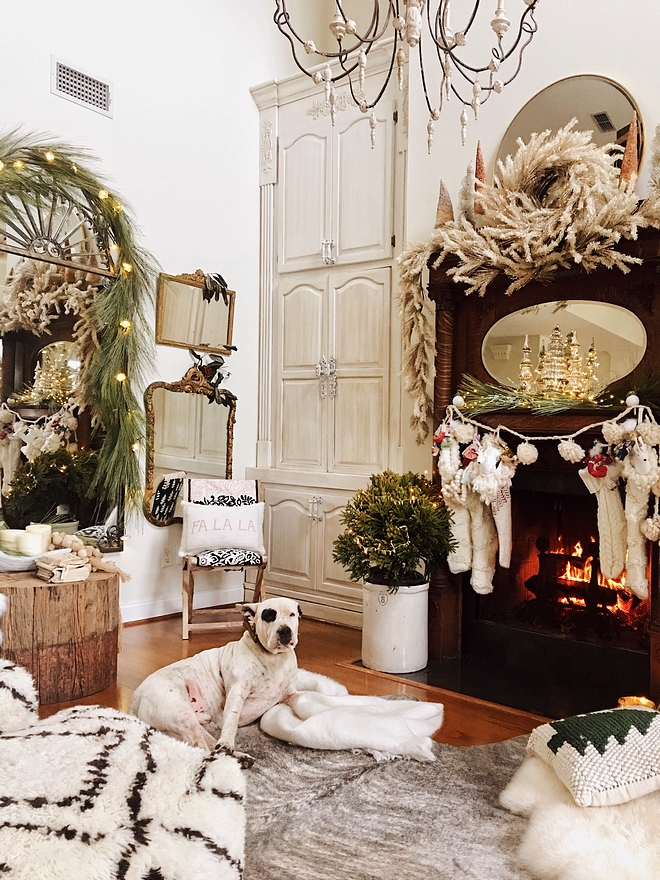 Love this picture of Beau. He's enjoying the fire!
@cindimc.ivoryhomedesign
Outdoor Fireplace


@cindimc.ivoryhomedesign
Porch Swing


Cindi's porch swing is one of the most pinned on the net and it's easy to see why, right?! 🙂
@cindimc.ivoryhomedesign
Christmas


@cindimc.ivoryhomedesign
@HouseOnPrairieLane
Christmas is my absolute FAVORITE season of the year to decorate! There's something about the twinkling lights and the smell of a fresh cut Christmas tree that makes our home feel truly magical. I love to start with a neutral color scheme of white, gold and silver, but then incorporate a few pops of color. Navy and blush pink are my current favorite looks for the holiday season, and there is nothing like adding fresh greenery to the mix! I love to have a cohesive look throughout our home, especially since we have an open concept layout. I just love how it all flows together.. including my matching wrapping paper! We are so excited for the Holiday Season and look forward to the wonderful memories we create each year. I wish you all a very Merry Christmas, from House on Prairie Lane Xo!
Follow @houseonprairielane on Instagram.
Photography: Andrew Standaert.
Kitchen Pendants

Pendants: Pottery Barn.
Bar Stools: West Elm.
@houseonprairielane
Photography: Andrew Standaert.
Dining Room

Chandelier: Feiss
@houseonprairielane
Photography: Andrew Standaert.
Table Decor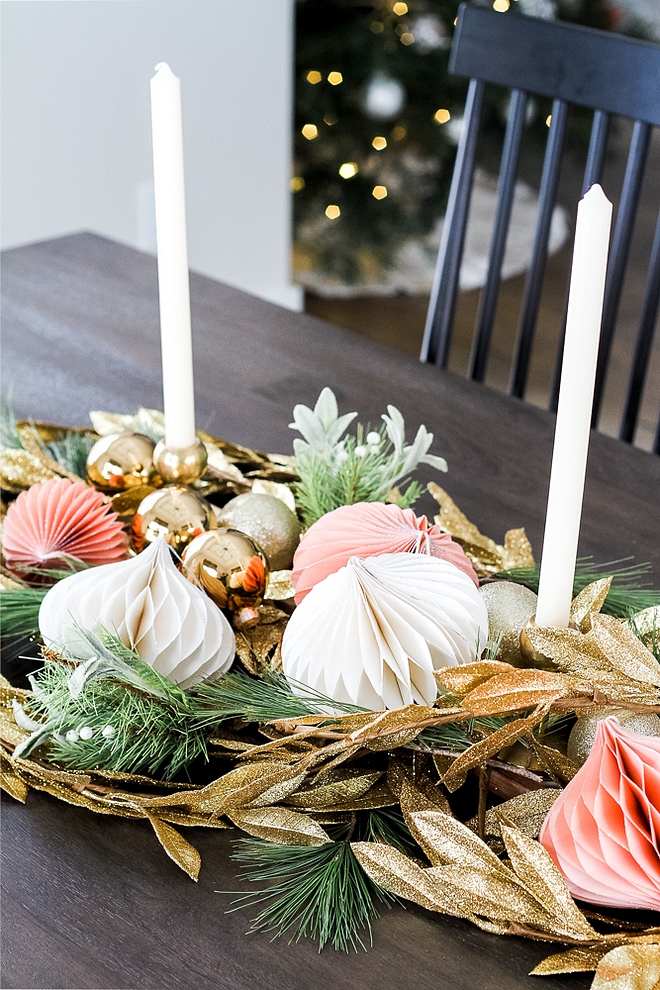 Candle Holders: West Elm.
@houseonprairielane
Photography: Andrew Standaert.
Shiplap Paint Color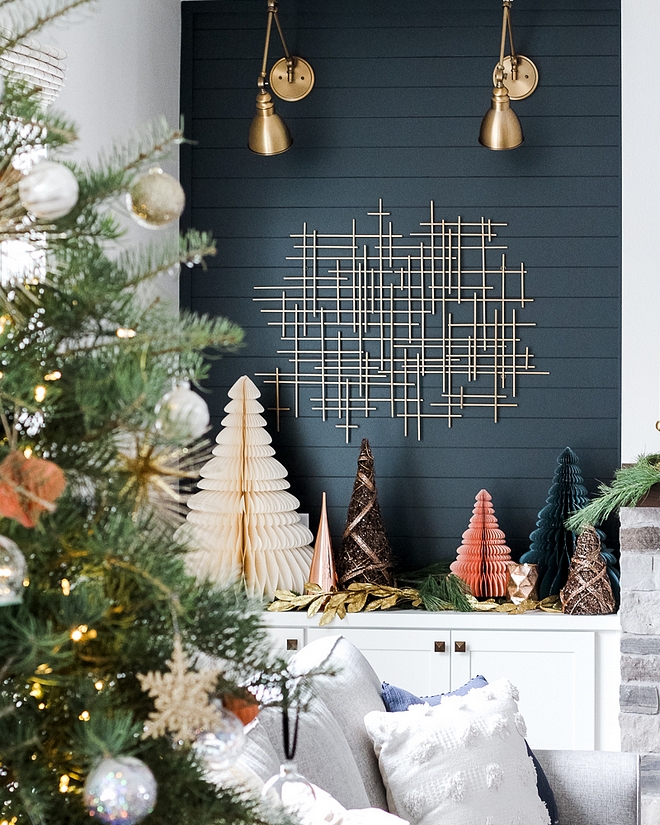 Shiplap Wall: Sherwin Williams Cyberspace.
Lighting: Birch Lane.
Metal Wall Art: Target.

@houseonprairielane
Photography: Andrew Standaert.
Ornaments

Ornaments: West Elm.
@houseonprairielane
Photography: Andrew Standaert.
Ballerina


Erica Barratt Ballerina: West Elm.
@houseonprairielane
Photography: Andrew Standaert.
Wrapping Paper


Wrapping Paper: Sugar Paper at Target.
@houseonprairielane
Photography: Andrew Standaert.
Living Room


Sofas: Pottery Barn.
Coffee Table: Pottery Barn.
Lanterns (by fireplace): West Elm.
@houseonprairielane
Photography: Andrew Standaert.
Stockings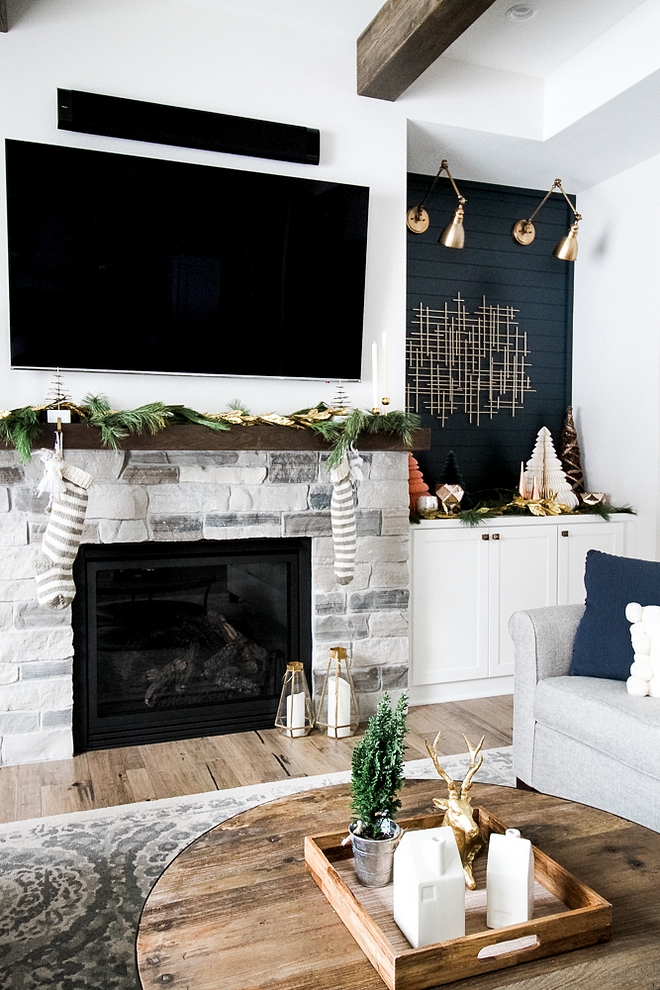 Rug: Pottery Barn.
Ceramic Houses: Target.
Knit Stockings: West Elm.
Stocking Holders: West Elm.
@houseonprairielane
Photography: Andrew Standaert.
Trees

Accordion Paper Trees: West Elm (similar) – the ones above are also from West Elm, but no longer available.
@houseonprairielane
Photography: Andrew Standaert.
Gold Garland

Gold Garland: West Elm
@houseonprairielane
Photography: Andrew Standaert.
@SweetThreadsco:

'Tis the season! For our front porch I swagged greenery over and across our front doors and hung boxwood wreaths with black and white striped ribbon for a clean, classic look.
Little extra details include, black ribbon tied to the lanterns and a black and white striped rug under the welcome mat to greet our guests in a big way!
Follow @sweetthreadsco on Instagram.
Planter

I filled a black container from the Hearth & Hand line by Magnolia for Target with live greenery and red berries.
@sweetthreadsco
Bench Decor Inspo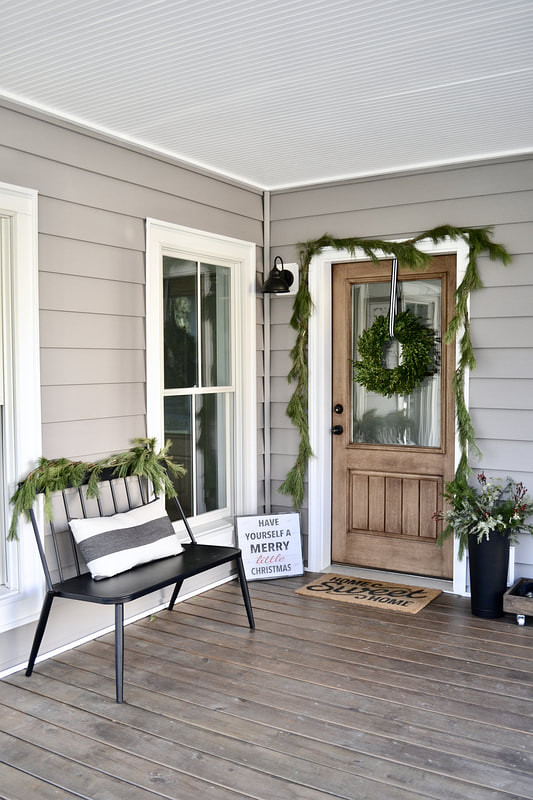 @sweetthreadsco
Family Room


In our family room, I used live cedar garland across our mantle and added accents such as a white flocked trees and an antler pillow from a local shop.
@Pamela.Saumure: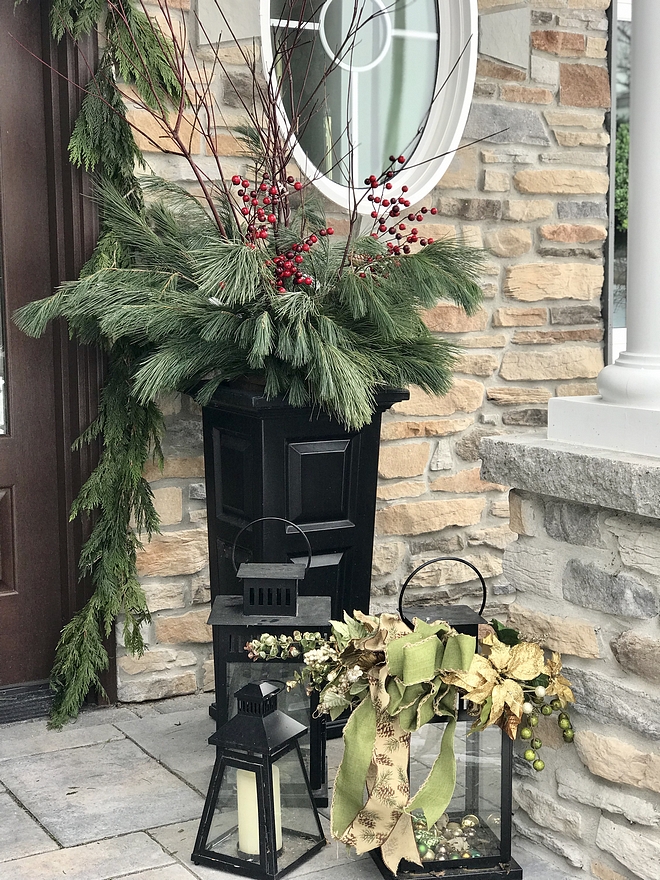 Hello and Happy Holidays! It's the most wonderful time of the year again! It seems that I just put my Christmas totes away two or three months ago.
Thank you to Luciane once again for all of her hard work she puts in to every blog post and special series' that she writes. I am so honoured and humbled to be featured in her Beautiful Homes of Instagram Series along with so many other very talented home decor accounts that I adore. I hope your enjoy the tour.
Decorating my home for Christmas is my favourite season to decorate. Although I start strong with good intentions, sometimes I find it hard to stay motivated and keep decorating until it's finished. Maybe I put too much pressure on myself. Whatever the reason, I certainly find scrolling my favourite Instagram accounts helpful to find inspiration and keep up the momentum.
I am very much a less-is-more kind of person (except for decorating a Christmas tree, which in my opinion, can never have too many decorations) as you can tell by the decor on my front porch. I enjoy arranging the urns myself and adding special touches and items from nature but snow and time came too soon this year. I purchased these pretty, ready-made planters this year at a local nursery. I like the festive touch the pops of red from the berries give. I love lanterns in any colour or style, and like to group them together and either add a candle to the inside, or different colours of Christmas balls to them and add a bow and ribbon the the handle.
Follow @pamela.saumure on Instagram.
Christmas Tree

As I mentioned, Christmas tree decor is where more is more!!! I love ribbons, bows, sparkles, flowers, just about anything, as long as it all compliments each other. My tree decor changes every few years or so but I am careful to ensure it matches my interior decor.
Joy

I love this tree from Balsam Hill in the living room. Its branches are full and life-like and made of such great quality and it assembles quickly. It is not prelit. As convenient and beautiful as they are, I prefer adding my own strands of lights.
Mantel

I tried adding this mantle sign to the sunroom mantle but I feel its home is above this fireplace. A few years ago, I decided I wanted to try my hand at sign making, as I look back, I wonder why I didn't start with a smaller sign. To me, this sign is significant in meaning, and I don't require much more decor on the mantle than what is there now.
Pinecones

I've always been drawn to gold for Christmas. It adds a pretty, timeless elegance to anything and it compliments so many other colours.
Sunroom

Is there anything more cozy than a warm crackling fire and the soft golden glow of Christmas lights? Both create a warm and homey ambiance.
Liberty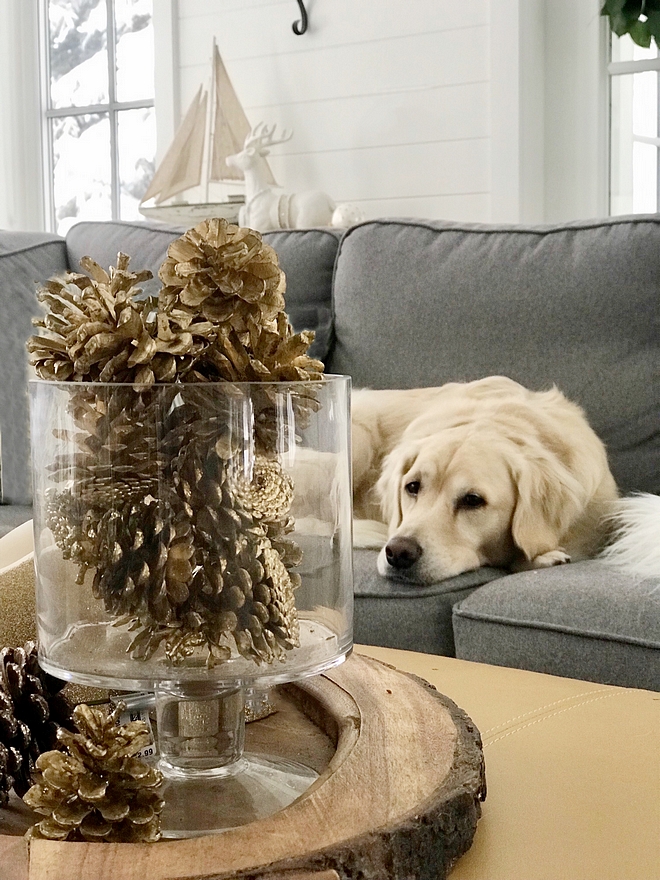 My sweet girl Liberty keeps her eyes on me while I tweak decor pieces and move them from one room to another, many times over, until I find just the right spot for it.
Sharing


Along with a collection of Christmas trees, I also have an abundance of pretty bags, boxes and tissue paper that sit underneath the tree, or I use them to add sparkle and glam to any space.
Lit White Houses


These cute little white houses were purchased at Target Dollar Spot.
Sunroom Christmas Tree

This 9 foot tall tree is the perfect height for the sunroom. This year, I found a large roll of pretty peacock ribbon at Costco and knew the shades of blue were perfect for the sunroom tree. I was able to wrap the whole tree and still have a substantial amount of ribbon left! I added blue balls from Canadian Tire and Michales and added gold filler, of course.
Dining Room


My dining tablescape decor will likely change a few times before we actually enjoy Christmas brunch and dinner around it. I'll add a long fresh flower centrepiece and add silver or gold candles (or both) and keep it simple and elegant.
You must see her kitchen on Pamela's Beautiful Homes of Instagram feature!!!
Stair Garland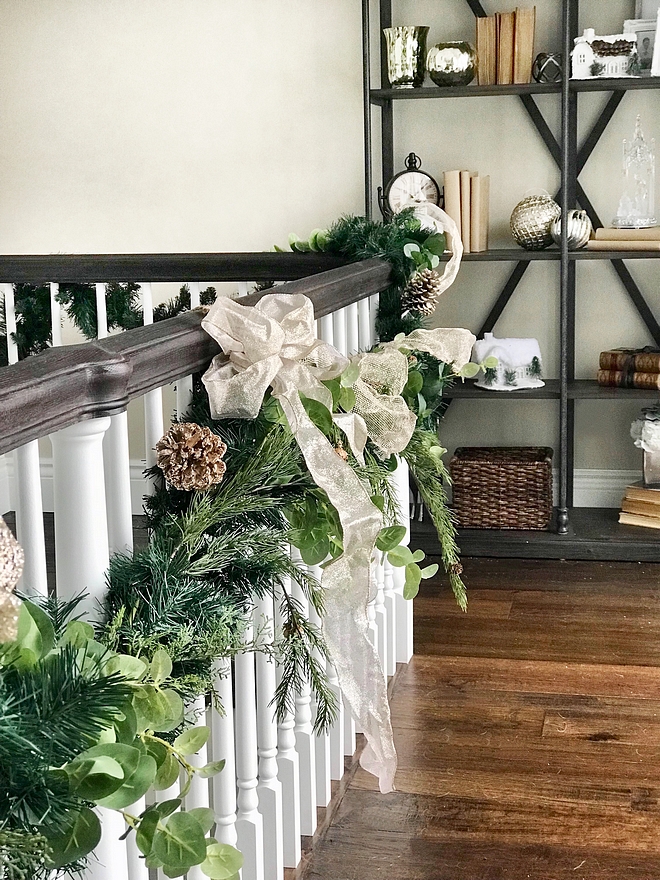 I like to layer garland with different tones and species of greenery, like cedar, pine and of course, eucalyptus.
Mudroom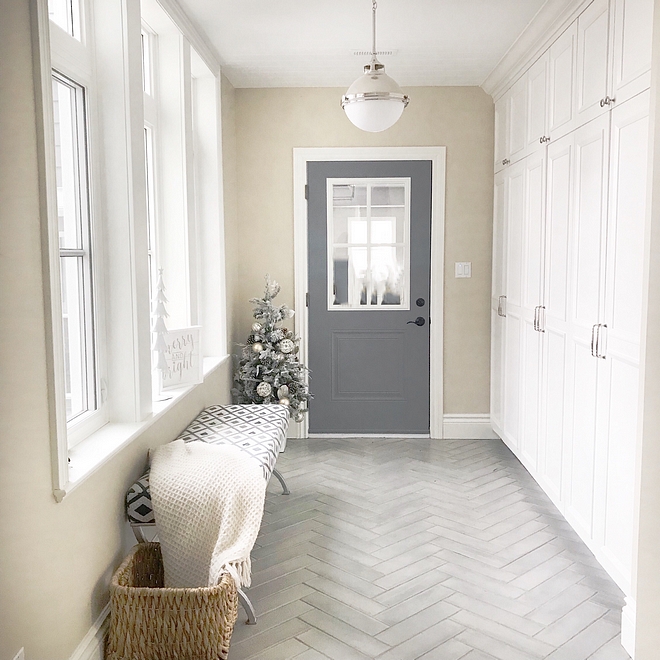 Keeping with the less is more theme, my mudroom has a tiny flocked gold and silver decorated tree that I found at HomeSense Canada a few years ago.
Merry & Bright


I must admit, I have a rather large collection of assorted Christmas trees and signs. You will find a tree or two in every room.
@PlankandPillow: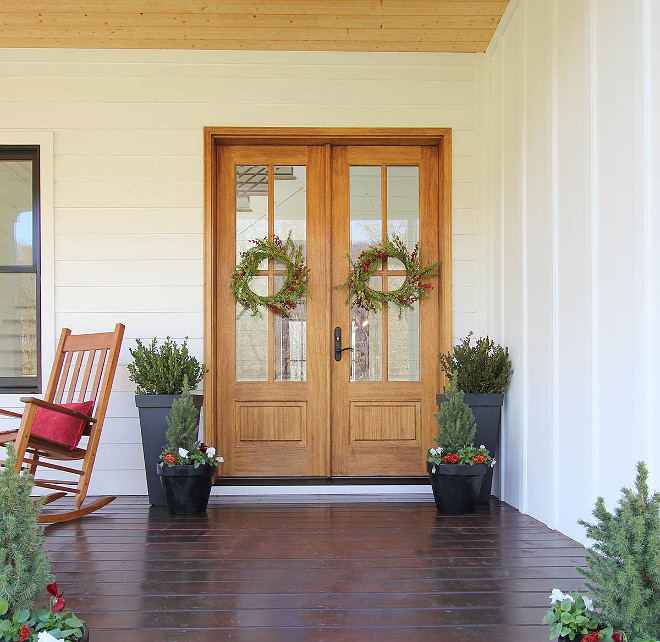 This year we took a more traditional approach with our Christmas Decor. We achieved this feel by using lots of greenery and reds. We also added in some gold accents to bring out a more modern feel.
Follow @plankandpillow on Instagram.
Kitchen Hood Decor


You can see more detail on this kitchen hood here.
@plankandpillow
Naturally Beautiful


@plankandpillow

Paint Color


Wall Color: Sherwin Williams Creamy.
@plankandpillow
Christmas Tree


@plankandpillow
@Cynthia_Weber_Design: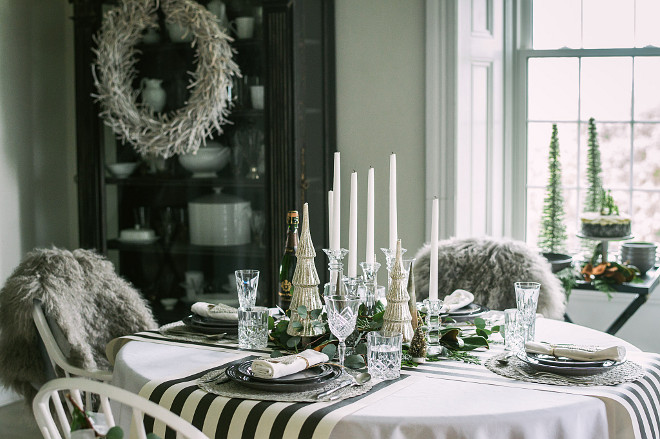 I am so excited to be a part of this amazing Holiday feature on Homebunch! My name is Cynthia and I run a custom interiors studio from our historic stone home BannockBurn 1878 located in the rolling countryside of south western Ontario, Canada.
I often hear people say that they don't know where to begin when creating the mood for Holiday Dinner parties… It can all seem a bit overwhelming! I was thrilled to collaborate recently with Bradshaws, a fantastic local shop for a Holiday Style shoot at our home. We had a wonderful time and I hope these photos give you some ideas for setting your table this festive season!!
Follow @cynthia_weber_design on Instagram.
Creative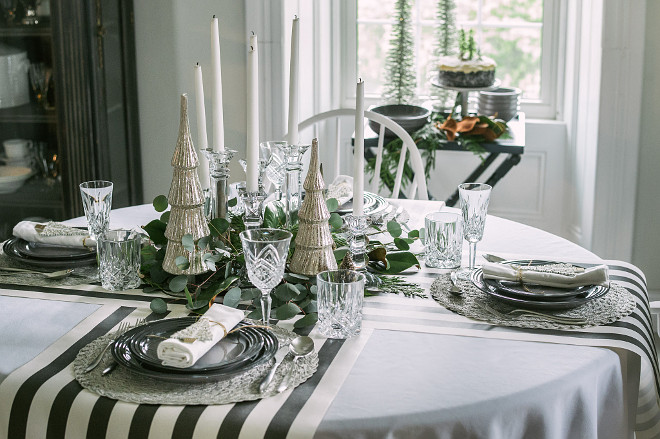 Creating a beautiful Holiday tablescape sets the mood for the festivities… smiling faces and laughter mixing with beautiful holiday music enticing those that sit to linger and make memories. For this look we started with a classic white tablecloth topped with the unexpected addition of a jaunty stripped table runner. Round woven placemats in silver and gorgeous Le Creuset dinnerware bring texture and interest. Some whimsy comes to the party with these fun tree ornaments tied around the napkins with twine… A gift for each guest to take home as a memory of the evening.
@cynthia_weber_design.
Details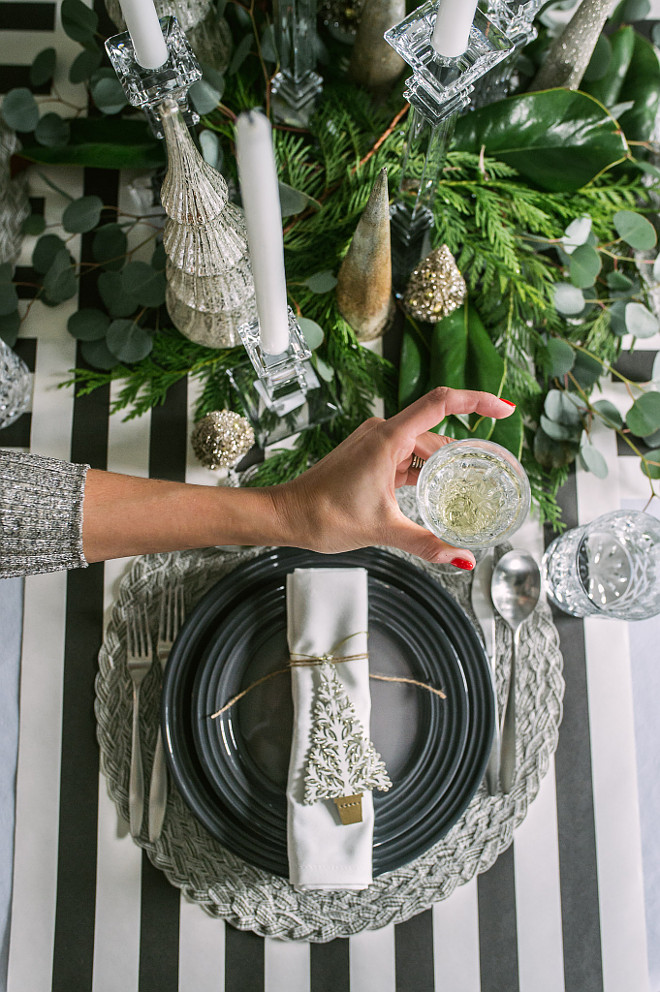 Mixing fresh greens with crystal candlesticks, white candles and these wonderful mercury glass trees brings the perfect mix to this centrepiece. I can just imaging the dance of soft light when the candles are lit playing off the metallic of the trees… sigh.
@cynthia_weber_design.
Serving

If you are anything like me you are always looking for serving areas. I designed these collapsible tray tables based on a vintage baggage stand concept. We have them throughout the house and quite frankly, I can't image not having them… I use them in so many ways. Here one makes the perfect place to showcase desert. Not only does this leave the host or hostess free to do less hopping between courses but it also provides another place for a holiday vignette.
@cynthia_weber_design.
Cake

We work so hard creating beautiful deserts for Holiday gatherings… it seems fitting to give them centre stage as long as possible! This absolutely adorable cake dressed with rosemary tip trees and a banbiesque doe deserve to be seen and fawned over… yes, I did say "fawned" over Ha Ha Ha… or is it Ho Ho Ho?
@cynthia_weber_design.
Cabinet

Sometimes high impact can be achieved through simplicity… a wreath hung with wide black ribbon is all that was needed to dress my china cabinet.
@cynthia_weber_design.
Chair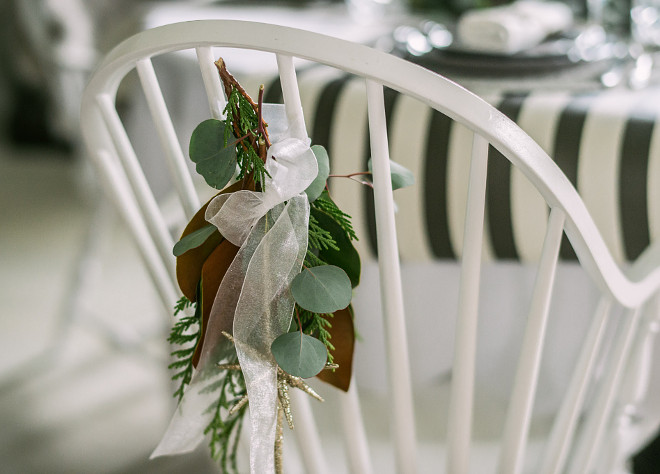 Fresh greens are always my go to when styling for the Holidays… yes, they can be more work and yes, they do drop as the season winds up but for me… there is no substitute! Here a small posy of cedar, seeded eucalyptus and a magnolia tip are tied with ribbon on the chair backs.
Well that is my take on creating a festive dining room for the Holidays. I hope you enjoyed the photos and if you are curious to see more of our home and my work please follow along with me on Instagram at @cynthia_weber_design. I would love to get to know you!!
@cynthia_weber_design.
@CarolineOnDesign: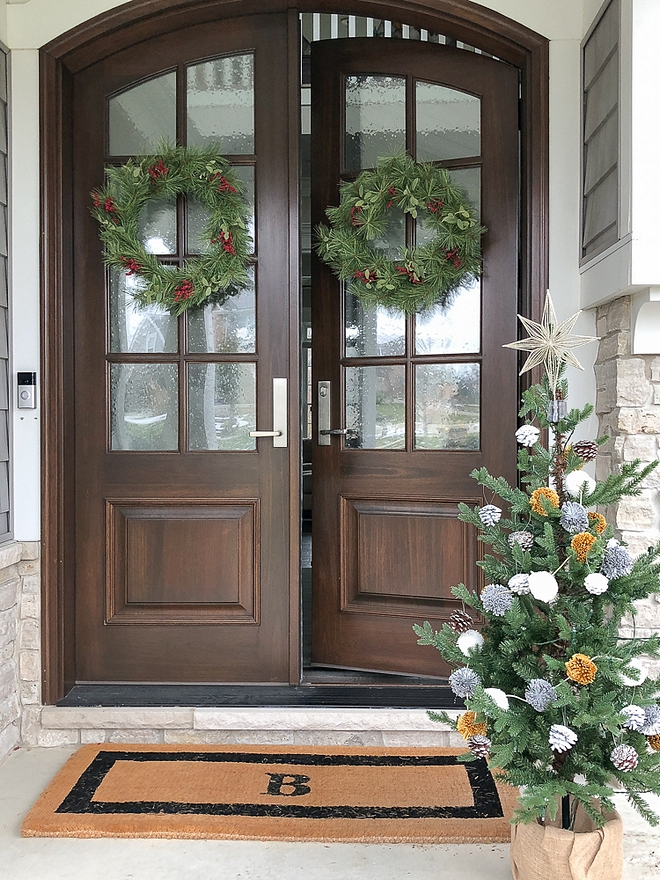 Follow @carolineondesign on Instagram.
Staircase Decor


@carolineondesign.
Dining Room To Foyer


@carolineondesign.
Dining Area


@carolineondesign.
Centerpiece


@carolineondesign.
Frosted

@carolineondesign.
Kitchen Paint Color


Kitchen cabinet paint color is "Benjamin Moore OC-17 White Dove".
@carolineondesign.
Countertop

Counters are LG Viatera Quartz, Everest.
@carolineondesign.
Family Room Decor


@carolineondesign.
Christmas Tree


@carolineondesign.
Window-seat

@carolineondesign.
Christmas Bedroom Decor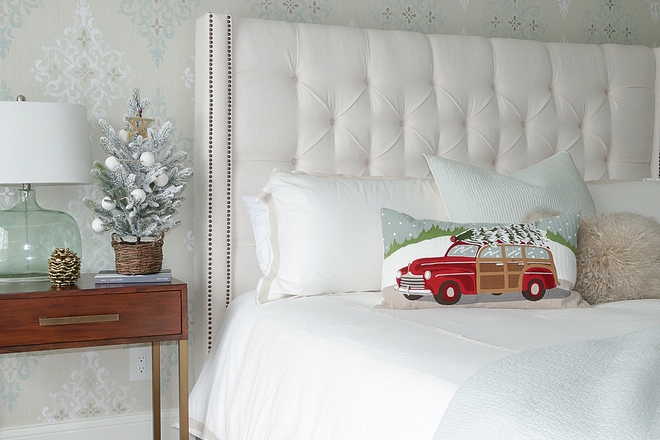 @carolineondesign.
@SimplySouthernCottage: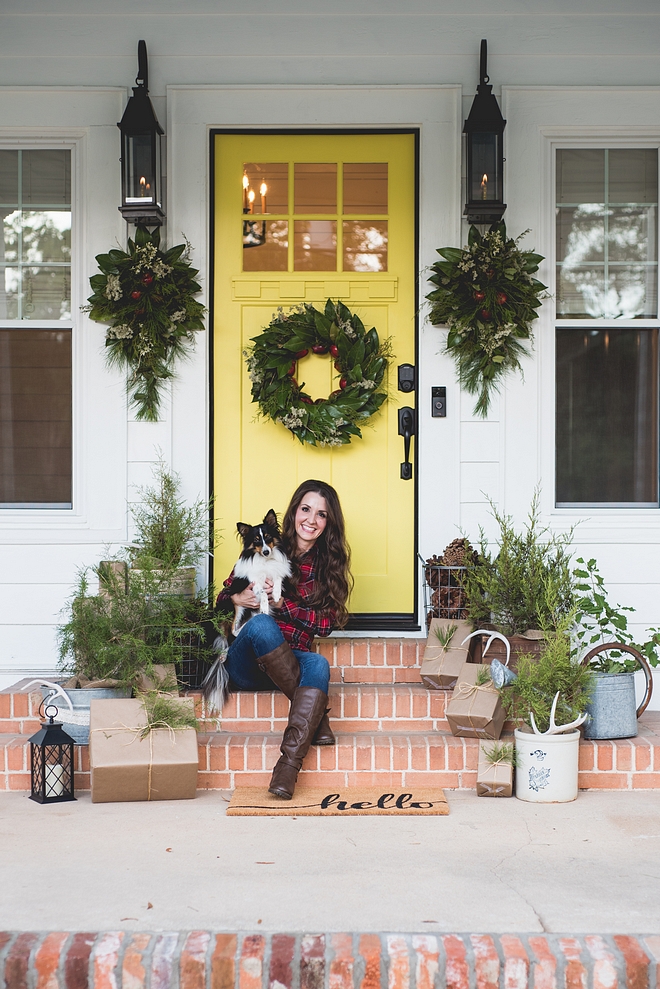 Everything seen here is crafted from greens found in nature. From my gas lanterns hang magnolia swags infused with apples, cedar, holly and pine (and you might even catch a hint of cloves). Then, I made a gorgeous magnolia wreath to match and it graces my bright yellow door. On the front steps, you'll find parcels wrapped in brown paper nestled amongst small, fresh cedar trees.
Door Color: Lemon Twist by Sherwin Williams.
Follow @simplysoutherncottage on Instagram.
Callie Jo Photography.
Kitchen & Dining Room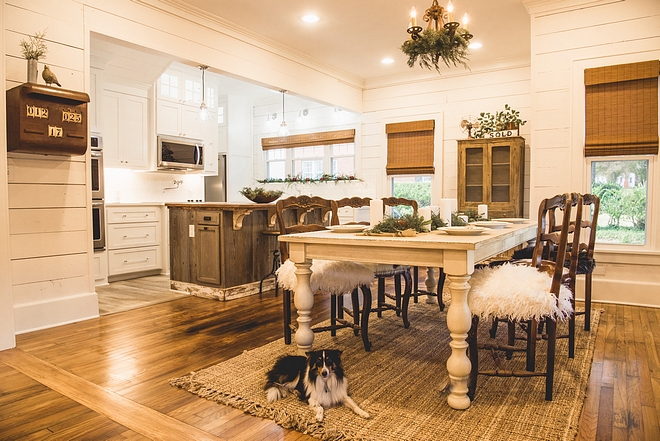 In keeping with my simple living and decor philosophy, every piece of Christmas greenery I use is natural and real, beautiful, cost effective and extremely fragrant! I envision back in 1926 (the year my cottage was built), families traipsed through the woods, axe in tow, to select the perfect Christmas tree. And I'm sure the lady of the house would also have gathered cedar, pine, holly and boxwood along the way to adorn her lovely home. So this is exactly how my cottage is decorated for Christmas!
@simplysoutherncottage
Callie Jo Photography.
2018 Christmas


@simplysoutherncottage
Kitchen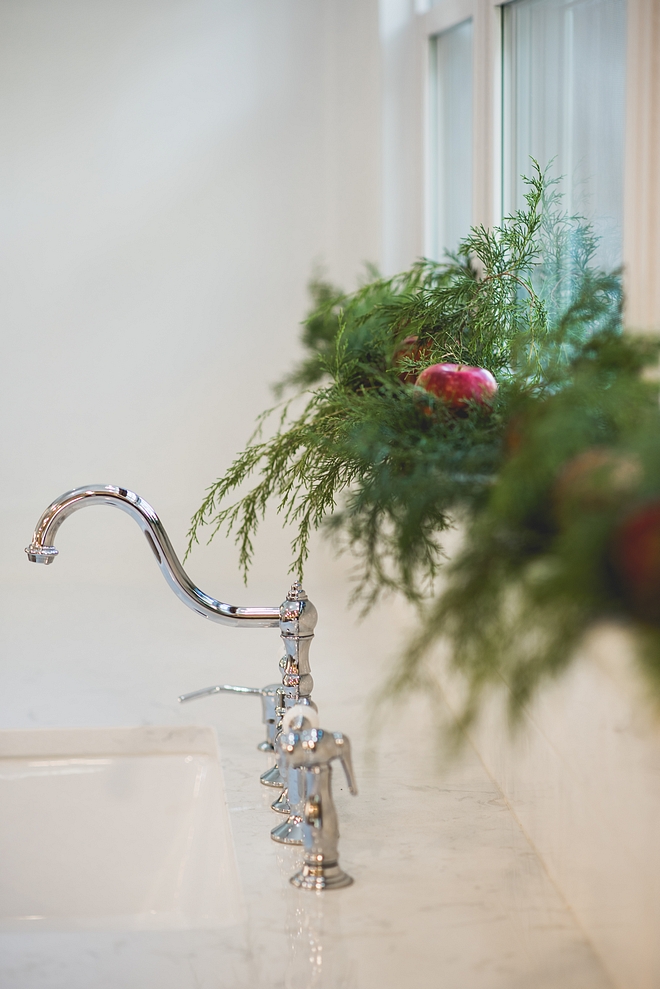 My kitchen area is full of cedar and apples! Apples in the window sills. Apples dotting the runner on my dining room table. And a dough bowl full of apples on my kitchen island! All natural, boxwood wreaths grace the triplet windows above my kitchen sink.
@simplysoutherncottage.
Callie Jo Photography.
Window

@simplysoutherncottage.
Callie Jo Photography.
Home-Sweet-Home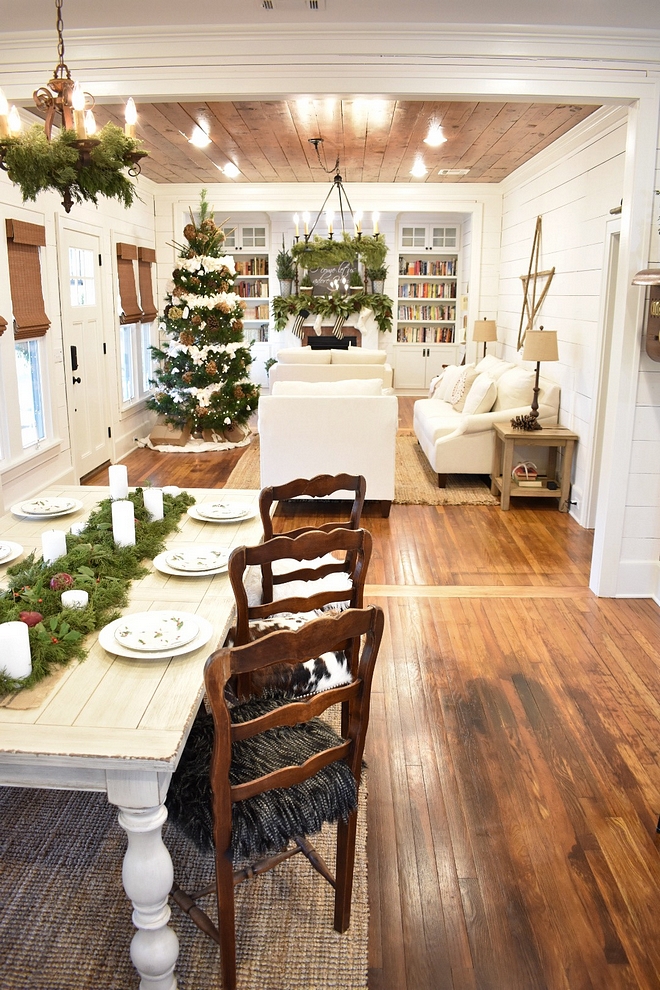 Hardwood floors are refinished originals.
@simplysoutherncottage.
Callie Jo Photography.
Chandelier

@simplysoutherncottage.
Callie Jo Photography.
Natural Decor


@simplysoutherncottage.
Callie Jo Photography.
Dining Room

@simplysoutherncottage.
Callie Jo Photography.
A Home to Inspire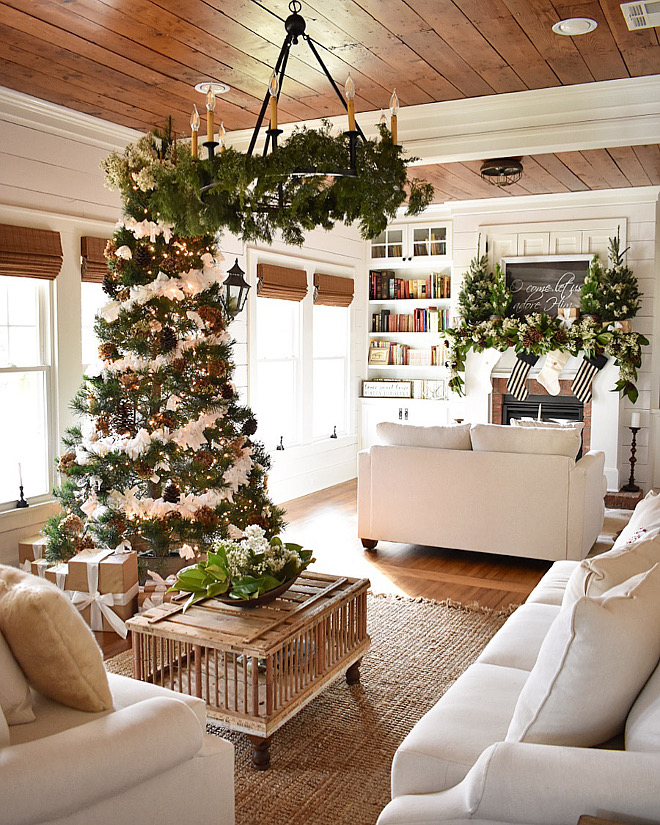 @simplysoutherncottage.
Christmas Tree


While I didn't traipse through the woods, I did visit a local tree farm and selected the perfect tree. I strung white lights all throughout tree. Next I crafted a beautiful rag garland by tearing strips of white fabrics (garnered from sheets, bedskirts, clothing, tablecloths, curtains, towels and more all found at Goodwill, garage sales or other thrift stores). I tied the fabric onto rope in an alternating fashion by both texture and shade of white. Then, you might be surprised to hear, I don't have Christmas ornaments! My ornaments are dried hydrangeas I deadheaded from a friend's garden! Lastly, I stuck a few sticks in the top to spray outward, and that is my tree. Very simple. Very plain. But oh so beautiful!
@simplysoutherncottage.
Callie Jo Photography.
Fireplace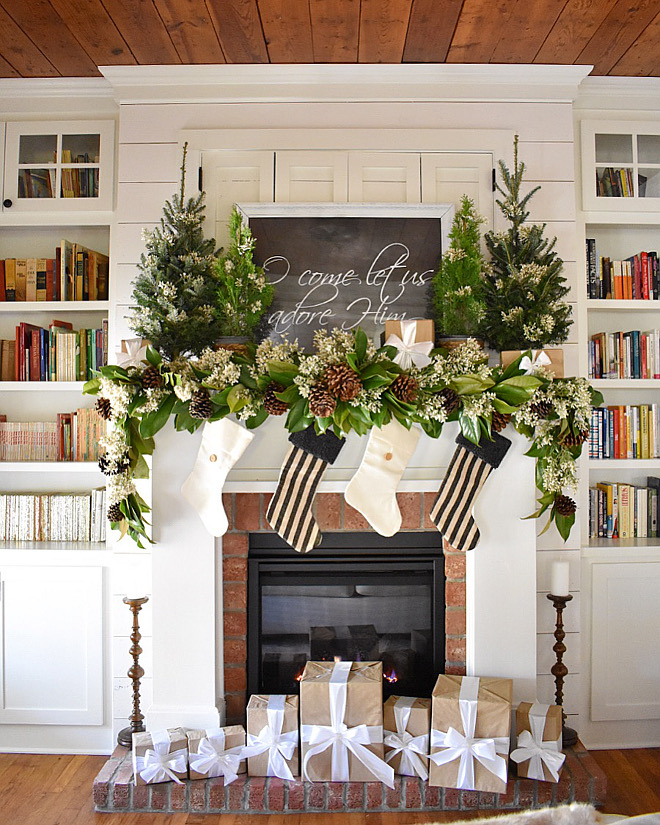 @simplysoutherncottage.
Garland

My mantel is definitely the focal point of my Christmas cottage. My mom used her amazing creative talent and created a massive magnolia and pine cone garland that drapes over the front. Striped black and white stockings (purchased locally) hang from the mantel drawing the eye into the space. Smaller Christmas trees and tiny Rosemary trees flank each end. They are separated by wooden candlesticks (marked with $105 price tags but purchased from a garage sale in Texas for only $5). For the center of my mantel, I used the website PicMonkey and created a chalkboard graphic that says "O come let us adore Him." After sending the graphic to Office Depot for printing, I framed it in a frame someone gifted me! Then, I topped it with plexiglass cut from our local glass shop. My mantel is a statement piece and I love that it was created on a dime with extremely thought out and purposeful, natural décor.
@simplysoutherncottage.
Home Office Chandelier Decor


@simplysoutherncottage.
Callie Jo Photography.
Christmas Bedroom Decor


@simplysoutherncottage.
Callie Jo Photography.
Bedroom Tree


In order to find the perfect greenery and trees for the rest of the cottage, I did traipse through the woods and cut an abundance of cedar, pine and boxwood. Every light fixture in the cottage is laced with cedar. Simple "Charlie Brown" trees are located in each bedroom—some have lights, some do not. All my trees rest in galvanized tubs or buckets, because again, I pondered what families in the 1920s might have utilized to hold water for their trees and figure these were a logical option.
@simplysoutherncottage
Callie Jo Photography.
Bathroom Decor


@simplysoutherncottage.
Callie Jo Photography.
Tin

@simplysoutherncottage
Callie Jo Photography.
Mudroom

To wrap all of this up and tie it with a bow, I constantly burn candles and play Christmas music during the season. My choice of candles (for any time during the year) are scents that smell like delicious desserts! So if you happen to step foot in my cottage during late November and anytime in December, rest assured you will be transported to a Charles Dickens' like experience complete with all the sights, sounds and smells of the holidays!
@simplysoutherncottage
Meet the Homeowner


@simplysoutherncottage
Callie Jo Photography.
@SweetShadyLane: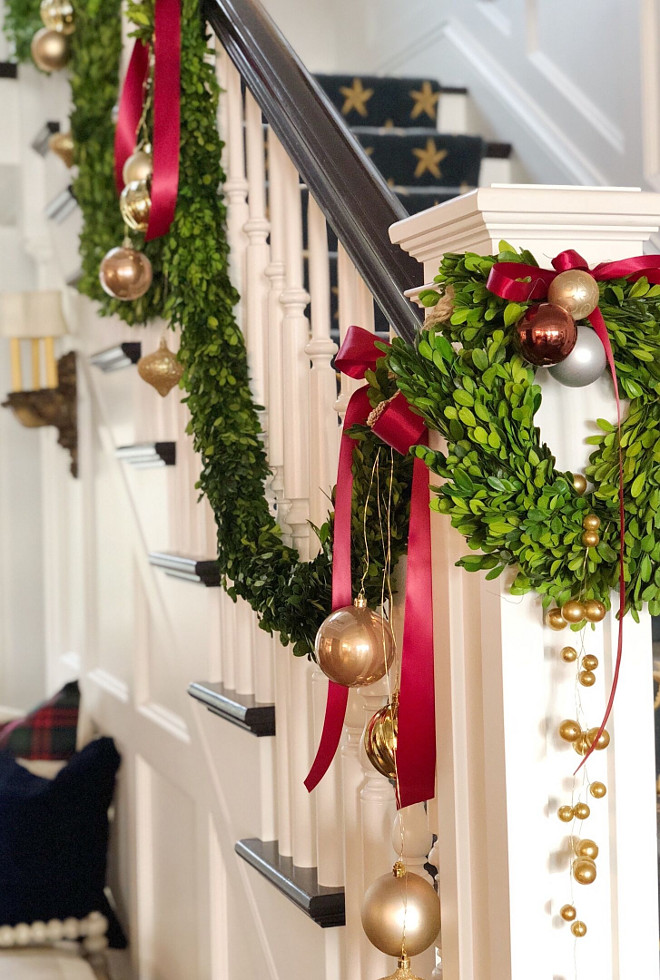 Nothing says Christmas to me like a warm welcome and I'm obsessed with my preserved boxwood garland that I bought on sale at Ballard Design (similar here) a few years ago. The ribbon is from a garden store and the ornament balls are from various HomeGoods stores. I change the ribbon color every year, but this was one of my favorites! Stair runner is by Stanton.
Follow @SweetShadyLane on Instagram.
Foyer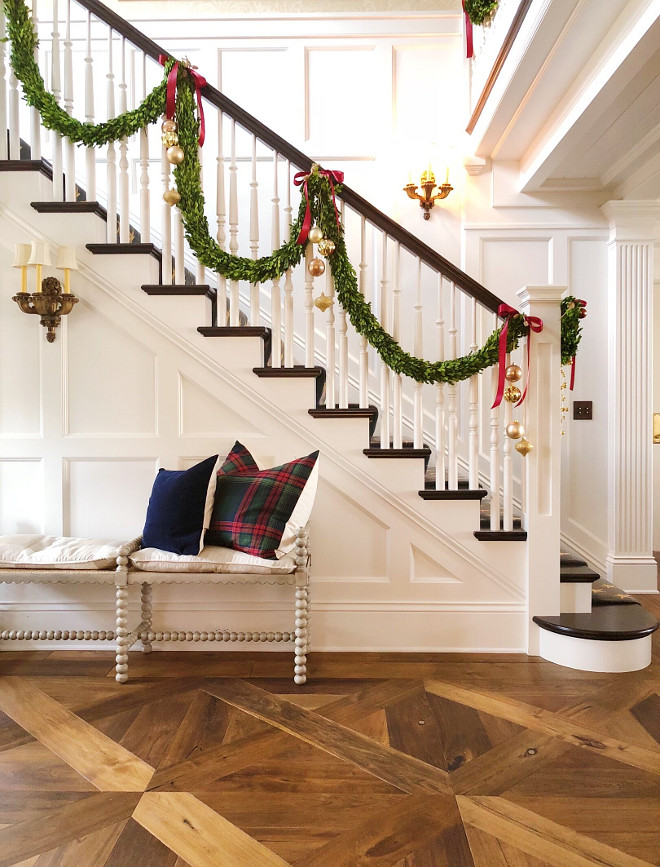 Wood floors are by Duchâteau—walnut with an oil stain. Pretty spindle bench purchased through The Sitting Room. Sconces are antique…We love having a mix of new and old lighting throughout the house. Enamel is Simply White by, Benjamin Moore. Plaid pillow is from Gray Home.
@SweetShadyLane
Living Room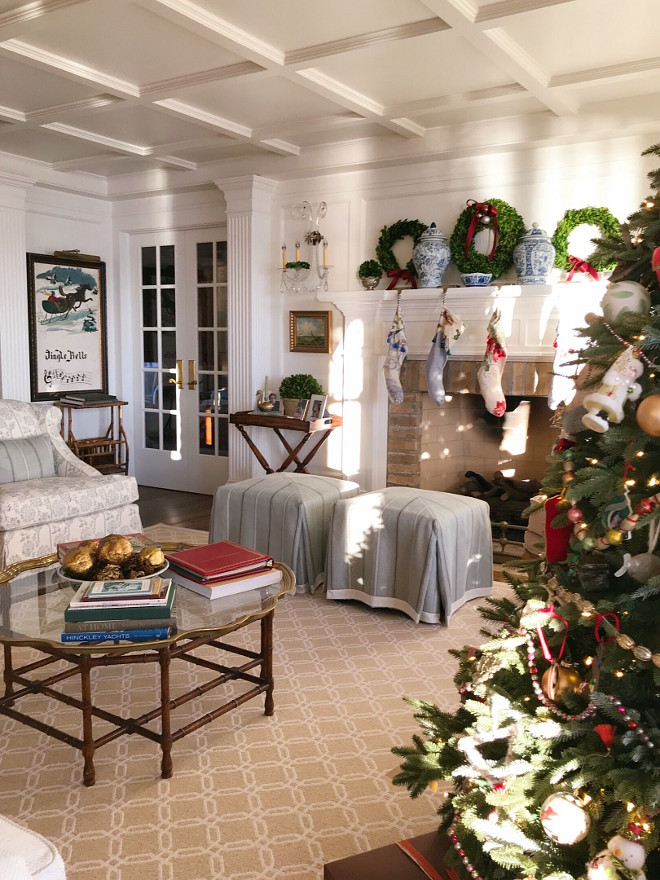 This was the first year I ever did a faux tree… Ours is a Balsam Hill (Fraser Fir Flip Tree.) Rug is a Couristan carpet, table is an antique Baker that I found on Etsy. Chairs and stools are from The Sitting Room. Trio of wreaths are Ballard Design and pretty Jingle Bell art is from John Derrian in NYC.
@SweetShadyLane
Christmas Mantel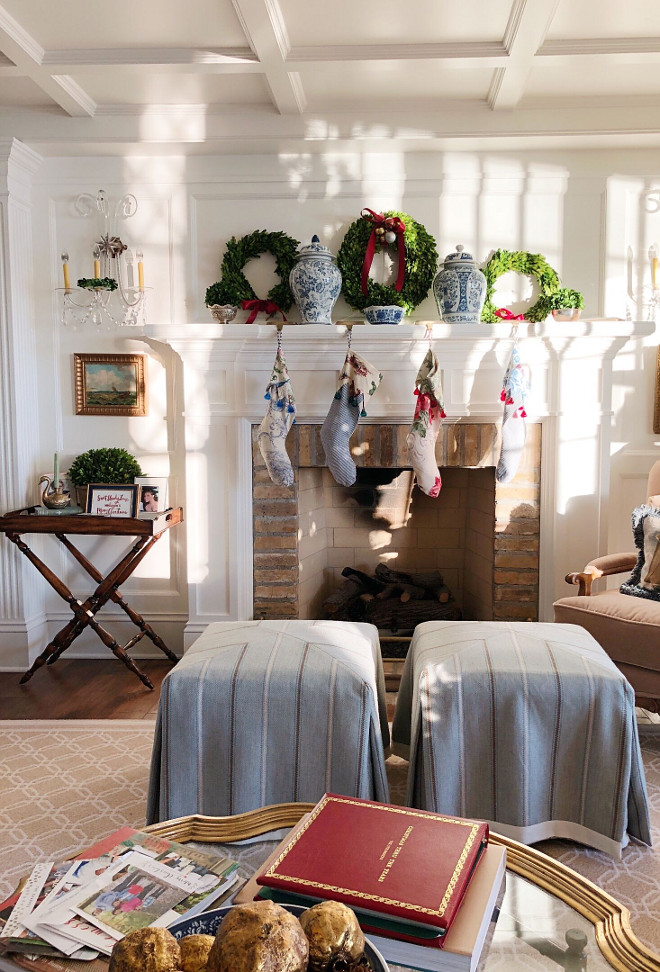 Vintage art above tray table is The Atelier Collection. Stockings are vintage—embroidered with my kids names— they have an elegant and whimsical charm to them and I tear up every time I pull them out. Blue and white has been collected over time and the red photo album says, "Christmas Thru The Years…" A treasure of precious memories.
@SweetShadyLane
Paint Color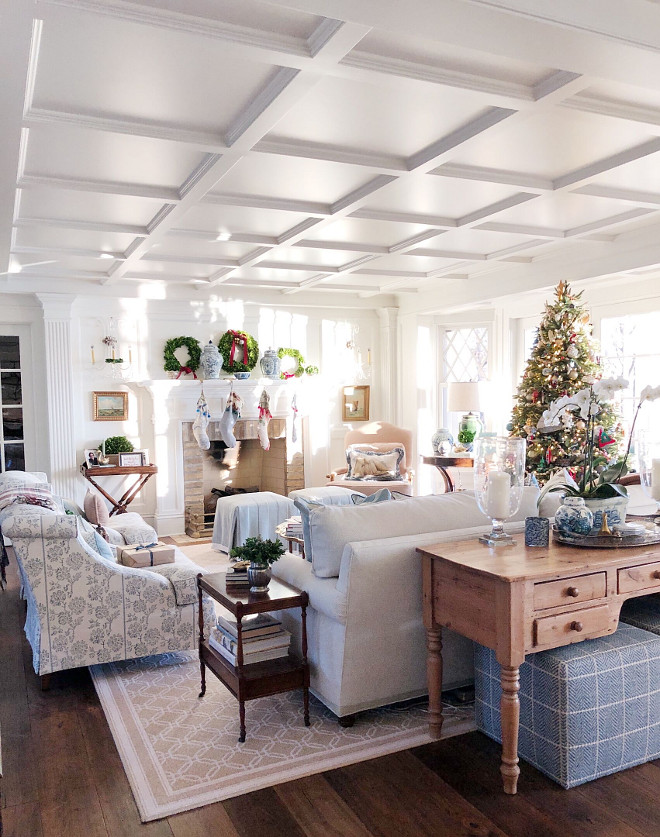 Pine table is an antique, pretty blue plaid cubes are from Etsy…They came in a simple white and I recovered them with this beautiful English plaid…I also have slipcovers for them when the seasons change.
Paint color is Simply White by Benjamin Moore.
@SweetShadyLane
Roses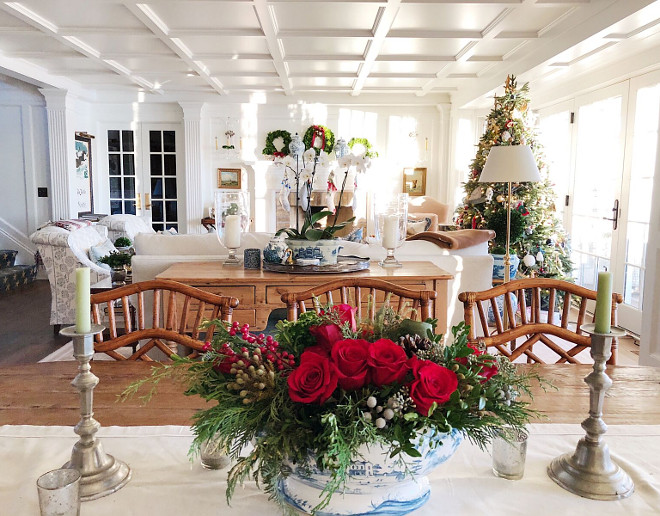 I love using my blue and white Juliska soup tureen for a centerpiece and red roses and fresh greens are always a classic. Bamboo chairs are a consignment find.
@SweetShadyLane
Kitchen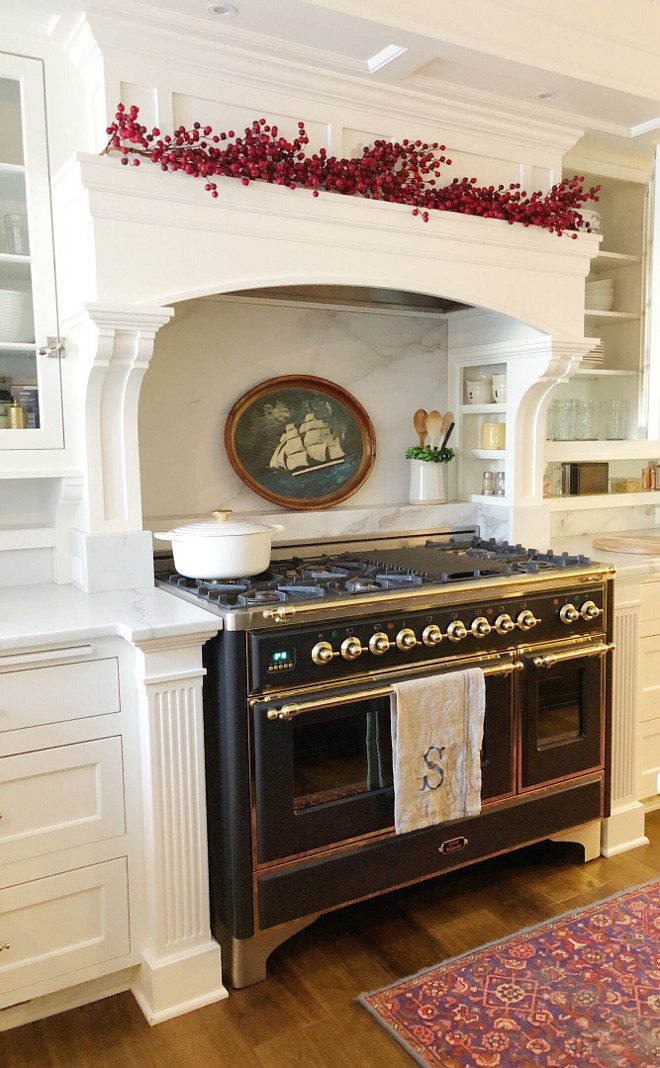 These faux berries are the easiest and perfect way to bring Christmas into the kitchen. Stove is Ilve, runner and clipper ship tray are antiques. Monogrammed French cloth is Jan de luz Linnens.
@SweetShadyLane
Dresser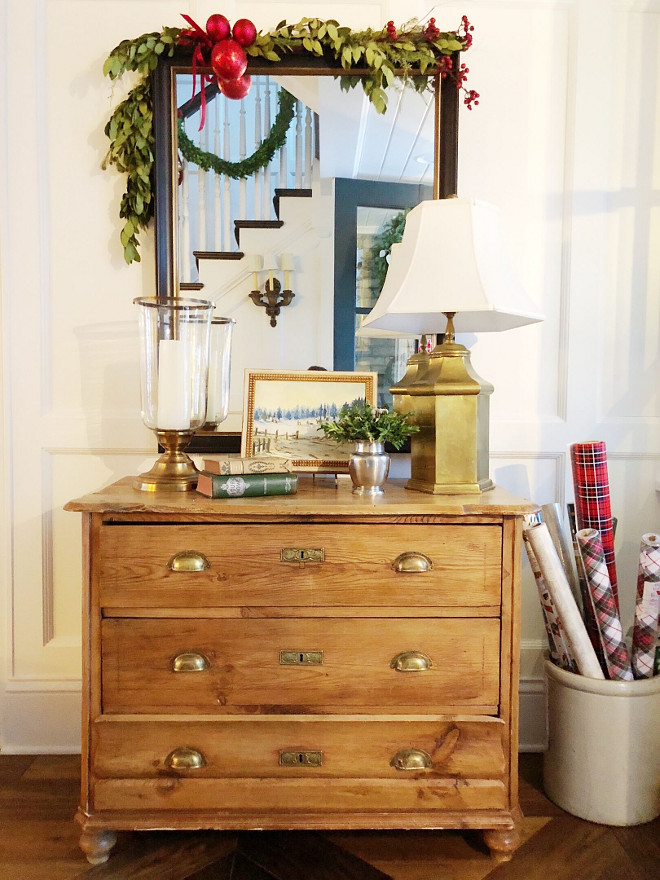 Front entry welcoming. Vintage art by The Atelier Collection. Pine dresser, brass lamp and books are antiques. Brass hurricane was a score at HomeGoods.
@SweetShadyLane
Vintage Fireplace


We call this room, The Nook. A cozy space to sit by the fire.
@SweetShadyLane
Christmas Vignette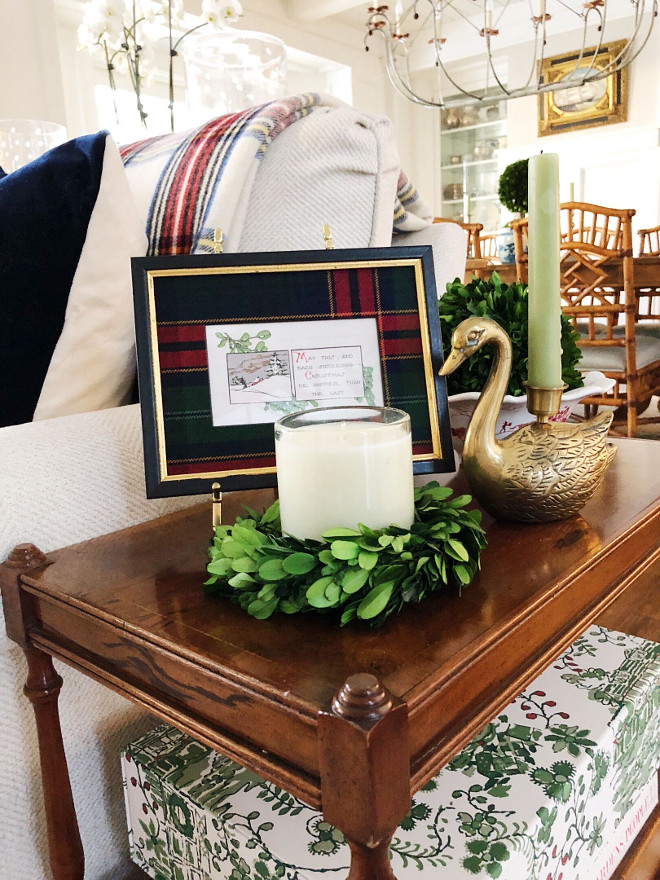 My very own The Vignette Box—Christmas Edition. It is now sold out, but it was one of my favorites.
@SweetShadyLane
Christmas Tree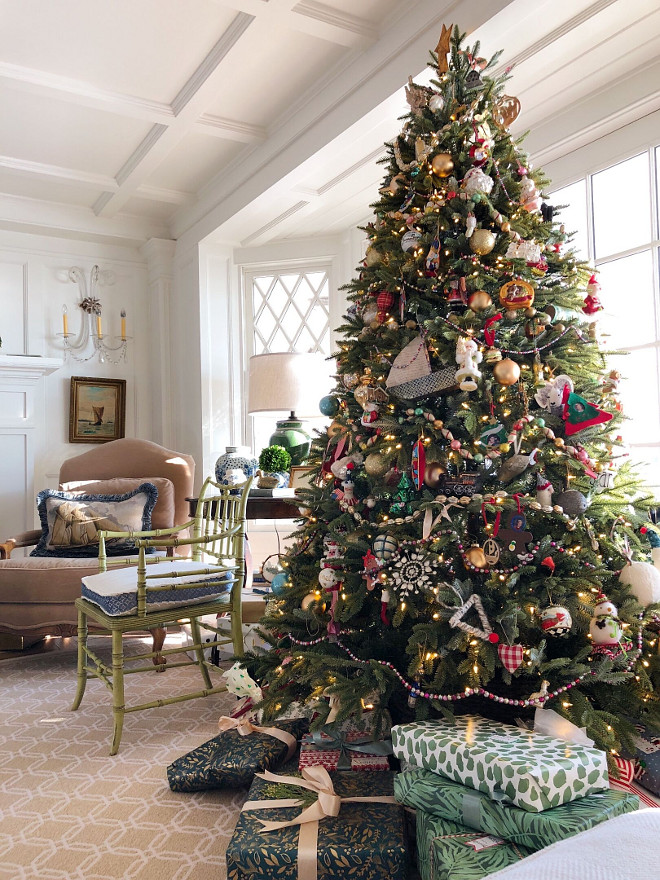 Darling wrapping paper by the very talented, Abbey Holden Studio. Abbey is also the designer for all of my Vignette Box art.
@SweetShadyLane
Art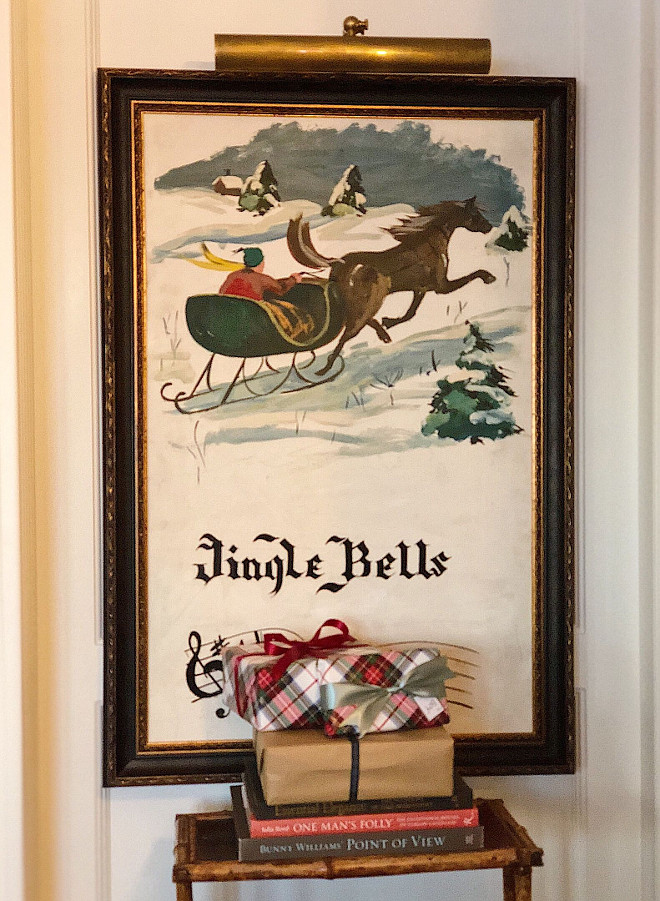 Close up of my John Derrian find….Vintage Christmas art that makes my heart sing.
Family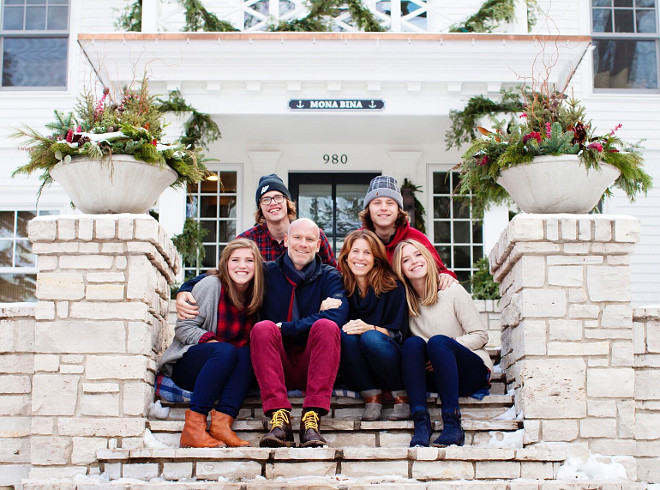 Merry Christmas everyone! xoxo
@SweetShadyLane
@CarcabaRoad:
Decorating for the holidays in our new home this year was both exciting and challenging. I always love to mix old and new when styling a space.
Although my home is full of neutrals I love to keep holiday tradition and incorporate classic pops of red. Our flocked tree is from Hobby Lobby and I used a $4 white cotton ribbon and stuck with the three classic colors of white red and green to dress it. Again I pulled in vintage crocks and an antique sleigh and chair to add some charm.

Follow @CarcabaRoad on Instagram.
North Pole




To keep it extra magical and fun for the kids I added this new North Pole sign from @wildelmdesignco and of course Santa! The 25 pillow by @livingwithamanda is another new favorite this year, perfect pop of red with a vintage vibe.
@CarcabaRoad
Kitchen

@CarcabaRoad
Kitchen Sink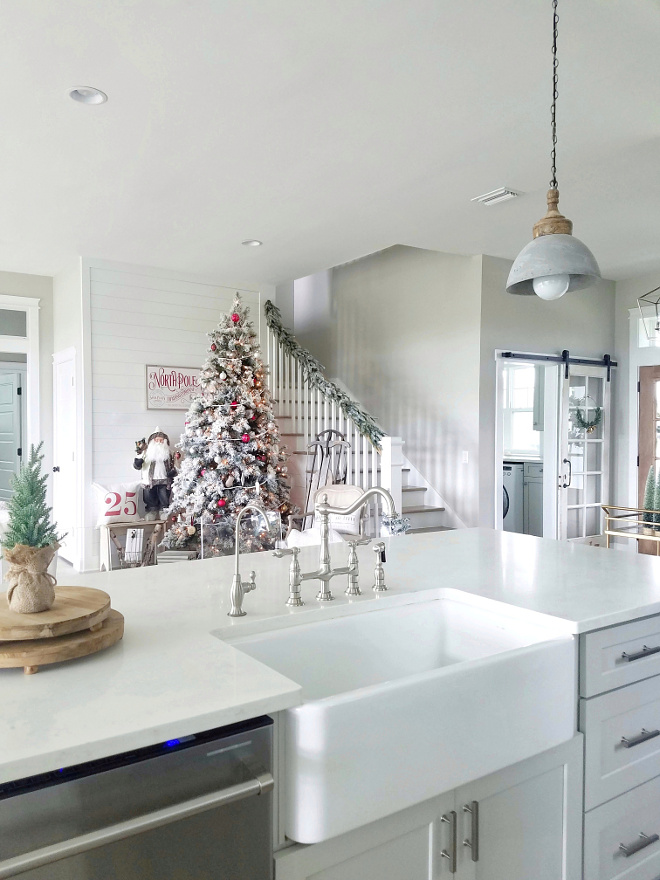 @CarcabaRoad
Sitting Room


Our sitting room is the perfect rustic modern mix full of neutrals. The shelves are simply styled with old books, an antique scale and wood and white decor.
The faux trees shown are from @hobbylobby. The fresh farm tree sign is designed by Rebecca @wildelmdesignco. Adding some holiday pillows by @livingwithamanda and a cozy blanket completed the looked!
Paint is Sherwin-Williams Pure White.
@CarcabaRoad
Mantel

The antique log roller, crocks and vintage style stockings from @thevintagebucket softened the space and the wrapped gifts were the perfect touch. All the greenery used on the mantle can be found @pier1 and the little white houses @target.
@CarcabaRoad
Barn Door


@CarcabaRoad
Gift Wrapping Station


I have spent half my life wrapping gifts on the floor and I thought it would be fun to create a gift wrapping station in our second floor living area.

@CarcabaRoad
Details

Mostly all the gift wrap and accessories and the tree are from Target. The buffalo check bench is from Aranda @dixiecottage , pillow from @livingwithamanda.
@CarcabaRoad
Paint Color




Wall paint color is Sherwin-Williams Agreeable Gray.
@CarcabaRoad
Front Porch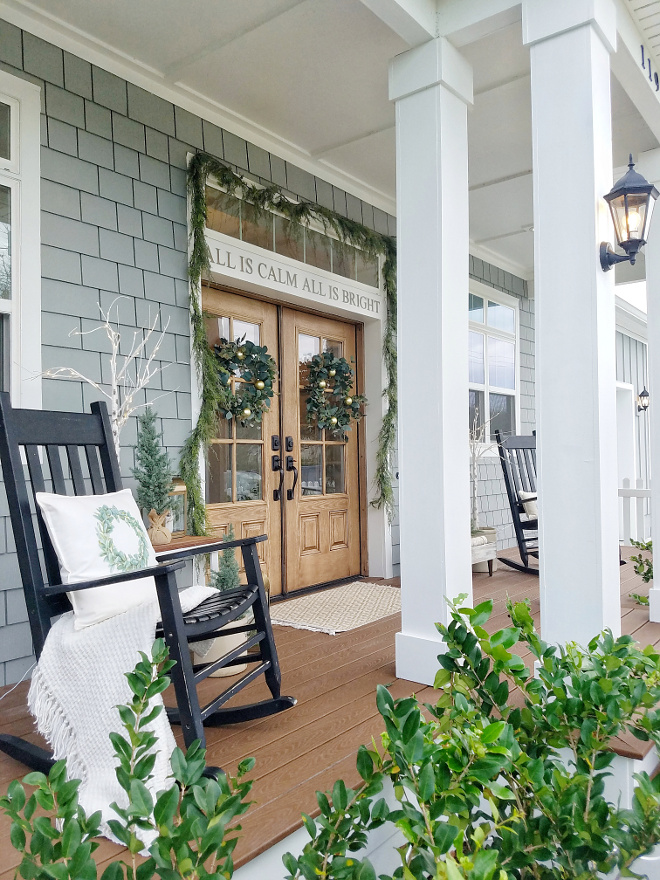 @CarcabaRoad
See @CarcabaRoad on

Home Bunch

.
Many thanks to all homeowners for sharing the details above.
Bring the Holidays Home!
Online Holiday Shopping = More Options & Less Crowds! 🙂



Exciting Holiday Sales!
Thank you for shopping through Home Bunch. I would be happy to assist you if you have any questions or are looking for something in particular. Feel free to contact me and always make sure to check dimensions before ordering. Happy shopping!
Serena & Lily: Shop everything 25% off with code BIGDAY – Ends 11/27!
Wayfair: Cyber Monday Sale Up to 80% OFF!!! Huge Sales on Decor, Furniture & Rugs!!!
Joss & Main: Cyber Monday – Extra 25% Off Plus Free Shipping. Use Code EXTRA25
Pottery Barn: Up to 75% Off Cyber Monday – Today ONLY!!!
One Kings Lane: 30% Off of entire site!
West Elm: Black Friday EUp to 70% Off Cyber Monday – Across Entire Family of Brands
Build: Save Up to Cyber Monday Deals – Up to 80% OFF on Kitchen, Bathroom, Hardware & Lighting!
Neiman Marcus: Today Only: Up to 50% Off – Take 25% off selected sale Items!
Pier 1: Christmas Decor Sales + Free Shipping!
Williams & Sonoma: Buy More, Save More!
Anthropologie: 30% Off Everything + Free Shipping on orders $100+
Posts of the Week: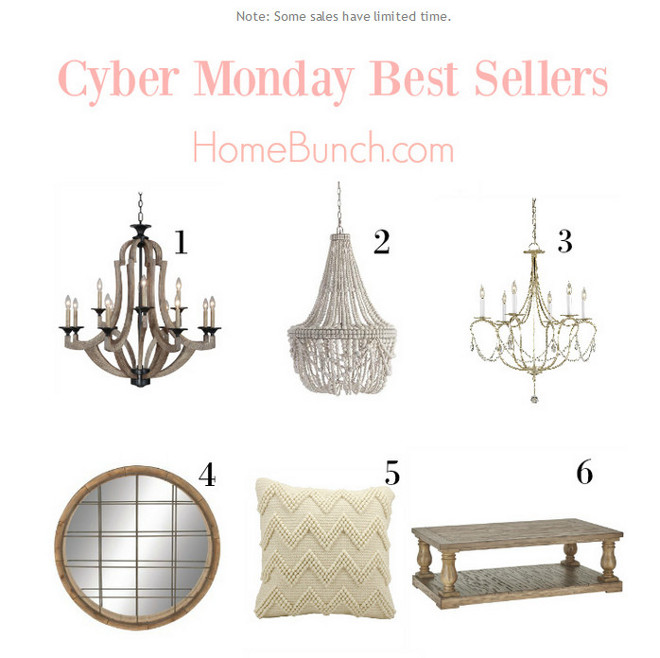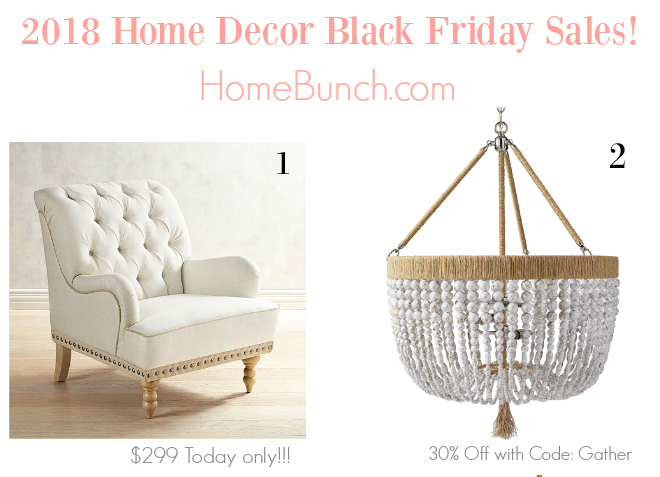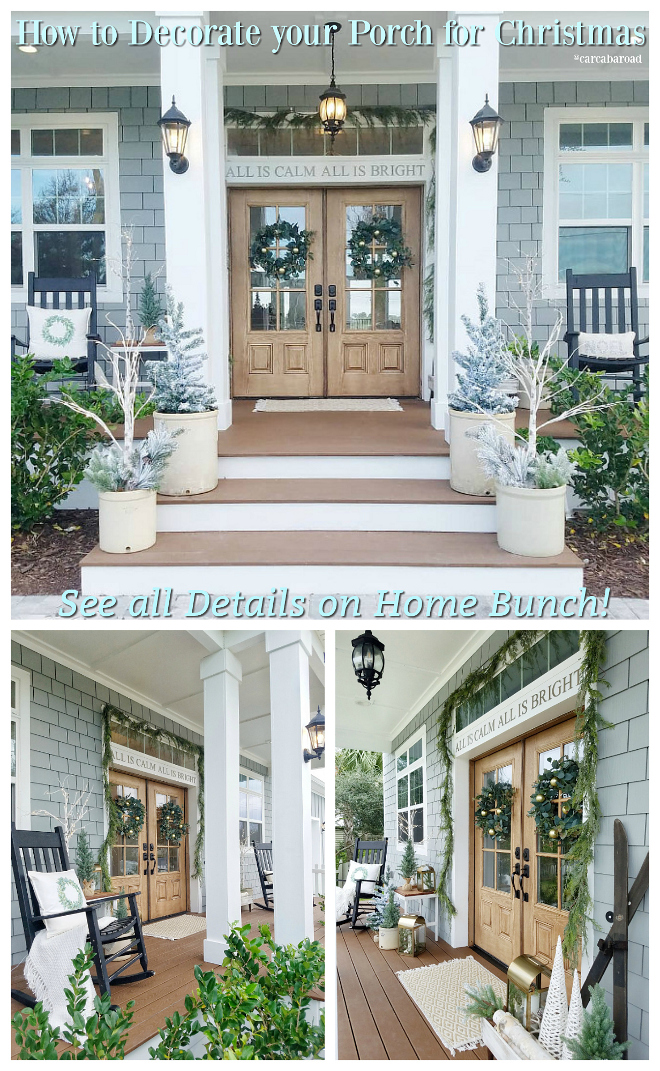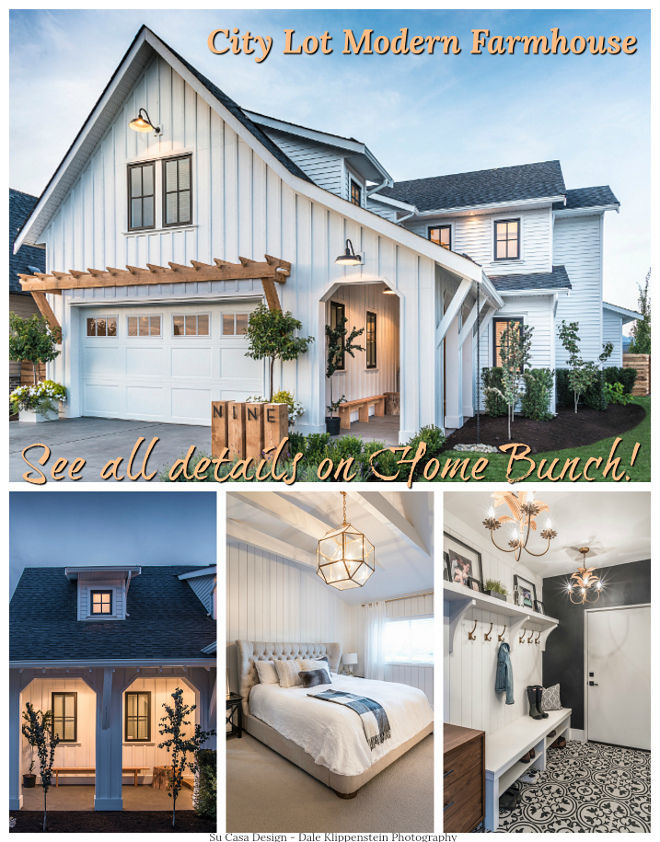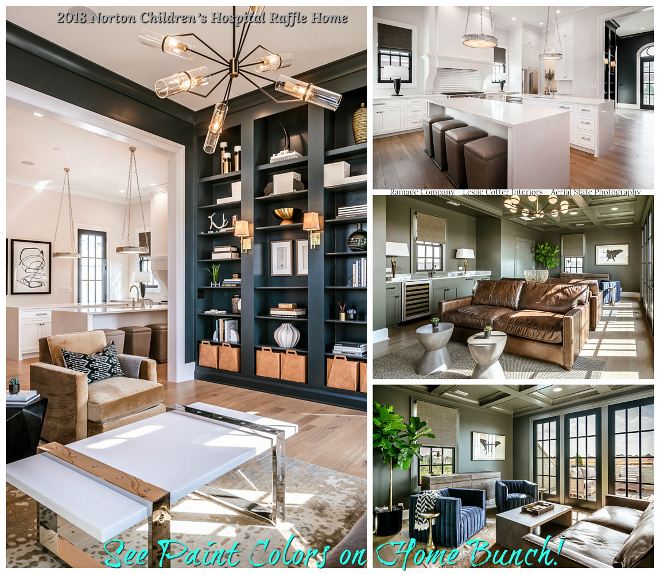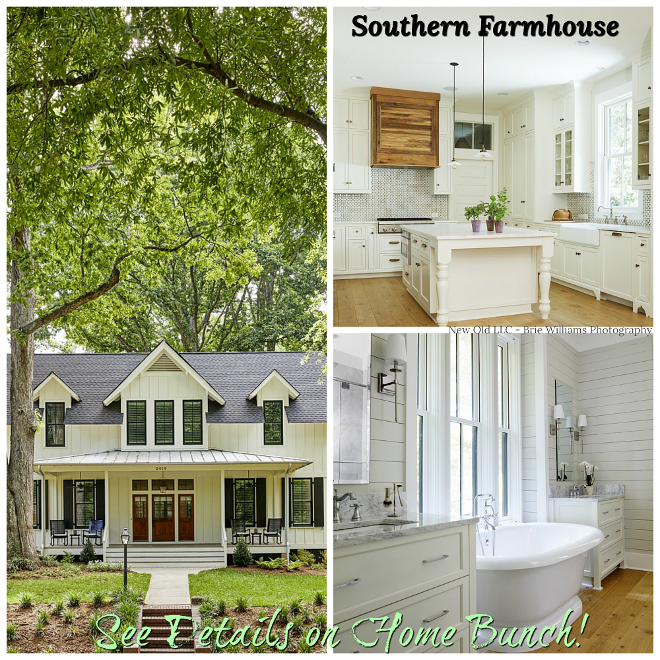 Florida Vacation Home Style.
See more Inspiring Interior Design Ideas in my

Archives.
"Dear God,

If I am wrong, right me. If I am lost, guide me. If I start to give-up, keep me going.
Lead me in Light and Love".
Have a wonderful day, my friends and we'll talk again tomorrow."
with Love,
Luciane from HomeBunch.com
Get Home Bunch Posts Via Email

"For your shopping convenience, this post might contain links to retailers where you can purchase the products (or similar) featured. I make a small commission if you use these links to make your purchase so thank you for your support!"