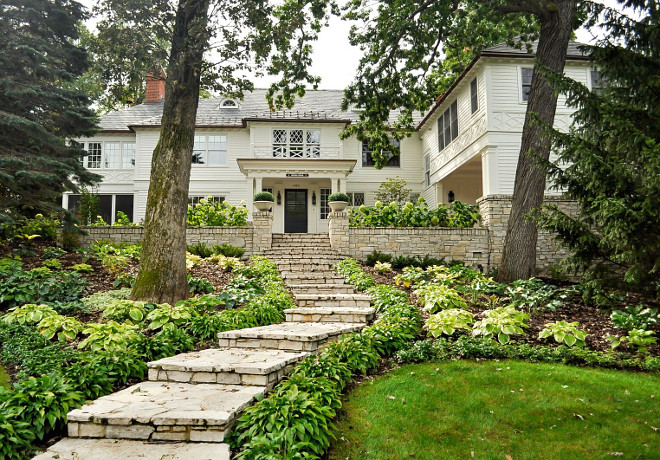 Beautiful Homes of Instagram is one of Home Bunch's most popular series because it not only shows how homeowners design their own home but also because it shares a variety of styles. Today, I am very happy to have Heather Strommen from @SweetShadyLane. I've loved her historic lakehouse for some time now and her timeless way to design her home always leaves me inspired to say the least.
Today you will get to know about Heather and all of the details of this special home. She is sharing all details, from paint colors to the story of her home under each picture.
Let this house tour transport you…
Beautiful Homes of Instagram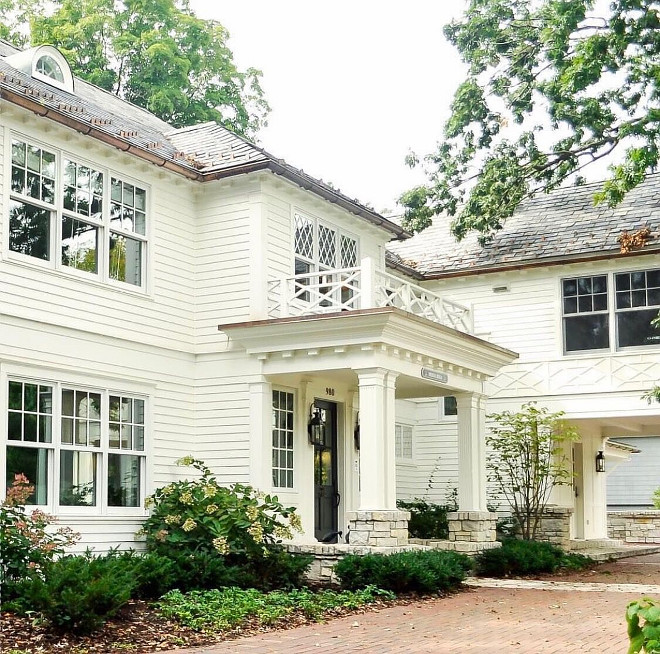 "Mona Bina – Home For All" was built in 1937. We purchased her in 2014 only hours after walking through for the very first time. We hired Landschute to lovingly restore her to her previous glory. Funny thing was, we were looking for a new house, but her charm could not be ignored. We fell in love immediately.
Architecture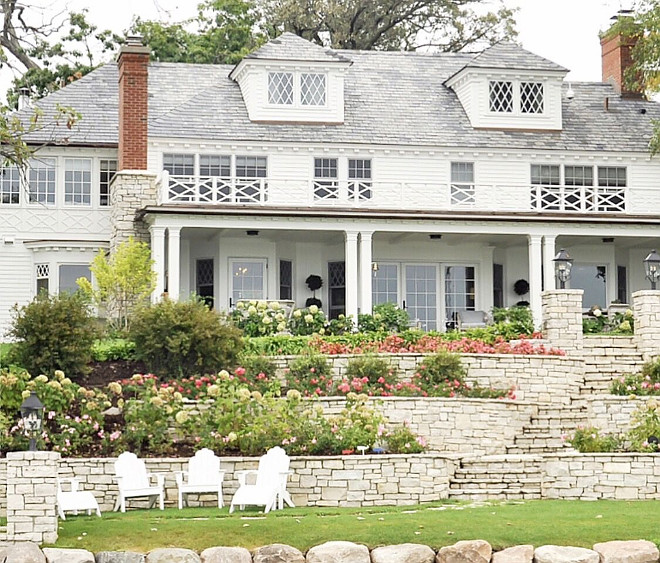 Our builder, Jon Monson is notorious for restoring old homes. Where most people may have seen a "tear down" we, along with Jon saw potential.
Lake side details of Mona Bina: Diamond windows, lattice railing, beautiful stone steps. In her full lakeside glory… She is truly something to behold.
Lake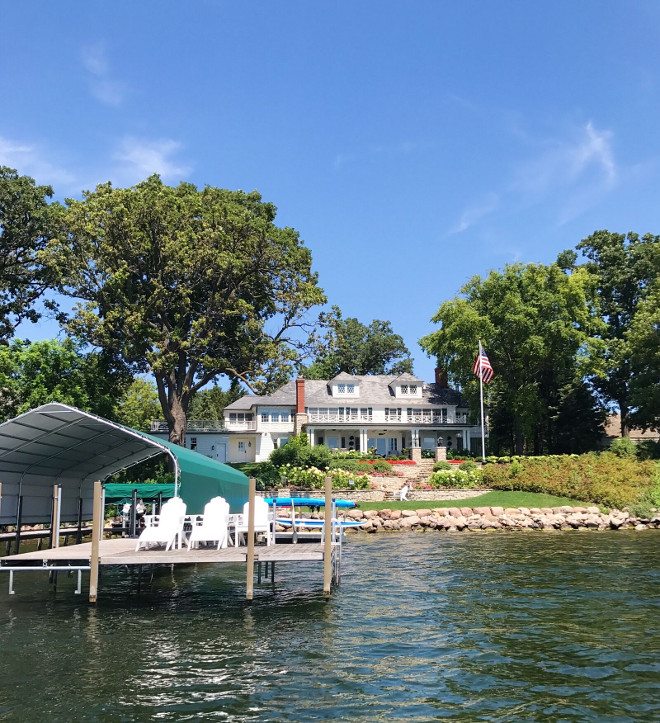 Lake Minnetonka.
Welcome!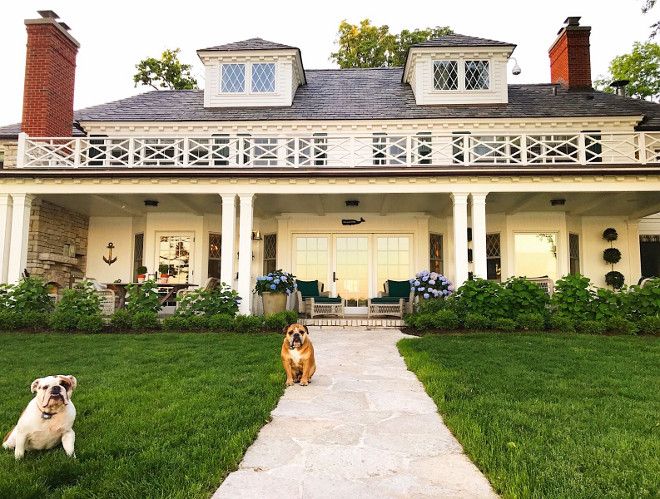 Living on a lake is like living with living art. The time of day, the light, the clouds, the sailboats that drift by… Every minute of everyday day is different and beautiful in its own way. Here, Dorothy and Buster our English Bulldogs are enjoying the "golden hour" on the lake as the sun is just setting.
Front Door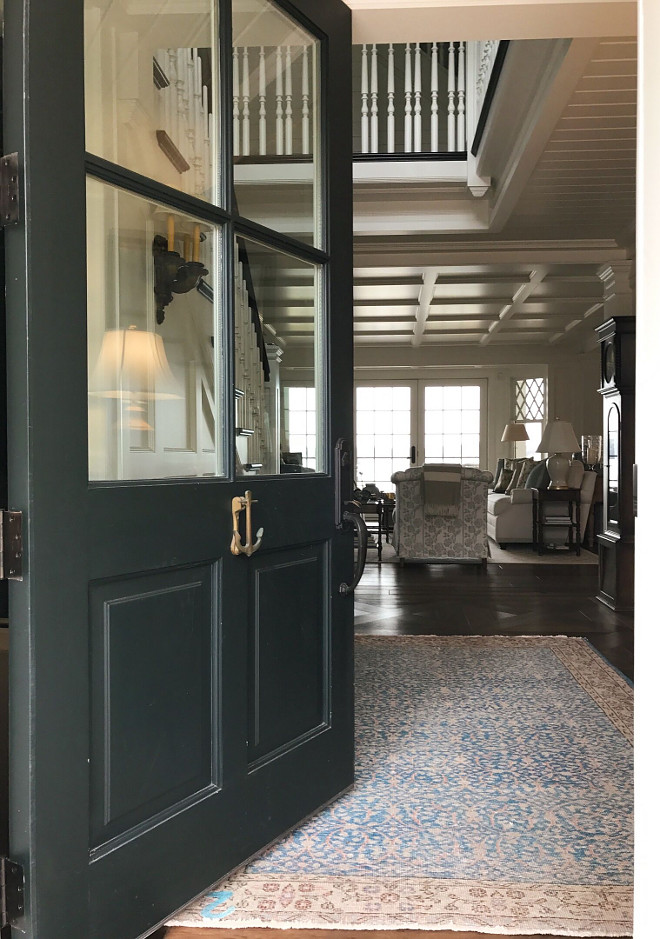 That first visit with the realtor, I opened the front door and I felt like I had opened it a thousand times. It was an explainable feeling. The new, expansive front door is painted Benjamin Moore. The anchor door knocker is from Nantucket. Rug is from International Market Square "Sale Room" (open to public.) Just steps away, visitors are greeted with Landschute's magnificent work-coffered ceilings, wood panels, intricate moldings and details upon details as Lake Minnetonka and all its beauty beckons you in.
Entry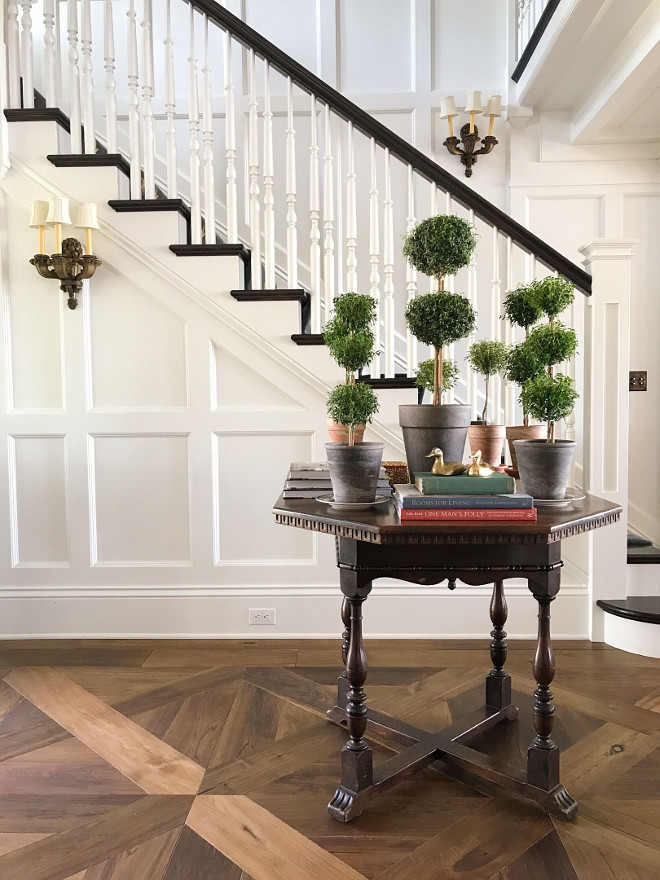 I love to move things around. Pictured here is an antique table of my Grandmother's. I love the simplicity of just the table against the bare floor. I call this one "the ladies and the ducks." I'm slightly obsessed with myrtle topiaries (as you can see) and any and all brass figurines. Wood floors are Du Chateau-walnut with an oil stain. Antique wood sconces by Landschute Builders private collection. Paint color is White Dove by Benjamin Moore.

Foyer Bench

Spindle bench is from Francis King showroom. Cushion in Schumacher plaid. Grandfather clock is an antique.
Timeless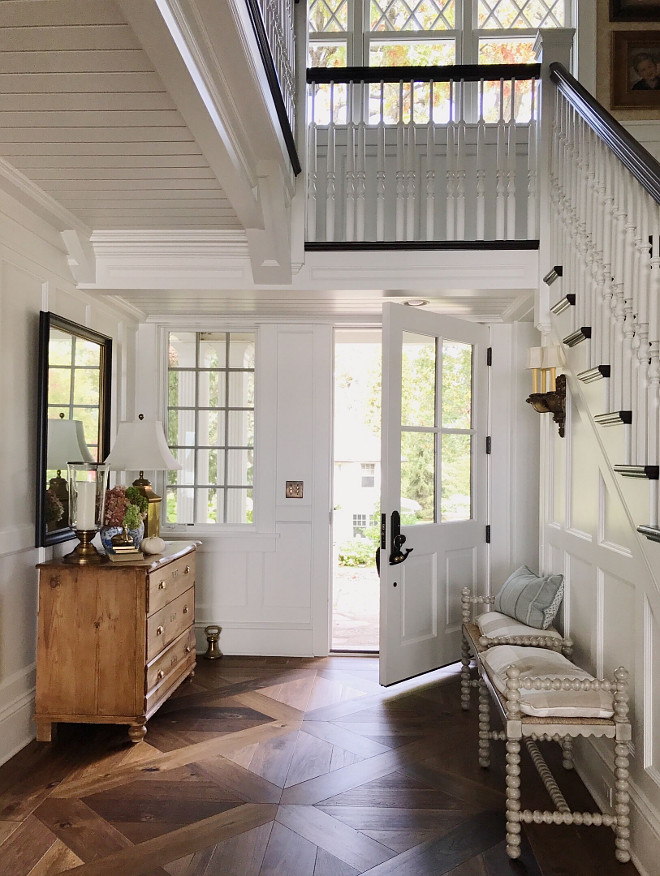 Another view with a change in furniture. I love to pull the rugs up so I can see the beautiful detail in the wood flooring. Pine dresser is an antique, but I have found similar at English Traditions in Naples, FL. Brass hurricane lamp from Homegoods (similar here & here), Brass lamp from an estate sale (similar). Custom mirror by The Great Frame Up. I love mixing in old and new lighting ! Antique wood sconce is from Landschute's private collection.
Living Room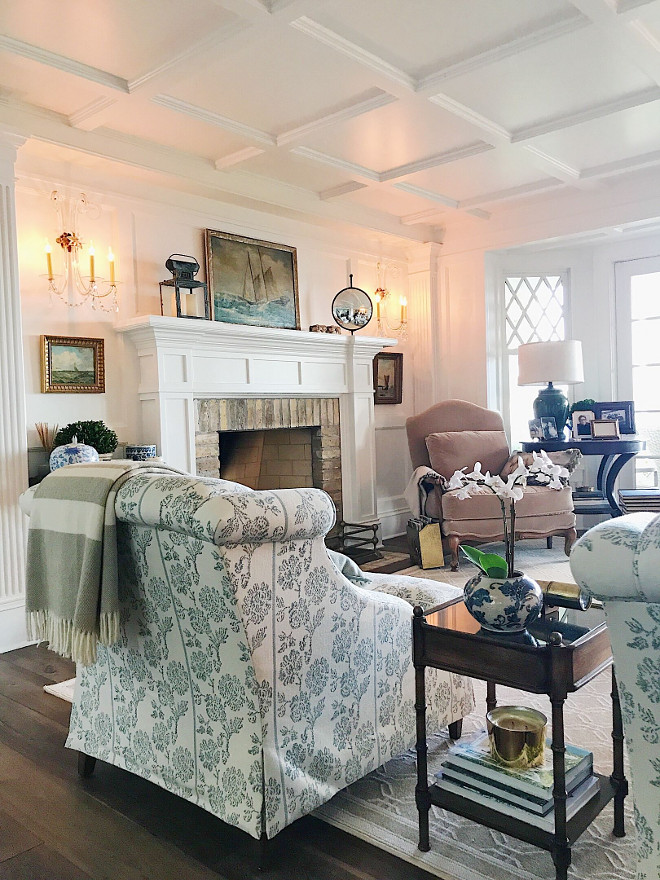 The living room is one of my favorite rooms. The coffered ceiling and soft colors in the fabrics along with the southern facing windows leads to a soothing experience. Chairs are A. Rudin and I adore them. They are the most expensive pieces of furniture I have ever purchased and I have zero regrets! The quality is outstanding and the comfort is out of this world. Antique side table from One King's Lane (similar), Blue and White pottery from John Derrian in NYC, brass-looking glass is an estate sale find. Art from The Atelier Collection, rug is Couristan carpet made into a rug. I needed a custom size to fill the space and this rug had everything I wanted; warmth, nautical and classic. Blanket over chair is Faribault Mills. Bergere chair in a Schumacher mohair.
Fireplace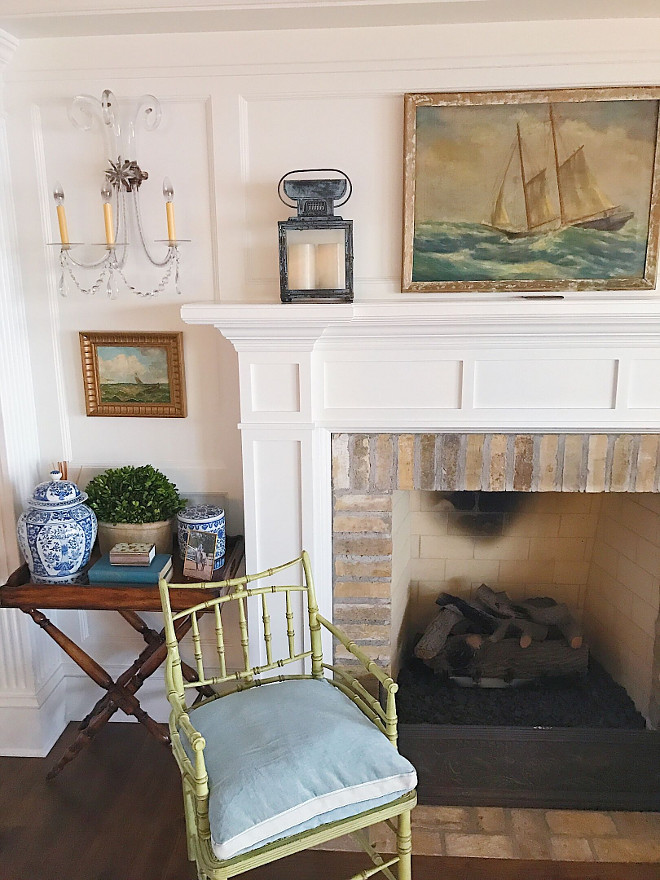 Glass sconces flanking fireplace from Landschute's private collection. Green bamboo chair from IMS sale room (similar), Tray table from The Sitting Room Studio. Lantern is HomeGoods, vintage art by, The Atelier Collection. Large blue and white ginger jar is from Chesterdales in Naples, FL. Little one was a gift from my girls from William Sonoma.
Art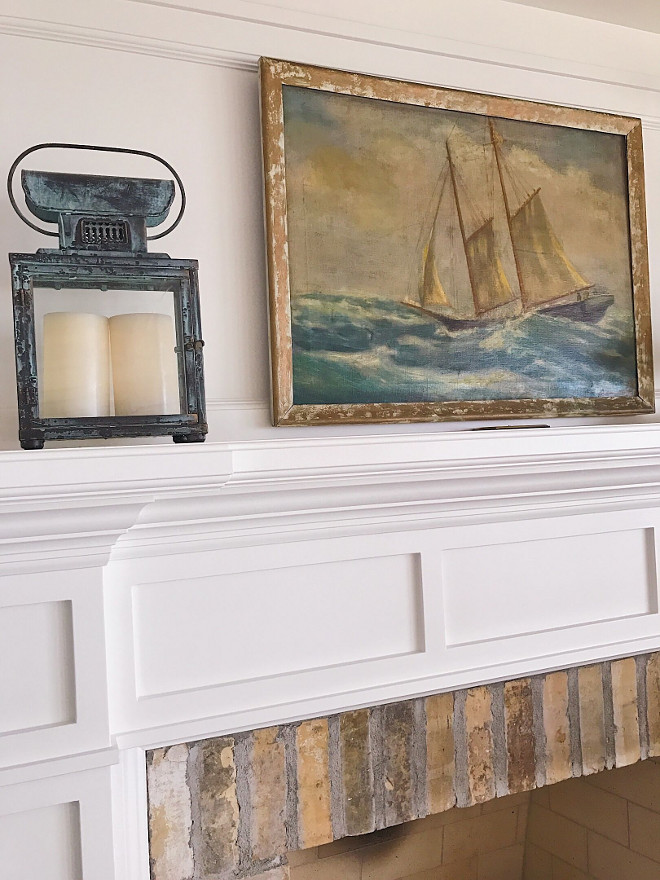 Vintage art by "The Atelier Collection". Hayley, the curator had this in her personal collection and I loved it so much she let me graciously take it right off her wall. The tones are so rich and the frame is to die for. You'll see very soon that I have a "slight" obsession for clipper ships.
Antique Coffee Table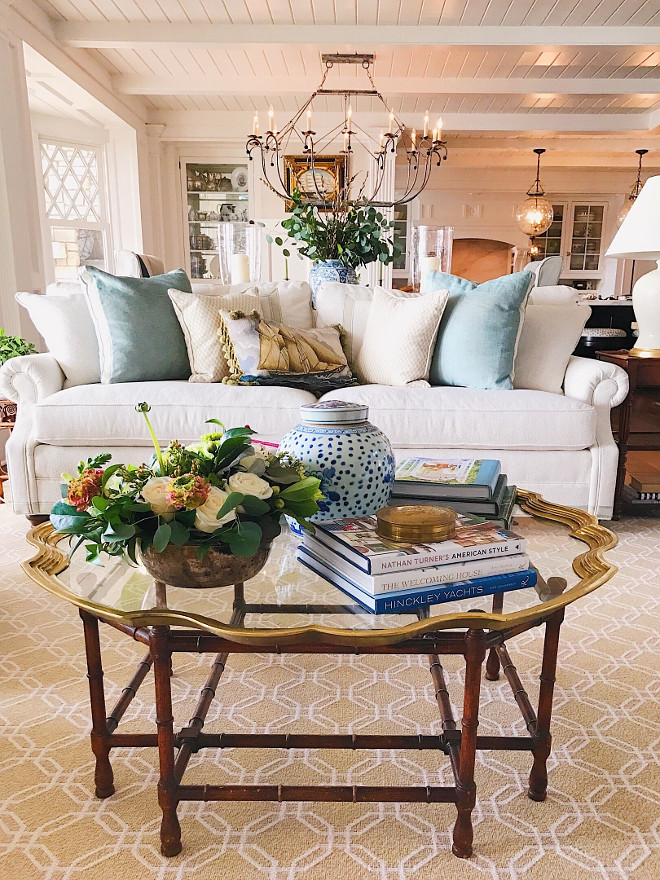 First of all…This coffee table!! It's a 1970's Baker bamboo table that I found on (get ready for it) ETSY!!! I nearly died. Seriously! It's a gem and I will own it forever! (Find a similar coffee table here). Couch, The Sitting Room Studio, blue pillows, Schumacher. Tiny print pillows, Amy Karyn. Sail boat needlepoint is from Chazin Interiors. I adore design books and often look through them for inspiration. I'm amazed at how often I notice something I never saw before. Countless design inspiration just a reach away.
Coffee Table Decor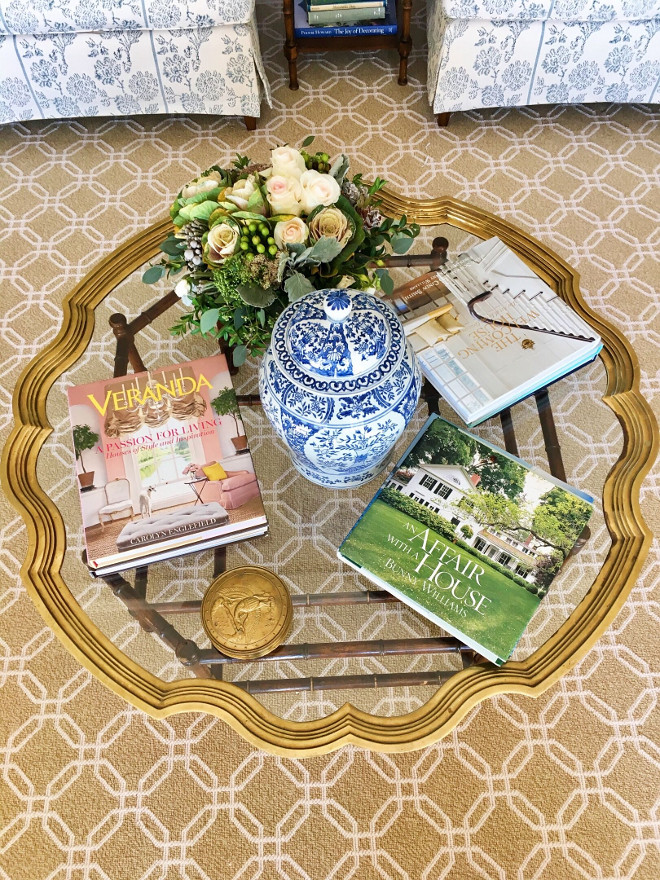 Bird's eye view of my favorite table. Ginger jar from Chesterdale's antique store, brass box from an estate sale. Flowers by, Designer Blooms. Rug, Courtesan carpet.
Topiaries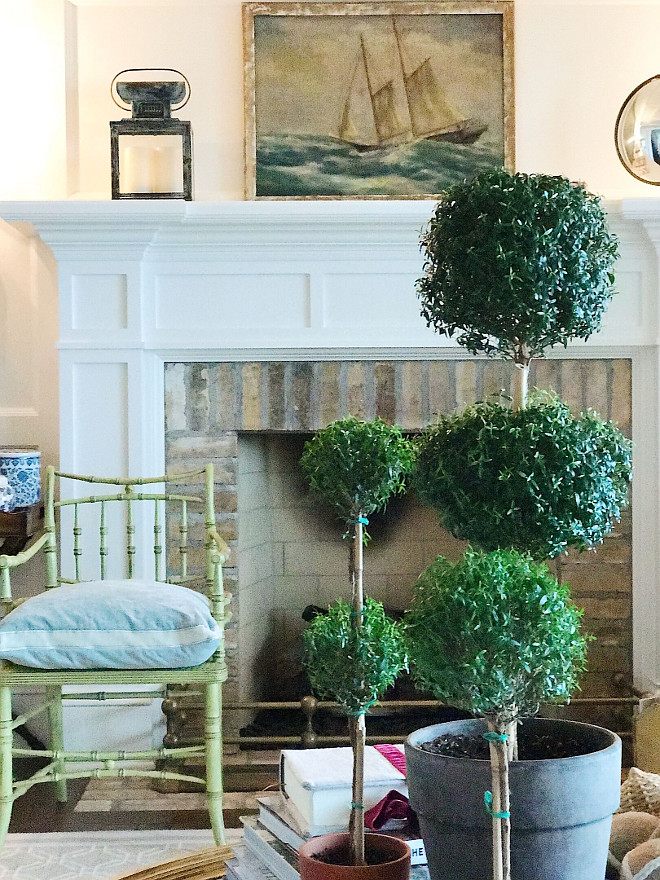 The ladies (myrtles) travel from room to room and I love how easy going they are! They love the southern sunlight in the living room. Lantern from HomeGoods. Vintage art (the best collection I've ever seen) The Atelier Collection.
Ottomans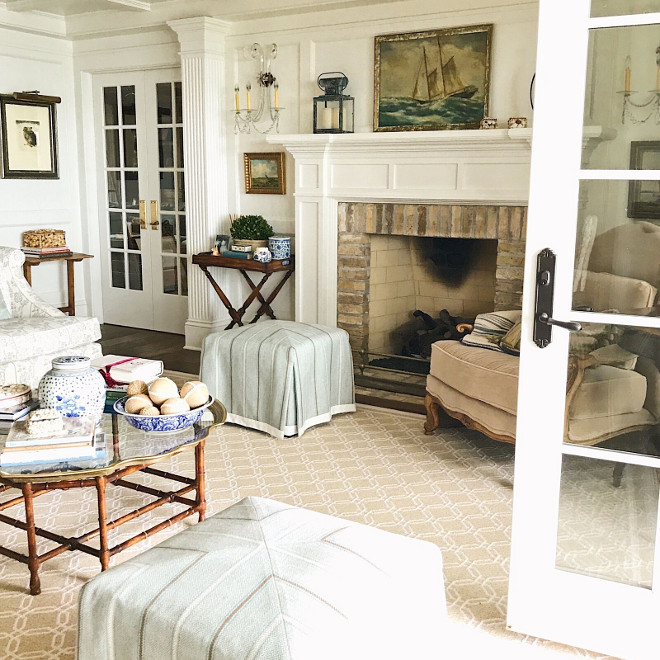 Living room ottomans are from The Sitting Room Studio. I love ottomans because they can move easily from room to room and come in handy for gatherings when you need extra seating. Bunny sketch is from Nash Frame. Pine table is a garage sale find.
Side Table Decor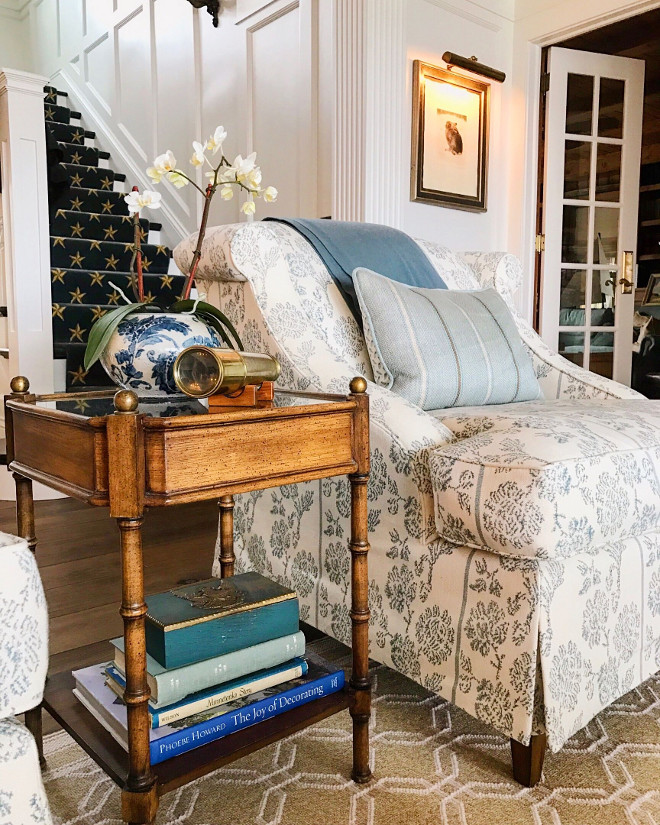 Close up of my antique table. I love it's size and charm and it's perfect between the two A. Rudin chairs.
Console Table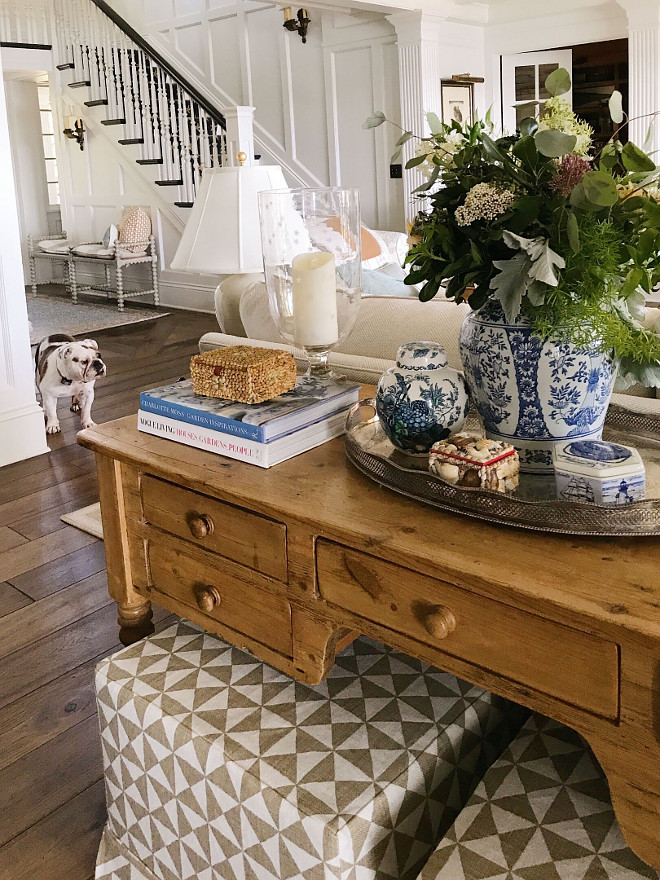 This pine console table I have had for over 25 years. It used to be my writing desk and now it sits behind my living room sofa, separating the living room and dining room. Cubes are from Etsy, slipcovered in Schumacher Tribal print. The print reminds me of nautical flags. The ginger jars also get moved from table to table. Flowers by Designer Blooms. Silver tray is an estate sale find. Small ginger jar is a find from a Nantucket antique store. Star glass hurricanes are from Bean & Roe. I love collecting shell boxes. They add a natural textural touch to any room and remind me of the beach. Win Win!
Dining Room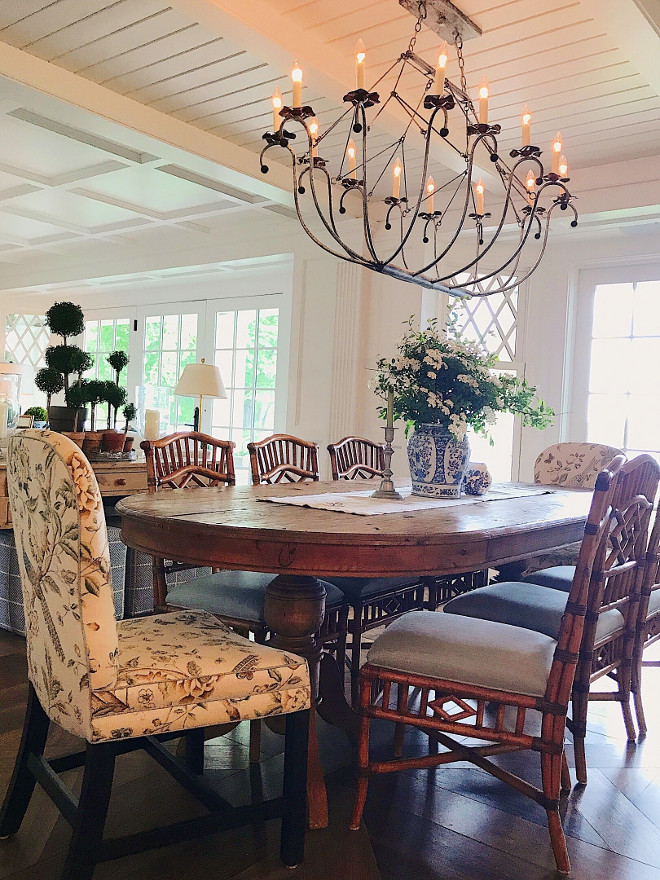 Dining room table is Shabby Chic Couture from NYC. End chairs are from Hollyhock in LA. I'm planning on slipcovering the end chairs for winter in a plaid skirt. Chandelier is Lowcountry Originals Spring Island Oval Basket Chandelier. I love the magnitude of it over the table.
These bamboo chairs have a story. I was at a furniture consignment shop in Florida, and they were on hold for someone else. I begged and pleaded to buy them, but the manager made me wait until the end of the day to see if the customers was going to follow through. At 5:59 I was told I could buy the chairs! I don't think I've ever been so excited about a "find" in my life. I shipped them home knowing they would be the perfect match for our new home.
Built-in Cabinet

Built in cabinet is filled with antique silver that I collect at antique stores and estate sales. All the nautical ware is from Nantucket. Clipper art from The Atelier Collection. Bamboo chairs are covered in Hollyhock for Lee Jofa blue.
Classic & Timeless Kitchen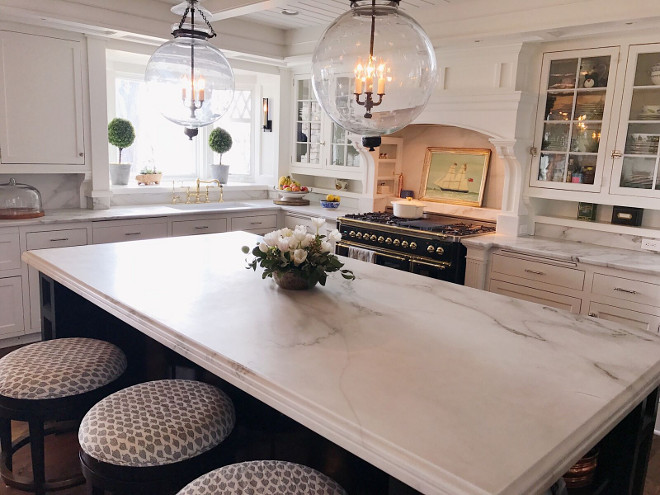 I've always wanted a white kitchen and Landschute is known for building classic white kitchens. White Carrera marble on countertops and backsplash, Silver hardware on cabinets. Tempered antique glass in upper cabinets. Island measures 106 by 54′ and is painted "Benjamin Moore Black" with antique brass pulls. Kitchen faucet is gold and with a farmhouse sink. I love mixing metals in a kitchen.
Star pendant lights are antiques from Nantucket. Glass dome is HomeGoods. Topiaries from Harvest Home. Clipper ship art from Nantucket.
Range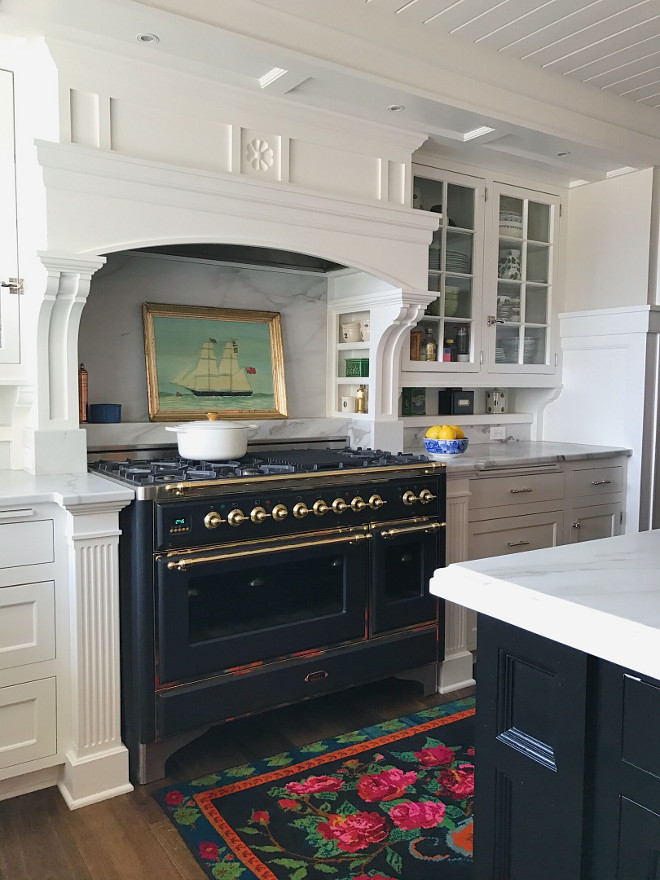 Black and brass stove is ILVE and I love its form and function.

Flower molding above stove is from the previous molding of front door. I wanted to work it in somewhere and luckily, it landed right here.
From Above

Kitchen rug from Traditions. Close up of brass features on ILVE stove and island hardware by Bosetti Marella.
Sink & Faucet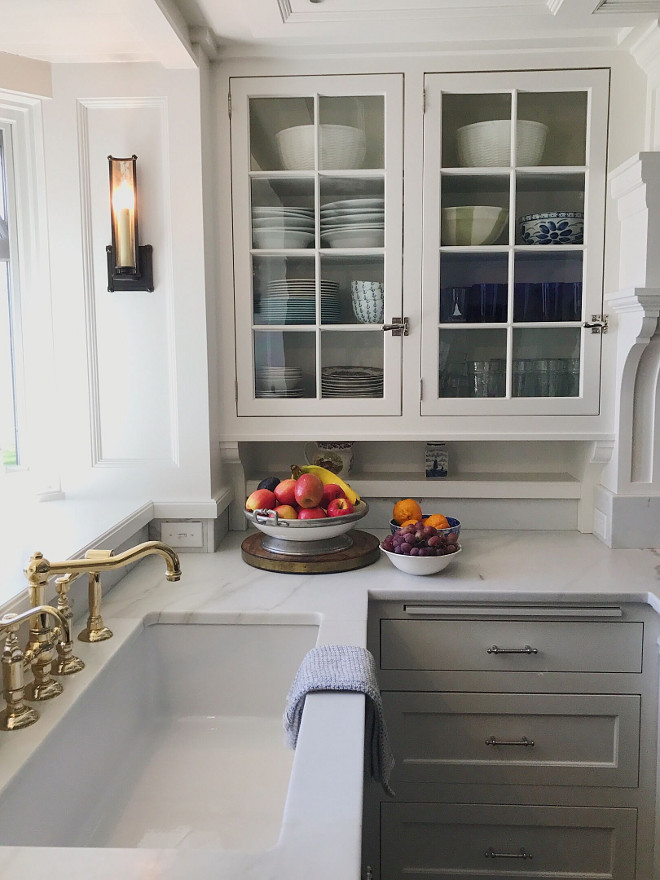 Farmhouse sink and brass faucet. Fruit bowl is Match. Sconces from Currey and Co. Sink is Shaw's Original. Faucet is Perrin and Rowe. Polished nickel hardware is RKI. Cutting board from HomeGoods. Kitchen towel from Nantucket Looms.
Kitchen Countertools

Kitchen stools are from Layla Grace covered in Elizabeth Eakins small print. Whale cutting board from Anthropologie.
Butler's Pantry

Back pantry has a butler's vibe. Antique rug was a gift from a friend (similar here). Pine bench is an antique. Whale pillow from Homegoods (similar here). Mirror is antique from Mountain Dandy in Jackson Hole. Star wallpaper is Osborne & Little – Vintage II Coronata Star.

Kitchen's Pantry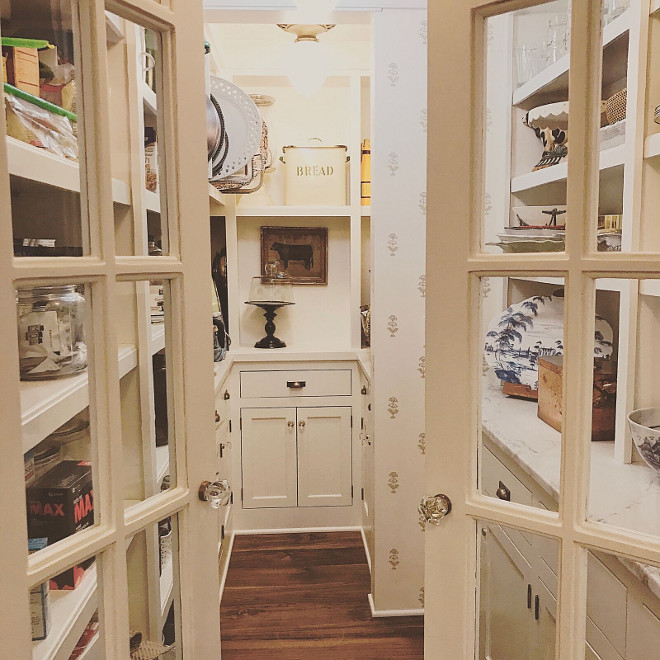 A peak inside the pantry. Doors are salvaged from another old home. Wallpaper is Elizabeth Eakins, Antique cow portrait from John Derrian in NYC. Vintage lights from Landschute's private collection.
Spindles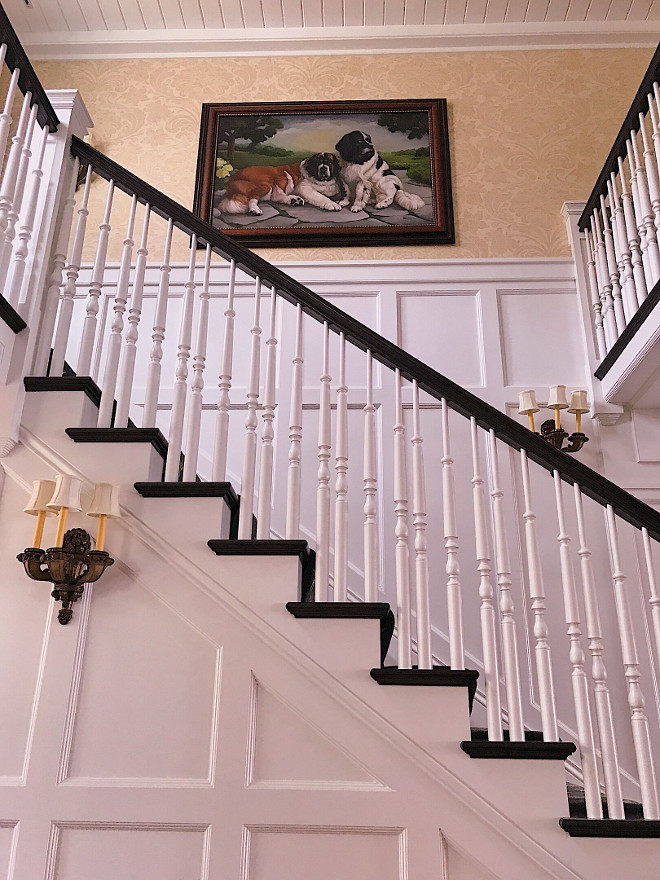 Wooden antique sconces from Landschute's private collection. Wallpaper is Schumacher. Dog oil is of our two beloved large dogs, a Newfoundland and a St. Bernard. The artist, Barbara Grieving. Because of the gold stars on the runner, I chose a classic damask gold tone wallpaper. It fits seamlessly into the house.
Stair Runner

I'll never forget the day this runner was put it. I was giddy! The whole house is pretty quiet and serene and then all of a sudden…Whoa – lots of stars! I love the nautical vibe paired with the quiet undertones of the rest of Mona Bina.
Lighting is Visual Comfort.
Stars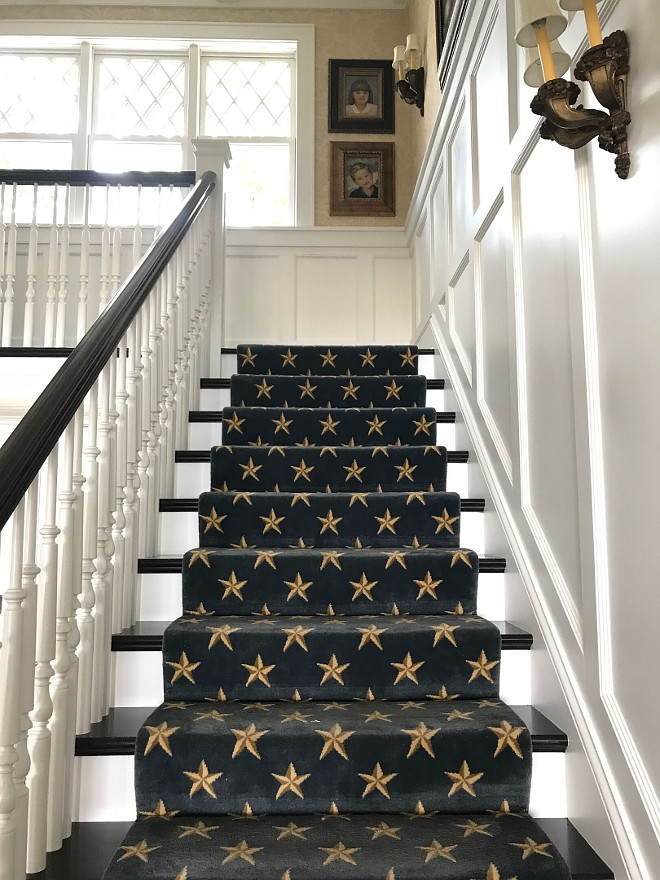 Walking on stars! Children oil portraits by, Linda Nelson are treasured keepsakes.
Flooring & Millwork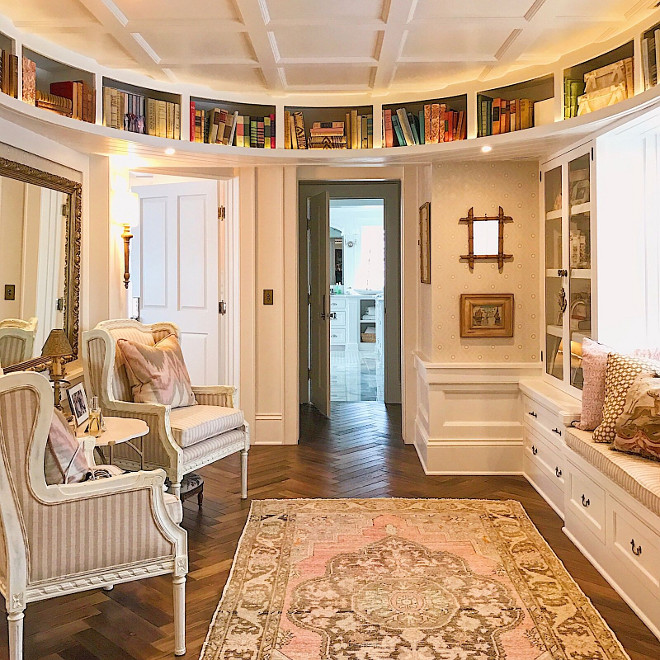 I call this, "The Oval Office." It's actually just a very wide hallway, that we decided to make extra special. The floors switch to a herringbone pattern and lead to the master bedroom left (door is at an angle to get the best view of the lake upon entering) or the master bath, straight ahead.
Chairs, rug and side table are from The Sitting Room Studio. Pillows on chairs are Schumacher. Bench pillows, The Sitting Room, Schumacher and needlepoint is Chazin interiors. Custom mirror, The Great Frame Up.

Reading Nook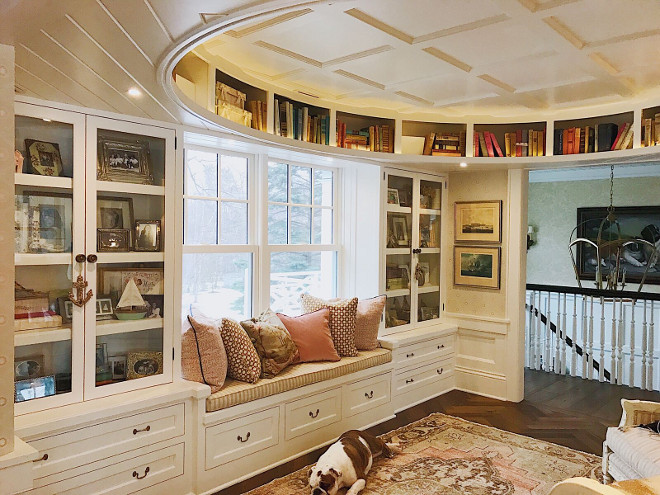 Another view of The Oval Office with an appearance by Dorothy.
Sitting Room

When you enter the master bedroom, the first thing you see is a gorgeous view of Lake Minnetonka. The master sitting area is filled with light and we love all the windows and waking up with the sun. Couch is Quatrine, spindle chairs are The Sitting Room Studio (similar here ). Rattan cubes were a garage sale find for $30 that I covered with custom monogrammed cushions. (similar here or here for rope cubes) Side table – The Sitting Room. Brass lamp is an antique that I found on Etsy. Rug is ProSource (similar here).
Redecorating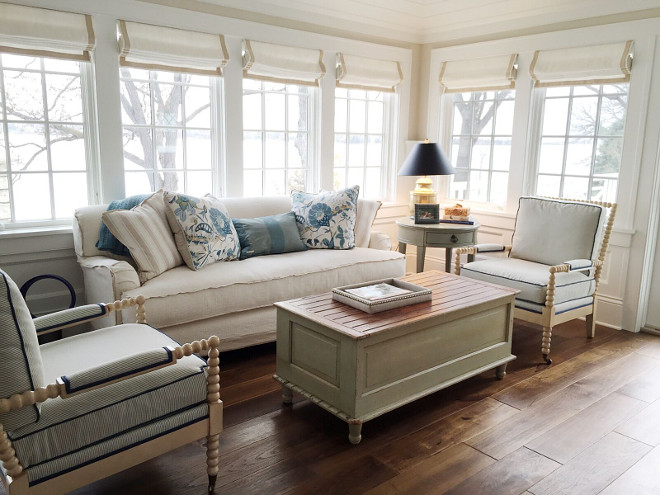 Another view with a pine trunk I've had since my kids were babies and no rug with a winter back drop.
Alcove


Landschute is known for built-in beds and our master bed is my favorite. It is flanked by bookcases with an arched top and coffered ceiling. Linen bedding is Quatrine, clipper ship pillows are Schumacher, striped pillow is Quatrine. Blanket is from Nantucket.
Master Bedroom

Full shot of master bedroom built-in. The coffered ceiling and beautiful architecture are Landschute details that make the home feel so comfortable.
Master Bathroom

The master bath has diamond windows on both sides. The white on white marble floors and beautiful "Artistic Tile" tile rug makes it impossible for me to cover up for a rug. Lighting is Circa Lighting. Bath is Bain Ultra (AMAZING). Vintage sale boat from Indigo Seas in LA. Monogrammed towels are Pine Cone Hill.
Towel Bar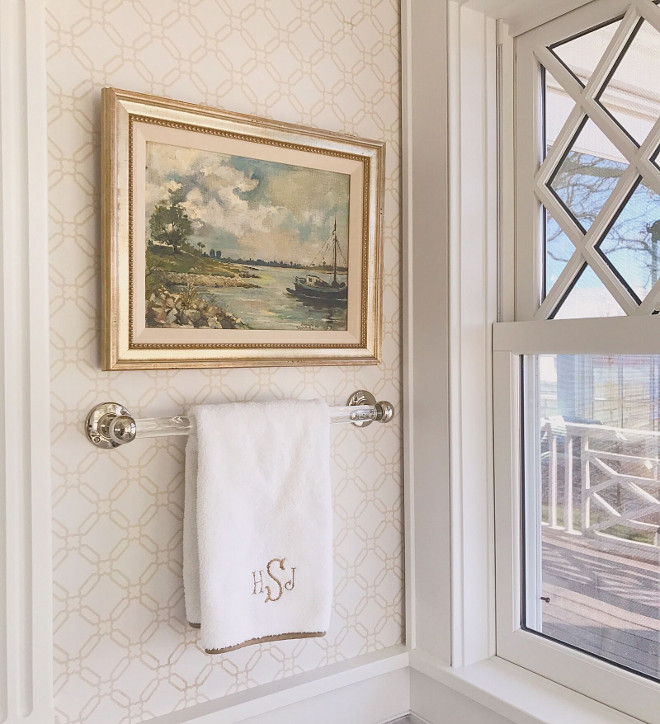 Monogramming is a great way to personalize a space. Towels from Pine Cone Hill. Wallpaper is Schumacher. Art, The Atelier Collection. Bath bar is Restoration Hardware.
Decor

I'm a serious sucker for vintage boats… My favorites are from Indigo Sea shop in LA and a Country Look In Antiques in excelsior. And sea shells. Always!
Wall Art

The stars continue up the attic stairs, surrounded by shiplap leading to the boys room. Custom flag art by, Abbey Holden Studio.
Stairwell Art


Stairwell art is an eclectic mix of clipper ships and Nantucket memorabilia. Antique runneris from Victory in Mpls. Overhead lighting is from Landschute collection.
Coastal Boy's Bedroom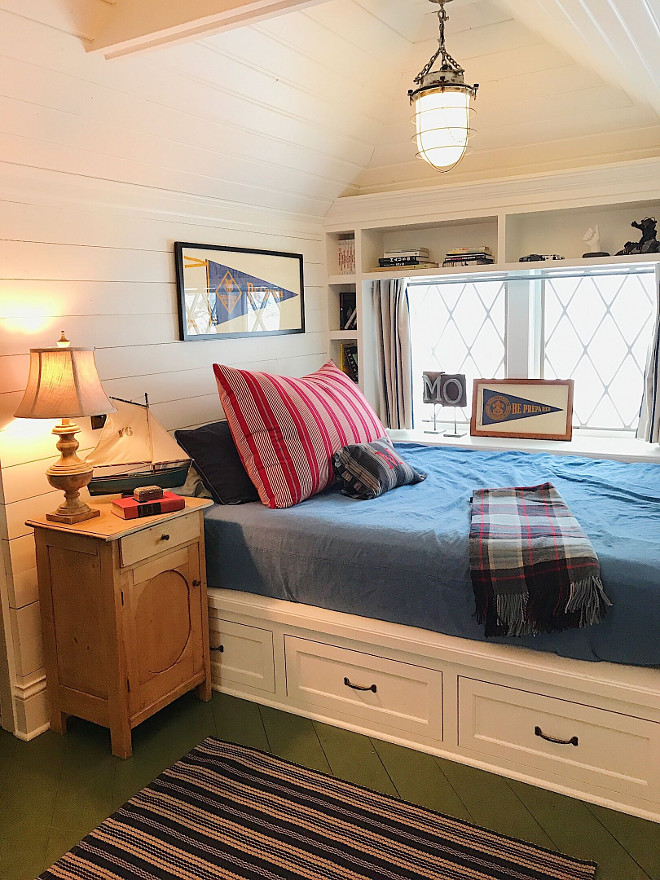 Built in Bed #1, antique pine nightstand, striped and plaid pillows from John Derrian in NYC. Vintage boy scout pennants. Rug is Dash and Albert. Overhead light is an antique from London – found on Ebay.
TV Nook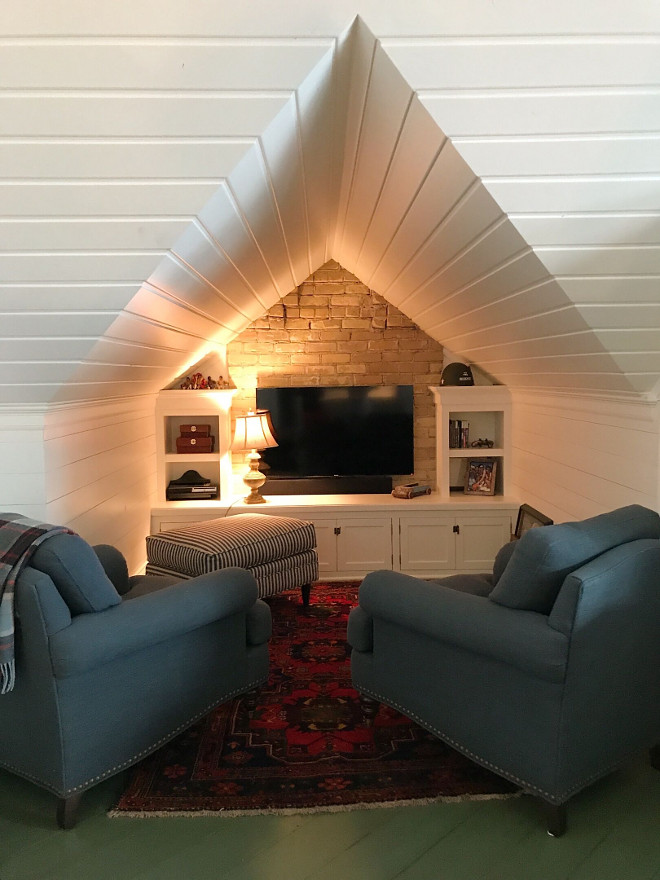 The boy's nook. A cozy peaked ceiling, antique rug, The Sitting Room navy chairs. Ottoman is a garage sale find covered in a ticking stripe from Calico Corner.
Cozy & Charming

Pine dresser is from English Traditions in Naples FL. Rug is Dash and Albert. Pillows are John Derrian. Overhead light from London found on Ebay.
Staircase Details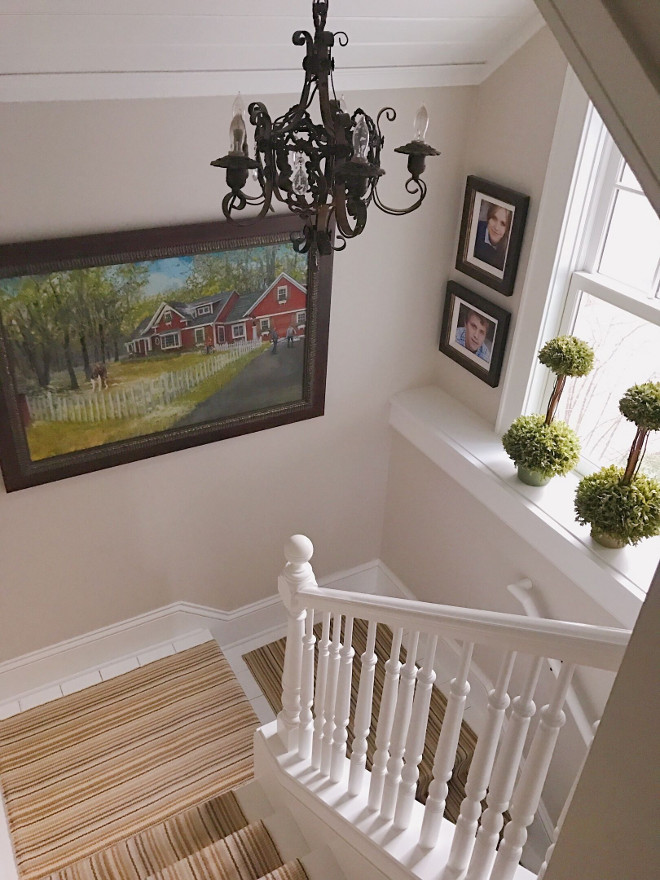 Sister staircase that leads from master bedroom to kitchen. Dash and Albert runner. Oil painting of our old home by, Linda Nelson. Child portraits by Wendy B. Photography. Chandelier from Landschutes's private collection. Topiaries from Harvest Home.
Heather's Office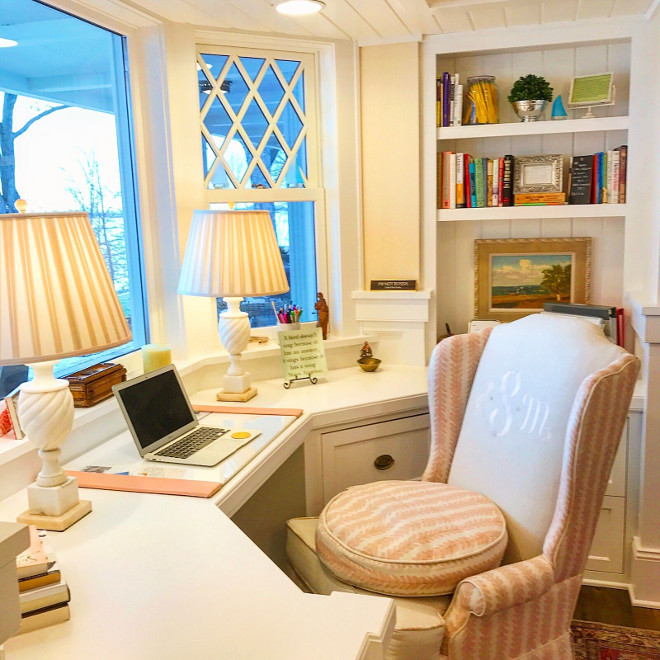 My mother's writing chair recovered in Schumacher fabric. It sits a little low, so I had a tuft made so I could sit comfortably. I love the look! And the monogram chair back is so personal. Vintage art, The Atelier Collection. Marble lamps, Etsy.
Comfy Zone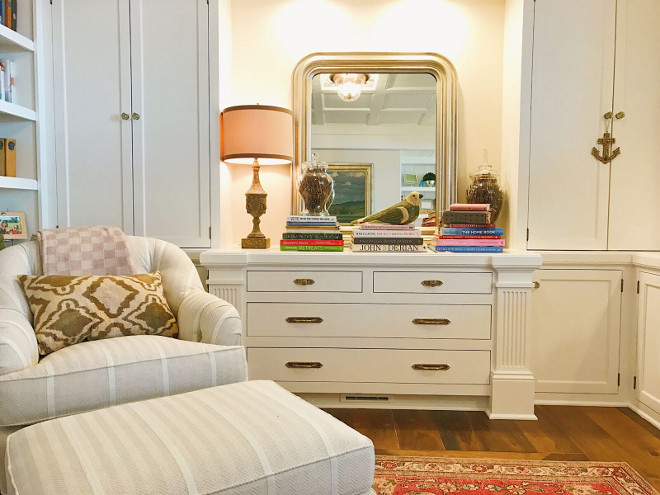 Mirror is from Quatrine. Chair and hardware from The Sitting Room Studio. Wooden bird and shell anchor, John Derrian.
Bamboo Chair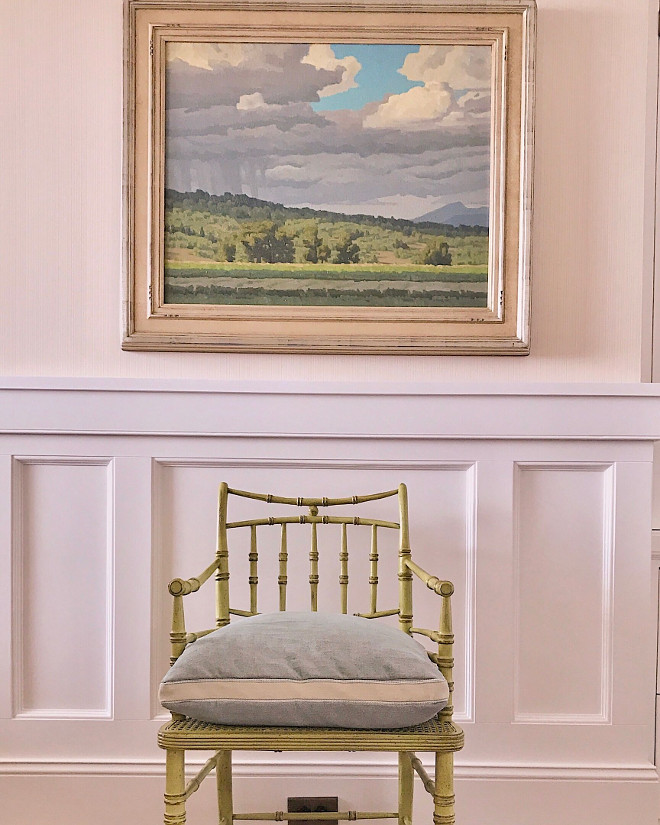 I fell in love with this oil in Jackson Hole and had to have it. Bamboo chair from living room making the rounds around the house. Here they both are in my office.
Powder Room

Powder Room with antique mirror and sconce with the my favorite, Nina Campbell "promenade" wall covering. Sink and faucet by Kohler (similar sink). Towel bar is antique.
The Nook

We call this, "The Nook." This is where you will find me every morning!! The nook is adjacent to the dining room and open to the kitchen and front entry. It's where we hang out and catch up. Walker Zanger tile that looks like it's always been here, navy chairs from, Wesley Hall (similar chairs). Anchor blankets from Grace Hill, pine table from English Traditions, Dash and Albert rug, antique sconces, Landschute's private collection, antique boat, Indigo Sea Shop, Star gold wreathes on stands, Nantucket Looms. Clipper ship art above fireplace, a Nantucket find.
Carriage House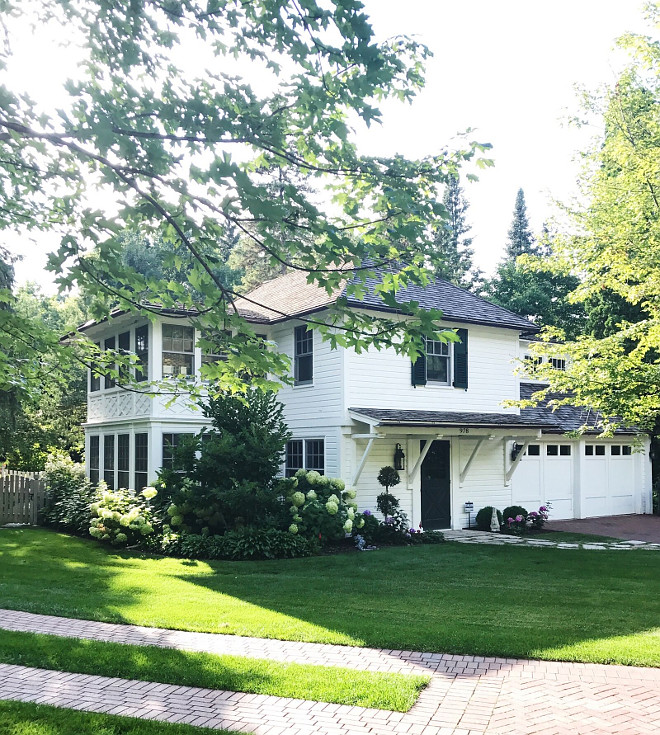 Mona Bina came with a carriage house. Back in 1937, this home was actually the gardeners. We remodeled "Mini Mona", as we call her, first and lived in there while we waited for the "big house" to be done. We have 4 older kids, 2 at the time were in high school while we lived here and it was so charming and warm, sometimes I wondered if I'd even be able to leave it. It's a real charmer. Currently, my mother and step-dad lives here and they are happy as clams.
Back Porch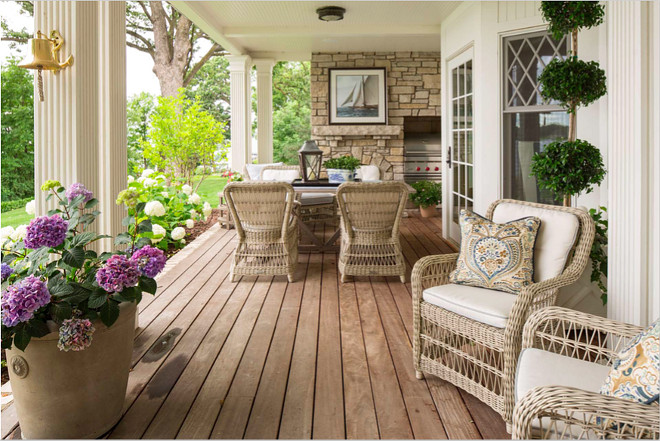 Mona Bina porch. All furniture is Kingsley Bates. Brass bell is from Nantucket.
Lakehouse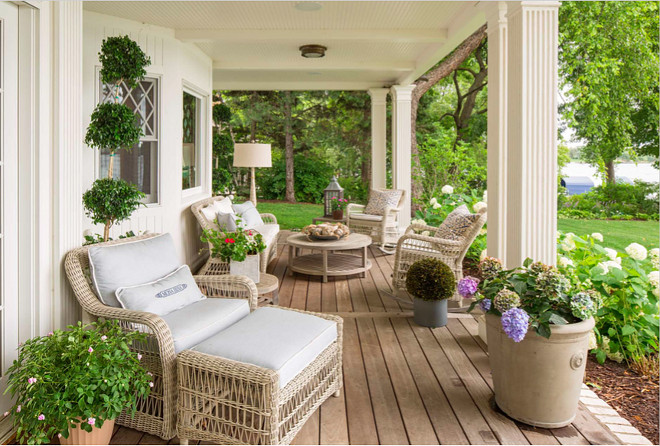 This porch is perfect for lounging and staring off at the beauty of the lake. Custom "Mona Bina" pillow by Nantucket Monogram.
Lake View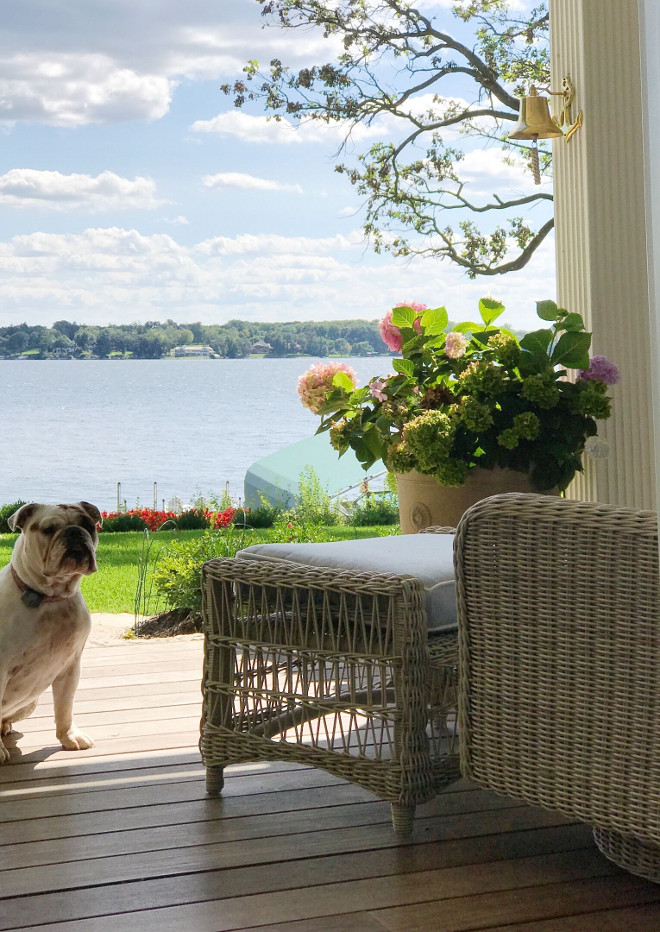 This Kingsley Bates wicker swivel chair is my favorite spot to relax.
Boat

J's Crew.
Make sure to follow Heather from @SweetShadyLane on Instagram and visit her blog to see more photos of her beautiful home! 🙂
Best Sales of the Month:

Thank you for shopping through Home Bunch. For your shopping convenience, this post may contain AFFILIATE LINKS to retailers where you can purchase the products (or similar) featured. I make a small commission if you use these links to make your purchase, at no extra cost to you, so thank you for your support. I would be happy to assist you if you have any questions or are looking for something in particular. Feel free to contact me and always make sure to check dimensions before ordering. Happy shopping!
Wayfair: Up to 75% OFF on Furniture and Decor!!!
Serena & Lily: Enjoy 20% OFF Everything with Code: GUESTPREP
Joss & Main: Up to 75% off Sale!
Pottery Barn: Bedroom Event Slale plus free shipping. Use code: FREESHIP.
One Kings Lane: Buy More Save More Sale.
West Elm: 20% Off your entire purchase + free shipping. Use code: FRIENDS
Anthropologie: 20% off on Everything + Free Shipping!
Nordstrom: Sale – Incredible Prices!!!
Posts of the Week: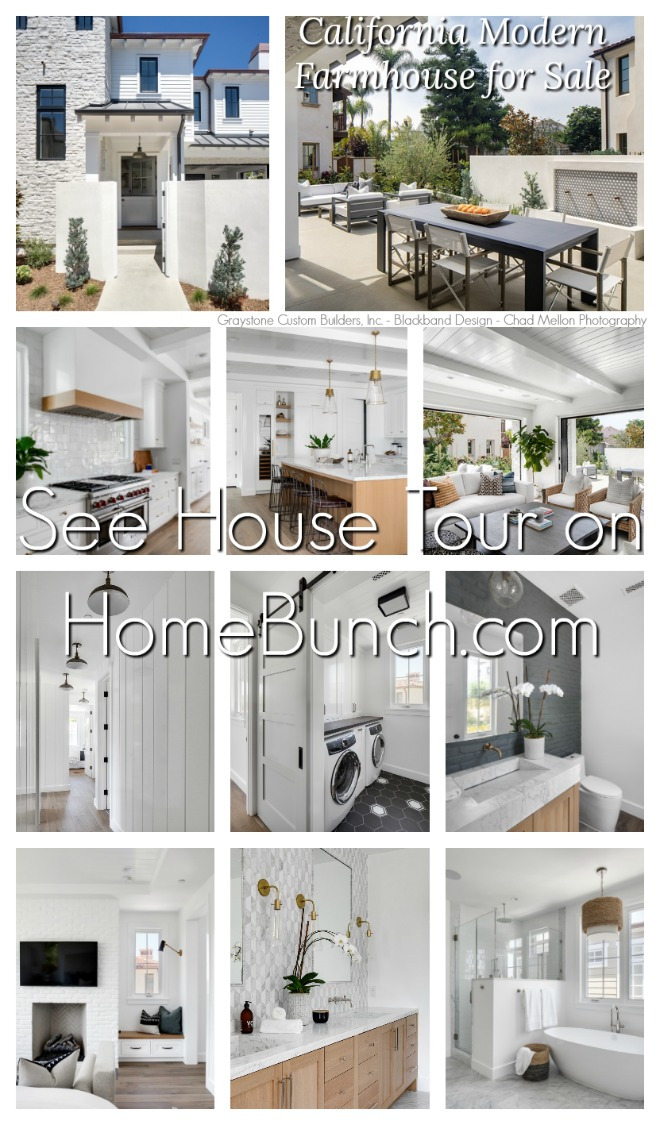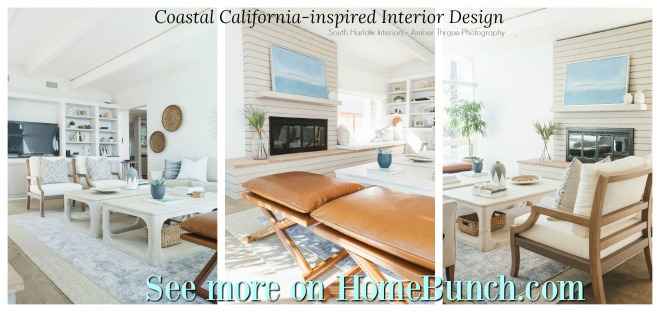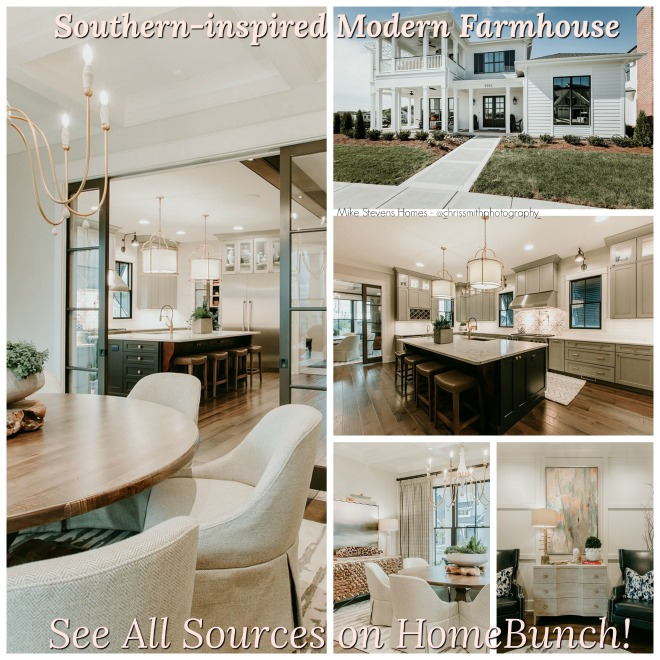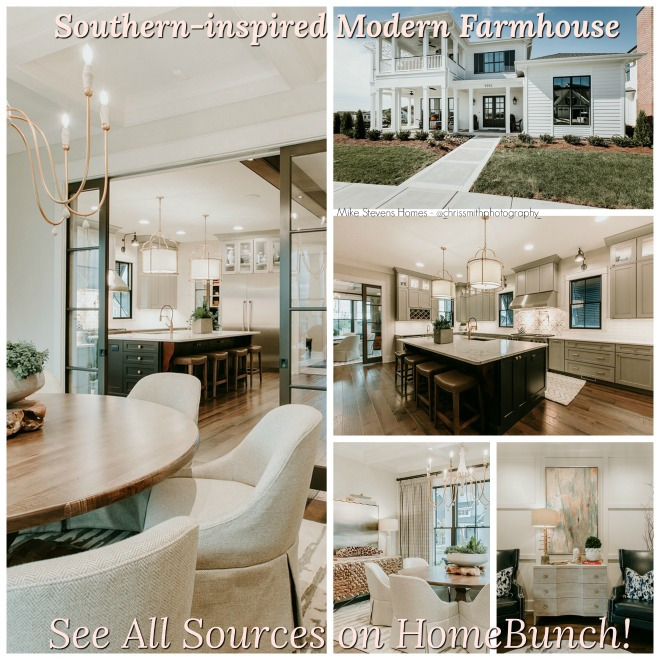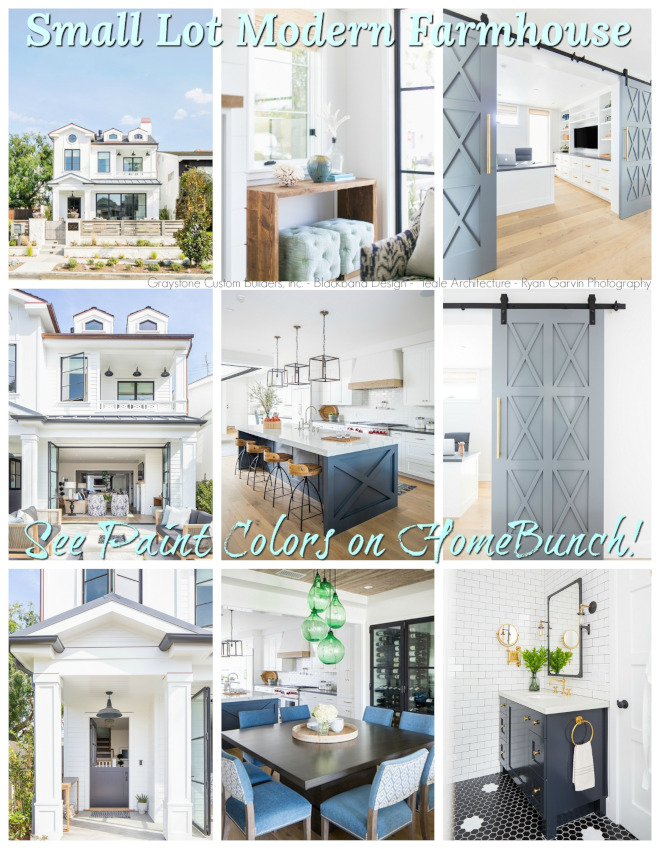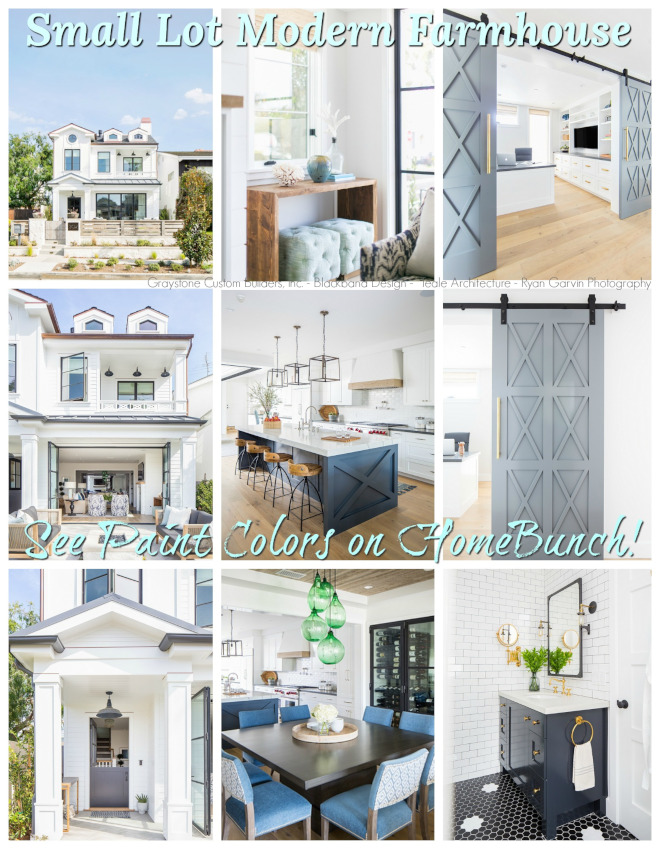 Follow me on Instagram: @HomeBunch

See more Inspiring Interior Design Ideas in my

Archives.
"Dear God,

If I am wrong, right me. If I am lost, guide me. If I start to give-up, keep me going.
Lead me in Light and Love".
Have a wonderful day, my friends and we'll talk again tomorrow."
with Love,
Luciane from HomeBunch.com