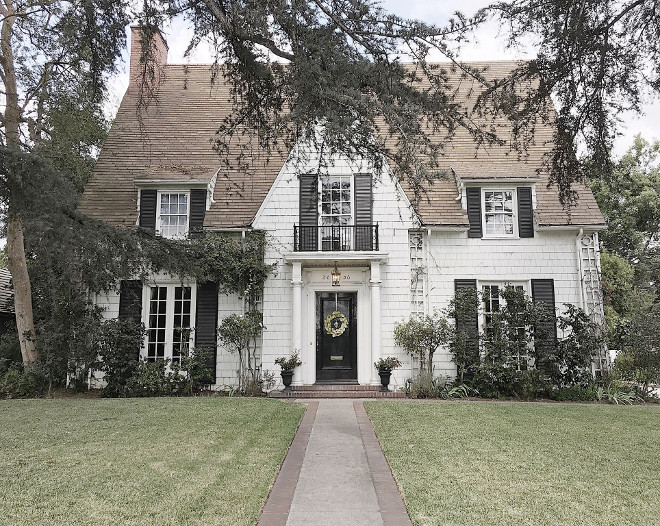 Thanks to you, my loyal readers, Home Bunch has being inspiring and growing for almost a decade. My passion for interior design wouldn't be enough to work on it for all of this time if I didn't have the kind of support I get from each and every one of you. You show your support for coming here, following me on social media and with your comments and emails. Although I love sharing the magazine-ready homes designed by the various interior designers, builders and architects I feature, I must say that nothing inspires me more than real homeowners. Yes, people like yourself, people that work hard to make the best they can with the place they call "home". This series, "Beautiful Homes of Instagram", started with the goal of letting others know about these real homeowners, so you could have the chance to meet some people you haven't yet. This series is to showcase these talented people and it's for us to learn about their experience and story.
Leslie from @my100yearoldhome is a person you can immediately identify yourself with. She is kind, funny and down to earth. Do you know those people you meet and instantly feel you've known them for many years? That's Leslie!
Trust me, you will learn a lot with her and you'll love to see every single picture she is sharing with us. Thank you for this spectacular tour, Leslie.
Hi everyone! My name is Leslie of @my100yearoldhome and I am so excited to share our home with you. I still cannot believe Luciane invited me to be a part of "Beautiful Homes of Instagram". When she first reached out to me, my first thought was, "But our home isn't beautiful. It's just a home with of a bunch of my flea market finds!"
Our home is actually 102 years old and only two families have owned it since it was built in 1915. It was originally built as a wedding gift and then passed down within the family for two generations. My in-laws bought the home in 1969. In 1998 we bought their home … and they bought ours! We were looking to upsize and they were looking to downsize. You can only imagine what our moving day was like!
My husband Dave and I have been married for thirty-one years and we have three grown boys who are ages 26, 24 and 23. My husband and three sons all played sports in college so our home has had plenty of wear and tear, such as baseballs flying through an antique glass windows and soccer cleat marks on our family room coffee table. But these memories are what make our house a home and they will be with us forever (including the table!).
When we bought the home we knew we wanted to remodel it to fit our growing boys (did I mention they are 6'7", 6'6" and 6'5" tall?). So in 2000 we remodeled the downstairs by opening up and expanding the maid's room into a family room, expanding the kitchen, remodeling two bathrooms and adding a back porch. In 2008 we remodeled our master bedroom by adding a walk-in closet and new bath. We used the same architect for both remodels, who specialized in historic renovations. We used the original house plans as a guide to match everything, including the moldings, windows, and French doors.
We live in the Pasadena area in Southern California and since our home looks like it could be located on the east coast we have been fortunate to host a lot of film companies. Our home has been in ten movies (including Raising Helen, Fired Up and A Mighty Wind), about twenty TV shows (such as Mad Men, Criminal Minds and CSI Cyber) and nearly 50 commercials. This year, during the Super Bowl, a Skittles commercial aired, that was filmed in our master bedroom. The most popular room in our home for filming is our kitchen, by far. We have even had fake snow on our home numerous times!
I am a full-time artist and have been painting professionally for interior designers for years. Home design has been a passion of mine for as long as I can remember. I am always watching HGTV (my husband calls it the "talking lamp" as it's the first thing that is turned on when I enter a room) and I quickly fell in love with Fixer Upper and what I call "farmhouse style". I started an instagram account and blog this spring and never expected how much fun I would have sharing our one hundred year old home. My blog serves as an inspiration for me and it's a fun place to share how I have redecorated our home and simplified the design and color palette. I recently redid our family room, living room and master bedroom in a very neutral palette.
My decorating style is "flea market comfortable". I love visiting our local flea markets looking for great finds for our home. I tend to style our home in everything white and chippy, and I love using an item for a purpose it was not originally intended.
I collect a lot of things such as vintage china, old quilts, silver pitchers, Rae Dunn pottery and cranberry glass. But my favorite passion is entertaining. I love to cook and set a creative table, so we host dinner parties for friends all year round.
Beautiful Homes of Instagram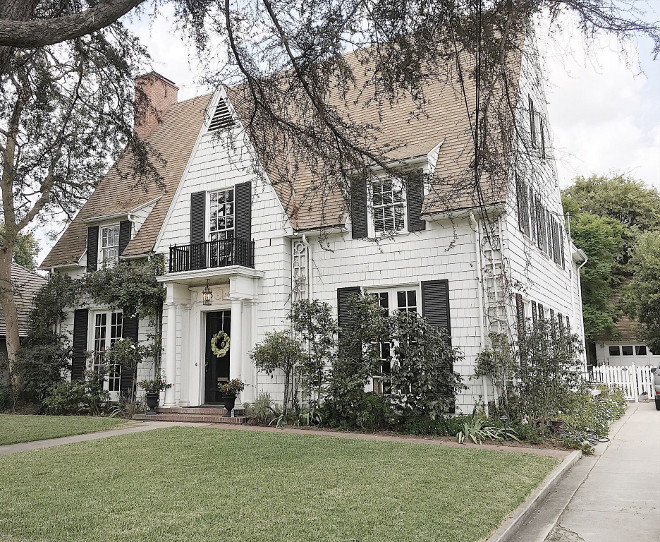 Our home technically has four stories. I love our California basement (which just means it's really small) and fifteen years ago we put in a wine cellar. The basement is the perfect place to keep wine cool. The only addition to the original footprint of our home is the family room and back porch that we added in 2000.
Exterior Paint Color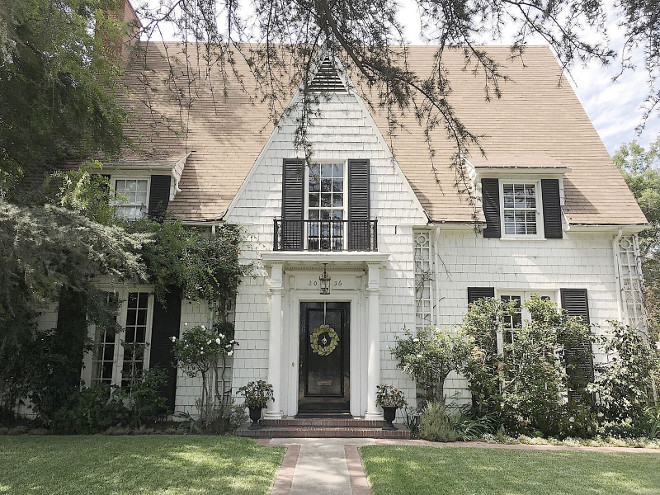 Exterior Paint is Dunn Edwards Swiss Coffee and the black shutters and door is Dunn Edwards Black.
Living Room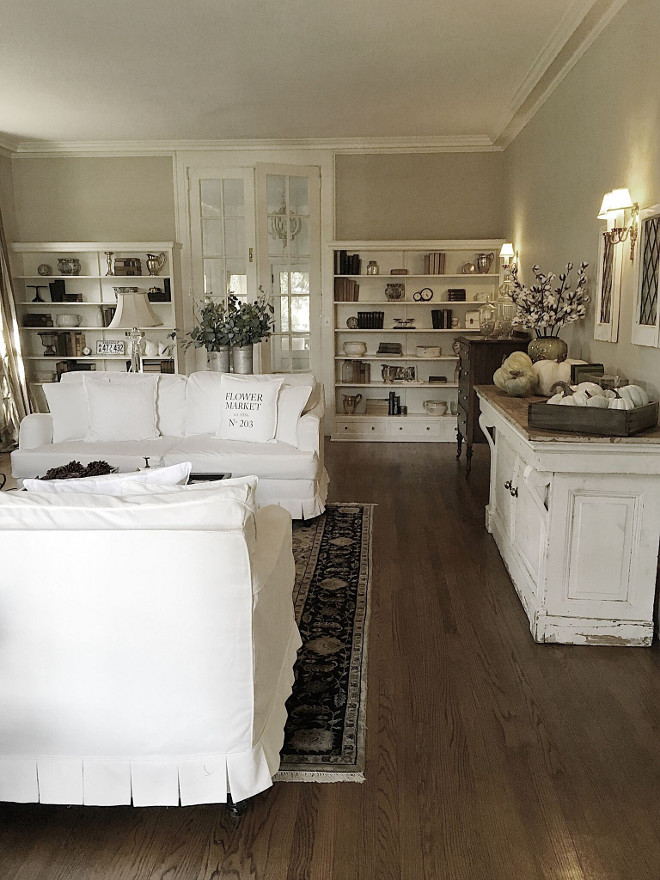 When we moved in to the home in 1998, the only thing we did was paint and changed the light fixtures. Unfortunately none of the original fixtures remained in the house so I shopped the flea markets for fixtures that were the style of when the home was built.
Our floor plan is very traditional. When you enter the home the living room is on the left and the dining room is on the right. Earlier this year I remodeled the living room and had slipcovers made for the couches.

Rug: Rose Bowl flea market
Art & Furniture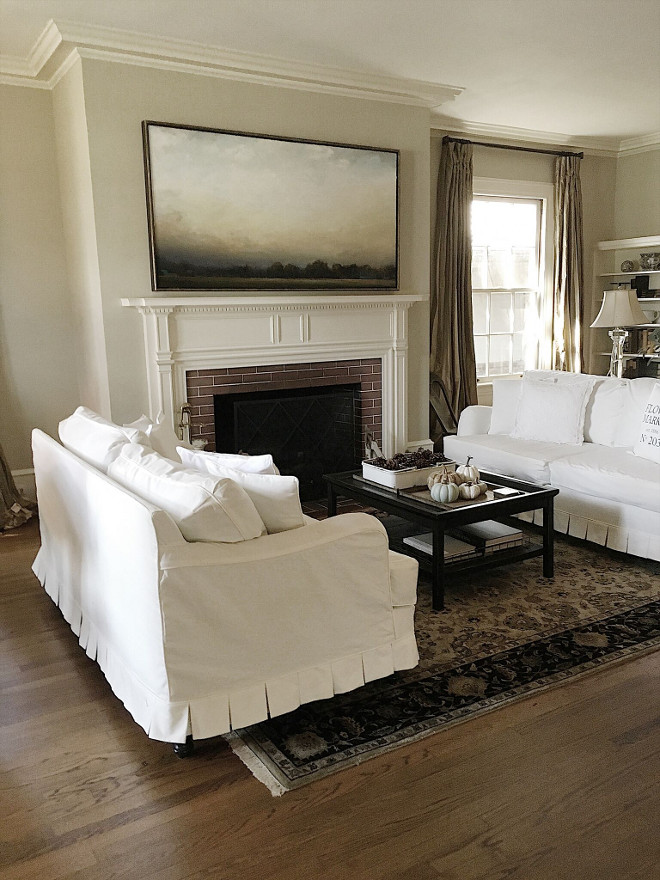 Painting by Ray Turner.
Couches: No longer available.
Coffee table: Pottery Barn, no longer available.
Loved & Tresured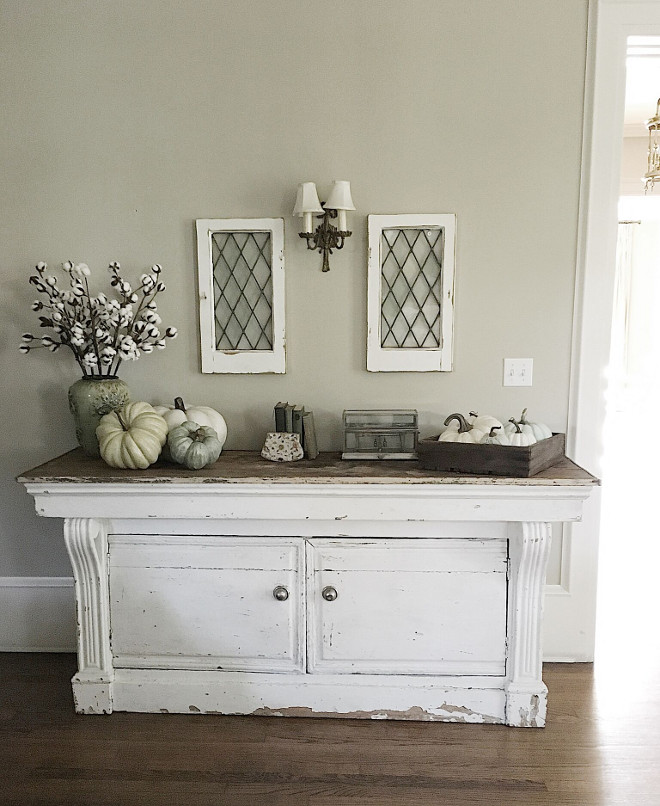 I recently found this incredible general store counter and I do think it is my favorite piece of all of the items in our home!
Blog post about how I found my favorite vintage general store counter.
Drapes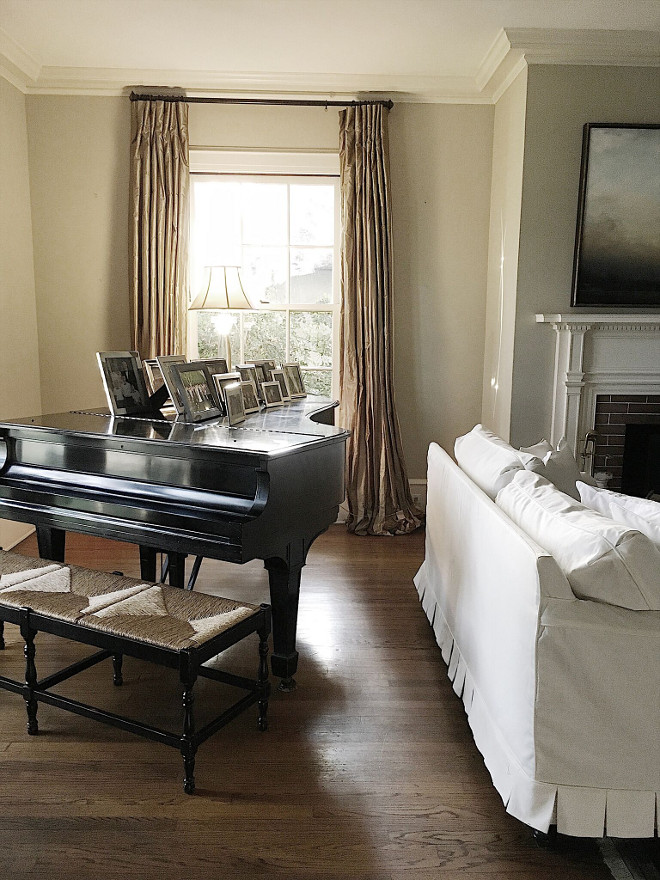 Drapes: Restoration Hardware Silk Taffeta Pavilion Stripe.
Dining Room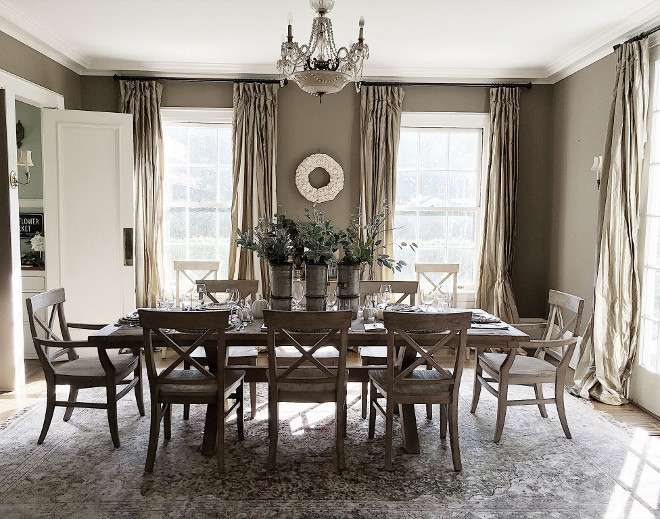 I love to entertain so we are one of those rare families that use our dining room all of the time. Paint color is Behr Espresso Martini.
Dining Room Furniture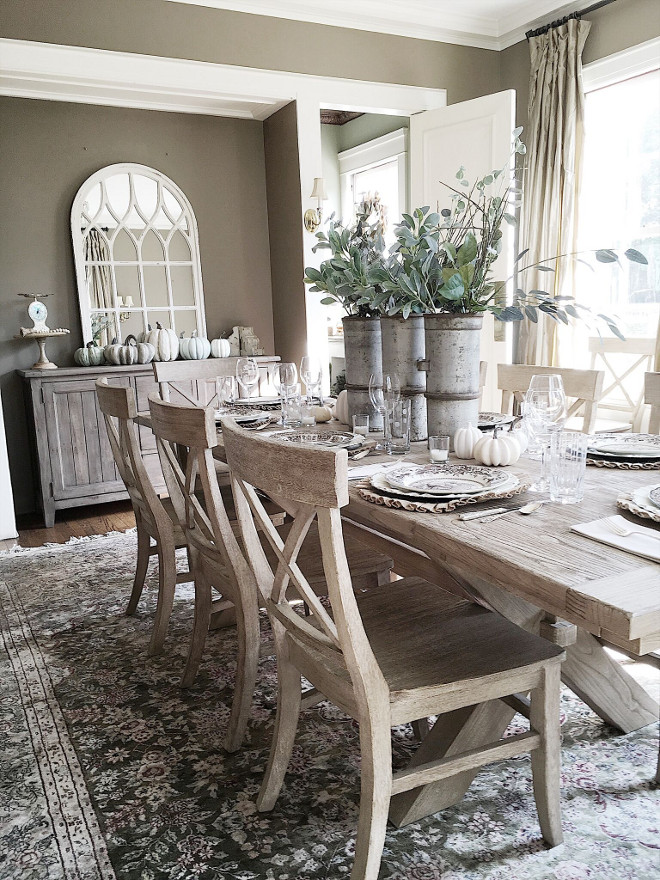 Earlier this year we purchased new furniture for our dining room. I love the lighter wood and more casual style!
Dining Table: Pottery Barn Toscana Extended Dining Table Seadrift.
Dining Chairs: Pottery Barn Aaron Side Chair Seadrift.
Tiered Tray: Creative Co-Op Wood Two-Tier Tray with Metal Handle.
Sideboard: Hayneedle Four Hands Irish Coast Sideboard.
Mirror: Pier 1 Whitewashed Window Mirror.
Ready for Guests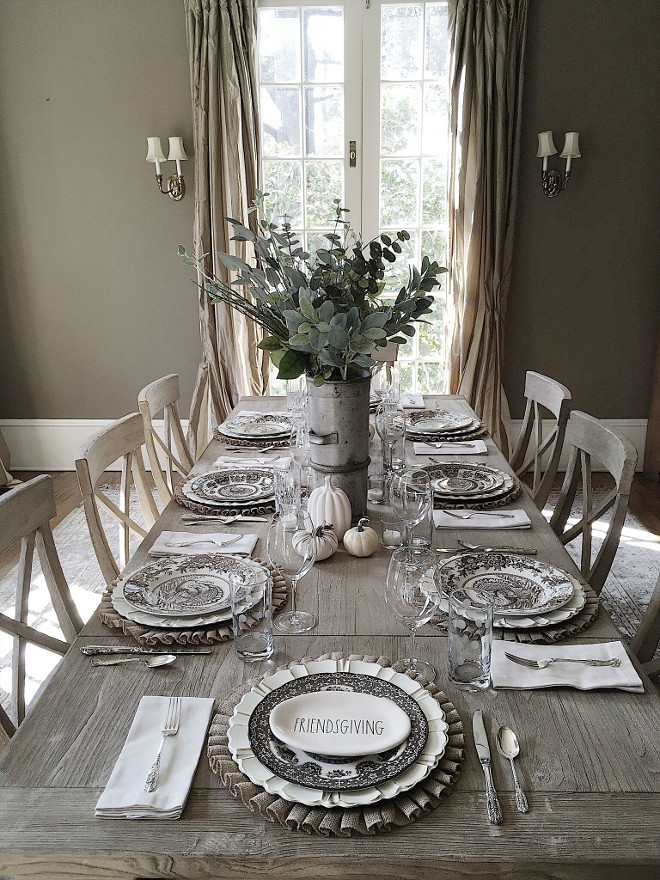 Our dining table is set year round, even when we have nothing planned. I guess you could say I like being ready to entertain!
Thanksgiving Table Setting Ideas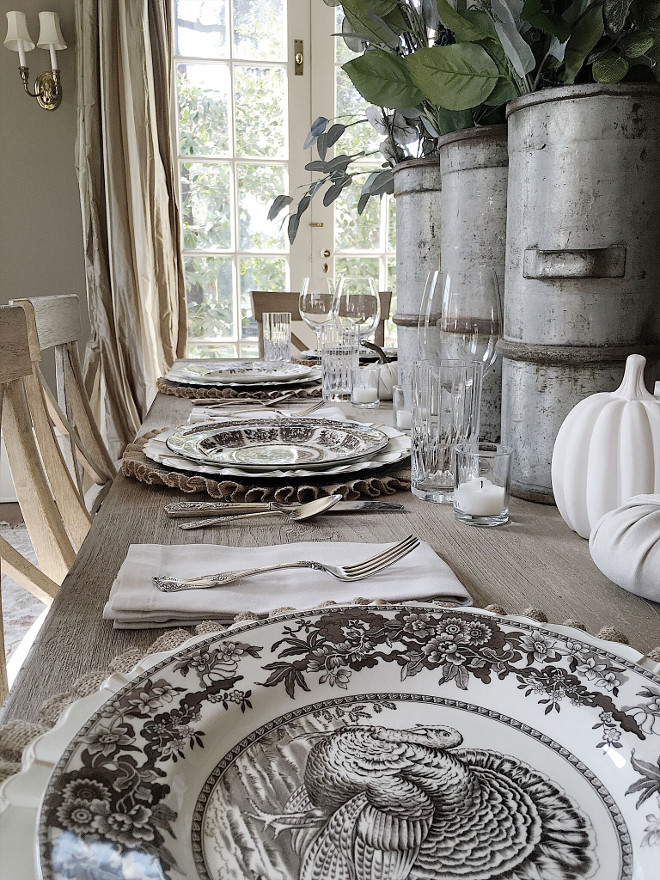 Thanksgiving China: Spode Celebration and Spode Festival.
Placemat: Pier 1 Burlap Ruffle Placemat.
Metal Vases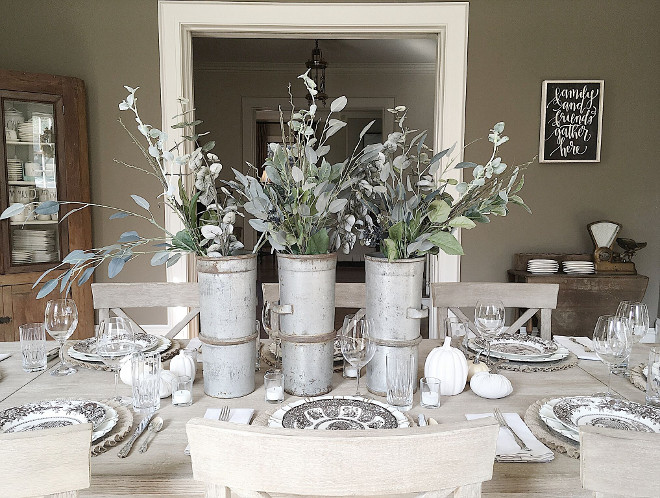 Metal Vases: Vintage find from @thewarpedtable
Drapes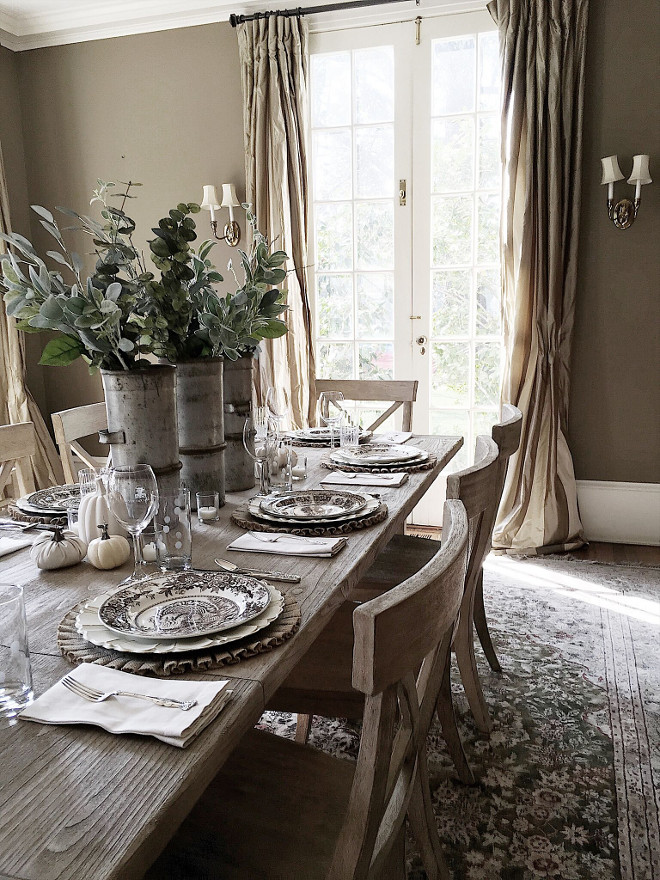 Drapes: Restoration Hardware Silk Taffeta Pavilion Stripe.
White Wood Chargers: Pier 1.
Rug & Chandelier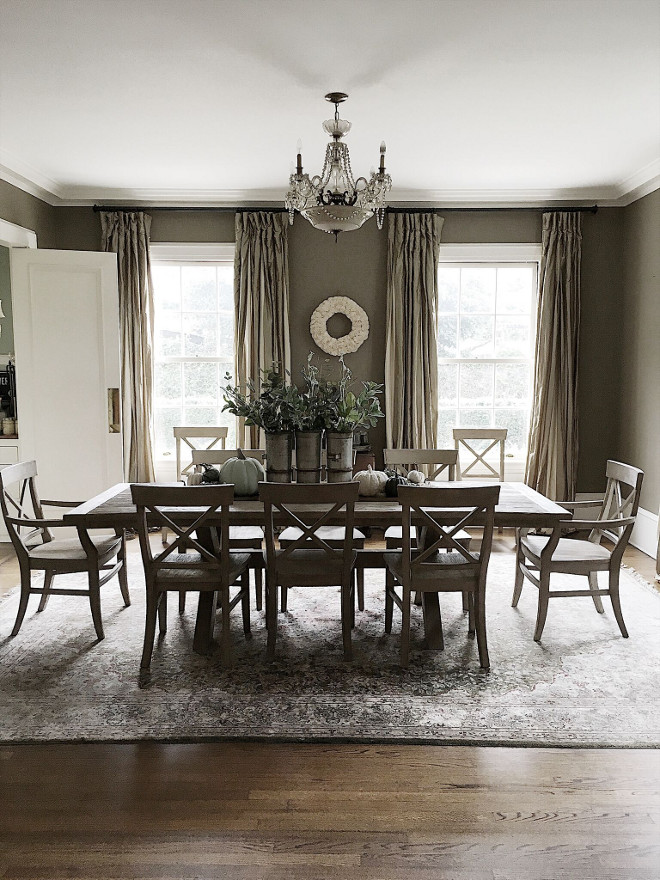 Rug: Long Beach Antique Flea Market
Chandelier: Rose Bow Flea Market
Butler's Pantry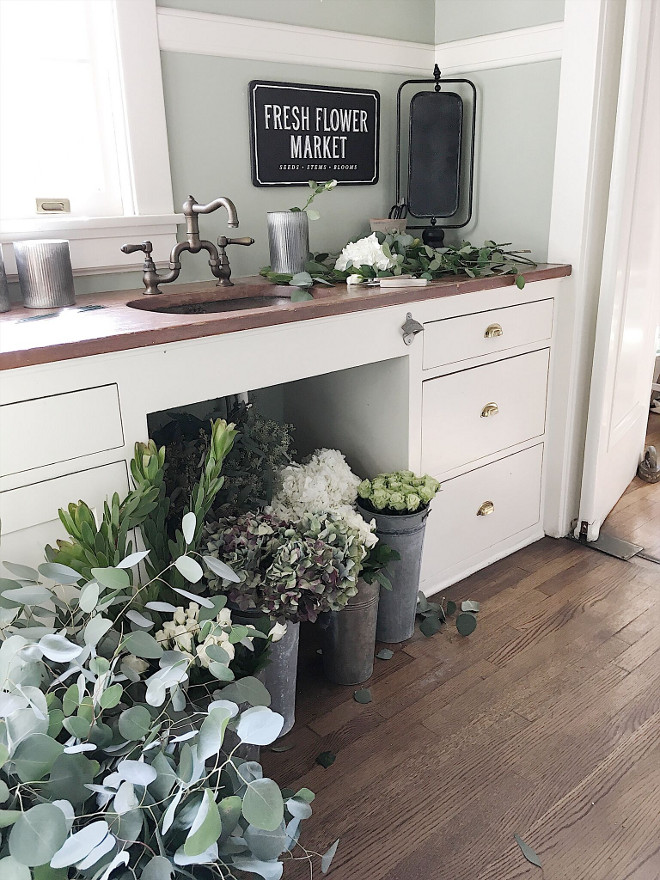 One of the things I love most about our home are the ten foot ceilings and the fact we have a butler's pantry. I have told my husband many times that a butler's pantry should always include a butler. But so far, no luck. 🙂

Faucet: Rohl's Country Kitchen deck mount.
Paint Color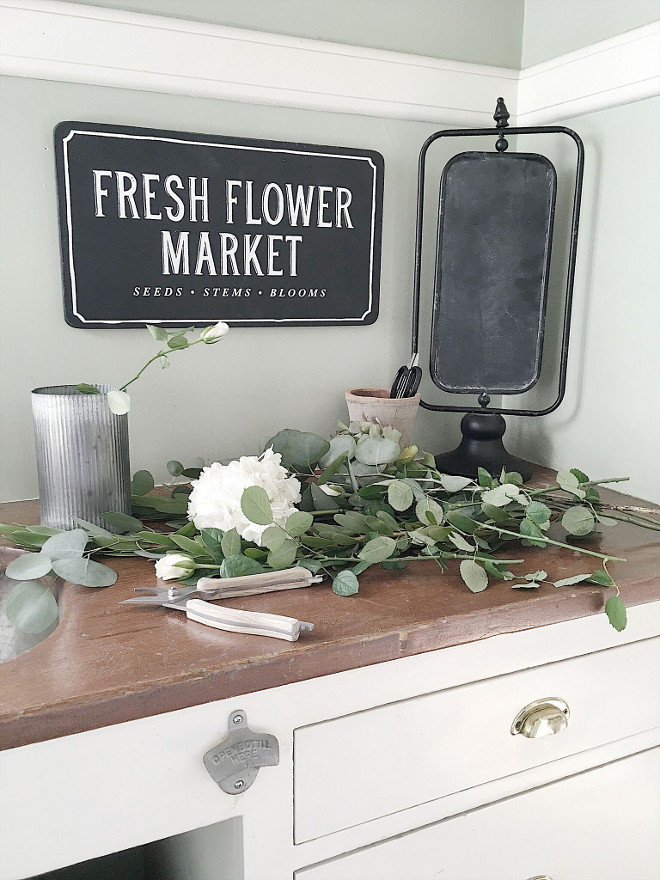 Paint: Farrow and Ball Cooking Apple Green no.32.
Sink & Countertop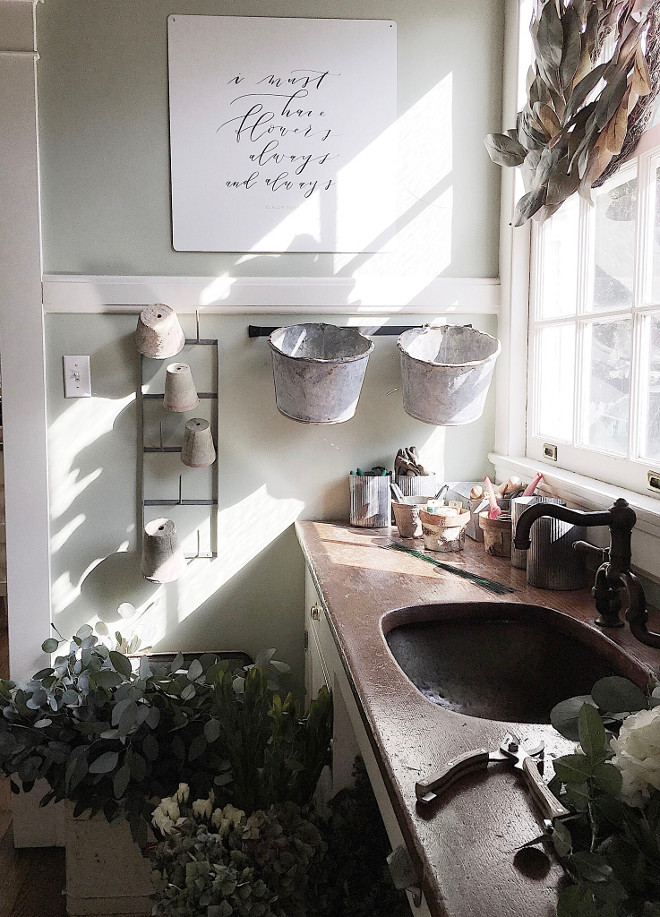 Cabinets, wood countertops and copper sink are original to the house from 1915.
Flower Market and "I Must have Flowers" sign – Magnolia
Flowerland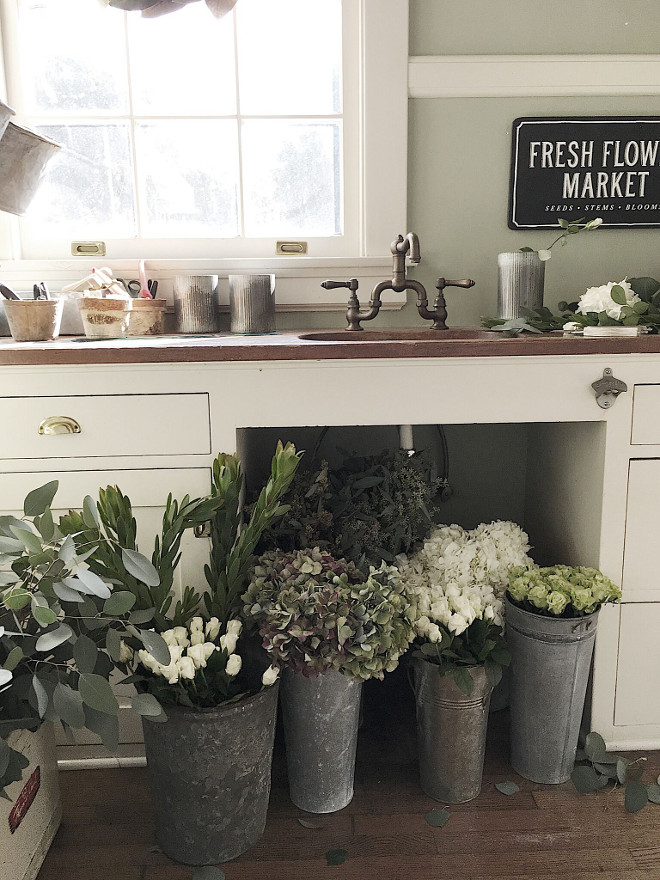 In my years of flea market shopping I have acquired a lot of sets of vintage china so the pantry is perfectly suited for my many collections. Recently, I converted one end of the butler's panty into a flower arranging station. It's the perfect location to arrange flowers for our home as I love to visit our local flower mart on weekends!
Zinc Flower Pots

Vintage flower pots: @throughtheporthole and @vintagekunktionla
Kitchen

We remodeled our kitchen in 2000. Our kitchen is the nucleus of our home and it's the place where we always gather. I love to cook and entertain and our kitchen is perfect for both. Every December we host our annual Christmas party and I still cook all of the food, even though the guest list is over to 250 people. It takes an incredible amount of work but I use a color-coded spreadsheet that keeps me on track. It's really true!
There use to be a laundry room in the back of the kitchen but we removed it to open up the kitchen view to the back yard. I designed the kitchen with our architect and chose to make our cabinets 2" taller than the standard height as we are all a very tall family. We lived in the house for almost three years with no dishwasher (and three young boys) so I ended up adding two dishwashers when we remodeled. They are great for entertaining.

Range hood – custom.
Kitchen Paint Color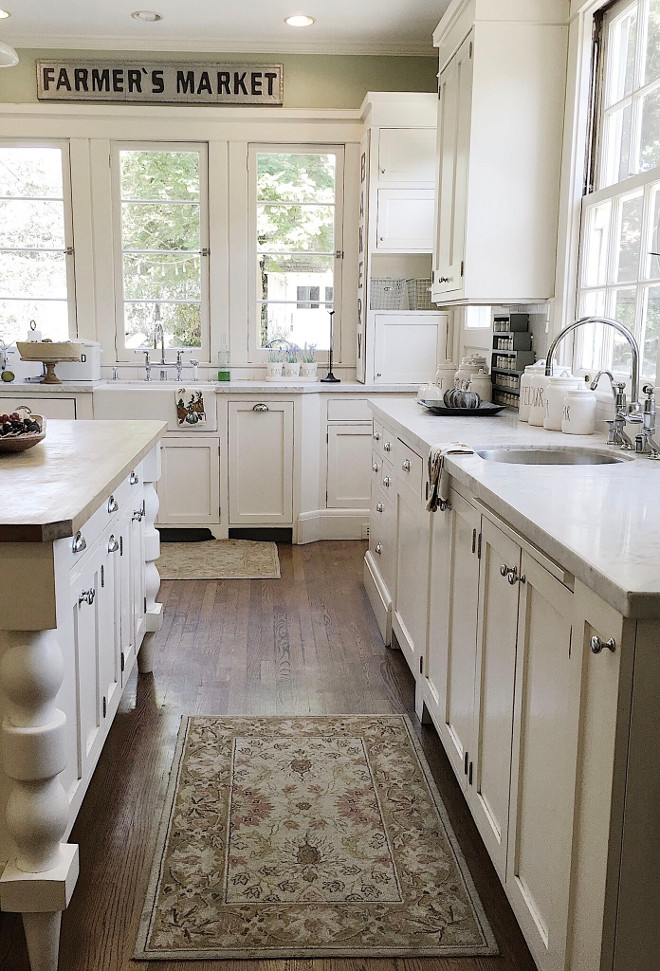 Cabinets – Custom built, paint Dunn Edwards Swiss Coffee.
Island Countertop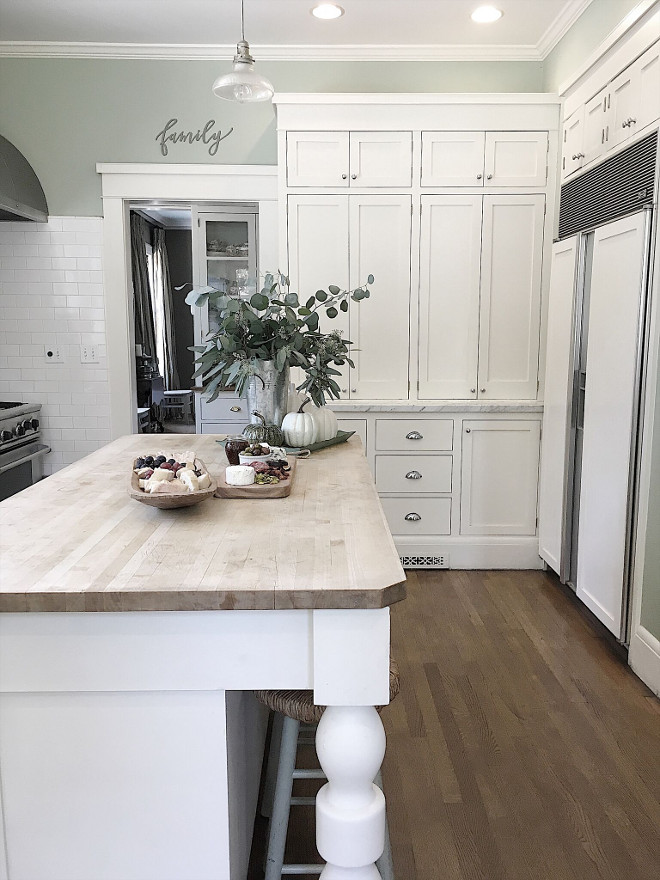 Kitchen island: Custom built, 72"l, 36"w, 38"h, butcher block top.
Farmhouse Sink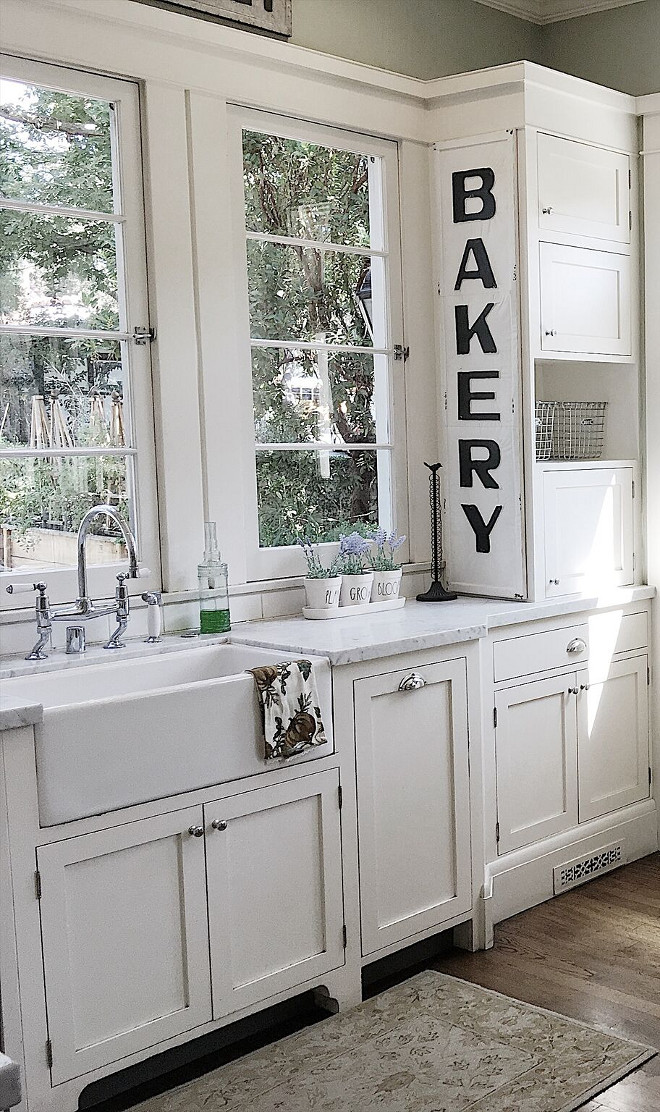 Farmhouse sink: Rohl Original Single Basin Farmhouse Sink White.
Faucets – Waterworks Easton Classic Two Hole.
Backsplash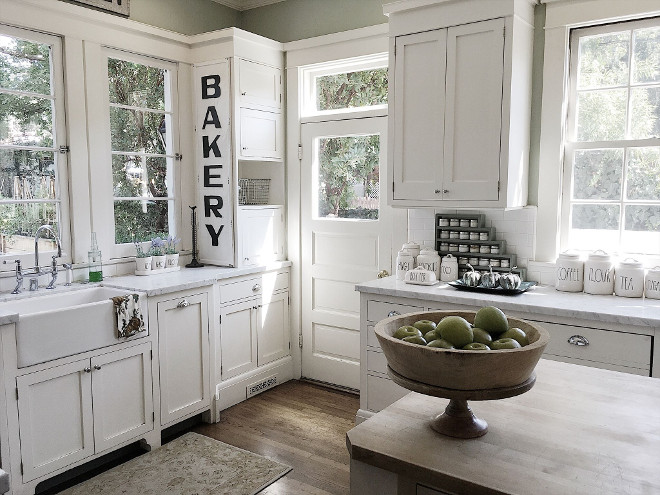 Tile: Mission Tile West, Revival, 3" x 6" subway gloss white tile.
Lighting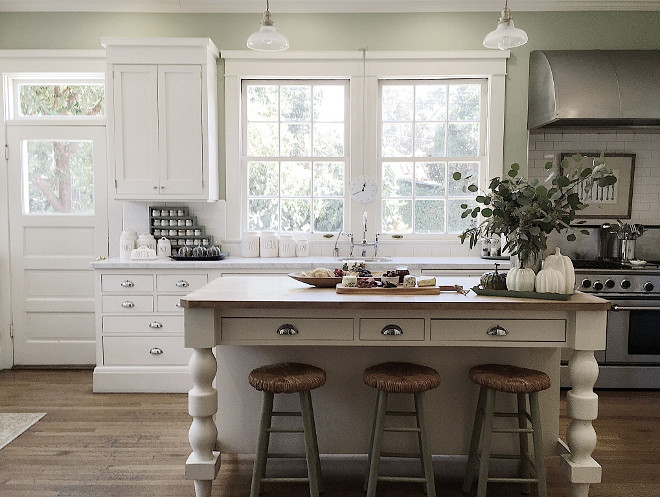 Lighting – Island hanging pendants – Restoration Hardware (no longer available)
Kitchen Flooring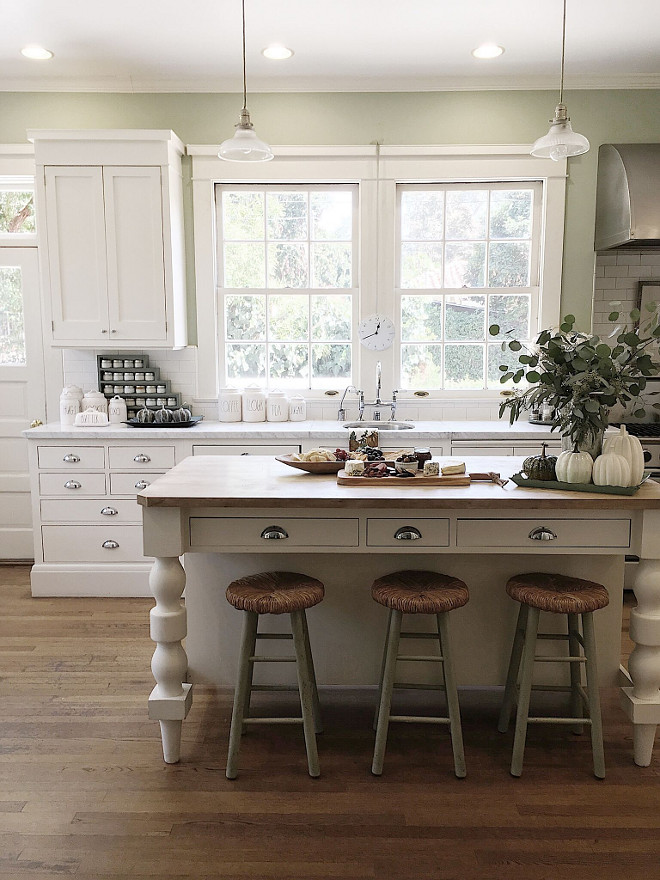 Flooring is Oak.
Fall Decor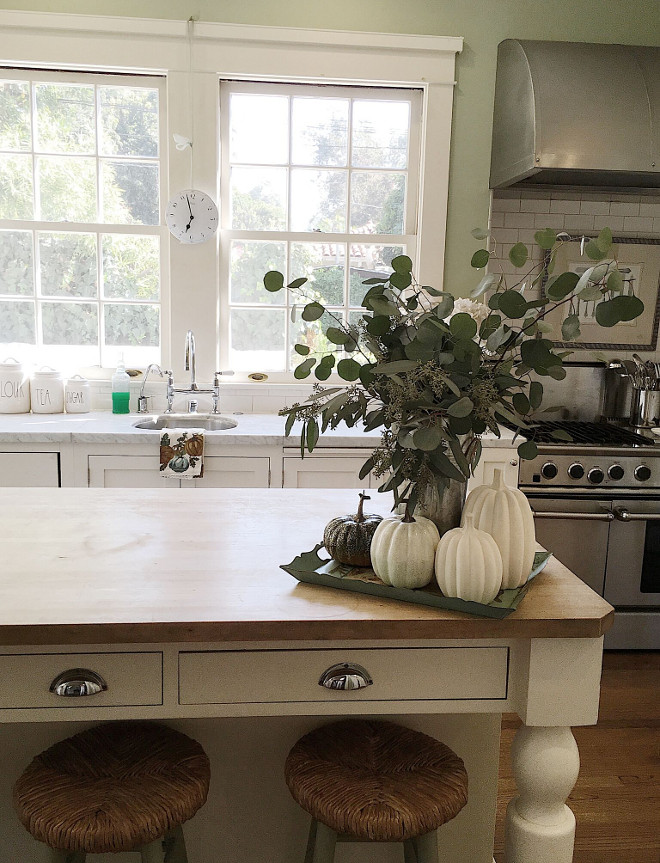 I love how Leslie decorates her home for Fall. Isn't it so beautiful?
Wall Paint color – Farrow and Ball #32 (similar to Behr Sagebrush).
Family Room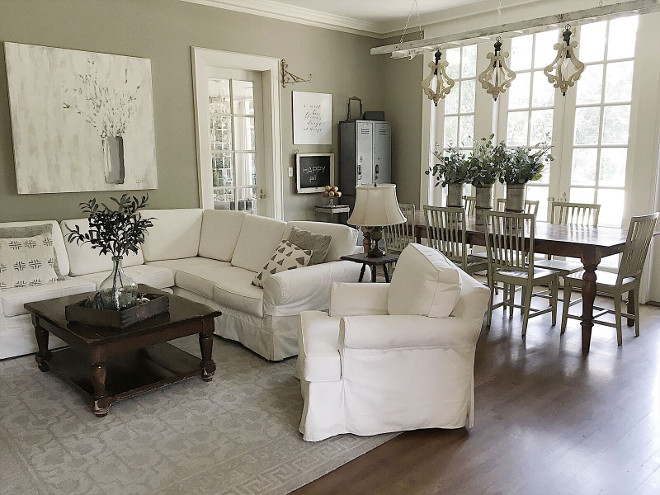 The biggest change to our home was the expansion of the family room and kitchen in the remodel of 2000. We knew we needed a large space for our growing boys, especially when it came time to watching sports. Our architect even designed a large built-in linen press to house our TV and stereo equipment.
I recently redid the family room by adding new slipcovers, a chair, a rug and art. I also hung three white wood chandeliers from a vintage ladder over the dining table. The white vintage windows on the wall (see picture below) are from the Long Beach flea market.
Sectional: Pottery Barn Basic Slipcovered 2-Piece L-Shaped Sectional.
Upholstered Chair: Pottery Barn Buchanan Roll Arm Slipcovered Swivel Armchair.
Pillows: PB Drew Embroidered Pillow.
Coffee Table: Vintage find from the Rose Bowl Flea Market.
Floral artwork: Painted by the homeowner, Leslie Saeta Fine Art.
Family Room Rug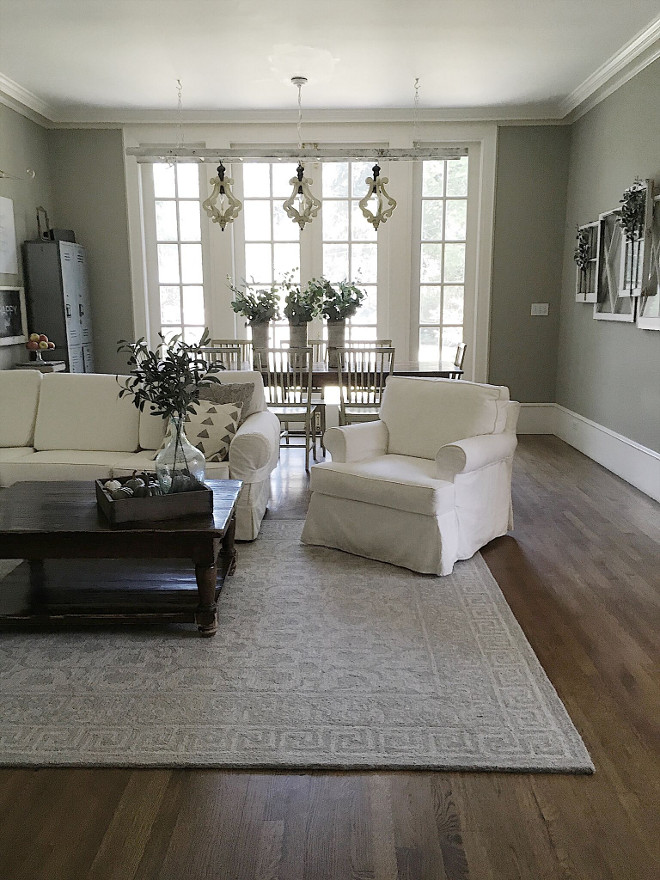 Rug: Pottery Barn Braylin Tufted Wool Rug.
Farmhouse Ladder Chandelier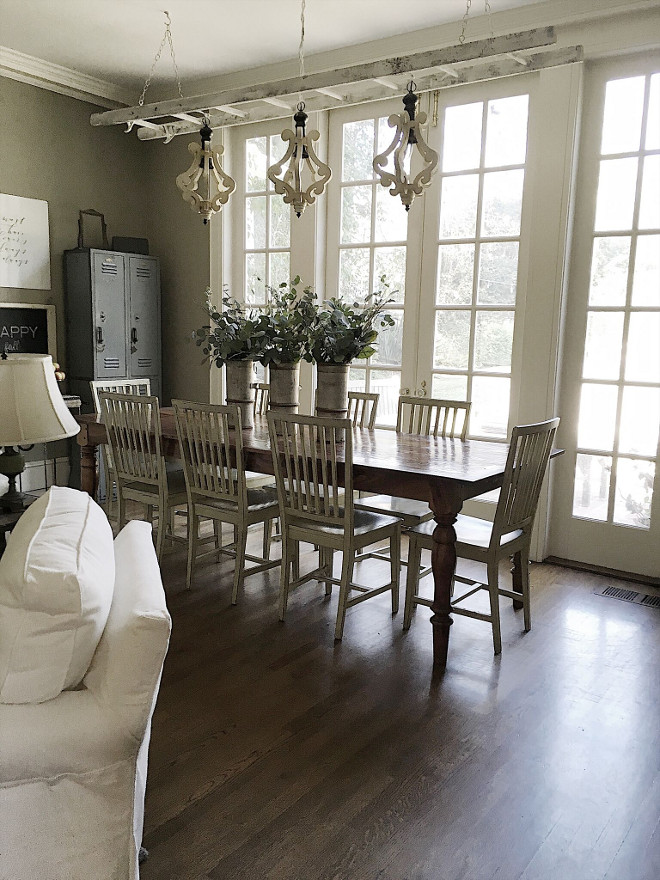 Blog post about how to build my ladder chandelier.
Dining Chairs: Crate and Barrel Village Wood Dining Chair.
Dining table: Custom made.
Vintage Windows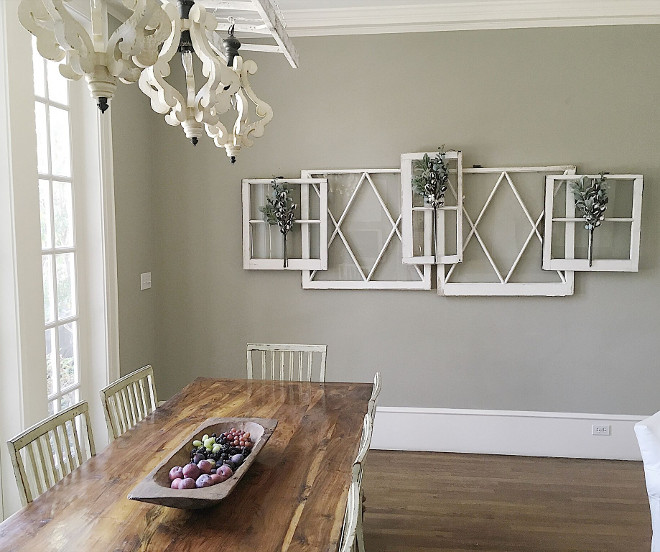 Blog post about how to hang the vintage windows.
Vintage White Windows on wall: Long Beach flea market.
Paint Color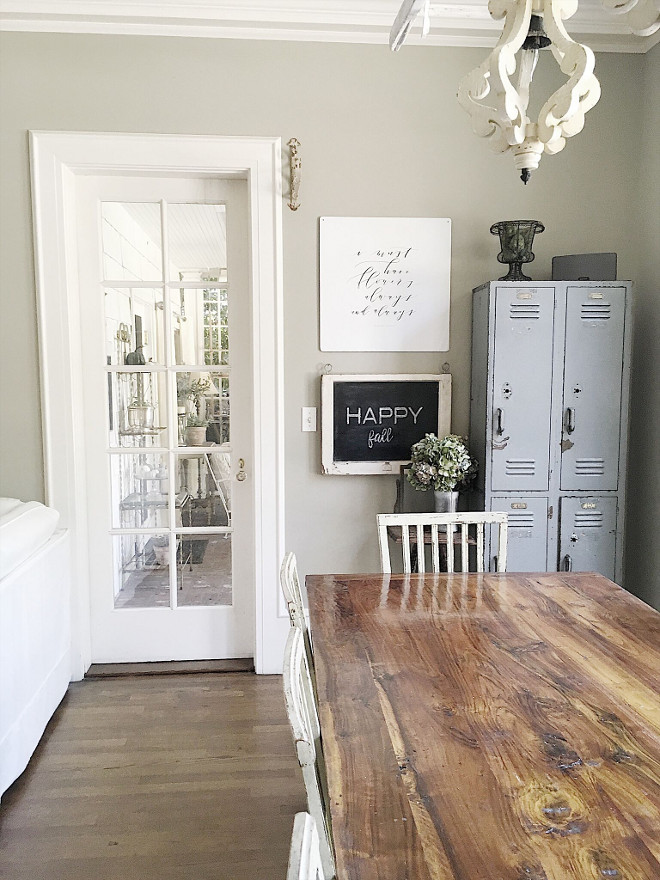 Paint: Behr Tanglewood
Project Room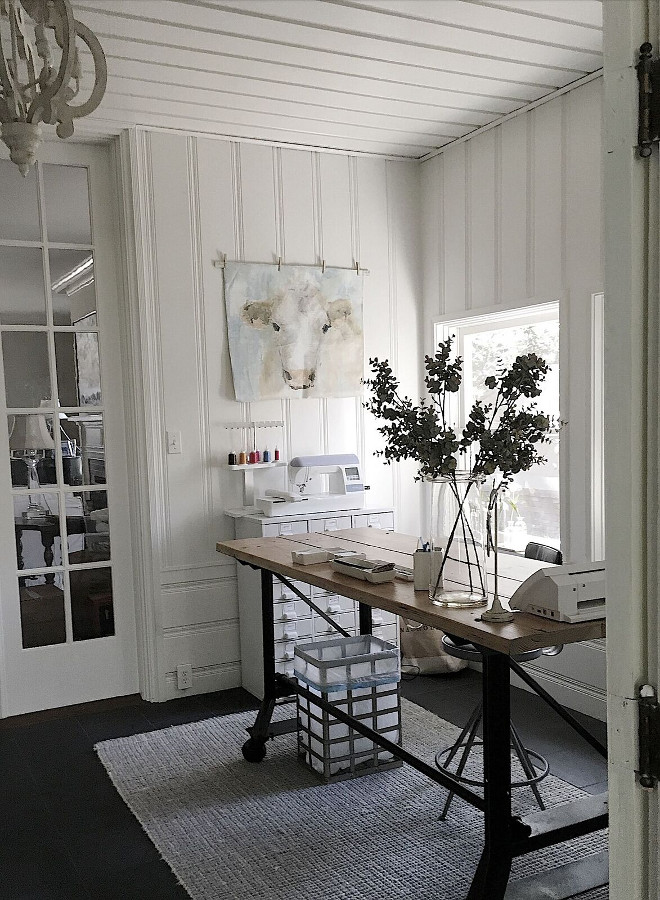 My new project room was formerly my office, and it had beautiful original wood on the walls, which was very dark. I didn't really need an office and my life as a blogger necessitated the need for a craft room instead. So I painted the room white (it four coats) and I now just love this room! I found the table at the Rose Bowl Flea Market. It was painted turquoise but I sanded it and painted the legs black and its perfect as a work table. I have a separate art studio in our Carriage House (in the back yard) so this room is where all of the DIY's for my blog happen!
Cow Painting: Leslie Saeta Fine Art.
Work Space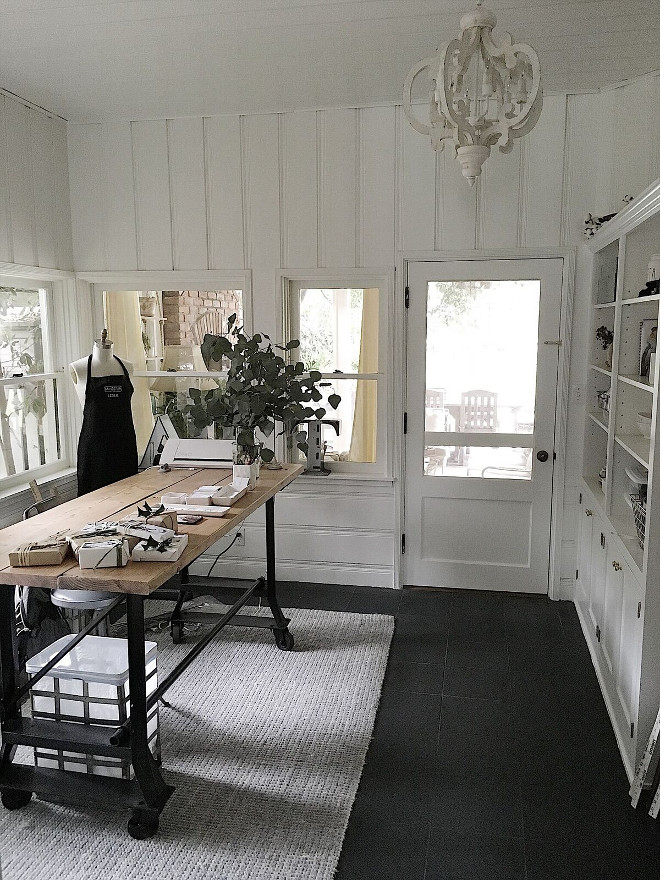 Work Table: Rose Bowl Flea Market.
Paint: Dunn Edwards Swiss Coffee.
Metal Chest of Drawers: @throughtheporthole
Master Bedroom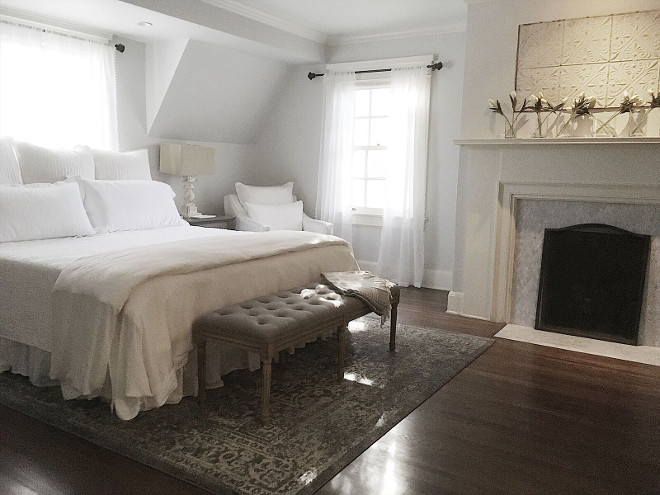 In 2008 we decreased the size of our master bedroom so we could add a larger walk-in closet and bathroom. I love how the front eaves of our home add so much personality to this room. This summer we did a second renovation in our master bedroom, which included paint, new marble on the fireplace, new curtains, bedding, and new furniture. I made the headboard myself out of an old door and I love it.
Paint Color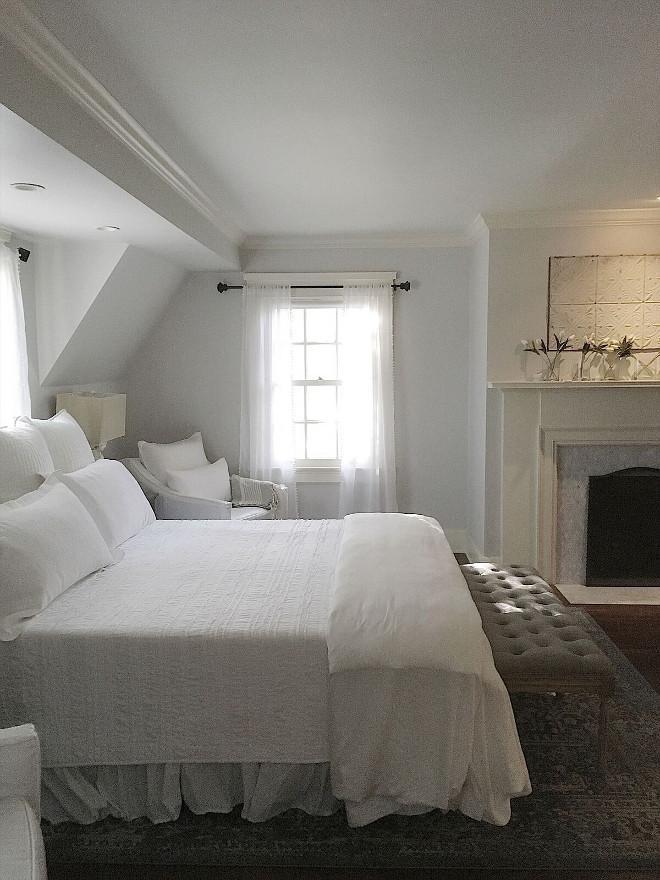 Paint: Behr Pixel White.
Bench: Overstock Elements Upholstered Dining Bench.
Fireplace Tile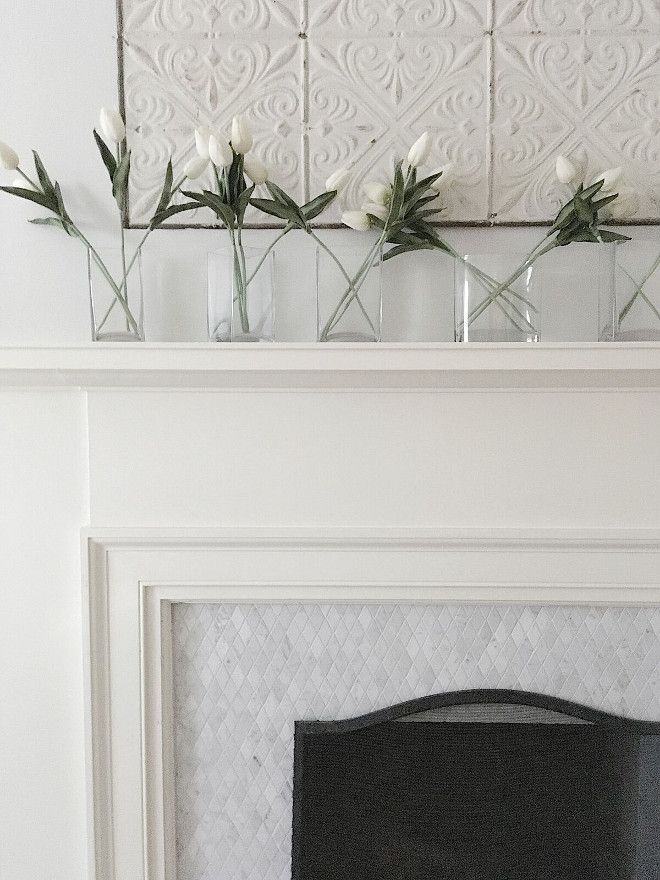 Fireplace Tile: Mission Tile West, Carrera tile, 1" x 2" diamond Rhomboid honed.
Tulips: Faux Soft Touch Tulip Bundle Flower.
Furniture

Headboard: Made by owner, door from @vintagejunktionla
Side Tables: Gilford 2 Drawer Night Stand – Threshold.
Side Table Lamps: Creative Co-op Wood and Metal Table Lamp.
Rug: Target Evoke Safavieh.
Pillows, Duvet: Pottery Barn.
Bed Quilt: Target Raw Edge Quilt – Threshold.
Master Bath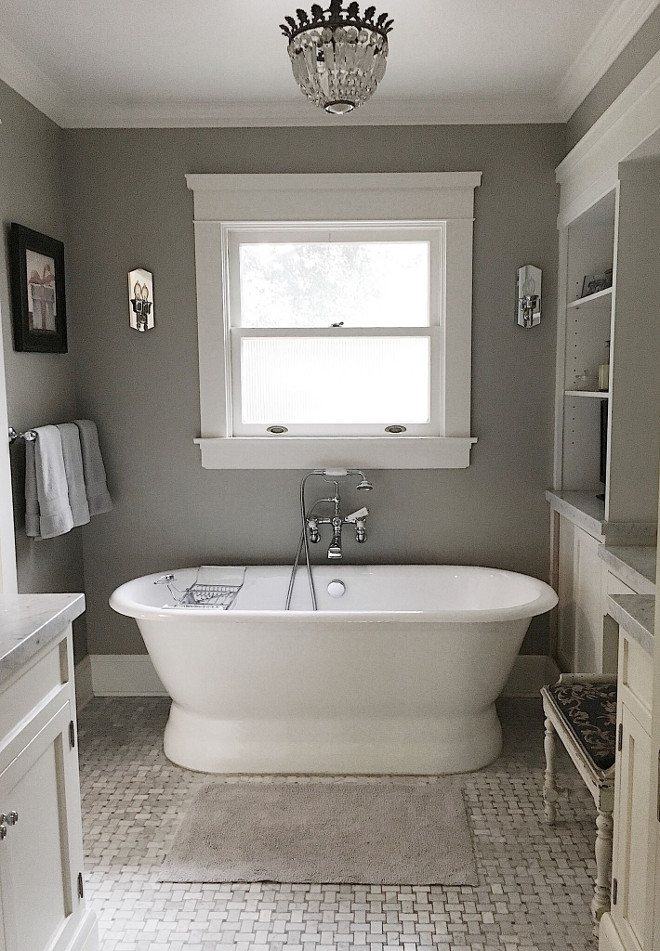 We remodeled the master bath almost ten years ago and used honed marble throughout. When the house was built they had no concept of walk-in closets and large bathrooms. Originally the master bathroom also opened up to the sleeping porch so we knew we needed to close it off and make it larger.
Tub: Mission Tile West – The Lagoon Cast iron Dual Tub with Pedestal.
Tub Faucet: Mission Tile West, Rohl Perrin and Rowe exposed wall mounted tub filler.
Tiling
Floor Tile: Mission Tile West, Classic white basket weave honed.
Shower Tile: Mission Tile West, Classic white 2" x 4" honed.
Back Yard and Porch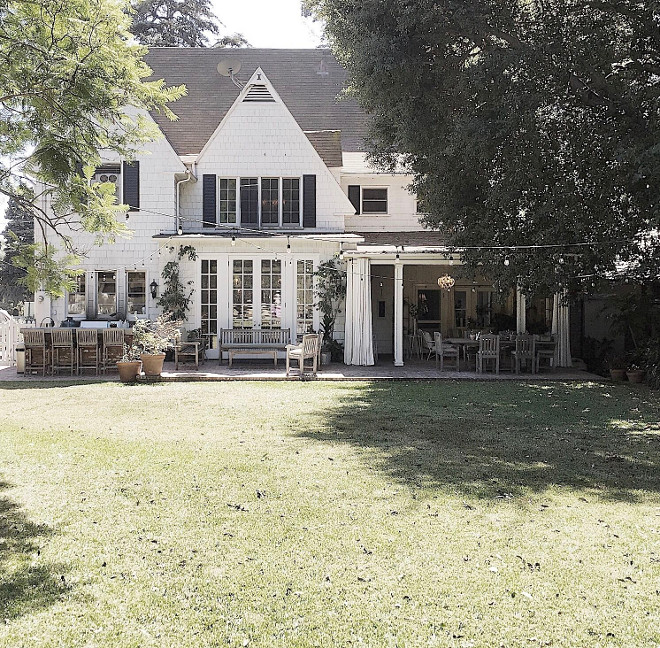 Our back yard has changed a lot since we moved in. We added the back porch, outdoor kitchen, pool and recently converted the paddle tennis court to a sand volleyball court.
Outdoor Living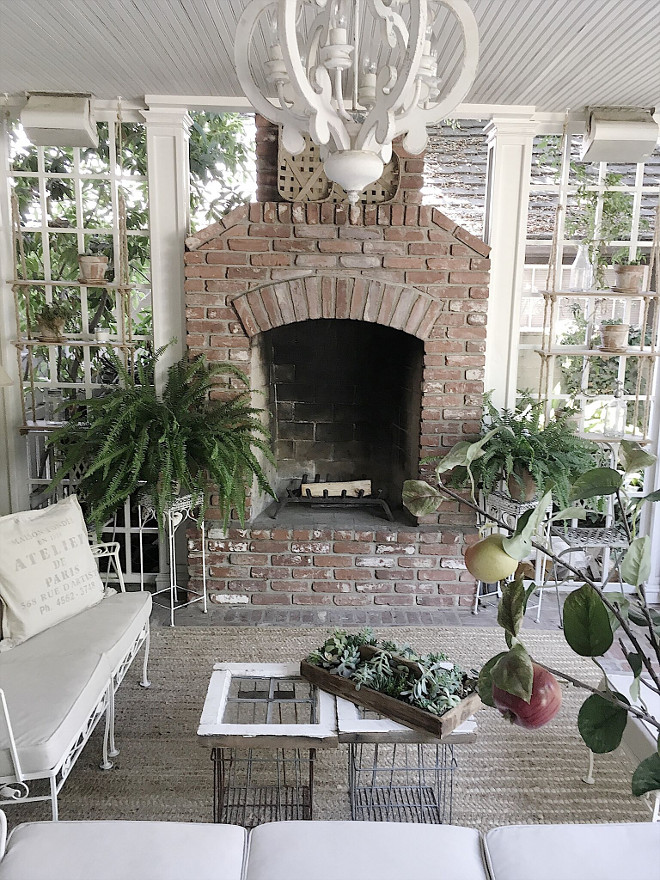 The back porch is used just like another room in our home. With the fireplace and heaters in the ceiling, we use the room year round.
Porch Chandelier: Purchased Décor Steals but also available here.
Metal Dining Chargers: Vintage find from @thewarpedtable
Great Finds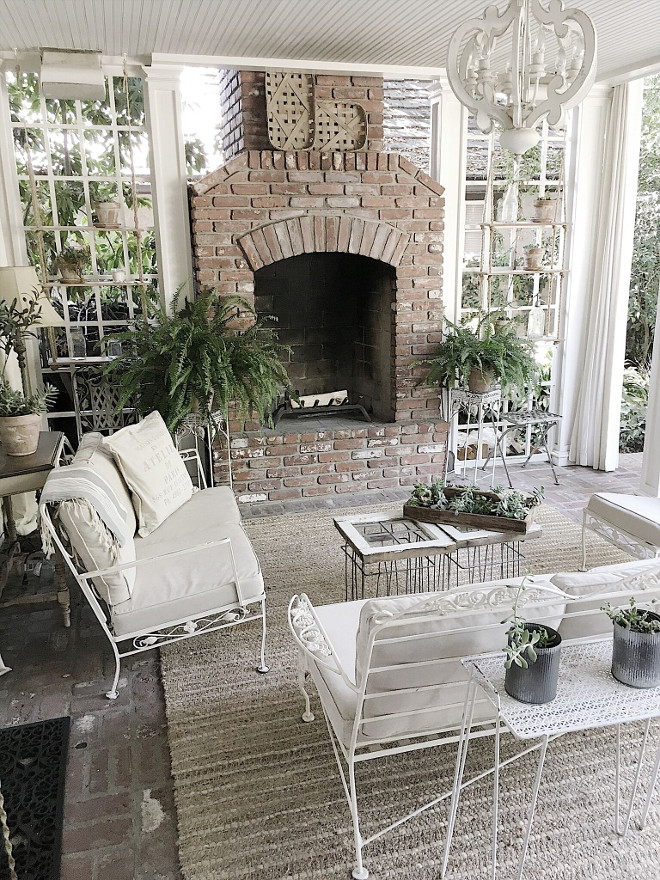 Vintage Rod Iron Sofas: Long Beach Flea Market
Rug: Pottery Barn Folly Indoor/Outdoor Rug.
Tobacco Baskets: Etsy Vintage Tobacco Baskets.
Rope Hanging Shelves: Hobby Lobby
Sofa and Chair Cushions: Pier 1
Outdoor Dining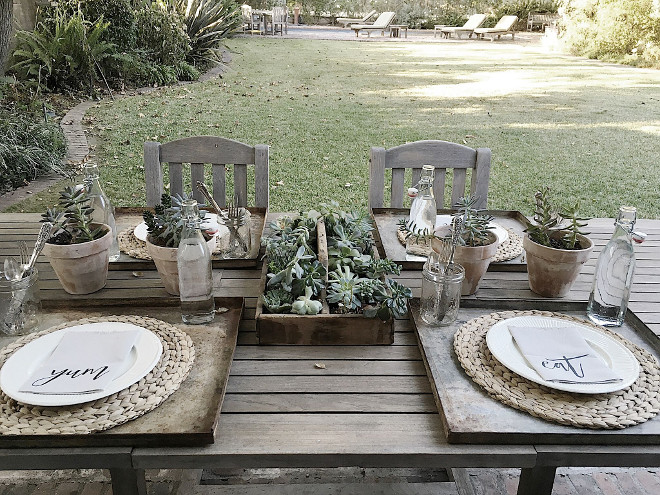 We dine under the chandelier hanging from the tree all of the time. It's the perfect setting to entertain guests.
Teak Dining Table and Chairs: Purchased in Bali
Plates: Wedgewood Edme
Succulents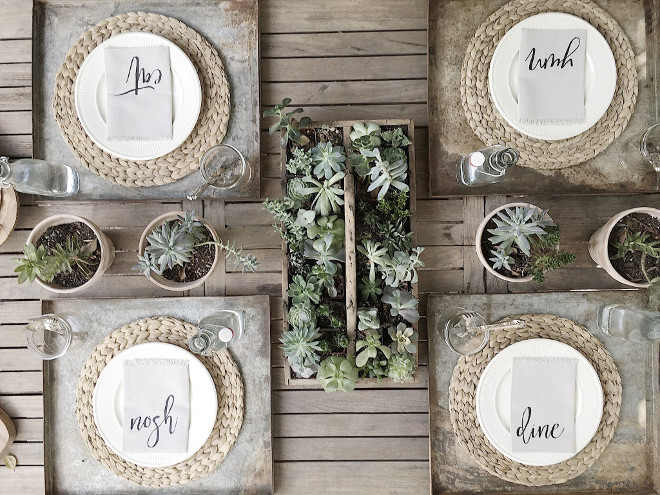 Succulents: Rose Bowl Flea Market.
Metal Dining Chargers: Vintage find from @thewarpedtable
Rattan Placemats: Pottery Barn Water Hyacinth Round Placemat.
The Art of Entertaining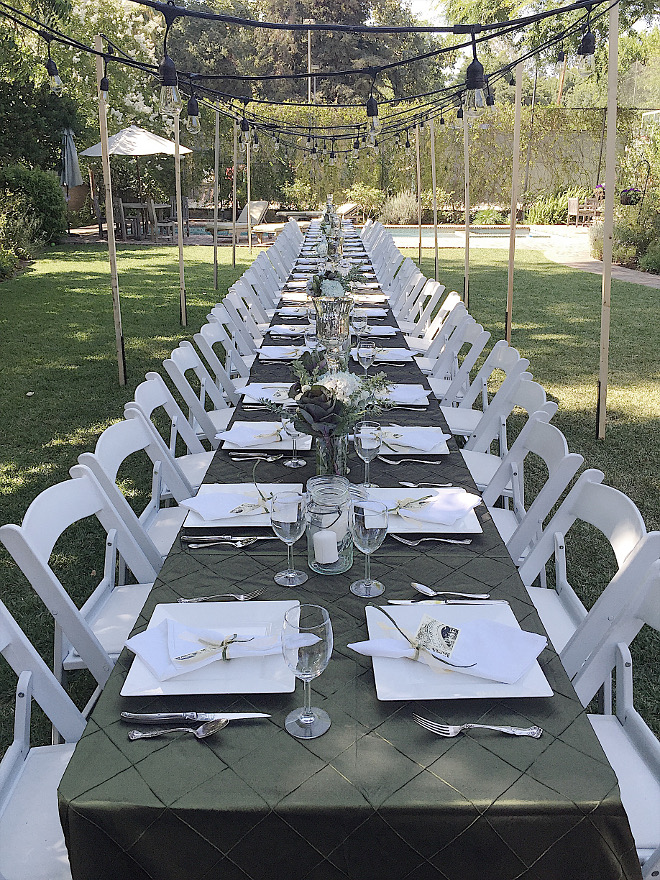 Last summer I hosted a rehearsal dinner in our backyard for my sister. The long table in our backyard and lights were the perfect setting!
Ball jar glasses: Hobby Lobby
Make sure to follow Leslie from @my100yearoldhome on Instagram to see more photos of her beautiful home! 🙂
Best Sales of the Month:

Thank you for shopping through Home Bunch. For your shopping convenience, this post may contain AFFILIATE LINKS to retailers where you can purchase the products (or similar) featured. I make a small commission if you use these links to make your purchase, at no extra cost to you, so thank you for your support. I would be happy to assist you if you have any questions or are looking for something in particular. Feel free to contact me and always make sure to check dimensions before ordering. Happy shopping!
Wayfair: Up to 75% OFF on Furniture and Decor!!!
Serena & Lily: Enjoy 20% OFF Everything with Code: GUESTPREP
Joss & Main: Up to 75% off Sale!
Pottery Barn: Bedroom Event Slale plus free shipping. Use code: FREESHIP.
One Kings Lane: Buy More Save More Sale.
West Elm: 20% Off your entire purchase + free shipping. Use code: FRIENDS
Anthropologie: 20% off on Everything + Free Shipping!
Nordstrom: Sale – Incredible Prices!!!
Posts of the Week: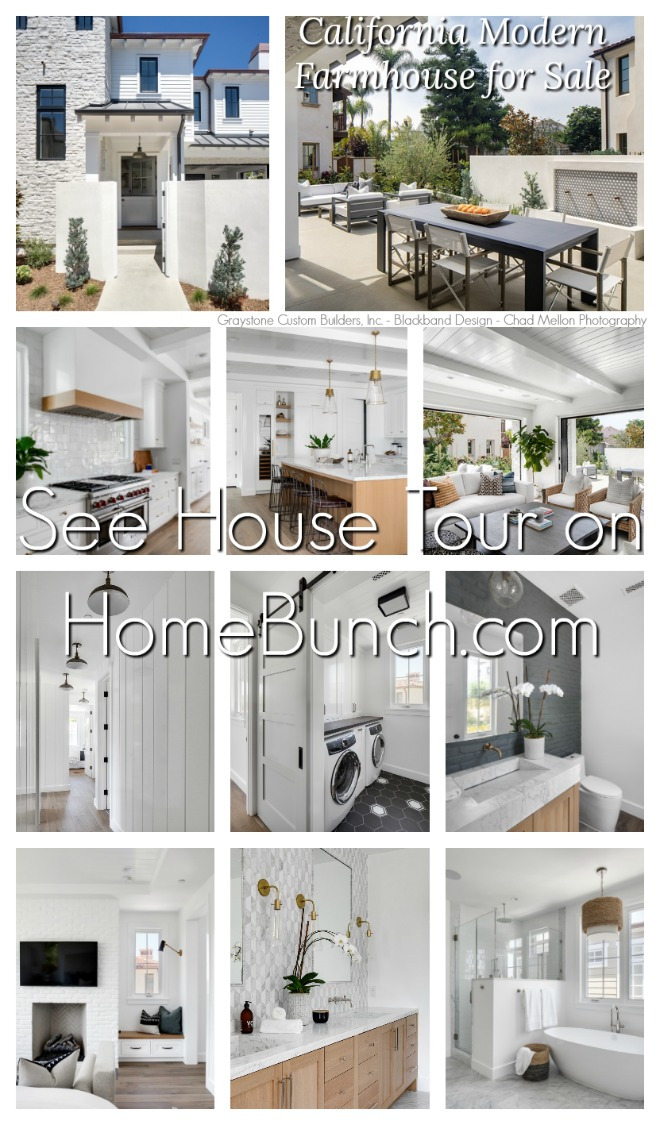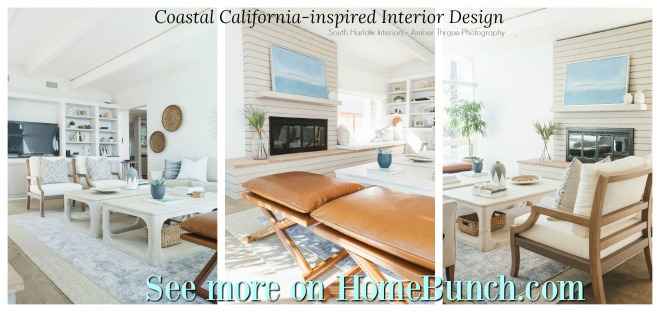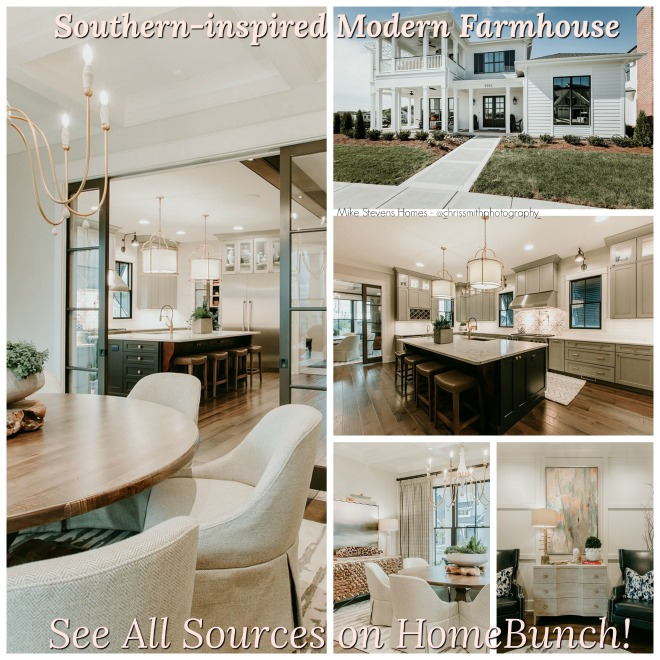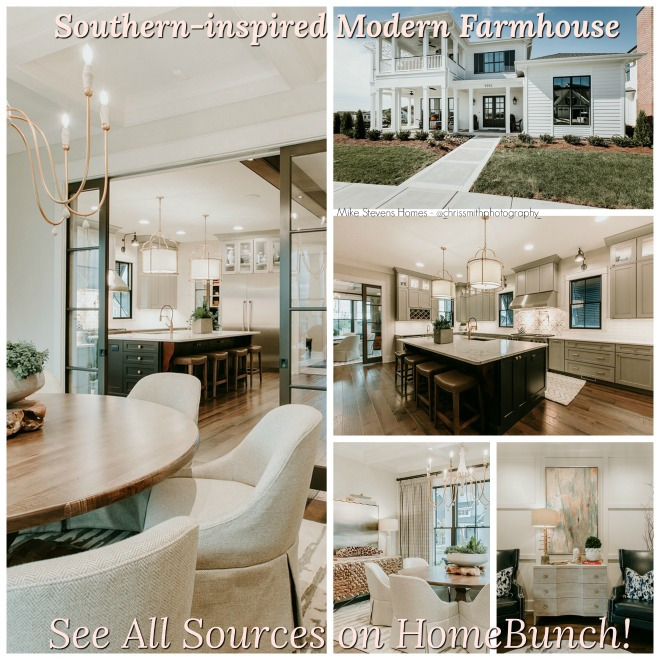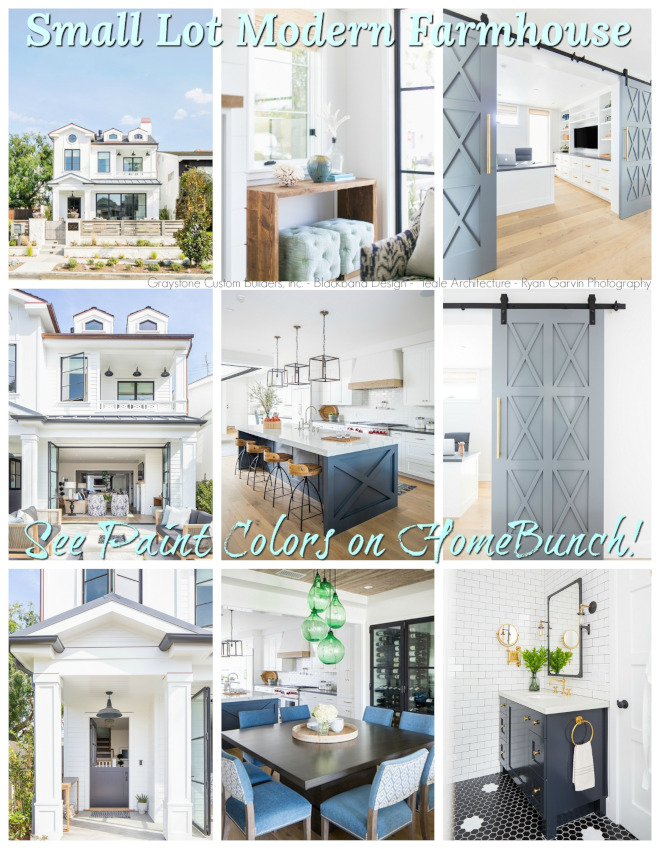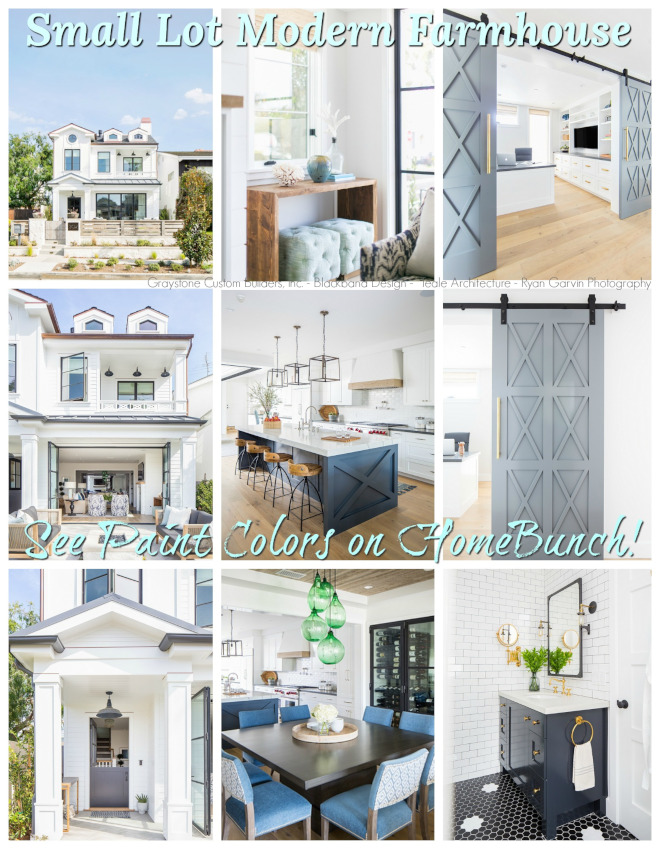 Follow me on Instagram: @HomeBunch

See more Inspiring Interior Design Ideas in my

Archives.
"Dear God,

If I am wrong, right me. If I am lost, guide me. If I start to give-up, keep me going.
Lead me in Light and Love".
Have a wonderful day, my friends and we'll talk again tomorrow."
with Love,
Luciane from HomeBunch.com