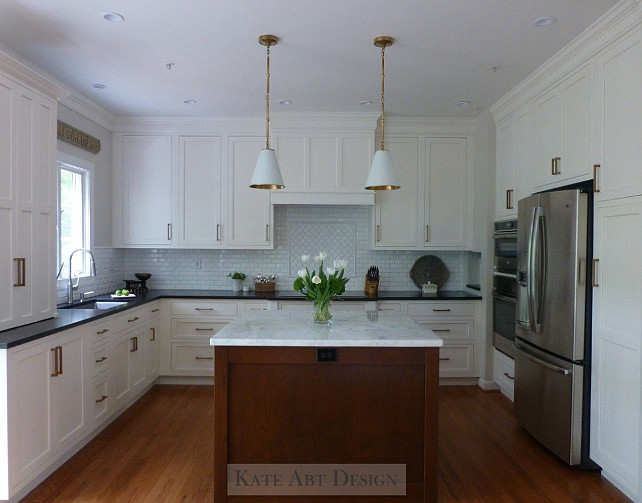 Do you know that feeling of meeting someone and instantly "clicking" with her/him? Although I haven't personally met Kate, from Kate Abt Design, I have to say that I felt a connection from the moment we started exchanging emails. Kate is a wonderful reader and she often leaves comments and while writing back to her, I found out she is also a brilliant interior designer.
I visited Kate's website a couple of days ago and saw her portfolio of the beautiful homes she's designed and I have to admit I fell in love with this white kitchen. I immediately asked her if I could share it with you guys and little did I know we were talking about her own kitchen!
Kate Abt moved to this home a year ago with her lovely family and adorable dog, and started renovating it since then. Her latest reno is this inspiring kitchen. You must see the before and after pictures of this kitchen makeover! It's amazing what a good interior designer can truly do!
Before & After Kitchen Makeover Ideas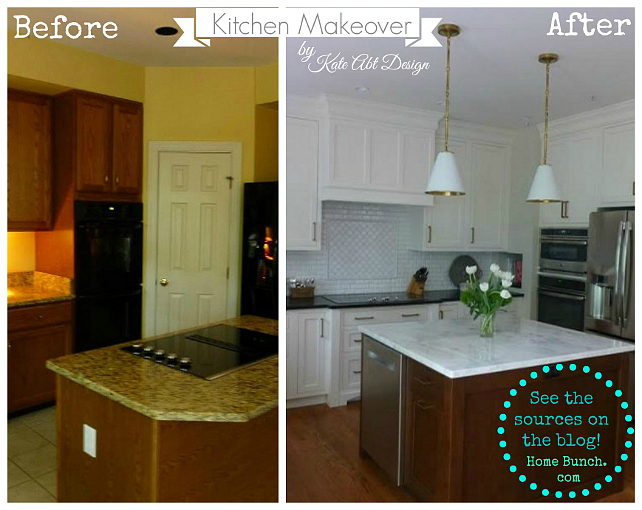 Here's what the designer had to say about the "Before & After" Kitchen Makeover: "Although the previous owners had done some minor updates and replaced things like the appliances, the kitchen was still dated and functionality wasn't working well. It was very dark and we knew we needed to lighten it up and make it work for us so picking Benjamin Moore White Dove for the cabinetry was a must".
As you can see in the picture above, the designer decided to remove the bulkhead to increase cabinet height giving the feel of a more open space and taller ceilings. She also removed the walk in pantry. Although she had always wanted a walk in pantry, being on a corner actually didn't gain them any more space, in fact it reduced it and gave them wasted space/square footage. The designer decided to continue the new kitchen cabinets along the back wall to the corner making the back wall longer and fitting in more cabinets. Where they had 'wasted' corner space they placed a little nook to store her cookbooks in.
Kitchen Island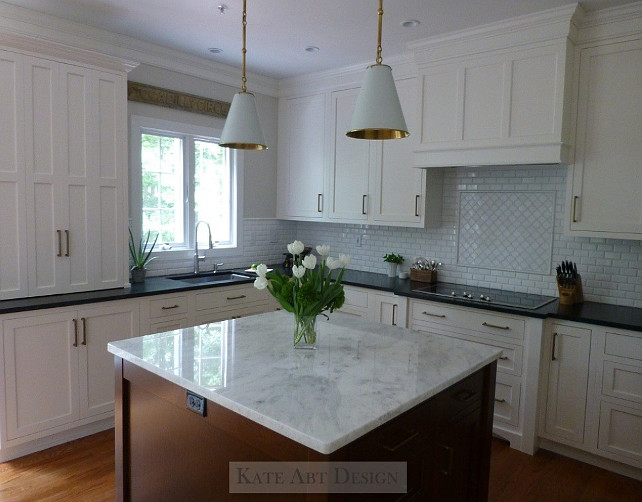 Isn't this kitchen absolutely gorgeous? It is classic yet very current.
The designer explains that another main thing that didn't work in the previously kitchen was the cooktop in the island. The down draft was very noisy plus the island didn't really have any room for chopping or prepping so she was always turning and carrying things. They wanted to have the cooktop on the back wall with an outside venting built-in hood.
The island now only houses the dishwasher, trash and recycling bins, cabinet for her kitchen aid mixer and some additional drawers for storage.
The cherry wood island measures 51″ square and is topped with Mont Blanc marble.
Perimeter Countertop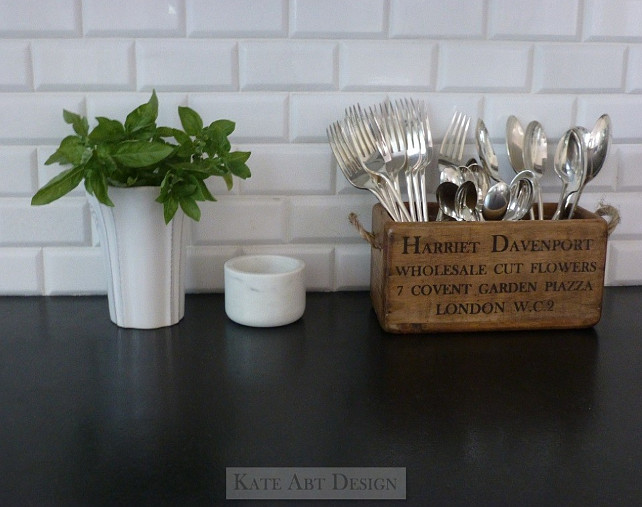 Kate truly pays attention to details. I love the decor around her kitchen!
The perimeter countertop is leathered black granite. The leathering doesn't show any finger marks that a honed black normally would, as the designer explains.
Kitchen Appliances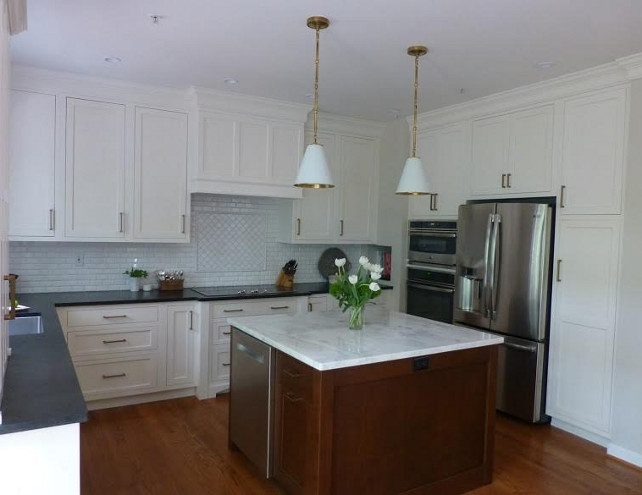 Here the designer explains more about her new appliances: "The kitchen had no microwave in it plus the double ovens were 27" wide which meant you couldn't fit too much in them! The cabinet pretty much fell apart when we demo'd it too! Rather than add double ovens again which are great in the holidays but day to day I don't need them, I installed a GE profile convection oven plus the GE Advantium oven/convection microwave combo which enables me to have an additional oven when needed or use it day to day as a microwave when wanted too. The best of both worlds! I have a tall pantry cabinet to the right of the ovens with lots of pullouts that house all of my foods.
I opted for the majority of drawers on the base cabinets. They are so practical and you can fit so much into them and they are easier to access that cabinets. They house china, glassware, pots and pans, plastics, you name it it's in there! We jutted the cooktop cabinet out an additional 3″ making it a feature. Either side of it we have two full height tray spaces".
Smart design always pays off, doesn't it? Well done, Kate! 🙂
Kitchen Cookbook Nook & Cabinet Hardware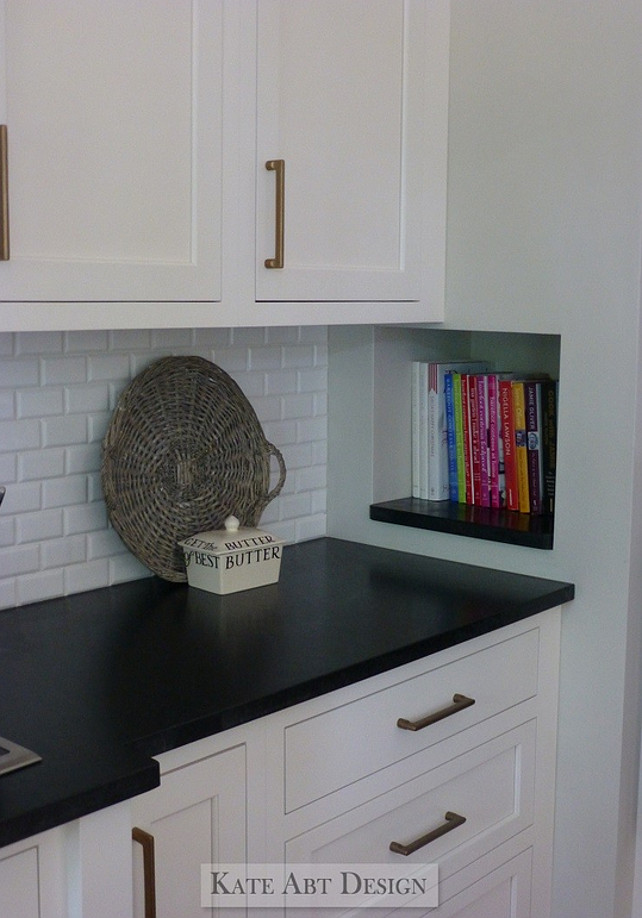 I am loving the idea of creating a cookbook nook. How inspiring!
The Top Knobs hardware is the Aspen range in soft bronze. The designer says that she fell in love with these as they added a modern touch but kept it classic. She also loves mixing finishes in kitchens, as you can see here from the gold hardware, pendants and then the stainless faucet and single bowl sink and the appliances.
Walls are Benjamin Moore Winds Breath OC-24.
Kitchen Lighting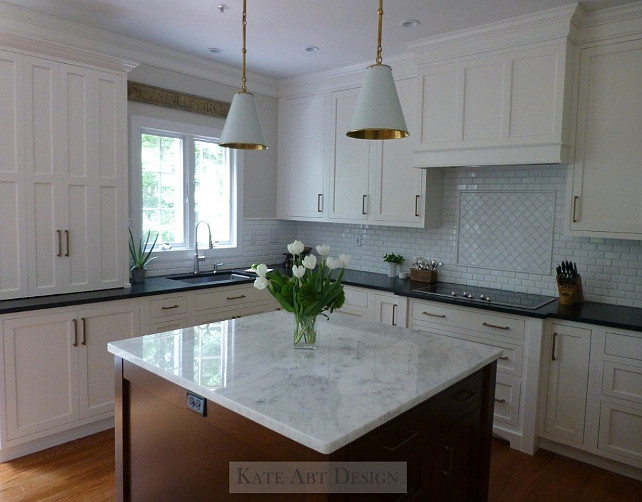 Island Pendants are the Goodman Pendants by Visual Comfort.
Old tile floors were replaced for oak to add warmth and a sense of continuity from the rest main floor of the house.
Kitchen Appliance Garage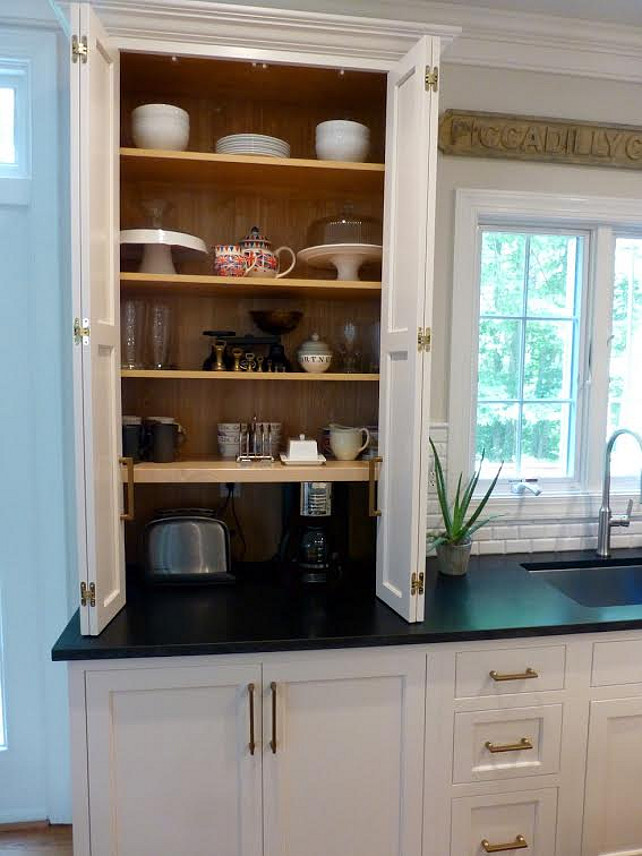 I always have my eyes wide-open for design ideas and this one got my attention. More details about this kitchen appliance garage from the designer: "We added the counter appliance garage to the side of the sink. These are very popular in the UK and I love them and keeping the countertops cleaner was huge to me. It houses everyday glasses, china, coffee pot and toaster and my cake stands".

Kitchen Pull-out Drawers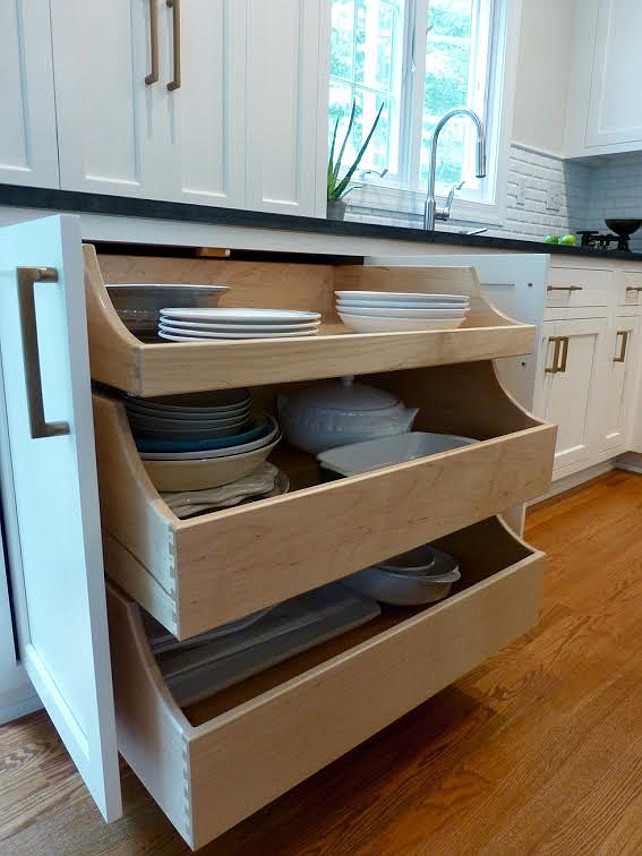 The designer continues explaining about the cabinet design: "… Underneath you can open up the two doors to reveal three large pull out drawers that house my large serving dishes. No more being on your hands and knees trying to pull them out from the bottom of the cabinets, I literally can open the drawers up and see what I need. The sides of the pullouts are staggered so you can see in easily too. The countertop cabinet doors fold back onto themselves to tuck out of the way so when open you don't bump into them. I was very inspired by English kitchens and wanted to incorporate this".
Kitchen Cabinet Paint Color
Kitchen cabinets are Benjamin Moore White Dove Oc-17.
Photo by Kate Abt Design shared on Instagram.
Kitchen Backsplash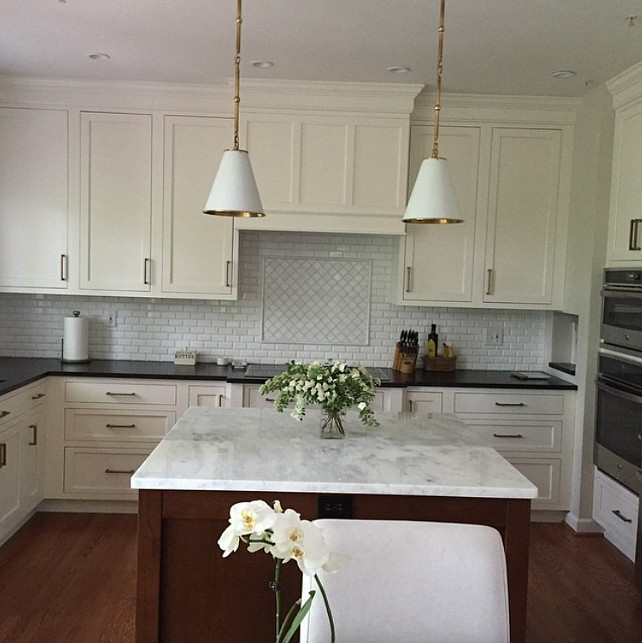 Backsplash is Thasos marble 2×4 beveled and above cooktop is Thasos marble in an arabesque design.
Photo by Kate Abt Design shared on Instagram.
Butler's Pantry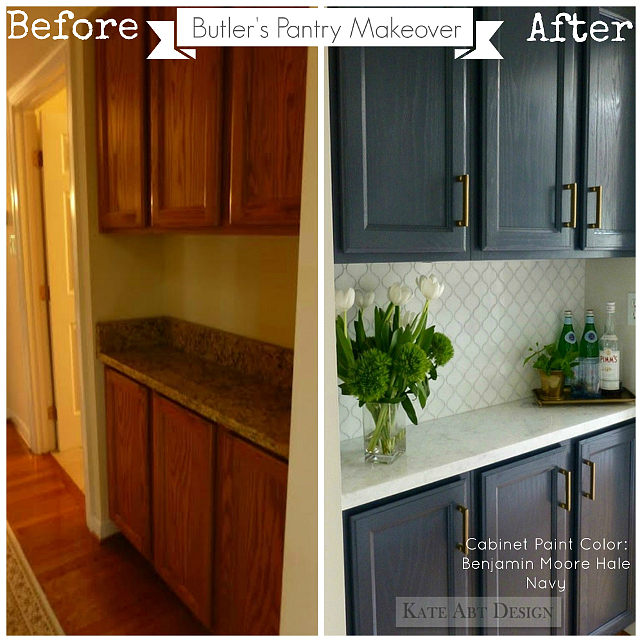 Kate didn't stop her makeover in the kitchen. She extended her expertise to the butler's pantry as well.
Countertop is Mont Blanc marble.
Backsplash is Thasos marble in arabesque design.
Painted Cabinet Makeover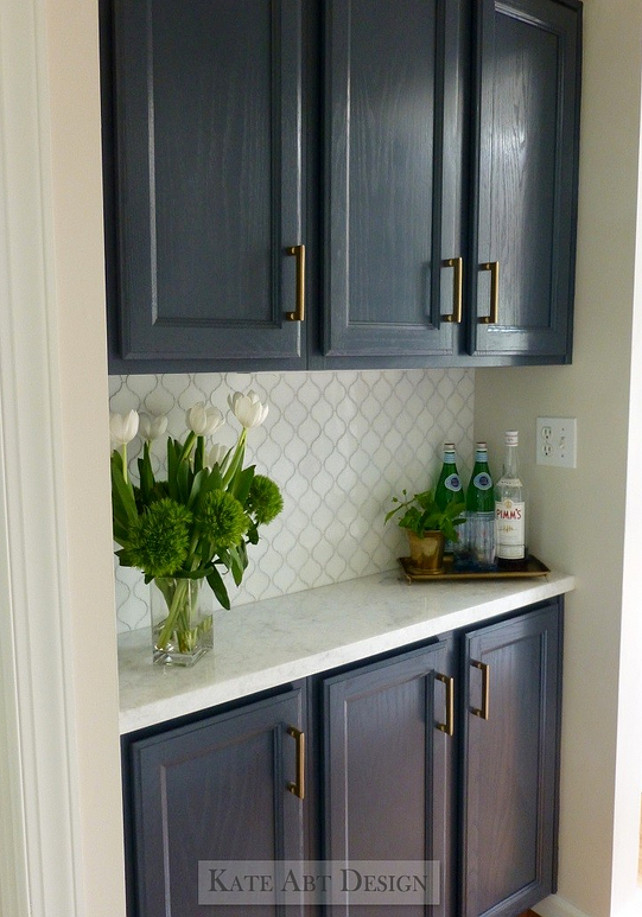 "For the butlers pantry I literally painted the cabinets which were in good shape and added the same hardware and marble as the kitchen", says the designer.

The cabinet paint color is Hale Navy HC-154 by Benjamin Moore.
Dining Room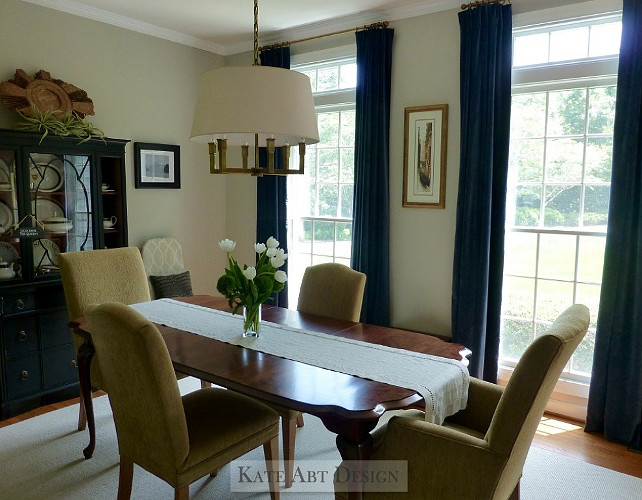 Kate's entire home is pure elegance. Take a look at her stunning dining room! I love the touch of navy in this space.
Lighting is the Visual Comfort E.F. Chapman Square Tube 6 Light Hanging Shade.
Welcome Home!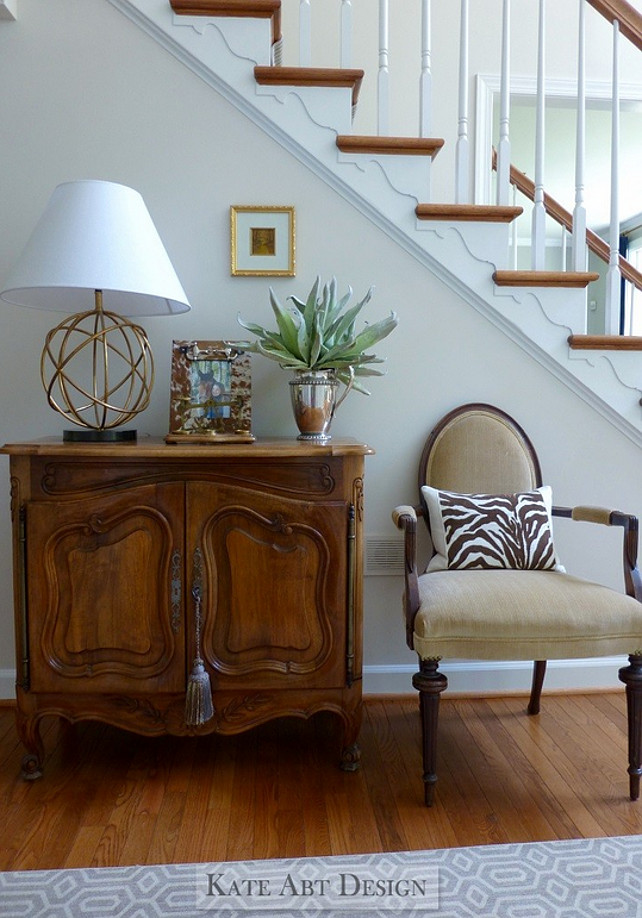 Charming and impeccably designed!
All pictures used in this post are by the designer. Isn't she fantastic? I really want to thank Kate Abt for sharing all of the details about her kitchen with us. It was a truly kind gesture.
Please click here to see more of Kate's beautiful home.
See more Inspiring Interior Design Ideas in my

Archives.
Interior Design Ideas:

Paint Color
I hope you felt inspired and have learned something new with this post. I loved to know all the details about this kitchen!
Today will be a busy day in our household. The kids continue with their activities and now, as schools starts, everything gets back to "normal" and summer feels completely over. Am I ready for fall? Hummm… not really. Can we all pretend we're still in July? Summer went by too fast this year! 🙂
Wishing you all a wonderful day.
We'll talk some more tomorrow!
with Love,
Luciane at HomeBunch.com
Interior Design Services within Your Budget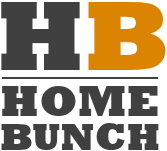 Get Home Bunch Posts Via Email

Sources: Kate Abt Design.