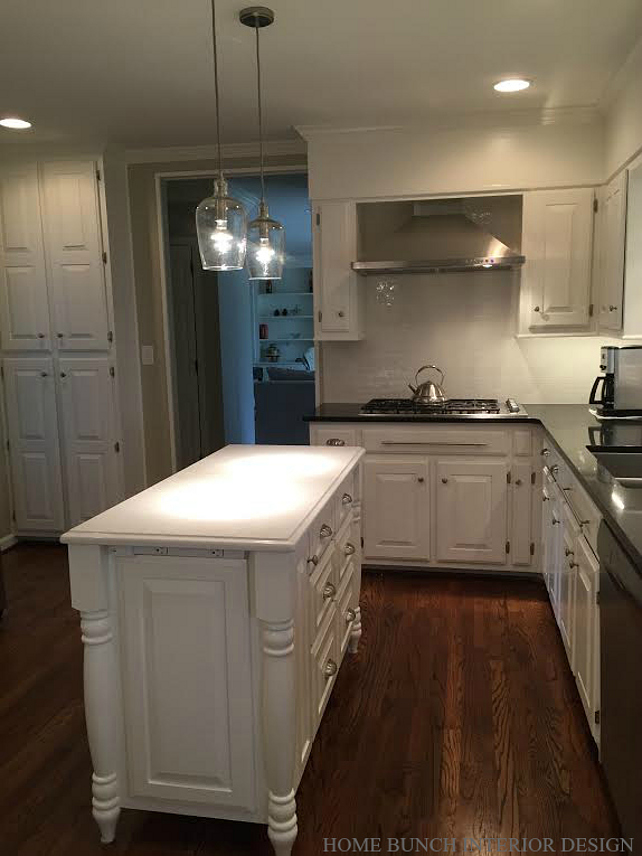 If you've read my blog for a while you probably have seen me talking about my interior design projects. I have worked with many wonderful clients from around the world, from Australia, Ireland, Canada and United States. Having this job for me is not only a passion, but also a way to meet some great people that share the same taste for interiors.
I started working with this client a while back and we have worked on her family room, front entry and the kitchen. After living in this house in Atlanta for many years and raising her two boys, Jeanne and her husband decided it was time to renovate her home after her kids moved out.
While planning her kitchen, I knew we weren't going for a major renovation, but I wanted it to feel as if it did. I wanted my client to have the kitchen of her dreams and I wanted her to have all the amenities she needed. The old kitchen lacked on counter space and storage. This was resolved with a slightly larger custom kitchen island and a beautiful butler's pantry cabinet. I feel the result is amazing considering that we didn't replace cabinets and kept custom design to a minimum.
If you ask me what the best part of the project was, I have to say it was meeting my client. Jeanne, I know was a gift sent to my life. She is now a friend that I will always have present in my life.
Before & After Kitchen Reno with Painted Cabinets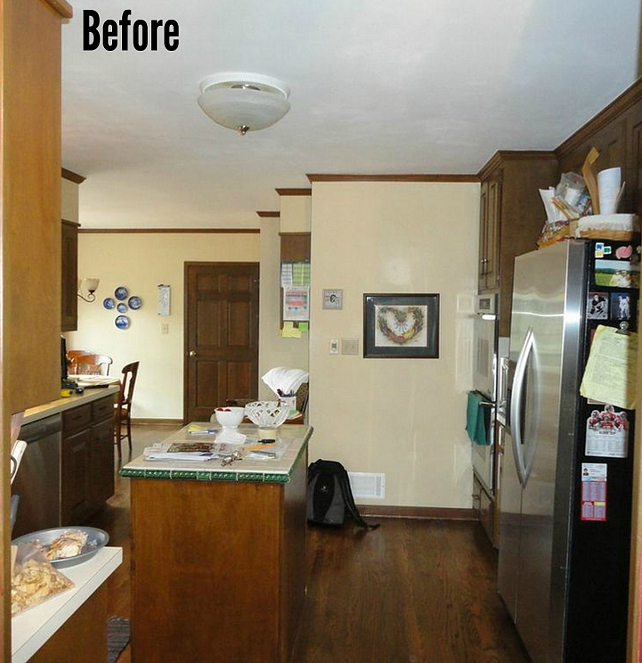 This kitchen has so many memories. This is where she saw her little boys become young man. We kept the same cabinets and flooring.
After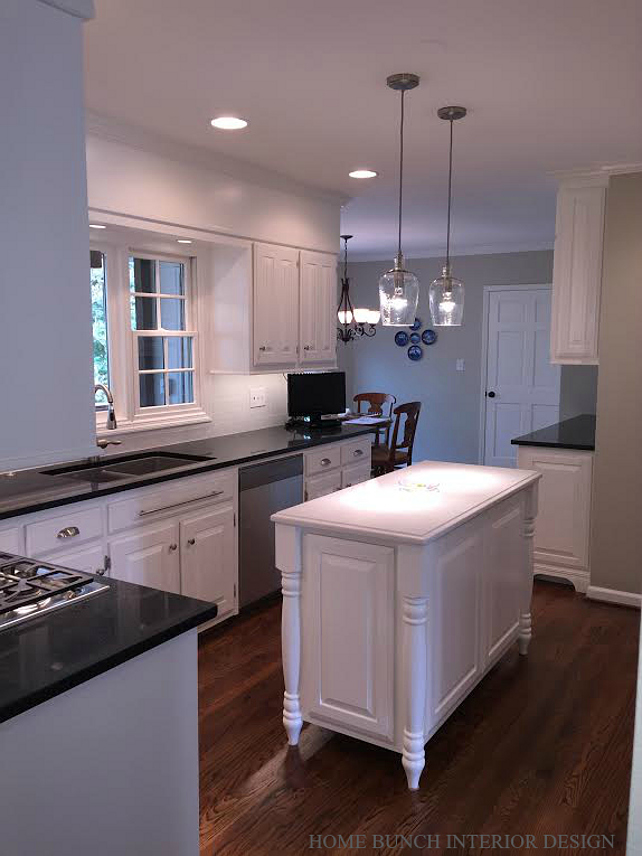 The kitchen does not look the same, does it? We had a new island made by a private cabinet maker and we changed the island and perimeter counter top as well.
A View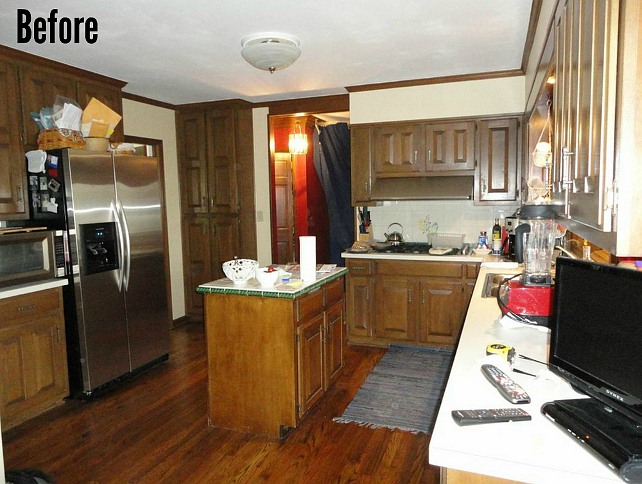 A full view of the kitchen before the renovation. If you look ahead you will see a tarp. I was designing the family room when my client took this picture.
Let's Start It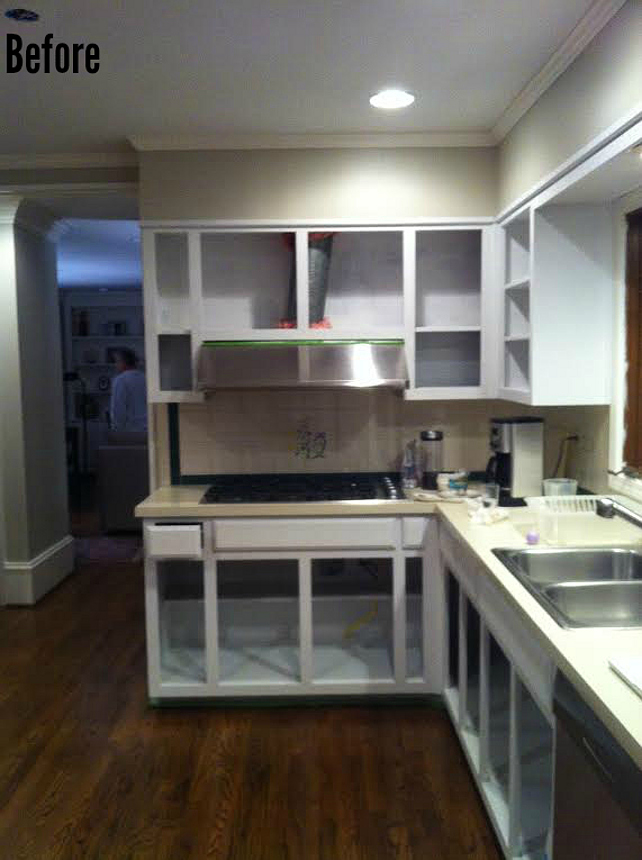 I always recommend my clients use a high quality primer before spray painting cabinets. Here, you see how the process started.
Fresh Painted Kitchen Cabinets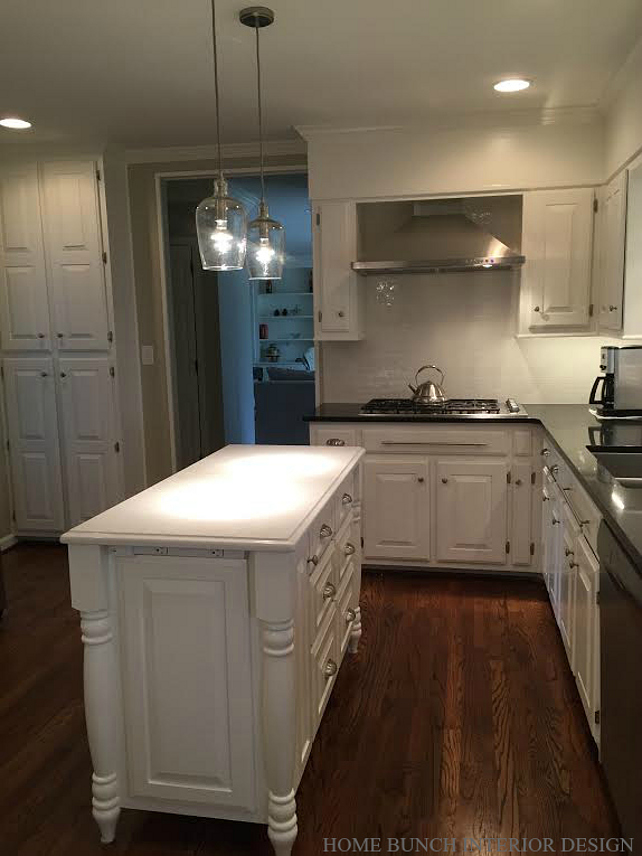 Isn't this beautiful? I am loving my client's newly painted kitchen.
We also changed the kitchen hood. It helps to create a more open and safer feel to the cooking area.
Windows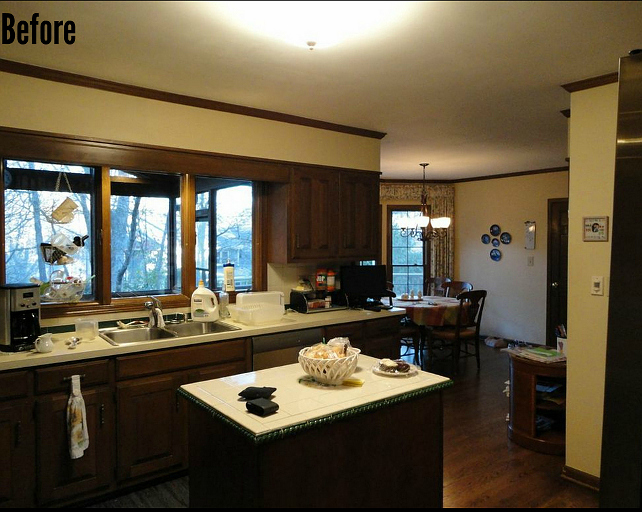 We also changed the kitchen windows and added recessed lights.
New Kitchen Window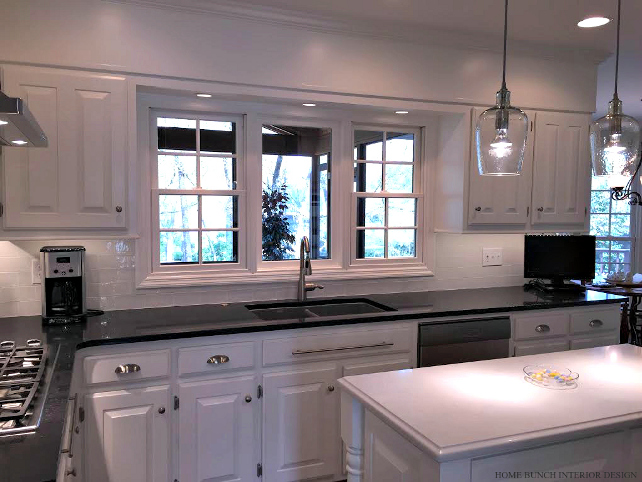 Windows are Anderson 400 Series from Home Depot.
Perimeter quartz counter tops are DuPont Zodiaq "Galaxy Black".
Faucet & Backsplash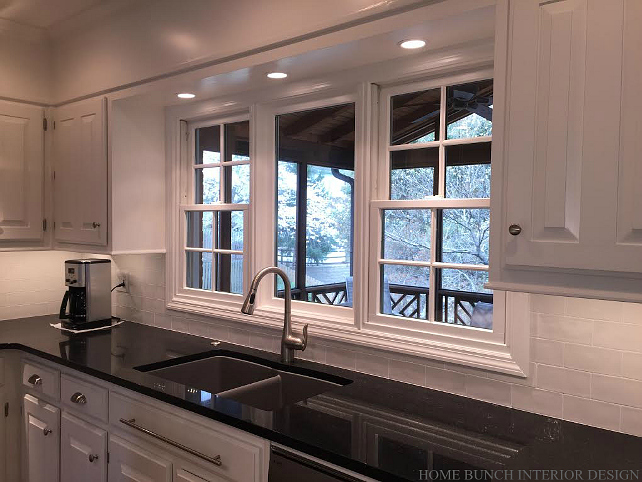 The gooseneck kitchen faucet is by Moen.
Backsplash tile is Nanda 3X6 in "soft white."
Kitchen sink is Blanco Silgranit II "Diamond Double Bowl in Metallic Gray."
Pantry Cabinet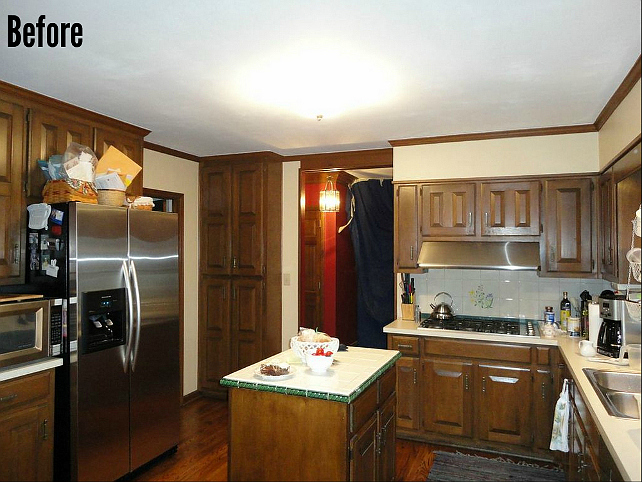 The kitchen offers good cabinet storage.
Bright Kitchen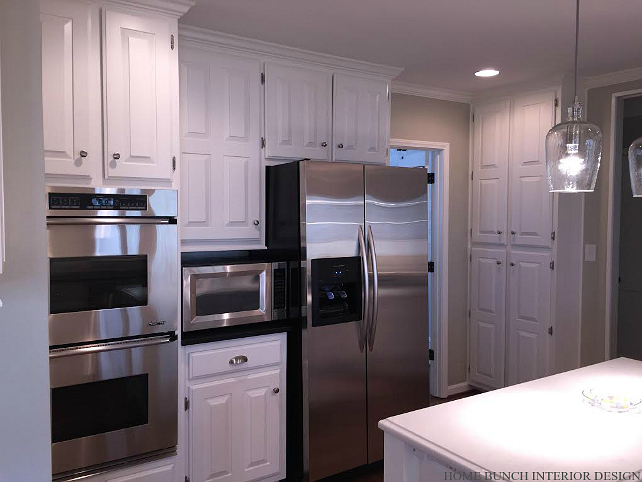 Painting the cabinets white makes this kitchen feel brighter and more spacious.
Fridge Cabinet & Island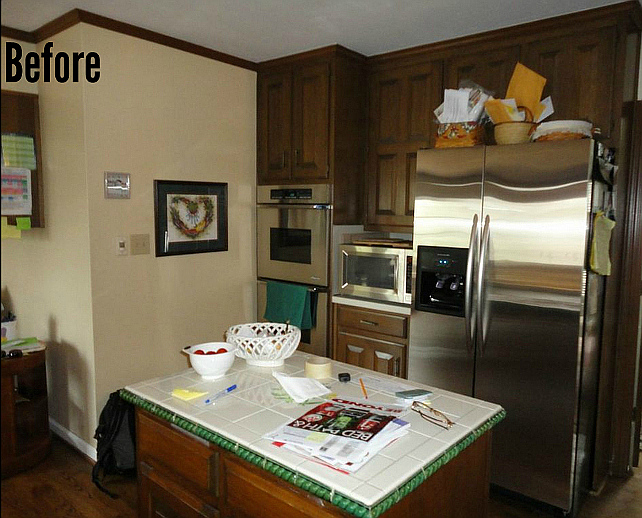 Before the cabinets were painted.
Appliances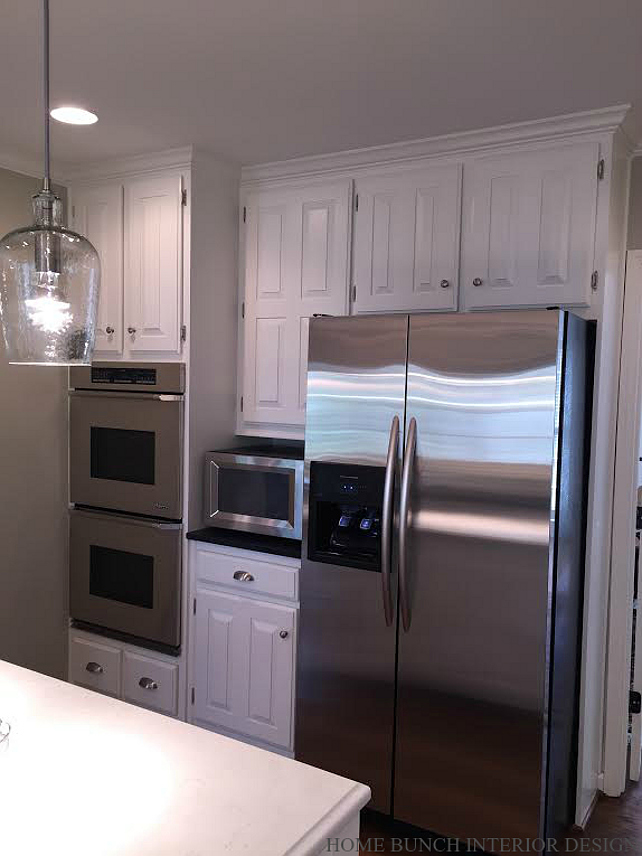 My client's kitchen appliances are new and it shows against the white cabinetry.
Cabinet Hardware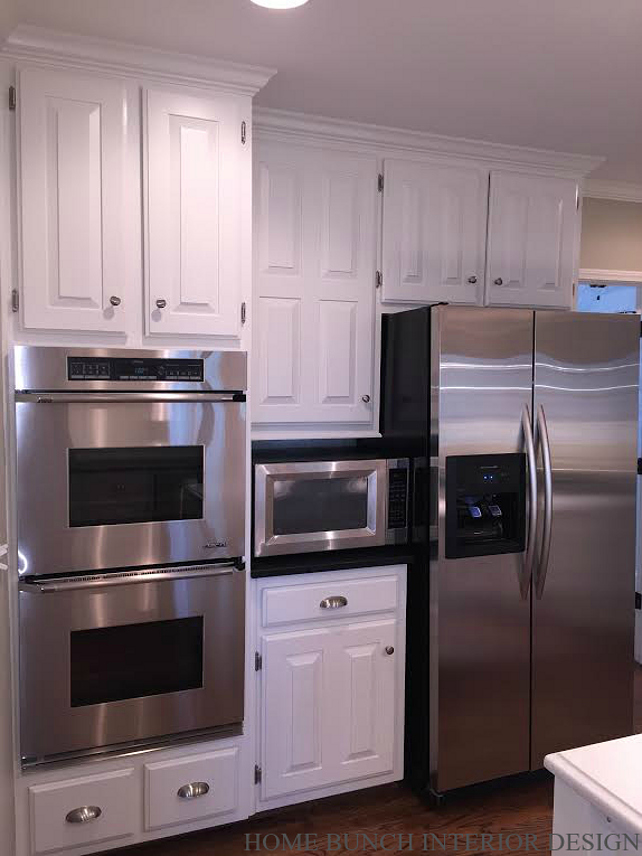 The knobs, pulls and hinges are made by Liberty, from Home Depot.
Cabinet Paint Color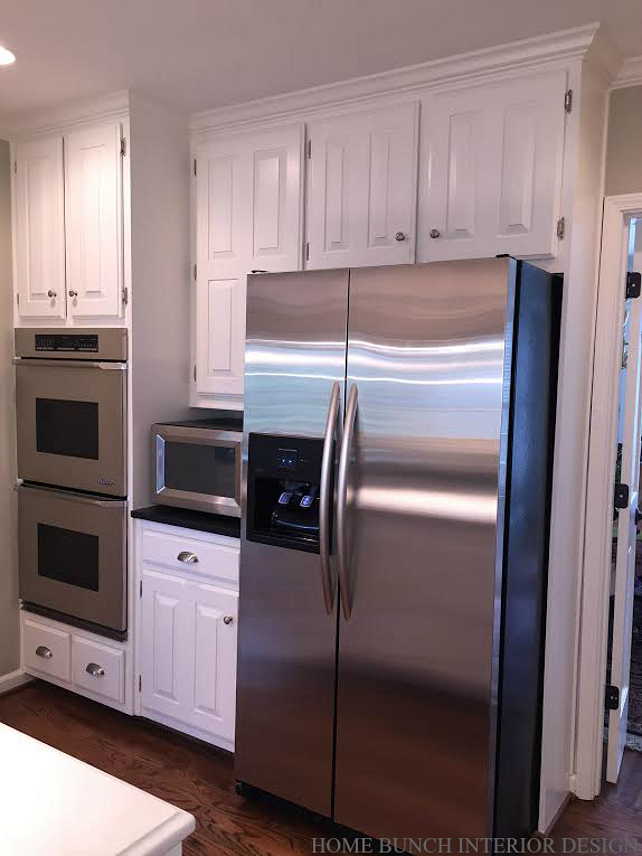 The paint color on the kitchen cabinets is Benjamin Moore OC-17 White Dove.
Kitchen Island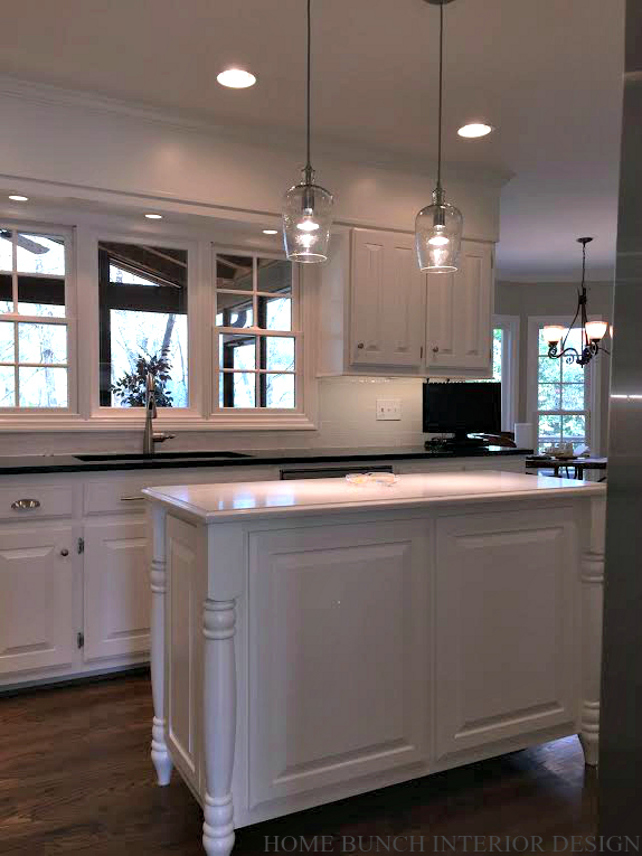 This newly built kitchen island is bigger than the original and offers more storage and workspace.
Details & Wall Paint Color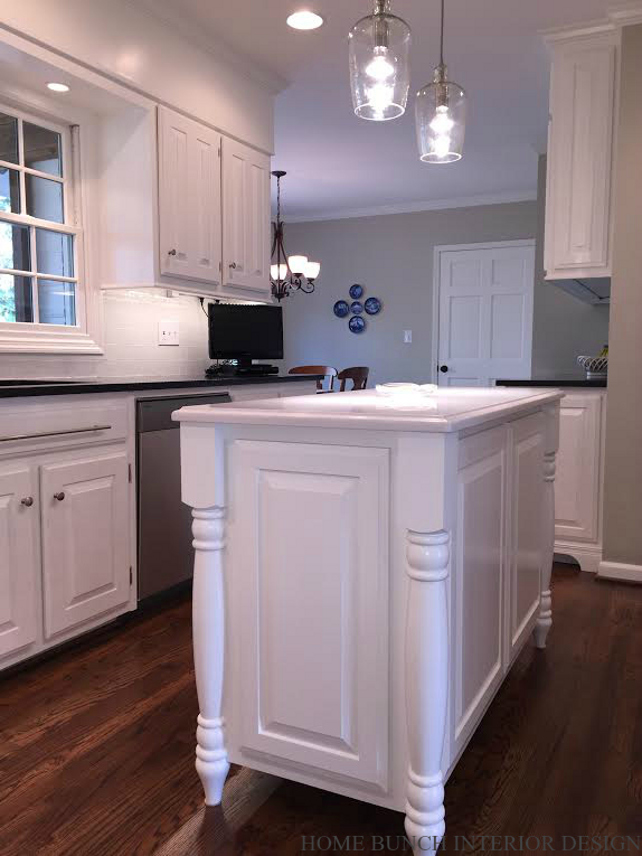 The island was beautifully made and looks like a piece of furniture.
Wall Paint Color: Benjamin Moore Hazy Skies OC-48
Kitchen Island Feet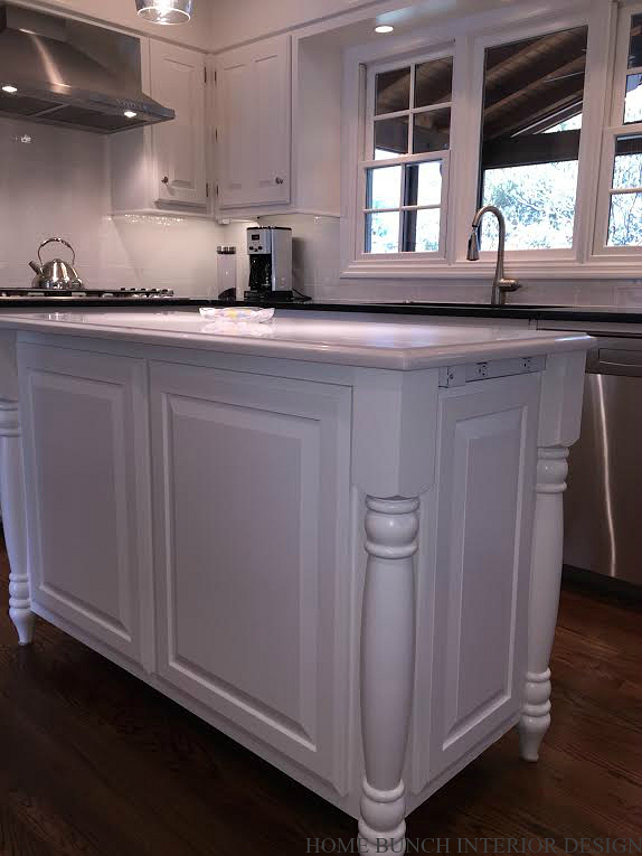 The integrated island feet add a traditional feel to this piece.
Raised Kitchen Island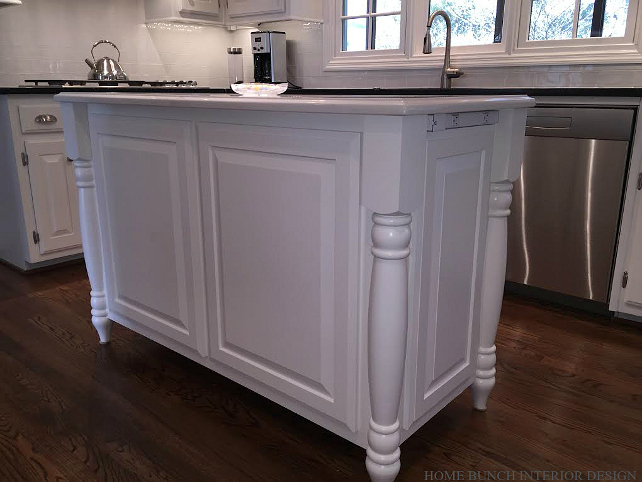 The raised kitchen island also features beautiful millwork on every side.
Island Paint Color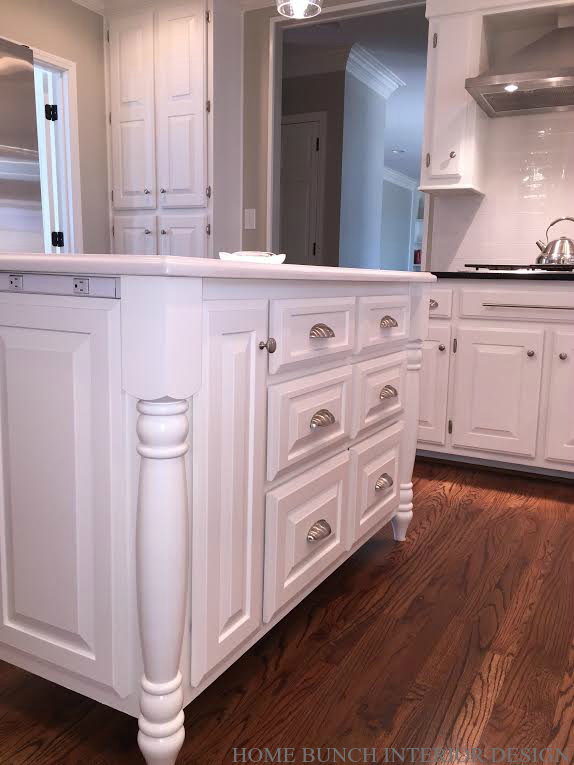 The island paint color is also Benjamin Moore OC-17 White Dove.
Kitchen Pendants & Countertop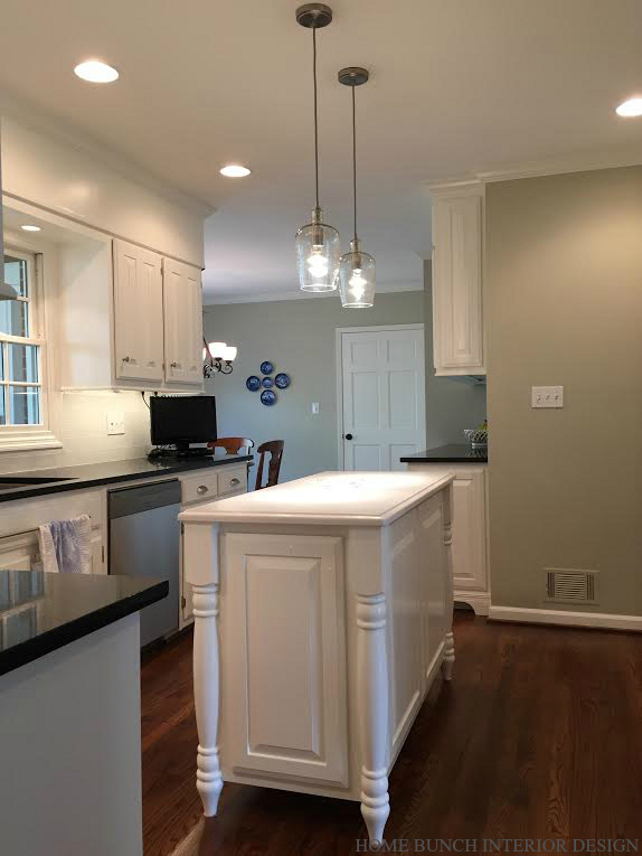 These inexpensive glass pendants from Lowe's are practical and add a transitional touch to this kitchen.
Kitchen island quartz countertop is Caesarstone "Frosty Carrina."
Before Cabinet Area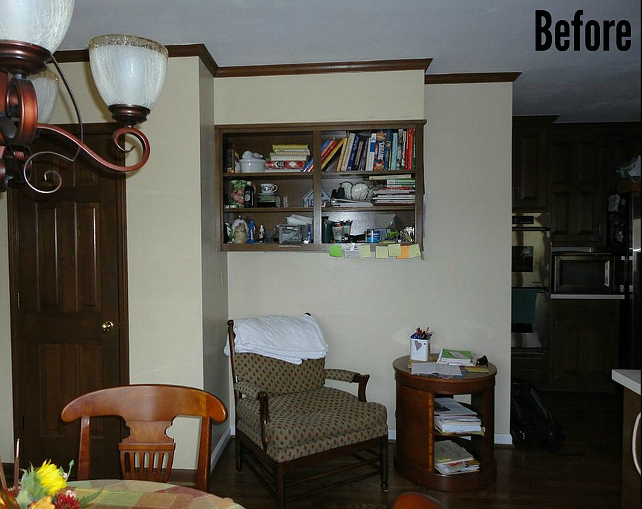 This area didn't have a real purpose and I suggested my client to add a cabinet to bring more storage and style to her kitchen.
Butler's Pantry Cabinet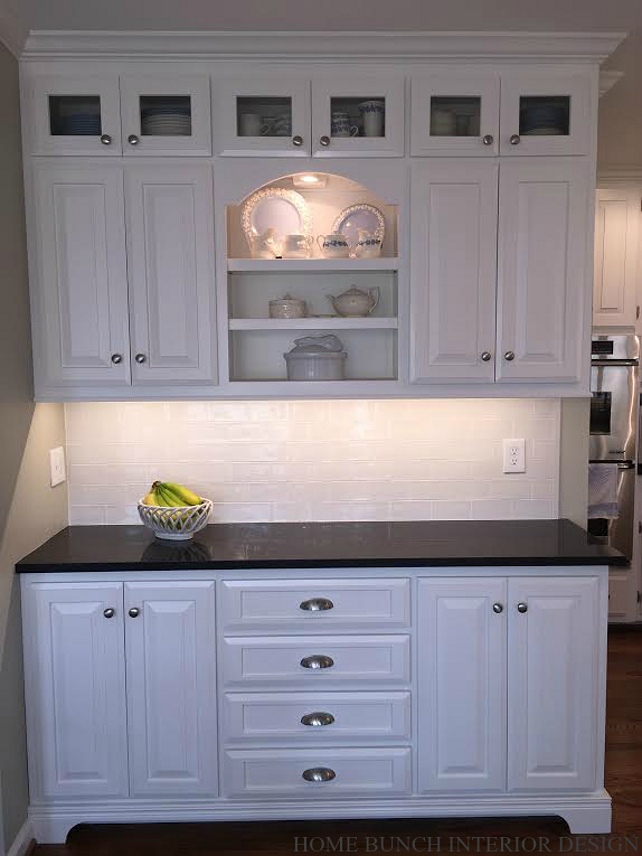 This is probably one of my favorite additions to this kitchen. I designed this cabinet having my client's mother's china in mind. She now displays them on the shelves and has plenty of space for other beautiful pieces.
Painting Kitchen Cabinets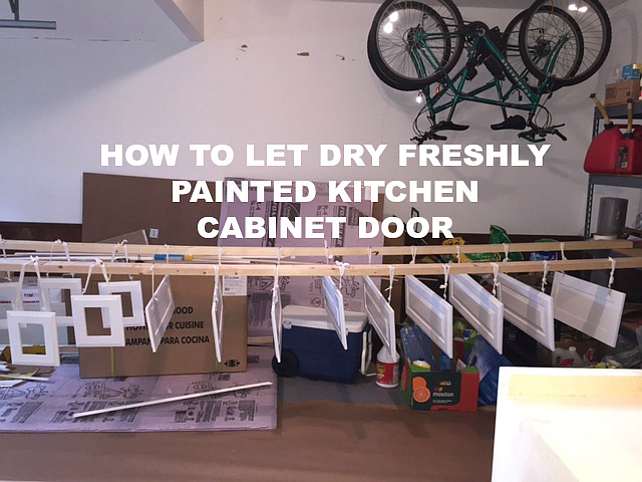 My client shared this picture when the kitchen cabinets were being painted. The painters hung the cabinets to spray and then let them dry. Isn't this neat?
Drying Kitchen Cabinets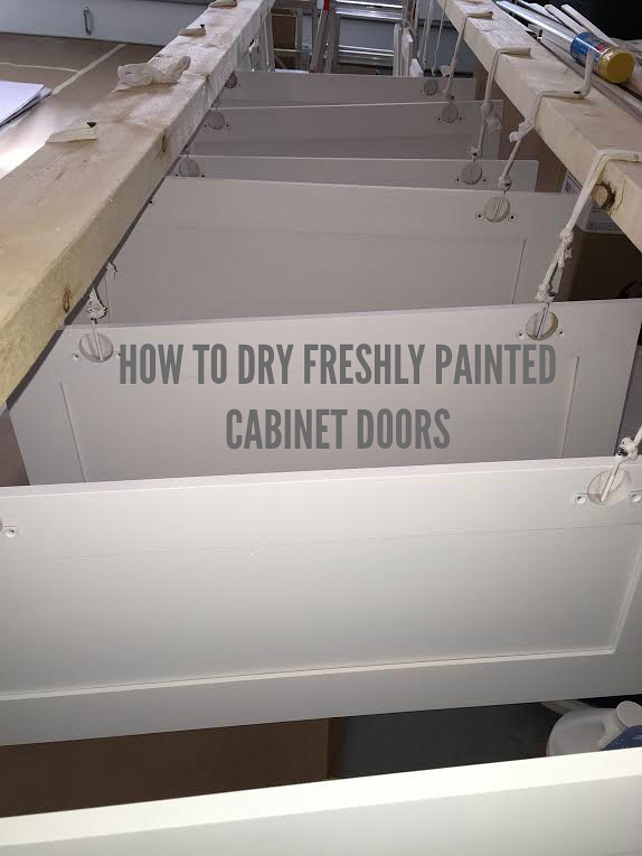 A close look on how to spray and dry kitchen cabinets. Keep this in mind if you're planning on painting yours!
Atlanta Kitchen Reno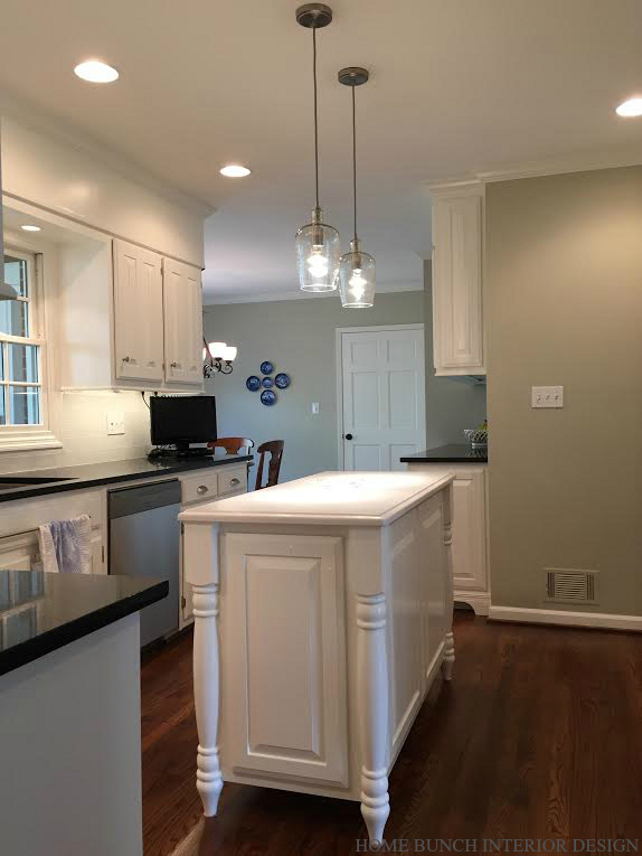 I am so happy for my client that she gets to cook and spend time with her family in this beautiful space!
My Client's Home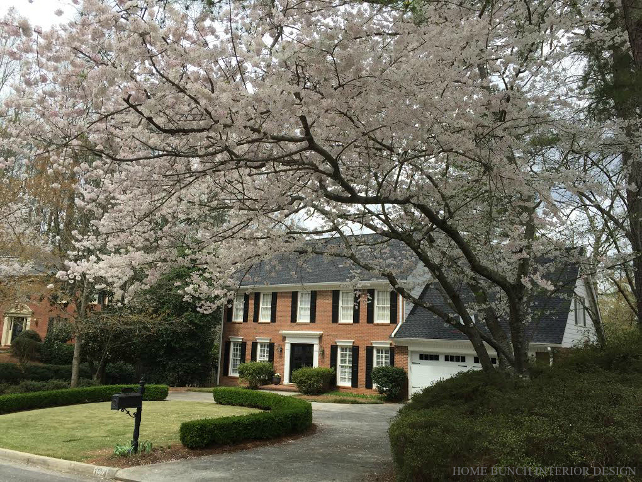 I love my client's Georgian home. Look at the Cherry Blossom tree… majestic!
Before Front Door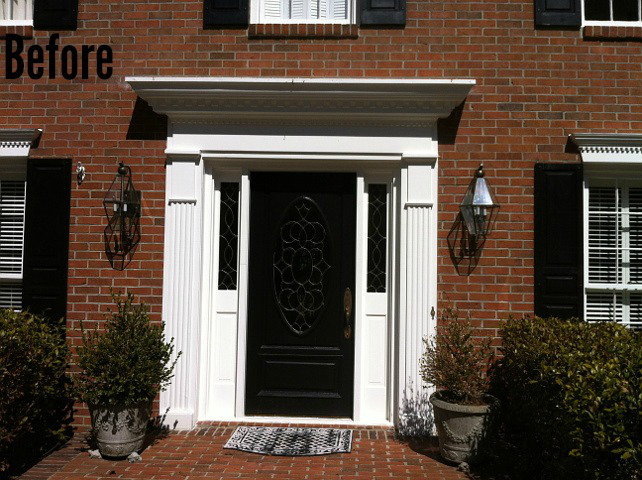 I also helped her to spruce up her front entry. This is the before picture.
New Front Door Ideas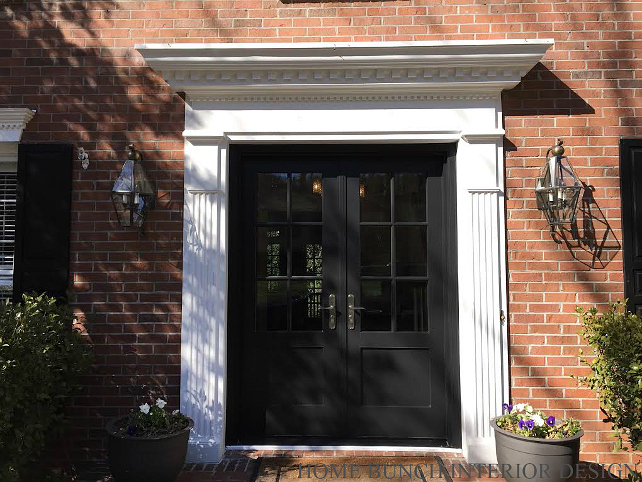 The gorgeous front door is by Pella.
Sources: Home Bunch Interior Design. Contractor: "Portis Building & Interiors", Atlanta, Georgia.
See more Inspiring Interior Design Ideas in my

Archives.
Interior Design Ideas:

Paint Color
I hope you had fun seeing this kitchen I designed for my client. I have so many clients that start talking to me feeling not completely sure if online interior design really works, but as I always tell my clients, it does work for me because I am with them during the entire process and I have to say that it's always rewarding to see the results and happy clients at the end of it.
Thank you, my dear friends, for being here today and I am so grateful to share my work with you. It feels good to be able to do this today.
Have a Blessed week and we'll talk some more tomorrow!
with Love,
Luciane at HomeBunch.com
Interior Design Services within Your Budget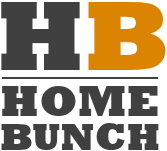 Get Home Bunch Posts Via Email