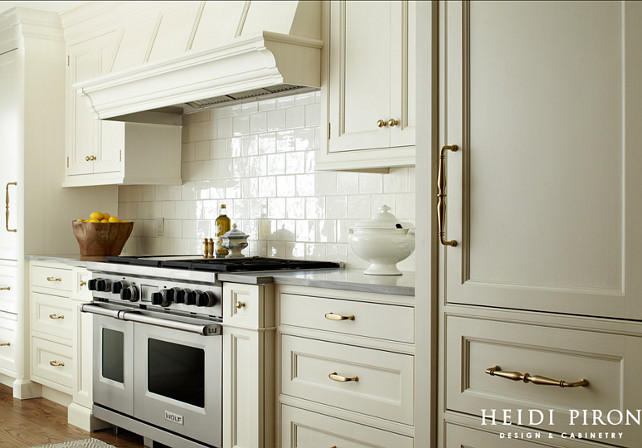 The homeowners wanted a classic white kitchen but didn't want the ubiquitous stark white and polished nickel elements. Interior designer, Heidi Piron, kept everything fresh and new by incorporating several shades of white into the design. The result is an off-white kitchen with classic design that will stand the test of time.
If you're looking for classic kitchen design ideas, this kitchen should get you very inspired. Take note on the designer sources!
Classic Off-White Kitchen Design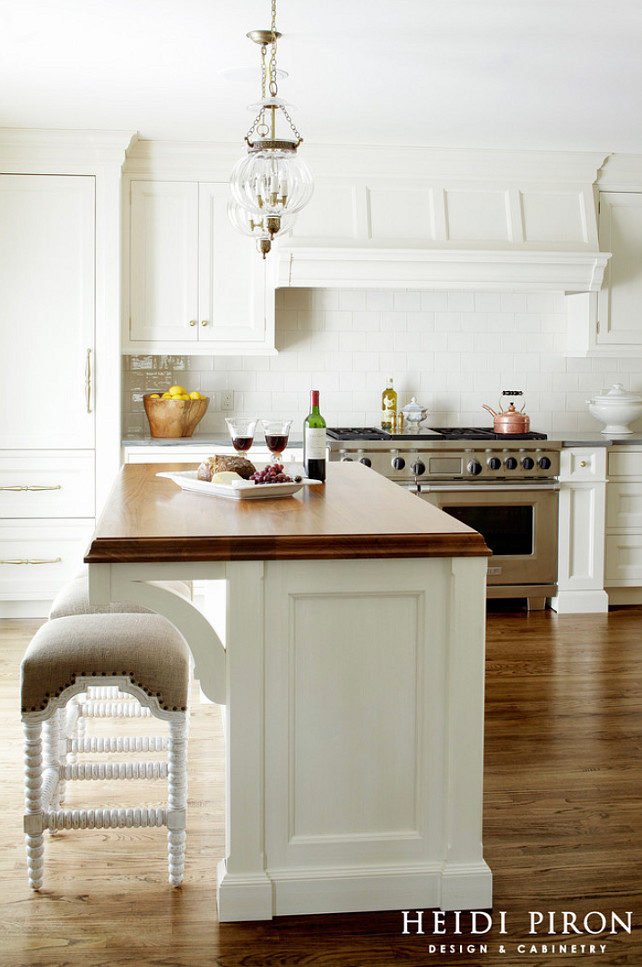 This is a kitchen that you can never get tired of! I love its timeless feel.
The teak on the island was chosen for its warmth and durability.
Kitchen Counterstool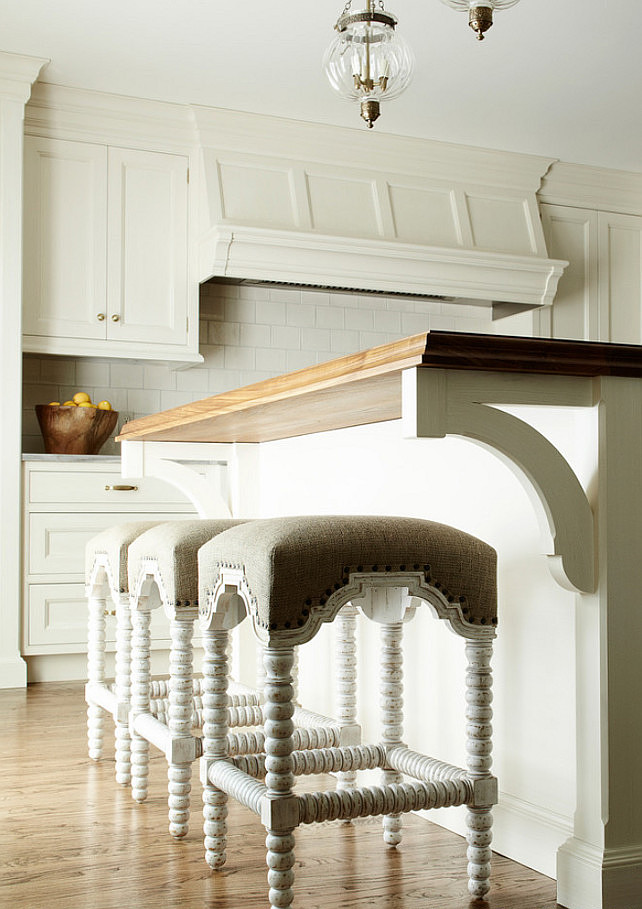 Counterstools are the "Abacus counterstool" in white wash from "Noir Furniture". They're one of my favorites and I often suggest them to my clients.
Range & Hood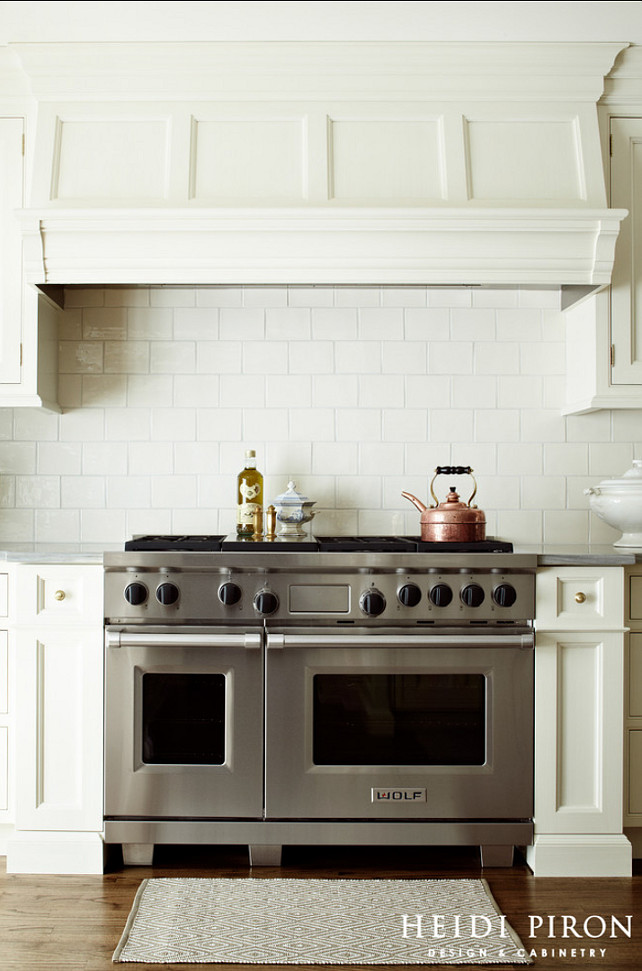 Stunning custom hood and a durable range brings character and beauty to this off-white kitchen.
Custom Designed Kitchen Cabinets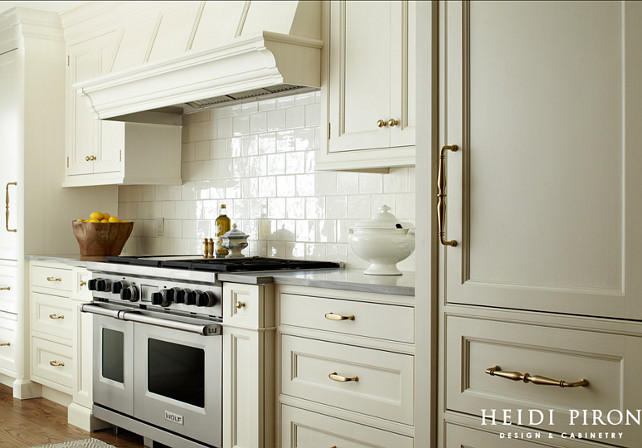 Range base drawers have pull-outs left and right, one for oils and cooking and the other for cookie sheets and trays. Microwave & TV are placed behind retractable doors in a wall cabinets to the right of range. Cabinet maker placed "fake" hinges on the doors for a seamless look. The All-Refrigerator and All-Freezer on opposite sides of range virtually disappear behind the door panels.
Similar Cabinet Paint Color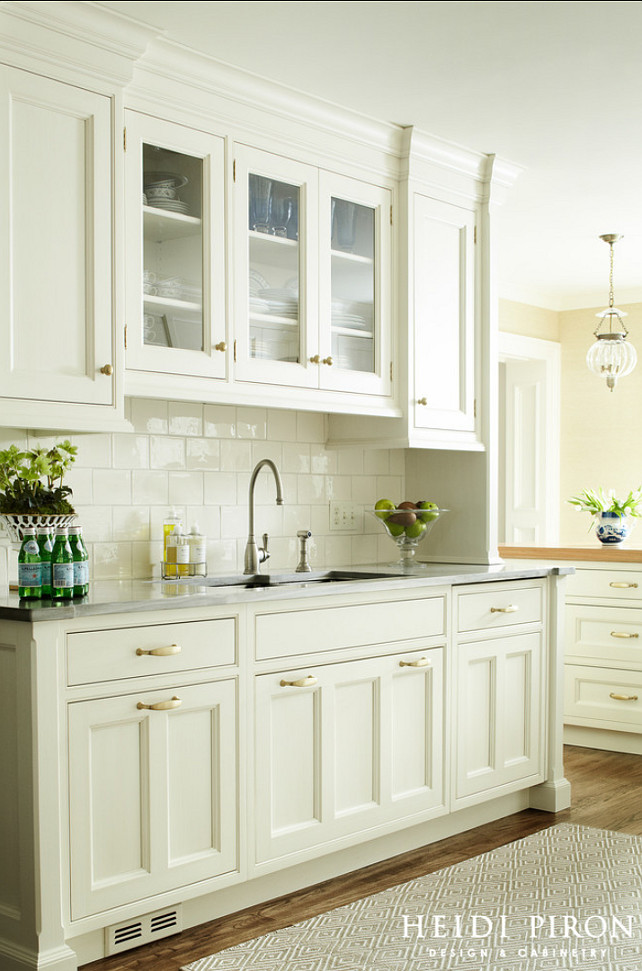 Benjamin Moore Navajo White OC-95
Kitchen Hardware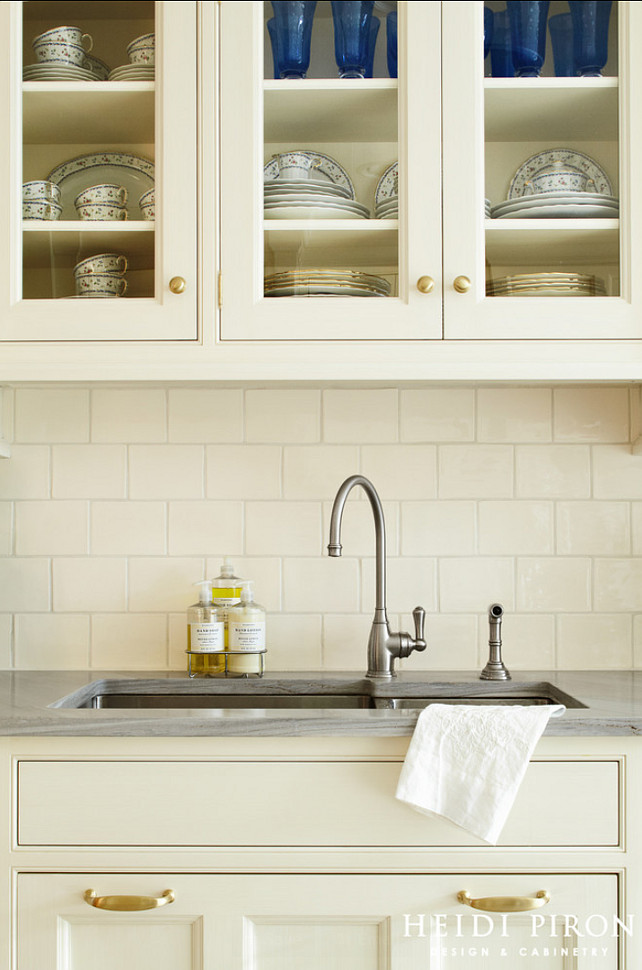 Have you ever wondered if it's okay to mix finishes in a kitchen? Many people are afraid to mix metals because they feel uncertain about the results. Keep in mind that it's very trendy right now to mix finishes and they can look great, just like see in the picture above.
Here, the brass stands out and make the off-white cabinet appears even "creamier". I love this combination! The brushed nickel faucet compliments the honed gray countertop.
Mixing metals in a kitchen creates a visual interest and adds warmth. My advice if that you keep the finishes consistent and don't mix more than three kind of metals.
Kitchen Countertop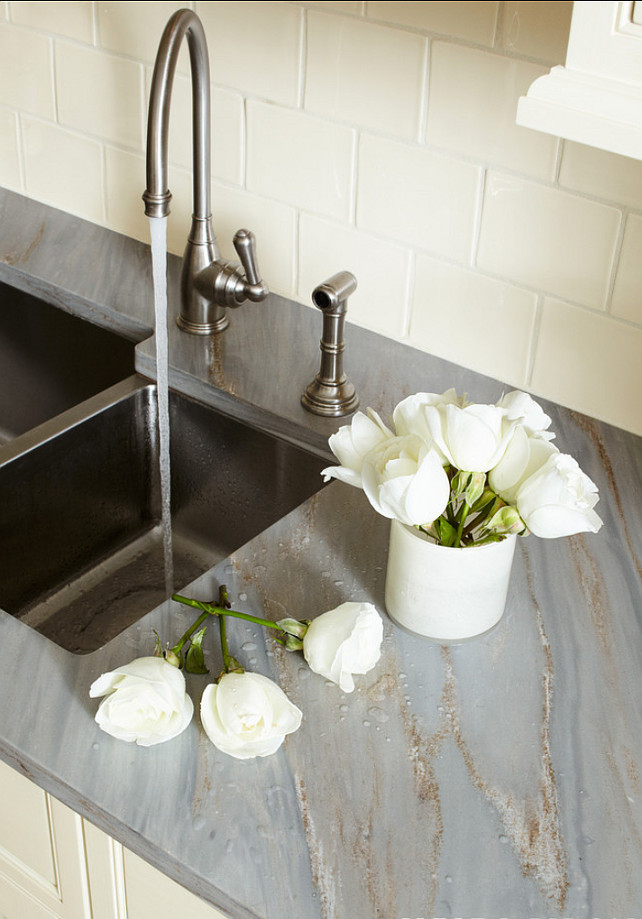 Blue Palisdro marble was chosen to complement the earthy blue tones in the adjacent family room. Isn't it gorgeous?
Eating Nook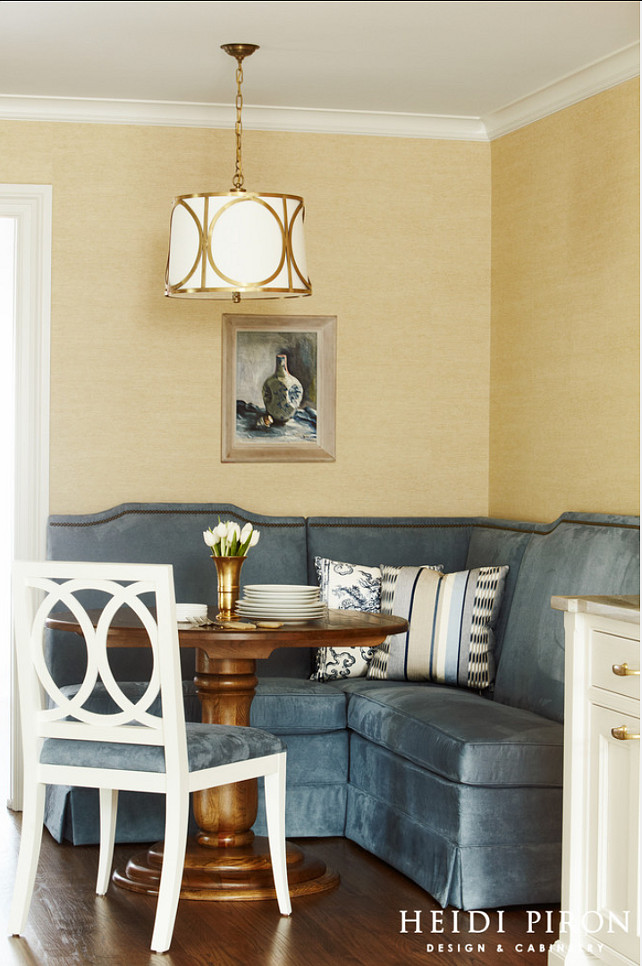 The eating nook is another space that feels warm and elegant. Velour brings this custom upholstered to the next level!
Kitchen Desk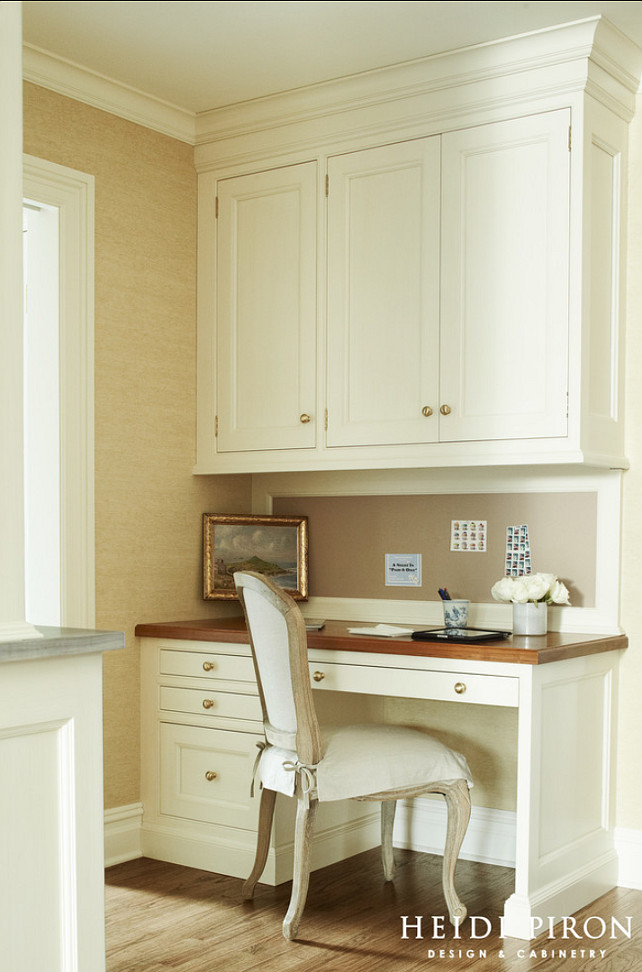 Teak countertop makes a durable choice for this kitchen desk.
I hope you enjoyed seeing this off-white kitchen. Talking about white kitchens, do you have a favorite white paint color? I often use "Benjamin Moore White Dove" in my projects. It's a white that works beautifully in almost every light condition and complements other colors easily.
Now, let me know which white paint color you swear by!
See more Inspiring Interior Design Ideas in my

Archives.
Interior Design Ideas:

Paint Color
Interior Design Ideas:

Paint Color
Happy New Year!
Can you believe today is the last day of the year? I have so much to say about this year that is ending… to be completely, 100% honest I am glad it's ending. I lost one of the most important person in my life this year (my grandmother) and somehow I feel ready to move into 2015. I know that it won't change what I have lived, but at least it should help with the promise of a "new beginning" that every year carries.
So, let's start it right!
2015 will be a year of victories and Blessings. We will feel healthier, happier and more loved. We are going to think more positive and allow ourselves to put ourselves first more often. We will go on for walks more often and we will take a minute to notice the fresh air.
We will cut negative sources and we will not allow others to bring negativity into our lives.
We will love ourselves more and be open to love others in a deeper way. And we will forgive ourselves and others, because we will know that we're all here to learn.
We will discover ourselves once again. We will ask questions and we will try to find the answers. We will not hide our emotions nor ignore them.
We will believe more.
May 2015 provide you with everything that your heart needs.
I thank you for this year we spent together and I pray that we can share another year full of inspiration, dreams and realizations.
with Love,
Luciane at HomeBunch.com
Interior Design Services within Your Budget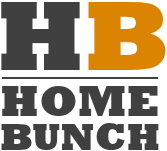 Get Home Bunch Posts Via Email

Sources: Heidi Piron. Photo: Christian Garibaldi.