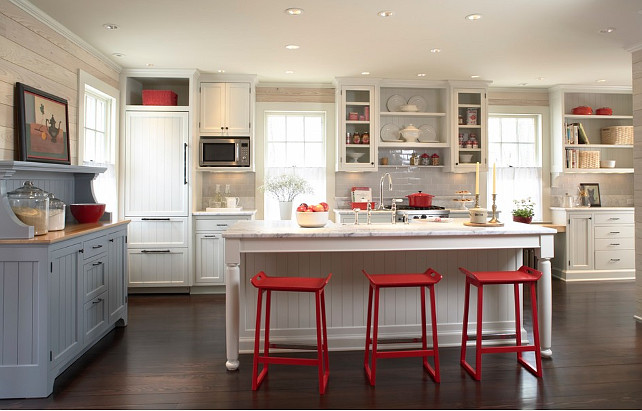 As an interior designer I am always looking for new interior design ideas, especially when it comes to kitchens. Trust me, you will always find something new on the market.

When I found this kitchen designer by Meriwether Felt from Meriwether Inc., I immediately contacted her and asked if I could share it with you. Meriwether designed this kitchen when she was the Director of Design at TreHus and this project was part of a whole house remodel and restoration.

The designer tells me that this was a petite house, making all the designs be deliberately scaled down so they would all fit in the space. You'll find this reflected in some of the appliance dimensions below and in the kitchen layout.

I hope you feel inspired by these kitchen remodel ideas as much as I am.

New Kitchen Remodel Ideas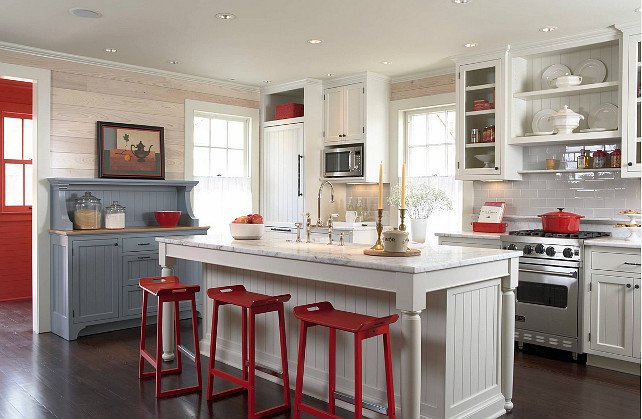 I love every detail about this kitchen. It feels welcoming and I can picture myself cooking in here.
The stove is a Viking 24" gas stove. Cabinet paint color is Benjamin Moore OC-17 White Dove.
Cabinets are full inset beaded flat panel cabinet doors in custom built cabinetry through Eull Woodworks.
Hutch Paint Color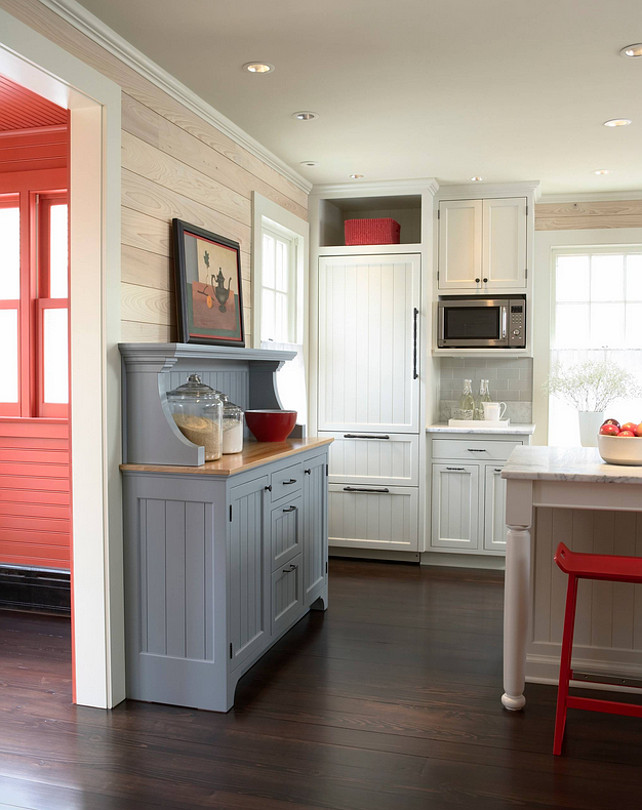 This blue-gray hutch works beautifully with the white cabinets and the pops of red found in this space. The hutch paint color is Benjamin Moore Van Courtland Blue HC-145.
The red paint we see on the left is Terra Cotta by Pratt & Lambert.

Kitchen Appliances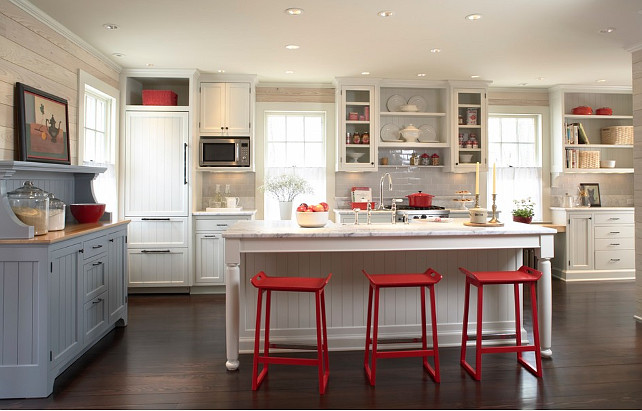 This house is not big and the designer had to create a layout that could house everything the client needed in one single wall. The Sub Zero integrated refrigeration 27" 700TCI (seen on the left corner of the kitchen) is wonderful appliance if you have limited space.
Sink & Flooring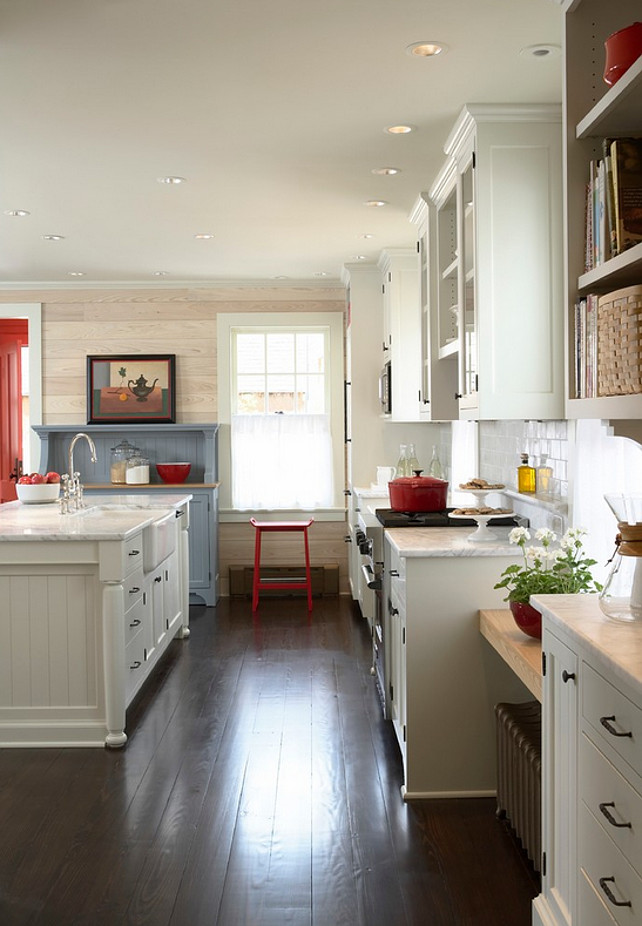 The kitchen flooring is 5 inches dark stained pine. Isn't it stunning?
The farmhouse sink is the Shaw's original apron front sink by Rohl. Faucet by also by Rohl.
Kitchen Backsplash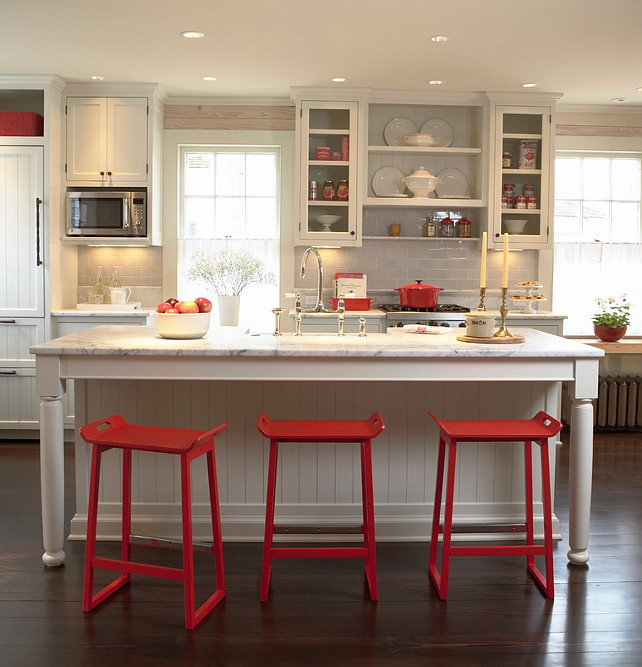 The subway tile backsplash is Waterworks Architectonics 3×6 in Dove. This backsplash is a great alternative if you want to bring a subtle color to your kitchen.
Malte Chairs in red are by Ikea but are, unfortunately, discontinued.
Kitchen Ideas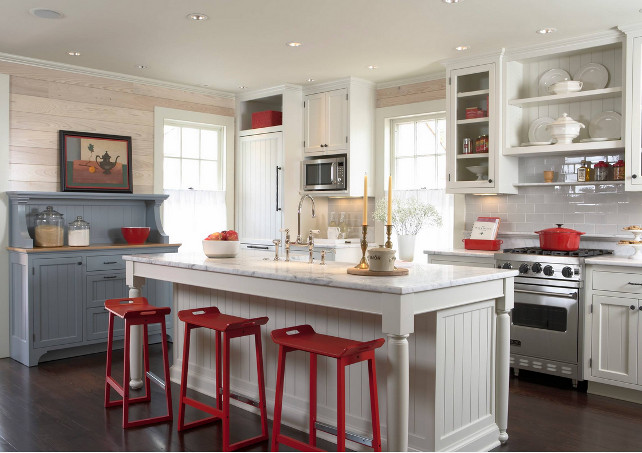 This kitchen also features an Alder 4" tongue & groove wall board. As you can see, it brings some texture and a natural feel to this space.
Many thanks to the designer for sharing the details above!
See more Inspiring Interior Design Ideas in my

Archives.
Interior Design Ideas:

Paint Color
Before anything, I want to thank all of you for your support yesterday. I was debating if I should share about my grandfather's surgery or not. I am always trying to create a peaceful environment, where we can feel good at, but at the same time I knew I could be understood here. I knew I could open my heart, tell you guys what's going on in my life right now and be heard. I know the kind of friends I have out there and I need your shoulders at this moment.

I read all of your comments and emails and I started to feel calmer with them. In fact, the night I wrote the post I was very anxious, scared and so angry with everything that my grandfather is going through, but all of that started changing when I opened my heart here. I have received your prayers and your love. Thank you.

My grandfather's doctor decided to change his surgery for today (this afternoon) instead of tomorrow. He thinks the sooner they do it, the best it is. My grandfather feels the same way and he is convinced that everything will be fine. He's hope is truly inspiring to me.

I just talked to him and he's very fragile and a little scared. I said that he doesn't need to be scared because God will be holding his hands. I also thanked him for being "a father to me in this life".
I have to say that I am calm right now, and if there's anything I have learned is that life is unpredictable – all you have is this moment and each moment does count.
When thinking about my life with my grandparents (they raised me, therefore I consider my grandfather more than a father) I always think about how I always made sure they knew I appreciated them. I knew that what they were doing for me was not their obligation, I knew that they helped me to be whom I am because they loved me and wanted me to grow in this life. I never hesitated on telling them how much I love them.
I lost my grandmother last year and although sometimes it gets really hard to be without her, I am at peace because she knew what she meant to me. My grandfather is the same way, he knows how much I love, admire and respect him.
I tell you this… life goes by fast, really fast. If you love someone, don't hold grudges. The day to show your love is not tomorrow, is not when the next opportunity arrives, is not next time you see them… it's now! We have to create the opportunities in this life and never wait for them to knock on our door.
Don't wait to let the people you love know how much they matter to you. Create a life where you can look back and remember moments where you shared your love. This is the best way to remember and to be remembered.
with Love,
Luciane at HomeBunch.com
Interior Design Services within Your Budget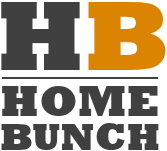 Get Home Bunch Posts Via Email