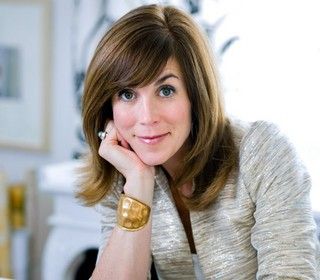 Sarah's house is back on HGTV now with its 4th season and it's being my newest favorite show to watch. This time, Sarah Richardson and her best designer friend, Tommy Smith, are ruling the world again on TV. Sarah is is going where many of us live: suburbia! Grassy yards? Well, not really. She just bought a house in the middle of a chaotic construction site. The house is located in a new subdivision and you can picture all the dust, trucks, machines and noise all around. We once bought a house in a community like that and we couldn't take it! We moved to the country, by the beach, just where we live now. But we have to keep in mind that constructions doesn't last forever and Sarah is there to prove what can be done to a brand new house. She's transforming every new room of this house located in Halton Hills, into a dreamy home. By the way, the house was not too long ago for sale for $1,026,000.
Now, take a look and tell me if you're watching it or if you'll be watching it when it airs in the US.
Foyer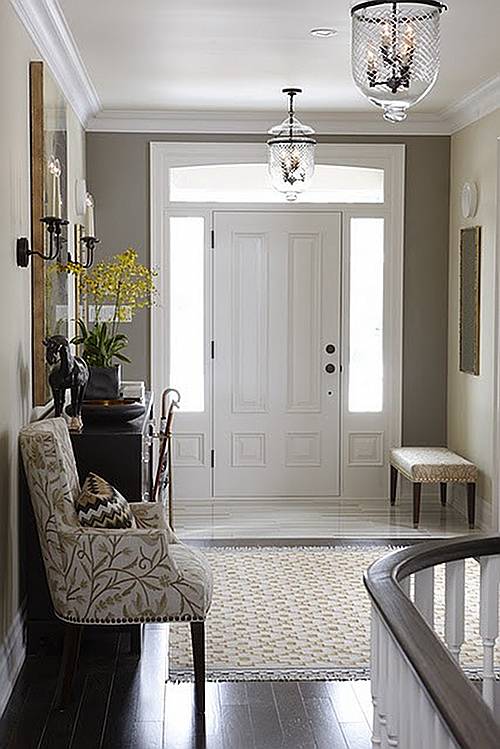 I love seeing Sarah's designs and her furniture, which I'm big fan of.
Living Room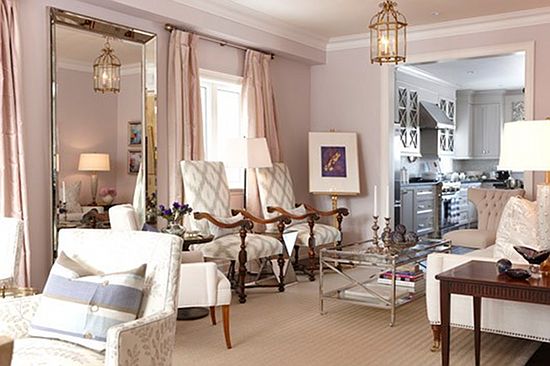 The formal living room is just by the kitchen, which is a bit different but it helps when entertaining. I like how elegant this room feels.
Art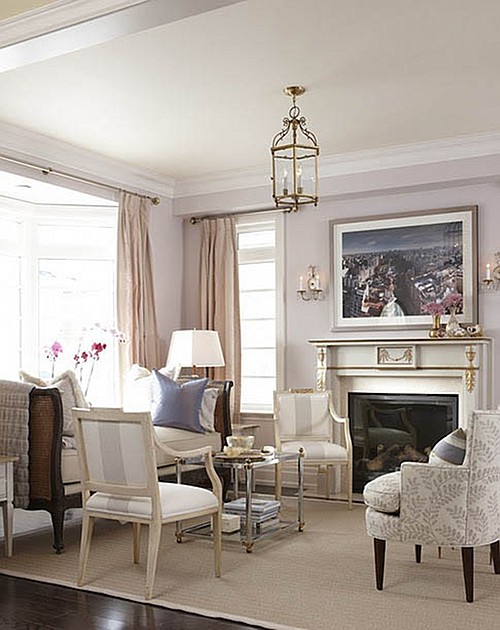 I love having two distinctive sitting areas in living rooms just this one. It feels formal and chic. To keep the room not too precious, Sarah chooses a photograph as art above the mantel.
Lightness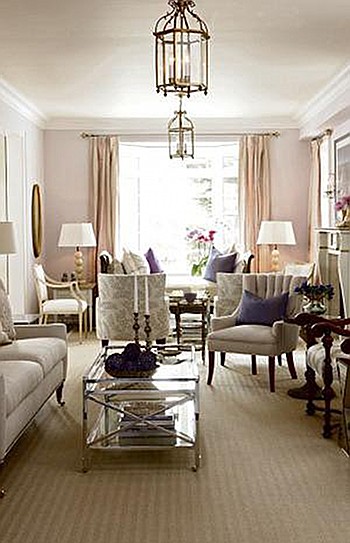 A nice view of the room and the light fixtures.
Lines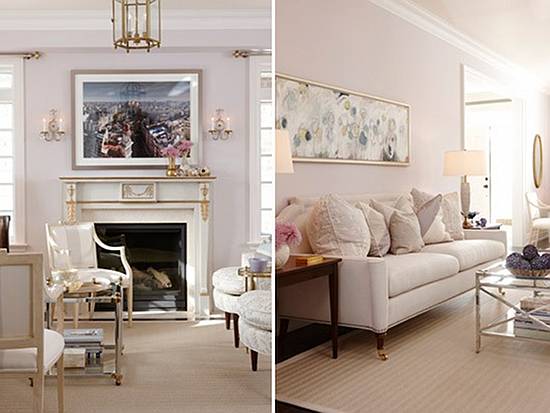 I adore the classic lines of the furniture Sarah chose for this space.
Dining Room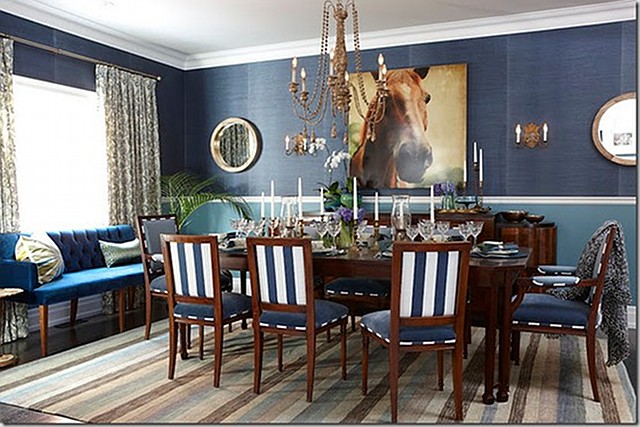 Sarah decides to go with a navy grass cloth on the wall. One of my favorite things here is the blue bench on the left.
Singing Birds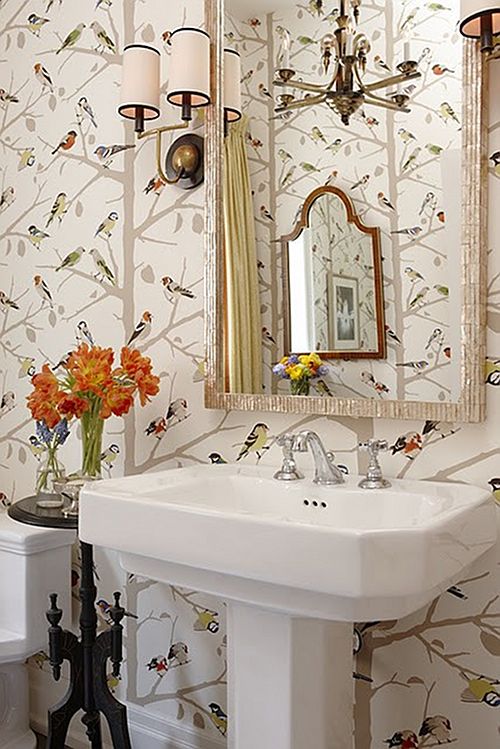 The powder room is incredible! I adore how happy it feels with the bird wallpaper.
Grey Kitchen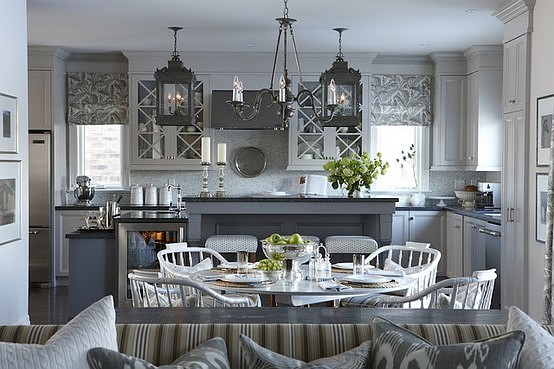 They're calling grey the new thing in design and Sarah is listening. She wanted the kitchen to be trendy (with the color) but have a timeless feel with its materials and lines.
It's Served!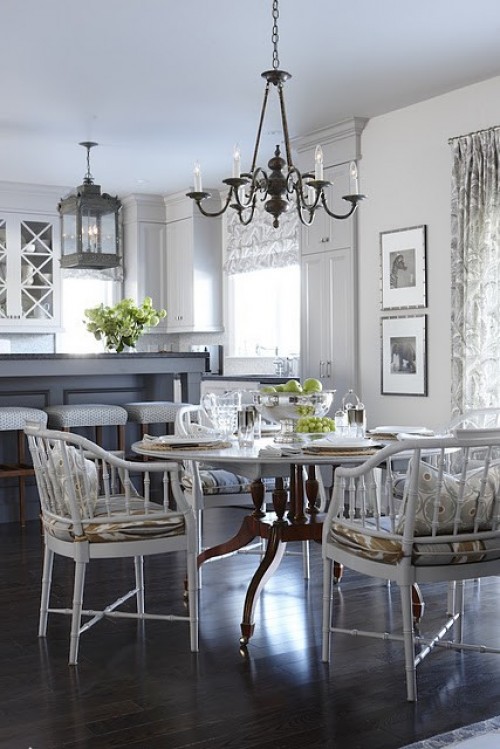 The eating area is just stunning!
Shades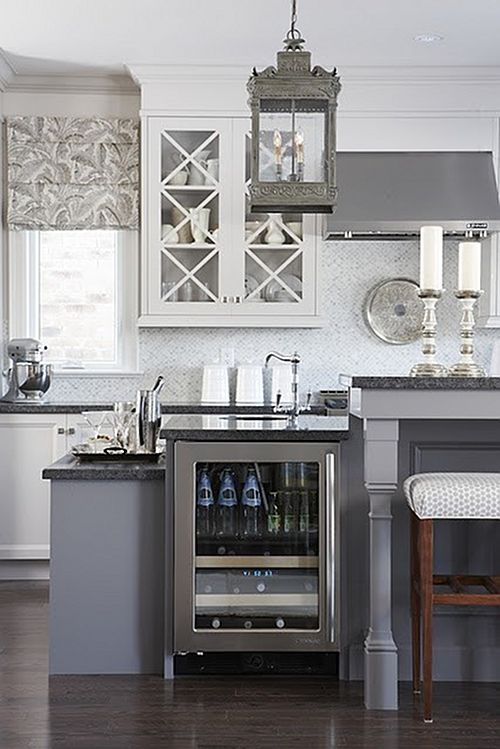 Different shades of grey mixed with white, stainless steal appliances, interesting light fixtures are the perfect recipe for a gorgeous kitchen.
What's Ahead?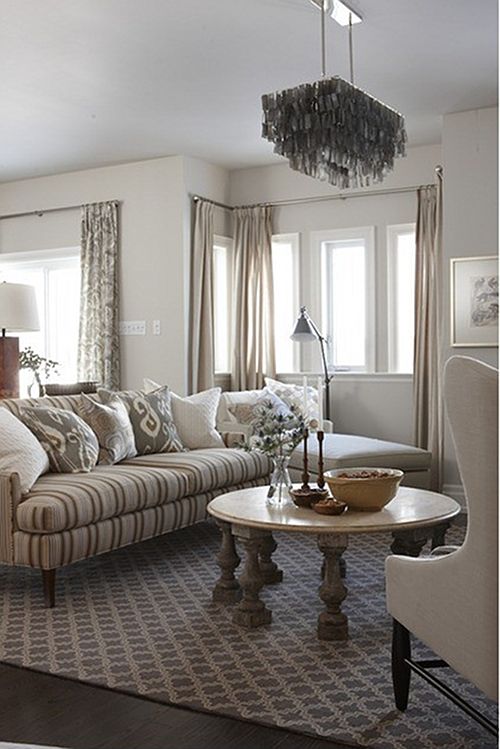 The family room is just by the kitchen and has a very open feel.
Open Your Wings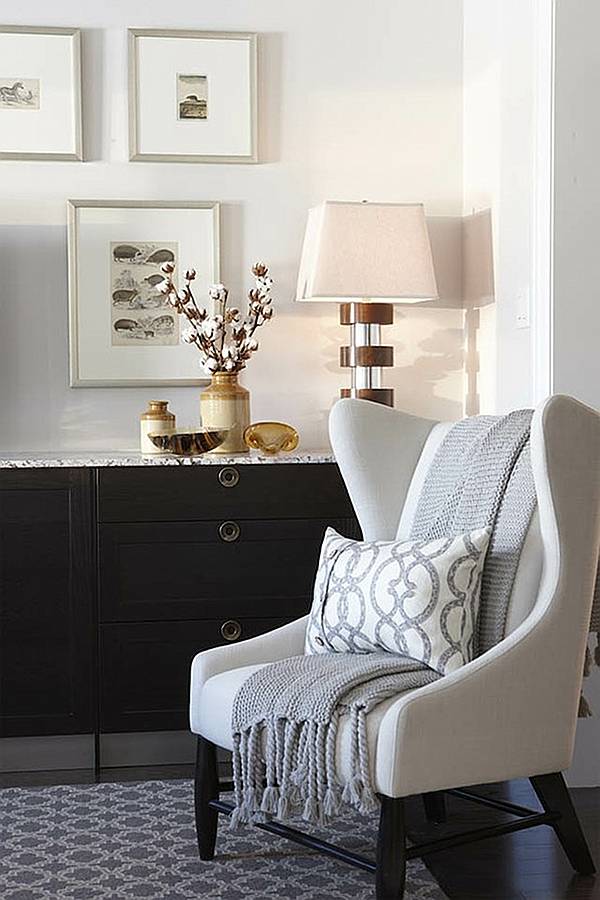 Sarah uses two wingback chairs in the family room.
Master Bedroom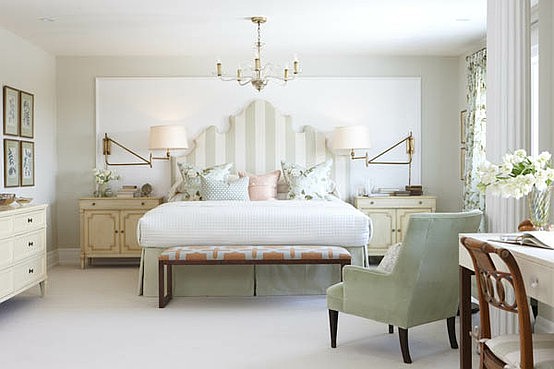 I haven't seen a master bedroom designed by Sarah that I didn't like. This one is pure serenity.
Hotel Like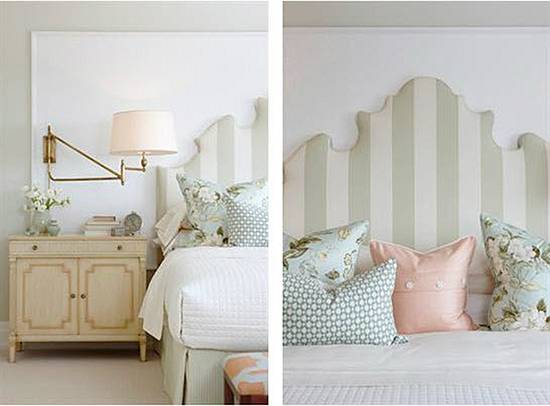 Stunning headboard!
Girl's Bedroom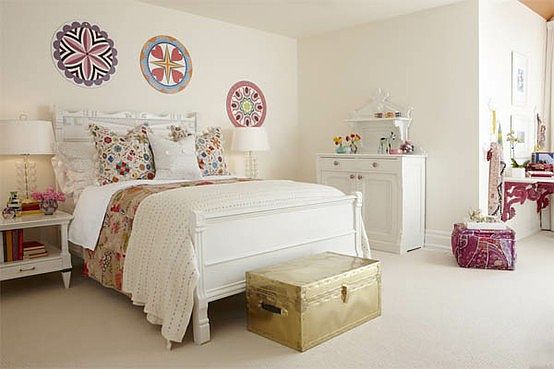 The girl's bedroom is a fun. She used mostly used furniture and sprayed them in white.
Circles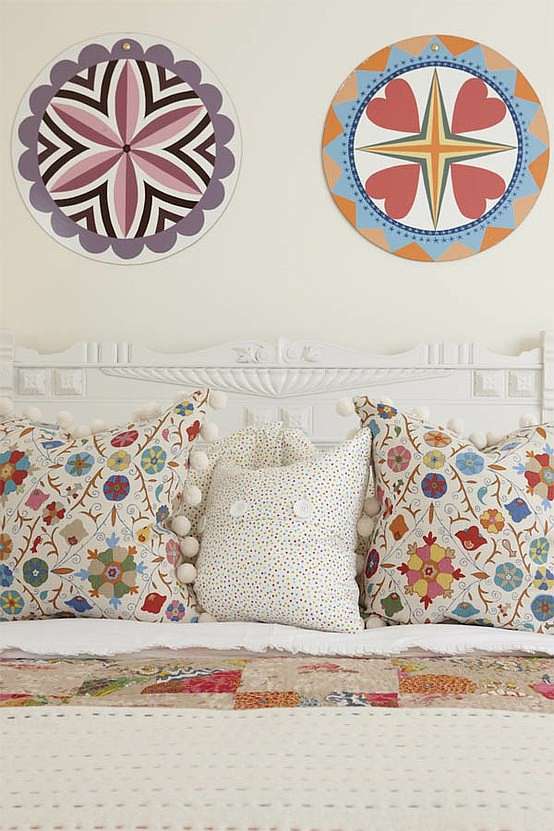 Tommy Smith finds these circles and they decide to display it as art. Notice how perfect they go with the pillows.
Ceiling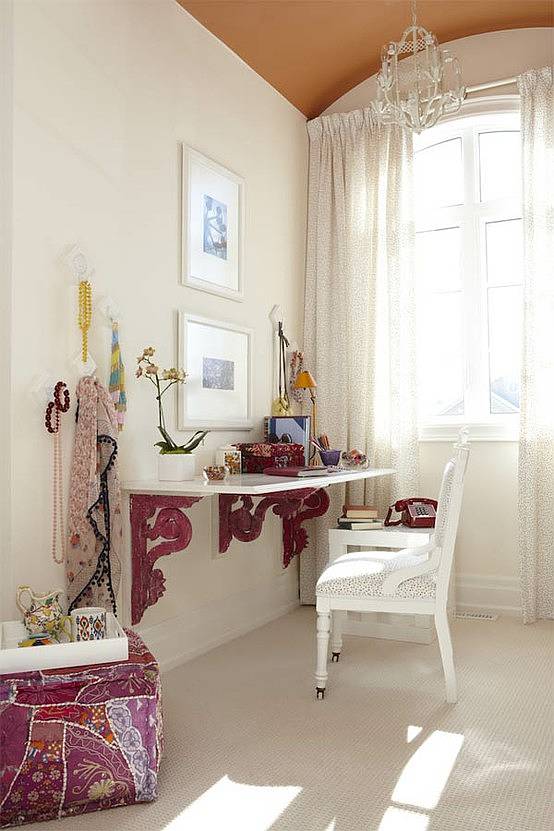 A punch of color on the ceiling brings some interest to the room and almost any piece of wood can become a desk.
Girl's Bathroom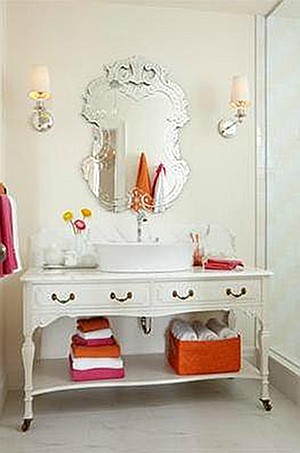 Pink and orange makes this room feel more alive. The vanity used to be an old console.
Craft Room
This is a very fun and energetic craft room. This color could help keep my creativity awake!
Ikea Lover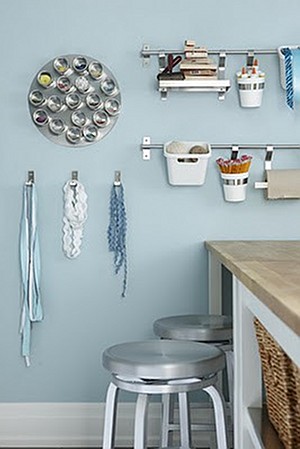 Sarah used two kitchen islands from Ikea for storage and workspace. Brilliant idea. The stools are also from Ikea.
Sarah's House: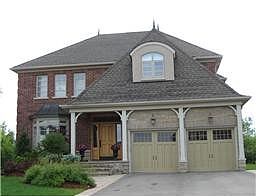 Curious to see how the house looked after built? Don't be! Here's a sneak peek of it!
What you think of this new season of Sarah's house? Do you like it? I loved her cottage and her farmhouse and I think this one is going in the right direction. Can't wait to know your thoughts on this one!
HAVE A GREAT THANKSGIVING! I want to wish a very, very blessed Thanksgiving to all my American readers (We've already celebrate it here in Canada). I'm sure many of you are really busy today, preparing delicious food for your family, having good friends over or even busy trying to find the perfect outfit for tonight. Even though all of it is part of the celebration, I hope you take a minute to think what makes you feel grateful for in this life. Is it your family? The house you live? Your kids that even though can drive you nuts sometimes, you know they mean everything good in life? Is it your husband that always have been there for you? Or maybe you're grateful for the fact that you're here in this world, breathing, living, creating and learning? Take a minute today to really feel how blessed you are, how much you have around you (I'm not talking about material things), stop the craziness of the day just to feel the place you stand right now.
Giving thanks is more than saying the word "thank you", is acknowledging how fortunate you really are.
I hope you all have a fantastic day, stay warm (what about a cup of rich cocoa?) and have some fun!
xo
Luciane at HomeBunch.com
Get My Help with Interior Design: HB's Design Service.
Come Follow me on Twitter: Twitter/HomeBunch
Source: HGTV