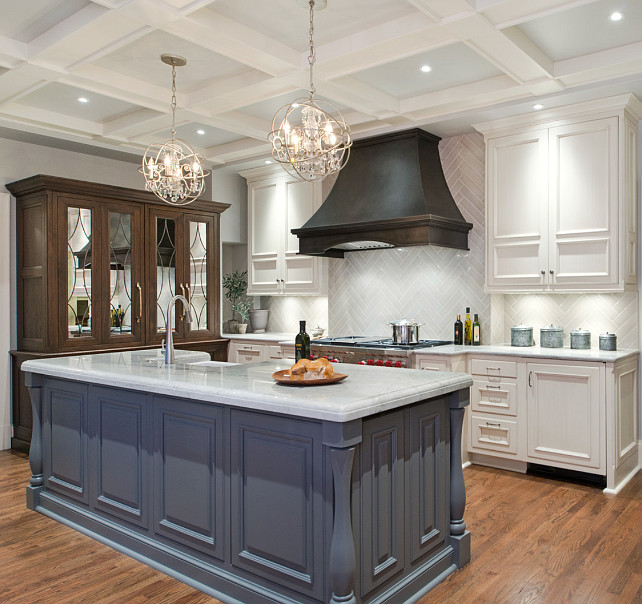 I am always getting emails from readers and online interior design service requests about kitchen renovations. The kitchen is, without a question, the space that gets the most attention and the biggest slice of your bank account during a renovation. Like I often tell my clients and my readers, you can't start a kitchen reno without planning it carefully. I know we see many beautiful kitchens like this Transitional Kitchen we're seeing today, but any kitchen renovation should start only after you have priced everything out, found a good interior designer and a trustworthy contractor. You should also identify a junk removal company to clear out the garbage that will undoubtedly be left behind due to the process.
When working on any kind of project, I make sure to help my clients with every decision for their home and when it comes to kitchens, I feel that it is extra necessary to have someone helping you make all the decisions because, honestly speaking, when it comes to a kitchen remodel you have many options to go with and every option, if not chosen right, can be very costly. Take for example the countertop. In many kitchen renovation pools, white marble is the first choice to appear as the most favorite choice. We, homeonwers and interior designers love white marble, but I like to think this is not always the best choice for some clients. The price can be an issue but also its convenience. You have to be open, and know that there are many other durable choices out there. The more you know about kitchen materials, the better chance you have to end up with a kitchen that not only looks beautiful but also works well for you.
This stunning kitchen shares some inspiring elements that I completely approve of. Backsplash always plays a big part in any kitchen style and this transitional kitchen features ceramic tiles by "Jeffrey Court" set in a classic herringbone pattern. The gray kitchen island brings a modern touch against the custom white cabinets, while a dramatic custom fridge/freezer cabinet make this kitchen feel sophisticated.
One important factor you must try to achieve when designing a kitchen is balance. A kitchen can have all the bell and whistles, but without balance, nothing can make a kitchen be appealing, not even a very expensive large piece of marble slab.
Take a good look at this great transitional kitchen and notice how everything flows perfectly together. Trust me, that's the key with any kitchen design!

Kitchen design by Kitchen Studio.
Transitional Kitchen Renovation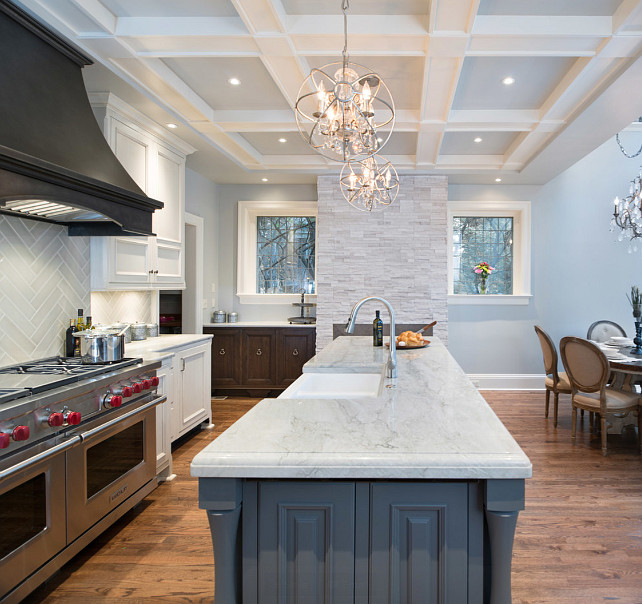 Gorgeous kitchen with coffered ceiling, hardwood floors and durable countertop materials. You really can't go wrong with that!
Kitchen Island Lighting: The kitchen island pendants are "Three Light Pendant" by "Sterling Industries".
Durable Kitchen Countertop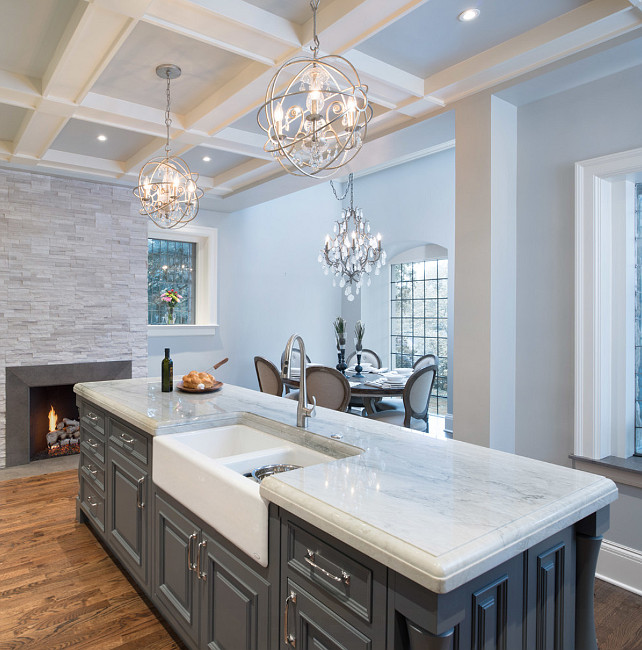 The countertop in this kitchen are "Quartzite Sea Pearl". Quartzite is a natural stone and it's similar to granite as far as durability goes.
Wall Paint Color & Fireplace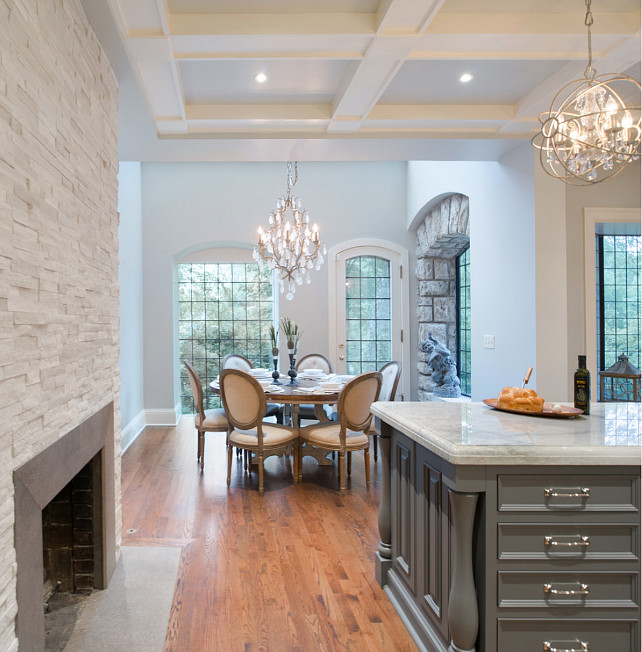 Wall Paint Color is "Sherwin Williams SW 7015 Repose Gray".
Fireplace Tiles: The fireplace tile product is "Real Stone" in the white birch color.
The windows in this project were either original to the house (1929) or replaced in the early 1980's.
Kitchen Backsplash & Kitchen Island Paint Color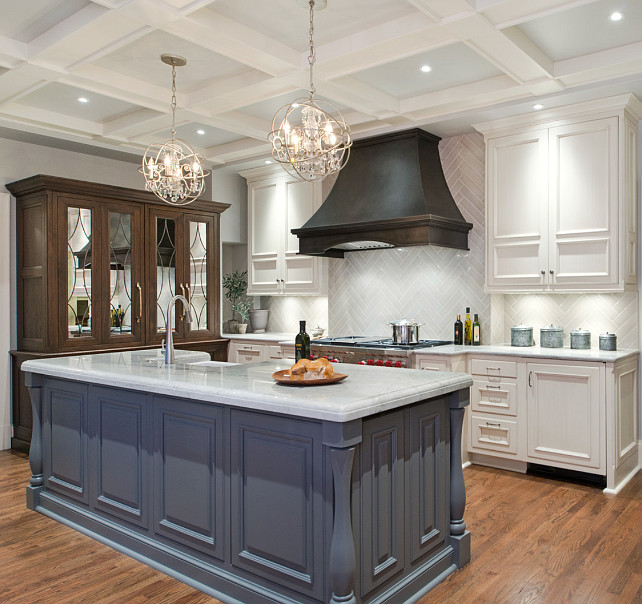 Gray Kitchen Island Paint Color: "Benjamin Moore color HC-166 Kendall Charcoal".
The wall cabinets are painted white and then a "chardonnay" glaze is applied.
The tile is a ceramic by "Jeffrey Court" set in a herringbone pattern. The color is "Enchanted Shadow".
Kitchen Hood: This is a "Kitchen Studio" custom designed cold rolled steel hood.
Customized Kitchen Cabinet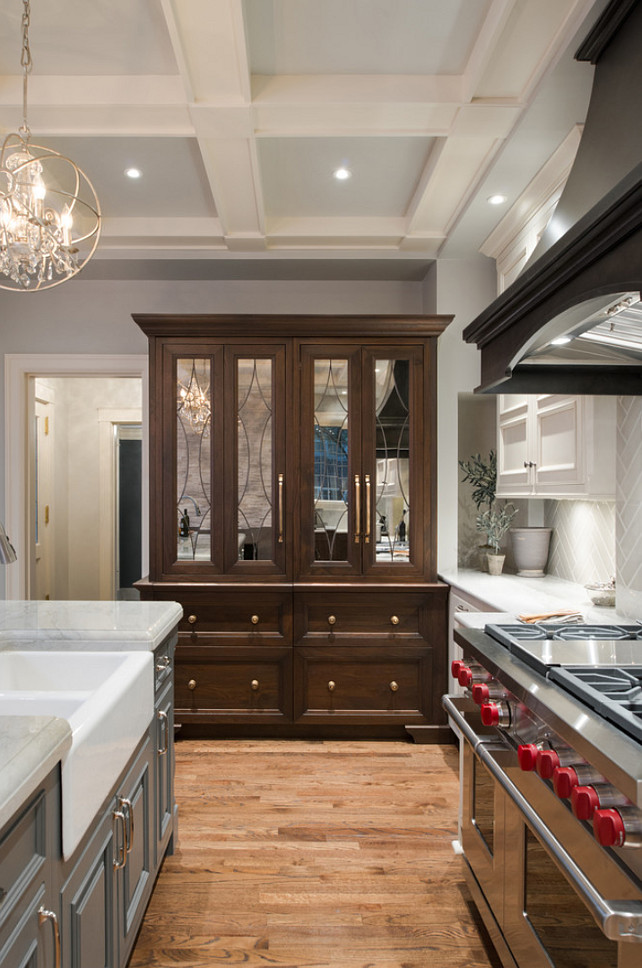 These are Rutt Regency and Rutt Classic Handcrafted Cabinetry.
Fridge & Freezer Custom Cabinetry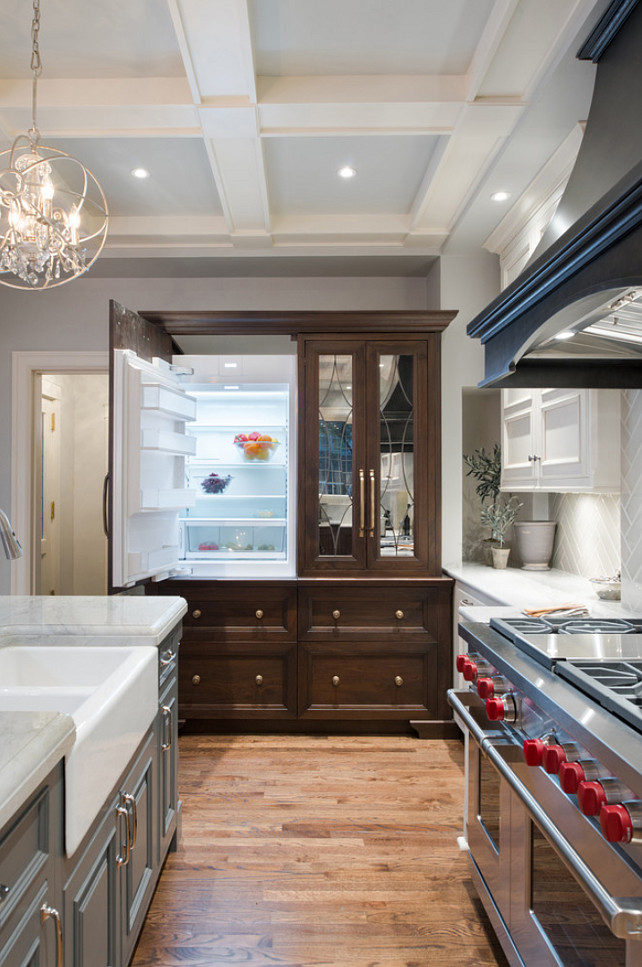 This beautiful cabinet hides the fridge and freezer. Notice the brass hardware and mirrored doors. Isn't this elegant?
Design: Kitchen Studio: Kansas City.
See more Inspiring Interior Design Ideas in my

Archives.
Interior Design Ideas:

Paint Color
Interior Design Ideas:

Paint Color
Seeing a beautiful kitchen is always refreshing! I like the kitchen I currently have because it has everything you could wish for, but I admit it's not my dream kitchen. I haven't designed it and I haven't changed it much since we moved here six years ago. We are trying to move and I have promised myself to design the kitchen of my dreams in our new home. The one we have right now is a bit too traditional for my taste. I want something more "family-friendly" and more approachable. Changes I would be willing to do if we're staying in this house, but since we're moving I feel I should invest that money on the new house and actually enjoy it.

How about you? Are you living with your dream kitchen or wish you could change something in your kitchen?
with Love,
Luciane at HomeBunch.com
Interior Design Services within Your Budget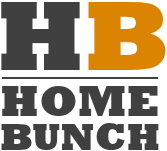 Get Home Bunch Posts Via Email