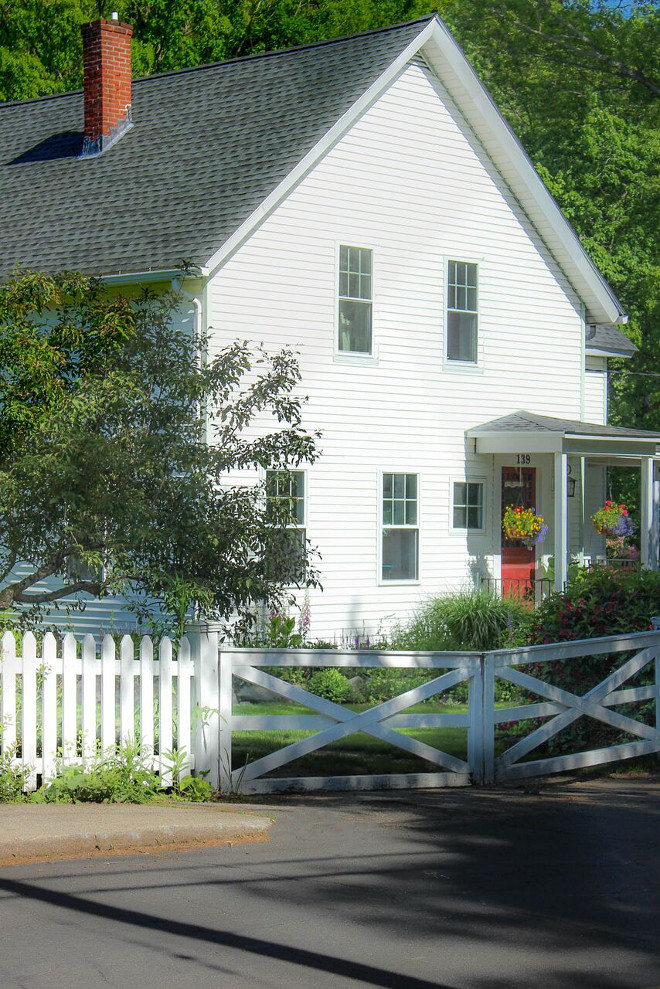 I am so happy to start the week here on Home Bunch with someone as special as Laura. This girl should get a medal! She is a mom of four adorable girls, has a beautiful blog where she shares a lot of DIYs and even recipes, and has transformed her farmhouse over the years along with her husband.
Make sure to read on and follow her beautiful story on instagram as well. I really can't get enough of her home and her approach to life and design.
Hi Everyone! When Luciane reached out to me and asked if I'd like to share my home for her "Beautiful Homes of Instagram" series, I can't even tell you how excited (and humbled) that I was. I've been an avid reader of her blog for years and years, and like so many other people, it's been one of the places I've always counted on for beautiful architecture and home design inspiration. I'm so thrilled to be here, sharing my home with all of you today, and so grateful to Luciane for asking me to be a part of this amazing series!
My name's Laura and I'm an interior designer and blogger over at Willow Street Interiors. I live in a quiet, little country suburb, 45 minutes outside of Boston, with my incredible husband and four little girls. I'm a lover of all things beautiful, all things family, and all things home.
I met my husband in 2000, and we got married in 2003 on a beach, at sunset. It was quiet and serene and completely romantic. My husband grew up in Germany surrounded by farms and tractors. When we started looking to buy a house, land that reminded him of home topped his list. I wanted a place with a sense of history. And fruit trees.
We found our circa 1880 farmhouse in 2007, and closed on it 3 months after our first baby was born. It had an apple orchard and six acres, at a price we could afford, and so, the deal was made. It needed a massive amount of work, but it didn't matter. We were young and ambitious, and planned to redo the entire house in a year. Naivety is bliss, for sure.
We did do a ton that first year. The projects were non-stop, my husband worked full time, with the fortunate ability of making his own schedule. I stayed home with our baby and planned the projects! Despite all of the craziness, I have nothing but fond memories of all of those new, chaotic, first year experiences.
And well, we've been renovating ever since, and our family has grown quite a bit since then! We are now the proud parents of four, beautiful daughters. Our oldest, who was 1 when we moved in, is now 9! We also have a 7 year old, 4 year old, and 5 month old. The projects continue, the girls are growing, and this crazy beautiful life just keeps on getting crazier, messier, and more beautiful.
Although we have many, many more projects that still need attending to, the house has come such a long way over the years! When we first bought our house, it was a very humble, antique farmhouse in need of lots of repairs and updates. You couldn't see the first floor windows in the front of the house because they'd been overtaken by huge evergreen bushes. We took them out, did our best to freshen up the landscape, and we began to restore the farmhouse feel that had been lost over the years.
Beautiful Homes of Instagram



There used to be a driveway that wrapped around the entire house, and took away much of the lower half of the yard. One of the very first things we did when we moved in, was remove it, and then we planted lots and lots of grass in its place.
Front Yard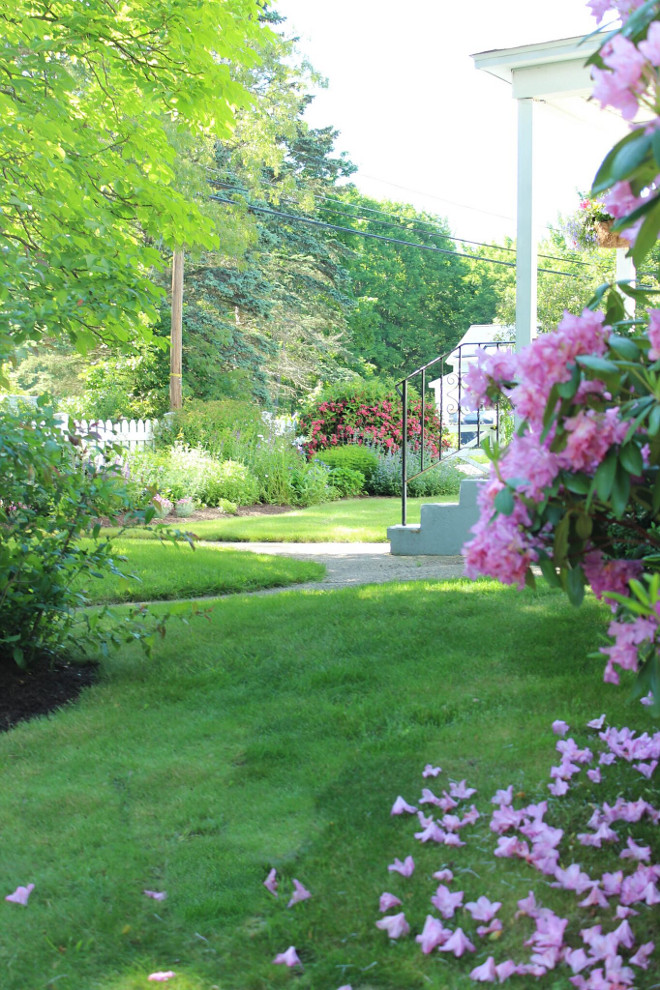 My husband and I are wannabe gardeners of sorts. We don't really know what we're doing, but we love to be outside working in the garden whenever we can. We've added lots of beds and flowering shrubs throughout the property over the years. We still haven't been able to tackle our entryway, porches or siding, but we'll be freshening up the front of the house later this summer, and I am SO excited about it!
Kitchen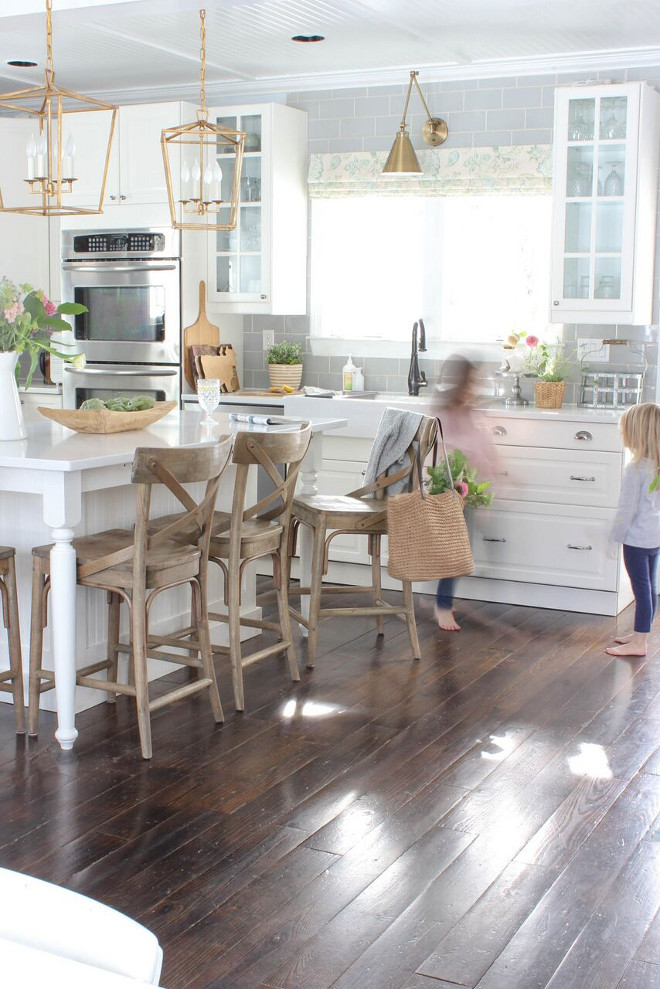 Remember when I said the house was very humble and in need of lots of updating earlier? Well, when we first moved in, the kitchen didn't even have cabinets or countertops, and the home's high ceilings throughout the downstairs had been covered by suspended, drop in ceiling tiles? It was quite the sight, but we were were undaunted.
We opened things up to make the smallish downstairs feel larger, and although we're still not nearly finished checking things off of our to do list, things have finally started to take shape!
This is our kitchen today!
Cabinets – IKEA
Cabinet Hardware – IKEA
Backsplash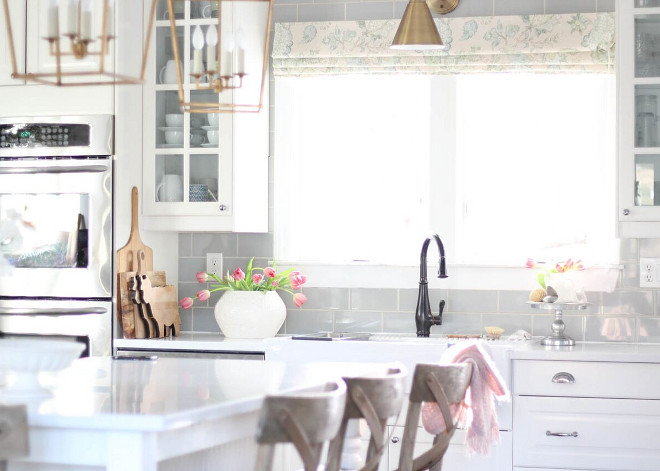 The grey backsplash tile is Imperial Gris Subway Tile from The Tile Shop.
Roman Shade – Etsy (Fabric is Braemore Memento Jade)
White Vase – Homegoods
Paint Color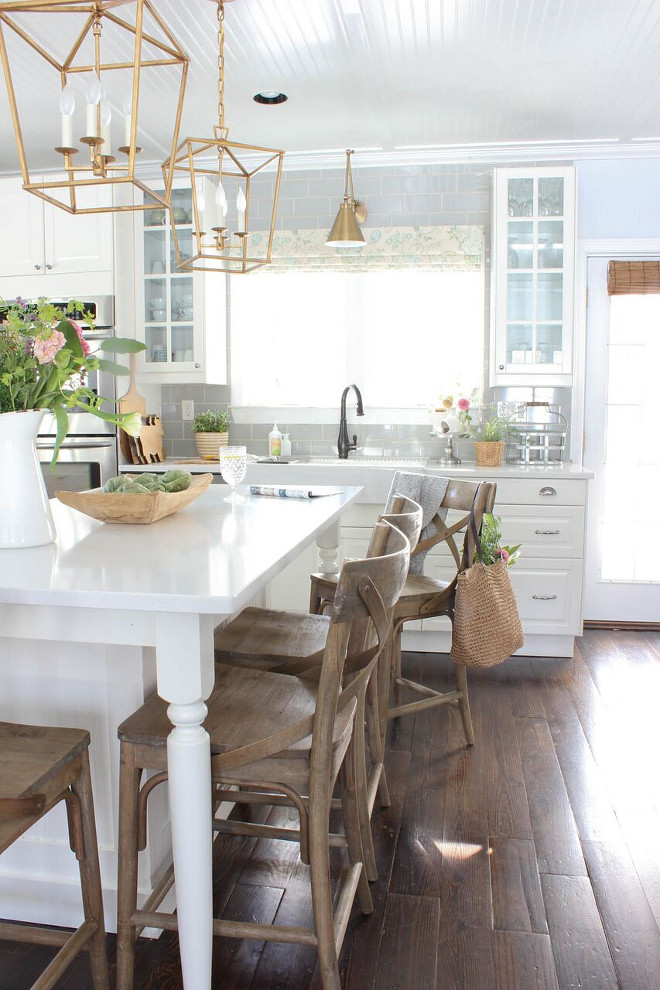 Ceiling and Trim – Simply White by Benjamin Moore in Semigloss
Wall Paint Color – Benjamin Moore First Snowfall.

Wooden Dough Bowl – Target
Chalkboard Door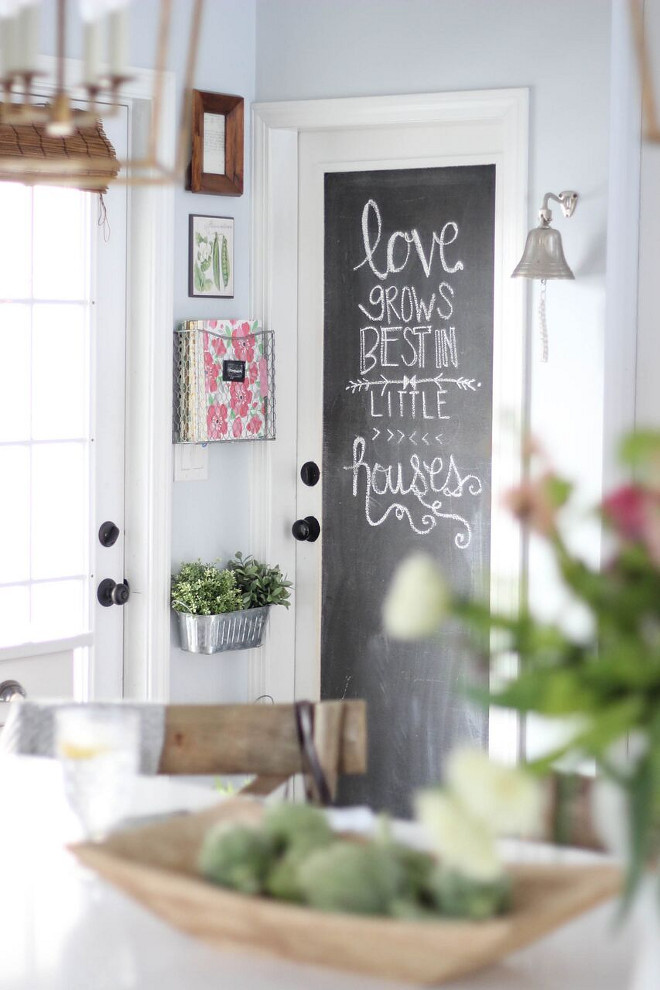 Chalkboard Door – DIY (I have a tutorial on the blog)
Bell – Homegoods
Kitchen Lighting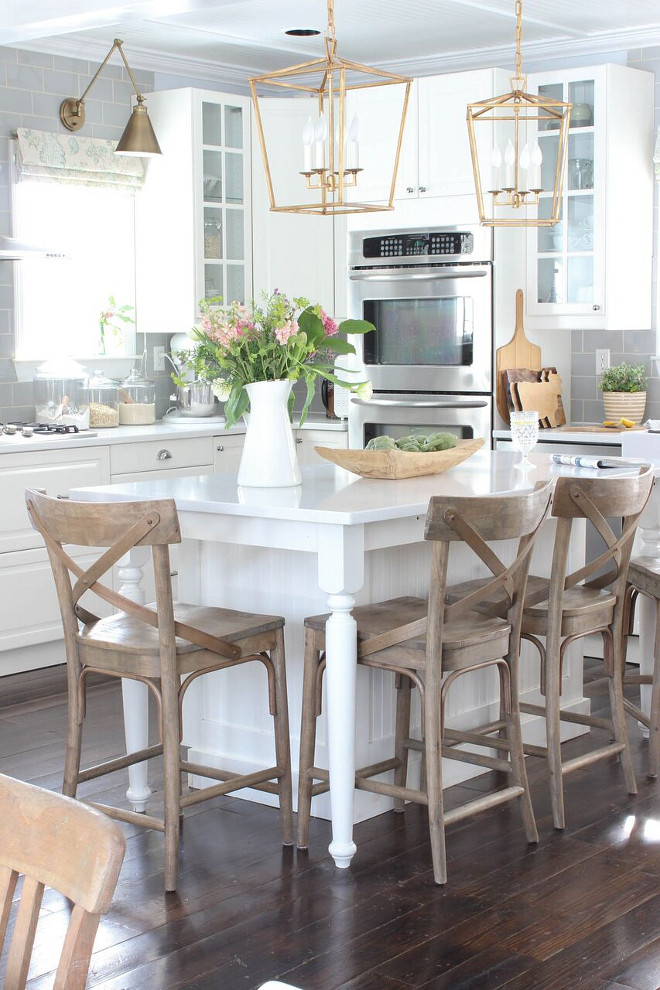 Lantern Pendants – Home Depot (they've been discontinued, but Bellacor sells a similar one)
Sconces – Norwell Lighting
White Pitcher – IKEA
Glass Canisters – Target
Wall Storage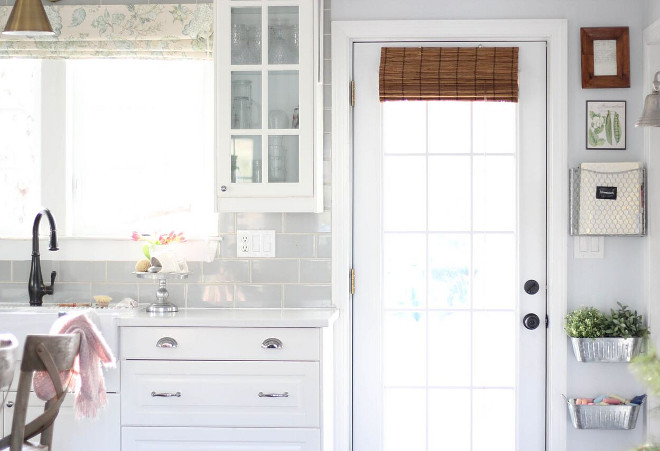 Galvanized Pails and Wire Wall Basket – Michaels
Bamboo Shade – Lowes
Faucet & Countertop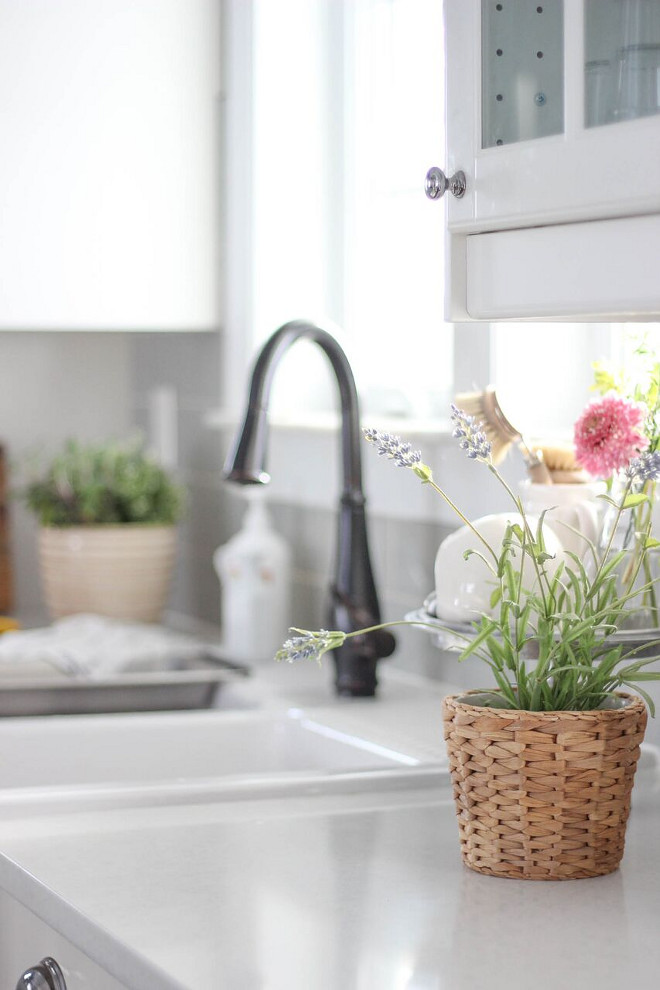 Faucet is Kohler. The countertop is Caesarstone in Organic White.
Farmhouse Sink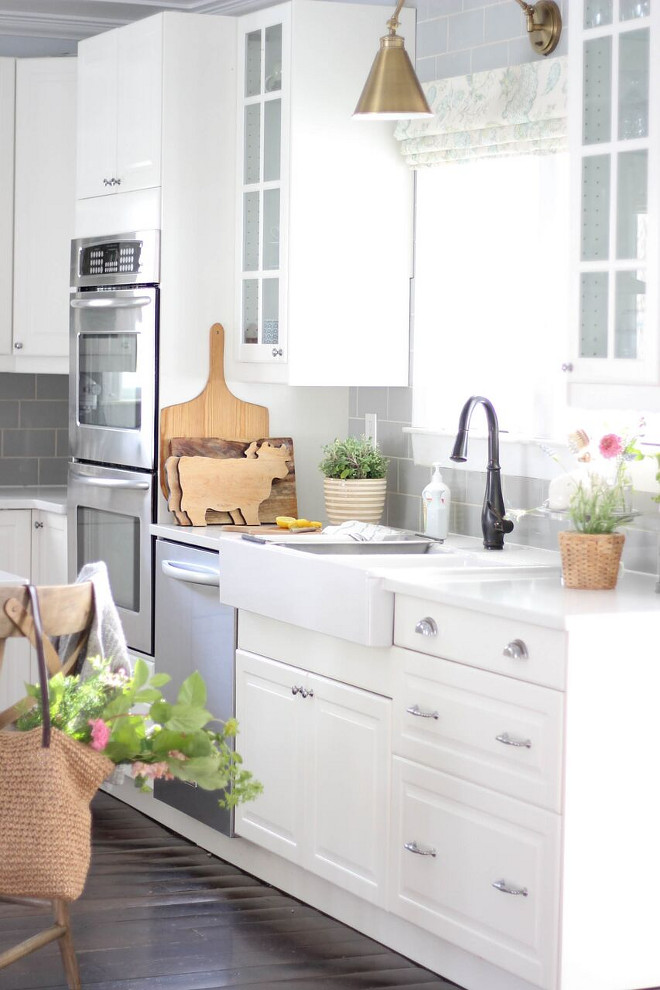 Farmhouse Sink – IKEA
Cow Cutting Boards – Pottery Barn Kids
Striped Pot – Home Depot
Barstools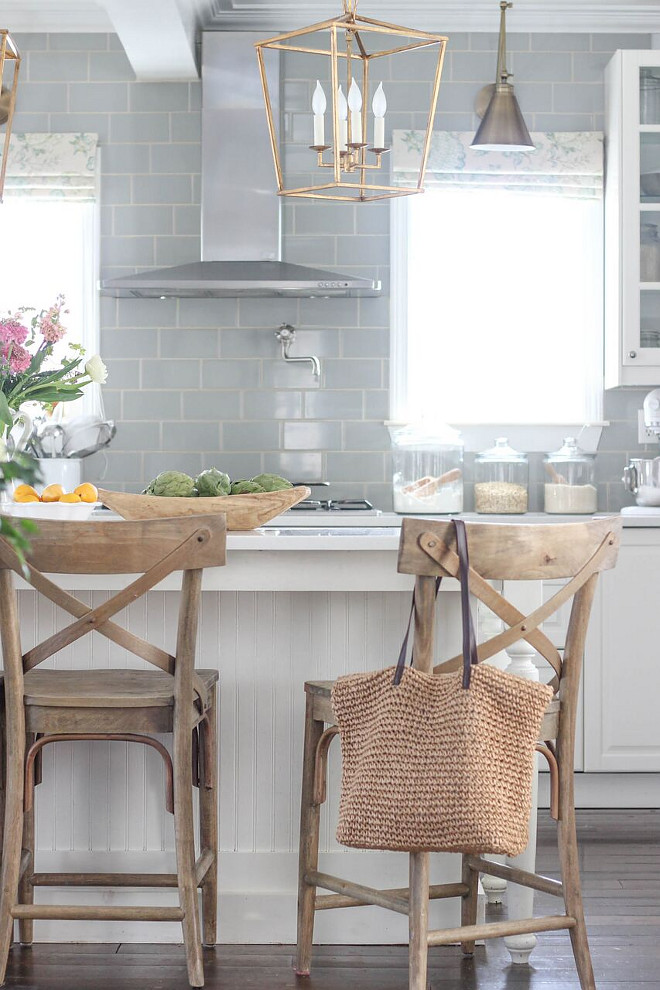 The cross back barstools are from World Market.
Beloved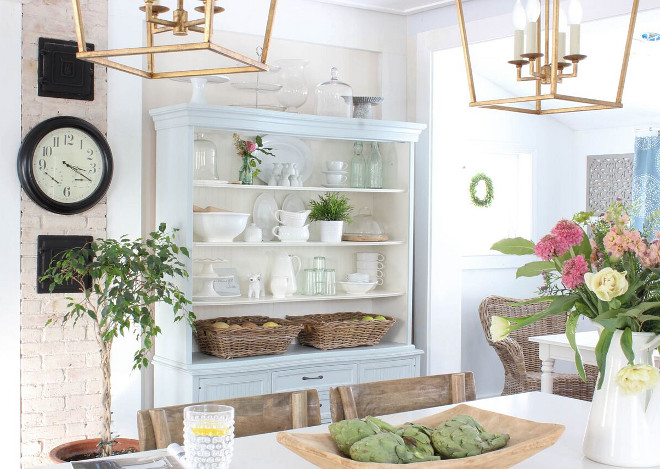 Believe it or not, the hutch in our kitchen was a FREE Craigslist find! After loads of sanding and painting, it's now one of my favorite furniture pieces.
Breakfast Room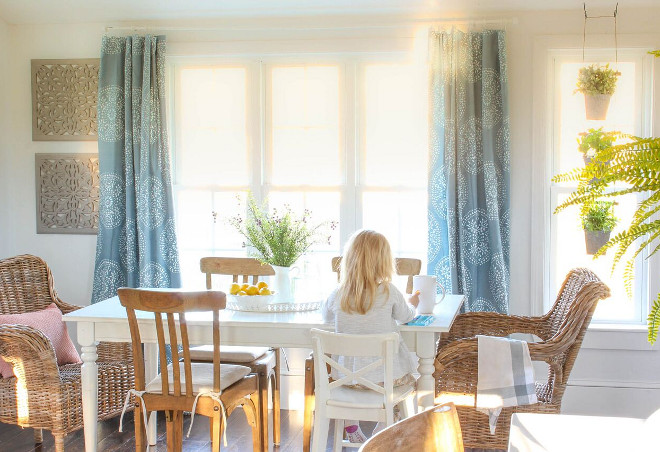 Our breakfast nook used to be a small hallway which housed a washer and drier and led to the backyard, and also contained a very small bathroom. We took down the wall, took out the doorway and the bathroom, added windows, and created a breakfast nook its place. We now have access to the backyard through french doors that we installed in our living room.
Medallion Curtains – Target
Wall Tiles – Target
Galvanized Hanging Planter – DIY (there is a tutorial for it on my blog)
Farm Fresh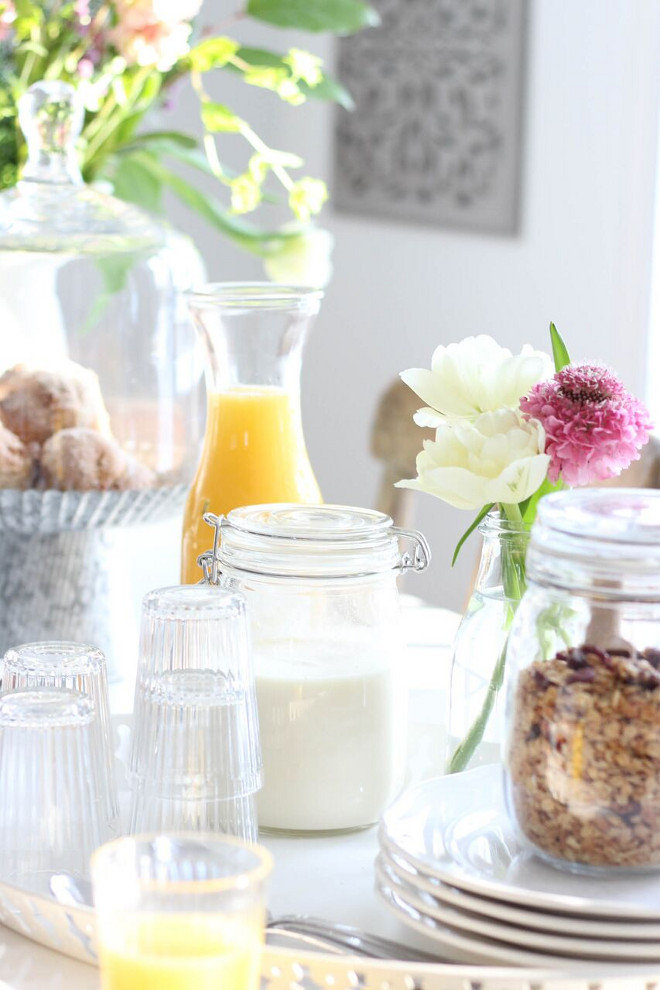 Everything looks so beautiful and yummy! In fact, Laura always share some incredible recipes on her blog!
Chairs

Rattan Chairs, Toddler chair – IKEA
Kitchen Table – IKEA
Wooden Chairs – Restoration Hardware Outlet
Layout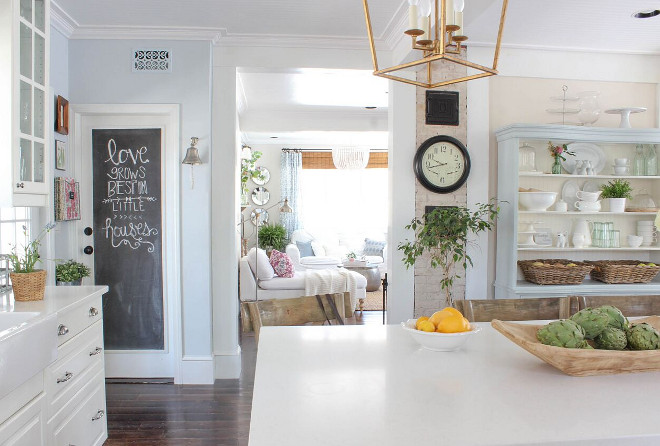 The kitchen opens to the living room.
Flooring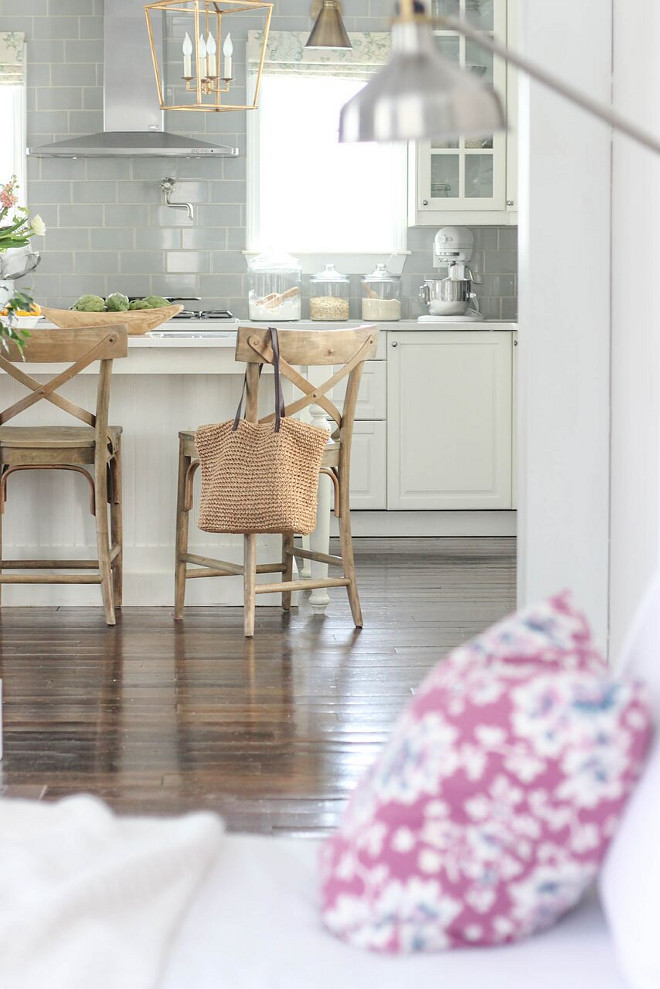 The floors in our home are original wherever we were able to salvage them, and where we weren't, we pieced in yellow pine which we stained in Jacobean by Minwax.
Living Room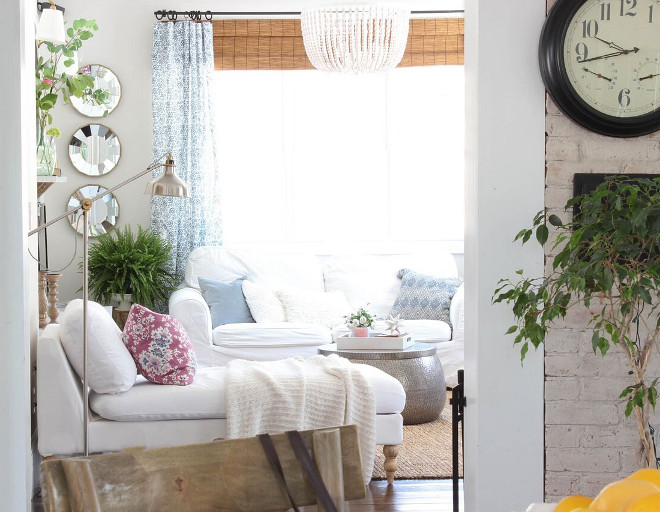 Our living room is just off of our kitchen, and it's also much more open now than it used to be. Believe it or not, this one room used to be three rooms! Three rooms with three little windows. We took out the three smaller windows and added two, much larger sets, as well as a set of french doors that lead to the backyard. Now this room has a pretty view of our apple trees, as well as the girls' tree house.
Floor Lamp – IKEA
Bamboo Shade – Lowes
Paint Color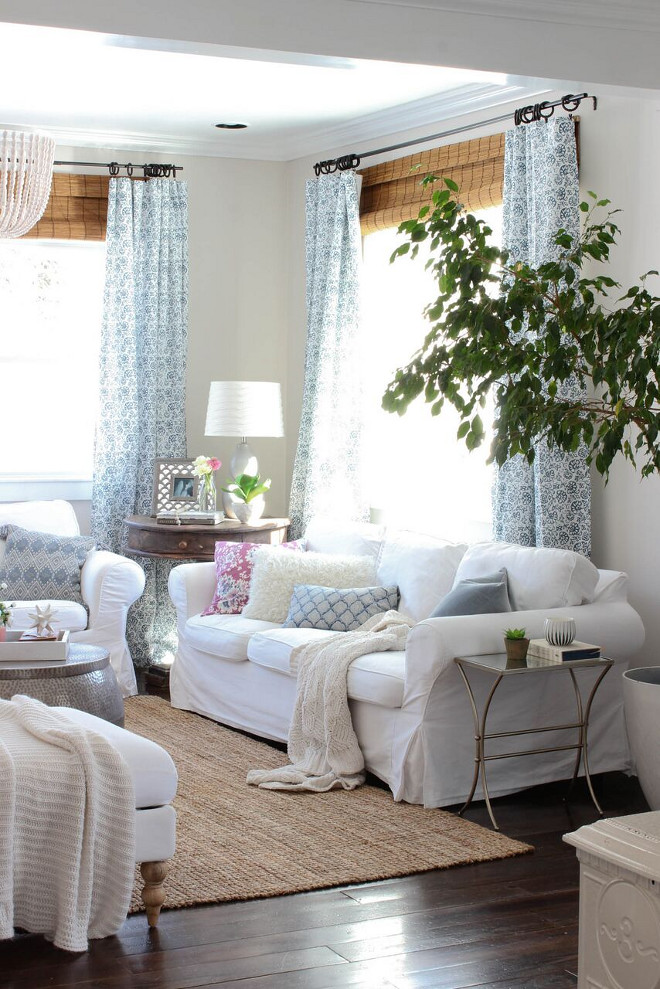 Wall Color – Windrush by Behr.
Wooden End Table – Homegoods
Small Mirrored Side Table – Michaels
Gourd Lamp – Target
Jute Rug – Amazon
Bookshelves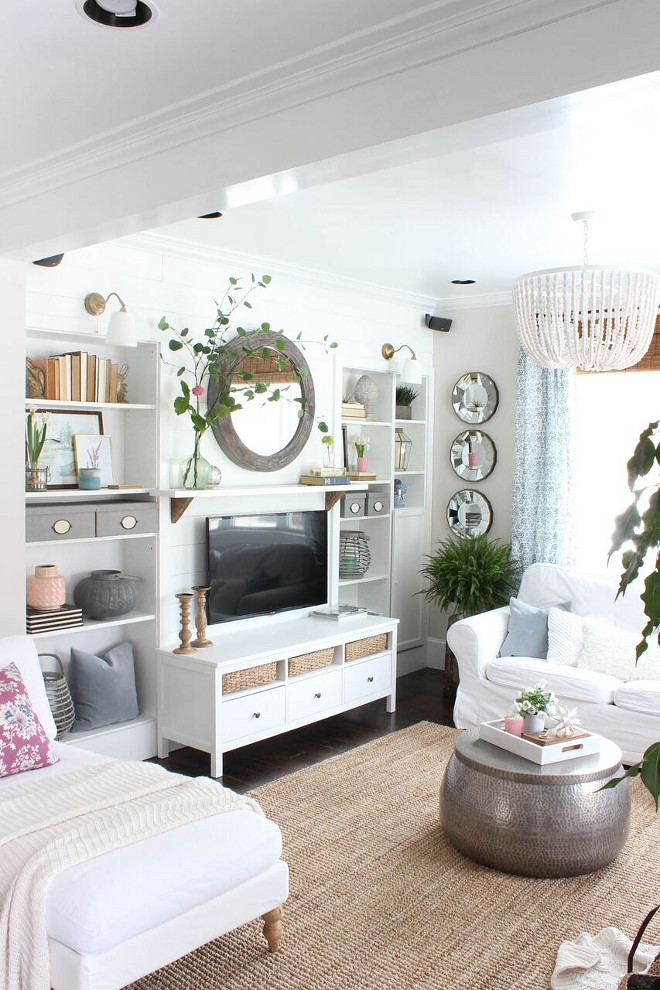 We also added built in bookshelves and shiplap to create a focal point in the living room.
Set of 3 Mirrors – Pottery Barn 6 Years Ago (Ballard sells a similar one now)
Shiplap Color and All Trim Color in the House – Simply White by Benjamin Moore
Ceiling Color – Simply White by Benjamin Moore in Semigloss finish
TV Console – IKEA
Brass Sconces – IKEA
Table

Tree Stump Table – From our Backyard (West Elm sells a similar one)
Pedestal Bowl – Homegoods
Fern – Home Depot
Mirror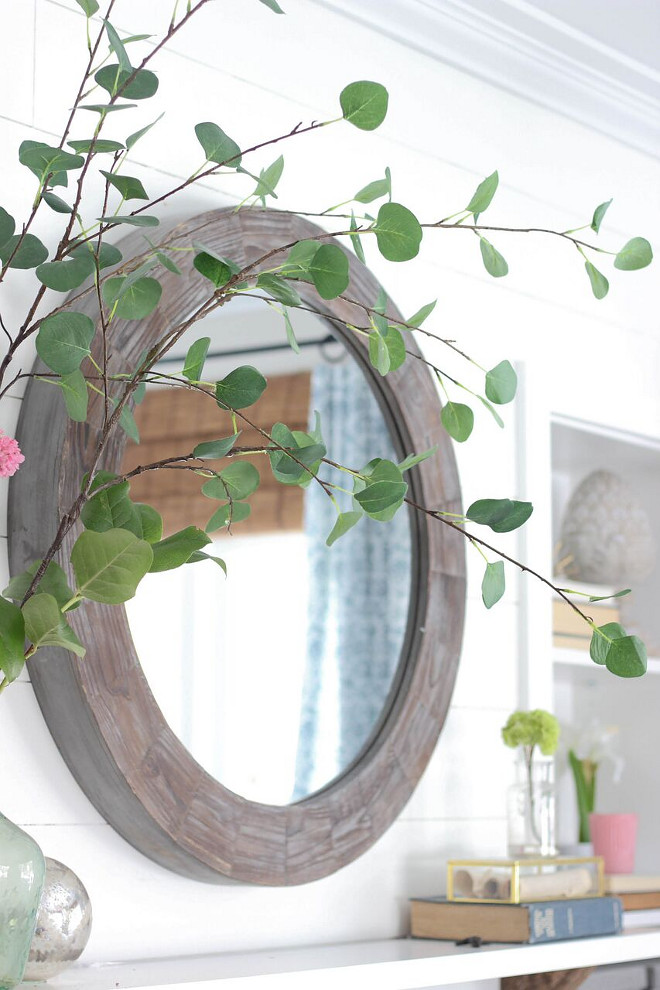 Mirror – Homegoods
Decor

I am loving this blushing pink and grey decor! It's so fresh!
Bookends – Thrifted
Faux Paperwhites in Pail – Pottery Barn
Botanical Print – Etsy
Gold Frame – Target
Gray Storage Boxes – IKEA

Watercolor Art – Homegoods
Perforated Lantern – Target
Chandelier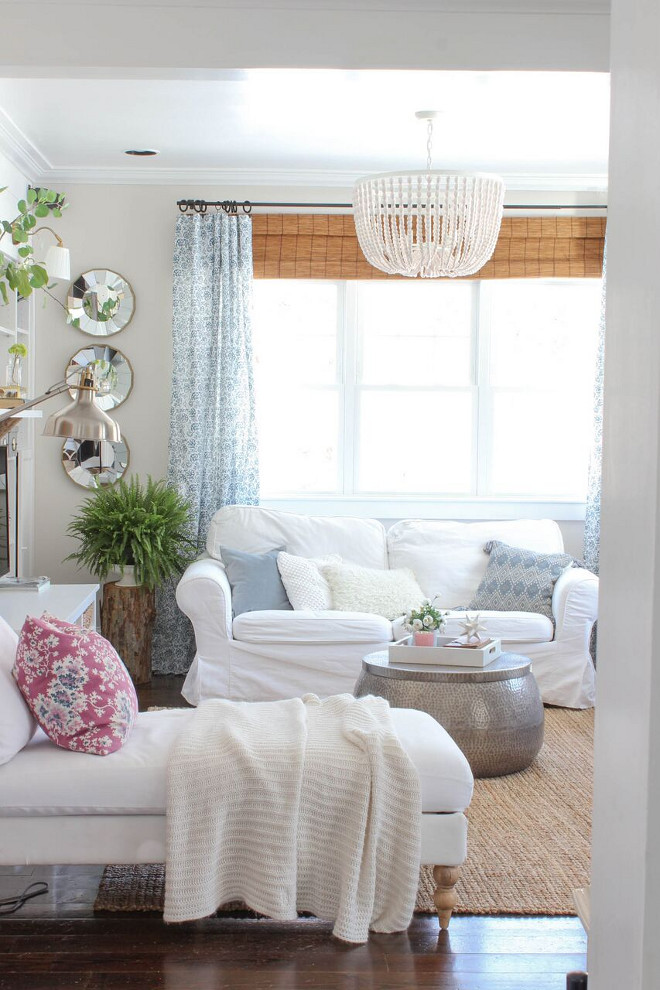 Beaded Chandelier – World Market
Sofas – IKEA
Curtains – IKEA
Purple Pillows – Etsy (Fabric is Cecilia Floral by Tilton Fenwick)
Coffee Table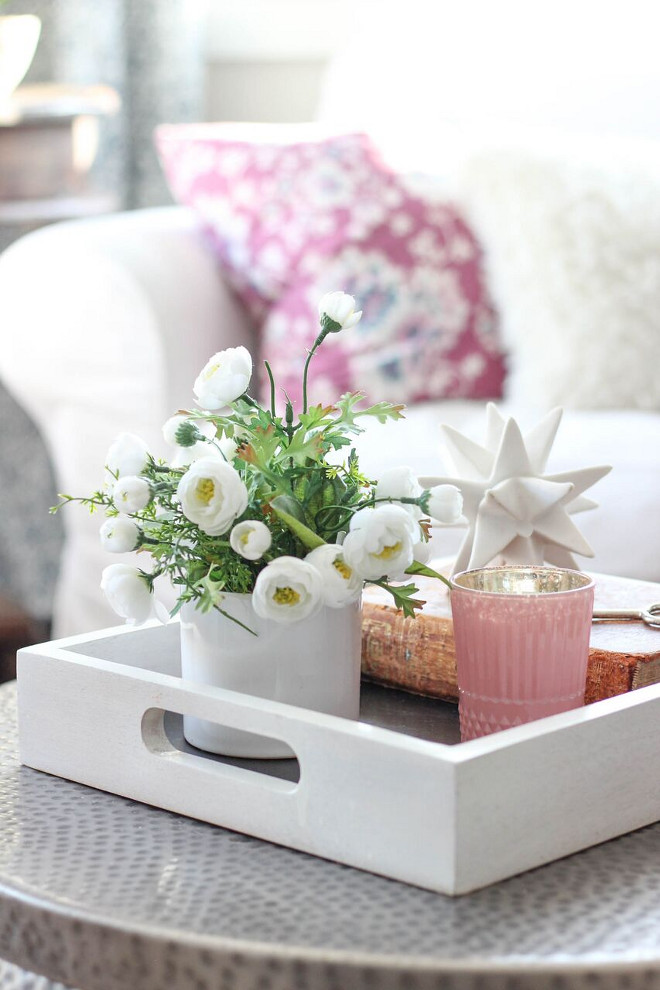 Coffee Table – World Market
Chaise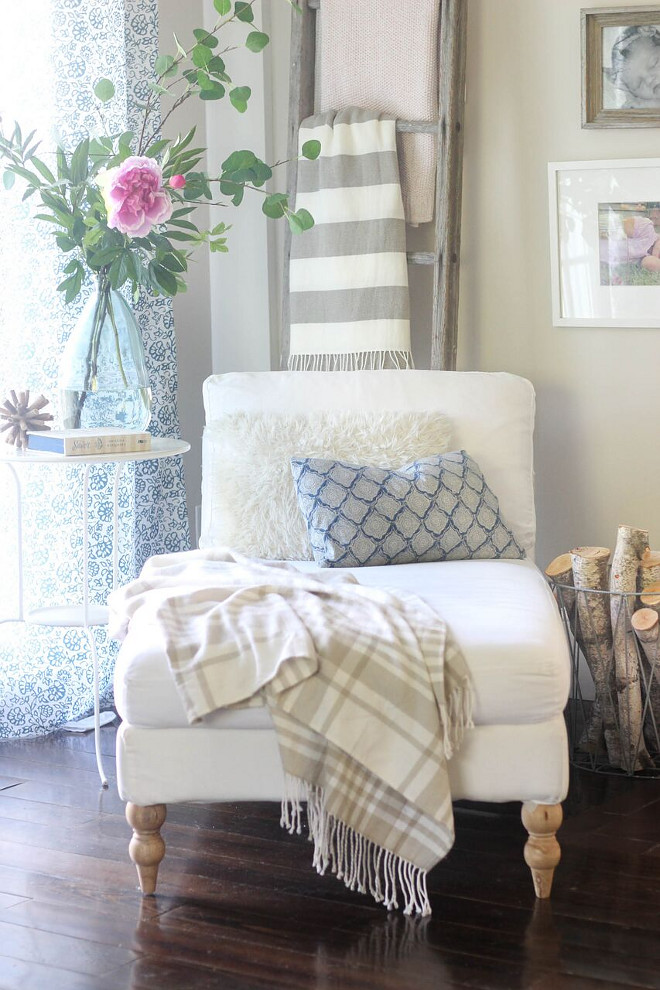 Chaise – IKEA (no longer sold)
Blanket Ladder – Salvaged
Striped Blanket – Target
Plaid Blanket – Homegoods
Glass Jug – Viva Terra
White Table – IKEA
Metal Basket – Homegoods
Master Bedroom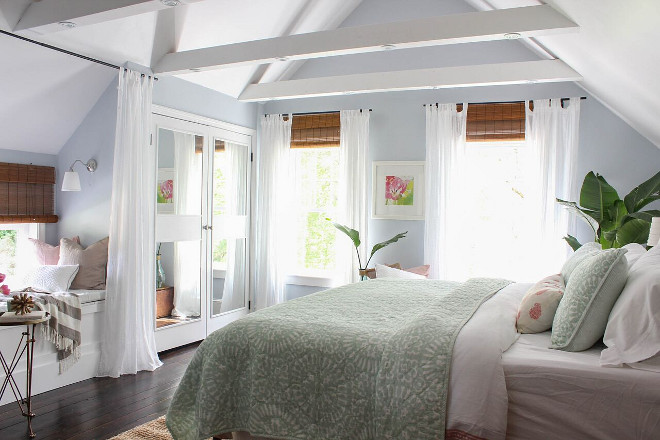 Our bedroom is completely different than it was initially. When we first bought the house, it was actually two small rooms with very little natural light. There was also an attic space above it. We took down a wall to open things up, vaulted the ceiling, added his and her closets and built a little window seat in between. It was such a dramatic transformation, and the space really feels like a restful sanctuary now.
Paint Color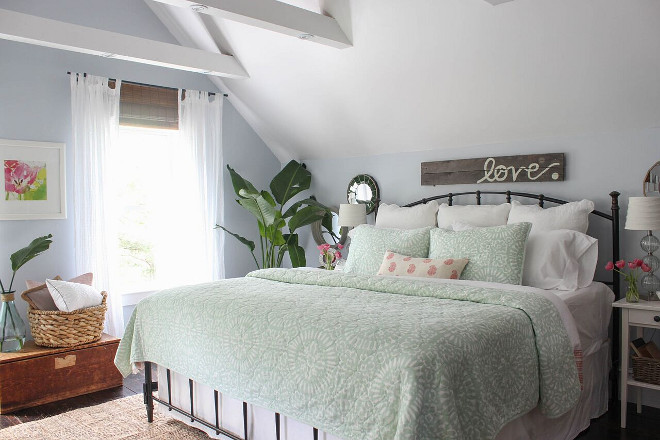 Paint Color – Benjamin Moore Graytint.
Quilt and Shams – Target
Porthole Mirrors – Target
Sunburst Mirrors – Pottery Barn
Love Sign – DIY
Orange and White Pillow Cover – Etsy
Wooden Trunk – Thrifted
Round Basket – World Market
Flower Art – IKEA (6 years ago)
Bed – Jordan's Furniture
Window Seat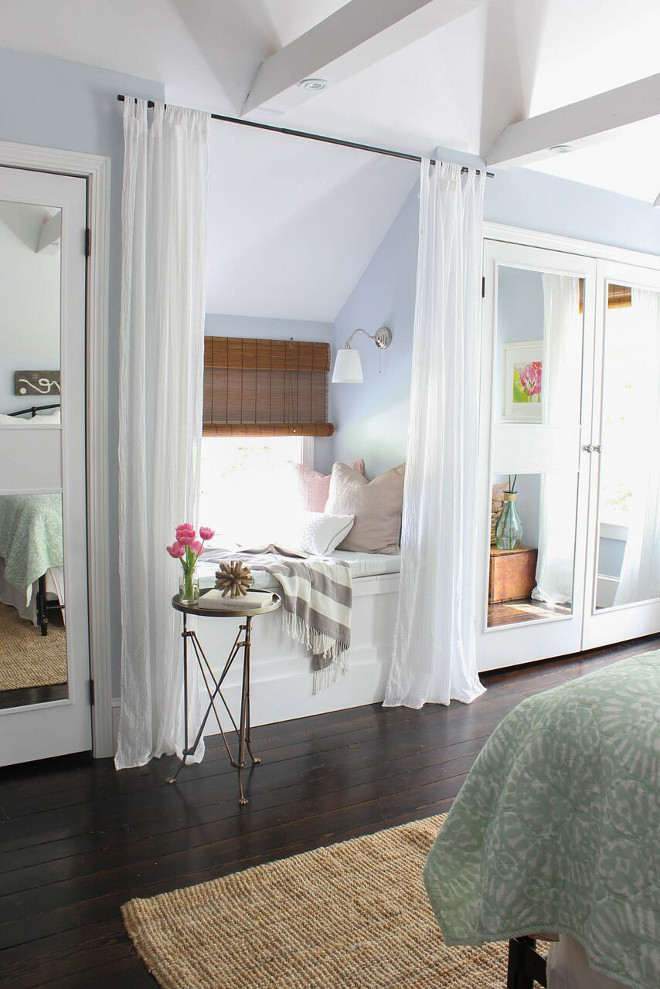 White Curtains – JCPenney
Brass Table – Homegoods
Gray and White Striped Blanket – Target
Jute Rug – Amazon
Taking a Break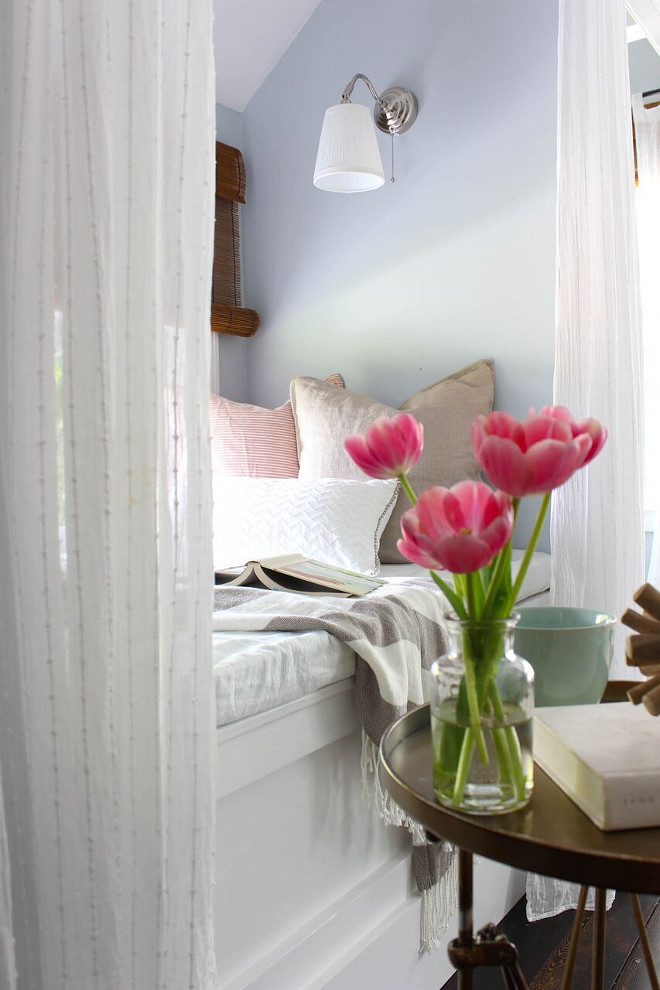 Can you picture yourself taking a break here with a good book? Dreamy!
Window Seat Sconce – IKEA
Backyard
We replaced the roof, all of the windows, and added french doors to the back of the house as well.
Labor of Love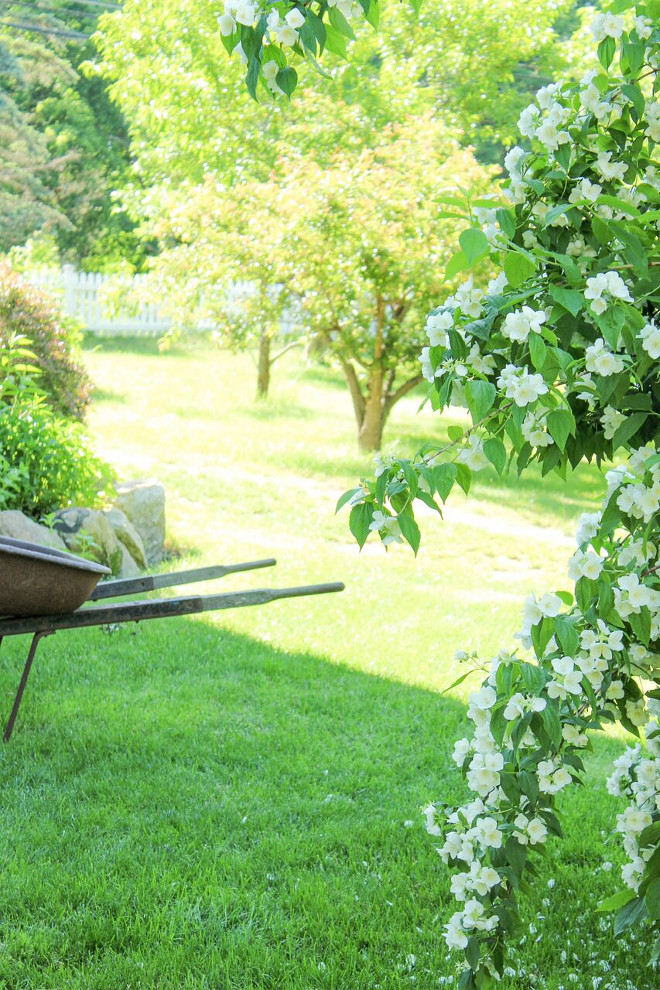 I can't even guess at how many hours we've spent working in the yard, beating back weeds and small trees, and reclaiming as much of the land as possible. 
Gardening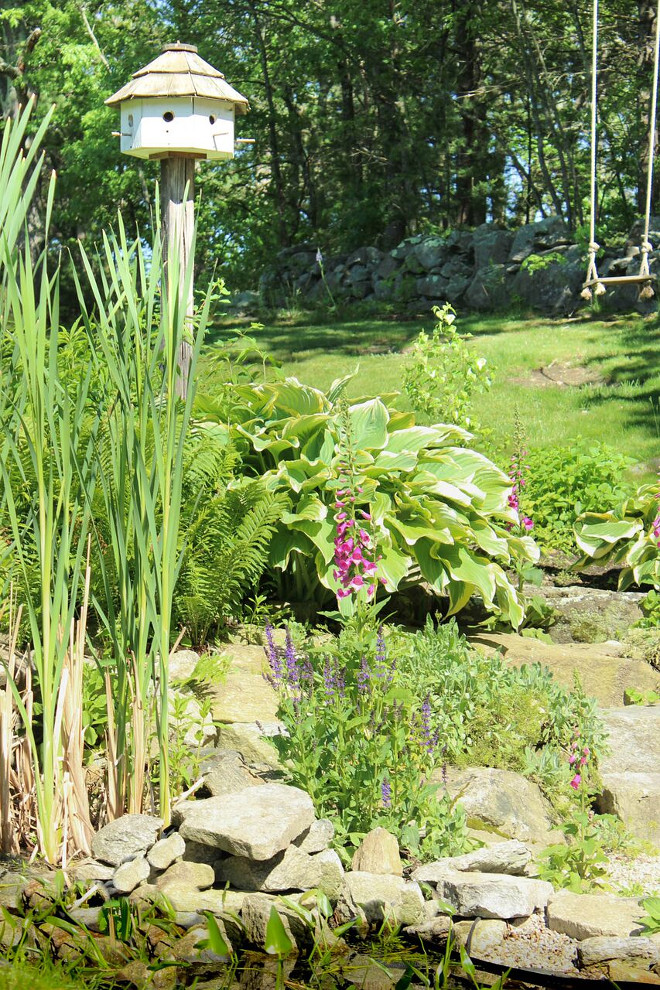 It's been exciting to see little things reveal themselves along the way too; like the stone wall on the hill, that couldn't even be seen between the trees and thicket 8 years ago.
Treehouse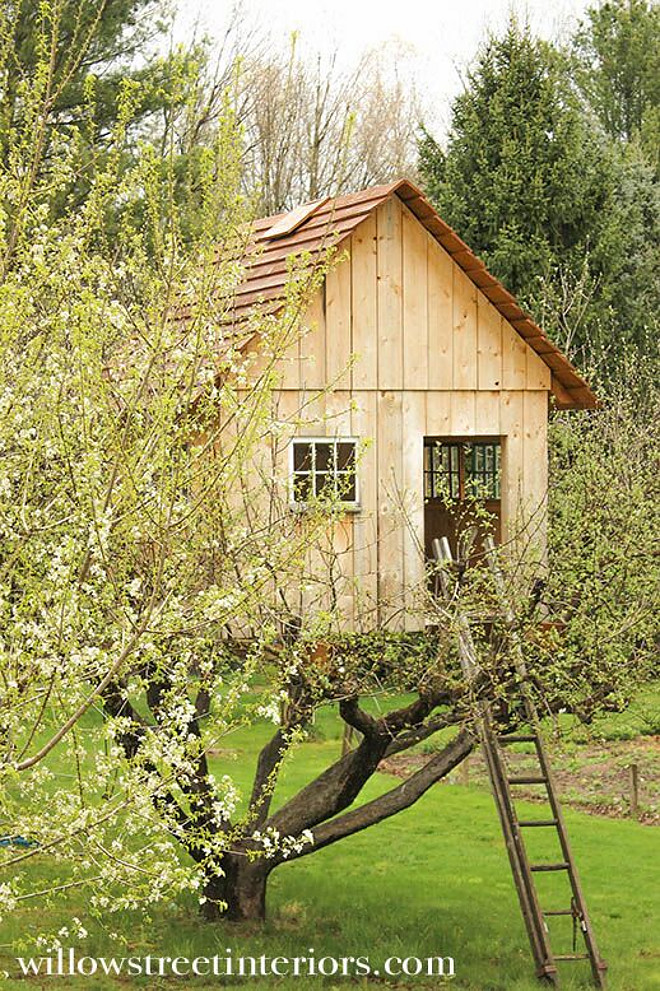 My husband and his dad also built this tree house in one of our apple trees for the girls. 🙂
Make sure to follow Laura

on Instagram to see more photos of her beautiful home! 🙂
Visit Laura's blog and follow her on facebook.
See more "

Beautiful Homes of Instagram

":
Click here to see all "Beautiful Homes of Instagram".
Latest Interior Design Ideas:
More Interior Design Ideas:
Trending on Home Bunch:
Popular on Pinterest:

Popular on Home Bunch:
See more Inspiring Interior Design Ideas in my

Archives.
Interior Design Ideas:

Paint Color
What a pleasure it was to share Laura's beautiful home and story with all of you today. She truly has inspired me in so many levels and I hope you feel the same.

Did you guys have a good weekend? We're trying to relax and also play more with kids outside. You know.. we need to get some exercise to get ready for summer! Ha!
I love playing sports with them… in fact, that's how my husband and I exercise – by playing and trying to keep it up with our three kids. The older they get, the harder it becomes for the two of us… 🙂
Have a Blessed week, my friends and thank you for being here.

Talk to you soon!
with Love,
Luciane from HomeBunch.com
Interior Design Services within Your Budget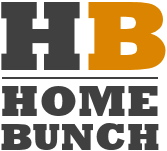 Get Home Bunch Posts Via Email

Save
Save
Save
Save
Save
Save
Save
Save
Save