Posted in:
Architecture
,
Bathroom Design
,
Beautiful Homes
,
Beautiful House
,
Bedroom Design
,
Classic Design
,
Coastal Decor
,
Coastal Homes
,
Coastal Interiors
,
Colorful Interiors
,
Dining Room Design
,
Home Decor
,
Interior Design Blog
,
Interior Design Ideas
,
Kitchen Design
,
Living Room Design
,
Paint Color
,
Patio Ideas
,
Traditional Interiors

3 comments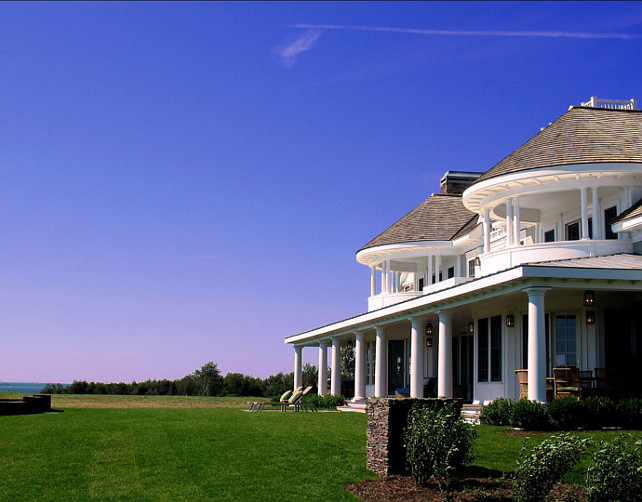 This, once a Coastal Living Idea House,  is a home that displays a unique blend of architectural innovation and classic style. The house is sited to capture views of Narragansett Bay, in Portsmouth, RI; embracing its site with all rooms pointed at the sea.
The classic shingle style incorporates technological advances to make it unabashedly modern. Due to publishing concerns, the designers worked closely with the owner to complete this home in 6 months from start of excavation in 2006.
With 5,300 sq ft, this classic coastal home has exquisite carpentry and millwork features that surely will inspire you. I hope you enjoy!
 Classic Coastal Home

The exterior beautifully combines a mix of stone and shingles.
 Front Entry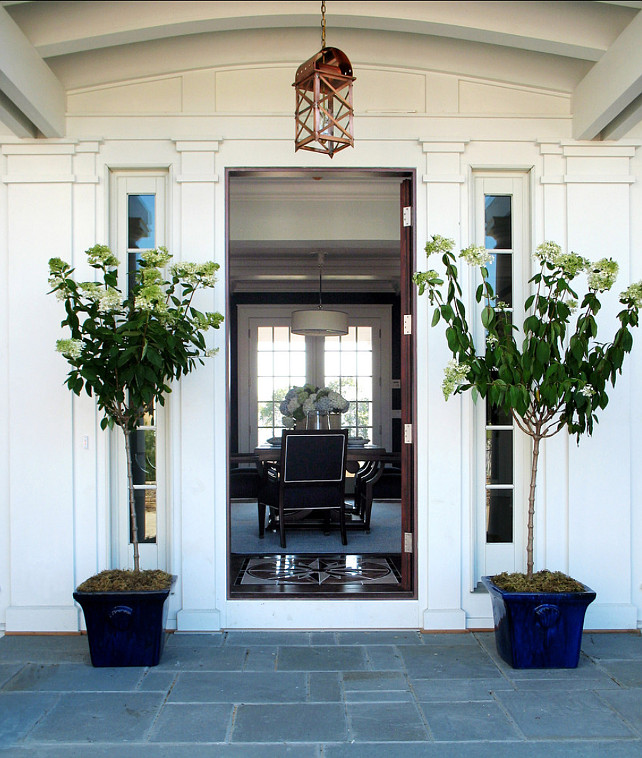 Stone on the entry is "Bluestone" pavers.
 Entryway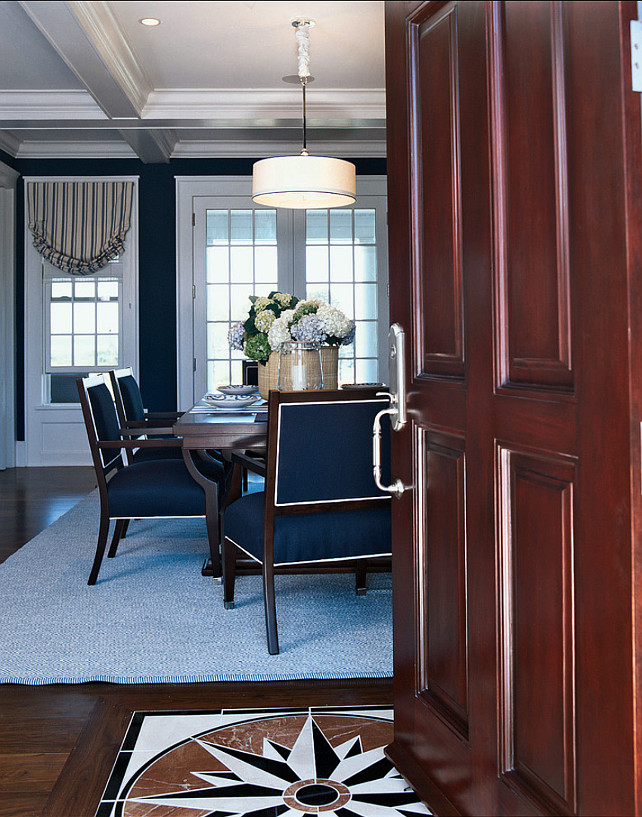 You know you're in a coastal home as soon you open the door!
Interest is created with a marble floor medallion.
Dining Room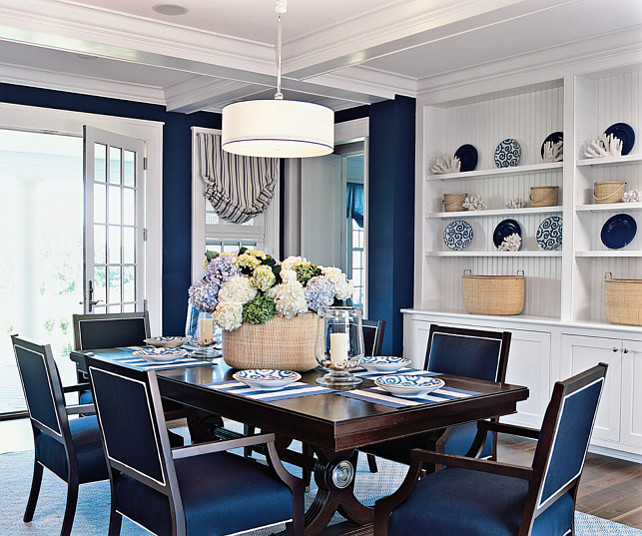 Blue and white is always a classic and elegant choice. In this dining room, the colors are applied almost everywhere in cohesive way.
 Coastal Kitchen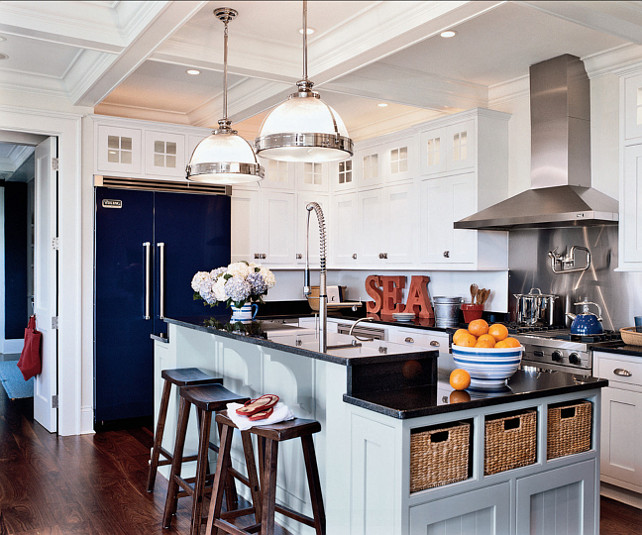 Coastal kitchens always get to me. They're often bright, inviting and casual. This is a place that anyone would love to cook and entertain at!
 Eating Nook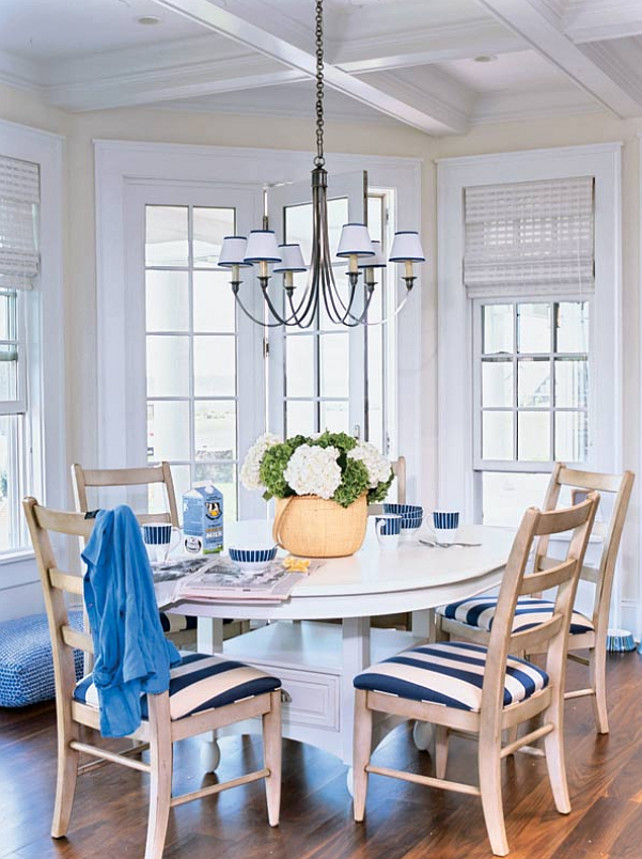 Now, who wouldn't love to wake up to have breakfast here? Sunny, fresh and summery!
 Family Room Paint Color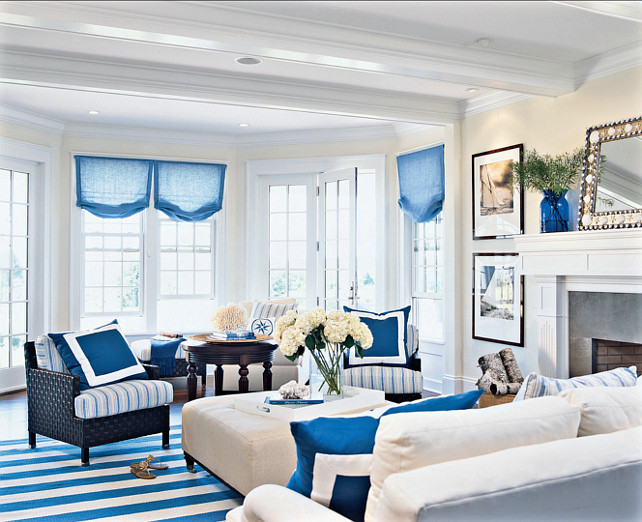 Benjamin Moore Windham Cream HC-6
The living room feels relaxed and tailored at the same time. I love the striped rug!
Powder Room Paint Color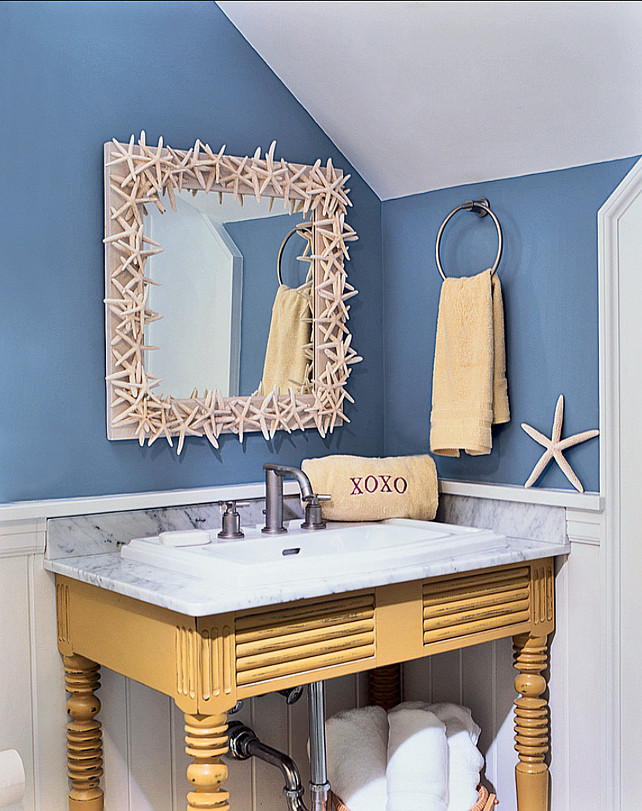 Benjamin Moore Lazy Sunday 803
The powder room is very charming and fun!
Mirror is from "Cottage & Bungalow".
 Bedroom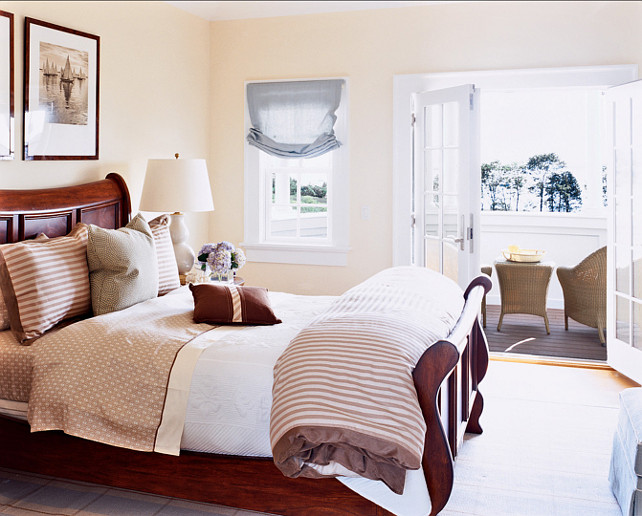 Once again we find a room that is casual, but well-designed. My favorite thing here is that balcony that opens to expansive ocean views.
Timeless Bathroom Design
This is the kind of design that will look great for many decades to come. Think "classic" when renovating your home… that always save you money down the road!
 Coastal Life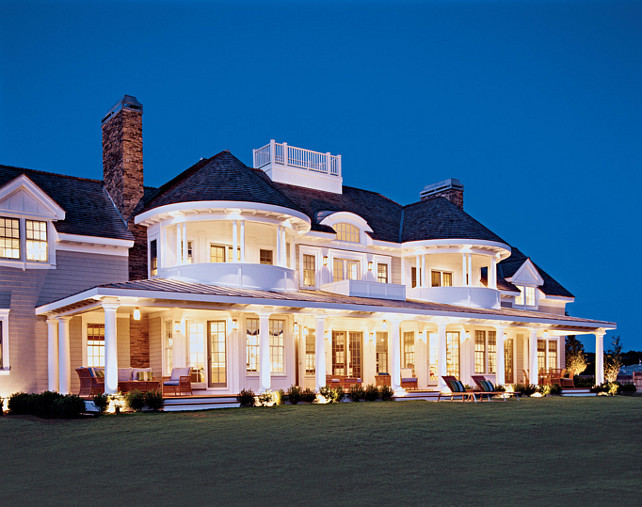 What an extraordinary home this is! Note the stunning roof lines and porches.
 Porch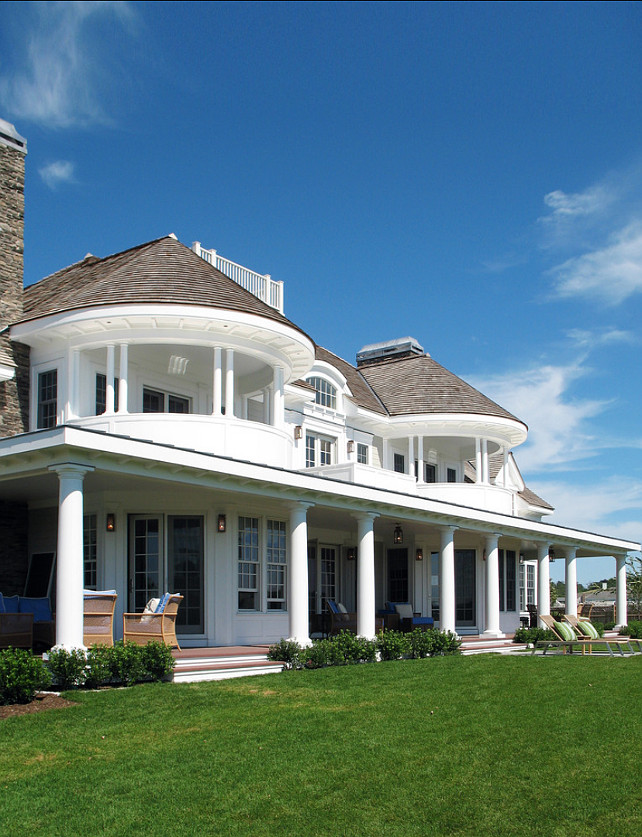 Several separate outdoor areas are found in this home. Also, notice the balconies over the porch.
 Architecture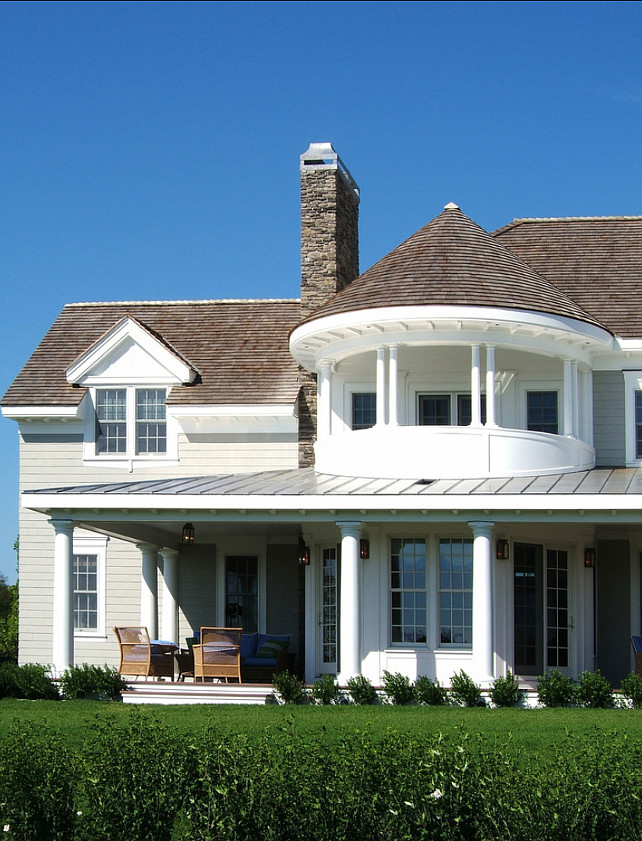 Cedar is mixed with metal roof. I love this look!
 Views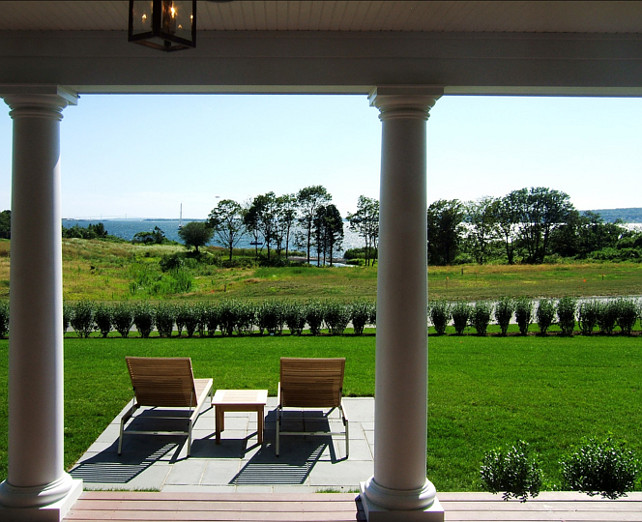 A great place to enjoy the ocean view.
 Oh, Sunshine!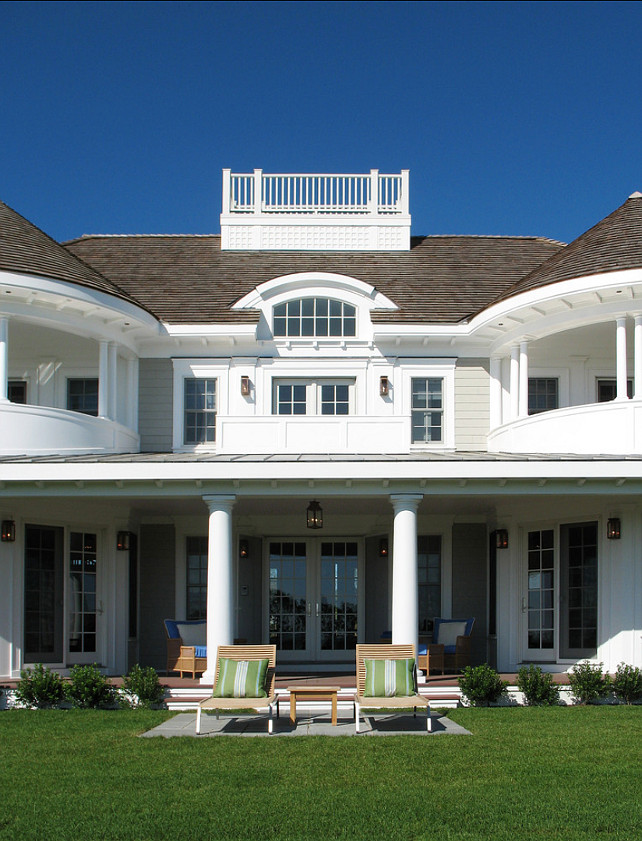 Let's share a cocktail here?
See more Inspiring Interior Design Ideas in my

Archives.
Interior Design Ideas:

Paint Color
Interior Design Ideas:

Paint Color
This is why I love coastal homes… they're a celebration of summer! Their interiors are always bright and alive. Nothing is too serious or too formal… just the way I like to live!
I hope you had a fantastic time here! I am feeling incredibly happy and veryyyyyy anxious because my sister is having her baby today and I can't wait to hear from her!
We will talk again tomorrow!
BIG HUGS TO YOU!
with Love,

Luciane at HomeBunch.com
Interior Design Services within Your Budget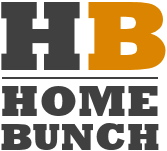 Get Home Bunch Posts Via Email

Sources: Marcus Gleysteen Architects ,  Interiors: Lynn Morgan, Contractor: Behan Brothers, Photos by Marcus Gleysteen, Jean Allsopp.

Posted in:
Architecture
,
Bathroom Design
,
Beautiful Homes
,
Beautiful House
,
Bedroom Design
,
Classic Design
,
Coastal Decor
,
Coastal Homes
,
Coastal Interiors
,
Colorful Interiors
,
Dining Room Design
,
Home Decor
,
Interior Design Blog
,
Interior Design Ideas
,
Kitchen Design
,
Living Room Design
,
Paint Color
,
Patio Ideas
,
Traditional Interiors

3 comments