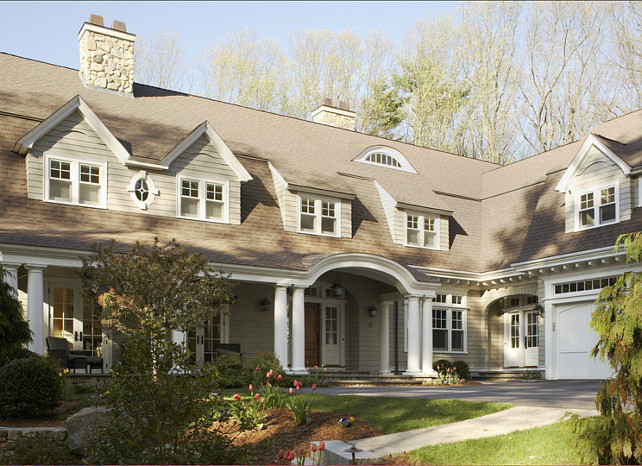 The homeowners loved their property, but had outgrown their house. After carefully weighing the pros and cons of extensive renovations and additions versus new construction, it became evident that a new family home was the right decision. Because they wanted to comfortably accommodate their growing family, their first concern was the function of spaces and the overall flow of the house. They preferred traditional design and detailing with fresh, clean finishes. The architects blended classic detailing with a contemporary layout. The house is sited to visually connect with the outdoor play area, and the family living spaces are focused toward the backyard and its views.
I hope you have a good time seeing this beautiful home!
Classic Family Home with Traditional Interiors
This stunning home was designed by Oak Hill Architects, with timeless architectural details.
Exterior Paint Color: Paint Color is "Benjamin Moore C2 Wood Ash".
The wood shingles are cedar.
The front door is mahogany with a natural stain.
Porch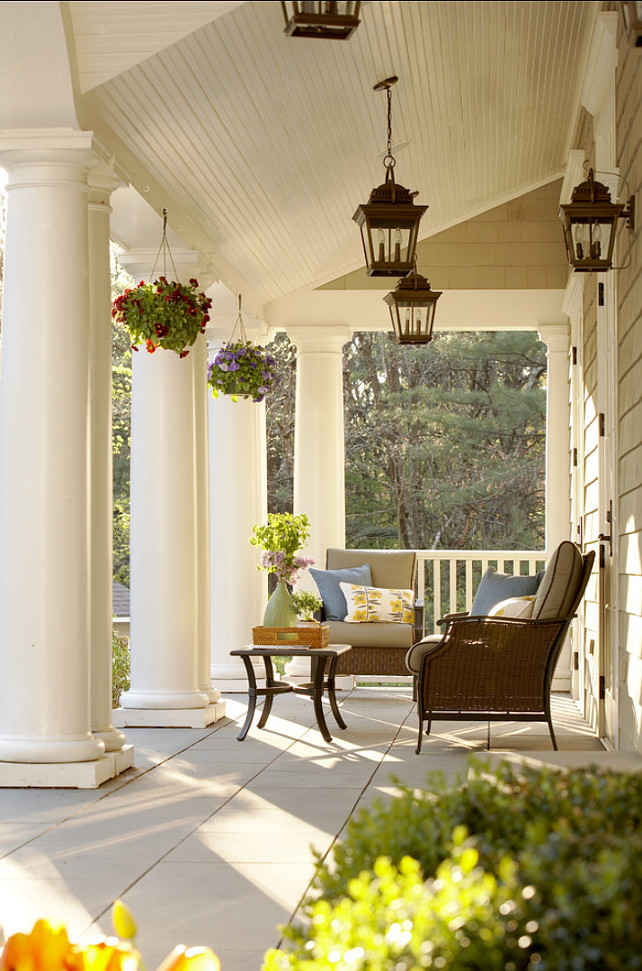 Is there anything more charming than a front porch? I could spend many sunny afternoons here, just talking to friends or reading a good book.
Traditional Entryway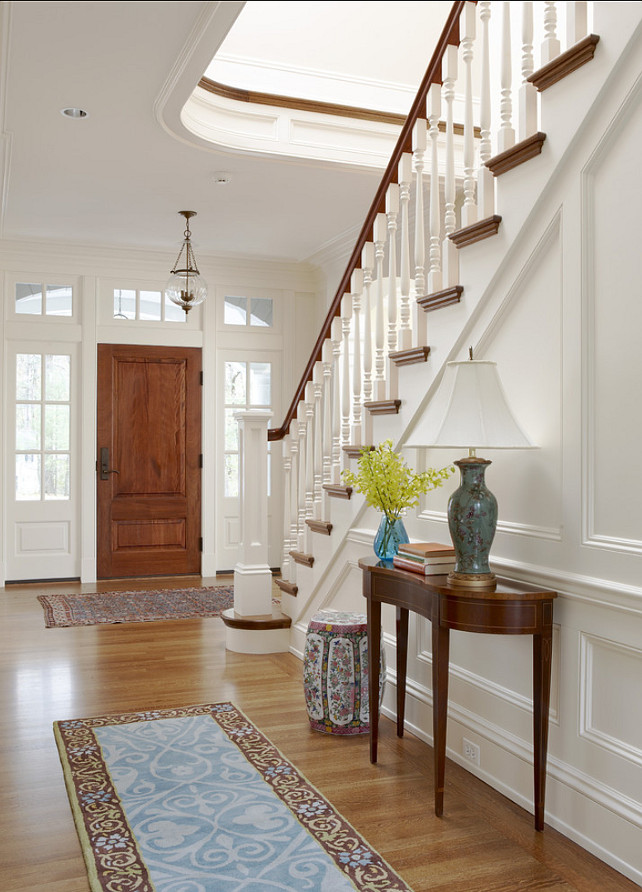 This entryway feels traditional, but not too precious.
Note the casing on the side of the staircase.
Light fixture is the "Camden Collection Brass Finish Pendant Chandelier". It's classic and affordable!
Kitchen Design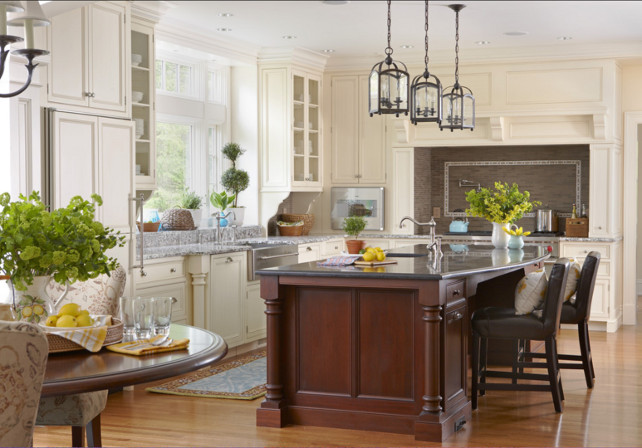 This off-white kitchen has a classic design and it will look great for many years to come.
Pendants above island are the "Arch Top Lantern by E.F. Chapman".
Eating Area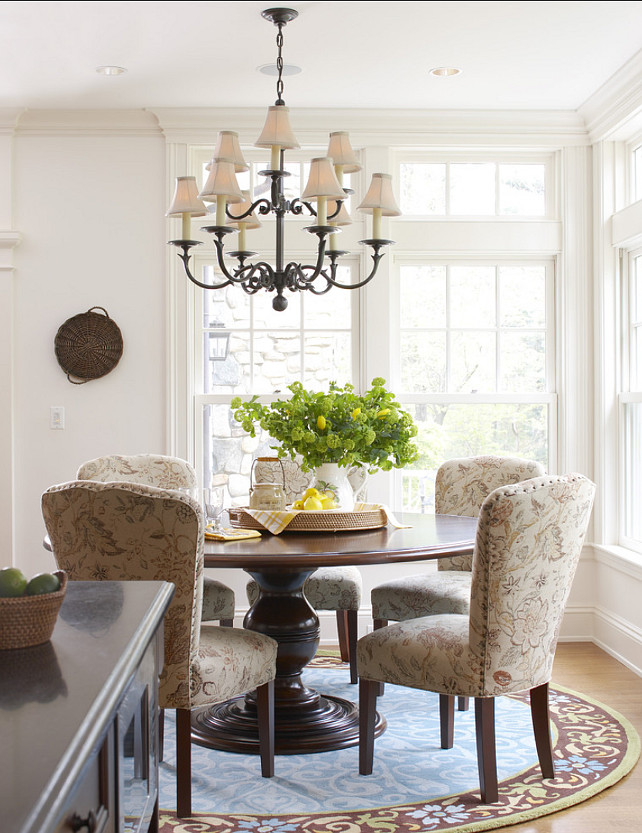 How beautiful! This is one of my favorite round tables!
Dining room table is the "Asolo Dining Table" by Arhaus.
Fireplace in the Eating Area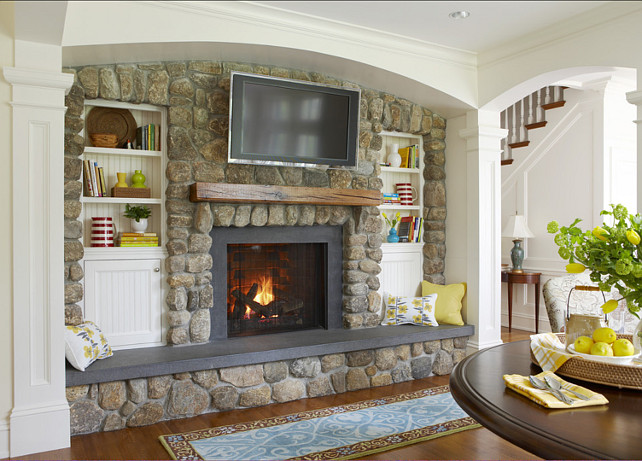 This fireplace is located in the kitchen, by the eating area. Isn't it a great — and cozy– idea?
Traditional Details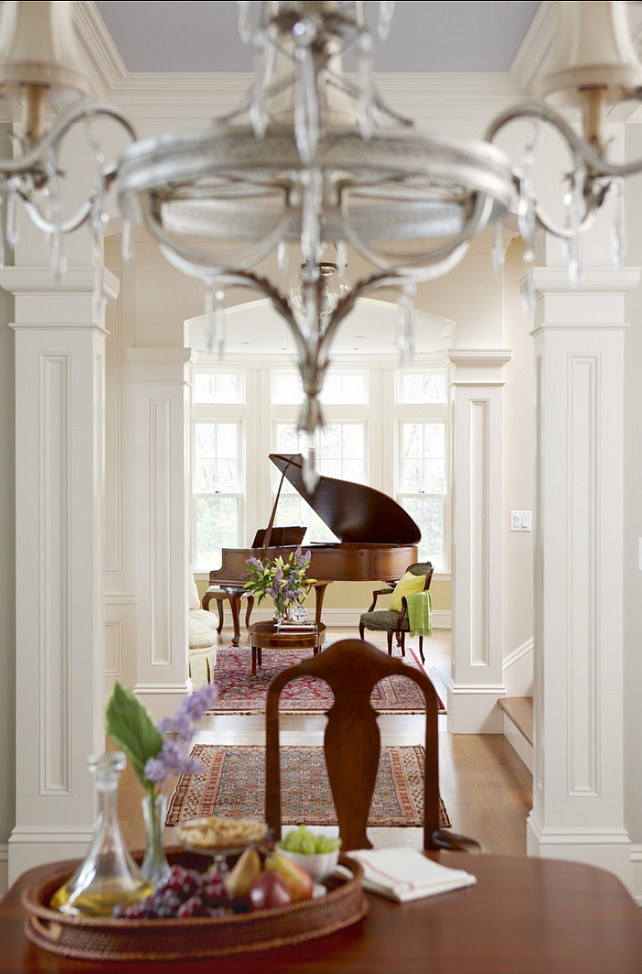 Inspiring trim work!
Butler's Pantry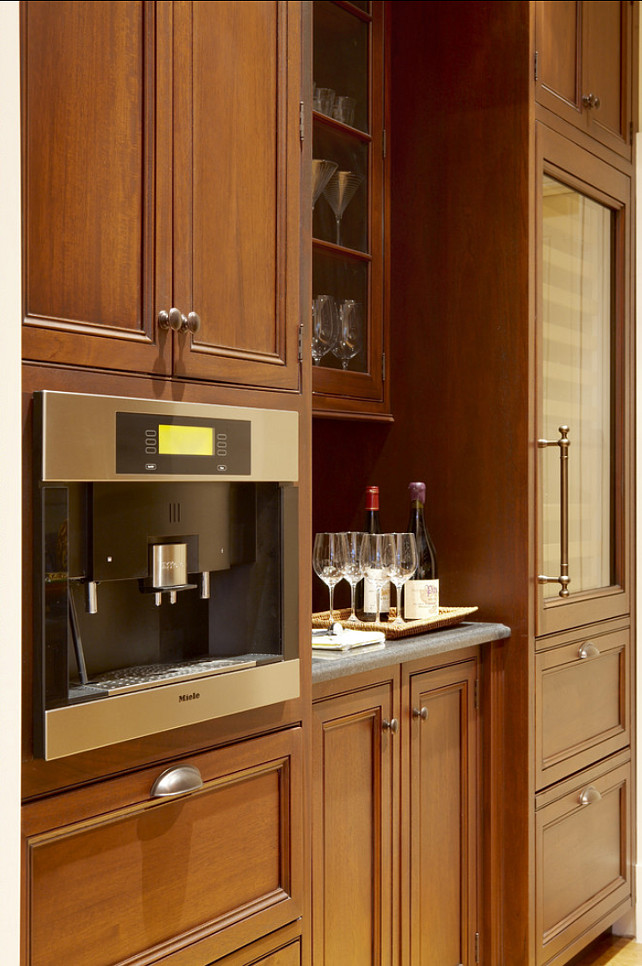 This butler's pantry even comes with a coffee area. I would love to have that! Well, who doesn't love to be spoiled sometimes? 🙂
Kids Study Room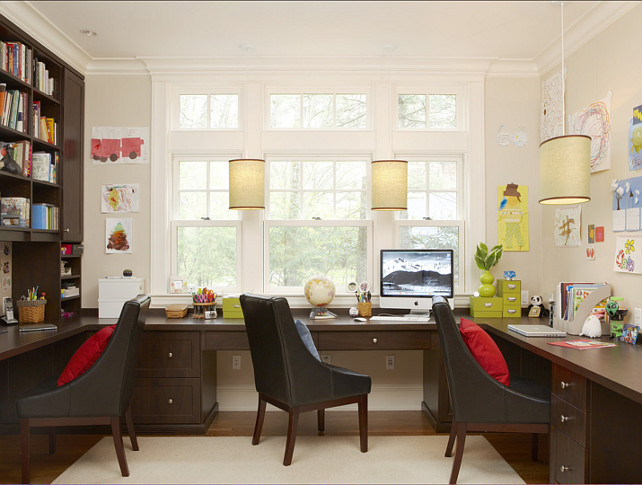 This is a great solution for kids to study efficiently together in one space.
Lighting is from "Seascape Lighting".
Mudroom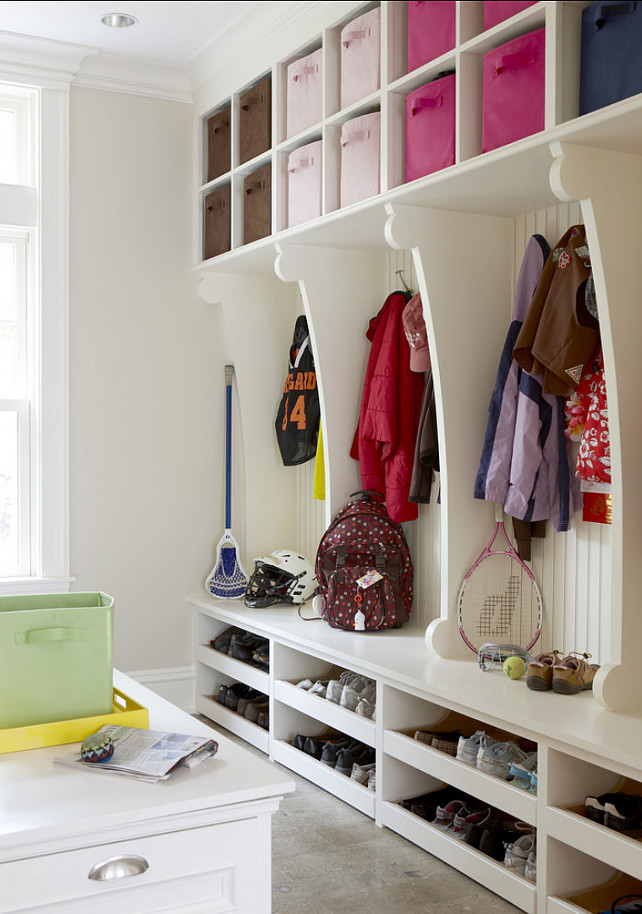 If you like seeing your home organize, you need to offer plenty of storage space.. it's a simple formula!
This completely custom designed mudroom is smart and well organized.
Backyard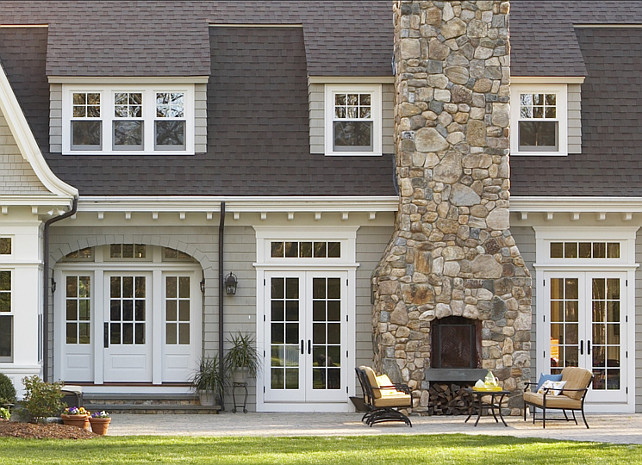 The outstanding outdoor fireplace is made of "natural field stone".
Patio Decor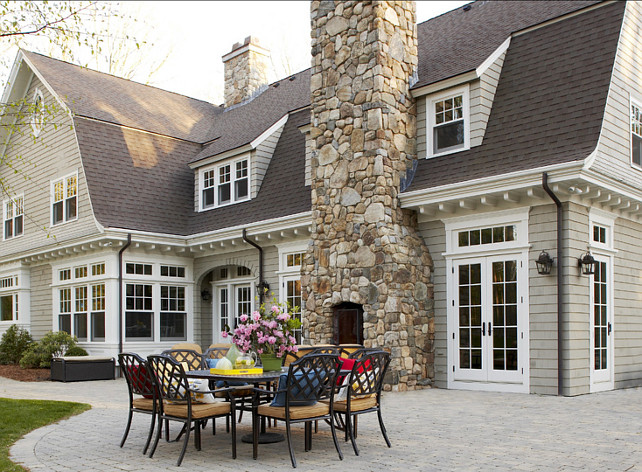 Start welcoming Spring by taking your patio furniture outside and start enjoying the longer and warmer days. I can't wait for that!
This home have a very nice feel to it. Its light color palette makes the entire house feel peaceful and calm… and who doesn't like to live like that?
See more Inspiring Interior Design Ideas in my

Archives. 
 Did you guys enjoy your weekend? It was great around here. I could spend some time with the kids and we had some friends visiting us. 
Another good thing that happened to me was a long talk I had with my mother. She's one of the kindest person I know, but to be very honest, I wasn't opening my heart for her (and anyone else for that matter) for a long time. You know when you talk to people you love, but these conversations are just plain conversations? You talk about your day, your work, family, but you never go deeper?
To be honest, since my grandmother started suffering with Alzheimer's, I became a little more closed about my feelings. My grandmother was the person I always opened my heart to and I still do sometimes, but I don't like to bother her anymore. It doesn't seem to be fair.
With my mother it is a bit different. We're very close, but I always felt my grandmother could not only talk to me, right here, but also to my "soul". I would hear something and get calmer and many times, wiser. 
Today, after talking to my mom for hours, I could feel the same thing I felt with my grandmother. Even though everything is great at home, you will have your ups and downs. Today I was talking to my mom about something so simple and she simply told me I should not be afraid to "dance to the music", and she's completely right.
I am starting this week open to happiness. Let's try to be a little less worried about everything!
In fact, everything in this word will carry pros and cons, life itself carries that. We simply can't expect everything to be perfect and right. Sometimes all we really need to do is put some music on and dance! Quite literally!
Have a Blessed week, my friends.
with Love,

Luciane at HomeBunch.com
Interior Design Services within Your Budget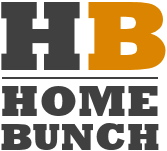 Get Home Bunch Posts Via Email

Sources: Oak Hill Architects.