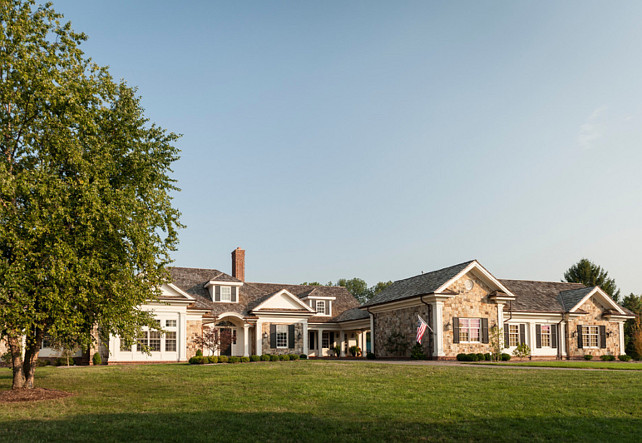 The balanced façade features Colonial pilasters, cornices, brickwork, and paned windows. It features a roomy and comfortable layout with a spacious kitchen and walk-in pantry. Being a Colonial bungalow, this family home offers three bedrooms along with other living spaces which join the kitchen on the main level, while the finished basement contains recreational spaces with a guest bedroom as well as a mechanical and storage room.
The interiors of this home, designed by Prestwick Lane, have a mix of contemporary and ornate furnishings and fixtures, arched doorways, molded cove ceilings, wood paneling, cabinetry, mill-work, and lively bathrooms that supplement the attractive style of this house.
This classic Colonial family home was built with family's everyday life in mind.
Colonial Bungalow Family Home Design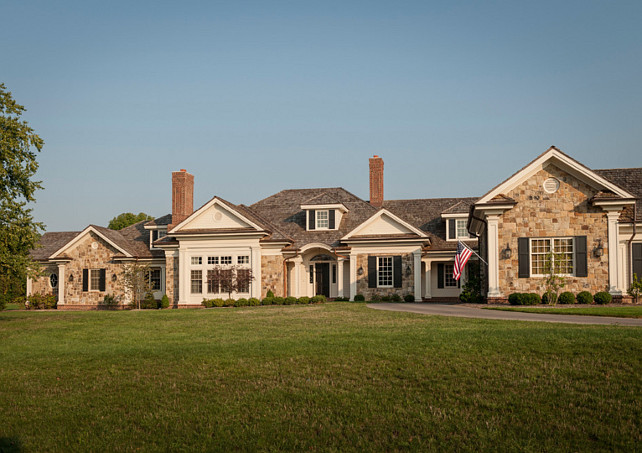 Similar charcoal shutters paint color: Benjamin Moore Iron Mountain 2134-30.
Stone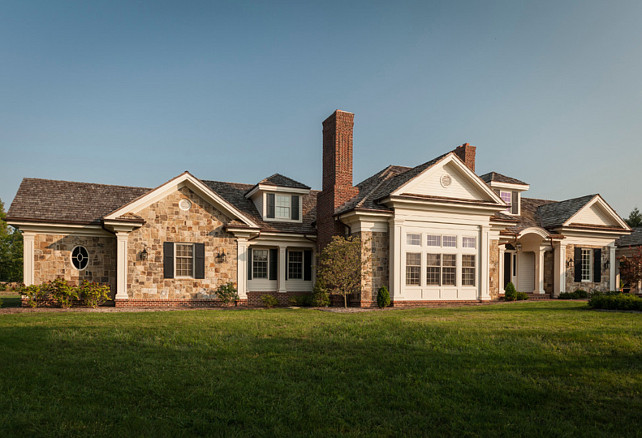 A traditional stone exterior blends beautifully with its natural surroundings.
Foyer & Dining Room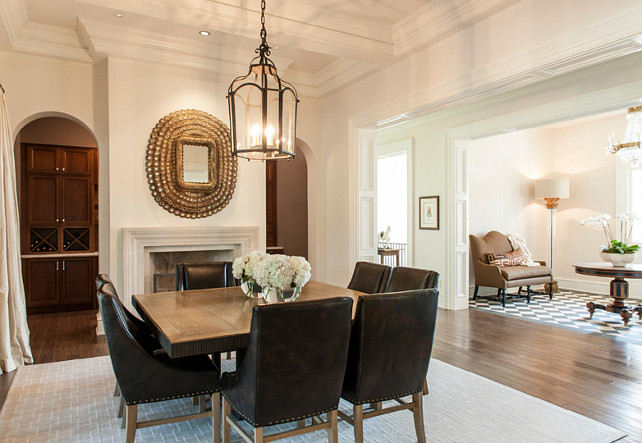 This neutral dining room features hardwood floors, dining chairs and mirror by Restoration Hardware.
Arches open to a traditional butler's pantry.
Kitchen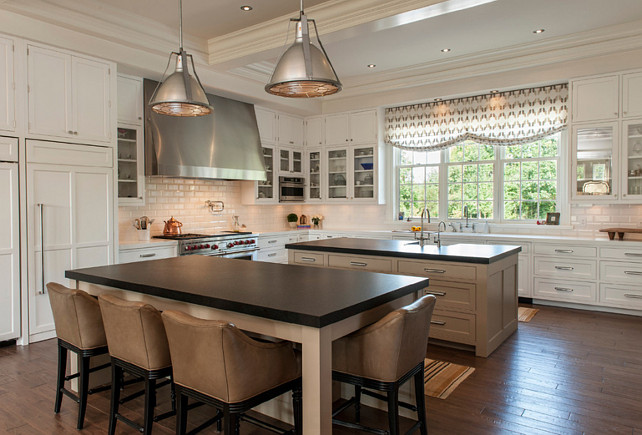 The kitchen feels warm with two large islands painted in a tan hue. Notice the tall cabinets and the roman shades.
This kitchen layout is truly perfect if you have a big family or entertain often.
Honed Black Granite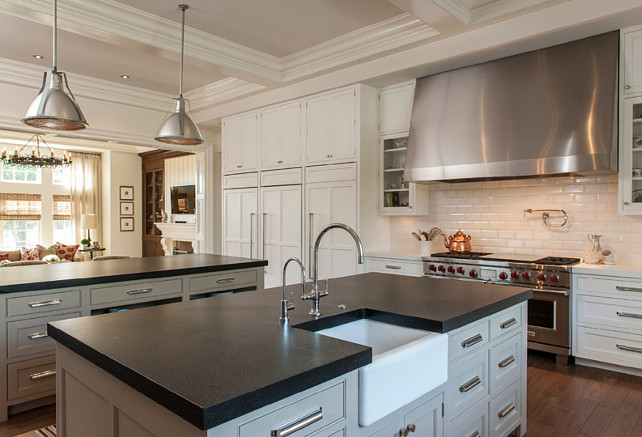 Honed black granite is a smart and durable choice for countertop. I also like how the kitchen opens to the family room.
Family Room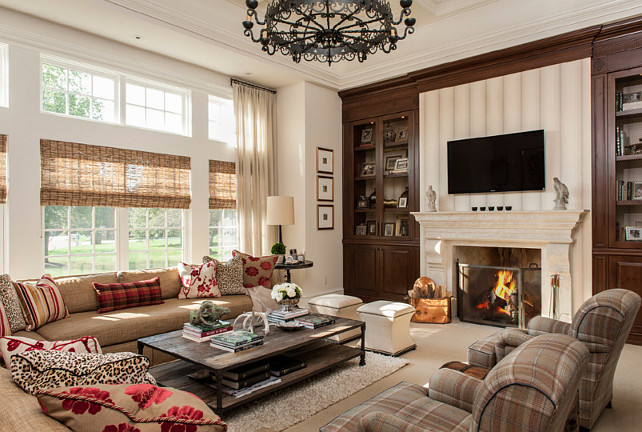 There are many things I like about this space, including the high ceilings, window treatment and the furniture layout. But my favorite elements are the classic built-ins flanking the pale fireplace.
Hallway Photo Gallery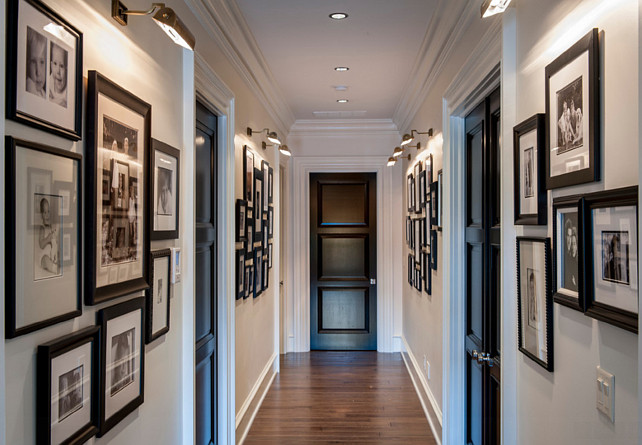 This black and white family photo gallery adds a timeless touch to any hallway.
Personal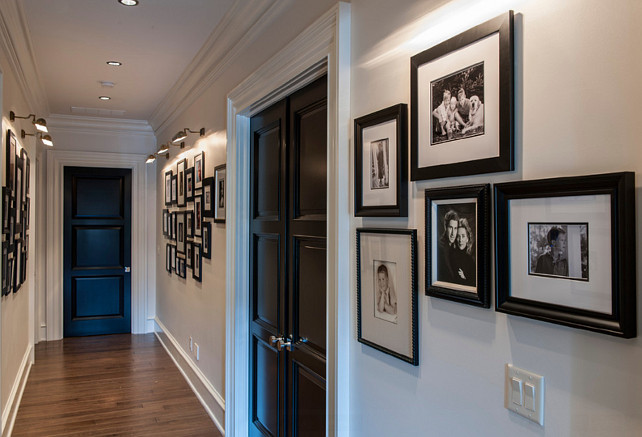 A house only becomes a "home" when we add our personal touch to it.
Master Bedroom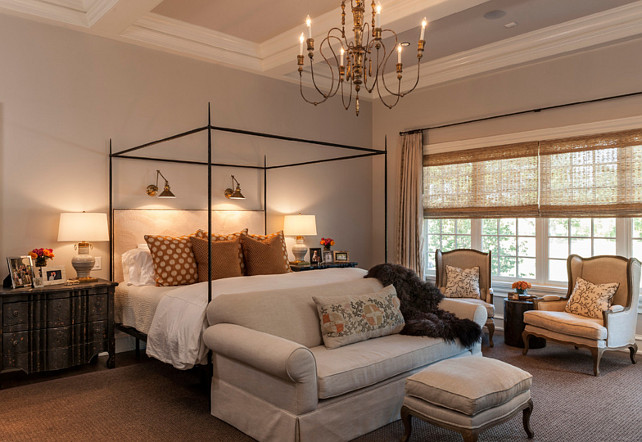 A beautiful paint color sets the mood to this neutral, but lively master bedroom. Notice the stunning chandelier and the sconces above headboard.
Bathroom Cabinet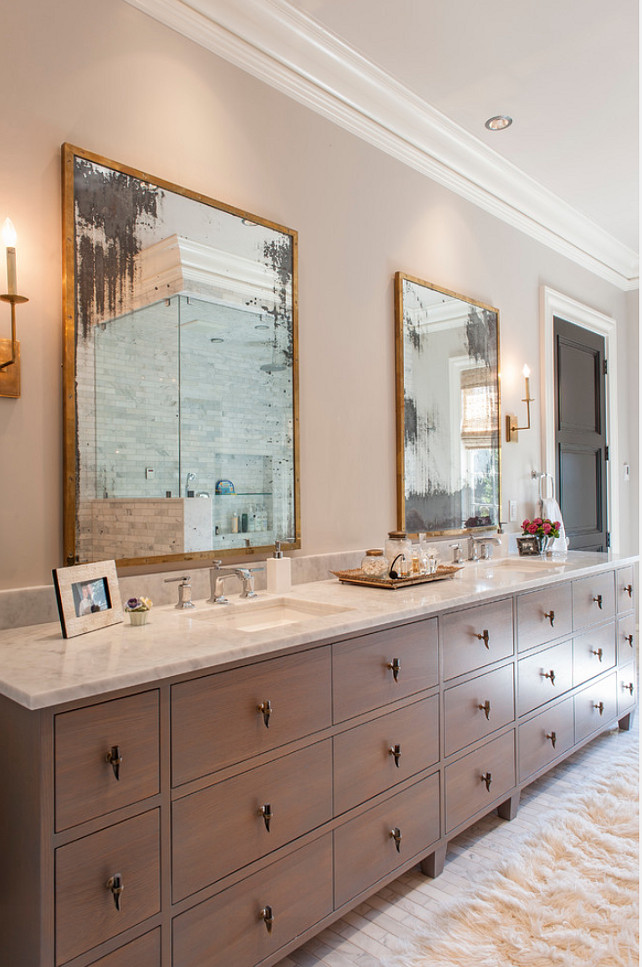 Large cabinets add plenty of storage space while antique mirrors and brass sconces add character to this bathroom.
Paint Color: Benjamin Moore Revere Pewter.
Bath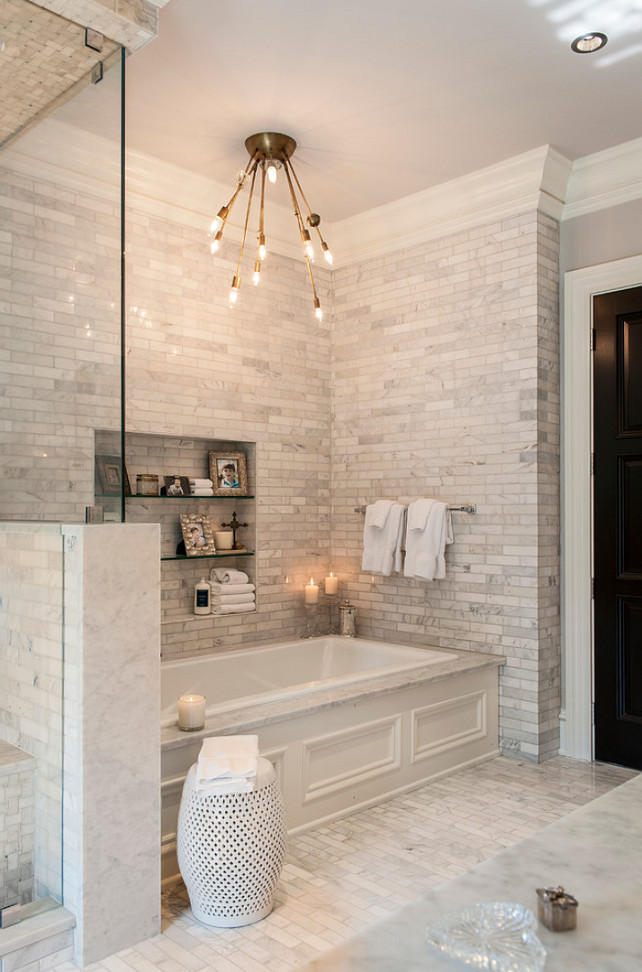 The marble tiles are brought to the walls to bring texture and an uniform look to this chic bathroom.
Outdoors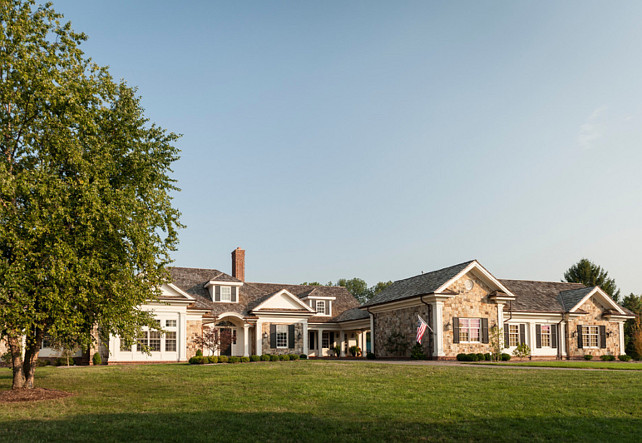 Classic choices assure a timeless look to this house.
Kids Bedding
When we talk about family homes, we often think about who lives in them. As many of you know, I have three kids and as an interior designer I've always enjoyed decorating their bedrooms. Since they were born I made choices thinking about how kids want to live, play and how they see their own environment. A kid's bedroom is their most private and personal space in the house and it should express their young personality. I also feel that kids bedrooms should look like just a kids bedrooms. I like them to have fun colors, comfortable fabrics and plenty of texture.
When Maple Harbour, a Home Decor, Bathroom and Bedding company in Canada, contacted me offering a product for me to try, I immediately fell in love with their kids bedding collection and with their prices! I like to change their bedrooms often and the easiest way to give any bedroom a change is by changing its bedding. With this company, you can easily change your kid's bedding under $100. They also offer free shipping to Canada and with each sale, they collaborate with a number of non-profit shelters and adoption centers for animals.
My daughter's New Bedding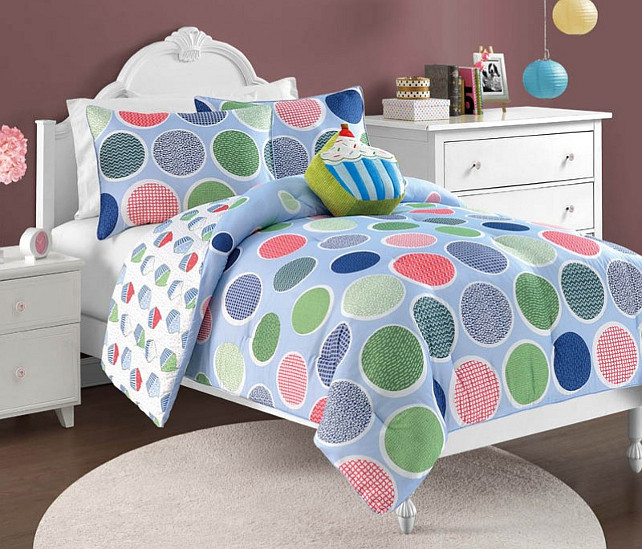 My daughter loves to bake and this bedding was her favorite. She loves the plushy cupcake pillow that comes with the set as well!
My Boys' New Bedding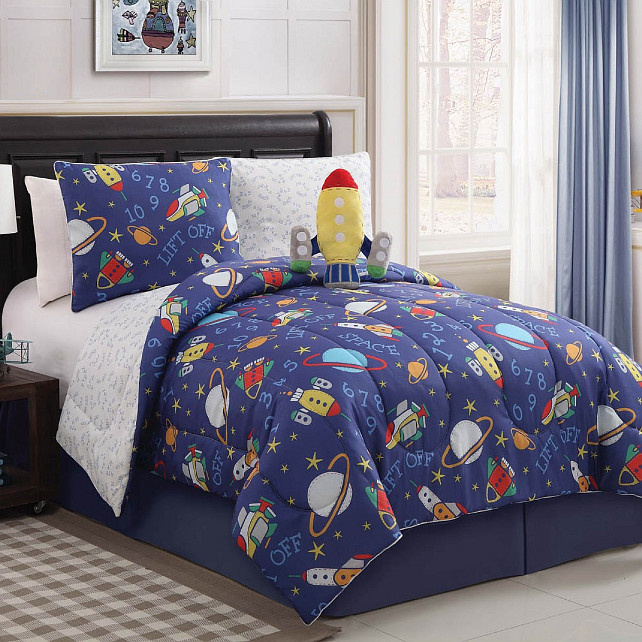 My sons are about to share their bedroom together and having the same bedding set makes the entire space feel more uniform and connected. This boys bedding set is fun and I love the colors.
More Bedding Sets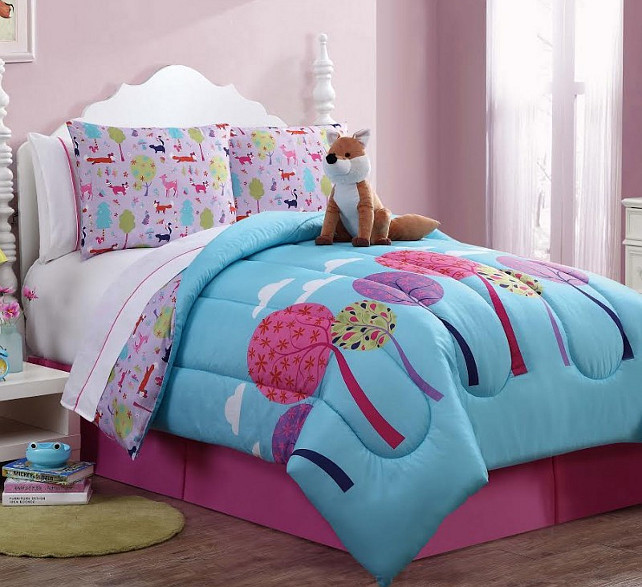 Isn't this cute? These bedding sets are reversible.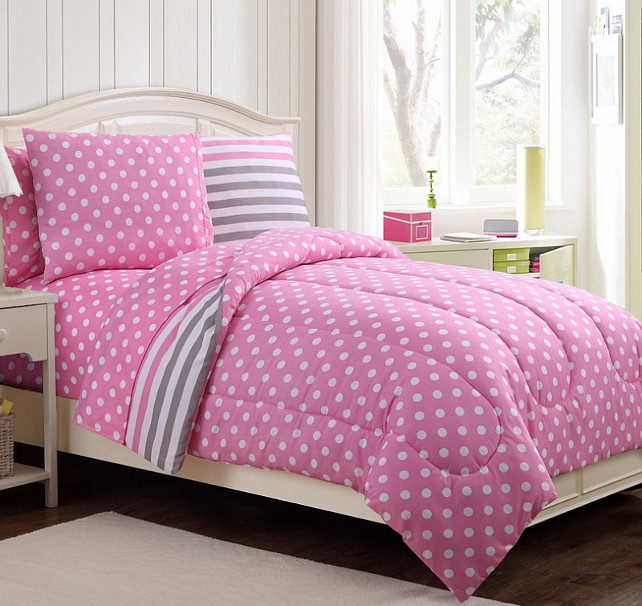 Polka dots are classic and this combination of pink and gray is modern and sweet at the same time.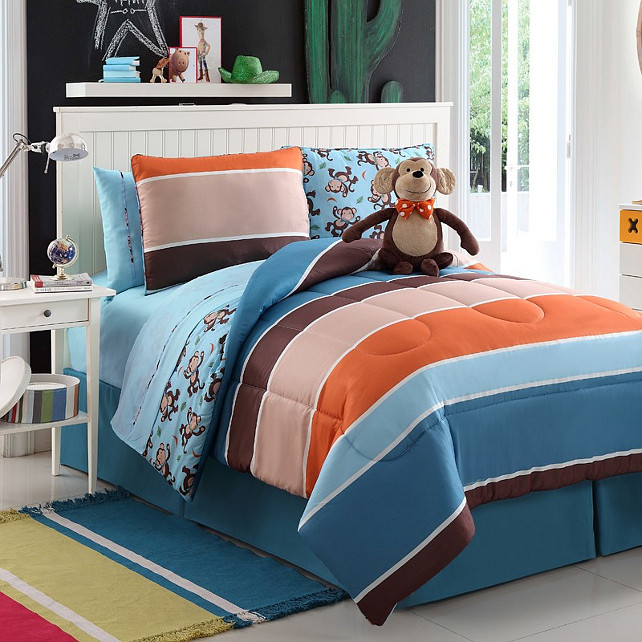 Does your kid likes "Five little Monkeys Jumping on the Bed"? If so, this is a perfect bedding set for him!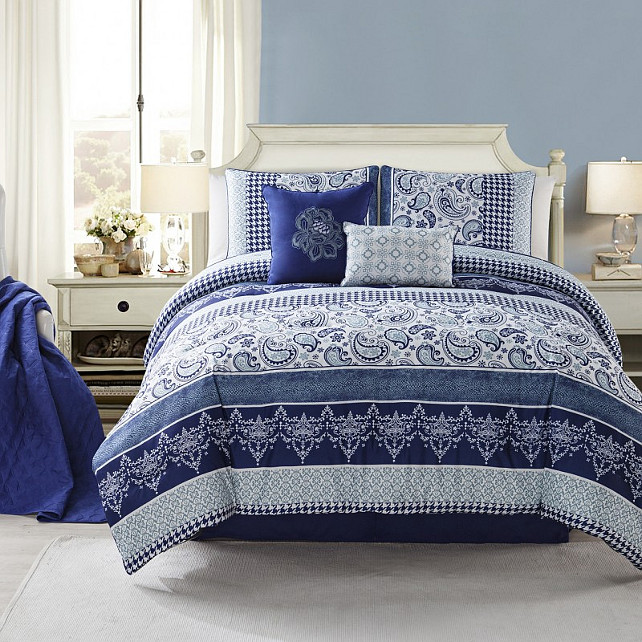 This blue and white bedding would be perfect in a coastal home. Love it!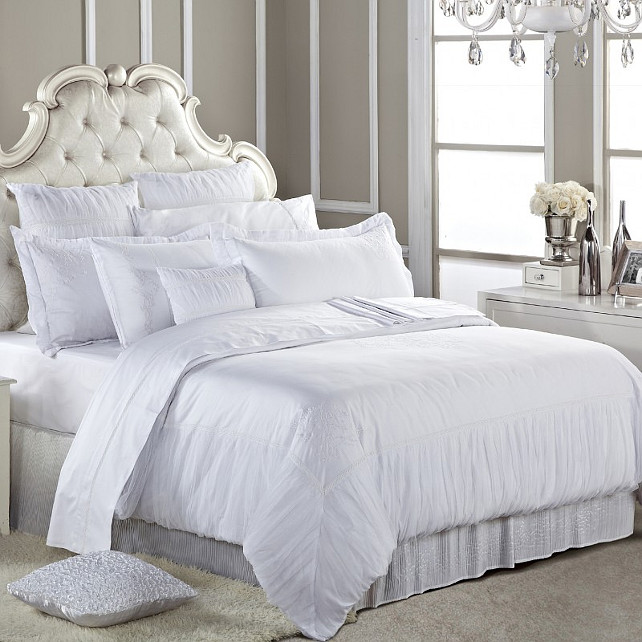 An all white bedding is always a favorite of mine! Gorgeous!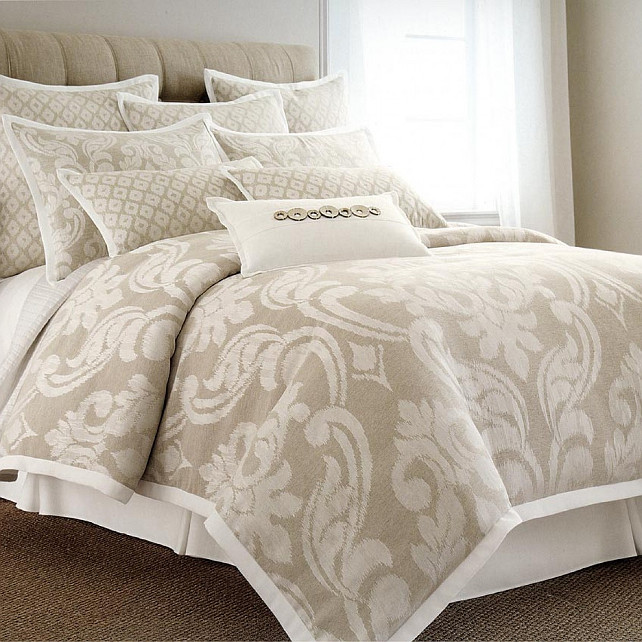 This neutral bedding would look perfect in a freshly painted bedroom in "Benjamin Moore Revere Pewter".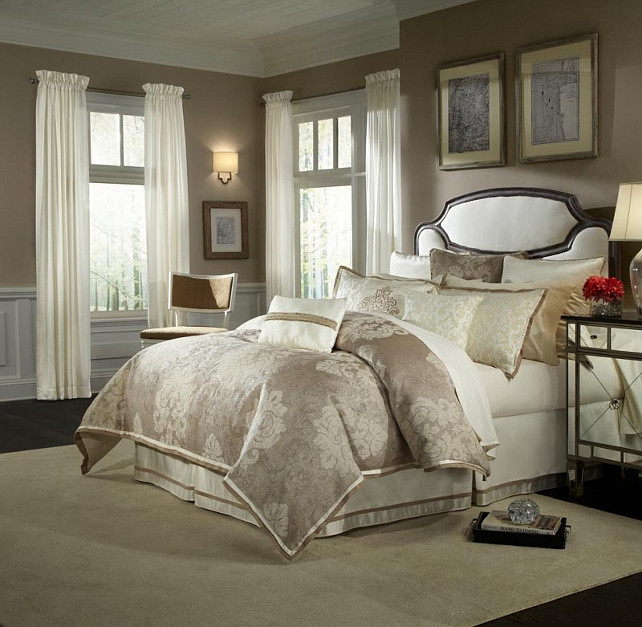 This traditional bedding feels current and comfy. I am loving how layered and comfy this bed looks.
I am planning on redecorating my kids' bedrooms during the summer and I will share the pictures with you guys when they're done. 🙂
Oh, one more thing… From March 6th – March 8th, when you shop Maple Harbour exclusive line of luxury fine linens you will receive a WaySpa Gift Card(s) to your favorite local Spa.
 Here's how it works:  Place an order for anything in their inventory and get Spa vouchers proportional to your orders total: Orders of $100-$199 will receive a $50.00 WaySpa Gift Card
Orders of $200-$349 will receive $100.00 in WaySpa Gift Cards. Orders of $350 and above: receive $200.00 in WaySpa Gift Cards. Isn't this the best time to change your bedding? 🙂



See more Inspiring Interior Design Ideas in my

Archives.
Interior Design Ideas:

Paint Color
 I hope you had a fun time here and I thank you for spending this time with me. I am going out now with the kids and tomorrow I have an appointment with a homeopathic doctor. I mentioned before that I am having stomach ulcer since last April and I am going to see if he can help me with this. I am going on treatment for almost a year now and it's better but not gone. Maybe he can help me get better sooner.
Does anyone of you have had experience with homeopathic medicine? I am not sure what to expect (besides having natural medicine, etc) and any impute would be appreciated. Thank you, my friends!
Enjoy your day and we'll talk again tomorrow.
with Love,
Luciane at HomeBunch.com
Interior Design Services within Your Budget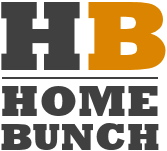 Get Home Bunch Posts Via Email

Sources: Tabberson Architects. Maple Harbour