Posted in:
Architecture
,
Bathroom Design
,
Beautiful Homes
,
Beautiful House
,
Bedroom Design
,
Classic Design
,
Dining Room Design
,
Gardens
,
Home Decor
,
Interior Design Blog
,
Interior Design Ideas
,
Interior Designers
,
Interior Paint Color Ideas
,
Kitchen Design
,
Neutral Interiors
,
Paint Color
,
Patio Ideas
,
Restored Houses
,
Traditional Interiors
,
Transitional Interiors

12 comments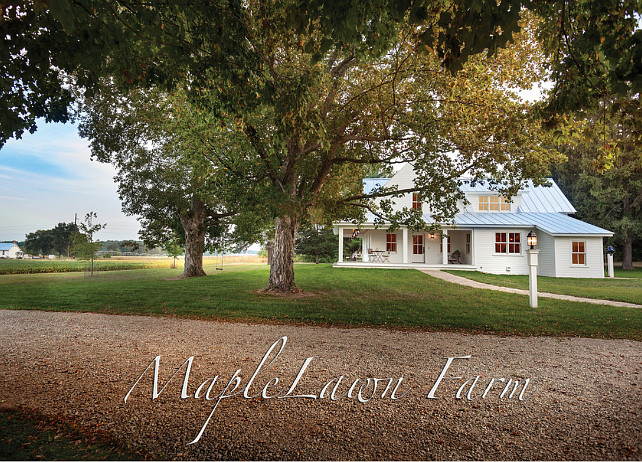 Some dreams never leave our mind and for this homeowner, rebuilding her childhood farmhouse that once belonged to her grandparents was an important dream to follow.
With the help of Craig J. Sachs architect with McMahon Group, the farmhouse now not only inspires those who drive by but also allows the homeowner to create new memories in this special place.
Take a look and you will see how enchanting this home and land truly are. I am sure you will feel relaxed and calmer after looking at this beautiful farmland.
Farmhouse with Inspiring Interiors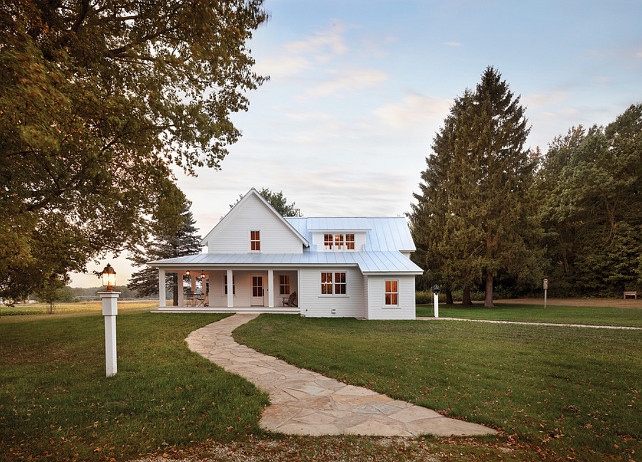 To be away from the city noise and pollution sounds really good, especially if you can stay in a peaceful place like this.
Privacy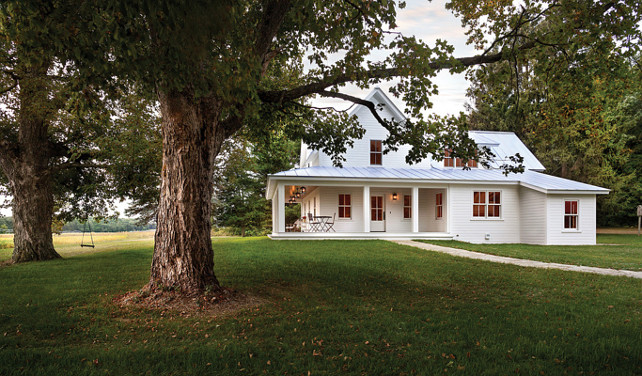 With acres of land surrounding the farm, this place offers privacy, serenity and plenty of fresh air…
  Farmhouse Elements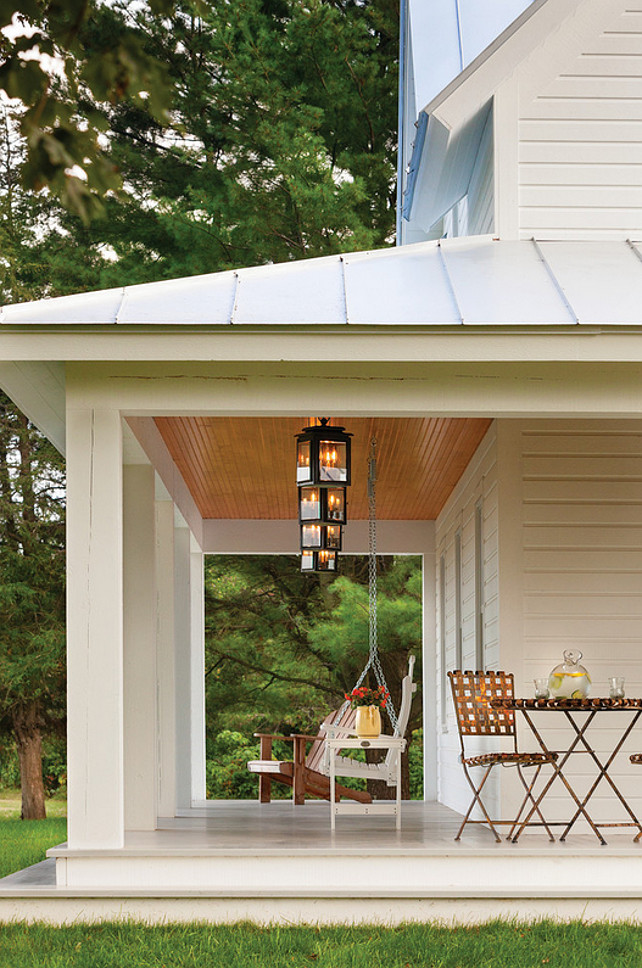 A white porch swing and metal roof brings character and charm to this home.
Wrap Around Porch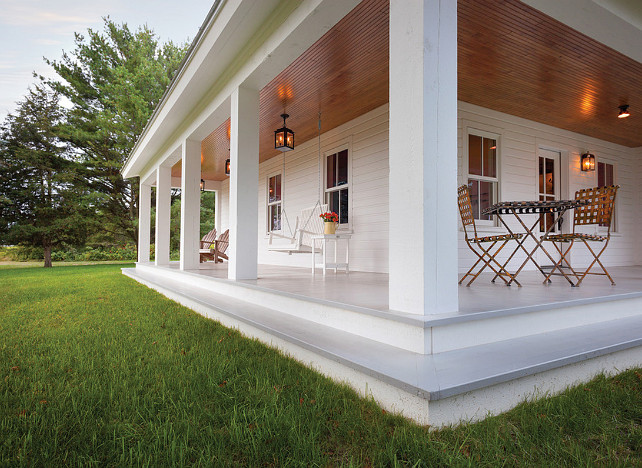 Nothing says more farmhouse style than a wrap around porch. My grandparents always had country cottages back in Brazil when I was a child and every one that they built had a wrap around porch. I have so many memories of talking to my grandparents in our porch… life was a little more magical back then.
Silence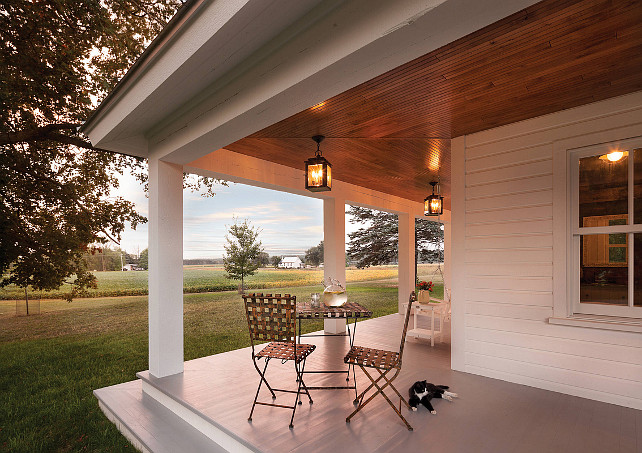 Can you picture yourself here, thinking about life and quietly listening to the leaves moving with the breeze?
Farmhouse Kitchen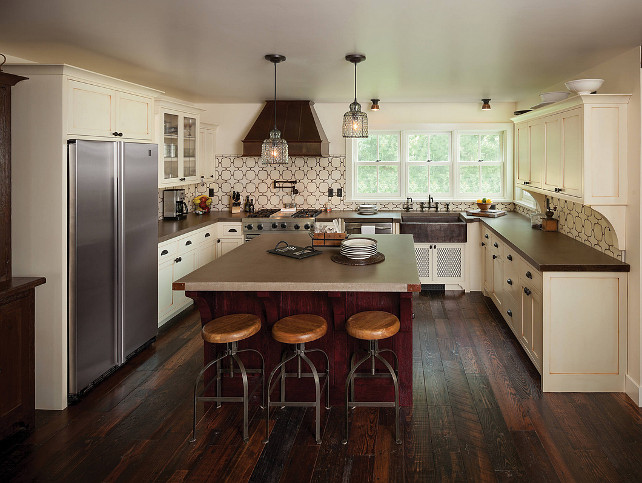 With distressed plank floors and a rustic feel, this farmhouse kitchen shares beauty, practicality and a timeless design.
The cabinets are custom and made locally, in Wisconsin. I love the warm white paint color.
Pendants above the island are from Pottery Barn.
Screened Porch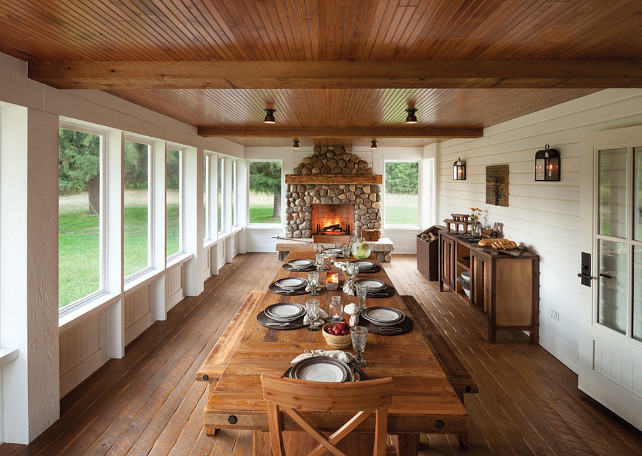 The screened porch was designed with custom made traditional storm windows for the cooler seasons and traditional screens for summer. The combination of radiant heat floor, wood burning masonry fireplace and southern exposure keep this room very comfortable on cold winter days as well.
The farmhouse table is the Benchwright Table from Pottery Barn. The homeowner sealed it, which deepened the color considerably.
Plank Walls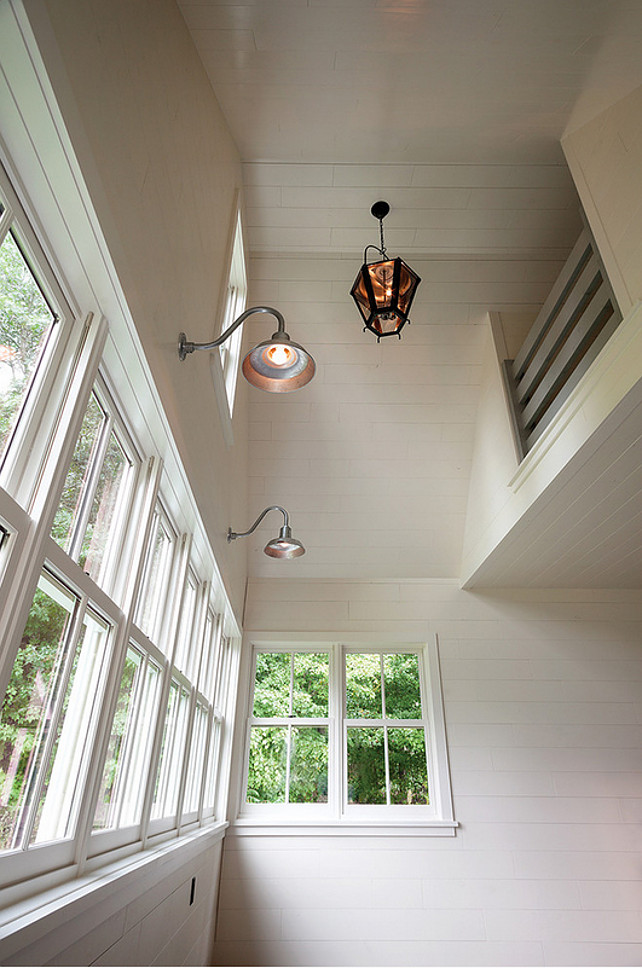 Plank boards along with barn lights add interest to this staircase.
Master Bedroom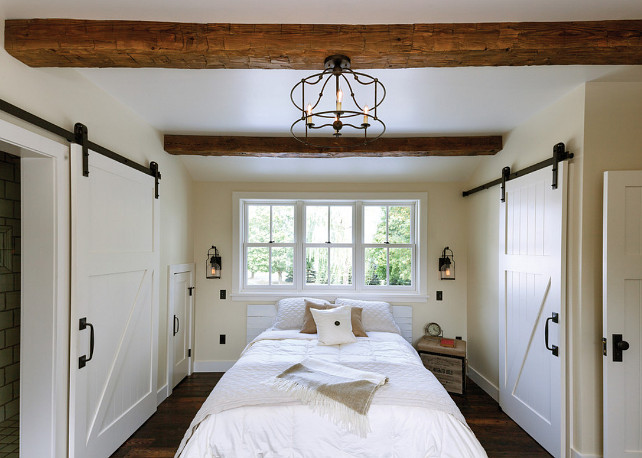 The master bedroom is just great! I am loving the reclaimed wood beams and the barn doors. The barn door on the right conceals the closet and the one on the left, is for the master bathroom.
Wood & Light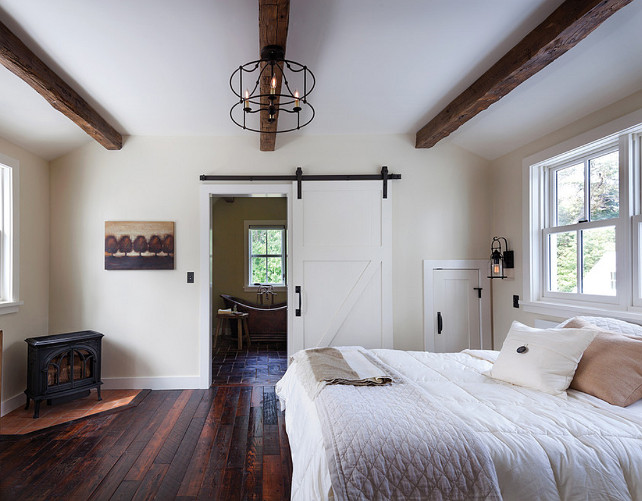 A rustic feel in this bedroom comes from the wooden hardwood floors and the wrought iron lighting and hardware.
Bathroom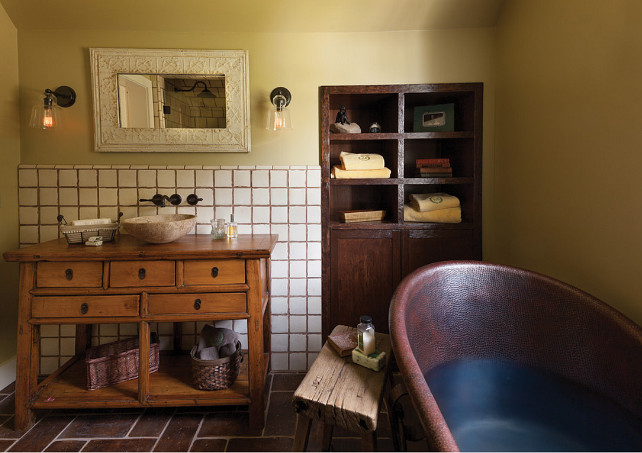 This bathroom reminds me of old farmhouses in Malorca in Spain. I like how rustic and warm this space feels.
The vanity is an antique Chinese piece purchased at Elements East in Shorewood, WI. It was coated with sealer for protection.
Similar Mudroom Paint Color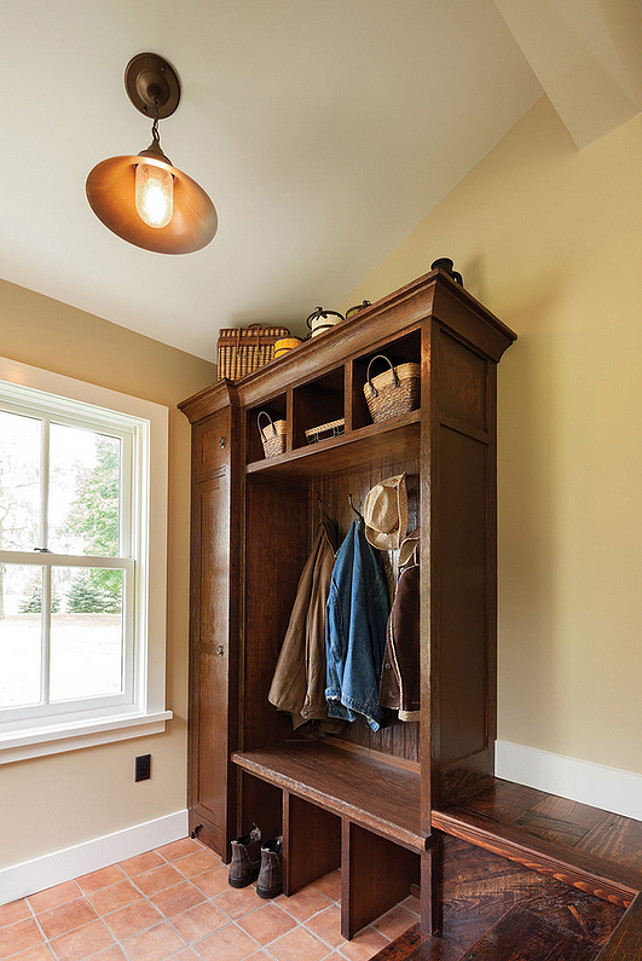 Benjamin Moore Straw 2154-50.
Detached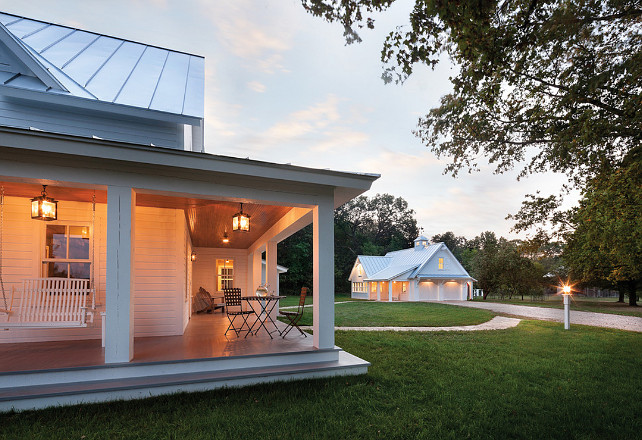 A view of the front porch and the detached garage.
Detached Garage & Guest House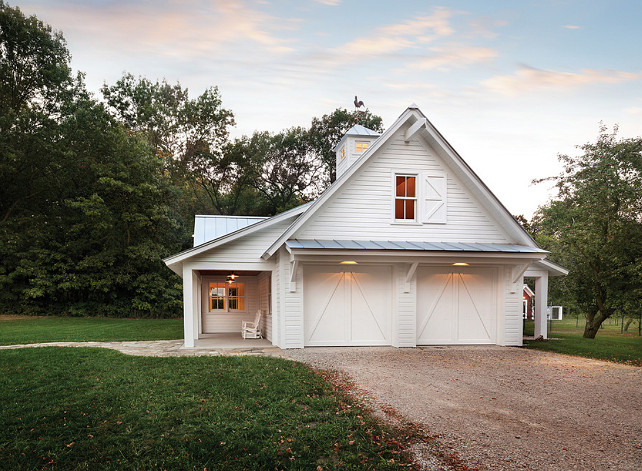 The detached garage features white siding, metal roof and a classic rooster weather vane.
Garage Details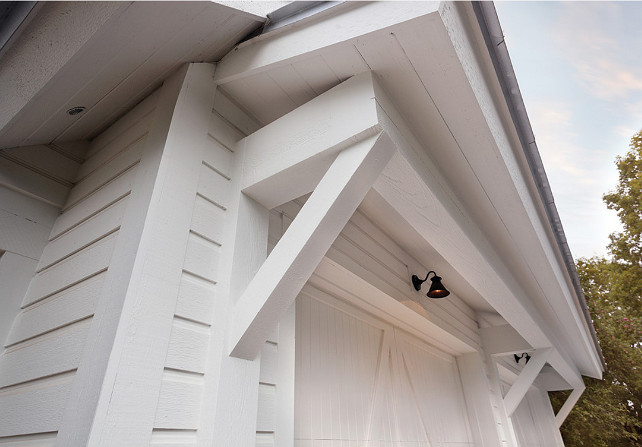 This garage is all about the details, from its architecture, lighting to the doors!
   Backyard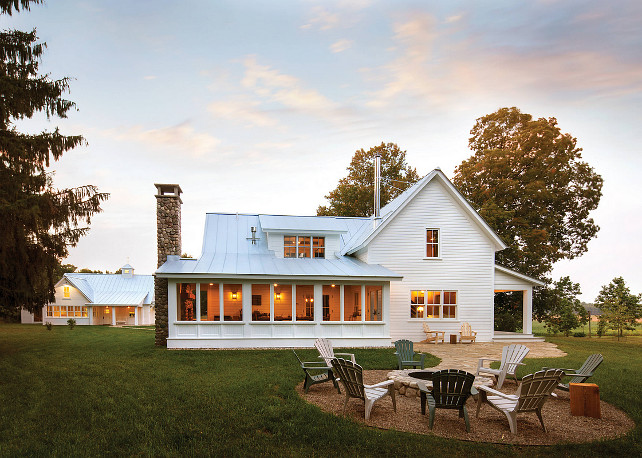 Wouldn't it be fun to roast marshmallows in that firepit? Fun stories could be shared here…
Swing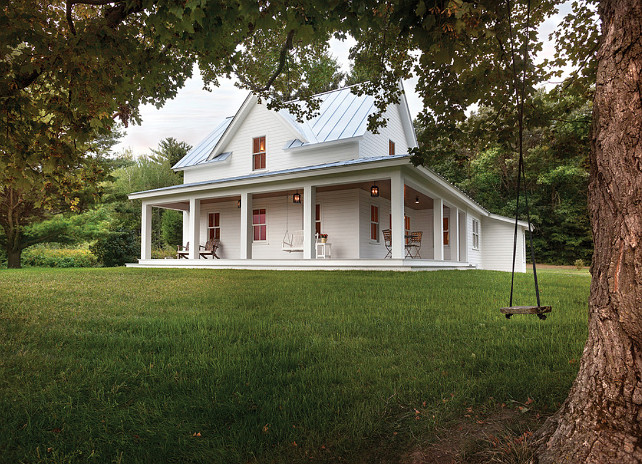 This farmhouse comes even with a tree swing! Now, this is my kind of backyard!
Farmland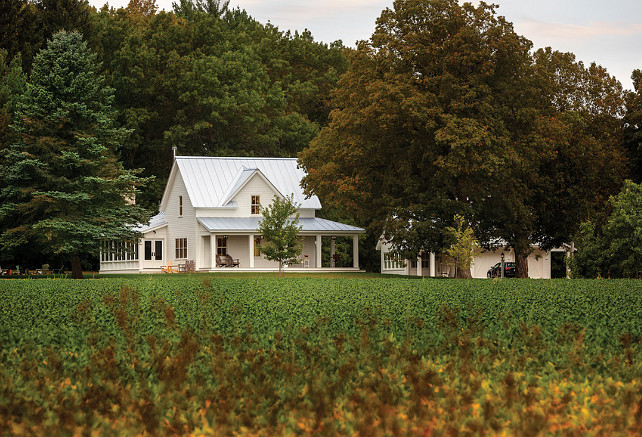 What a beautiful place… Can you picture a movie being filmed here?
  Long Afternoon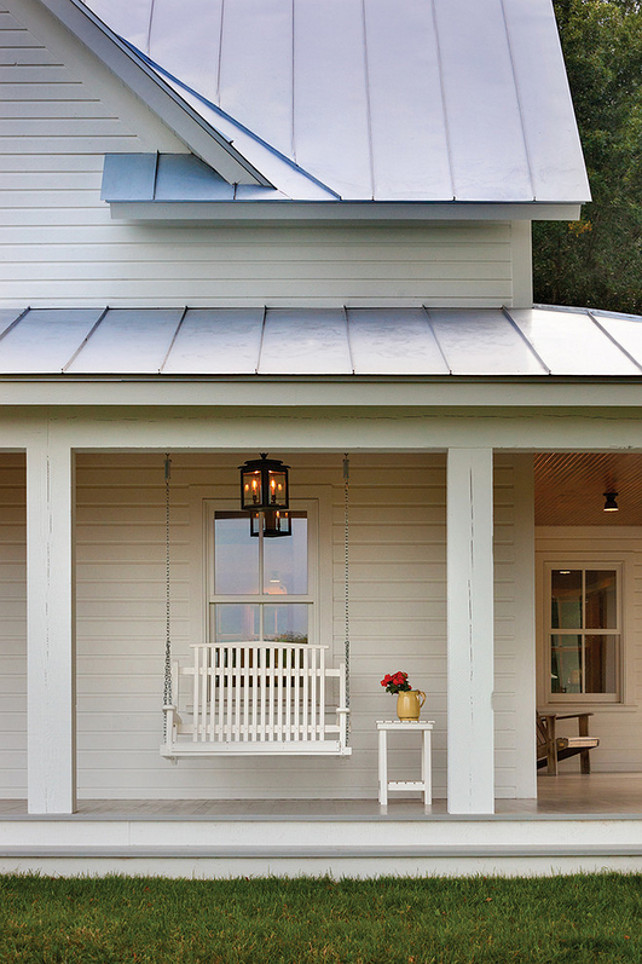 The ideal place to slow down and seize life.
See more Inspiring Interior Design Ideas in my

Archives.
Interior Design Ideas:

Paint Color
 Hello, my wonderful friends! How are you doing today?
The end of last week until today was incredibly busy for me and I couldn't keep up with my posts, which always bothers me. I hope calmer days are ahead.. I really need that!
It's late here and I need to rest but I will come back tomorrow.
Thank you for being here today, my friends. I hope you have a fun, happy and sunny day!
  We'll talk soon!
with Love,
Luciane at HomeBunch.com
Interior Design Services within Your Budget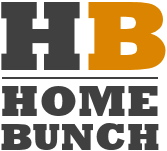 Get Home Bunch Posts Via Email

Sources: Craig J. Sachs architect. McMahon Group. Photos by Lendrum Photography LLC.

Posted in:
Architecture
,
Bathroom Design
,
Beautiful Homes
,
Beautiful House
,
Bedroom Design
,
Classic Design
,
Dining Room Design
,
Gardens
,
Home Decor
,
Interior Design Blog
,
Interior Design Ideas
,
Interior Designers
,
Interior Paint Color Ideas
,
Kitchen Design
,
Neutral Interiors
,
Paint Color
,
Patio Ideas
,
Restored Houses
,
Traditional Interiors
,
Transitional Interiors

12 comments