Posted in:
Architecture
,
Bathroom Design
,
Beautiful Homes
,
Bedroom Design
,
Classic Design
,
Coastal Decor
,
Coastal Homes
,
Coastal Interiors
,
Cottage
,
Gardens
,
Guest Posts
,
Home Decor
,
Interior Design Blog
,
Interior Design Ideas
,
Interior Designers
,
Kitchen Design
,
Living Room Design
,
Paint Color
,
Patio Ideas
,
Pool Ideas
,
Small Space Design
,
Traditional Interiors
,
Transitional Interiors

11 comments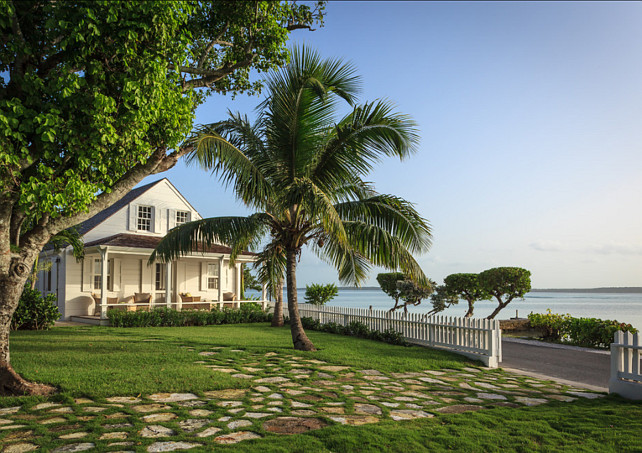 Many of us try to take some weeks off during summer to relax somewhere far away from work, errands and that nosy neighbor. Imagine being able to pack your bags and get on a plane. Your destination? A tiny beachfront cottage in the Bahamas!
With simple neutral coastal interiors, this beach cottage is dreamy from beginning to end.  An open concept floorplan makes this small cottage feel more spacious while high ceilings bring an airy feel.
The decor in this cottage is yet another positive factor in this place. Subtle coastal decorative pieces are displayed in many areas, but what really predominates here is the clean and timeless architectural appeal found in details such as plank walls and wide plank wood flooring.
If the ocean brings peace to you, as it does to me, you will probably love to sit on the front porch and watch the sunset while hearing the waves crashing only a few steps away.
Now, go close the door (or your ears) to any noise outside. For the next couple of minutes you're away for a virtual vacation… and we're about to arrive in the Bahamas.
Beach Cottage in the Bahamas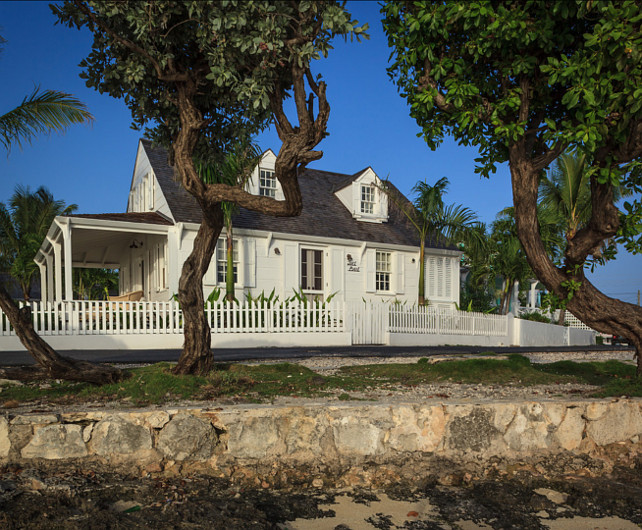 This beach front cottage is pure charm, inside and out!
Front Door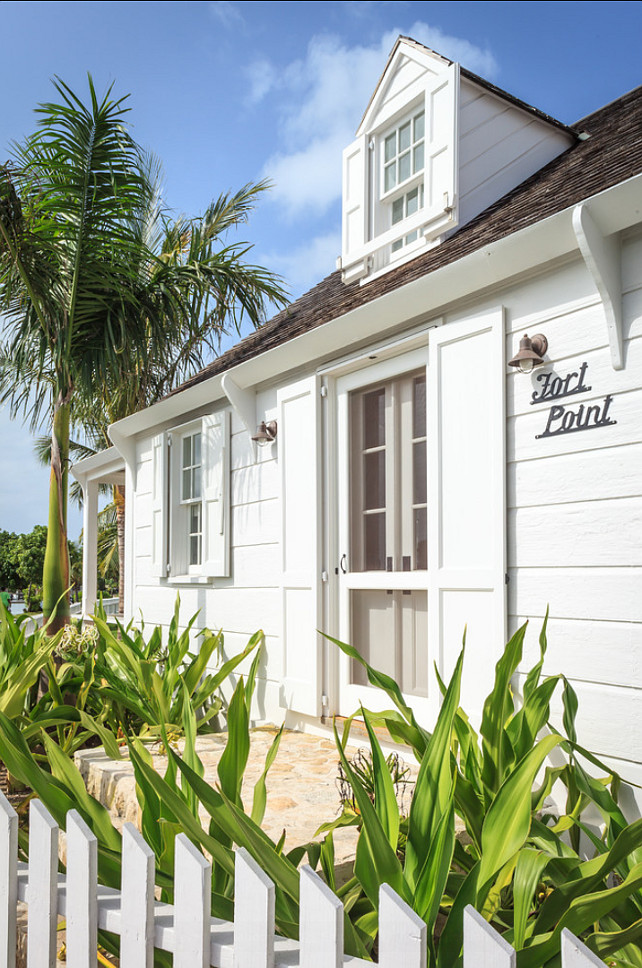 Classic white on white exterior and cedar shingled roofing.
  White Picket Fence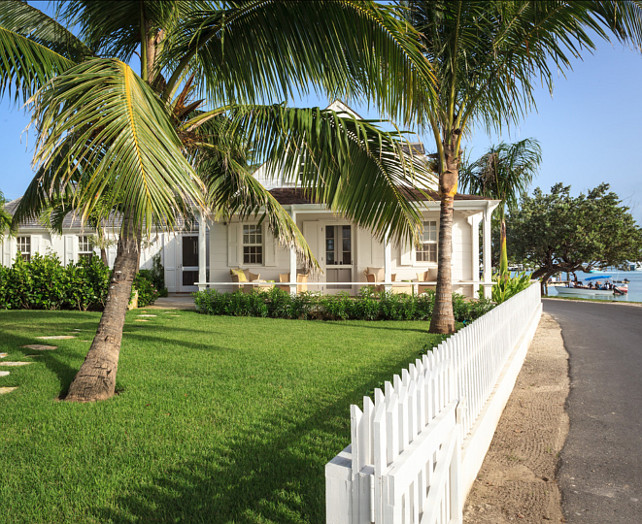 White picket fence and across from the beach? How perfect is this cottage?!
Front Porch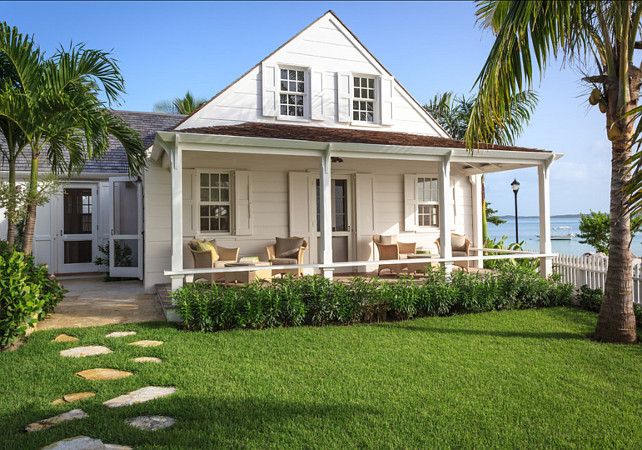 A front porch with ocean views… can never go wrong with that!
 Ocean's Breeze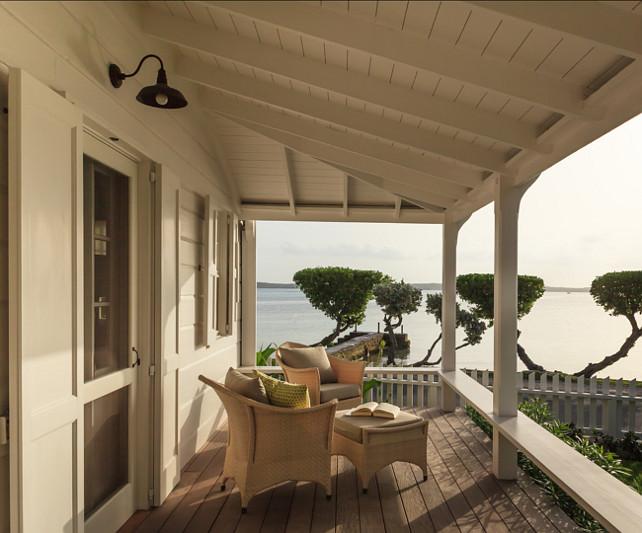 I could stay here for hours, just thinking about life and the many friends I haven't seen in a long time.
 Entryway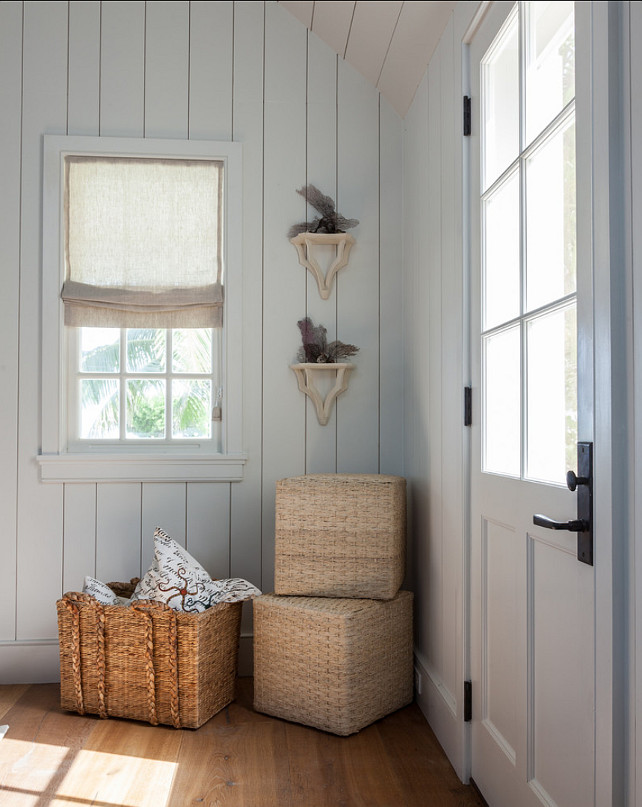 Simplicity and beauty is found everywhere in this cottage.
Note the linen window shades and the door hardware.
 Open Dream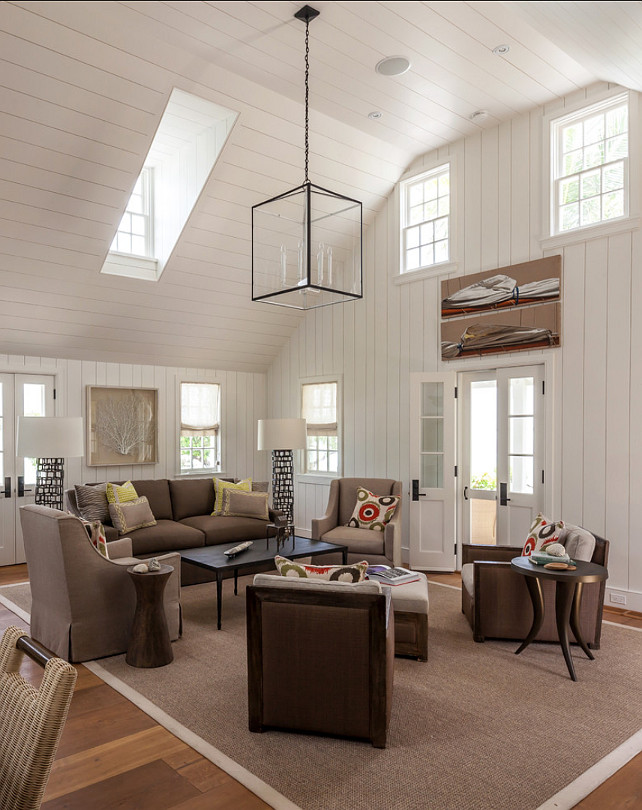 High ceilings make this open space feel larger than it actually is.
I love the oversized hanging lanterns.
Dining Area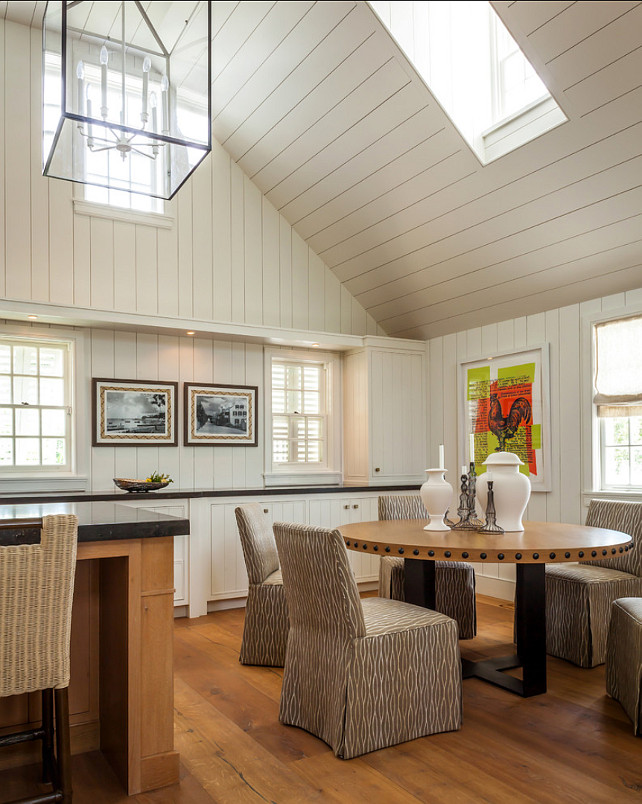 The dining area is just beside a large island and it feels stylish and casual, which is perfect for this space.
Kitchen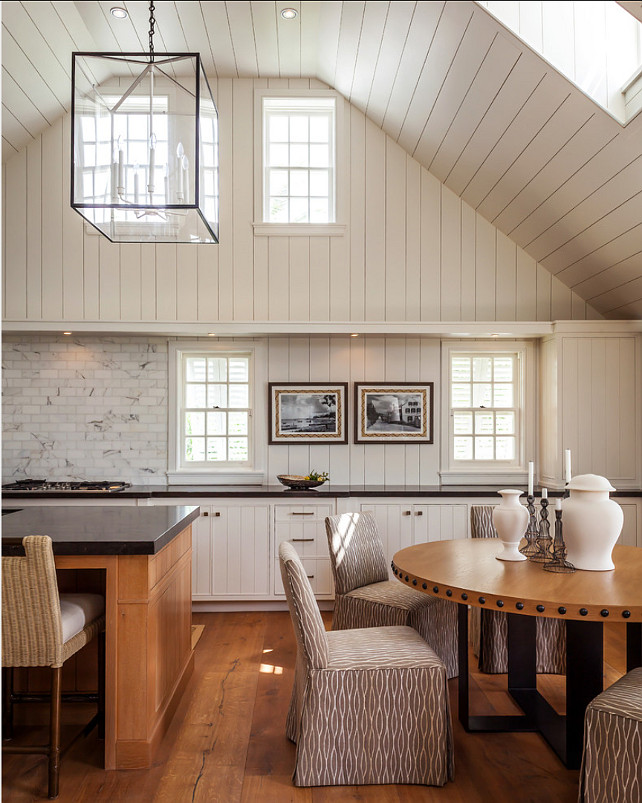 With wide plank wood flooring and omitting upper cabinets, this kitchen is full of great design ideas.
Countertop is soapstone.
 Paint Color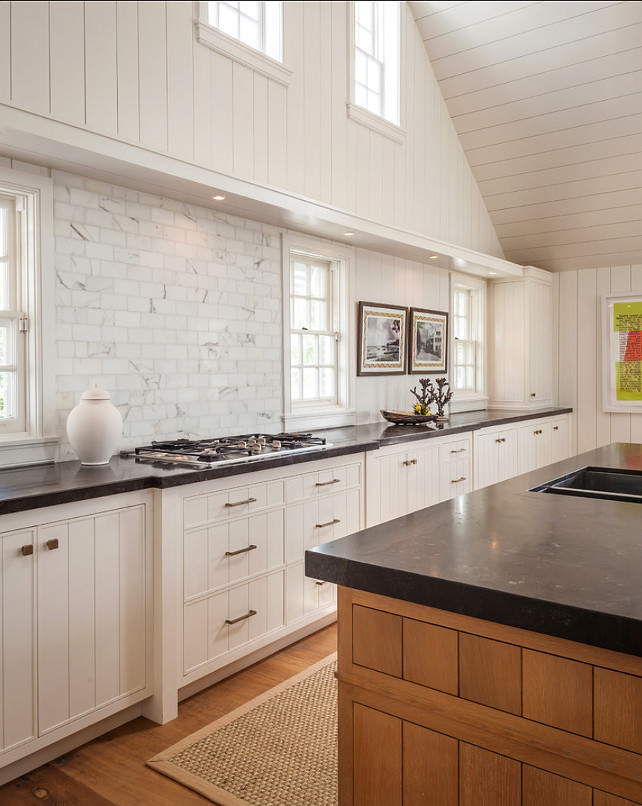 Wall & Kitchen Cabinet Paint Color: "Benjamin Moore Dove Wing OC-18″
 From Wall to Wall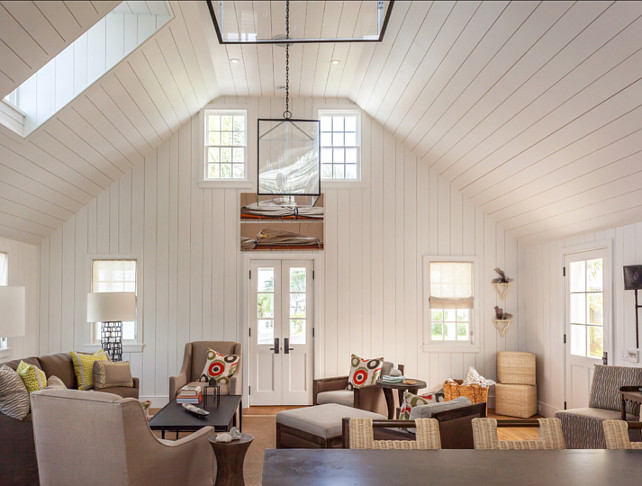 The view of the entire room from the kitchen island.
 Butler's Pantry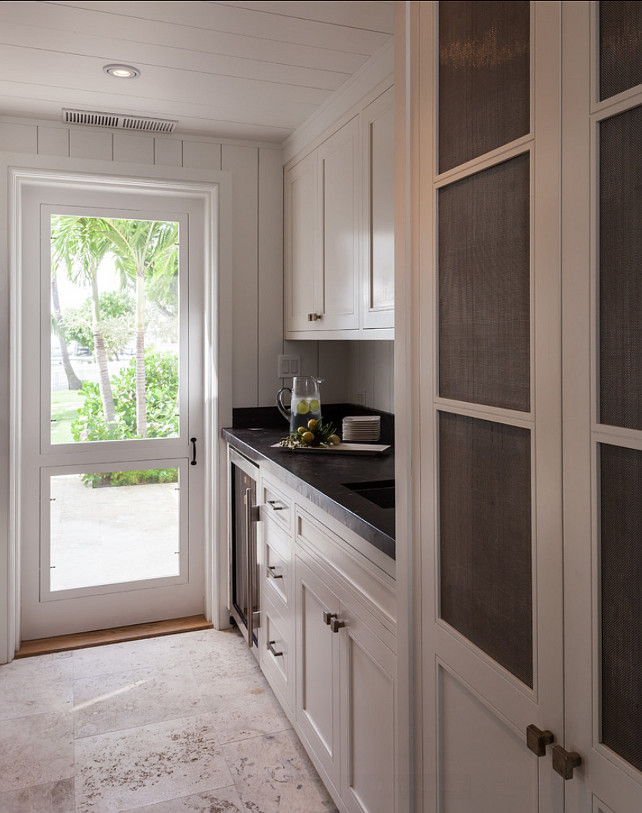 With light gray cabinets and soapstone countertop, this butler's pantry offers some extra storage and is perfect to prepare quick drinks.
 Powder Room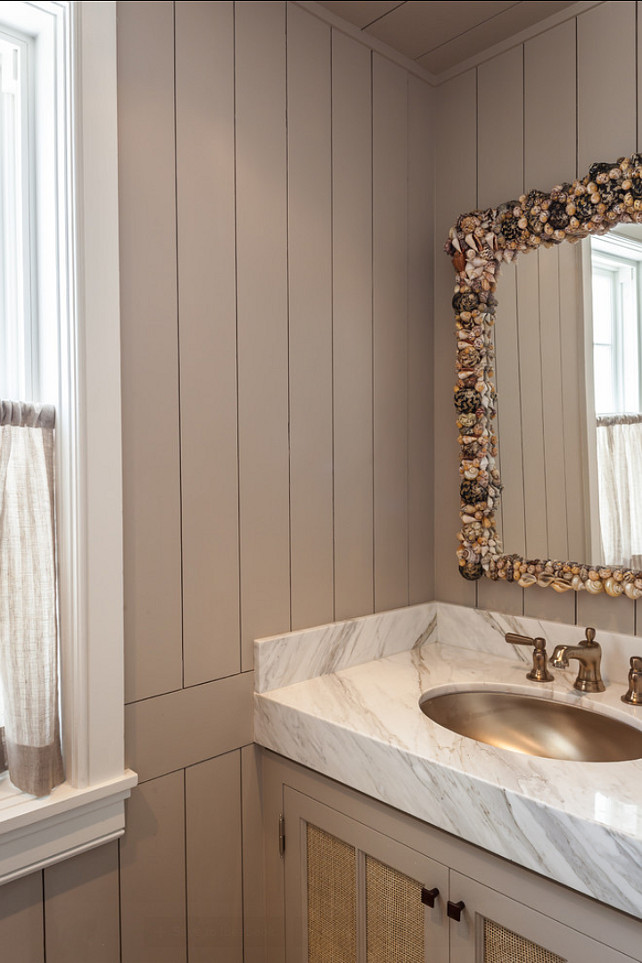 Paint Color: "Benjamin Moore Revere Pewter".
 This powder room is fantastic! I love the sea shell mirror and white marble countertop against the warm gray paint color.
 Master Bedroom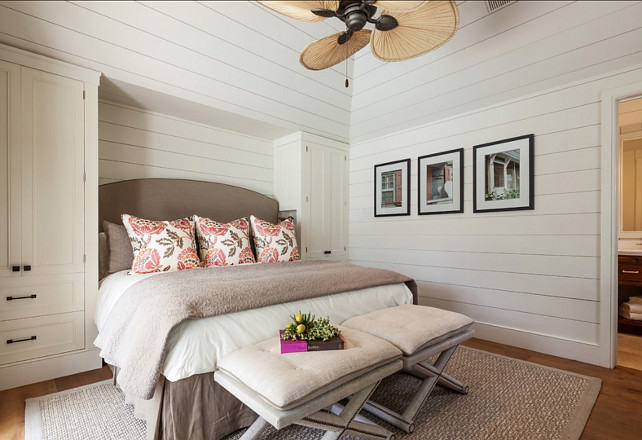 What a beautiful bedroom! I love the idea of having built-ins on both sides of the bed for extra storage.
Also, notice the coral pillows working really well against the neutral color palette.
 Bathroom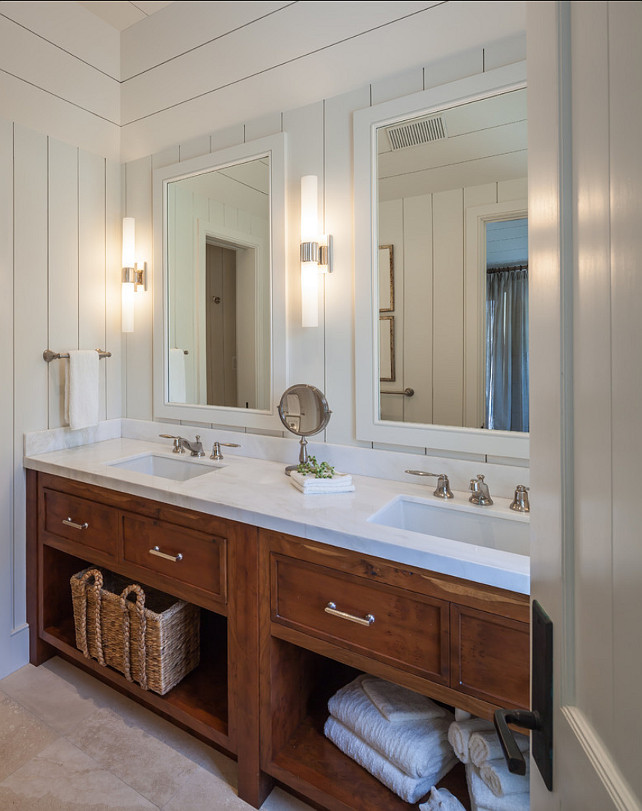 I really like this bathroom style. It's uncomplicated and timeless!
Sconces are from Circa Lighting.
 Bathroom Vanity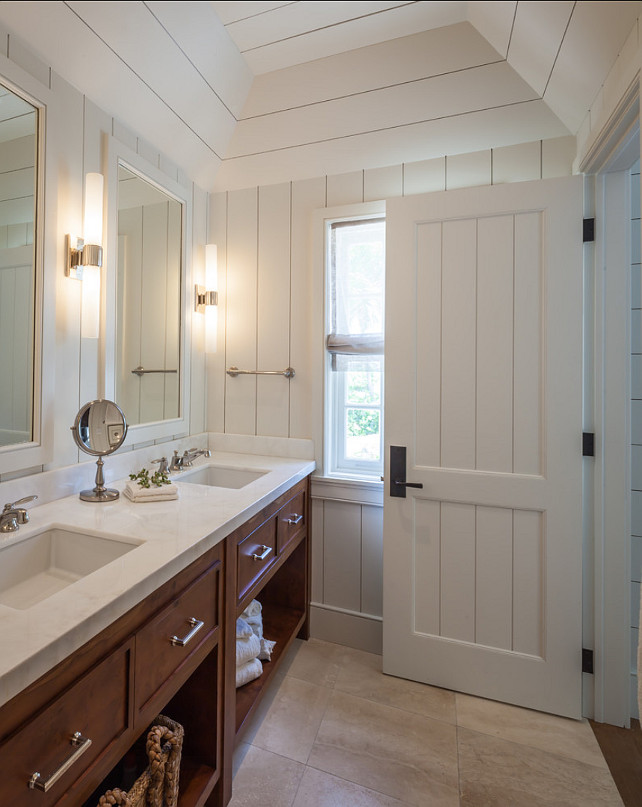 This vanity was custom designed and made my Falcon Kitchens, Toronto.
Guest Bedroom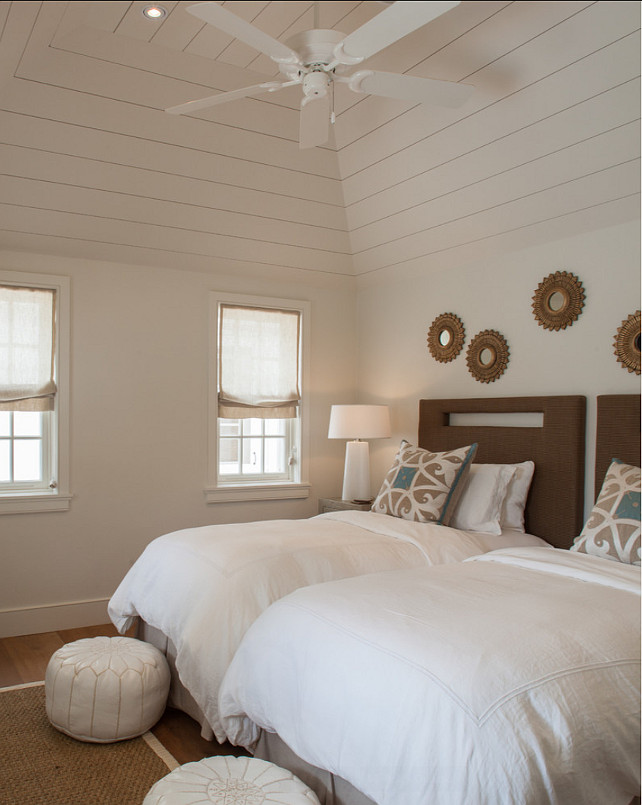 This guest bedroom is all about simplicity and comfort.
The headboards were custom designed. They were fabricated in Toronto and upholstered with a textured woven fabric that gives the appearance of raffia.
 Coastal Guest Bedroom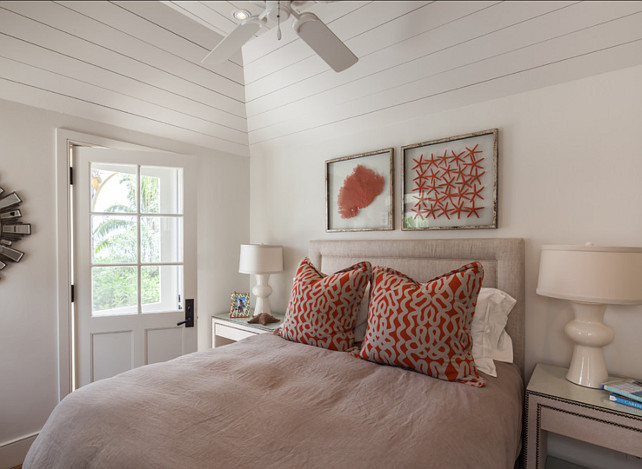 This coastal guest bedroom feels welcoming and youthful.
Art is from Princess Gallery", Harbour Island.
 Rue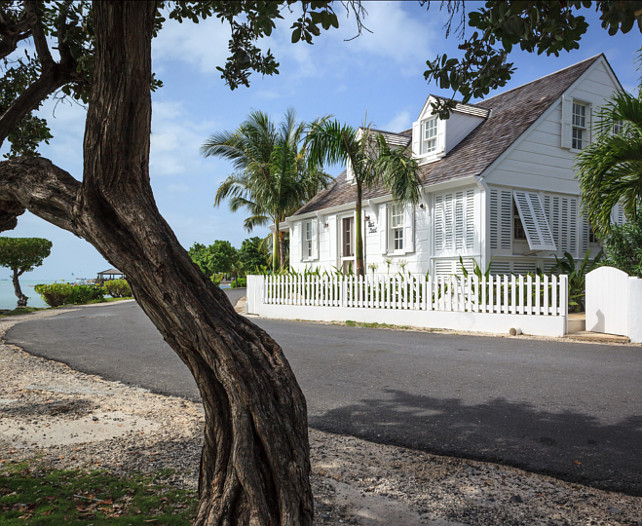 Your little "paradise"…
Taking Small Steps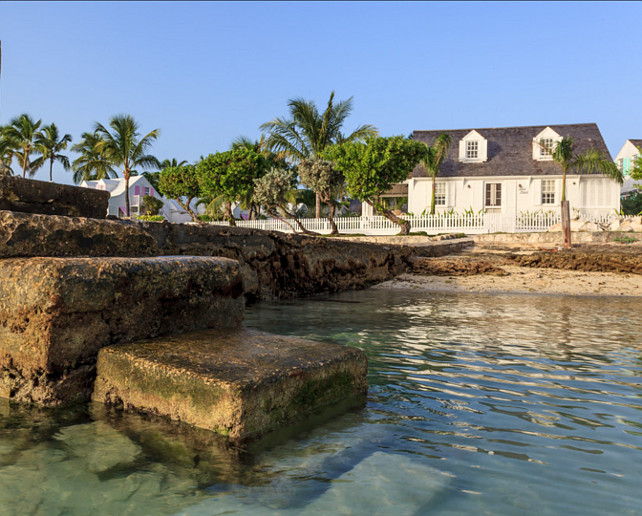 Let's sit here and get our feet wet…

 Backyard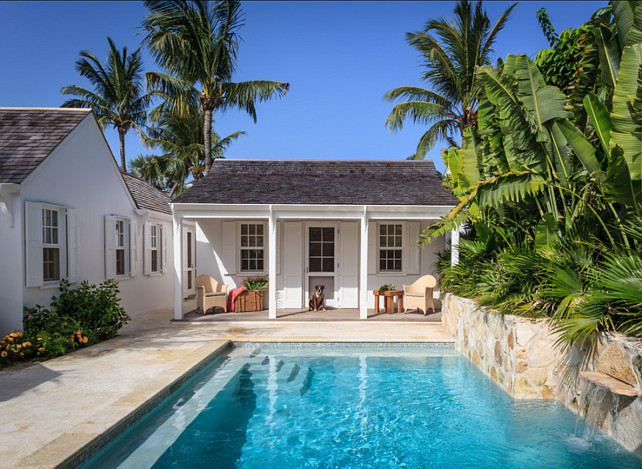 The pool, the guest house and a very cute "puppy".
In fact, the guest bedrooms we just saw above are located in the guest house.
 View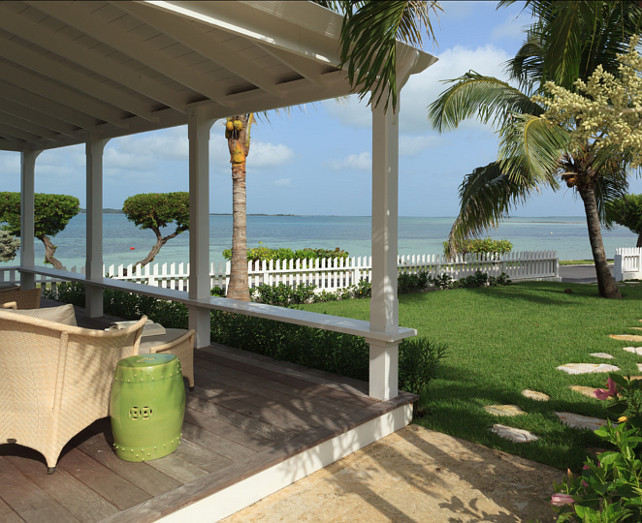 A dreamy porch with turquoise ocean views…
  Patio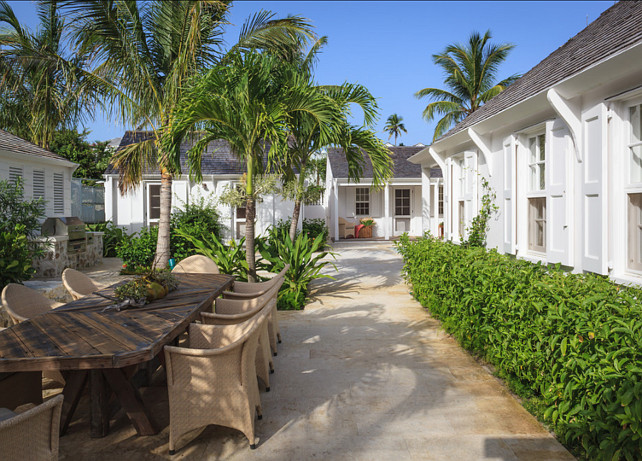 An expansive outdoor table offers plenty of space for family and guests to enjoy this tropical patio.
Natural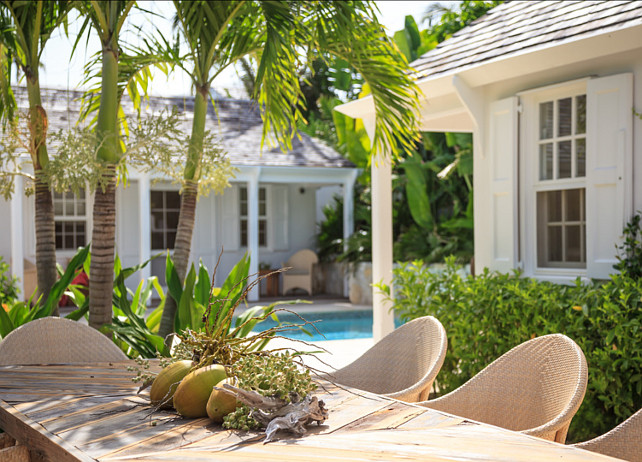 Natural decor is always an easy and affordable way to beautify your home.
 Gardens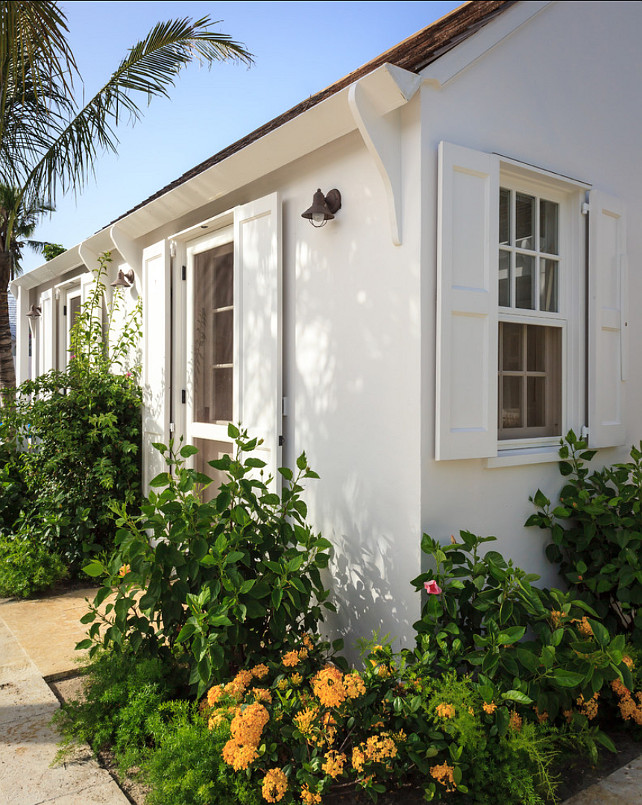 Beautiful architecture and colorful gardens.
 Outdoor Shower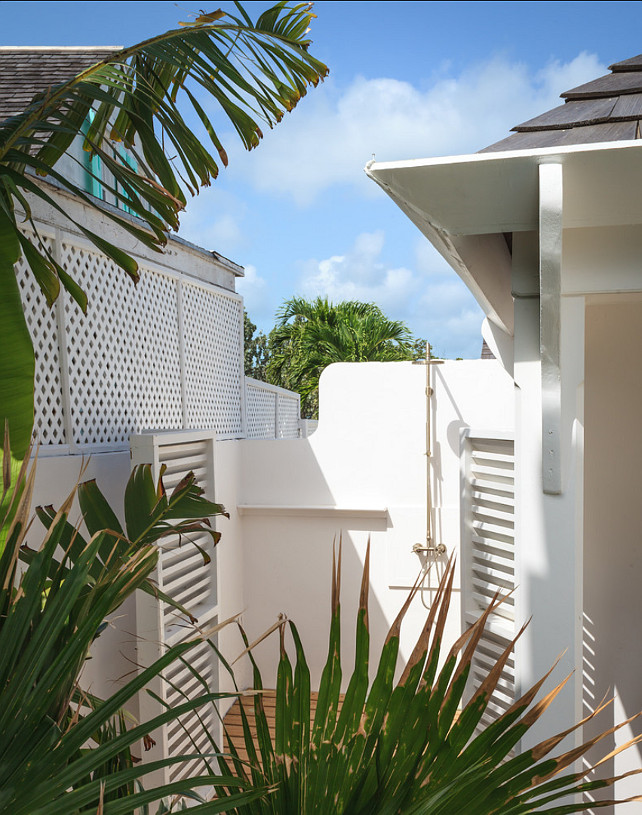 This cottage keeps getting better and better! It comes even with an outdoor shower!
Under the Stars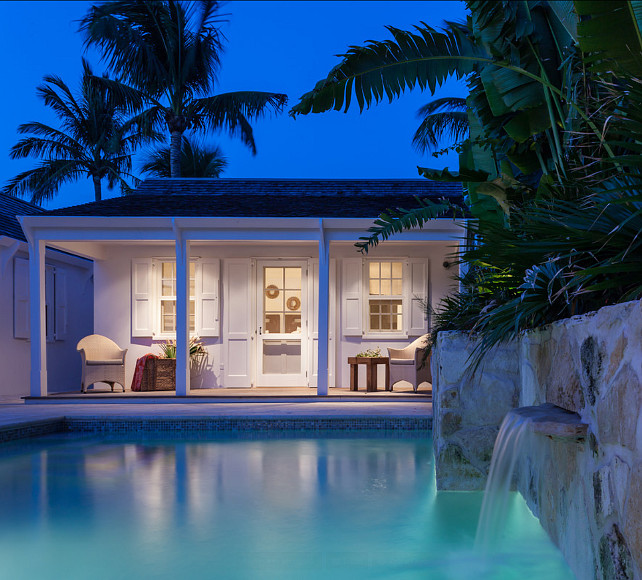 Wouldn't it be nice to go for a swim here during a summer night?
Deep Blue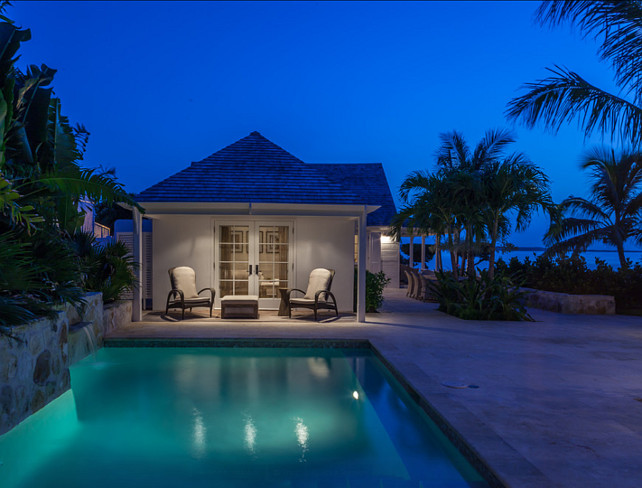 The view from the pool towards the cottage and the beach.
Palm Trees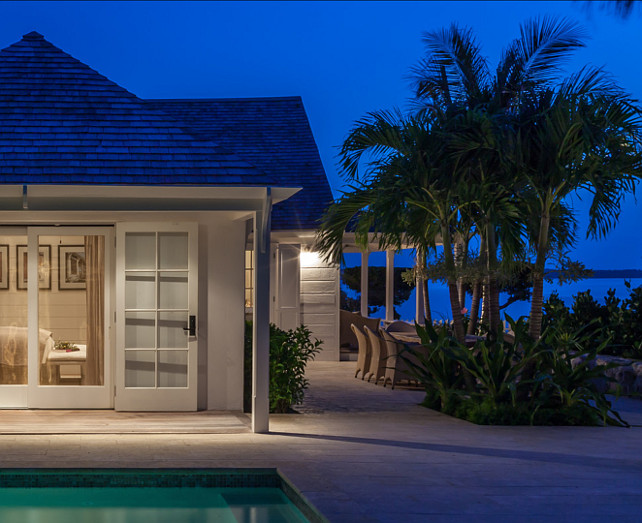 This place is beautiful during the day and night.
 Al Fresco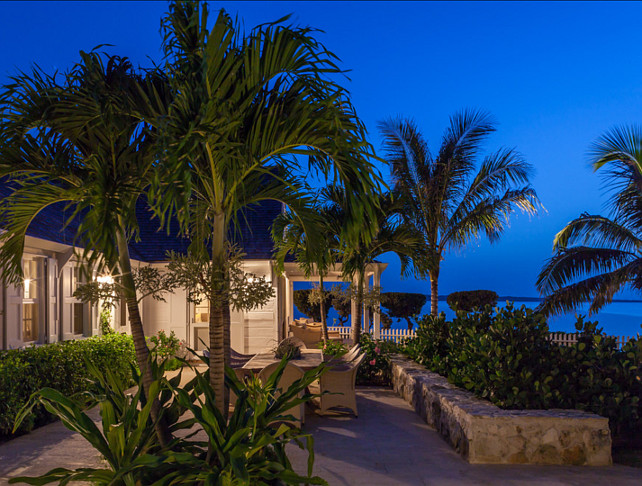 If you could invite anyone to have dinner with you here, who would it be?
See more Inspiring Interior Design Ideas in my

Archives.
Interior Design Ideas:

Paint Color
Interior Design Ideas:

Paint Color
I hope you could take a break and relax for a while. I am trying to take it slow right now, just enjoying summer with my family and not many errands on my to-do list. I am not sure if we'll travel, but just the fact that I don't have to hear the alarm clock every morning is already a big plus for me. Summer is definitely my favorite time of the year!
Wishing you all a sunny, happy and healthy day!
We'll talk more tomorrow!
with Love,

Luciane at HomeBunch.com
Interior Design Services within Your Budget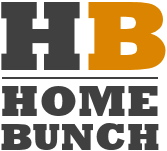 Get Home Bunch Posts Via Email


Sources: Interiors by Laura Hay Decor & Design.
Photos by: Lori Hamilton.

Posted in:
Architecture
,
Bathroom Design
,
Beautiful Homes
,
Bedroom Design
,
Classic Design
,
Coastal Decor
,
Coastal Homes
,
Coastal Interiors
,
Cottage
,
Gardens
,
Guest Posts
,
Home Decor
,
Interior Design Blog
,
Interior Design Ideas
,
Interior Designers
,
Kitchen Design
,
Living Room Design
,
Paint Color
,
Patio Ideas
,
Pool Ideas
,
Small Space Design
,
Traditional Interiors
,
Transitional Interiors

11 comments