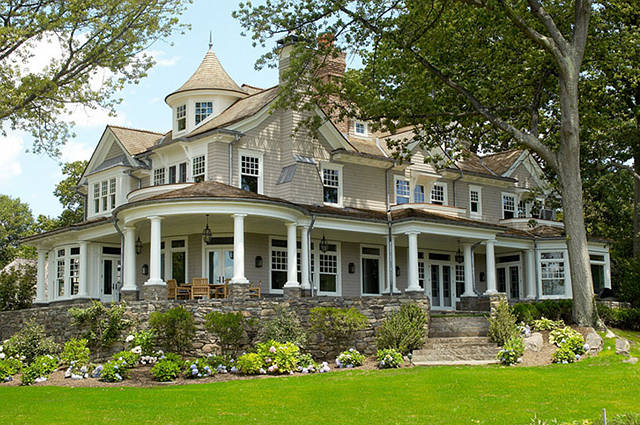 This gorgeous traditional house was built by Sound Beach Partners of Stamford, Connecticut. The house itself is a fine combination of old charm with modern amenities and it was construct to look as if it has always been there, even though it was completed in 2009.
The shingle style home has amazing views of Long Island Sound and as soon as you enter the house you're embraced by the calming pallet of cool blues and soft neutrals. This is truly a project where a successful relationship between builder and owner becomes evident in every room built.
I hope you feel pleased with the beautiful architecture and interiors of this house.
Beauty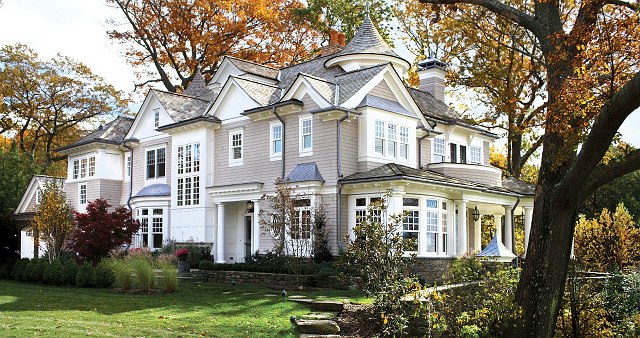 This is the kind of house that truly gets my entire attention.
Front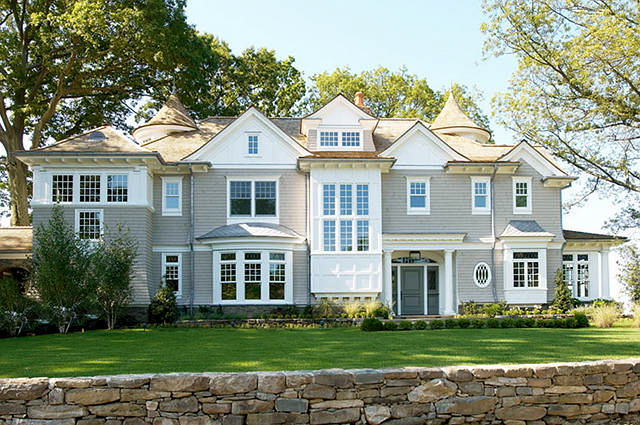 Beautiful architecture and landscaping.
Arched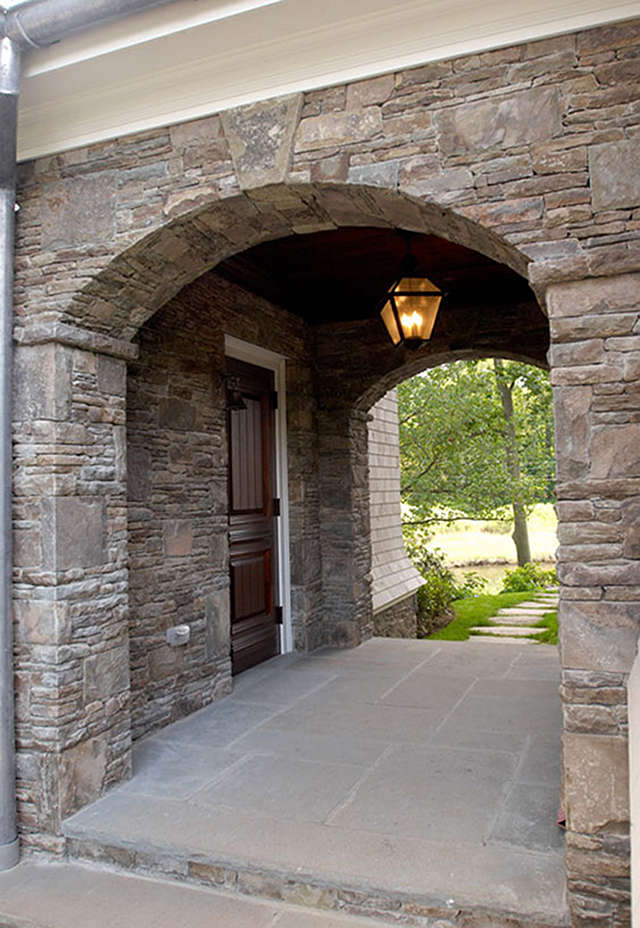 The entrance form the garage to the house.
Waves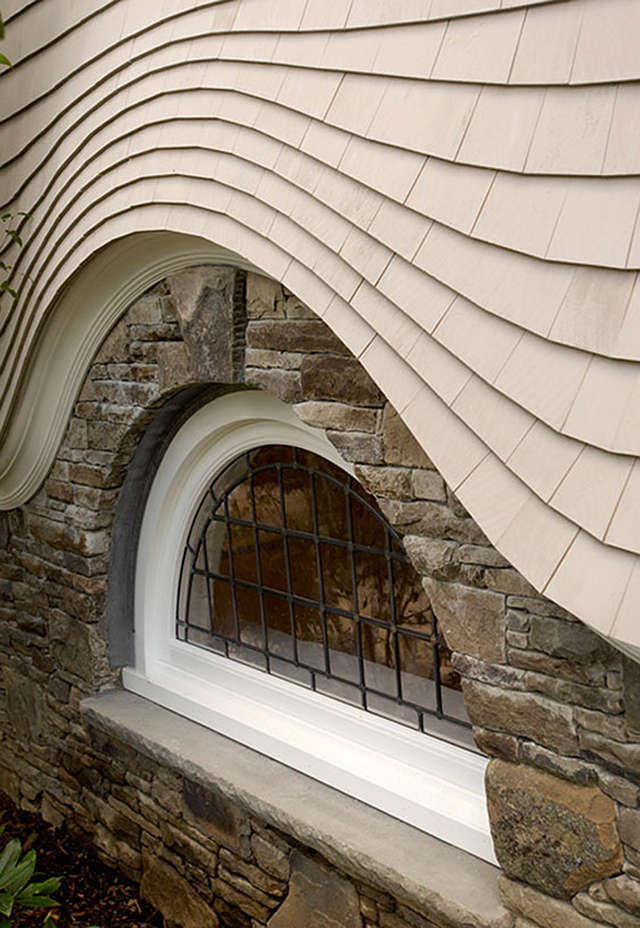 Beauty is in the details.
Door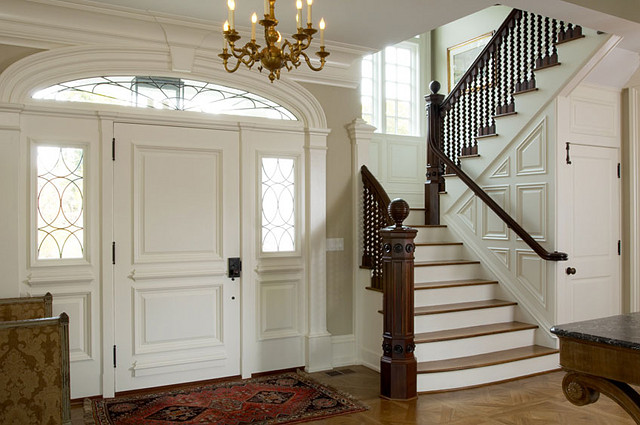 Impressive from the very start.
Foyer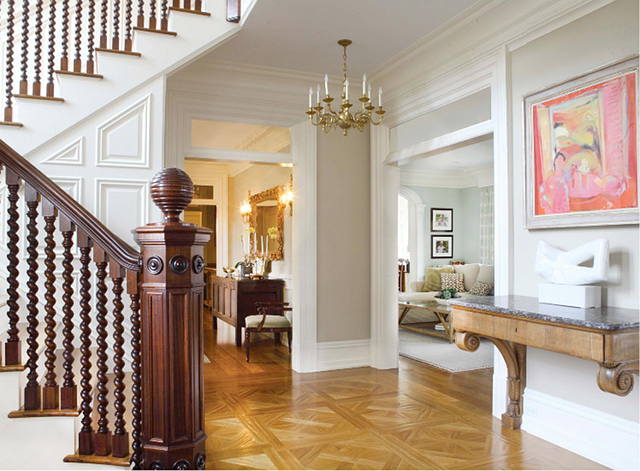 In the entrance hall, an ornately carved newel post and turned balusters define the staircase leading to the second story. The rich stain used on this finely detailed architectural piece complements the warm golden tones of the parquet flooring that pulls you into the other public rooms on this floor.
Living Room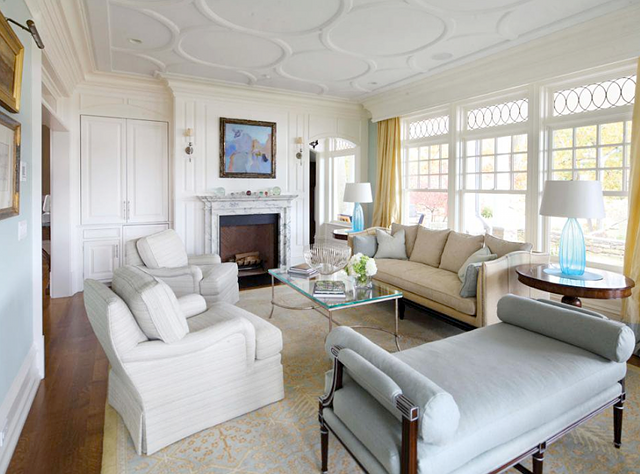 This living room is simply stunning and timeless. The pale blue chaise adds so much charm and I'm in love with the rug and the curtains compliment the yellow and blue founded on the rug.
Repeating Beauty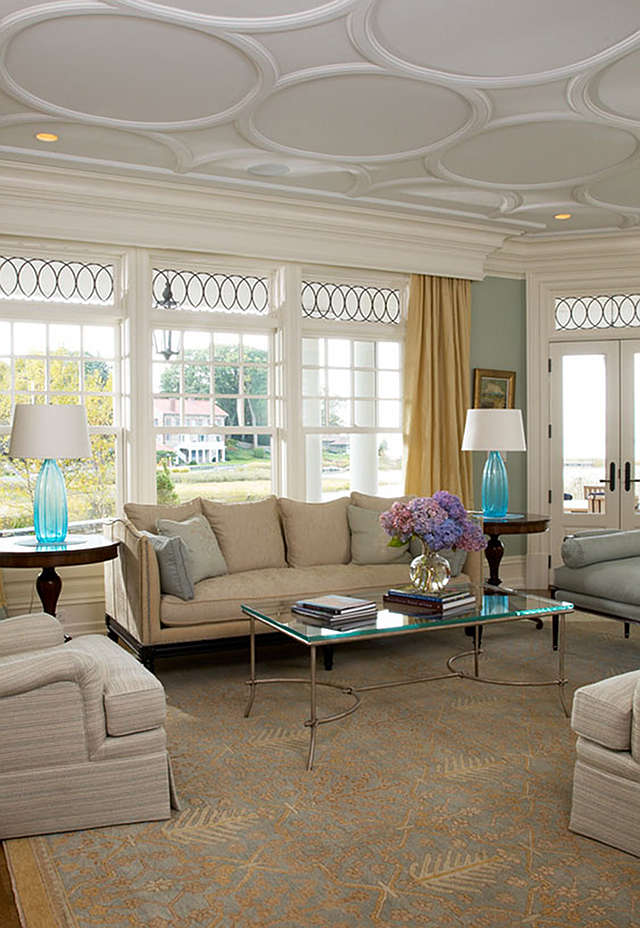 The circular detail in the transom windows is repeated in the circular detailing found on the ceiling.
Dining Room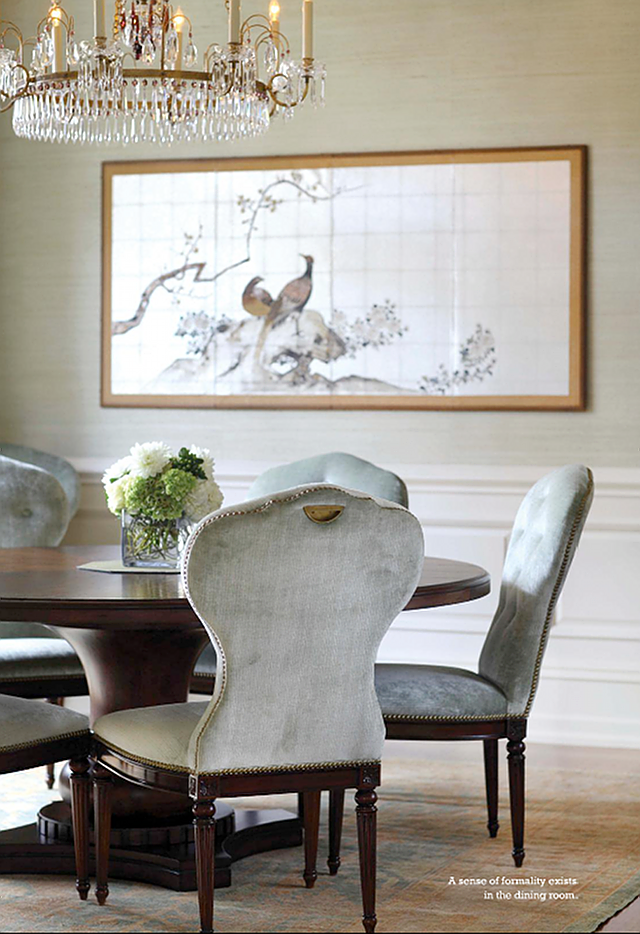 The  pedestal dining table which is surrounded by six gorgeous tufted, upholstered dining chairs and the room is illuminated at night by an intricately detailed crystal and brass chandelier.
Kitchen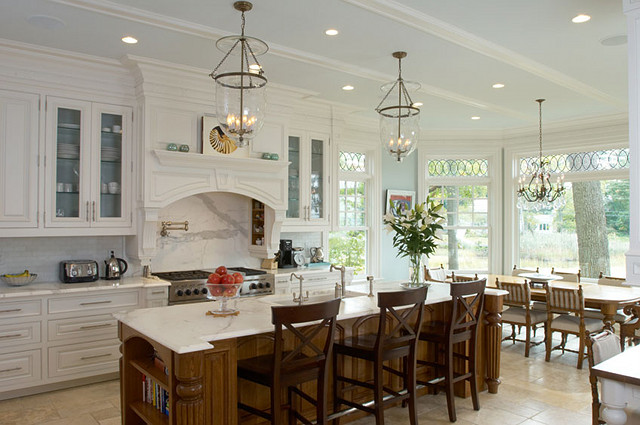 This kitchen offers plenty of natural light. Always a must for any kitchen. One of my favorite things here: the bell jar style lighting fixtures above the island and the more whimsical chandelier above the table.
Island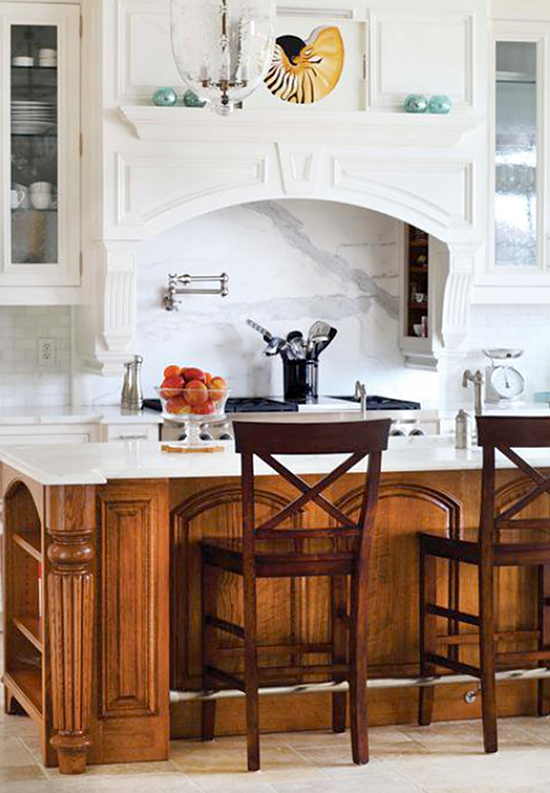 The stained wooden island adds more interest to this kitchen.
View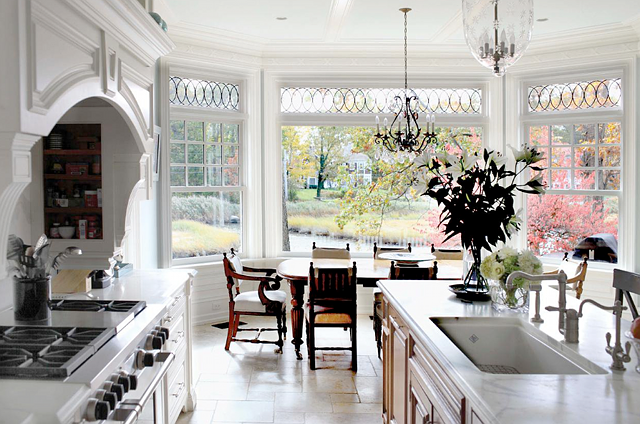 I'm loving the view from the nook.
Family Room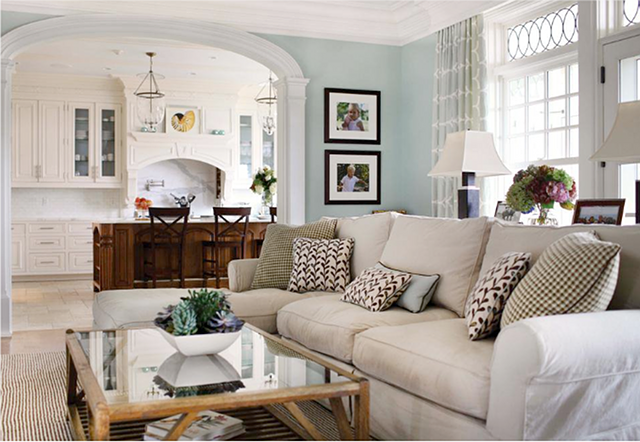 A double arched entry connects the comfortable family room with the kitchen.
Panelling & Built-Ins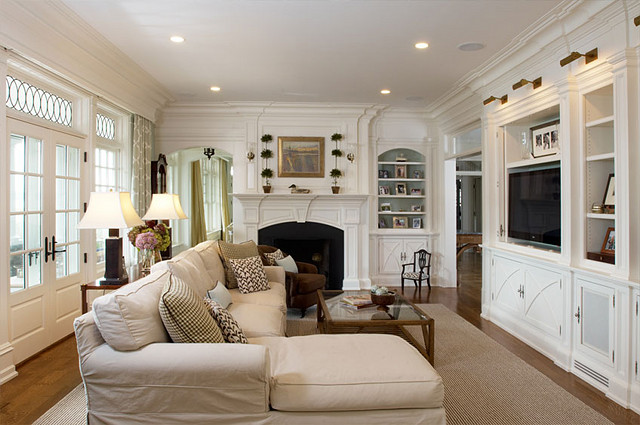 How amazing is this family room, right? You know me, I love a comfortable room and this is it! I'm also crazy about the curtains.
Master Bedroom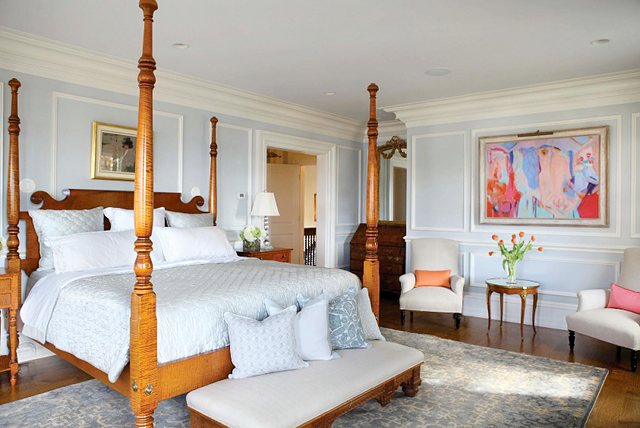 Soft blue walls, rug and pillows makes this room feels relaxing. The four poster bed is covered in a sea of silky blue matelasse.
Master Bathroom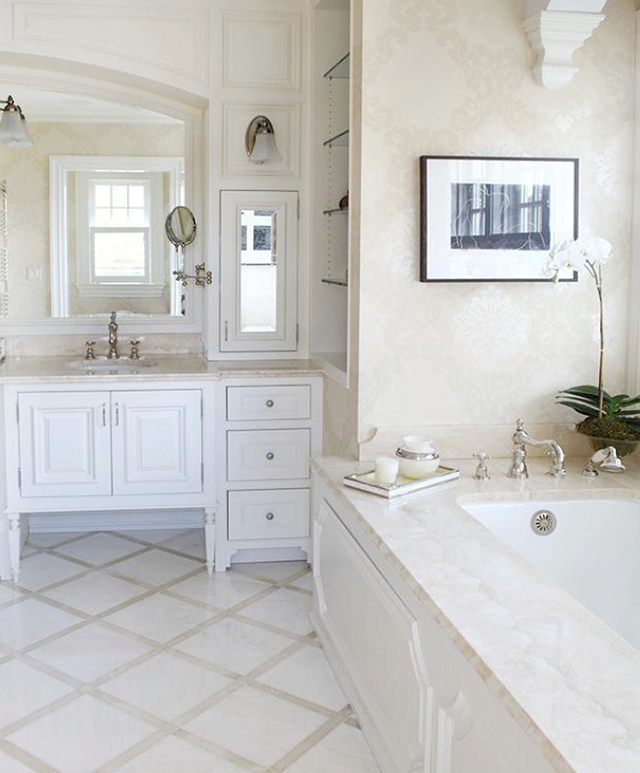 A classic!  A subtle trellis pattern on the wall covering is repeated in the design of the floor.
Guest Bedroom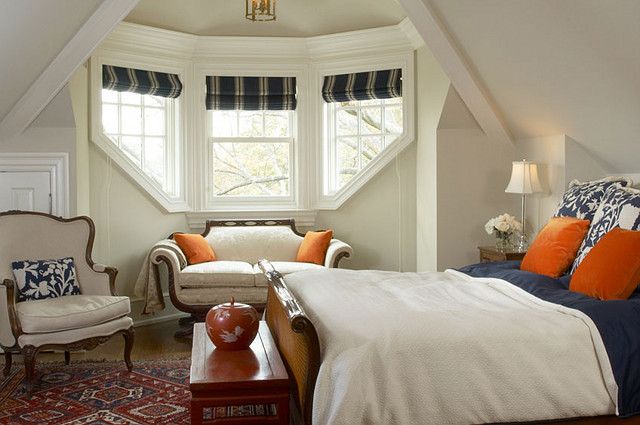 This bedroom is going to my "inspiration file". I am really liking the navy with the orange. Really fresh and fun!
Bathroom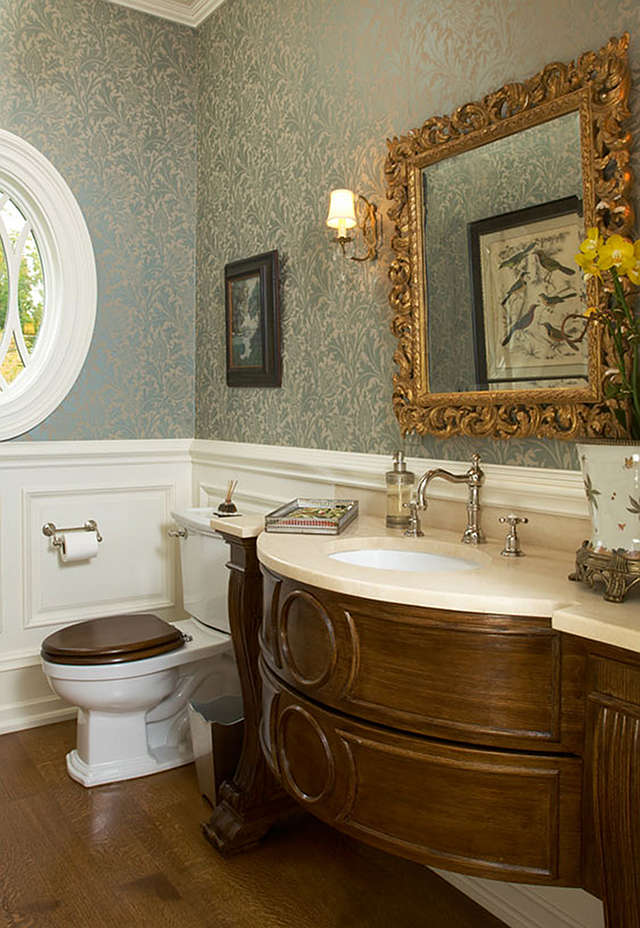 Stunning wallpaper and vanity.
Outdoors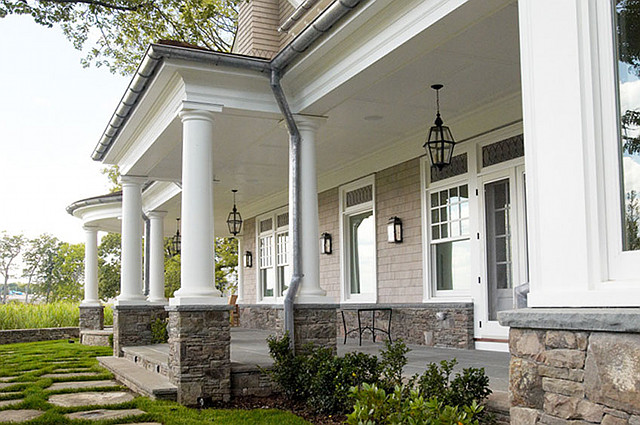 Everything about this house feels serene and welcoming.
Water Views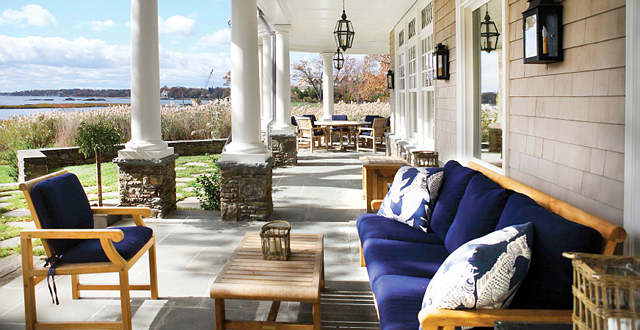 I'm always a huge fan of outdoor furniture being upholstered in blue, especially when the house is by the water like this one.
Patio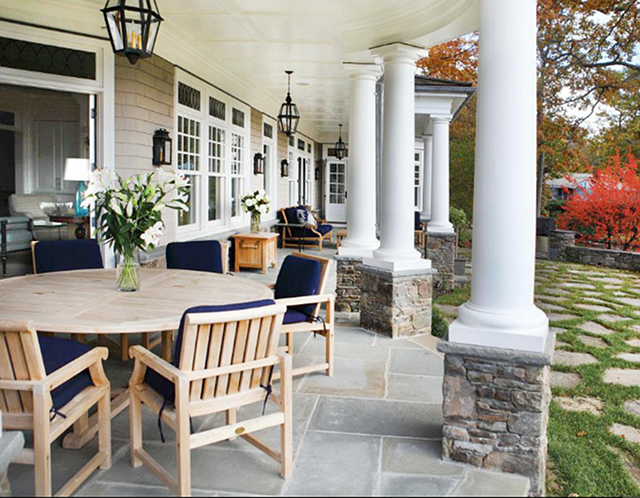 So beautiful!
Inspiring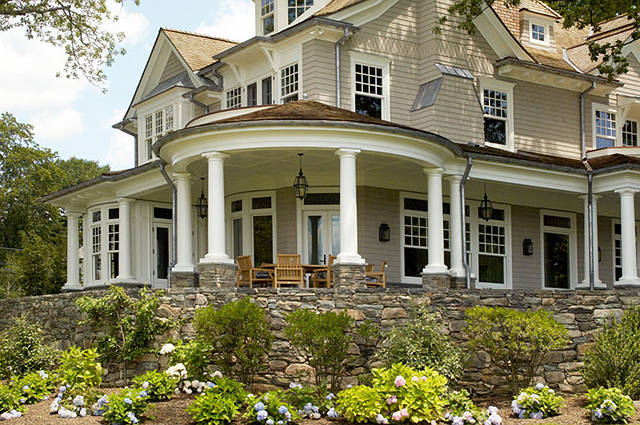 The architecture is very inspiring to me.
I sure hope you've enjoyed this post I prepared for you.
So, how's your summer  going so far? Are you having any time to relax? I promised myself to relax more and work less last week and it's funny, but whenever I plan to do that, I always ended up working even more! I'm really questioning myself why is that? Am I so used to work all the time that I don't know how to just leave whatever I need to do for another time? Sometimes it seems we become "slaves" to our errands and we get so used to doing all we need to do on a daily basis that we actually feel it unnecessary to relax, to take a moment to do just that. It becomes hard to "unplug" ourselves. Don't you think? I'm feeling just like that lately. Guess what I need to do to totally unplug myself: a vacation! I think I really need one. How about you?
Please, make sure to enter on our 1st Giveaway: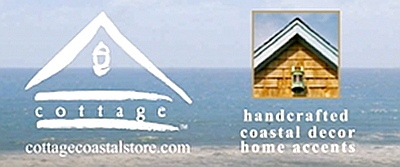 xo
Luciane at HomeBunch.com
Hot Summer Prices! Get My Help with Interior Design:  HB's Design Service.

Come Follow me on Twitter: Twitter/HomeBunch
Source: Sound Beach Partners, East Coast Home + Design, House of Turquoise.
18 Comments to 'Timeless Waterfront Home'
Subscribe to my RSS Feed
Leave a Reply