Starting a new week gets even better with Beautiful Homes of Instagram, especially when we have someone as especial as Karen from @SanctuaryHomeDecor!
Asking Karen to be featured on Home Bunch was an easy decision to make, especially after seeing a few pictures of her California home. Seeing her dogs and horses made me fall even more in love with this place and I know that you will too after you getting to know Karen and her inspiring lifestyle.
Hello! I'm Karen from @SanctuaryHomeDecor and I am so honored to have been asked by Luciane to share our home with you! Her site is so inspirational to me and I am in awe at all of the incredible homes that she shares…I can hardly believe she wants to include our home among them.
I wanted to share a little bit about my family and me…my husband and I are both native Californians and we met eighteen years ago when I was a real estate agent and sold him a house…He jokes that he didn't realize it was a package deal! We have three wonderful kids, a son and daughter in college and another daughter in middle school. We also have three dogs and five horses so there is no lack of furry critters to love at our home!
I worked in the fashion industry in my younger years, then transitioned into selling residential real estate, and most recently was an event designer for weddings and parties. All of these experiences combined to bring me to my latest adventure and my true love; sharing our family's journey of creating a home filled, not only with beautiful things, but with joy and peace, through my blog, social media and online shop .
We are a horse loving family, and have a ranch in Montana, where we spend our summers, but for the remainder of the year we live in Hidden Hills, a beautiful equestrian community just north of Los Angeles. It is truly like living in the country here. We have horses in our back yard and miles of trails just outside our fences. Our community has parades and neighborhood parties and is about as close to small town living as we can get in a big city.
Since we moved into Hidden Hills, seventeen years ago, we have built and lived in three different homes, all within a mile of each other! My husband and I LOVE to have a home project to work on and might be considered "serial home builders" at this point.
The home I am sharing today is by far my favorite, because we were able to take all of our prior experiences and roll them into a house that combines all of the finishes and elements we love with some very personal touches that are meaningful to our family. The most special part of this property is not the home itself, but the surroundings in which this home sits.
We have just over an acre of land at the end of a cul-de-sac, and while there are neighbors on all sides, we have complete privacy because of the amazing oak tress and landscaping. When we bought this property, there was no landscaping at all and the house was a virtual tear down, but we were so enchanted with the oaks, we decided to take on the project and build a country cottage among the trees for our family.
Our vision for this home was to create a place that was a sanctuary from the craziness that we often experience living in a big city. We looked at thousands of pictures online and in magazines and developed an overall design concept. We then relied on our prior architect, George at Rocha Nuez & Associates, to develop the elevation and floor plan. I had a very clear vision for the interior design elements, and with the support and guidance of my great friend, Tracey at Tracey Allison Design, I was able to bring that vision to life. It took nearly two years to complete the house and landscaping and even still, there are many projects left to finish. In the meantime we are settling into our little sanctuary in the city and I am so excited to share a bit of it with you today!
Beautiful Homes of Instagram

The winding blue stone path, leads to a large covered porch, which is a favorite spot to sit and enjoy the yard.
Country Cottage

We wanted a country cottage feel for the exterior of our home so we chose wood shingles mixed with stone.
Stone: Eldorado Stone with over grout.
Shingles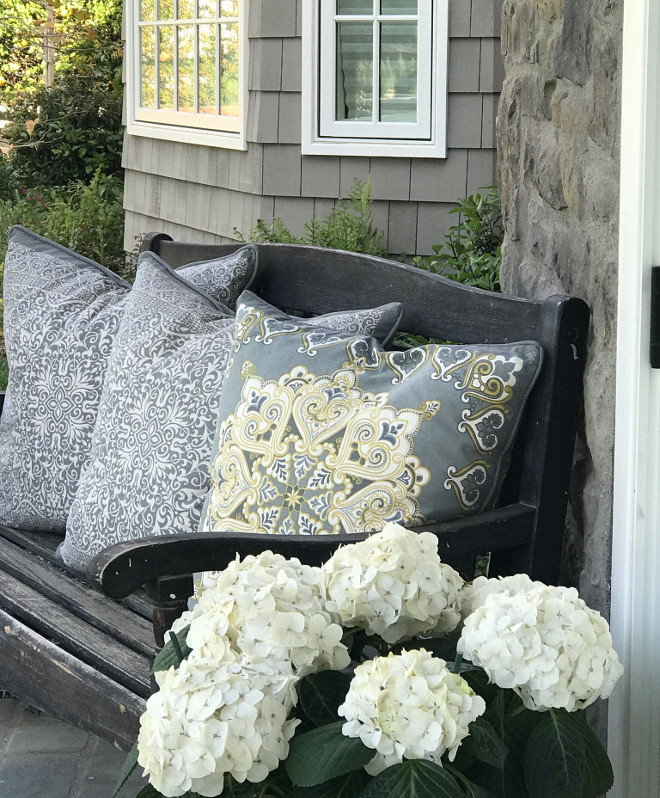 Wood Shingles: Cedar Valley – Semi Transparent Beachwood Gray.
Front Door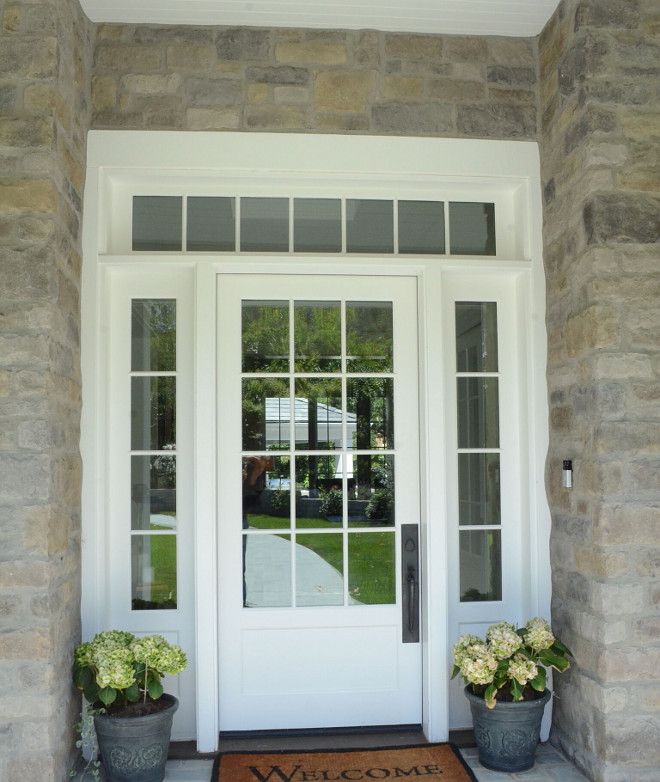 Trim Color: Benjamin Moore Decorator's White.
Door Hardware

Front Door Hardware: Ashley Norton – Apollo Series.
Entry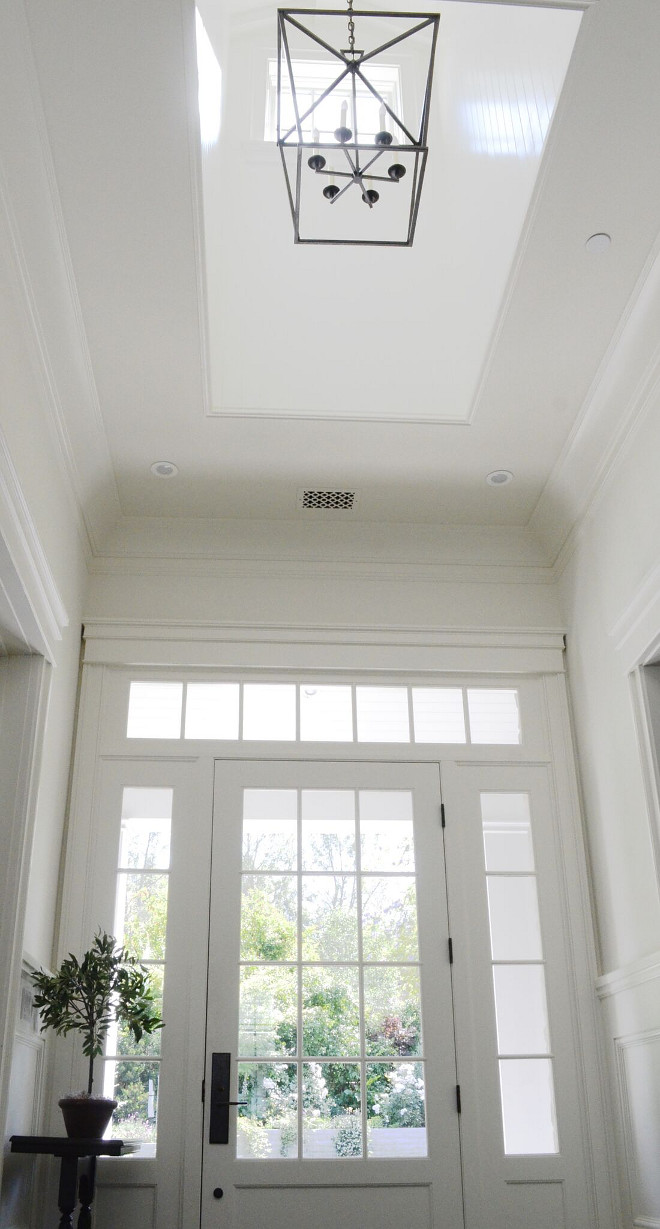 We hung the entry chandelier inside the open dormer making the space light and bright day or night.
Chandelier: Visual Comfort.
Hardwood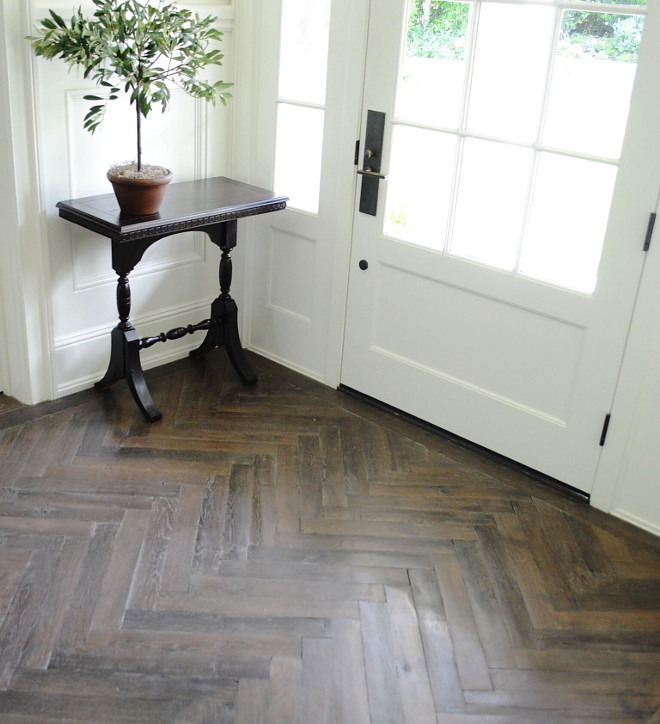 The wood flooring throughout the house is French oak, with a custom finish. We chose a herringbone pattern in the entry, dining room, library and guest cottage and 11" wide planks throughout the remainder of the house.
Wood Flooring: Custom Design – Esh Hardwood Flooring.
Details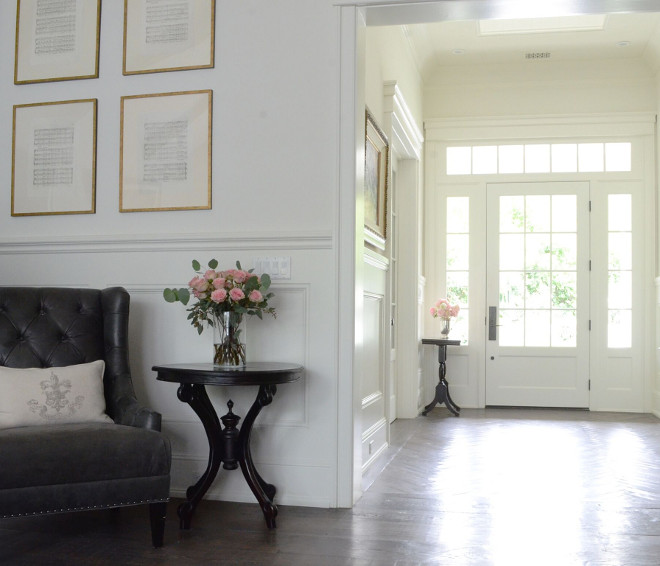 The entry is flanked by the dining room and the library, giving it a very traditional feel. As you pass through there is a view through the oversized living room doors to the back yard adding a touch of drama.
Living Room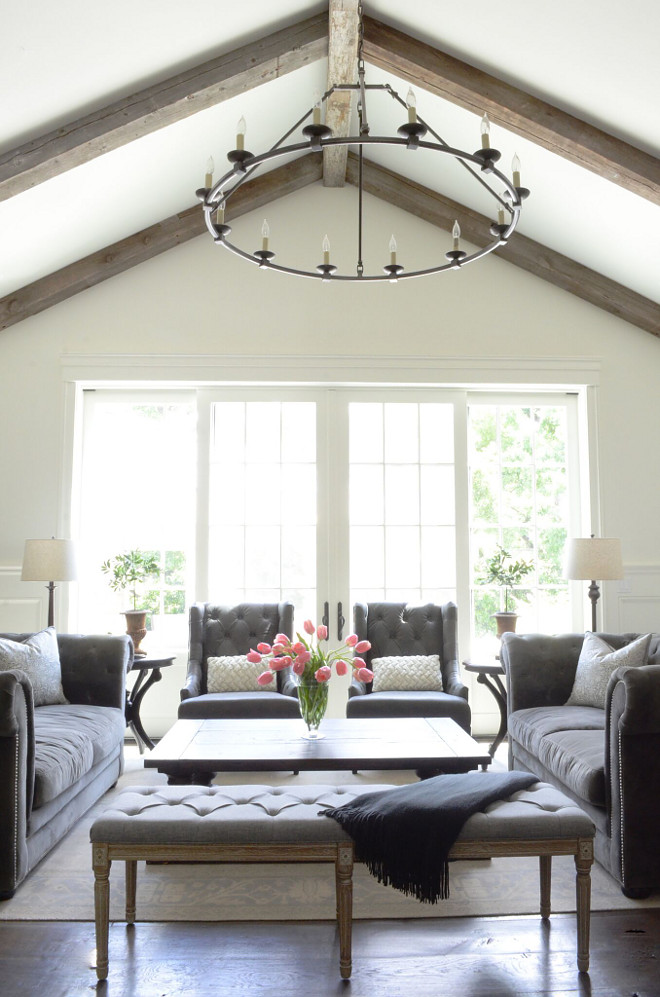 Our living room is somewhat oversized with vaulted ceilings, so to add some warmth, we incorporated reclaimed wood beams, brought from Montana. It took us a while to find the right chandelier for this room. We tried several designs and ultimately decided on this simple iron piece from Restoration Hardware. Paint color is Benjamin Moore Swiss Coffee.
Grey Leather Chairs: Bernhardt Oliver.
End Tables: HomeGoods.
Coffee Table: Restoration Hardware.
Lamps: HomeGoods.
Rug: Restoration Hardware.
Wood Beams: Rustic Wood Hub – Bozeman MT.
Sofa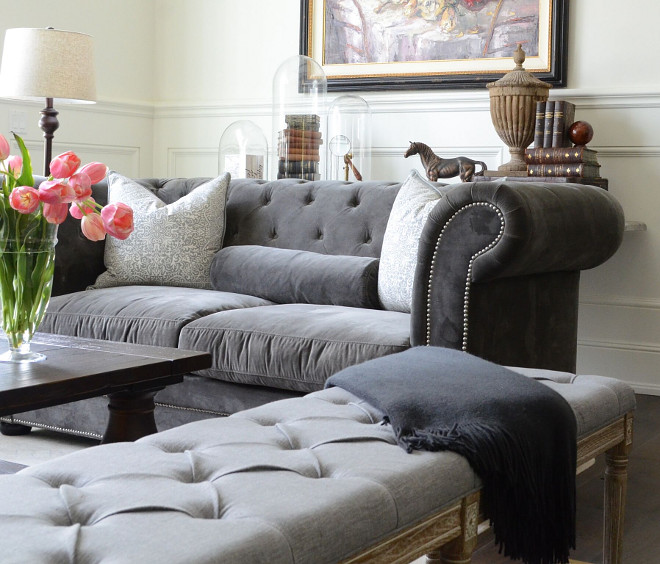 Couches: Dovetail Furniture.
Bench: HomeGoods.
Dining Room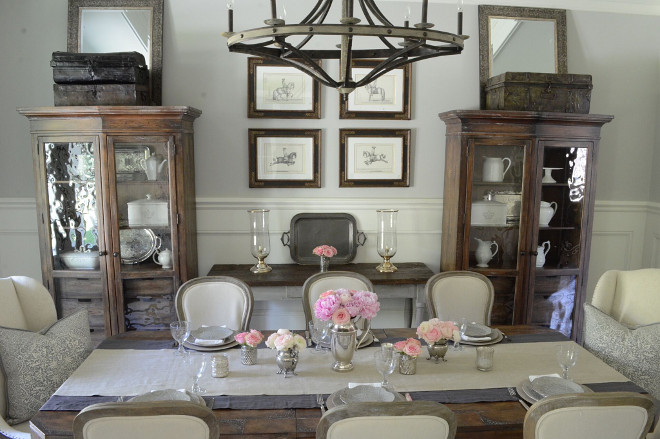 Our dining room is still a work in progress. We just painted the walls above the wainscoting a light gray, which I love, but we may eventually chose a wallpaper for this room.
Cabinets: Hooker Furniture Willow Bend Collection.
Trunks: Restoration Hardware.
Mirrors: HomeGoods.
Paint Color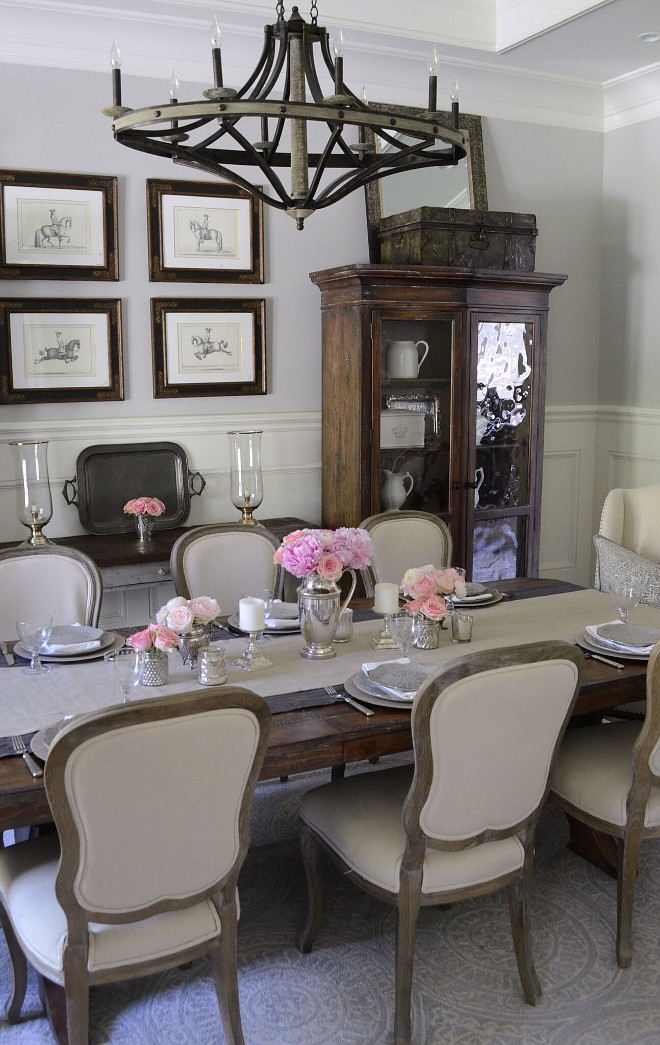 Wainscoting Paint Color: Benjamin Moore Swiss Coffee.
Wall Paint Color: Sherwin Williams Repose Gray.
Chandelier: Kalco Lighting –Coronado.
Horse Prints: Vintage
Table Decor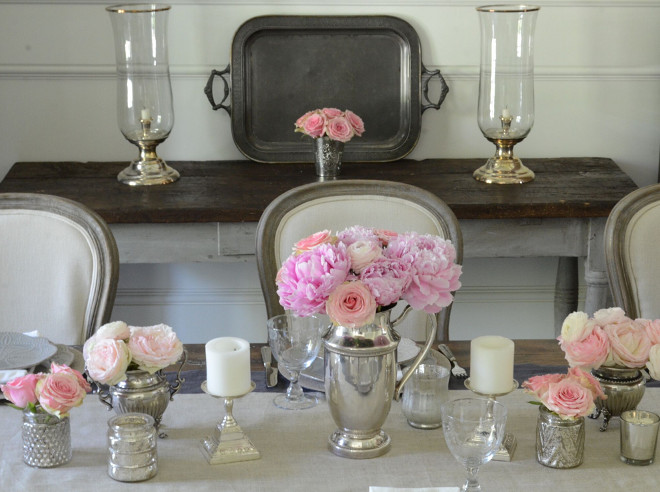 I often use my vintage silver as vases and layer linens, plates and napkins when we have guests over. Truth be told, I could spend hours setting a beautiful table…
Sideboard: Vintage.
Furniture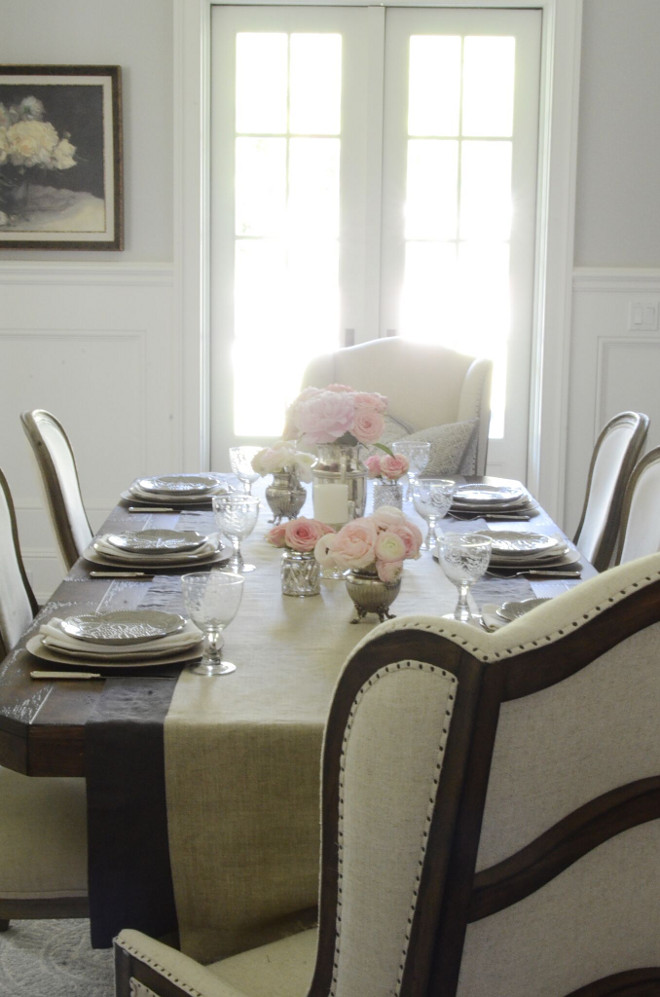 Dining Table, Host Chairs: Hooker Furniture Willow Bend Collection.
Dining Side Chairs: Dovetail Furniture.
Beauty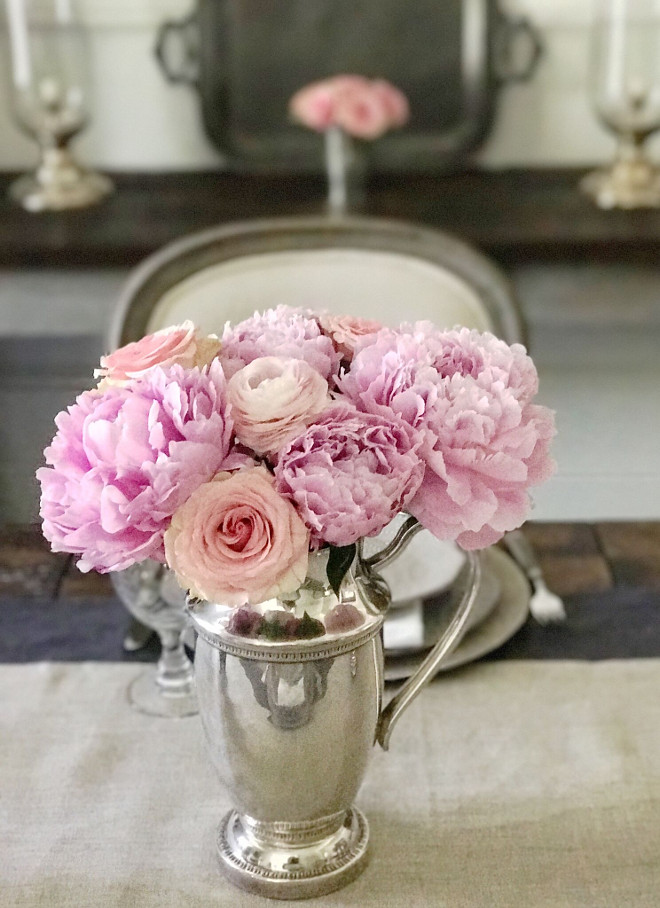 Linens are Crate and Barrel and the silver vase is vintage.
Library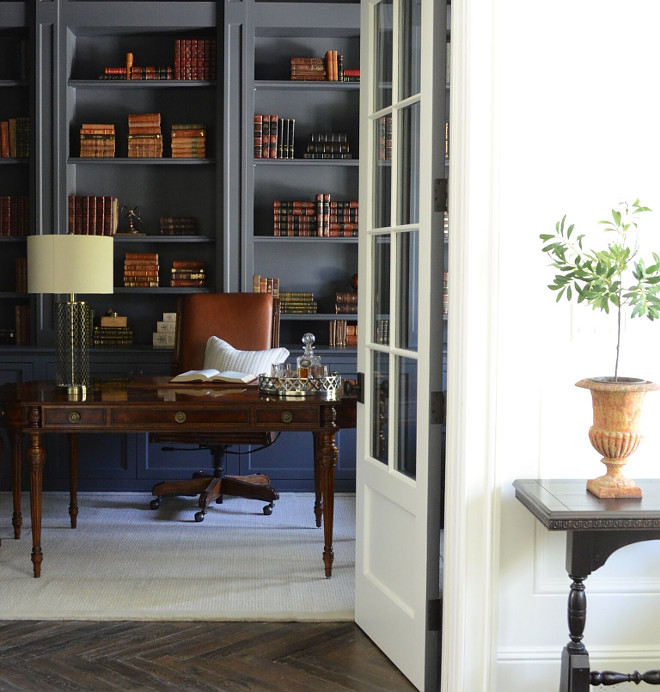 Our library also serves as my husband's office and is a room that we decided to go a bit bolder with in terms of paint. We built in a wall of shelves and cabinets, paneled the remaining walls and installed a coffered ceiling. We painted the entire room a charcoal gray, including the ceiling. I love the contrast of this gray with the warm tones of the desk, chair and books.
Library Decor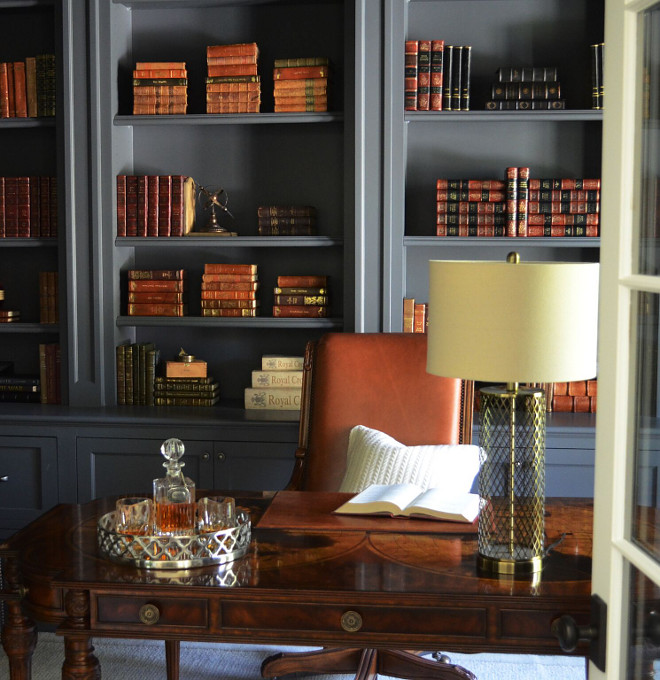 Paint: Charcoal by Restoration Hardware.
Desk: Maitland Smith
Chair: Jeffco
Lamp: HomeGoods
Kitchen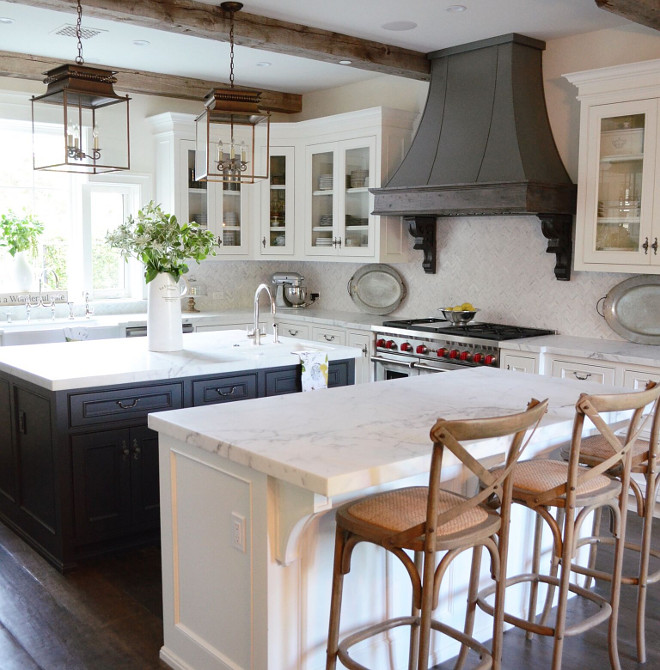 The kitchen is truly the heart of our home. It is located directly in the middle of the house and is just big enough to be functional without being overwhelming. This whole space was designed around the range hood which was custom made. We loved the mix of wood and metal and felt that it set the right tone for the country cottage look we wanted to achieve. We also added reclaimed wood beams to bring in additional warmth.
Prep island is 52" x 74".
Eating island is 39" x 74"
Islands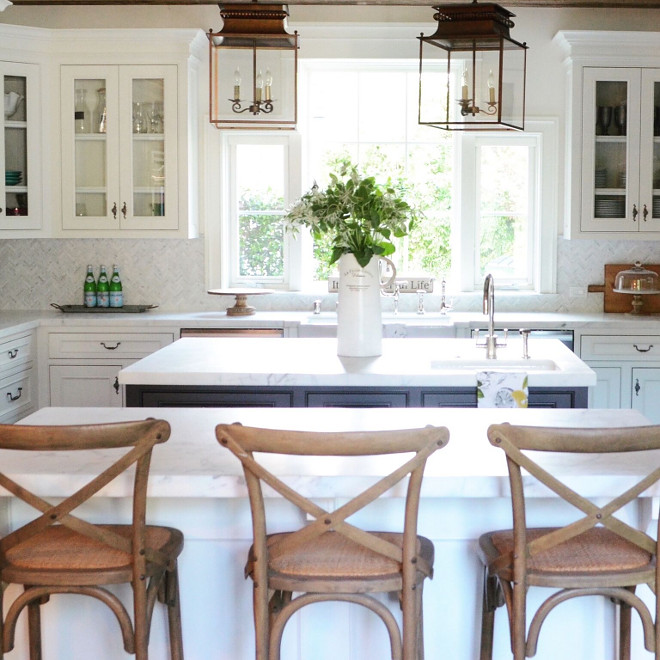 Rather than one large island, we decided on a prep island with a sink, and a separate eating island. I had this configuration in my previous kitchen and loved the way it functioned. We painted the prep island the same charcoal gray as the library, giving the kitchen a sense of continuity with the rest of the house.
Barstools: Dovetail Furniture.
Sink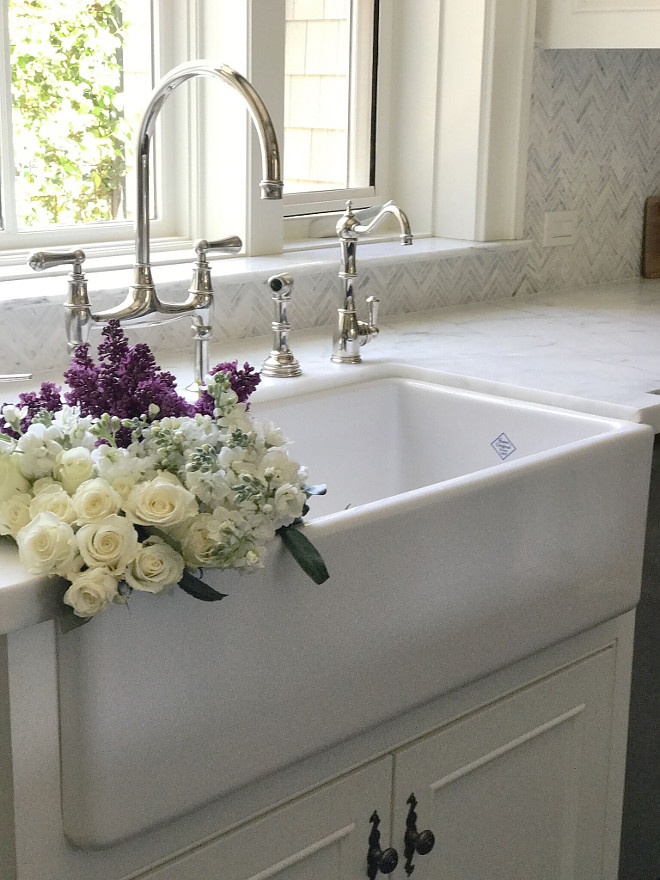 The main sink is a 36" Shaw farmhouse style with Perrin and Rowe faucet, water dispenser and sprayer.
Cabinet Paint Color

Cabinet Paint Color: Benjamin Moore Swiss Coffee.
Colors

I love how Karen decorates her home. Everything is impeccable!
Prep Island Paint Color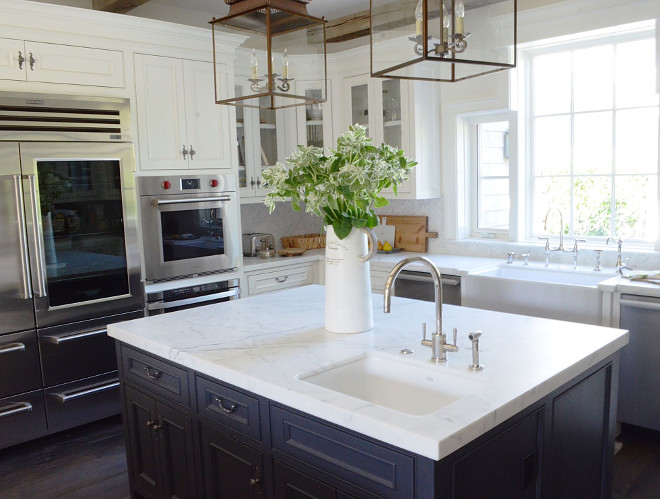 Island paint color is Charcoal by Restoration Hardware.
Prep sink is Kohler 21"x 15" with Rohl faucet and sprayer.
Countertop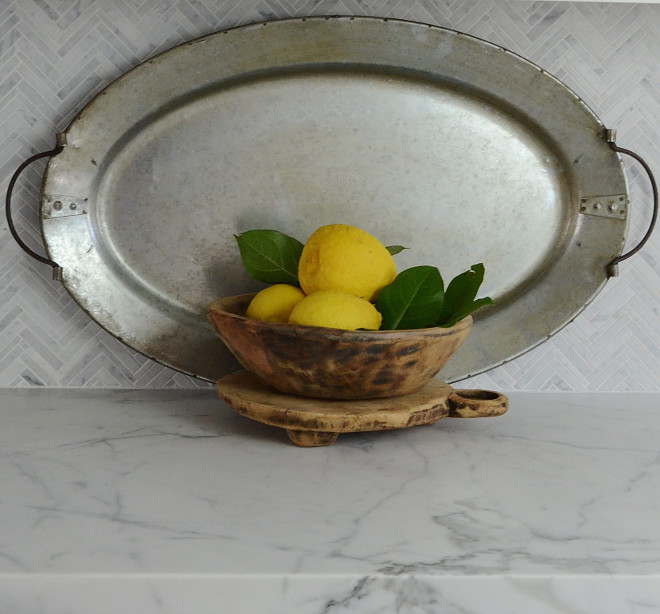 We chose classic white marble for our countertops with a Carrera marble backsplash, in a herringbone pattern, to add a bit of texture but keep the all white look.
Countertop: Walker Zanger Bianco Giola.
Cabinet Hardware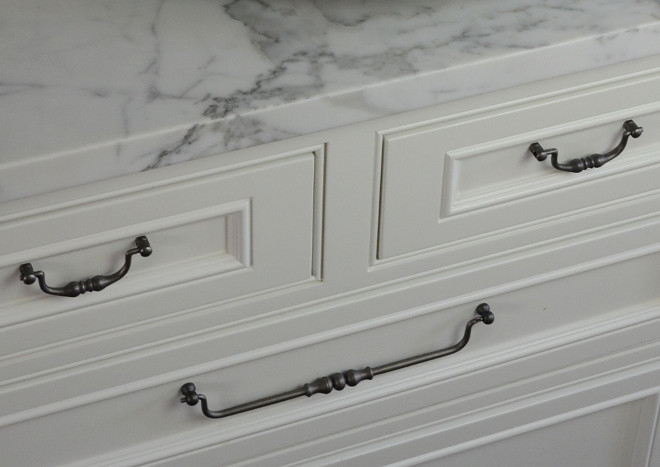 I had so much fun choosing the hardware for this kitchen. Rather than getting matching hardware, we mixed several different styles, in the same finish, to get the look we wanted. I especially love the long drawer pulls and the backplate on the cabinet knobs.
Knobs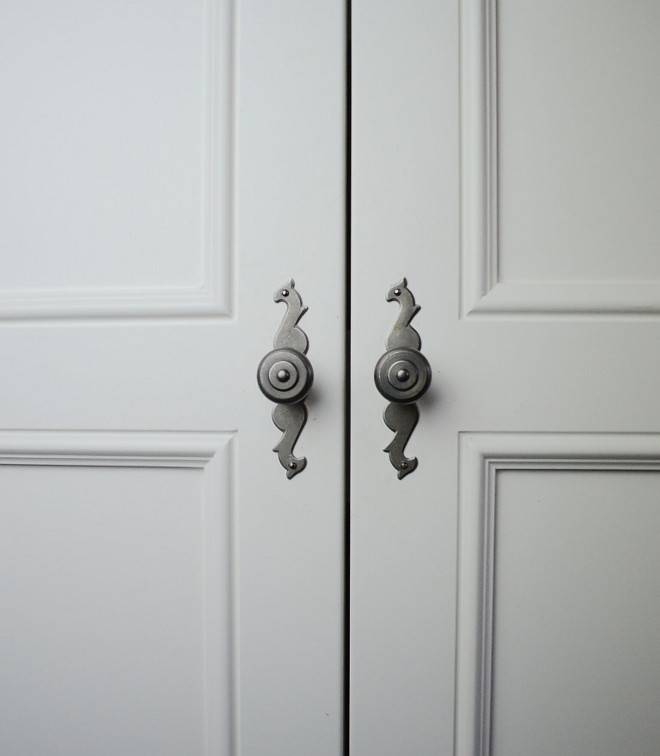 Cabinet Backplates, Knobs and Pulls: European Hardware – Custom Finish.
Backsplash

Herringbone Backsplash Tile: Walker Zanger – Jet Set.
Pendant Lights: Pottery Barn.
Coffee Bar & Breakfast Nook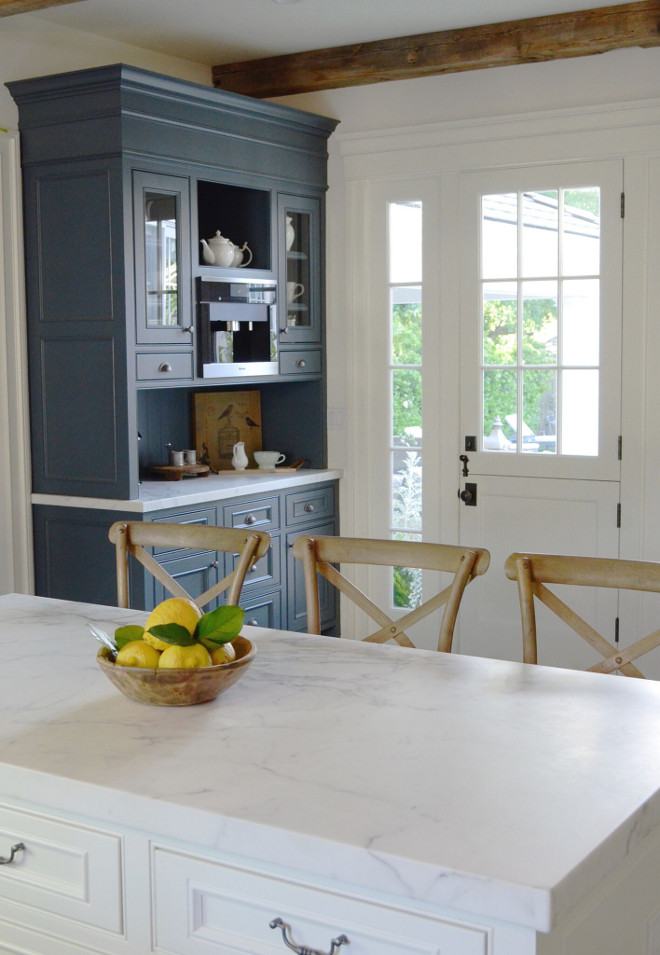 Just opposite the kitchen is our breakfast nook and coffee bar. We created this area to extend the kitchen space and make the entire area feel cohesive.
Breakfast Nook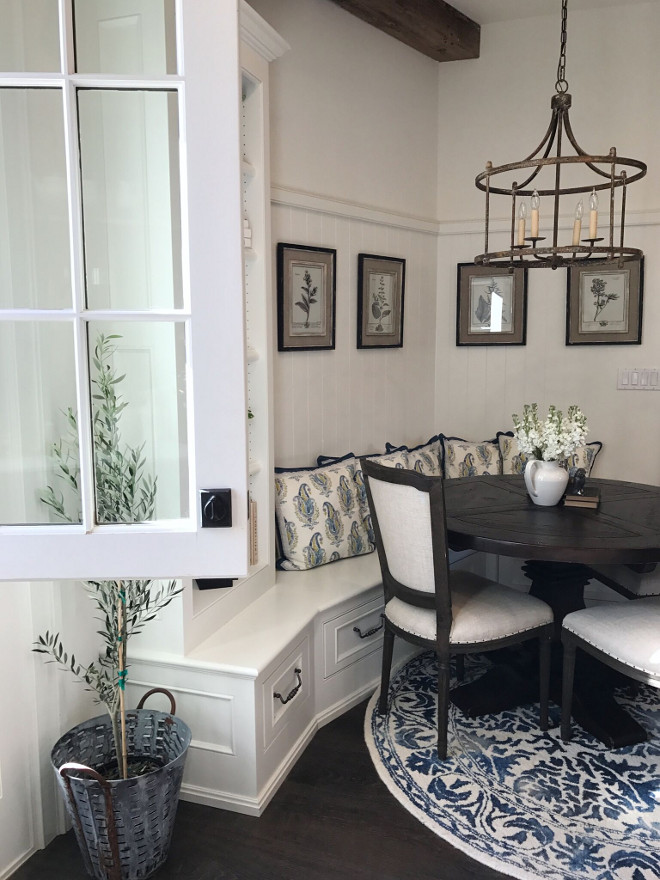 A built in bench and shelves really added warmth of this side of the room and gave me a chance to add pretty pillows to the seating area.
Oliver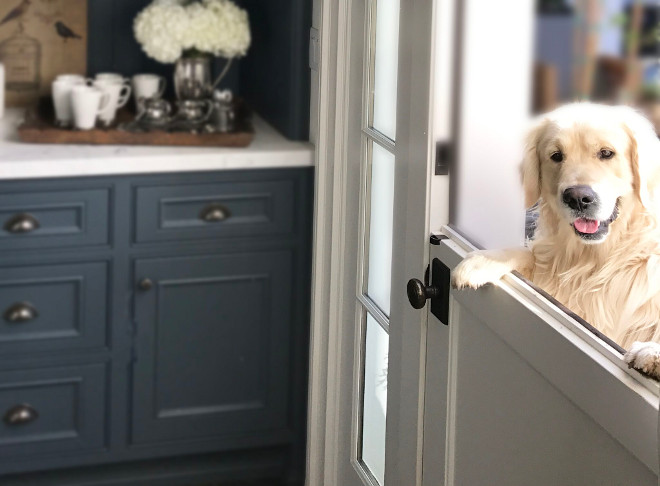 We included a Dutch door that I adore, and is the favorite spot for Oliver to see what's happening in the kitchen.
Cabinetry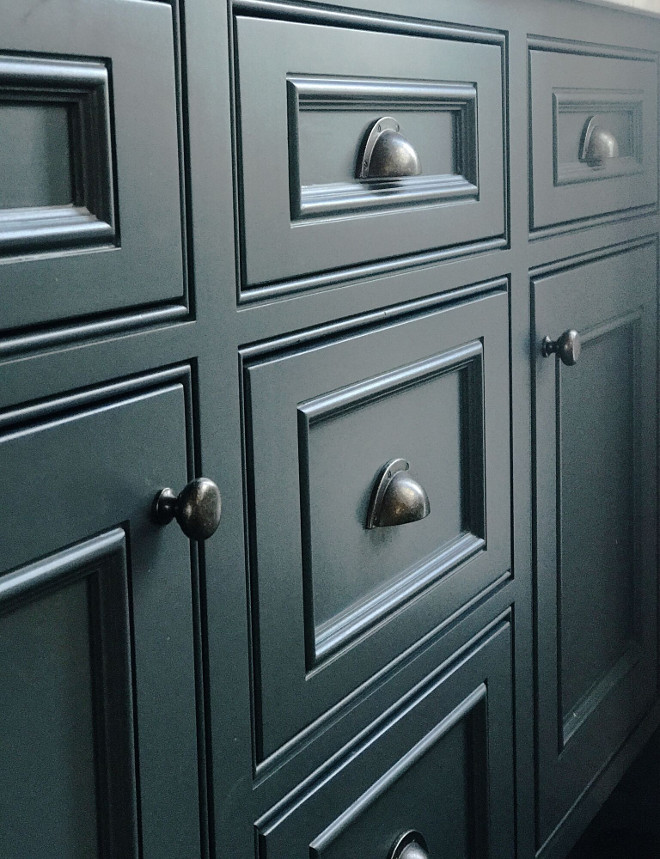 Coffee Bar Paint Color: Benjamin Moore CSP-625 Deep Secret.
Coffee Bar Cabinet Hardware: Omnia – Vintage Collection.
Lighting & Decor


The breakfast nook lighting is Park Hill.
Breakfast Table: Restoration Hardware.
Breakfast Chairs: Restoration Hardware.
Rug: Wayfair
Pillows: HomeGoods.
Laundry Room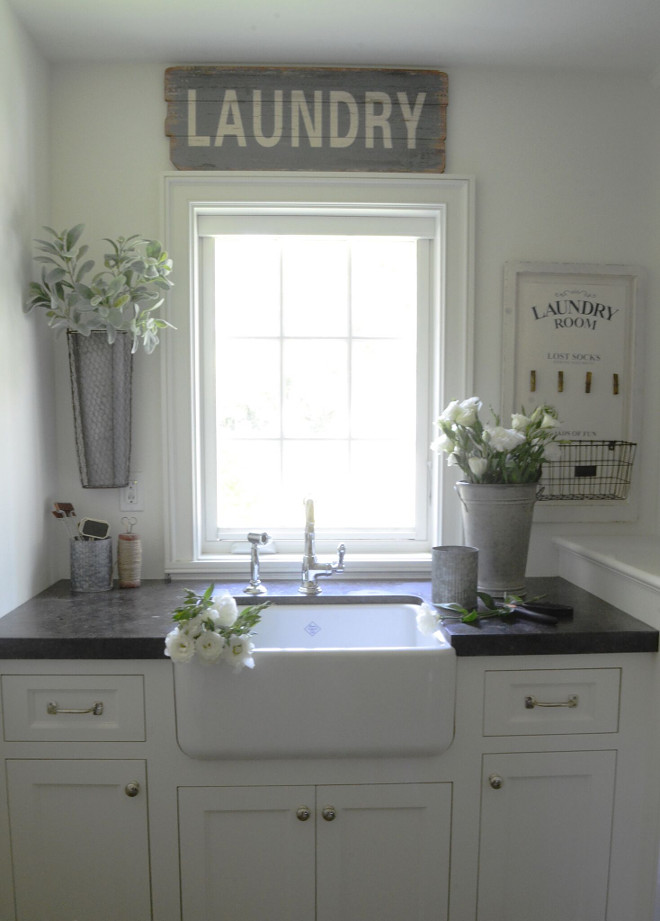 The laundry room doubles as my flower arranging space and is one of my creative hideaways in our home. It also makes doing laundry much more fun, when I have something pretty to focus on in between!
Cabinet Hardware: Restoration Hardware.
Cabinet Paint Color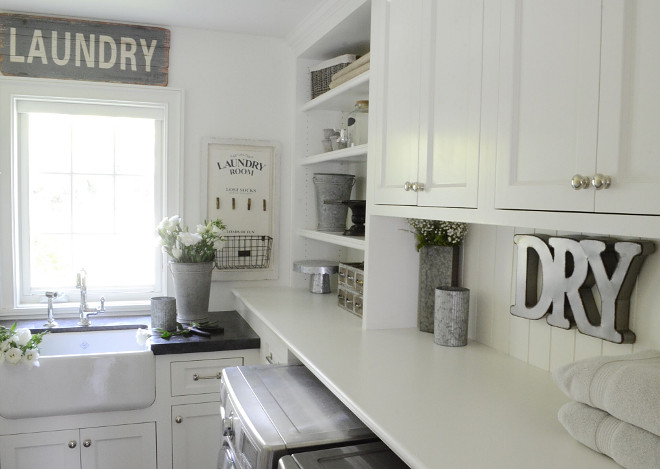 Paint is Benjamin Moore Swiss Coffee.
Countertop & Sink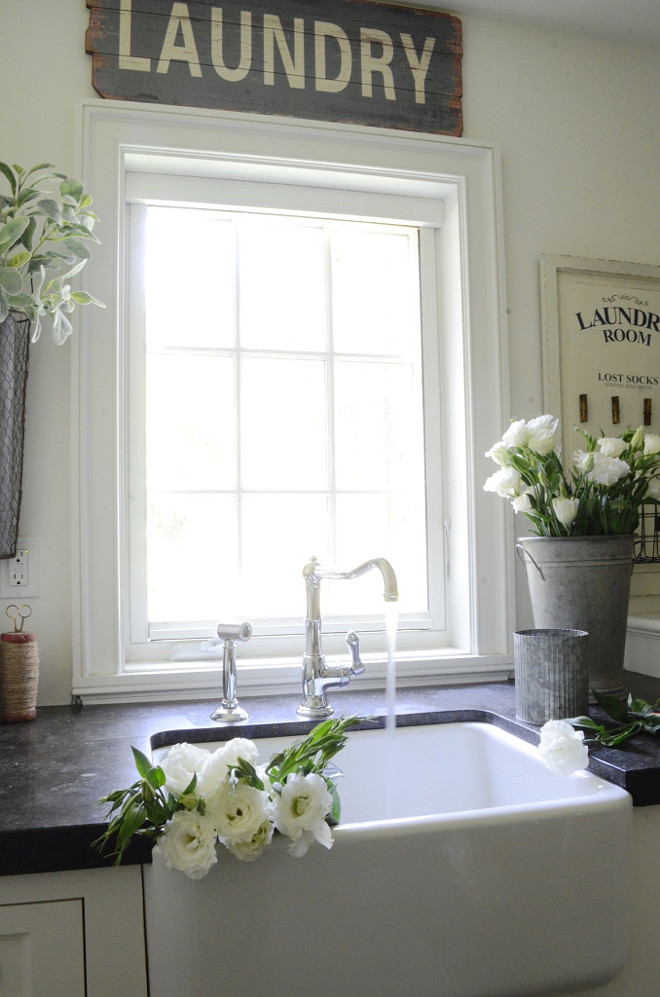 Countertop: Belgian Bluestone.
Sink: 30" Shaws Farmhouse.
Faucet: Rohl.
Powder Bath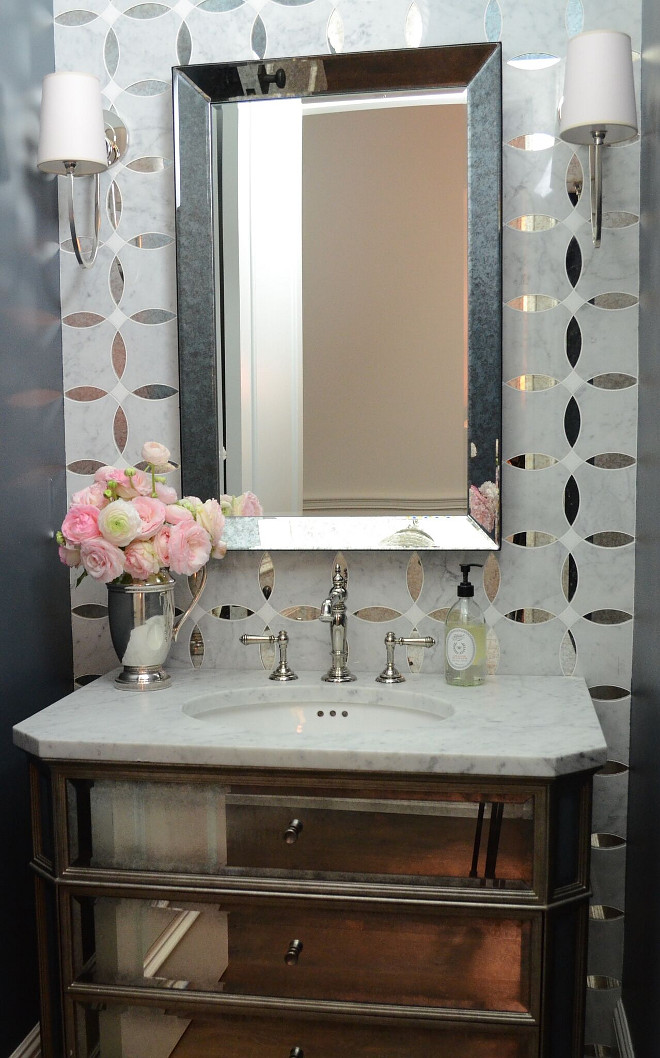 I surprised my husband with the floor to ceiling tile in our powder bath. I fell in love with the marble and antique mirror mosaic and decided I had to use it somewhere. The addition of the antique mirror cabinet really made this small bath look amazing. Fortunately, my husband loved it as much as I did after it was installed!
Tile: Arizona Tile custom design.
Mirror: HomeGoods.
Sconces: Visual Comfort.
Paint Color: Benjamin Moore-Deep Secret.
Countertop & Vanity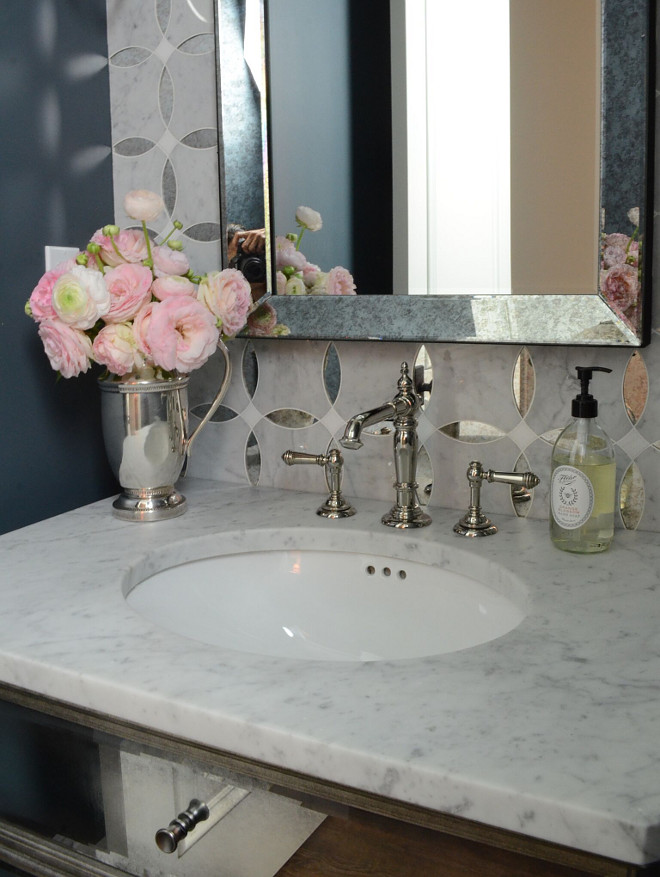 Cabinet: Restoration Hardware.
Countertop: Carrera marble.
Faucet: Rohl.
Family Room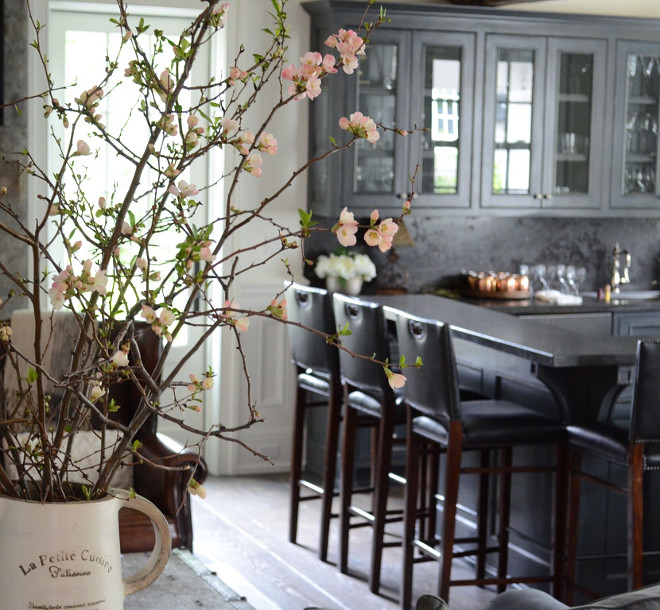 Our family room is a space that is still a work in progress, so while I am not sharing the entire room, I am giving you a peak at the stone fireplace and bar area.
We use this bar nearly every time we entertain and have found it to be a great gathering place for friends and family. I am excited to share the progression of this room on @sanctuaryhomedecor in the coming months!
Barstools:-Theodore Alexander.
Bar

Bar Cabinet Paint Color: Restoration Hardware – Flint base with a custom finish.
Wall Paint Color: Benjamin Moore Swiss Coffee.
Bar Light Fixture: Visual Comfort.
Bar Countertop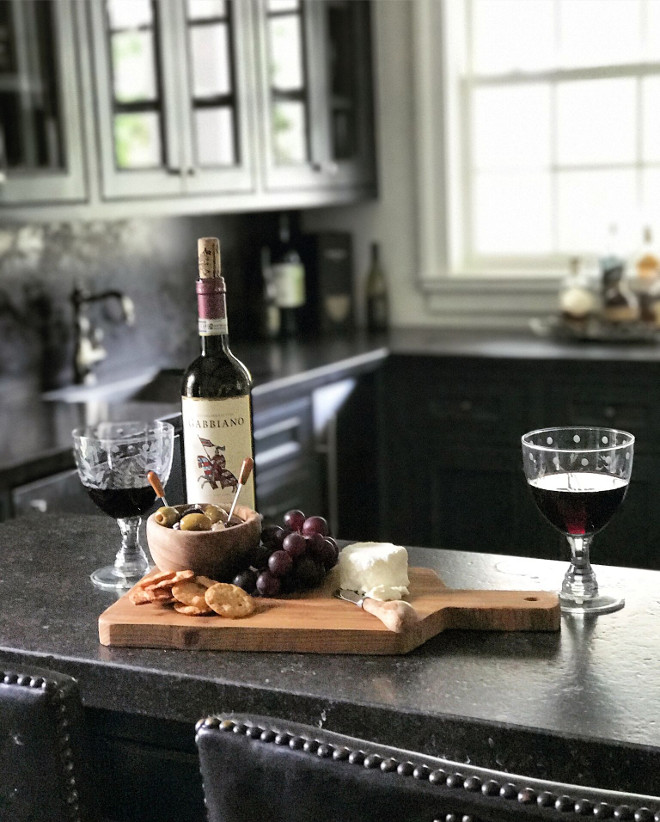 Countertop: Belgian Blue Stone.
Chairs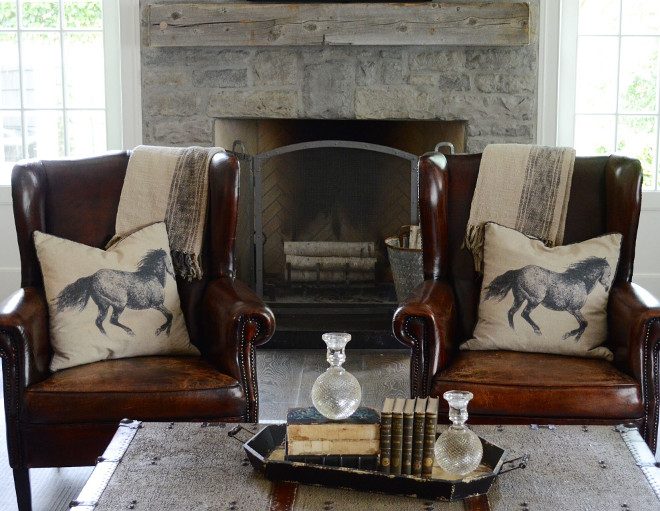 Leather Chairs: Vintage.
Pillows: HomeGoods.
Fireplace Stone: Eldorado Stone with heavy over grout.
Fireplace Screen: Restoration Hardware.
Coffee Table Decor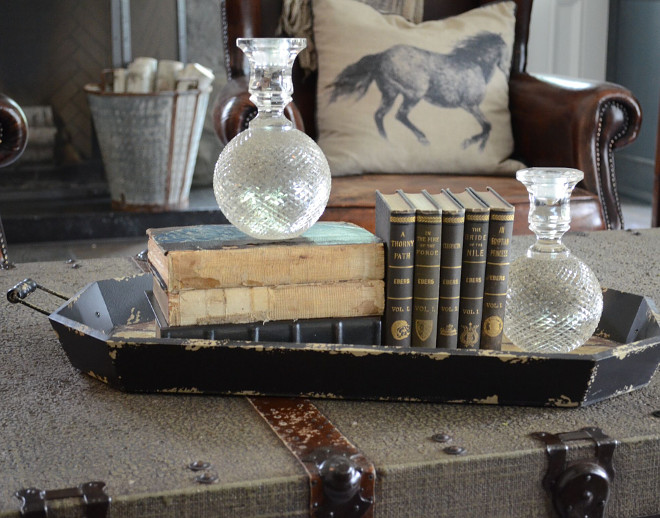 Coffee Table: Dovetail Furniture.
Stairs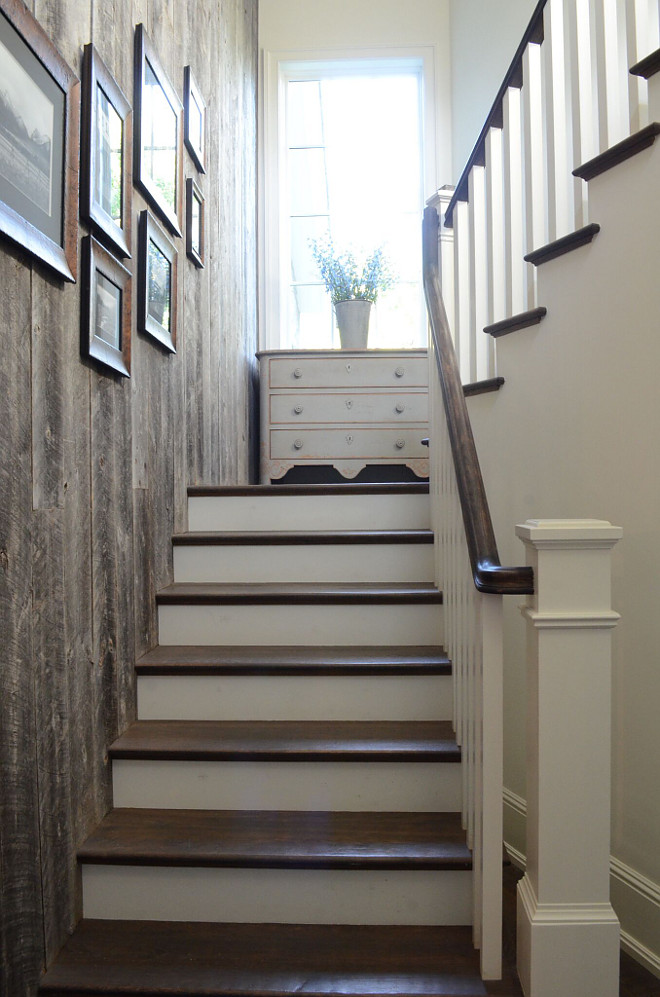 Our home is mostly one story, except for two bedrooms and bathrooms accessed by a back staircase. Because the wall beside the stairs is two stories high we decided to bring another touch of Montana to this area and finished the entire wall in reclaimed barn wood. I cannot tell you how much I love this look and how much warmth it brings to what would otherwise be a very stark space. The addition of framed photos of our summer ranch makes this a very special place in our home.
Landing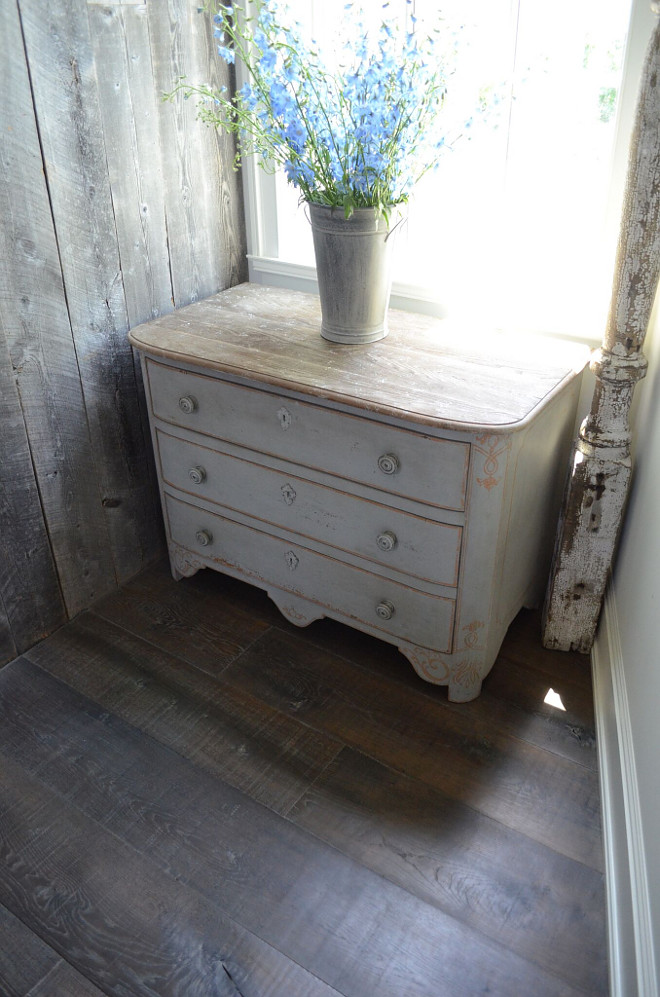 The stair landing showcases the reclaimed wood and the wide plank oak floors.
Cabinet: Dovetail Furniture.
Guest Bedroom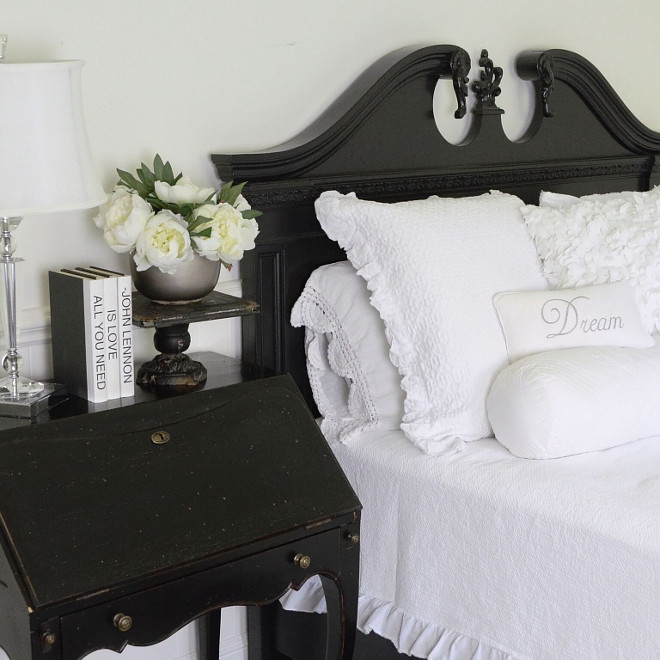 The guest bedroom is decorated in a very clean black and white theme.
Linens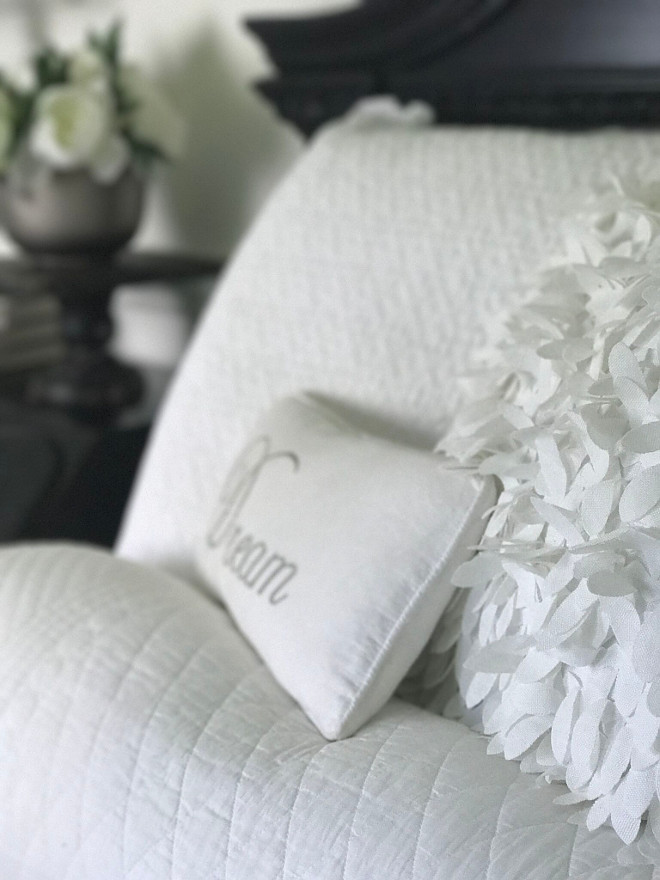 The bed was originally a distressed cream color, but we painted it black to match the other furniture in the room and I added crisp white linens for a fresh look.
Tray Decor

A vintage silver tray with fresh flowers and books make this guest bedroom feel extra welcoming.
Guest Bath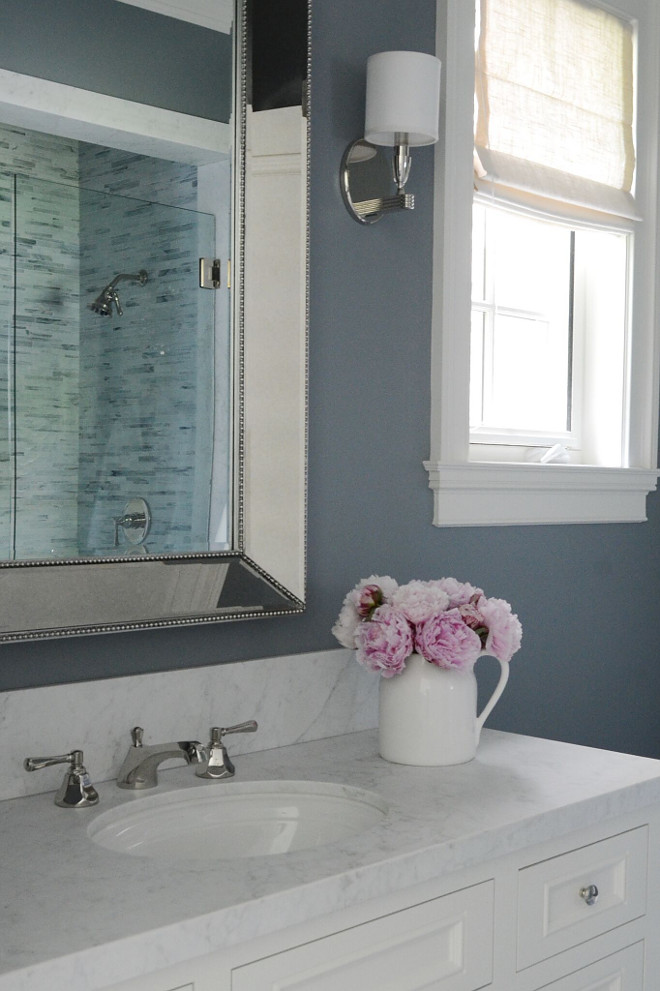 The attached bath is one of my favorites. The simple white cabinet and glass-tiled shower pulled the whole look together.
Cabinet Paint color: Benjamin Moore Decorators White.
Countertop: Carrera Marble.
Faucet: Rohl- Wellsford Polished Nickel.
Sconces: Hudson Valley – Bancroft.
Mirror: Restoration Hardware.
Paint Color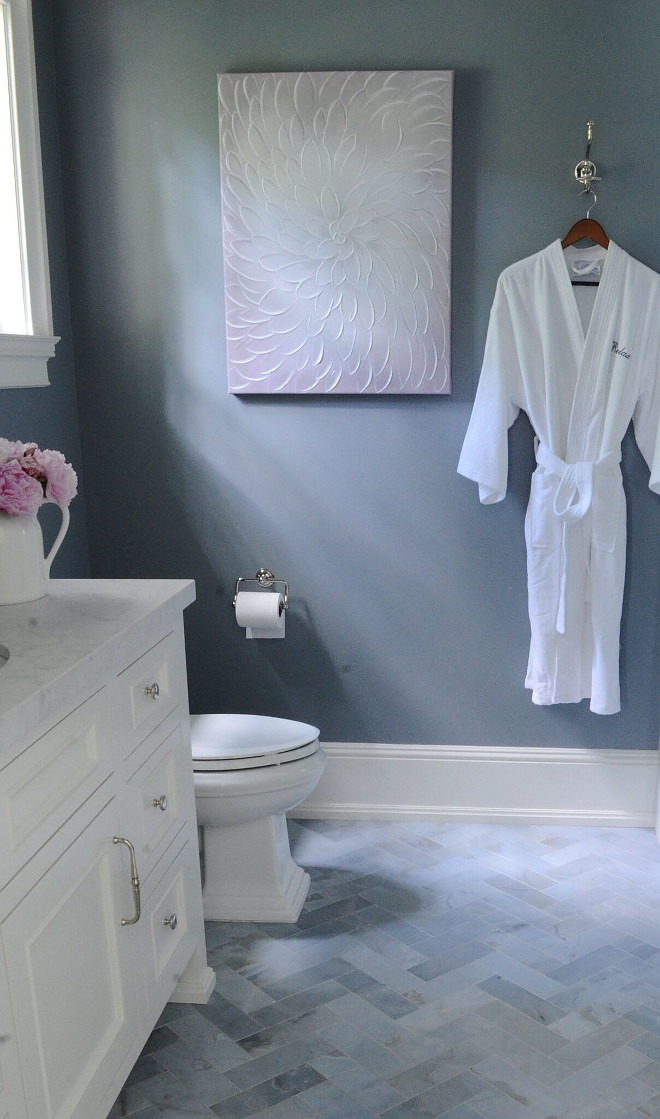 Wall Paint Color: Benjamin Moore French Toile.
Floor Tile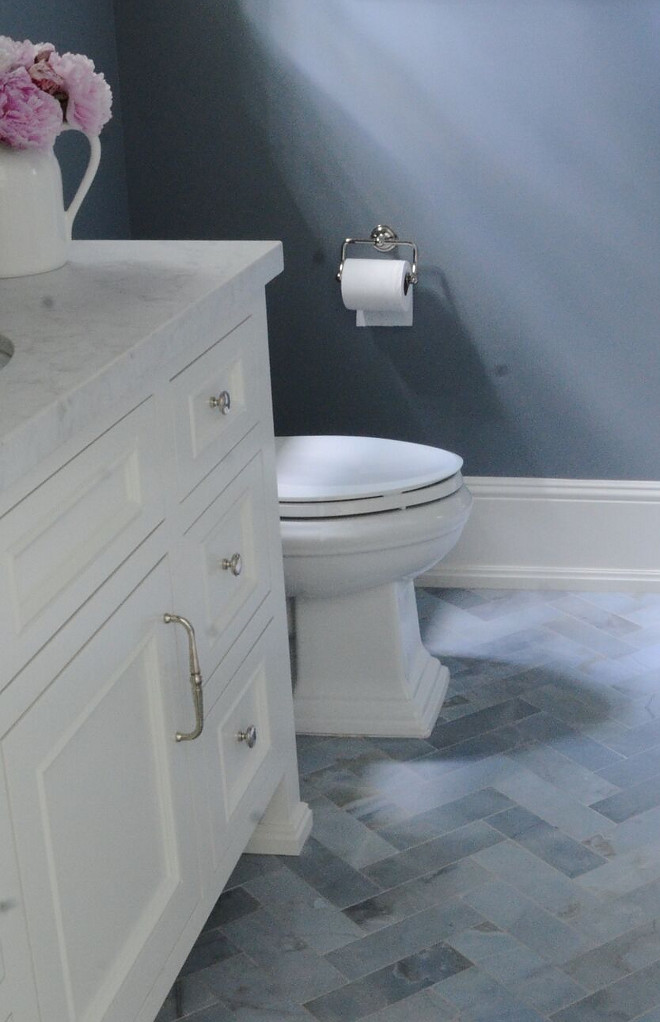 When I saw these gorgeous bluestone tiles, I knew I had to find a place for them. We decided to create a herringbone pattern on the floor, which really makes a beautiful impact.
Herringbone Flooring : Walker Zanger – Jet Set in Cadet Blue.
Shower Tile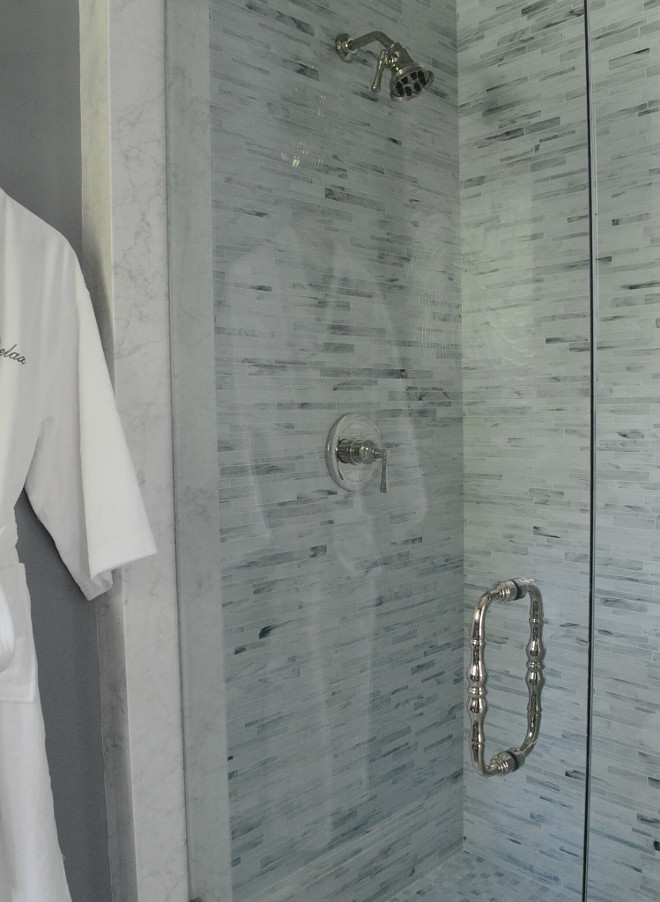 Shower Tile: Arizona Tile.
Master Bedroom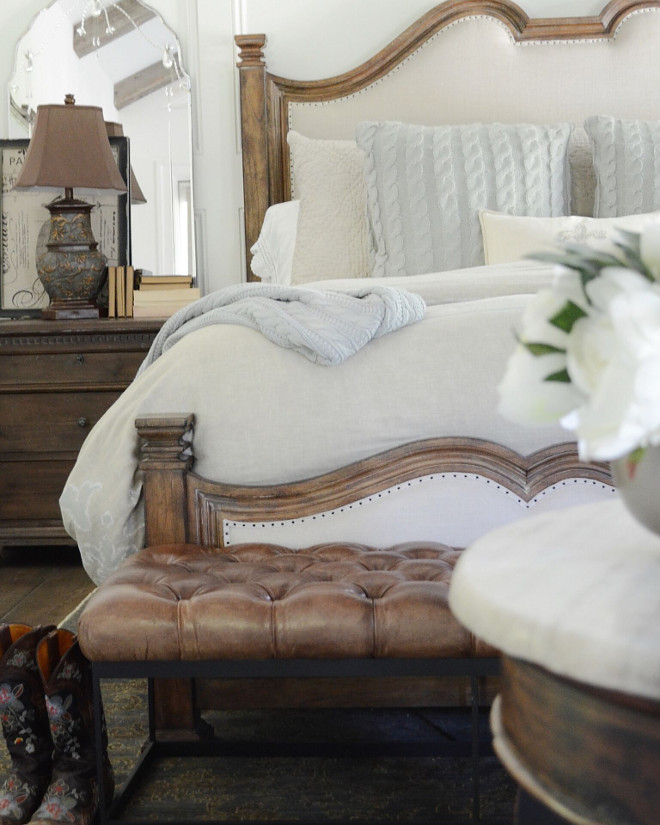 Our master bedroom is also still a work in progress, but here is a glimpse of our bed wall. More to come soon at @SanctuaryHomeDecor!
Reclaimed Wood Built-in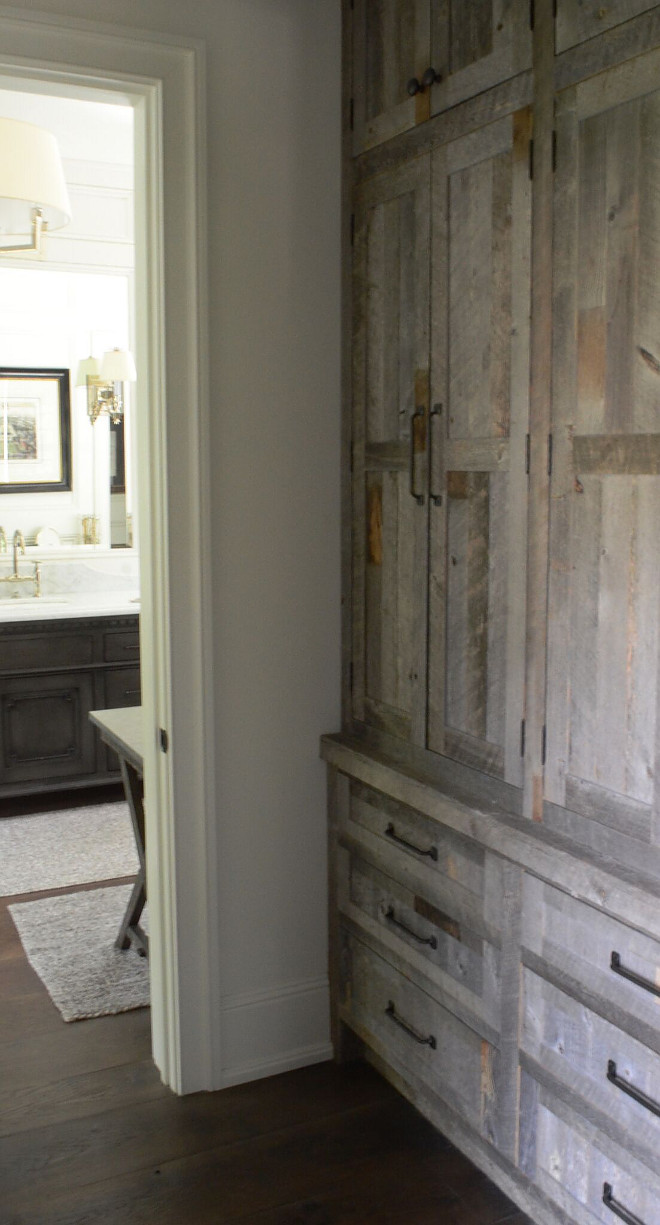 We decided to add a reclaimed barn wood dresser/closet in the space between our bedroom and bath. This is another area that became warm and yummy and added that rustic feel we were looking for.
Master Bath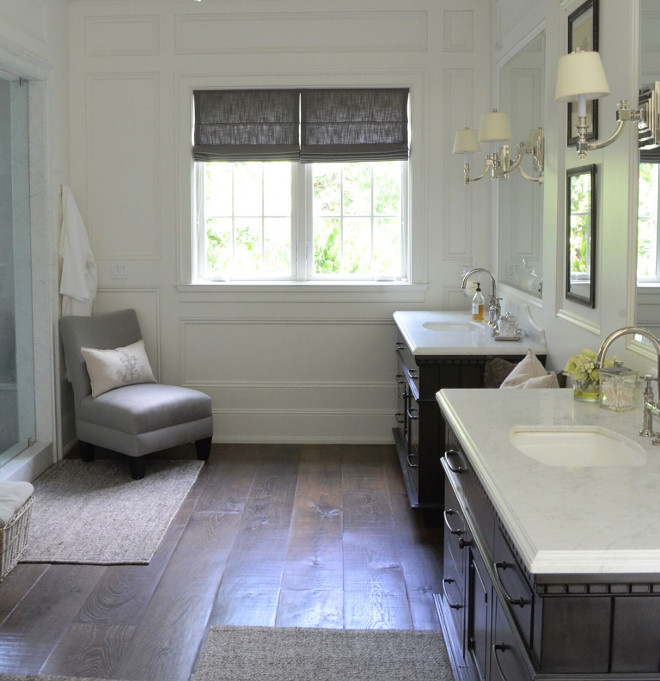 Our master bath ended up being the nicest surprise of this whole project. It was a long space that we had difficulty designing and I was worried that it would not come together. We decided to add wood panels on every wall and that made all the difference. It warmed up the space and created a clean yet warm look that I now love!
Sconces: Hudson Valley.
Flooring & Vanities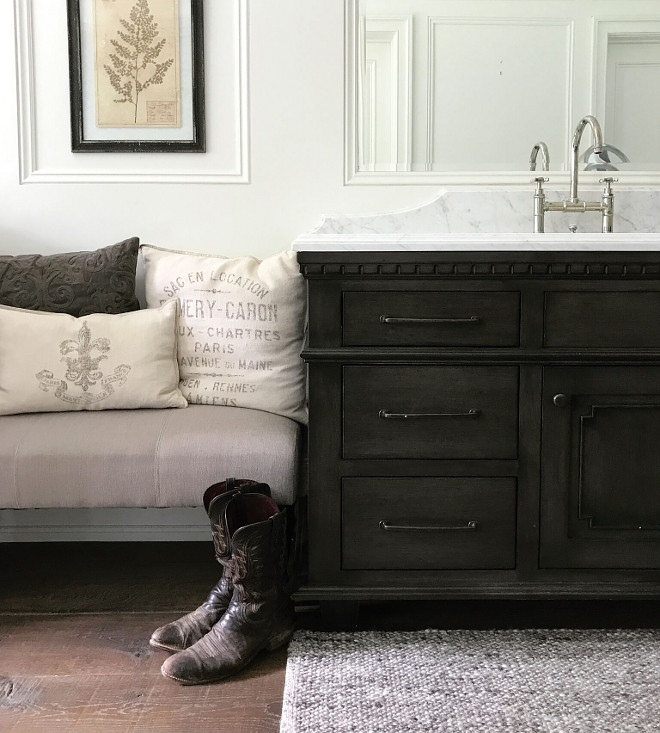 Rather than stone flooring, we continued the wood floors into the bathroom. This helped to achieve the warm cottage feel we wanted and kept this bath from becoming too formal.
Vanities: Custom design and paint.
Bath Faucet & Sink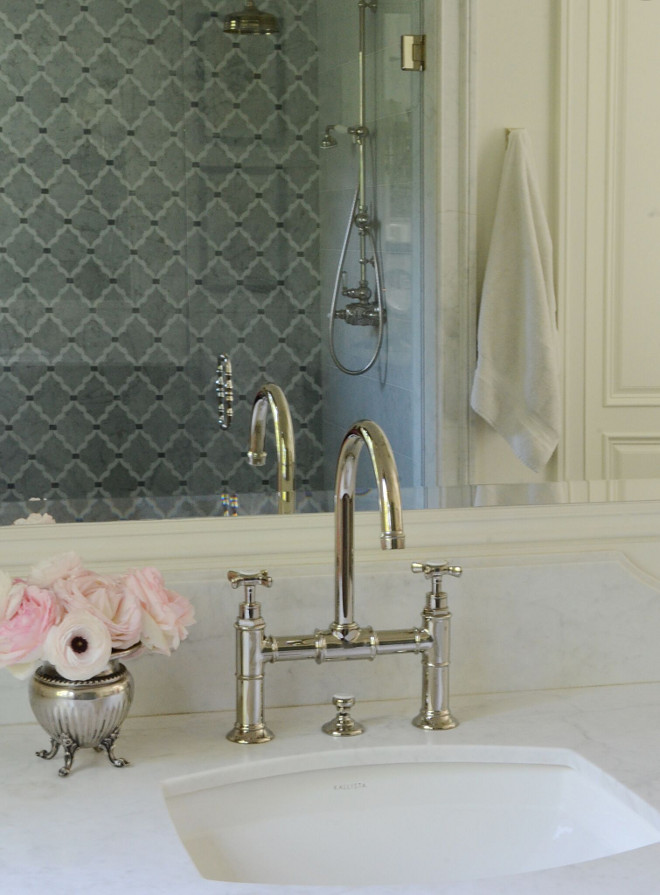 Faucets: Hansgrohe.
Sink: Kallista – Barbara Barry.
Bath Tub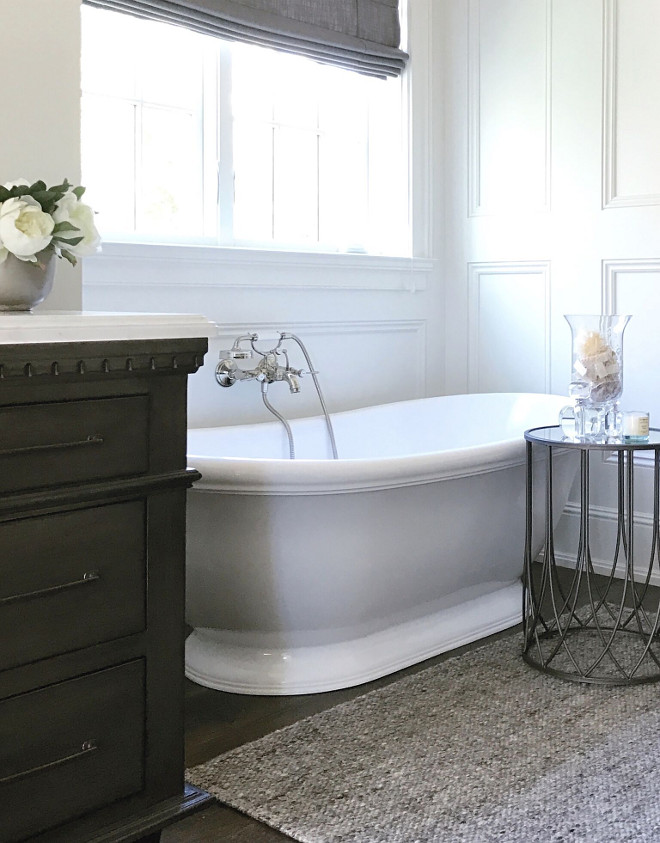 Bathtub: Metro Collection – Georgetown.
Tub Filler: Hansgrohe.
Rugs: World Market.
Make-up Vanity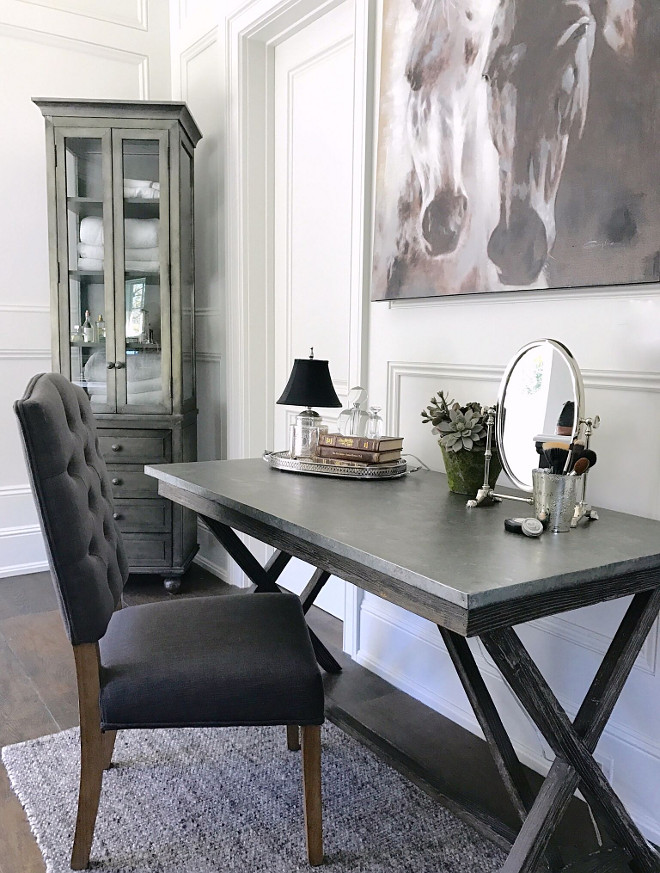 We chose not to add any built-ins other than the custom vanities, so I had to go furniture shopping for our bathroom right after we moved in!
Tall Cabinet: Restoration Hardware.
Make-up Vanity: Dovetail Furniture.
Shower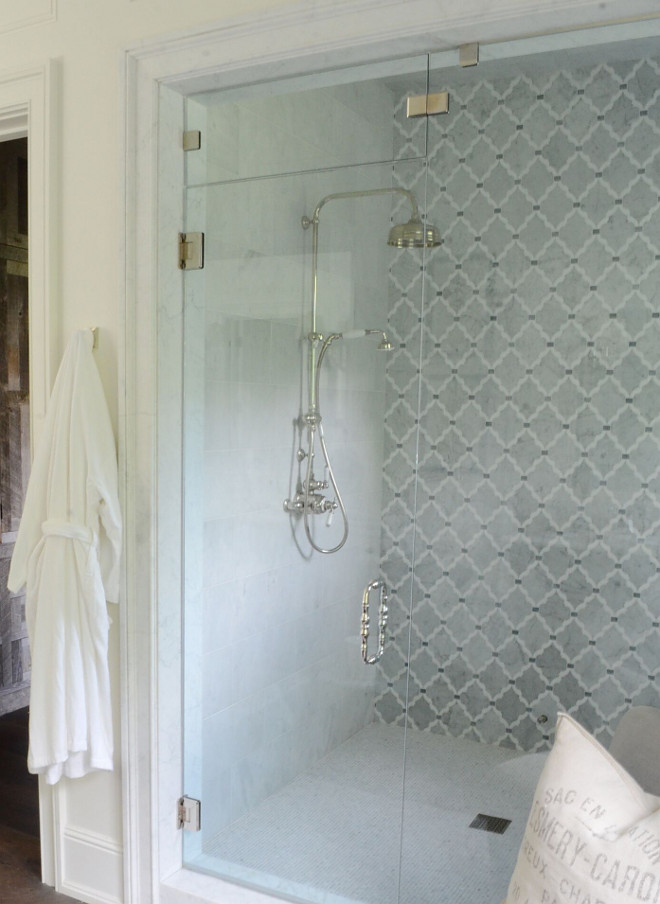 The back wall of the shower is another custom mosaic that I fell in love with! We added large rectangular marble field tiles to the remaining walls and used ¼ in mosaic Carrera marble mosaic for the shower floor.
Shower Tile: Arizona Tile – Custom Design.
Shower Package: Rohl
Bench: Tuesday Mornings
Linen Chairs: HomeGoods
Accent Table: HomeGoods
Guest Cottage/Office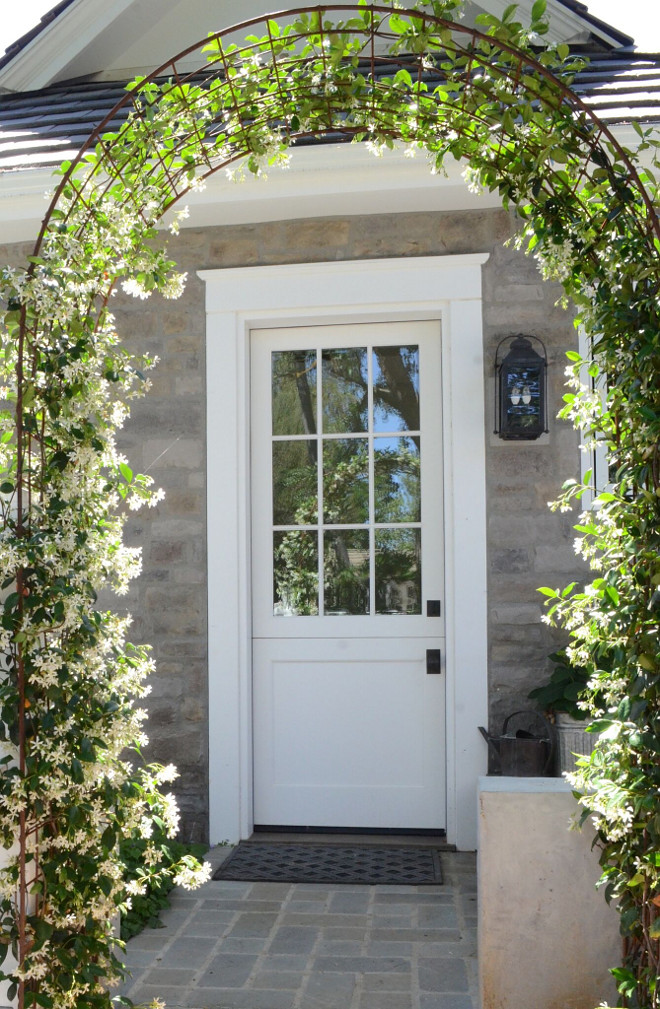 As we went through the building process, we determined that there was an area on the property that was perfect for a separate studio/guest cottage.
The night blooming jasmine on this archway smells incredible when it is in bloom.
Light Fixture: Hinkley Lighting.
Winston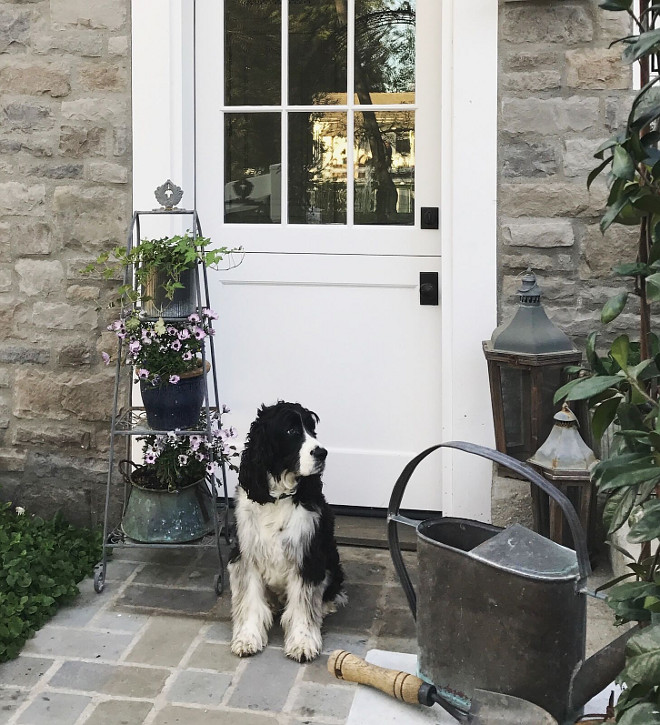 Winston often guards the Dutch door leading into the cottage.
Office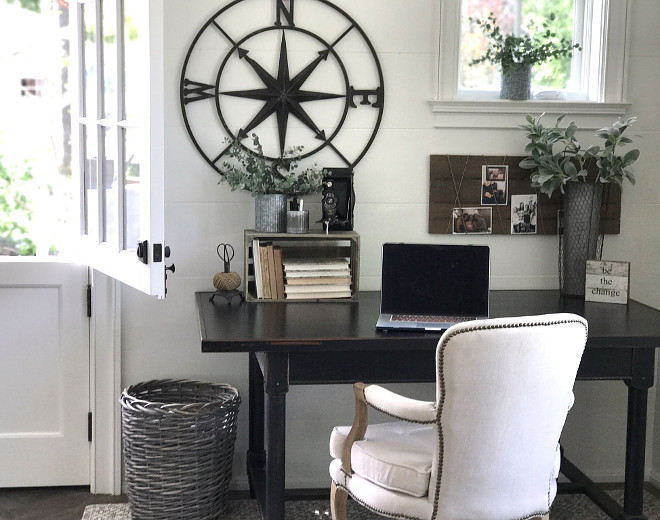 We designed a single room with a bathroom that could be accessed from the yard, and ultimately, this cottage became my office. Recently I moved my office into the main house and our intention is to make this a guest cottage for our out of town visitors. In the meantime, I'm sharing some office pictures with you all.
Paint Color: Benjamin Moore Swiss Coffee.
Shiplap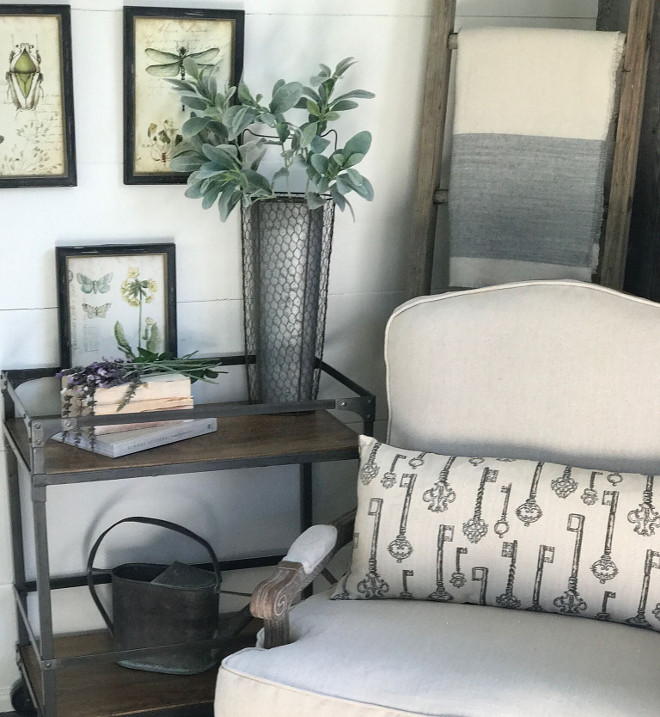 We used shiplap on three of the walls in this room and reclaimed barn wood on the fourth wall.
Rustic Touch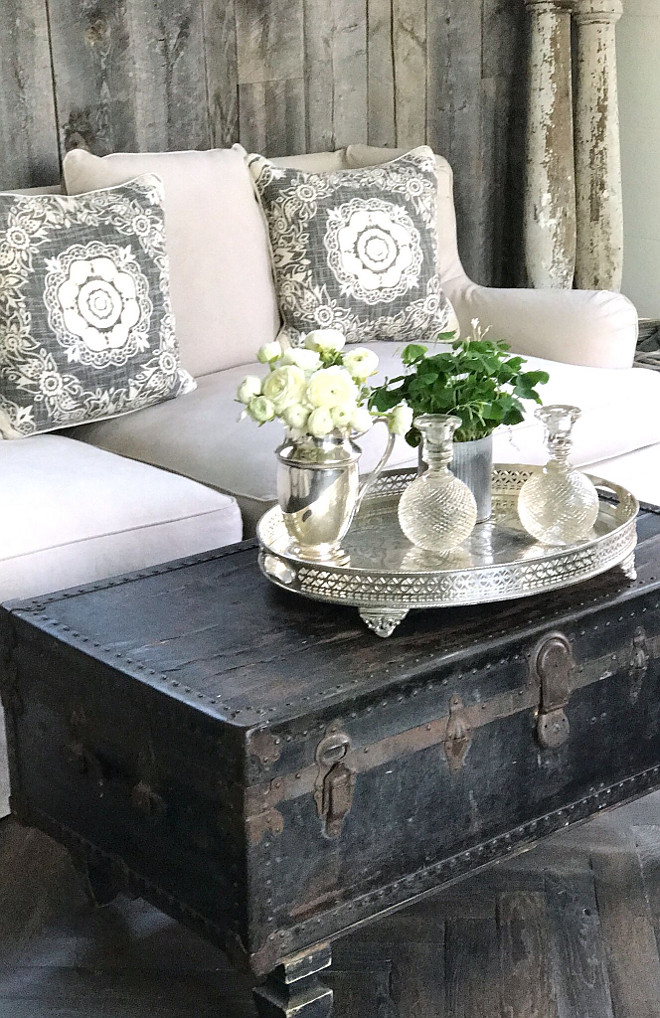 We also added the French Oak herringbone floors.
Back Yard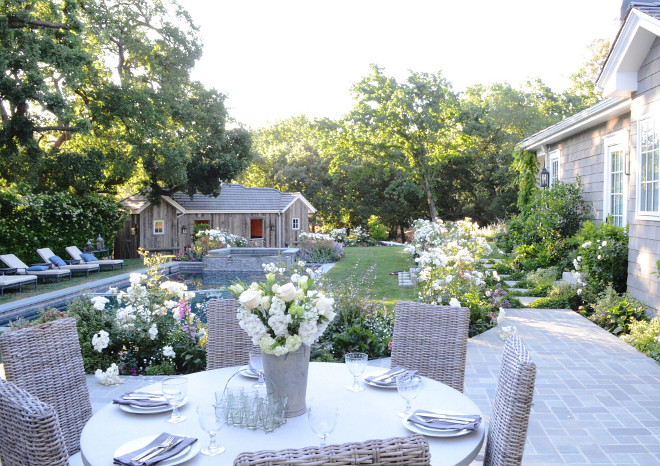 Our property is surrounded by mature oak trees creating a privacy and seclusion that is rare in Los Angeles.
Enchanting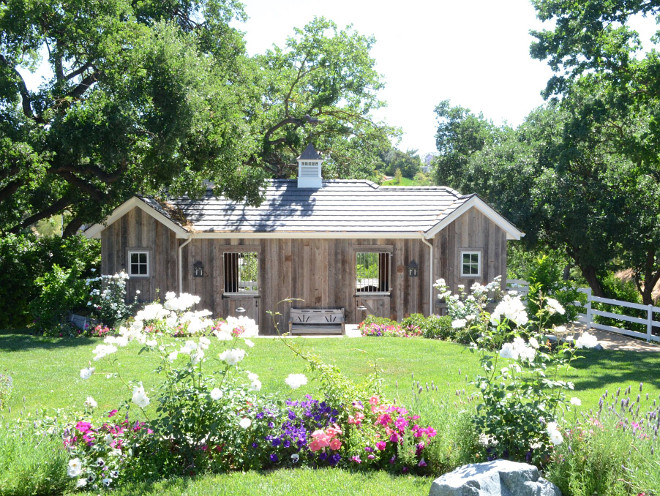 Karen's property is one of the most enchanting properties I have ever published on Home Bunch.
Pool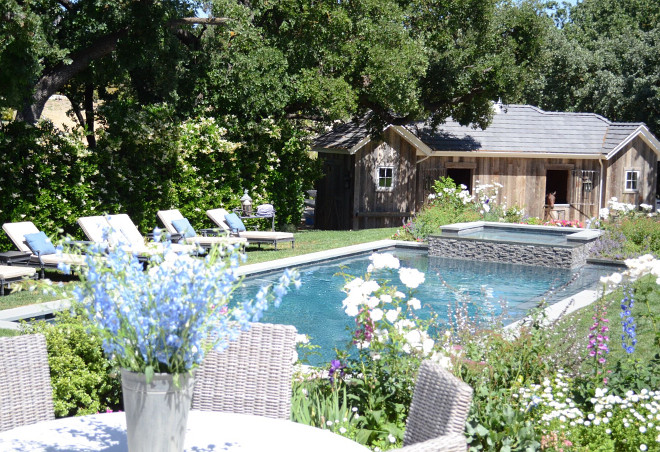 We built the pool and began landscaping after the house was built, so we were surrounded by dirt for almost nine months.
Landscaping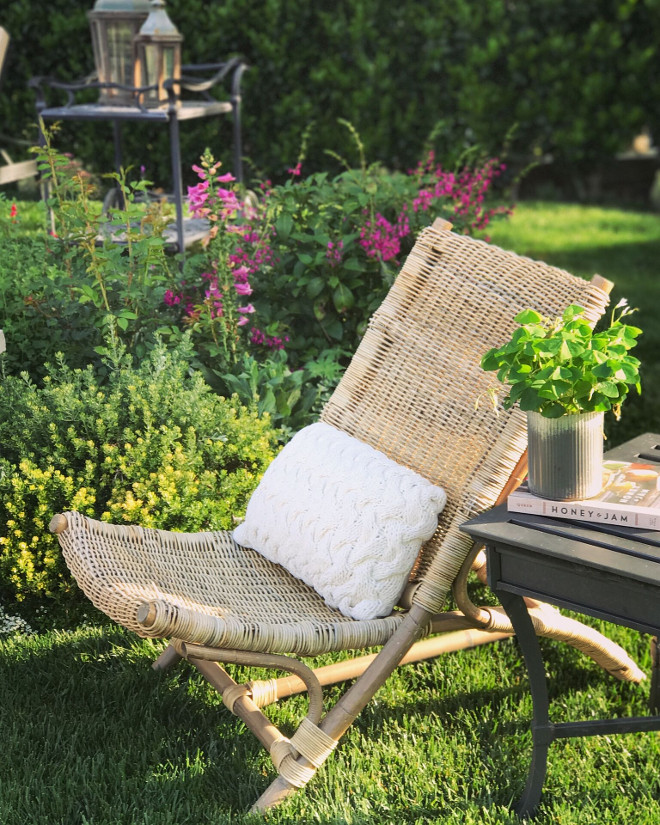 It has taken a full year and lot of rain and love to make this garden what it is today. I cannot take credit for this, as my husband is the landscape visionary and gardener in our family. 🙂
Barn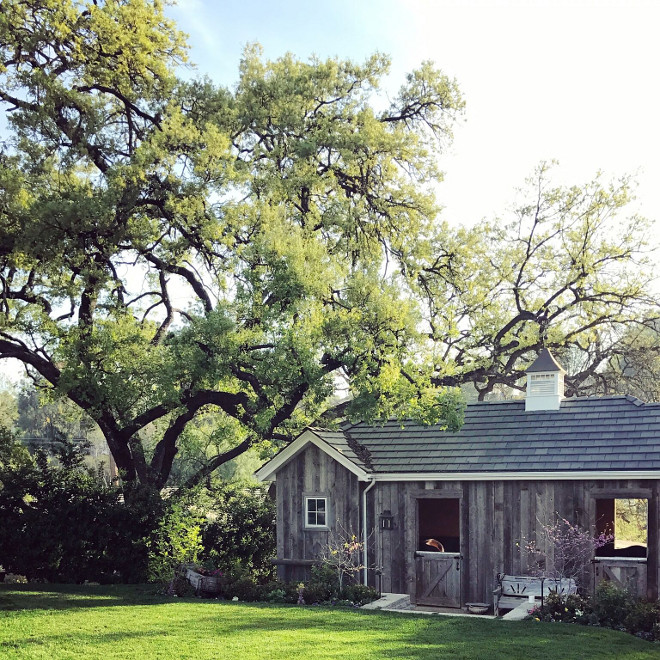 Two of our horses live in the newly constructed reclaimed wood barn at the back of our yard.
From Montana to California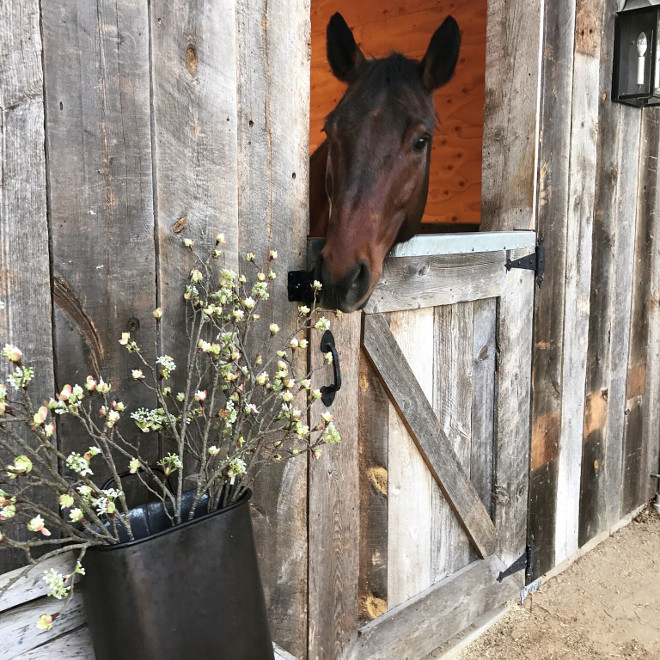 The horses travel to Montana with us every summer and return with us in the fall.
Make sure to follow Karen from @SanctuaryHomeDecor on Instagram to see more photos of her beautiful home! 🙂
Best Sales of the Month:

Thank you for shopping through Home Bunch. For your shopping convenience, this post may contain AFFILIATE LINKS to retailers where you can purchase the products (or similar) featured. I make a small commission if you use these links to make your purchase, at no extra cost to you, so thank you for your support. I would be happy to assist you if you have any questions or are looking for something in particular. Feel free to contact me and always make sure to check dimensions before ordering. Happy shopping!
Wayfair: Up to 75% OFF on Furniture and Decor!!!
Serena & Lily: Enjoy 20% OFF Everything with Code: GUESTPREP
Joss & Main: Up to 75% off Sale!
Pottery Barn: Bedroom Event Slale plus free shipping. Use code: FREESHIP.
One Kings Lane: Buy More Save More Sale.
West Elm: 20% Off your entire purchase + free shipping. Use code: FRIENDS
Anthropologie: 20% off on Everything + Free Shipping!
Nordstrom: Sale – Incredible Prices!!!
Posts of the Week: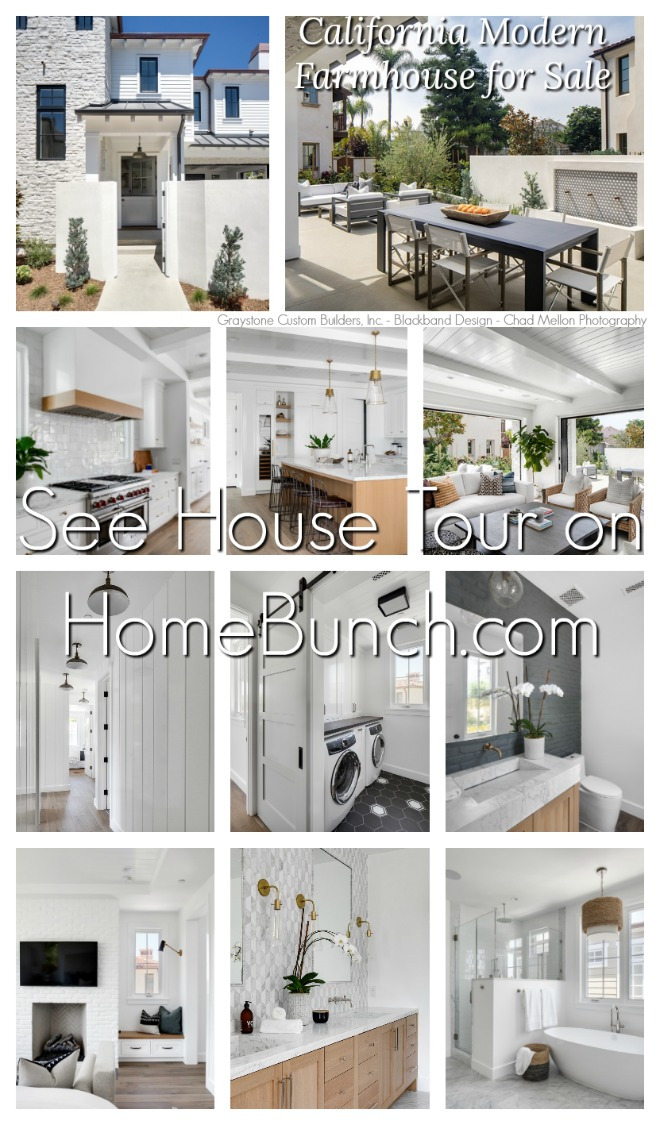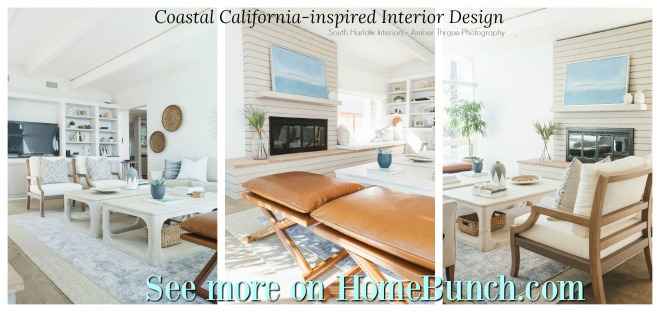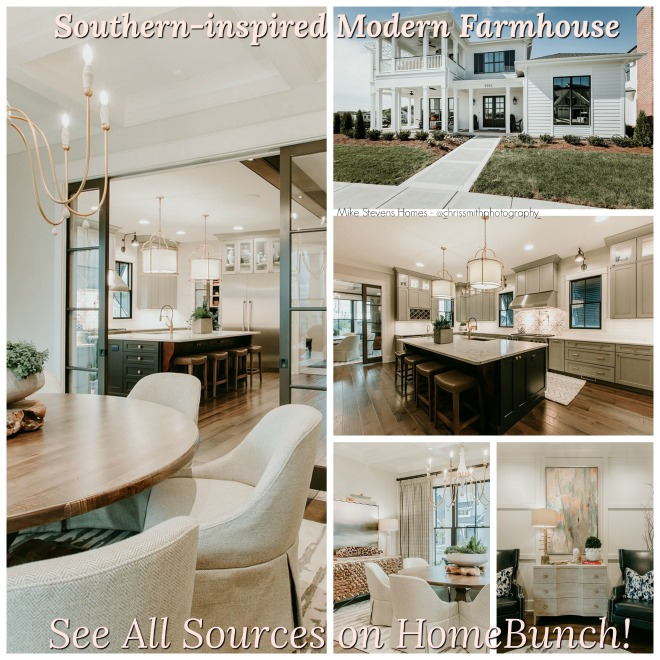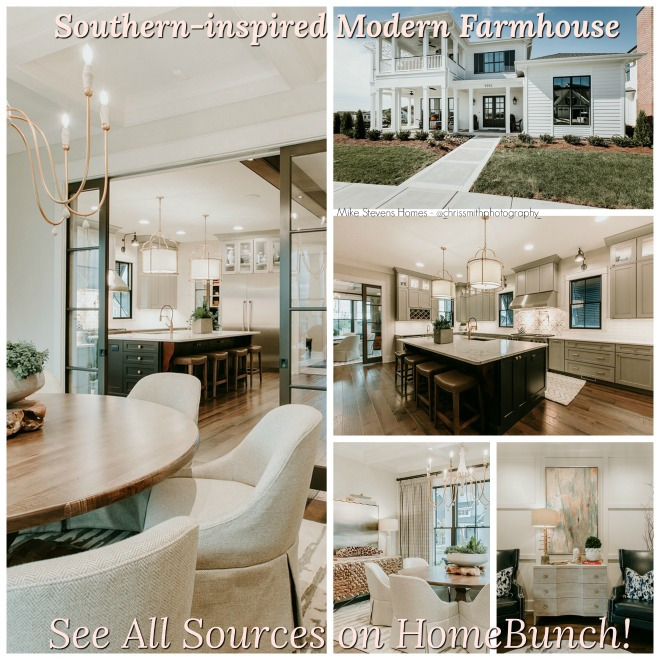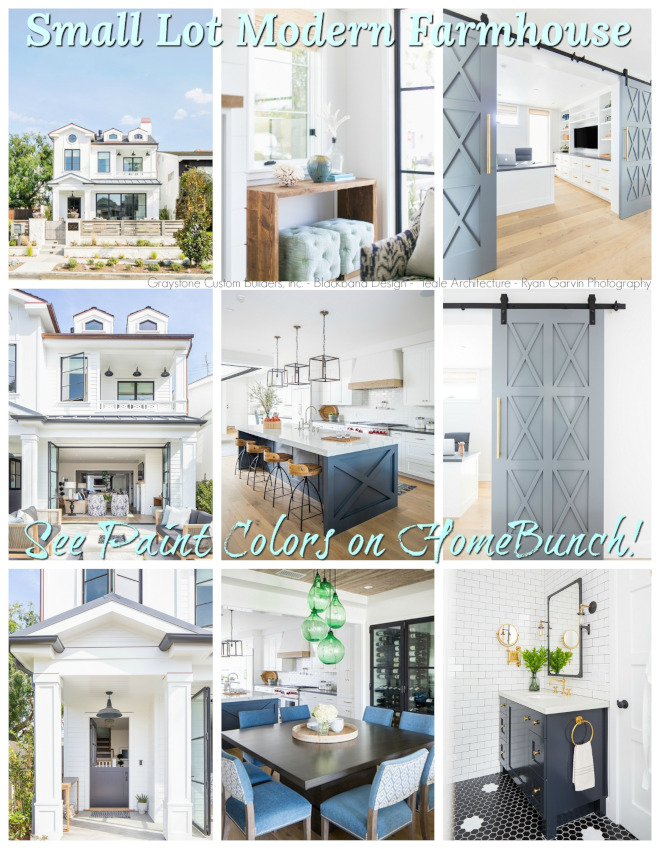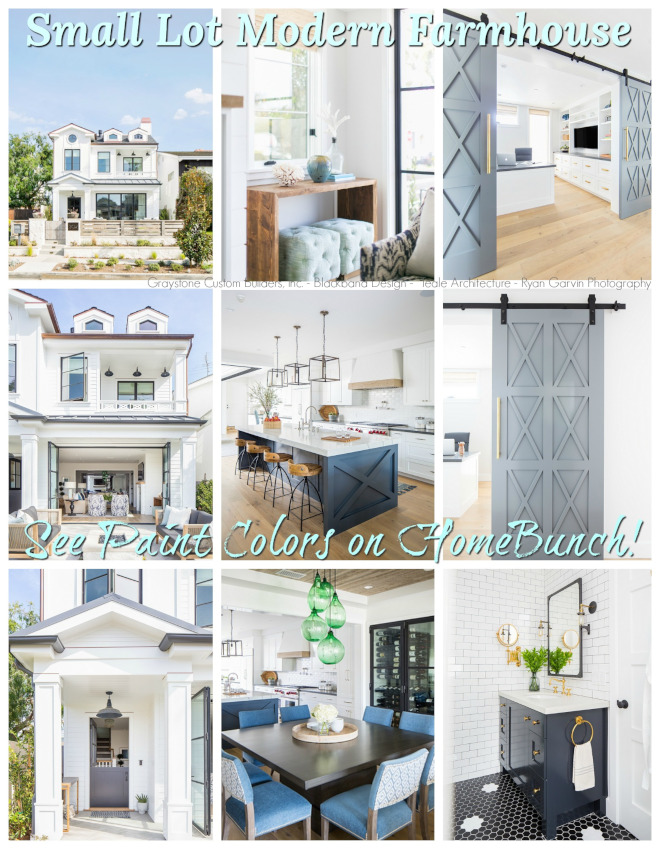 Follow me on Instagram: @HomeBunch

See more Inspiring Interior Design Ideas in my

Archives.
"Dear God,

If I am wrong, right me. If I am lost, guide me. If I start to give-up, keep me going.
Lead me in Light and Love".
Have a wonderful day, my friends and we'll talk again tomorrow."
with Love,
Luciane from HomeBunch.com