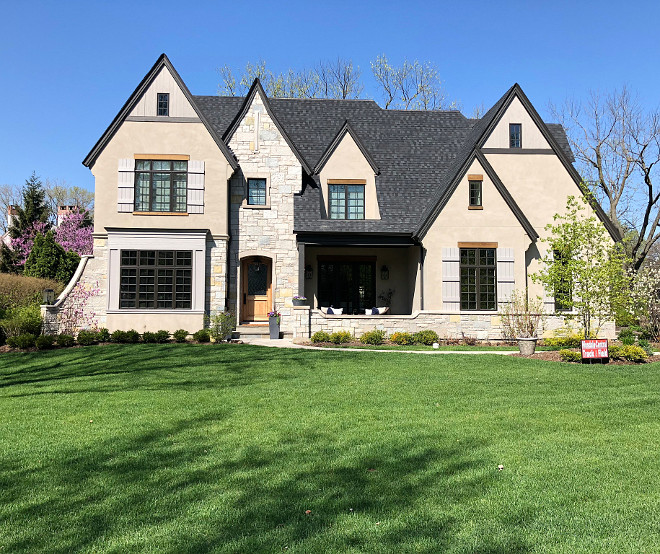 It's wonderful to start a brand new week with you on Home Bunch! Thank you so much for stopping by and I really hope you have a great time seeing this post today. I'm truly honored to be featuring Reem from @reems_design on this new Beautiful Homes of Instagram. Reem is a dedicated mother and a very talented interior stylist. I hope you enjoy getting to know more about her and seeing her gorgeous home!
Hello everyone!
My name is Reem and I am so grateful and honored that Luciane reached out to me for a Home Bunch feature. I continuously use Home Bunch and Instagram as inspiration for this home, the third one that we had built. I especially love the Beautiful Homes of Instagram series because so many out there are like me, just wanting to share their passion for decor and design and I think it's so awesome that Home Bunch gives us that platform. Although I am a certified teacher, I have always had a passion for decorating and have dabbled in it with all our homes. After I decorated this home and invited some neighbors over, one of them begged me to help decorate her house. So I agreed and I helped her with the entire first floor. Other friends approached me after seeing her house and I started a small decor business.
I grew up in New Berlin, WI and my husband Hesham is from Chicago. We got married very young and have lived in 5 other places. We started out in apartments in Chicago and we now live in a suburb just outside Chicago. We love the convenience of taking the train to the city and being there within 20 minutes. We hop on with our kids in the summertime a lot.
So when we had our 4 children at the local hospital in my current neighborhood, we were at the time living in another area further west from here. We would drive through this area and dream of this picturesque, historic town. The homes are are all unique and it has the feel of a storybook setting! So when we lost our first child at the tender age of 12 to cancer, I knew I had to leave my old house. Although we built that one too, staying there for 5 years after we lost her started taking a toll on me. Everything in the home reminded me of her. Although there were beautiful memories, there were also some very difficult sad memories that I needed to forget. So when my second child was entering high school, my husband and I decided it was a good time to start looking in the neighborhood we have always dreamed of living in because it has one of the top high schools in the nation. And here we are 4 years later with her entering college next year.
Finding a brand new home was an unbelievable challenge. Everything gets scooped up the minute it hits the market, but our realtor, Dawn McKenna, came through for us. After we had given up hope of ever finding the right lot (I wanted it at least 100 ft wide — which is hard to come by) she called me one day and said, "I actually found you something!" We immediately ran over and took a look at the tear down. I had such a hard time envisioning how a new home can look on this lot, but something deep down told me this was the one. She set up a meeting with the builder, Oakley Home Builders, and we started customizing the home. They helped us design it from point A, all the way through to the end. I find inspiration in everything, but especially in my personal travels and moments with my family. I want my home to tell a story as soon as you enter. What I love most about my home is the amount of light it gets! I have decorated everything completely on my own, and although it is not perfect, I have tried to make it as personal to our family as possible.
Beautiful Homes of Instagram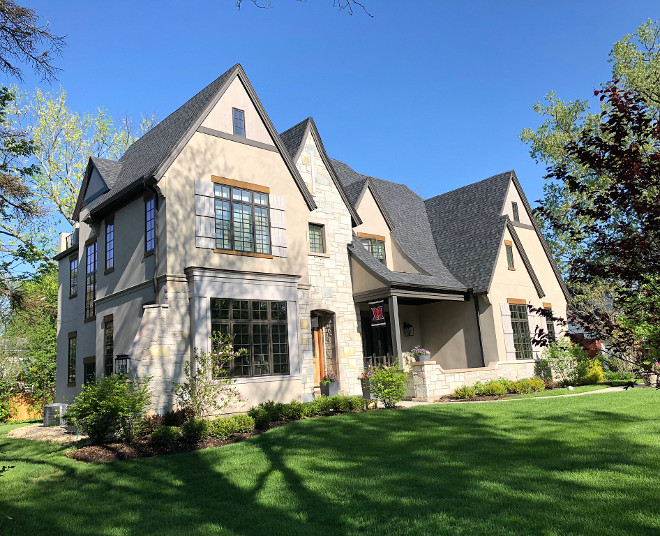 When we built our home we decided on stucco vs cedar because we wanted the freedom of maintenance and it is timeless.
Architecture Inspiration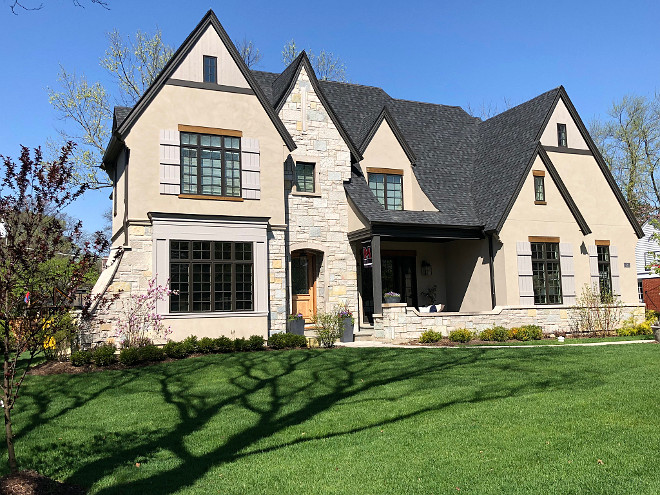 I don't know what you would call my home. A rustic-french-manor-farmhouse. Who knows. But, we love all the detail in the front of the home for sure.
Side Garage

The home features side entry garage.
Grey Shutters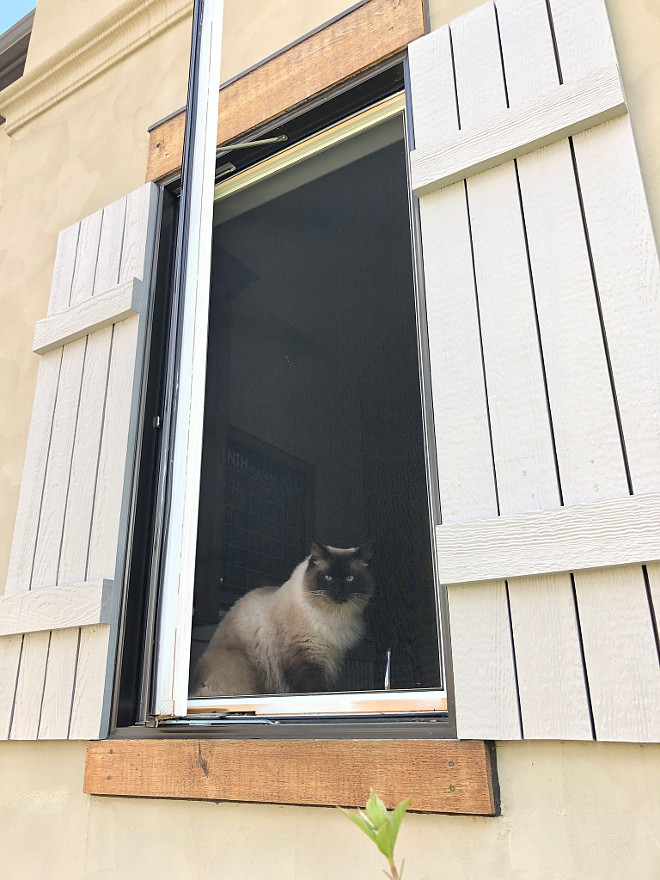 Shutters are painted in Benjamin Moore Winter Gates AC-30 at 75%.
I love the timbers that we framed every window with. They give the home a rustic, yet modern feel!
Exterior Details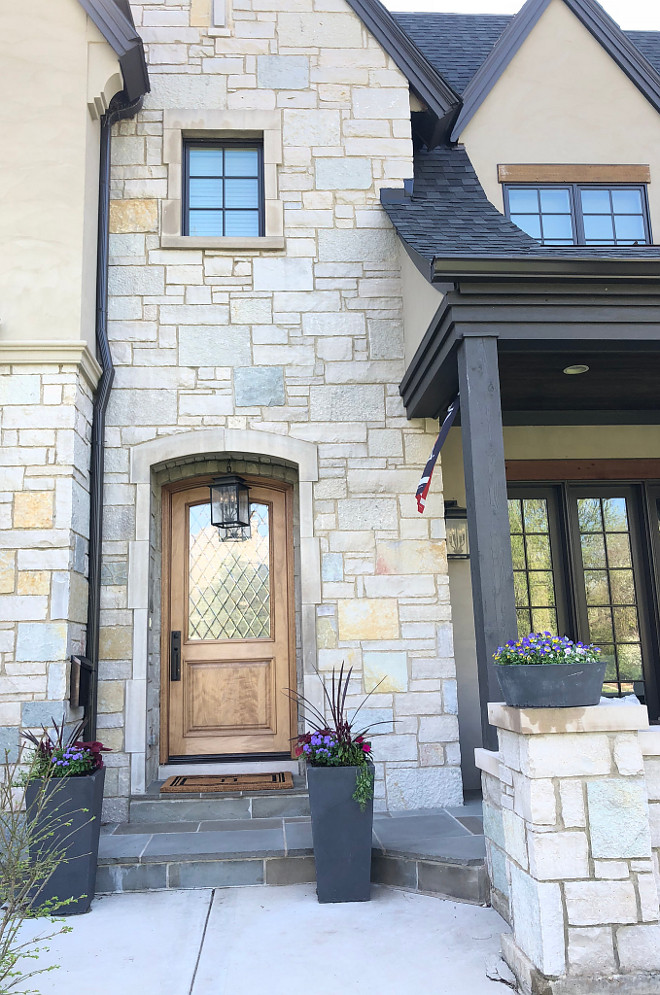 The porch and entry is Bluestone.
Front Porch

We spend a lot of time in this porch in a the summer reading and eating popsicles! It is my absolute favorite spot. Having a front porch was a must when we sat down and designed the home. This 15×12 front porch was a must when we designed the home. We sit in the front and our coffee while the kids play. It really has been one of the best spots in the home!
Similar Lanterns: Here.
Similar Rug: Here.
Similar Garden Stool: Here – more options: here.
Meet the Homeowner!

This is the beautiful and talented homeowner, Reem from @reems_design.
The custom doormat is Ballard Designs – similar here & here.
Planters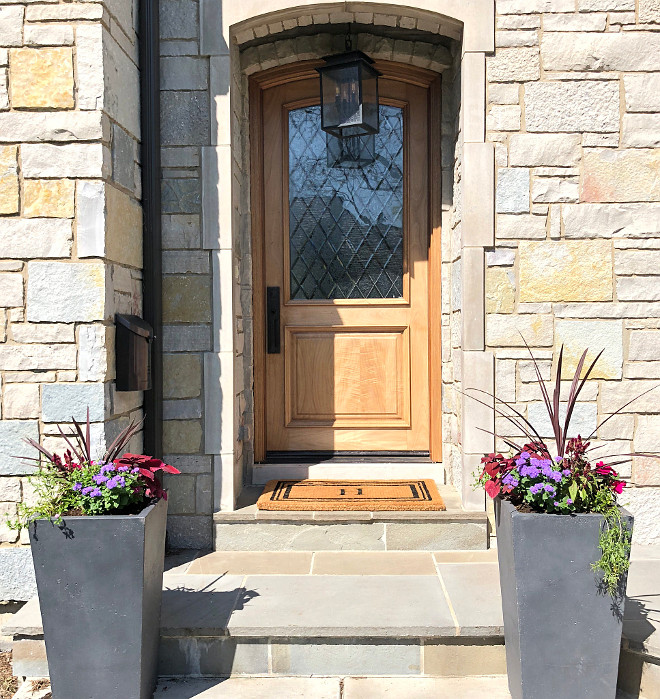 Planters are from Restoration Hardware – similar here & here.
Front Door

Front Door is Pella leaded glass door sanded down with a clear poly.
The door was a deep dark mahogany color and just recently I had my painter sand it down to refinish it. When he sanded it down, I look at it and loved the natural look and how it compliments the stone, so I decided to keep it in a natural state.
Front Entry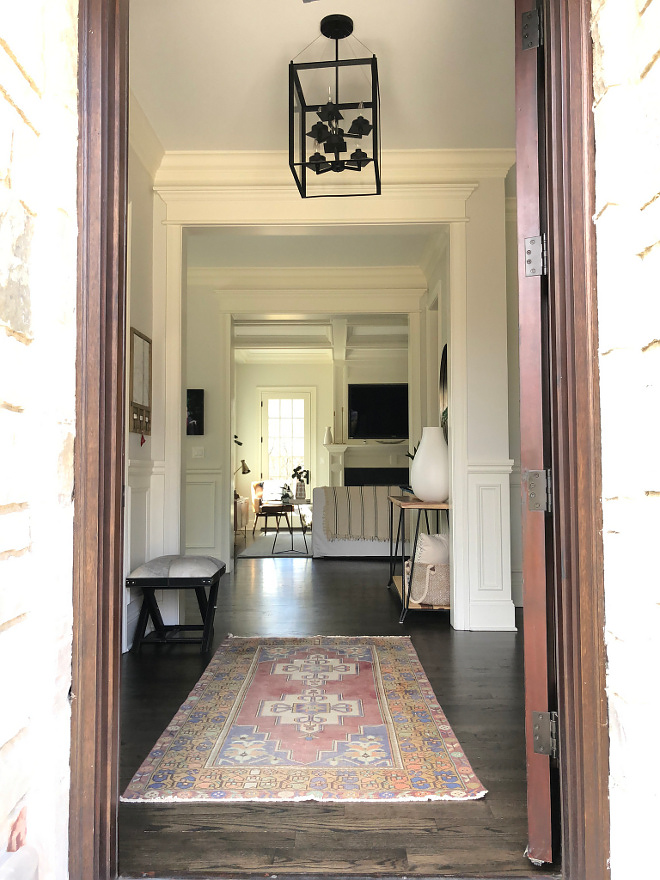 Foyer rug is vintage from Etsy.
Flooring

The floors were stained in a 50/50 ebony and jacobean finish. Although it is nice, we will be lightening up the floors soon. 🙂
Foyer fixture is Artcraft.
Console Table

When I found this console table at HomeGoods I was ecstatic. Foyer table and accessories are mostly from Homegoods. I try not to splurge on accessories and Homegoods is one of my favorite spots for that. The bigger ticket items in the home are usually where we end up spending a little more.
Similar Console Table: Here.
Neutral Vases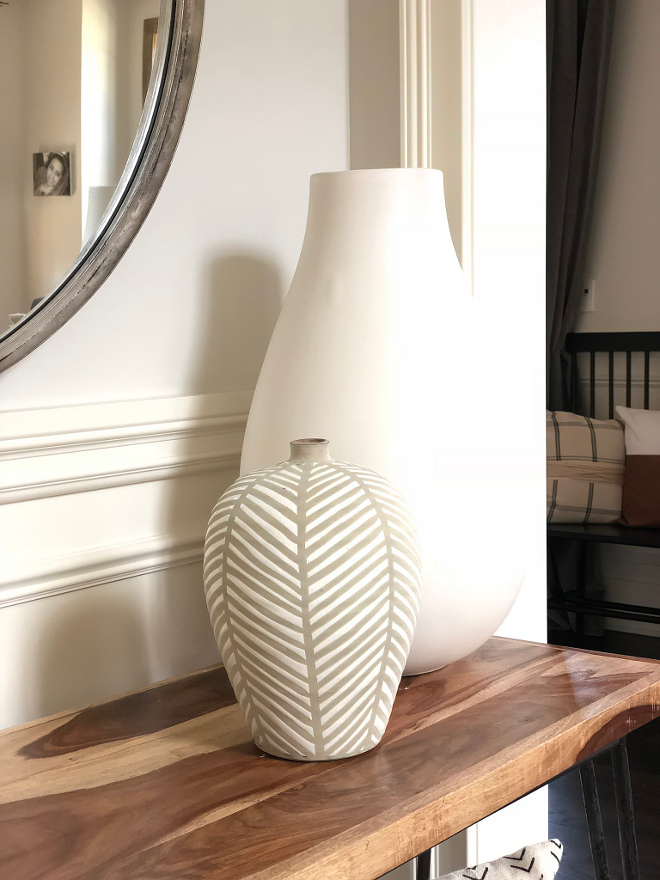 The big vase is from West Elm and the inlaly textured one is from McGee and Co.
Decor

I recently have fallen in love with a more beach vibe after going on vacation. I thought it would be fun and a little to add pieces to my home that remind us of going on vacation. Driftwood can be found all over my home. When we were in Florida recently, we found a ton. Although, these are the cleaned up versions from West Elm. Also, on this table you will find picture books from Shutterfly. After every vacation, I come home and make photo books on Shutterfly. The kids love looking through them and remembering our vacations. These are just a few, the rest are in another room.
Although I do not have a green thumb, this snake plant was a great find from IKEA. The basket on the bottom is from Hobby Lobby (similar here & here), while the pillow can be found here.
Main Floor Paint Color

Benjamin Moore Intense White OC-51.
Entry, jute rug, Safavieh.
Foyer Bench

Bench: World Market.
Frame: My own picture from a recent vacation – framed by Framebridge.
Pillows: Kaekooshop – similar here.
Throw: MyBohemianHome – similar here.
Layout

Immediately to the right upon entering our home is the dining room.
French Doors

And to the left is the Living room/front office. I wanted this room to have a masculine feel, so I asked the builder to make the baseboards, trim, and French doors, different than the rest of the house without feeling like an overwhelmingly dark office.
Doors, Pine with a custom Minwax stain.
Map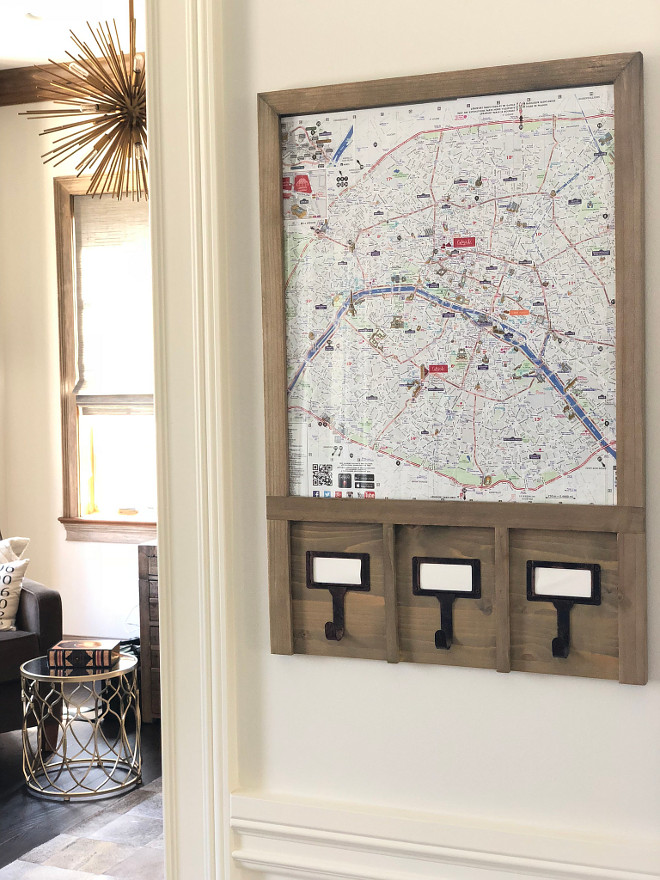 Outside the office I hung the map we traveled with and used throughout Paris.
Home Office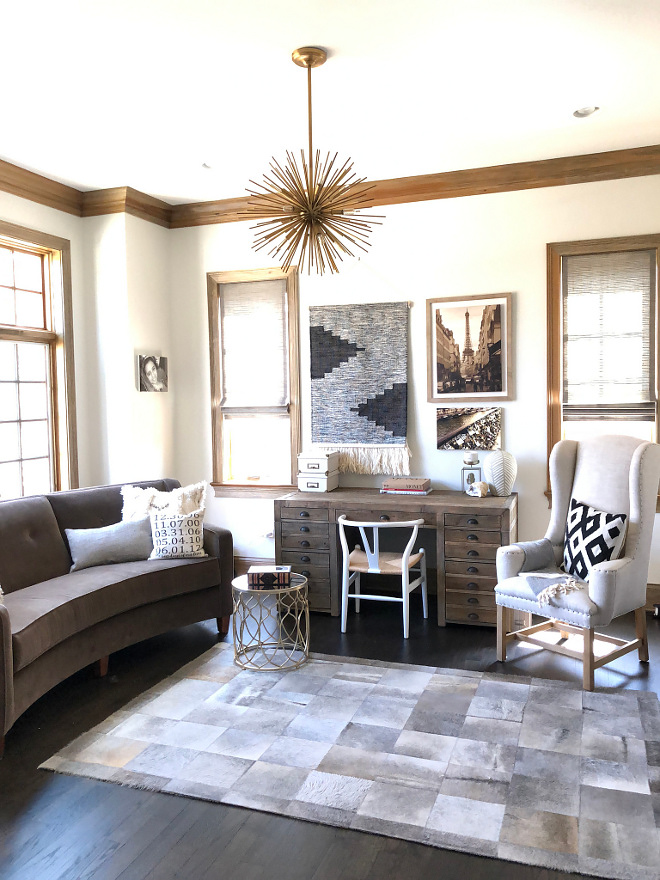 I wanted this room to tell a story of our travels: my pictures of the bridge that we stood on with the locks on our 20th anniversary in Paris and we turned a corner and saw the magnificent Eiffel Tower! A pyramid from Egypt, books from the Louvre itself.
Also, on the small table, a book from the Shakespeare theater in London, a pillow of my kids birth dates and a picture of my beloved angel on the far wall!
Leather Patch Rug: One King's Lane.
Decor

Desk is Restoration Hardware (similar here) and the linen chair is also from RH.
Wishbone Chair: Here.
Chandelier: RH Teen – similar here & here.
Sofa: Walter E. Smithe – similar here (in linen).
Vase

Tribal Vase: McGee and Co.
Dining Room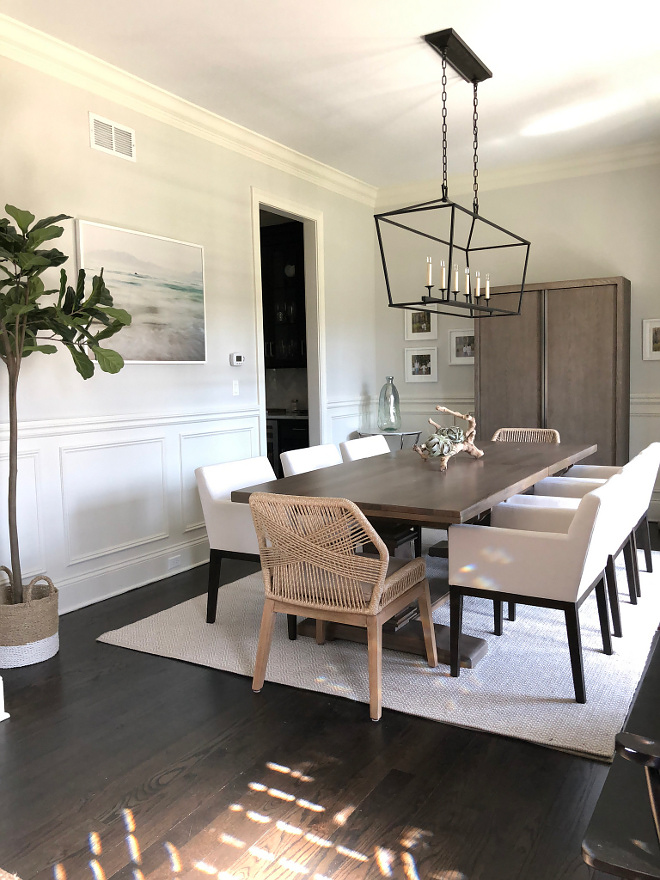 I wanted a casual, yet sophisticated feel, with just a touch of a beachy vibe. I went with RH modern chairs (in a white perennial fabric), and 2 Loom chairs on the ends.
Similar Fiddle Tree: World Market.
Light Fixture: Here.
Art

Art: Minted.
Casual-Chic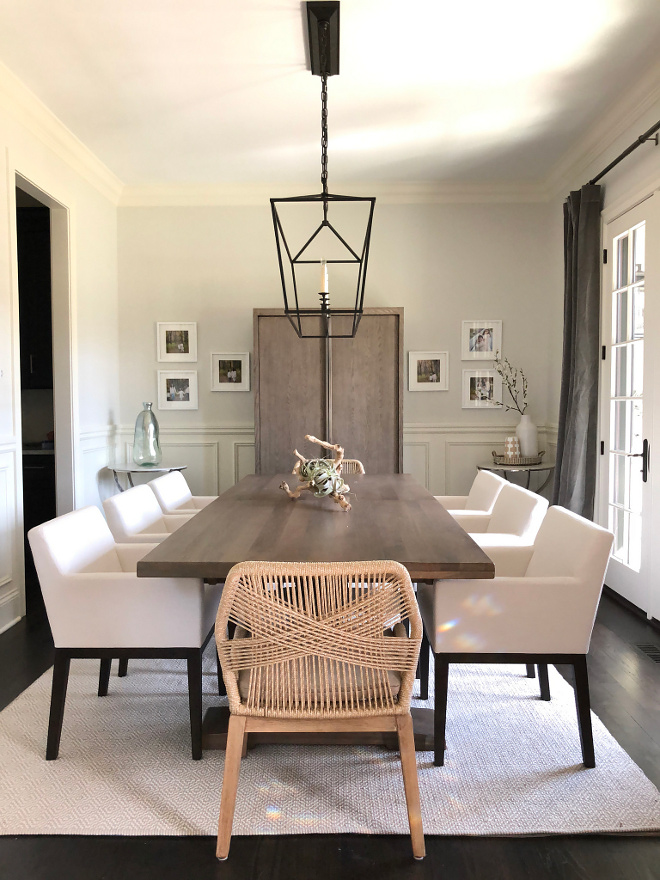 We love that it opens up to the front porch with French doors. Oftentimes I leave these french doors open and pretend I am back in Paris. I have a small gallery of pictures of my kids surrounding the chest.
Table: Walter E. Smithe Bristow Table – similar here, here & here.
Host Dining Chairs: Here.
Side Chairs: RH Modern – similar here.
Storage Chest: RH Modern.
Rug: Dash & Albert.
Drapes: RH – similar here, here & here.
Driftwood


View of dining room towards Foyer and Home Office.
Grapewood Branch: Here.
Butler's Pantry

We added a small butler's pantry with ebony stain and brass hardware from CB2 between the dining room and kitchen. I plan to add cement cement tile as a backsplash here.
Beautiful Marble Herringbone Tile: Wayfair.
Kitchen

The kitchen! For the last ten years, I've been dreaming of having an all white kitchen. We paired it with the dark floors so we can achieve that rich contrast.

Kitchen Island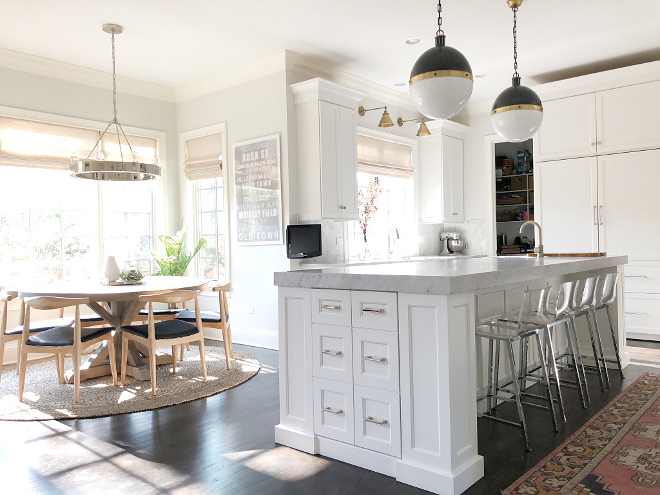 I wanted EVERYTHING hidden! Even my stools are hidden under the counter. A clutter-free kitchen makes me at ease. Even though, you will find my kids studying at this counter often.
Island Dimensions

The kitchen island is 11 ft long by 3.5 ft. wide. We did a 3 inch mitered edge on only the island. It really makes a statement because it is slightly higher than the surrounding counters.
Kitchen Lighting: 22″ Hicks pendants from Visual Comfort Co.
Prep-Sink & Faucet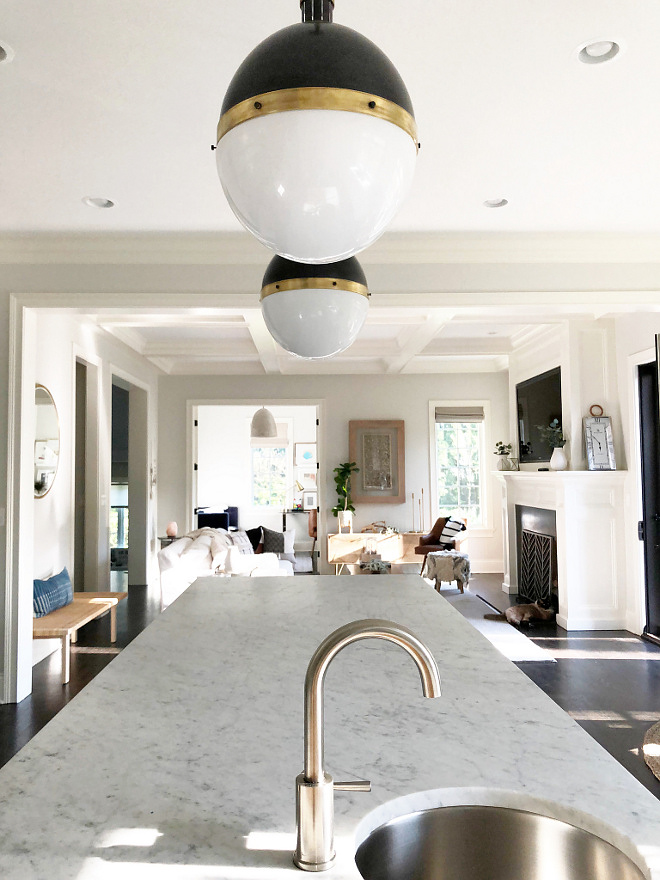 We put our water filter for drinking water at this sink and it is such a convenience for my kids.
Faucet is Moen.
Similar bar sink in island: here.

Countertop

Countertop is Honed Carrara marble – Side of islands have 3 inch mitered wedge.
Beautiful Recycled Glass Vases: Here, Here & Here.
Backsplash

I love the Herringbone marble backsplash because it is barely noticeable. It compliments the countertops so nicely without being overbearing.
Beautiful Marble Herringbone Tile: Wayfair.
Range

This range also came with stainless steel knobs, but I keep the red ones on because they are just so classic.
Range: Wolf double range – Other Double Ranges: here, here, here & here.
Kitchen Counter Decor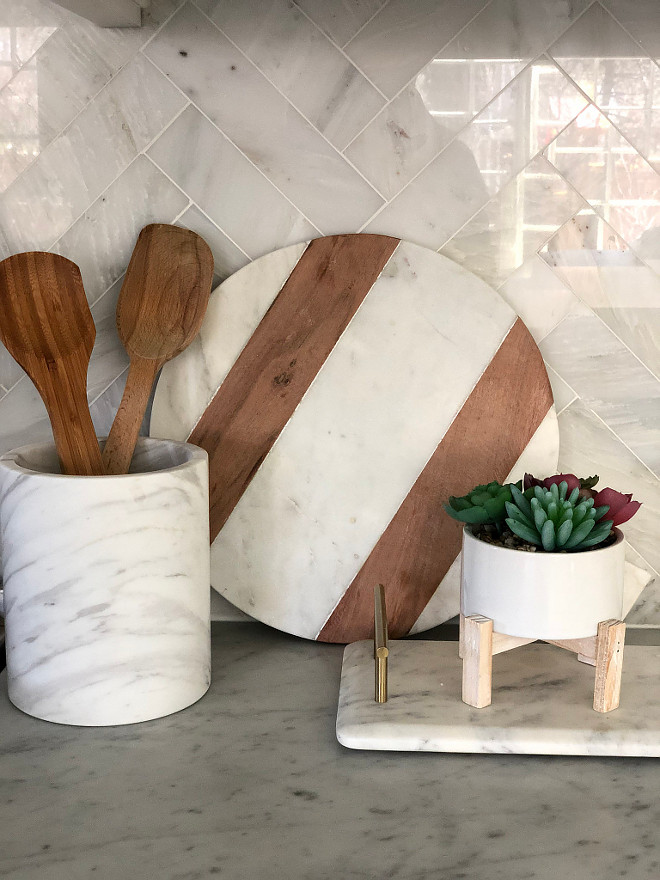 The utensil holder and small tray are from Target, while everything else is from HomeGoods – similar boards: here, here, here, here, here & here.
Sconces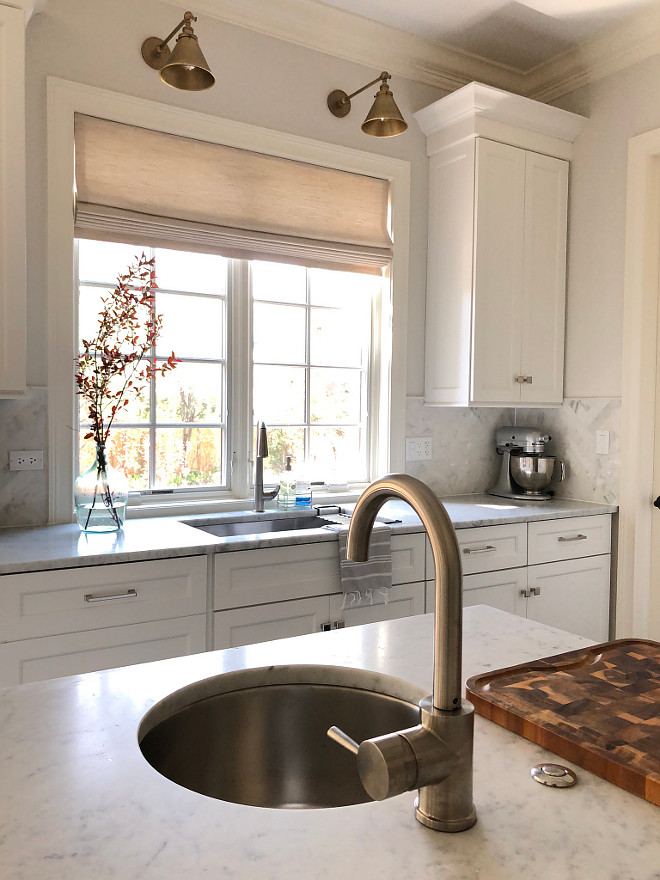 Sconces are RH. I added these sconces above the sink recently and I think they are a great addition to the kitchen. Light fixtures are like good jewelry to me.
Kitchen Faucet


You will often find me at this end of the island prepping lunches or dinner. That is why I have a wood cutting board.
Sink faucet is by Kohler.
Woven shades from The Shade Store.
White Marble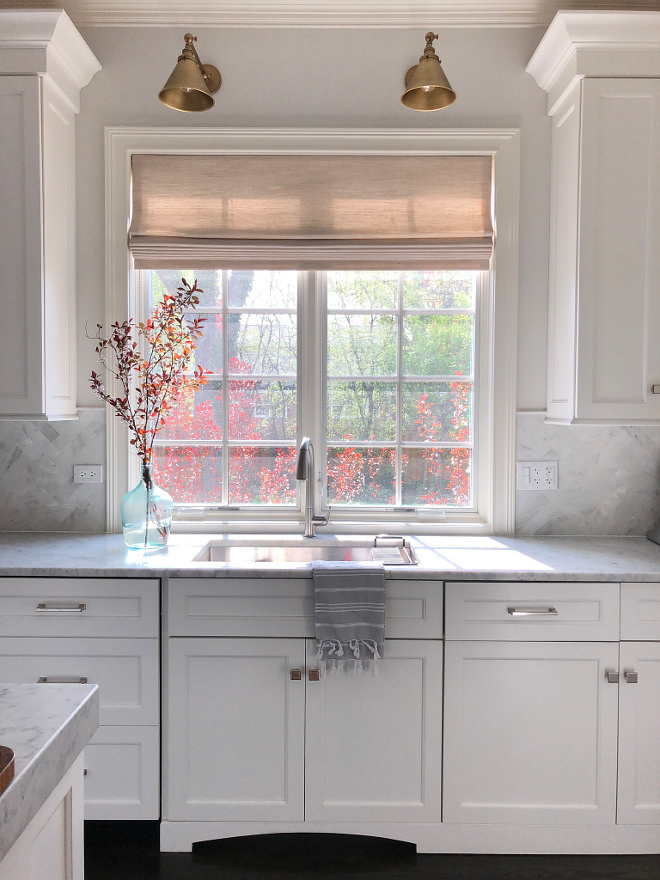 While marble counters are timeless and beautiful, they are extremely fussy and everything has to be prepped with caution.
Cabinet hardware is Richelieu – Pulls & Knobs.
Kitchen Runner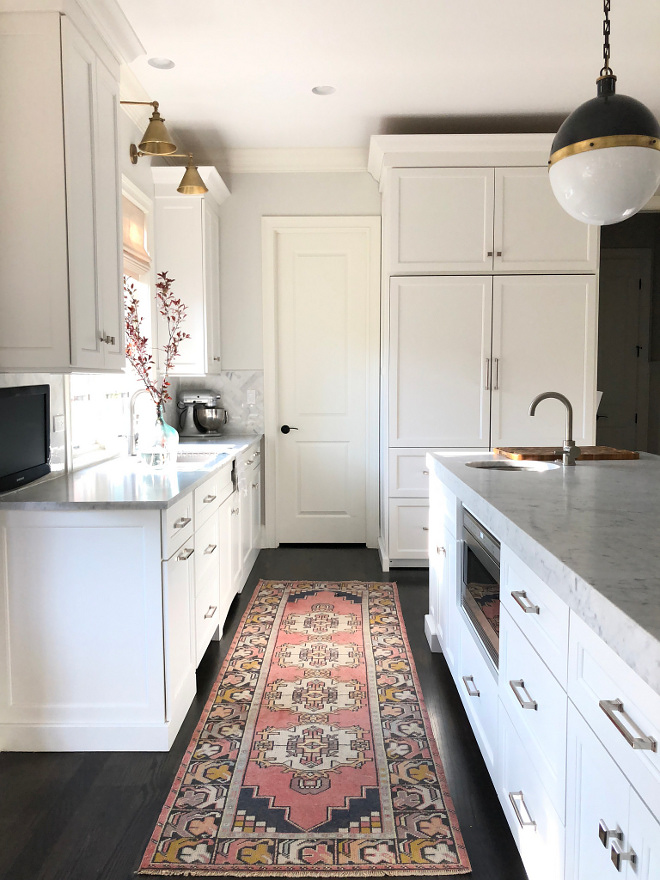 The vintage kitchen runner is from Etsy (one-of-a-kind).
Beautiful Runners:
Refrigerator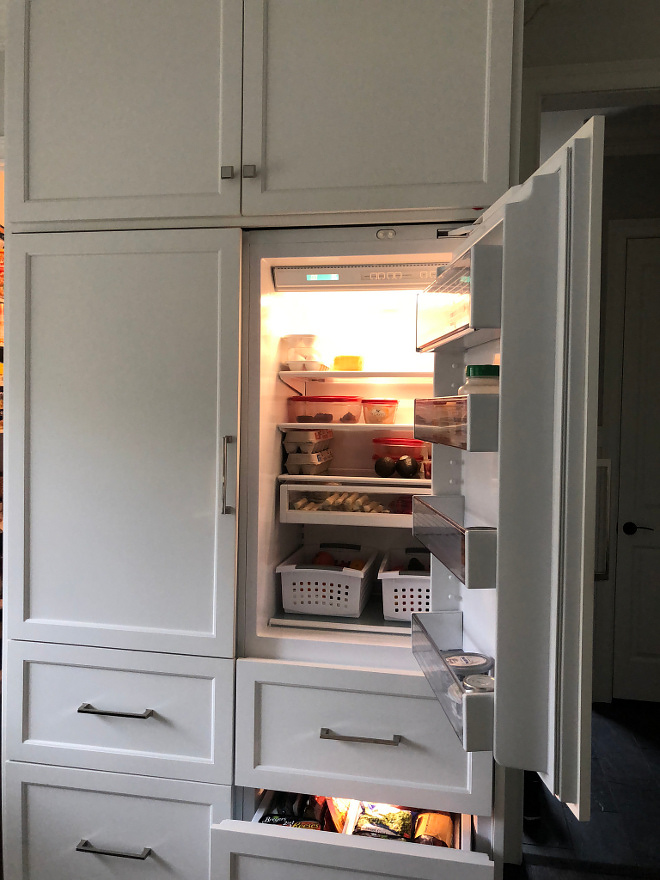 Love my Sub-zero double fridge with freezer drawers so much!

Counterstools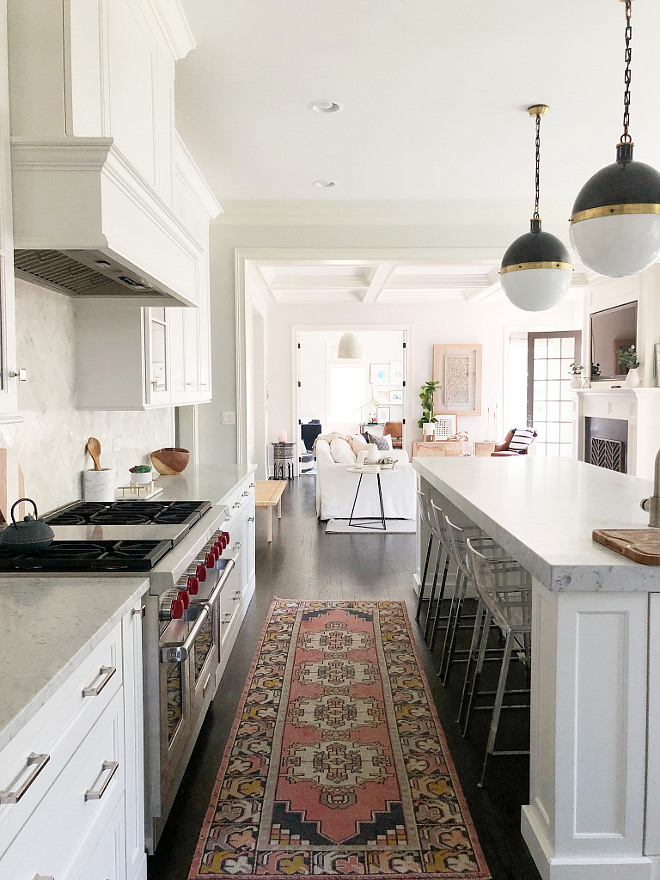 The acrylic stools are CB2.
Kitchen Design


The kitchen island features faux drawers are on this side, which really are just 2 cabinet doors.
The furniture quality cabinets are by Brakur cabinets.
Breakfast Nook Lighting


I absolutely love Reem's breakfast nook. The furniture and the decor chosen are perfect for this space!
Light fixture: Ralph Lauren Home Chandelier.
Breakfast Nook Rug


Rug: Pottery Barn.
Open Floor Plan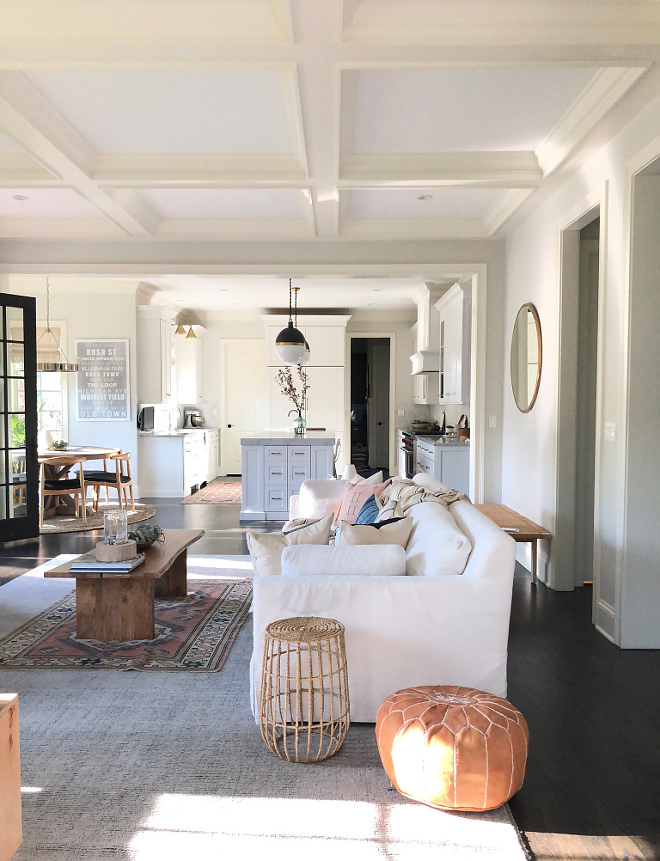 When we built we made sure we had an open flowing floor plan. We didn't want any barriers between the main living space and the kitchen. It's one open space!
The Moroccan poufs really call my name. My Egyptian ancestry appreciates them and I plan on going to Egypt soon and picking up similar treasures from there.
Leather Moroccan Pouf: West Elm.
Rope Side Table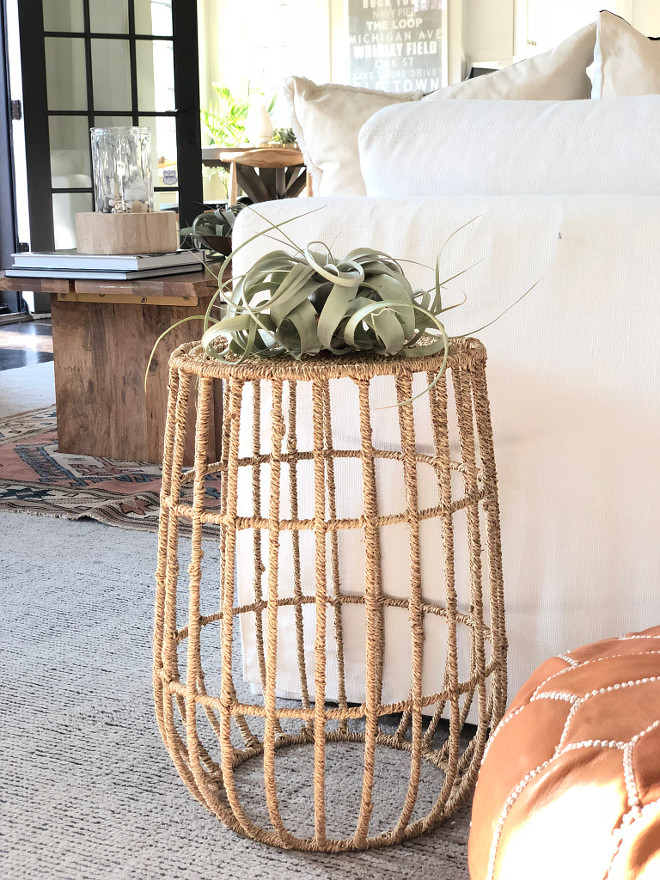 Jute Basket Side Table: Here.
Paint Color

Paint color continuous to be Intense White by Benjamin Moore.
Furniture

I have bought several chairs to place between kitchen and family room, but I end up returning them because I love having the kids run from one area to another without having to walk around furniture.

Coffered Ceiling & Coffee Table

Lately, I have been loving vintage rugs and this one in the family room is no exception. It was a very lucky find on Etsy. –
I made sure I got a coffered ceiling when we built. It was on my list of "must-haves".
Coffee Table: World Market.
Accent Table

This table was found at World Market and the vases are from Target and West Elm.
Trim Paint Color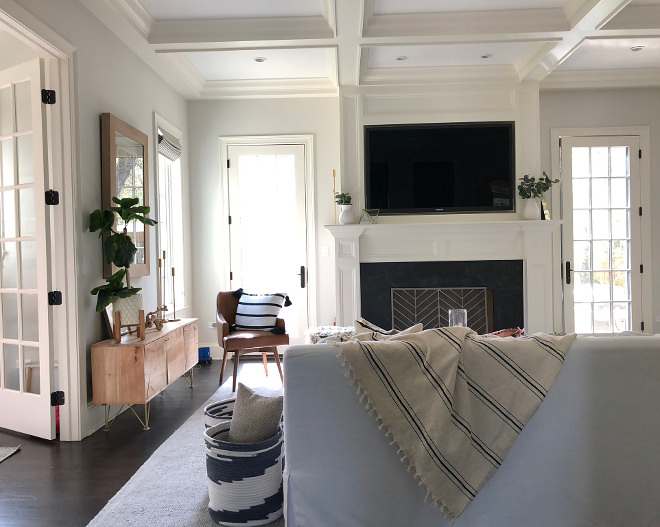 All trim was painted in White Dove by Benjamin Moore.
Textures

Similar decor can be found here.
Accent Leather Chair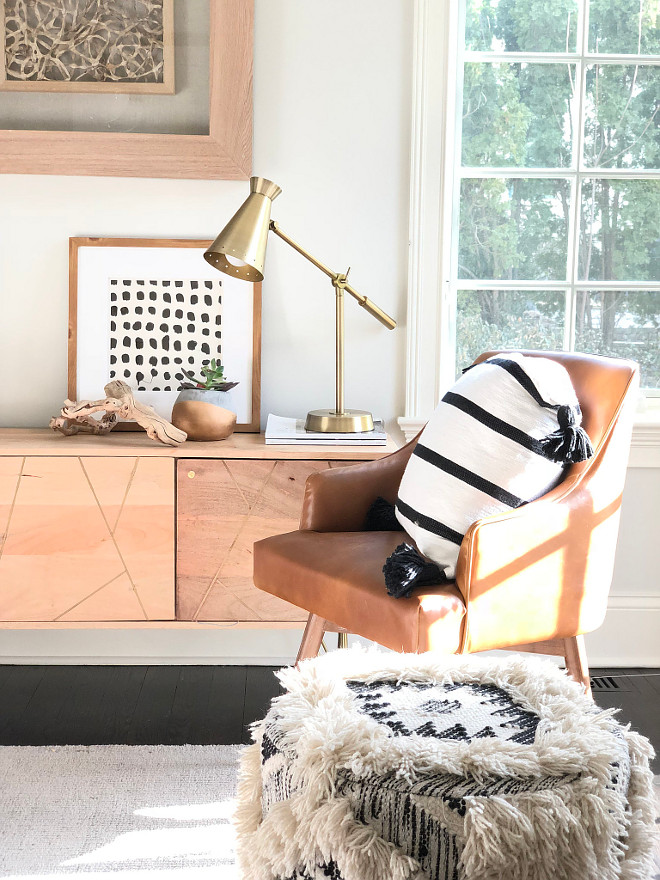 Leather chair, sideboard and stool were very lucky finds from HomeGoods.
Similar Chair: Here.
Similar Sideboard: Here.
Coffee Table Books

The coffee table books were acquired during travel.
Similar Tillandsia Stem: Pottery Barn & Wayfair.
Sofa

Sofa is RH – similar here & here (sectional).
Coffered Ceiling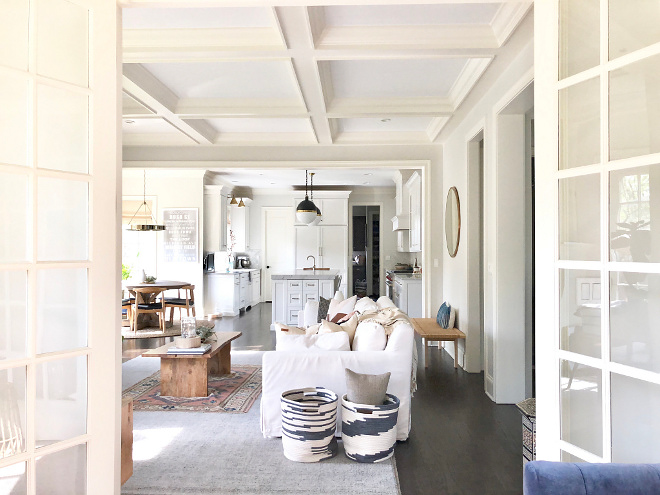 Immediately off the family room is a small 10×10 room we added to the house at the very last minute on the plans. I wanted a space open to the family room that I can work in, or the kids can use as a reading/study room with some of my favorite art!
Homework Room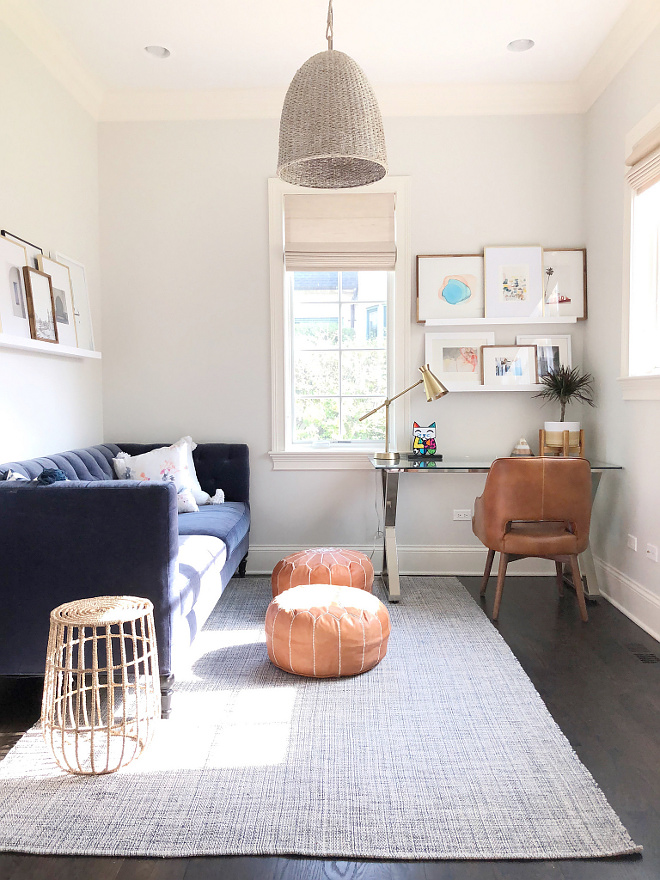 I love this homework lounge that we added at the last minute. It serves as a reading/homework/mom office. Desk is Pottery Barn.
Light fixture is RH Teen (no longer available) – similar here & here.
Leather Moroccan Poufs: West Elm.
Art above desk is Minted.
Blue Sofa


Sofa is Walter E. Smithe. Rug is Dash and Albert.
Similar Sofa: Here.
Side Table: Here.
Powder Room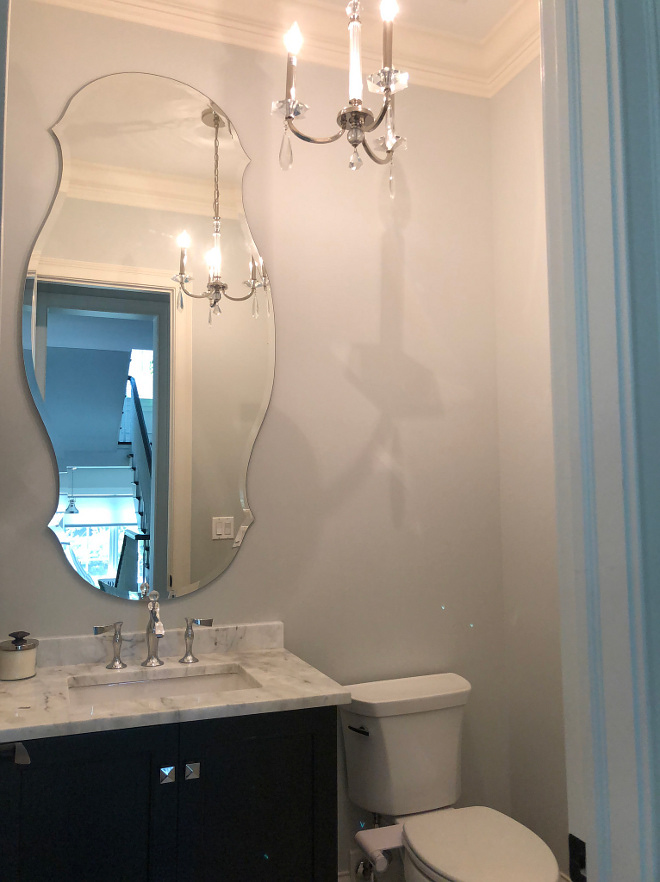 Mirror is Ballard Designs.
Bathroom Faucet

This powder room faucet had me at hello. I just had to get it. The movement reminds me of water and the crystal ball on the top is just the icing on the cake!
Faucet can be found here and Swarovski Crystal Finial can be found here.
Paint Color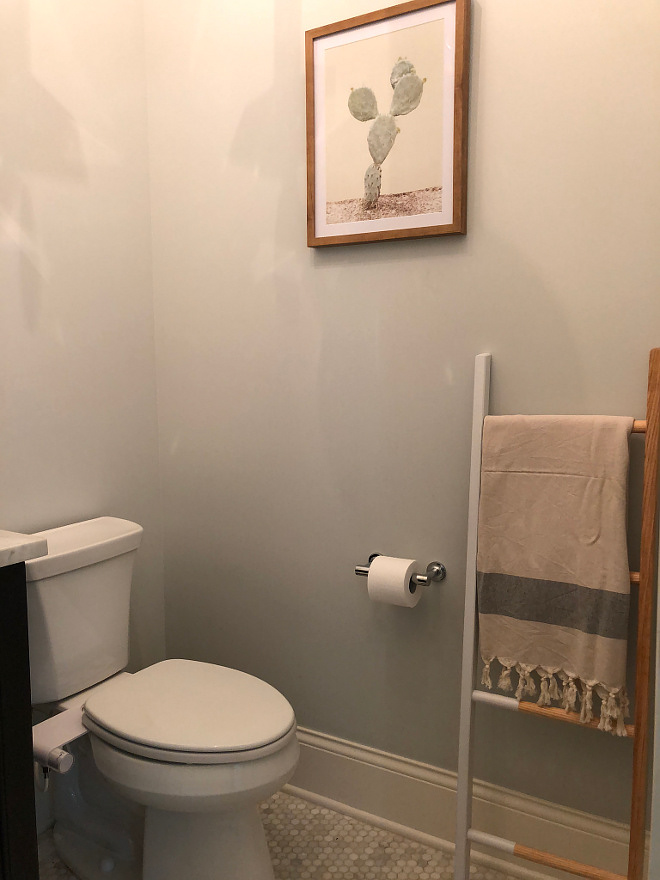 Paint color is Wickham Gray HC-171 by Benjamin Moore.
Flooring

Powder room 1 inch marble hex.
Ladder is West Elm.
Staircase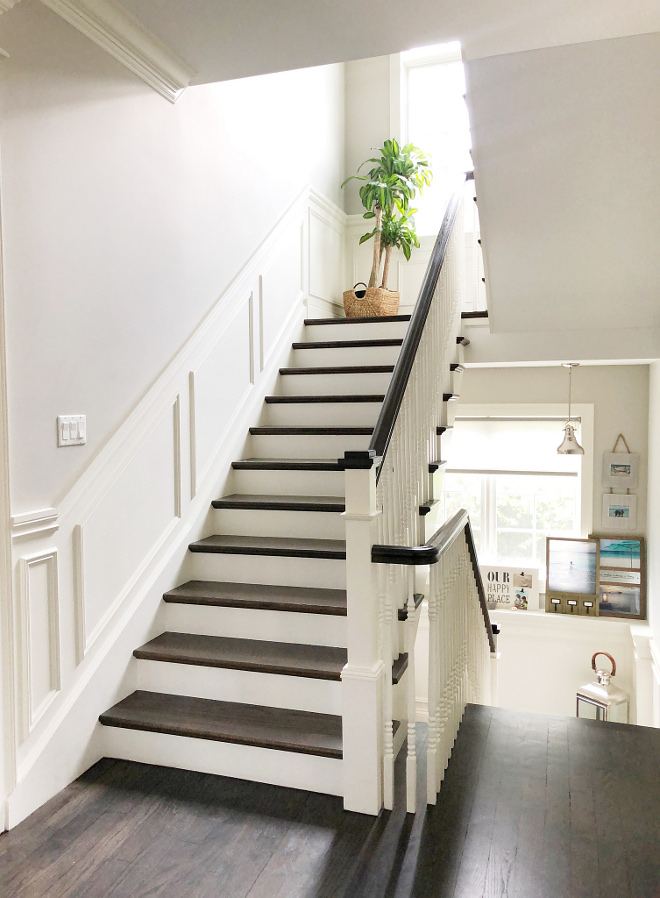 This is our stairway and upstairs hallway! We have a long hallway leading to 5 bedrooms upstairs, each with a bathroom.
Staircase Shelf


On this shelf we have sands collected during travel. Whenever we are on a beach we collect sand and put it in jars and label them. The kids love looking at the sand and remembering those beaches. We love making beautiful memories. Also, on this shelf, you will find pictures from travel including one of my absolute favorite pictures of my girl. We were in the Cayman Islands and as soon as she saw the beach, she ran in and started twirling, it was just a magical moment! All 3 pictures to the right are from our vacation to the Cayman Islands.
Light Fixture

Staircase fixture is World Imports.
Silver lanterns are from RH
Hall

I absolutely love this vintage rug I snagged from Etsy that I paired with beautiful pictures of my family I did not know what else to do with this long hallway. We are planning on installing 4 hanging pendants in a row soon.
Girls' Bedroom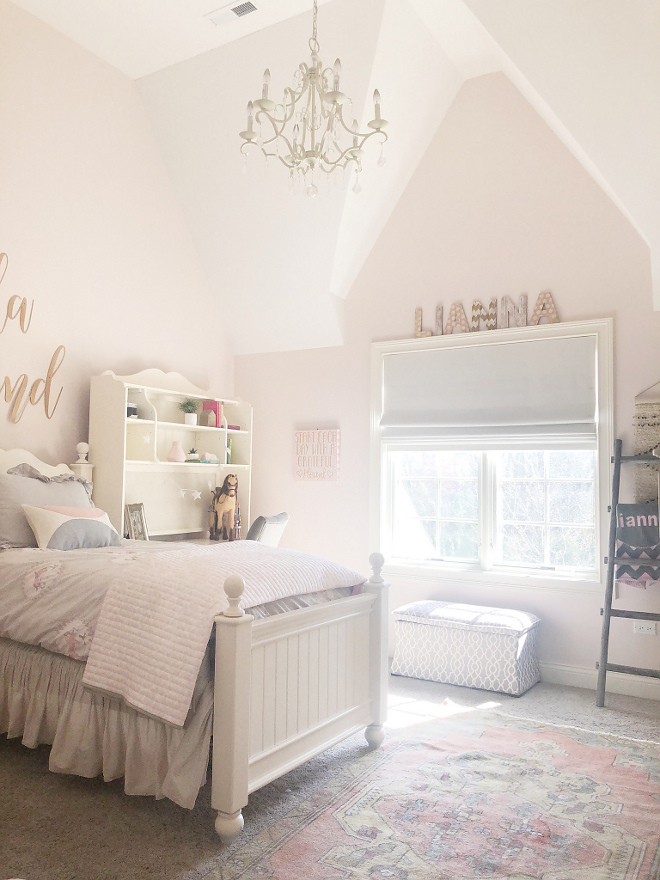 Benjamin Moore Gentle Butterfly 2173-70
Chandelier is Artcraft.
Lilac Bedroom Paint Color


Sherwin Williams SW 6547 Silver Peony.
I absolutely love the high ceilings on the entire second floor and the peek-a-boo windows on the higher ceilings. This is definitely one of my favorite features of our home. I dream of making lofts in these rooms for my kids one day. Although, leaving the ceiling alone and appreciating the architecture is also wonderful. Bedding is from RH Teen and Pottery Barn.

Chandelier is Artcraft.
Jack & Jill Bathroom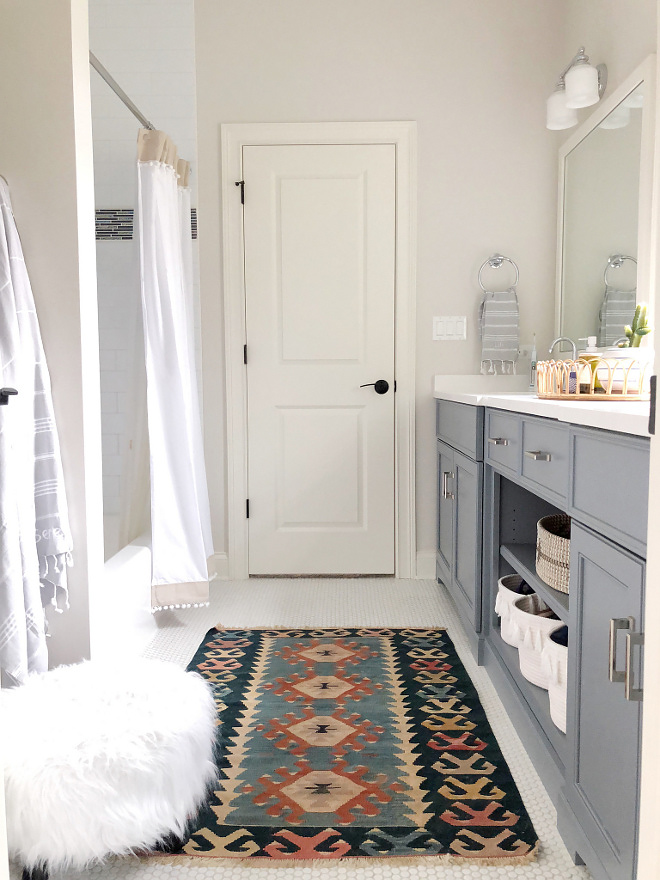 Wall paint color is Benjamin Moore Classic Gray. The cabinets are custom SW mix made for Brakur Cabinets. The shower curtain with pom poms is from Wayfair.
Countertop

This jack-n-jill is actually my favorite bath. I am jealous of my 2 girls. 🙂 I love the blue-grey cabinets and I have ordered new brass hardware, which unfortunately didn't arrive in time. I added a lot of textures to this bathroom. The baskets house all of their hair products, brushes, headbands, etc. The turkish towels are embroidered with their names. I love personalizing everything for my kids. It makes them feel special. The tray has some candles and the tray itself is from HomeGoods.
Countertop is a white quartz.
Faucets: Kohler.
Flooring

Similar Flooring: Here.
Boys' Bedroom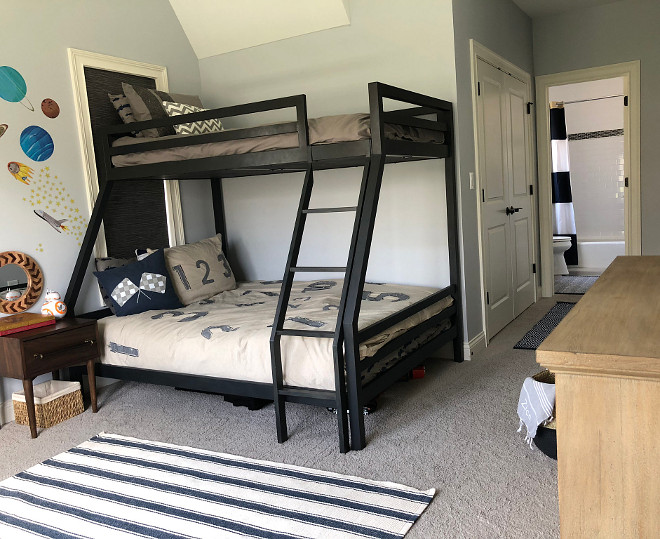 Benjamin Moore Silver Mist.

Boy's room! My 5 year old is obsessed with planets. Bedding and bed, and furniture are RH Teen (similar here). We opted for a bunk bed because his sister has sleepovers with him on weekends and in the summer.
Rug is Dash and Albert.
Light Fixture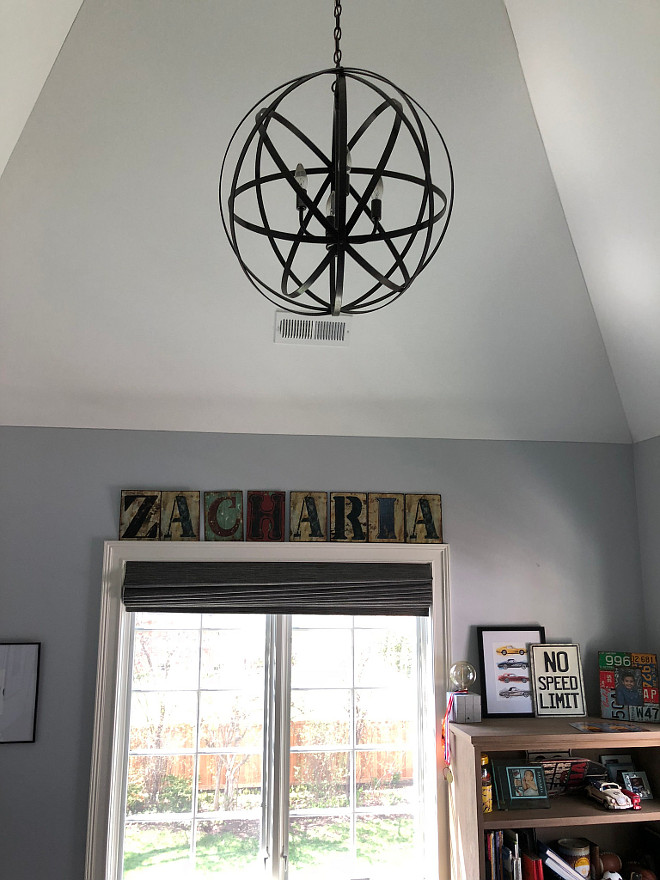 His light fixture fits that theme and is from Capital Lighting.
Bathroom

I love how masculine my son's bath turned out. You cannot go wrong with subway tile and the floor is a subtle textured rectangular tile. The shower curtain is actually window panels from Pottery Barn and he has a turkish towel embroidered with his name. We went with simple wood blinds in here.
Shower curtain is PB Kids.
Teen Bedroom

My teenager is off to college next year. It will make me so sad walking by her room. I love how eclectic it turned out and the ceiling in this room is so unique! Her dream is to surround her bed with a bookshelf because Disney's Belle is her favorite character and she is an avid reader. Maybe, one day. 🙂
Paint Color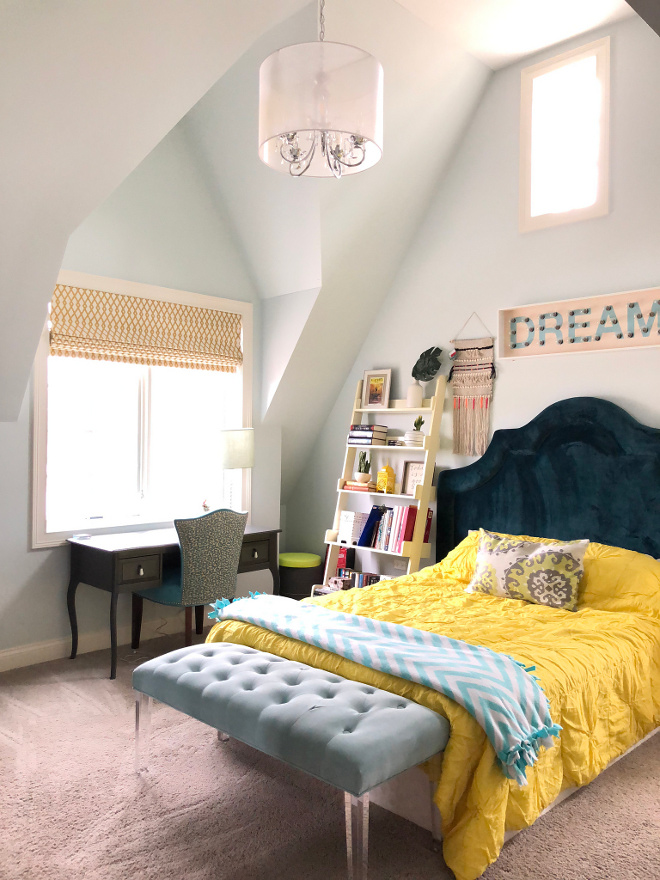 Benjamin Moore Glacier Lake 867.
Runner

Runner is vintage from Etsy – similar here.
Teen Bathroom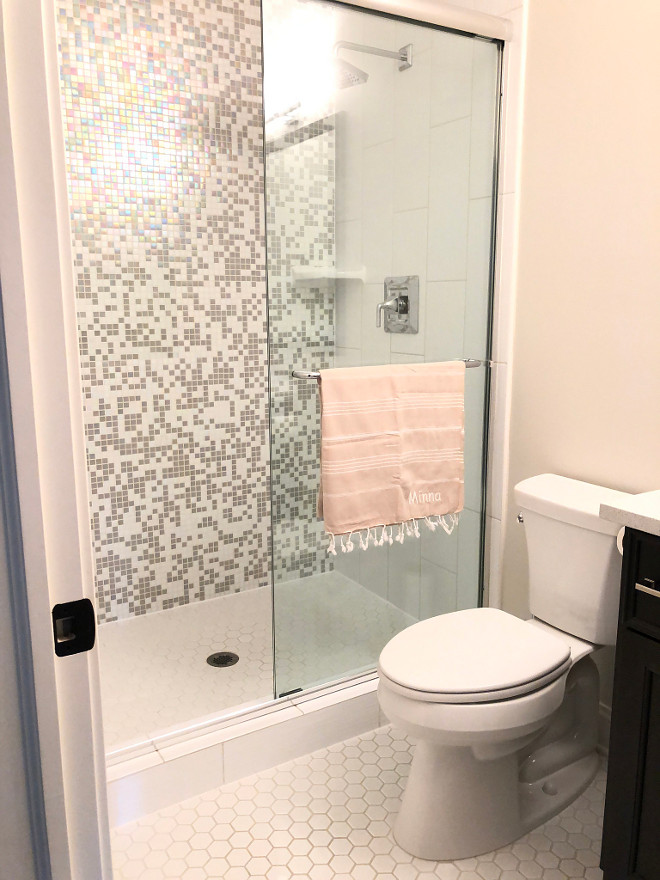 The ensuite bathroom features white hex floor tile and iridescent shower tile.
Fun Accent Tiles: Here, Here, Here, Here, Here, Here, Here, Here & Here.
Master Bedroom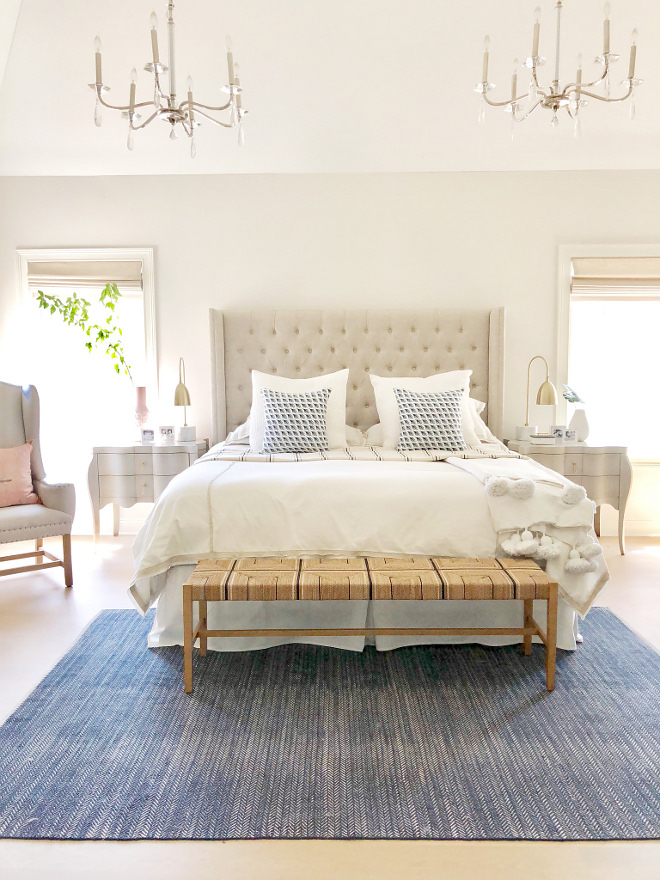 My bedroom is my sanctuary at the end of a long day. Attached to our bedroom you will find a 10×10 sitting area where my we love to catch up on Netflix. My husband and I have our own separate closets and I think that is a must for any couple. The chair beside my bed is from Restoration Hardware used to be a head chair for my dining room, but I have since updated that room. My tufted headboard is also from RH.
Shop the Look:
Nightstand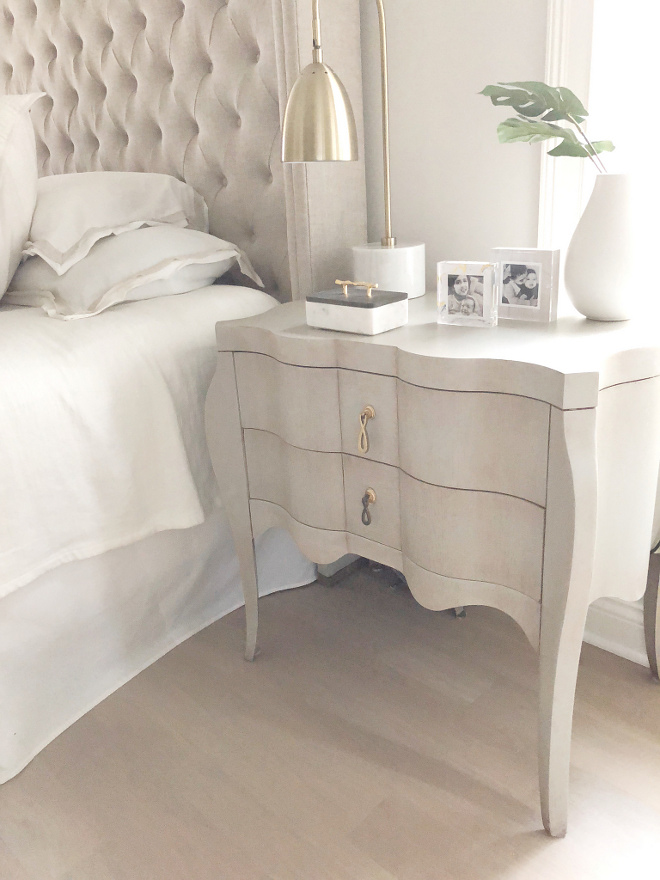 My nightstands are about 10 years old and they used be black. I had @megmade stain them for me, and the tall sweater chest as well, which I keep scarves in.

Frames of my angel and little jewelry box next to white vase is HomeGoods.
Table lamps are a very lucky find from HomeGoods.
White Vase: West Elm.
Bedding

Linen Duvet, shams and Euro Shams: Crate and Barrel.
Printed Pillows: Serena and Lily.
Throw

Throw: @Thimbleandcloth – similar here & here.
Bench

Bench is Serena and Lily.
Flooring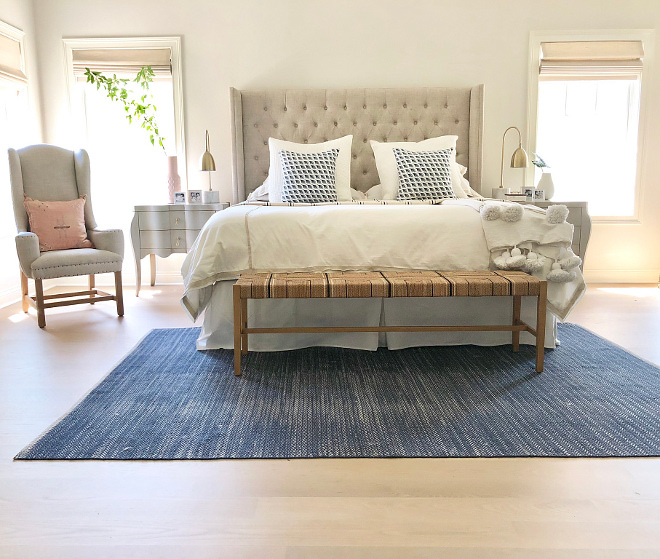 About a year ago, we ripped out the carpet in our bedroom and hired our own contractor to install a 5 inch wide white oak with a very subtle custom stain mix of Weathered oak and Country White. He put a Loba invisible finish on top and it turned out extraordinary. This is what we will be doing in the rest of our home. We already got it priced out. It's just a matter of prioritizing.
Rug

Rug: Dash and Albert. Similar: here.
Paint Color
Benjamin Moore Classic Gray.
Similar Mirror: Here.
Chandeliers

I love the high ceilings in my bedroom and I told my builder that I must put a double chandelier in. I think it turned out perfect. My nightstands and sweater chest used to be black, but I had them redone with a glaze finish from @megmade.
My bedroom is my getaway and our family space at the same time. I host the kids in my sitting room and catch up on Netflix with my husband. I wanted it to give me a sense of relaxation as soon as I enter!
Chandeliers are from Capital Lighting.
Master Bathroom

My master bath is my getaway. Every time I walk into my master bath I smile. It just makes me happy. The 16ft ceilings just give it an amazing feel as well.
We have another vanity on the opposite site.
Tub& Tub Filler


I love soaking in this tub at the end of a long day. It's a Victoria and Albert. We splurged on this tub because it keeps the water warm for a long time because it is made out of volcanic rock.
Beautiful Freestanding Soaking Tubs: Here.
Tub filler is Kohler.
Shades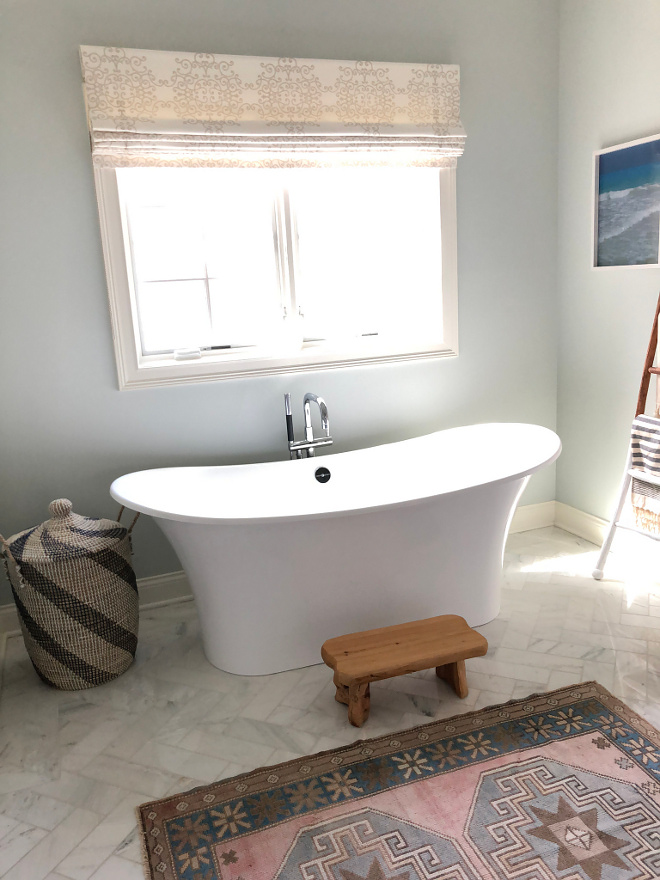 Roman shades are from The Shade Store – similar here.
Similar Bin: Serena & Lily.
Ladder

Ladder is Anthropologie.
Sconces

The sconces has hanging crystals, which I will be changing out soon to brass sconces along with brass hardware.
Current hardware is Richelieu – Pulls & Knobs.
Turkish Towels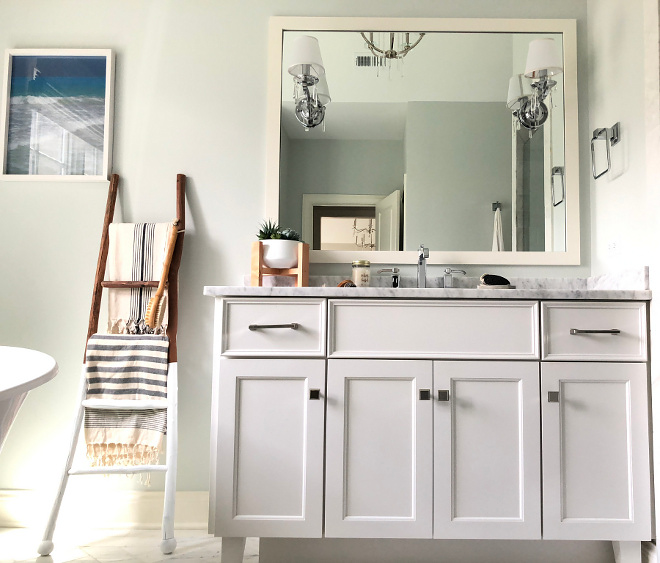 Turkish towels are Loomgoods – similar here, here, here, here & here.
Bathroom Faucet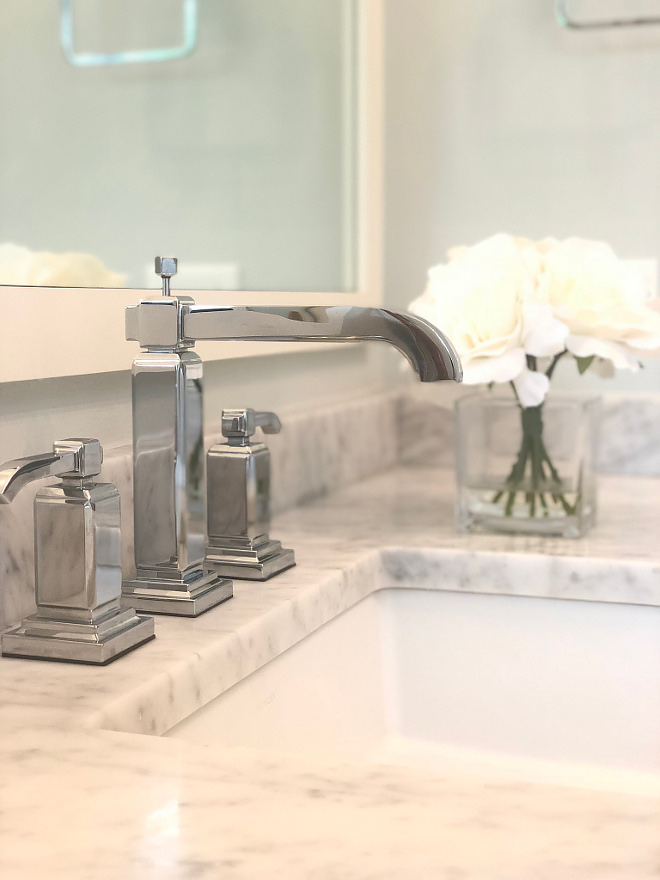 I love my master bath faucet. It's just so stately and timeless!
Master bath faucets are Pfister.
Stool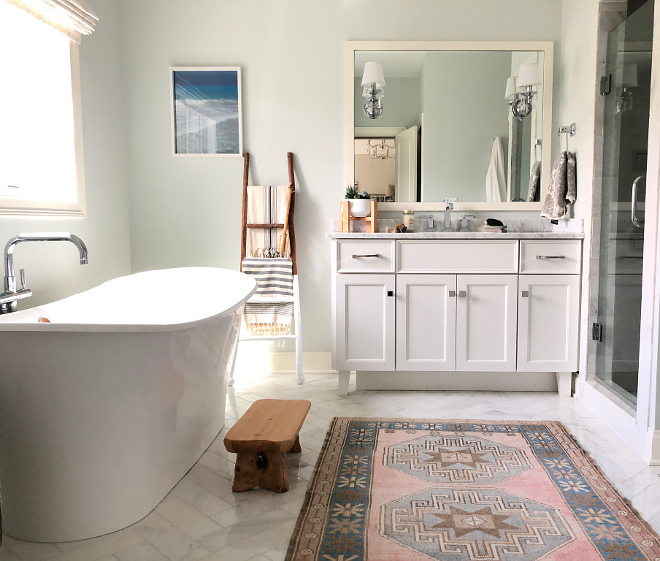 A vintage wooden stool brings texture and warmth to the master bathroom.
Runner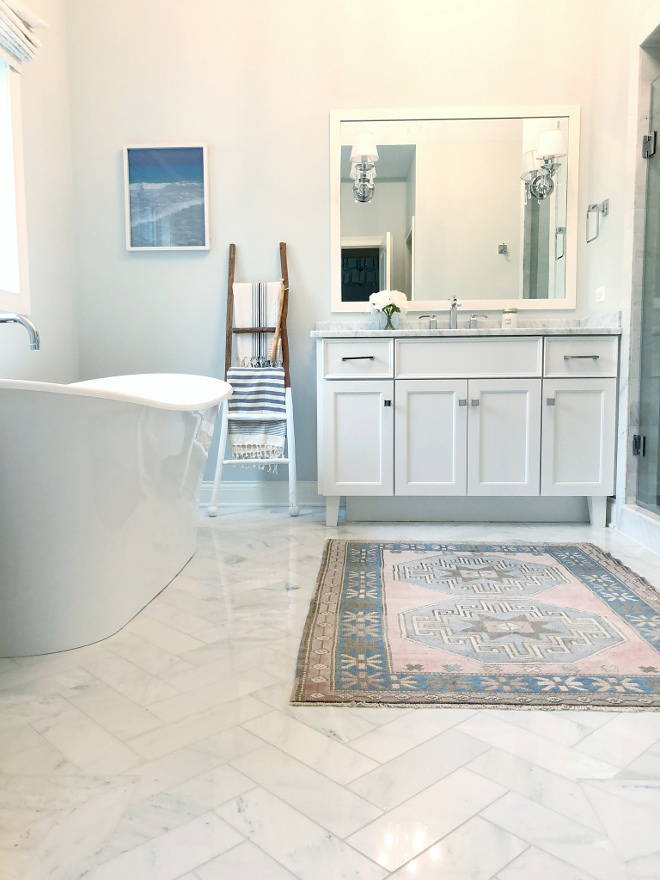 My rug was a find from Etsy. It has the slightest faded blush.
Paint Color

Benjamin Moore HC-171 Wickham Gray.
Flooring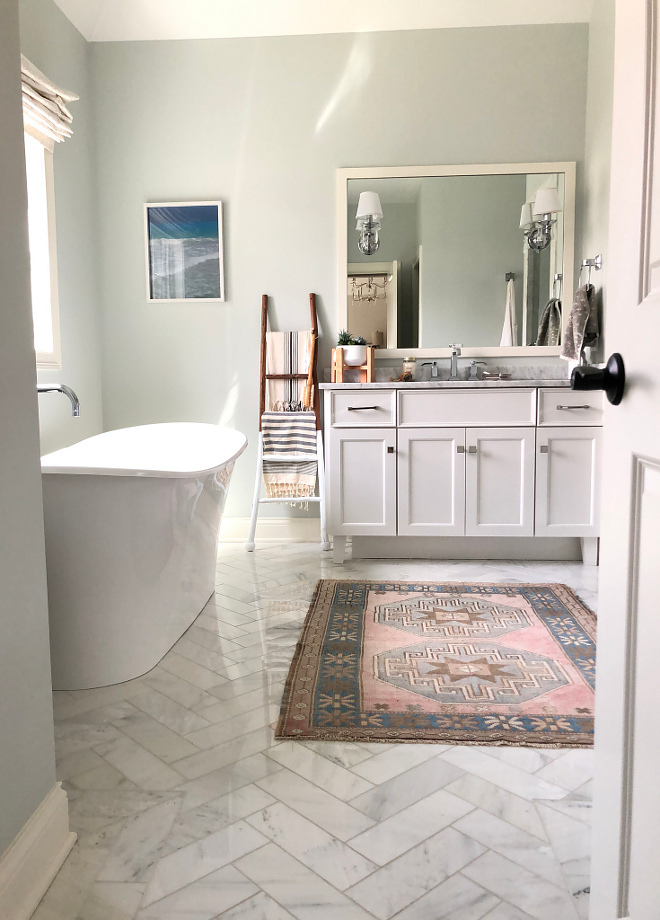 The bathroom flooring is Carrara marble tile set in a herringbone pattern.
Vanity Layout

My master bath is my reprieve at the end of a long day. I love our herringbone marble floors paired with our honed Carrara counters. I also like that our vanities are separate, this way we stay out of each other's way in the morning.
Basement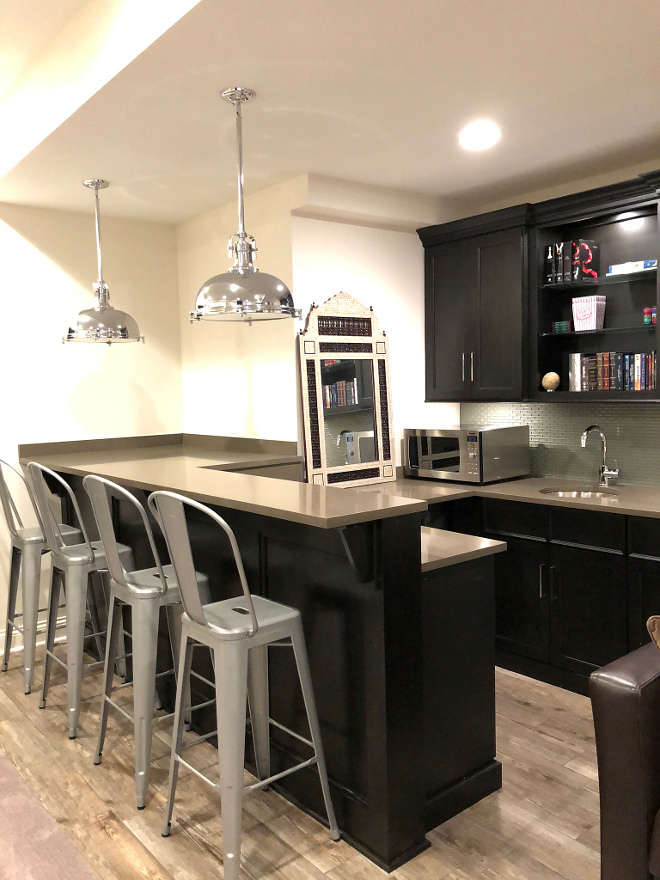 The basement bar features grey quartz countertop. The basement is a work in progress as it is currently used as a big playroom for the kids. 🙂

Stools were from RH a few years back – similar here.
The basement bar features grey quartz countertop.
Similar Lighting: Here (large) & Here. Other Beautiful & Affordable Pendant Lighting (Currently on Sale): Here, Here, Here, Here, Here & Here.
Curb-Appeal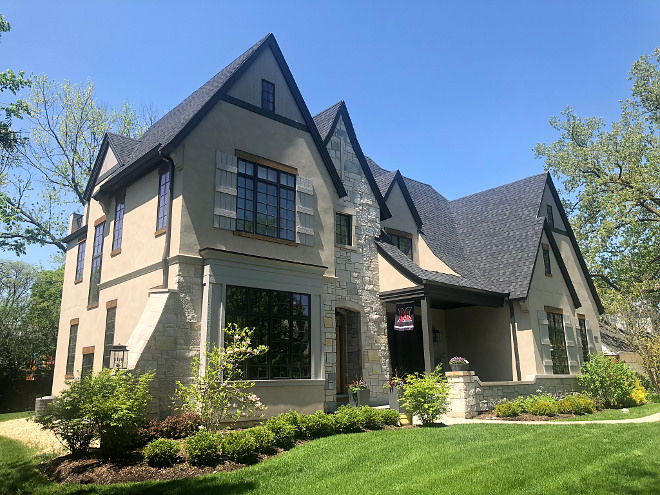 Isn't Reem's home perfect? The stucco was a custom color.
Make sure to follow Reem on Instagram to see more pictures of her beautiful home!
💗
Builder: @oakleyhomebuilders
Realtor: Dawn @dawnmckennagroup
Best Sales of the Month:

Thank you for shopping through Home Bunch. For your shopping convenience, this post may contain AFFILIATE LINKS to retailers where you can purchase the products (or similar) featured. I make a small commission if you use these links to make your purchase, at no extra cost to you, so thank you for your support. I would be happy to assist you if you have any questions or are looking for something in particular. Feel free to contact me and always make sure to check dimensions before ordering. Happy shopping!
Wayfair: Up to 75% OFF on Furniture and Decor!!!
Serena & Lily: Enjoy 20% OFF Everything with Code: GUESTPREP
Joss & Main: Up to 75% off Sale!
Pottery Barn: Bedroom Event Slale plus free shipping. Use code: FREESHIP.
One Kings Lane: Buy More Save More Sale.
West Elm: 20% Off your entire purchase + free shipping. Use code: FRIENDS
Anthropologie: 20% off on Everything + Free Shipping!
Nordstrom: Sale – Incredible Prices!!!
Posts of the Week: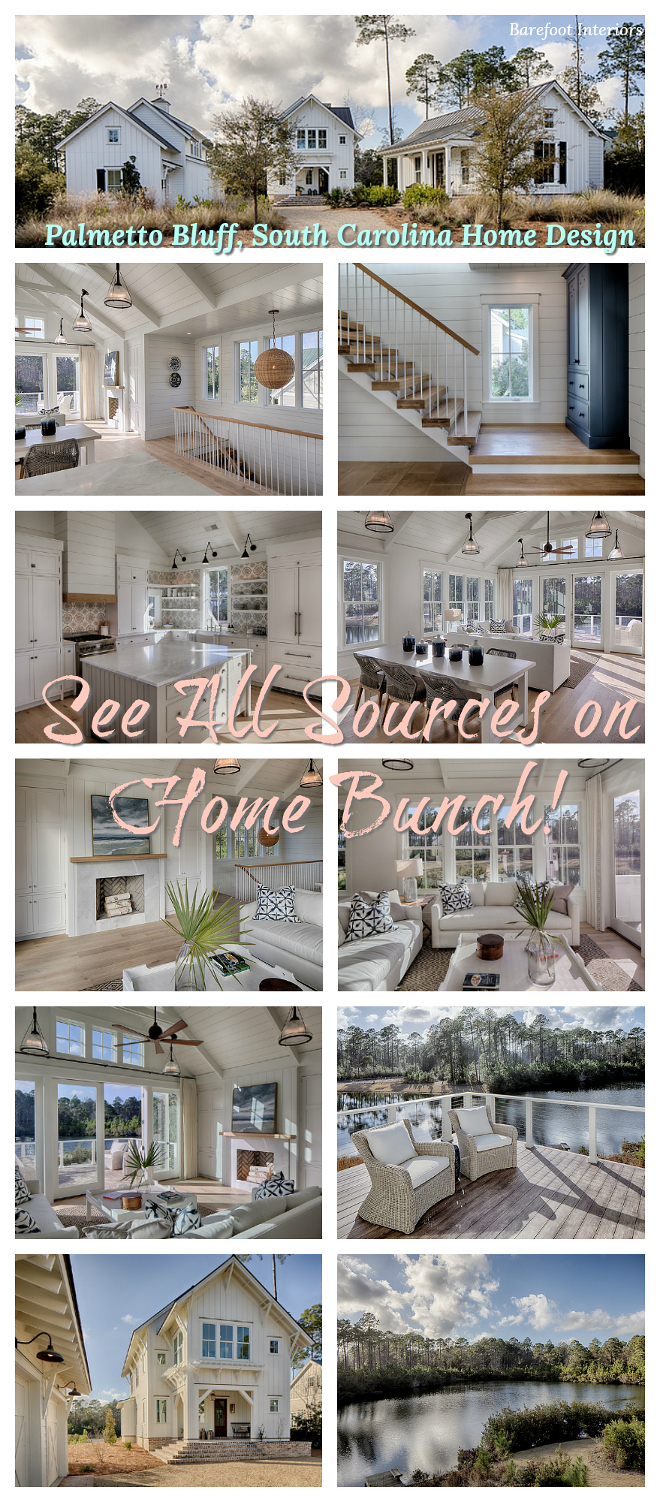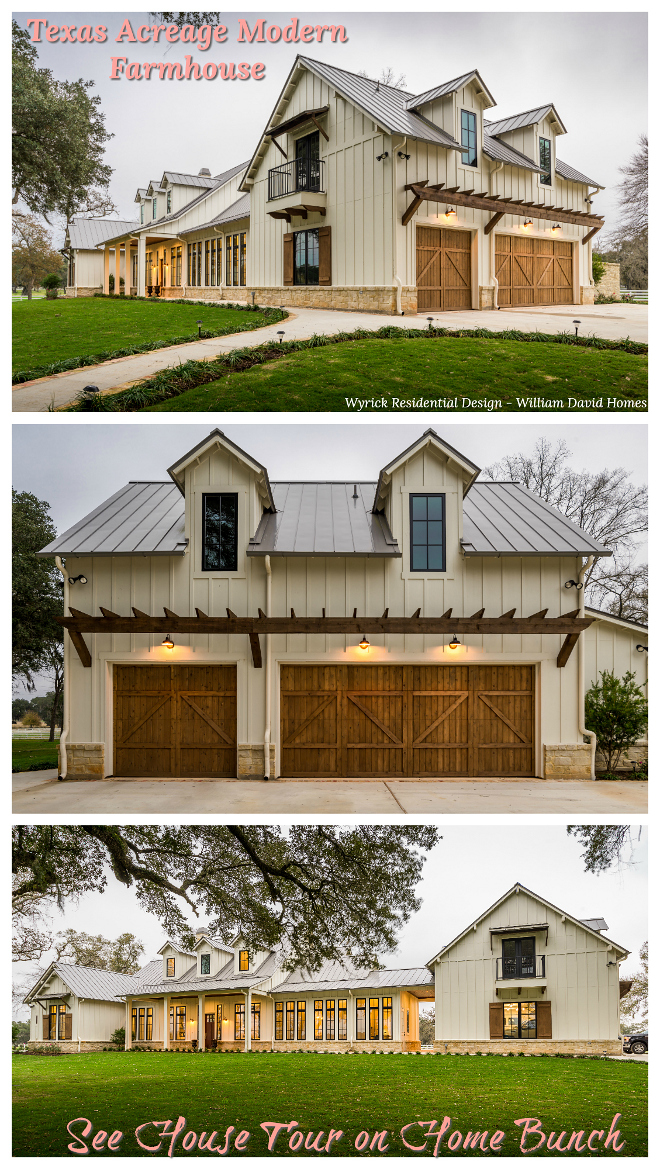 See more Inspiring Interior Design Ideas in my

Archives.
Interior Design Ideas:

Paint Color
"Dear God,

If I am wrong, right me. If I am lost, guide me. If I start to give-up, keep me going.
Lead me in Light and Love".
Have a wonderful day, my friends and we'll talk again tomorrow."
with Love,
Luciane from HomeBunch.com
Interior Design Services within Your Budget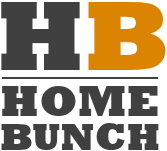 Get Home Bunch Posts Via Email

"For your shopping convenience, this post might contain links to retailers where you can purchase the products (or similar) featured. I make a small commission if you use these links to make your purchase so thank you for your support!"