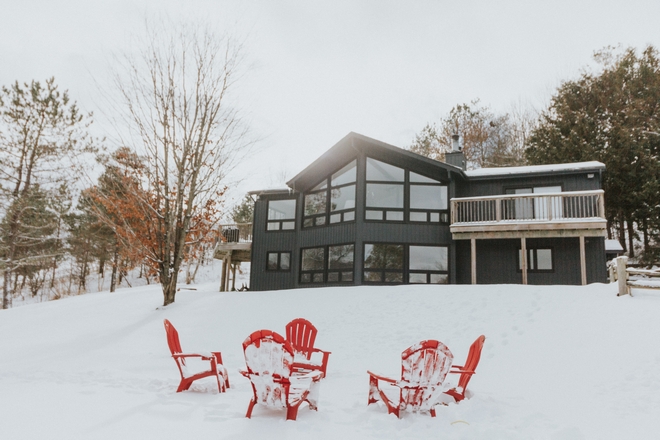 It's always a pleasure to have Andrea McQueen of Andrea McQueen Design on Home Bunch. I first shared her personal home on our "Beautiful Homes of Instagram" series a few years back and it was a hit on Pinterest! Everyone loved her stunning kitchen. Having Andrea back on the blog feels like a Christmas gift, especially because her newly-renovated ski chalet is all decorated for Christmas!
Please keep reading to know more details and make sure to contact the designer if you need any help with your home. She's so talented!!! 🙂
"Thank you so much for featuring our chalet on your blog. The homes that you feature are always incredibly beautiful and special in their own way, and I'm honored that you've included our family's little cabin amongst these! This Christmas will look different from any other, and finding joy in the little moments is more important than ever before. Sometimes, it's the memories of these moments that we draw upon to sustain us in challenging times. And although we won't be able to see grandparents or cousins this Christmas, we will recall the times that we spent together in this special place, and take joy in those memories.
Our chalet isn't grand or fancy, but it's cozy, it's homey, and it is our happy place. Countless Friday nights playing Monopoly around the kitchen table, ski weekends, cozy family movie nights in front of the fire, and so many wonderful memories of gathering with family and friends. These are the happy memories that we will recall this season, and that we will look forward to creating one day again soon."
Canadian Ski Chalet Decorated for Christmas

"In the summer, we walk down the road to the swimming hole, where the kids love to jump off the bridge and will spend hours swimming in the crystal clear river & catching crayfish. In the fall, we pick apples from the trees on our property, and in our favorite season, WINTER, we ski every day and hike and toboggan when we're not skiing!" – Andrea McQueen.
Making Memories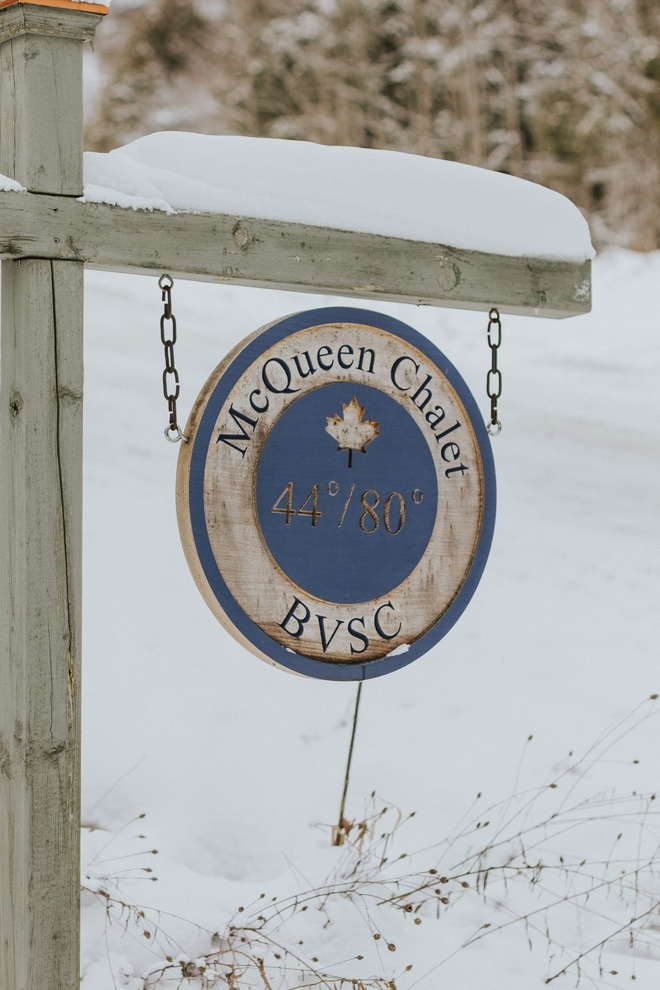 "In the summer, we walk down the road to the swimming hole, where the kids love to jump off the bridge and will spend hours swimming in the crystal clear river & catching crayfish. In the fall, we pick apples from the trees on our property, and in our favorite season, WINTER, we ski every day and hike and toboggan when we're not skiing!" In the summer, we walk down the road to the swimming hole, where the kids love to jump off the bridge and will spend hours swimming in the crystal clear river & catching crayfish. In the fall, we pick apples from the trees on our property, and in our favorite season, WINTER, we ski every day and hike and toboggan when we're not skiing!

Meet the Homeowner!

I adore Andrea! She's a designer that gives 100% of her knowledge to each and every project she works on and I really hope you enjoy seeing her ski chalet.
Interiors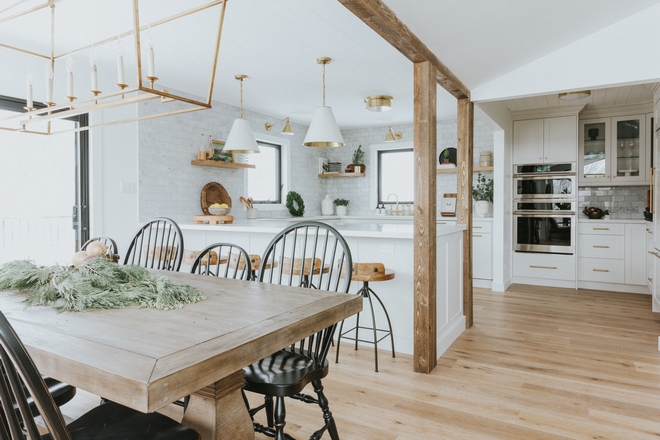 "I designed our kitchen with entertaining in mind, and my top priority was to increase functionality and storage." – Andrea McQueen.
Opening Walls


"I got rid of the dark walk in pantry, replacing it with an "appliance nook" that houses our appliances, additional counter space and drawer storage, and a full height pantry." – Andrea McQueen.
Openness


By opening the walk-in Pantry, the designer was able to not only add more storage with custom cabinetry but also to add appliances, creating a larger kitchen area.
5-in-1


"Both my husband and I love to cook, and we spend a ton of time in the kitchen. In our previous kitchen, storage had been a challenge. Finding room for my husband's sous vide accessories, as well as various counter top small appliances, was difficult. There was just nowhere to store all the clutter. After much research, I chose Monogram appliances for a number of reasons. Their Advantium 5-in-1 oven is the absolute BEST. It literally has improved my life, no exaggeration. It is a toaster, precision cooker, convection oven, warming drawer and microwave, all in one. It can literally roast a chicken in 13 minutes! We do this every Sunday. I was able to get rid of a bunch of small appliances, and I also love how much it simplifies meals. After a long day of skiing, I can have a wholesome family dinner on the table in 20 minutes. "
Oven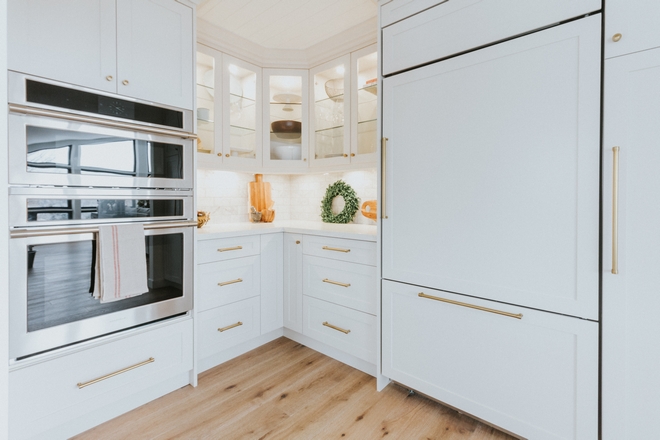 "We also included a 30″ Statement wall oven, which is WiFi and enabled and is so easy to use. We completed the kitchen with an paneled fridge and under-counter wine fridge. We definitely invested in our appliances and we're so glad that we did."
Peninsula

"The first important choice I made was to extend the peninsula to accommodate more seating. This enabled me to add an additional bank of drawers as well as an under counter integrated wine fridge."
Appliances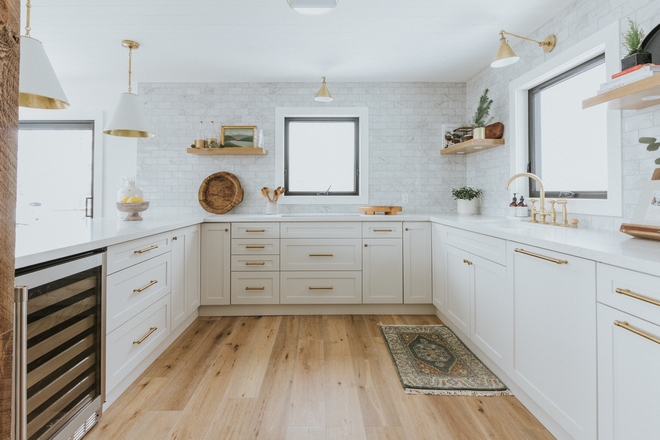 "I knew that I wanted high performance appliances that would streamline and simplify how we live and entertain. My goal was to pack as much functionality into our little kitchen as possible".
Streamlined


"I wanted the sink to look streamlined and "disappear", so that the faucet could take center stage."
Shelves

"I had electrical run to the shelves so that we could integrate under cabinet lighting. This is a subtle touch that creates a lovely glow in the evening."
Paint Color

"The cabinet colour was something that I went back and forth on for a while. The initial vision was to do a warm, putty colored cabinet, but halfway through the process I decided to play it safe and changed it to white. At the 11th hour, I called my cabinet maker and had him change it to Benjamin Moore Pale Oak, a warm, subtle greige colour – and I'm so glad that I did! The color plays beautifully in every light, it's still bright, but with an extra warmth to it that is so well suited to a chalet."
Round Wooden Pedestal: here – similar
Faucet

The bridge faucet with side spray was one of the first items I sourced. It evokes a timeless, classic feel. It's made in Italy by Nicollazi and is an antique gold living finish. This means that it is prone to etching, but will develop patina over time. I originally didn't know it was a living finish until it was installed, and as it turns out, I actually love it more than I ever thought I would. It adds character, depth, and a sense of history to the otherwise all new space.
Faucet: Officina Nicolazzi Sink Mixer, Series: Classic – Others: here.
Sink

"The sink is the Blanco Silgranit Precis sink in white. I use this sink in many projects as it's both durable & stain resistant, and beautifully subtle."
Appliance Pull


Appliance Pull: Restoration Hardware, Grafton in Aged Brass – similar here – Other: here.
Accessories

Most of the kitchen accessories were sources locally.
Sink Lighting


Sink Lighting: Visual Comfort Boston Sconce – Others: here, here, here & here.
U-shaped Kitchen

"I also included fresh holiday greenery by my friend Brock from @beaux.florals, which brings a festive and fresh but not overly theme-y feel."
Cooktop


"I knew that I wanted an induction cooktop (we have gas at home, and as much as I love it, it's a pain to keep clean), both for performance and ease of cleaning. The Monogram cooktop speeds up the cooking process and the Precision Mode makes it almost impossible to overcook or burn food. It also has an attachment that turns any pot into a sous vide machine (guess what hubby is getting for Christmas?!). In addition to all of this amazing functionality, I also love the styling details – the small brushed brass inlay in the appliance handles is a small but beautiful detail that elevates the overall look of the appliances. And the silver color of the induction cooktop matches perfectly with my Carrara looking quartz countertop."
Cabinet Hardware


Kitchen Cabinet Hardware: Restoration Hardware Grafton in Aged Brass – Affordable Option: Pulls & Knobs – Other Best Sellers: here, here, here & here.
Backsplash

"The backsplash is a 3×6 polished Carrara with a warm gray grout."
Grout: Mapei Warm Gray.
Backsplash: here – similar – Other Popular Choices: here, here, here, here & here.
White Oak & Marble

"I designed custom White Oak shelves, to keep often used items at hand, and to display a few favorite finds, such as the original vintage landscape from Paris I found at an antique market. The shelves break up the expanse of tiled backsplash, and in addition to offering storage, also add texture and visual interest."
Kitchen Decor


"One of my favorite pieces is the beautiful antique bread bowl that I found through my friend and fellow designer, Tiffany Leigh (@tldcurated). She recently launched her online shop that is filled with antique treasures. The leather wrapped glass bottles are by Rainsford & Co, and they are an elevated take on the basic water bottle. Various cookbooks by some of my favorite chefs are from Amazon."
Wine Fridge


The kitchen peninsula features a wine fridge and plenty of storage space.
Countertop

"My countertops are MSI Calacatta Monaco, a very light grey quartz that looks almost exactly like real marble."
Kitchen Styling:
(Scroll to see more)
Edge Profile


The countertop features a straight edge profile.
Kitchen Pendants


"I have been in love with these Goodman pendants for years and have been waiting for the perfect moment to use them. I knew that I wanted them in the chalet even before we started planning the renovation. They are the perfect counterpoint to an otherwise traditional and classic look."
Soothing Vibes


I purposefully did not use recessed lighting (which can be harsh and cast shadows) and instead layered flush mount, task, and in-cabinet and under cabinet lighting, placing all on dimmer switches. The effect is so pretty and subtle at night, and the brightness can easily be adjusted depending on the mood you're going for.
Flush-mount: Visual Comfort Siena Large Flush Mount.
Counterstools

The kitchen stools are Johann Counter Stools by McGee & Co – also available here – similar here (affordable option) – Others: here, here, here, here, here & here.
Hardwood Flooring


"Floors are 7 1/2″ White Oak (Oak Frost) by Artisan flooring. They are light, bright, and are UV resistant, which is important with so much natural light. This flooring is carried throughout the main living area, kitchen, and bedrooms, to create a consistent look and feel to the space."
Beautiful Hardwood Flooring: here, here, here, here & here.
Dining Room


"Shiplap on the ceiling is by Metrie. Posts and Beams are paneled in Ghostwood, a re-claimed wood product by R. E. Skins."
Dining Chairs


"The black Windsor chairs are locally made (and a combination of kid and adult sized which I think adds a bit of quirky charm)."
Similar Dining Chairs: here & here – Others: here, here, here, here & here.
Dining Table


The solid wood pedestal table is from Wayfair.
Chandelier

Chandelier: Visual Comfort – similar here (affordable option).
Centerpiece

The floral designer who I get all of my greenery, centrepieces, and wreaths from is Brock at Beaux Florals.
Black Accents

The doors were painted Benjamin Moore Black in a semi-gloss.
Entertainment in Mind


"We love entertaining, and typically we do a lot of hosting over the holidays. After a long day on the hills, après ski is such a fun way to entertain, and always involves a few families and lots of kids. " – Andrea McQueen.
Leather Chair


The mid century leather chair is from West Elm – Others: here, here, here, here & here.
The decorative basket on the wall is by Creative Co-op, available on Amazon – similar here & here.
Faux Fiddle Leaf Tree: here – similar.
Great Room


"I wanted the Family Room to be neutral, cozy, and comfortable, with some elevated elements."
Console Table


The console table is from Restoration Hardware – similar here.
Decor

The Galvanized houses on the console are Pottery Barn.
Paint Color


The paint color throughout is one of my go-to's: Benjamin Moore Simply White, trim color is BM Simply White in a semi-gloss finish.
The dog's name is Scout and he is a 7 year old Yorkie 😉.
Coffee Table


Coffee Table: Local Store – also available here & here – Others: here, here, here, here, here, here & here.
Pillows

"All throw cushions are by one of my favorite textile designers, Myra Scott. Her patterns are unique and beautiful, and I love supporting small businesses, especially at a time like this."
Sectional

"The sectional is custom made by Whittington and Co. It is covered in a high performance greige linen like fabric."
Similar: here – Other Beautiful Sectionals: here, here, here, here, here, here, here, here & here.
Christmas Tree


"Most of the ornaments on the tree are the ones made with love by my children, brought home from elementary school so carefully wrapped in tissue paper throughout the years. These are the most treasured ornaments on the tree."
The tree collar is from Crate and Barrel.
Floor Lamp


Floor Lamp: Visual Comfort – also available here.
Accent Chair

Accent Chair: West Elm.
Rug

The vintage-looking rug is the Finn Rug from Pottery Barn.
Other Best Seller Rugs: here, here, here, here, here, here & here.
Brick Fireplace Paint Color


The fireplace was painted out to match the main paint color; Benjamin Moore Simply White.
Kids Bedroom


Beds are locally made. Cedar wreaths above beds are custom made by Brock at Beaux Floral. Dresser and mirror are antique and were made by my great uncle when he was 15 years old (circa 1915). He installed the hardware upside down and it became a cute story passed down over generations (I've never had the heart to change it ❤️).
Bedding

Bedding is from Pottery Barn Kids.
Lamps are PB Kids.
Exterior

The chalet exterior color is Benjamin Moore Soot.
"Luciane, it has truly been a pleasure sharing our chalet home with you and your readers. We are counting the days until we can get up there for the holidays and spend our days skiing as a family. I wish you and your family, and your readers, all the best in health and happiness this holiday season. Thank you again for featuring my work on your blog. I am so happy that we've met and become friends. You are truly an authentic source of positivity, kindness, and lifting others up, in this interior design blog space and I appreciate what you're doing, so very much." – Andrea McQueen.
I want to thank the homeowner/interior designer for sharing all of the details above.
Make sure to follow Andrea McQueen on Instagram to continue seeing her chalet and her beautiful work!
Click on items to shop:
Best Sales of the Month:

Thank you for shopping through Home Bunch. For your shopping convenience, this post may contain AFFILIATE LINKS to retailers where you can purchase the products (or similar) featured. I make a small commission if you use these links to make your purchase, at no extra cost to you, so thank you for your support. I would be happy to assist you if you have any questions or are looking for something in particular. Feel free to contact me and always make sure to check dimensions before ordering. Happy shopping!
Pottery Barn: 20% off your purchase with code THANKFUL
Anthropologie: 30% Off Everything Plus Free Shipping on orders over $50
Joss & Main: Up to 50% Off plus an Extra 25% Off with code: SAVE25
Lulu & Georgia: 25% Off your purchase with code: THANKFUL
West Elm: Up to 50% off furniture, bedding, and decor + extra 20% off clearance with code SCORE
One Kings Lane: 25% off SITEWIDE
Popular Posts: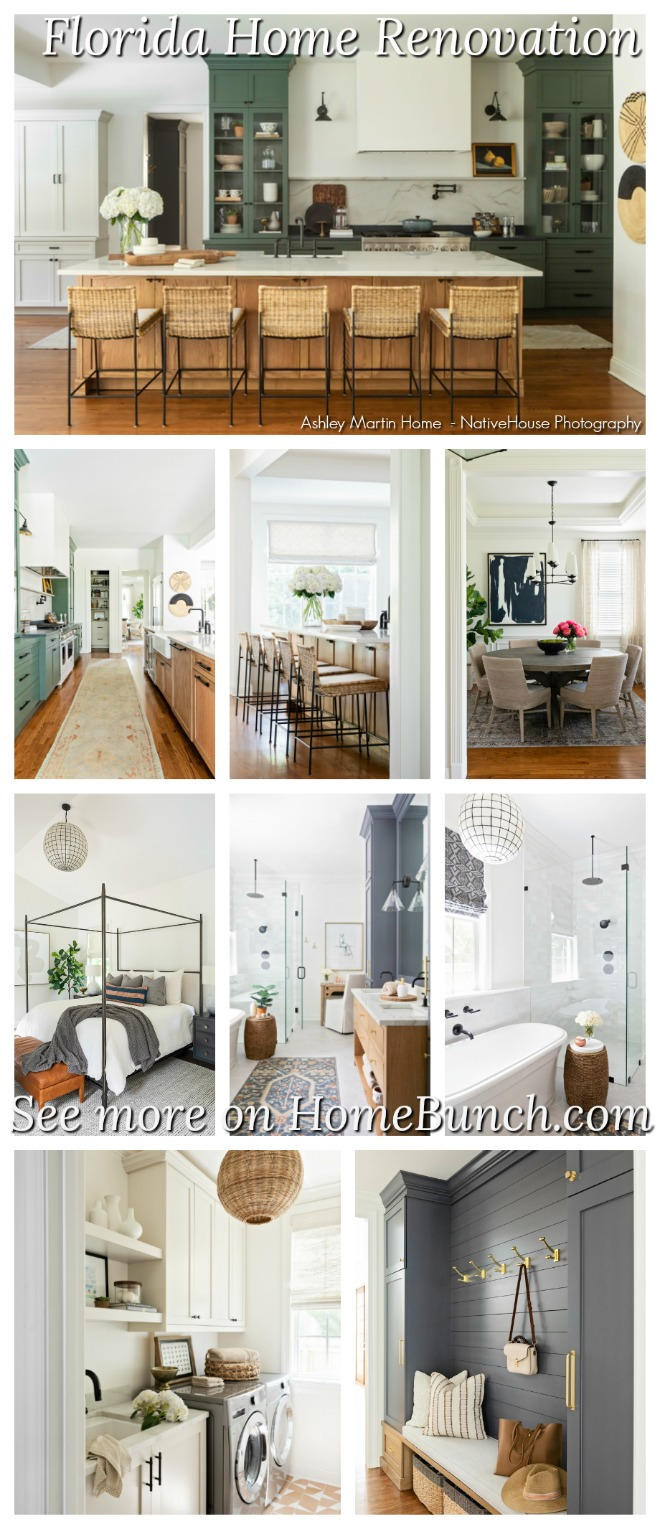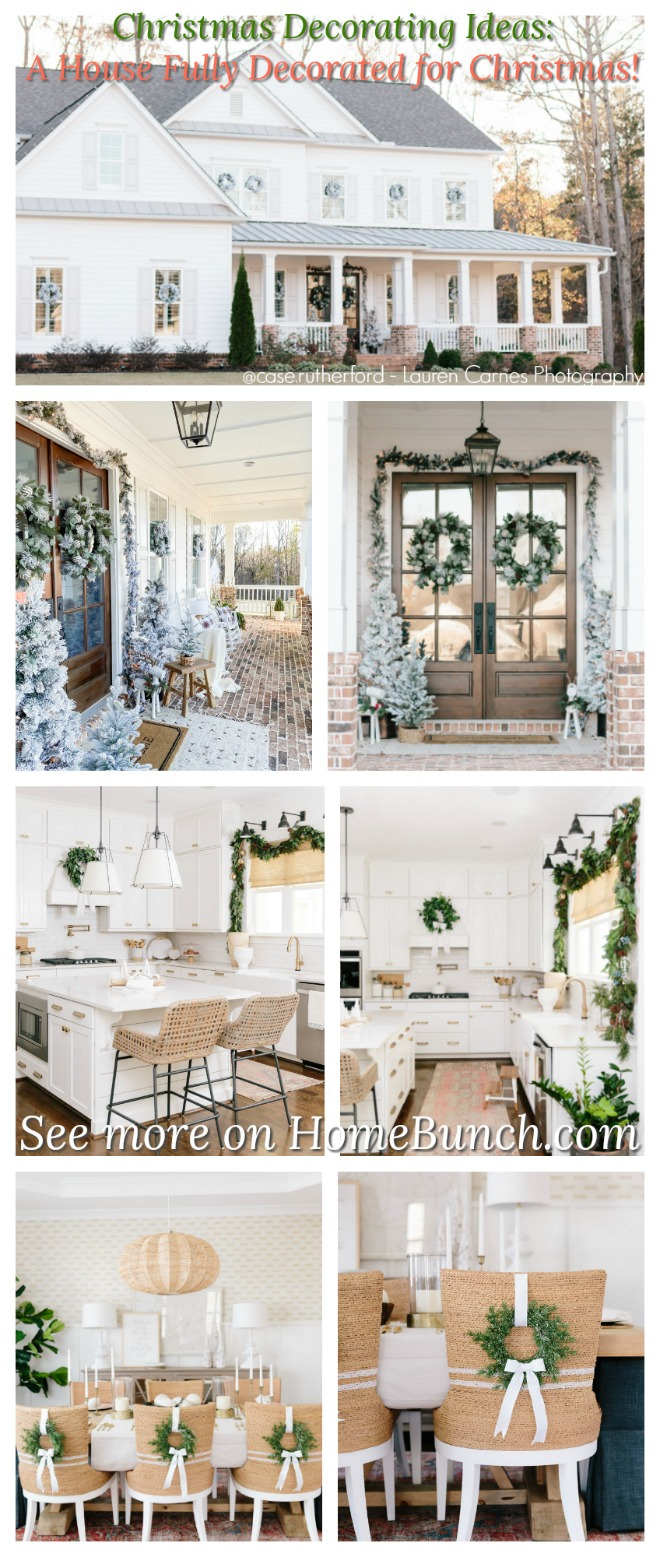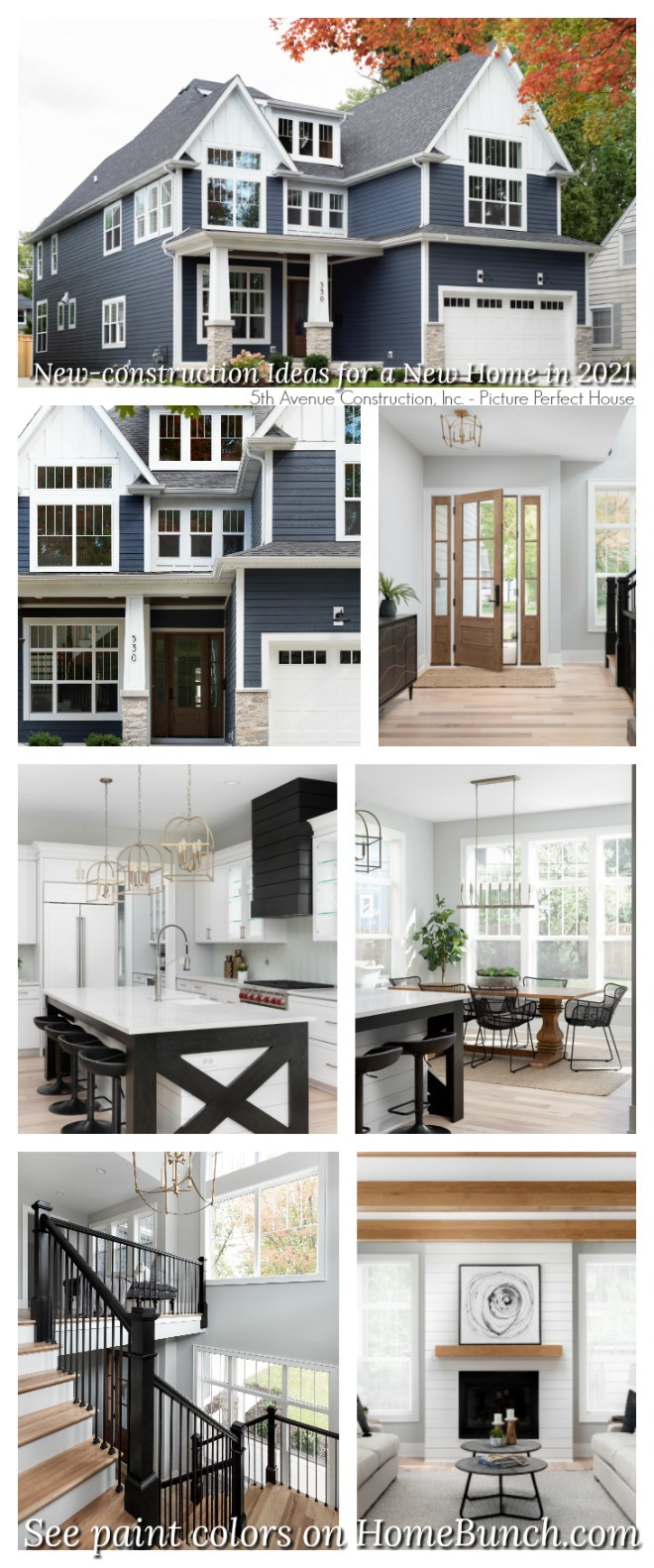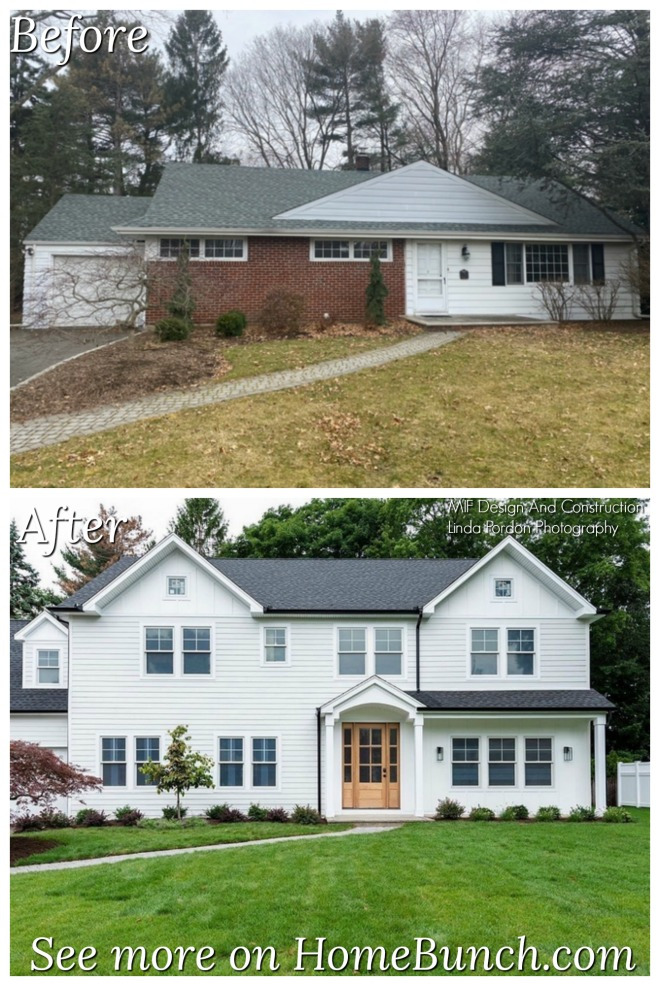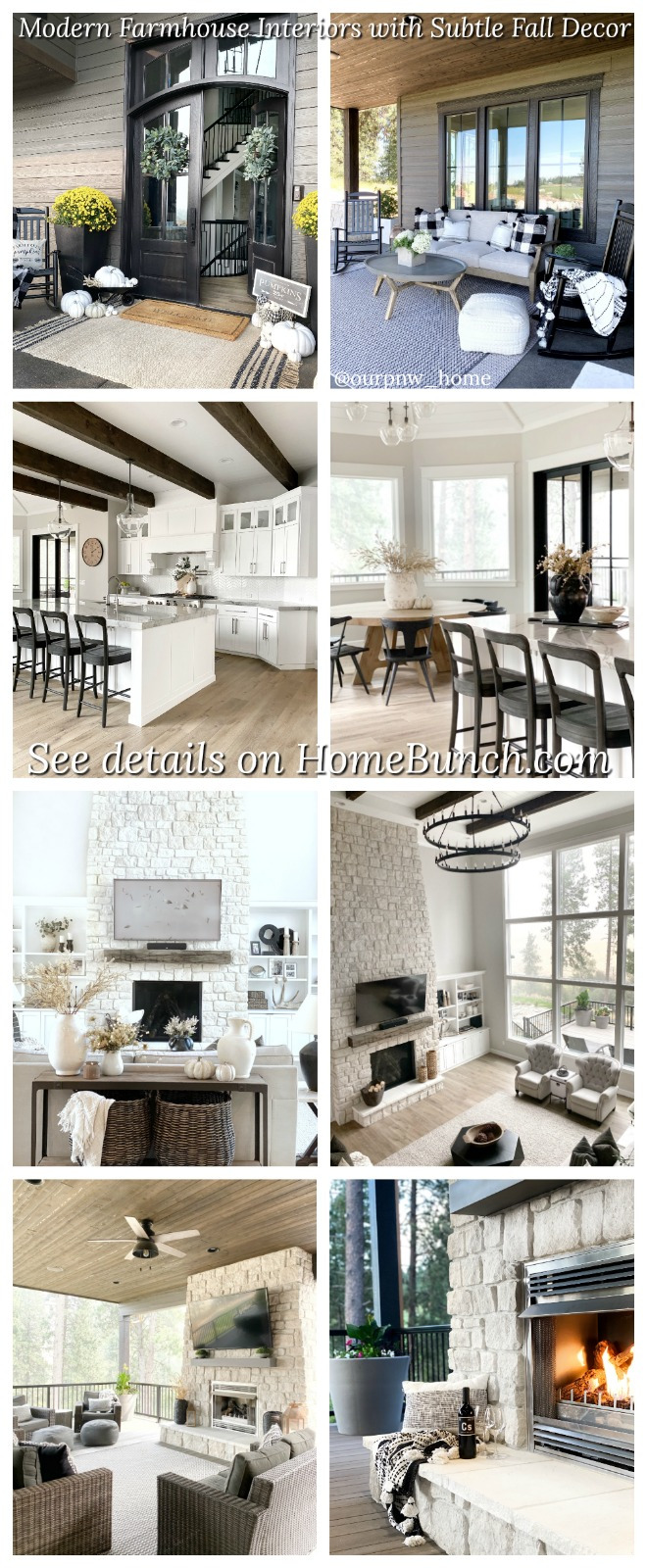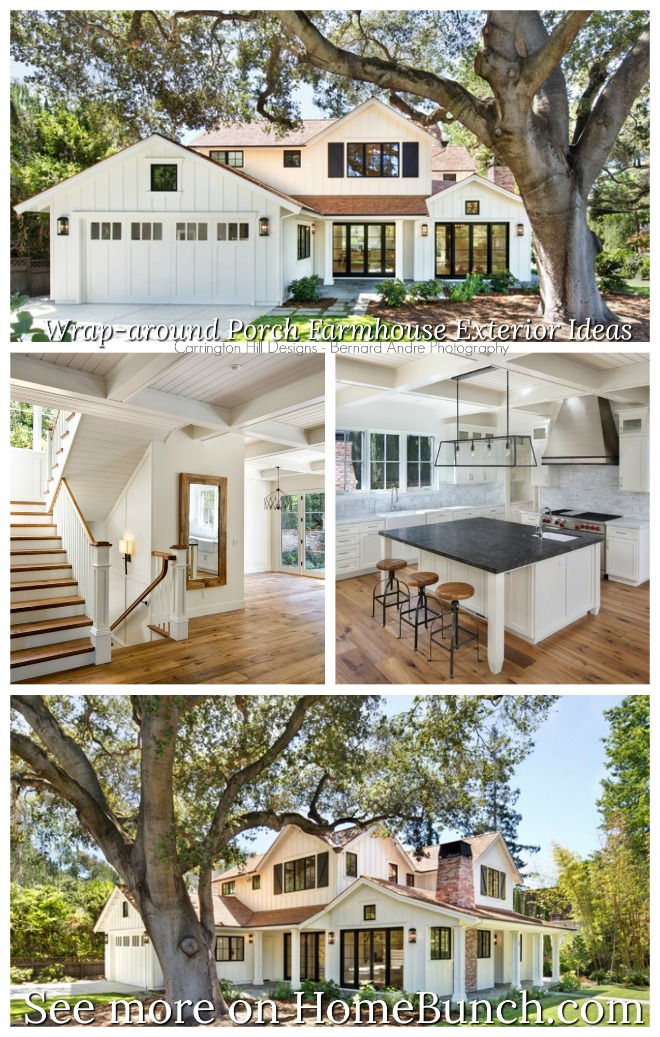 Follow me on Instagram: @HomeBunch

See more Inspiring Interior Design Ideas in my

Archives.
"Dear God,

If I am wrong, right me. If I am lost, guide me. If I start to give-up, keep me going.
Lead me in Light and Love".
Have a wonderful day, my friends and we'll talk again tomorrow."
with Love,
Luciane from HomeBunch.com