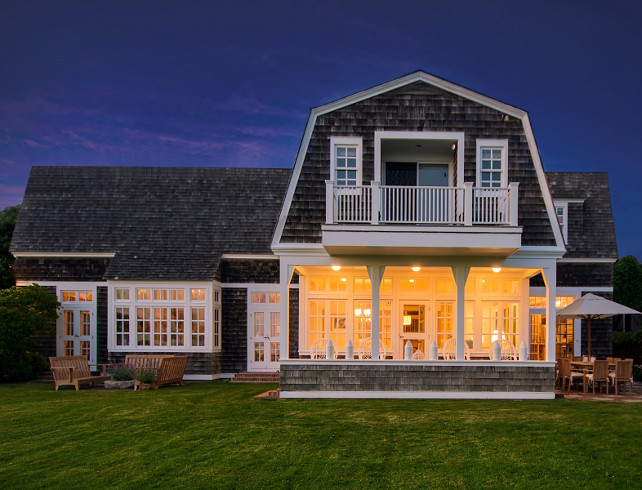 Hello, everyone. It's great to start a new week having you here. Today we're seeing a very special beach house, starting with its location; the Hamptons. Perhaps the ultimate place to own a beach cottage, but as we all know a prime location never comes cheap. So, how much do you think this classic Hamptons Beach house should cost?
The listing of this property for sale claims this is a once in a lifetime opportunity since rarely this kind of property with such natural beauty and importance becomes available.
The first time ever offered, this shingled Hamptons style beach house features over 6100 sq.ft. and was designed by Kenneth Bainton and built by Andreassen Bulgin. It has 5 bedrooms and 4.5 baths, antique beams and rich oak woodwork and flooring throughout. The dramatic 2-story living room with soaring wood beams was once a barn taken from the Hever Castle Estate in Kent England where the 2nd and 4th wife of King Henry VIII lived dating back from 1570 and then was brought over and reconstructed within the residence. Classy enough for you?

But that's not all, other amenities include: a formal dining room warmed by a fireplace, alfresco dining on the brick patio, a sun-drenched conservatory, heated gunite pool, a 2-car garage, and a 3rd story sun deck with panoramic 360-degree views.

A property with such phenomenal expanse, peace, privacy and exclusivity is rare to find, even in the Hamptons.
Another thing that the listing claims is that a trophy property of this magnitude and unparalleled beauty will not be on the market for long. Now, we're talking about an asking price of $45,000,000. Do you think a property of this caliber and price can be sold fast? Would you spend this much money on it?

Let's take a look…
Classic Hamptons Beach House for Sale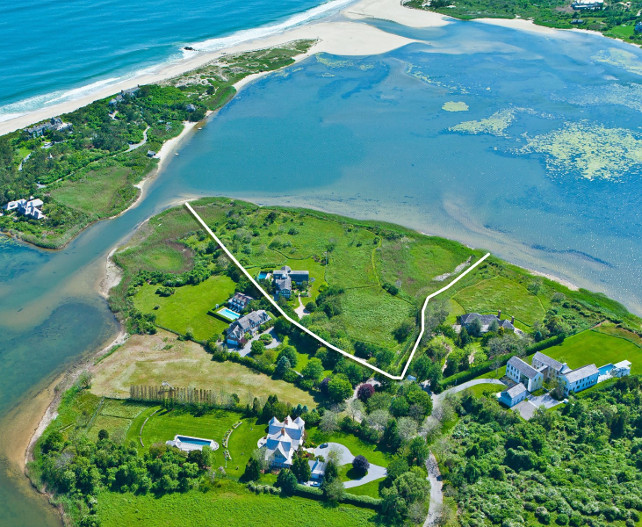 This very private family compound includes approx. 3.5 acres with a classic house as well approx. 3.6 acres adjacent lot to build a separate house or tennis court. Both parcels allow for a new built house amidst acres of wild grasses, wild flowers and lawns. Paddleboard, kayak or sail next to floating swans for a picnic on the beach.
Flying Solo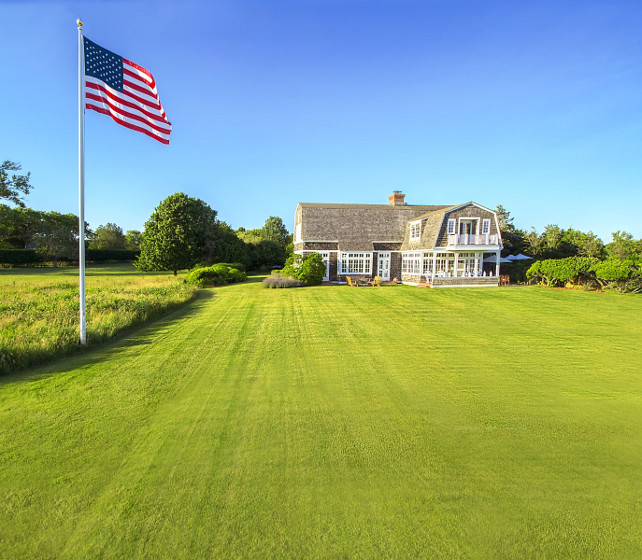 Natural beauty and plenty of privacy are big features of this beach house.
Shingles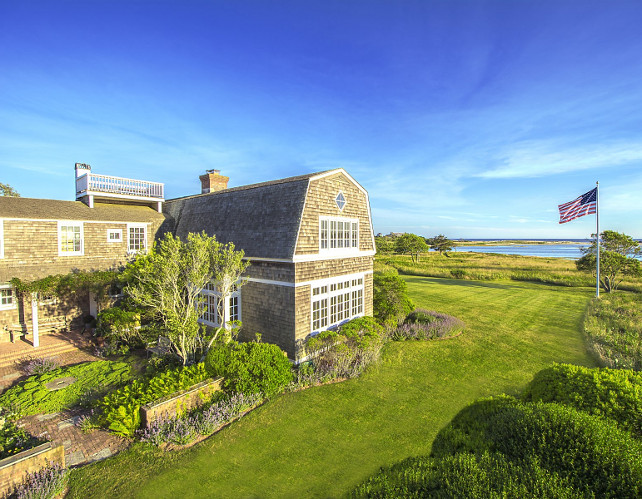 It's easy to fall in love with this property. Notice the timeless architectural details and materials used here. This entire place is full of charm!
Living Room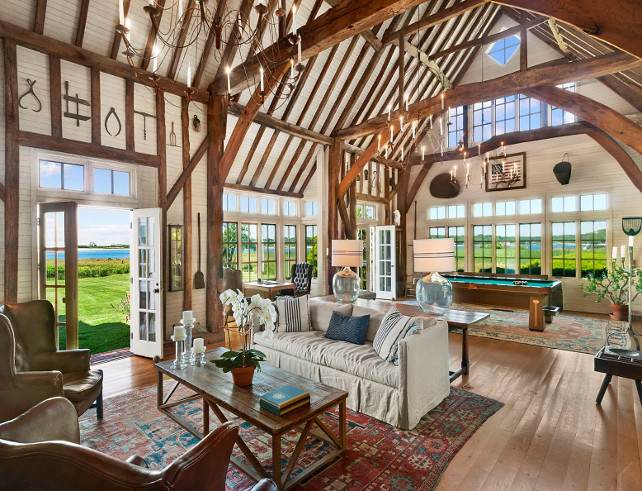 The living room structure is a re-assembled oak barn imported from England, parts of which date back over 250 years. Even if for some reason you don't like the decor, we can't deny this is a truly special space.
I have to say that I love the furnishings in this room, but I would replace that billiard table to a nice dining room table and chairs. How about you? 🙂
Decor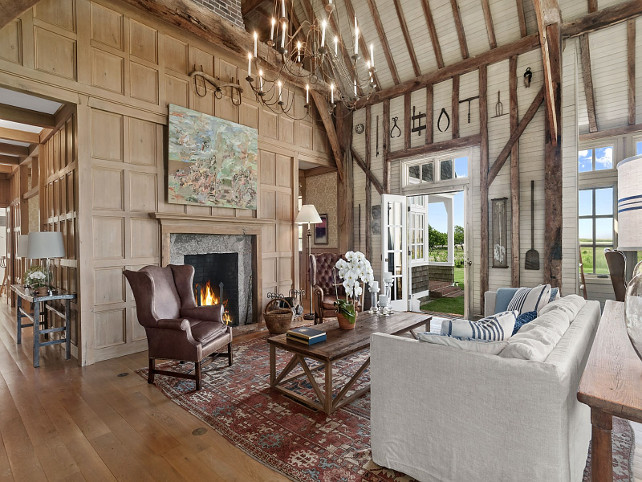 The decor in this space is transitional, following coastal, rustic to French trends.
Notice the antique tools beautifully displayed in this space.
Dining Room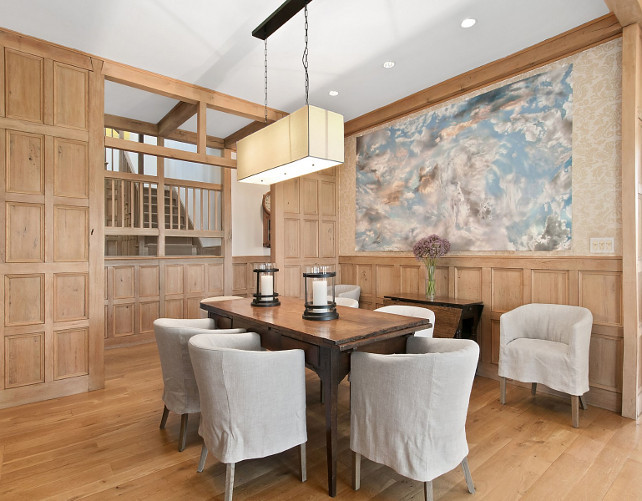 Gorgeous eclectic dining room with rich oak paneled walls, linen slipcovered dining chairs, vintage farmhouse table and linen shade rectangular chandelier.
Kitchen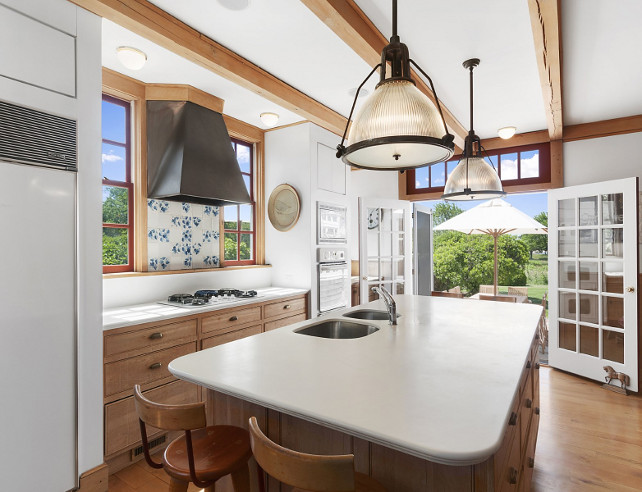 I won't lie, for $45 mil I was expecting a much bigger and fancier kitchen. Having said that, this one is charming with its aged white oak cabinets and industrial pendant lighting.
Master Bedroom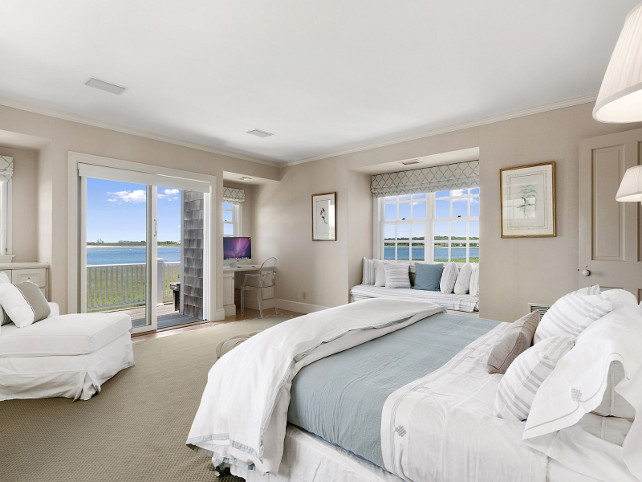 You can't complain about the decor when you have that kind of view, but I do think this space needs more personality. I would add a nice light fixture, some millwork, change the wallpaper for a fresh coat of paint, change the sliding doors to French doors. Oh, I could go on and on here. 🙂
View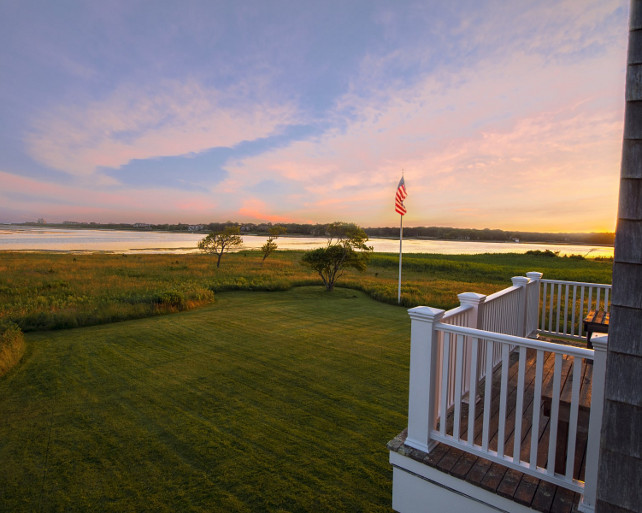 This is the amazing view you get from the master balcony.
Shimmery Waters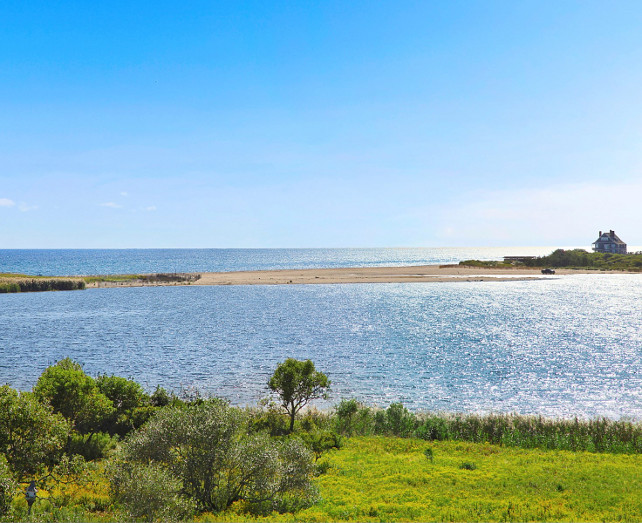 The sweeping, majestic views take your breath away and it is what makes this property so rare.
Guest Bedroom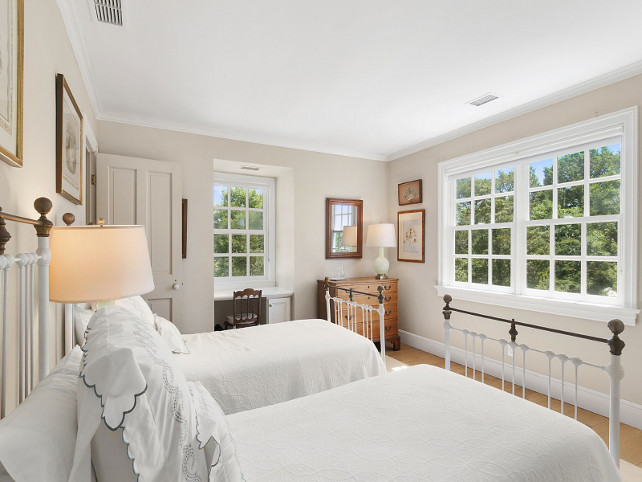 The guest bedroom features antique iron beds painted in white with crisp white bedspread.
Sunroom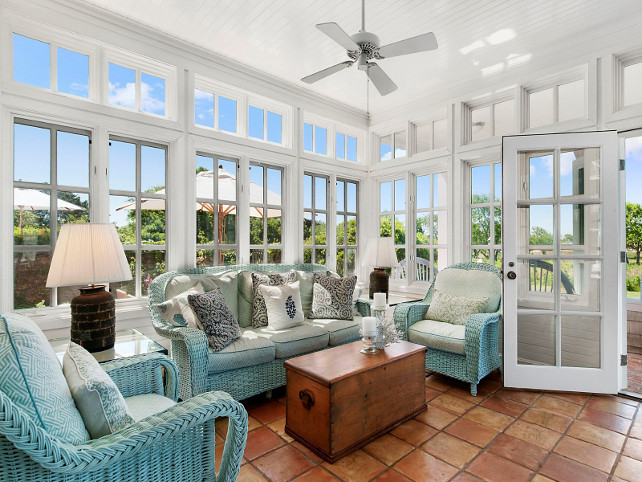 Adorable sunroom with painted antique wicker furniture. The antique wicker furniture is painted in a soothing turquoise paint color and the cushions were done by using outdoor fabric.
Back of the House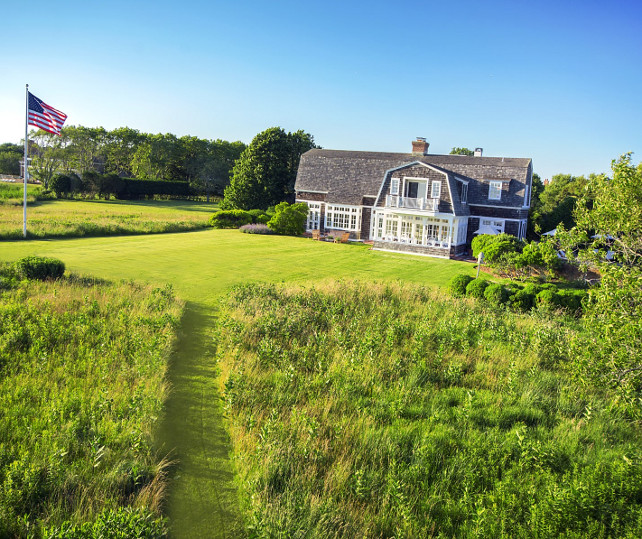 This place is so peaceful… I love the nature surrounding the property and the breathtaking ocean views.
Porch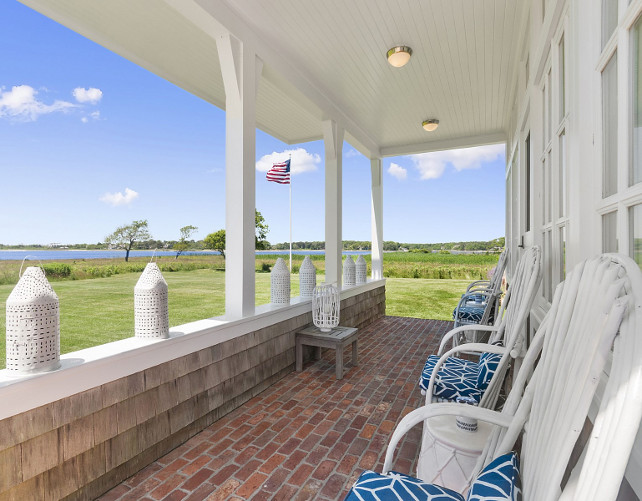 It would be lovely to take a break from everything and relax in this porch.
Land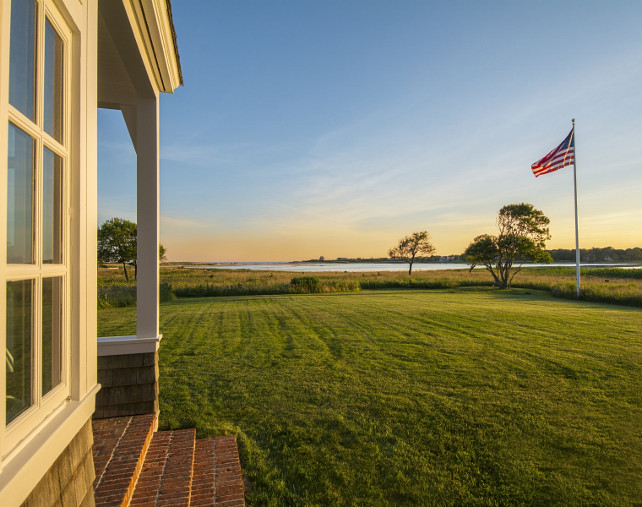 The approx. 7.1 acres commands a waterfront private peninsula with approx. 877 feet of water frontage facing Georgica Pond to the crashing waves of the Atlantic Ocean and Georgica beach to the south.
Patio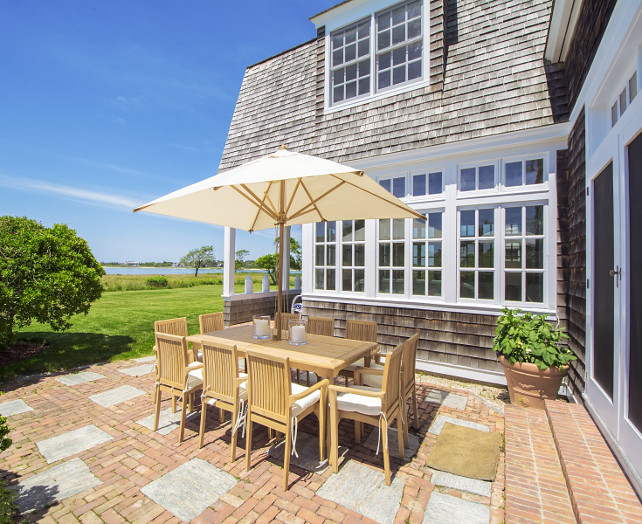 The original patio features brick and stone flooring.
From Above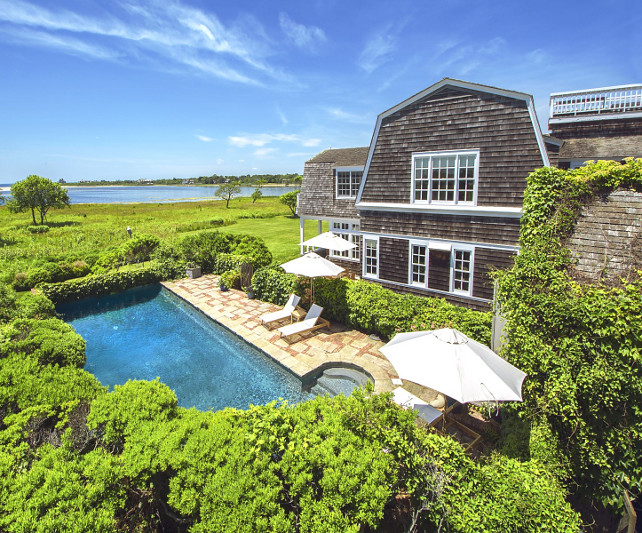 The pool is located on the side of the house, making it very convenient and private.
Gunite Pool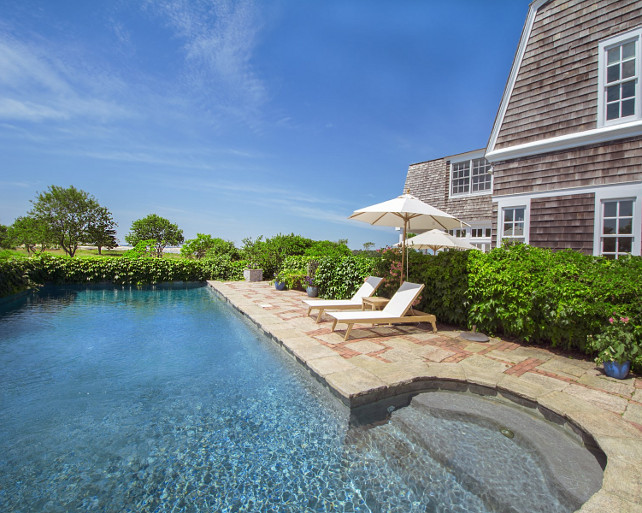 Lovely gunite pool with natural stone surround.
Bring Your Friends Over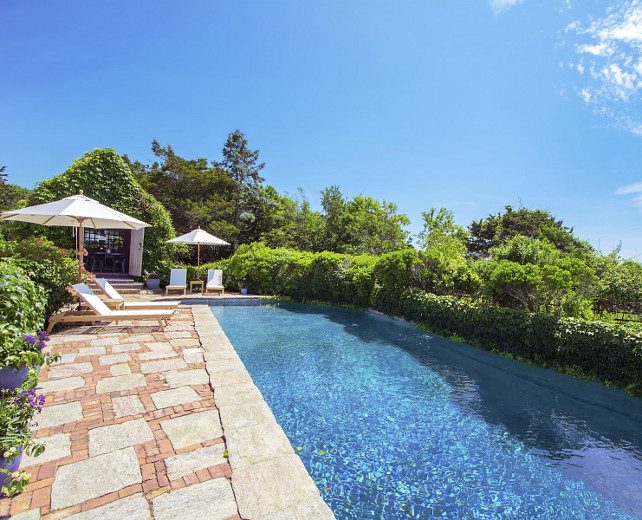 Can you picture yourself here?
American Flag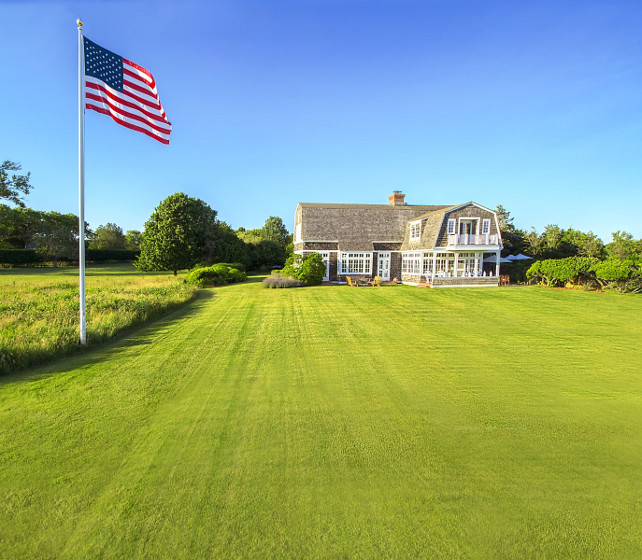 How beautiful!
Endless Views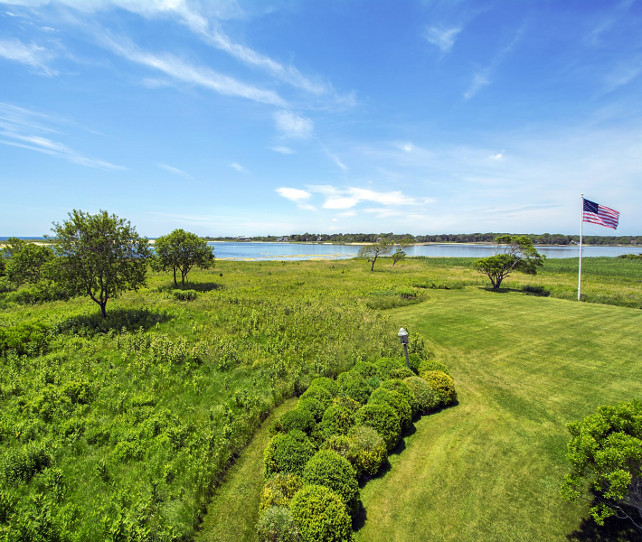 I can picture myself playing in the backyard with the kids in the morning and going kayaking in the afternoon.
Living & Breathing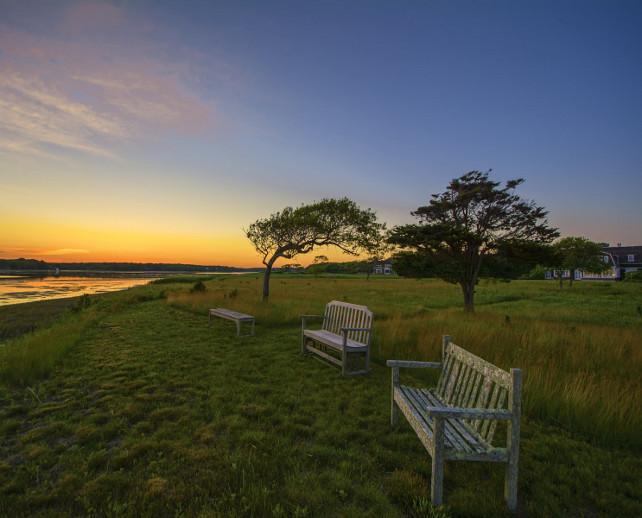 This place truly offers a dreamy lifestyle!
Would you pay $45 mil for this

classic shingle beach house

in the Hamptons?
See more Inspiring Interior Design Ideas in my

Archives.
Interior Design Ideas:

Paint Color
I love seeing houses for sale, not only the multi-million dollar ones. In fact, I am always searching for houses in my area and other places. I feel it's wonderful not only to know the market but also to see not staged homes. They always inspires me. Some I love to see because I start to change them in my mind, others simply take my breath away and make me wish I could win the lottery. 🙂 Anyhow, I always end-up having fun seeing houses for sale.
Did you guys have a good weekend? Mine was great, very calm. I didn't do much, stayed mostly at home with the kids, I workout — much less than I wish I had, I admit, but it was the weekend after all, right? 🙂
I just want to welcome this new week with my open heart… may all of us have a Blessed week, with good news, good perspectives, new goals. May we feel refreshed. May we find new dreams, laughter, love and blessings.
May we all be open to good changes. Changes that will make us grow and to be happier and more whole.
Thank you for being here right now. I want you to always know and feel my gratitude for that.
We'll talk again tomorrow.
with Love,
Luciane at HomeBunch.com
Interior Design Services within Your Budget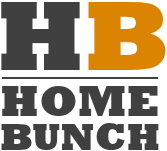 Get Home Bunch Posts Via Email

Sources: Sotheby's Homes.
Save