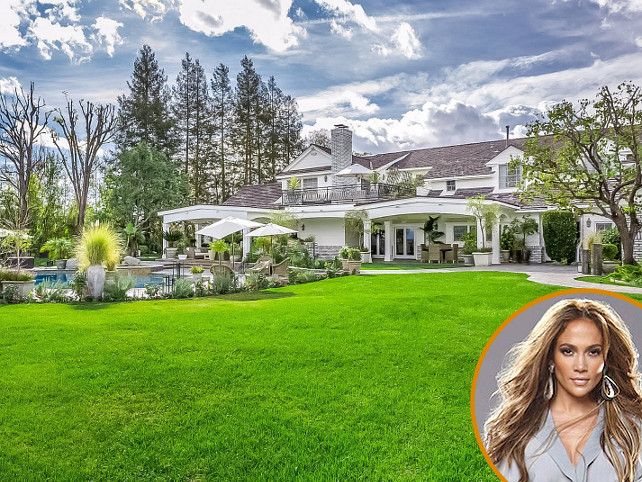 It's not a secret Jennifer Lopez loves buying and selling houses. She bought this house with then-husband Marc Anthony back in 2010 for $8.2 million. The house was renovated and then decorated by Michelle Workman Interiors. Jennifer Lopez has a new house in the Hamptons and she just dropped $22.25 million on a Manhattan penthouse at the end of last year, where she seems to be packing to move to very soon.
We can't deny that Jennifer Lopez has great taste, just search for pictures of the singer/actress on the latest red carpet event and you will find her wearing something fabulous. But as you will see here, Jennifer also has great taste when it comes to real estate and interiors. Her 9-bedroom, 12-bath house sits on three acres in the heart of Hidden Hills, CA and it's beautiful in every detail. The main home has 8 bedrooms, including a master suite with a large sitting area and fireplace, and a bookshelf-surrounded bathtub with a view, plus a private balcony. It features formal and informal living rooms, a dining room and kitchen with seating area. The second home is for entertaining. It has a bar and lounge, 20-seat theater, a professional recording studio, dance studio/gym and a bedroom suite with its own kitchen.
Take a look at Jennifer Lopez's new house and see the stunning interior photos! I am even sharing some paint color and decor so you can live just like J-Lo lives!
Jennifer Lopez's New House For Sale (Photos)
This charming home was built in 1987. A reader once wrote to me telling the original house was designed by her father and they lived in the house for more than ten years. As you can see, this home has been loved for many decades.
Foyer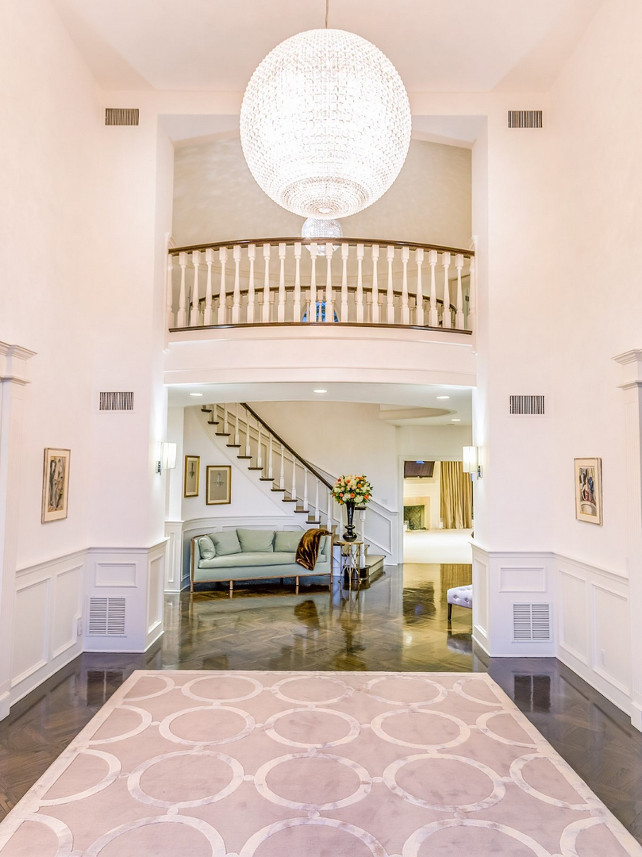 As soon you enter this home, you can feel its owner's glamorous and feminine personality.
Living Room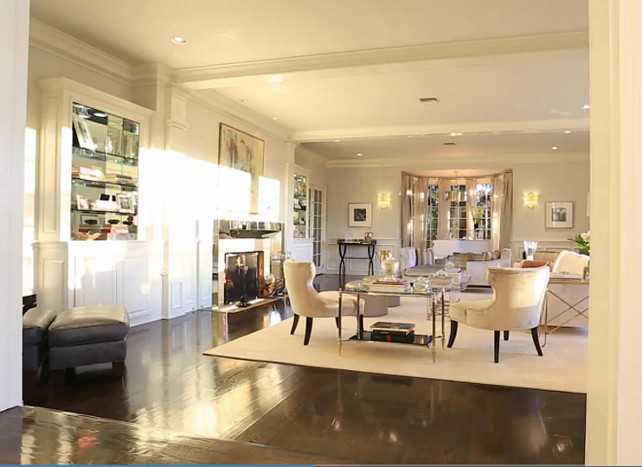 The living room is very sleek and features tailored furnishings.
Jennifer Lopez's Living Room Paint Color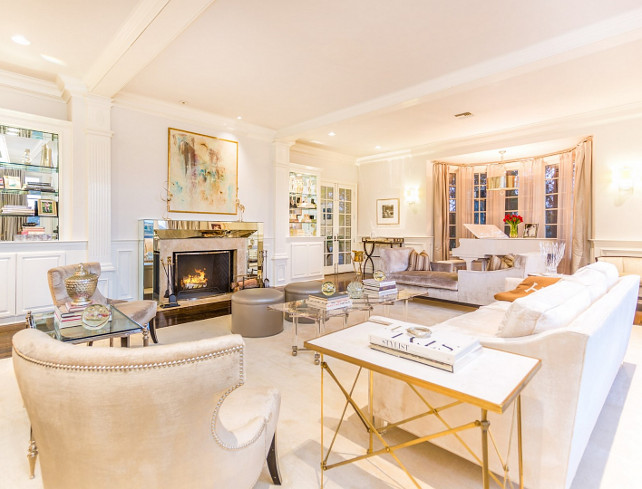 The paint color on the walls of the Living Room is Dunn Edwards Faded Gray DEW382.
Views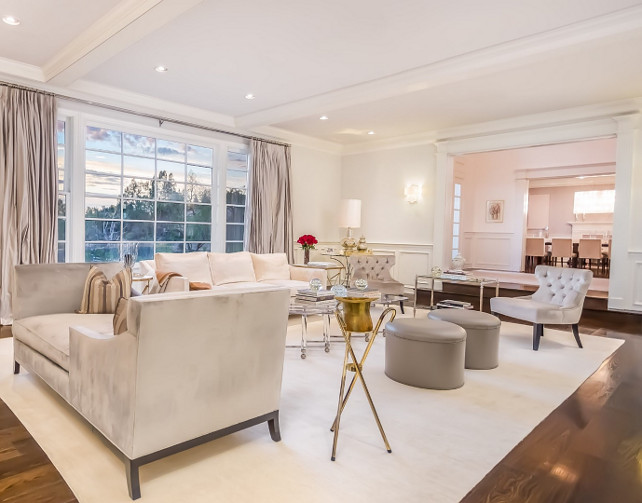 The living room offers beautiful mountain views.
What a serene feel this space has!
Jennifer Lopez's Living Room Decor Source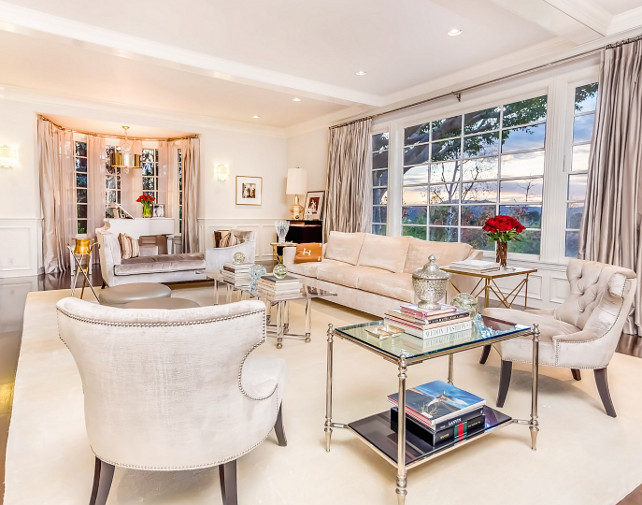 Custom klismos chairs in Calvin Klein Home fabric for Kravet. Tête-à-tête sofa, Michael Berman Limited, in Casamance fabric. Side tables, Global Views. Charles Hollis Jones coffee table. Custom sofa in Manuel Canovas fabric. Pillows in Scalamandré stripe. Tufted chair, Hollyhock. Fretwork chair, McGuire. Curtains in Schumacher silk.
Little Girl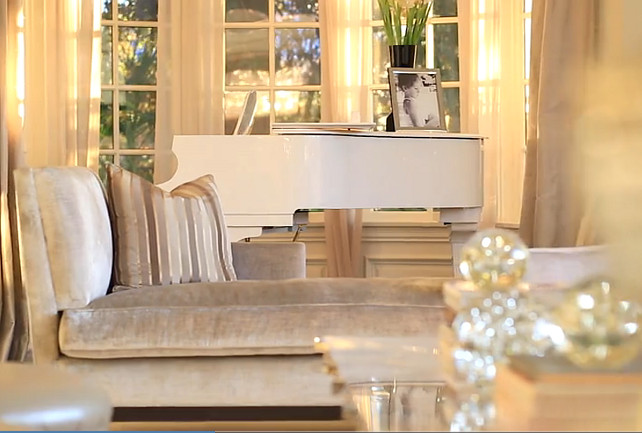 A white piano sits at the end of the room. Notice Jennifer Lopez's daughter's picture on the piano. I love this!
Piano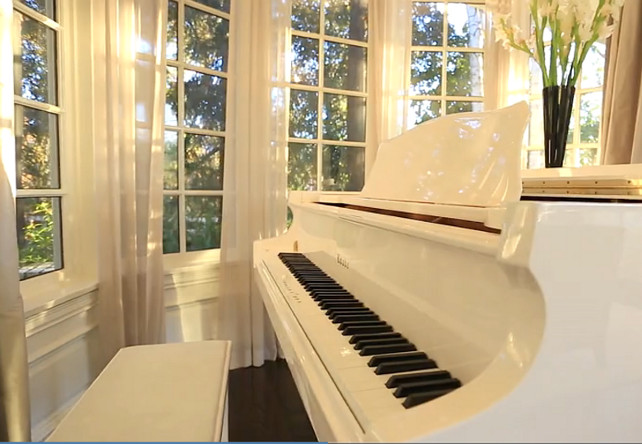 It's not hard to create and feel inspired in this space.
Dining Room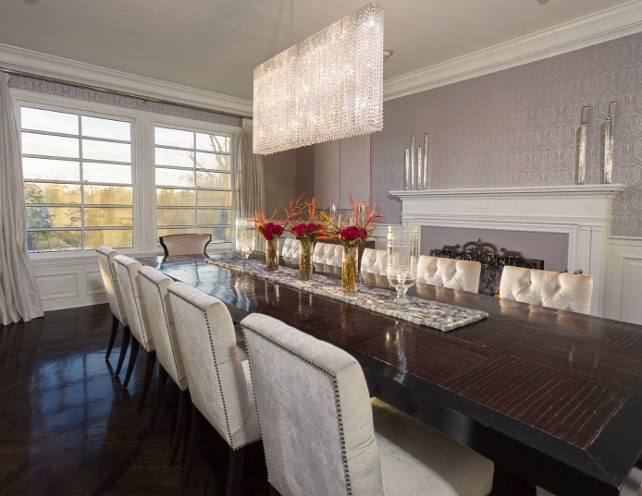 The dining room is graceful with a dash of sparkle from the contemporary crystal chandelier overhead.
When asked about what was the homeowner's approach to design, the interior designer had this to say: "Jennifer wanted to go modern and streamlined but retain the sophistication and stylishness".
Jennifer Lopez's Unfamous Kitchen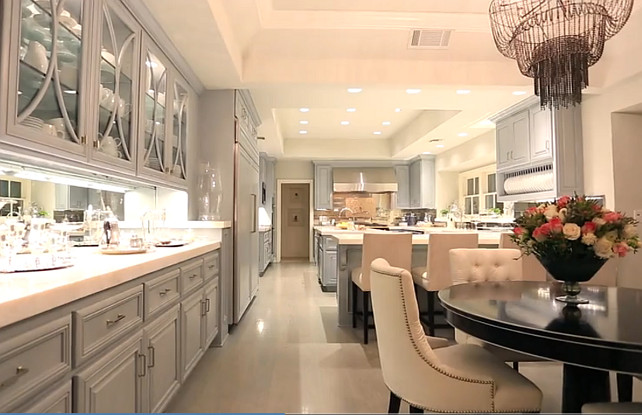 This kitchen became very popular when it was first published on Veranda magazine and it is still very popular on Pinterest.
Jennifer Lopez's Chandelier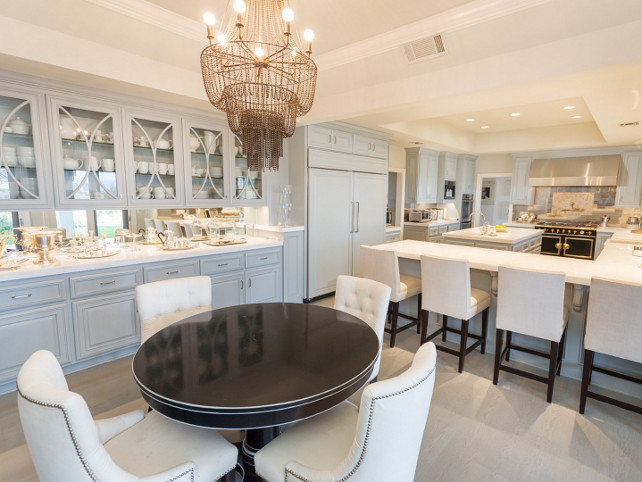 The chandelier in Jennifer Lopez kitchen is the "Arteriors Maxim 7L Iron Beaded Chandelier".
Feminine Style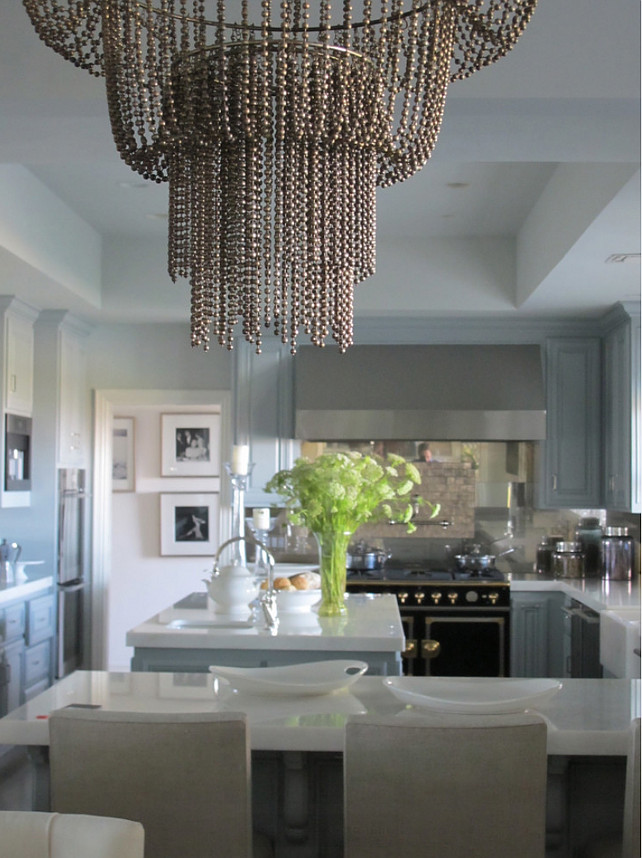 This kitchen feels feminine and cozy. I can picture Jennifer sharing her meals with her children here.
Jennifer Lopez's Kitchen Backsplash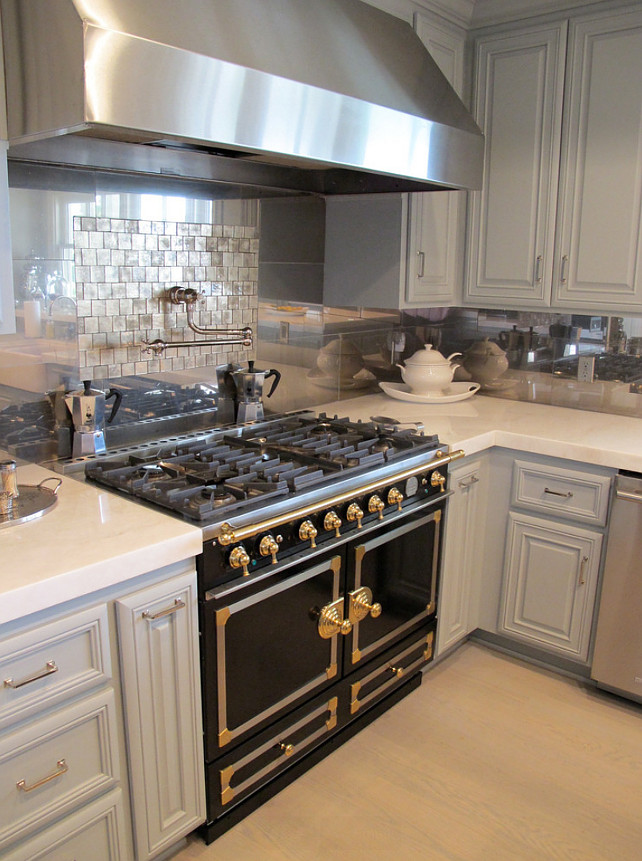 The backsplash is Mirror Porcelain Tile from Ann Sacks.
Range is by La Cornue.
Jennifer Lopez's Kitchen Countertop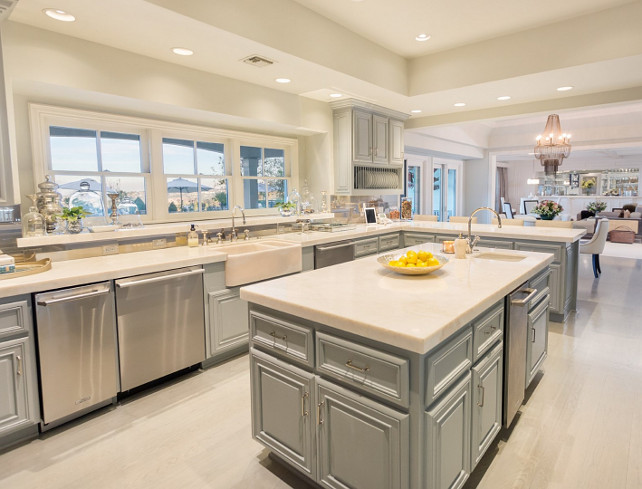 The countertop is white marble from South Africa "Bianca Rhino".
Jennifer Lopez's Kitchen Paint Color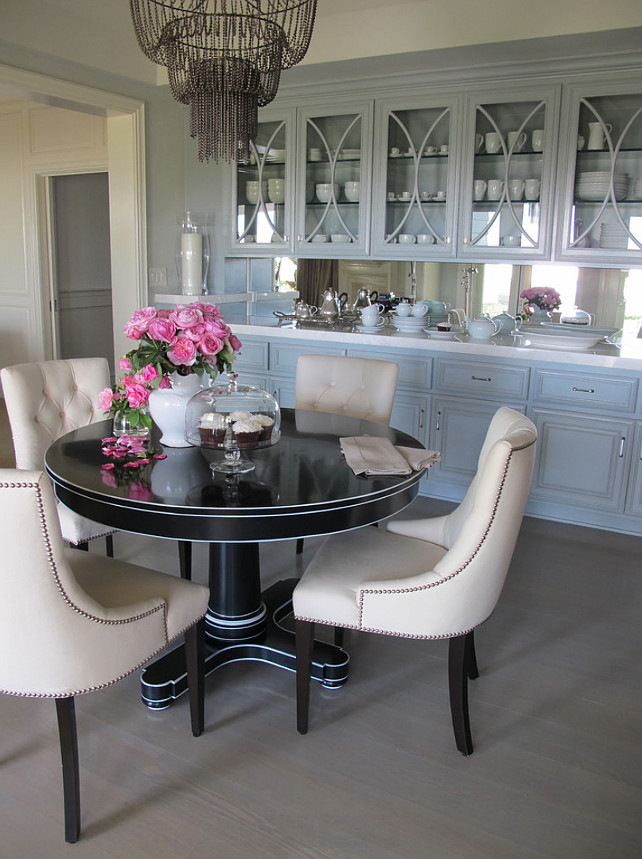 The paint color on the Kitchen Cabinets is Benjamin Moore Boothbay Gray HC165.
The chairs are from Baker.
Family Room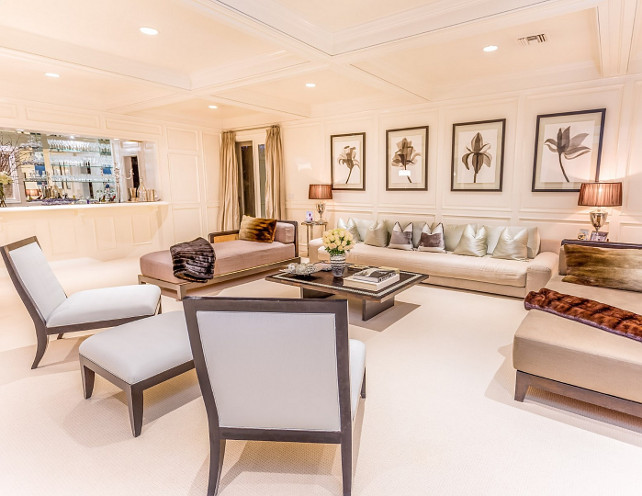 The family room doesn't really feel "family-friendly" in my opinion, but it was beautifully decorated.
Family Room Sources: Right-arm and left-arm chaises provide an alternative to club chairs. Chaises in Castel silk. Sofa in Schumacher linen. Chairs and ottoman in Schumacher moiré. Sofa pillows in Kravet fabrics. Chaise pillows in mink. Side tables, Global Views. Lamps, Arteriors Home. Watercolors, Karla Davison. Curtains in Nancy Corzine fabric.
Bar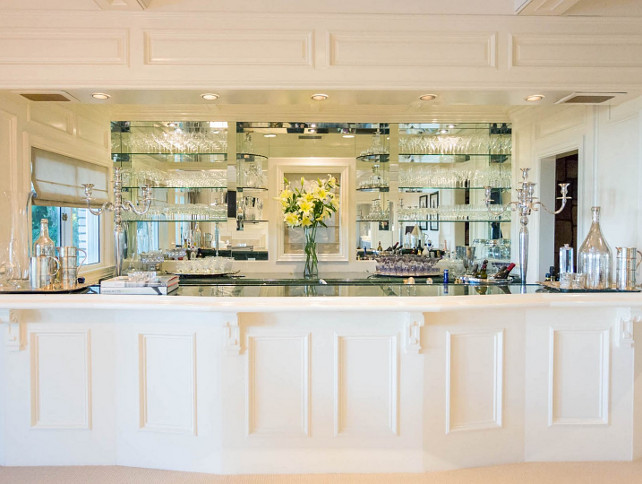 A bar in the family room? It wouldn't really work for me. But again, I am not J. Lo! 🙂
Jennifer Lopez's Furniture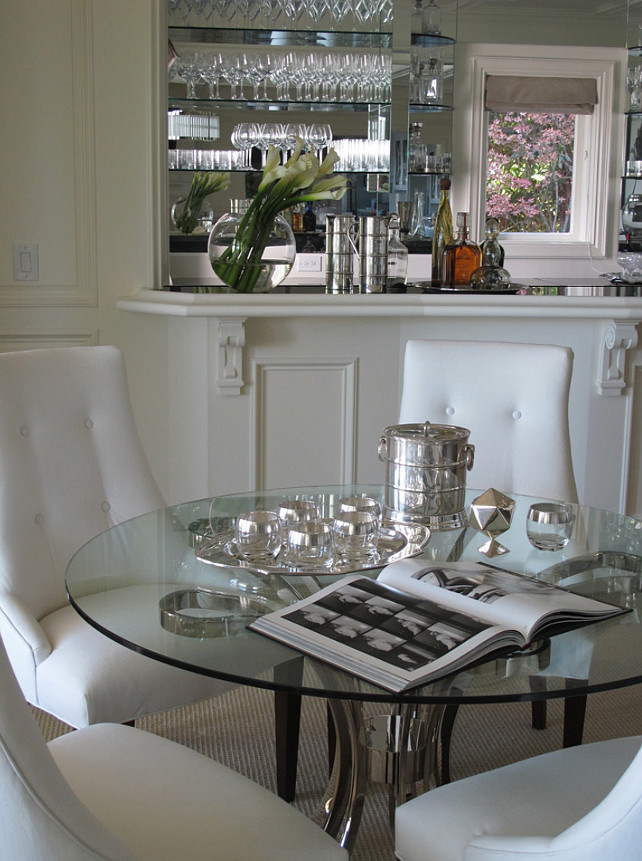 The chairs are from Baker and the table is from Global Views.
Guest Bedroom Paint Color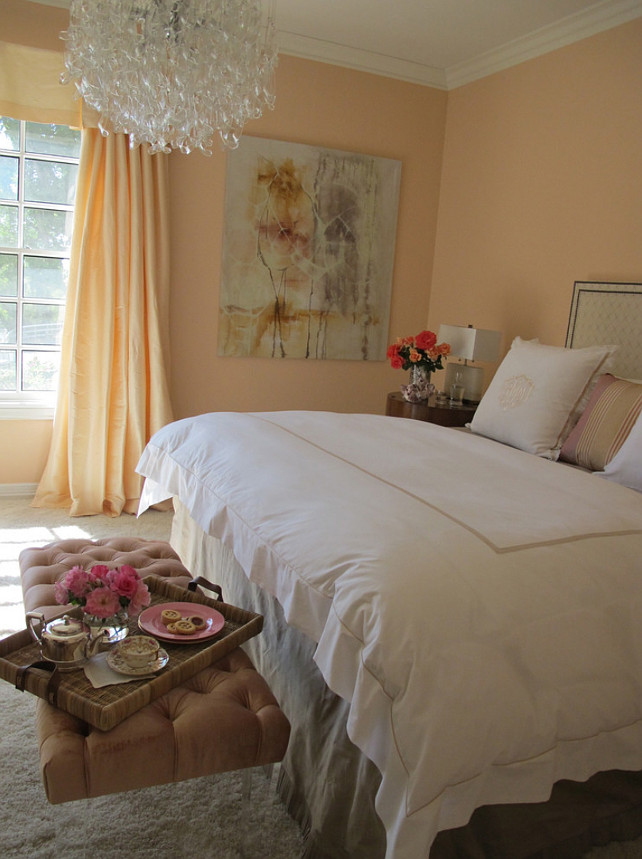 The paint color in the Guest Bedroom is Dunn Edwards Flax DE955.
Headboard and lamp, Williams-Sonoma Home. Linens, Peter Reed. The custom bench is in Christian Fischbacher fabric and the art on the walls are by Jean Cocteau and Ana Carballosa. Ceiling fixture is by DK Living.
Drapery Fabric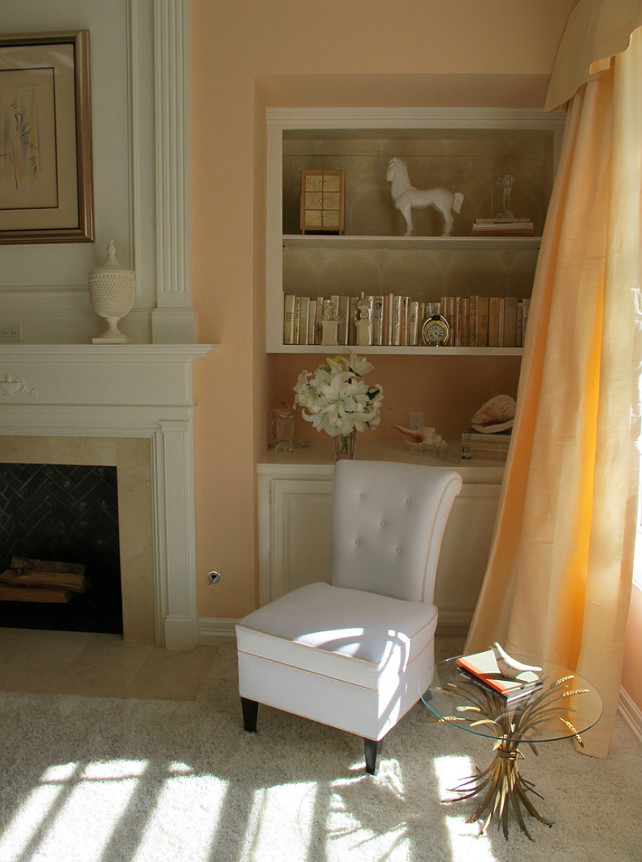 Draperies are from Nancy Corzine (available through designers).
The rug is from Melrose Carpet.
Jennifer Lopez's Bedroom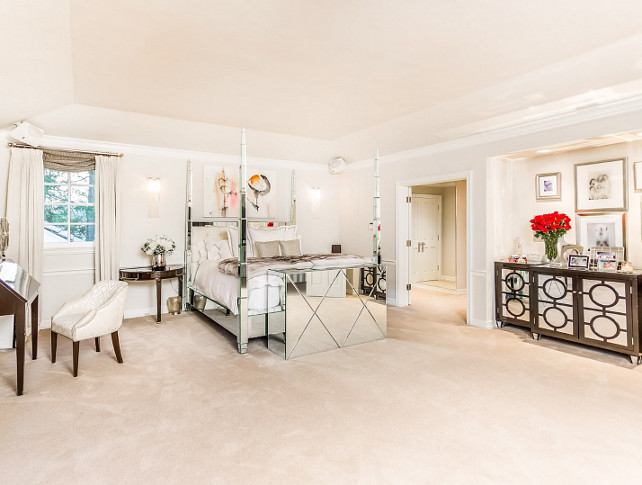 Have you ever wondered how Jennifer Lopez's bedroom looked like? Here it is!
"Jennifer and I wanted elegance, but we didn't want it to look stuffy or conservative or serious," says designer Michelle Workman. "We wanted it to be graceful with just enough sparkle."
Bedroom Sitting Area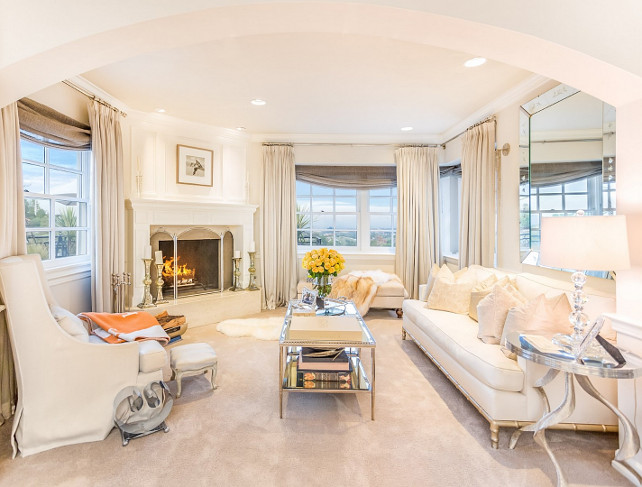 This is really a special spot… it feels inviting and comfortable.
Balcony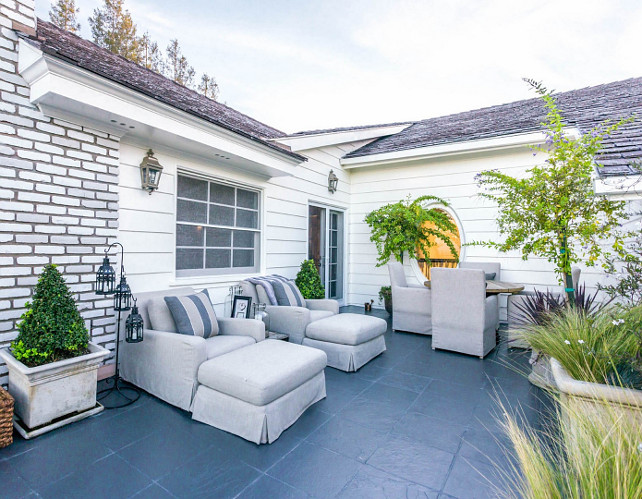 With slate floors, the balcony off the master bedroom offers a private space for Jennifer to relax and work on her tan.
Jennifer Lopez's Bathroom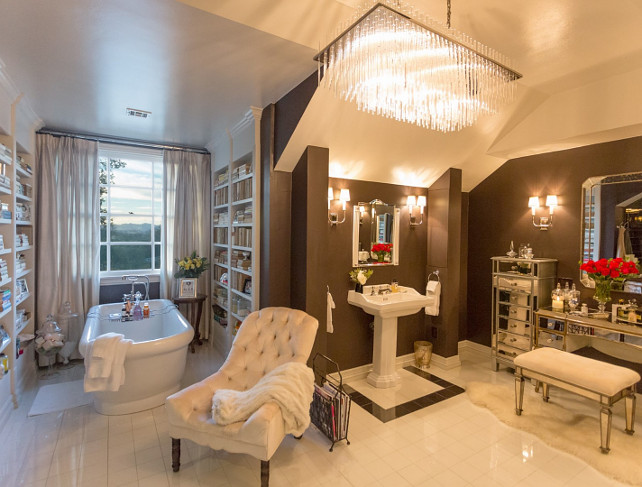 The bathroom and the kitchen are my favorite rooms in this house. I am loving how original this space is. It also feels private! I would love to have a bathroom like this one just for myself.
Bath & Books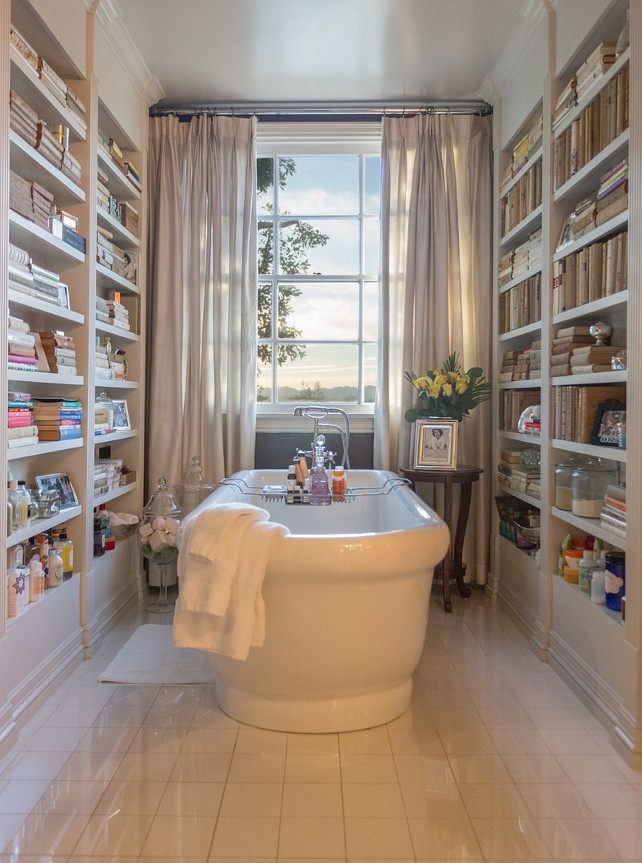 I would be often found in this bath, relaxing, reading and thinking about life.
Bookcases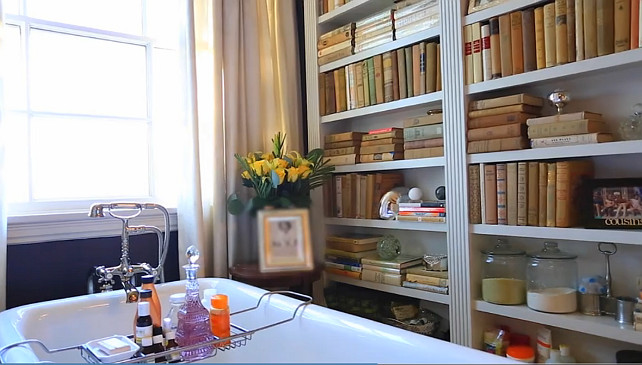 What a fabulous idea of having bookcases on both sides of the bathtub. This is practical and with the addition of antique books, quite romantic as well.
Entertain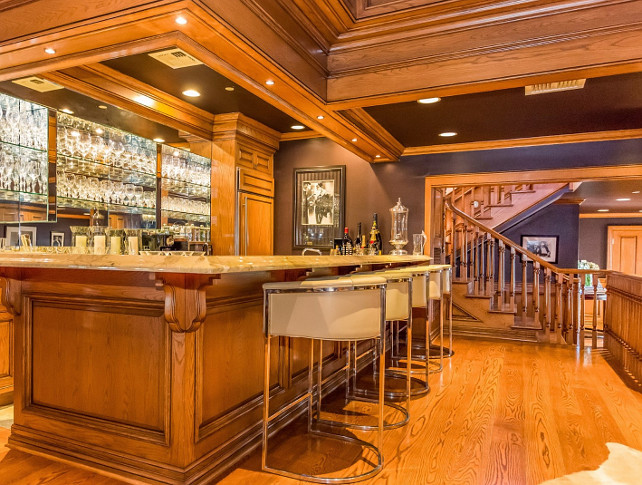 Of course, Jennifer Lopez loves to entertain, and this is the perfect place to do it!
The entertainment wing includes a lounge/saloon with bar, 20 seat theater, recording studio, dance studio/gym, and au pair suite.
Den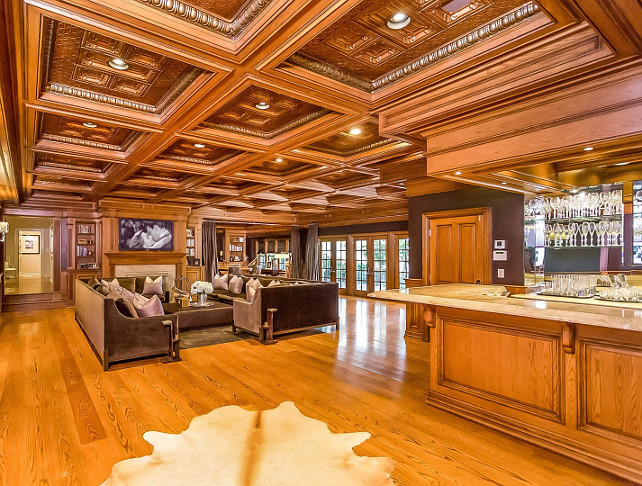 The den offers stunning coffered-ceiling. Sleek furniture adds a modern feel to this traditional space.
Home Theater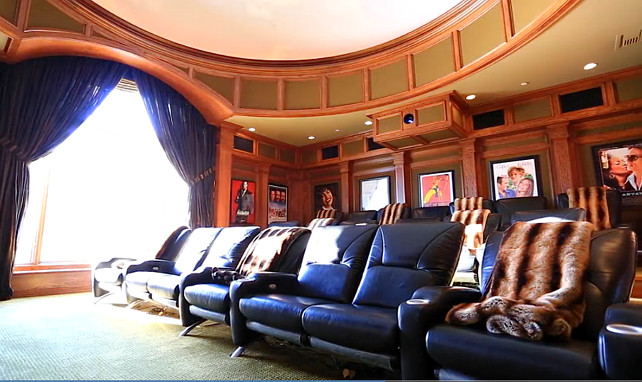 What a great home theater! Notice the singer/actress movie posters on the back.
Finding Peace
Tall trees, a swing and endless views… This is paradise!
Kids Zone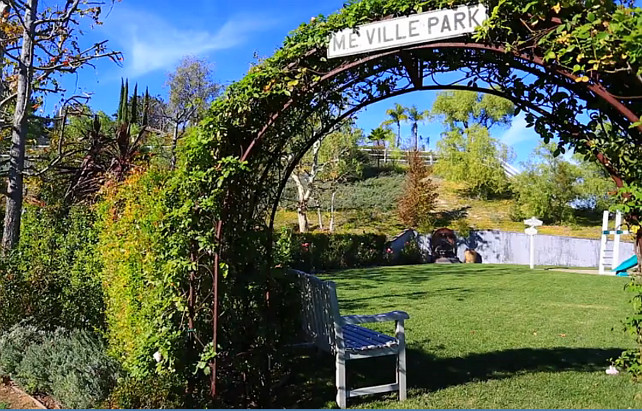 A safe and private playground was built for Jennifer Lopez's children.
Backyard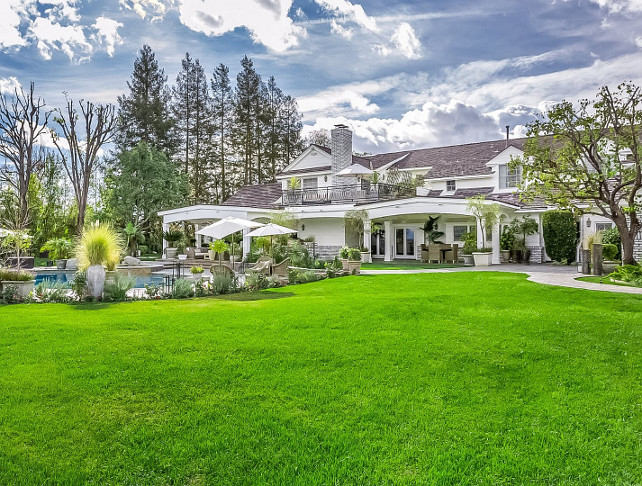 Outside, you will find manicured lawns, a pool, and an outdoor barbecue area and stunning views.
Patio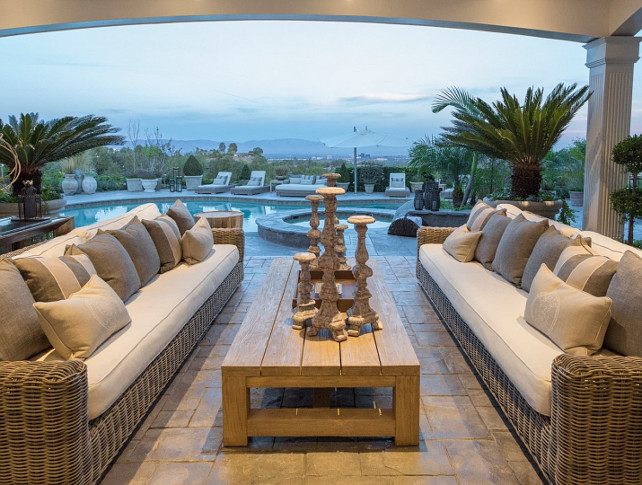 Comfort and style is also found in the outdoor living areas.
Location, Location Location!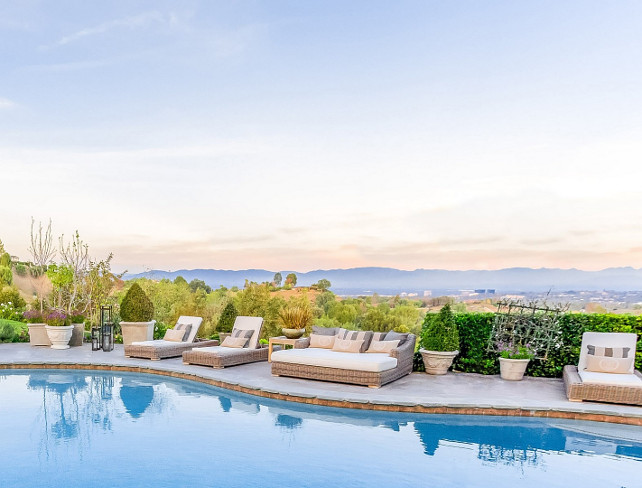 Perched on the coveted Ashley Ridge section of Hidden Hills, this home has views of city lights and the San Gabriel Mountains.
Pool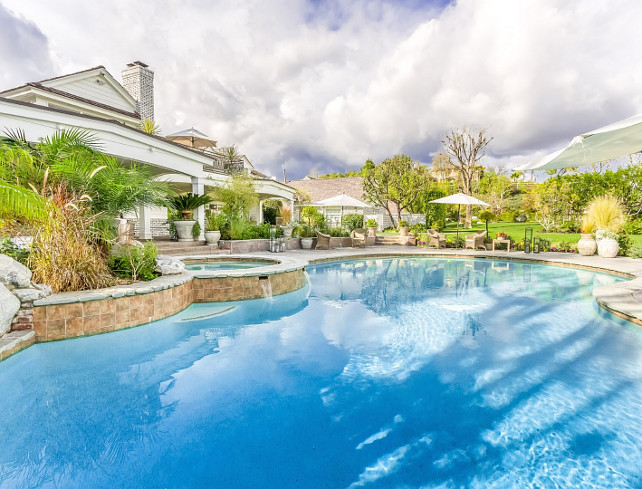 Relaxing and private.
Curb Appeal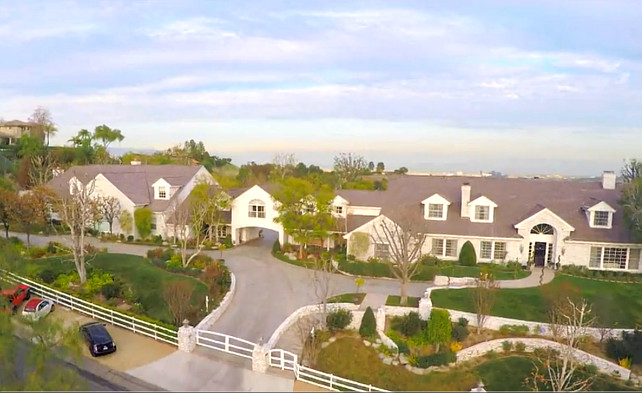 The front of Jennifer Lopez's house.
Now, here's a question for you: Would you buy Jennifer Lopez's house for the asking price of $17,000,000?
Sources: Sotheby's Homes, Michelle Workman.
See more Inspiring Interior Design Ideas in my

Archives.
Interior Design Ideas:

Paint Color
Interior Design Ideas:

Paint Color
I hope you enjoyed seeing this house today. I honestly don't idolize anyone in this world, but I think it's fun to see celebrity homes sometimes. It's nice to know how they choose to decorate their interiors, isn't it?
Did you guys have a good weekend? Felt loved during Valentine's Day? We had a great time at the arena! I told you guys would probably laugh at my plans for Valentine's! We had to cancel the babysitter (that was going to be the first time we would have one!) and we went to watch our son play hockey instead of having a romantic dinner for two. Going to the arena was not very romantic for my husband and I, but at least we were all together. I guess that is what love is all about right? Changing plans, being open and doing everything you can to be together.
Wishing you all a Blessed week, my friends and thank you so much for being here today.
with Love,
Luciane at HomeBunch.com
Interior Design Services within Your Budget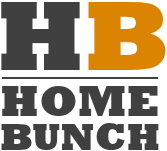 Get Home Bunch Posts Via Email