I actually have to say that I felt surprised by how warm the space seems to feel with the natural wood. But if that isn't for you, I am sure you'll love the second floor of the cottage. The bedrooms, bathrooms and the bunk room are very neutral — and painted!
This lake cottage doesn't stop there. There is also a detached guesthouse with a great mudroom, laundry room and a very practical pet shower.

Here, you'll find a lake cottage that is perfect for entertaining… you can bring the whole family to spend summer with you. There's plenty of space for everyone!

Enjoy!
Lake Cottage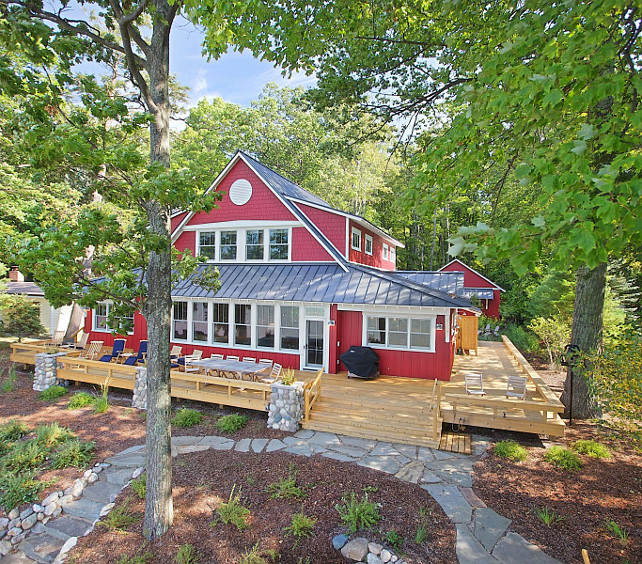 Beautiful shingles (painted in a red exterior paint) and metal roof. I also love the expansive deck.
Kitchen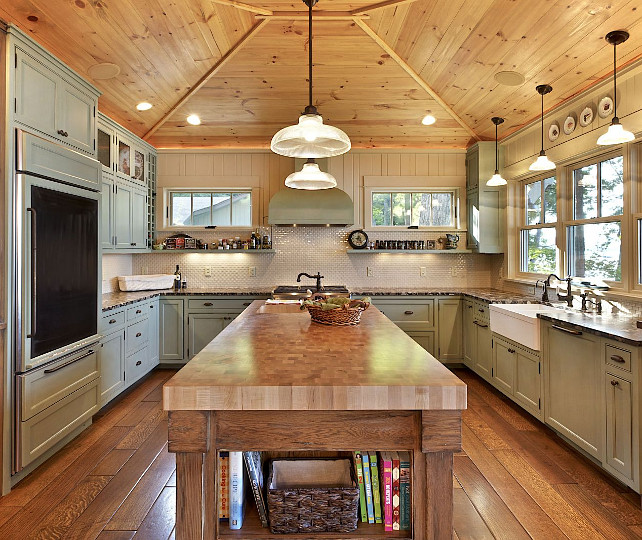 I can see many people just saying to themselves now: "Why didn't they paint the ceiling? I would…" Right? I get what you're saying and I admit that was the 1st thing that came to my mind too, but I have to applaud them for keeping the ceiling this way.
This is not yet another copy-cat kitchen and I love that! 😉
Country & Cottage-y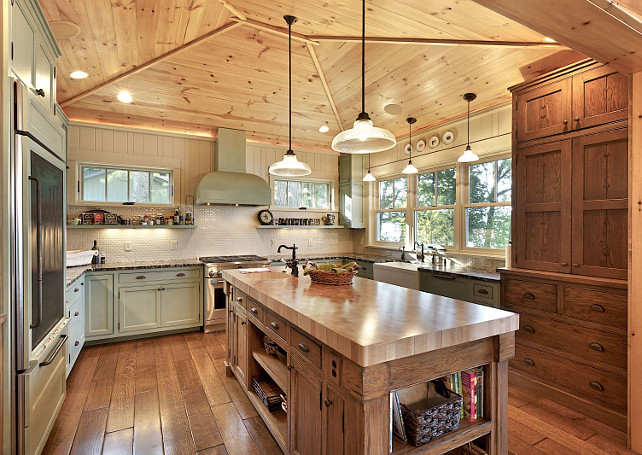 I really like the color of the painted cabinet with the natural wood. It's really warm and welcoming.
Space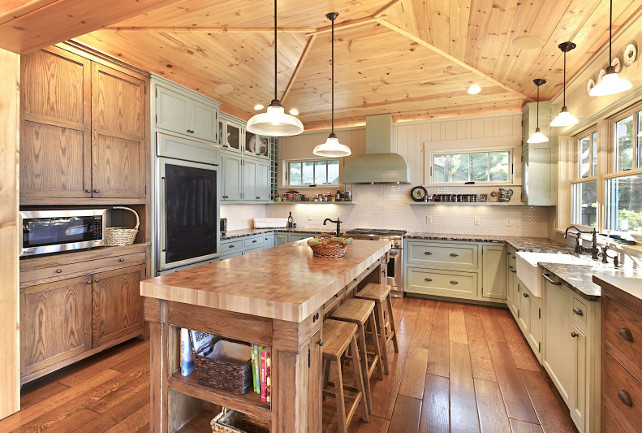 Great space with an inspiring design.
Family Room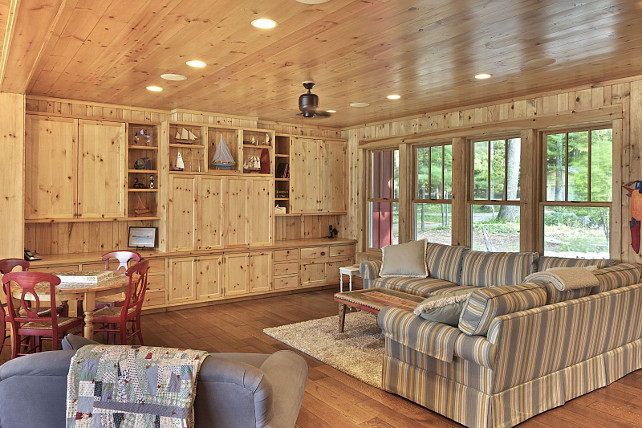 No, I won't pass the bucket with white paint! 🙂
I have to say that if this was mine someone would have to hold me to not paint this entire space (just being honest here), but this doesn't mean I don't like it. I actually think it's great for a cottage in the woods, by the lake like this one. But I would be very tempted… how about you?
Dining Room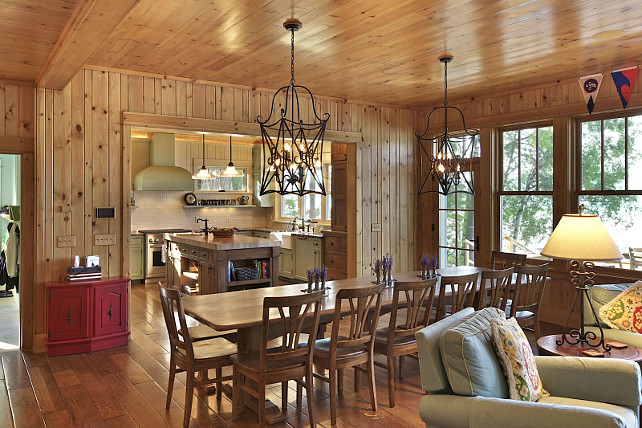 The dining table is huge and perfect to have everyone eating at one place!
Using a bench on the opposite side of the table allows even more guests to seat.
Scrabble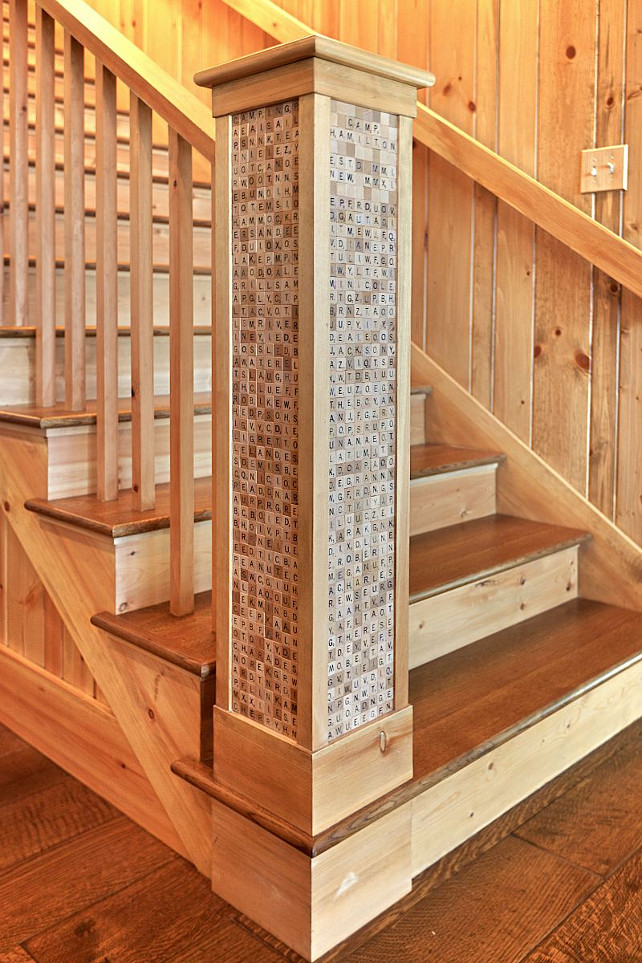 Got too many scrabbles during Christmas and don't know what to do with it? Here's an idea! 🙂
Jokes apart, isn't it clever?
Bedroom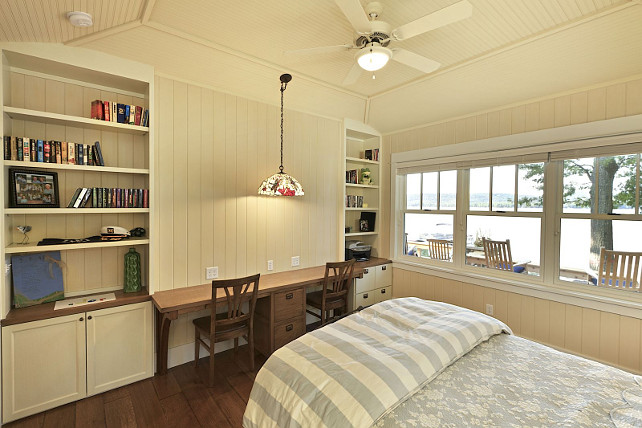 This bedroom has nice lake views and fantastic built-ins!
Small Bathroom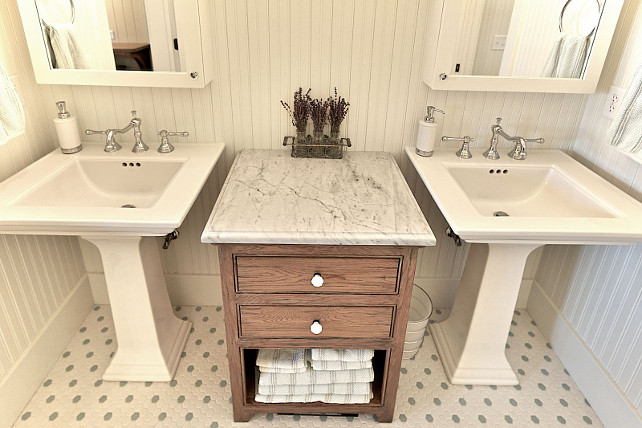 Don't you just love this bathroom? Oh, yes, they painted the pine here! 😉
All Love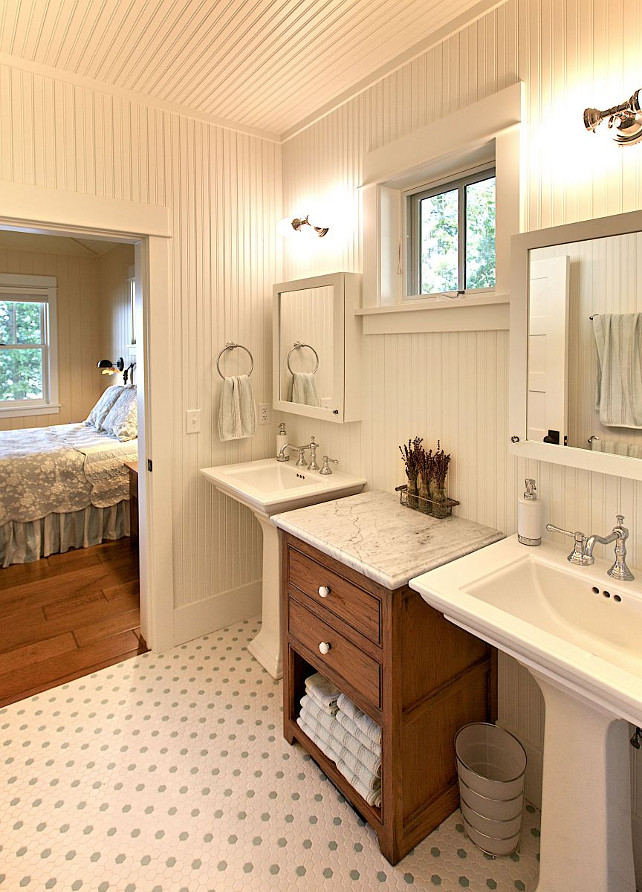 Oh, I love everything about this bathroom… the floors, walls, ceilings… everything!
Bunk Room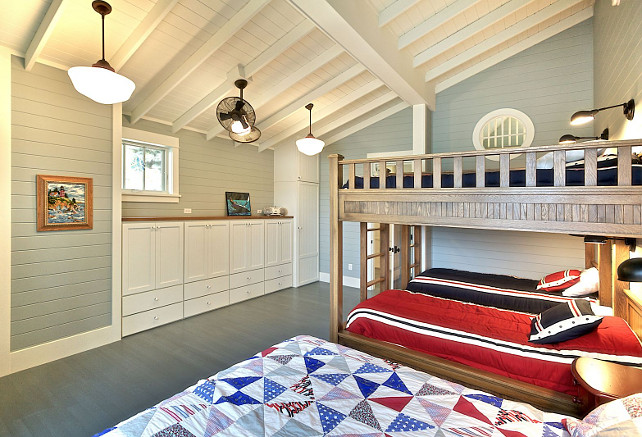 This bunk room is full of great ideas!
Kids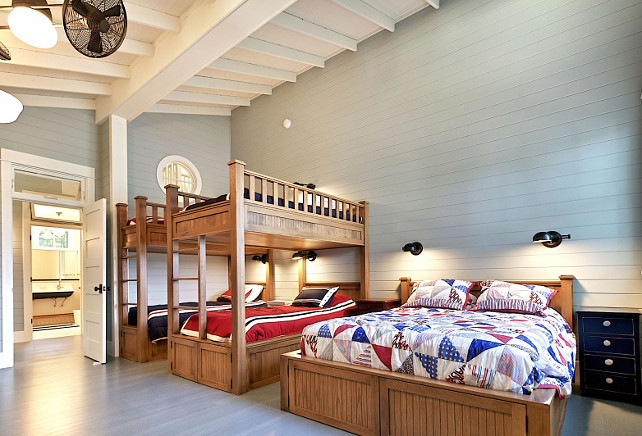 Can you picture how much fun the kids would have here? Pillow fights, anyone?
Gray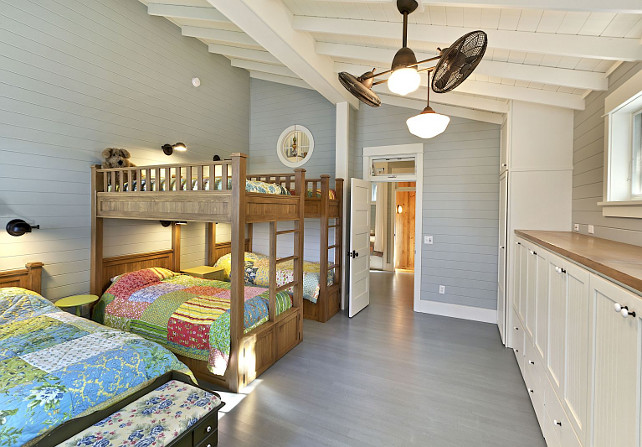 Great gray floors and walls.
Built-ins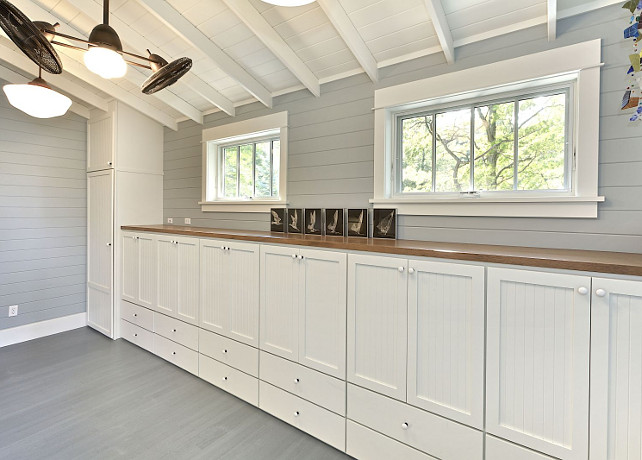 These built-ins are fantastic, especially in a shared space like this one.
Kids Bathroom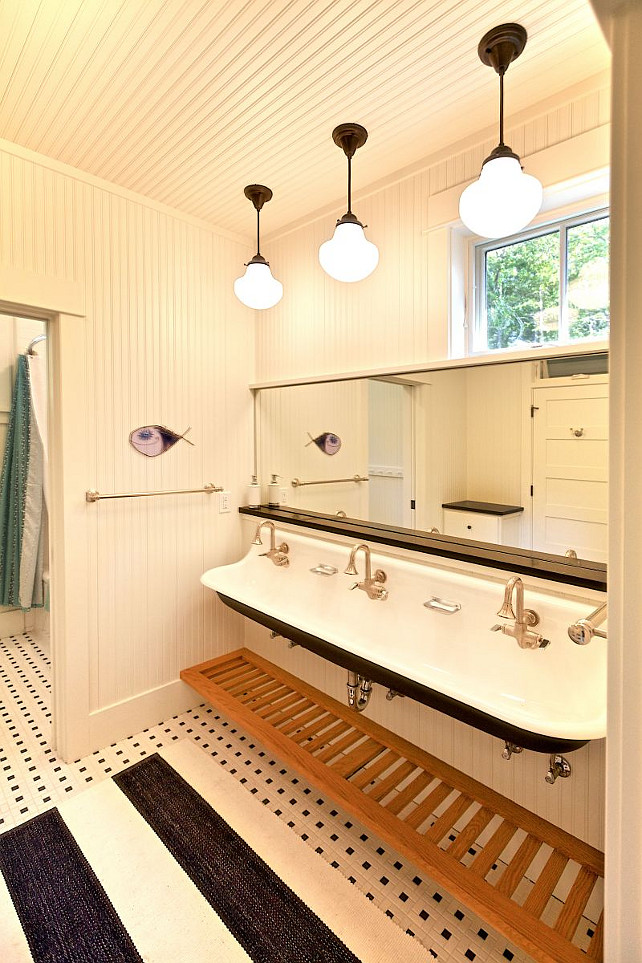 The bathroom has a great (and huge!) sink and great light fixtures. I love the classic black & white look!
Loft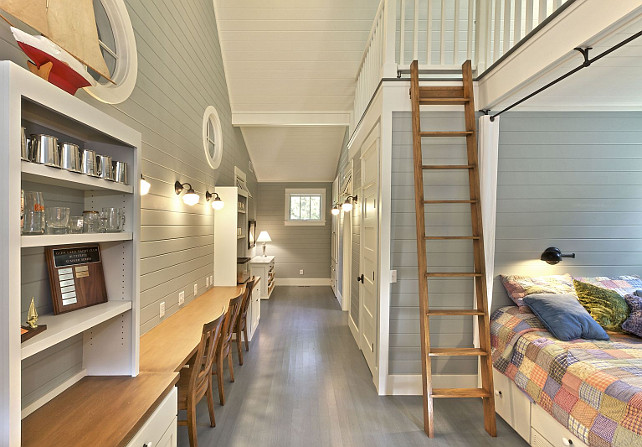 If the bunk room wasn't big enough for all of your family/friends, you can still find more space at this loft-style bedroom.
Desk Built-ins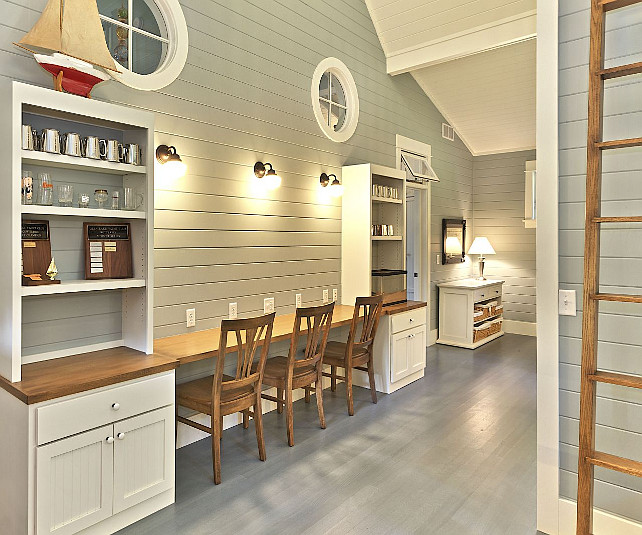 Smart and spacious computer station.
Cottage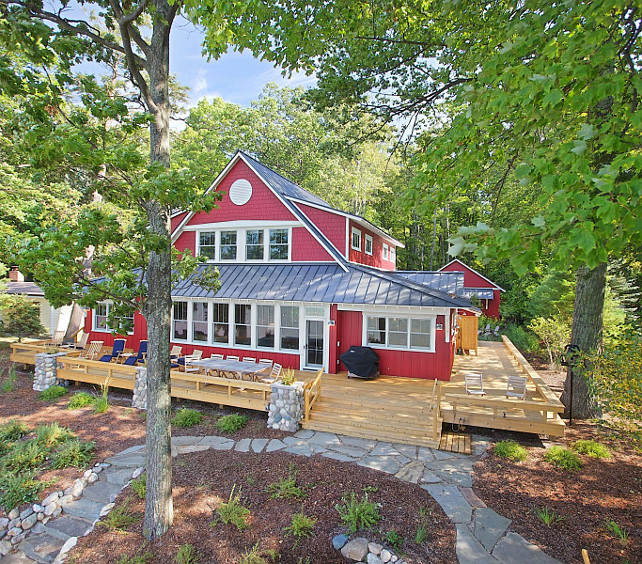 The cottage is surrounded by nature.
Deck
What a wonderful place to relax.
Guesthouse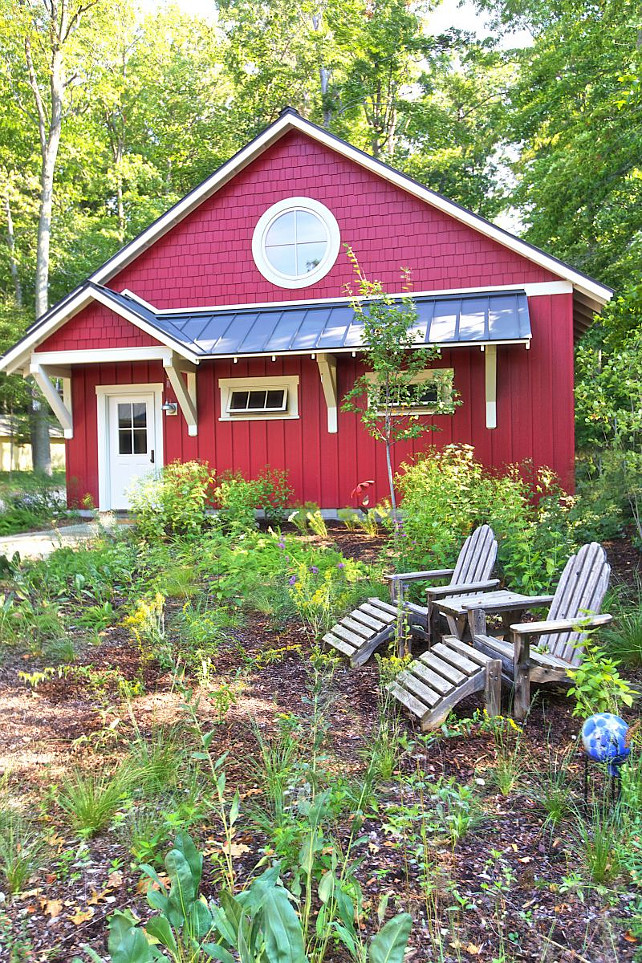 The guesthouse is perfect to get ready for the lake… all the mess and wet feet mark stays there!
Turquoise Mudroom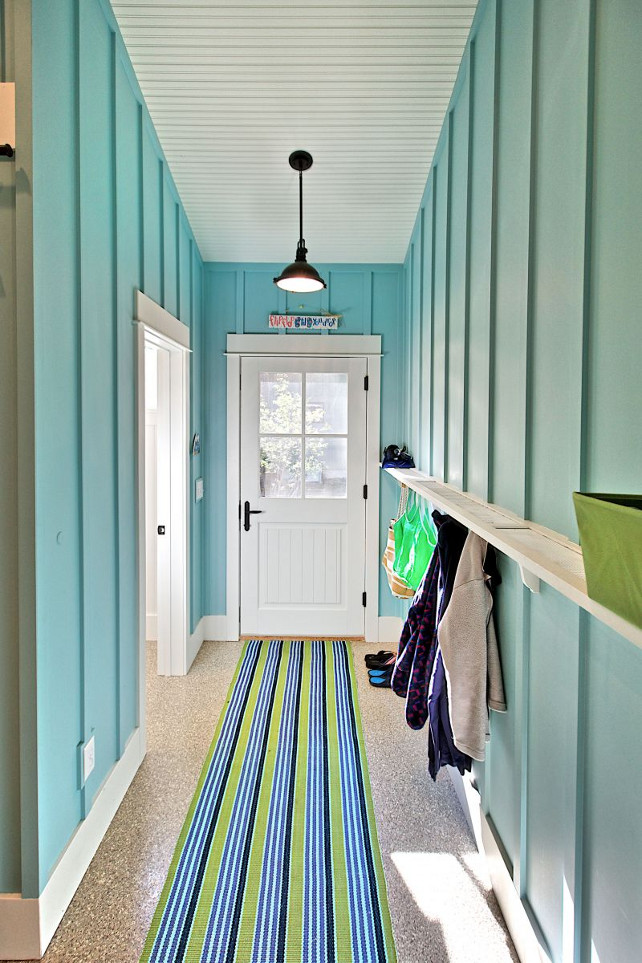 This mudroom feels bright, happy and uncomplicated. Love it!
Puppy Shower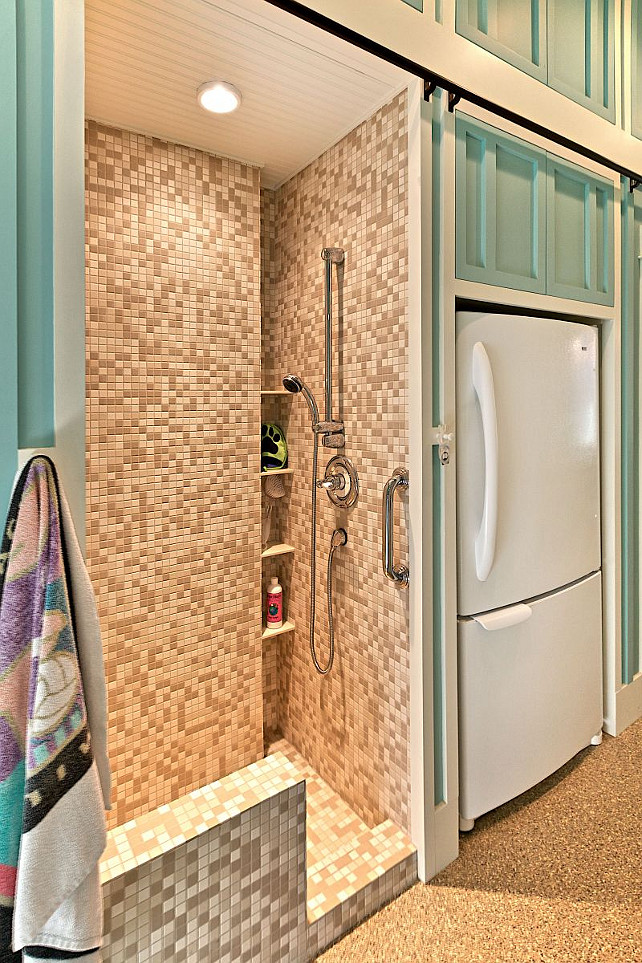 If you have a pet, you know you would love to have a pet shower. Am I right?
Storage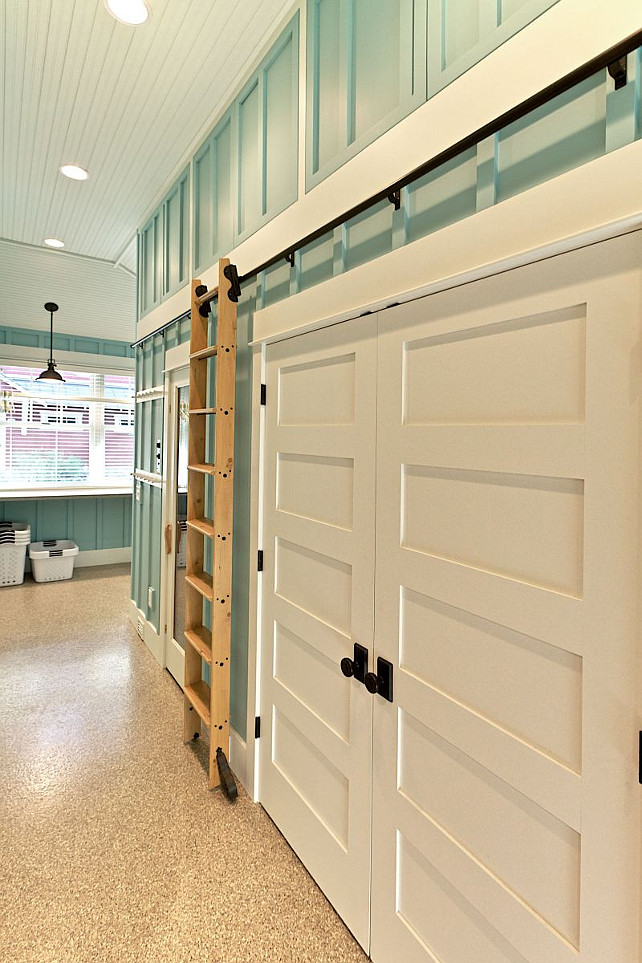 Plenty of storage. I love the paint color.
Laundry Room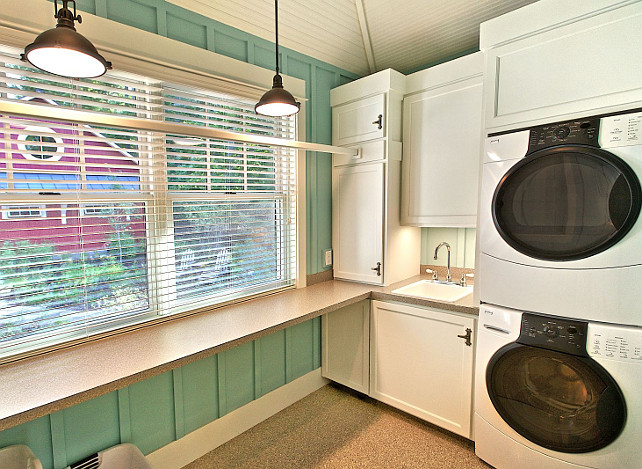 This is not a big laundry room, but it's very practical and not mention, gorgeous!