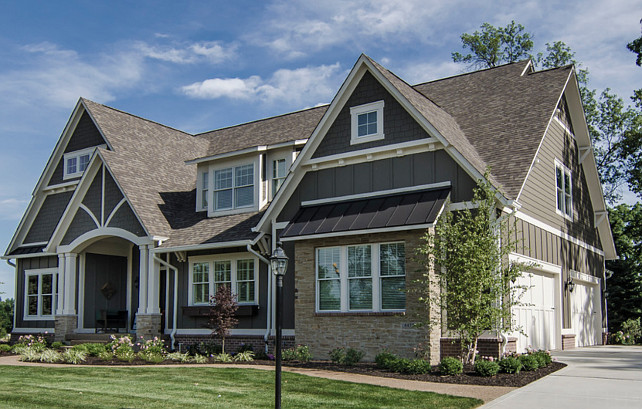 What I like the most about this home, located in  Midwest, Westfield, IN., is how real and approachable it feels. The interiors feature an open floor plan with a tailored yet comfortable decor where anyone in the family can easily feel welcome.
Designed by "Heartwood Custom Homes" and "Everything Home by Wendy Langston", this is the kind of home that has that "home-sweet-home" appeal that so many of us look to achieve in our own house. This family home is not too big, too cold and certainly not too formal, and this is truly how we all want to live!
So let's dream with real interiors for us real people.
Beautiful Family Home with Open Floor Plan
The entryway should always set the tone for the rest of the home. This space uses a mixture of textures and neutral color, which can also be found in other rooms of the house.
Family Room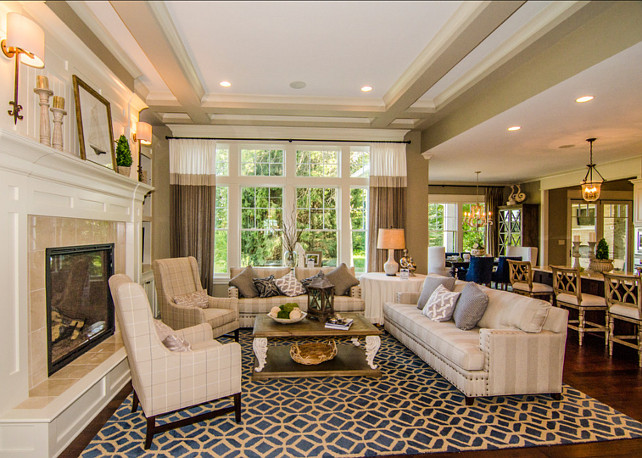 With a very open concept, the family room has so much to offer as it is located off of the kitchen. It offers ample seating and a beautiful view of the outdoors.
 Family Room Layout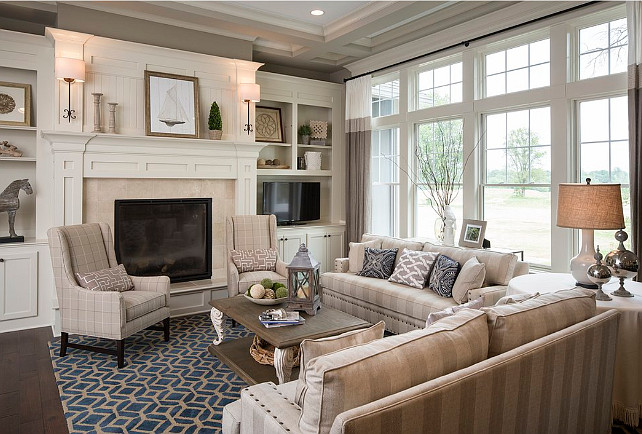 All of the natural colors set a fantastic back drop for the navy blue accent color. This space really came together and while it feels sophisticated, it also feels very cozy.
The fireplace surround is a 12″x12″ Cardinal Beige marble tile.
Pillow Fabric Inspiration
 Gorgeous fabrics add subtle colors to this space.
Kitchen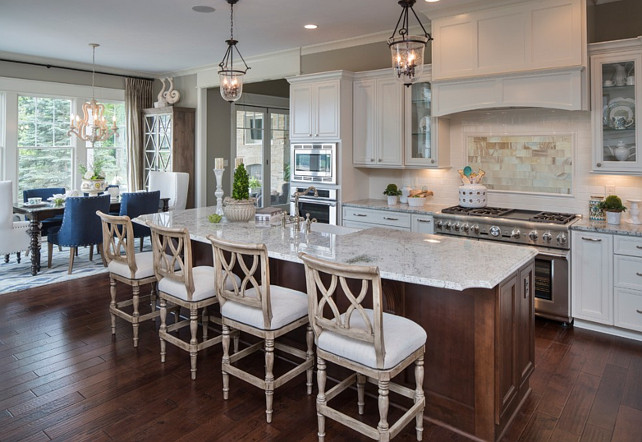 What I love the most about this kitchen is how welcoming and well designed it feels. It's not too traditional, nor too trendy, it's simply designed for family living.
The island counterstools are from "Ballard Designs". They are the "Montgomery Counterstool" in the aged driftwood oak and linen finish.
Granite Countertop: The granite color in this kitchen is called "Cotton White".
Dining Area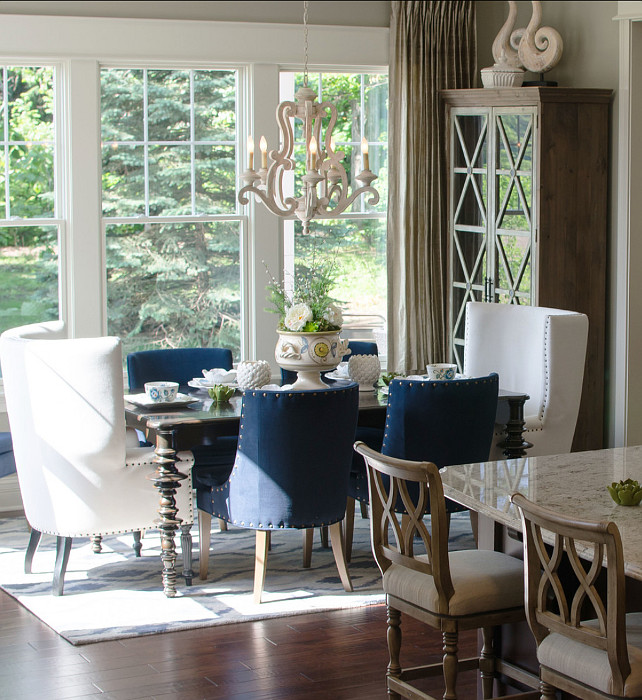 I like the idea of using a beautiful chandelier and layer a dining area with a rug and comfortable upholstered chairs.
Chandelier is the "Hayman Bay 5 Light Chandelier".
Kitchen Cabinets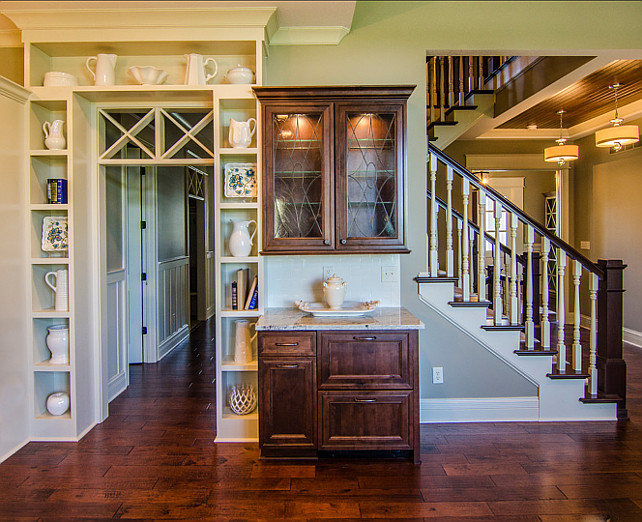 On the other side of the kitchen, you will find a butler's pantry or coffee station with drawer dishwashers.
 Kitchen Smart
This image captures a great idea for additional storage in the kitchen. This open shelving concept allows you to display dishes and cookbooks while saving space.
Den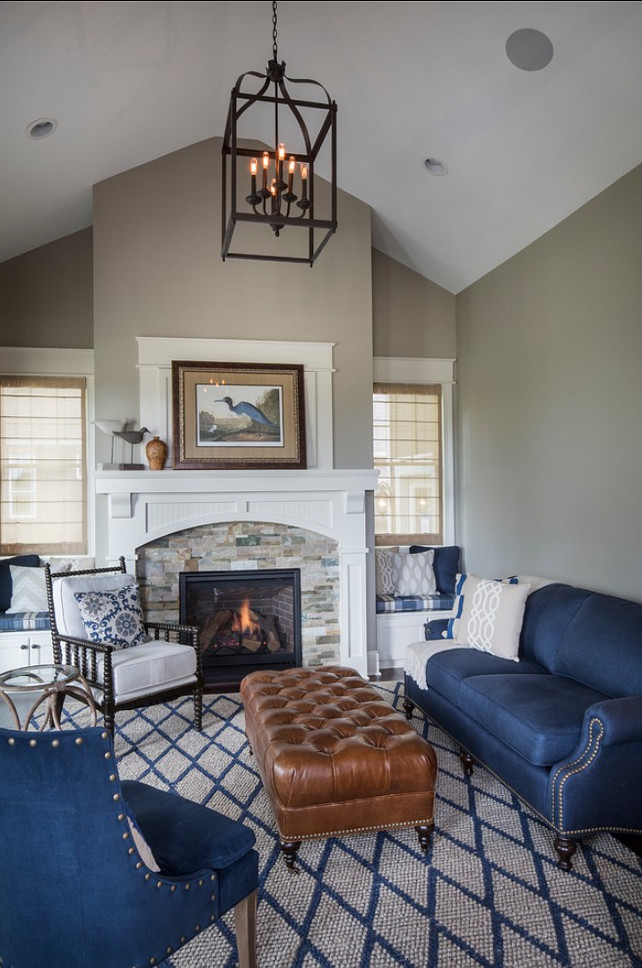 The den is located right off the kitchen and dining room area. This is a cozy space that leads out to the covered back porch, and it's perfect to curl up and read a book.
Paint Color is "Sherwin Williams Ethereal Mood SW 7639".
Rug is from "West Elm".
Staircase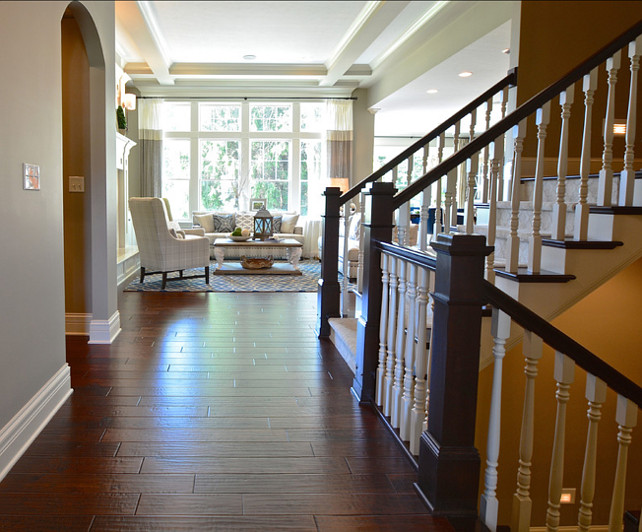 This photo captures the stair hall as well as a peek of the great room of the home.
Master Bedroom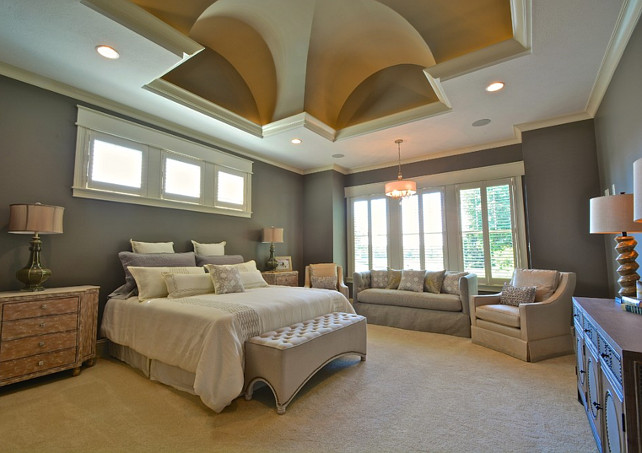 The master bedroom offers lot of space, comfortable high-end carpeting and gorgeous ceilings.
Ceiling Design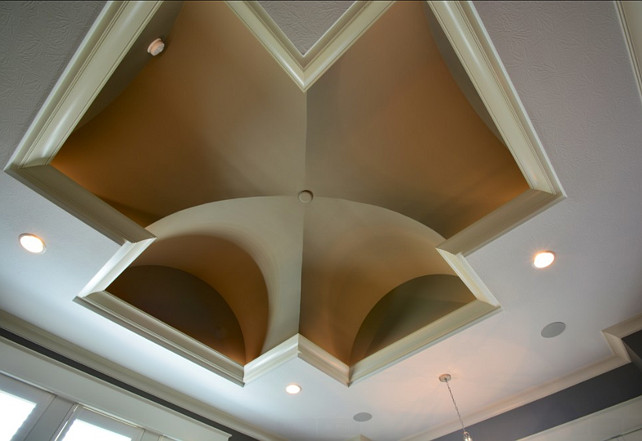 The ceiling design in the master bedroom is very unique and creates an interesting focal point in the space.
Coziness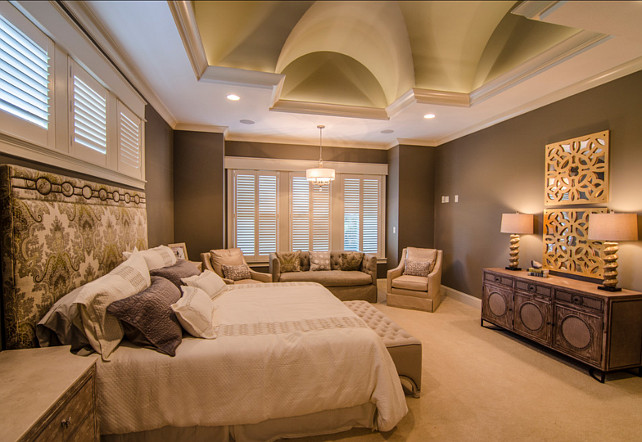 This bedroom is large but the soft textures make this space feel cozy and relaxing.
Basement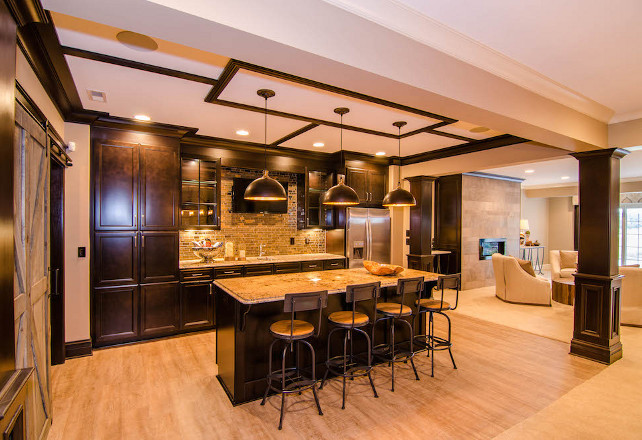 The basement is a great place to entertain as it houses a pool table, a theater and seating area around the fireplace. Additionally, in the basement you will find a full in-law suite, fitness room and plenty of storage. The basement also offers a walk out to the lower level patio.
Pool Table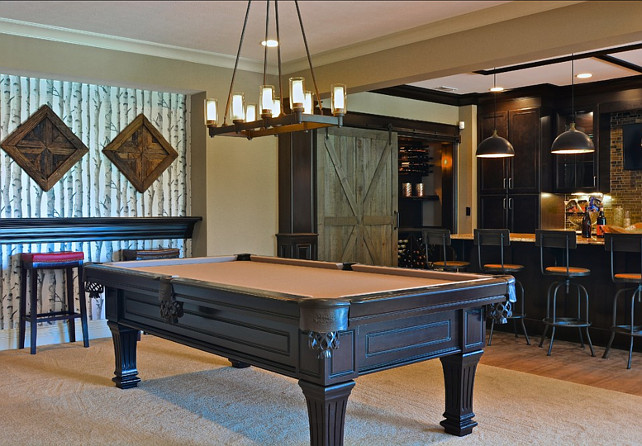 How fun is this space!
Bar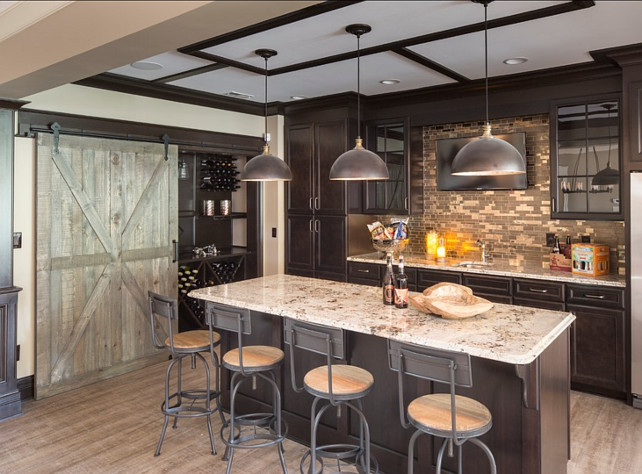 The bar feels classy and masculine.
I truly like the authenticity usage of materials in this space.
Wine Storage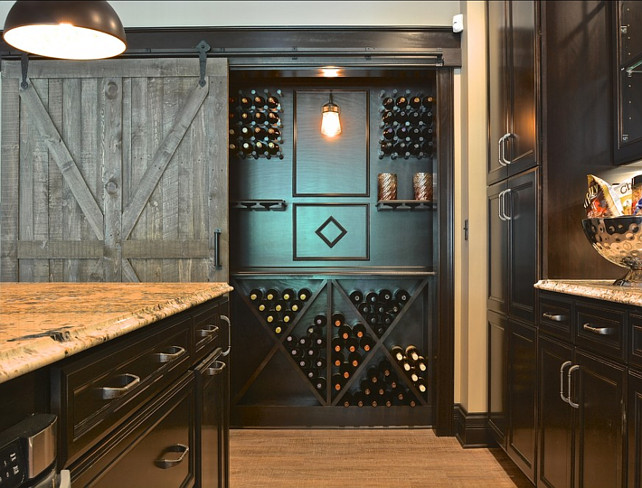 A barn door hides an expansive wine cabinet. This is a great idea if you don't have enough space for a wine cellar.
Porch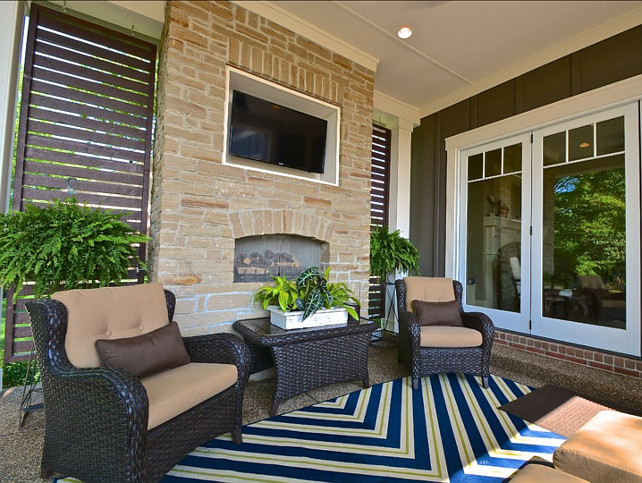 Lovely covered porch with a fireplace and seating to entertain guests.
Backyard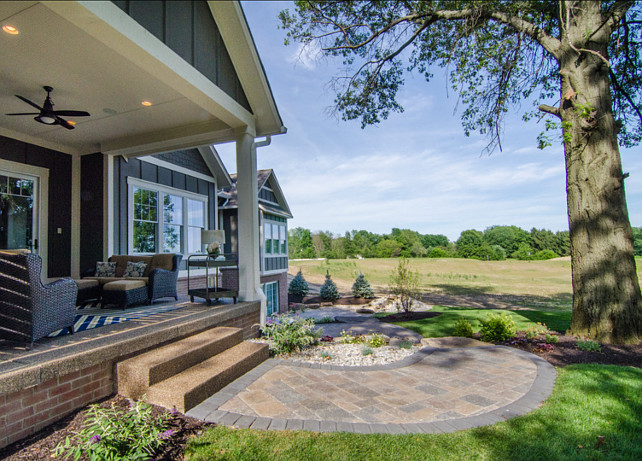 A quiet retreat nestled in nature's beauty.
See more Inspiring Interior Design Ideas in my

Archives.
Interior Design Ideas:

Paint Color
Interior Design Ideas:

Paint Color



  Hi, my friends! It's always great to come back here after a good weekend to talk to all of you. We're still in a "Thanksgiving" mood around here and I will be roasting some turkey today. Nothing better than having a long weekend to relax, forget about the many errands we have and just enjoy life without having to check the hours going by.

This weekend was really a mix of "nothing to do" to "let's do it all".  The kids had hockey but after that, we were able to slow down and simply stay home and enjoy some family time together – you know… moments where we share some good times, some loud laughs, some small dramas — the kids love each other, but they're in that age that a day doesn't go by without an argument — Yes, family time… as "imperfect", as messy (toys , toys, toys!) and as loud family time can be, I know they're the most precious time I can live.
Family time is not about how perfect it should go, family time should be about how real it feels.
Keep that in mind during the holidays! 🙂
Just before I go, I want to wish a happy Thanksgiving to my wonderful Canadian readers! It's wonderful to celebrate this special day with you!
Thank you all being here today and I hope you have a Blessed and Healthy week.
See you guys tomorrow.
with Love,
Luciane at HomeBunch.com
Interior Design Services within Your Budget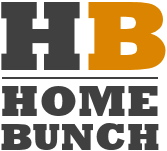 Get Home Bunch Posts Via Email

Sources: Heartwood Custom Homes,Everything Home Interiors. Photos by Tom Graham.