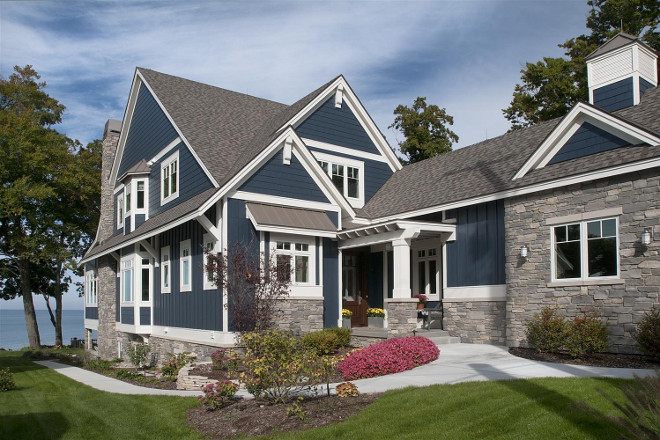 Designed by Wayne Visbeen and meticulously built by Mike Schaap Builders,this lakefront cottage features inspiring coastal interiors and a view that you won't soon forget.

Situated perfectly on the shores of Lake Michigan, this 4,300 square foot home was designed to capture the stunning waterfront views. With an eye for details, coupled with fine craftsmanship and a coastal flair, this lakefront home is comfortable, functional and timeless.

The exterior reflects the coastal style showcasing a nautical blue with contrasting white trim. A matching oversized garage sits comfortably next to the home,  providing storage for the largest water toys.
Upon entering the home, the main floor captures the incredible lake views. The living room, seating area, kitchen and dining room, all overlook the shimmering water with an abundance of oversized windows. The hickory hardwood floors and alder wood ceiling beams add a natural finish to the relaxed setting.
Complementing the outside view, the kitchen's rich white cabinets and tall ceilings help keep the space feeling light, and the island, made from the same alder on the ceiling, brings a cohesive feel to the open space. Off the kitchen, an effective use of space is featured with a butler pantry and extensive built-in cabinetry lining the hall.
As you will see, no detail was left undone in this gorgeous lake home – the rich textures, custom woodwork and timeless style are evident around every corner.
Lakefront Cottage with Coastal Interiors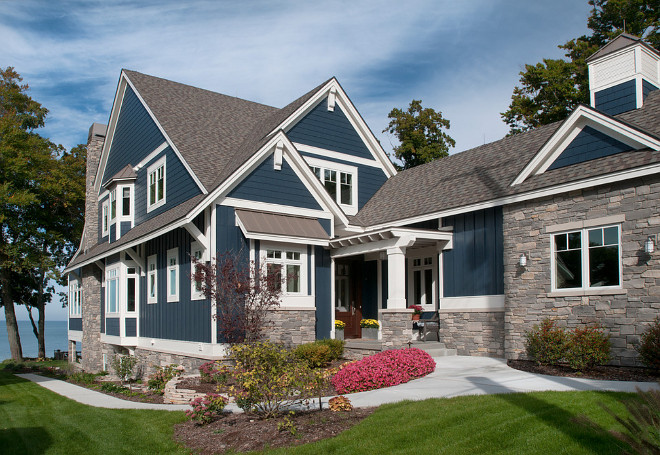 The exterior paint color is Hale Navy HC-154 from Benjamin Moore. It's nautical but also very classic.
Roof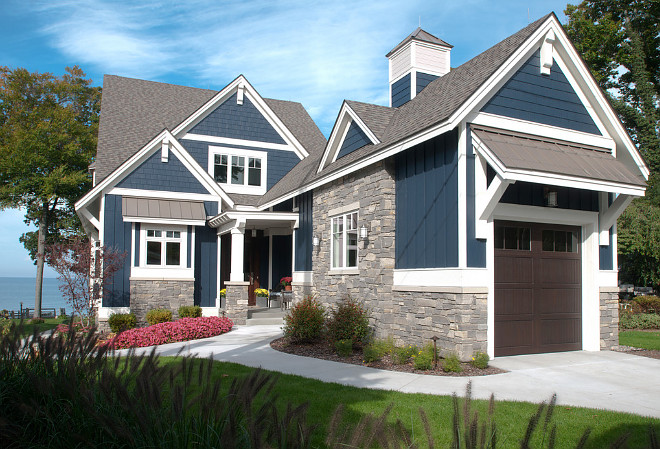 According to the builder, Mike Schaap Builders, this is an asphalt roof by Certaineed from their Landmark series. The color is weathered wood.
Curb Appeal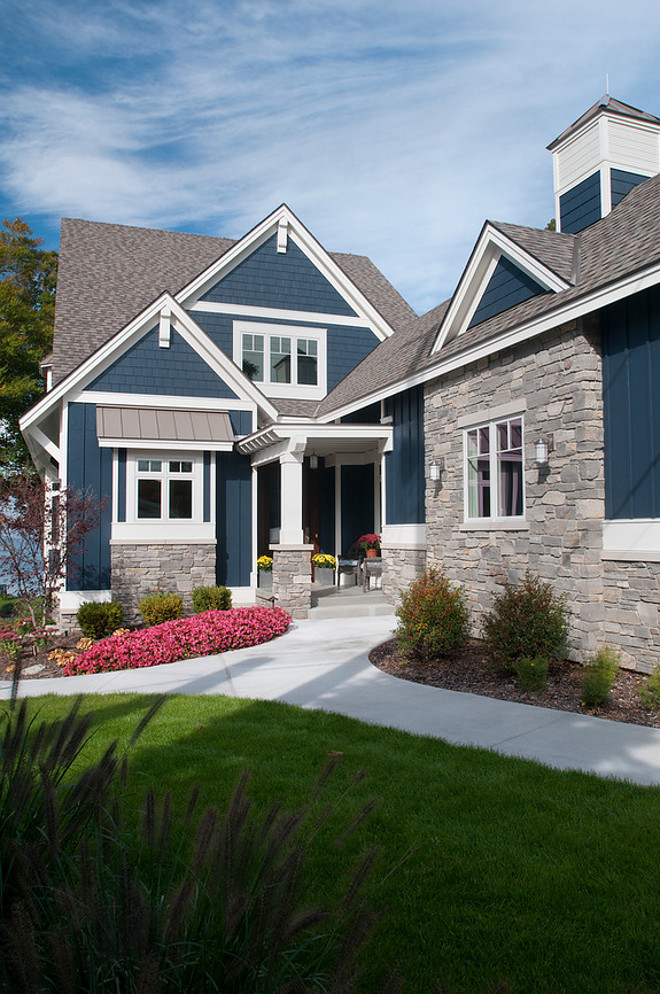 This home features a stunning curb-appeal.
Kitchen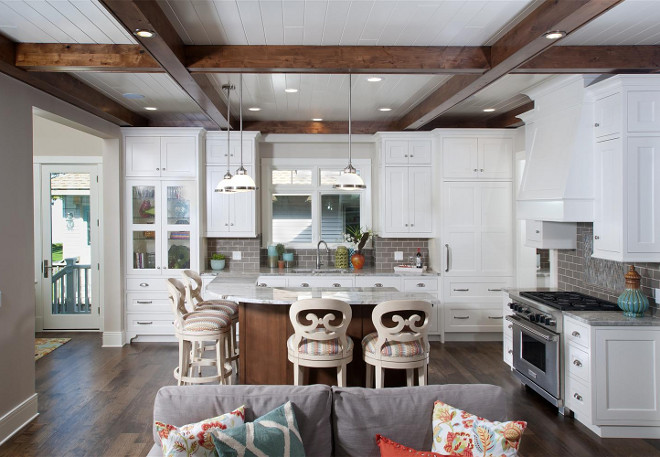 In the kitchen, crisp white cabinetry by Benchmark Wood Studio joins subway tile and granite countertops for a timeless touch. The island, which matches the alder beams on the ceiling, comfortably seats up to five people in the light and airy space.
The kitchen in this home is approximately 11′-7″w x 17′-1″d.
Kitchen Paint Color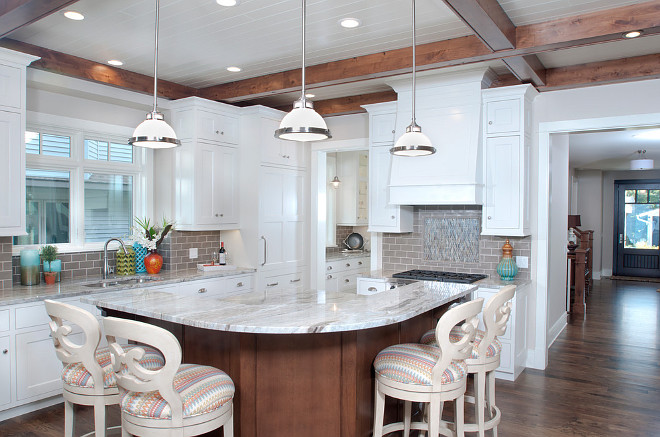 Kitchen paint colors is Sherwin Williams SW7006 Extra White. 
The countertops are granite in Fantasy Brown.
The swivel barstools are by Woodbridge with custom fabric by Kravet #32530-512.
Backsplash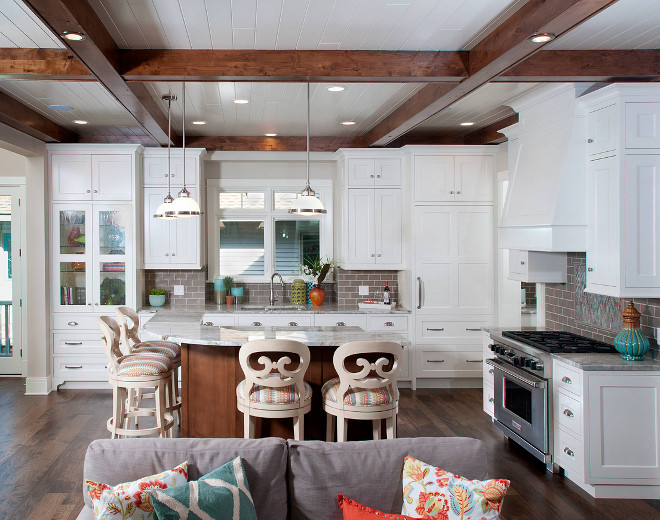 The gray backsplash tiles are by Adex, and they are from the Nature series in 3″x 6″. Color is Marengo.
Dining Room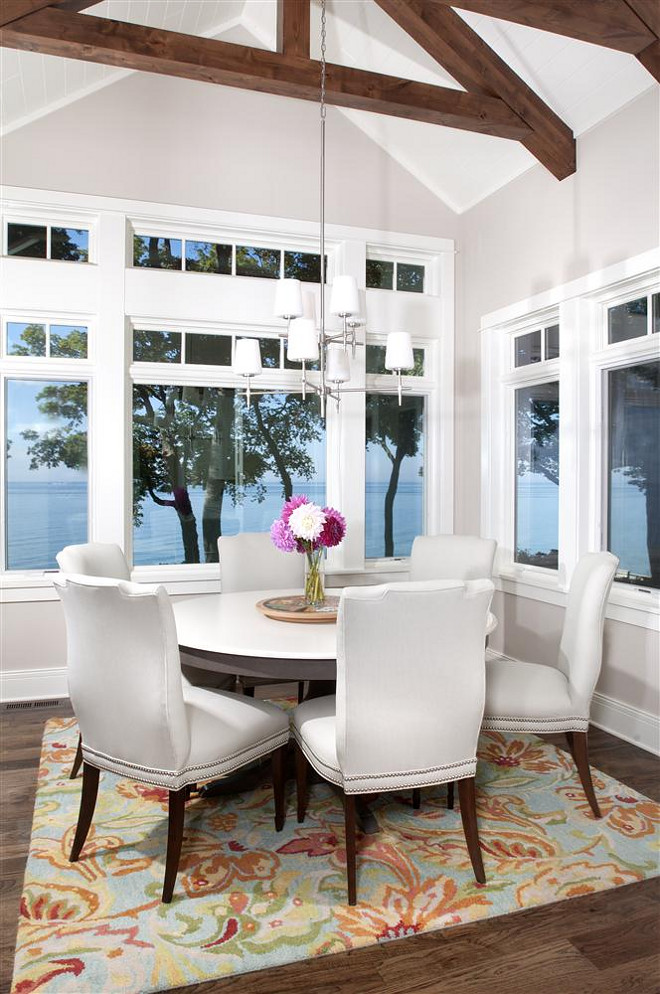 Who wouldn't love to dine every day with a view like that?!
The hickory flooring was stained to match Minwax Jacobean. 
Comfort Zone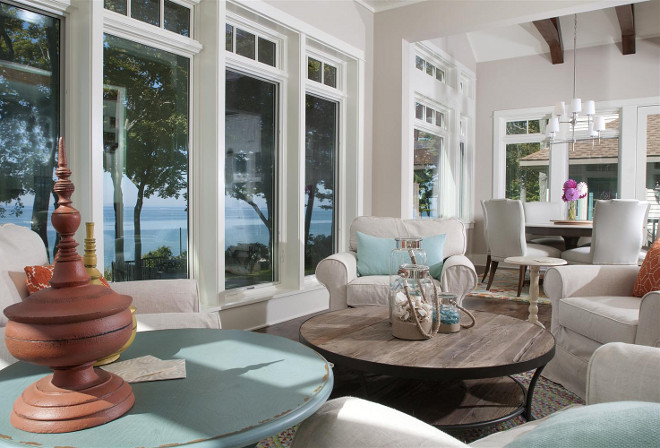 The dining room opens to a cozy sitting area.
Views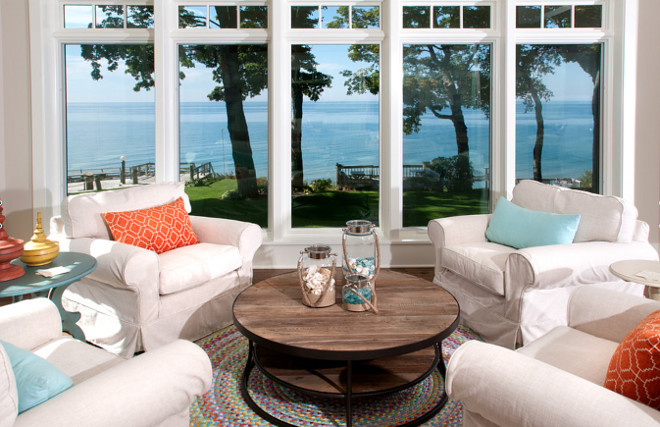 Panoramic views of Lake Michigan can be seen through 8-foot tall windows in the sitting area of the living room. Vivid pops of color appear throughout as seen in this comfy lounging area that provides a perfect spot to watch the sunset over the lake.
Living Room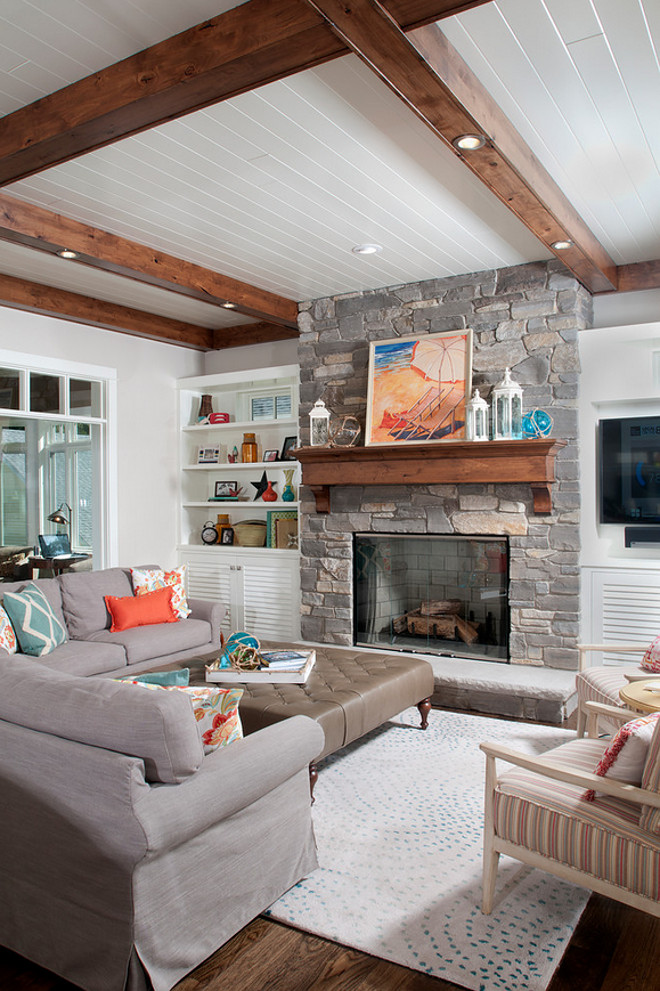 Hickory hardwood floors and alder wood ceiling beams lend character and warmth to the laid-back setting. The same stone that adorns the exterior appears on the fireplace. Built-in cabinetry that serves as an entertainment center contributes to the comfortable surroundings.
Coastal Living Space
This living room features a Black River Ashlar stone fireplace.
Similar wall paint color: Benjamin Moore Baby Fawn OC-15.
Colorful Laundry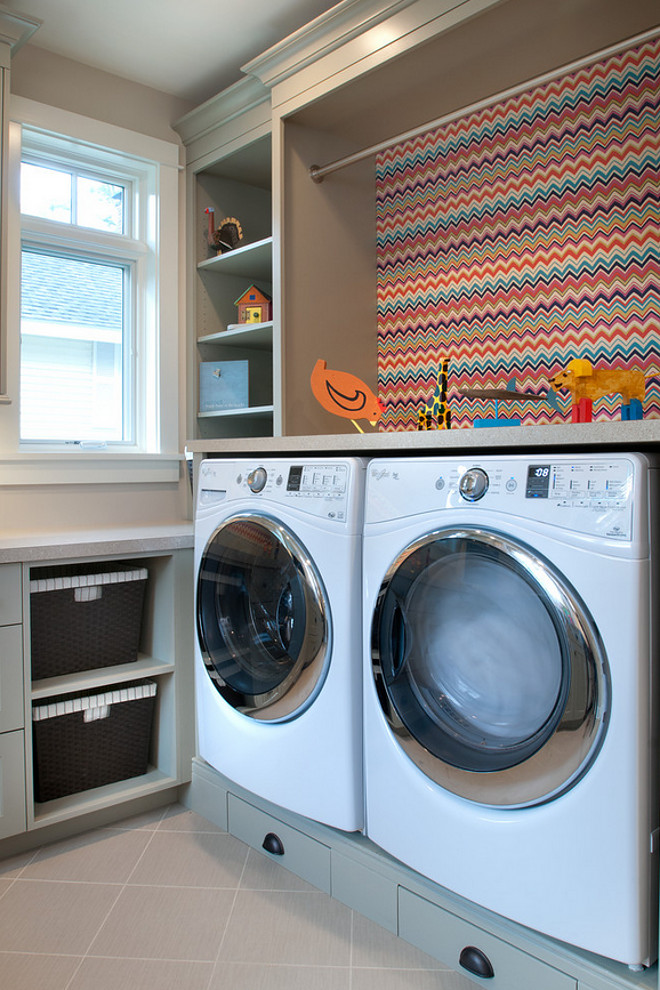 Laundry room features gray cabinets and a colorful chevron wallpaper behind washer and drawer. Isn't it a fun idea?
Flooring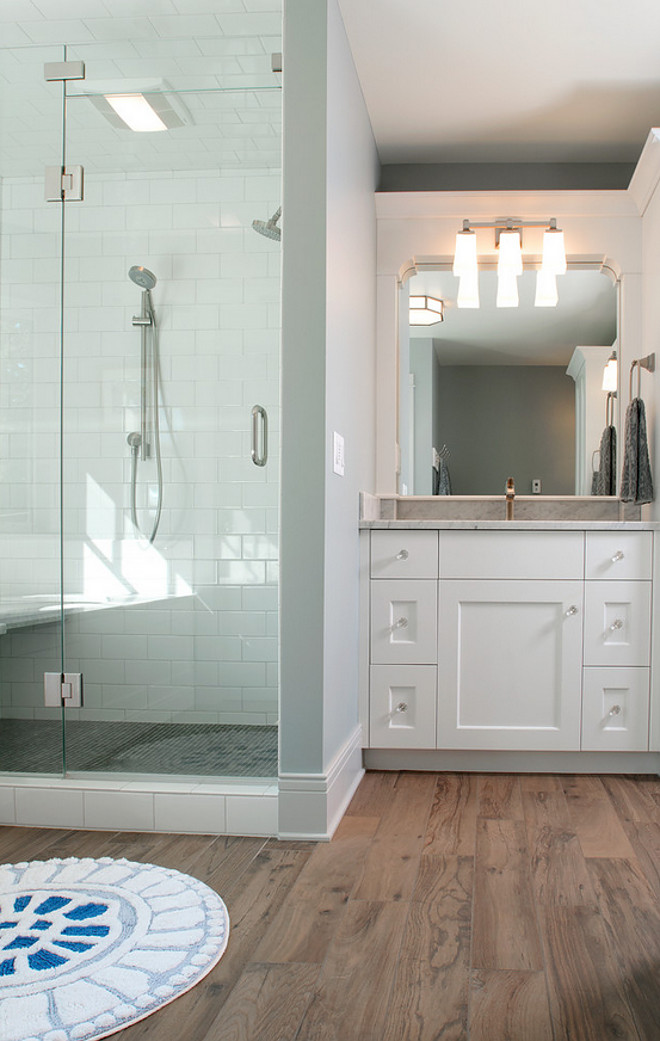 These are hickory hardwood floor in 4″, 5″ and 6″ random setting. Rivershores Flooring is the supplier.
 Home-Sweet-Home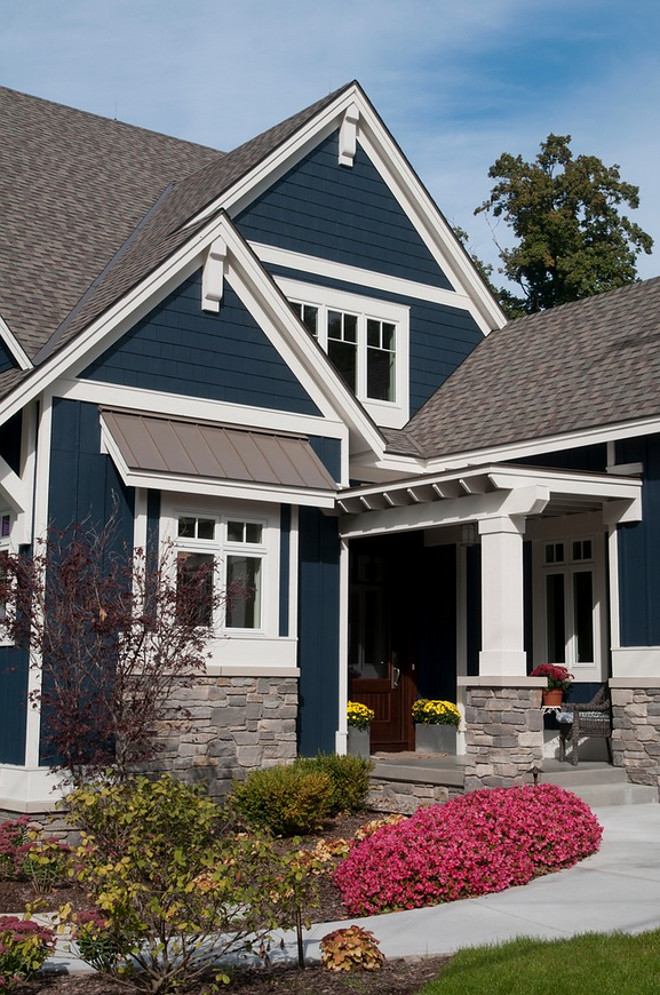 The exterior of this cottage sets the tone for the coastal style that features durable fiber cement siding that will withstand the lakeshore elements, painted a unique shade of nautical blue, Benjamin Moore Hale Navy, with contrasting white trim. Michigan's own Black River Ashlar and a standing seam roof done in champagne metallic further accentuate this waterfront home's curb appeal.
Timeless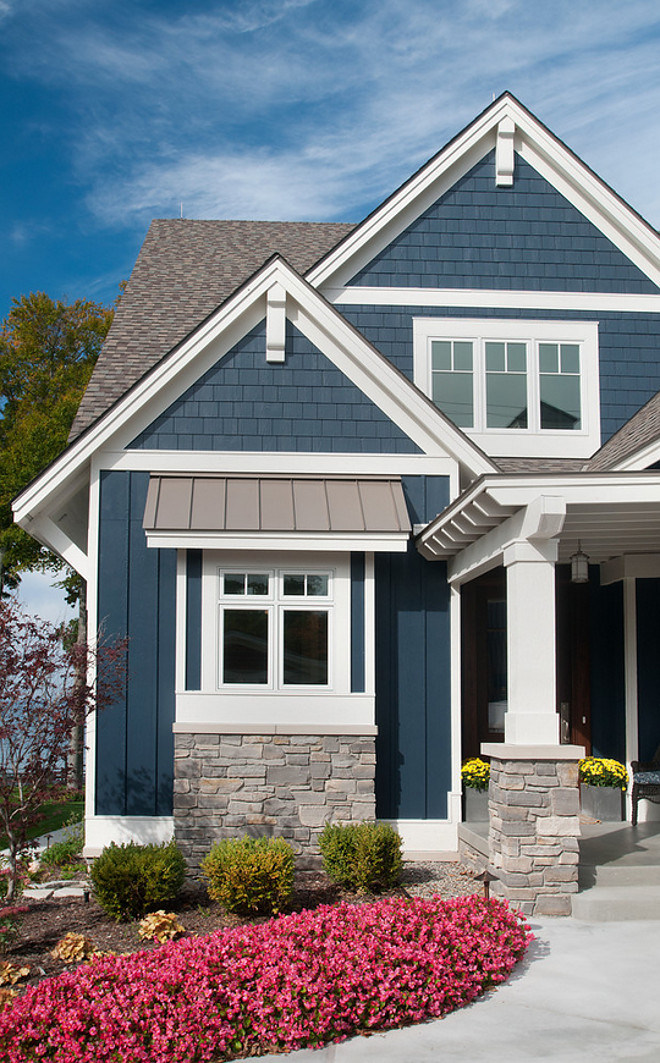 Navy siding with white trim is crisp, timeless look that works perfectly with the architectural details of this home.
Windows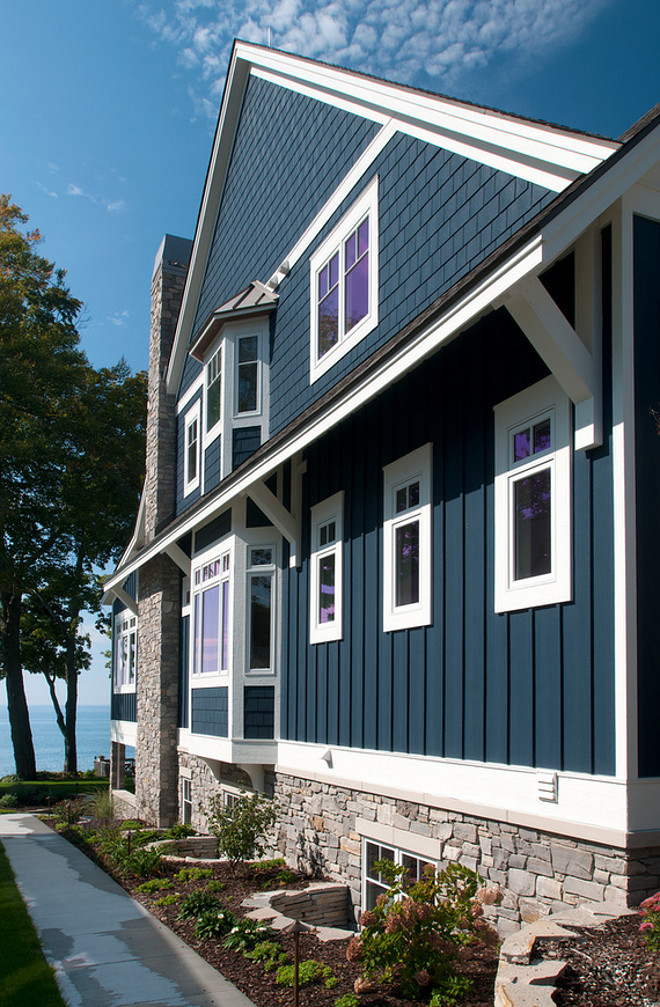 The exterior features include trusses and transoms over multiple windows, siding, shutters and stone accents throughout the home's three stories.
Stone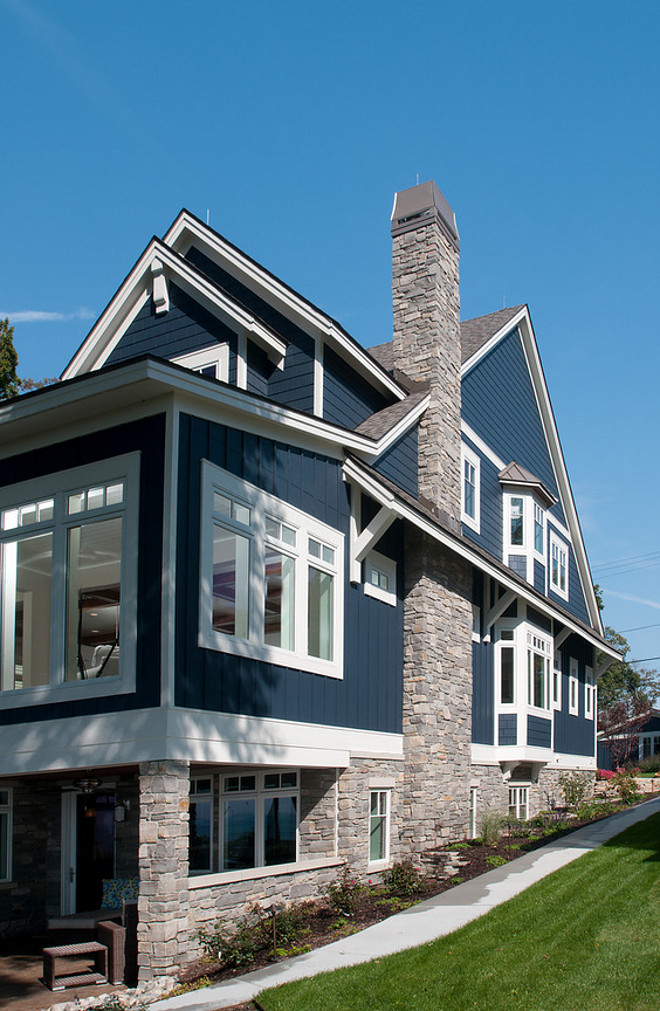 The exterior stone is Black River Ashlar.
Lake Cottage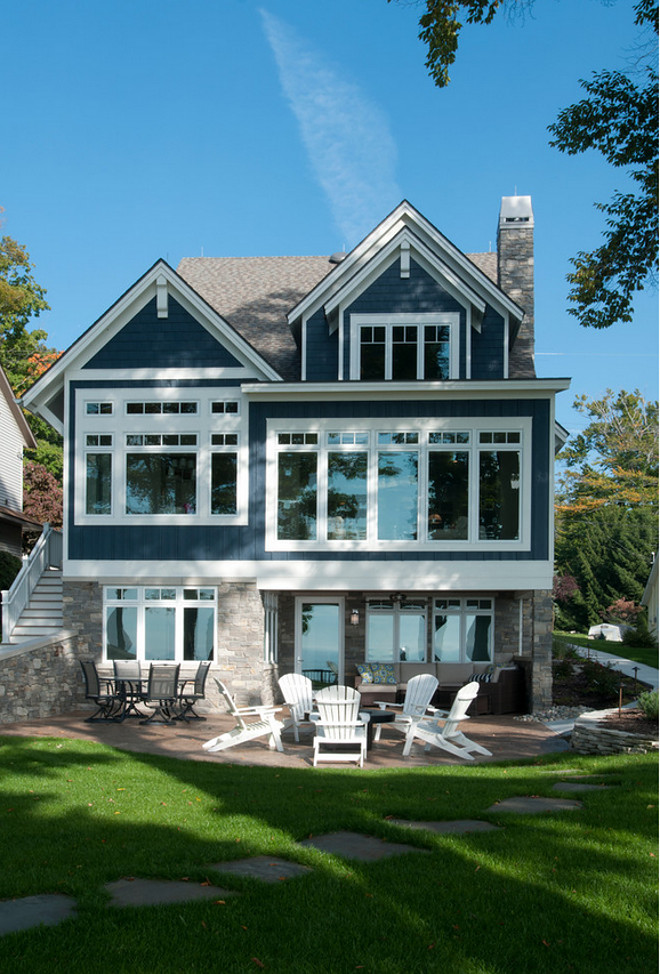 Wouldn't it be great to leave all the stress behind and spend your summers here?
See more Inspiring Interior Design Ideas in my

Archives.
Interior Design Ideas:

Paint Color
Isn't this a great place inside and out? I love the navy exterior with the gray stone, the dreamy lake views and that amazing kitchen! I hope you enjoyed seeing this home as much as I did! 🙂
It's raining here and quite cold… I've baked some bread yesterday and will enjoy some of it today. I woke up and the house still smells freshly baked bread and this bring memories of my grandmother. She used to bake bread for us almost every week and I remember coming back from school and feel happy every time I opened the door and smelled her bread. 
Furniture, decor, walls can't create a home. The people that lives in it are what really transforms a house into a home.
Create special memories where you live.
See you guys tomorrow!
with Love,
Luciane from HomeBunch.com
Interior Design Services within Your Budget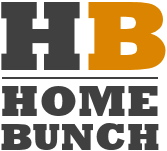 Get Home Bunch Posts Via Email

Sources: Photography by Chuck Heiney. Architect: Wayne Visbeen. Cabinets: Benchmark Design Studio. Builder: Mike Schaap Builders.