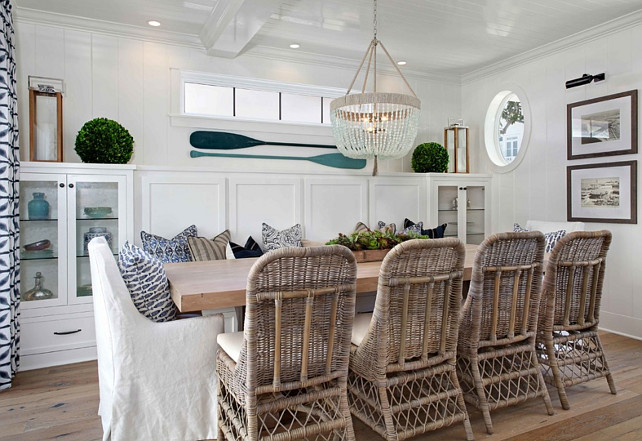 Designed by Blackband Design and located in Newport, California, this home was designed with a classic navy blue and white color palette, welcoming dreamy ocean views which can be seen from the main rooms.
With its Cape Cod inspired design, this beautiful beach house is great for entertaining! It features a practical kitchen with trendy countertop choices and plenty of bedrooms for all the guests.
A modern twist was added to its coastal interiors, making this beach house a magical place to live or spend your summers in. Let's start dreaming!
Beach House with Inspiring Coastal Interiors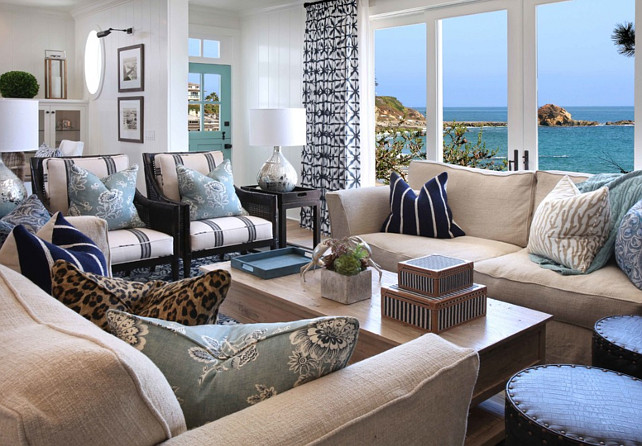 With close-in ocean views, this living room is the most popular room in the house. Neutral furnishings are complemented with a classic coastal palette.
Coffee Table Decor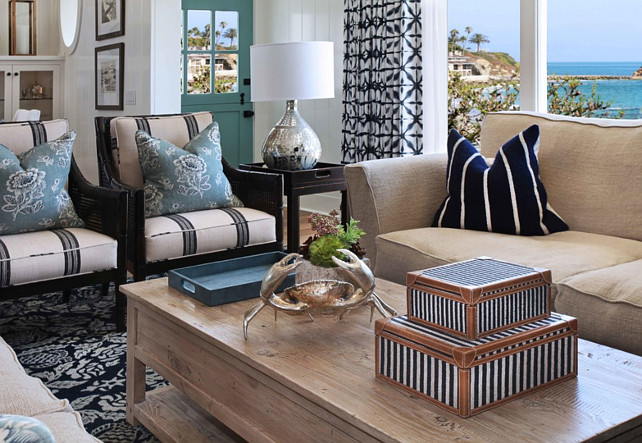 I always like to display something special and unique on coffee tables. This is also an opportunity to tie the space together. Here, the designer continues applying the neutral and navy blue and white color palette. Beautiful!
Family Room Bookshelves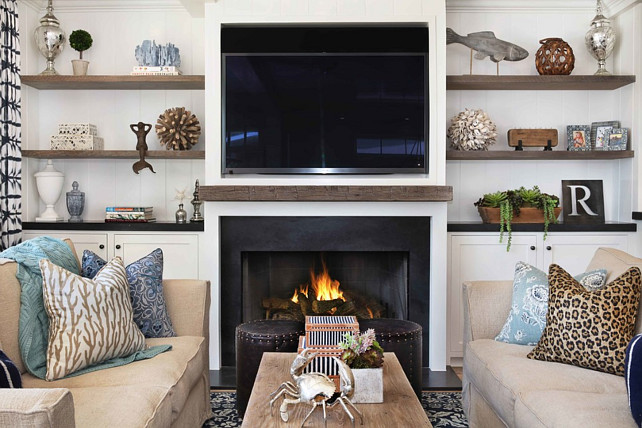 I often have clients wondering how they should decorate their bookshelves. I recommend you to display things that are important to you, but at the same time, try to keep an cohesive aesthetic. Since this is a coastal home, coastal decor was beautifully added along with personal items, such as the family photos.
Hamptons Kitchen Inspired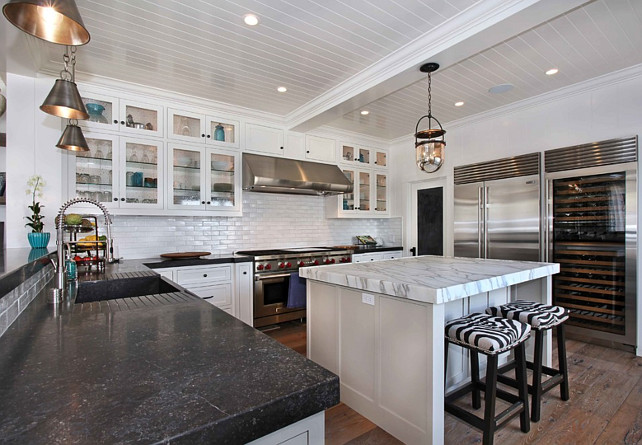 The kitchen features white perimeter cabinets topped with honed granite countertop. The kitchen island features white marble countertop lined with zebra barstools. This kitchen feels clean, fresh and timeless.
Dining Room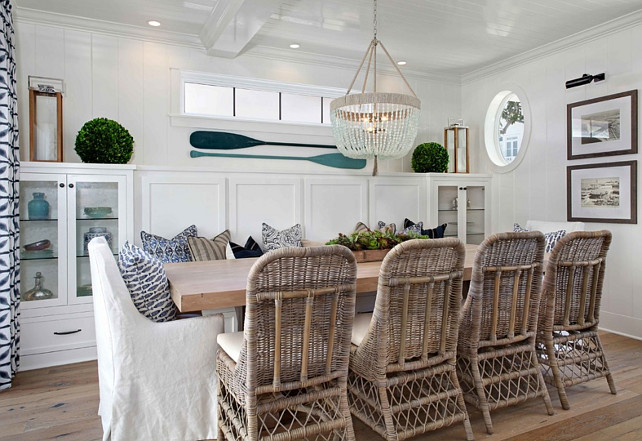 This chic coastal dining room features a turquoise beaded chandelier, "Ro Sham Beaux Malibu Chandelier". I love this room!
Paint Color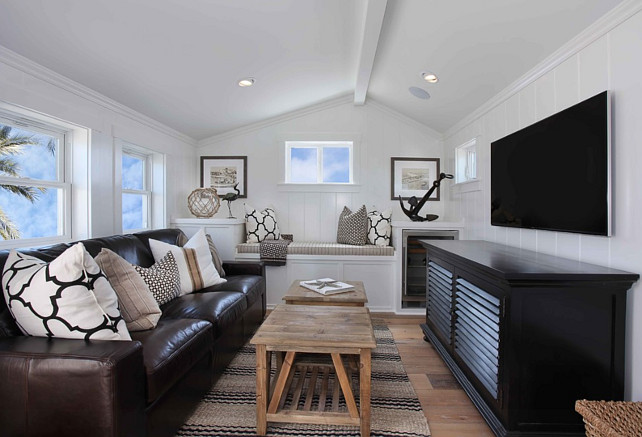 The paint color in the entire house is: "Dunn Edwards Droplets".
Window Seat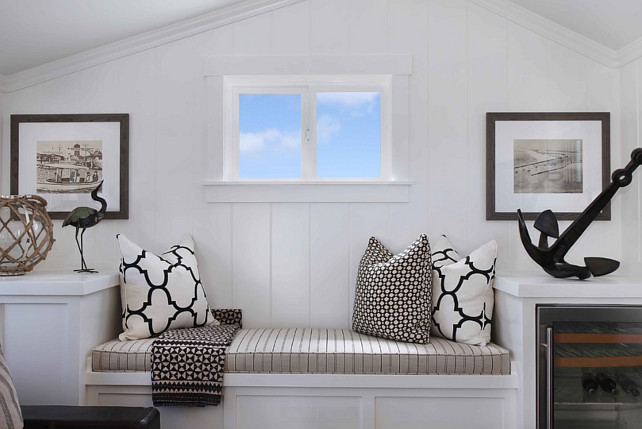 Adding window seats is something that I often recommend to my clients. I feel they are worth the investment and you always see the return should you want to sell your house. They not only add character and a "custom feel" to your home, but they also add extra storage, which is bonus!
Basement Family Room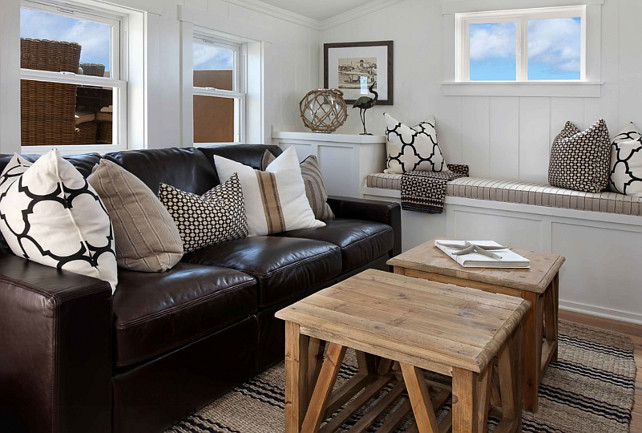 Great splashes of dark browns and black give a more masculine approach to this space.
Guest Bedroom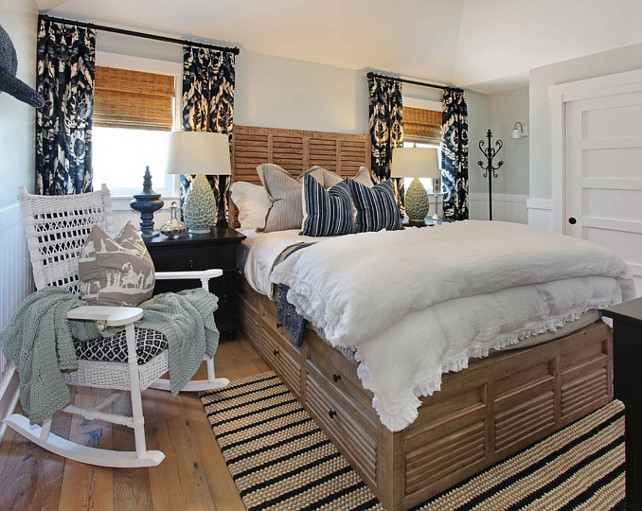 This small bedroom is all about embracing comfort and coziness.
Bed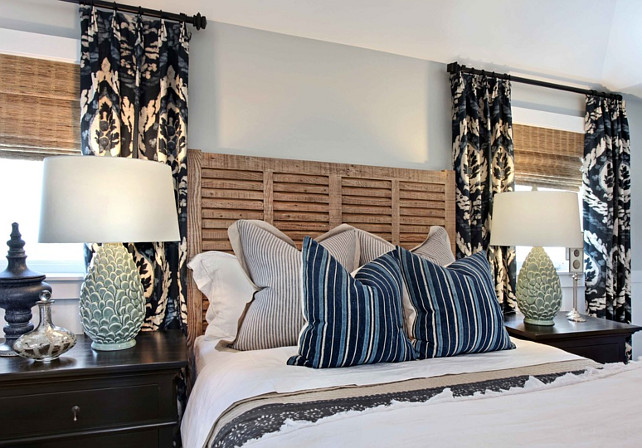 This bed adds character and storage (see picture above), which is always a must in any small space.
Teen Bedroom Decor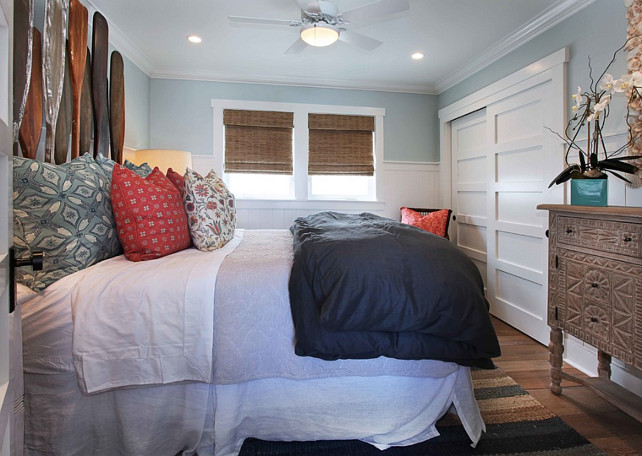 This coastal inspired bedroom has a casual feel, which is perfect for teenagers.
Headboard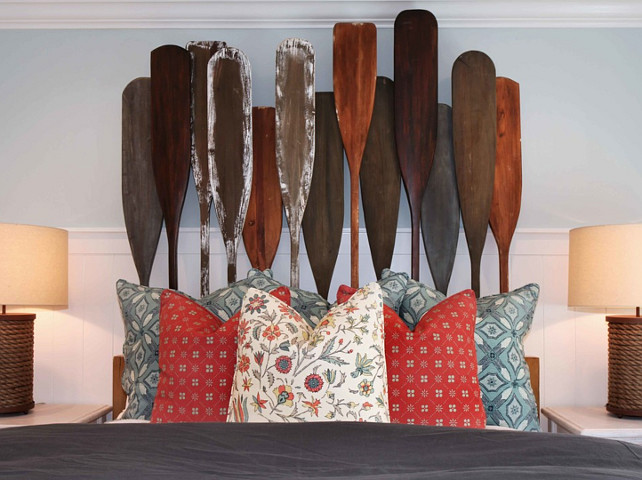 Isn't this cool? Great idea for coastal homes!
Coastal Beauty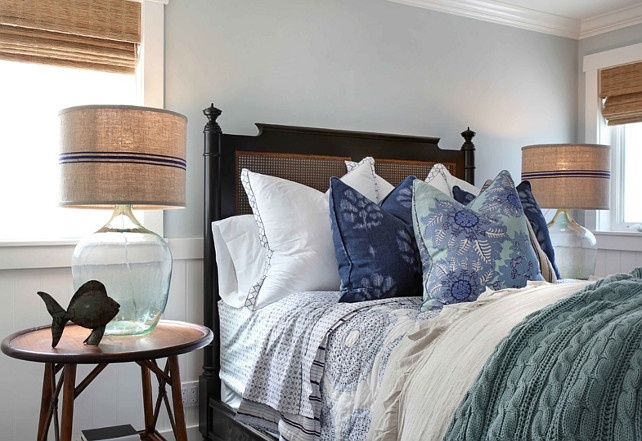 This might be a small bedroom, but it is certainly big in personality. What guest would not adore this space, right?
Master Bedroom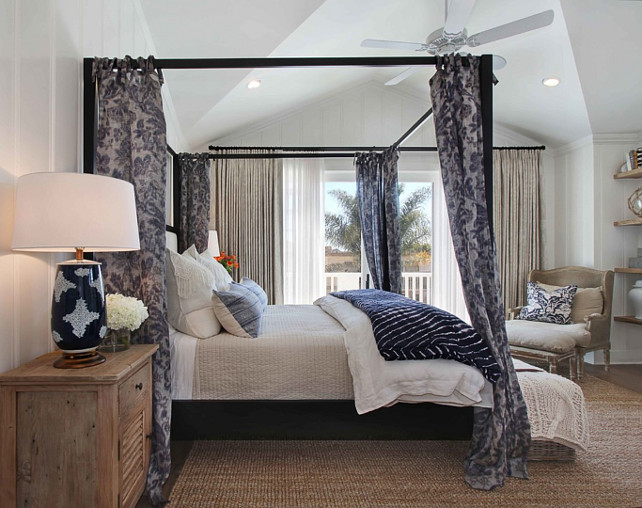 The main color palette of the house is brought also to this stunning master bedroom.
Coastal Decor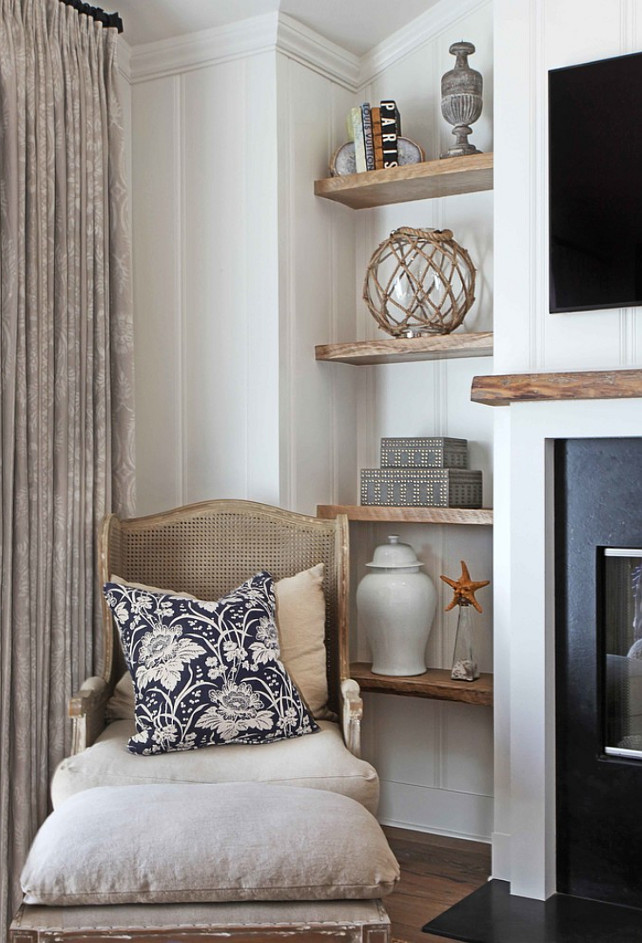 Classic elements get a fresh approach in this room.
Sweet Dreams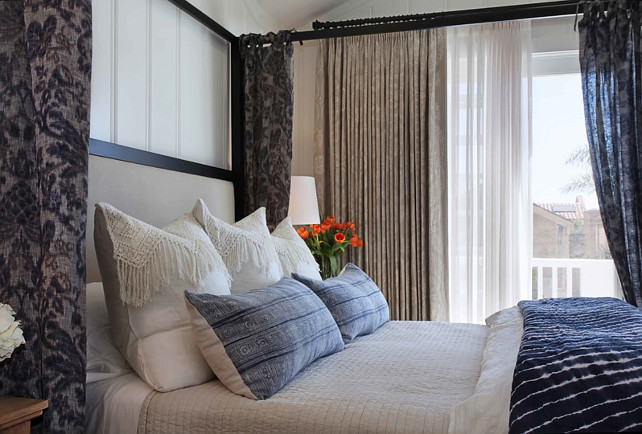 Gorgeous draperies adds privacy and a sense of coziness to this bed.
Bedding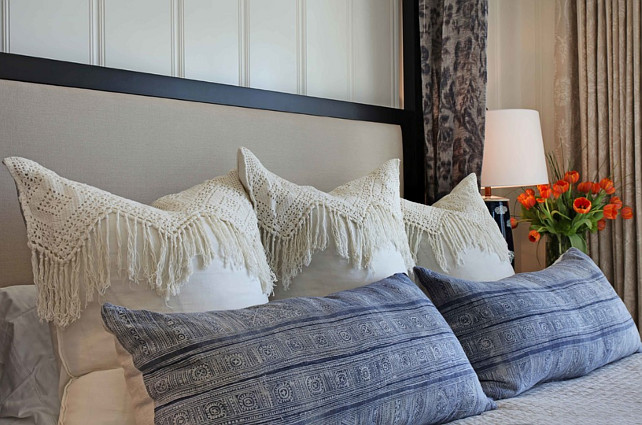 A romantic take on blue and white decor.
Coastal Lifestyle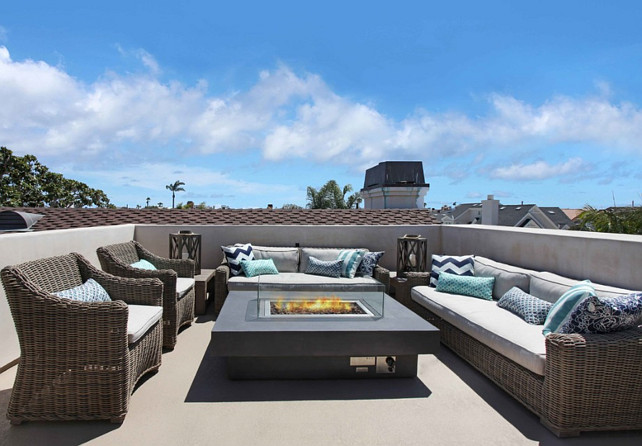 This roof top offers amazing ocean views (not seen here) and lots of privacy.
Wouldn't be great to spend hours here with some close friends?
Many thanks to the designer for sharing the details above!
Sources: Blackband Design.
See more Inspiring Interior Design Ideas in my

Archives.
Interior Design Ideas:

Paint Color
Interior Design Ideas:

Paint Color
How are you all doing this Tuesday? I am feeling so good! Let me tell you this… I always have loved coffee and I remember asking my mom to drink coffee since I was a small child – not that she would le me, but I was always asking! 🙂 The smell of fresh coffee always got me and the taste? I simply never thought I could go for a day without my morning cup of java. This is changing for me… sadly. I decided to quit coffee since last Saturday because I have being going on treatment for stomach ulcer since last April and it gets more painful every time I drink coffee.
I felt so down the first day without my caffeine. I had a huge headache and felt without any energy. And look, I used to drink only one to two cups of coffee a day! I admit I am missing coffee terribly! I wake up every morning craving it and my breakfast just lost a little of its appeal to me, but let me tell you… I have so much more energy and my pain in my stomach is finally disappearing! Like my husband said today, I don't have to quit coffee forever, but at least until I am feeling 100% again. Meantime, I will keep focusing on the positives of taking a break from it.
Have you experienced any change in your body after quitting certain kind of food? It's amazing how simple changes sometimes can bring you to feel yourself again, isn't it?
We'll talk again tomorrow!
with Love,
Luciane at HomeBunch.com
Interior Design Services within Your Budget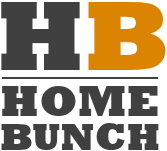 Get Home Bunch Posts Via Email