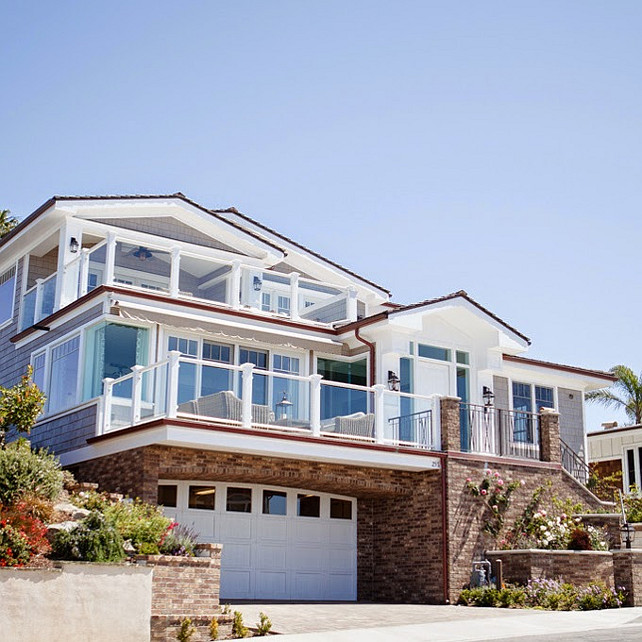 Located on the sandy shores of San Clemente, California, this beach house was beautifully designed by Owens and Davis with stunning neutral coastal interiors and a very soothing color palette.
The home's approach to its natural surroundings is evident in every room. Neural colors and natural materials are always embraced by the design, making the entire space feeling easy and comfortable.
Get inspired by the calming color palette this home offers and try to have a peaceful day…
Beach House with Neutral Color Palette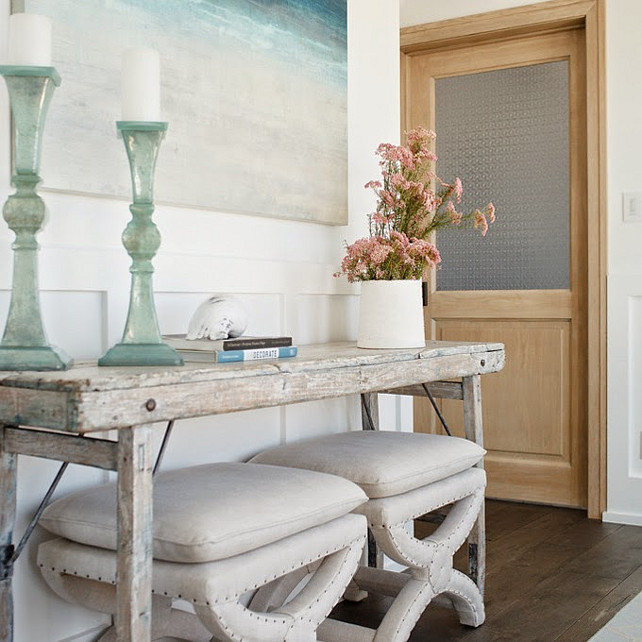 Gentle colors and a coastal feel welcomes you in the foyer.
Benches are from Restoration Hardware.
Natural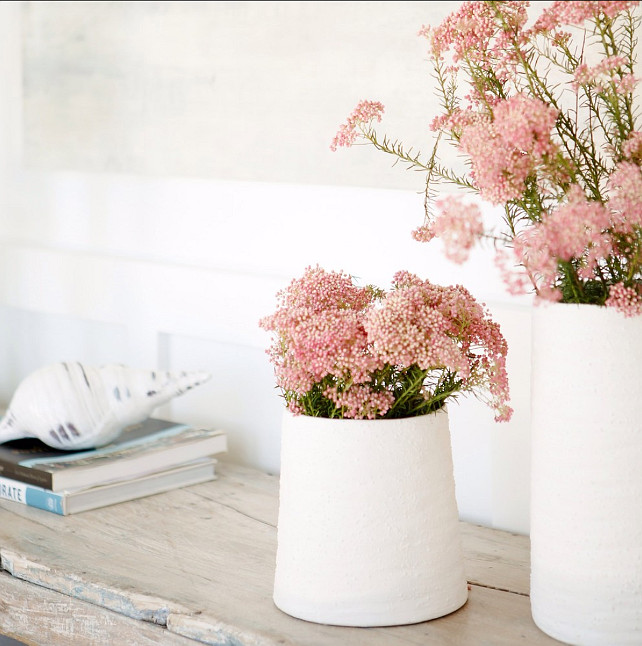 Nothing is better than fresh flowers to bring color and beauty to your home. Add them to your shopping list. You deserve them! 🙂
Foyer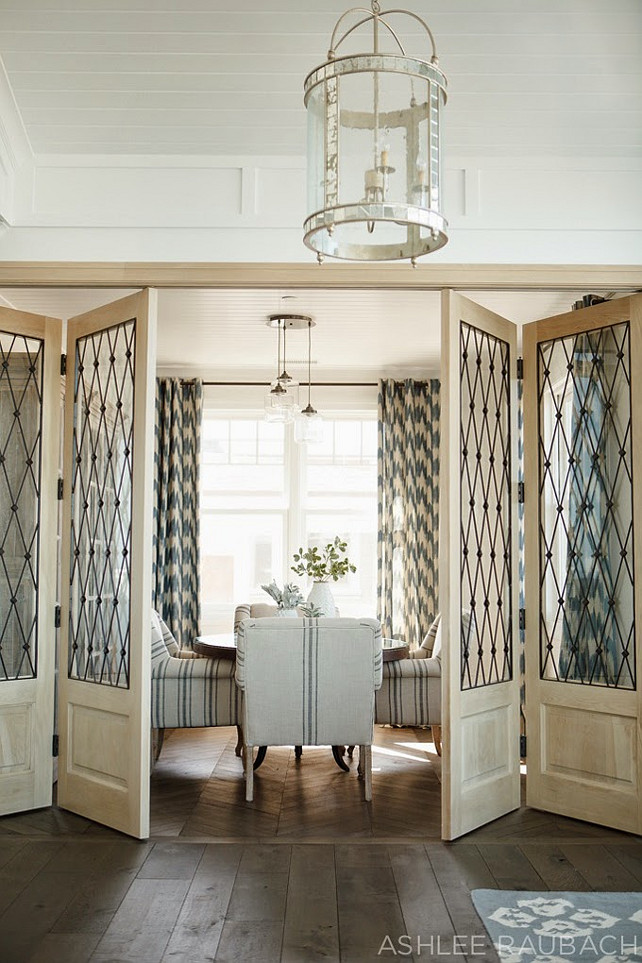 Stunning bi-fold doors separates the foyer from a very intimate dining room. Notice the gorgeous flooring.
Dining Room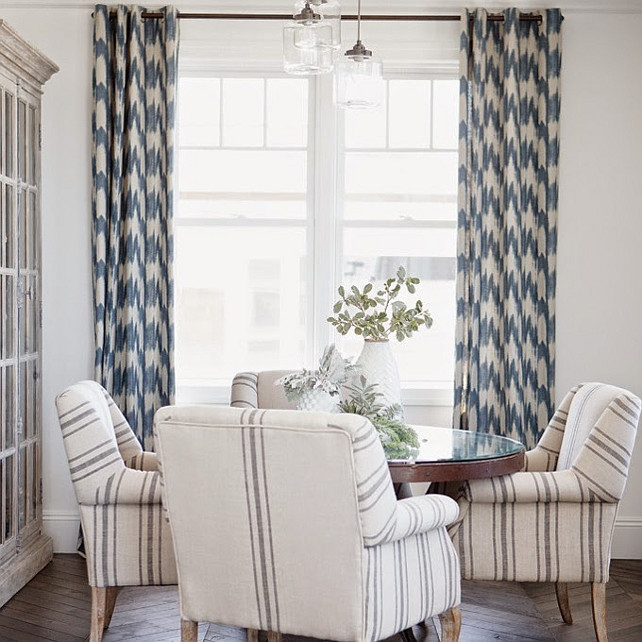 This dining room is very cozy but it's full of personality and comfort.
Living Room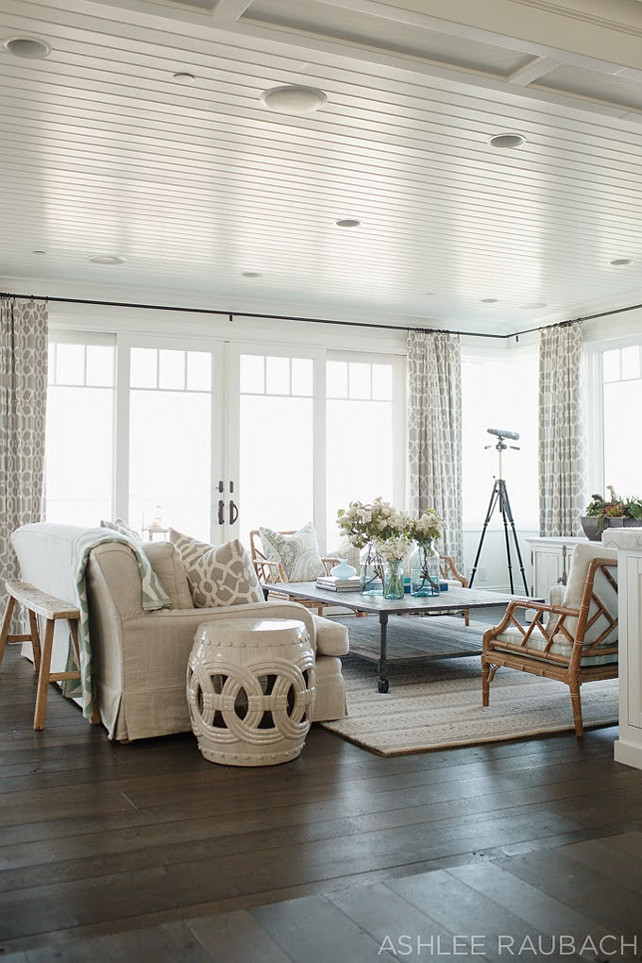 The living room is sophisticated without being stuffy. Neutral colors work beautifully against the white walls and dark hardwood floors.
Details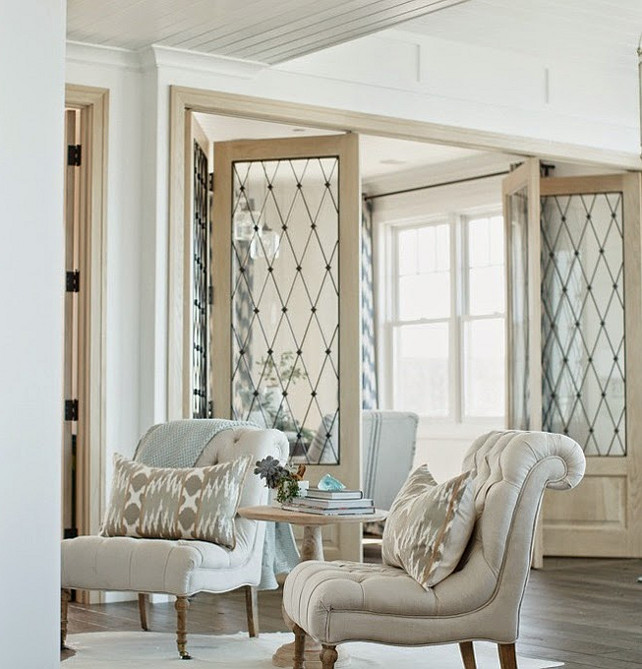 Another look of the charming doors.
Fireplace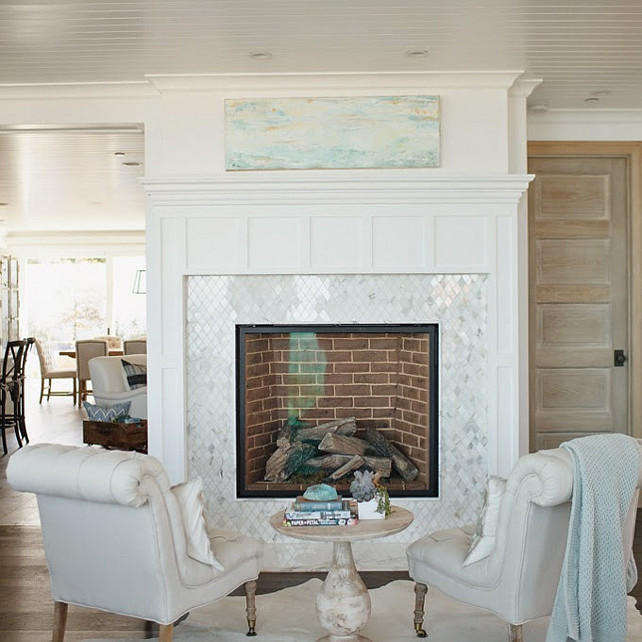 This is a great place to spend a quiet time by the fire in a chilly night. Wouldn't you love to read your favorite book here?
Notice the diamond shaped marble tiles on the fireplace.
Kitchen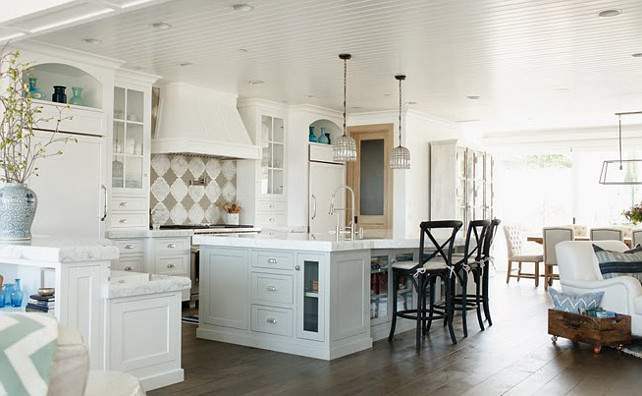 How not to fall in love with this kitchen, right? This kitchen has everything I love: white cabinets, a large island, wide plank hardwood flooring, white marble and beadboard ceilings.
Similar Island Paint Color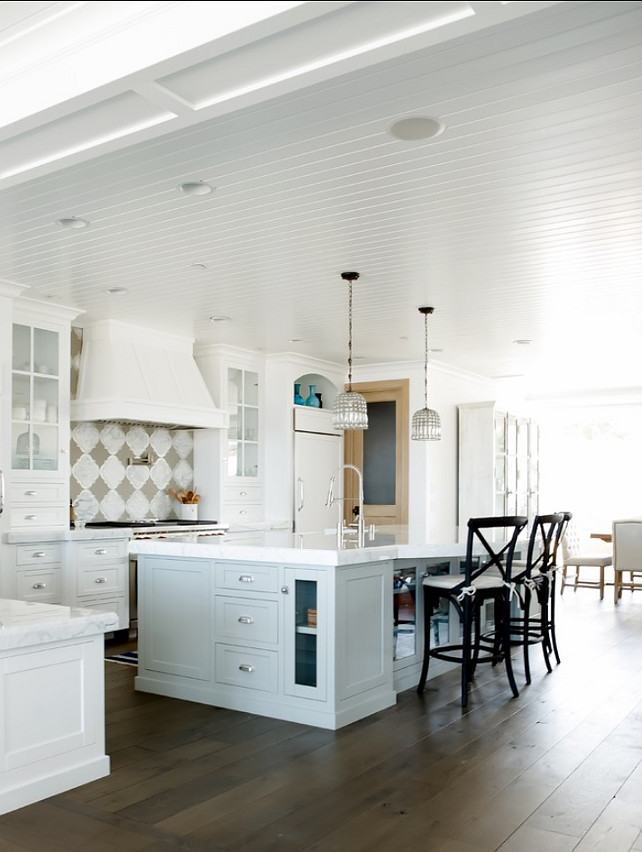 "Benjamin Moore Silver Gray 2131-60".
Backsplash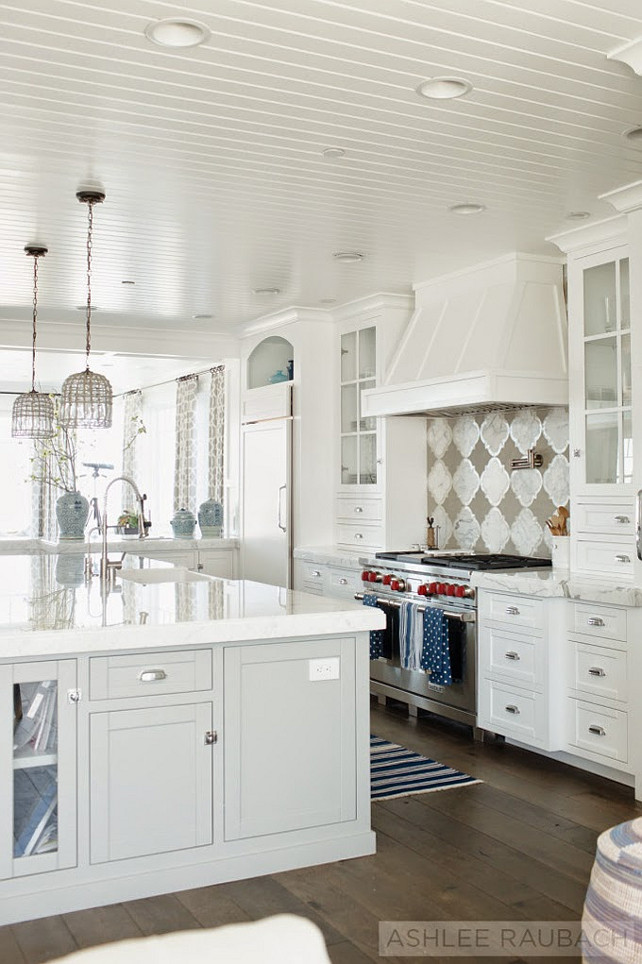 Anchored by white cabinetry, the backsplash steals the show in this kitchen.
Pantry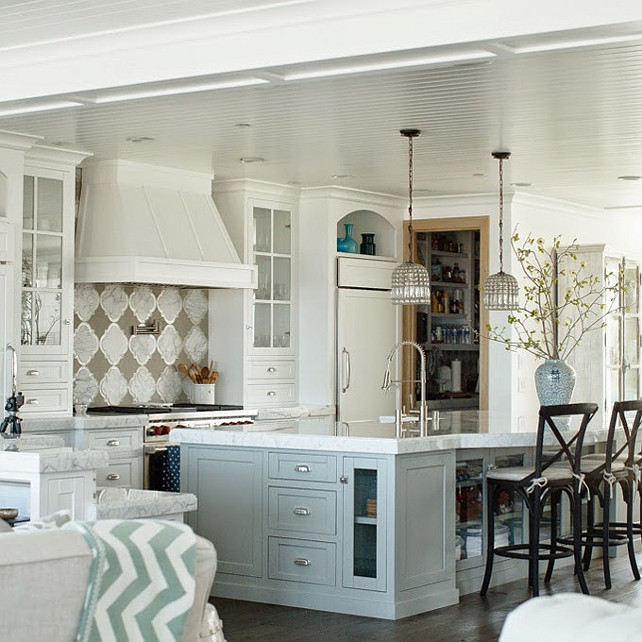 A very useful pantry was added to offer storage space to this kitchen. A pocket door keeps everything hidden.
Marble -Land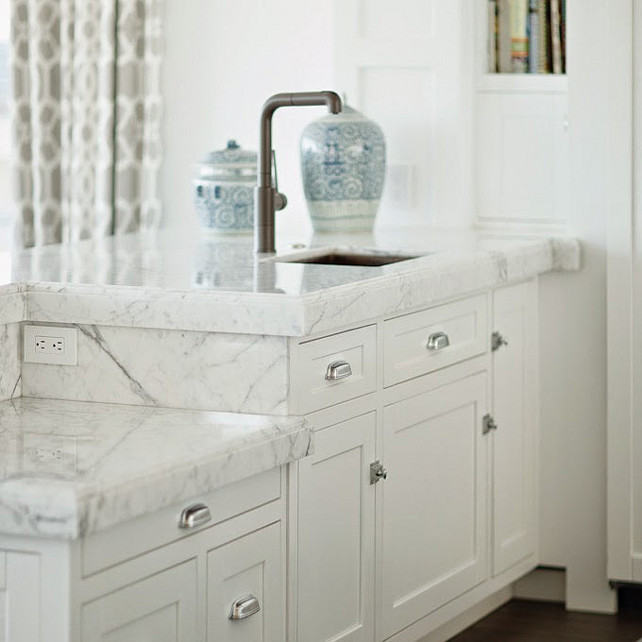 I love this classic combo of white marble and white cabinets. Notice the countertop edge profile.
Storage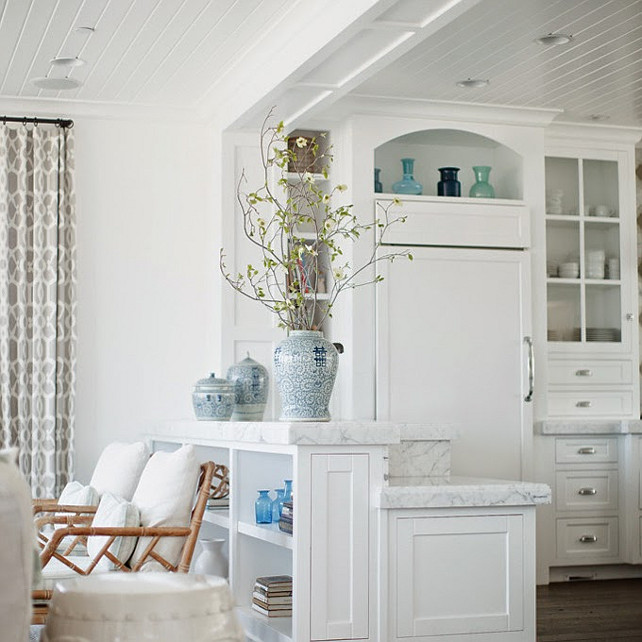 Built-ins add storage space and interest to this main area.
Family Room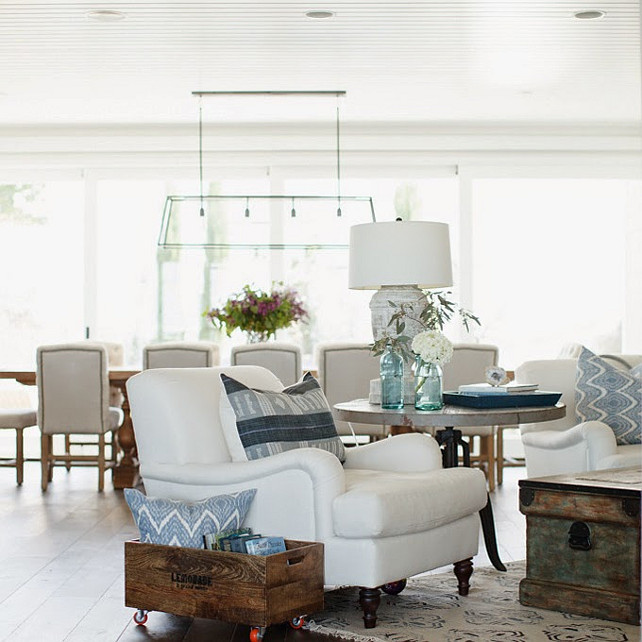 Comfortable furniture brings a relaxing feel to the family room. I am loving the blue and white motif!
Books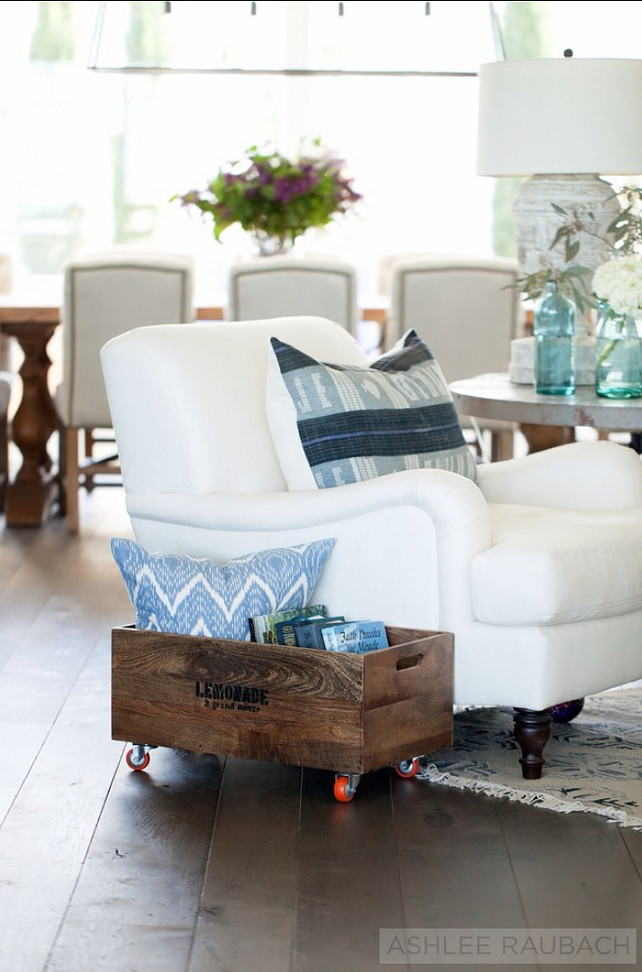 It's easy to keep everything handy, from throws, to pillows and books with this rustic wooden storage box.
Dining Area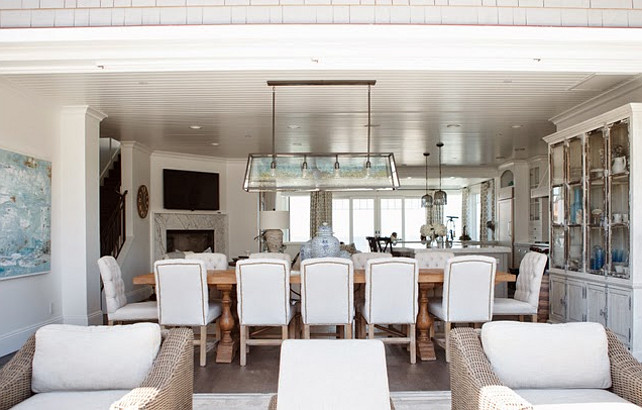 This is where you bring everyone to eat if you have a crowd!
Lighting is from "Restoration Hardware".
Cabinet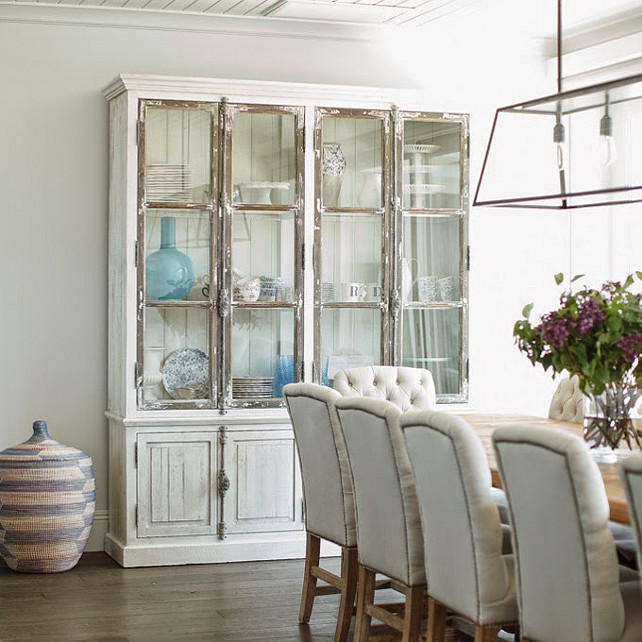 I am loving this cabinet. Isn't it beautiful? Notice the decor.
Guest Bedroom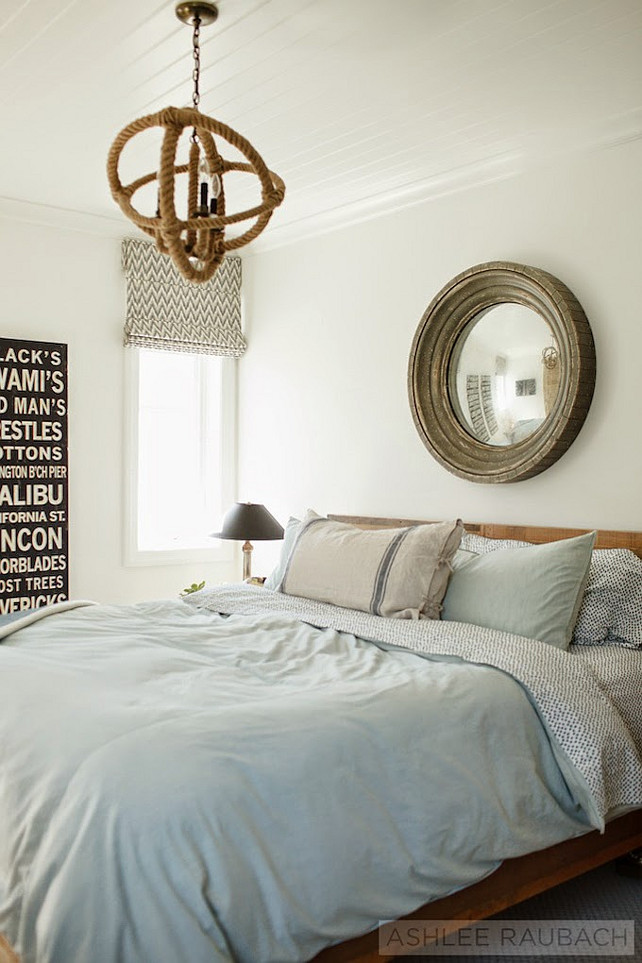 The guest bedroom has a transitional, rustic feel. Great lighting!
French Guest Bedroom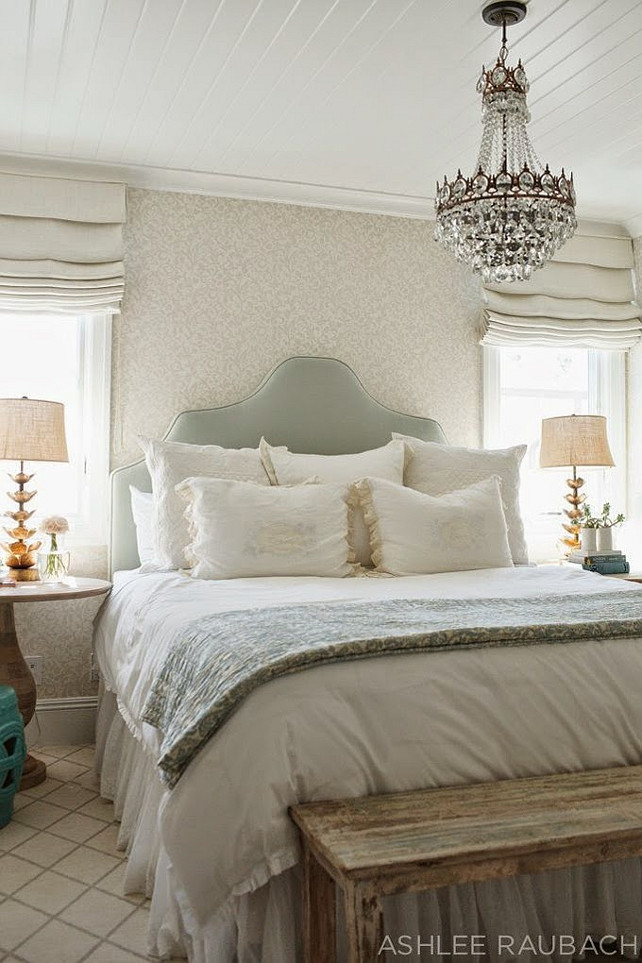 This romantic guest bedroom is delicate and full of pretty details. Notice the custom bed.
For Her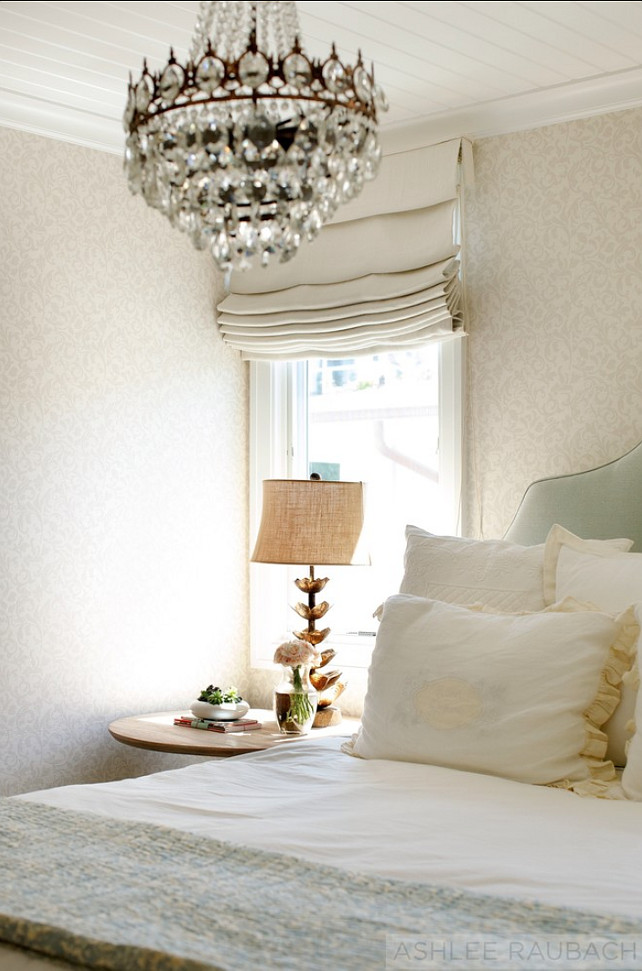 Stunning bedding and wallpaper.
Master Bathroom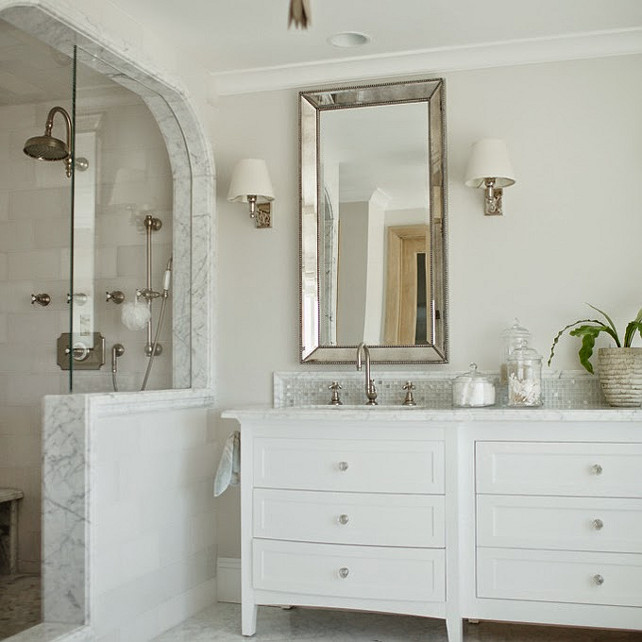 I am currently designing a bathroom for a client and I feel completely inspired by this shower and vanity. This bedroom is sleek and classy.
Freestanding Bath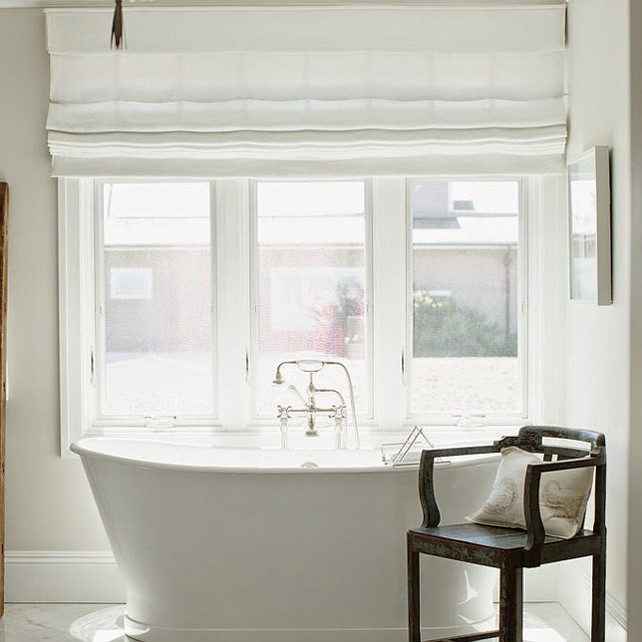 A spot to leave any kind of stress behind…
Master Bedroom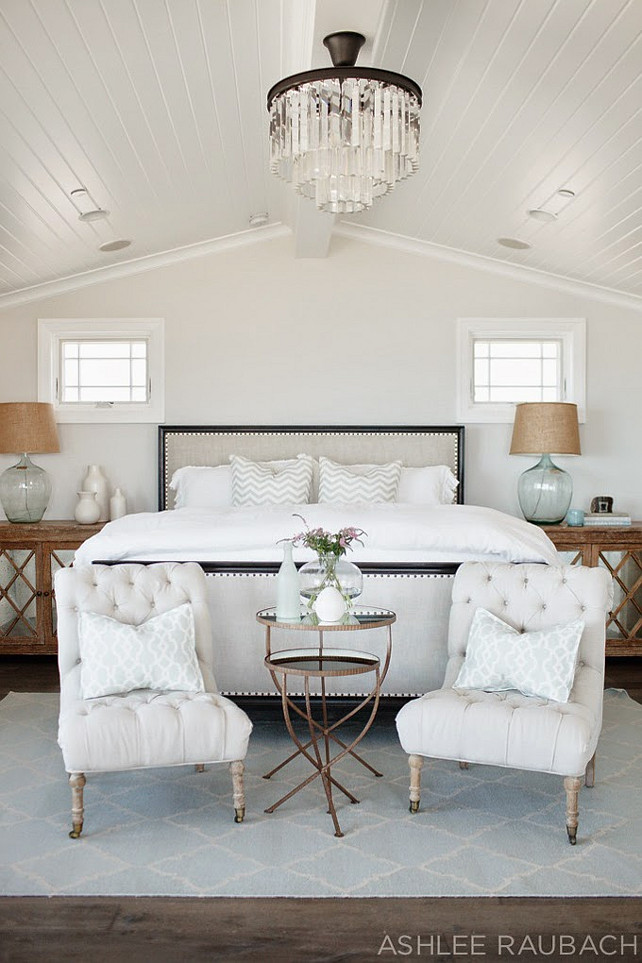 How perfect is this bedroom, right?! I wouldn't change anything in this space. It's perfect as it is!
Bed is from "Restoration Hardware".
View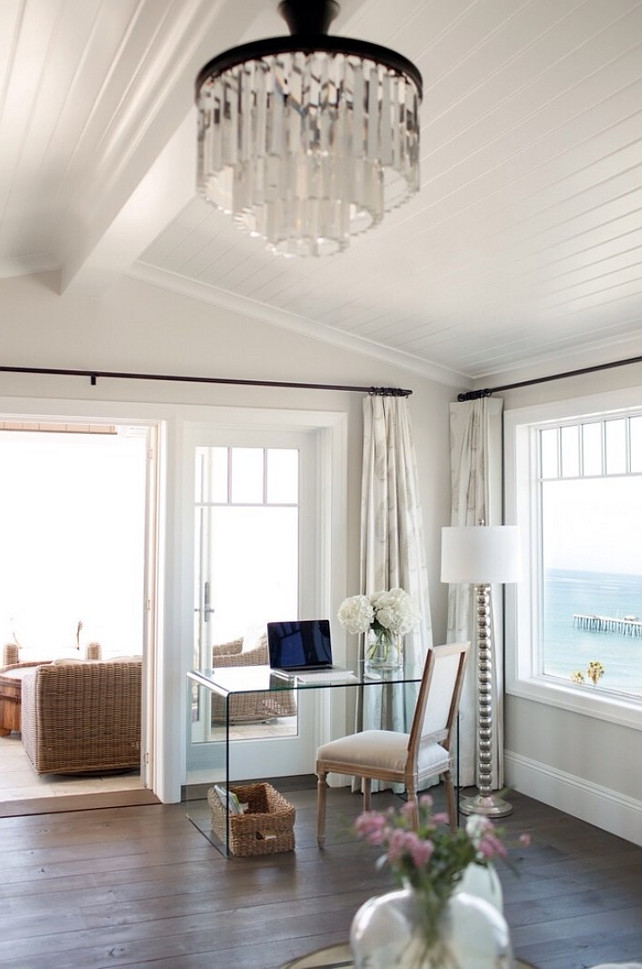 This is my kind of "home office"! Did you notice the view? 🙂
See more Inspiring Interior Design Ideas in my

Archives.
Interior Design Ideas:

Paint Color
Interior Design Ideas:

Paint Color
Hello, my wonderful friends! I hope you're feeling great today! I am having a busy week, from working on the project I mentioned before to getting ready for Thanksgiving. Are you guys all ready for that yet?
Yesterday I spent the day cooking… I was craving a soup my late grandmother used to make when I was a kid. I never made this particular soup with her, but my husband helped and it turned out to be very close to hers.
Many of you know how much my grandmother meant to me and although I am more understanding of her passing, I still miss her dearly. Last night I was sad because whenever I wanted to cook something she used to make, I would call her and ask. She always loved to hear I missed her food, and now, for the first time I could not do this.
Then, last night I had a dream… I was sitting with my mother in my grandma's house and she suddenly came to talk to us. My mother and I immediately asked her how heaven was and she said these words: " You can feel God in everything"! In that moment, it was as if I saw a very peaceful place with so much light… a warm, comforting light. Soon after that she left…
I wasn't sure if I was going to share this here for many reasons but you guys know how I am… I always share what's going on with me and this dream is really deep in my heart right now.
What makes me think the most is that last night I was sad and I (in prayer) told my grandmother that I am miss her.
We can take this just as dream or maybe a way for me to know that she couldn't be in a better place, which I actually constantly feel. Either way, this dream made me wake-up feeling a peace I don't feel in a long time. My husband even mentioned how different I looked today.
I spent the day cooking one of my favorites soup my grandmother used to make for me and yes, I still miss her, but I also know that her love for me is unlimited.
True love, the kind of love of a mother to child, that… well, that we simply bring with us wherever we go.
Have a Blessed day, my friends.
with Love,
Luciane at HomeBunch.com
Interior Design Services within Your Budget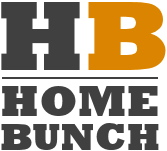 Get Home Bunch Posts Via Email

Sources: Owens and Davis, Ashlee Raubach, House of Turquoise.