It's wonderful to start a brand new week feeling the positive energy Deborah from @blountdesigns brings to Home Bunch today through her bright personality and beautiful home.
I have being following her on Instagram for quite some time now and I have noticed that, besides being a very kind person, Deborah is also the queen of reinventing her home. This is really a gift she has and here she tells us how she does it:
"My home, and making my home a welcoming space and a comfortable haven, is my passion! We all have our various interests, activities, and hobbies in life…but, when all is said and done, the most important focus for all that we do is…family. I want my family to love their home environment and to always feel that it's more than a safe structure and a place to reside…it's a beautiful haven, a place for building warm memories, and an inviting space that always feels like a home and not just a house.
I believe the principles of interior design closely mirror the world of fashion! Colors, fabrics, patterns, and design aesthetics trending in the fashion world, are closely interpreted and then mimicked in the design world, as well. I'm guessing that's where my passion for constantly changing things up with different colors, textures, and accessories originates!!
None of us would want to wear the exact same outfit and accessories for weeks or months at a time. That's where the "art" of switching out pillows, rugs, lamps, artwork, and mirrors comes in! After all, interior design is an art. Keeping a space fresh and updated, and eye-appealing, doesn't mean constantly changing one's design aesthetic. I'll always decorate, design, and choose pieces within the glam, modern to transitional genre, while at the same time, will continually switch out pieces and layer in new ones while still staying true to my style.
You'll "find" your style by choosing pieces that you love, and that feel comfortable and right with your surroundings. Take a look inside your closet…what colors, patterns, prints, textures do you love to wear and feel most comfortable? What jewelry metals do you gravitate toward? Gold, silver, rose gold, smoky slate, brass, or a combination thereof? Those answers will always be a good barometer for defining your design aesthetic and choosing pieces that you'll love in your home… without trying to follow trends.
My formula for changing things up, playing around with different looks in a design, or in a space, and breathing new life and a new "feel" into a room is as simple as making a few accessory and color changes…easy-peasy, really! I love the wide range of flexibility that designing with a neutral backdrop (or the core pieces in a home) affords in a design. I'm a neutral-loving designer, and will always gravitate toward working with neutrals, then layering in a few pops of color. A fresh look can easily be acquired by changing out accessories, pillows, throws, vases, candleholders, flowers/foliage, and artwork, to coincide with the changing color palettes of the different seasons, or holidays. You can also keep a neutral decor interesting by infusing a myriad of materials and textures, i.e., nubby burlap, faux or real fur, leather, linen, silks, suede, rattan, cottons, and, again, with live plants and fresh flowers.
Neutral doesn't mean boring. Instead, a neutral canvas provides the perfect backdrop for adding your own personality! I'll change out rugs, lamps, lampshades, pillows, art, candles, etc., to infuse a different look, against a neutral color scheme.
Have fun with design, and most importantly, let it reflect "YOU"!! I'm sure you've read the profound interior design quote that I love to bring to the forefront in every design: "The details are not the details. They make the design." – Charles Eames. And I could not agree more!! I'm a firm believer that paying attention to the "details" in a design can be "everything" in making a space your own haven".
– Deborah J. Blount
Beautiful Homes of Instagram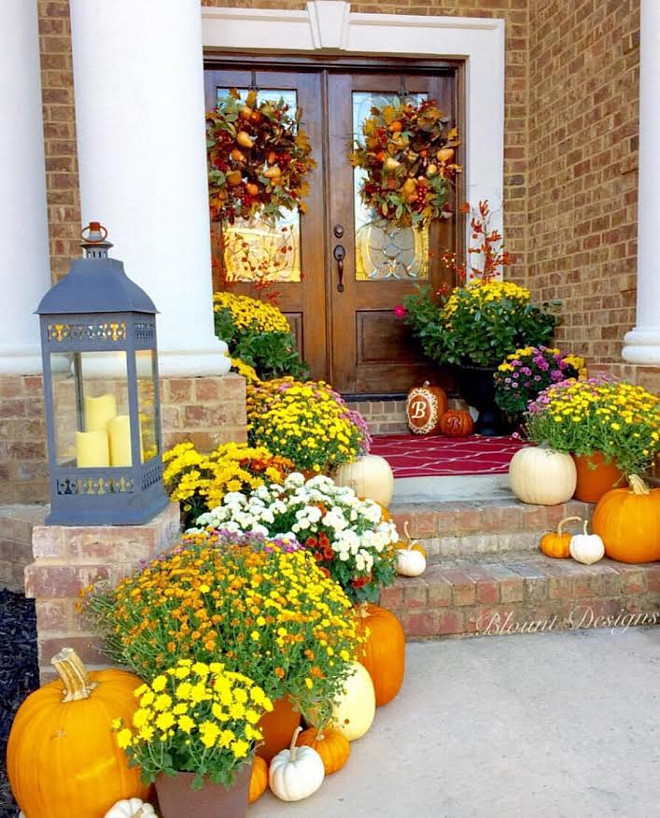 Deborah's home always feels ready for guests! Take a look at how she designed her home for fall. Isn't it impressive?
Foyer
The front doors open to a large foyer with an elegant traditional staircase. Paint color is Sherwin Williams Perfect Greige.
Decor

Beautiful decor is found in every space of this home! I love how Deborah decorated her foyer.
Foyer: Chest: Joss and Main. Corner chair, gray linen with natural wood frame and Reclaimed wood Levico 90″mirror: Restoration Hardware.
Leopard Pillow: Etsy, Studio Tullia. Plant Stand: Target. Candleholder/hurricane, silver vase, French-inspired Lamp Shade: HomeGoods. Lamp: Pottery Barn.
Hardwood Flooring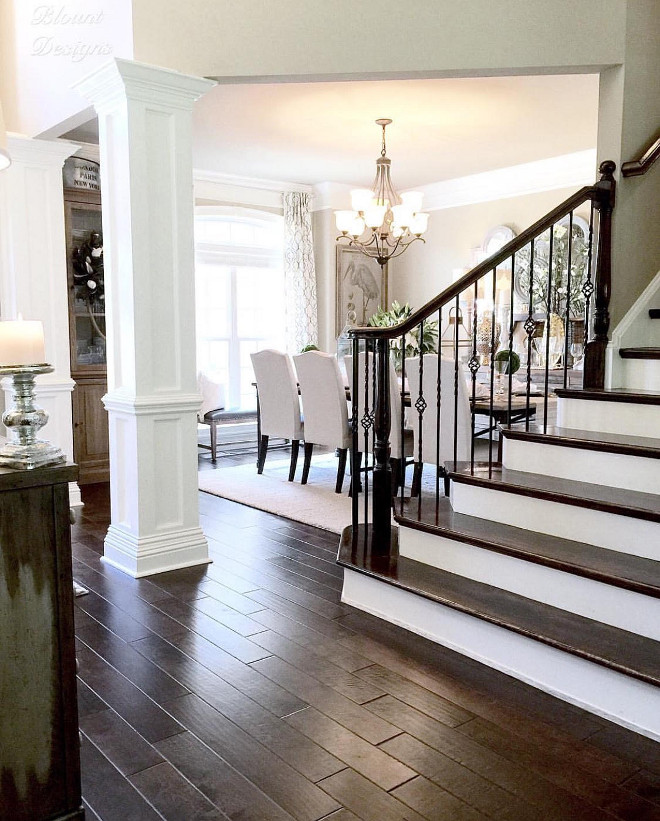 Hardwood floors are hand-scraped distressed chestnut acacia.
Dining Room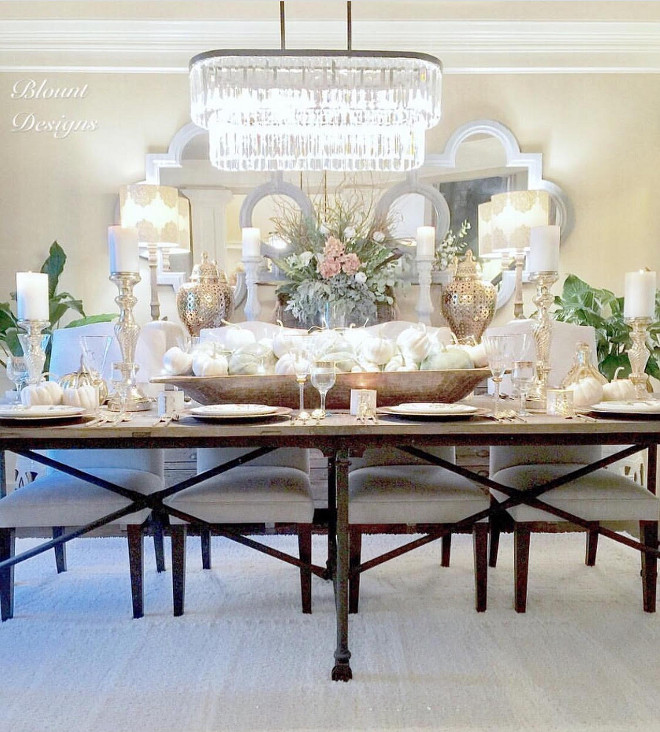 Deborah transforms this room on every special holiday. It's really beautiful to see her creations from season-to-season!
Dining Room Furniture: The Quoizel Valentina Chandelier is from Lowe's Home Improvement. Triple Fez Mirror, Reclaimed wood 106″ dining table, and Chairs: Restoration Hardware.
Linen Dining Chairs: Restoration Hardware . Ivory 8×10 Rug: HomeGoods. Mercury-glass Candleholder: Pottery Barn.
Thanksgiving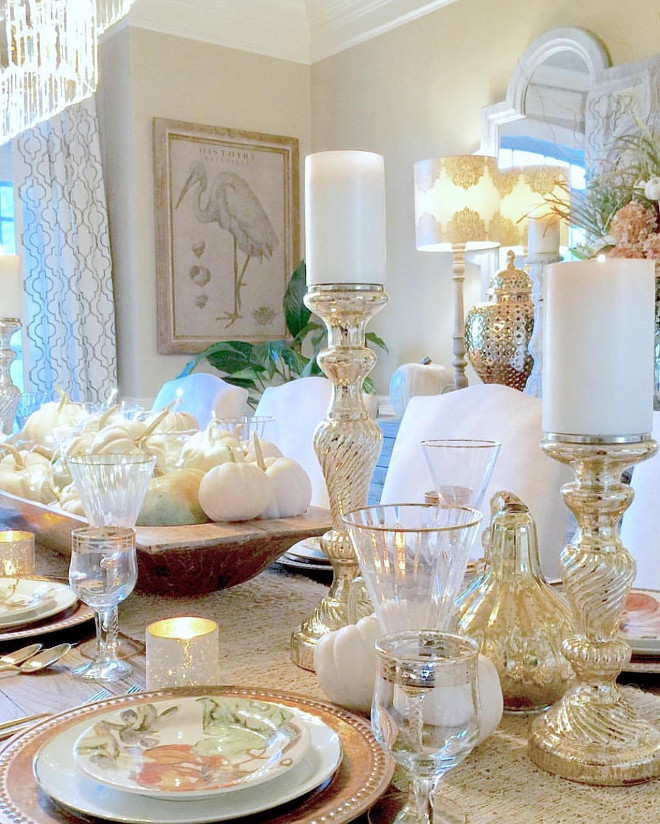 Thanksgiving White and Gold Decor: Pumpkin salad plates, wooden dough bowl, monogrammed votive holders: Pottery Barn – Wine glasses and water goblets, Candleholders: Homegoods – Gold flatware: Target – Gold pierced ginger jars with lids: Zgallerie.
Kitchen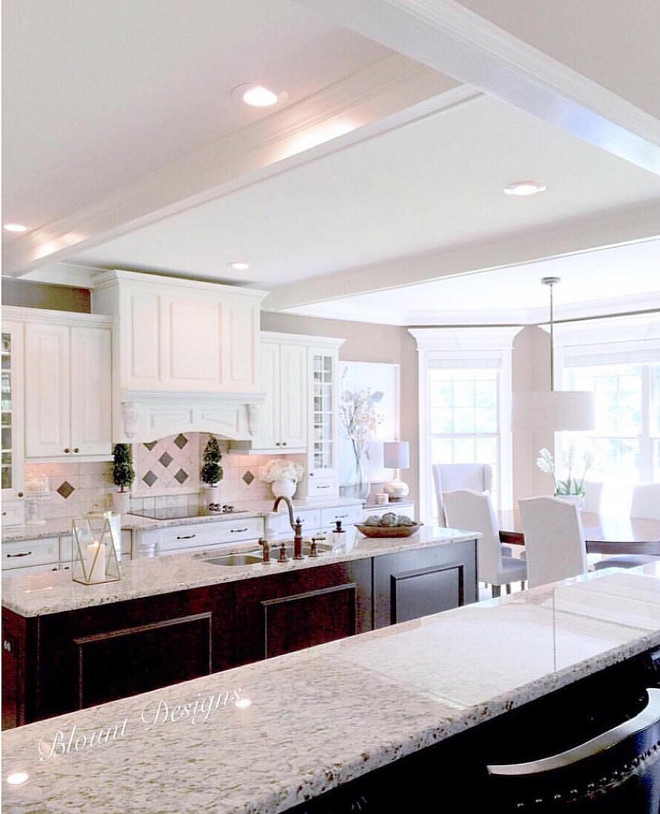 This spacious kitchen is the perfect place to cook and entertain family and friends during the holidays.
Backsplash: Scabos Chiaro Natural Stone.
Countertops: Granite, Madison Spring by Sensa.
Kitchen Details
Island is Kraftmaid, espresso. Kitchen cabinets are Kraftmaid, Grandville Maple in Dove White with hazelnut cocoa distressed glaze.
Christmastime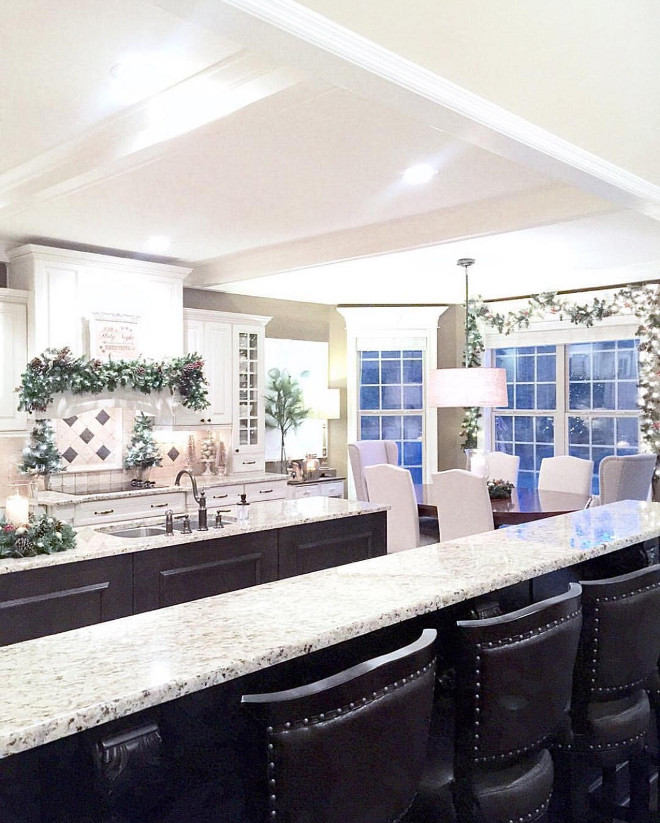 Deborah really knows how to decorate her kitchen for Christmas. Isn't it festive?!
Dimensions: Center Island: 10′ long, cooktop counter: 11′ long, prep counter: 12′ long, bar-top counter: 12′ long.
Kitchen

Paint Color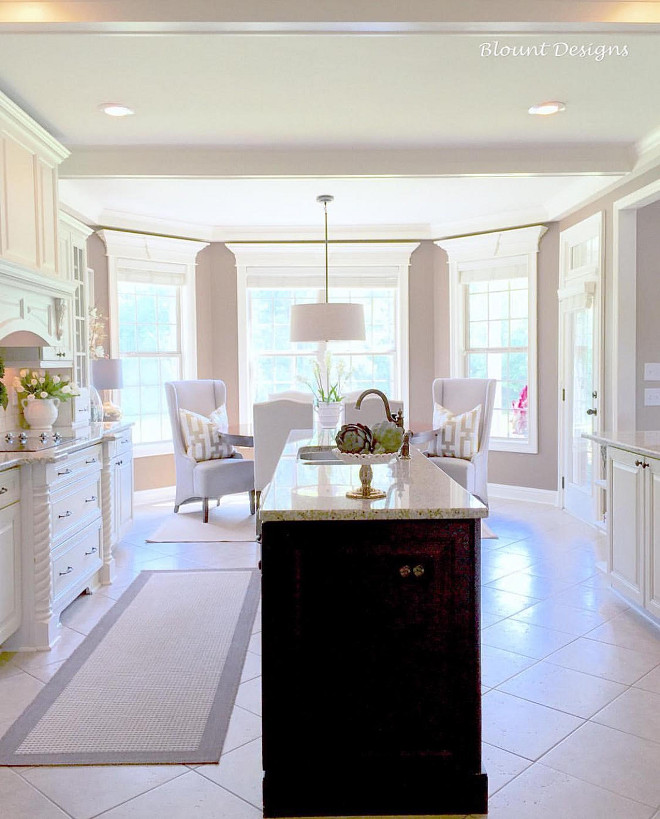 The kitchen paint color is Sherwin Williams Hot Cocoa. Isn't it a great paint name for a kitchen?
Breakfast Nook: Dining table: Restoration Hardware pedestal table. High-back captains chairs: Joss and Main. Dining chairs: Restoration Hardware, ivory linen.
Floors are 16″x16″ Travertine, Roman Stone Beige.
Living Room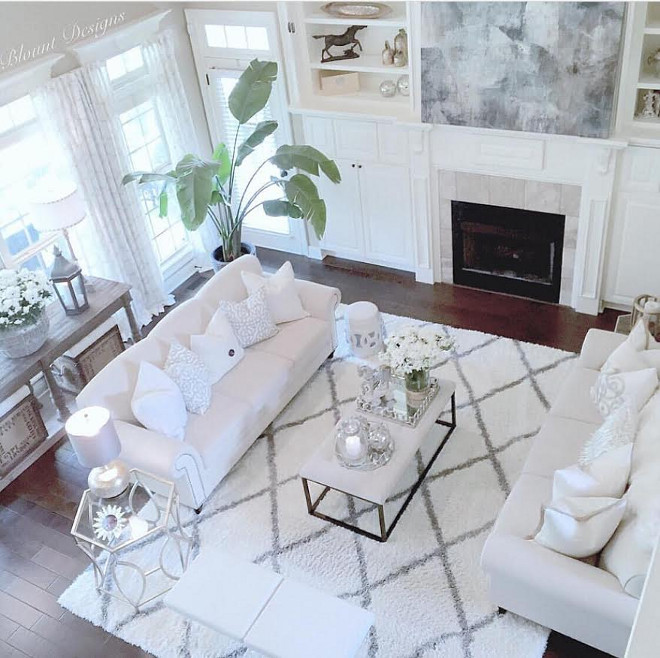 This is one of my favorite spaces in this home. How beautiful! The furniture layout is just perfect!
Living Room Paint Color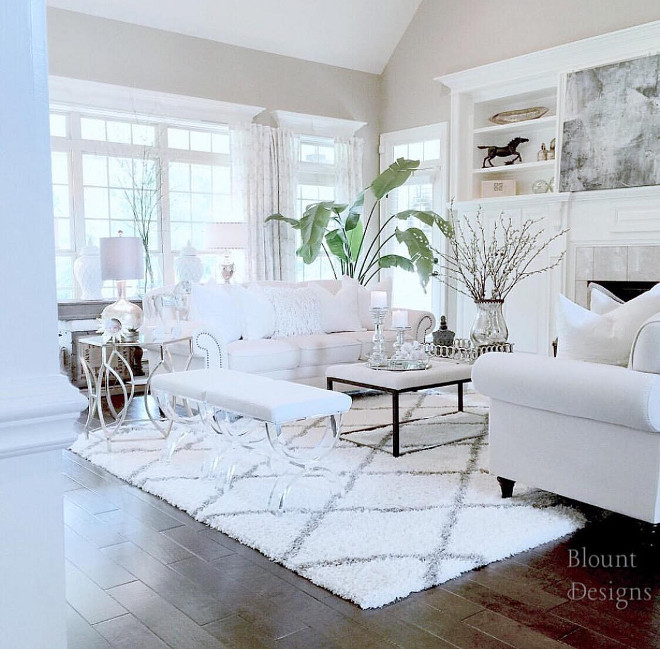 "Sherwin Williams SW6073 Perfect Greige".
Art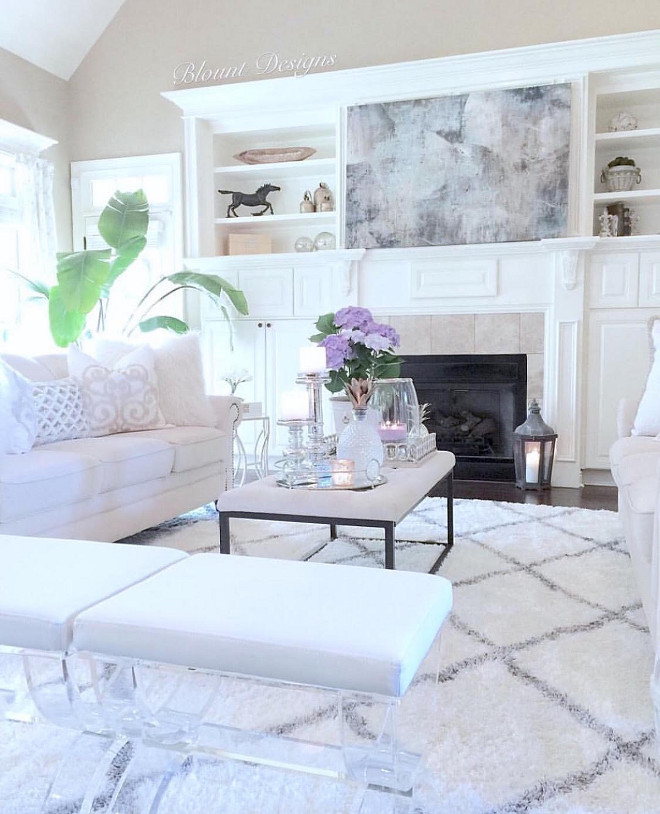 Artwork, sequin lumbar pillow: HomeGoods.
Benches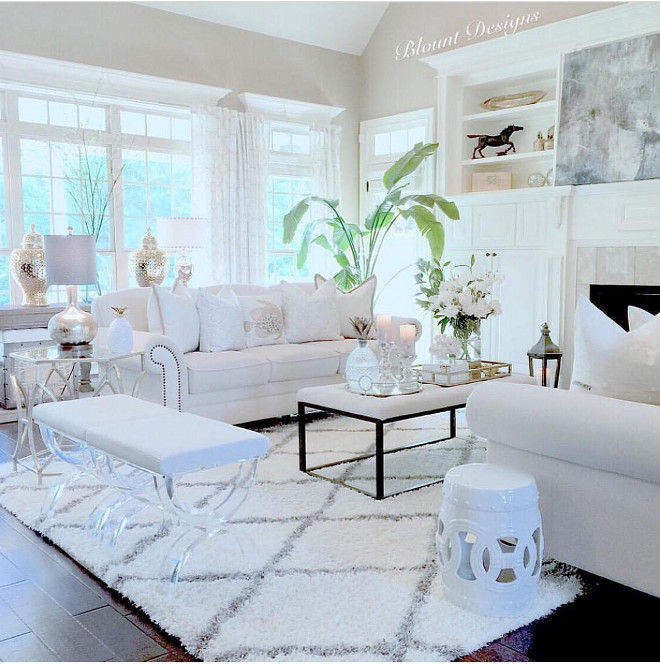 The white leather and acrylic base benches are from TJMaxx.
Ottoman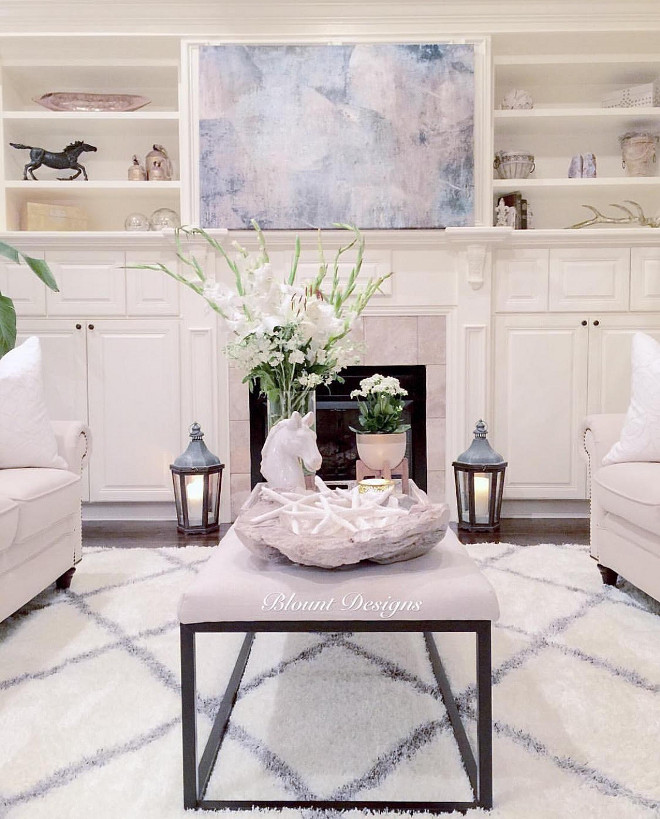 Tufted ottoman/coffee table: Joss and Main.
Park Hill Lanterns: Pottery Barn.
Rug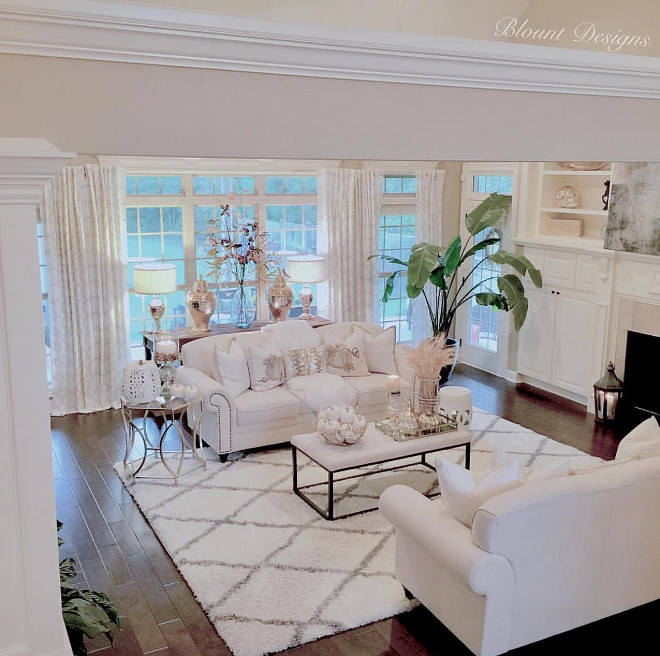 This stunning rug is Diamond Shag Rug, Rugs USA.
Living Room Fall Decor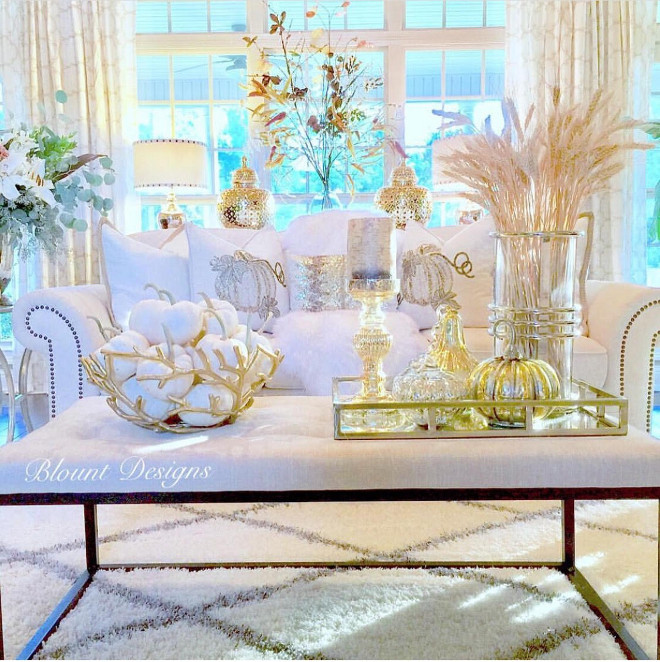 Living Room Fall Decor: Gold Branch Bowl, Pumpkin Pillows, Glass Pumpkins, vase: HomeGoods – White pillows with braid trim: Pottery Barn.
White & Gold Fall Decor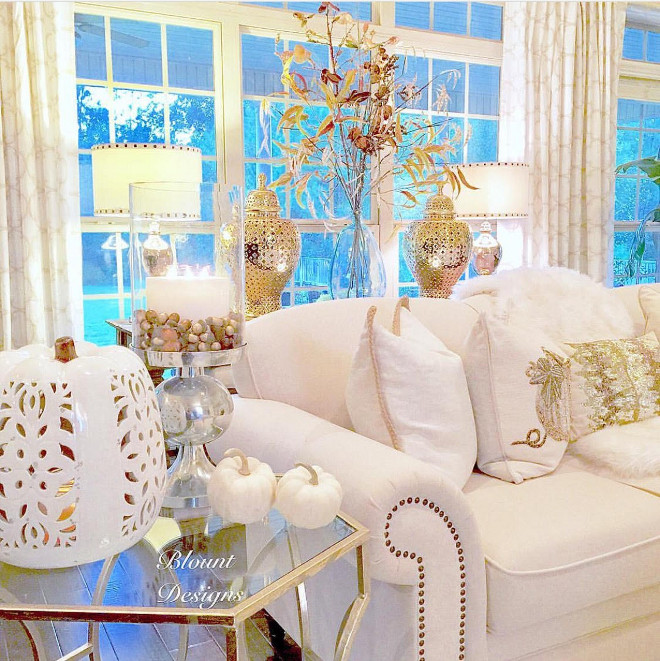 White & Gold Fall Decor: White pierced ceramic pumpkin, Demijohn: Pottery Barn. Gold pierced Ginger Jars: Zgallerie. Side table, Sequined lumbar pillows, Pumpkin Pillows: HomeGoods.
Living Room Christmas Decor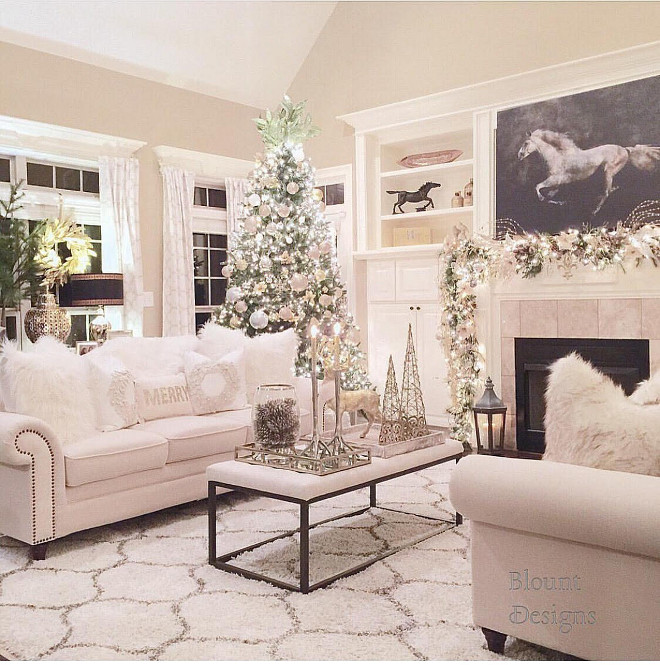 This living room becomes even more enchanting during the holidays.
Hudson Shag Rug: Rugs USA .
Smart Thinking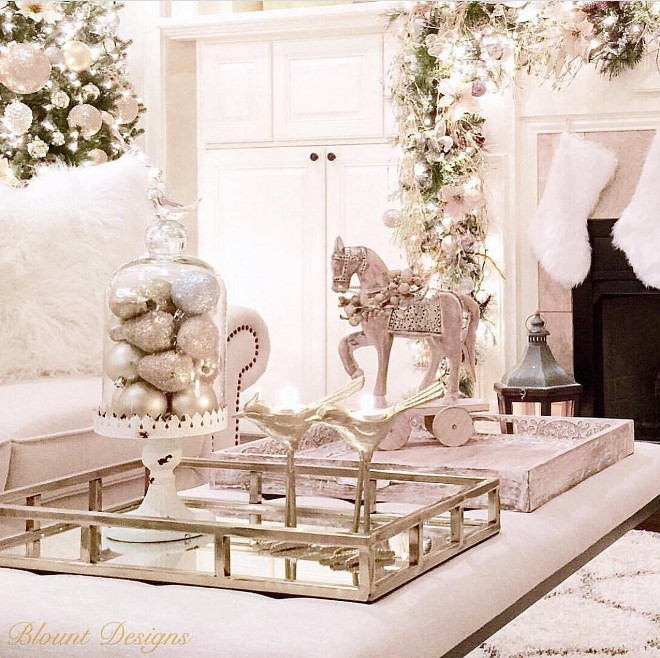 The coffee table is decorated but the trays still allow space for drinks and such.
Coffee Table Styling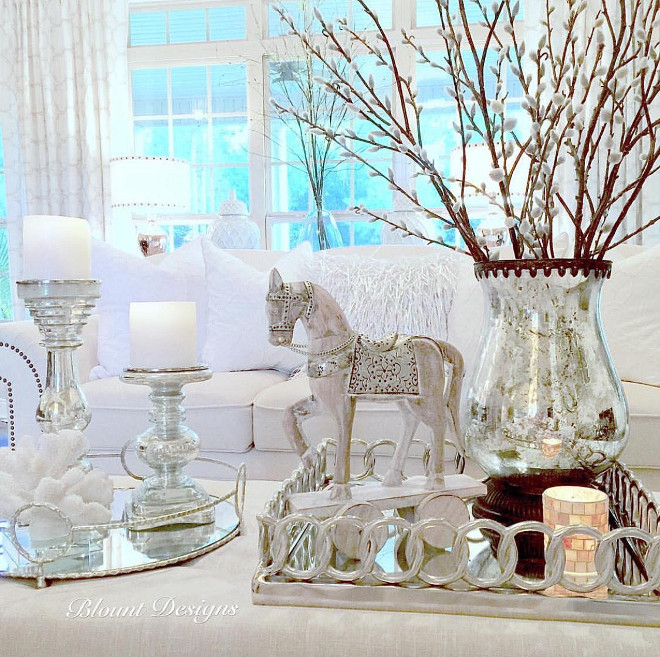 Coffee Table Styling: Mercury-glass vase: Pottery Barn – Trays, horse, pillows, coral, lampshades: HomeGoods .
More Coffee Table Decor Ideas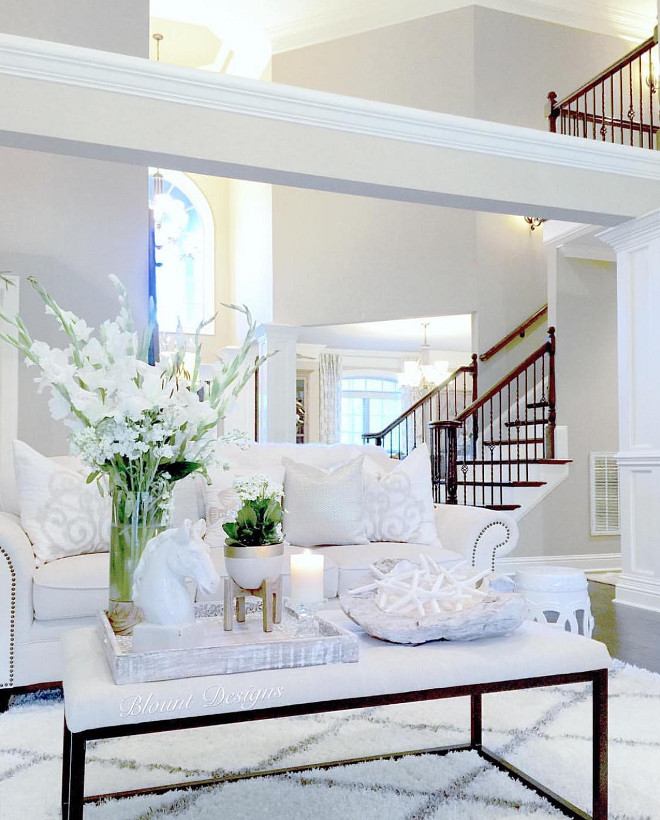 Organic Tray: Zgallerie. Distressed white-washed tray: Pier1 – Scroll pillows: Safavieh – Plant holder: Target.
Master Bedroom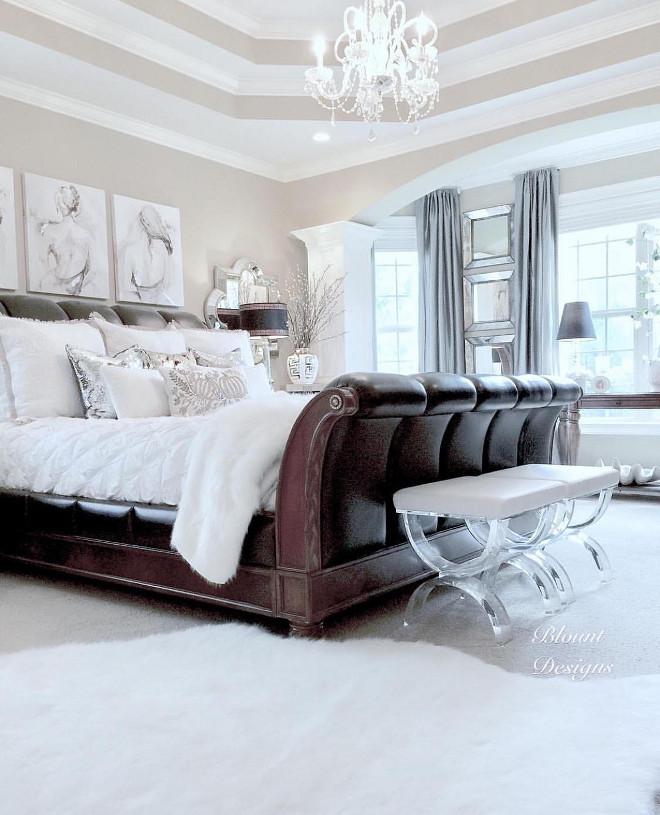 I love how inviting and elegant the master bedroom feels. It's grand just how a master bedroom should be. Paint color is Sherwin Williams Perfect Greige.
Artwork, beveled mirror, faux fur hide rug, sequin lumbar pillows: HomeGoods. Acrylic X-base benches: TJMaxx. Gray silk drapery panels, ivory faux fur on benches: Joss and Main. Bob Mackie American Drew embossed croc leather sleigh bed: Bob Mackie on-line. White smocked comforter, corded shams: Soft Surroundings Home. Silver sequined pillows: Inspire Me Home Decor website. Black and gold Greek-key trimmed lampshades: Tuesday Morning.
Master Bedroom Sitting Room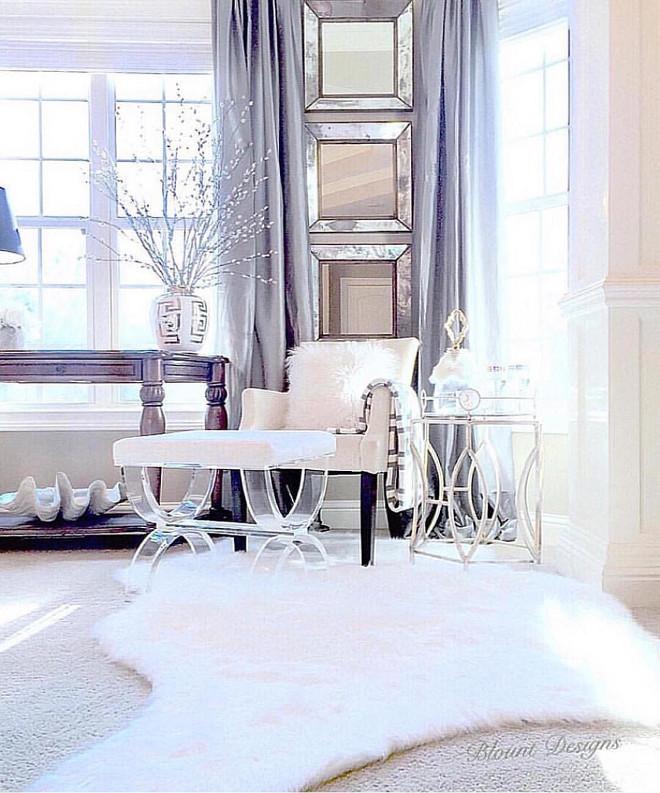 Brushed velvet ivory chair with dark espresso legs: Restoration Hardware. Gold side table, white faux fur hide: HomeGoods. Antiqued square mirrors: Crate and Barrel. Gray silk drapery panels: Joss and Main. Hickory console table: Ashley Furniture.
Master Bathroom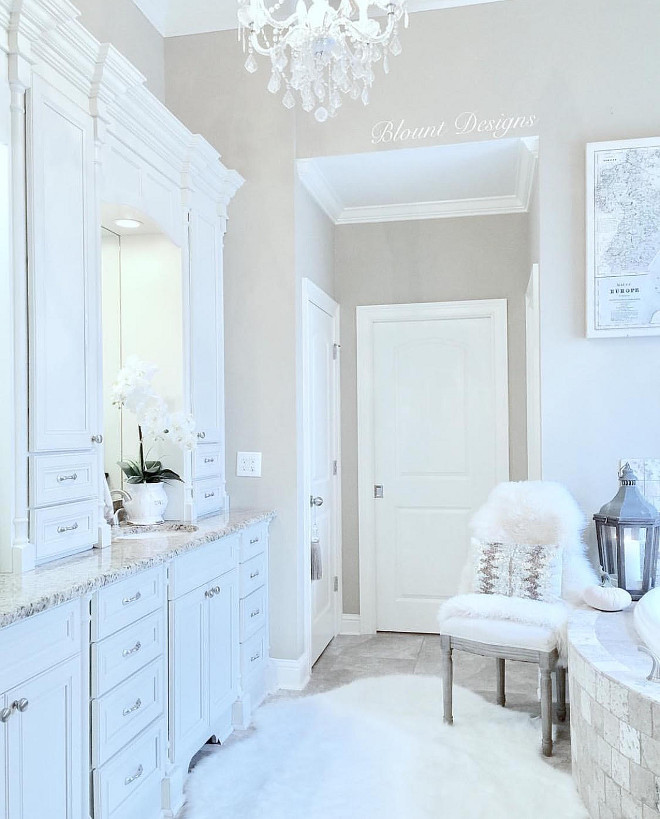 This bathroom is serene and well designed. Paint color is once again, Sherwin Williams Perfect Greige.
White faux fur throw on chair, Park Hill Lantern: Pottery Barn .White faux fur hide rug, potted orchid, sequin pillow: HomeGoods. Canvas world map, chandelier: Joss and Main. Chair: Restoration Hardware.
Romantic Dinner for Two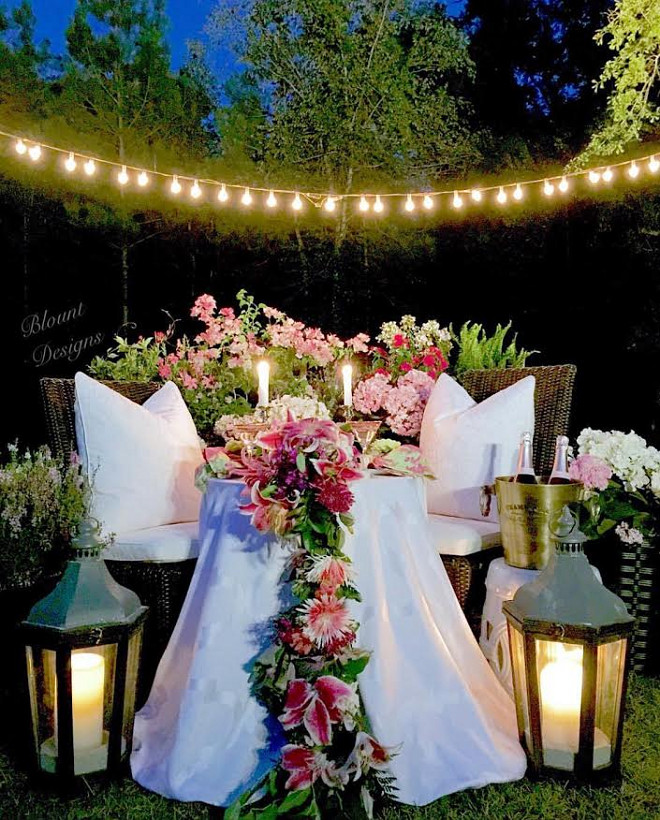 Can you imagine having a romantic dinner al fresco for two like this? Deborah is truly talented!
Make sure to follow Deborah from

@blountdesigns

on Instagram to see more photos of her beautiful home!
See more "

Beautiful Homes of Instagram

":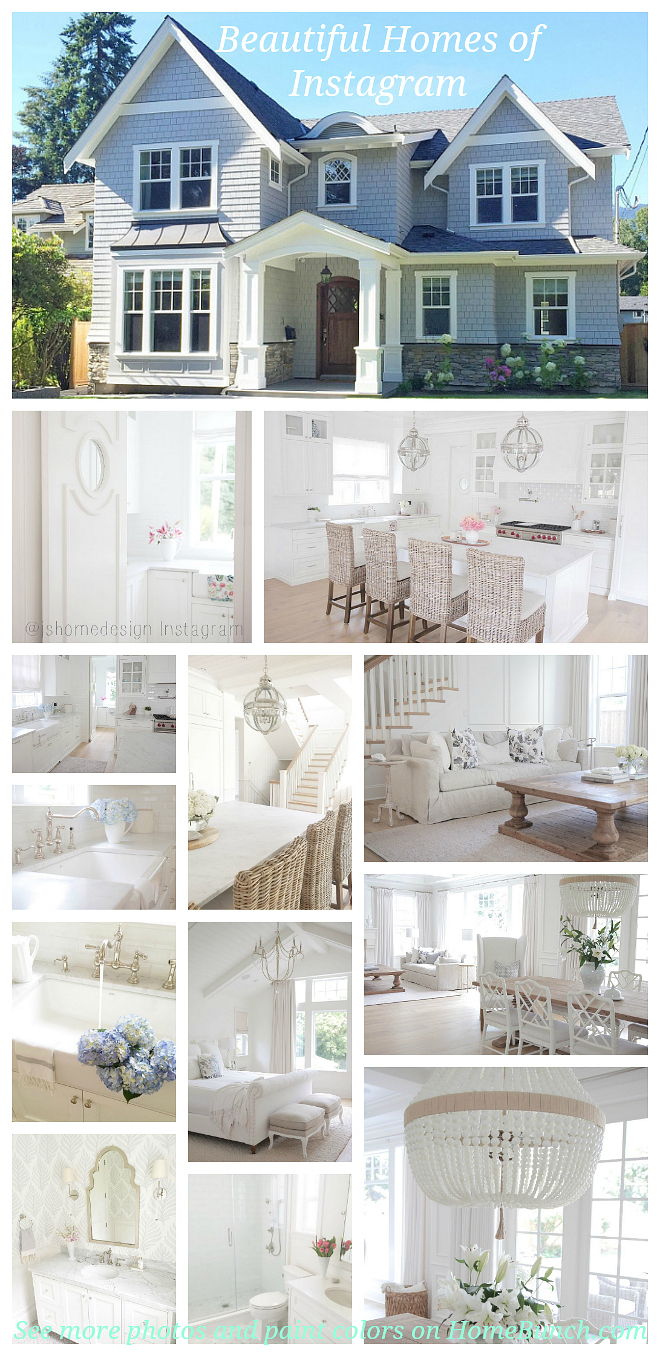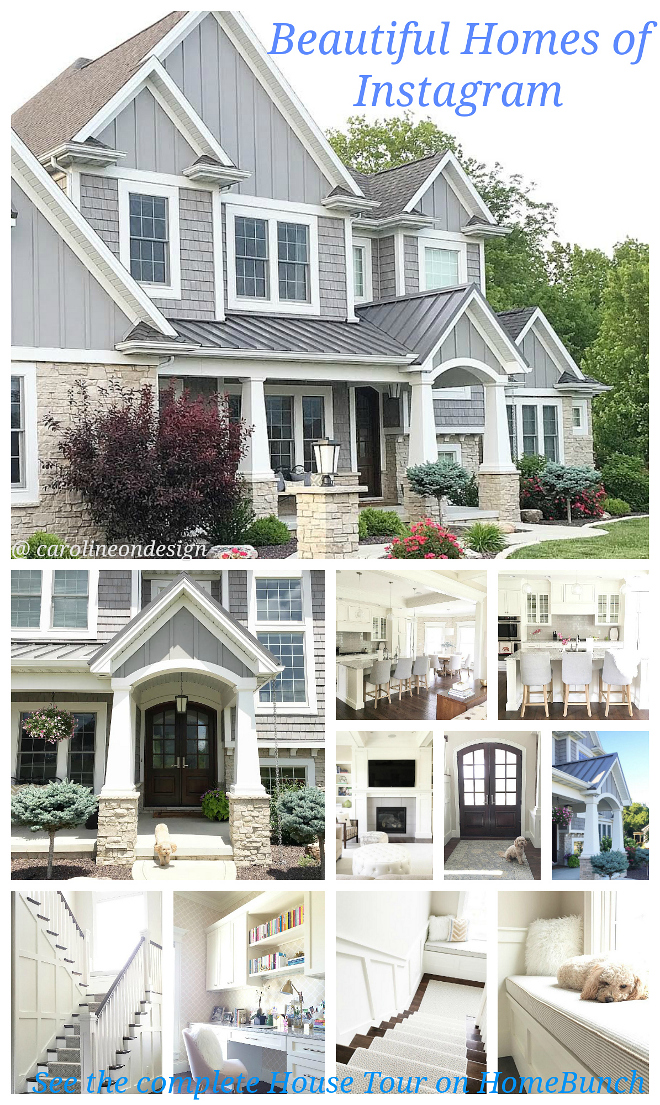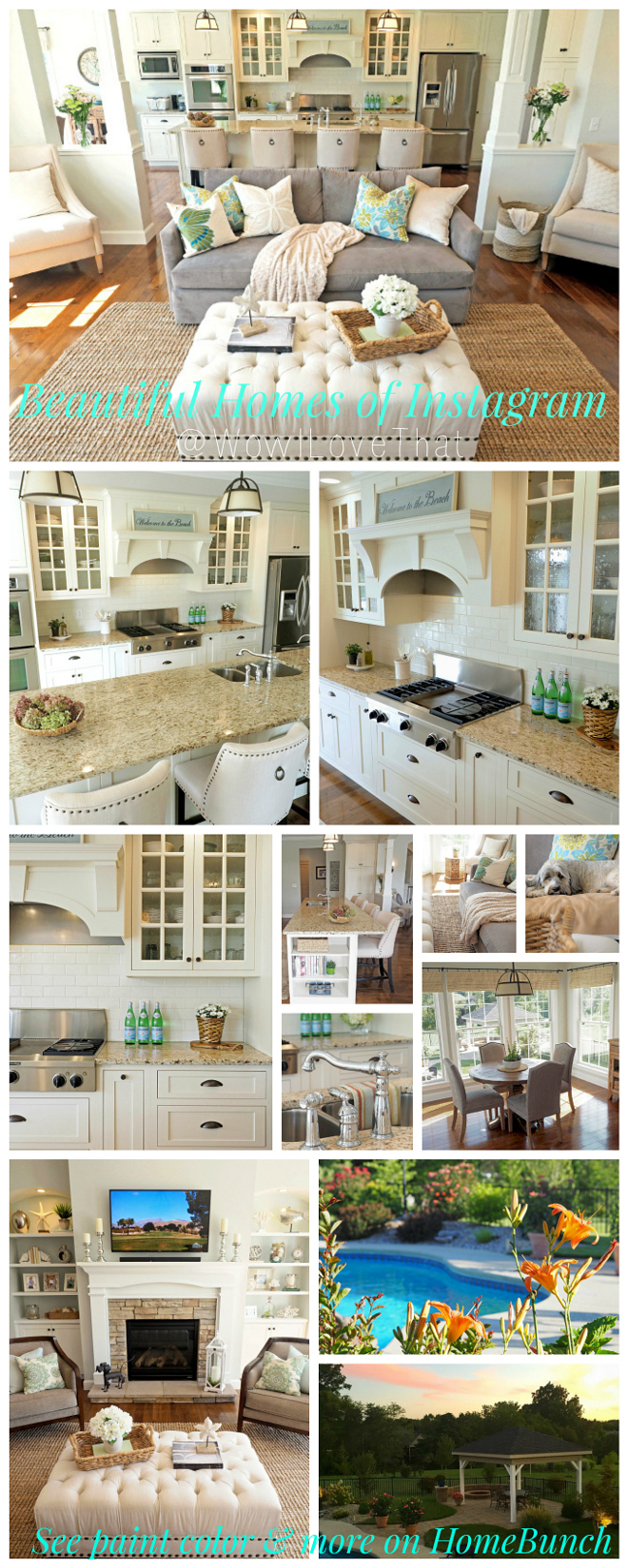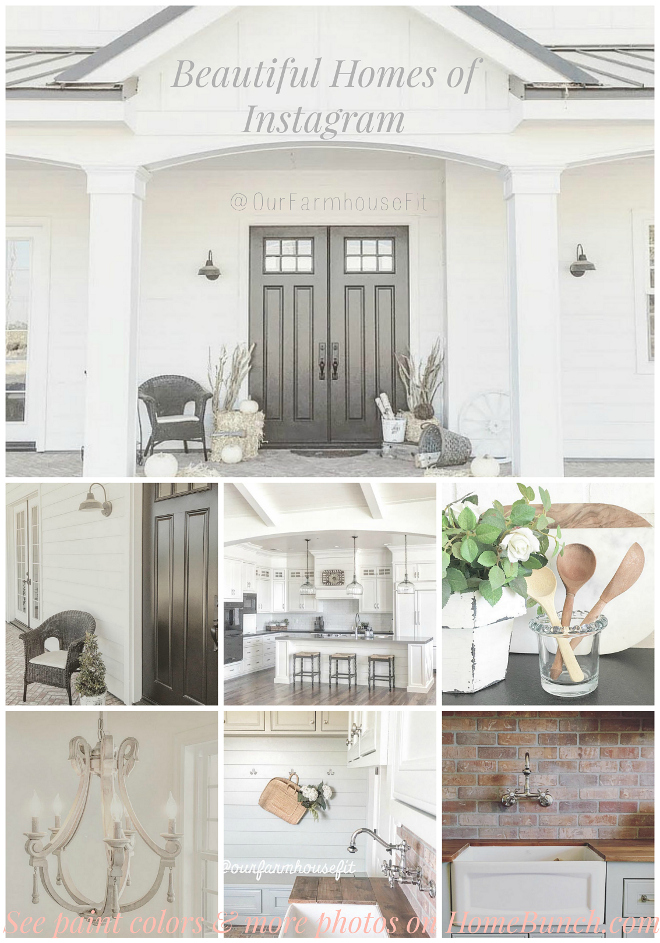 See more Inspiring Interior Design Ideas in my

Archives.
Interior Design Ideas:

Paint Color
Hello, my wonderful friends.
I hope you had a great time seeing this special home today. Isn't it great to have these talented homeowners sharing their homes and their tricks on how to decorate? I how you had a good time. Talking about good time, did you enjoy your weekend? We are going to be very busy until February. I have some new interior projects to design, my kids are playing sports and there's Christmas. Regardless of how busy life can get, I've promised myself to not get consumed by how crazy this time of the year can become. I am trying to get my kids to learn to focus on family-time, on being together without having to have plans, to simply enjoy quiet days by the fireplace, with some hot cocoas and watching a classic Christmas movie on the tv.
As ironic as it might sound for me today (since we had a very busy weekend), I must keep trying to give to my kids a life where errands should not be their priority. Balancing our time is something that our generation is forgetting to do and we are rarely teaching how we should manage time to our children. Free time consist in being in touch with your thoughts and to be with each other and far from tablets and video games.
People in general seem to be edgier and I strongly feel it's because no one stops and relax their mind. There's too much stimulation and sometimes we need to quiet down to feel at peace.

During this Christmas I really want for my family and I to do nothing more than spending time together. We should cook, eat, talk, play… and sometimes just be on our own, relaxing with a book or taking long naps.
Sometimes we need to slow down so we can appreciate the view better.
Have a Blessed week, everyone.
with Love,
Luciane from HomeBunch.com
Interior Design Services within Your Budget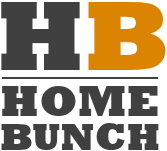 Get Home Bunch Posts Via Email

Sources:@blountdesigns