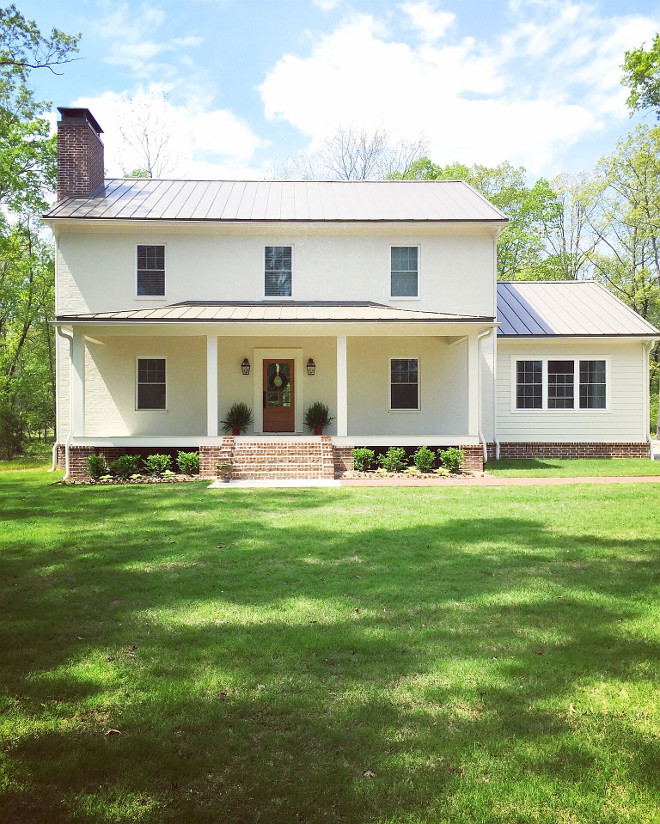 Have you ever imagined selling the house you live in and building your dream home? How about building it with your own hands? Yes, this is what Allison from @theclevergoose, with the help of her husband and her father, did! They not only built the house you're about to see but they also designed every little detail – like Allison said to me another day; "we were able to design and choose every single item down to the lumber and nails and this helped us to save a ton. By building this home ourselves we had instant equity."
I started this Beautiful Homes of Instagram series to showcase talented homeowners that work hard to bring their own personality and create a home that's all theirs. Here, you will get to know a story that should not only inspire you to do more for your own home, but it will also teach a beautiful lesson that a united family can truly make dreams come true.
About a year and a half ago, my husband and I were on the search for a home with a larger lot, preferably one with a swimming pool or at least a lot suitable for adding a pool. After quite a bit of looking, and a couple of rejected lowball offers on homes that needed complete renovations, we were feeling a little blah. One lazy, boring Sunday afternoon, we came up with the wild idea to build on the 5 acres we've owned for nearly 10 years and to save some money by cutting out the builder and self-contracting this project. We, (Meaning me. Hubby was not on board) decided we could further save money by completing a lot of the work ourselves. There was one hitch in this self-contracting idea and that was, we knew we'd need the help of my dad. My dad is a wonderful carpenter, all around Mr. Fix It or Make It from Scratch and knows so much about building homes. You see, he built his and my mom's home….Literally, he completed all the work himself (other than the electrical and plumbing). While my dad was ecstatic we were building next door to him (my parent's live on the lot next to ours), he wasn't too thrilled about helping us do it ourselves. 18 hours after I told him the good news, he had a builder on our property discussing the project!
About a week into our decision to build, we had designed our house and floor plan. We didn't waste any time! We searched high and low for the perfect house plan with no luck, so I decided to draw my own. We measured out the exterior dimensions of the size of home we wanted and that would fit well on our lot, then we figured the dimensions of all of the rooms and hallways and how they would fit into the space. We designed every element, all of the cabinet details and layout, counter depths, shower sizes, trim style and width, etc, as well as exterior details such as column design and placement, roof lines and pitches. We planned every single little detail of our home. Once the interior and exterior plans were how we wanted, we sent them to a man who turned them into actual blueprints. When we finally had our blueprints in hand, we got a bid from our builder and it was jaw dropping expensive! So much so, my dad caved and said he'd help us self-contract it. Thanks daddy!
It ended up taking us just over 6 months to build from the start of excavation to finish (well, is it ever really finished?). Not only did we end up self-contracting, we also completed a few more finishing details than we originally planned. Some include: painting the entire exterior and interior of the home which included filling holes and caulking exterior and interior trim, sanding, priming and painting all of the trim and cabinets, tiling the accent kitchen wall and backsplash, showers and shower/tub combo, removing downed trees for pool area, sanding and finishing all hardwood floors as well as other odd jobs such as installing attic stairs, return air vent and many other odd details. We spent many, many hours and days working on this house. Lots of love, sweat, and a little blood and tears went into this home.
When designing our home, we wanted something that felt old, had character, and was classic. We wanted a Southern home with big front and back porches. For the interior, we wanted the same feel as the exterior, but maybe with a slight coastal feel. There's nothing I can't stand more than a home with one style on the outside and a completely different style inside. Cohesiveness in and out, and throughout the interior was important to us. We didn't want an open concept layout, yet we wanted it to feel open. I wanted light and bright, lots of windows, and hardwood floors throughout with classic hexagon tile in the bathrooms. I kept the same elements, colors and materials the same or very similar throughout….Again, cohesiveness.
Another big decision we made was to put all of the bedrooms upstairs. In our last home, like most homes built in recent years, the master was downstairs and all of the other bedrooms and the bonus room was up. While it was nice to have some separation from the kids, I didn't like THAT much separation. We could go an entire morning or afternoon without ever seeing the kids. They had full rein of the upstairs and would only come down in search of food. We wanted our family to be around each other more. Therefore, in our new home, we designed it with all of the living areas downstairs and the only rooms upstairs, are the bedrooms and their attached bathrooms and the laundry room. Our upstairs is truly the sleeping quarters.
Downstairs consists of the kitchen and adjoining keeping room. Since the kitchen is always the heart of the home, we wanted to make it to where we could have a sitting area for guests and family to relax and chat while we're cooking or a place to sit on snowy days with a cup of coffee and gaze out the large windows at the beautiful landscape. Off the keeping room is the dining room. In an effort to have that open feeling, but to still to have divided rooms, the doorway out of the dining room and into the entryway/foyer, was designed to be 8′ wide. To the other side of the foyer is another 8′ wide doorway into the living room. The living room was designed to be our main sitting/tv area when company is over. Down the foyer, past the staircase, we designed a back hallway, which also is very close to the back door and is meant to be somewhat private. This hallway leads back to the kitchen, after passing the mudroom, the walk-in pantry on one side and a small office on the other. Further down the main foyer hall, towards the back door we wanted a full guest bath and for it to be very accessible to the pool. Across from the full guest bath is a family/tv room. This room is almost hidden as it's to the left of the back of the staircase. I really wanted to have a more private feel in this area. We designed this room to have a pocket door so that it can be closed if using as an overnight guest room. We also designed this room to be perfect for overnight guests by putting the downstairs full guest bath directly across the hall.
Beautiful Homes of Instagram

This home feels loved even before you enter it.
Dogwood Creek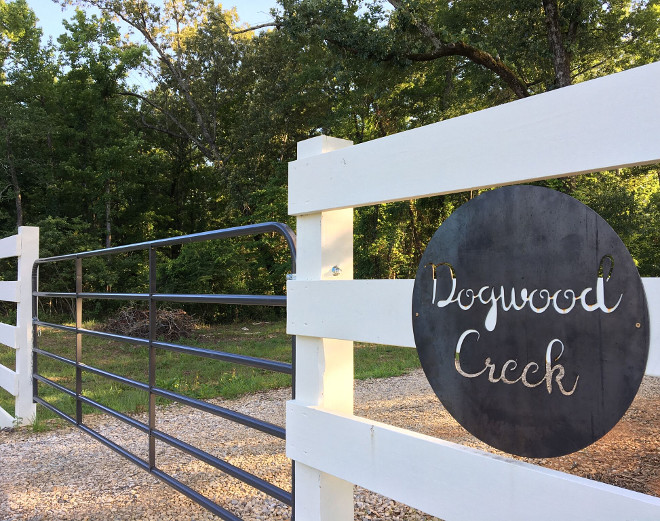 "Dogwood Creek" metal sign is from maker.table.
Creating Memories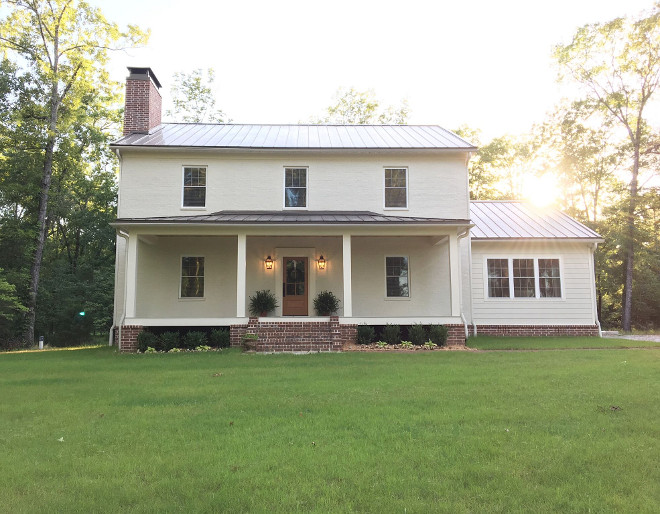 In an effort to get that old southern charm with a coastal/farmhouse flair, and the feel of an older home, we bricked the main section of the home and painted it a light cream, leaving the skirt brick exposed. To break it up and give some interest, we used wide plank James Hardie siding on the one story section of the home. It too, has the exposed brick skirt. Also on this section of the home, we used board and batten on the gable. We kept the design very symmetrical, with clean lines, classic elements and no fuss trim.
Topping off the home is a metal roof.
Metal Roof: McElroy Metal Service Center – Teratone
Front Porch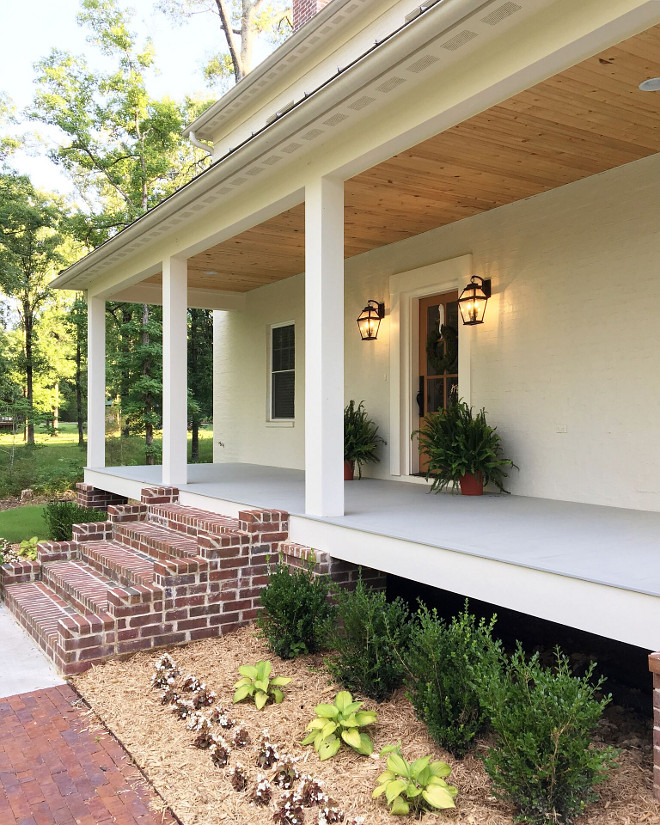 This is the first home we've owned that I love the exterior!
The porch columns are chunky and square and we carried this theme over to the door trim (with my dad created and installed for us).
Porch floor: 1×4″ pine tongue and groove painted in Sherwin Williams superdeck solid color Antique Gray.
Porch Ceiling: Pine Beadboard.
Exterior Details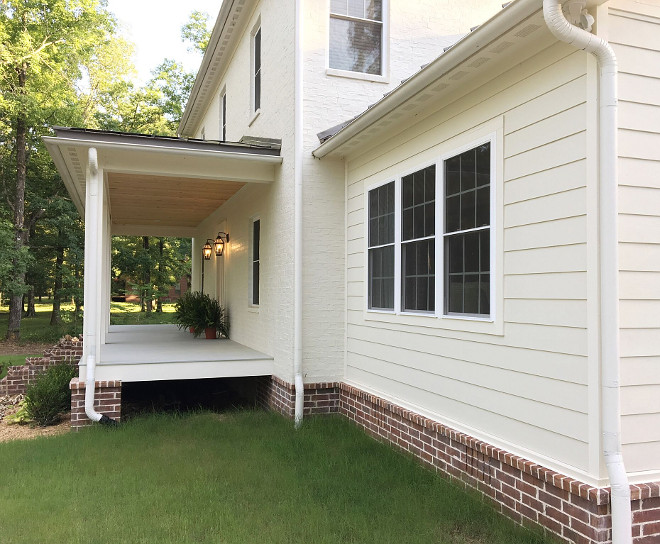 Trim and siding: James Hardie — painted in a custom color mixed by Sherwin Williams.
Painted Brick: Boral – different brick but similar texture.
Windows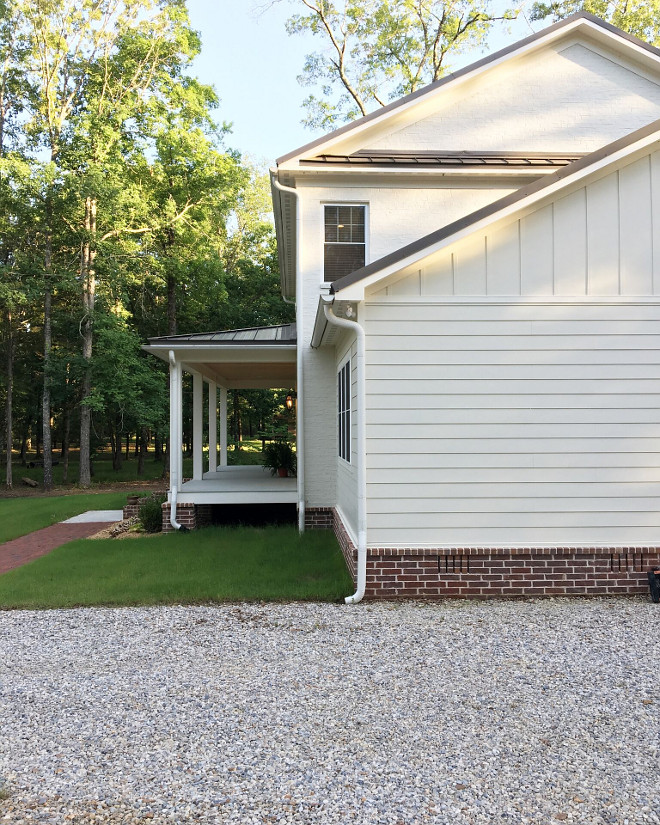 Windows: White Vinyl from Pro Windows and Doors.
Front Door

To bring in that Southern coastal feel, we had lanterns with the look of gas burning, and we used expose brick piers under the porches and tied them together with cream painted wood slats (still have to install on the front porch). The plans for this home also include shaker style shutters on the front (which match the shaker style cabinet doors inside)…Maybe one day we will get those shutters made and installed. I'm sure you all know, how owning and creating a home is a never ending process. As of now, we've lived in this home 8 months and we're still making adjustments and improvements to the exterior and I'm still furnishing and decorating the inside. But that's okay! I actually love adding pieces slowly as I like to fill my home with items that have some meaning or were gathered during family vacations. With that all being said, I hope you enjoy the tour of our home and possibly find some inspiration when designing or updating your own home!
Front Door: Simpson #7506 Thermal Sash Fir.
Stain: Sherwin Williams Woodscapes in Covered Bridge.
Door Trim: Emtek 451613 Rectangular Full Length Tubular Entrance Handleset with winchester interior knob – in flat black.
Lanterns: Restoration Hardware Cambridge Sconce – large in weathered zinc.
Exposed Brick: Boral Market Square king size.
Mortar: Ivory Buff.
Welcome

Welcome home, everyone! 🐶
Isn't Hampton adorable?
Foyer

My favorite part of this space is the wood plank ceiling and the gold metal light fixture.

Lighting: Restoration Hardware 19th C. English Openwork Pendent in Gilded Iron
Ceiling: Pine – same as flooring but with no finish.
Light

The front door and the 8′ wide entryway, helps to make the space open and bright! From here you can see through to the main living areas.
Walls & trim: SW Alabaster.
Wooden Mirror: Paul Michael Company.
Dining Room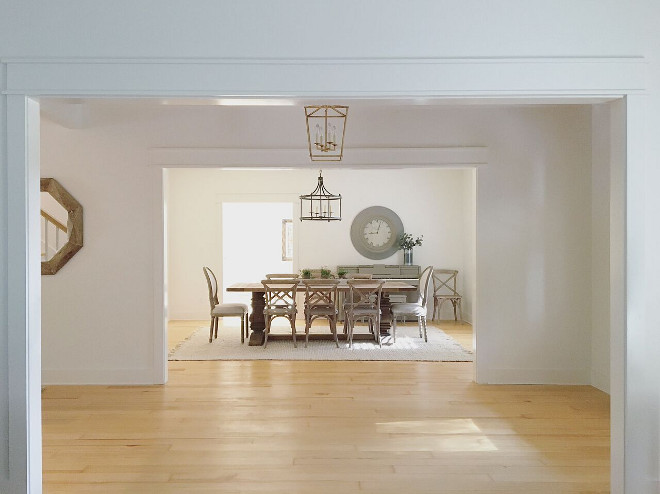 Just off the kitchen and keeping room, the dining room is perfect for large family gatherings. In this space you'll also find the piano. Dinner music anyone?!
Farmhouse Dining Room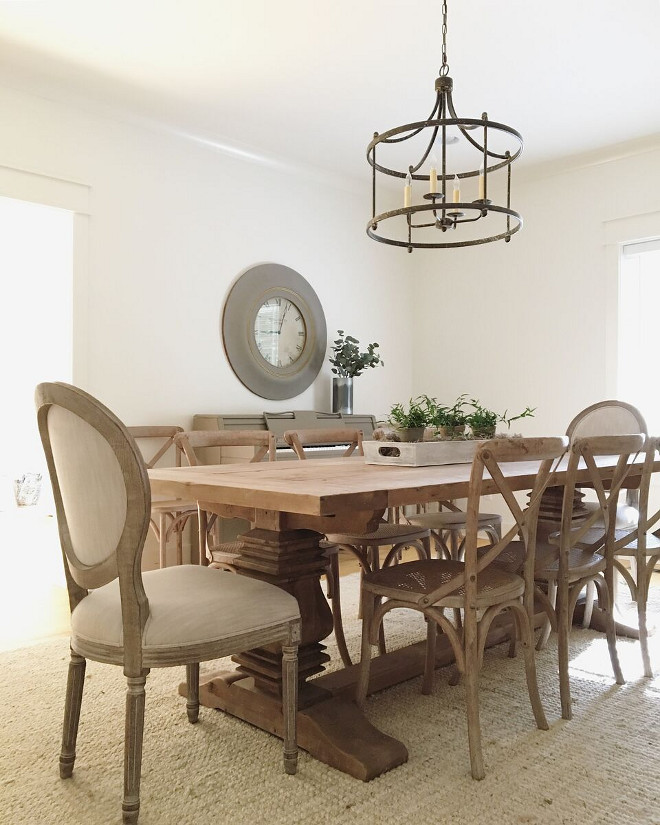 Walls, trim, and ceiling paint color is Sherwin Williams SW 7008 Alabaster.
Table: RH Salvaged Wood Trestle Rectangular Extension Dining Table in Salvaged Natural.
Dining Chairs: RH Madeline Side Chair in burnt oak.
Light Fixture: Parkhill Collection Savannah Large Iron Pendent – HX200
Matte Piano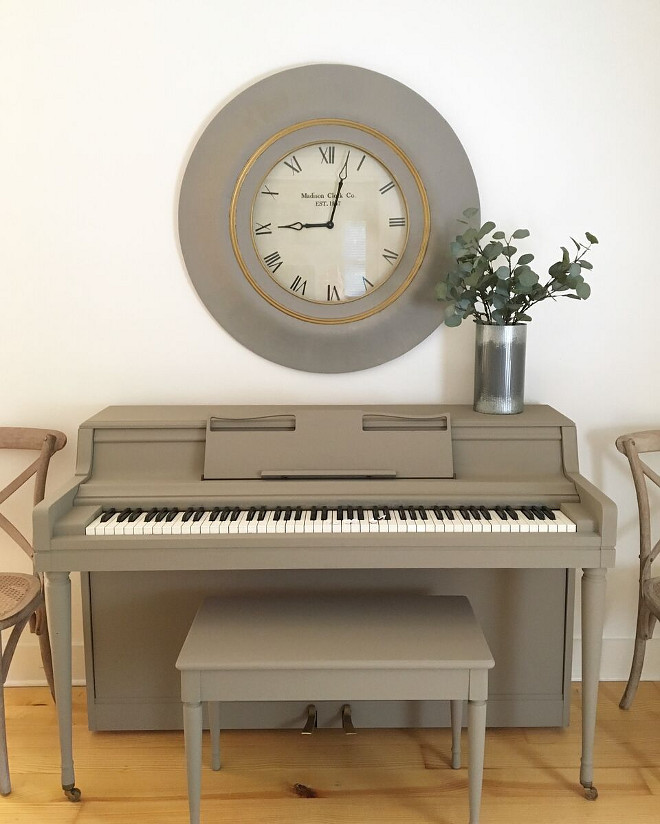 Piano is painted in Annie Sloan Cocoa with clear wax.
Metal Vase on Piano: Magnolia Market.
Eucalyptus: Ikea.
Layout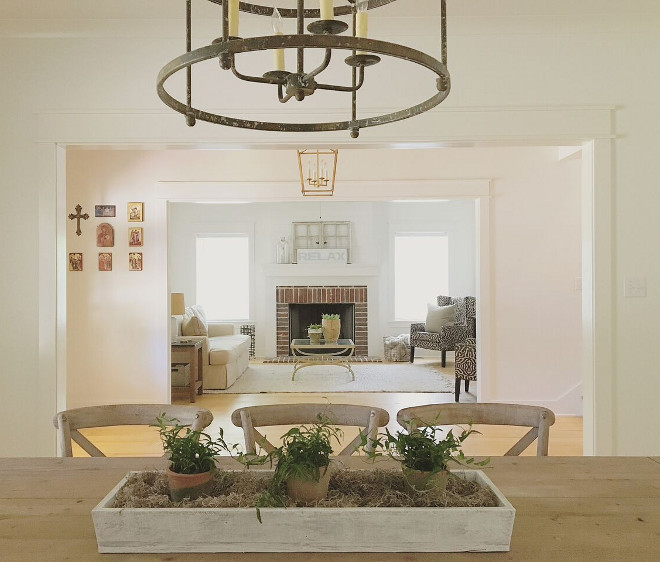 The formal dining room and living room are separated by the entry hall.
Long Tray on Table: CleverGoose shop.
Small Terracotta pots in tray: Magnolia Market.
Rug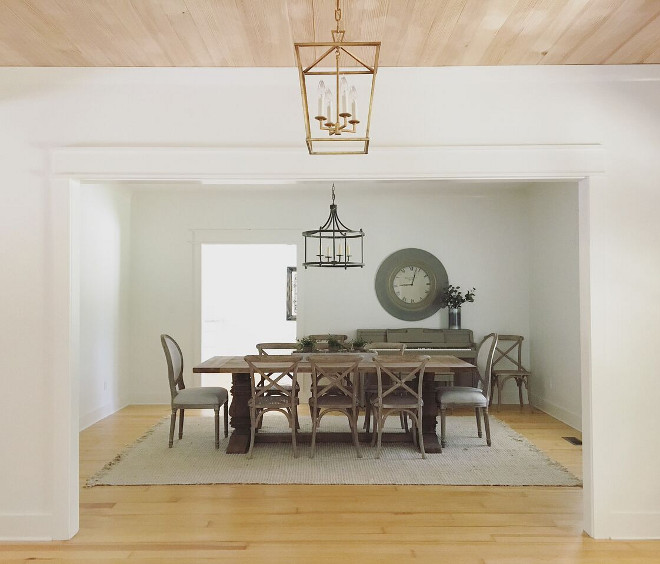 Rug: Rug USA – Bleached Jute 9'x11′.
Living Room

This space is directly off the foyer and while not large, feels very open and airy. The brick around the fireplace is the same as the skirt on the exterior of the home and I love how it brings warmth into this room. The mantel with the clean, simple lines, mimics the trim throughout the rest of the home. Remember, consistency!
Shiplap! Originally I wanted shiplap in several areas of our home, but towards the end of the project, time and money restraints limited us. However, I did manage to get shiplap over the fireplace! The "shiplap" here is the same material as the flooring, but turned backwards. The backside had these wonderful grooves in the joint!
Hardwood

Floors are 5″ Pine – Finished with Fiddes Hardwax Oil in Clear Satin.
Golden Retriever Wood Sign: @theclevergoose
Kitchen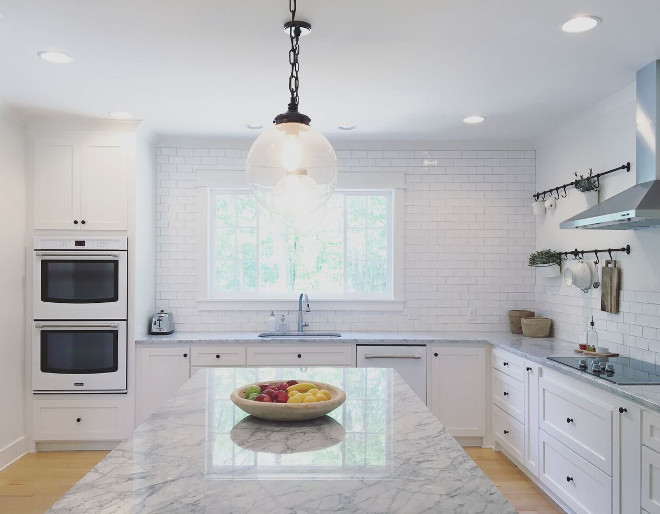 In this space I wanted an open, airy, and inviting feeling, a space where everyone could relax and gather. Forgoing the upper cabinets, I designed the kitchen with lots of deep drawers for dishes and cups, baking dishes, etc. Above the ovens are slots for baking sheets, muffin tins & cutting boards.
Kitchen Layout

I designed the tall cabinet by the refrigerator with an outlet inside to house and use the coffee pots on the shelf at waist level. The Kitchen Aide mixer also resides in this cabinet. The drawer directly below the coffee pots, houses coffee mugs, filters and wine glasses. Further down, are serving platters and table linens. The island is designed so that there's a built-in paper towel holder near the sink, and a built-in place for the microwave. There's also plenty of storage for small appliances as well as seasonal items and cookbooks.
A walk- in pantry stores our food, brooms, and other kitchen items that are seldom used, as well as seasonal decor.
Island Paint Color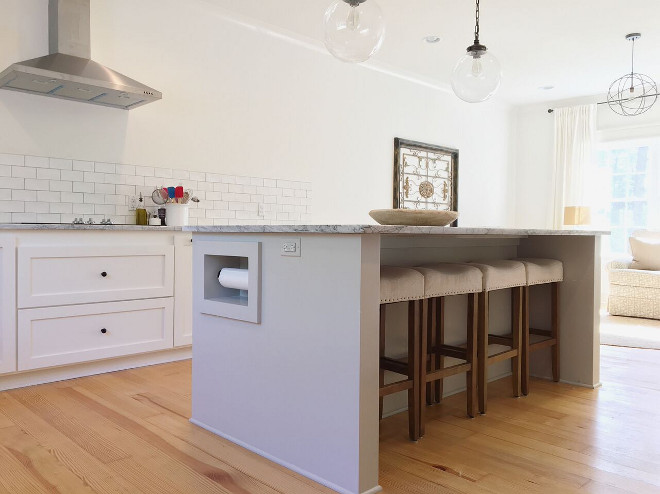 Island Paint Color: Sherwin Williams Mindful Gray at 50% strength.
Paint Color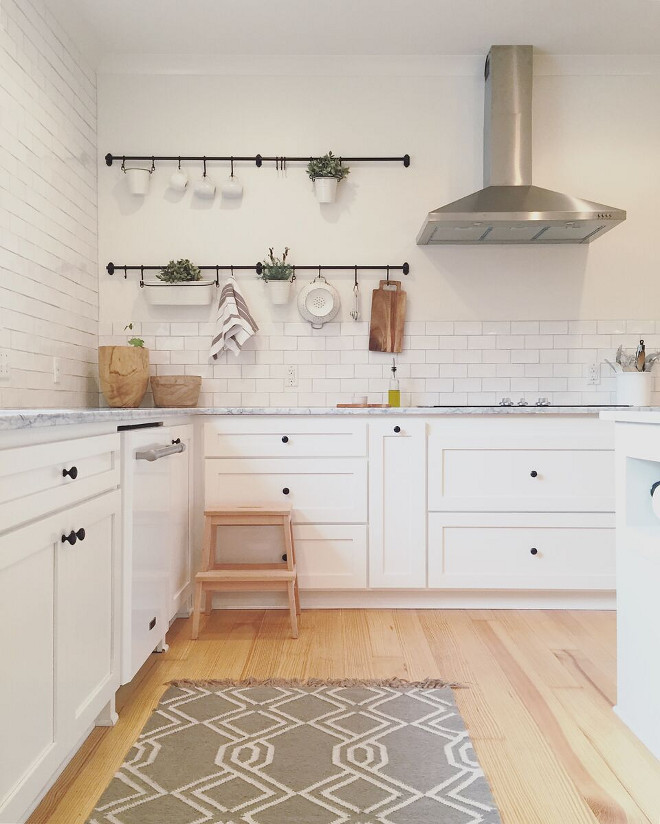 Walls, trim, perimeter cabinets and ceiling paint color: Sherwin Williams Alabaster.
Kitchen Hardwood Flooring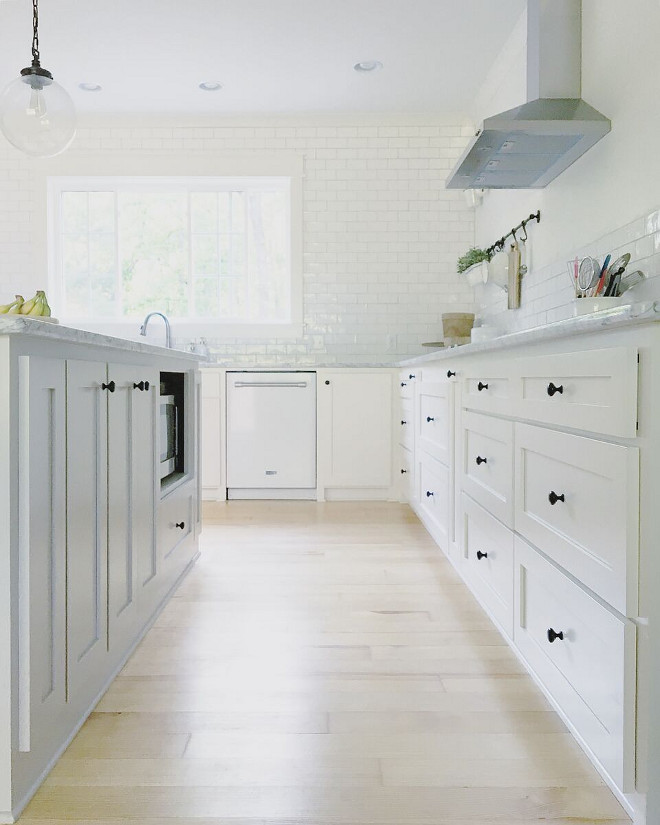 Floors: 5″ Pine – Finished with Fiddes Hardwax Oil in Clear Satin.
Backsplash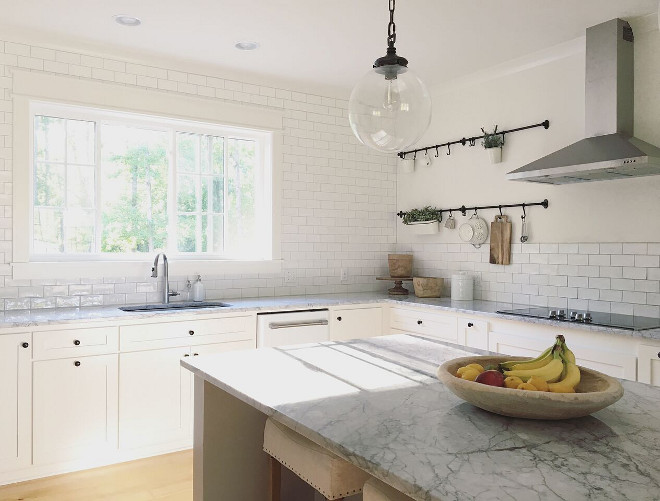 Tile Backsplash and wall: Daltile Artigiano Handcrafted 3″x6″ subway Italian Alps.
Clean Lines

As you can probably see, I don't care for clutter on the countertops.
Countertop

Countertops are Polished Carrara Marble – Kitchen slabs have a statuary marble look.
Faucet: Delta Essa Single Handle Pull in Arctic Stainless.
Grout Color

Grey Grout Color: Fusion Pro in Rolling Fog.
White Strainer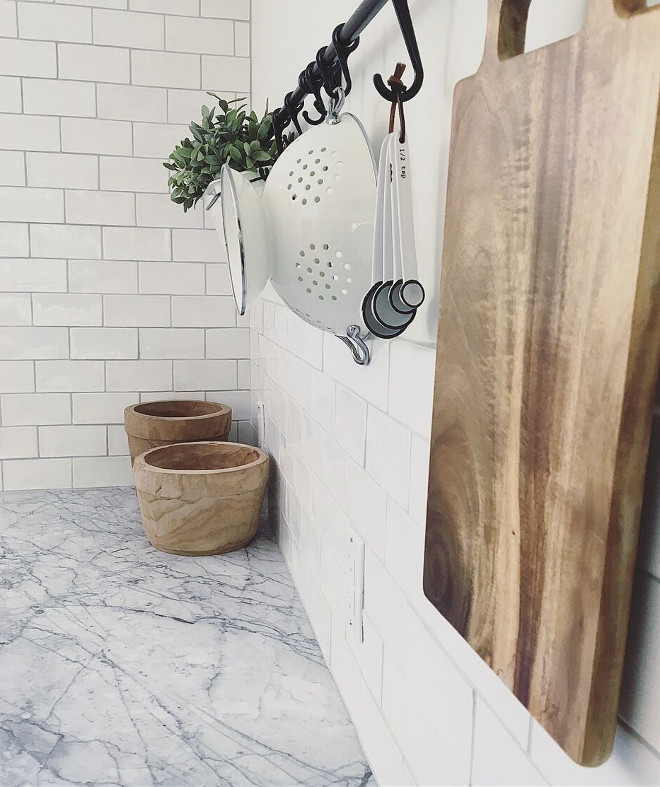 The white strainer is from Ikea.
Farmhouse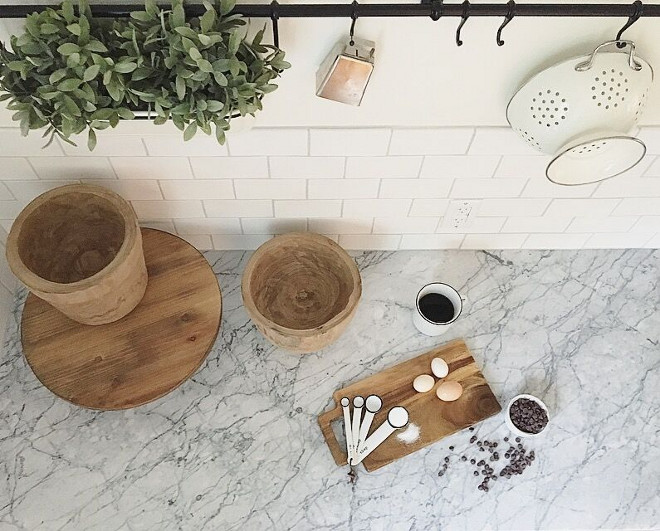 Measuring spoons are Magnolia Market.
Magnolia

Wooden planters and cake plate are also from Magnolia Market.
Wooden Bowl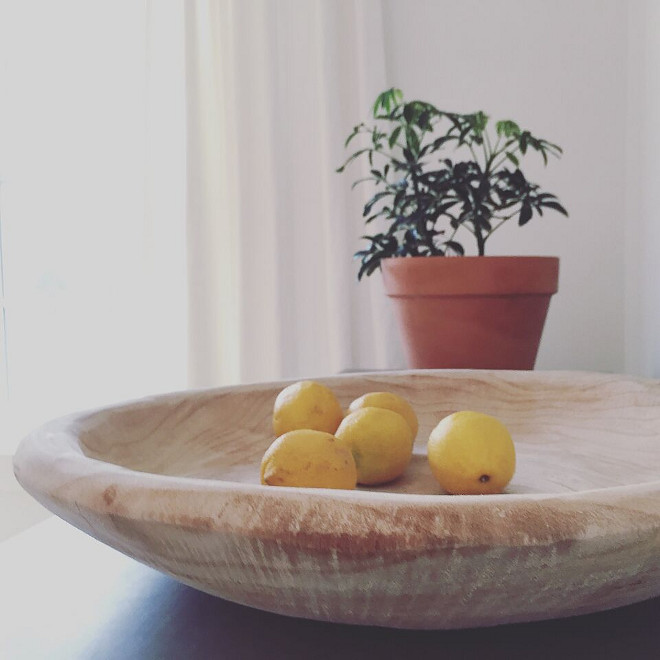 This wooden bowl on island is also from Magnolia Market. 🙂

Counterstools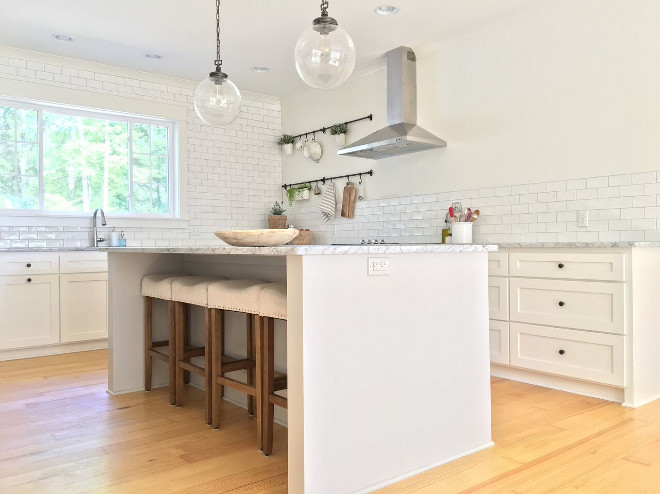 Kitchen island stools are from Target – Threshold Rumford Saddle 29″ barstools in Flax Linen.
Nap Time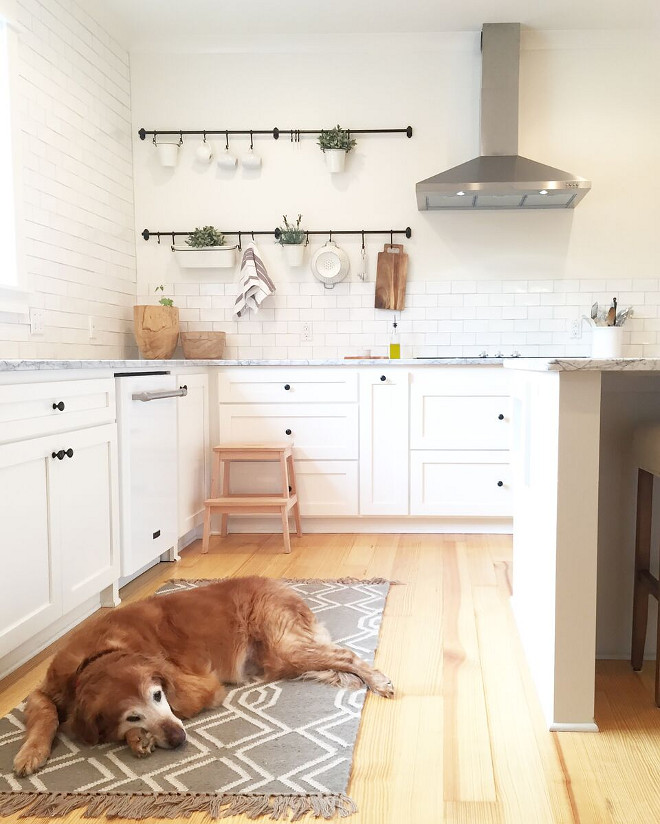 Hampton has the right idea!!! Isn't he cute? 🙂
Stove Top – Maytag 36′ Electric Cooktop with Dual Choice Elements Model# MEC9536BS.
Vent Hood – 36 in. Contemporary Stainless Steel Wall Mount Range Hood in Stainless Steel Model# WVW53UC6FS.
Farmhouse-style Hanging Rods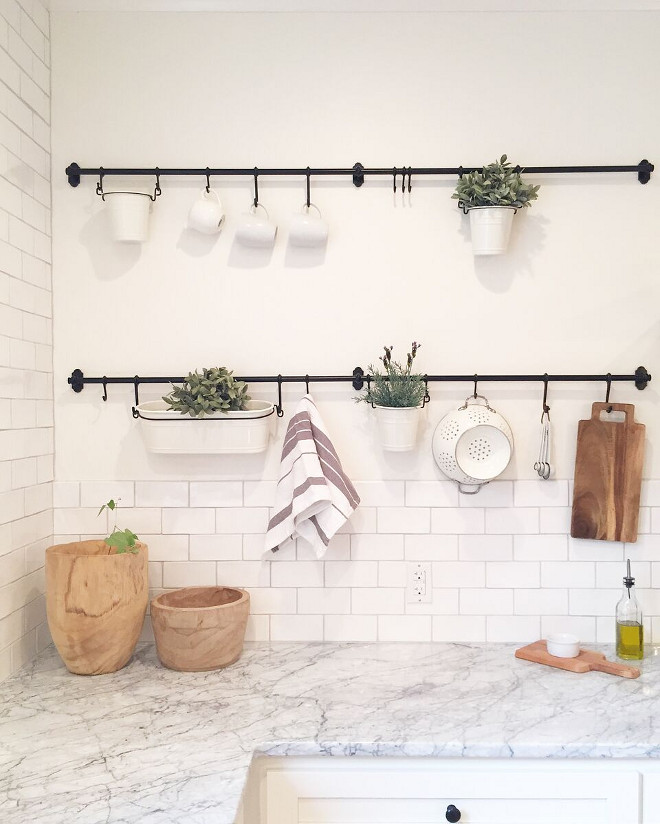 Hanging Rods, hooks and hanging pots are from Ikea – Fintorp.
Cabinet Style

Cabinets are custom in Shaker Style.
Knobs

Cabinet Pulls: Amerock Allison Collection – Flat Black 1-1/4′
Appliances

Appliances: Refrigerator, Double Ovens, Dishwasher – Maytag White Stainless Steel.
All appliances were purchased at Home Depot.
Kitchen Lighting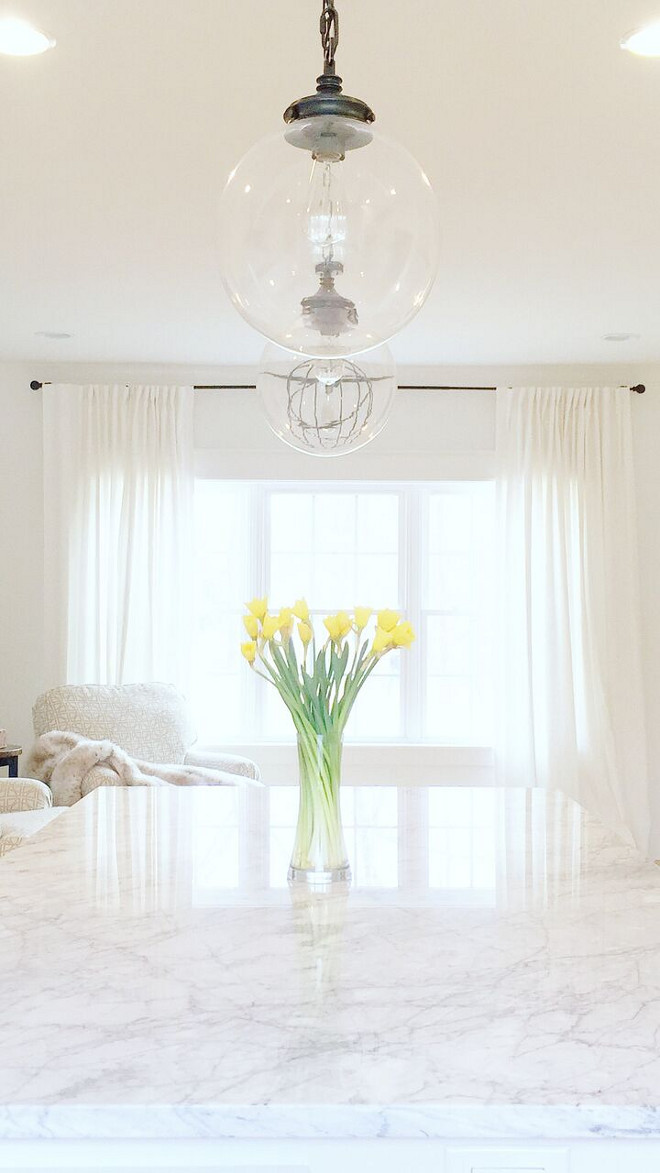 Globe Pendants: Pottery Barn Calhoun Glass Pendant.
Keeping Room

What a cozy & inviting space!
Light Fixture: Restoration Hardware Fuller Sphere Pendant
Rug: Pottery Barn 8′ Round Jute.
Metal Wall Art: Kirklands.
Curtains: Pottery Barn – Emery Linen Drapes in White, Curtain Rod and Finials: Pottery Barn Cast Iron Rod and Finial Balls.
Grey Buffet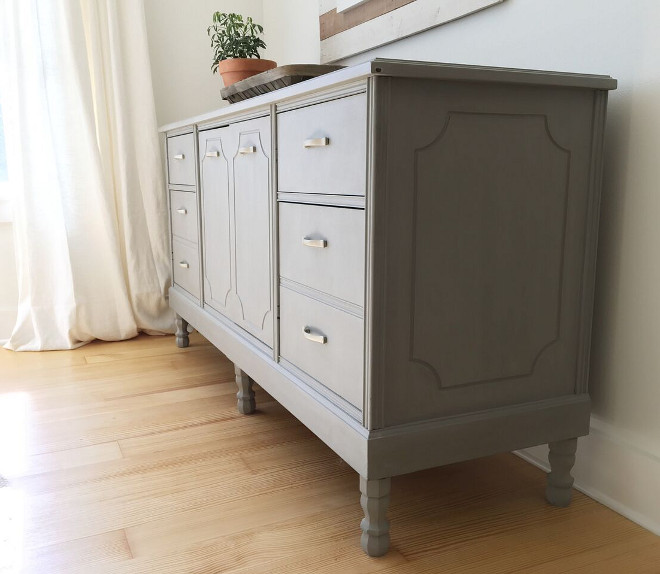 Buffet: Purchased from a yard sale and refinished in Annie Sloan French Linen, Paris Gray and sealed with AS Clear Wax.
Family Room

This room is our private family hangout, tv room and currently doubles as playroom. Designed with a pocket door, the room can be shut off from the rest of the home for loud TV watching, slumber parties or overnight guests.
Rug: Target Threshold Kenya Fleece Rug in Cream 7×10
Floor: 5″ Pine finished in Fiddes Hardwax Oil Clear Satin
Decor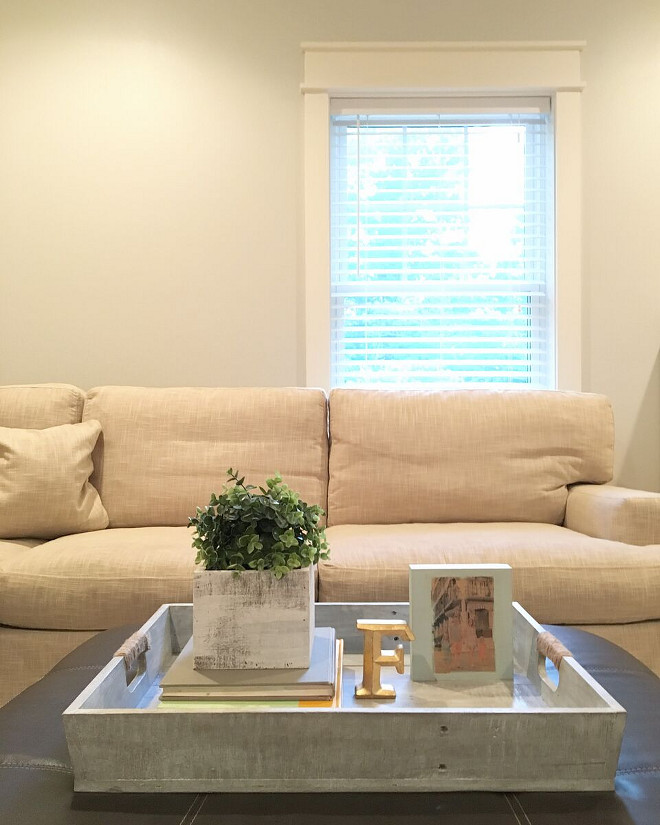 I love how every space is filled with love without feeling cluttered.
Whitewashed Wood


Wood Ottoman Tray: CleverGoose shop.
Paint Color

Walls: Behr Silver Drop mixed by Sherwin Williams.
Ceiling and trims: Sherwin Williams Alabaster.
Chest: Vintage family piece painted in Annie Sloan Cocoa and finished in AS clear wax
Grey Interior Doors

Interior Pocket Door: Masonite Doors Logan Solid Core painted in Sherwin Williams Mindful Gray 50%
Door Knobs

Door knobs: Schlage Plymouth knob with Addison backplate trim (custom order).
Upstairs Hallway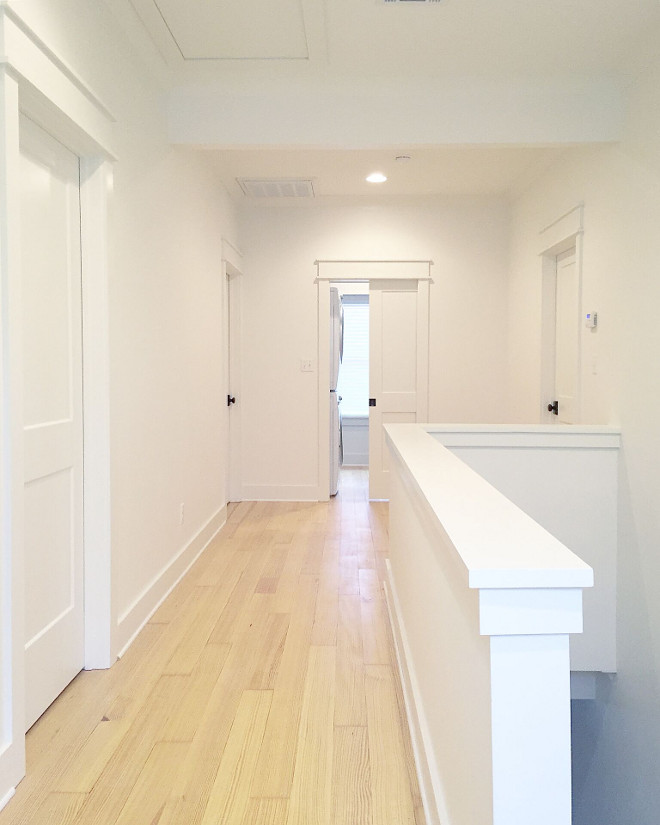 In search for the best white paint color? Sherwin Williams SW 7008 Alabaster is the perfect white! Creamy white but not yellow or antiquey white, not stark white either just the perfect!
Walls, trim, doors and ceiling: SW Alabaster.
Floors: 5″ Pine – Finished with Fiddes Hardwax Oil in Clear Satin
Laundry Room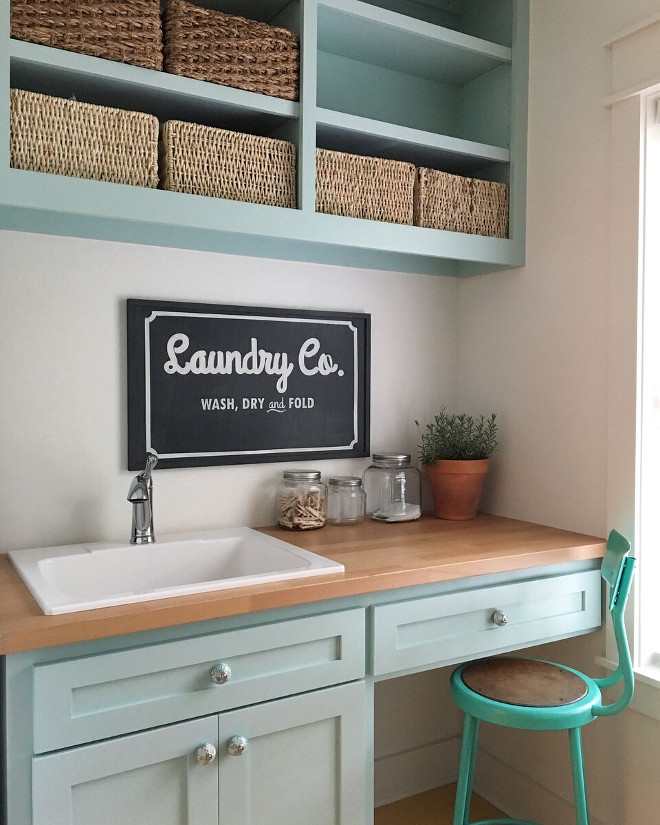 Laundry is more fun in this space! From the beginning, I knew I wanted a fun pop of color on the cabinets.
Laundry Room Paint Color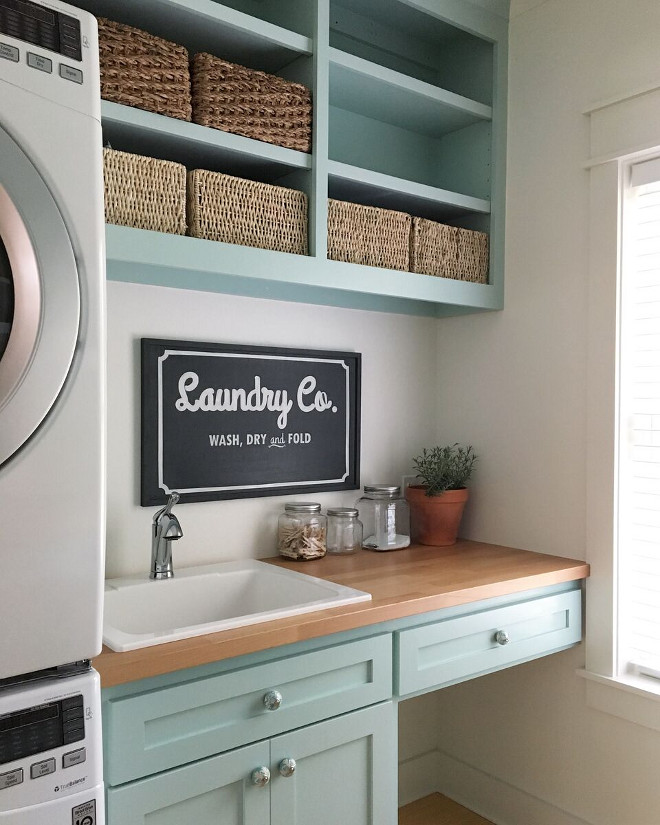 The custom cabinets in shaker style are painted in Sherwin Williams SW6470 Waterscape.
Walls, trim, ceiling and door: SW Alabaster.
Laundry Room Sign

The vintage-looking laundry room sign is from CleverGoose shop.
Faucet: Delta Faucets
Knobs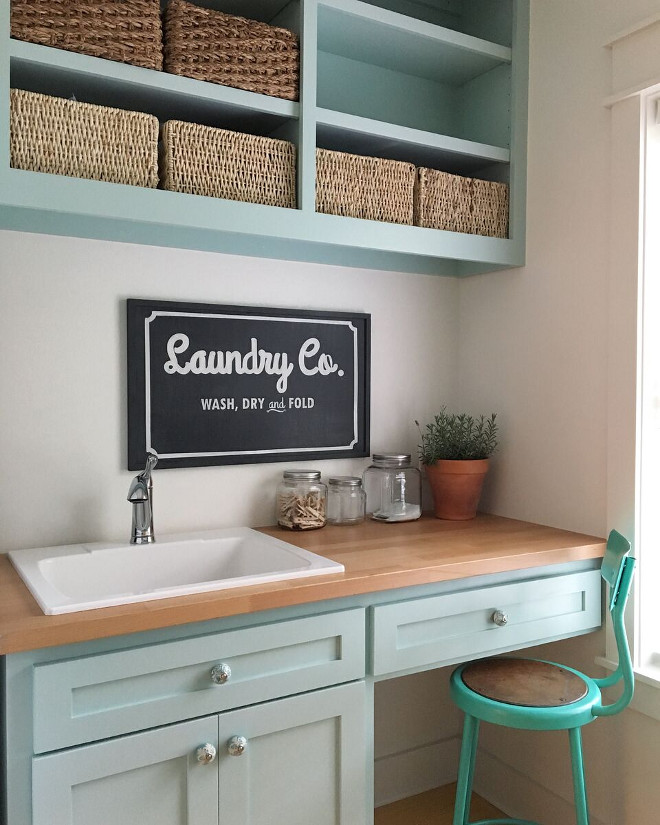 Cabinet Pulls: Vintage from Greece purchased at the Annunciation Greek Orthordox Church Greek Food Festival.
Glass Canisters: Anchor Hocking from Walmart.
Baskets: HomeGoods.
Craft Room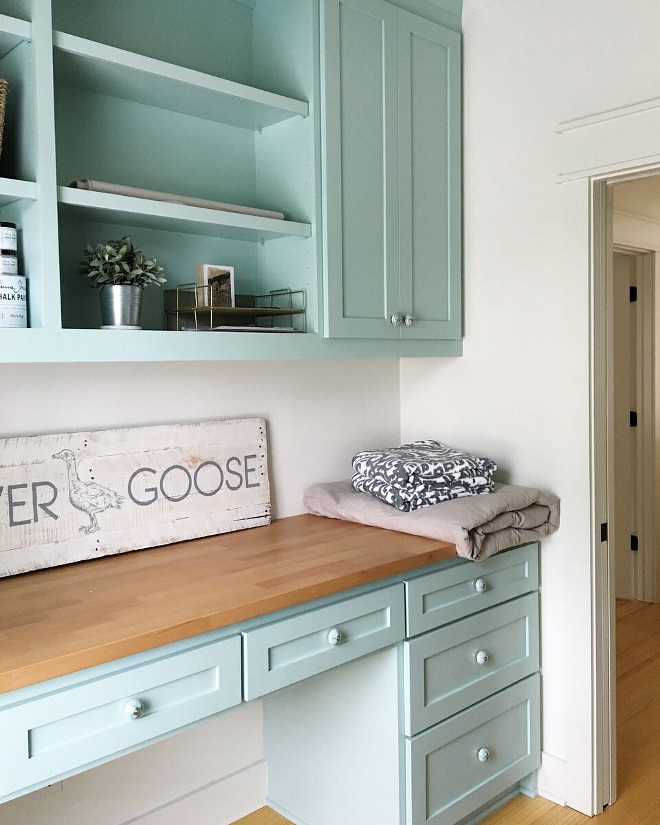 Located at the end of the upstairs hallway, between the master and an additional bedroom, this space is not just for laundry, but also for crafts and homework. I designed it so that a chair can be pulled up to each counter and used as a work space.
Laundry Room Countertop

The butcher block countertop is from Ikea.
Guest Bath Door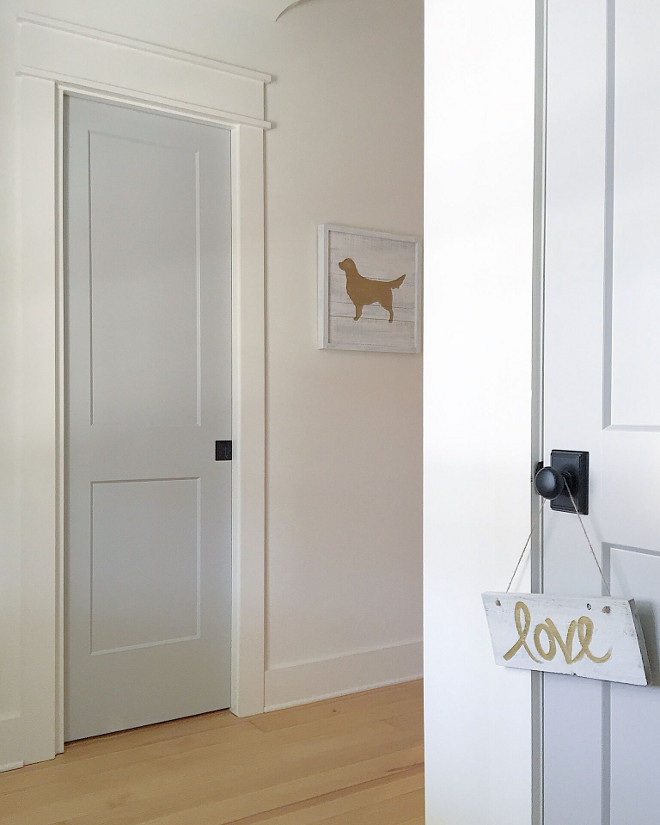 Directly off the back entrance and the family room, I wanted a full bath to accessible to the pool and for overnight guests.
Door: Pocket Door – Masonite Doors Logan Solid Core painted in Sherwin Williams Mindful Gray at 50% strength.
Guest Bath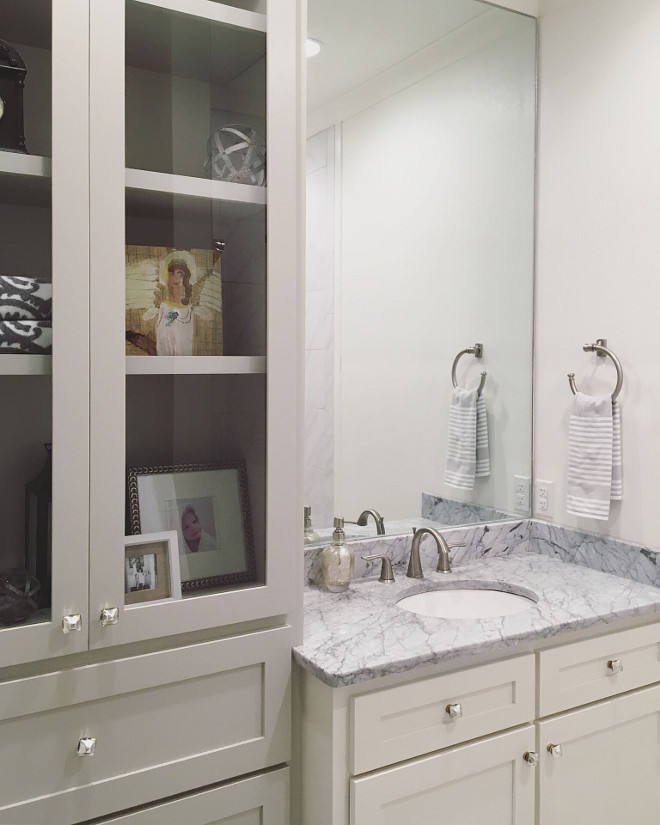 This space is small, but everything fits perfectly. I designed the tall cabinet with glass doors and painted in a different color than the vanity so it would appear to be furniture. This cabinet has an outlet for a small lamp and is perfect for showing off decor. The bottom drawers hold pool towels, sunscreen and other pool essentials.
Faucet: Delta Lahara widespread two handle lavatory in stainless.
Cabinet Hardware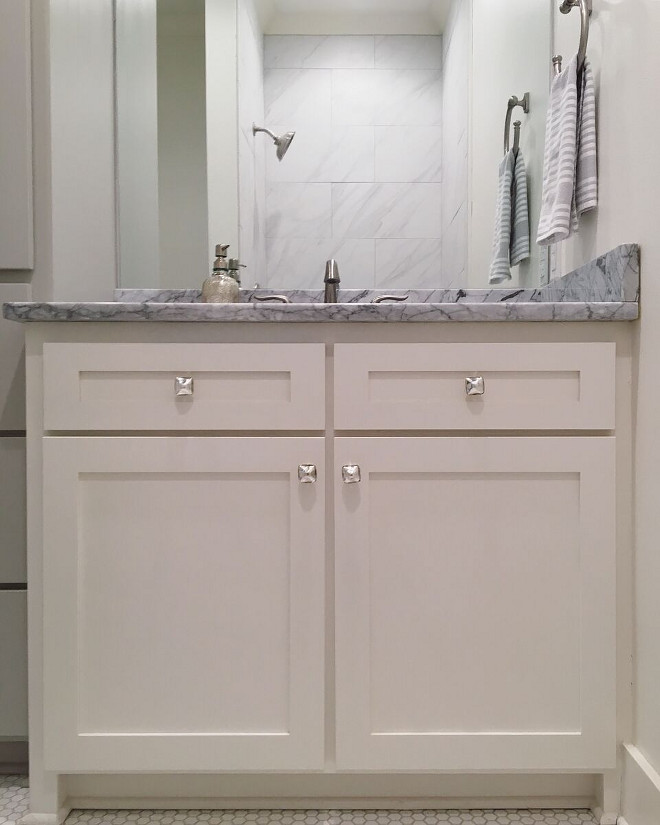 The cabinet hardware is Schlage.
Countertop

Countertops are Polished Carrara Marble – slab has a statuary marble look.
Shower Tile: Daltile 12×24 Florentine Calcutta.
Grout: Fusion Pro in Rolling Fog.
Two-toned Cabinet

Tall Cabinet with Glass Doors Paint Color: Sherwin Williams Mindful Gray at 50% strength.
Walls, trim, ceiling and vanity: Sherwin Williams Alabaster.
Floor Tile: SOHO 1″ hex white.
Master Bedroom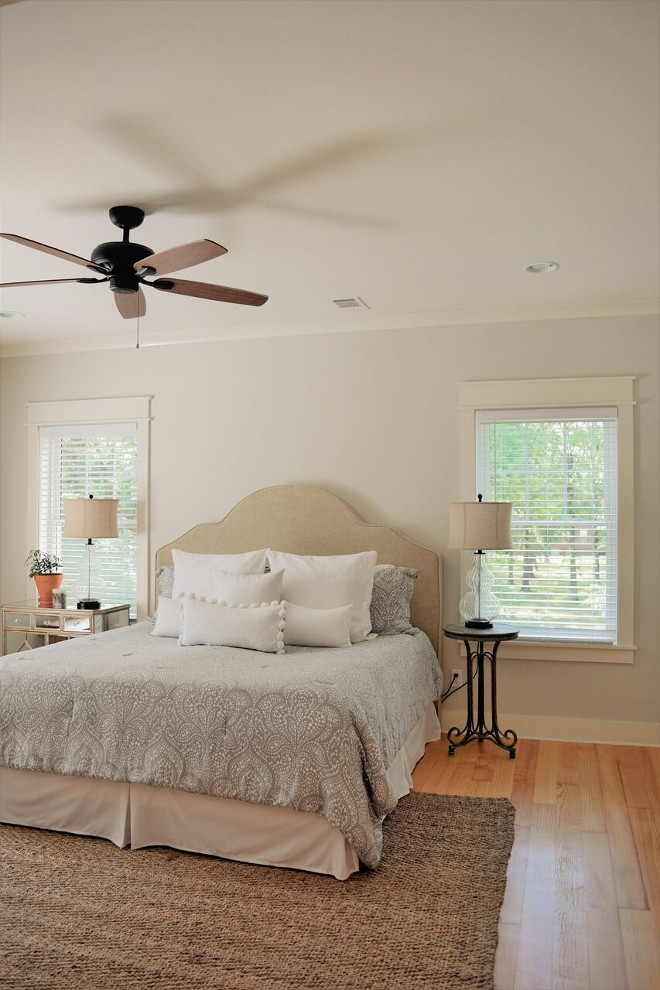 I love how calm and serene Allison's bedroom feels.
Rug: Pottery Barn Chunky Jute.
Bedding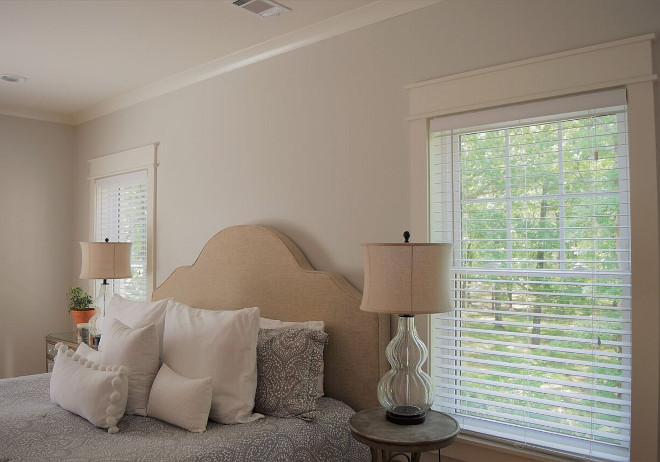 Headboard, lamps and mirror chest are from Kirlands.
Bedspread: Cynthia Rowley from Marshalls.
Pompom Pillow: Pottery Barn Teen.
Paint Color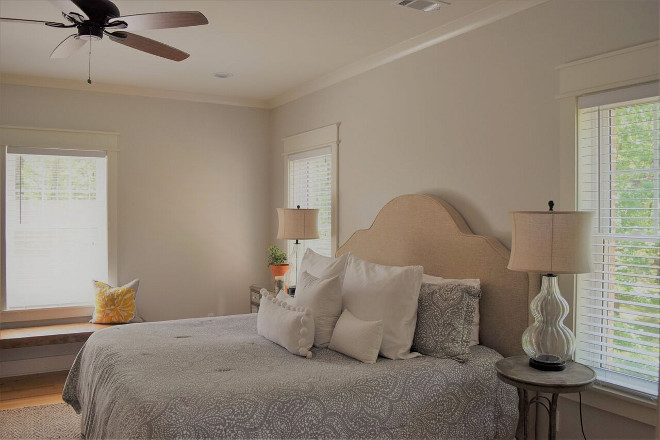 The wall paint color is Behr Silver Drop.
Ceiling and trims and door: Sherwin Williams Alabaster.
Master Bath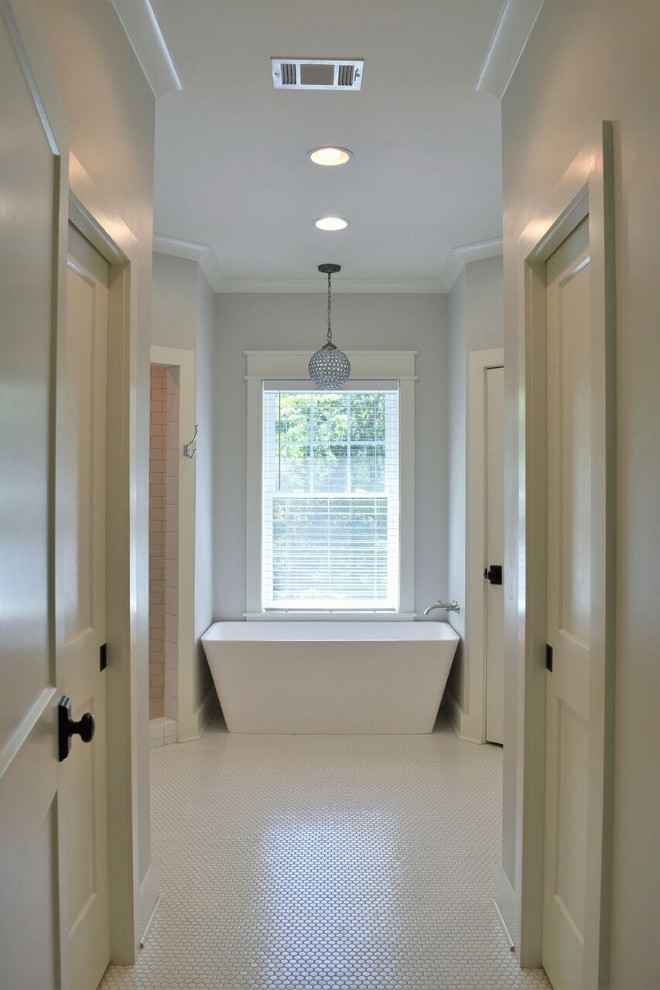 Light gray walls, white trim, clean lines in the shaker style cabinets and the classic white hex floor tile makes this space light, bright and classic with a modern and romantic twist, thanks to the freestanding bathtub and sparkly chandelier.
Wall paint color is Behr Silver Drop.
Vanity

Instead of installing the sink in the middle of each vanity (his and hers), we installed it to one side to allow for counter space room.
Trim, cabinets, doors and ceiling: SW Alabaster.
Faucet: Delta Lahara widespread two handle lavratory in stainless.
Cabinet Pulls: Amerock Allison Collection – Brushed silver 1-1/4′
Countertops are Polished Carrara Marble.
Lighting

Chandelier: Restoration Hardware Baby & Child – 14″ Claridge Crystal Pendant.
Tub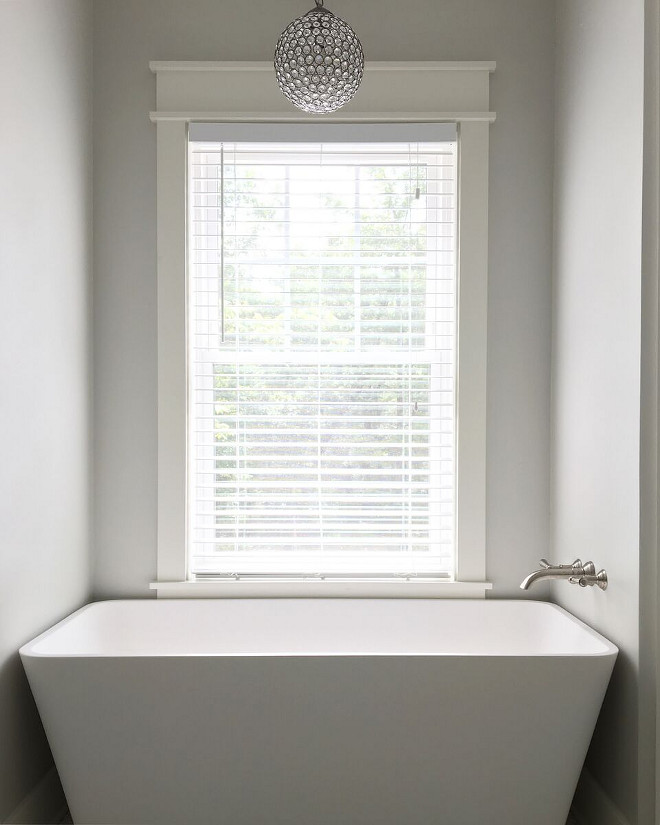 Bathtub: ADM Bathroom Design SW-103S-MATTE, Matte white Stone Resign.
Flooring

Floor Tile: SOHO 1″ hex white.
Grout: Fusion Pro in Rolling Fog.
Kids Bedroom
Light and bright, with a mint green accent wall (not shown), this room shares a jack n' jill bath and a walk through closet into the adjoining bedroom.
Bed Frame: Overstock.
Bedding: Pottery Barn Kids.
Lala Land Wood Sign @theclevergoose.
Wall Decor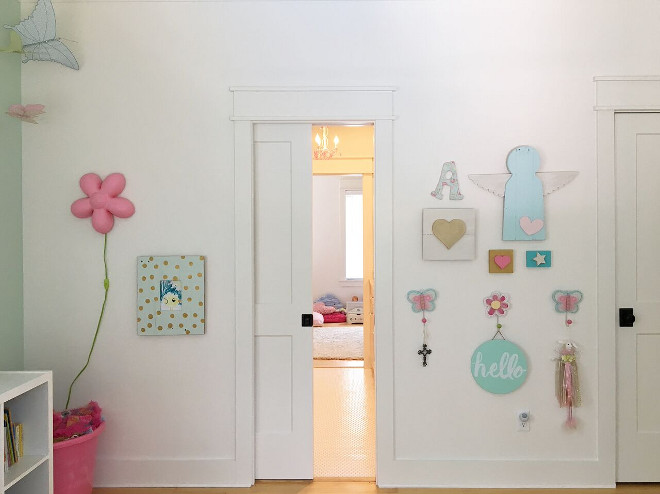 Gallery wall items: @theclevergoose.
Flower Wall Light: Ikea.
Accent wall (left): Sherwin Williams Mint Condition.
Jack & Jill Closet

Instead of creating two smaller walk-in closets, I designed this closet with no dividing wall. There's lots of built-in shelves with plenty of room for clothes and toys.
Doors

Masonite Doors Logan Solid Core.
Wooden Angel: @theclevergoose
Jack n' Jill Bath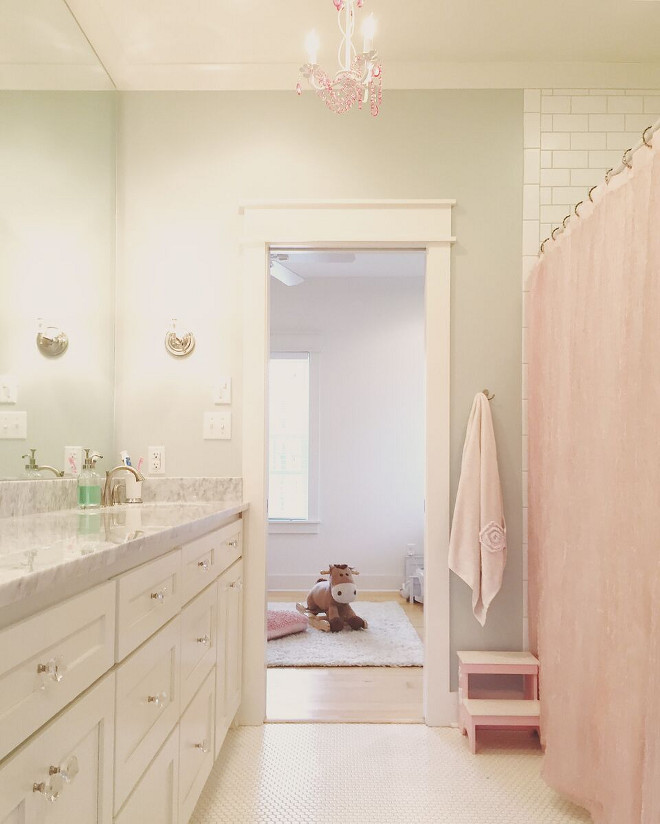 Paint Color: Sherwin Williams Sea Salt.
Mini Chandelier: Trans Globe 50309 Mini Chandelier – I didn't like the color so I spray painted it white.
Cabinet Pulls: Hobby Lobby.
Vanity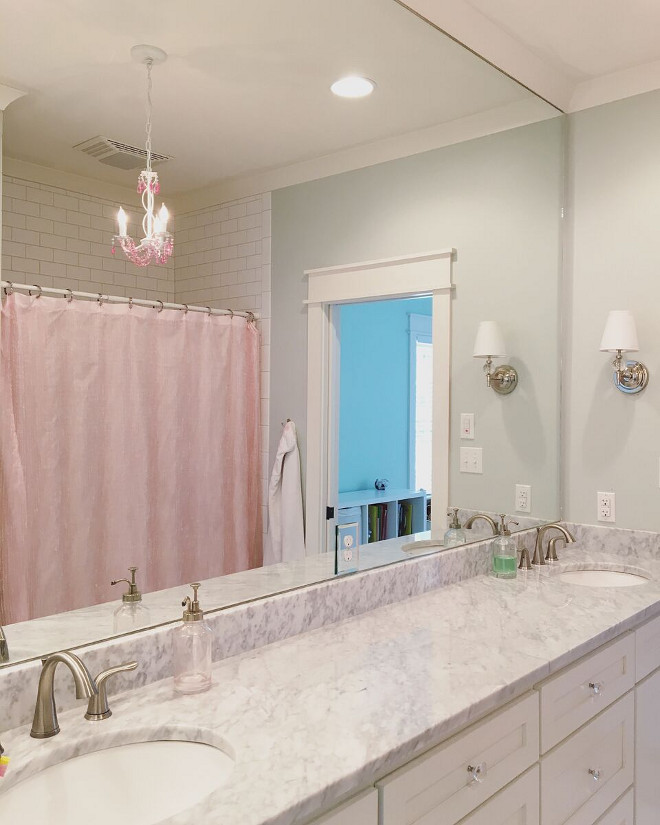 The nearly 10′ long vanity was designed with a cabinet under each sink and a stack of drawers to the side. The sinks were installed close to each wall to allow for plenty of room on the opposite side (between the two sinks) for hair dryers, and other primping necessities.
Countertop is Polished Carrara Marble.
Sconces: Restoration Hardware.
Mudroom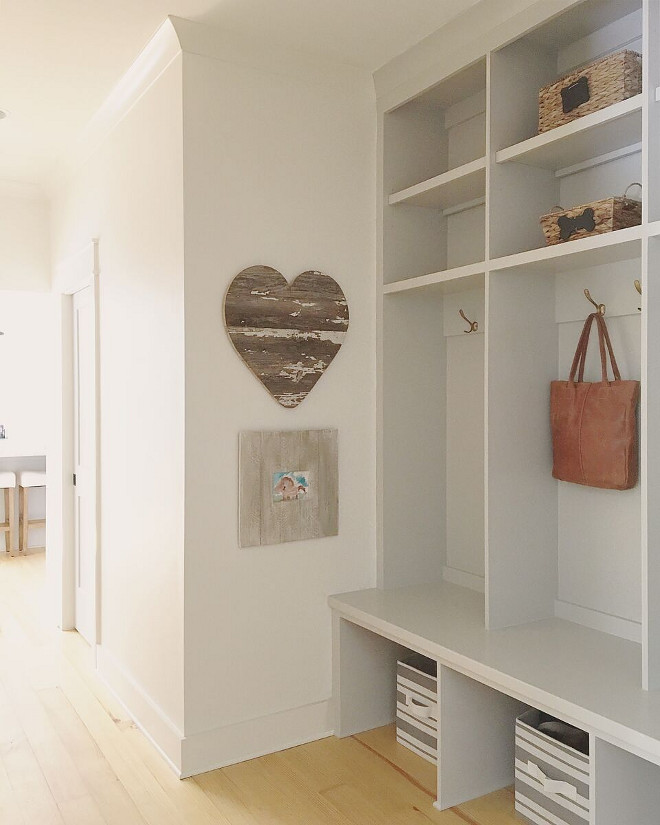 I LOVE this space! Directly off the back door entrance, everyone can stash their backpacks, coats and sweaters on the hooks. Shoes fit perfectly in the canvas baskets below. The bench is perfect for sitting. Everything has a place!
Wicker Baskets: HomeGoods.
Wooden Heart and Photo Frame: @TheCleverGoose.
Canvas Totes under cubbies: Better Homes and Gardens purchased at Wal-Mart.
Cabinet Paint Color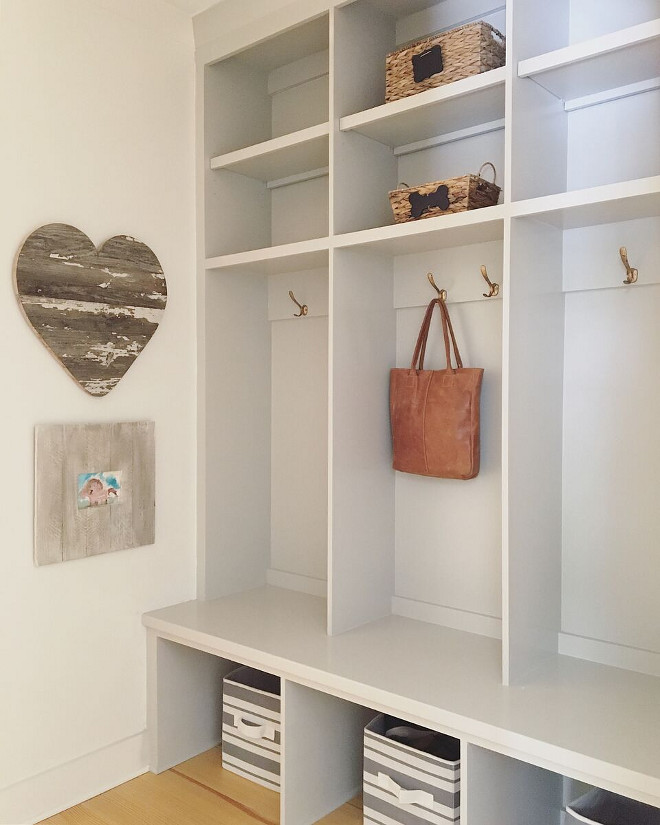 Cubbies and trim: Sherwin Williams Mindful Gray at 50% strength.
Gold Hooks: Hobby Lobby.
Downstairs Hallway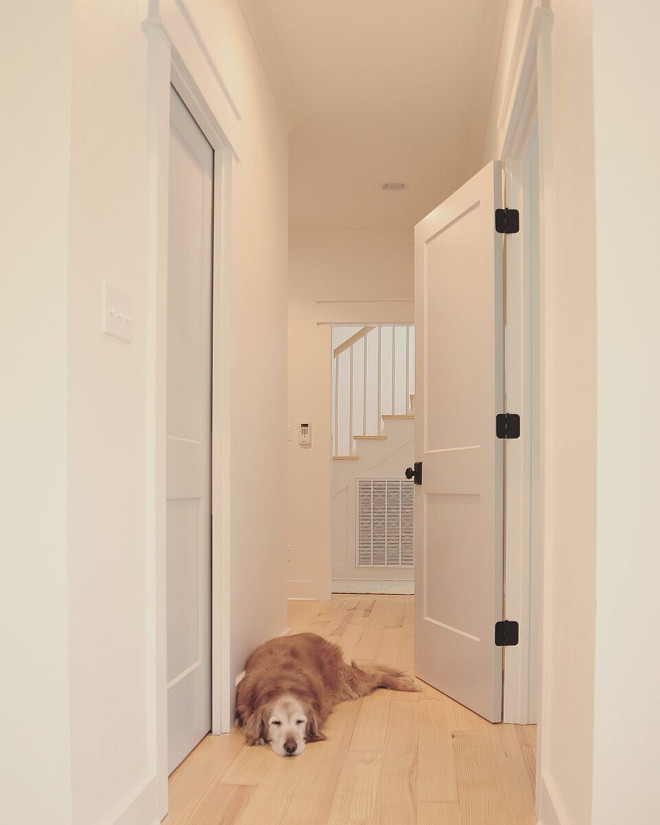 The backdoor leads to the screened-in back porch and pool area.
Backyard

The backyard is very private and it has a very inviting pool!
Flamingo: Intex Inflatable Mega flamingo island float from Wal-Mart.
Screened Porch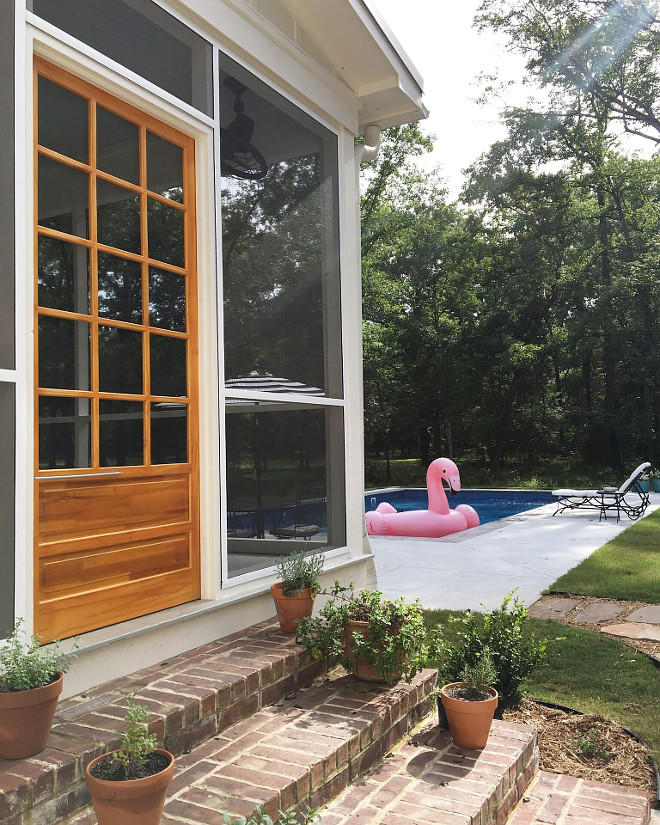 A screened porch leads you to the pool area.
Brick Steps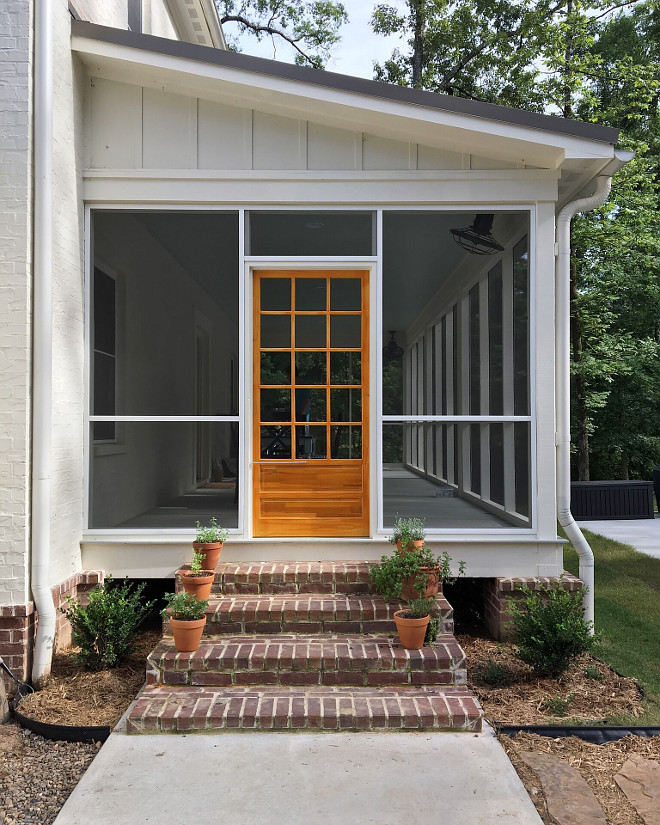 Exposed Brick: Boral Market Square king size.
Mortar: Ivory Buff.
Boxwoods: Wal-Mart.
Back porch ceiling: Beadboard painted in Benjamin Moore Palladian Blue.
Back porch fans: Home Depot Home Decorators Collection Bentley II
Nature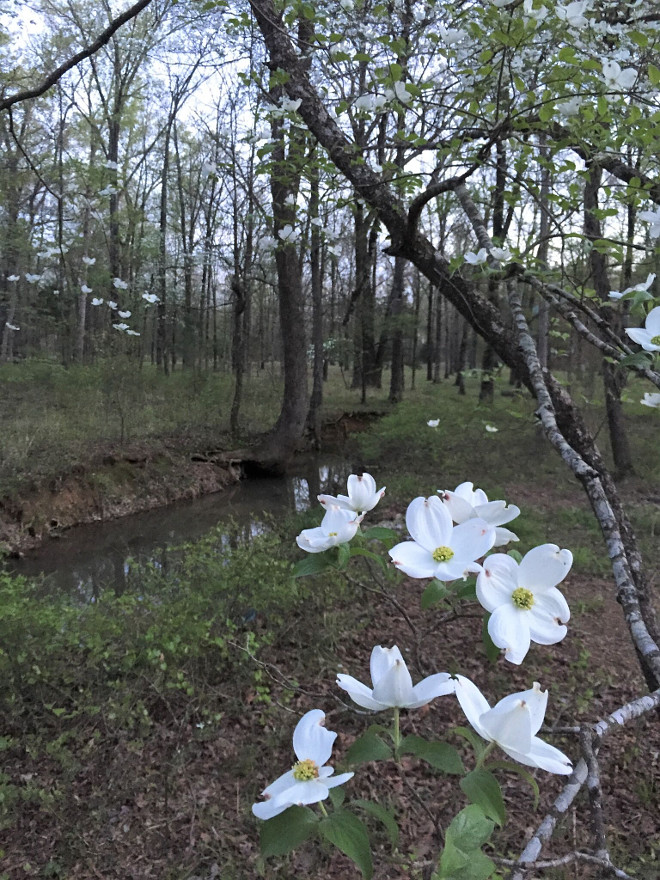 Nestled on 5 acres with a creek wandering around the property, you'll find lots of naturally growing dogwoods lining the creek and wildlife playing on the property.
Made with Love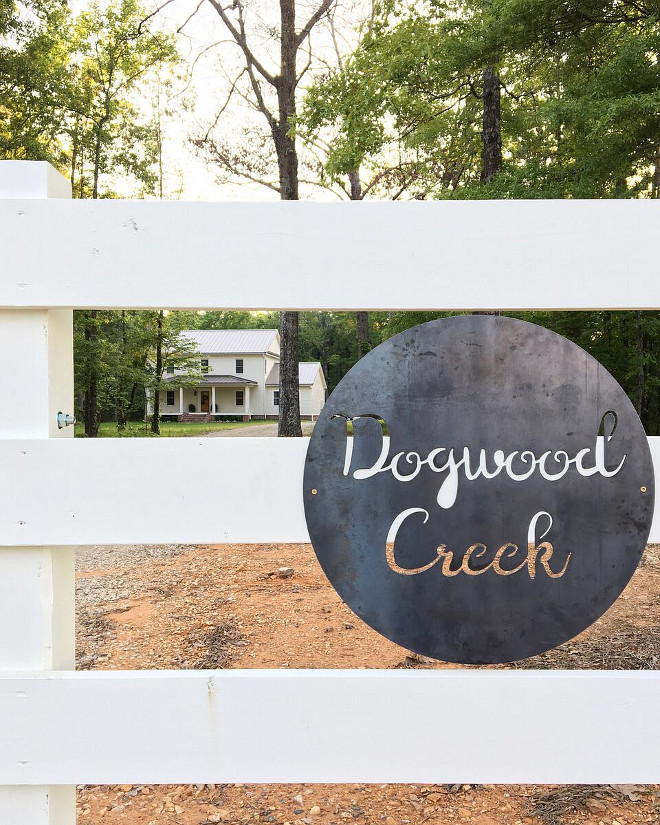 I hope you enjoy the tour of our home, Dogwood Creek!
Make sure to follow Allison from @theclevergoose on Instagram to see more photos of her beautiful home! 🙂
Best Sales of the Month:
Thank you for shopping through Home Bunch. I would be happy to assist you if you have any questions or are looking for something in particular. Feel free to contact me and always make sure to check dimensions before ordering. Happy shopping!


Serena & Lily: Enjoy 60% Off hundreds of sale styles!
Wayfair: Up to 70% OFF – Home Remodel Sale!!!
Joss & Main: Warehouse Clearout – Up to 70% off!
Pottery Barn: 40% OFF EVERYTHING + Free Shipping – Use code: FREESHIP
One Kings Lane: High Quality Design Decor for Less.
West Elm: Best time to shop. Up to 40% off Everything!!!
Anthropologie: See the super-popular Joanna Gaines Exclusive line!
Urban Outfitters: Hip & Affordable Home Decor.
Horchow: High Quality Furniture and Decor. Up to 30% off the entire site!
Nordstrom: Up to 40% OFF. New Easter Decor!
Arhaus: Dining Sale. Up to f0% OFF!

Posts of the Week: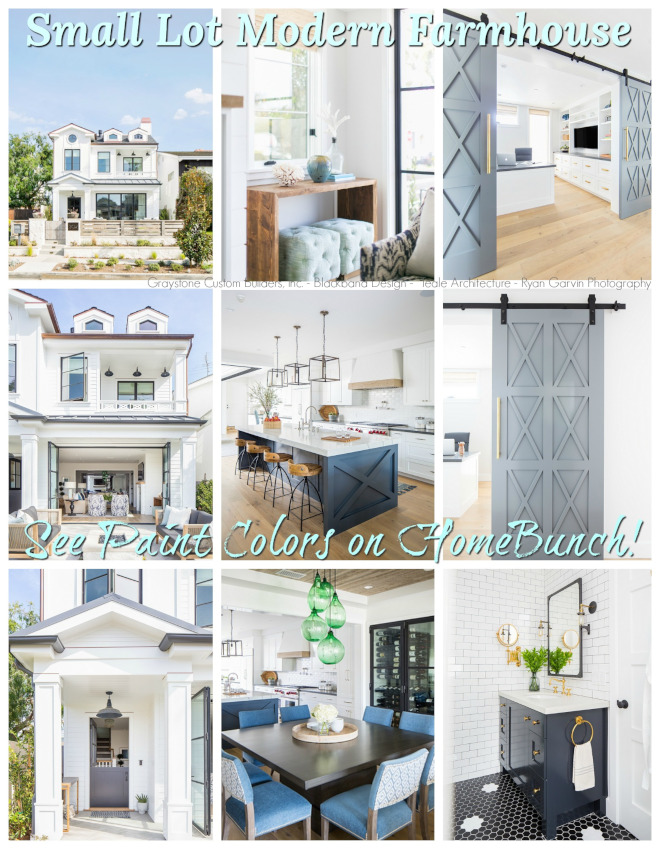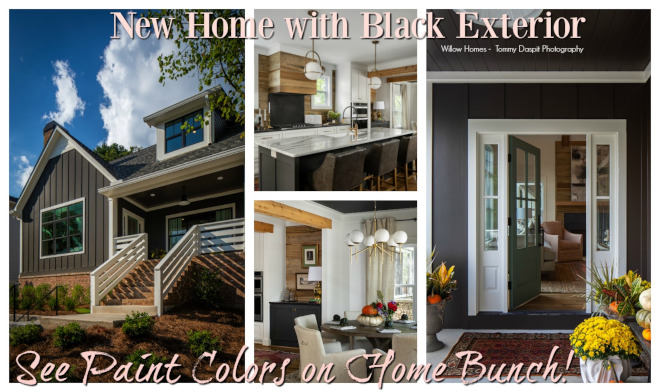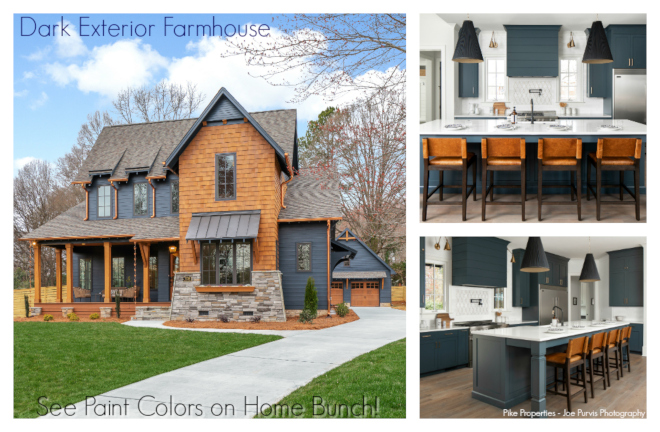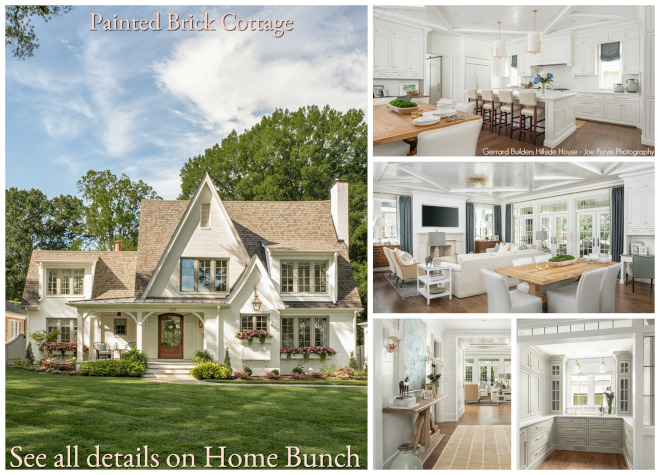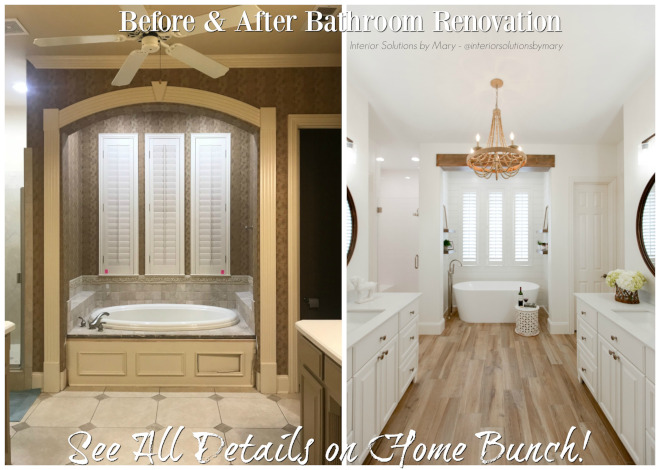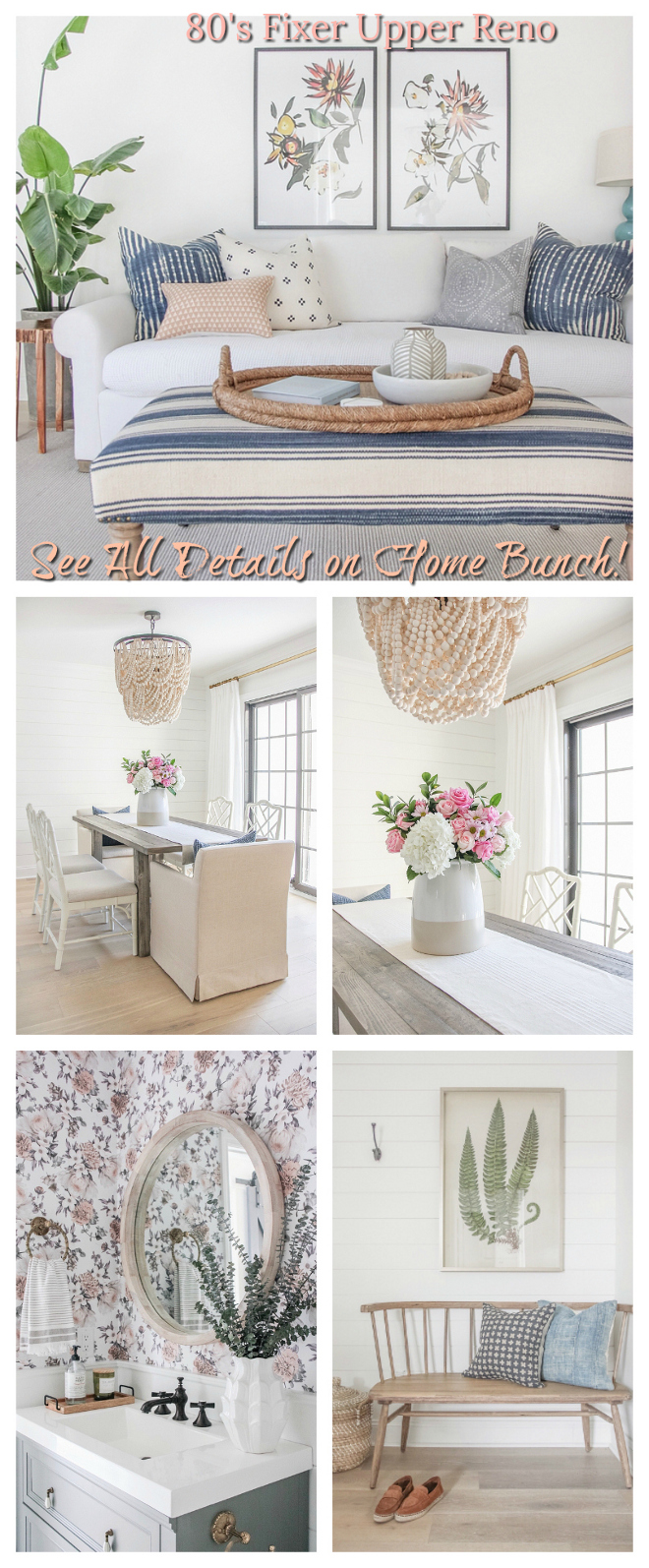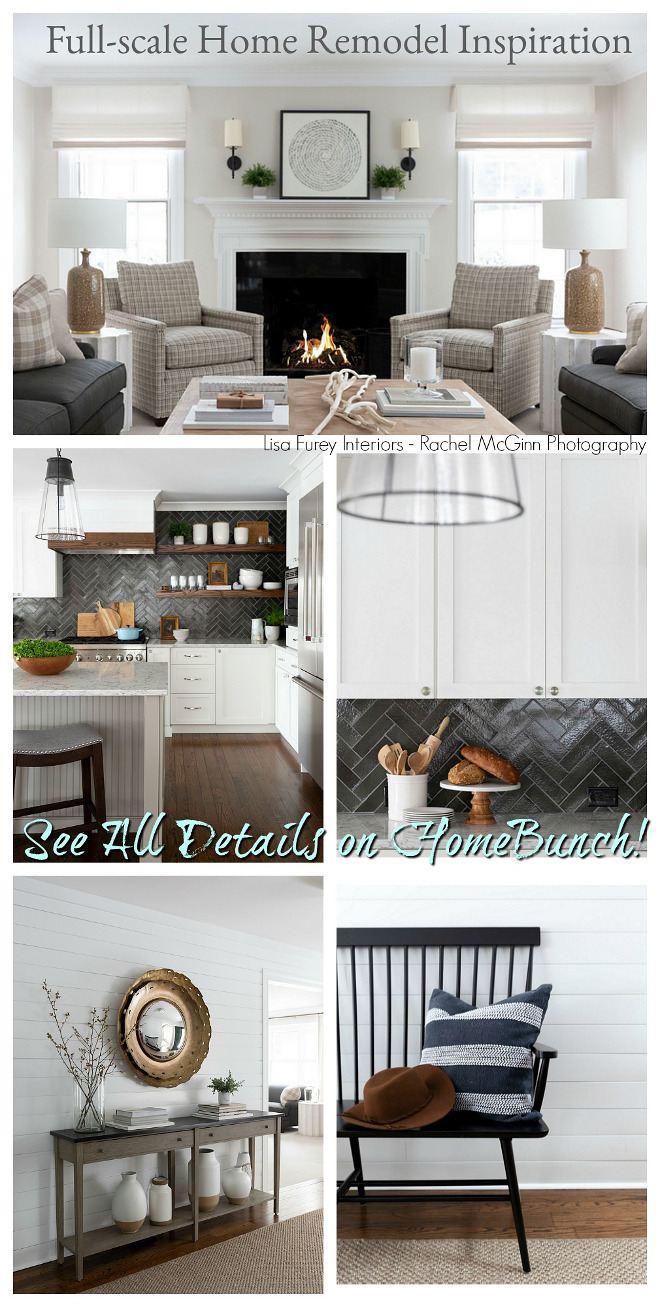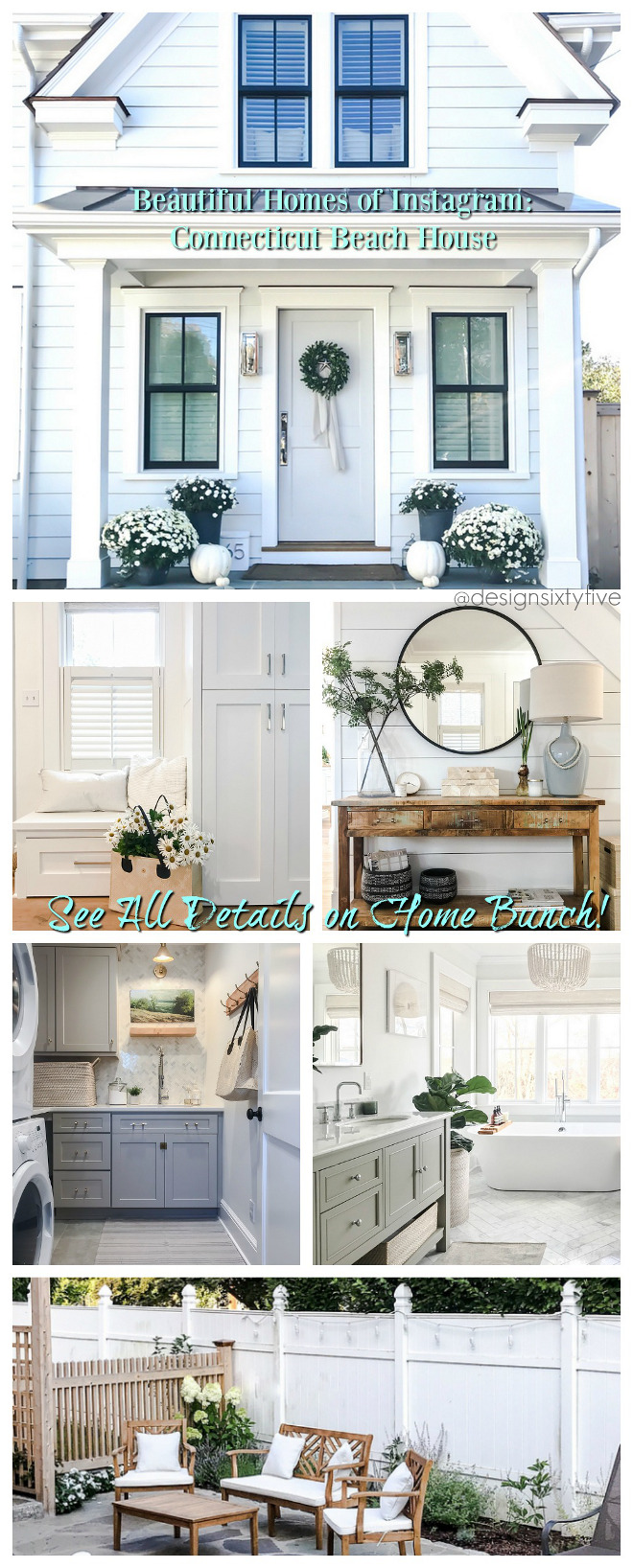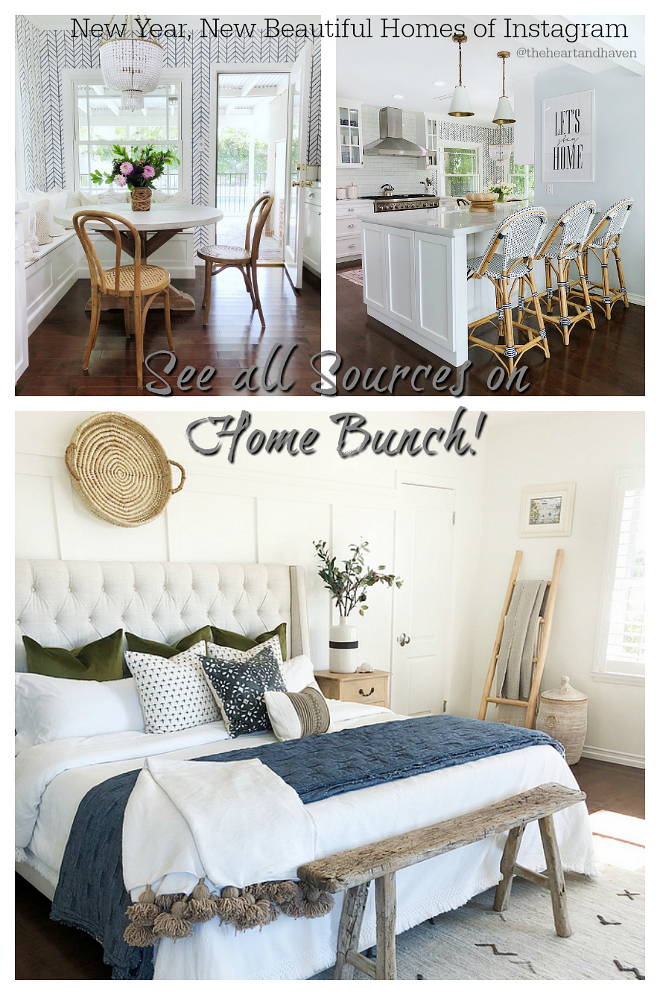 Follow me on Instagram: @HomeBunch

See more Inspiring Interior Design Ideas in my

Archives.
"Dear God,

If I am wrong, right me. If I am lost, guide me. If I start to give-up, keep me going.
Lead me in Light and Love".
Have a wonderful day, my friends and we'll talk again tomorrow."
with Love,
Luciane from HomeBunch.com
Get Home Bunch Posts Via Email

"For your shopping convenience, this post might contain links to retailers where you can purchase the products (or similar) featured. I make a small commission if you use these links to make your purchase so thank you for your support!"