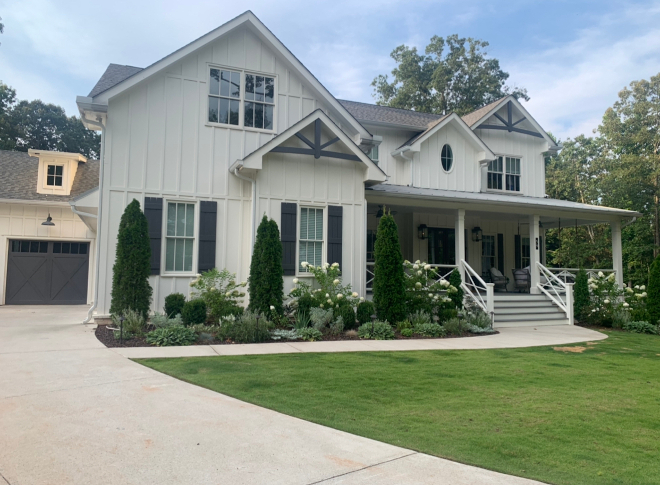 Hello, my wonderful friends! How are you today? I am having a crazy busy week and I am a little late with this post but I am sure it will be all worth it. In my opinion, there's something very special about our "Beautiful Homes of Instagram" series. Besides having the homeowners approaching me (through tags and DMs on my Instagram), it's their willingness to get their home ready for a house tour, taking the pictures (themselves or professionally) and opening their doors and their heart to share all of the details with you that makes things feel extra special.
Today we will be touring Lacey's, @wrapped_in_lace', stunning home and let me tell you, be prepared because this is a home you will fall in love with. I certainly did! Lacey's style is impeccable and her home feels heavenly. It's a place where classic elements are harmoniously balanced and where comfort prevails.
Keep reading to learn about Lacey's journey of building her dream home:
"Hey everyone! I'm Lacey Karasik of @wrapped_in_lace and I'm so thrilled to be featured by Luciane today! When we were searching for ideas while building our home, we used Instagram as our search tool and I feel so honored to now be a part of that inspiration for others!
Before our home tour, I'd love to tell you a little bit more about myself! I was born and raised in Georgia, and am proud to consider myself a Georgia Peach! I grew up going to a nature based school and learned to have a great respect and appreciation for our environment and the animals that live on it. It made me who I am today, and gave me the compassion to run recycling programs and volunteer in animal rights activism in my personal life. I went to college for early childhood education and taught first grade for almost 5 years before I became a stay at home mom. My husband and I just celebrated our 9th wedding anniversary, and hope to vacation in Japan for our 10 year celebration! In 2018 my husband and I decided to build a home close to the nature based school that had such a huge impact on my life, so we could carry on the tradition for our children.
While I loved teaching, the biggest regret I had in my life was not getting my interior design degree. When we went into quarantine for Covid, I decided I would start this account in hopes of turning it into a portfolio for a career in design one day in lieu of going back to school for a degree. I wanted to take everyone on the decorating journey as we filled our home with love and warmth. I never knew how many doors this would open for me, and just how big of an impact it would have in my life! I have had so much fun finding "my style" through this experience, and have found that it's ever evolving. I love all styles of decor but find that my home styling consists of modern, coastal and grand millennial vibes. However, if you ask my husband- my style changes daily! What can I say? I'm forever inspired! I'd love for you to follow me as I drive my husband crazy, re-styling and re-decorating our home!
I hope you enjoy my home tour! "
Beautiful Homes of Instagram: French Coastal Interiors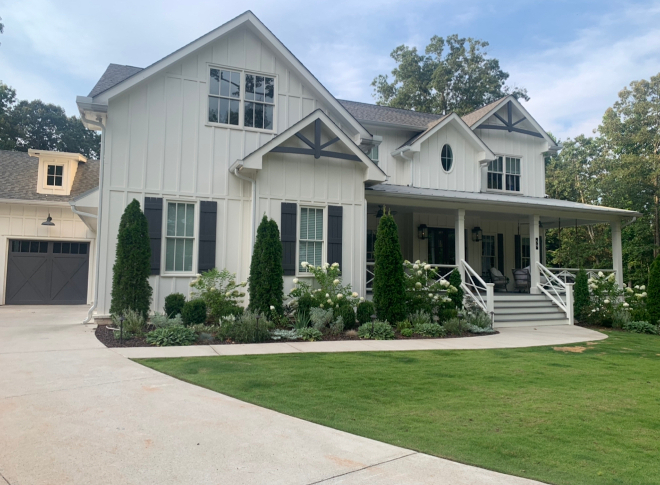 "First and foremost, I have to send a huge shoutout to my father-in-law for building our home! He is the reason why we were able to build our dream home, and we appreciate his time, effort and love so, so much." – Lacey of @wrapped_in_lace
White Exterior Paint Color: Sherwin Williams Dover White.
Shutters & Garage Door Paint Color: Sherwin Williams Peppercorn.
Front Door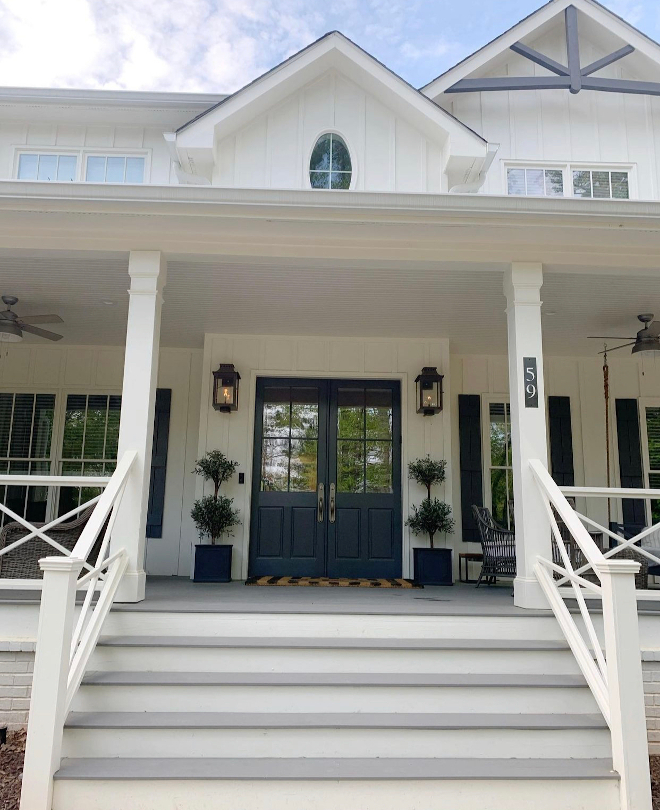 "We wanted to make this space welcoming, warm and inviting for our guests. I love decorating with neutrals because you can really mix and match them amongst almost anything." – Lacey of @wrapped_in_lace
Front Door Paint Color:Sherwin Williams Peppercorn.
Doormat: Ameile Cabana Stripe Monogrammed Coco Door Mat – Others: here, here & here.
Planters: 19″ Cumberland Outdoor Planter, Lead.
Topiaries: 4.5′ Olive Double Topiary Silk Tree.
Lanterns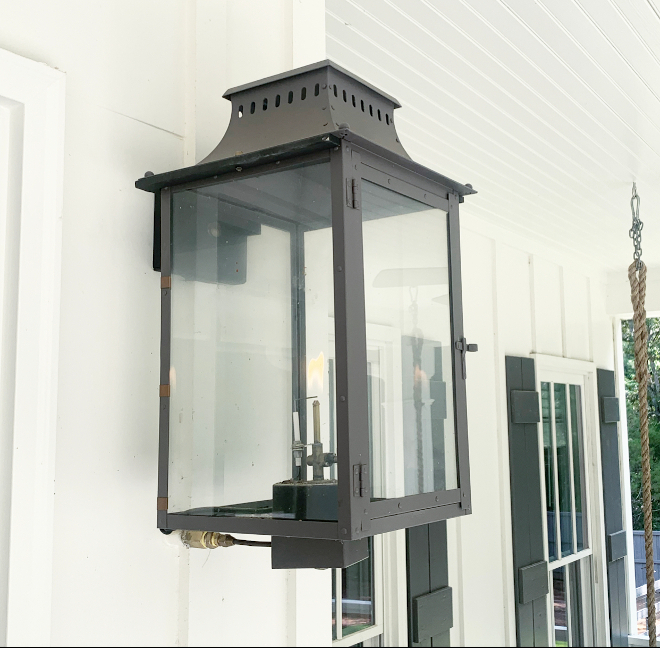 "The number one thing (behind a mudroom) on my husbands "must have" list, was gas lanterns. I am so glad that was a must for him and think they are the perfect way to escalate a front porch." – Lacey of @wrapped_in_lace
Gas Lanterns: Local store – Other Lanterns: here, here, here & here.
Front Porch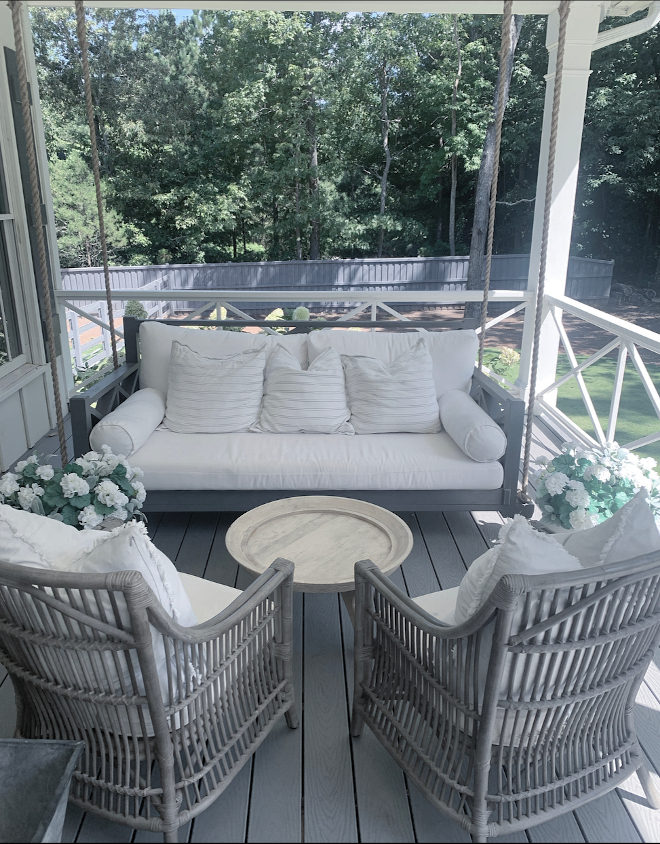 "It's funny because when we first designed our house, our exterior was actually of a French country style. We live in a cul-de-sac off a road with two other farmhouses and right before we started building, we scrapped the French country exterior and swapped instead for a farmhouse one. While I was upset with the choice originally, it added my favorite "room" of the house- the front porch! If you ever can't find me, that's more than likely where I am." – Lacey of @wrapped_in_lace
Chairs: Chair with Cream Cushion and Grey Washed Rattan Frame – similar here.
Coffee Table: Elida Coffee Table with Storage.
Porch Swing: here – similar.
Meet the Homeowner!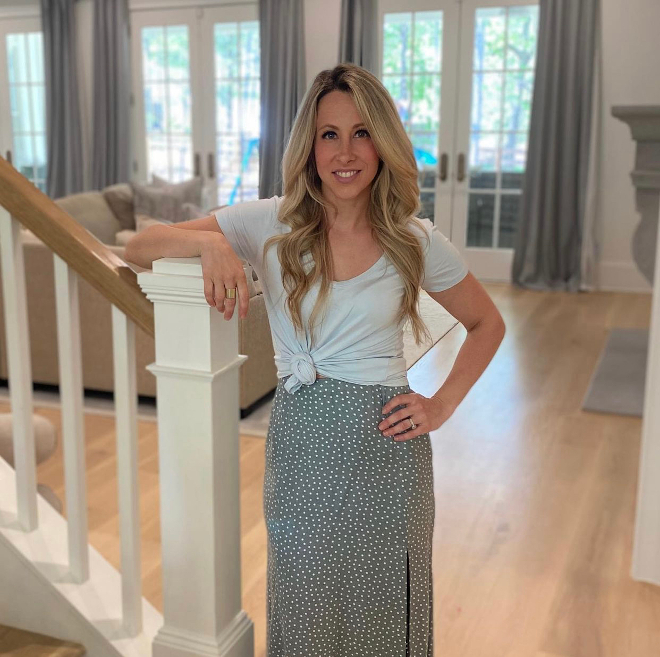 What an honor it is to have Lacey of @wrapped_in_lace on our Beautiful Homes of Instagram series today. This young mother of two is a sweet and talented person and I am so happy to introduce her and her stunning home to you!
Foyer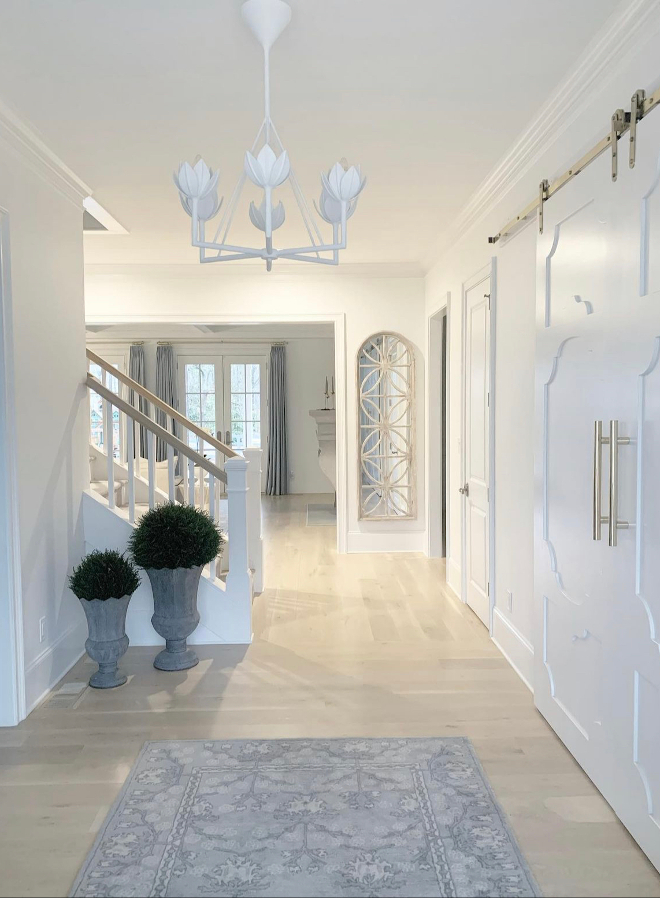 "I love decorating my home with a soft color palette. It just feels welcoming to the eye, and for me, feels easy to look at. To the left is our at home office, and to the right behind the closed doors is our downstairs playroom." – Lacey of @wrapped_in_lace
Arch Mirror: Oversized Arch Natural Fir Classic Mirror (Discontinued) – similar here, here, here, here & here.
Rug: Pottery Barn 5×8 Rug.
Chandelier
"This light is from Visual Comfort and I'm just in love with everything that Julie Neill designs!"
Chandelier: 6 light white Julie Neill Alberto Flower Chandelier.
Paint Colors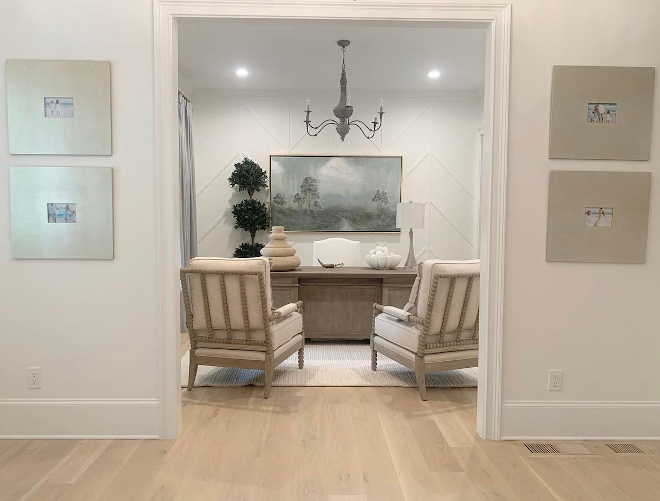 "This is our home office, just off to the left of our foyer. I love the soft color palette in this room. My husband and father-in-law DIY's the focal wall in this room- one of the very first home projects my husband took on! They did such a great job."
Interior Walls: Sherwin Williams Pure White.
Trim: Sherwin Williams Extra White.
Chairs: Serena & Lily – similar here & here.
Chandelier: Pottery Barn Brookings Chandelier – (Discountinued) – Similar style: here, here & here.
Artwork Set: Uttermost Historical Buildings 4-Piece Framed Wall Décor – Lacey replaced the pictures for family photos.
Home Office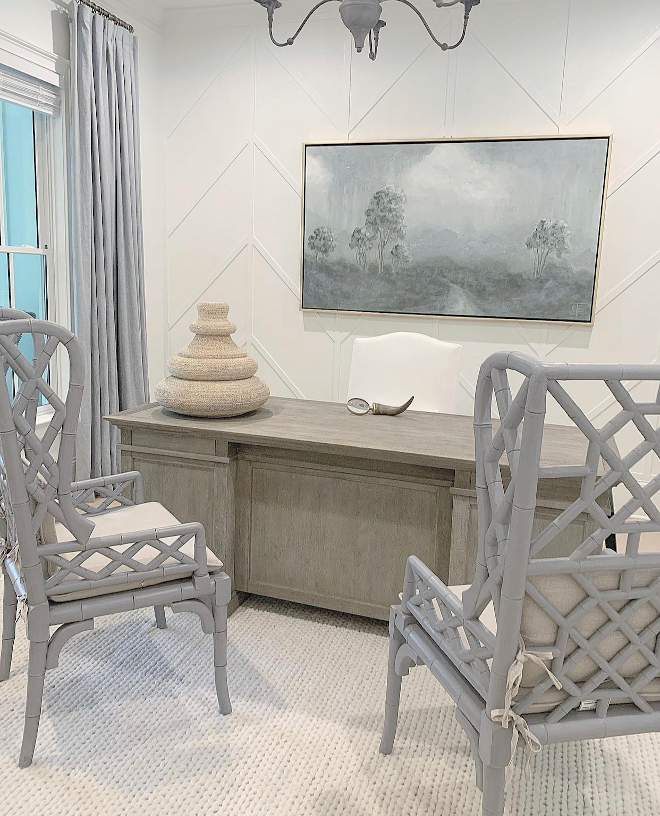 "The office doesn't get as much use as we thought it would, but I occasionally pay it a visit. As you can see, the furniture gets moved around quite a bit around here! Just part of the fun!"
Desk: Pottery Barn Livingston 75″ Executive Desk with Drawers – Others: here, here & here.
Drapery: Blue Gray Pinch Pleated Drape.
Rug: Off White Wool Braided Area Rug.
Artwork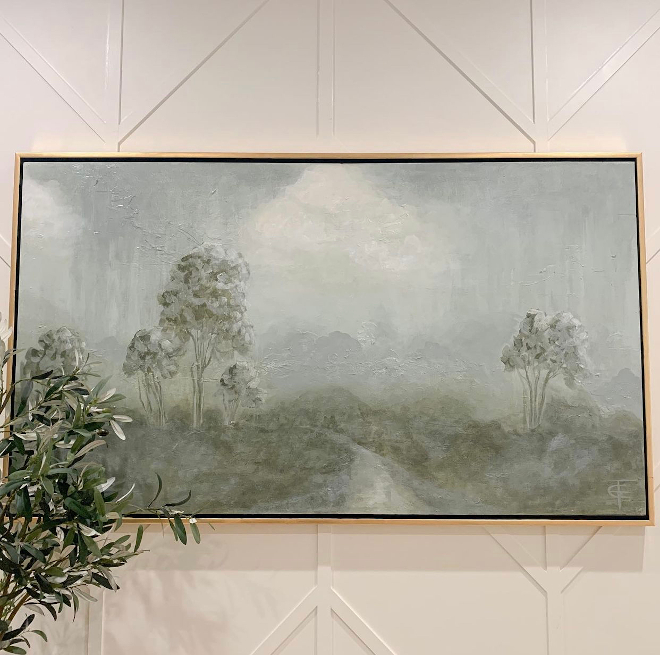 "We had this piece commissioned by one of my all time favorite artists – Fred Cox. I had been eyeing his work for at least a year but held off until I could move in and pick the perfect space to display one of his pieces!"
Main Living Area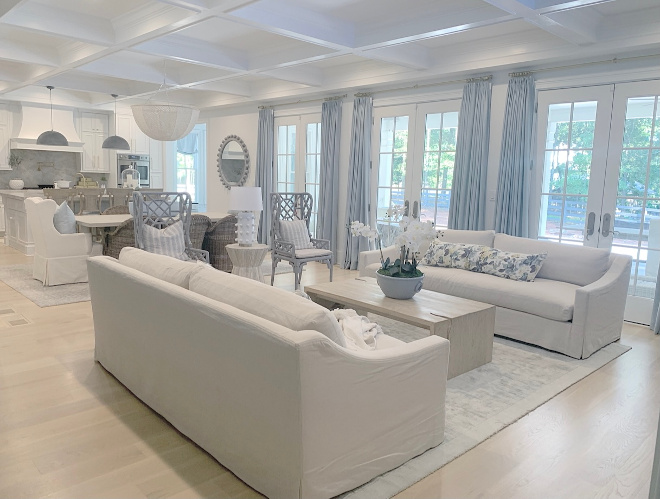 "We decided on an open floor concept for this space so that we could be with our guests while we entertained. We find that when the space is broken up, you have to move back and forth between the kitchen, dining area, and family room. To make things easier and more open, we designed the space to be one large room."
Curtain Rods: Acrylic Double Rod Hardware Set.
Rug: Light Gray Rug.
Shop this Look:
(Scroll to see more & Click on items to shop)
Cabinetry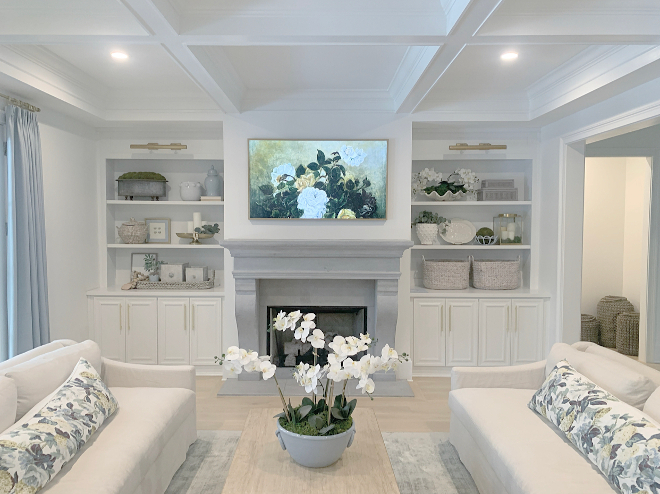 "One thing we are getting ready to do, is wallpaper the built in shelves. We have a gorgeous blue grasscloth we plan on using- just waiting for our installer."
Pillows: Cowtan and Tout Rose & Hydrangea Sky-Teal/ Platinum-Teak Pillow Cover, Etsy.
Sofas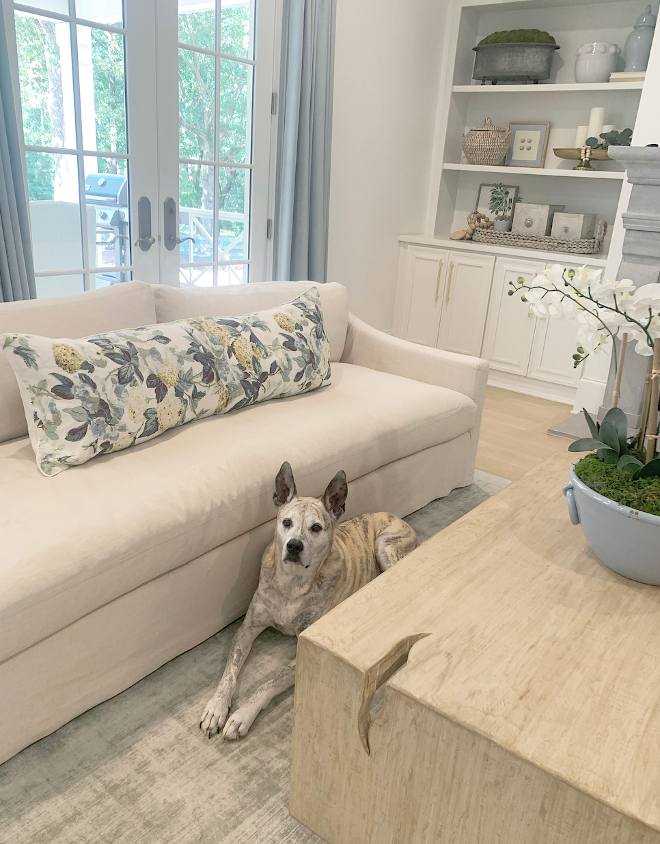 Sofas: York Slope Arm Deep Seat Slipcovered Sofa – similar here.
Isn't Nico adorable? He matches perfectly with the rug and the coffee table. 🙂
TV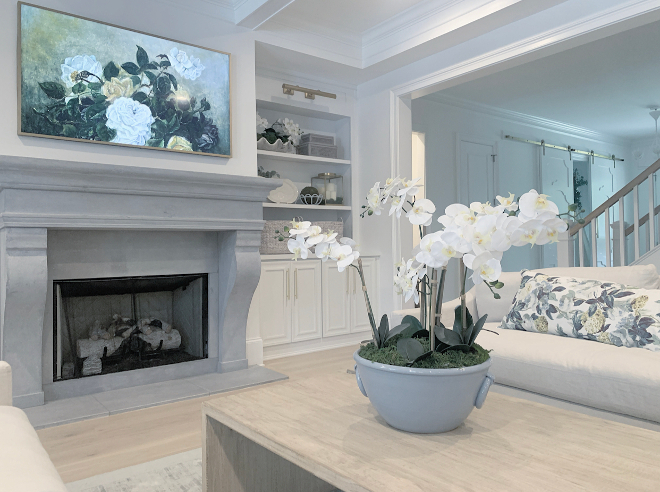 "The frame tv has been one of our favorite purchases. My husband wasn't too happy about the price tag, but loves the fact that it sits against the wall so nobody can see the chords behind it. We actually had our electrician wire the chords through the drywall and into our cabinets to hide the black box."
Chairs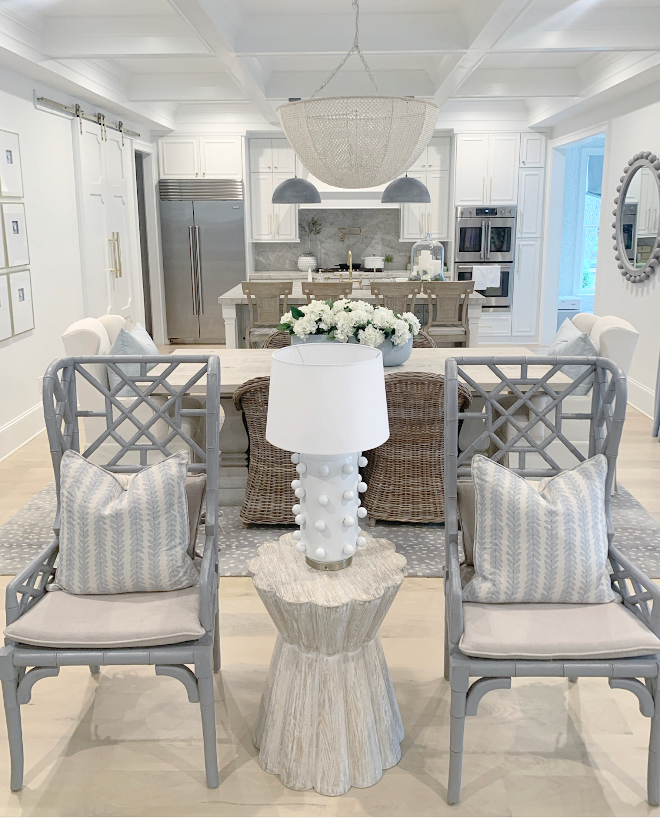 Chairs: Bamboo Wing Back Chairs In Manor Slate – Set of 2.
Side Table: Gabby Home Annie Light Whitewashed Wood Side Table .
Table Lamp: Kelly Wearstler Linden 1 – Light Table Lamp.
Pillows: Schumacher Veere Grenney Woodperry Pillow.
Dining Room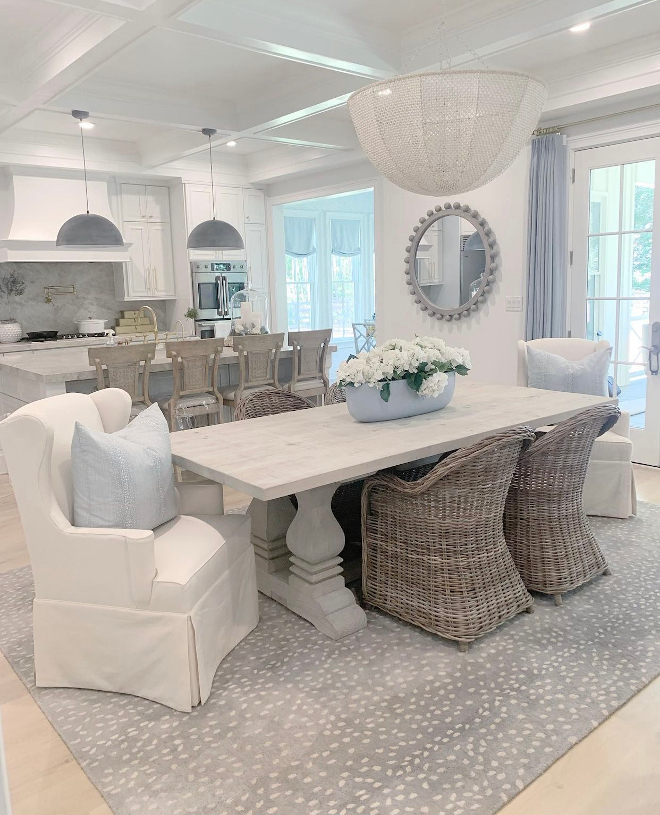 "This is our dining room is where we typically eat our dinners if it's raining or too cold outside. We had our table custom made from by the wonderful @TableTopDan- they were so nice to work with, and have beautiful craftsmanship! We still have yet to find the perfect dining chairs so we are still sharing these chairs with our outdoor dining table! One of these days I'll find the perfect chairs for this space, but until then – sharing is caring." 😉

Rug: Erin Gates by Momeni Animal Print Rug.
Host Dining Chairs: Ballard Designs (Discontinued).
Side chairs were from HomeGoods.
Mirror: Lindy Mirror.
Inspired by this Look:

Chandelier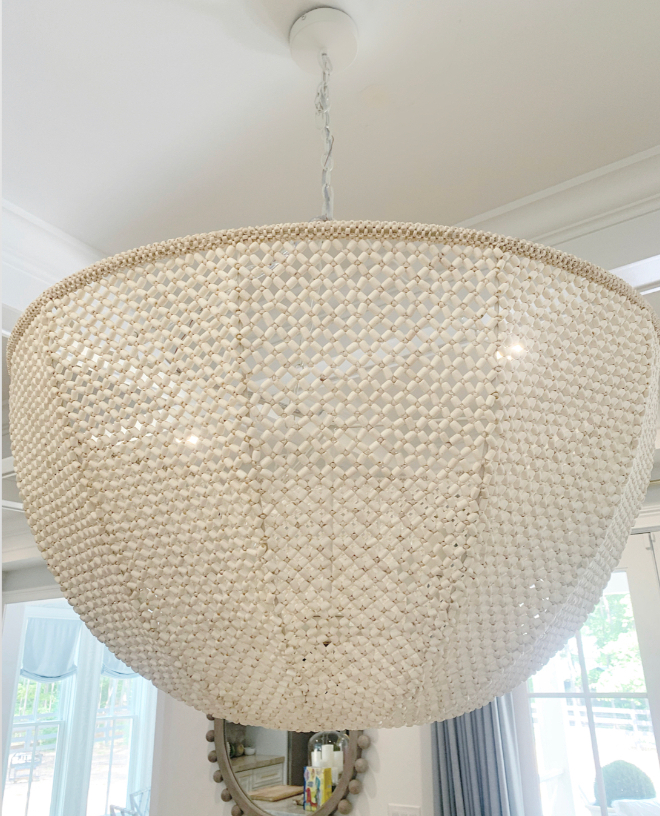 "This light fixture is the Quinn Chandelier and it's so much more beautiful in person than I expected. These lights are all hand beaded, and absolutely stunning!"
Chandelier: Quinn Chandelier  – similar style: here.
Kitchen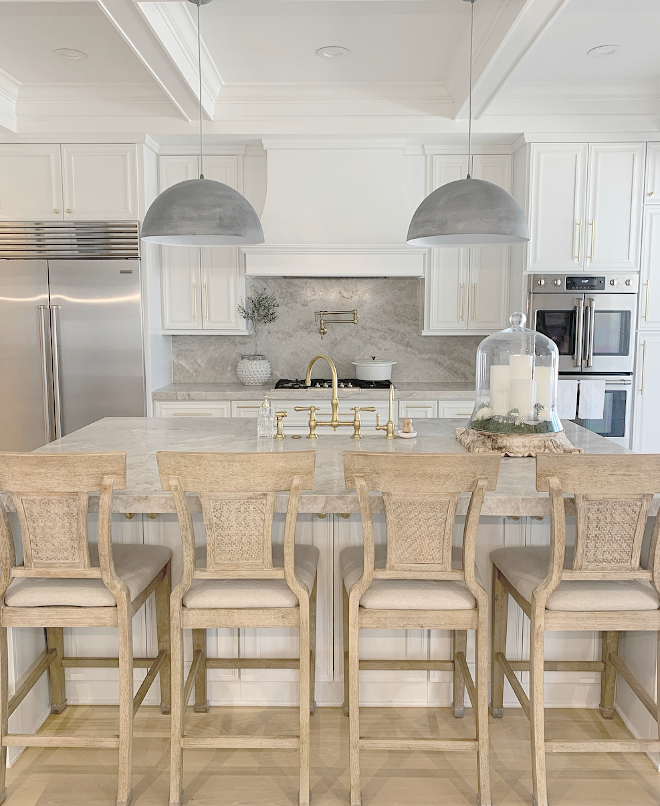 "This is where my kiddos like to eat their breakfast with me while I make their lunches and get them ready for school! It's nice to be able to chat with them in the morning while they eat."
Counterstools: Anniston Countertsool.
Ovens: GE Cafe.
Decor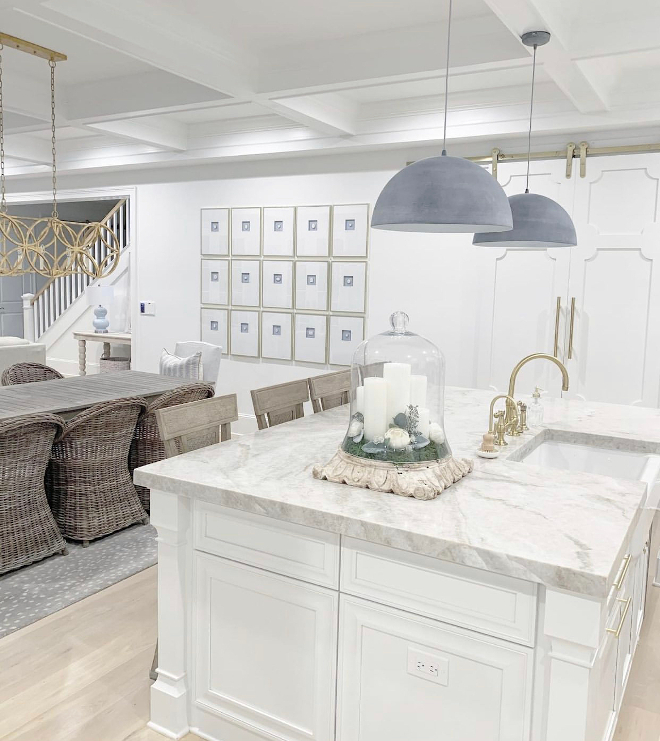 Wall Decor: "This Intaglio wall is one of my favorite collaborations yet. My sweet friend Marley @sidebardesigns on Etsy. She custom made these gorgeous mats and intaglios for these frames I already had. Intaglios can be extremely extremely expensive, but Marley makes them very affordable."
Beautiful Cloche & Pedestals: here, here, here & here.
Scrub Brushes: here.
Kitchen Cabinets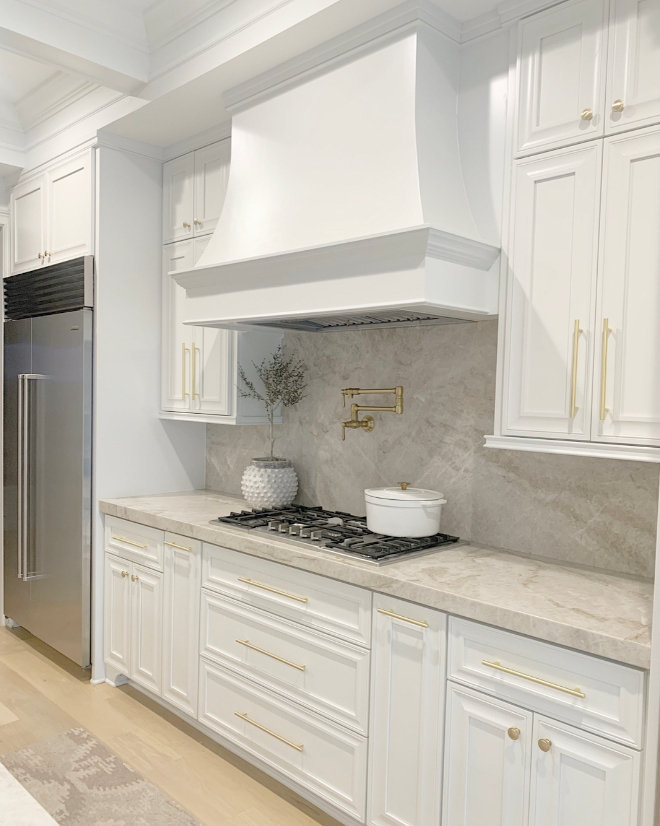 Topiary: Thyme Topiary in Pot Faux Botanicals.
Dutch Oven: Martha Stewart.
Countertop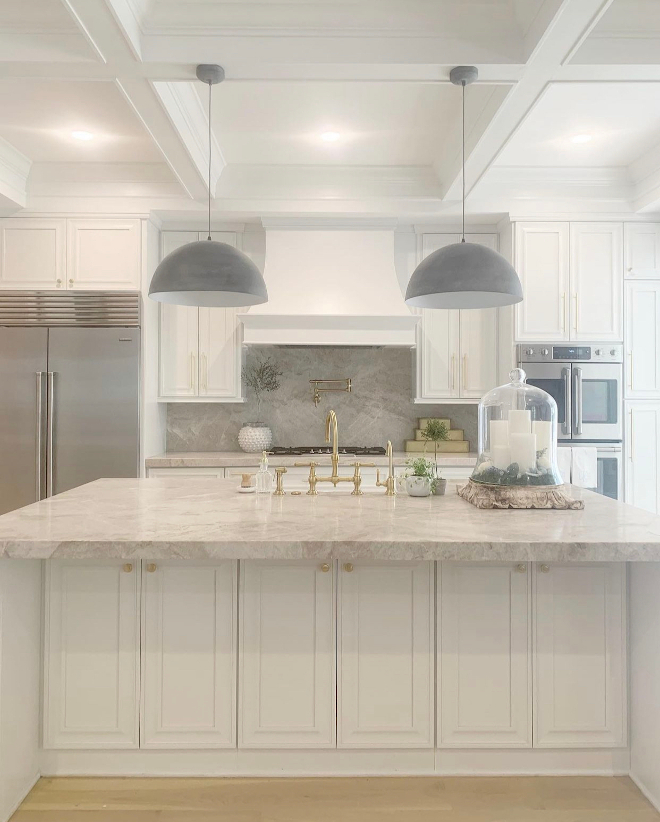 "We wanted to make sure that we had enough storage space in our kitchen, so we asked our Millwork Company to add storage cabinets in our island. This is where we store our water filtration system!"
Countertop & Backsplash: Taj Mahal Quartzite.
Sink & Faucet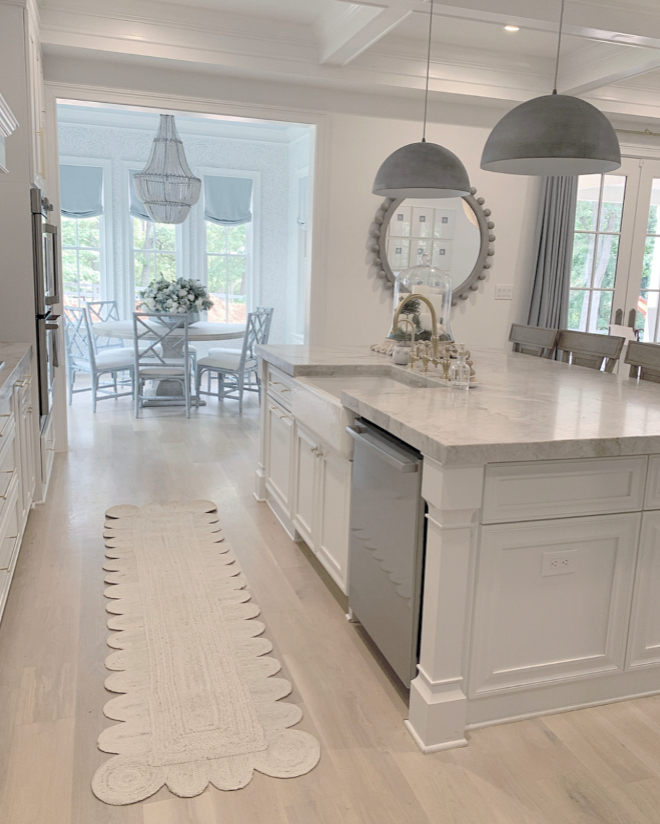 "People kept telling me that brass will go out of style within a year but I just loved it too much to listen! I'm so very glad I went with my guts because I STILL love it, and from me- that's saying a lot! The little faucet on the right is our filtered drinking water faucet."
Runner: Etsy – Others: here (gorgeous!), here, here, here (my new favorite rug!), here & here (Trendy!).
Faucet: Rohl Perrin & Rowe Georgian Era Bridge Kitchen Faucet with Side Spray.
Breakfast Room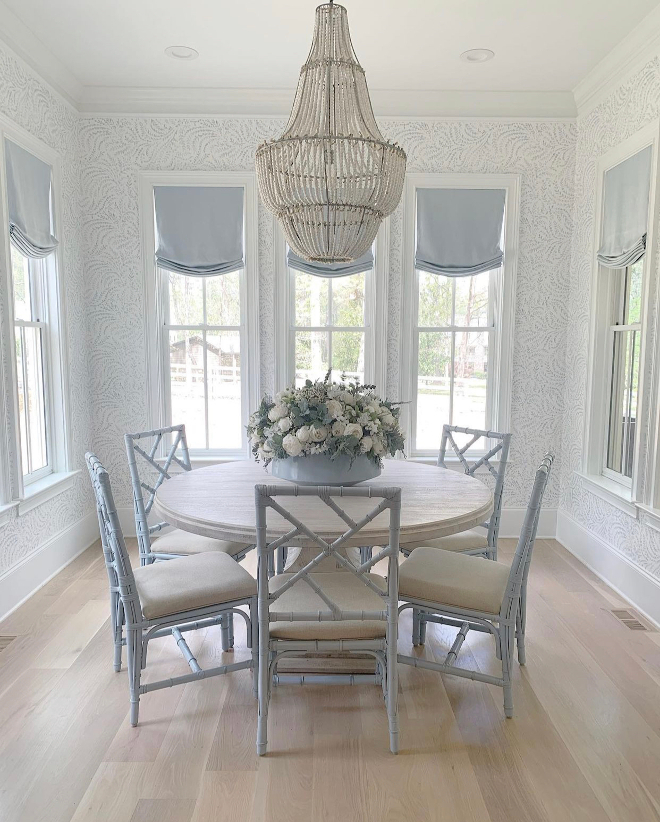 "This is our kitchen nook and one of my favorite rooms in the house. Its surrounded by three walls of windows, and just a lovely place to eat with the family.
This arrangement is a lot bigger than it looks, and it was all DIY'd! I have a highlight saved on my account for you to watch on how I made it"
Dining Chairs: Williams Sonoma, White.
Dining Table: Andrews Pedestal Dining Table, 60″.
Inspired by this Look:

Chandelier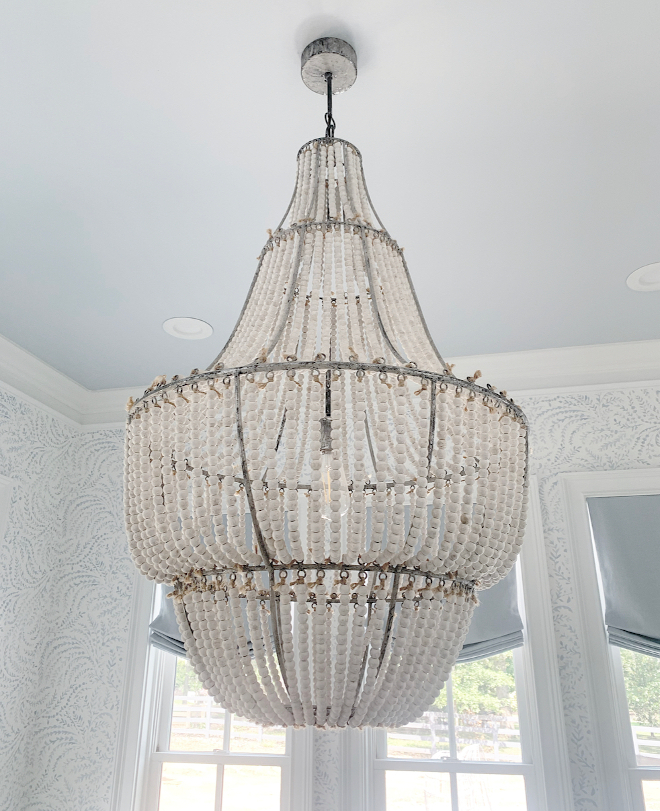 "This gorgeous chandelier adds a bit more of a whimsical, coastal vibe to the space."
Chandelier: here – similar: here (smaller).
Wallpaper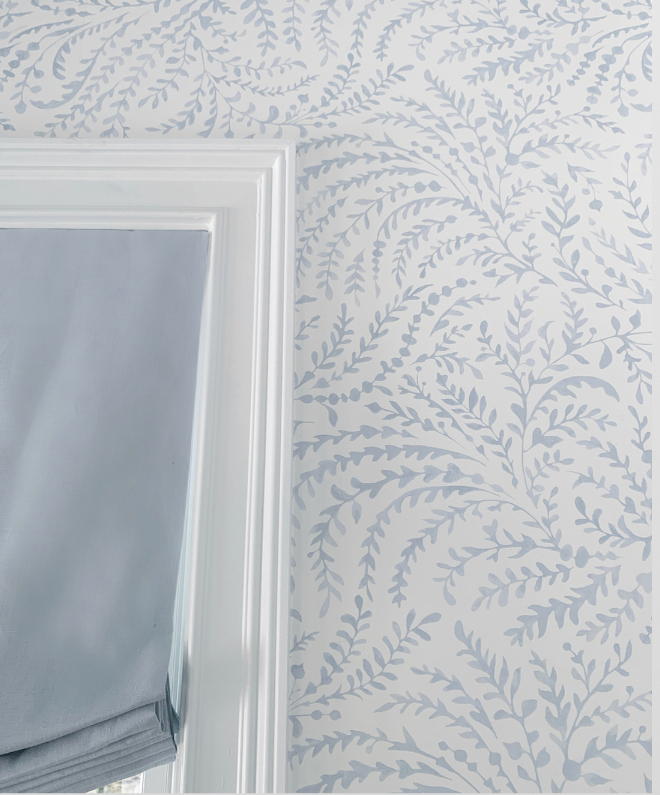 "It's hard to see the detail of this gorgeous wallpaper unless you get a closeup picture. I love the whimsical, coastal, light and airiness of it."
Wallpaper: Serena & Lily Priano Wallpaper, Sky.
Pantry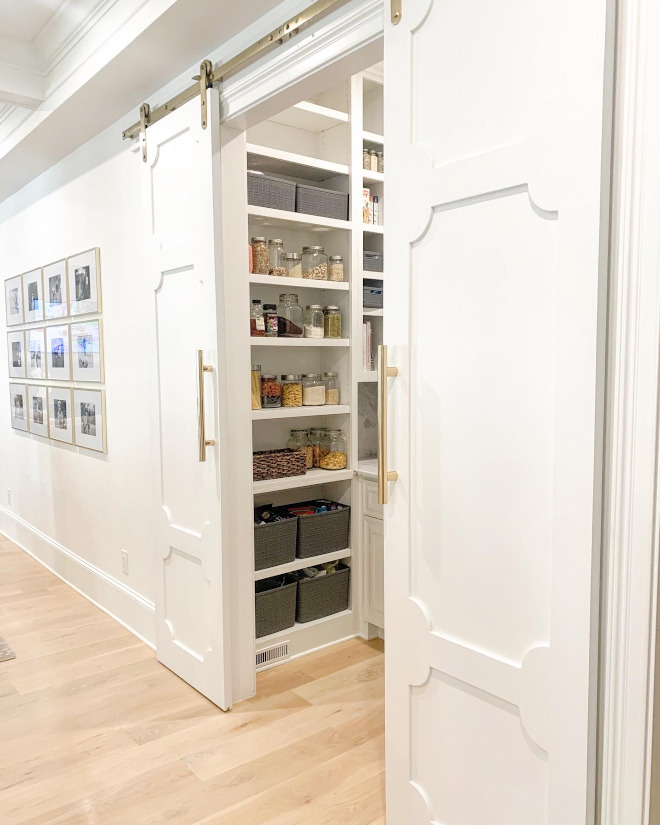 "This is our pantry and like my other gorgeous sliding barn doors – these were also made by Charity & Jake of @asuiteidea. They are really great at what they do!"
Pantry Organization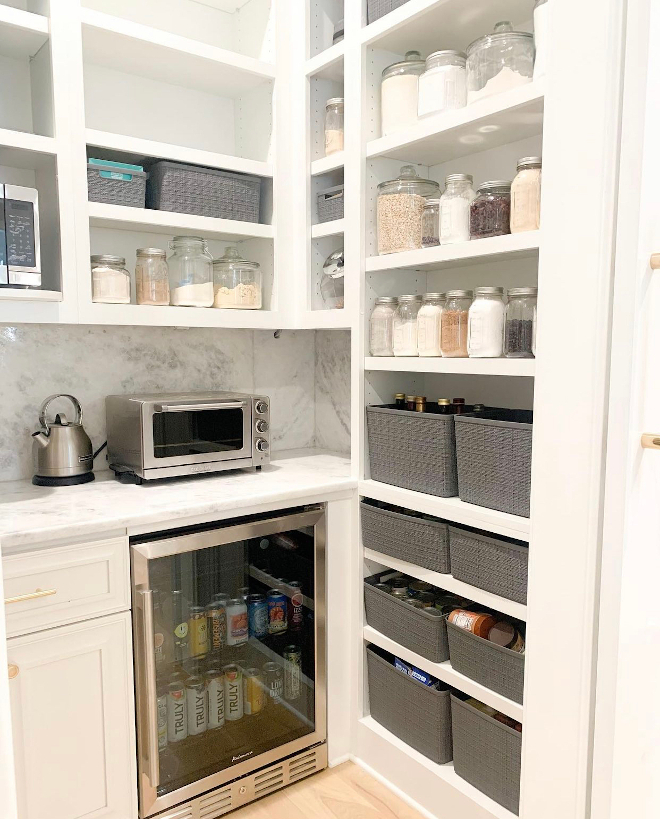 "We really wanted to keep our countertops free of clutter so we designed our pantry to house all of our appliances. We also had our electrician and Millwork company work together to hide the outlets under our cabinetry.
This is where we hide the appliances that we use most often. The rest are in cabinets below our island. We wanted to make sure we kept everything off of our countertops and out of site. This was a really easy alternative when building your own house. We also added hidden outlets underneath the upper cabinets."

Powder Room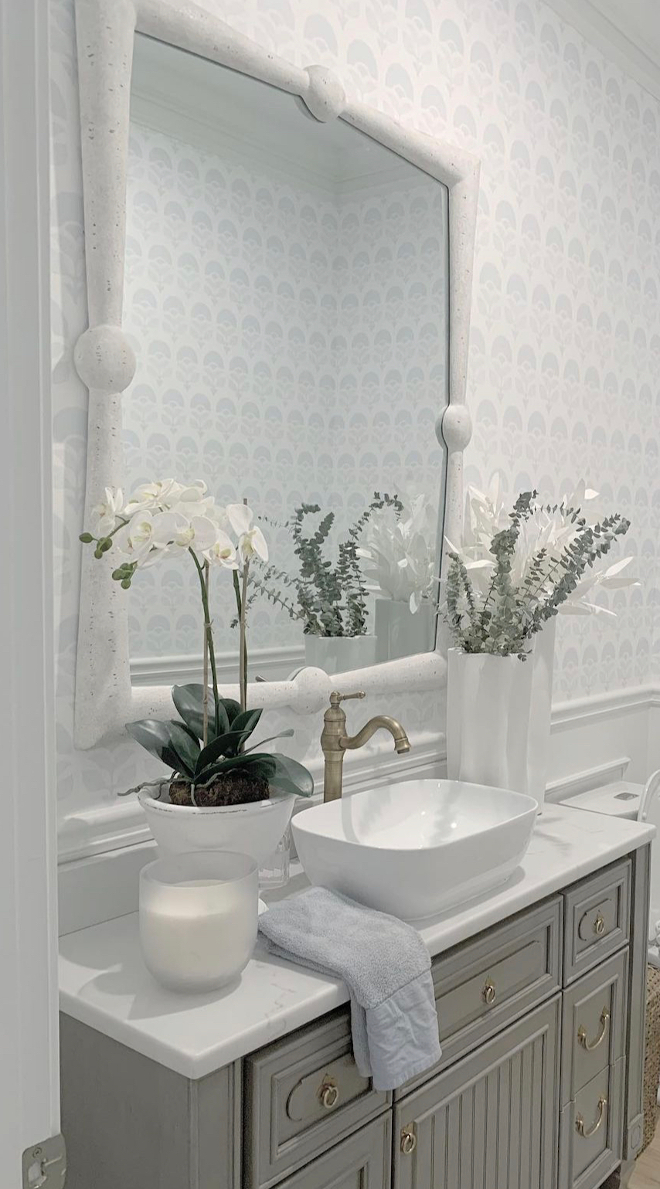 "This is the main living area restroom, and I love the soft color palette. This was the first room in the house we wallpapered, and I'm still in love with the pattern! This room is so long and narrow that we had to have our Millwork company make a custom vanity to fit the space."
Mirror: Gabby Scarlett Antique White 40-Inch Mirror.
Wallpaper: Serena & Lily – Discontinued.
Guest Bedroom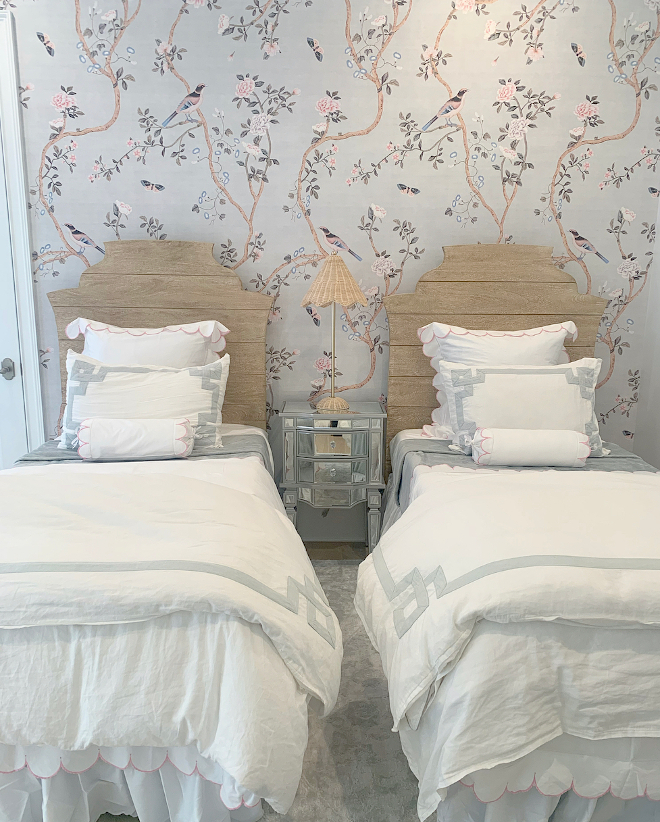 "Here is one of our guest bedrooms. I designed this space with my two nieces in mind. I wanted it to be girly and whimsical."
Bedding: Suzanne Kasler Greek Key Bedding.
Scallop Embroidered Sheet Set: Serena & Lily Scallop Sheet Set.
Wallpaper: Avignon Chinoiserie.
Beautiful Headboards: here, here, here, here, here, here & here.
Daughter's Bedroom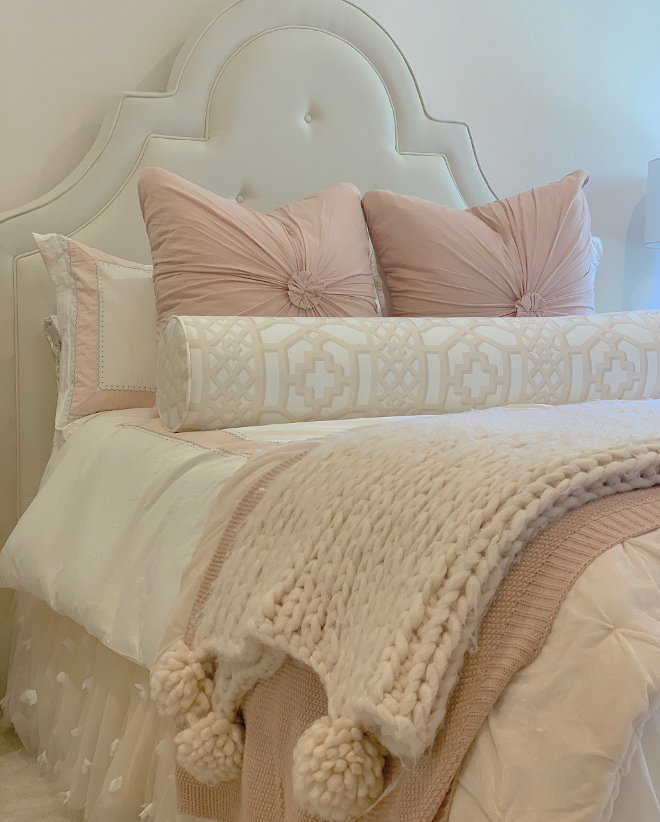 "This is my daughters room, but the wall color photographs terribly. It's a very pale peach color and just beautiful in person. I wanted this room to be feminine and whimsical for her, but also grow with her as she gets older.
I had this booster custom made with a fabric I found for her bedroom! I wanted to go for a monochromatic look for this room."

Dresser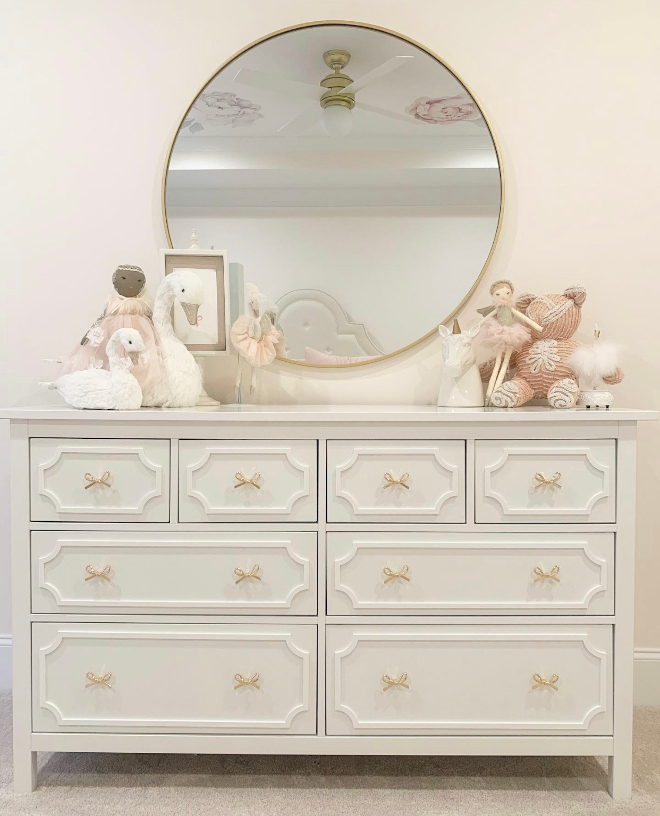 "This dresser is one of my all time favorite DIY dupes I did of a Pottery Barn dresser, using an IKEA dresser. The little bow knobs are my favorite!"
Mirror: here – similar.
Ceiling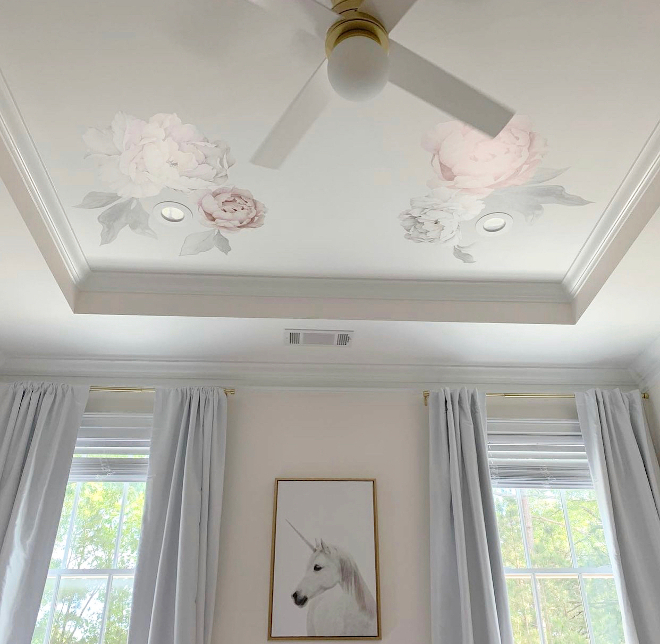 "I wanted the focal wall in this room to be on the ceiling because I had never seen that done before. I thought it was a really unique idea to bring the eyes up as you enter the bedroom. My husband put the decals on the ceiling for her, and it was a labor of love for sure!"
Closet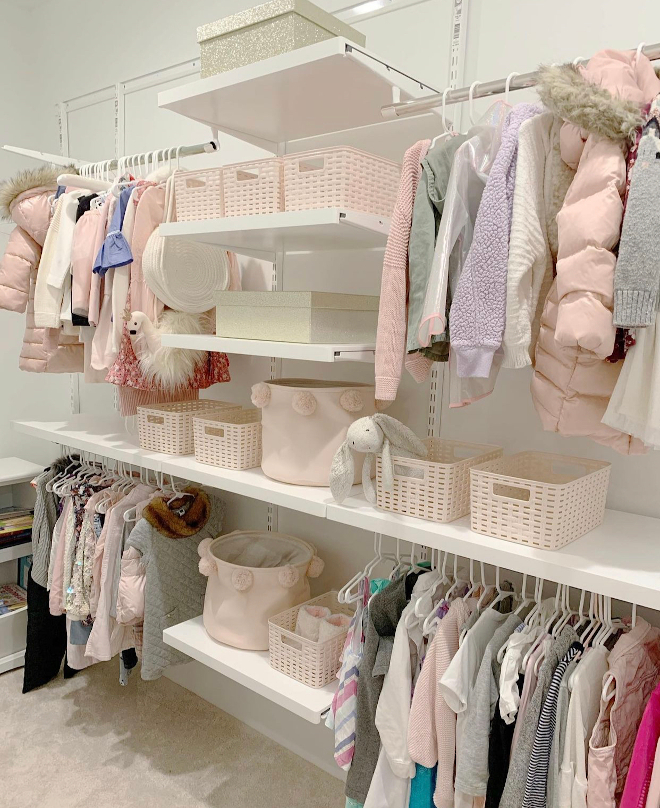 "I love a little closet organization! We bought this system at The Container store, and you can really build it to whatever size and design you want!"
Bathroom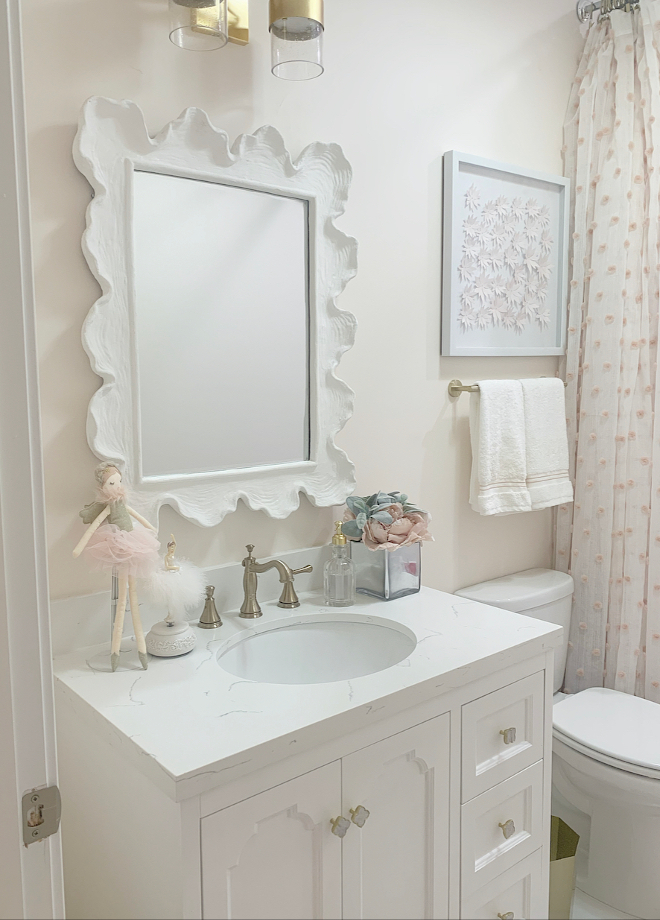 "I chose to continue the peach theme throughout her bathroom. Swapped out the little knobs that came with the vanity, for a cuter knob that fit the style of the room."
Vanity: Kylan Bathroom Vanity, White.
Mirror: Atoll Rectangular Mirror with Clear Glass.
Knobs: Target – similar here – Others: here, here & here.
Bath Tile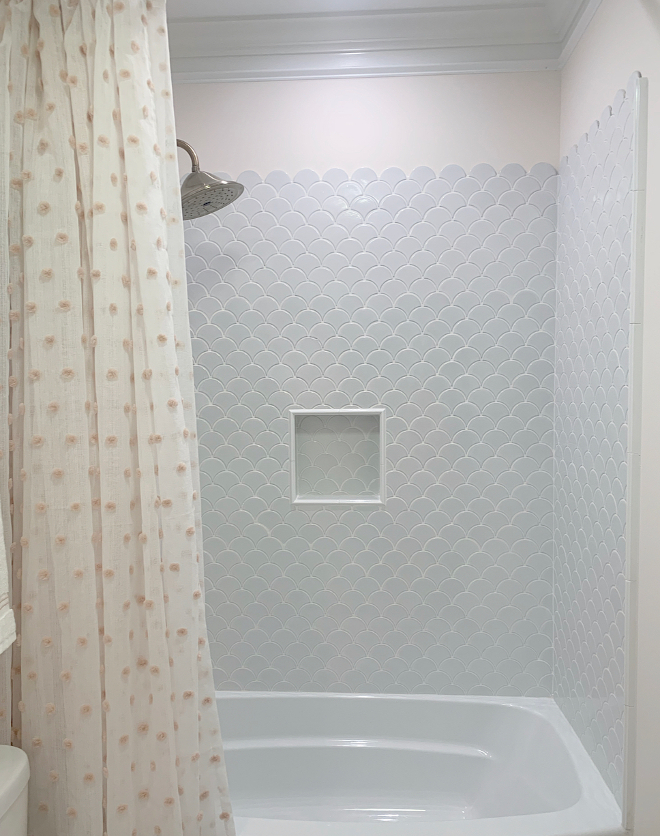 Fun fact: My daughter has never used her shower! Both kids only use mine. 🙂
Bath Tile: Fish Scale Tiles, Matte White – similar here.
Shower Curtain: Pottery Barn Kids.
Lighting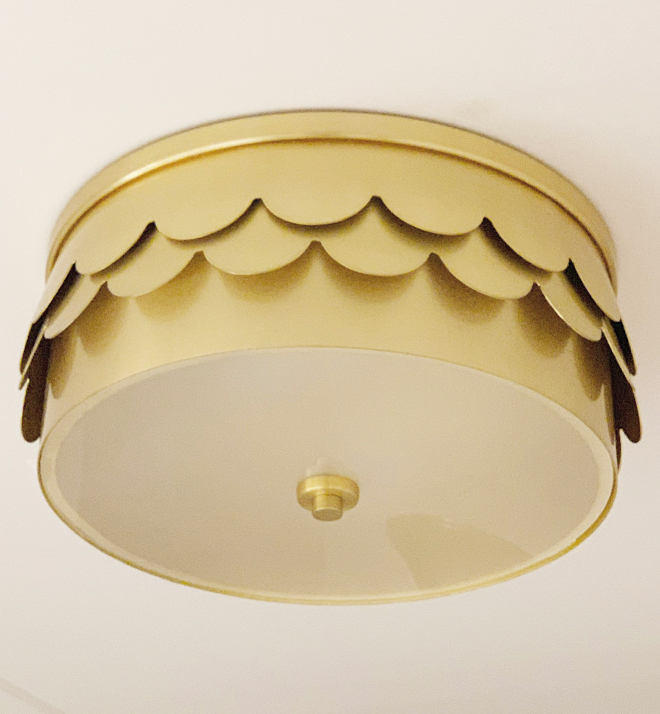 Scalloped Flushmount: Suzette Ceiling Mount.
Landing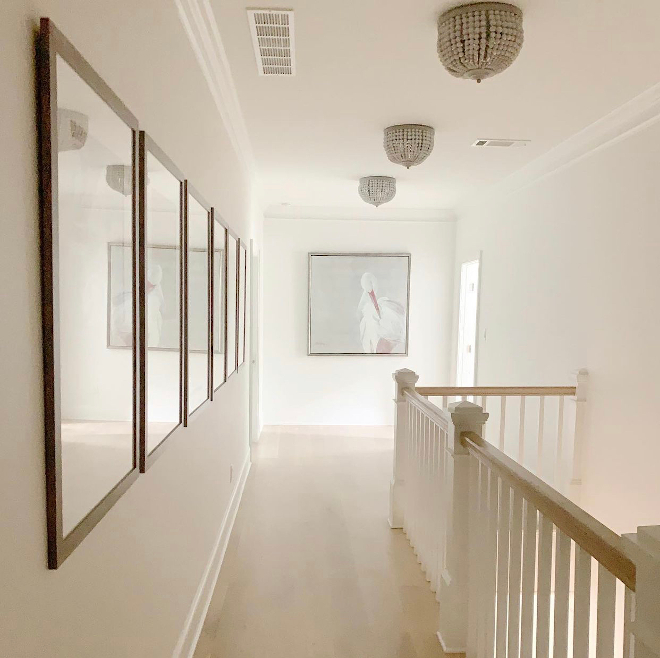 "This is our upstairs hallway- I lined the hallways with frames I purchased at Michael's, that I had custom re-matted. This entire space is still a work in progress!"
Lighting: Pottery Barn.
Master Bedroom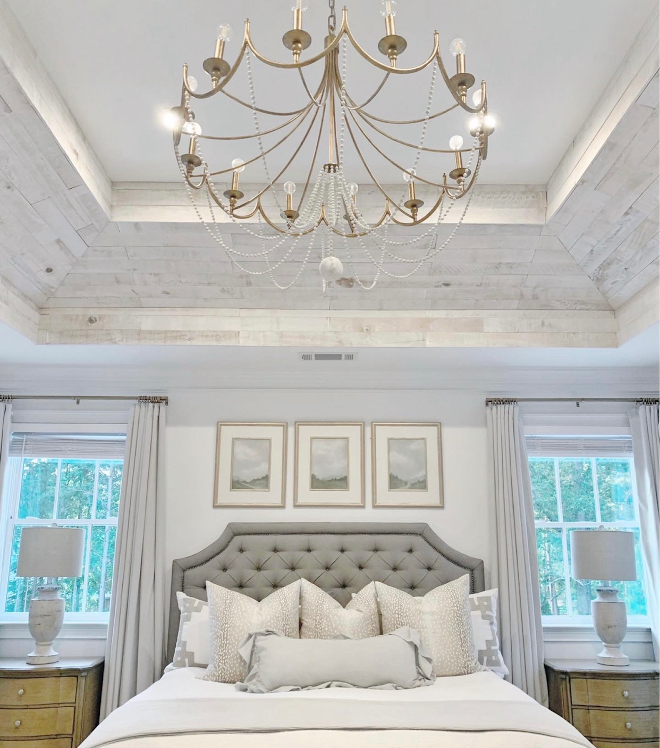 "This is the master bedroom, and my main goal in here was to make it a very tranquil space to relax and unwind. We shiplapped our ceiling with a white washed wood we found at Home Depot.
This bed was our first custom piece of furniture we had made for our home. It was one of the few pieces that made it to the new house in the move! "
The art above my bed were also commissioned by @FredCoxFineArt.
Duvet Cover & Shams: Greek Key Bedding.
Antelope Pillows: Ballard Designs.
Chandelier: Sandra Antique Gold and Antique White Twelve-Light Chandelier.
Mirror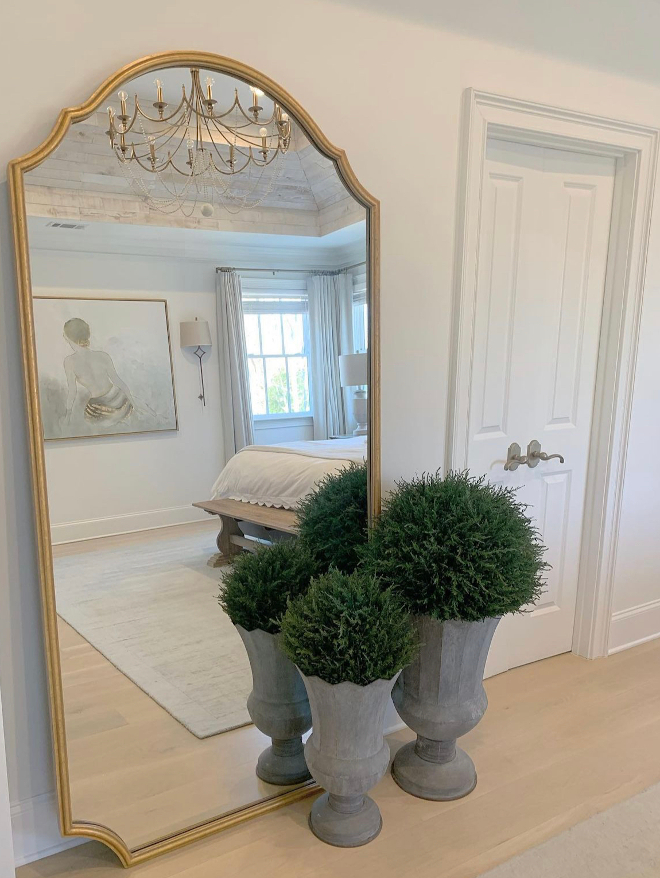 "This floor mirror is so grand and elegant. I love that it takes up most of the space on the large empty wall I didn't know what to do with!"
Mirror: Capelle Mirror.
Bedroom Paint Color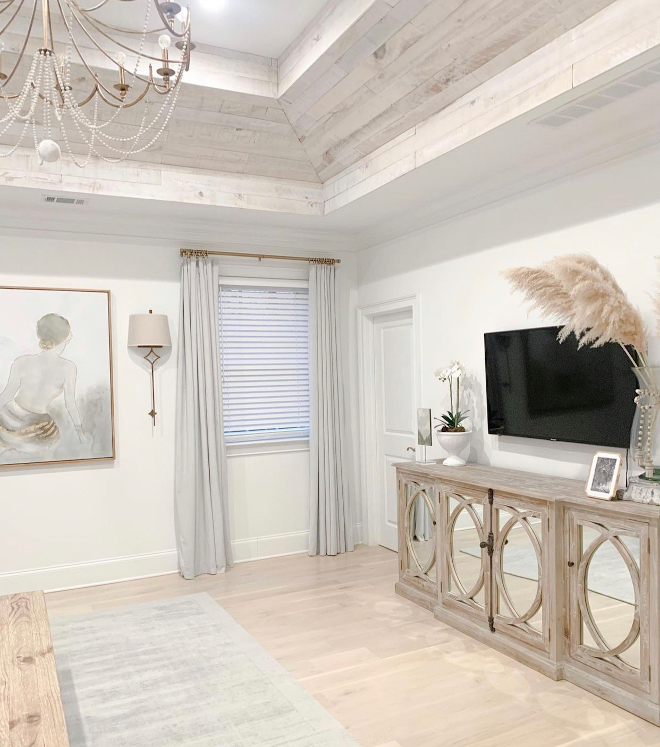 Bedroom Paint Color: Sherwin Williams Pure White.
Rug: Sandiford Light Gray Area Rug.
Sconces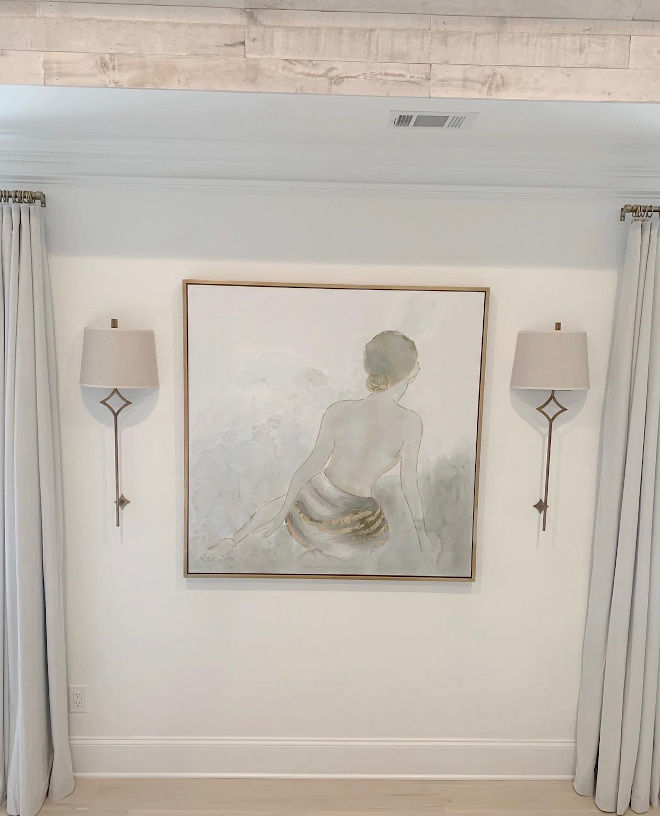 "There is just something about this wall art I love. I wanted to frame it with a few sconces to escalate the space."
Artwork: Uttermost Gold Highlights Feminine Art.
Sconces: Gabby Wallchiere.
Master Bathroom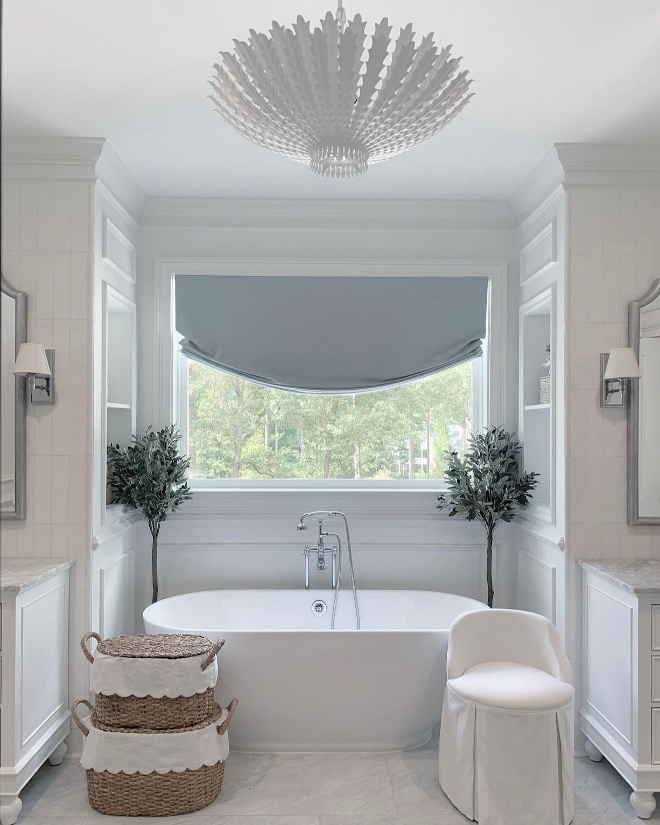 "This is our master bathroom, and I just had to make sure it was symmetrical for some reason. There's just something about symmetry that my eyes just love."
Vanity Upholstered Swivel Stool: Target, Simply Shabby Chic.
Chandelier: Visual Comfort Aerin Hampton Pendant, Large.
Floor Tile: Marble Tile.
Tub: Streamline.
Vanities
"When we ordered these vanities, one of the backsplash pieces came broken, so we ordered a replacement and it also came broken. It happened 3 times before we decided to rip the other backsplash off and just tile the entire wall. I was nervous about what it would look like but I love how subtle it is! My husband DIY'd the wall by himself!"
Sconces: Pottery Barn Hayden Sconce.
Bathroom Vanities: Digiacomo 48″ Single Bathroom Vanity Set.
Mirrors: Wilshire Wall Mirror – Others: here, here, here & here.
Shower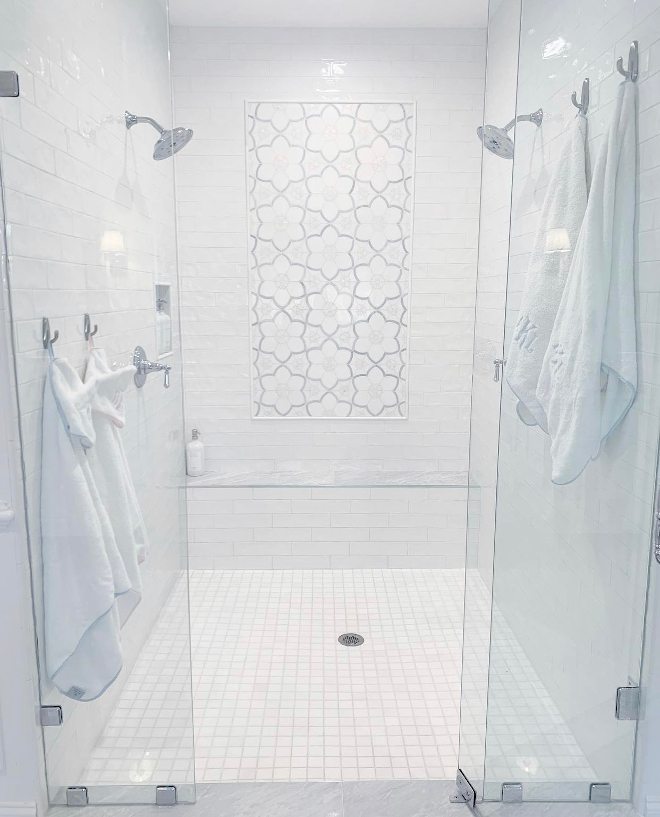 "This shower was a little larger than we had planned on it being! Because I wanted the symmetry in the bathroom, we ended up making the shower larger and the closet smaller, which I now regret. You live and you learn!"
Tile: Floor & Decor – Get this Look: Shower Wall Tile, Accent Tile & Shower Pan Tile.
Laundry Room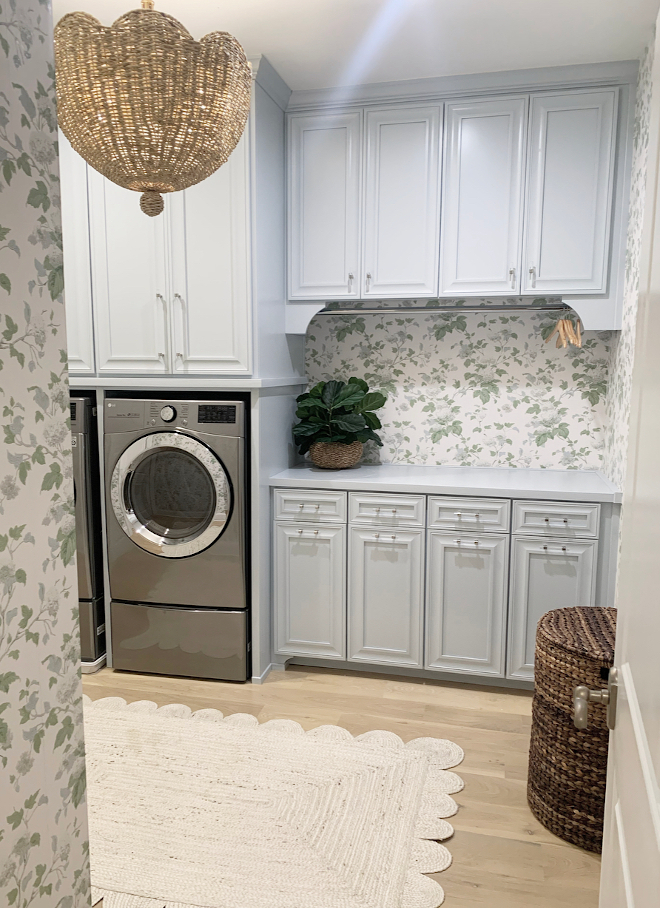 "Here is one of my new favorite spaces that I just completed! I'm in loge with this very grand-millennial wallpaper! My husband on the other hand, feels like he just jumped back in time to his grandmas house."
Lighting: Dunmore Pendant.
Hardware: Acrylic Pulls.
Cabinet Paint Color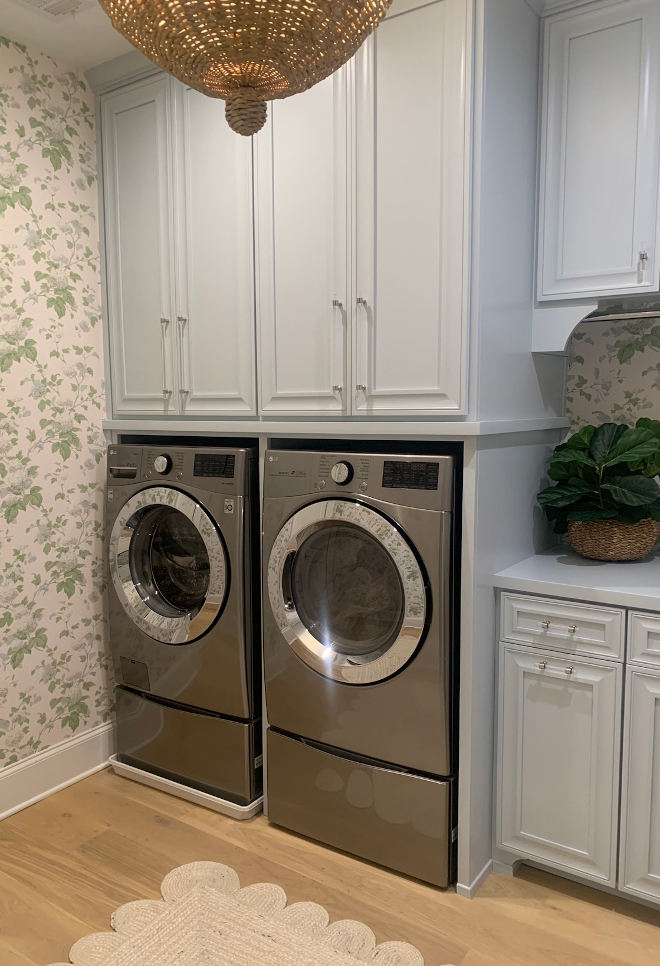 Laundry room cabinets are Benjamin Moore Brittany Blue at 50% lighter.
Wallpaper: Colefax & Fowler Chantilly in Silver Forest.
Washer & Dryer: LG.
Scalloped Console Table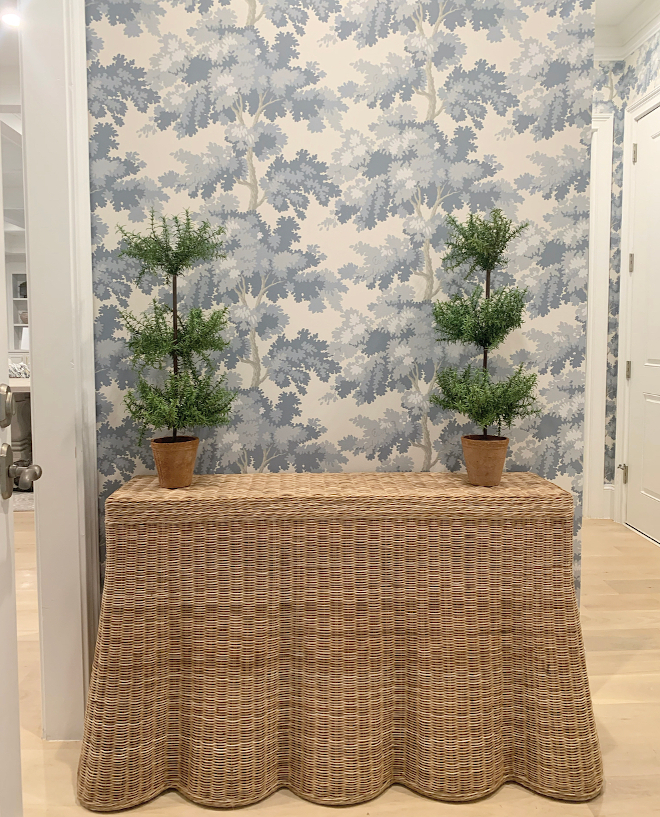 "I have loved this scallop console table since the moment I saw it. It just screams my name! I love the wallpaper behind it and can't wait to finish this space with a mirror!"
Wallpaper: Scalamandre Raphael Wallpaper.
Console Table: Mainly Baskets Scallop Console.
Rosemary Topiary: Ballard Designs.
Mudroom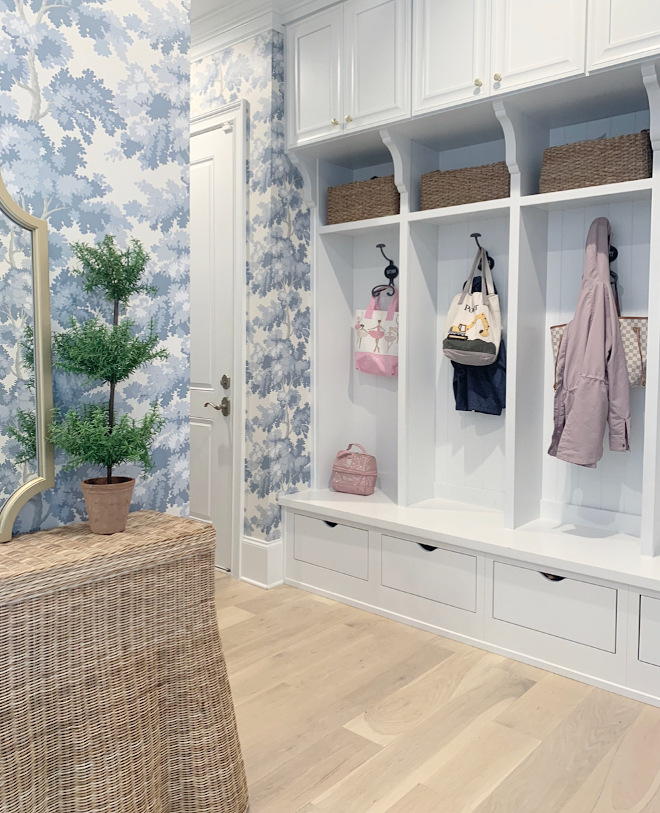 "We just wallpapered our mudroom and it made such a huge transformation! I can't believe the difference wallpaper makes. I have loved this Scalamandre Raphael Wallpaper for so long, and so excited to have it as part of our home now!"
Back Porch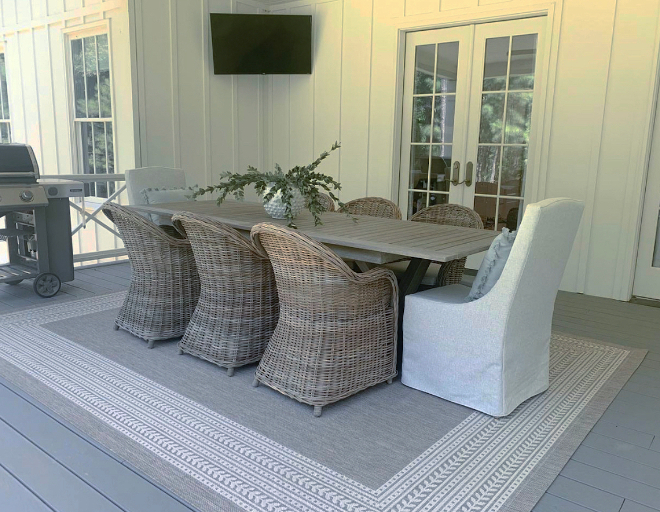 "We have dinners out here most nights, and we love it. Now that we have a pool, we love it even more! I wanted to carry my neutral/coastal vibe outside so the interior and exterior would floor together nicely."
Dining Table: Pottery Barn Indio 76.5″ FSC® Eucalyptus X-Base Extending Dining Table.

Host Dining Chairs: Adele Outdoor Slipcover Dining Chair – similar here (on sale!).
Side Chairs: Safavieh – similar here & here – Others Outdoor Chairs:here, here, here & here.
Outdoor Rug: Local store – similar style: here – Other Favorites: here, here, here & here.
Planter: here – similar.
Armchairs

Outdoor Armchairs: Orient Express Furniture Tropez Outdoor Sofa Chair – similar here.
Coffee Table: Root Outdoor Coffee Table.
Outdoor Volcanic Ash Sphere Set: Suzanne Kasler.
Cape Cod Playhouse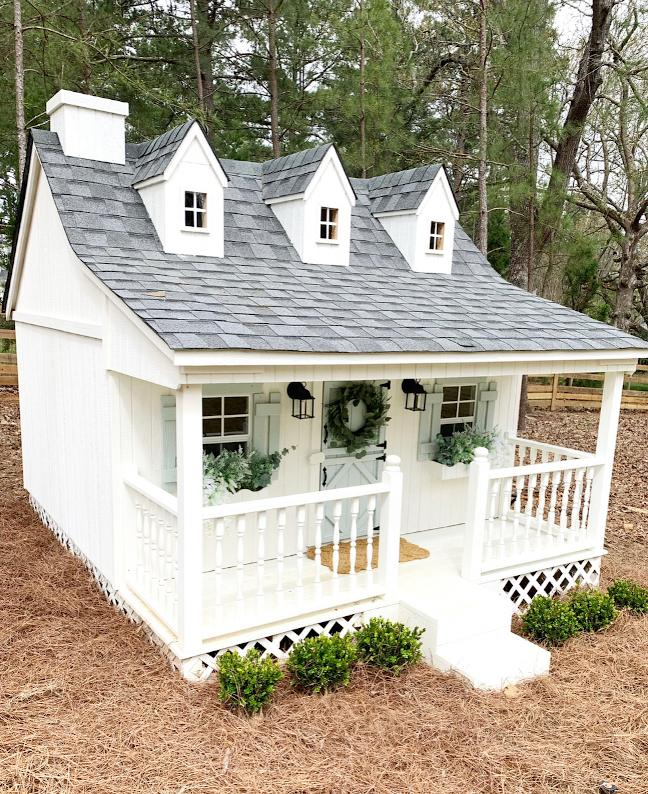 "This was a gift from my father to my kids, and while it looks like a tiny house- it's actually my kiddos fancy playhouse! It has a loft inside and everything."

Beautiful Playhouses: here & here.
Many thanks to Lacey for sharing the details above! Make sure to follow her on Instagram to continue seeing her beautiful home!
Home Bunch's New Finds:
Click on items to shop:
Best Sales of the Month: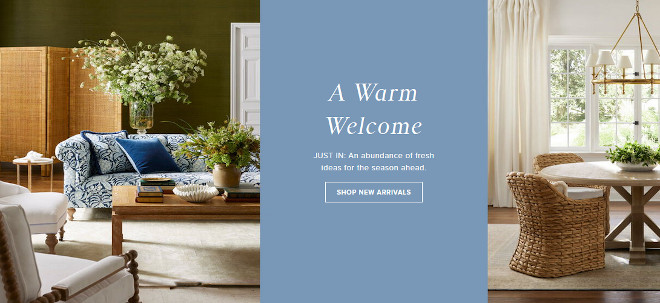 Thank you for shopping through Home Bunch. For your shopping convenience, this post may contain AFFILIATE LINKS to retailers where you can purchase the products (or similar) featured. I make a small commission if you use these links to make your purchase, at no extra cost to you. Shopping through these links is an easy way to support my blog and I appreciate and I am super grateful for your support! I would be happy to assist you if you have any questions or are looking for something in particular. Feel free to contact me and always make sure to check dimensions before ordering. Happy shopping!
Joss & Main: New Fall 2021 Catalog.
Pottery Barn: Up to 70% on Bedding – Free Shipping with Code: FREESHIP
Popular Posts: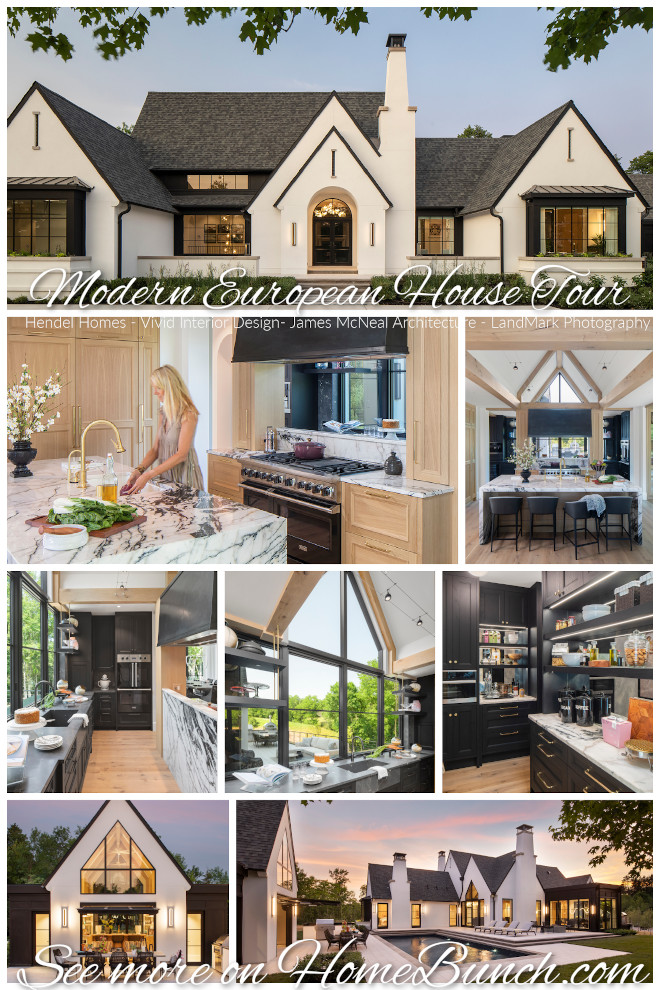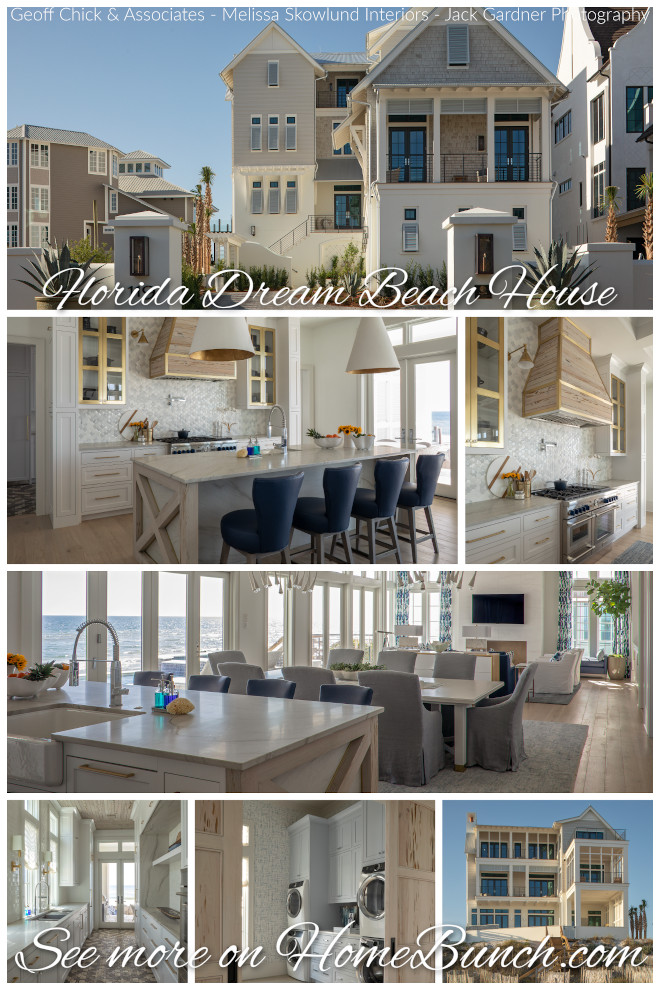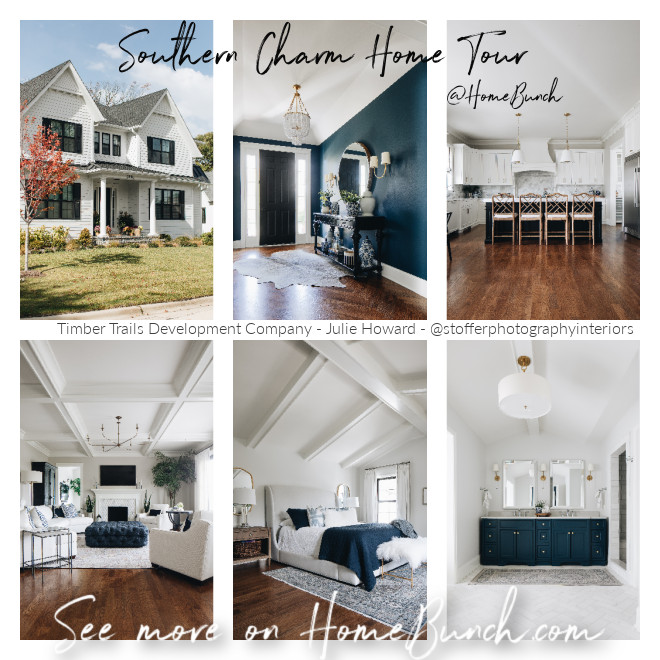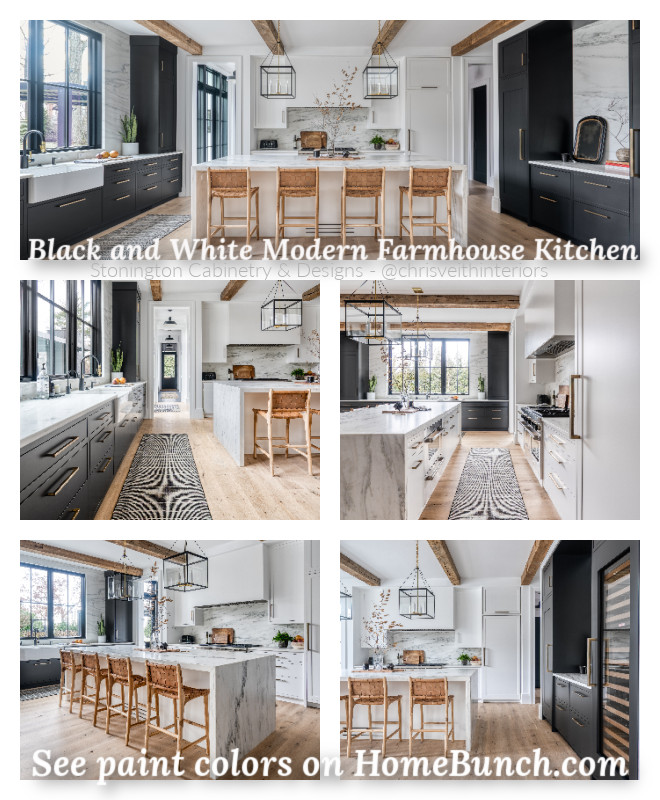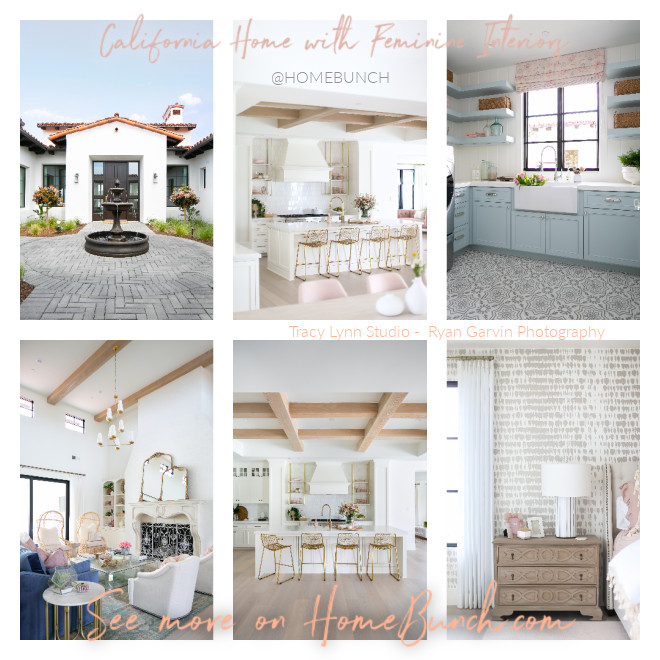 Follow me on Instagram: @HomeBunch

See more Inspiring Interior Design Ideas in my

Archives.
"Dear God,

If I am wrong, right me. If I am lost, guide me. If I start to give-up, keep me going.
Lead me in Light and Love".
Have a wonderful day, my friends and we'll talk again tomorrow."
with Love,
Luciane from HomeBunch.com