The kitchen is where many people spend most of their waking hours while in the home. If you're planning on renovating and improving your kitchen, keep one of the latest trends in home décor in mind: maximize kitchen space by hiding appliances. This will not only create a cleaner aesthetics but it will also create the illusion of more space in your kitchen.
These are the four ultimate hidden appliances that any new kitchen should have:
Benefits of Hiding Appliances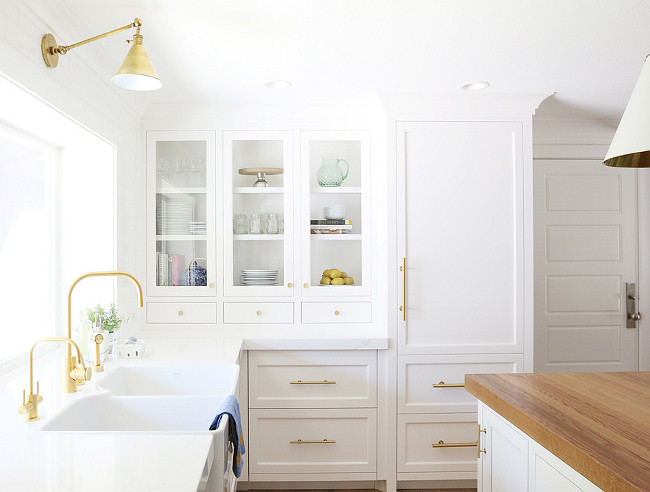 Kitchen Cabinet Paint Color: Benjamin Moore Chantilly Lace.
A large fridge or countertop appliance often draws the eye and makes the space feel more cluttered. When interior designers design customized kitchens, one of the top choices is to build custom cabinetry that will hide these appliances. A built-in fridge will look similar to the design of the cupboards that surround it, while an appliance garage can provide plenty of space to keep your stand mixer, toaster oven, and other midsize items. You can even shop for a cooktop with retractable burners if you want to maximize prep space.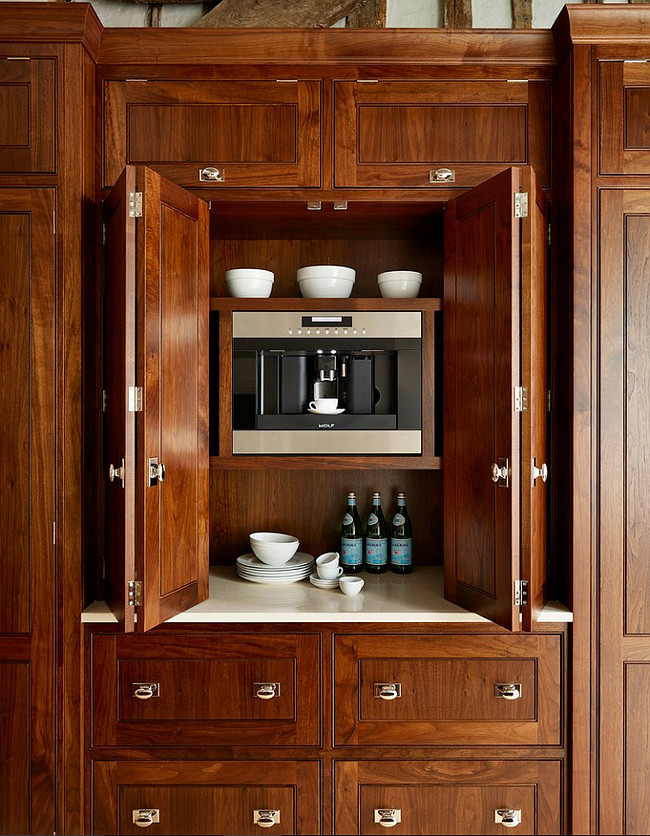 Wolf coffee machine and additional storage in kitchen appliance garage.

This kitchen has a very clean feel since all the appliances are hidden in the cabinets.
White Kitchen Cabinet Paint Color: Paper White by Benjamin Moore.
Trash Compactor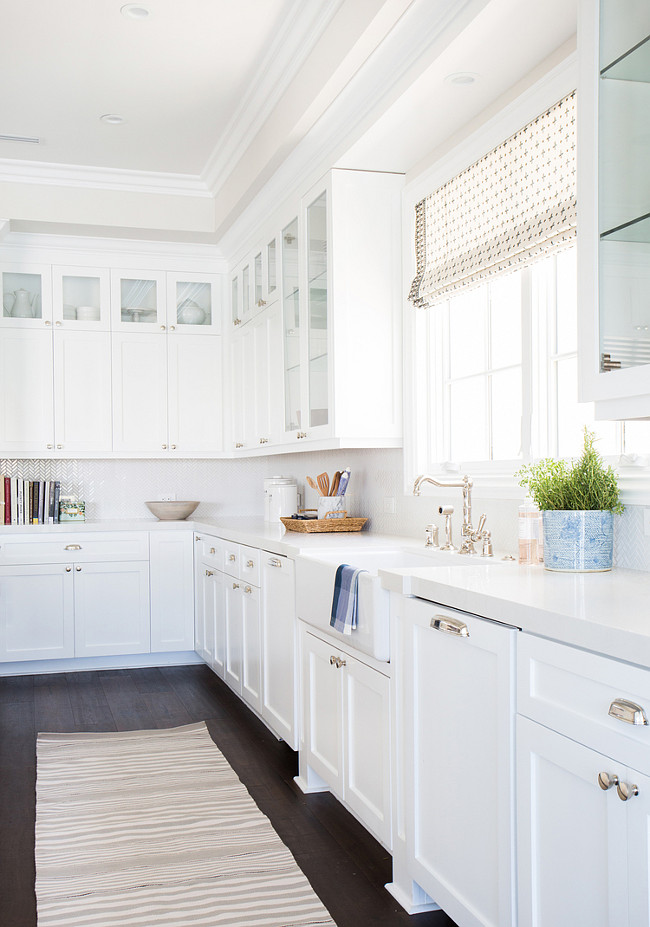 The trash can in your kitchen can cause multiple problems, in addition to taking up too much space. An open can might carry food odors that spread to other rooms. A trash compactor is an excellent solution to all of these issues, since it takes up very little space and often will require a step to open.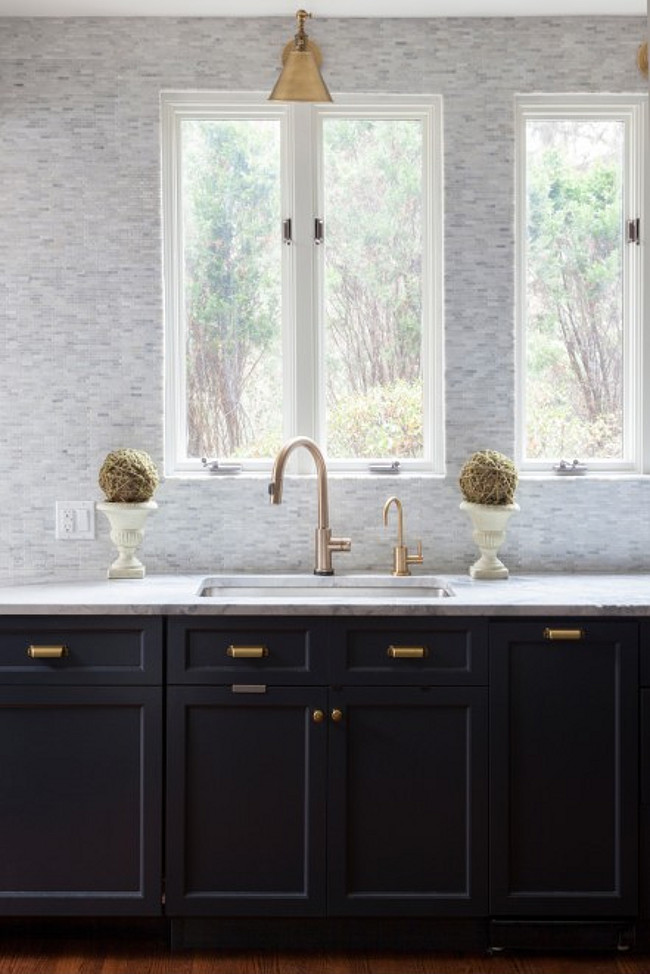 Navy Cabinet Paint Color: Benjamin Moore Raccoon Fur.
Tech Devices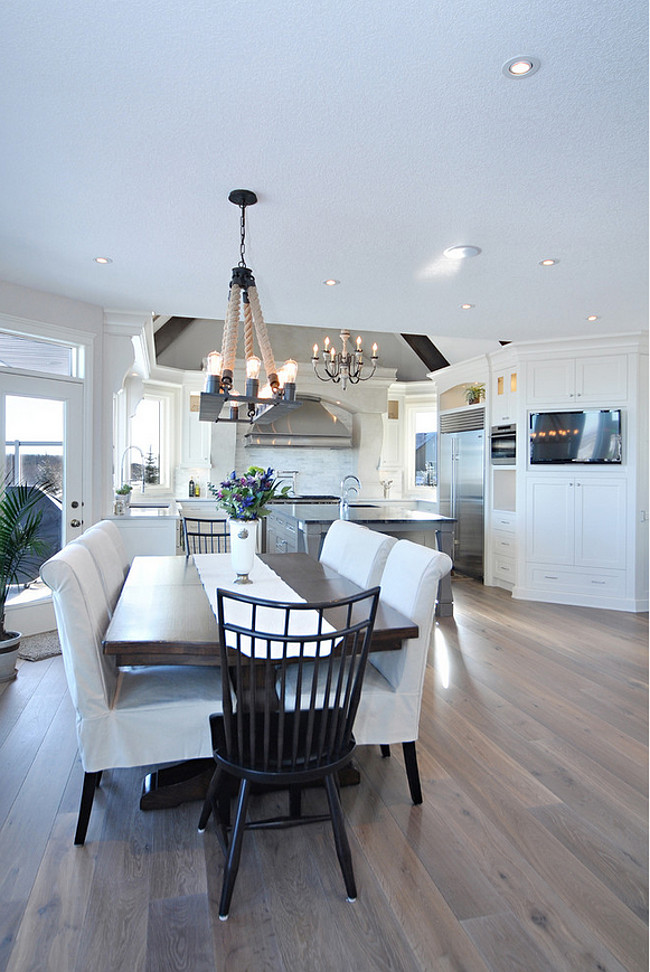 If you like to watch TV while you cook, but want more space, consider adding a cabinet that will house your television. This allows you to open the cupboard when your favorite show starts, but keep it closed when the TV isn't in use. Custom kitchen designers also offer options to add cabinetry that can hold your tablet or other mobile device, since many people use them to read recipes while cooking but don't necessarily want to keep them on the counter where food can cause damage.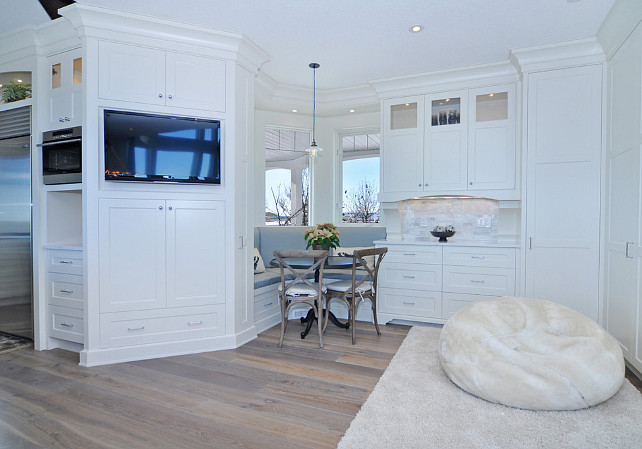 Slide-Out Shelves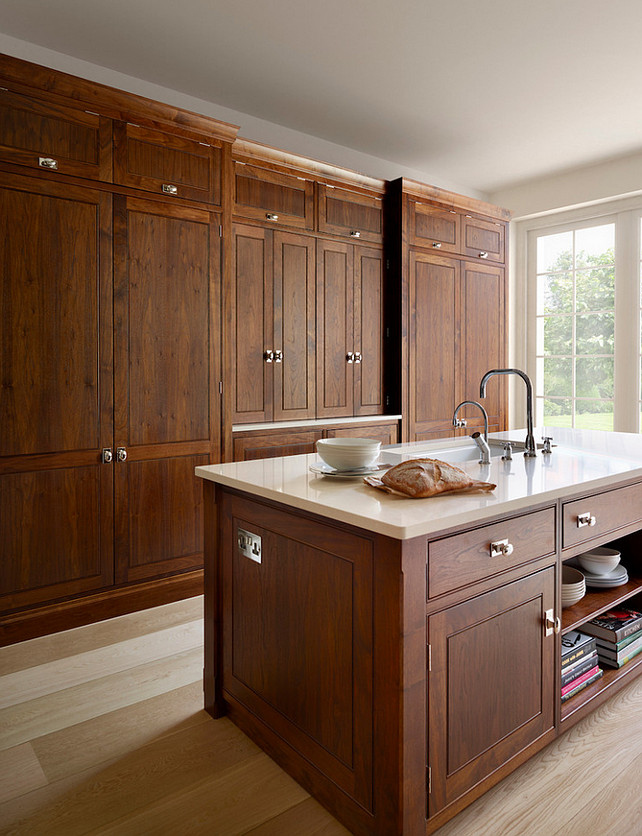 When designing your kitchen, you may wonder where you will store spices, boxes and cans of food, and other items that you typically store in cupboards if this space is taken by appliances. Slide or swing-out shelves are excellent options, since they allow space to store all of your ingredients without taking up extra space within the cupboards.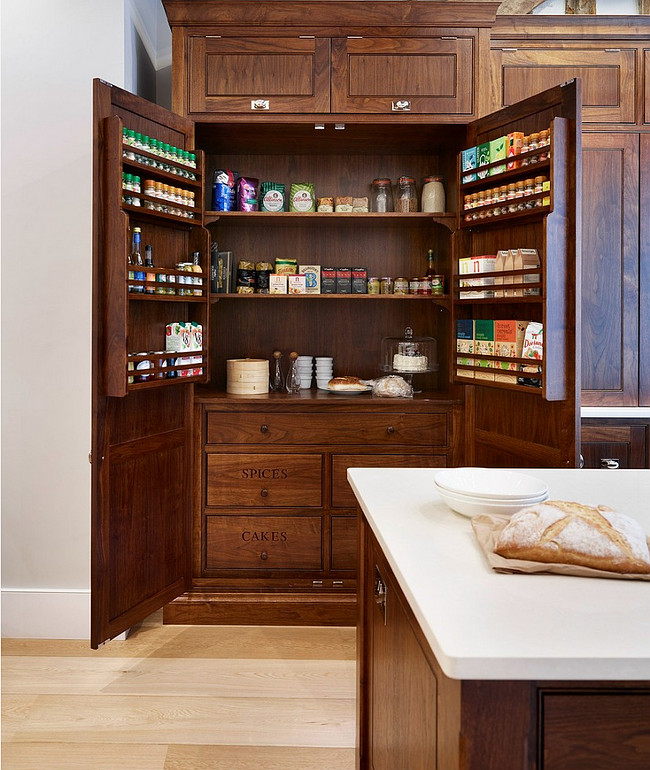 Cook's pantry with drawers and spice racks.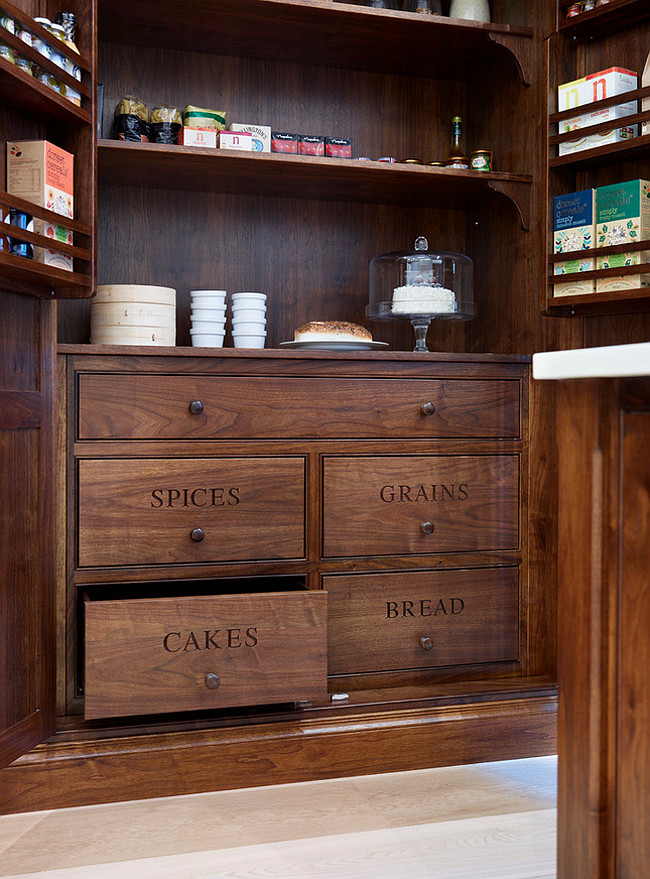 The cabinets are American Walnut.
Refrigerator and Freezer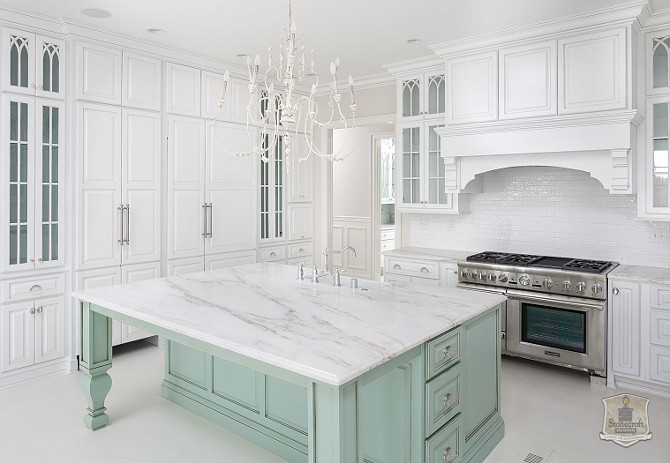 When designing your own customized kitchen, try to incorporate the refrigerator and freezer right into the cupboards so it won't be noticeable and will blend in nicely with the surroundings.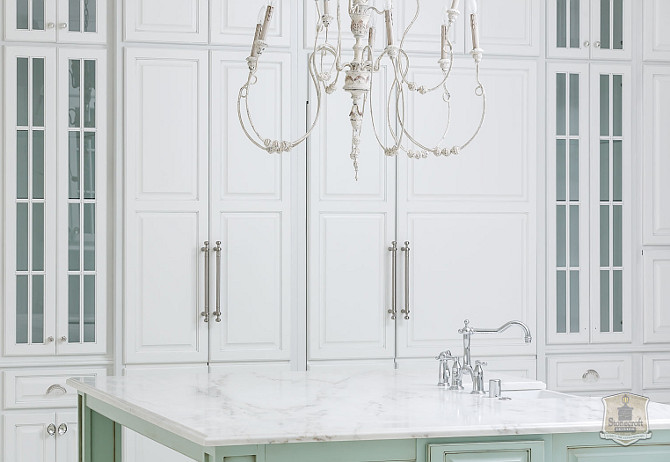 Stunning French kitchen with mint green island.
When it comes to the kitchen, a few simple changes can make a big difference in the look and feel of the space. By hiding your appliances, you can easily make the kitchen feel more spacious and aesthetically appealing.
Make sure to click here if you missed my latest Paint Color post. There are plenty of beautiful and inspiring interiors to see and dream about!
Sources: 1: Shea McGee Design. 2: Shea McGee Design. 3: Humphrey Munson. 4, 5: Shea McGee Design. 6:Design Manifest. 7, 8: Martin's Custom Finishing Ltd. 9, 10: Humphrey Munson. 11: Stonecroft Homes.
See more Inspiring Interior Design Ideas in my

Archives.
Interior Design Ideas:

Paint Color
Hi, everyone! How are you today? I hope you're doing great, feeling great and looking great! 🙂
Talking about "looking great"… I was thinking today about how looking good can affect my mood. I am not the superficial type (LOL) but I have to admit I am feeling good about myself lately and that can get me a little cranky. I am eating healthy (as much as possible anyways) but I do not sleep enough. I always work until late – very late, in fact. And this does not do well for my skin and my overall mood. I am in my mid 30's and I am feeling a little dull lately. Everything feels "blah" to me… I was looking myself in the mirror and I wondered where that Luciane I knew was going… Does anyone feel this way sometimes? I am sure we all do, right?… Yep, things are changing and I am seeing them every time I look in the mirror! LOL I truly laugh because I know that changes, of any kind, are truly inevitable.
Well, maybe I need to sleep more, take a day off, put some sliced cucumbers on my eyes and drink a glass of wine to relax. I know these things won't take the fine lines that are getting so insistent lately, but I am sure they will make me feel a little happier and less tired, which will definitely improve my senseless mood! 🙂

Enjoy your week, my friends… let's try to take care of ourselves, feel good, happy and let's laugh more often…
Talk to you later!
with Love,
Luciane at HomeBunch.com
Interior Design Services within Your Budget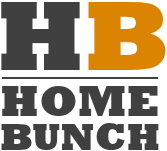 Get Home Bunch Posts Via Email