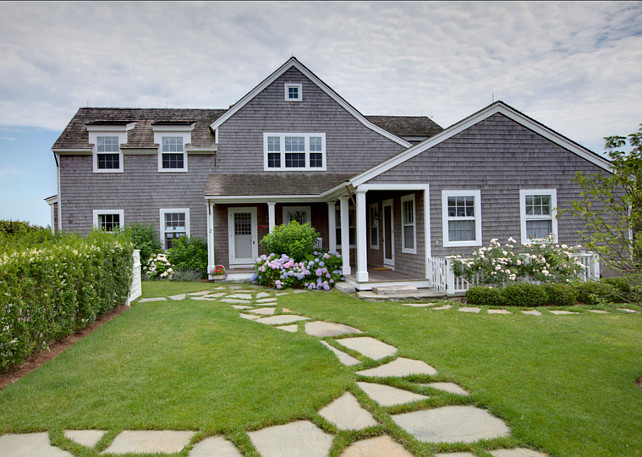 Designed by the very talented folks at Brooks and Falotico Associates, Inc., this Nantucket coastal cottage is one of those places that you can easily feel right at home in.
The interiors embrace coastal decor to the fullest! You certainly can tell the homeowners love being by the ocean and they show this in every single room of this cottage, from its coastal kitchen to a very inspiring (and magical) kids bunk room that has its own "ship loft".
This cottage keeps inspiring and it might even bring some sunshine to your day.
Builder: Sea Island Builders
Nantucket Coastal Cottage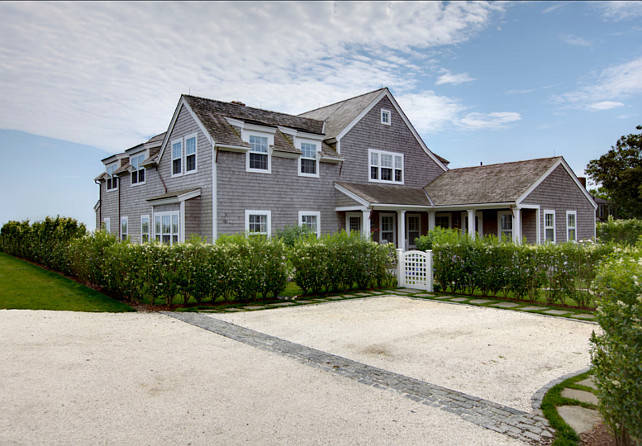 Shingle Stain: Because the house is near the ocean, the cedar shingles take on this color without stain naturally. It's hard to imitate with stain, but there are some products out there that can achieve a similar look if you aren't near the water.
Coastal Foyer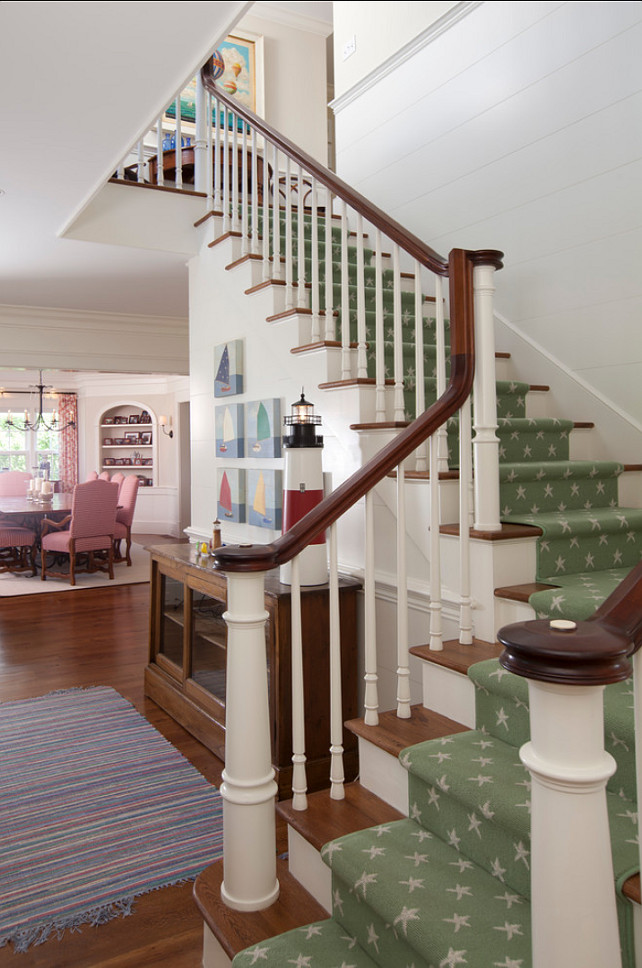 You know you're in a coastal cottage the moment you open the doors. Beautiful coastal decor can be seen almost in every direction. How summery is this?!
Kitchen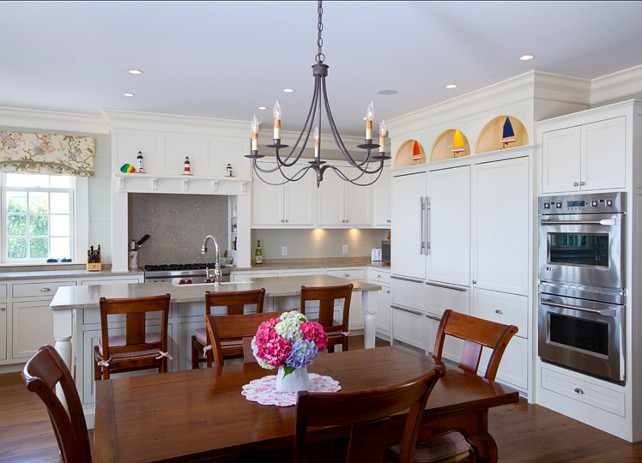 It's impossible to love this kitchen! I adore the cute lighthouses and sailboats!
Kitchen Cabinet Paint Colors: Benjamin Moore White Dove OC-17
Landing Area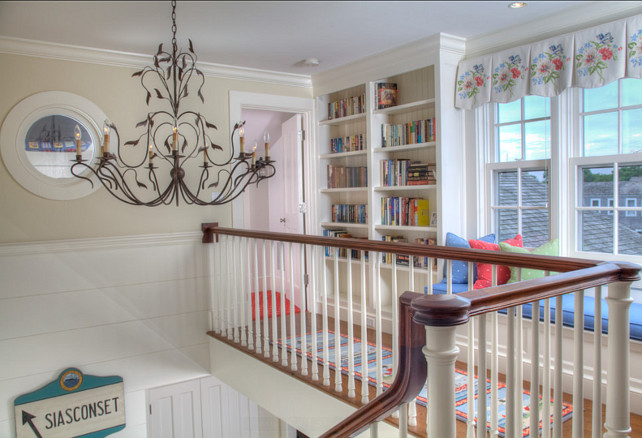 The landing area is yet another space in this cottage that fully embraces coastal decor. Notice the sign and the wonderful built-in bookcases and reading nook.
Master Bedroom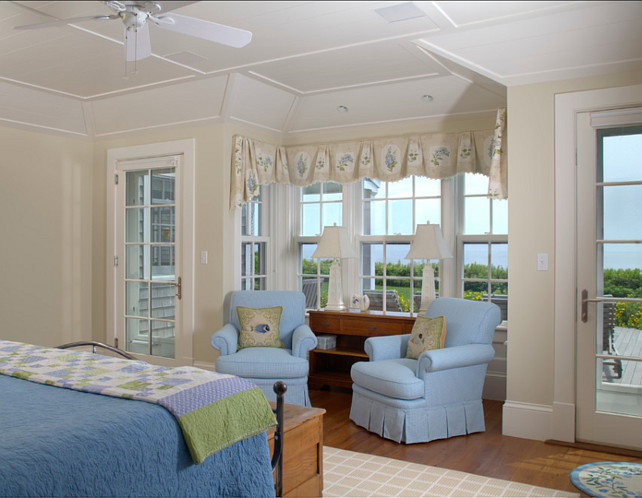 What a darling bedroom. It's sweet and classic at the same time.
Imagine walking up here, opening the doors to the patio and enjoying the ocean's breeze.
Only Little Pirates Allowed!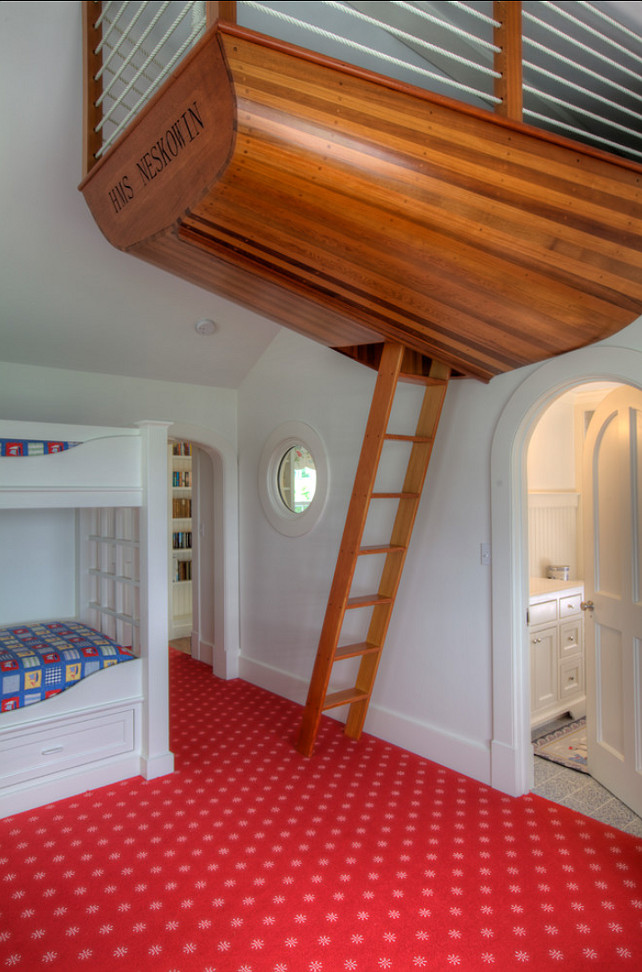 How fun! What kid wouldn't love to have a "ship loft" in his bedroom?!
Bonus Room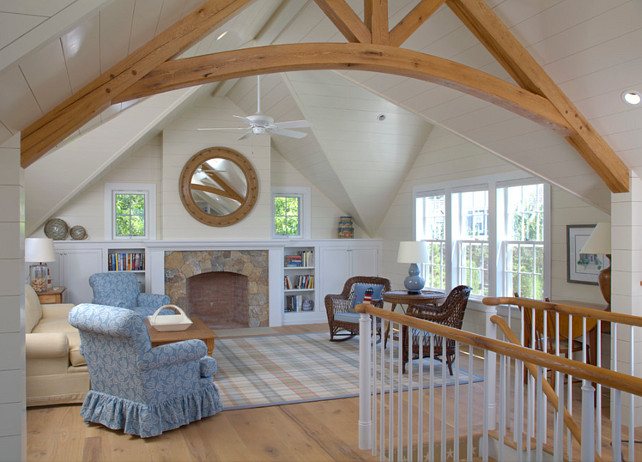 The bonus room in this cottage is perfect to be used as a guest quarters or a hide out.
Small Kitchen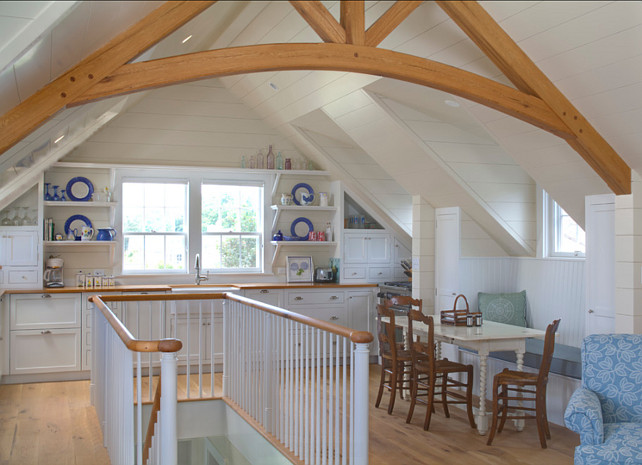 The space also has a small kitchen with white cabinets, open shelves and butcher block countertop.
Notice the charming eating nook and stunning curved beam.
Back of the Cottage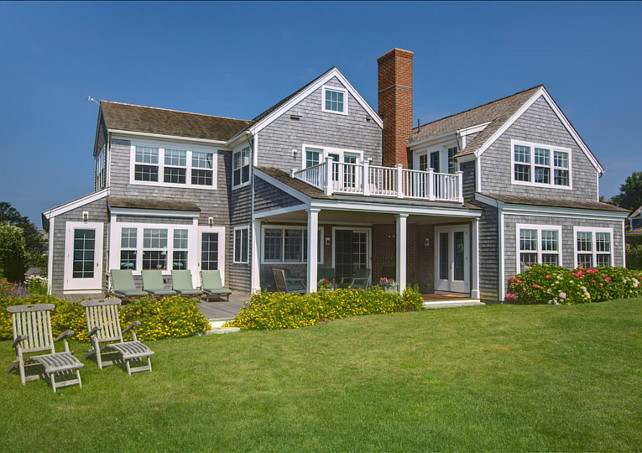 I could spend a whole afternoon here, enjoying the sun and reading a good book.
Guest Cottage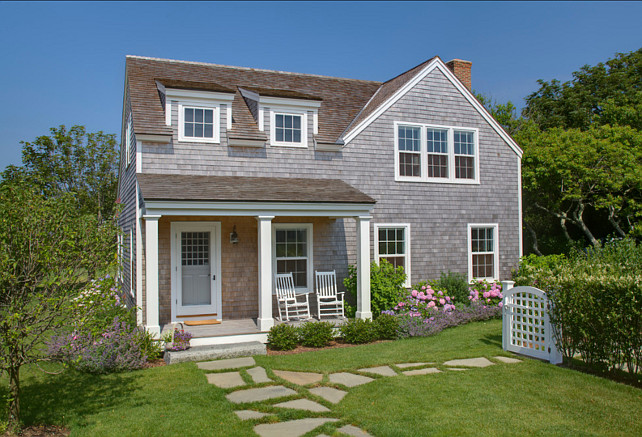 A cute as a button guest cottage with lovely gardens is located on the property.
Many thanks to the builder for sharing the details above.
Sources: Sea Island Builders
See more Inspiring Interior Design Ideas in my

Archives.
Interior Design Ideas:

Paint Color
Interior Design Ideas:

Paint Color
A Goodbye… and part of my life story.
If you read my blog for a while you probably know I try to share a positive message and I always share what's in my heart with you. In fact, I started writing this blog almost four years ago to share my passion for interiors, but most of all, to share who I truly am.
To know who I am, you have to know how I became what I am today and big part of this process is, undoubtedly, thanks to my dear grandmother Maria.
Vovó Maria, (vovó means "grandmother" in Portuguese) had two sons and didn't hesitate on adopting my mother when she found out that the little girl she often saw at the train station had lost her mother at the age of five. My grandfather and my mom's father worked together at the train station back in the late 1930's in Brazil. He didn't have anyone to leave my mother with and had to bring her to work. She would stay playing around the station and my grandmother would do everything she could to help her… bring food, clothing, everything a five-year-old need. One day, after getting tired of worrying for the future of that little girl, she suggested to my mother's father to adopt her. She would take care of her, give her a home and all the love she desperately needed.

My grandmother and grandfather honored what they've promised. They gave everything my mother needed and although that was not always easy, they always supported my mother. She grew-up to be a beautiful young lady. That's when she met her first love _ my father. They soon got married and had two daughters _ my sister and I.
Unfortunately, my father wasn't ready to be a father and much less, a husband. If you're married, you know it takes a lot of you and he wasn't responsible enough. Love wasn't stronger that his immaturity and after many years of trying, my mother divorced my father when I was only six years old.
After that, she needed to find a job, start over, find a way to believe in life, in love. She did it with a smile on her face…. I never met anyone with a more beautiful smile, but it's never easy for a single mother of two, especially in a country like Brazil where life seems to be even more unfair than in many other places in this world.
My mother tried to balance work and take care of two small daughters, but we all struggled with that. It was hard to deal with your parents getting a divorce and not seeing your mother and had to stay with nannies, hard to a point where my grandparents suggested my mother to help her raise my sister and I. We slowly started to move to my grandparent's house. They took care of us while my mother was working hard and trying to get her life back to normal.
My mother have always being in our lives and still is, but I can't help but say that if I know what family truly is, it's thanks to my grandparents.
My dear grandma Maria took care of my sister and I as if we were her daughters. She did everything or even more than a mother does to her children. She cooked, she gave to us everything we needed. She made so many beautiful dresses to us and she taught us about life and God.
I grew up listing to her and trying to learn as much as I could from her. I knew she was full of wisdom, love and God in her heart. She honestly couldn't have being a better mother to the two of us.
She gave me courage to believe in myself and never give-up. It was really hard when I decided to leave home and move to a country where I didn't know anyone or even could speak the language. But she believe in me, she trusted me and she gave me all the strength to also believe in myself.
My life was never easy, I had to work hard to achieve my goals and to have what I have today, but I know for a fact, that if I didn't have my grandparents to show me the way, I wouldn't have arrived where I am today. I am who I am because of their love and trust.
About two years ago, my dear grandma was diagnosed with Alzheimer's disease and since 2010 we had seen her getting more and more fragile. I have mentioned her here so many times and I couldn't have done it any other way. If I think about my life, my childhood, I think of her.
On Friday, at the age of eighty-eight, my grandmother went to heaven.
Although I call her "grandma", for me, this word means "mother", because that is what she really is and always will be to me. I just lost my mother…
What keeps me strong at this moment is knowing that she went and she is in peace. She knew that she had done everything God had put in her path to do. She took care of everyone she could in this life and she did it with all of her heart.
I have to say that I am having moments of ups and downs. At certain moments I am okay (I need to be strong for my kids) and at others I feel completely lonely. Who will hear me and talk to me the way she did?
At the same point, I am having so much support. My husband is being incredible and he's calming me down, showing me what a wonderful life she had and how grateful I should be for having her for all of these years.
I remember when she wasn't feeling well and I mentioned her here and many of you said you would pray for her. When I told her what I heard from you, she put her hands together, looked up and thanked God. She knew she was going to receive that grace and she did for a long time.
Now, I ask you to please, keep her, my family and my grandfather in your thoughts and prayers. I know we will receive them in our hearts, just like my grandma did.
Meanwhile, I will keep in my heart the most beautiful thing I heard after this happened; a friend of mine said something that I feel it was a message sent from Above and which I know will give me strength:
"Turn towards your faith right now, Luciane".
…And this is exactly what my grandma would've said.
with Love,

Luciane at HomeBunch.com
Interior Design Services within Your Budget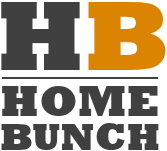 Get Home Bunch Posts Via Email