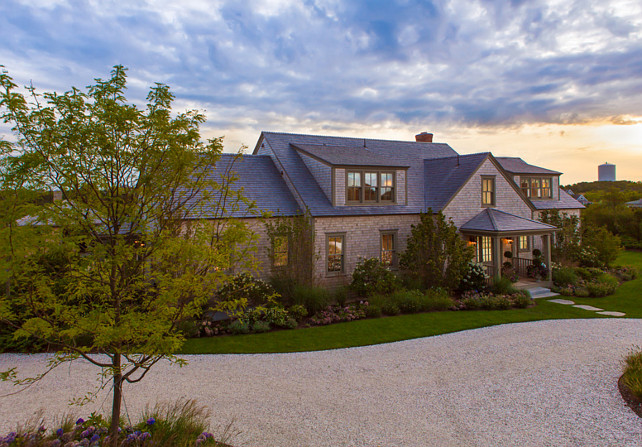 If you like Nantucket style homes you will love this Nantucket home with new coastal interiors.
Designed by Jonathan Raith Inc., this family home boasts many custom finishes, including a sleek white kitchen with marble countertops, shiplap wall finishes, coffered ceilings, arched beadboard hallway ceilings, raised paneling, pocket doors and a custom designed bar door.
Let's take a look?
Nantucket Home with New Coastal Interiors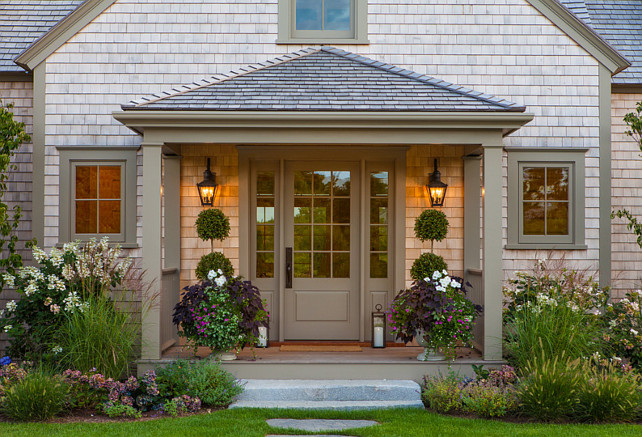 This front entry was perfectly designed. I like the idea of replacing white trim for this color.
Singles: The cedar shingles are from Mabec, a cedar manufacture in Canada. They are natural with no stain or preservative. Not a year old, the will continue to turn a silver gray in part from the salt air that surrounds Nantucket Island.
Foyer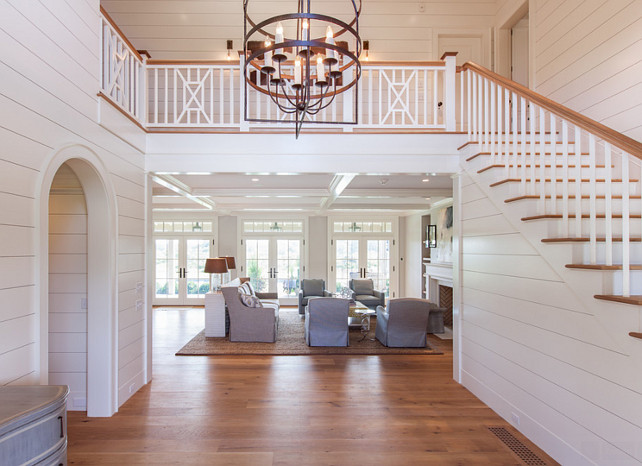 The front door opens to a soaring two story foyer with plank walls and wide plank floors.
Paint Color: The walls are painted with Benjamin Moore Satin Impervo oil base. The color is White Dove and the sheen is semi gloss.
Between Shiplap & Barrel Ceiling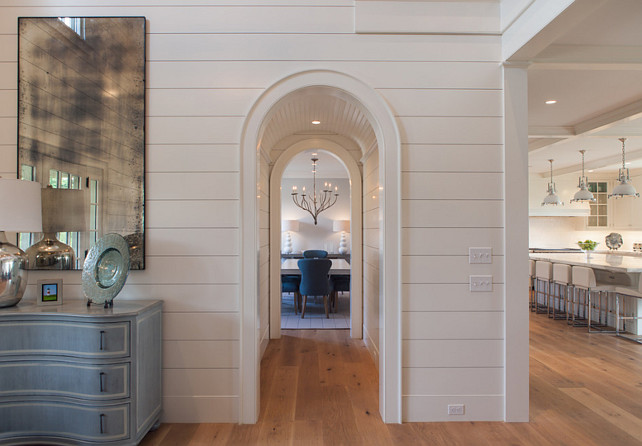 The walls are 1×8 ship lap fabricated from a wood known as poplar. This type of wood is commonly used for paint grade interior finish work.
Diamonds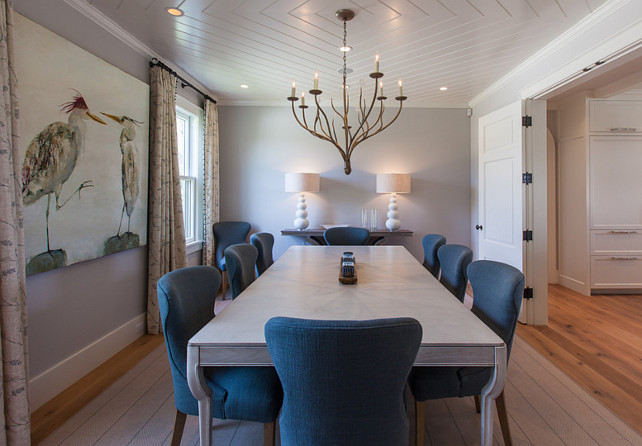 This subtly coastal dining room carries a beautiful ceiling design and a classic color palette.
Dining Room Dimensions: The room is 16'10″x 12'10".
Kitchen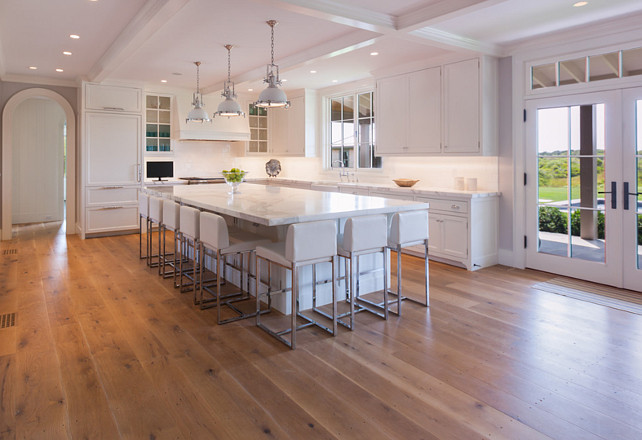 Isn't this kitchen great? I love how open and spacious it feels… so airy!
The island is a great center piece in the kitchen so well designed by architects Botticelli and Pohl, that there is room to spare once the family of eight takes their seats. The island top is one spectacular 2″x 5'x12′ piece of Calcutta marble, which took heavy equipment and 15 men to set in place! The overhangs are 14-15″. Amazing!
Kitchen Paint Color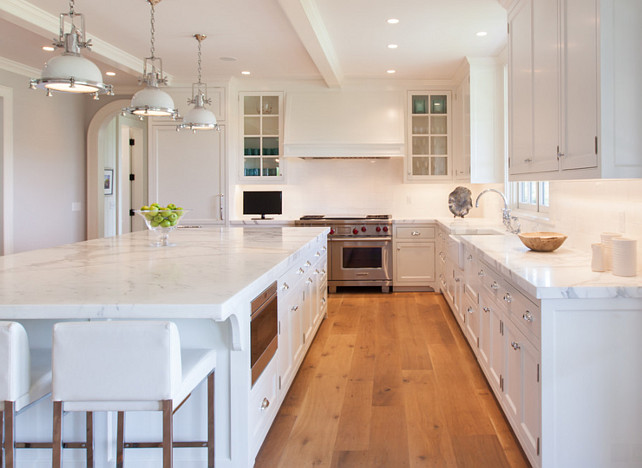 The paint color of this sleek white kitchen is Benjamin Moore White Dove OC-17 – a color that is popular between interior designers for a good reason; it's calming and works with almost every other color.
Guess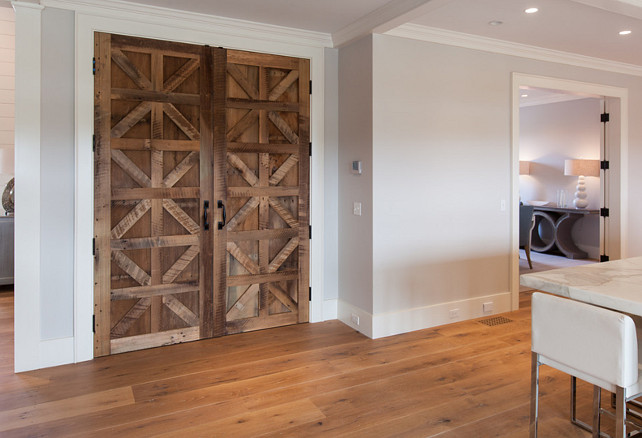 Can you guess what's behind these reclaimed doors? No picking allowed! 🙂
Surprise!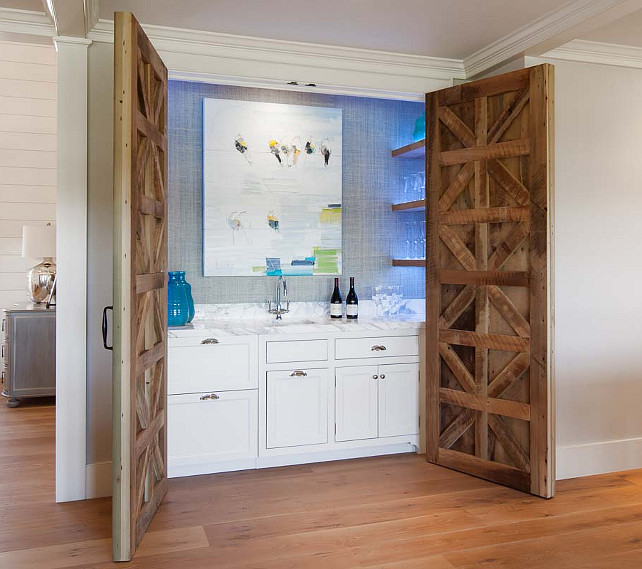 The reclaimed custom doors hide an incredible kitchen bar! Did you guess it right? I thought it was the pantry at first!
Kitchen Bar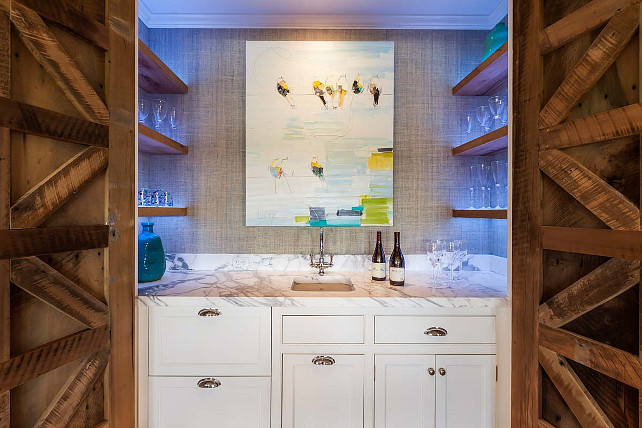 The bar features custom cabinets, double drawer dishwashers and marble countertop.
I love birds and I have to say that I am in love with the artwork. I wish I had it.
Open Space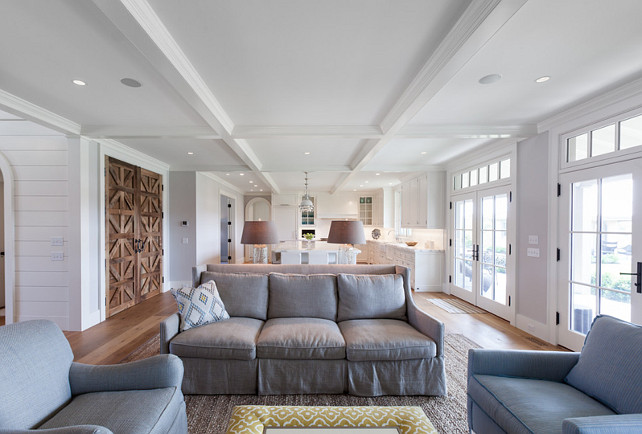 An open floor plan makes family living a little easier. I like how the kitchen opens to the living room and the amount of natural light this space receives from the French doors and transoms.
Living Room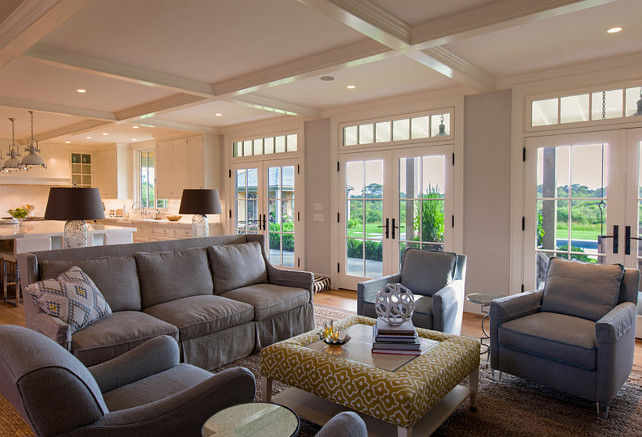 Nothing feels complicated nor too ornate in this space, and I guess it's why I like it. This living room feels natural, calming and fresh.
Notice the garden views and the clean color palette using gray and mustard.
Mudroom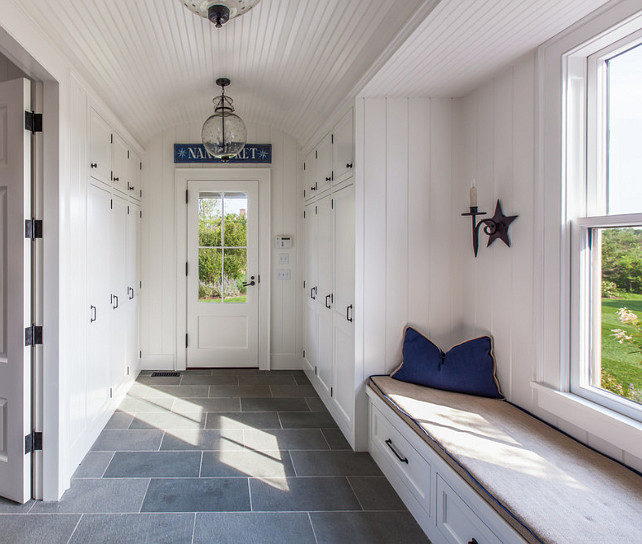 I always prefer classic interiors over trendy ones and this mudroom doesn't carry anything that won't still look great in ten to twenty years at least.
Mudroom Dimensions: The width between the storage cabinets is 5′ with a length of 14′.
Mudroom Flooring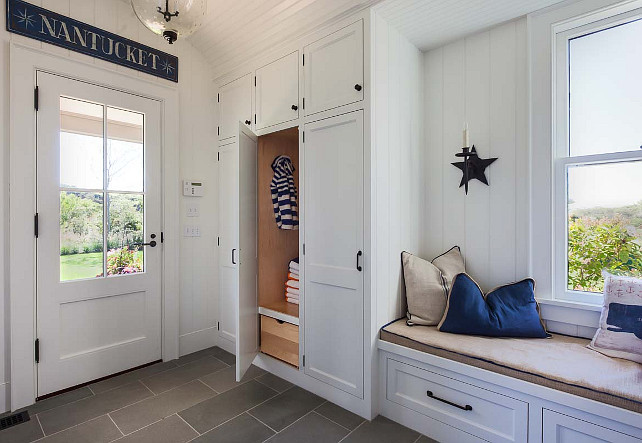 The floor tile is 12'x24″ bluestone with a thermal top surface.
Girl Bedroom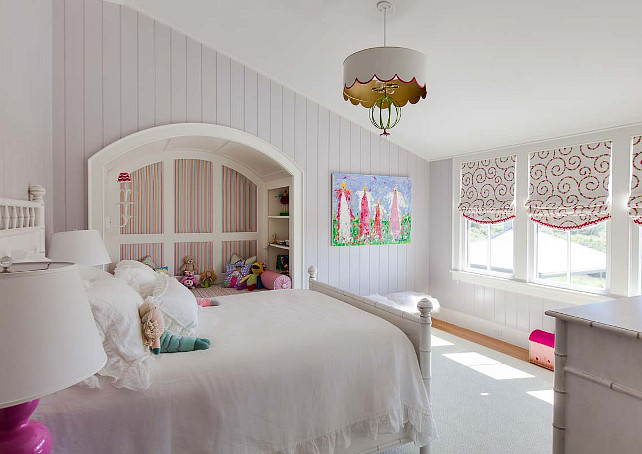 This bedroom is dreamy in every detail, from its shiplap walls to the lilac paint color.
Bedroom Alcove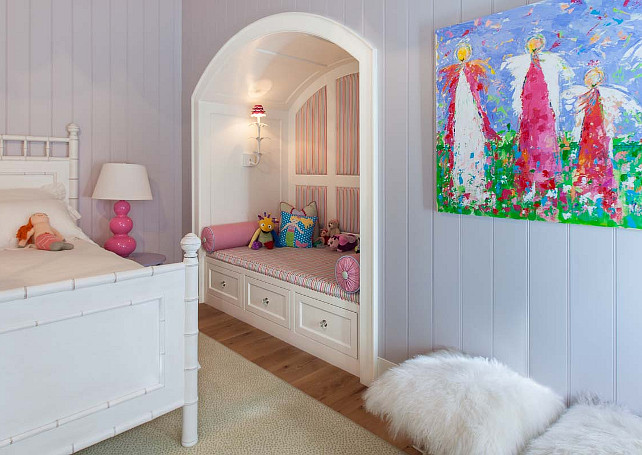 This sweet nook is perfect for reading or hours of playtime. Notice the fabric on walls and the storage under the custom seat.
Main Floor Master Bedroom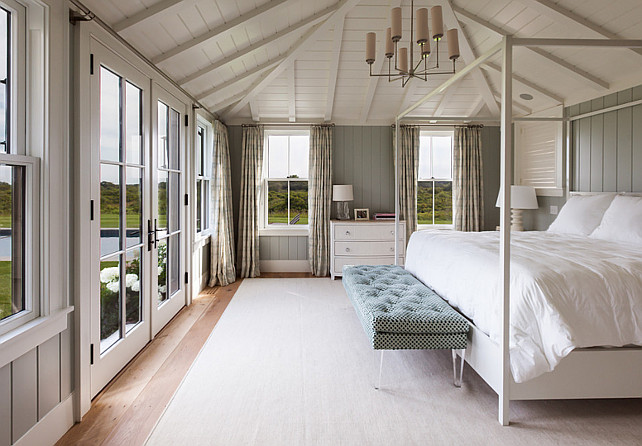 The main floor master bedroom continues to carry shiplap walls like the rest of the house.
Doors & Windows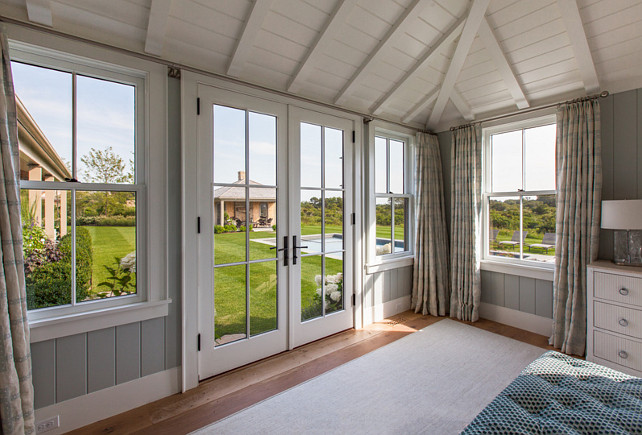 The doors and windows are from Lepage.
Notice the beautiful views you get from the bed.
Wide Plank Flooring Bathroom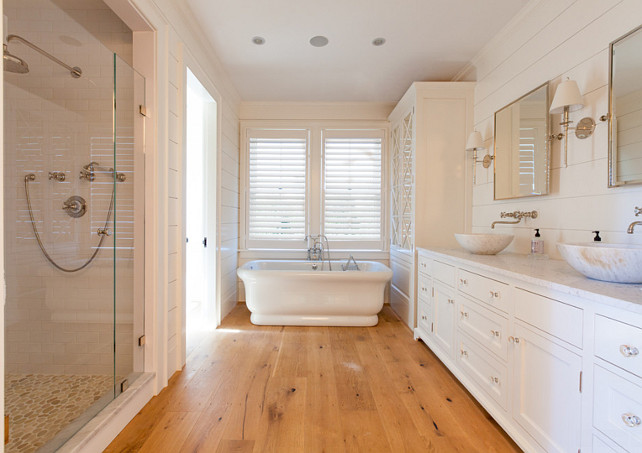 The flooring is newly sawn white oak commonly referred to as "character grade". The widths are 7″,8″,9″,10″ Available from the Woods Co. The finish is from Rubio Monocoat.
The wall paint color is Benjamin Moore, color White Dove, oil base Satin Impervo.
Bathtub is the Empire from Waterworks and measures 70″ x 34″ x 24″.
Shower Dimensions: The shower stall is 40″ deep by 60″ in length.
How to Use Shiplap in the Bathroom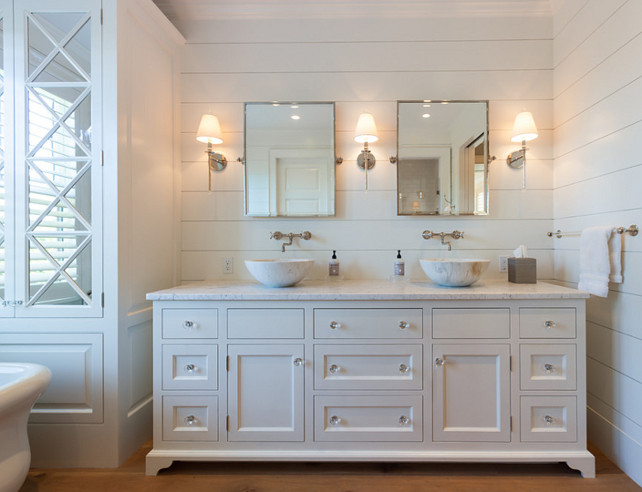 The material used for the walls is a 1×8 poplar ship lap that was pre-primed on all faces before installing. You do this for two reasons. First, to help reduce moisture absorption during the humid part of the year which in turn keeps the wood more stable. Second, so when the boards are installed and gaped to 1/8″ between each board, you won't see the raw wood.
The marble vessel sinks are from Waterworks, the model is Titan.
Mirrors and sconces are from Waterworks.
Pool Size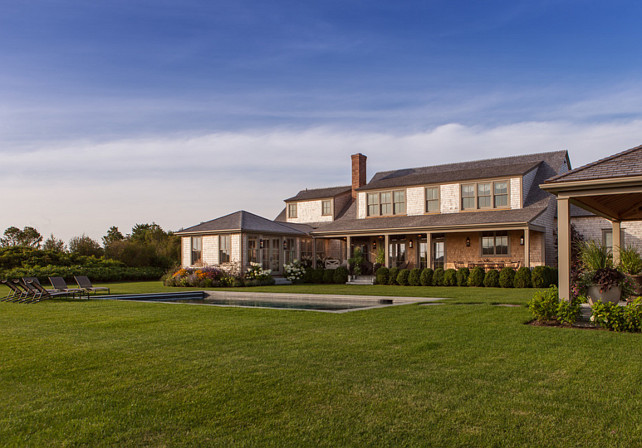 The pool is 20×40 inside the blue stone coping. I love how sleek it looks.
Back Porch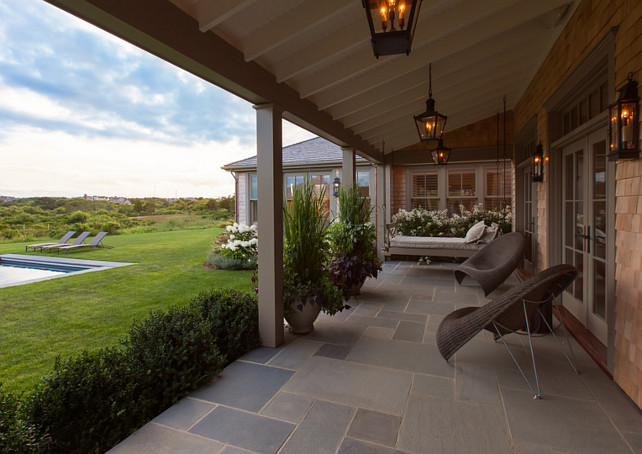 This stunning back porch features bluestone flooring, a swing and classic lanterns.
View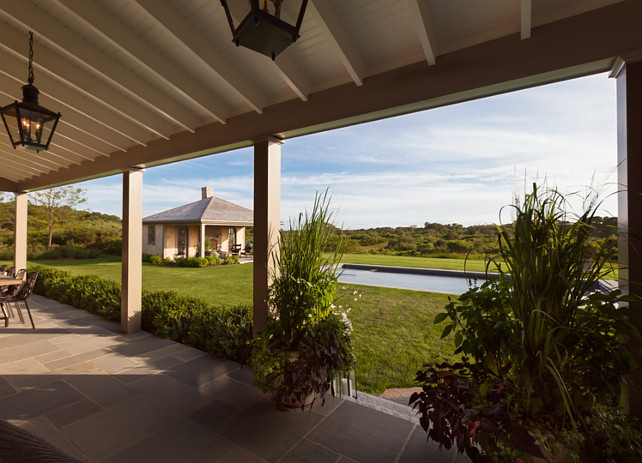 Lovely backyard and countryside view.
Poolhouse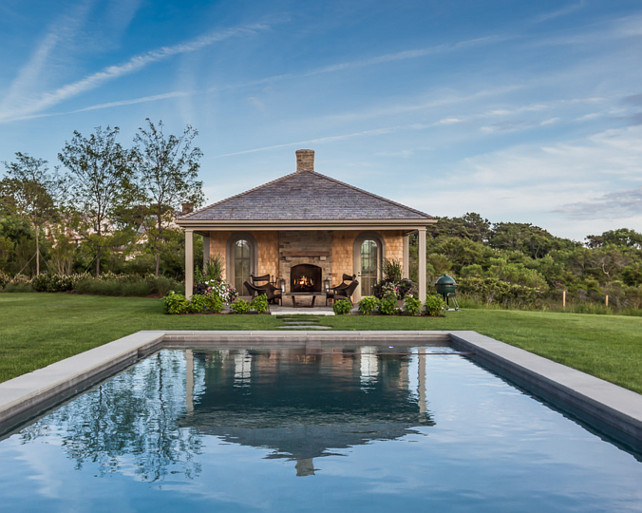 This poolhouse was beautifully designed with an outdoor fireplace.
Under the Clouds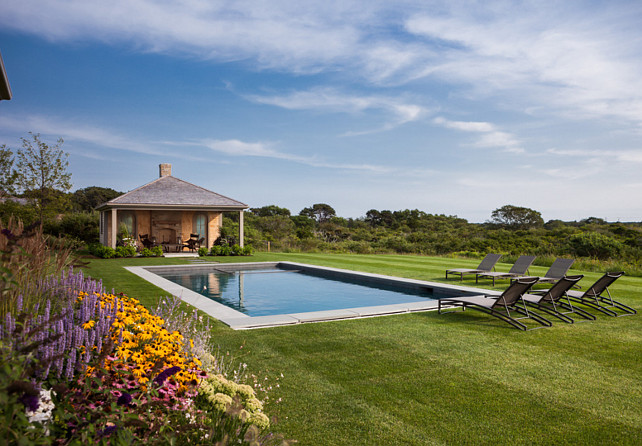 Peaceful and completely private, this backyard is where I wish I could be at this moment. How about you?
See more Inspiring Interior Design Ideas in my

Archives.
Interior Design Ideas:

Paint Color
Hello, my beautiful friends! How are you feeling today? Did you guys have a good Mothers Day? Mine was wonderful! The kids and hubby took me to one of my favorite restaurants and we had a great time. I ate a little bit too much, but it was perfect. 🙂
Do you have plans for this week? Mine should be peaceful. I want try to take it easy, enjoy life, do some shopping (I'm in a shopping and eating mood lately… HELP! 🙂 ) and do some work. Oh, I am also going to see a stomach specialist on Wednesday. I told you guys I am having a stomach pain for a while now and I am finally seeing this doctor. I saw my family doctor several times and a homeopathic practitioner, but this is the time to see the person that hopefully will help me to resolve this. I am much better now, but I know it should be checked. I am just hoping I don't need an endoscopy. I am terrified of that! 🙂
Okay, I will let you guys go now… make sure to be safe and remember to look around you and find what makes you happy. Right now I see a picture of someone I love that's right here on my desk. What do you see around you that makes you happy? Keep looking and keep noticing them throughout this week.
Be Blessed, my friends. We'll talk so more tomorrow.
with Love,
Luciane at HomeBunch.com
Interior Design Services within Your Budget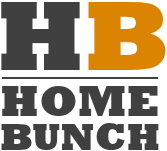 Get Home Bunch Posts Via Email