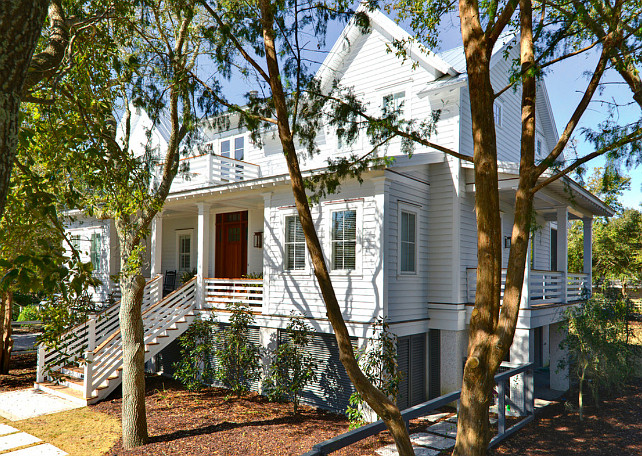 Designed by Ink Architecture, this beautiful elevated beach house is located in Sullivan's Island, South Carolina. The homeowners wanted a comfortable and casually elegant beach house with plenty of room for the family. With the local vernacular and beachy feel, they can now enjoy a home that feels casual and approachable for any family member, from small children to parents.
Take a good look and you will see how this home can feel inspiring and welcoming.
South Carolina Elevated Beach House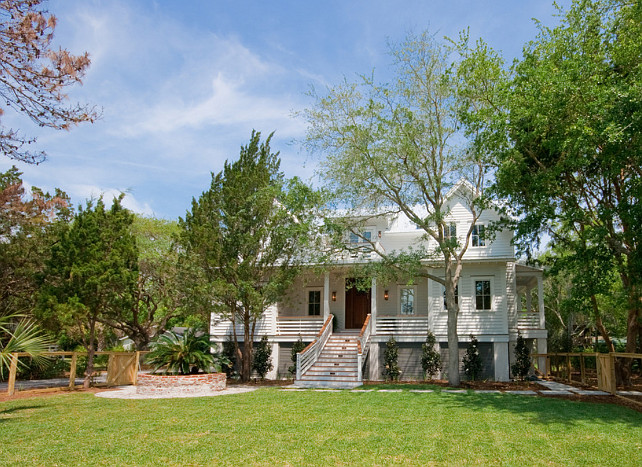 This beach house feels fresh and timeless. I love the white plank siding and the elevated facade.
Steps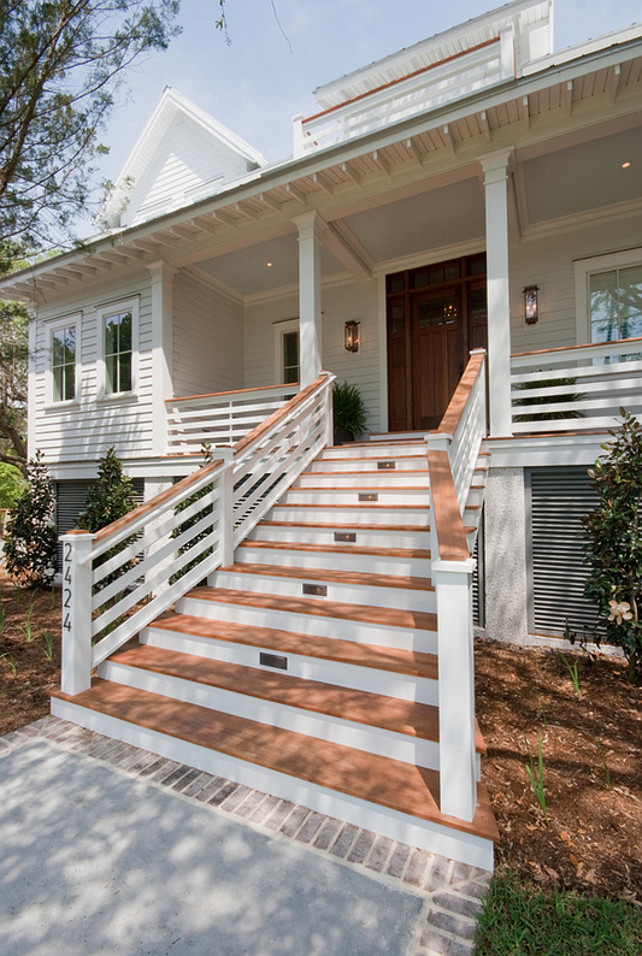 The deck is IPE – a very durable wood that ages beautifully.
Front Door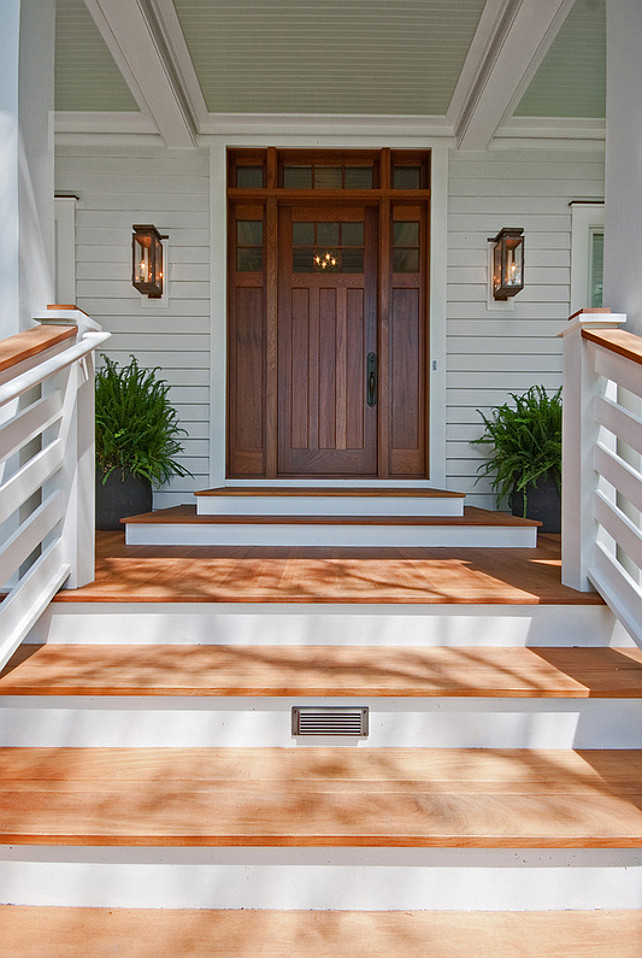 This classic look will last for many, many years to come. Notice the transoms above the front door and sidelights, and the mint green porch ceiling.
Foyer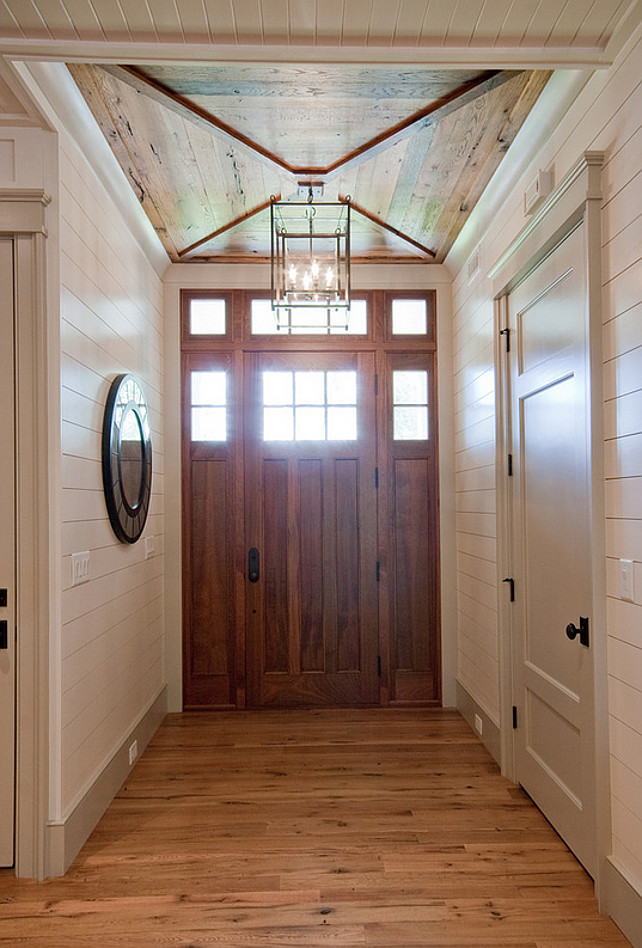 Exciting wooden ceiling continues to the foyer where rustic wood was added in addition to the tongue and groove walls.
Kitchen & Dining Room Layout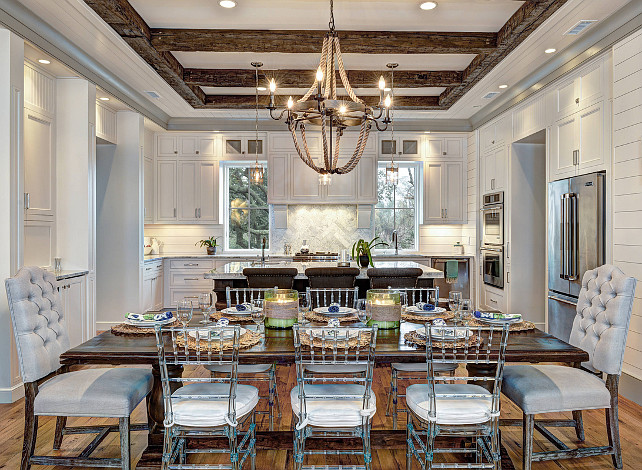 The dining room shares a large space with a beautiful, crisp white kitchen. Ceiling beams add texture and balances the wide plank flooring.
Rope Chandelier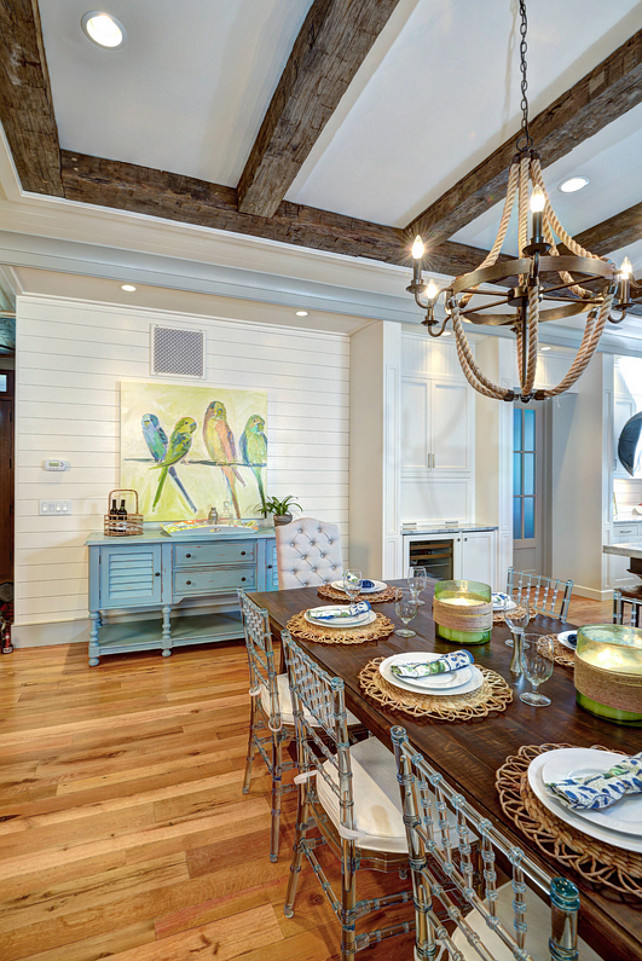 The dining room lighting is the Griffin Rope Chandelier from Pottery Barn.
Dining room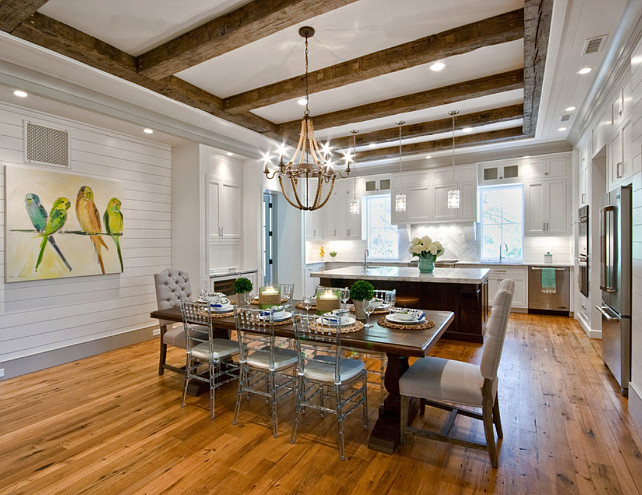 I like the combination of clear chairs with the grey tufted captain dining chairs. It gives an airy feel to this dining room
Kitchen Lights
The kitchen lights are the Ella Small Column Pendant, from Juliska.
Shiplap Kitchen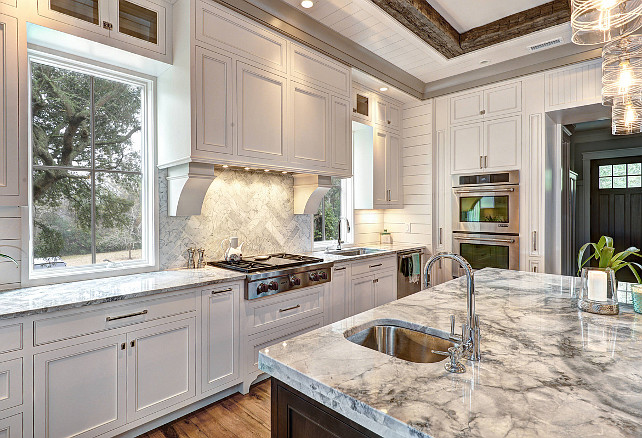 Have you notice how obsessed are we over shiplap, tongue and groove and plank walls lately? I am sure you have! Adding these elements to kitchen walls, cabinets and ceiling is being one of the biggest demands from homeowners right now. I feel this is a great way to add interest and a custom look to any room.
Cooktop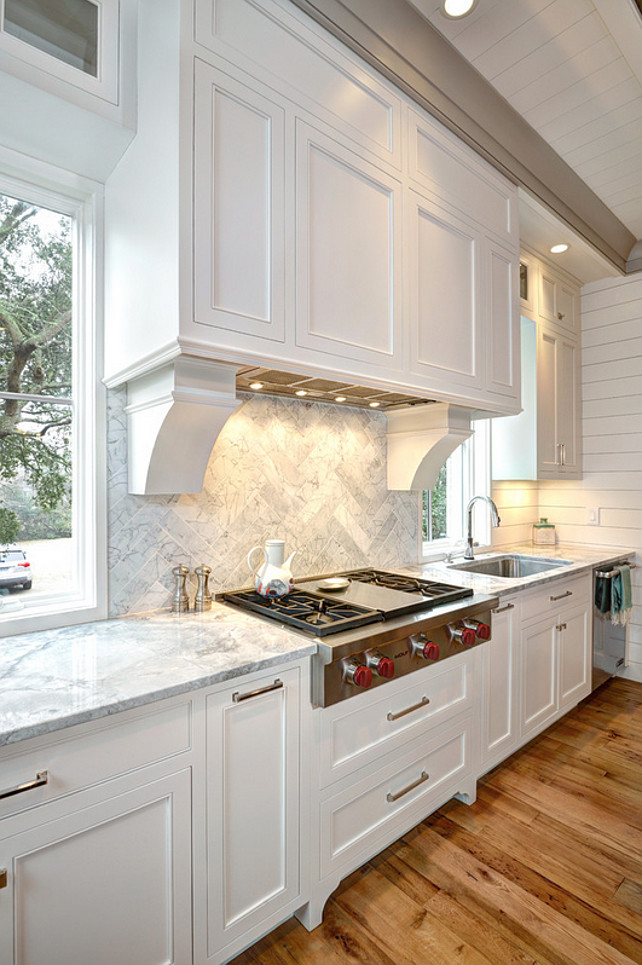 I love the custom hood with the corbels in this kitchen. Also, notice the marble backsplash set in a herringbone pattern.
Cooktop is a Wolf 36″ Pro-Style Gas Rangetop.
Kitchen Hardware
The kitchen hardware is from Byrd Hardware in Charleston, SC.
Family Room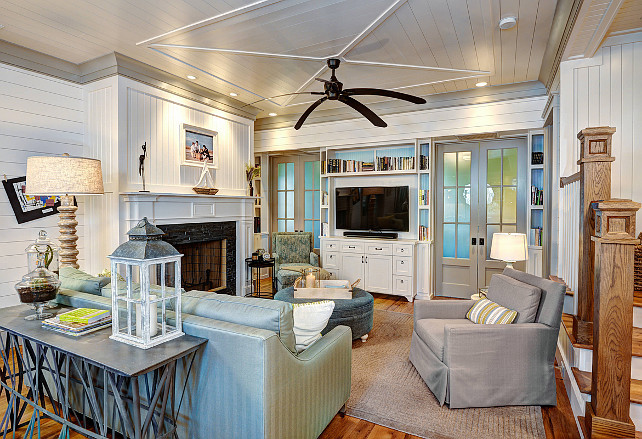 This cozy family room is full of great ideas, including built in bookshelves, ceiling fan, tongue and groove, white ceiling and the comfy decor.
Fireplace Stone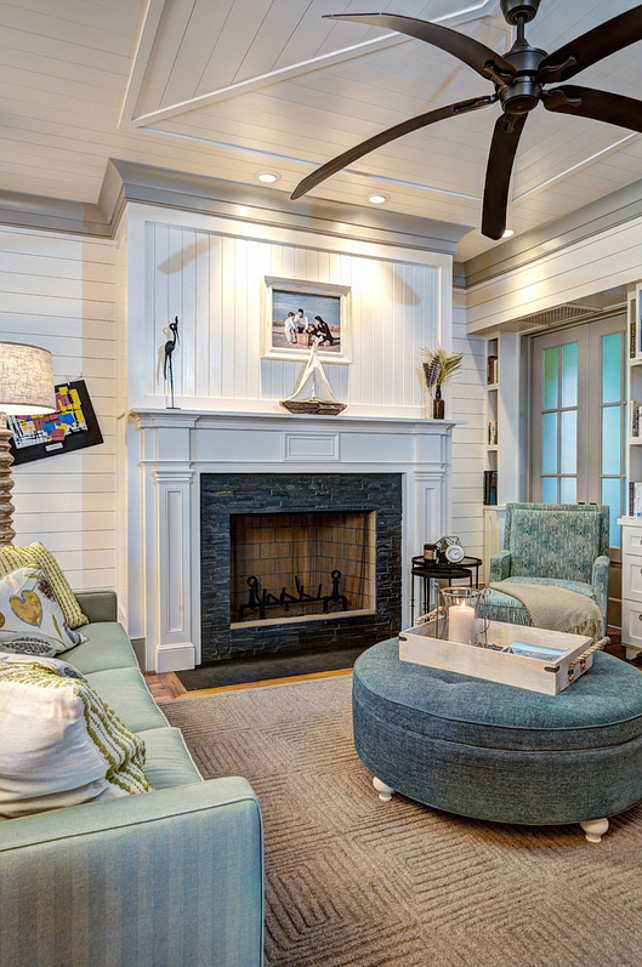 The stone on fireplace is a slate tile with varying depths and lengths, approx. 2″ wide.
Green Paint Color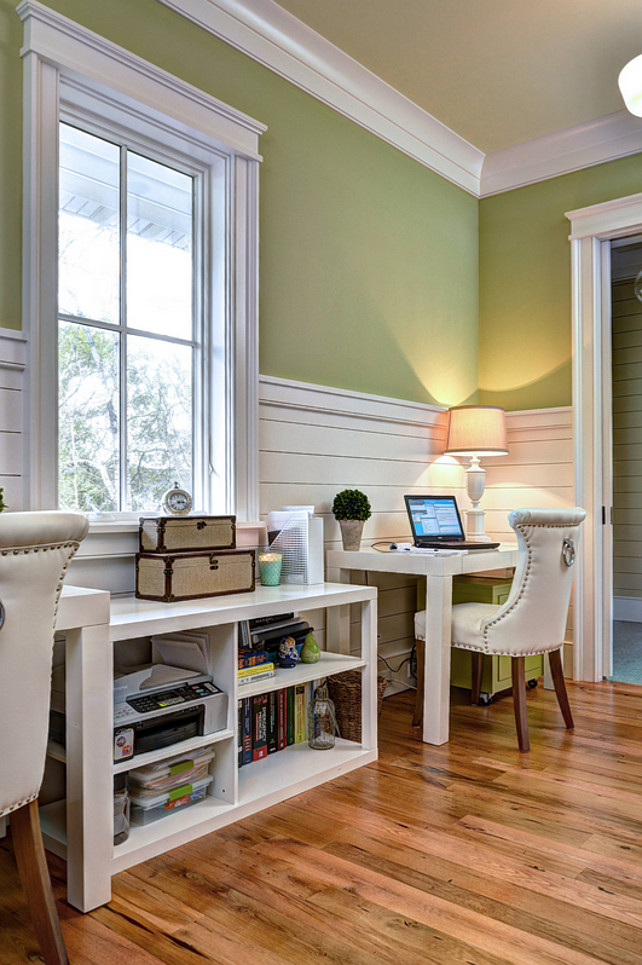 The home office paint color is Dancing Green by Sherwin Williams.
Playroom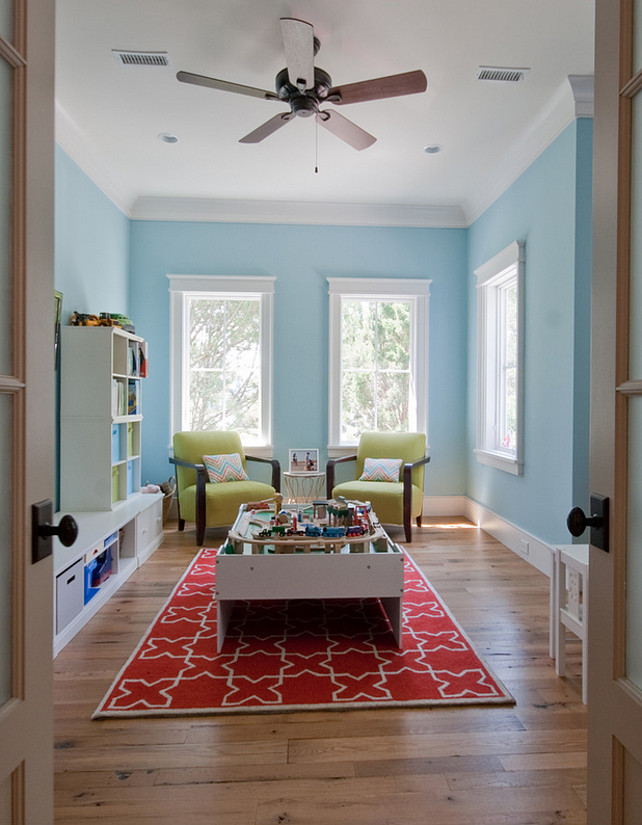 Any family home with a playroom is a more organized home! The fabric on the chevron pillows was purchased from GDC in Charleston, SC.
Chalk Wall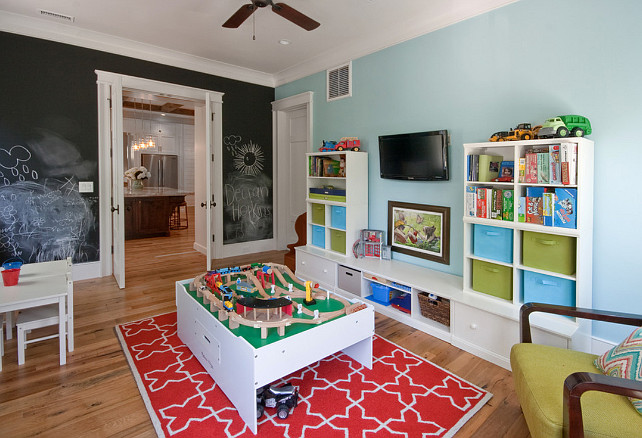 What a great playroom! Notice the chalk wall… who cares about the dusty mess, right? It's better than having crayons on your walls… trust me! 🙂
Color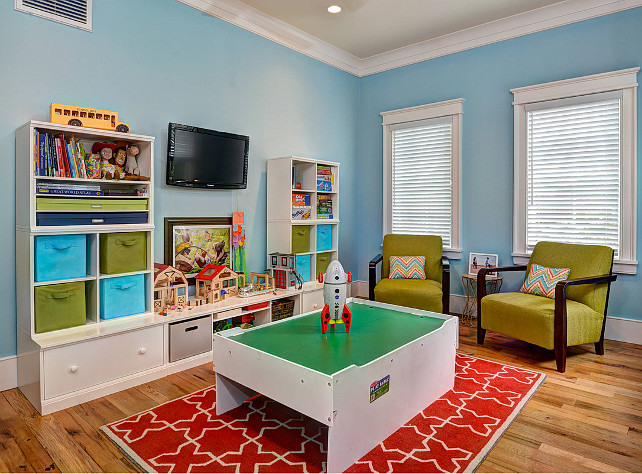 It's always more fun to be in a colorful world! Ask any kid…
Powder Room Wallpaper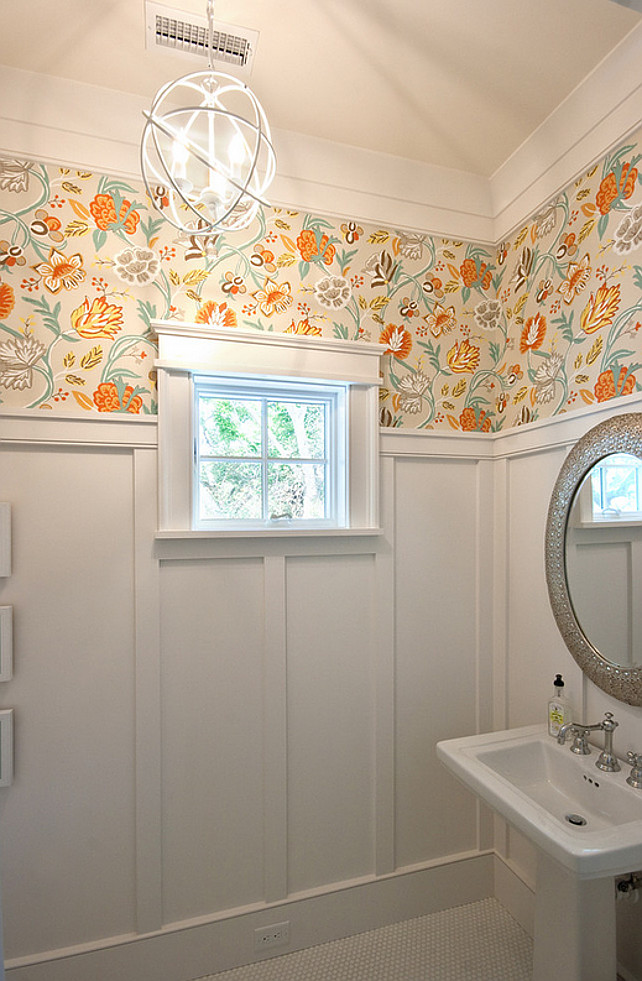 The wallpaper in the powder room is the Thibaut Cayman wallpaper – T4907 in Cream and Aqua.
Master Bedroom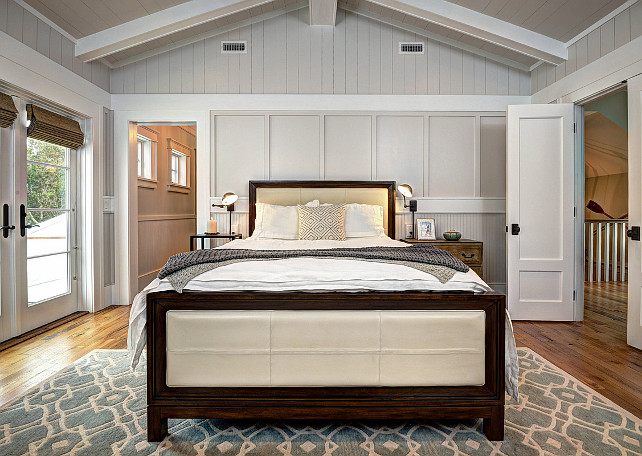 I simply love this master bedroom. I like how much character it carries without being pretentious. In fact, this is the best kind of interior in my opinion; interiors that have personality, carries interest without being untouchable. "Untouchable" interiors are to be photographed by magazines, not for real people like us, with families, kids and puppies running around the house.
Bedroom Elements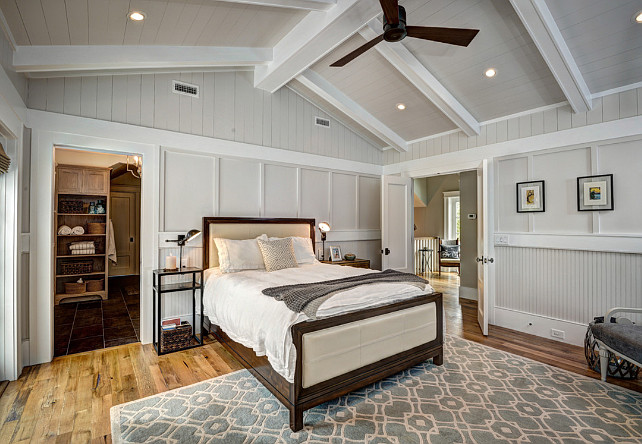 This master bedroom shares beautiful ideas! Notice the blue-grey area rug, the cathedral ceiling and the warm gray wall paneling. The pitched ceiling gets more interest with the white beams.
Bedroom Fireplace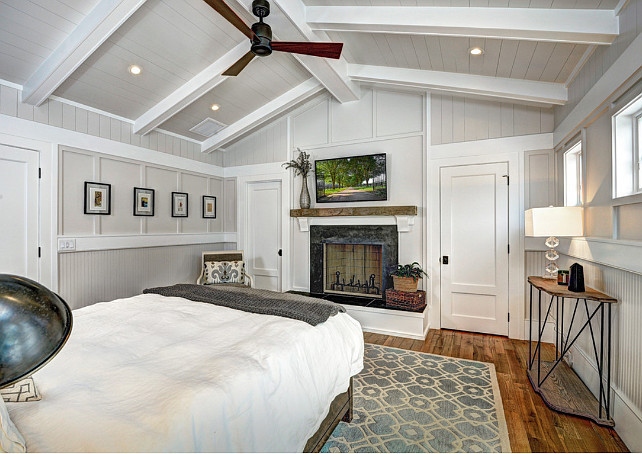 A fireplace always make any bedroom feels cozier and more welcoming… how about romantic? You bet!
Bathroom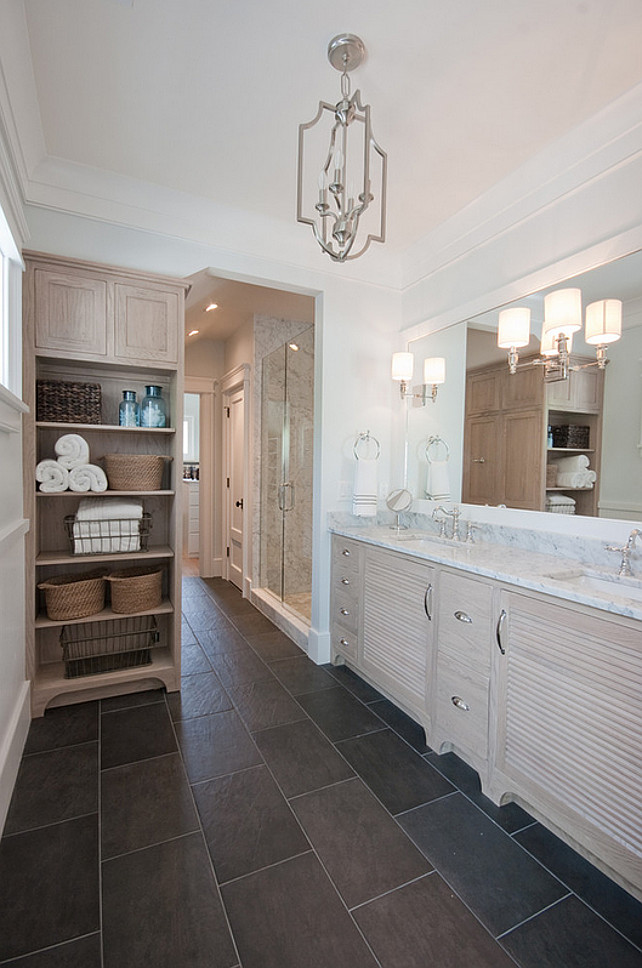 The slate flooring in this bathroom is from Melcer Tile in Charleston, SC.
Mud Room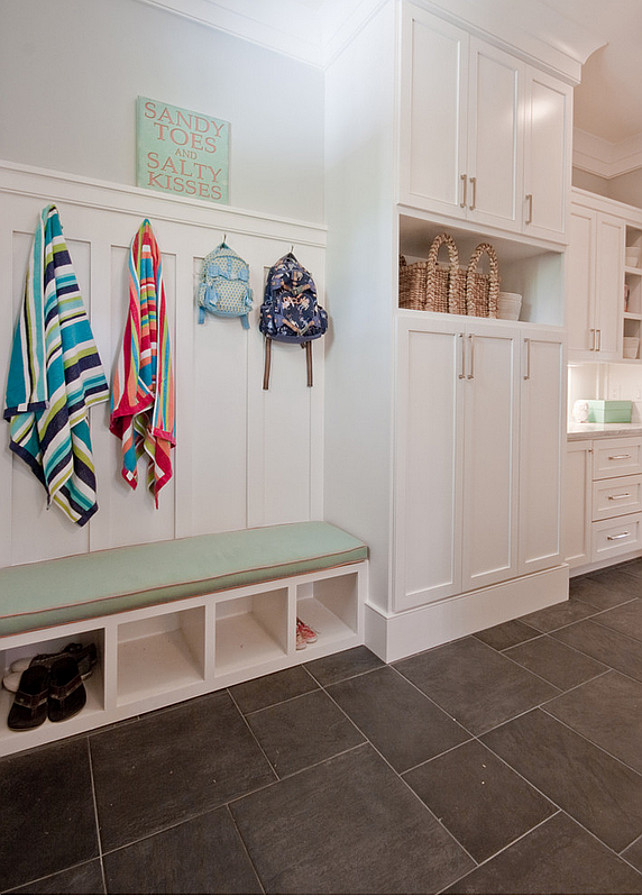 Slate flooring was also carried to this practical mud room with board and batten, custom bench and cabinet.
Outdoor Kitchen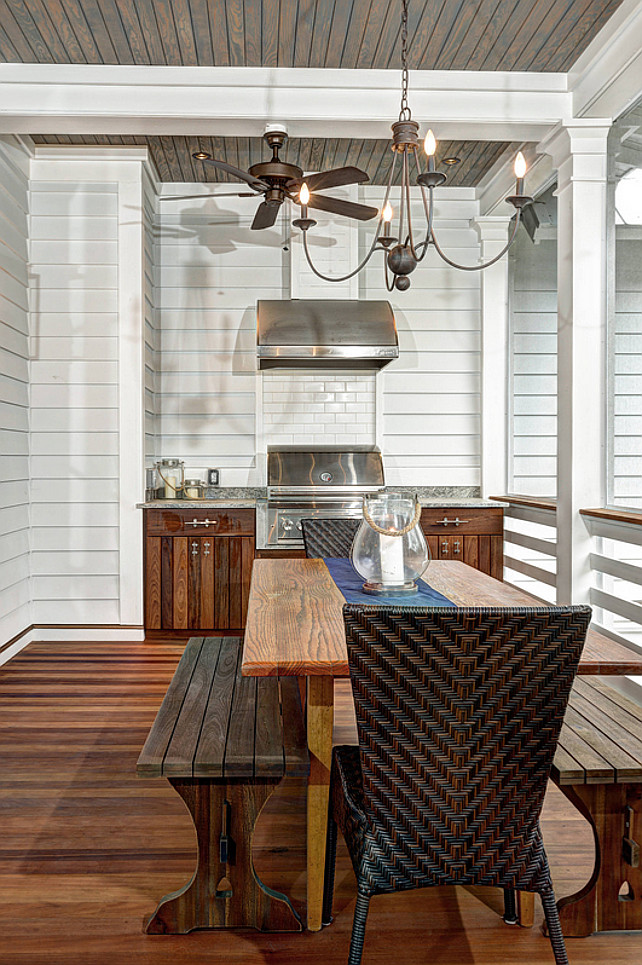 Stunning outdoor kitchen with fabulous wood details. The outdoor kitchen used custom built cabinet made of IPE for the Fergusons built-in grill. Cabinetry was from Carolina Kitchens.
Spacious Porch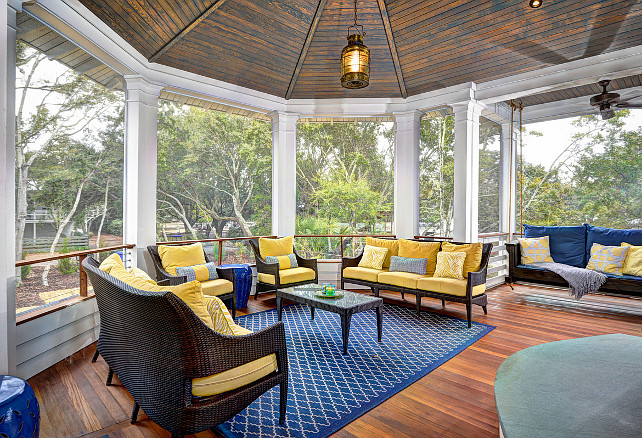 The back porch is very spacious and houses a beautiful outdoor set and a swing.
The wooden ceiling was stained with Sherwin-Williams WoodScapes Exterior Polyurethane Semi-Transparent House Stain.
Many thanks to the architects,Ink Architecture, for sharing the details above!
Photos: William Quarles Photography.
See more Inspiring Interior Design Ideas in my

Archives.
Interior Design Ideas:

Paint Color
Don't you think this house was really fun to see? I loved the neutral approach it had on the main rooms and the careful addition of color on some other rooms. This home was truly designed with each family member in mind.
Did you guys have a nice weekend? My kids had their swimming test Saturday and that kept us busy. My son passed but my daughter didn't and she was very sad. She's very, very athletic and loves to compete but swimming is something she just started doing and she got a little frustrated for not passing. I explained to her that everything has its own time and that she has her own time, which can be different from her brother's. I know this will make her push herself even harder and it is teaching her something. It's teaching her that she can reach her goal if she keeps trying and working on it.
I know this is "just" a swimming test, in fact, this is "just" her 1st swimming test, but how many "just" we have had in life that passed and didn't teach us anything? I feel that we need to learn from a very young age that's okay to not pass, to not win, to, in fact, failure in certain things in life. Failure hurts. Failure make us feel less and this can make us feel that life is unfair. Good! All of that is okay to feel. In fact, this is not only okay to feel but it is necessary to feel.
I have failed in many things in my life. I have lost many times and I have felt "less" as well, and for every failure, for every loss I felt that I grew a little.
As parents we often feel that we need to protect our kids from everything, which is somehow true, but we shouldn't protect them from growing. Unnecessary protection, many times called "over-protection" creates unprepared grown-up. These will often encounter difficulty to resolve the simplest problems in life.

I saw many times that my daughter's teacher could have been more helpful to her. This was the first time she has been to a pool and you could see she was a little afraid at times. I know she would be able to learn faster if she had more attention, a more one-on-one approach. But I also know that this experience is teaching her something bigger than if she did pass to the next level. She told me that she will work really hard on the five things she is afraid to do. She also said that she thinks she can lose this fear because she wants to get better. I told her that this is a great thing because all of these steps will prepare her, and eventually she will be ready to go to the bigger pool.
Life is like that… we can't be thrown to the deeper side until we're ready. Losses, fears, failures, all of it is part of the lessons we need to learn in life.
Victory never feels as powerful if you haven't walked on the path of failure. Everything has its own time and every step, its own direction.
Have a Blessed week, my friends and we'll talk some more tomorrow.
with Love,
Luciane at HomeBunch.com
Interior Design Services within Your Budget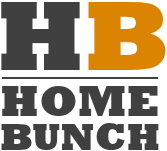 Get Home Bunch Posts Via Email