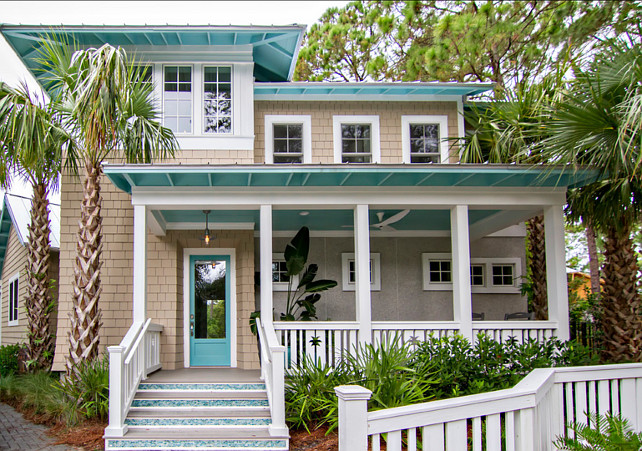 Once known as the "HGTV Smart Home 2013" and located in Paradise Key South Beach in Jacksonville Beach, Florida, this transitional beach house has been on many people's minds for its smartly designed transitional interiors.
This stunning and high-tech home was built by Paradise Key South Beach's preferred home builder, Glenn Layton Homes, and had more than 8,000 people visiting the HGTV Smart Home from around the world during the HGTV tours.
As many of us know, this beach house has seen shared in other places before, but I can't resist its colorful interiors and I have to show it to you. This home is a way for us to keep the summer feeling alive for a little longer… just in case you're not ready to say goodbye just yet.
Take notes on the beautiful paint colors and let me know what you think of this transitional home!
Transitional Beach House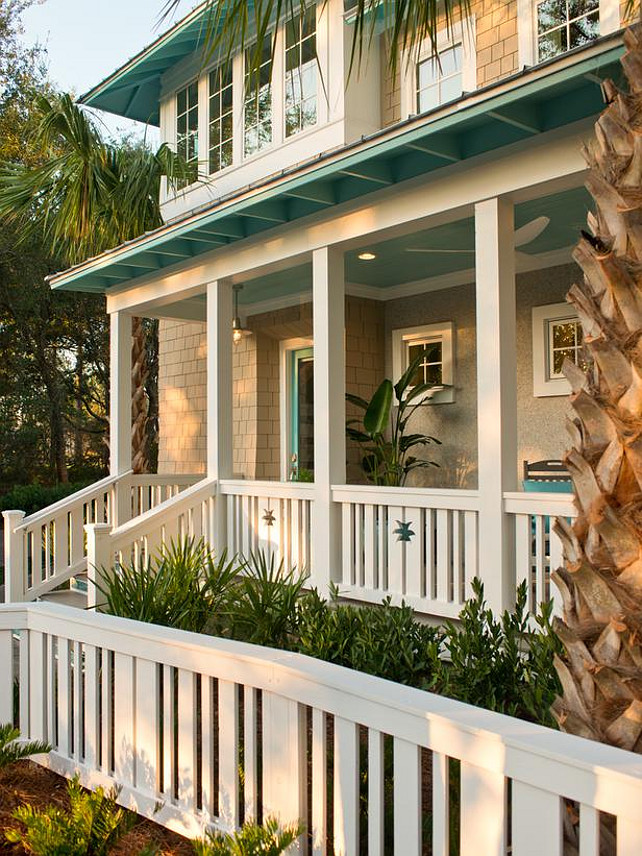 An original front porch adds to the curb-appeal of this coastal home.
Front Door Paint Color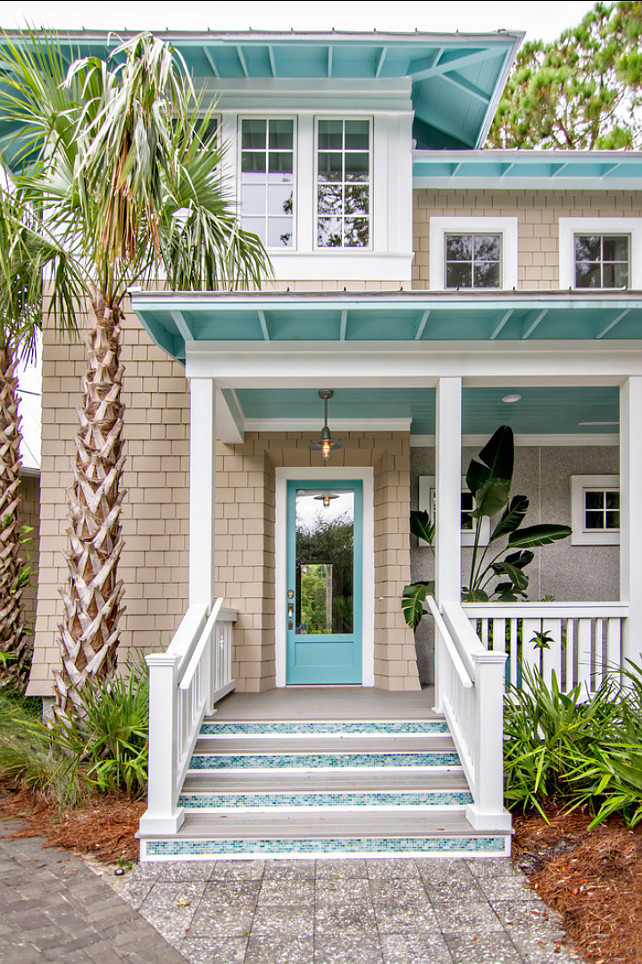 Front door and porch ceiling paint color is "Sherwin Williams Raindrop SW 6485 Raindrop".
Turquoise Love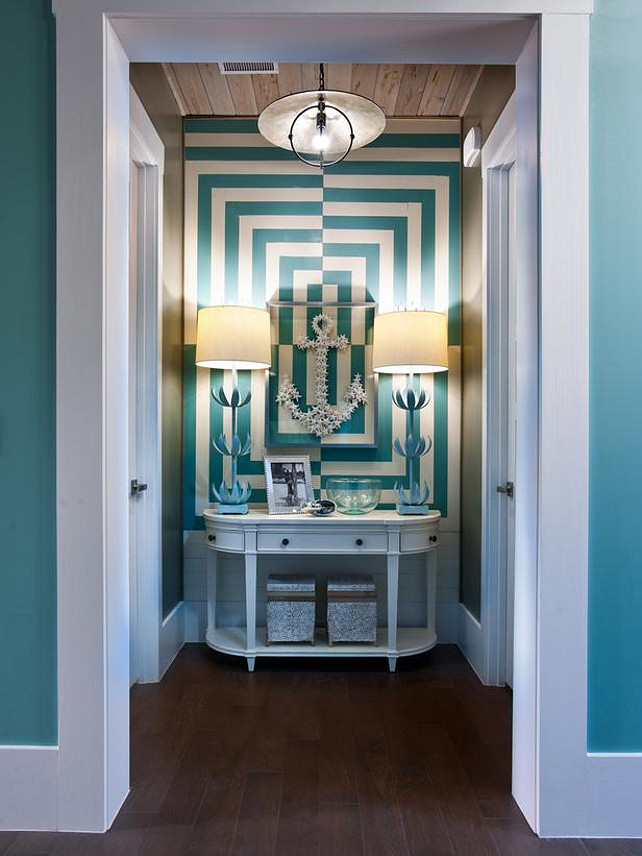 The foyer is all about turquoise and coastal decor. How cheerful and happy!
Console table is the "HGTV HOME Water's Edge Console Table".
Hallway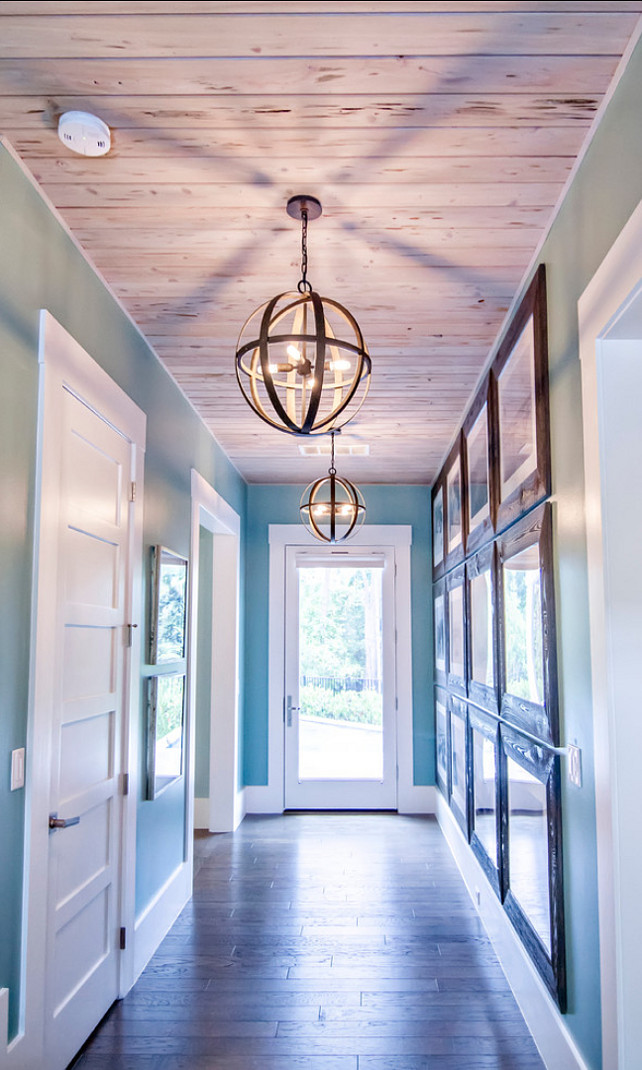 A hallway leads you from the foyer to the kitchen and to the rest of the main rooms. Notice the frame wall and beautiful ceiling treatment.
Lighting is the Troy Lighting F2514 Transitional Four Light Pendant from the Flatiron Collection.
Wall Paint Color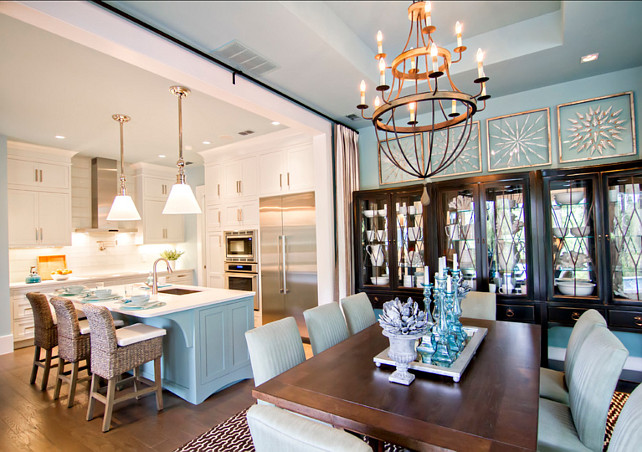 Paint Color: "Sherwin Williams SW 6479 Drizzle".
Embracing Coastal Decor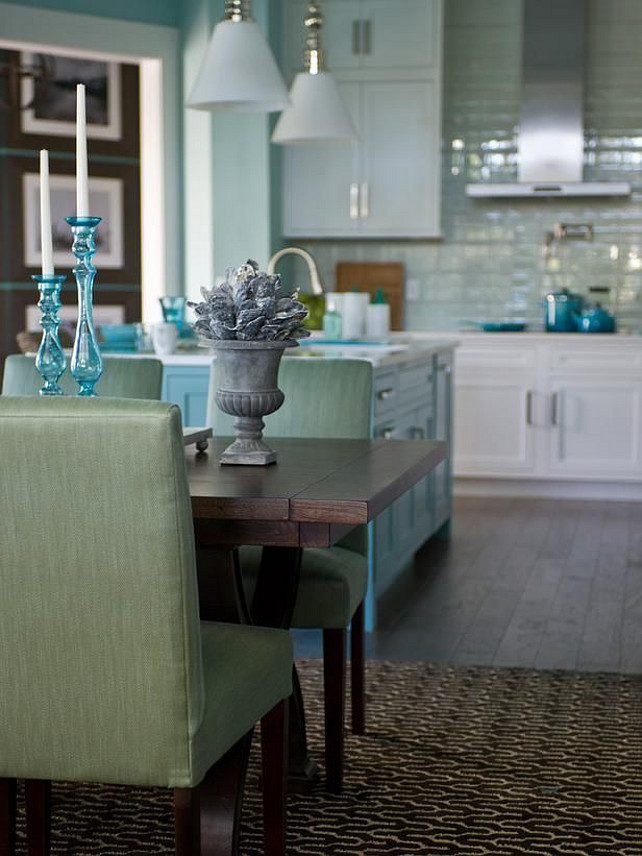 Clear glass taper holders, in chess piece-style shapes, lend drama while keeping views unobstructed.
White Kitchen with Turquoise Island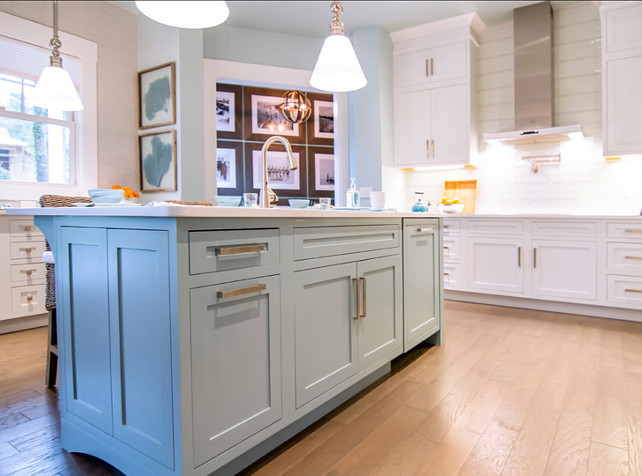 I have to admit that I am crazy about white kitchens with turquoise islands. This one has a balanced and serene feel.
Island Paint Color: "Sherwin Williams SW 6479 Drizzle".
Crisp White Kitchen Cabinets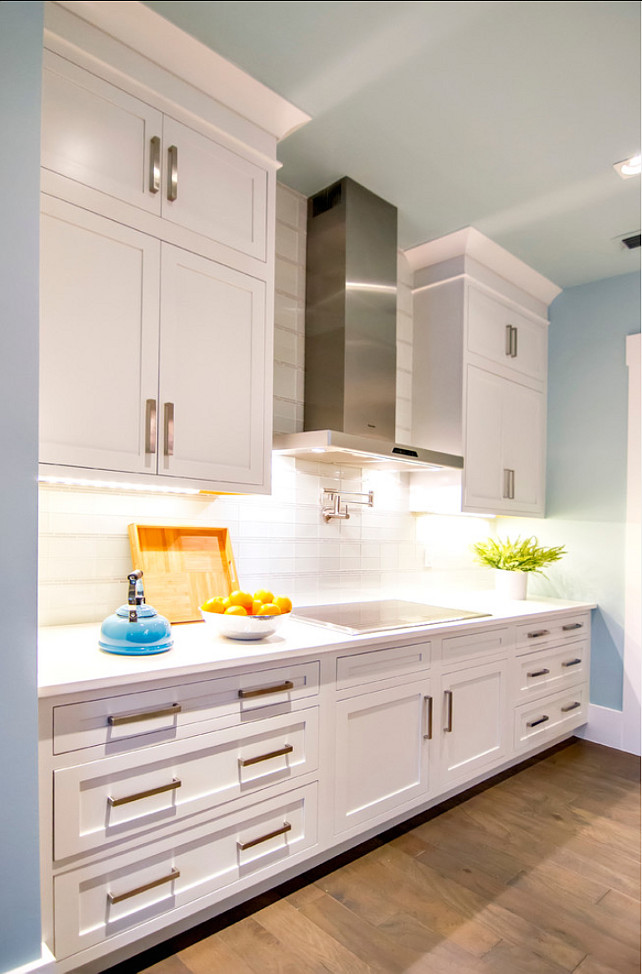 The crisp white cabinets beautifully contrast with the turquoise walls and kitchen island.
Floors are the "HGTV HOME Flooring by Shaw – Pemberton".
Kitchen Cabinet Paint Color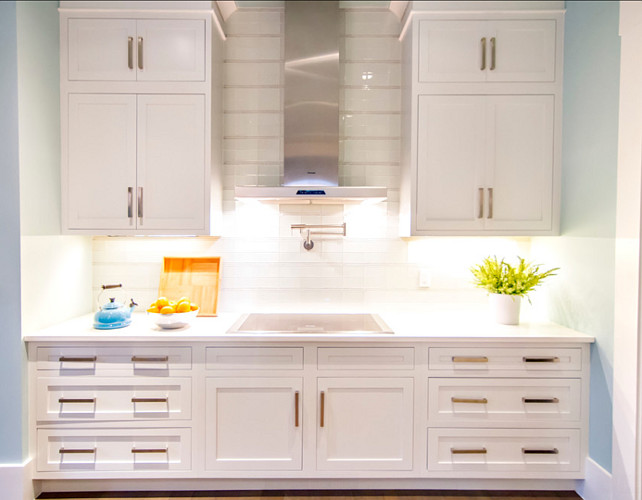 "Sherwin Williams Pure White SW 7005".
Backsplash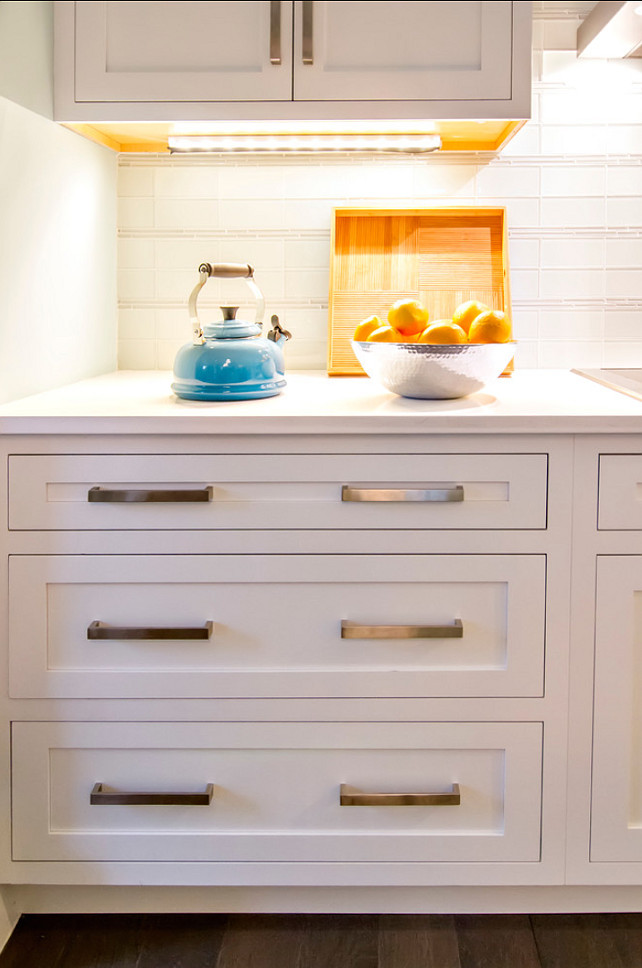 The kitchen backsplash is clad in clear glass subway tile with strips of random linear tile sandwiched between rows to lend depth and interest.
The backsplash is a "Shaw Floors" tile product.
Bar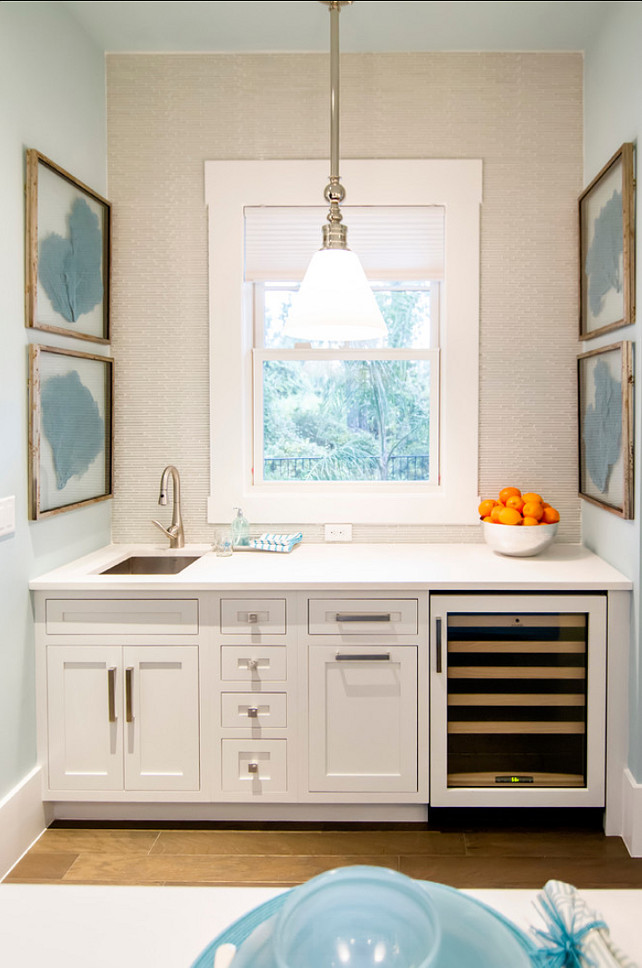 A small bar/prep area is perfect to prepare drinks.
The framed sea fans are from the "Karen Robertson Collection".
Space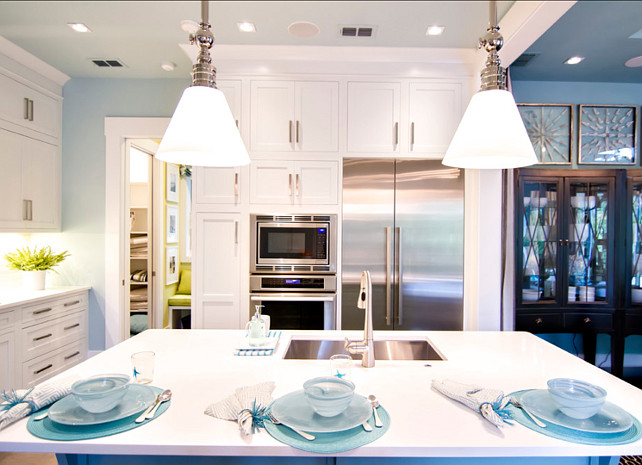 This kitchen is not too big, nor small, which is perfect for cooking and entertaining. Everything and everyone is close by!
Countertop is quartz.
Sink is the "Moen Lancelot Kitchen Sink".
Appliances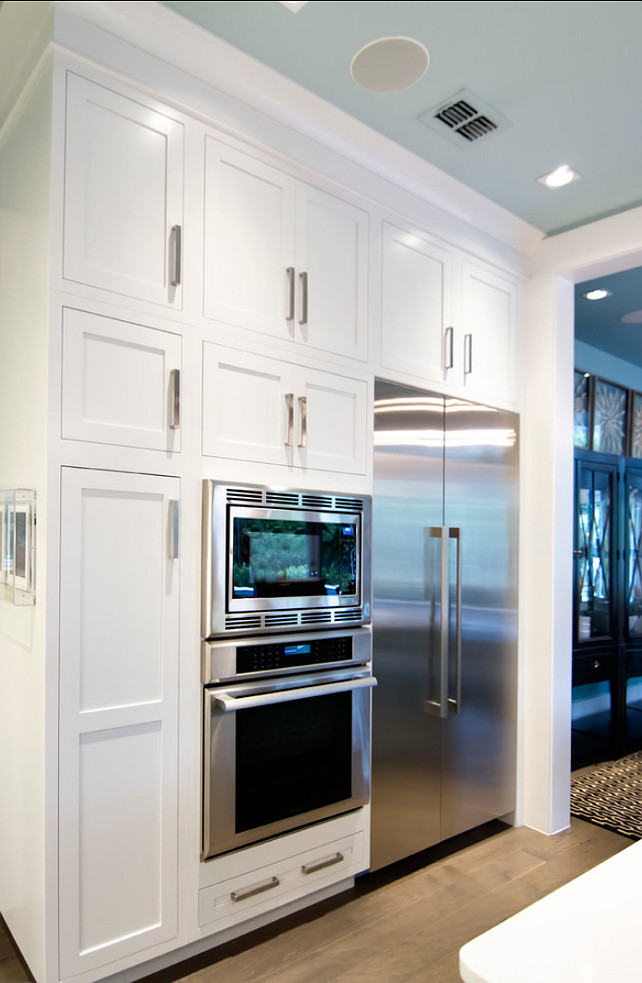 Smartly designed, this kitchen has plenty of storage space and high-end appliances.
Dining Room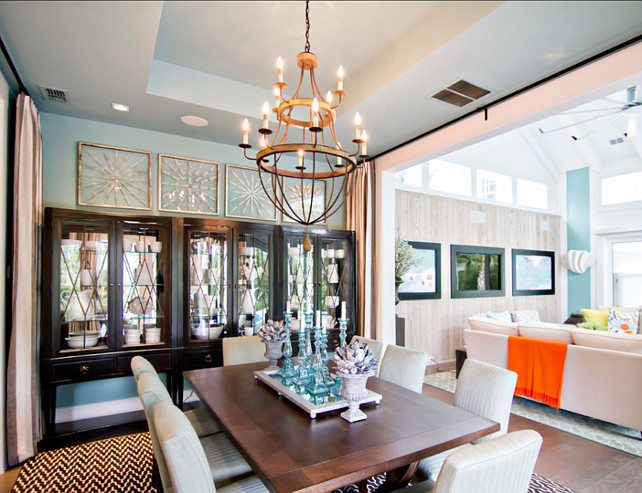 A coastal dining room opens to the family room and a deck with an inviting swimming pool.
I am really liking the mocha and sea-blue hues in this space.
Cabinets are the "Modern Heritage Concave and Convex set".
Family Room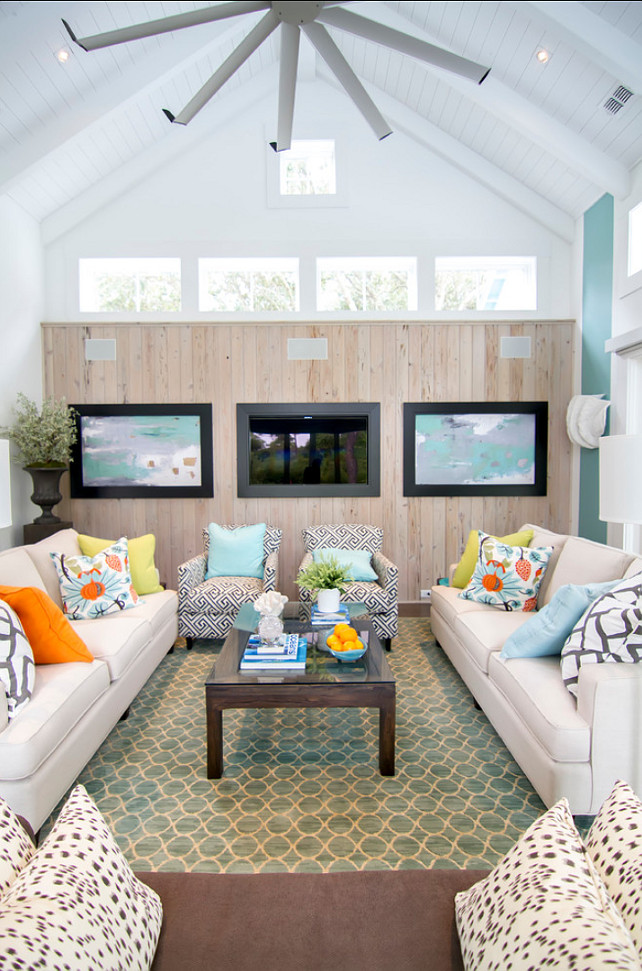 With not one, but three TVs, the family room is full of originality.
What really grabs my attention here are the beautiful pillow fabrics against the neutral sofas and the Moroccan inspired rug.
Sofas are the "HGTV HOME Custom Sofa by Bassett".
Fan is the ultra-light "Isis Ceiling Fan".
Vintage Coastal Inspired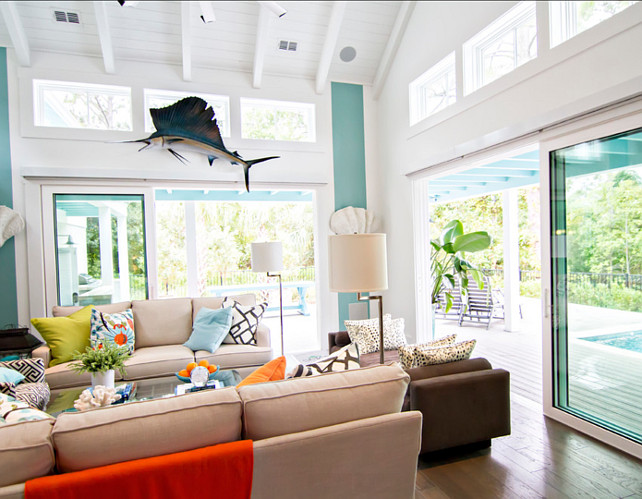 An 80-inch art piece, cast from an authentic blue sailfish mold, presides over the wall of glass doors. Both edgy and vintage chic, the wall-mounted sculpture connects the space to the home's coastal location.
Staircase
A nod to Spanish Colonial style and the tradition of cladding stair risers with Talavera tiles, glass tile lends color, texture and protection against scuff marks.
Unique
Tiles are the "Glass Expressions Micro Blocks by Shaw Floors". They would look great as accent backsplash tiles.
Master Bedroom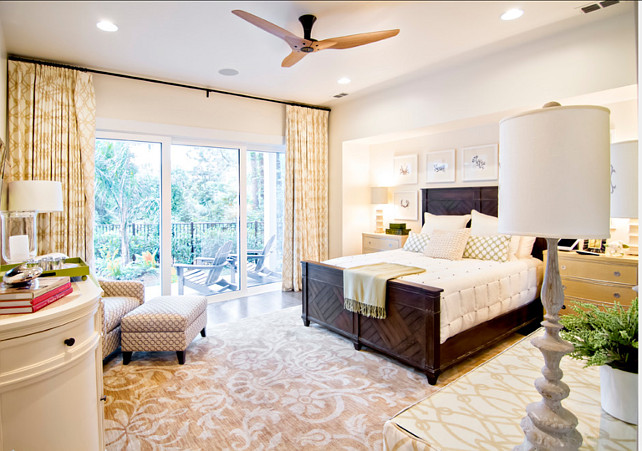 Bedrooms should always be designed with comfort in mind and this one seems to "hug"you. I love the color palette!
These nightstands are called the Accent Chest, and came from the HGTV Home Furniture Collection.
Rug is the "HGTV Home Flooring by Shaw – Venezia.".
Bed is a Woodlands Panel Bed, by HGTV Home".
Paint Color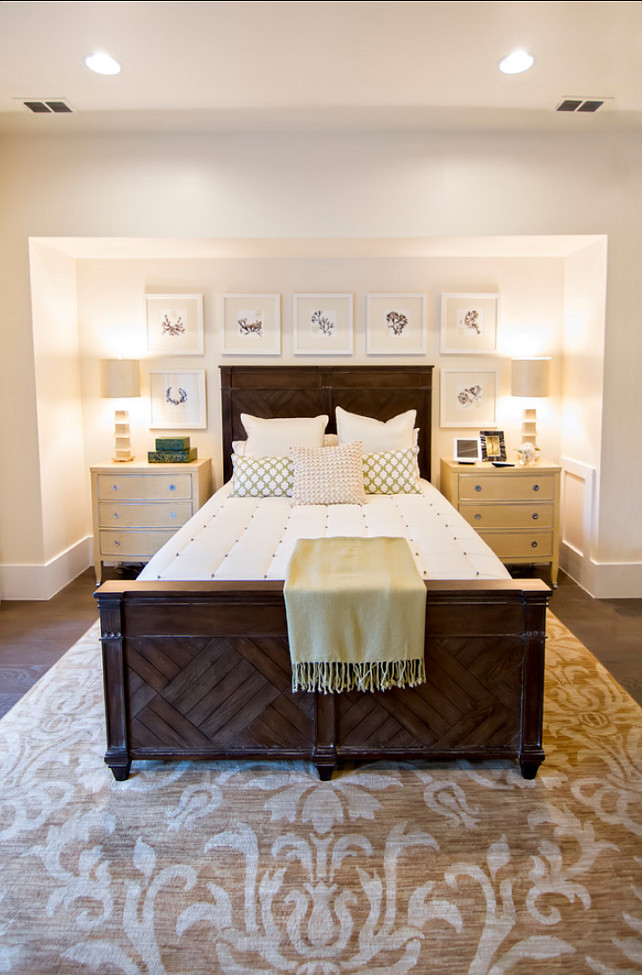 "Sherwin Williams Crips Linen SW 6378".
Bathroom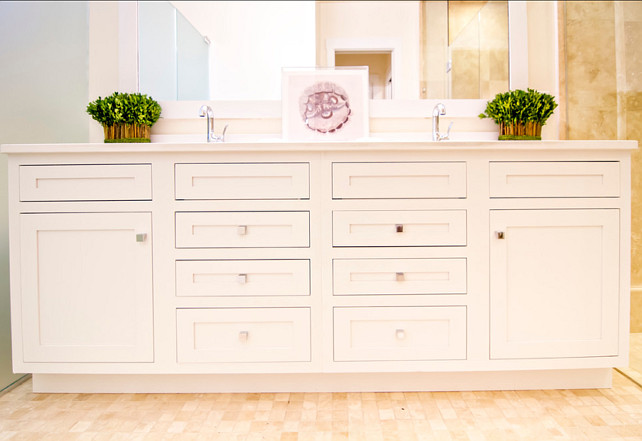 This bathroom is quite narrow and the designer came with some great design ideas.
Countertop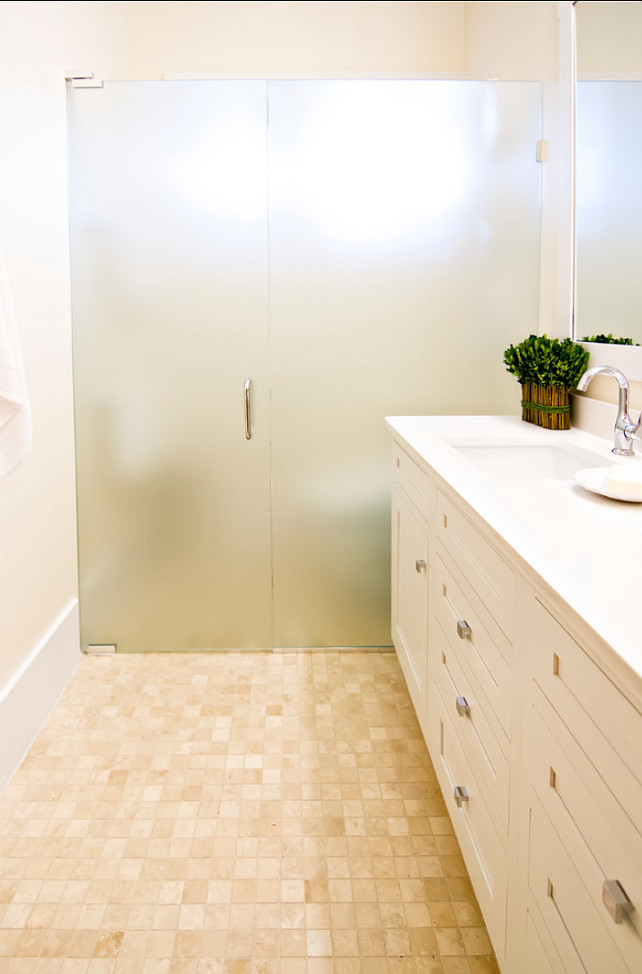 The 7-foot vanity, with quartz countertop, offers his-and-hers sinks.
Privacy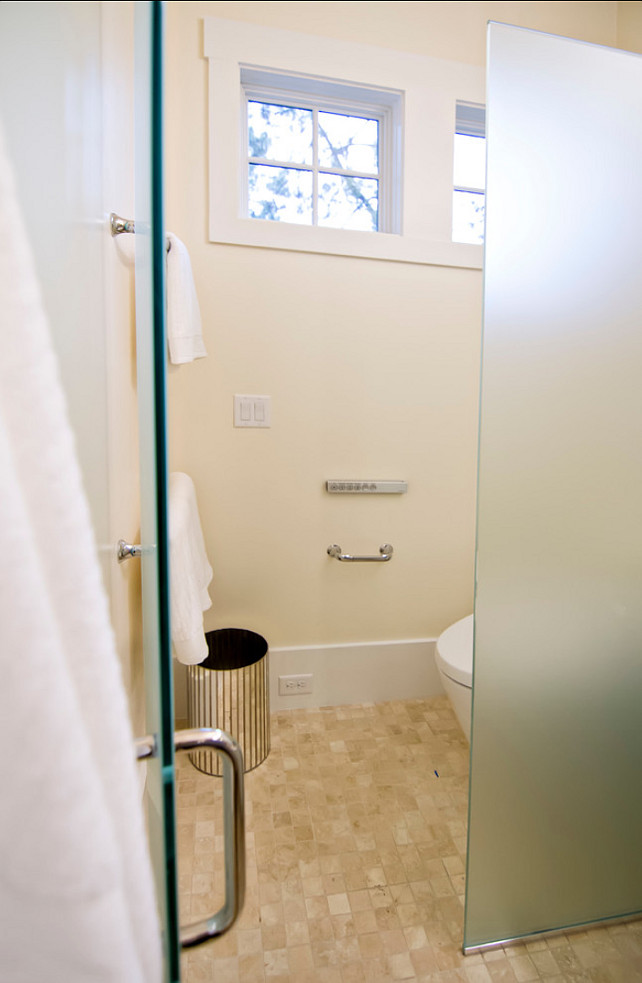 Some privacy is created with frosted glass doors to separate the toilet area from the remain bathroom.
Bath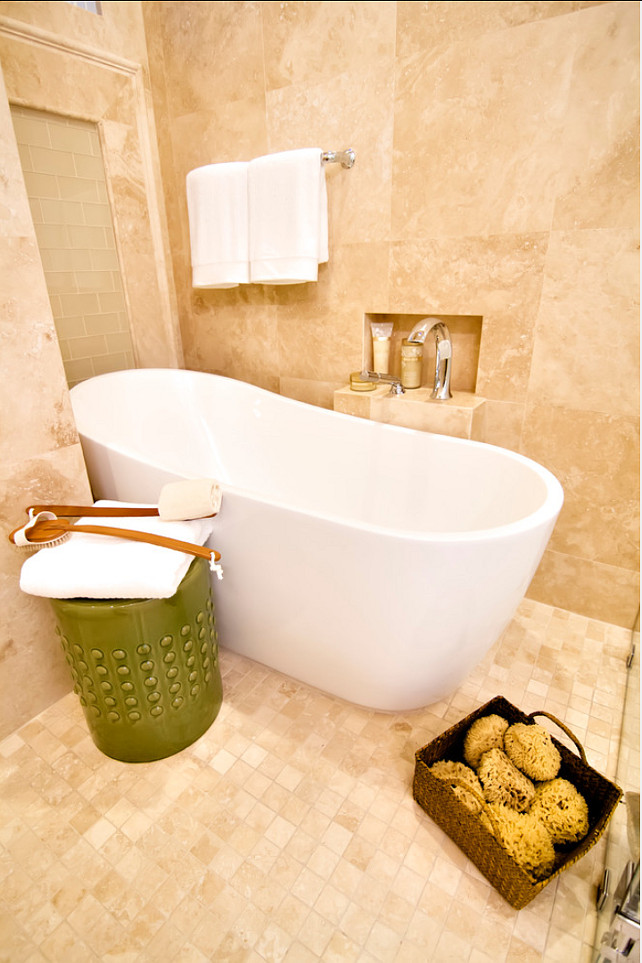 Bathtime becomes a spa-like experience when the Roman tub is paired with a programmable high-arc faucet and hand shower.
Shower Tiles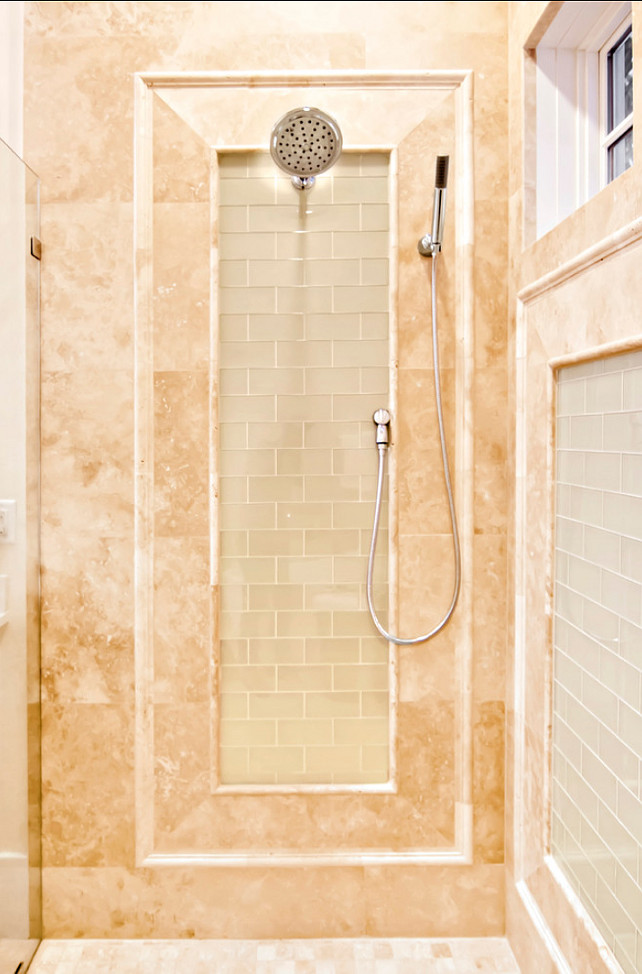 Travertine tile clads the floor, wall and ceiling.
Tiles are from "Shaw Floors".
A "Moen" 10-inch-diameter one-function rainshower showerhead offers a powerful spray while conserving water.
Guest Bedroom Paint Color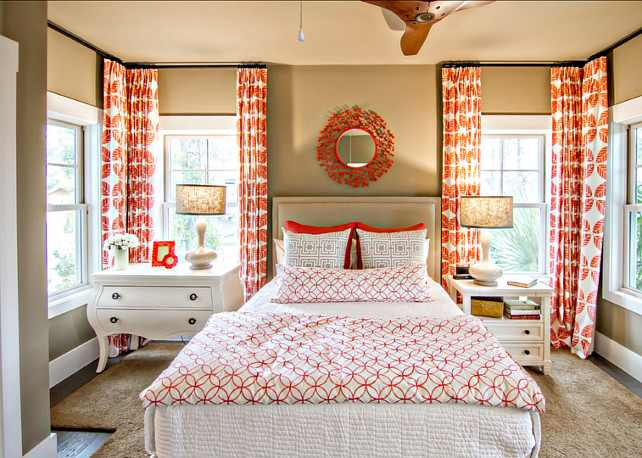 "Sherwin Williams SW 7535 Sandy Ridge".
Kids' Bedroom Paint Color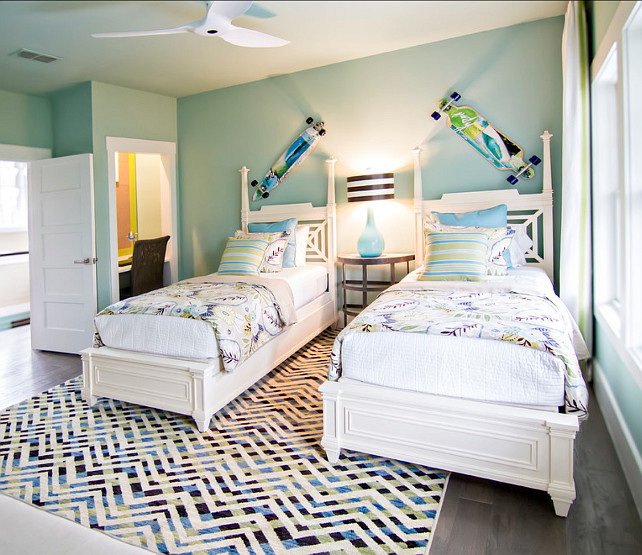 "Sherwin Williams Hazel SW 6471".
Beds are the Water's Edge Panel Bed from HGTV Home Furniture.
Laundry Room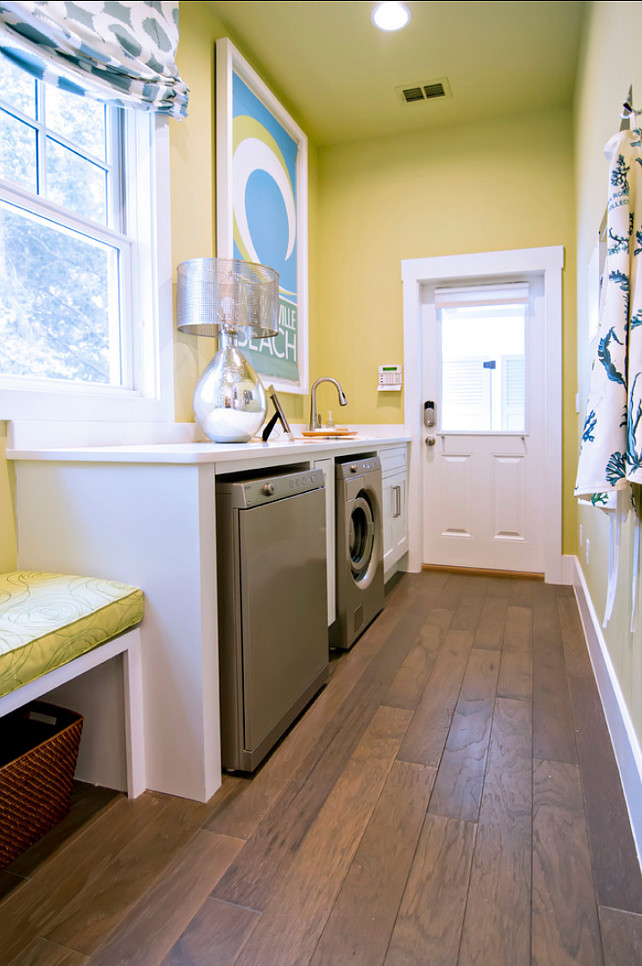 "Sherwin Williams Hearts of Palm SW 6415".
The laundry room is connected to an outdoor shower, which is perfect for everyone to clean themselves after a day spent at the near beach.
Full of Life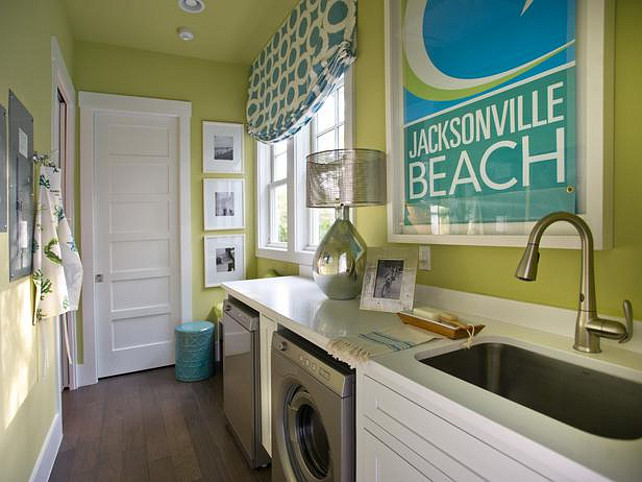 You can't help but feel the great energy in this room! I am loving the fun decor and the practical sink and countertop.
Mudroom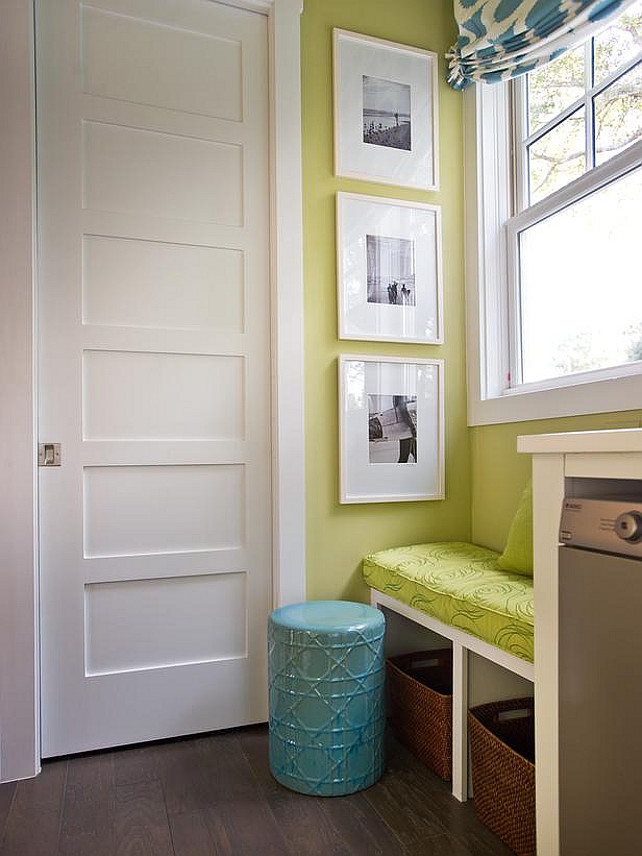 A window bench offers a cozy spot to stop and kick off flip-flops and stow them in hand-molded rattan baskets before entering the kitchen.
Shingles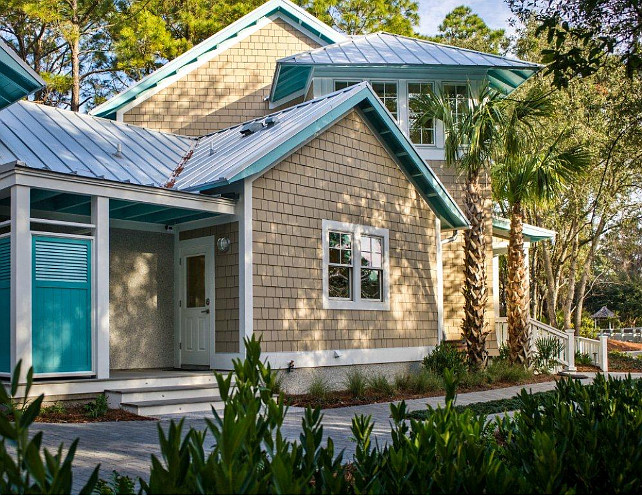 I love the mix of traditional and modern architectural details of this beach home.
Exterior Paint Color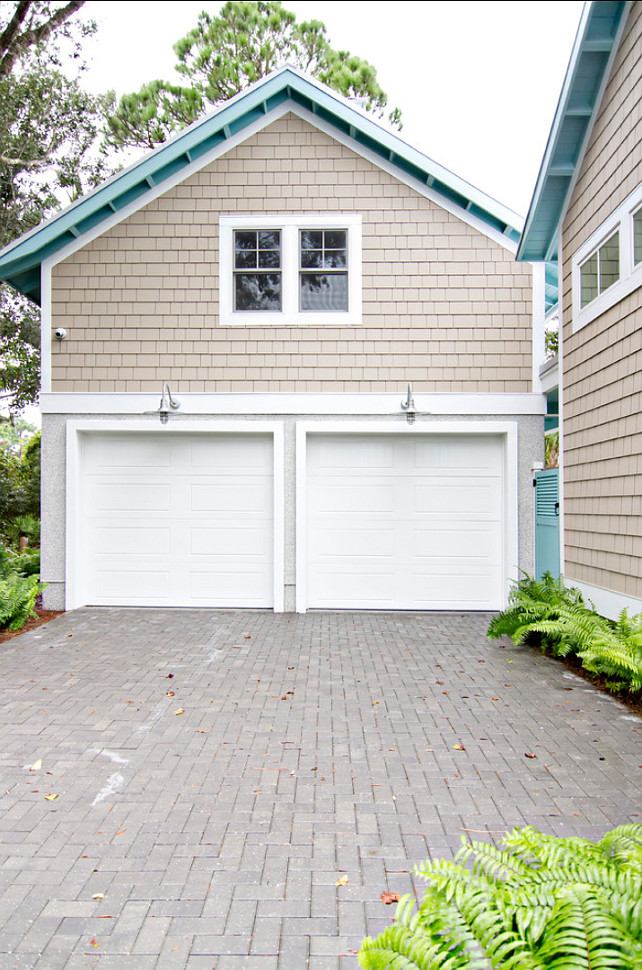 Exterior Paint Color is "Sherwin Williams Tony Taupe SW7038".
Backyard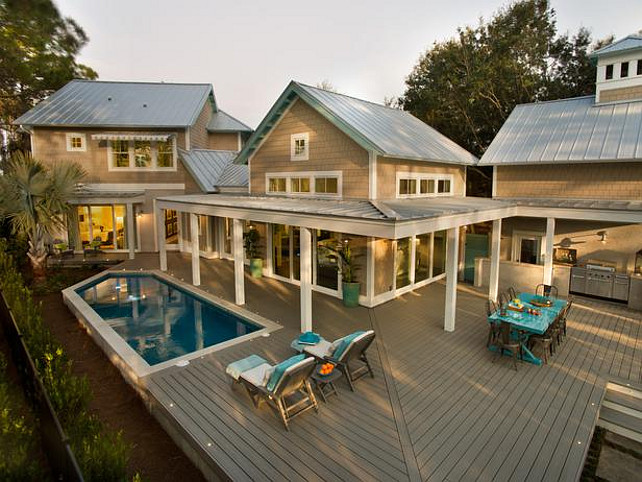 The backyard is a tropical oasis, with pool and outdoor kitchen.
Outdoor Shower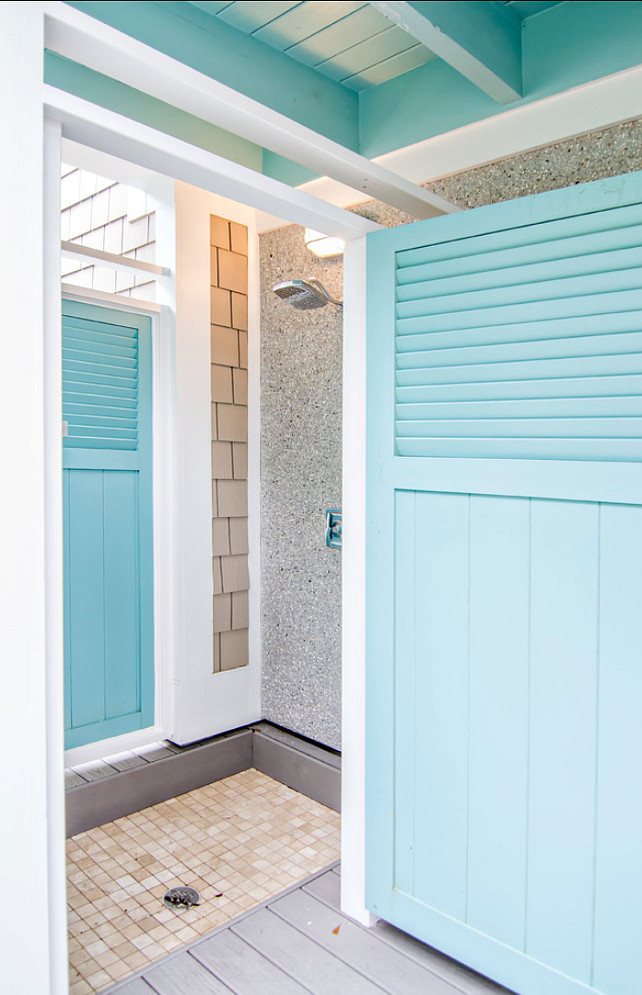 The outdoor shower is practical and relaxing. No one needs to get inside of the house with sandy feet!
Pool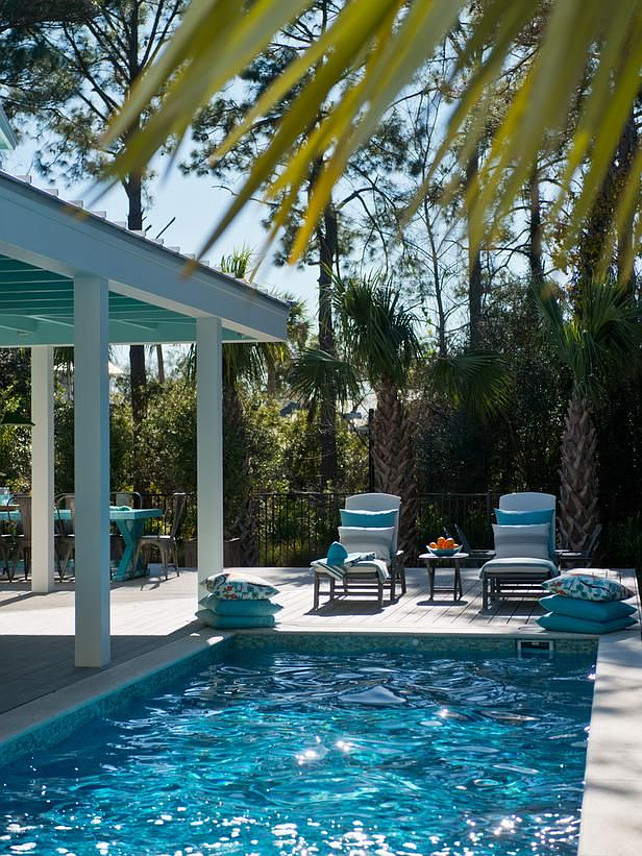 The pool blends seamlessly into its surroundings, with coping aligned flush with composite decking.
Hello, Sunshine!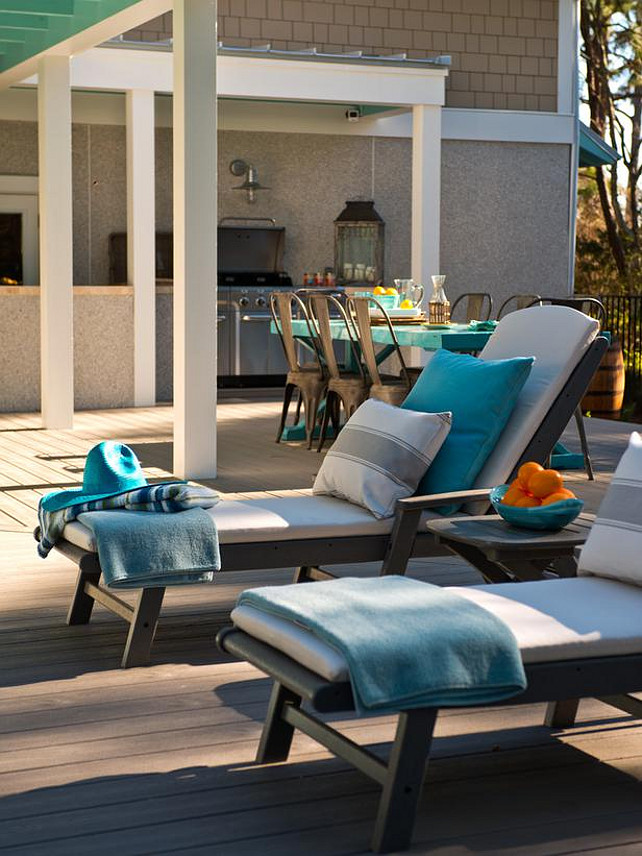 Three-way adjustable chaise lounges, fashioned from recycled plastic lumber and stackable for easy storage, feature a gray finish akin to weathered cedar.
Also notice the outdoor kitchen in the back.
Turquoise Table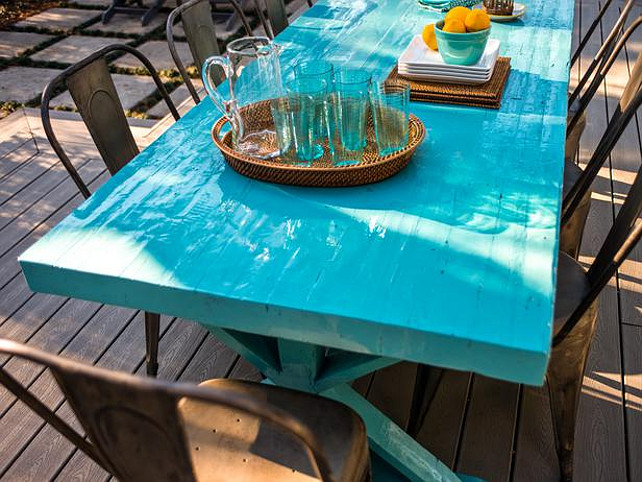 Here, the designer decided to replace the conventional outdoor dining set with this gorgeous turquoise trestle table and vintage weathered steel chairs. Isn't this a cool ideas?!
From Above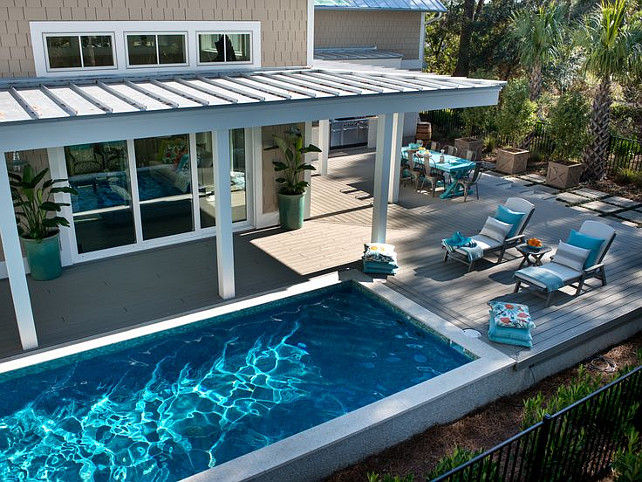 Great design for small backyards. Notice the house's architectural details from metal roofing to shingles.
High Tech Pool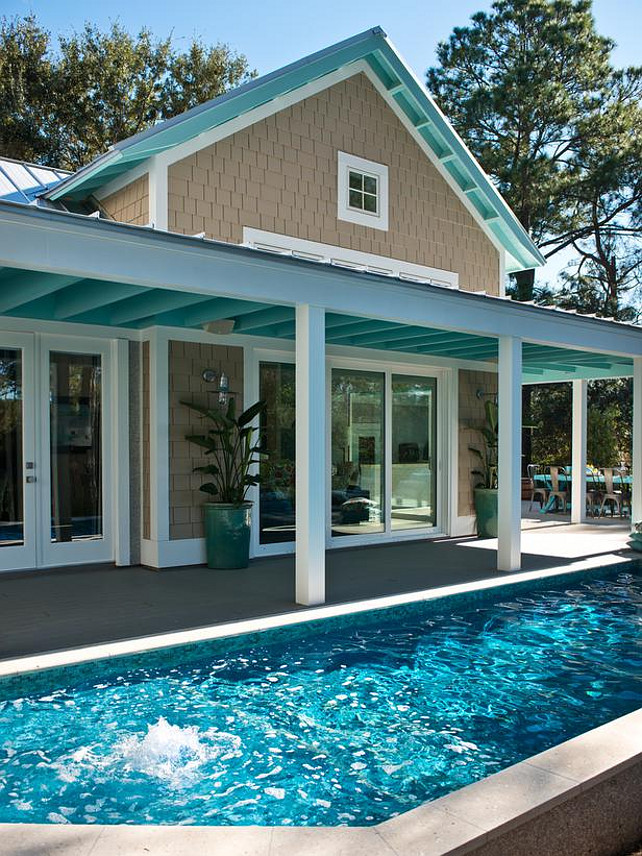 The pool's jet propulsion system, including two high-intensity swim jets, provides a water treadmill experience, programmable via the home's smart tablet. Pure luxury!
Night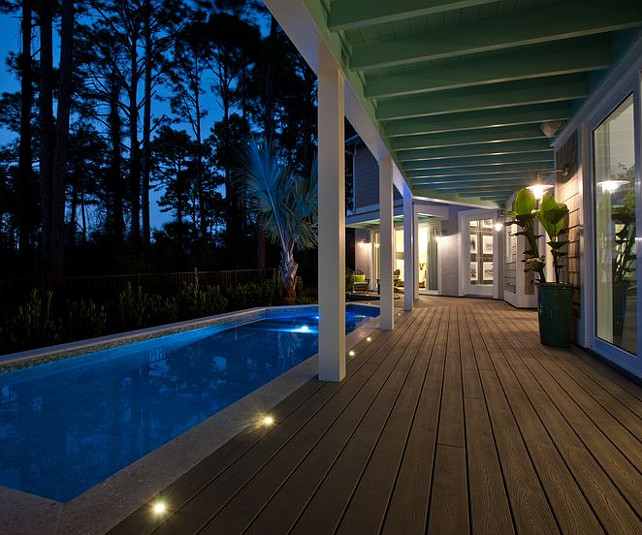 Imagine swimming here at night… who would you like to be there with you?
See more Inspiring Interior Design Ideas in my

Archives.
Interior Design Ideas:

Paint Color
Interior Design Ideas:

Paint Color
What a weekend I had! Remember I meant to read a book? Well, instead I decided to have a movie night with the kids and watch "Mrs. Doubtfire", which was wonderful! I remember watching this movie when I was a teenager and being able to do it again with my own kids was great!

So, that was the only moment I actually relaxed during the entire weekend. I decided to do a huge clean-up and get rid of many things around the house. I start decluttering closets, cabinets and I also cleaned the whole house… oh, it was lots of hard work but so worth it! I feel that my entire feels "lighter", with a good energy… it just feels good to look around and see everything clean and organized! The only problem? I am not 20 anymore and my body really aches right now! LOL:)
Did you have a good weekend?
Oh, just before I go, I just want to send my prayers to those affected by the earthquake in San Francisco.
Moments like this make us think of how important it is for us to truly enjoy our lives and our loved us…. especially our loved ones. Things come and go, but real love never leave us.
Have a Blessed & Safe week, my friends!
with Love,
Luciane at HomeBunch.com
Interior Design Services within Your Budget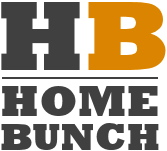 Get Home Bunch Posts Via Email

Sources: Glenn Layton Homes, House of Turquoise, HGTV.
Interiors by Linda Woodrum.