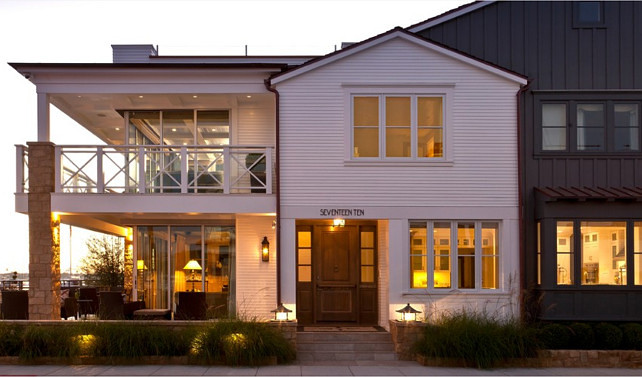 Monday is knocking on our door, so why not start this beautiful week looking at a relaxed, low-maintenance beach house?
Designed by Anne Michaelsen Design and Sinclair Associates Architects, and located on Little Balboa Island, only an hour south of Los Angeles, this beach house brings coastal interiors to the next level. With a more mature approach, this coastal home features a more masculine feel with a hint of contemporary design.
Built for a couple with three grown children, this beach house seems to be the perfect place to entertain or simply enjoy quiet life by the water.
Take a look… wouldn't you also love to live here?
Balboa Island Beach House with Coastal Interiors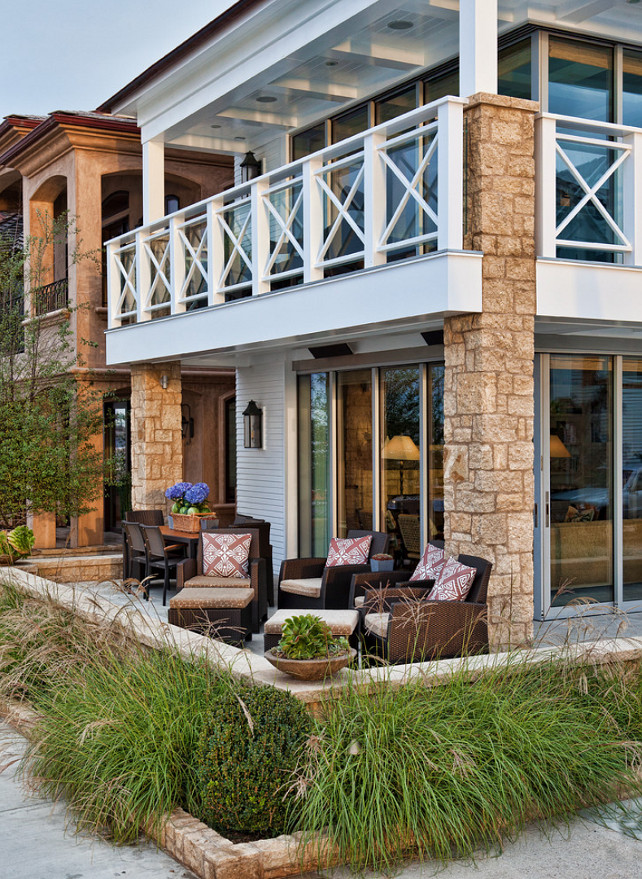 Nothing was overlooked here, from its timeless architectural details to the welcoming coastal landscaping.
Living by the Sea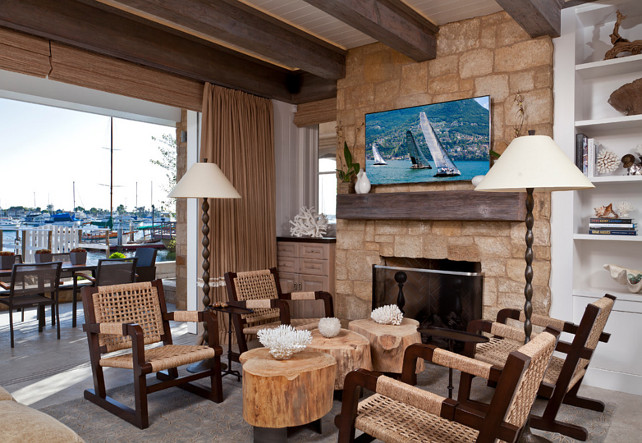 With a more grown-up coastal style, this living room carries some nautical elements but in a very subtle way. The stunning stone fireplace with distressed wood, along with neutral furnishings, bring a natural feel to this space.
Chairs are by Mimi London.
Pocket Patio Doors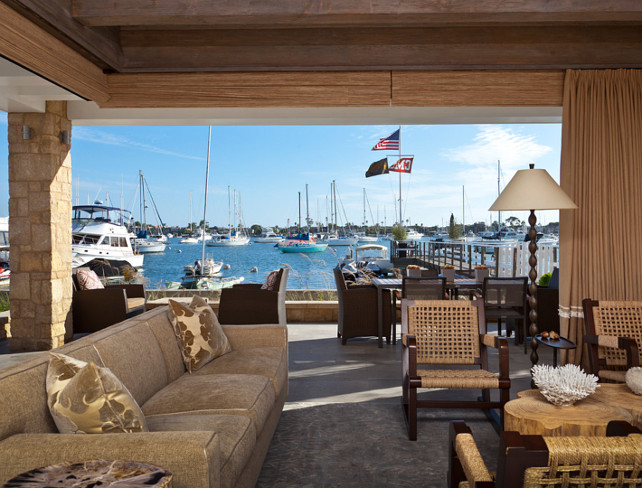 The doors on both sides of the living room retract into wall pockets, leaving the room completely open to the bay's sights and sounds. Western Aluminum makes these doors and there is a very small rail embedded in the stone floors to make it easier to slide them.
The shades are Natural Wovens.
Sofa is by A. Rudin, using a Glant fabric.
Living Room Fireplace & Beams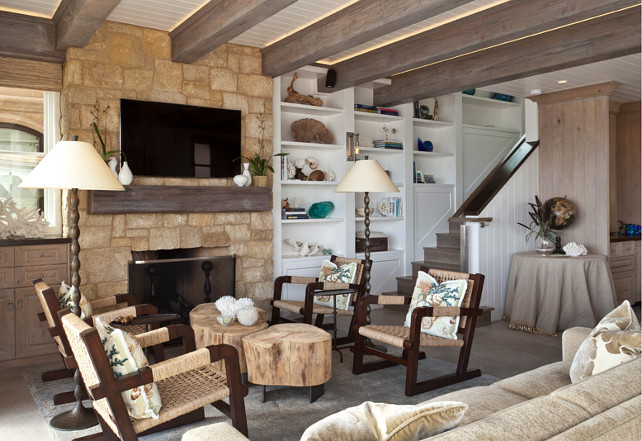 The stone used on the fireplace is the same stone as the exterior stone work; a limestone slump stone called Palamino. The mantle was fabricated from an old beam salvaged from the original house on the property. The beams were distressed and wire brushed to achieve this patina.
The lamps are Bella Floor Lamps from David Sutherland Showroom and the chairs are Mimi London.
Living Room Bookcase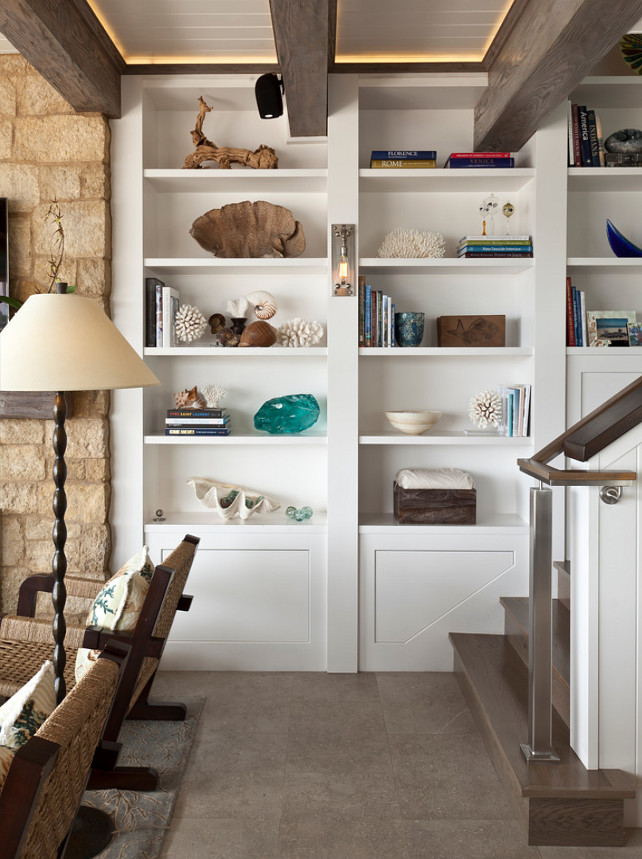 Bookshelves flank the bottom of the staircase adding plenty of storage for some special decorative pieces.
The stunning blue glass decor is a piece of Kryptonite. I guess Super Man is not welcome here. 🙂
The piece was bought at a small boutique called Veridian in Costa Mesa, CA.
Kitchen
This coastal kitchen opens to the rest of the main floor and the designer wanted it to feel dressed and tailored.
The countertop material is 3/4′ thick slab of white Quartzite. The material is as impermeable as granite. Equally resilient are the floors, covered in seagrass limestone. The lightly honed finish resists slipping.
The wood in the kitchen island is knotty alder and the stain is a custom hand-applied, semi-transparent color. Kitchen island measures is 4′ x 6′.
The chairs and banquette are from A.Rudin. Barstools are from Mimi London LA.
The kitchen light fixture was very expensive, made with pure crystal globes and cost 20k plus. Would you pay this much for lighting?
Range & Backsplash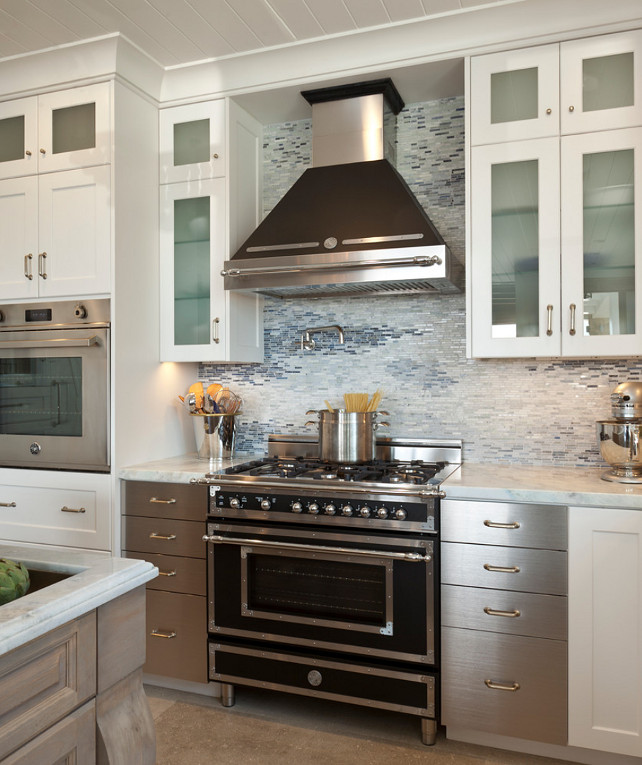 The range is a Bertazzoni Heritage 36″ 6-Burner Gas Range, and the backsplash is a custom designed marble mosaic from Hagan Flynn.
Kitchen Space Saver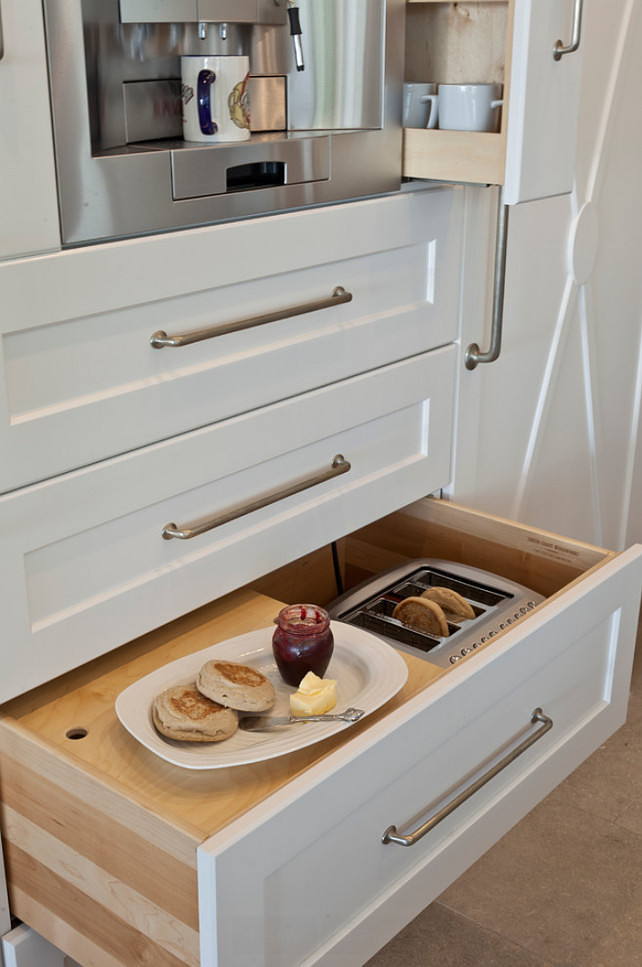 To save space, a toaster is tucked into a drawer beside the breadbox.
The hardware are Rocky Mountain Hardware.
View from the Patio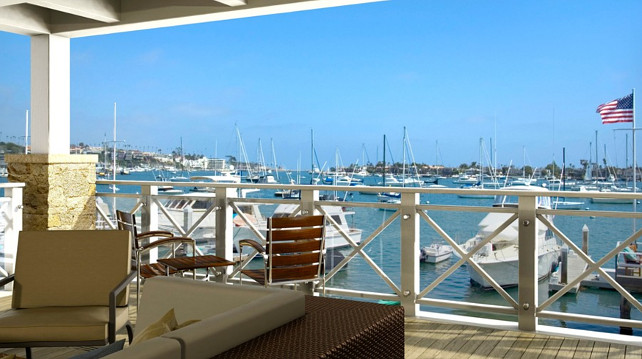 Wouldn't it be nice to grab your breakfast and eat it here? What a view!
Bunk Room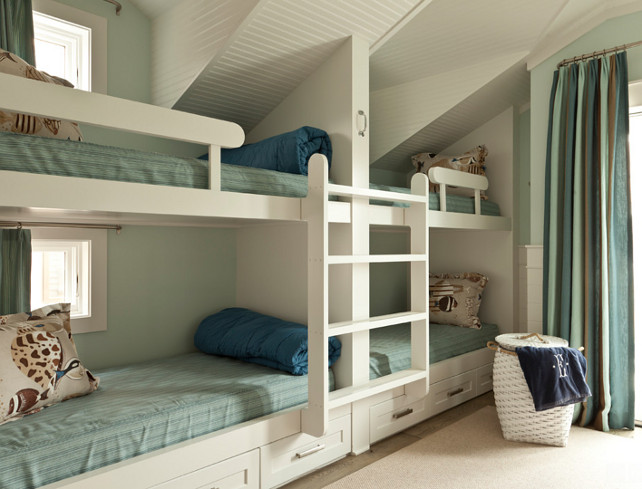 A new must in any beach house? A bunk room of course! This guest bedroom was converted into a bunk room to accommodate future grandchildren. Each berth has its own reading light, so guests can read in bed without disturbing others.
Small Bathroom Layout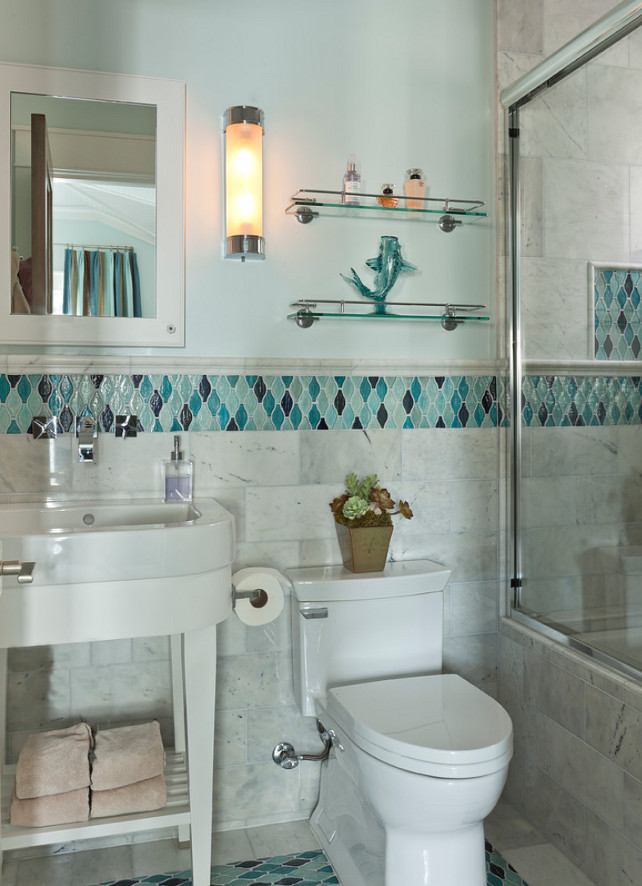 The sink in this small bathroom is Duravit 041765 00 60 available through Hagan Flynn LA. The designer, Anne Michaelsen, custom designed the sink stand.
Bedroom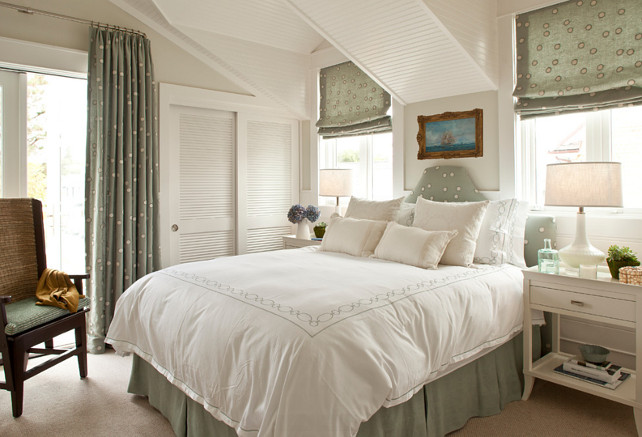 This bedroom is softened by touches of pale green fabric and a soothing wall color.
The bed was custom designed by Anne Michaelsen Design using a Chelsea Edition fabric.
Bedside table is from Bailey Street.
Paint color is Farrow and Ball Blackened.
Coastal Bathroom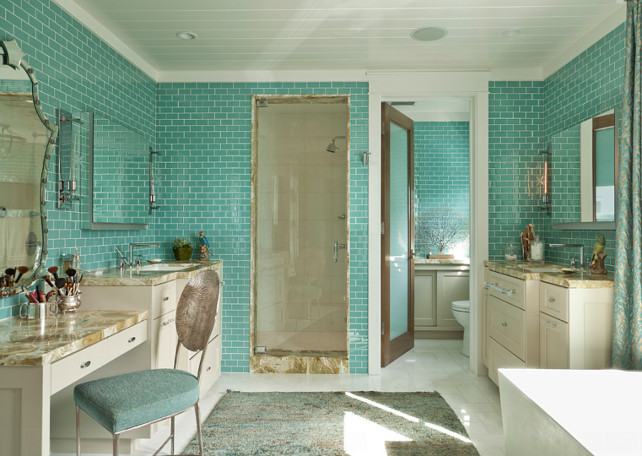 Anyone can easily fall in love with this bathroom! There's nothing boring about this space… Don't you agree?
The glass tiles are Villi Glass, color: Caribe – Color is achieved by melting a colored glass frit onto the back of crystal glass tiles. Available at Hagan Flynn.
Vanity chair is by Ironies. Faucet is by Gessi.
Bathroom Elements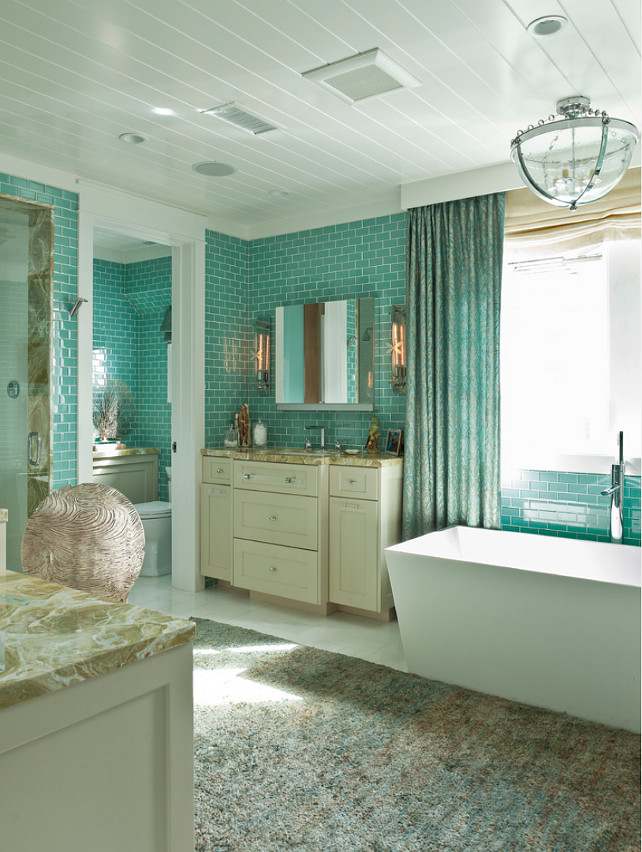 The interior designer framed the windows in luxurious Fortuny curtains that echo the color of the walls.
The medicine cabinets are by Robern.
Tub is Weststyle and lighting is by Lantern Masters.
Family Room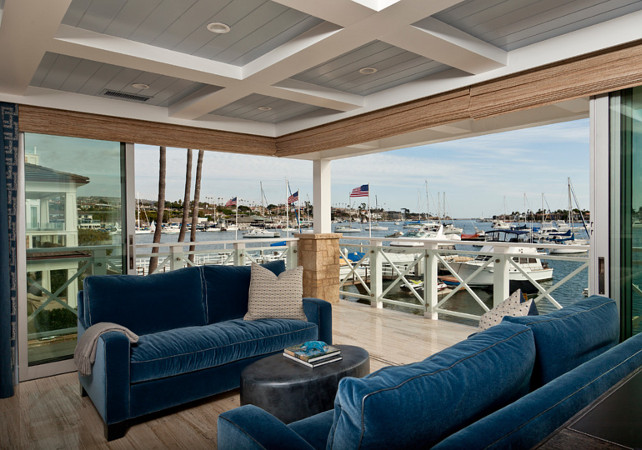 The family room is located on the upper level and it features amazing harbor views. Downy sofas from A. Rudin are covered in a rich and durable mohair fabric.
The sliding doors on this level stack — they don't retract into the wall, like on the floor below.
Floors are hickory.
Beach House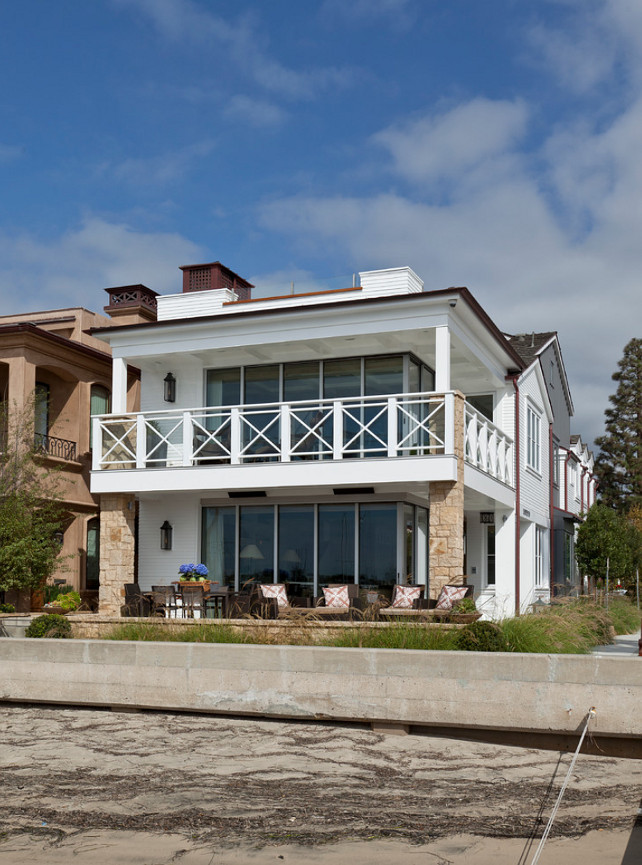 The back of the house. Notice the rooftop.
Entertaining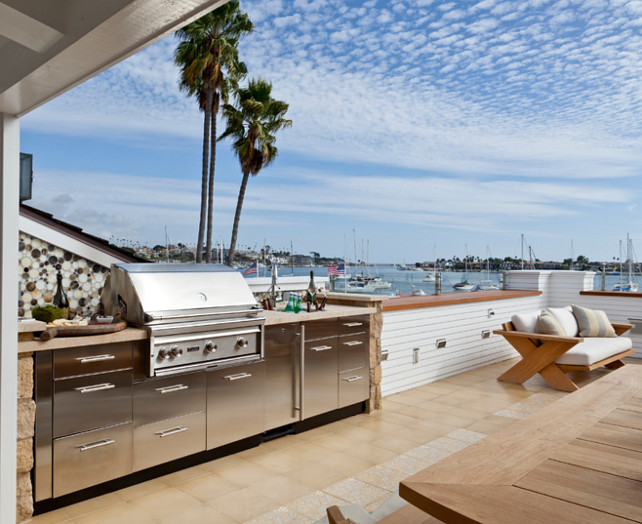 The beach house offers a great patio, but if privacy is needed, the rooftop is the best place to be. The rooftop deck is practically self-sufficient, with its own kitchen, seating area, dining table, daybed and bath.
Outdoor Furniture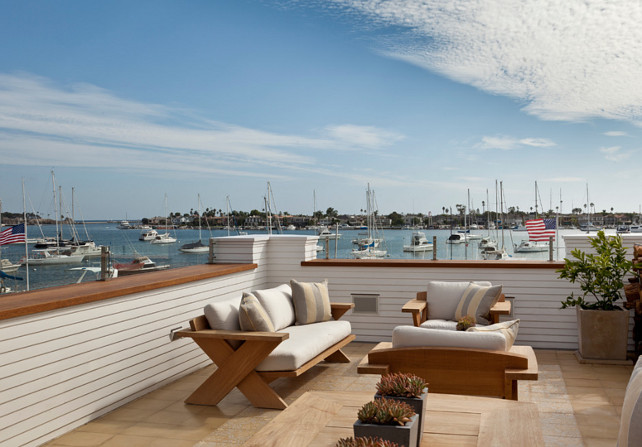 The outdoor furniture is by Summit.
Railings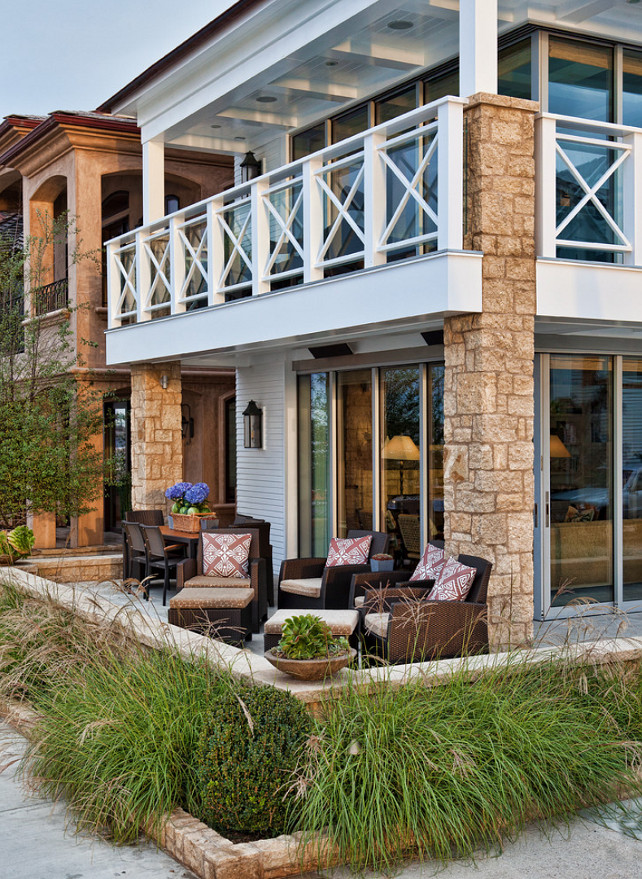 The railings in California need to have 4′ space clearance maximum. Here, the architect used a traditional rail and glassed it in with stainless steel support, that floated the glass from the railing.
Patio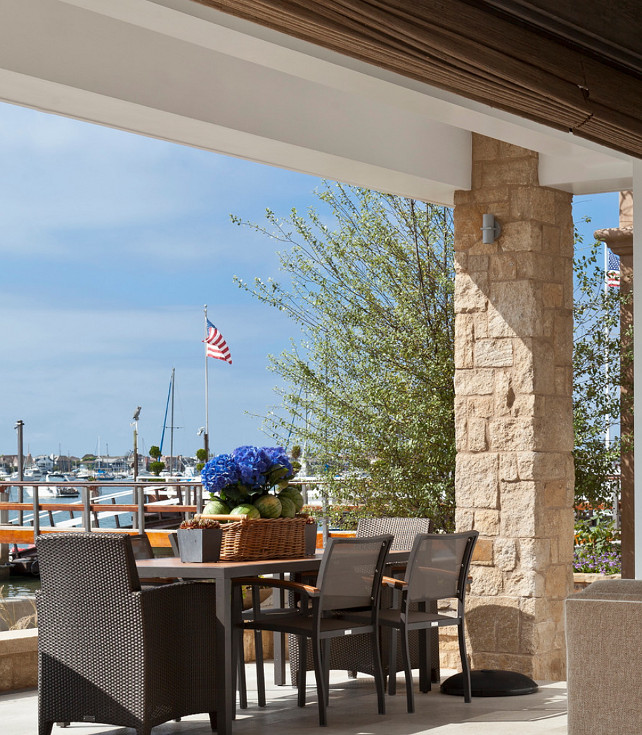 A cozy spot to dine al fresco by the sea… just dreamy!
Blue Sky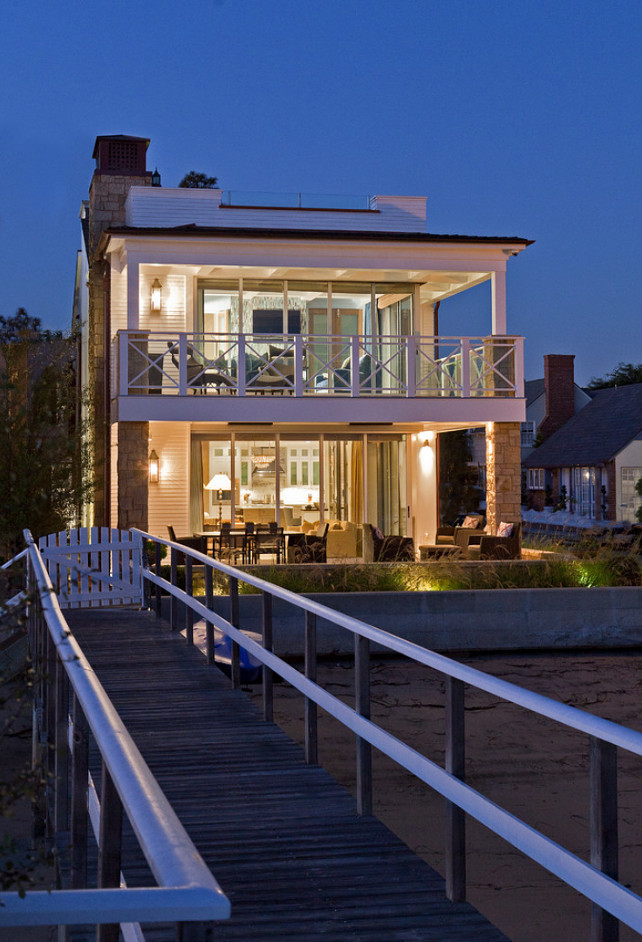 This home is perfect inside and out! Looking through the ground floor, you can see how the kitchen is exposed to the rest of the interior.
Quiet Waters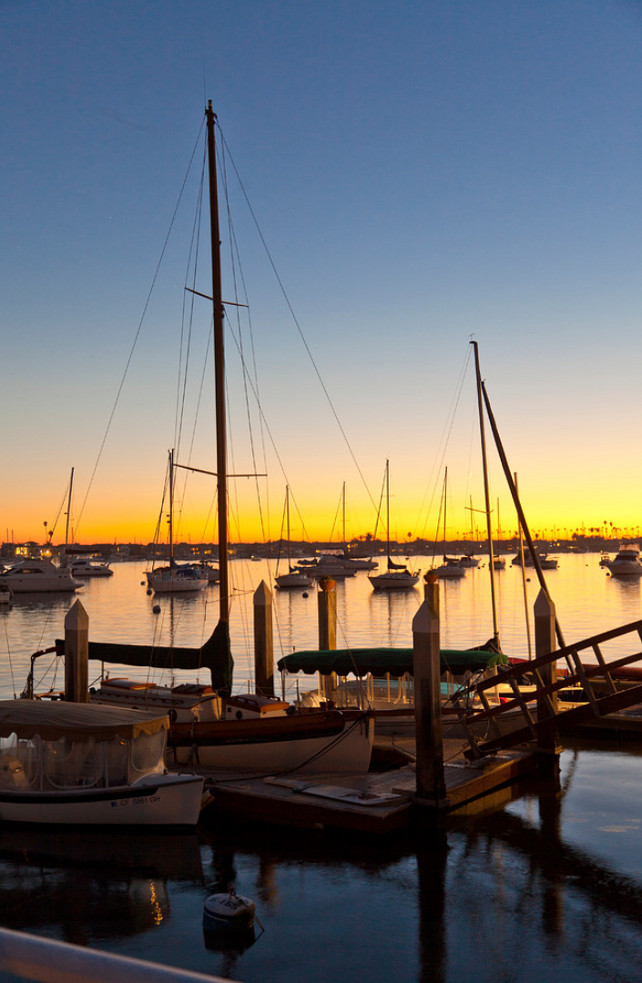 Life can be a little calmer if we stop for a minute and appreciate what surrounds us. Watch the sunset, take a walk, stop to listen the birds in your backyard.
The week is just starting… how are you going to choose to live it?
See more Inspiring Interior Design Ideas in my

Archives.
Interior Design Ideas:

Paint Color
Hi, my beautiful friends! How are you doing today? Did you have a nice weekend? I really hope you did!
I want to thank many of you for being so kind and taking the time to write and share your concerns, prayers and your wonderful tips on how to deal with my new lactose and gluten-free diet. Like I mentioned last Friday, my doctor asked me to not eat anything with gluten or lactose until August because of a stomach issue I am having for more than a year now. I couldn't help but to feel helpless and totally lost but many of you left comments and sent emails explaining more about this and sharing some wonderful tips. I have read all of them and I will get back to you soon. I just want you to know how much I appreciate you taking the time to actually write to me.
This weekend was actually pretty good. I read a lot about gluten and lactose and I am a little more familiar with these diets. I still have to learn a lot because, if you know me, you know I am a bread-kind-of-girl. I grew up baking bread with grandmother and it's hard for me to live without the real deal. I have tried a couple of gluten-free breads and it seems that I found one that I am okay with. In fact, I went to a local grocery store and I was happy to find some healthy snacks. Some were horrible but others were really yummy. If anything, this diet will help me to be more focused on what I eat, which is always a plus, especially when you get to your mid-thirties. How life is changing!!! 🙂
I will keep you guys posted how this goes, ok? And please feel free to share your recipes, books and your favorite gluten-free and lactose-fee products with me. I have so much to learn still.Have a Blessed week, my dear friends and thank you for allowing me to share my life here. I love being transparent with you guys… 🙂
with Love,
Luciane at HomeBunch.com
Interior Design Services within Your Budget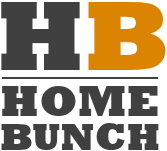 Get Home Bunch Posts Via Email

Sources: Anne Michaelsen Design. Sinclair Associates Architects.