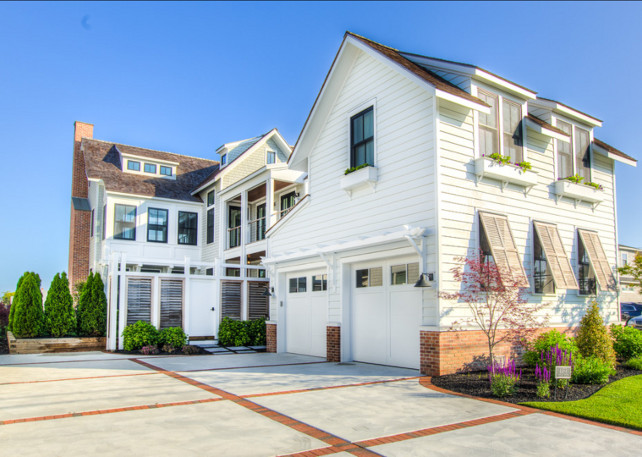 This beautiful shore home was a collaboration with Asher Architects and Bluebell Kitchens Kitchen & Bath Designers. The design of this beach house is elegant and light with white painted cabinetry and abundant natural day lighting. In addition to the transitional white kitchen, there is also an incredible outdoor cooking area housed with a shed attached to the deck.
This beach house with transitional interiors is fresh, modern and full of great design ideas!
Beach House with Transitional Interiors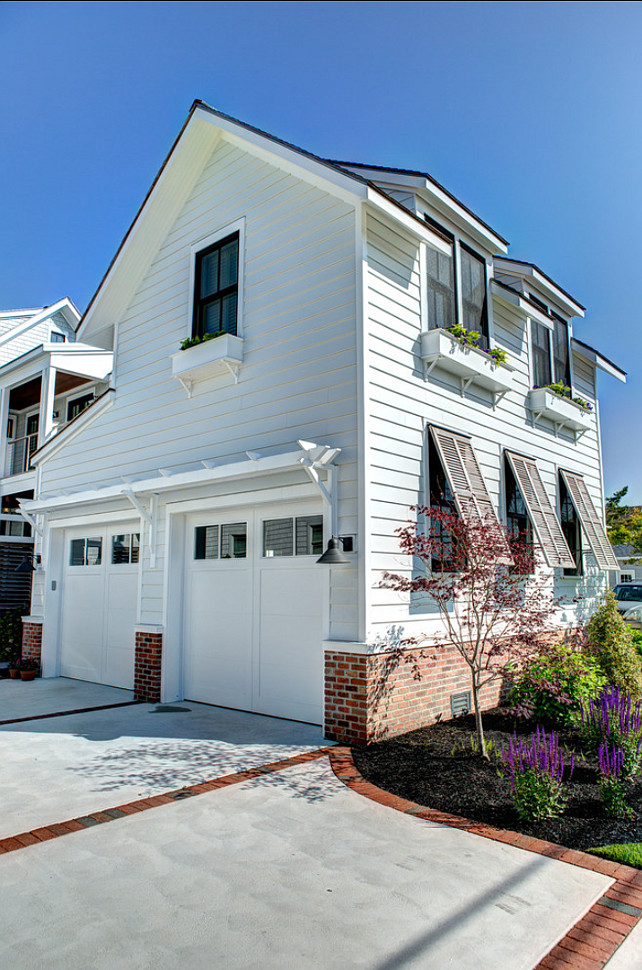 Striking modern architecture adds to the curb-appeal of this gorgeous beach house.
Hurricane Shutters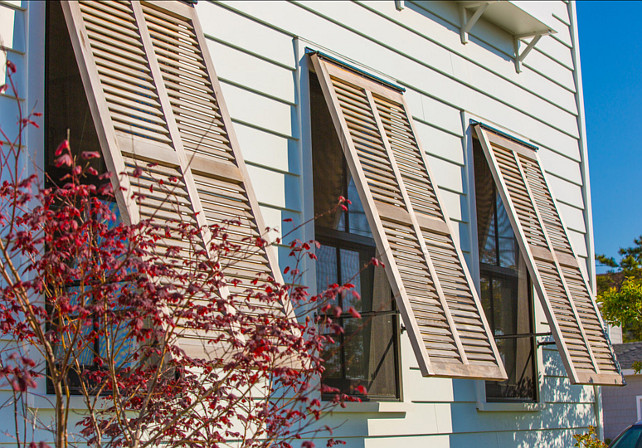 This shows that hurricane shutters can be pretty and stylish.
Privacy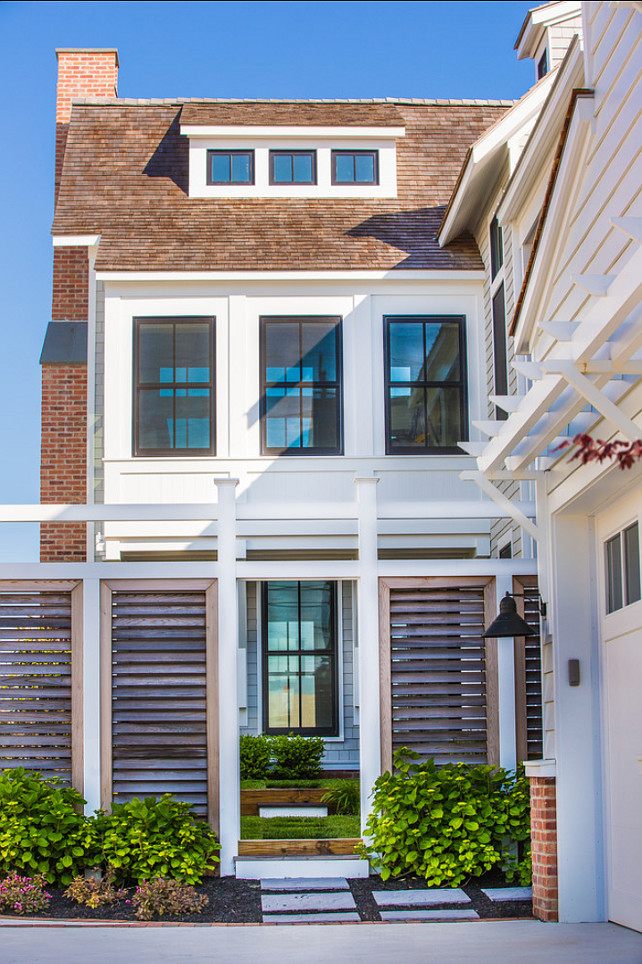 Strategically planned, tall panels add privacy to a charming courtyard that welcomes you to the house.
Floors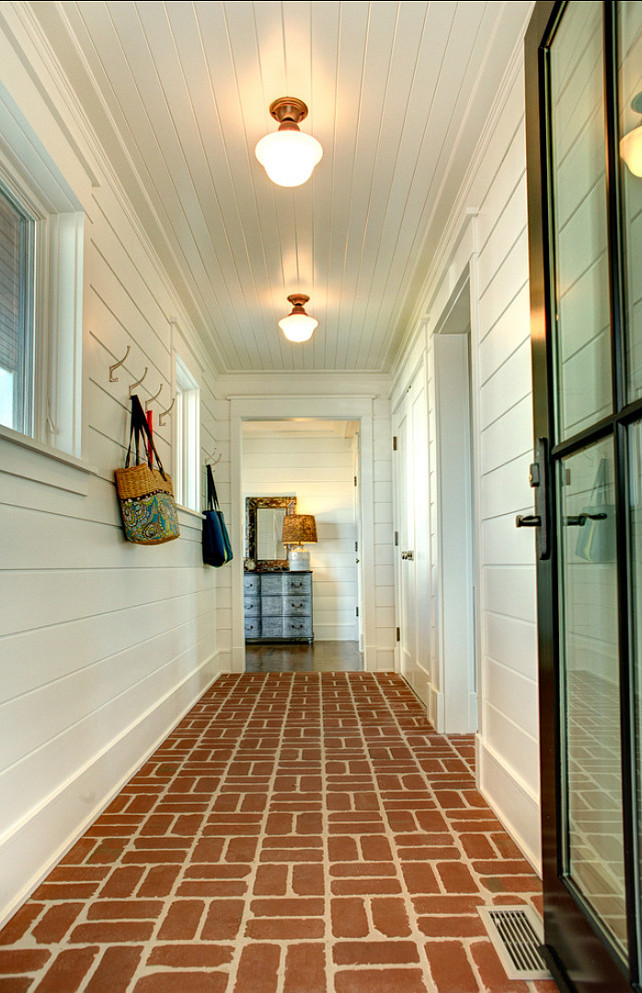 A side entry connects to the main foyer, making of this a great alternative if you're coming from the beach. Planked walls and beadboard ceiling brings character to this space.
Living Room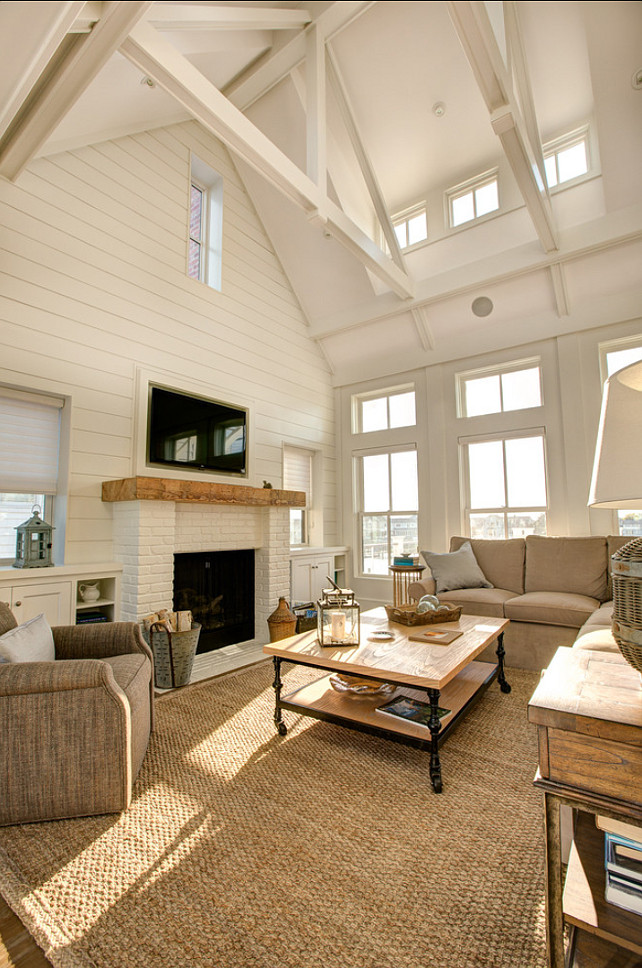 I am loving this neutral living room with subtle coastal decor. The classic furniture layout is welcoming and cozy.
Decor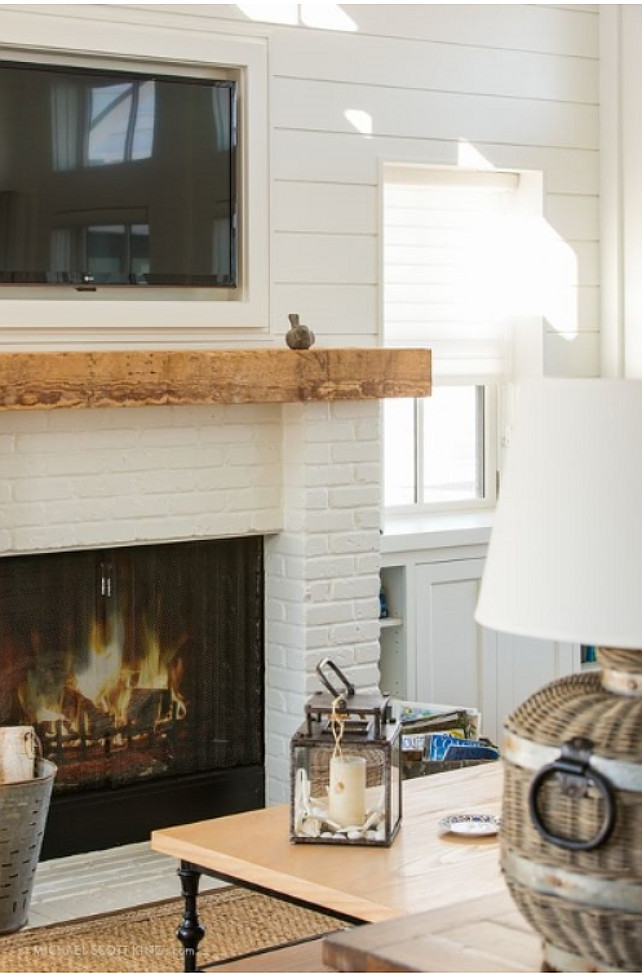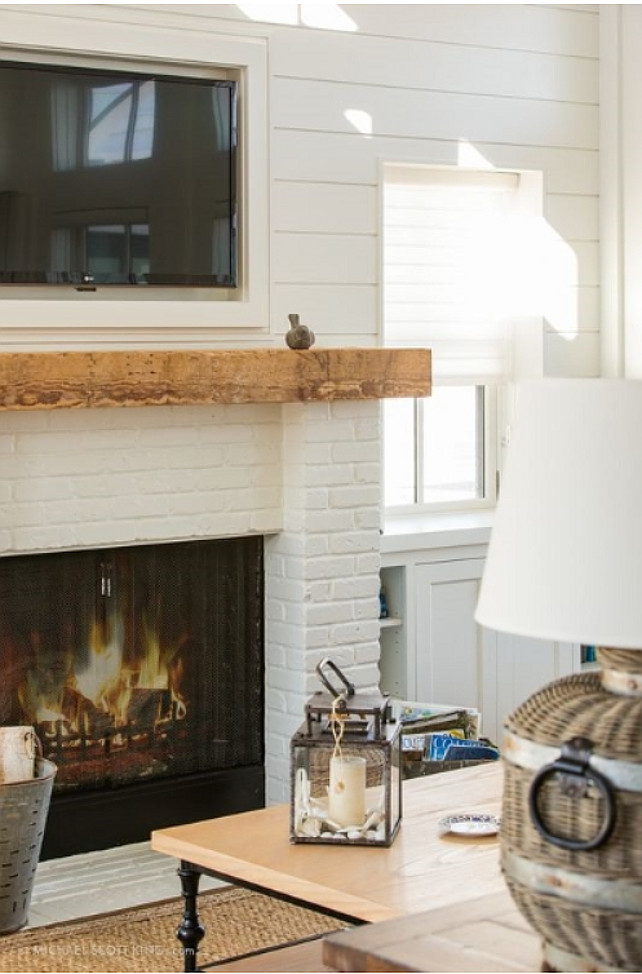 Simple coastal decor reminds you're by the water.
Comfy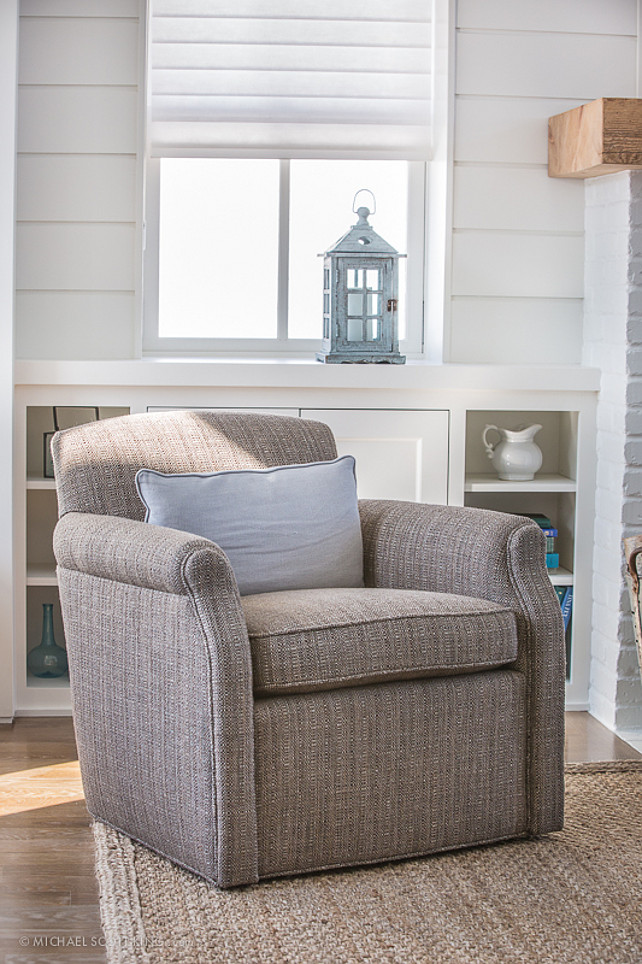 Natural fabrics add texture and creates a soothing color palette in this living room.
Kitchen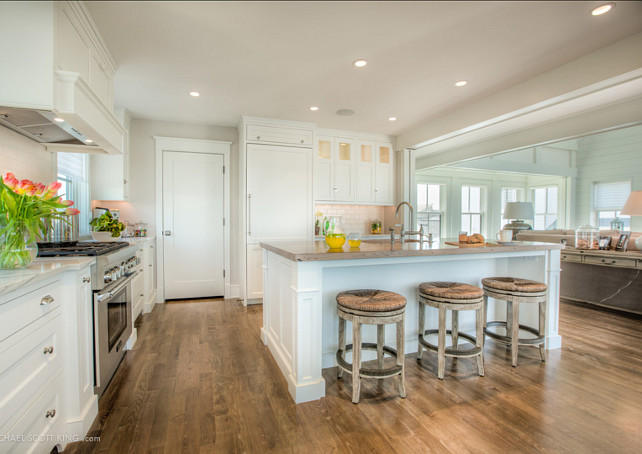 This transitional white kitchen continues to bring a nautical feel to the home. It feels open and clean.
Kitchen Layout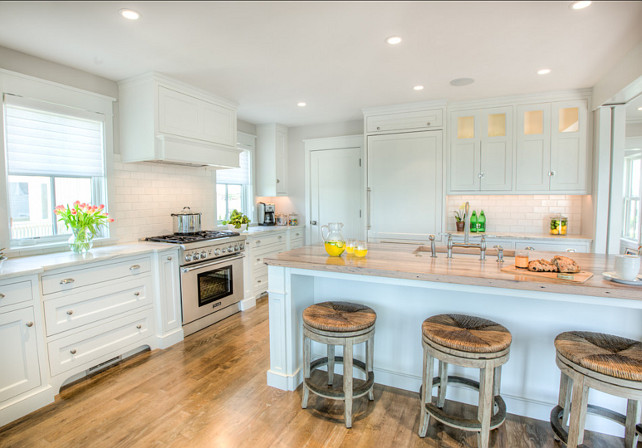 The layout of this kitchen is perfect for entertaining and cooking. Notice how the light hardwood flooring makes this entire kitchen feel brighter and more coastal.
Kitchen Island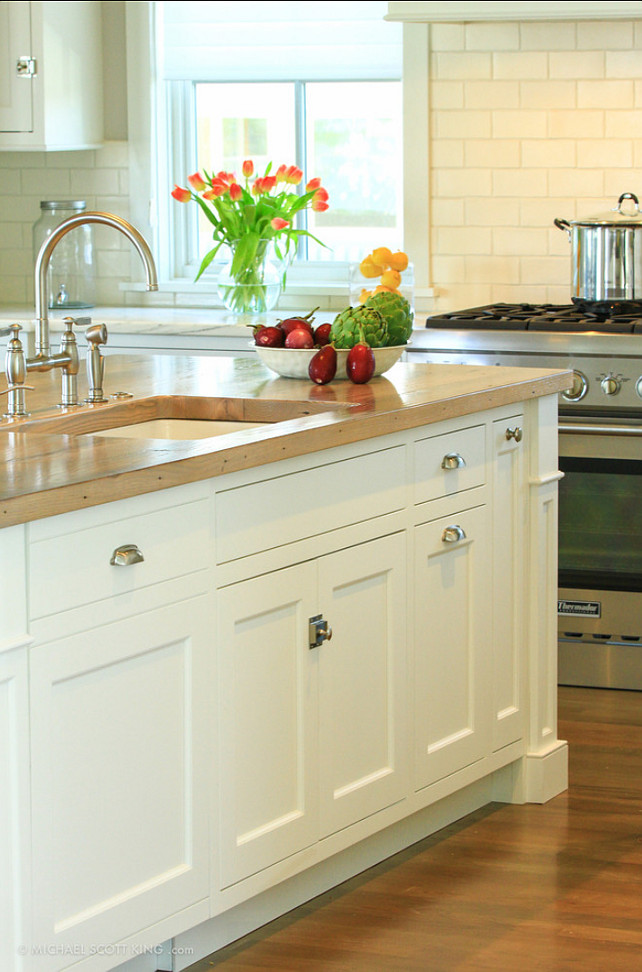 This island feels warm with this great butcher's block countertop.
Countertop Ideas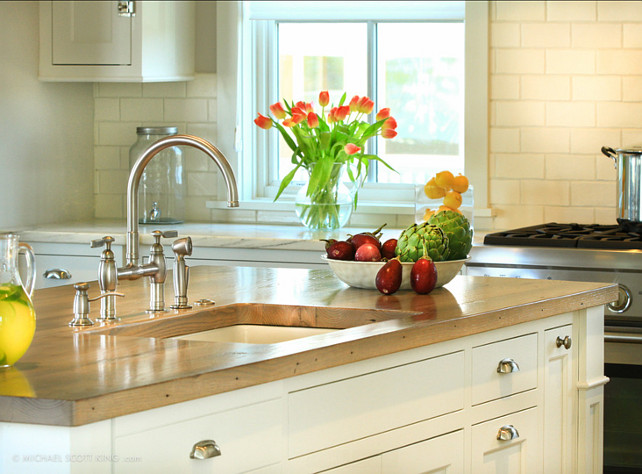 The island countertop is reclaimed white oak.
Hardware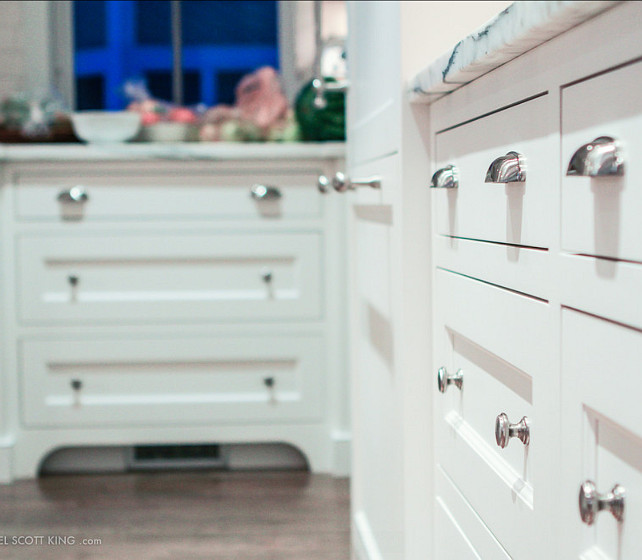 Timeless hardware choice.
Open-Concept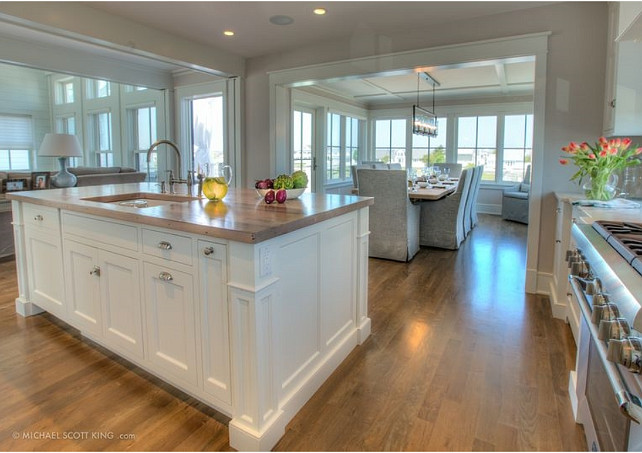 The kitchen open to the dining room and family room (on the left).
Dining Room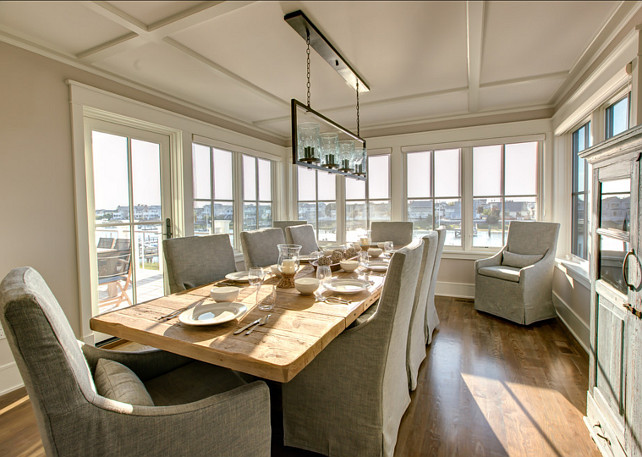 Isn't this dining room breathtaking? I love the chairs, light fixture and the waterview. I am also loving the color palette of this room.
Paint Color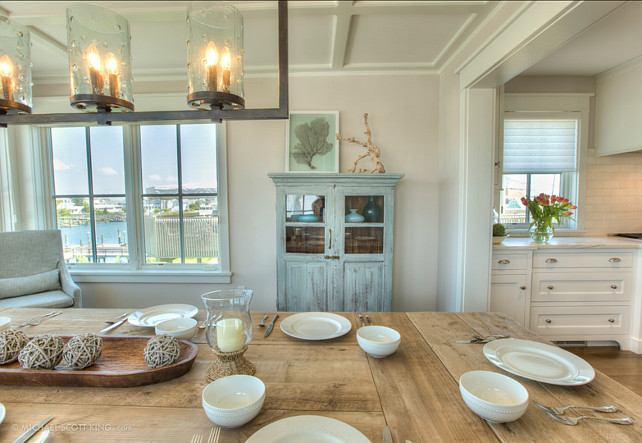 "Benjamin Moore Rock Harbor Violet 1387".
Family Room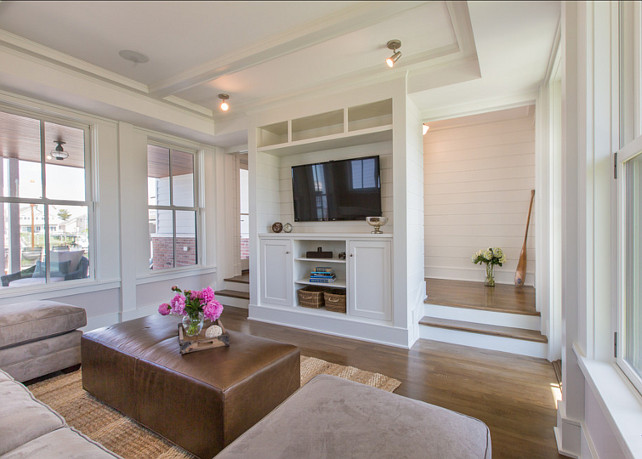 The family room feels tailored and casual at the same time. How serene!
Guest Bedroom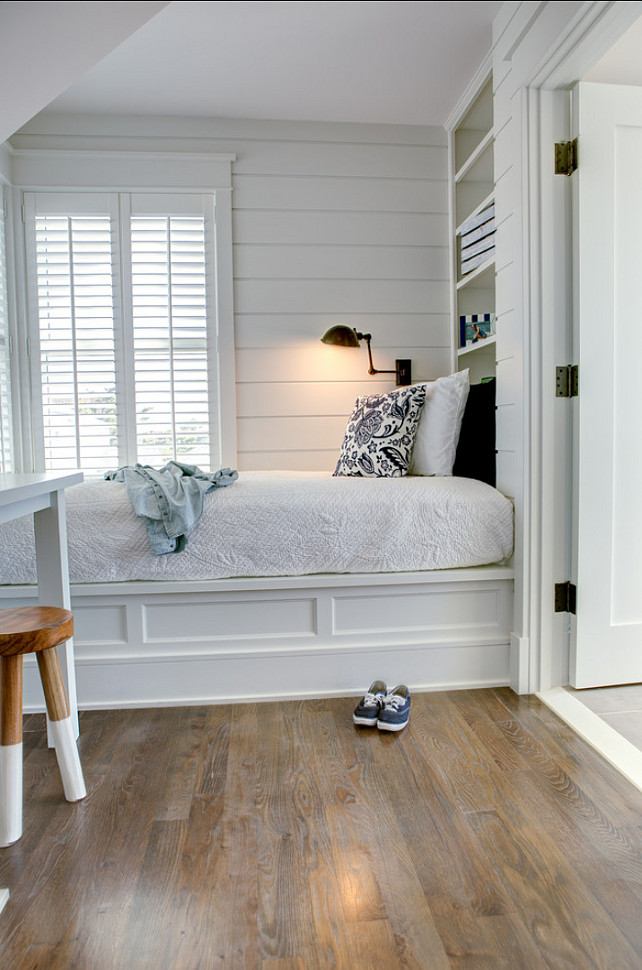 Transitional and uncomplicated, this guest bedroom is very cozy and it has so much character.
Master Bedroom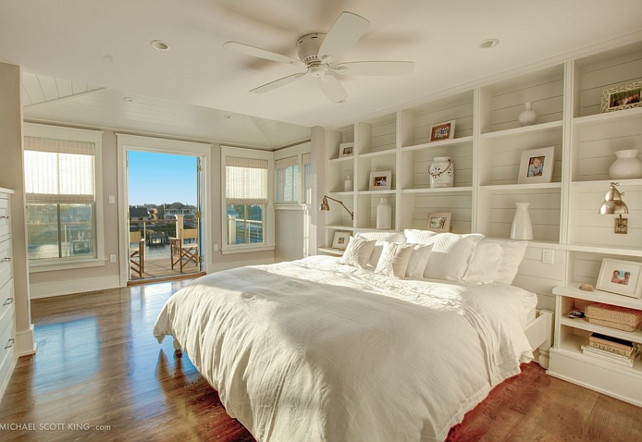 This ivory master bedroom is completely relaxed and it features a very inspiring built-in bookcase.
Balcony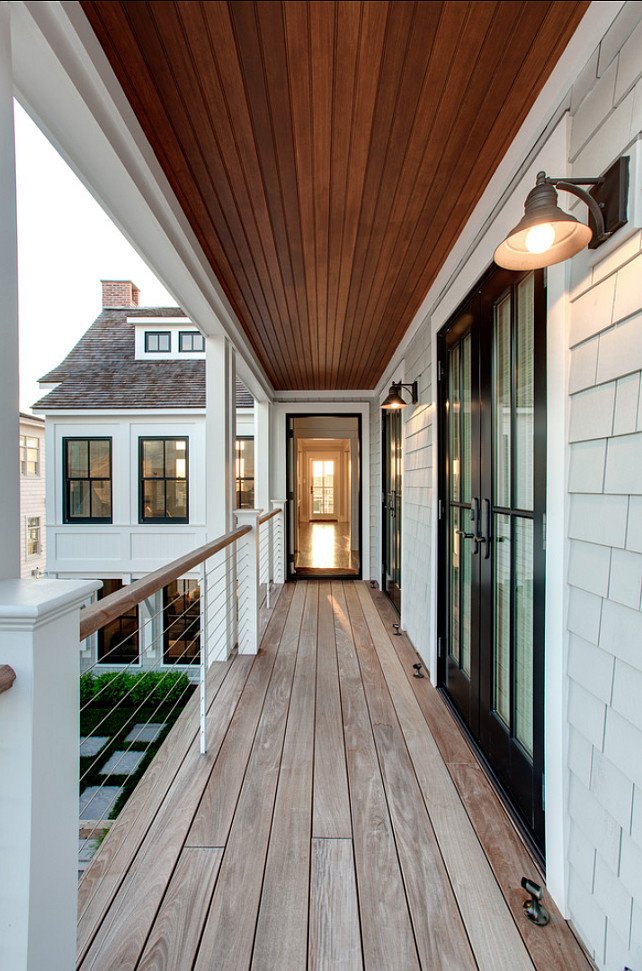 The master opens to a lovely balcony.
Sunshine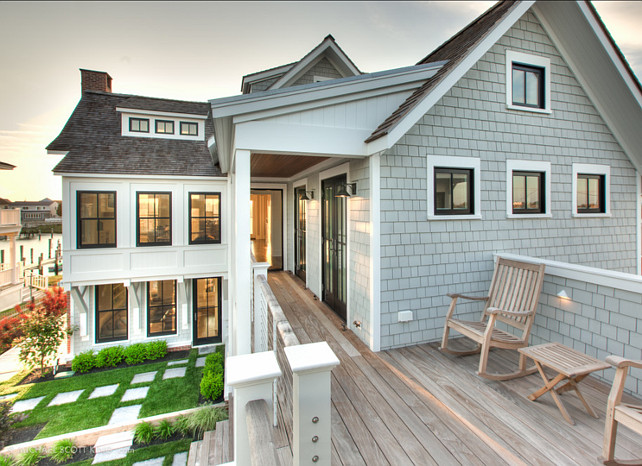 Located above the garage, this balcony uses a space that rather would be wasted. Creative architects can certainly improve the way we live in our homes.
Deck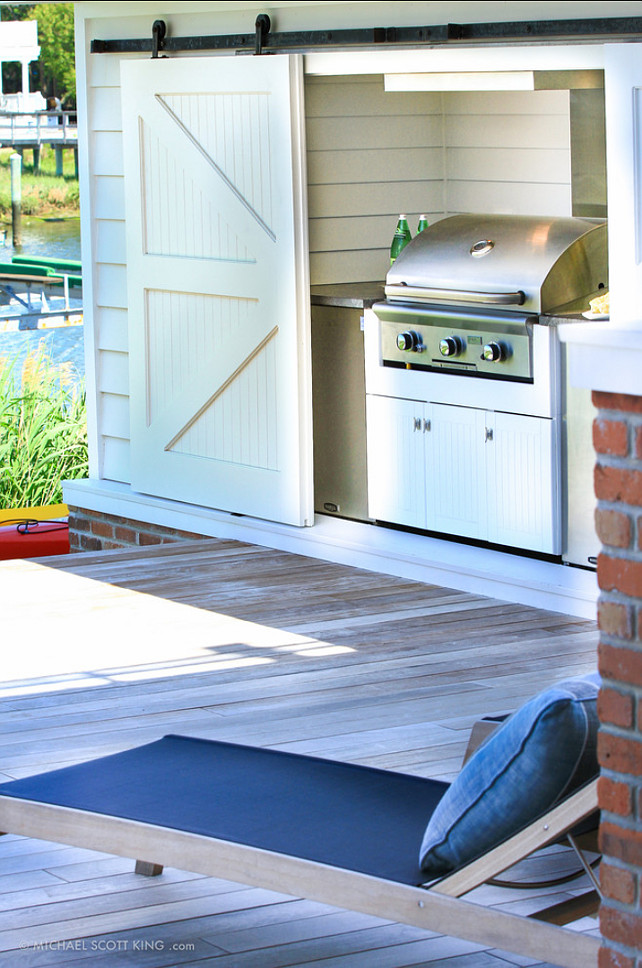 Located by the water, this expansive deck is perfect to lounge at the end of the day.
Chic Shed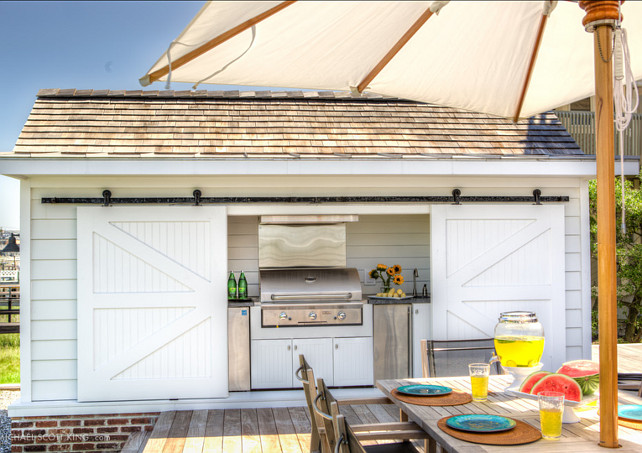 Isn't this the best shed you've seen? I am loving the idea of transforming a shed into an outdoor kitchen. Everything is kept organized and protected.
Beach House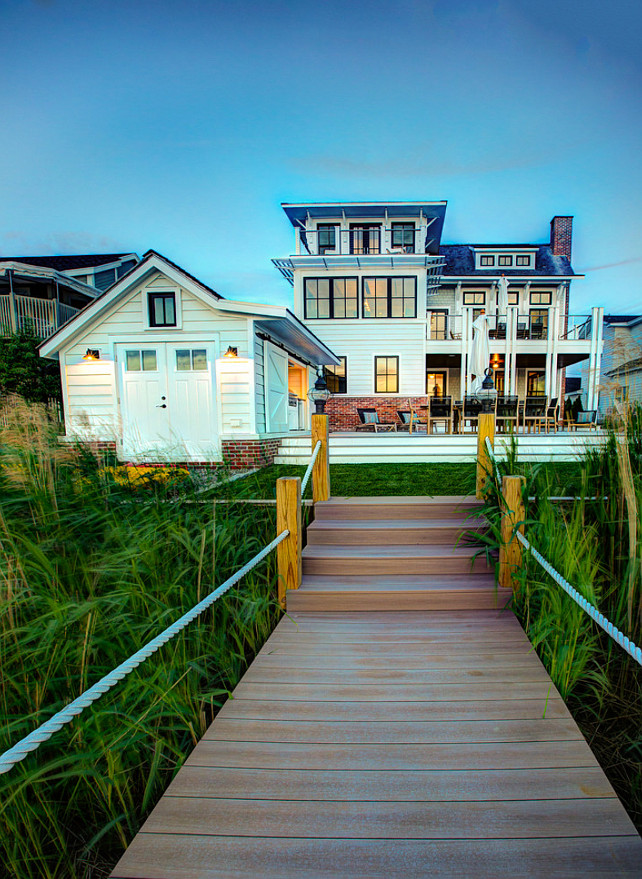 Refreshing design, inside and out!
I would like to thank the architect of this home, Asher Architects, for sharing the details above.
Sources: Asher Architects, Bluebell Kitchens Kitchen & Bath Designers, D L Miner Builders, Summer House Design Interiors, and Michael Scott King Photography.
See more Inspiring Interior Design Ideas in my

Archives.
Interior Design Ideas:

Paint Color
Interior Design Ideas:

Paint Color
Tuesdays are always happy days around here! I love sharing cottages and beach homes with you. Don't they always feel to be the best places to live at? They usually feel happy. I guess it has to do with the water. In fact, I have to say that I always feel better when I am by the water, especially by the ocean. My dear grandmother used to say that the ocean cleans your "soul", it lifts away all the "heaviness" from your shoulders… I couldn't agree more with that. I always come back home feeling happier, lighter and better whenever I am by the ocean.
Do you feel it does any good to you as well?
with Love,
Luciane at HomeBunch.com
Interior Design Services within Your Budget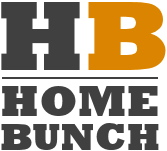 Get Home Bunch Posts Via Email