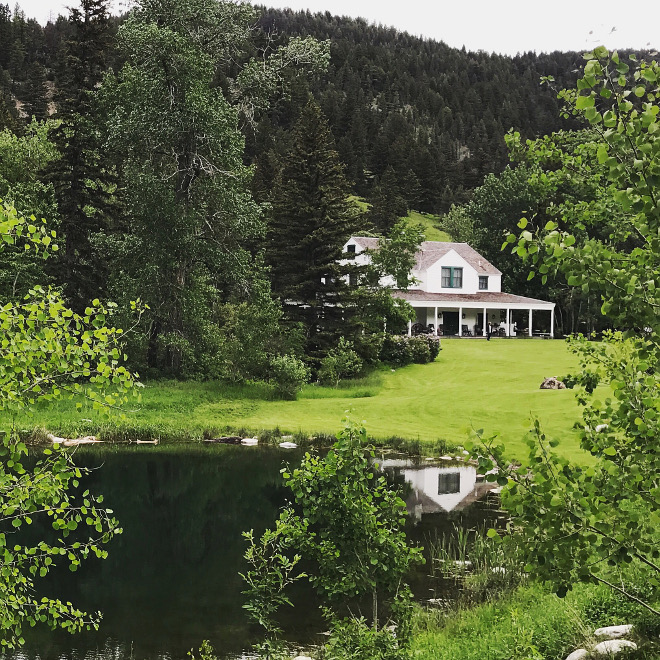 I am a stronger believer that life is all about the people you share it with. It will be good if you surround yourself with good people or it can easily go the other way around. Karen, from @sanctuaryhomedecor is someone that whenever I talk to her I feel something good – a good energy, a peaceful feeling. She is this sweet person that is not only approachable but also incredibly kind and having her on the blog once again is a huge privilege. I honestly hope you guys enjoy this tour as much as I did!
"I was overwhelmed with gratitude when Luciane asked me to share our Montana ranch for her Beautiful Homes of Instagram series. I was fortunate enough to share our home in Los Angeles a few months back and never expected to return! What an honor and a thrill to be included alongside so many amazing homes!
We purchased our Crow Hollow Ranch about six years ago after an exhaustive search of the western United States. We were looking for a sanctuary to escape the busy lives we lead in Los Angeles. A place where we could spend the summer months moving at a slower pace and reconnecting with family and friends. We found our dream location in the Paradise Valley, just north of Yellowstone National Park.
The ranch encompasses 500 acres of woods and meadows and is completely secluded, yet is only fifteen minutes from a charming small town with all of the amenities we need.
We purchased the property knowing that there was a lot of work to be done to the house and the land. After our first summer we did a major renovation of the main house including expanding and updating the kitchen, adding two guest bathrooms, and a master bath, and converting the attic to a kids bunk room.
We had so many friends and family visit that year that the following year we decided to convert the barn into a two bedroom two bath guesthouse. And last year, we added a small cabin in the woods in order to have enough space for all of the visitors we have each summer. We used Doug at Beartooth Builders for all of our construction and now consider him a close friend and a trusted partner in our projects.
In addition to the structures that we built and renovated, we also added a pond and did a whole lot of landscaping and clean up in the surrounding woods and meadows. We now have our dream ranch and it has become a yearly destination for many of our friends and family as well.
We look forward to our long slow summers…rocking on the porch…swimming in the pond…cooking meals together…and creating lifelong memories and I am so happy to share it with you!
I also share our adventures and journey on Instagram and on my blog and would love to have you stop by and say hello!"
Beautiful Homes of Instagram

Welcome to the Ranch!
Love at First Sight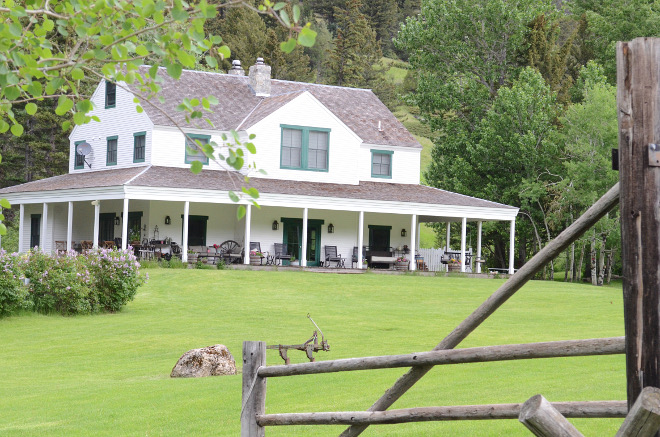 We fell in love with the farmhouse design of the main house and the wrap around porch looking out on the meadow.
Main House Exterior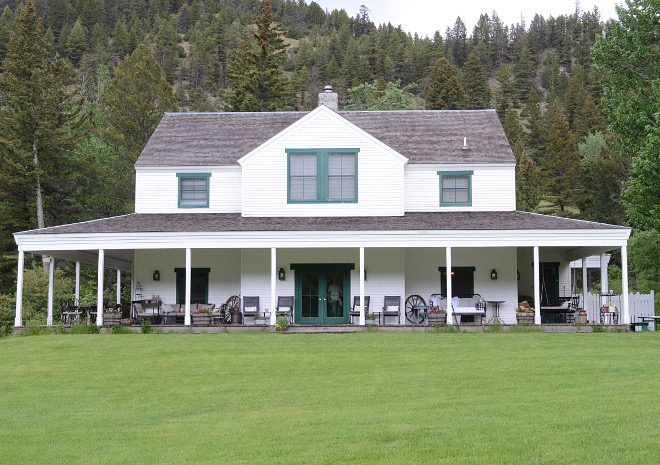 The house is perfectly positioned beside a year round creek, so the sound of the rushing water can be heard from every bedroom.
Kitchen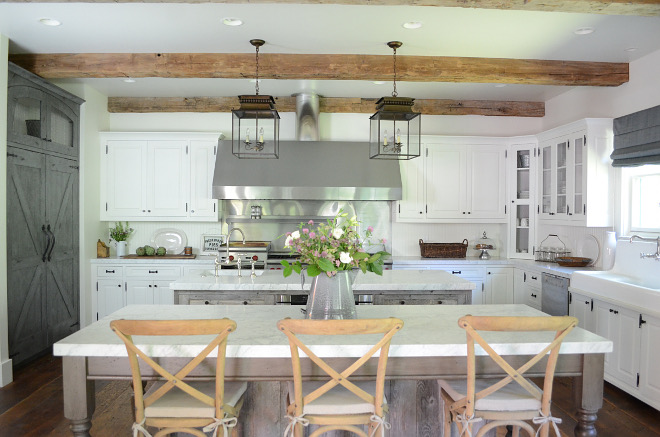 The original kitchen was incredibly small, given the size of the house, so we expanded the space by enclosing an adjacent carport.
Light Fixtures- Pottery Barn
Barstools – Restoration Hardware
Kitchen Island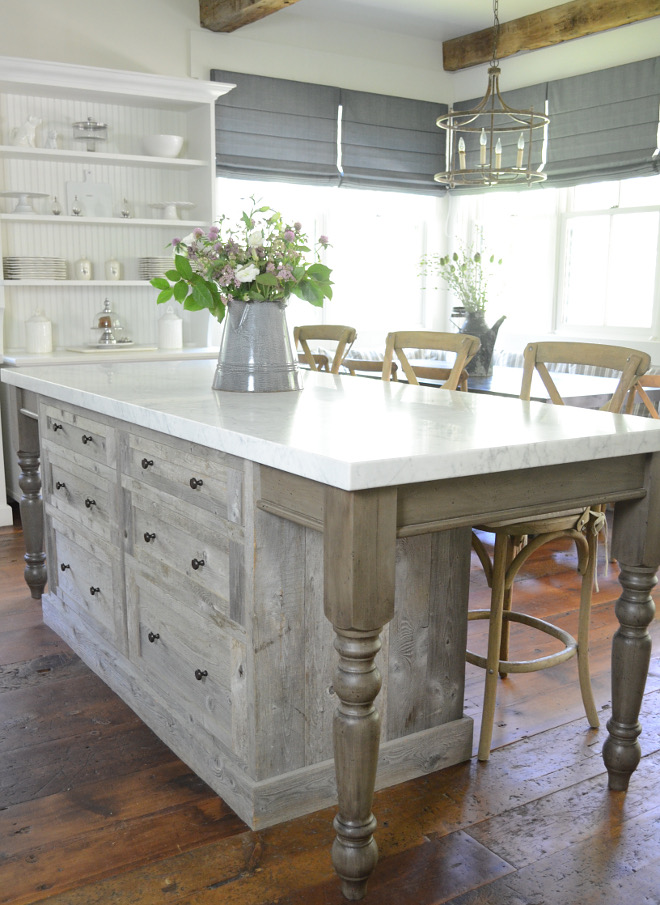 We wanted to keep the farmhouse feel, so we used reclaimed wood for the two center islands. For this island we created a furniture look by using table legs on the corners and adding a "chest of drawers" in the center.
Farmhouse Sink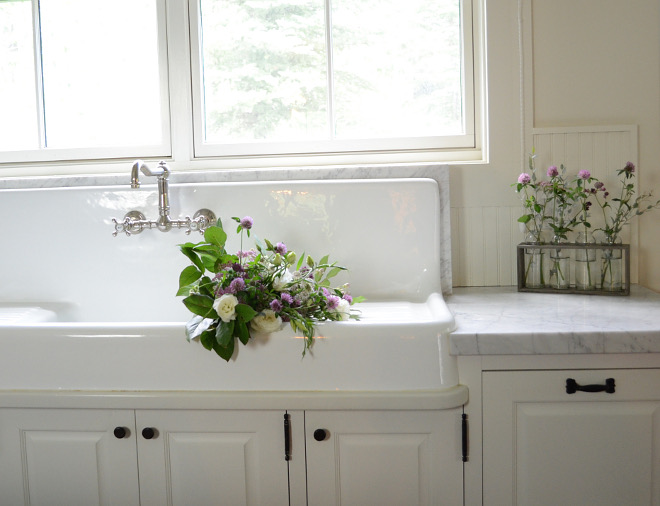 This sixty-inch reproduction farmhouse sink was the centerpiece of our kitchen design. I fell in love with the retro look and decided to design the rest of the kitchen around the sink. The windows above look out across the creek, so this in my favorite place to be in the kitchen!
Sink & Faucet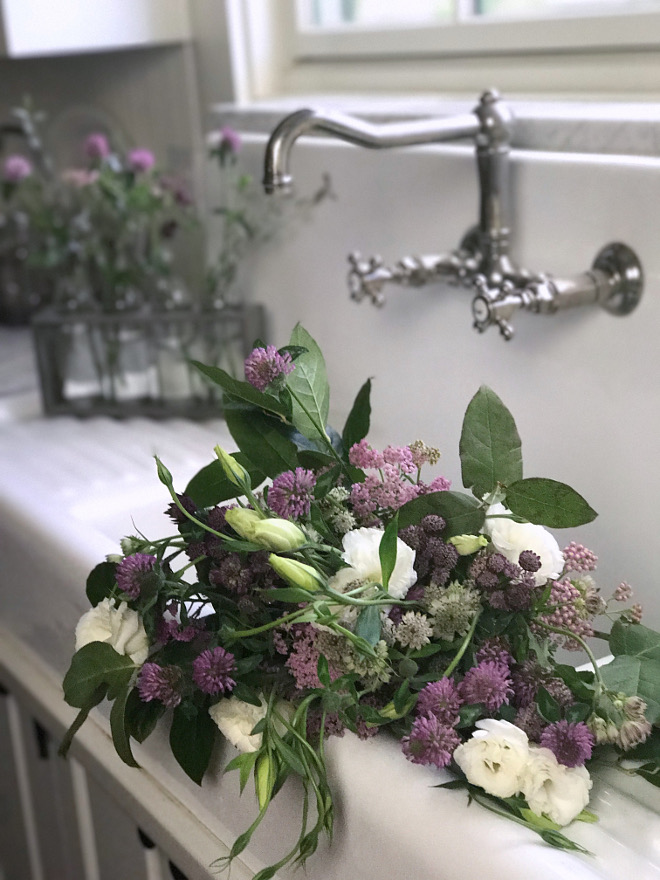 Sink – Strom Plumbing
We had limited options for the faucet on this sink, and ultimately chose this wall mount fixture by Rohl in polished nickel.
Breakfast Nook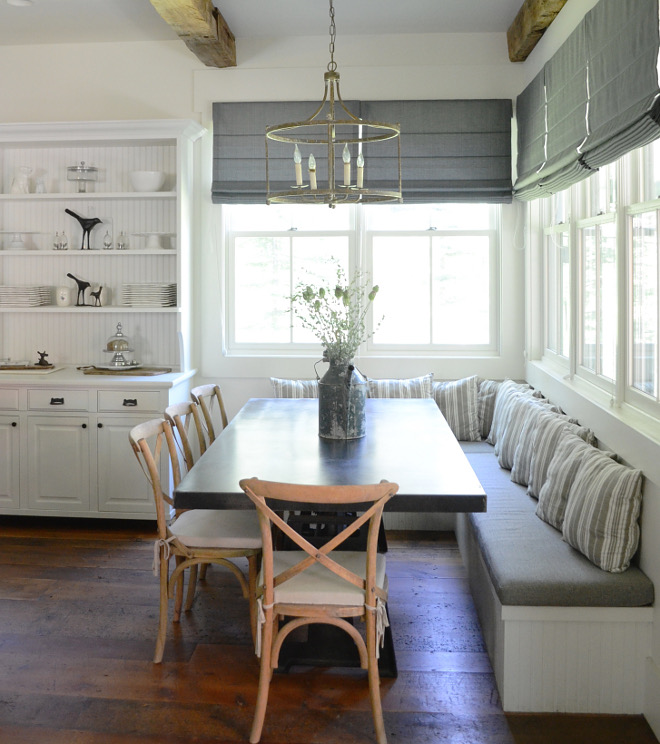 The kitchen table sits in what was once the carport. We added a bank of windows looking out into the yard and woods. We often see wildlife crossing through the yard while we are sitting at this table.
Chairs: Restoration Hardware
Metal Table: Dovetail Furniture
Window Shades: Smith and Noble
Pillows: Target
Light Fixture: Park Hill
Kitchen Range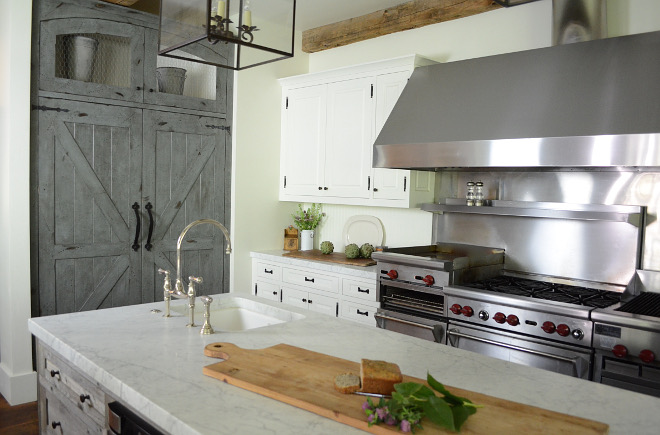 The commercial Wolf range came with the house, so we incorporated it into this kitchen and I have to say, it is amazing! It has eight burners, a grill, a large griddle and a salamander broiler! I can cook a meal for thirty on this range with no problem!
Kitchen Cabinet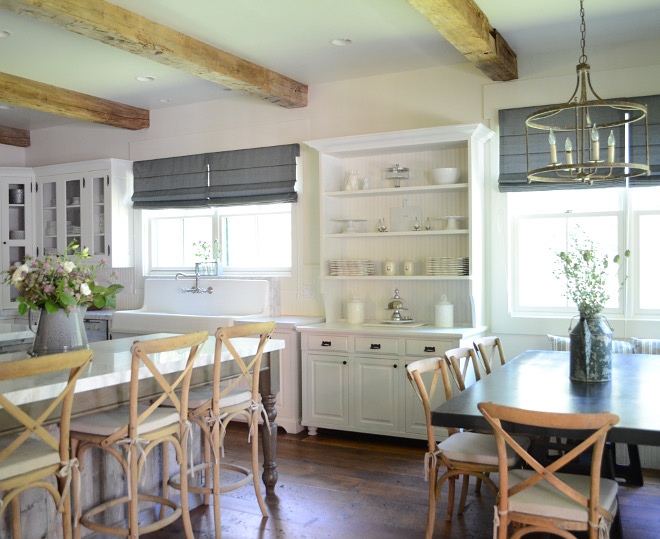 In order to transition from the working area of the kitchen to the eating nook, we designed a large cabinet that looks like a freestanding piece of furniture.
Backsplash

Rather than use a stone or tile backsplash we decided to use wood bead board. It created a warm farm-style look and was very budget friendly!
Cabinet color is Benjamin Moore – Swiss Coffee.
Barn Door Inspired Fridge Panel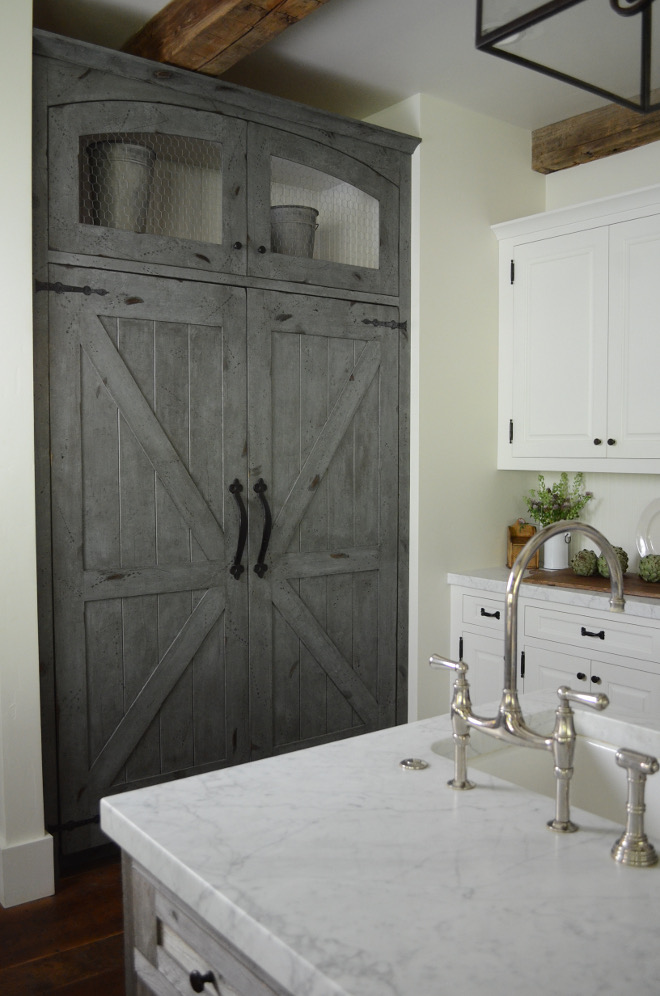 We did not think that a large stainless steel refrigerator would work with this kitchen design, so we used the Thermador column refrigerator and freezer and had custom wood panels made to create a barn door look.
Prep-Sink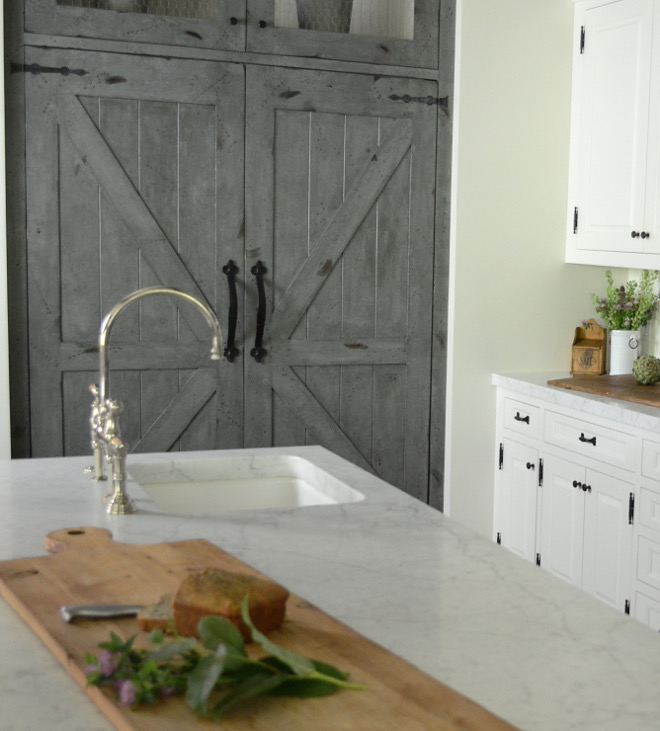 The island prep sink is a great addition to this kitchen and is used more frequently than the larger sink, simply because it is conveniently located near the refrigerator and range.
Sink – Kohler Irontones
Faucet is by Rohl.
Countertop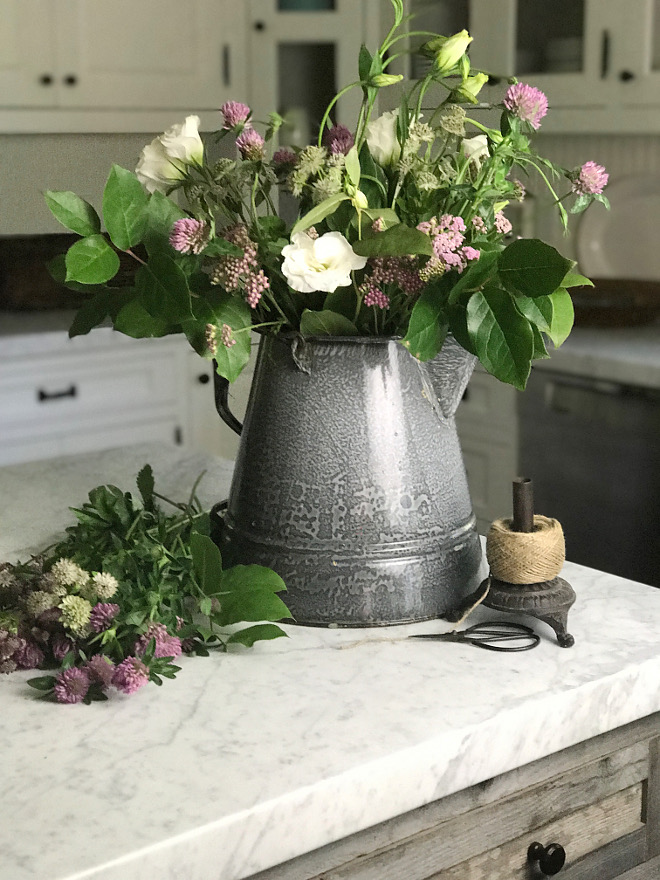 We chose honed Carrera marble with a simple square edge for all of the countertops.
Hardware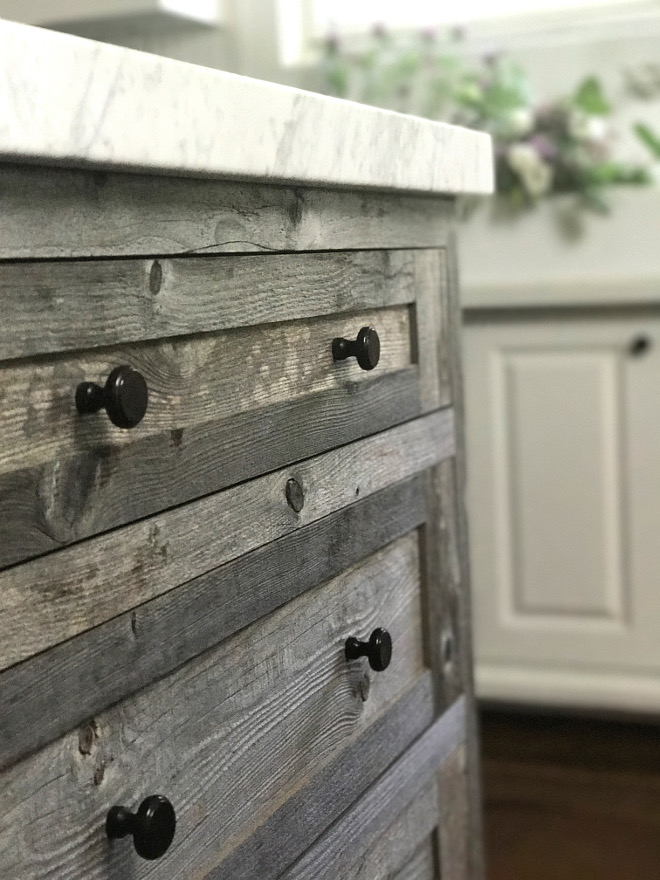 The center island hardware is the Dakota button knob from Restoration Hardware in Soft Iron.
Great Room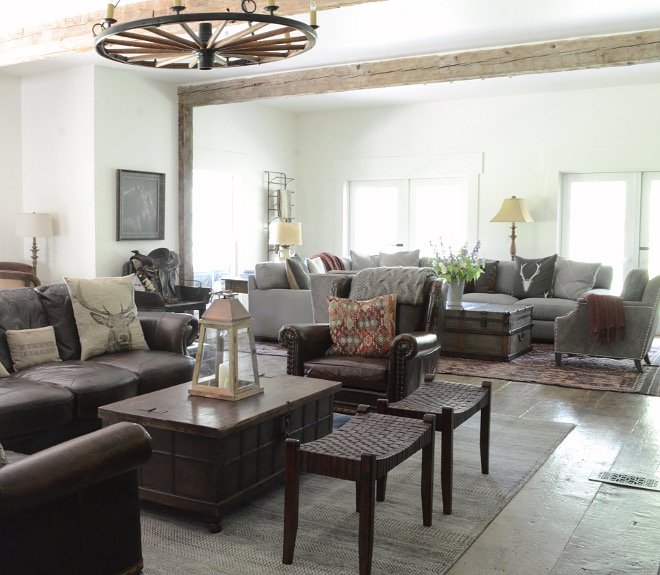 The ranch house was designed with a true great room at the center. Measuring 60' x 30", it has two large seating areas, an enormous fireplace and a large dining room (not pictured) all in one open space.
Space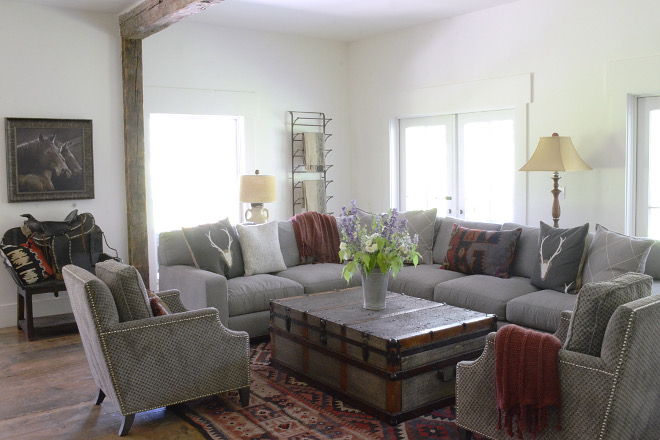 It has been a challenge to decorate this space and make it feel cohesive and functional. We chose to use warmer earth tones alongside soft grays and chocolate browns to add a bit of a western feel. This was a departure from my usual décor style, but was the perfect design in this environment!
Fireplace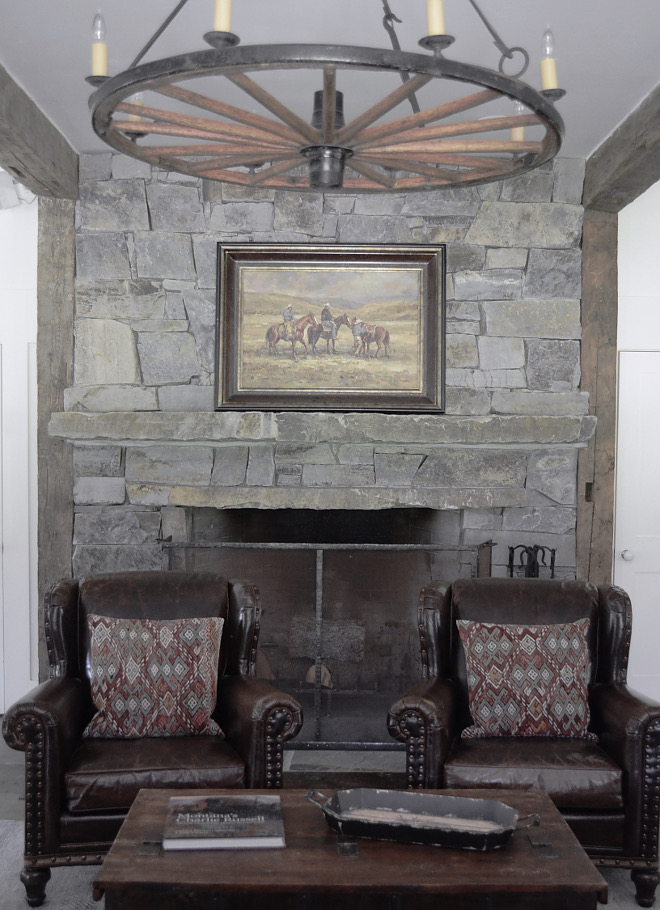 The enormous fireplace is the centerpiece of the great room and a wonderful gathering place on cold evenings. We redesigned it by adding Montana fieldstone from the floor to the ceiling.
Barnwood Bar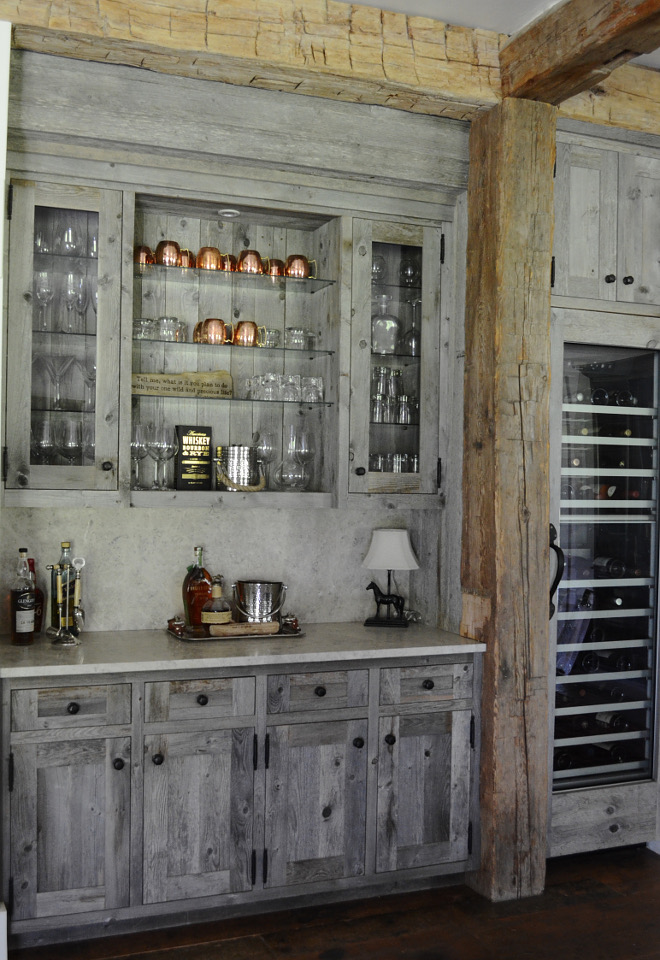 Because we have so many guests at the ranch and entertain often, we wanted to have a simple bar in the great room. This custom designed bar is made from reclaimed barn wood. We also added a Thermador wine column with a reclaimed wood door panel.
Quote

How can you argue with this quote, right? Especially if you're going to a home like this! 🙂
Equestrian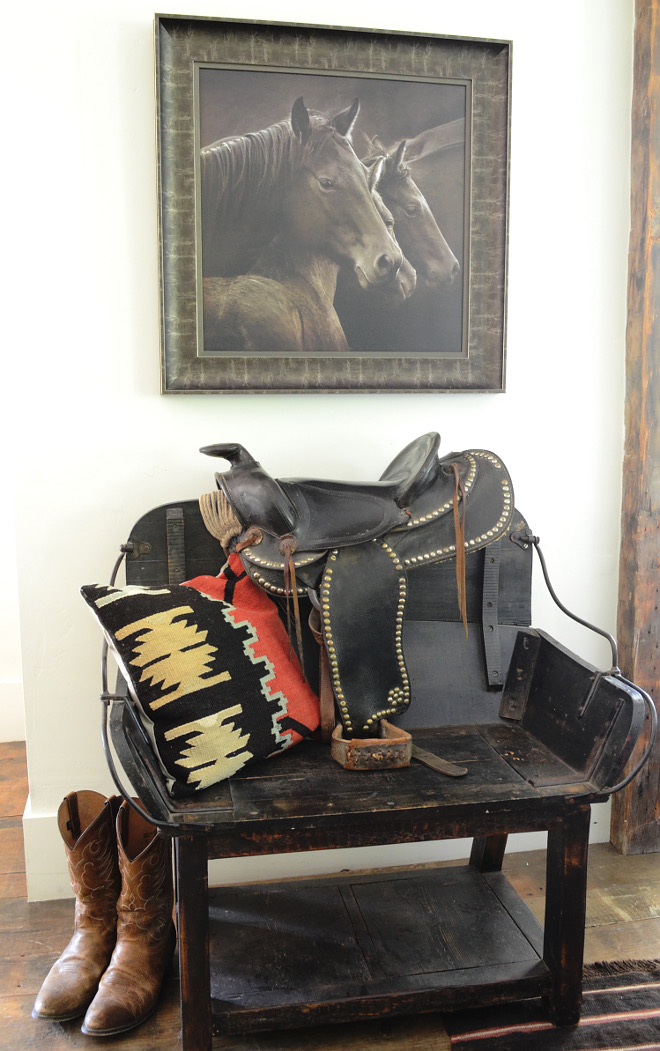 Karen and her husband love horses and this equestrian touch works perfectly at the ranch.
Flooring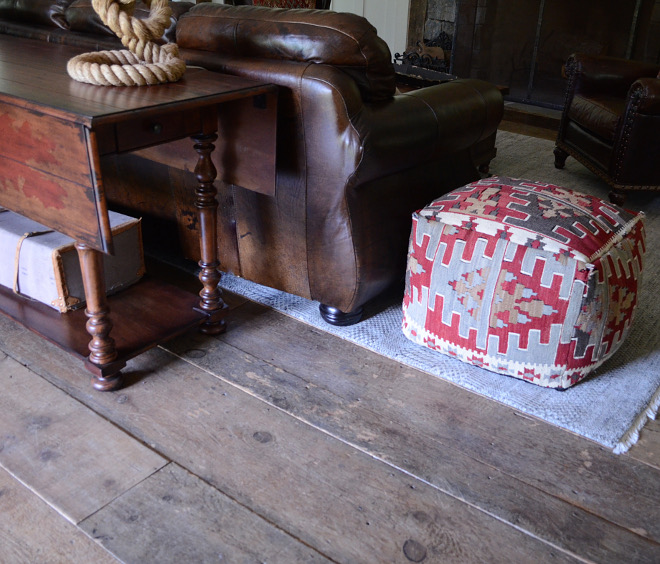 One of my favorite things about this house is the very rustic flooring. The prior owner had it brought in from an old east coast farmhouse and installed throughout the house. The planks are incredibly long and range in width from 8" to 16".
Bedrooms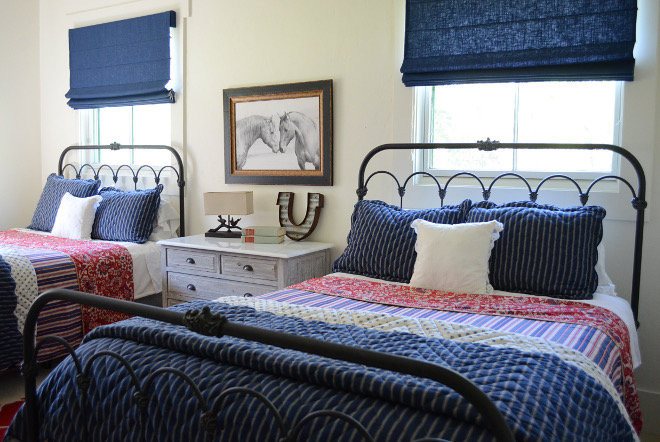 We are able to sleep thirty people at the ranch at one time and each guest room has a unique design and feel. I have played with fun bedding colors and western designs in most of the rooms, while keeping everything functional and easy for our guests.
Iron Bed – Wesley Allen Hillsboro Iron bed

Rustic Wood Bed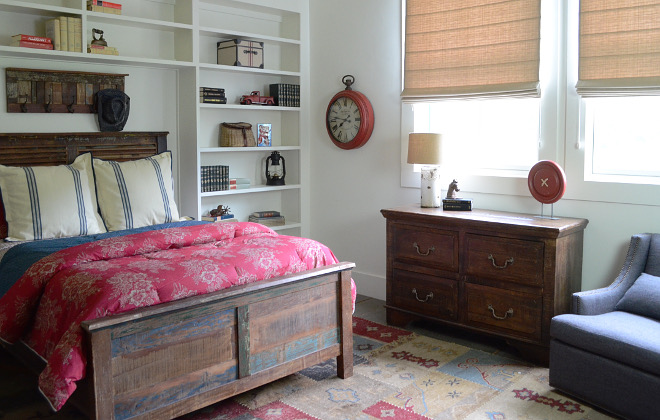 Wood Bed and Chest – Dovetail
Window Shades – Smith and Noble
Bedding – Ralph Lauren Chaps Collection
Farmhouse Iron Bed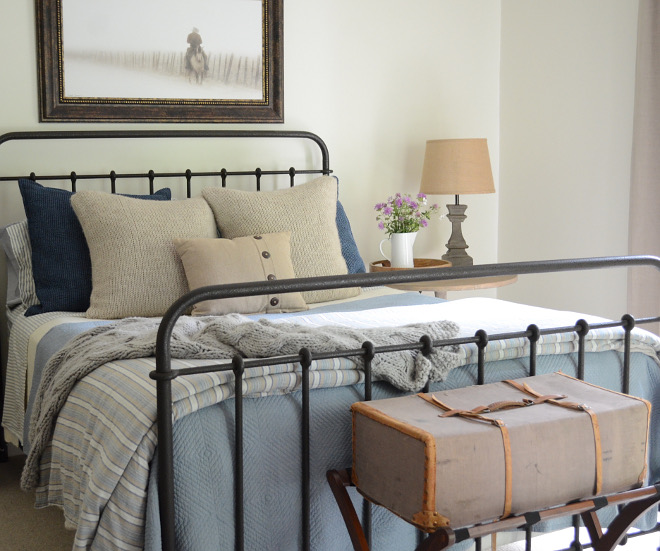 Iron Bed – Wesley Allen Braden Aged Iron Bed

Bedding – Pottery Barn and Target
Guest Bath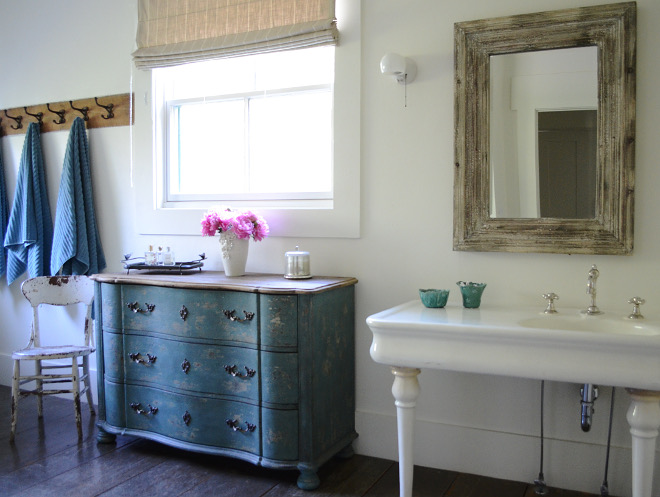 The upstairs guest bath was largely as you see it when we purchased the ranch. We love the vintage sink and oversized bathtub and only added the chest of drawers under the sink for storage.
Chest – Dovetail Furniture
Farmhouse Touch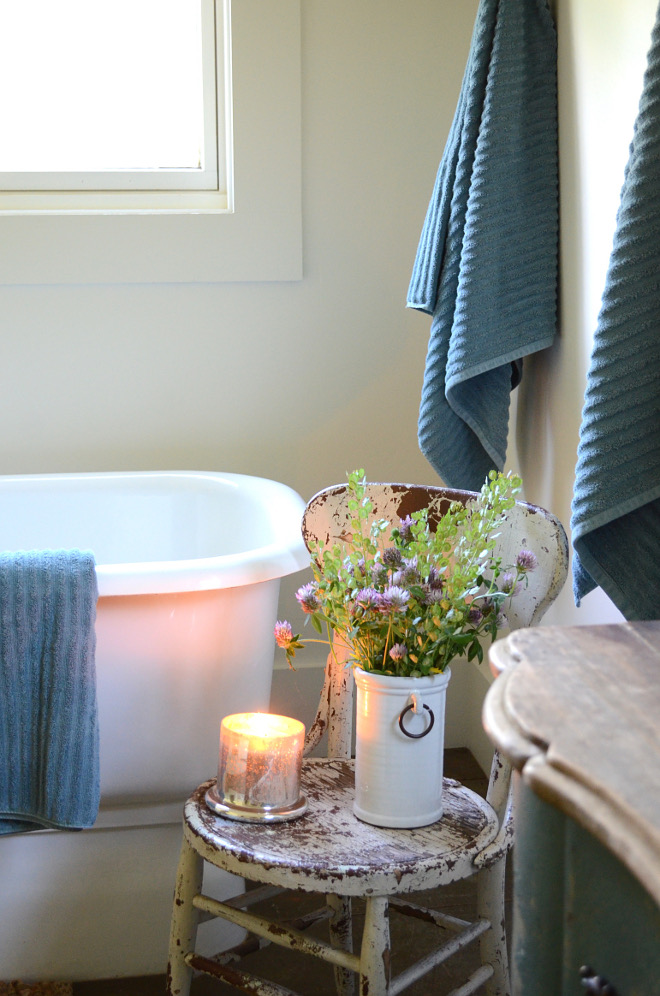 A heavily distressed vintage chair brings a farmhouse feel to this bathroom.
Bunkroom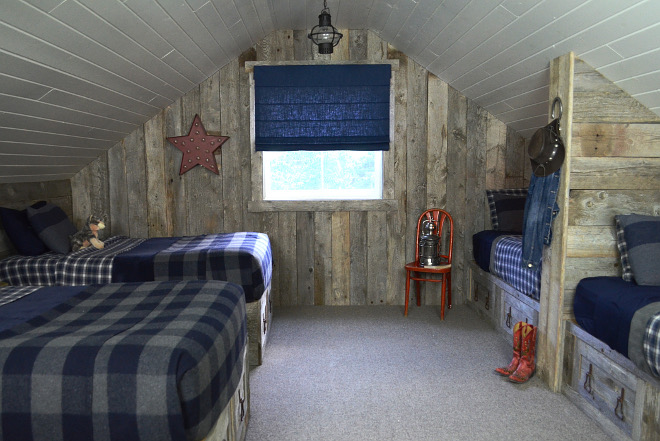 During our first summer at the ranch we discovered the attic. We had not seen the space previously as it was only accessed by a pull down ladder in the hallway. We were so excited to find such a large area, that we immediately started to plan a way to create easy access and turn it into a living space.
Bunk Beds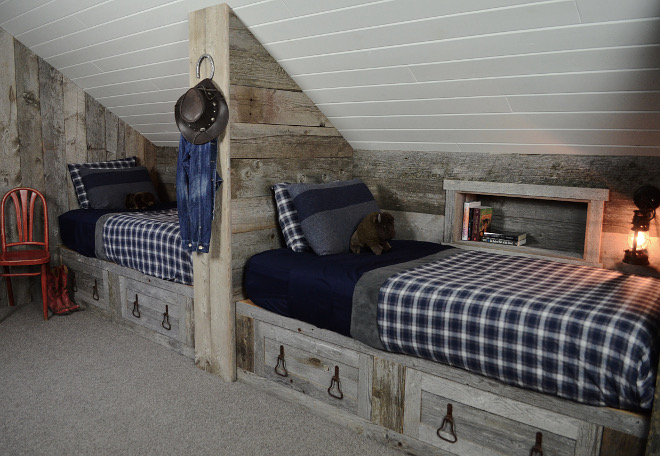 We designed the bunkroom with three twin beds and two doubles.
Cubbies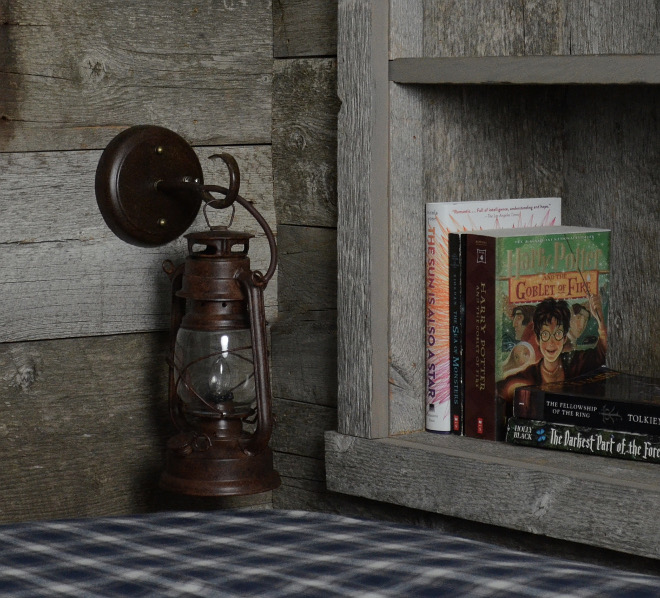 All of the bunk beds come with their own drawers underneath and cubbies with lantern lights.
Wood Paneling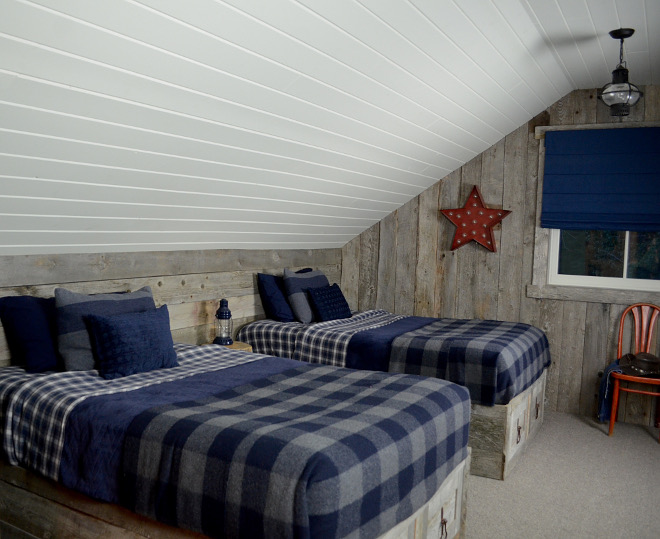 We used reclaimed barn wood for the beds and added larger planks on the walls.
Plaid Bedding

Plaid Bedding – Restoration Hardware Kids.
Bunk Room Sitting Room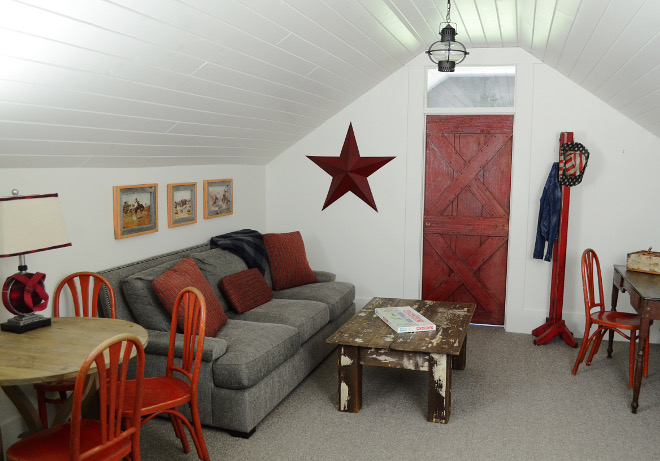 We converted the other side of the attic into a kid's sitting room.
Bunk Room Bathroom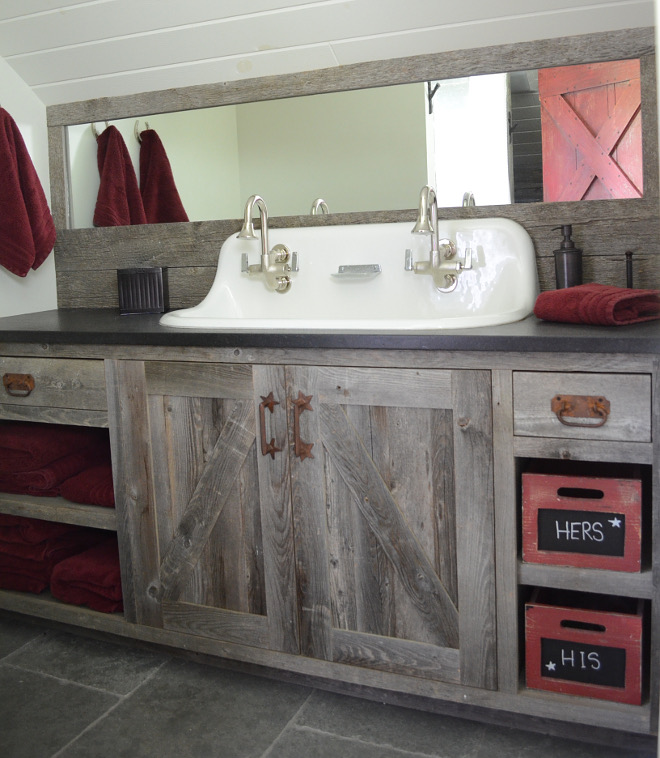 We were also able to add a bathroom with a great double sink.
Sink – Kohler.
Master Bathroom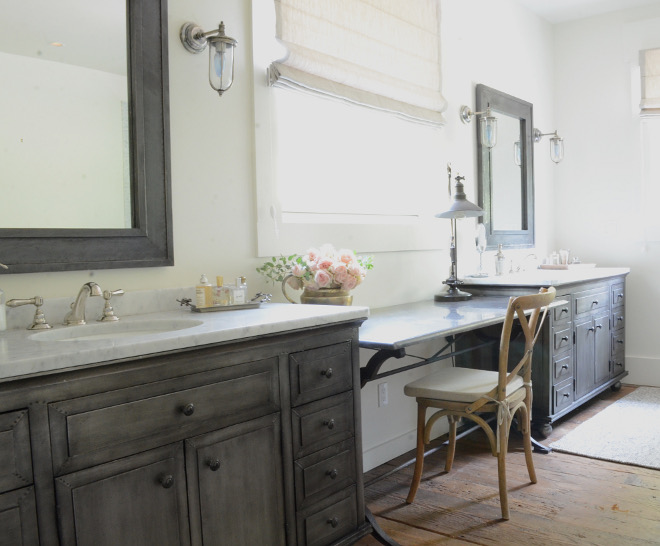 The original house had only one bath upstairs, so we decided to convert the existing office into a master bath. By simply moving a door into the hallway, we were able to create a master suite on a very limited budget.
We used pre-made vanities and matching mirrors and added a table in between for a more farmhouse feel. We also extended the wood floors into the bathroom which added warmth to the metal and stone accents.
Vanity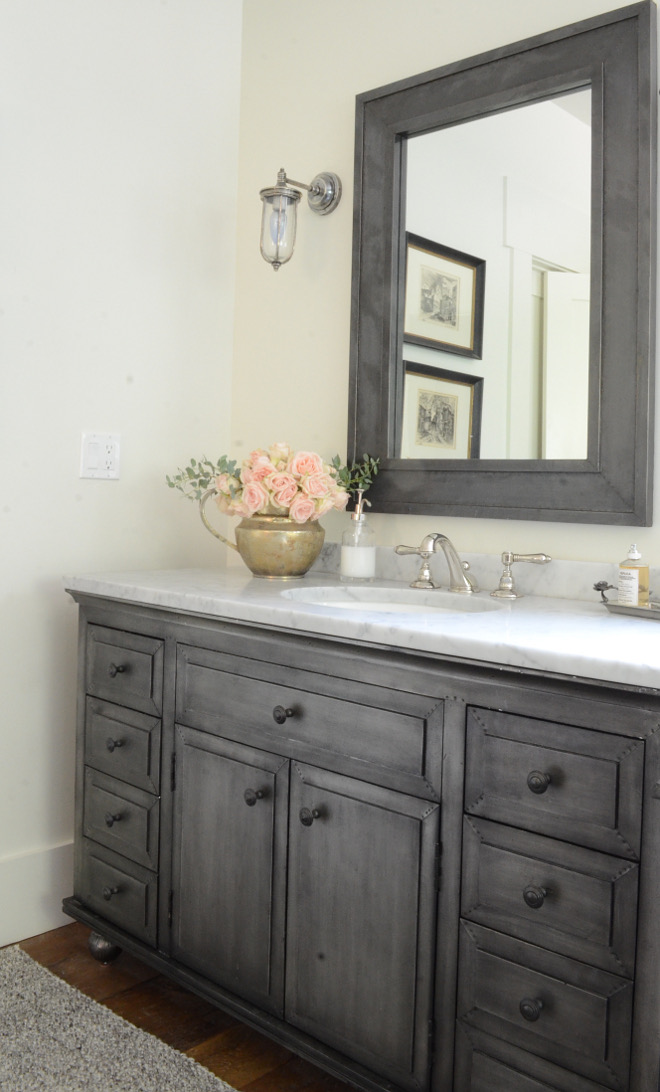 Vanities – Restoration Hardware Zinc
Mirrors – Restoration Hardware Zinc
Shower & Bathtub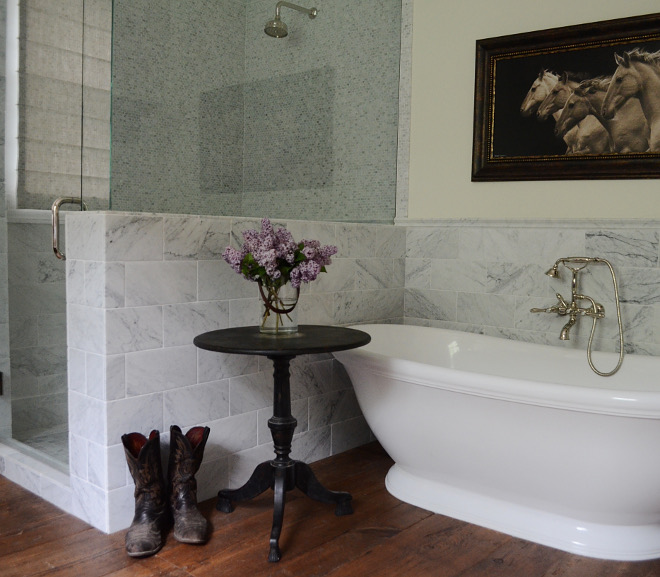 We used Carrera marble for the shower walls and the wainscoting around the freestanding bathtub.
Bathtub – Metro Georgetown
Guest House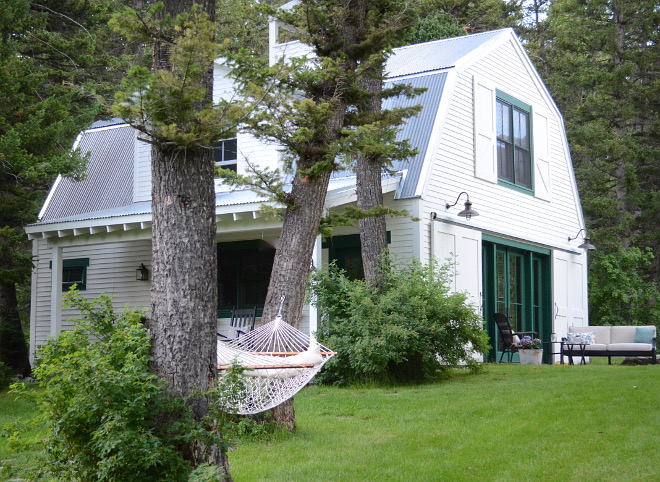 We converted the existing storage barn into a two bedroom, two-bath guesthouse. We added windows, two dormers and a porch, but left the remaining structure as originally built.
Rosé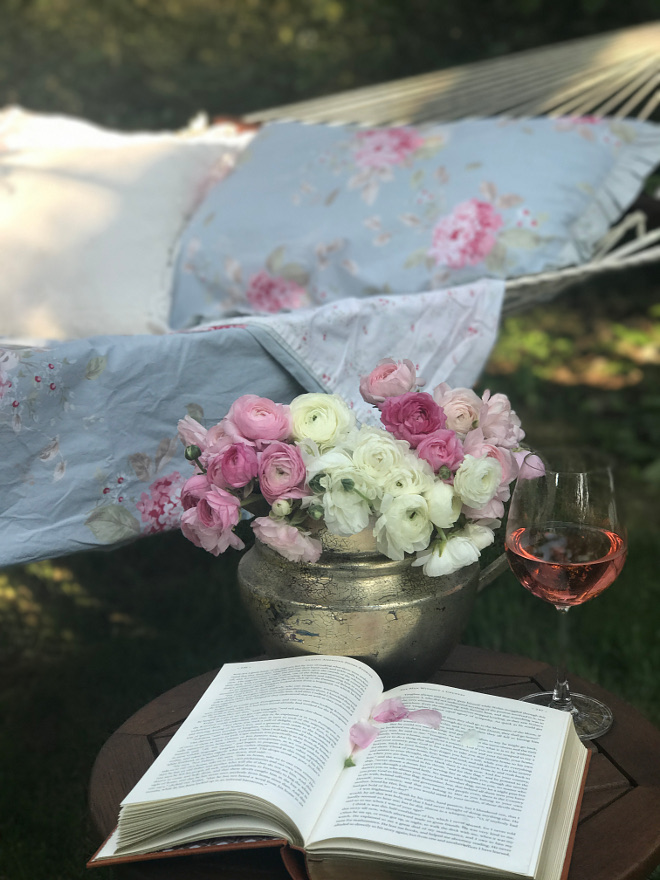 Karen really knows how to live this life! 🙂
Porch

Wouldn't you love to sit on this porch and enjoy this peaceful country view? 🙂
Guest House Interior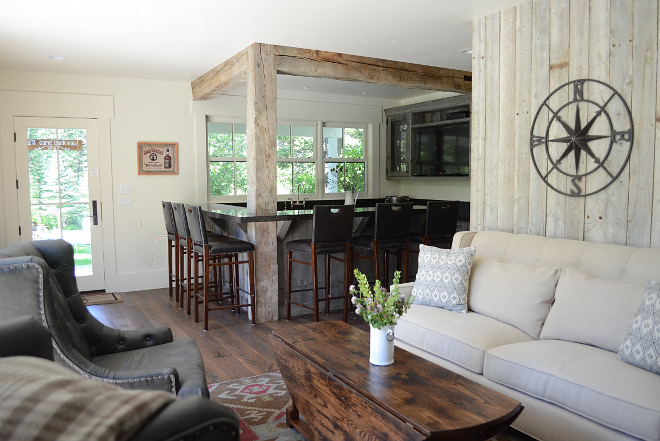 On the interior, we again used reclaimed wood for the kitchen/bar area and finished the walls in barn wood wood planks.
Countertops – Belgian Bluestone
Gray Leather Chairs – Bernhardt
Sleeping Loft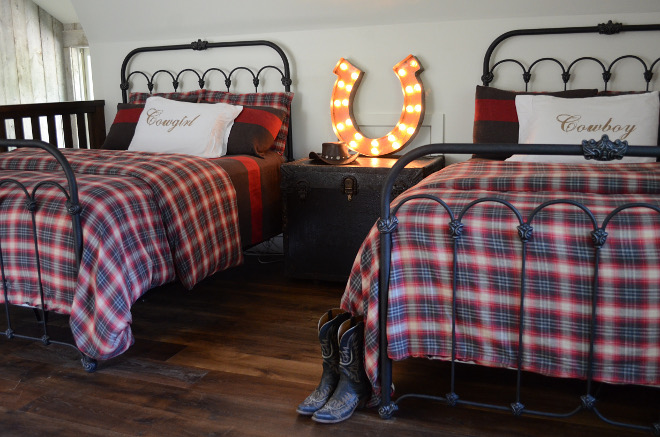 Iron Beds – Wesley Allen
Bedding – Restoration Hardware Kids
Porch View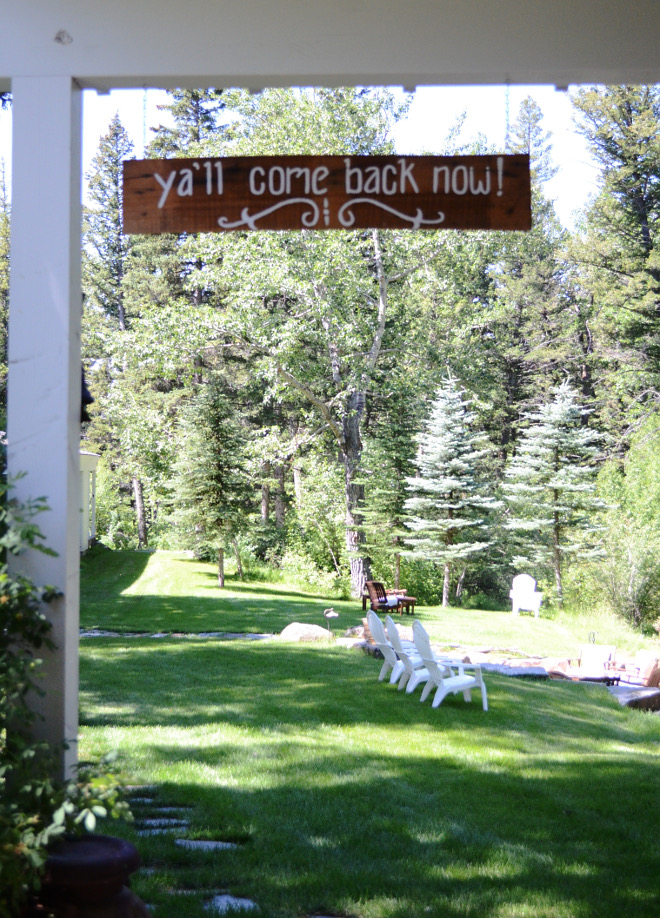 This place brings so much peace and calmness…
Cabin in the Woods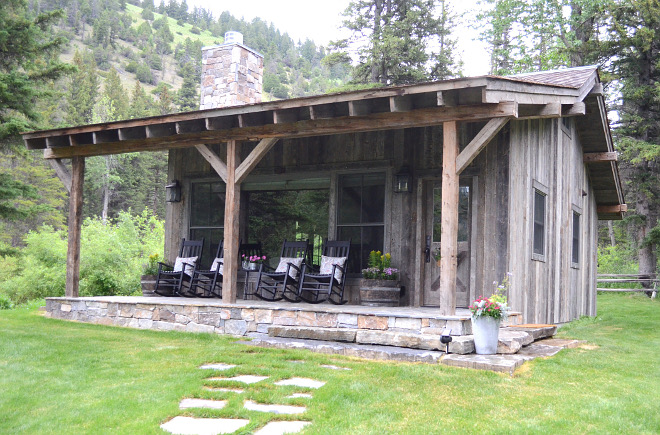 Last year we completed a lovely little cabin in the woods near the main house.
Lovely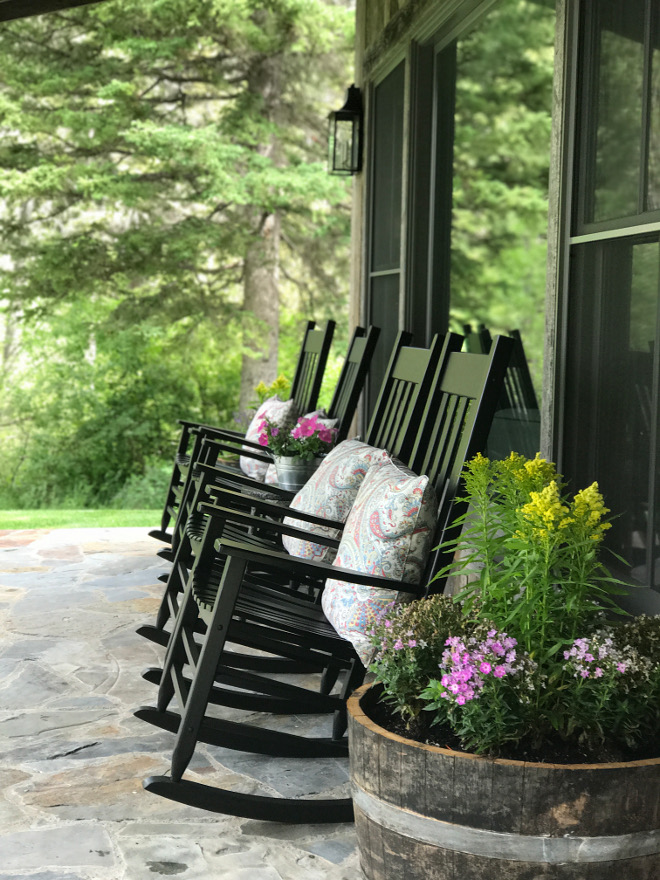 We affectionately refer to this as the honeymoon cabin, because it is so romantic with beautiful views down the meadow to the pond and mountains beyond.
Barnwood Door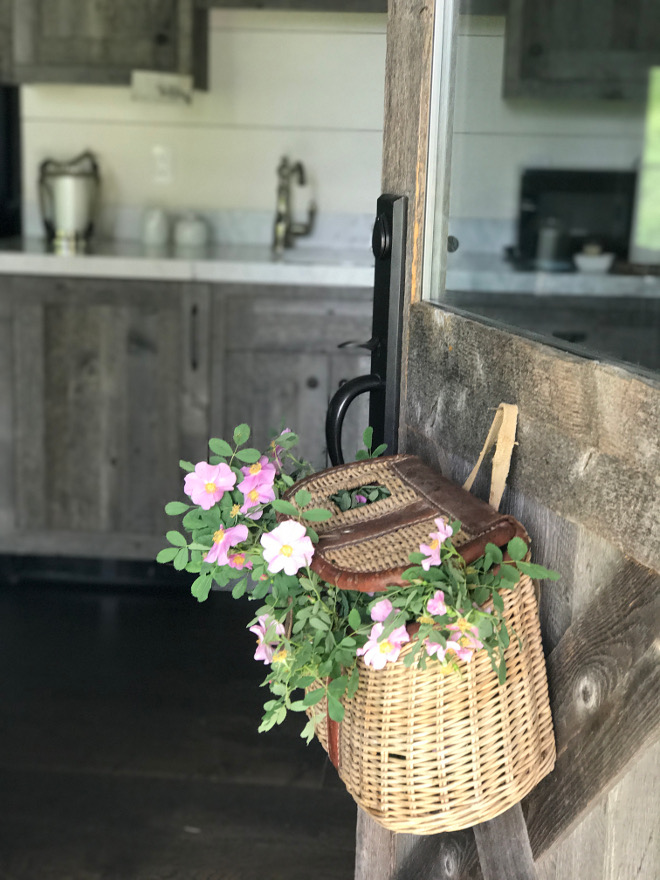 This flower basket brings an extra romantic feel to the cabin.
Cabin Interiors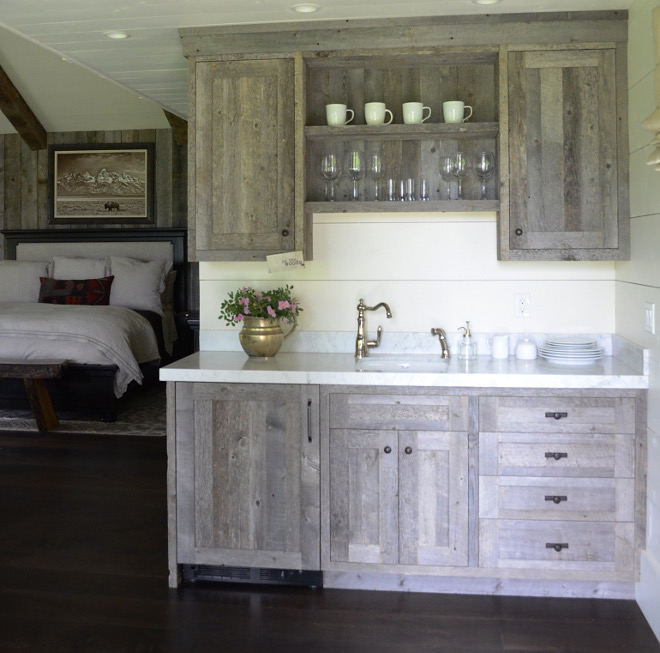 The cabin is one large room containing a living area with a fireplace, a kitchenette and a small loft with two twin beds.
Cabinet Inspiration

What an inspiring combination of elements: Reclaimed Barnwood cabinet with white marble countertop and shiplap backsplash. Take note! 🙂
In the Woods

Every detail in this place is truly impeccable and full of inspiration.
Open & Inviting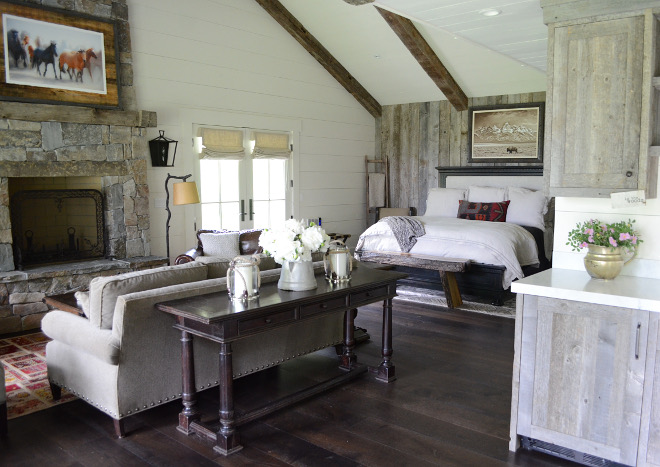 We incorporated the same materials used in the main house and guest house so all of the spaces have a cohesive, warm feel.
Fireplace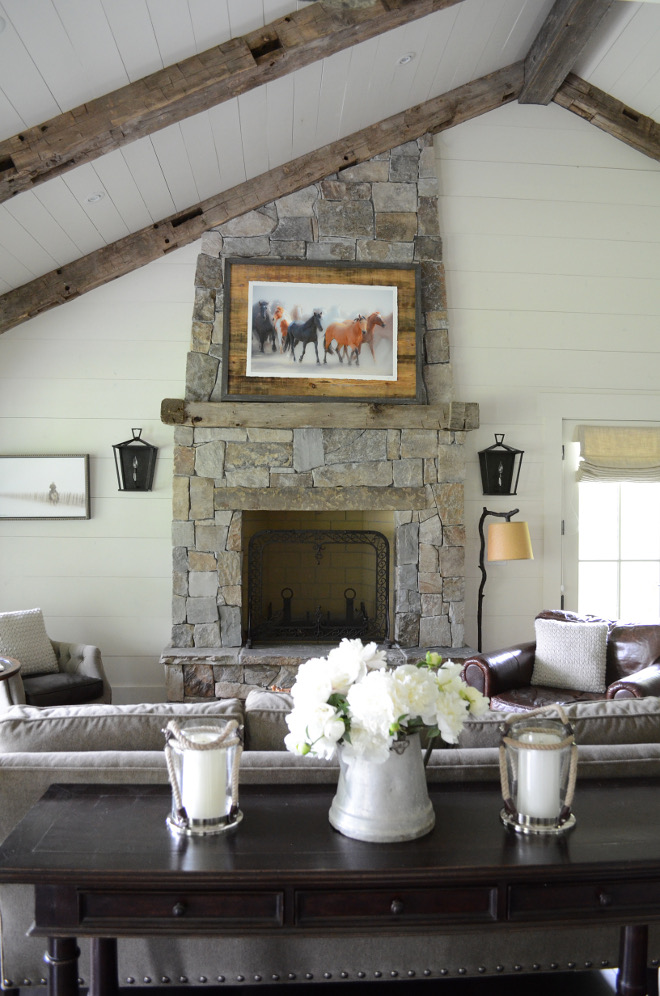 Fireplace Stone – Montana Fieldstone
Bed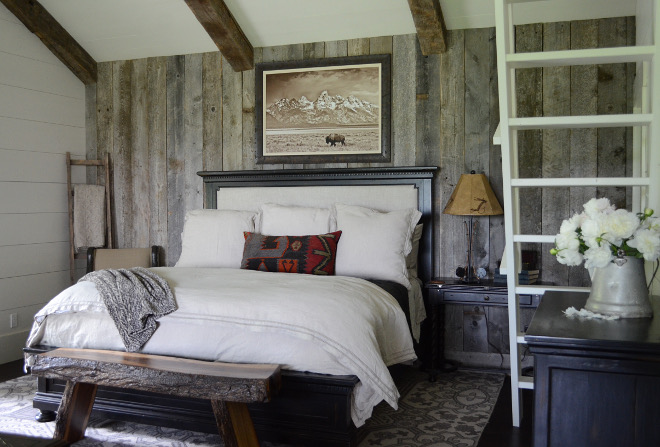 King Bed & Bedding – Restoration Hardware.
Paint Color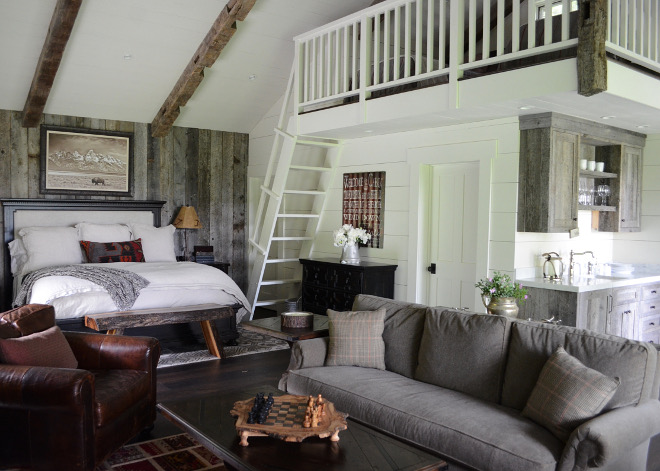 Paint color is Benjamin Moore Swiss Coffee.
Loft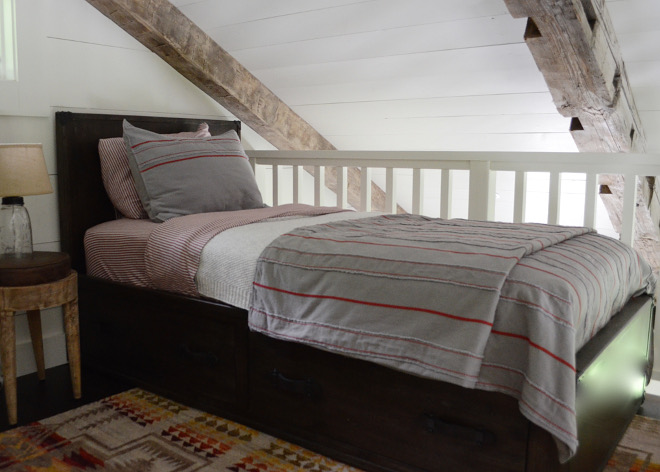 Twin Beds & Bedding – Restoration Hardware Kids
Country Living

Imagine dining outdoors with that view!
Outdoors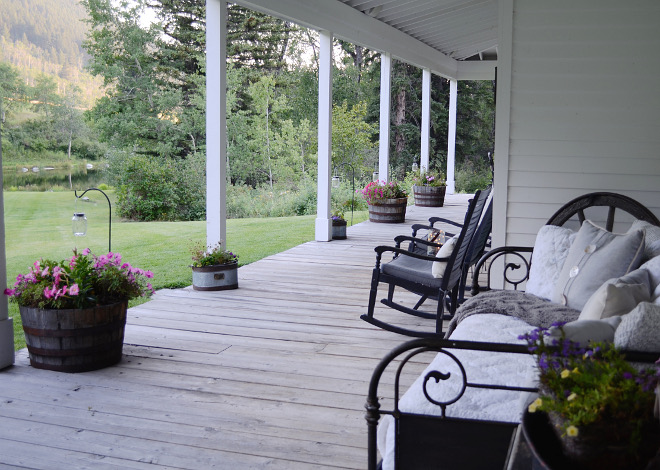 I could not share our ranch without including the incredible outdoors that surround us.
Porch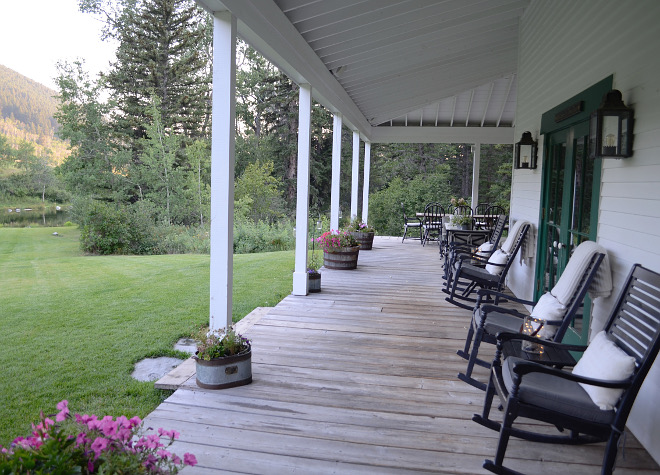 The wrap around porch on the main house is a favorite gathering spot for morning coffee or evening cocktails.
Rocking Chairs – Grandin Road
Porch Swing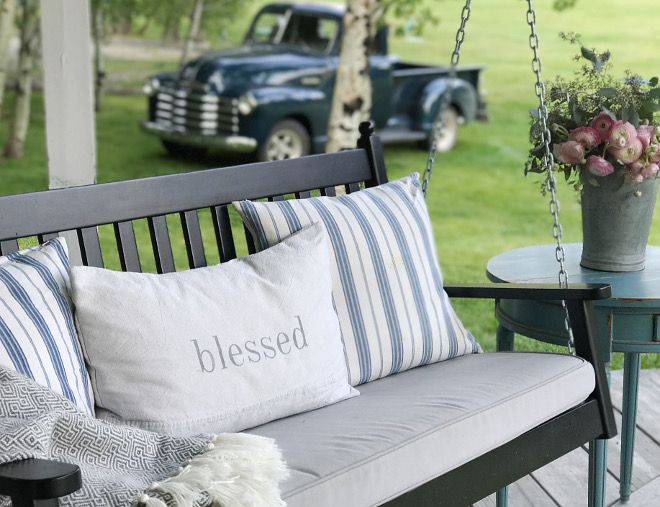 Porch Swing – Ballard Designs
Best Friend
Meet Oscar, one of Karen's dogs. I simply adore him!!! 🙂
Little Explorers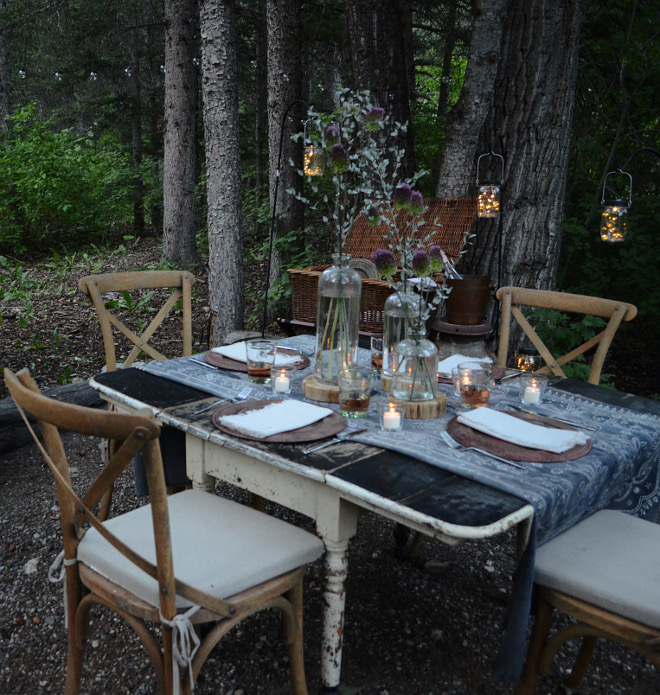 We truly enjoy every inch of the woods and meadows, we eat outdoors nightly and are always discovering new places to explore.
Night Night

I hope this tour inspired you and made you feel more relaxed…
Make sure to follow Karen from @SanctuaryHomeDecor

on Instagram to see more photos of her beautiful home! 🙂
See more "

Beautiful Homes of Instagram

":

This farmhouse is being extremely popular on Pinterest. The post shares all of the details such as paint colors, decor, lighting and more. Very helpful!
See more Inspiring Interior Design Ideas in my

Archives.
Interior Design Ideas:

Paint Color
Wasn't it amazing to see this incredible home? I even feel more relaxed and ready to start this new week!
So, did you guys have a good weekend? I spent a lot of time with the kids and my hubby. In fact, we just tried to go vegan the entire day after I watched the documentary "What the Health" last night. I am not saying that I will become a vegan – although I feel it's a much healthier lifestyle – but it truly becomes hard to eat meet after watching it. Anyone feels the same? I feel that this documentary has opened my eyes for a lot of things, and like I often say to my kids; "knowledge is power".
I hope your week is filled with great smiles, fun stories and many, many Blessings. Be healthy, be positive and be kind to yourself.
We'll talk soon!
with Love,
Luciane from HomeBunch.com
Follow @HomeBunch:

"For your shopping convenience, this post might contain links to retailers where you can purchase the products (or similar) featured. I make a small commission if you use these links to make your purchase so thank you for your support!"