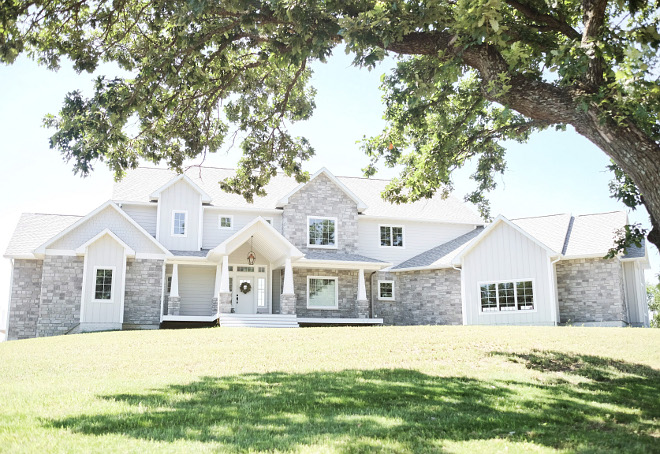 Beautiful Homes of Instagram is getting a lot of positive feedback from you, my wonderful readers, and from many of my followers on Pinterest and, of course, on Instagram and I certainly couldn't be able to do it without these incredibly talented homeowners that are willing to open their home, take the pictures and send all of the details of how they've built and decorated their homes.
I am very happy to share Nina's home today on Home Bunch. Nina is a busy mom of four and she still manages to have build a home that is full of inspiration. In fact, her home style is one of the most pinned, most popular interior styles I've seen lately; "Coastal Farmhouse". Coastal farmhouse interiors combine a coastal-inspired soft color palette with plenty of reclaimed materials for that popular rustic look often seen in farmhouse-styled interiors.
Get to know Nina and take a look of how she created a coastal farmhouse home that not only feels inspiring but is also full of creative ideas!
"I met my husband, Nick, in college and have been married for 10 years now. We have 4 kids, Johannah (7), Christian (6), Beckham (3), and Sebastian (10 months). I am a stay at home mom and recently retired from portrait/wedding photography last year. Now I'm just a "mamarazzi". 😉
This is actually the 2nd house Nick and I have built. We built our first house in Dubuque, IA and lived in that house for a little over 1 year until my husband got a job offer in Des Moines, IA. Even though it was bittersweet to move out of our new house, I was VERY excited to move to Des Moines because my identical twin sister, Cecilia, was there! Cecilia and I thought we would never get to live in the same city and finally we were going to!
When we moved to Des Moines, we knew we wanted to build again. In the last house we built, we worked with a builder, but this time, we decided that Nick was going to be the general on it. When we built the last house, we knew it wasn't going to be our forever home. For this house, our mindset was completely different. This was going to be our forever home…the kids would grow up here, the kids would get married on our property, and Nick and I would grow old together here (ha!). That being said, we wanted everything the way we wanted it to be. The floor plan was real important to us. I knew I wanted vaulted ceilings in the family room, a catwalk, a long kitchen island, each kid to have their own rooms, and the master to be on the main level.
We went and looked at numerous neighborhoods and found a lot that was 5.5 acres. We fell in love with the view! During the building process, we lived with my twin sister. It was pretty crazy! Just imagine 4 adults and 8 kids living in one house! Lots of memories were made that's for sure, but both families were ready to have their own space!
I don't know if this is an official style, but I would have to say that I have a country coastal style. You'll see a mixture of these two styles throughout my house. I love the look of barnwood, and I tried to incorporate little touches of barnwood all throughout the house. During the design process, I knew I wanted beams in the living room and also around the trim from the living room to the kitchen. You'll also see that we added a barnwood on the kitchen hood which completes the look of the hood! Other "country" features of the house is the white brick walls and hood, white washed fireplace, white subway tiles, shiplap, various farmhouse light fixtures, and barnwood shelving and table. The "coastal" features of all the whites/sea green/light blue and simple decor make the house have that bright and sophisticated look. It just gives it that calming, home­y feel!
I started our instagram account @ninaandcecilia a year ago to document the building process, but just kept it for myself. Eventually when we moved into our new house and started decorating, I decided to be more active and post consistently on Instagram and the rest is history." 🙂
Beautiful Homes of Instagram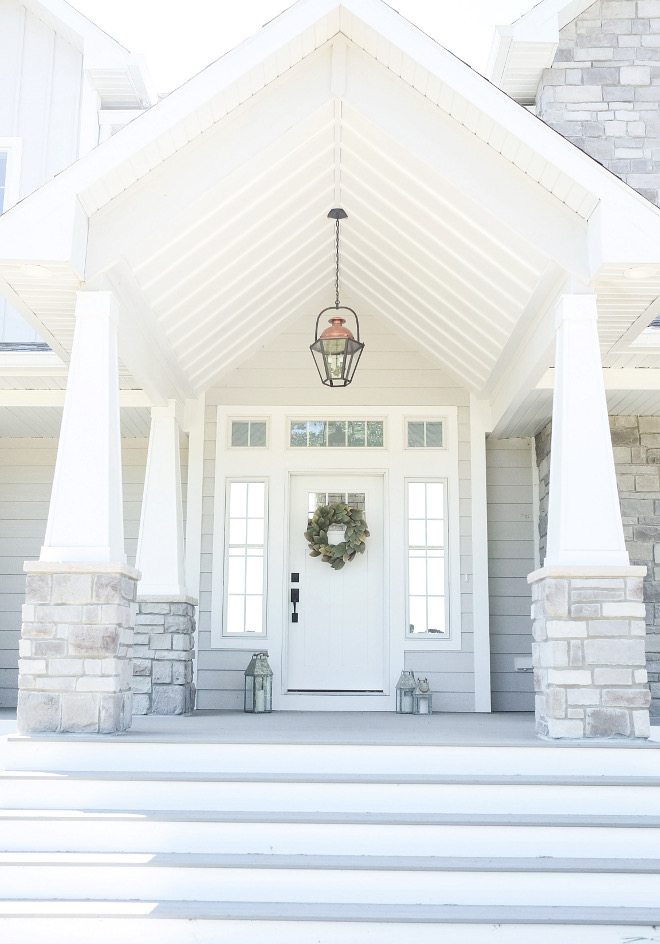 Home Exterior: I love the looks of craftsman homes! It looks so clean and classic. The exterior light fixture is Pottery Barn Case Oversized Pendant – $450
Wreath is from Decor Steals, INC.
Porch Tapered Craftsman Columns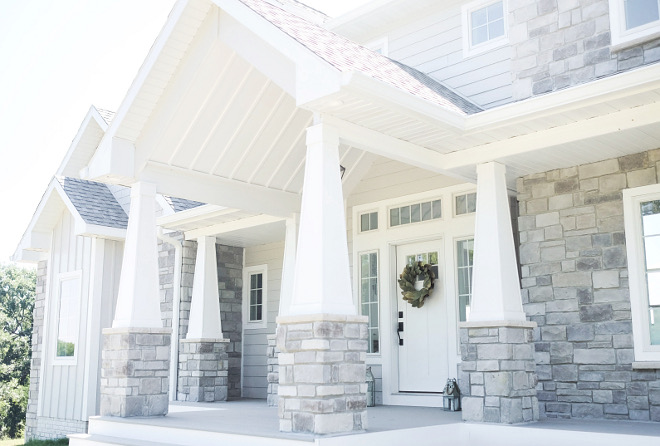 The stunning exterior of this home feature several tapered craftsman columns.
Grey Stone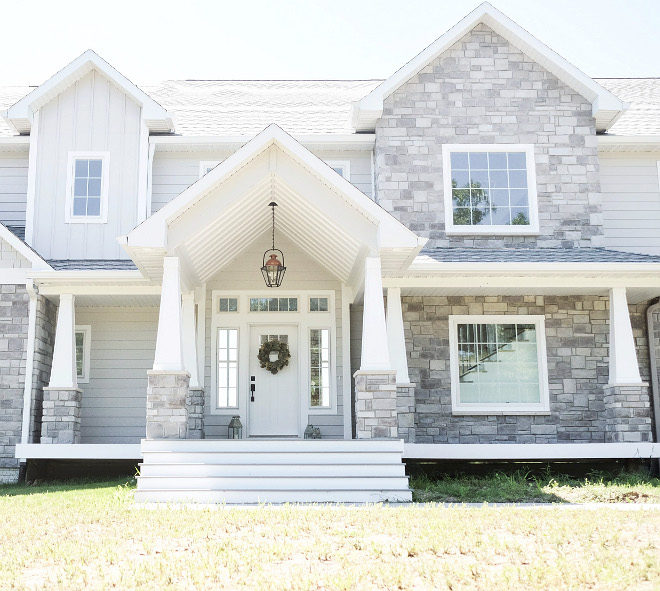 The exterior stone is gray with no stain "Ohio Limestone".
Foyer
The foyer, like the rest of the house, feels bright and uncluttered. Hardwood flooring is from Phillips Floors.
Foyer sconces are from Pottery Barn.
Heart Photo Gallery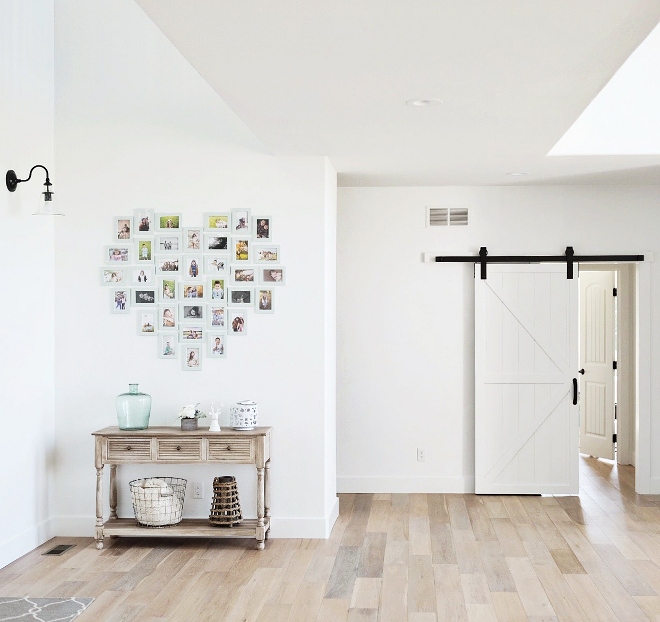 I take a lot of pictures of my kids and family. The idea of creating a heart photo gallery to showcase lots of pictures was perfect!
The heart photo gallery was made with Ikea frames painted in white.
Console Table: Hobby Lobby.
Bright White Paint Color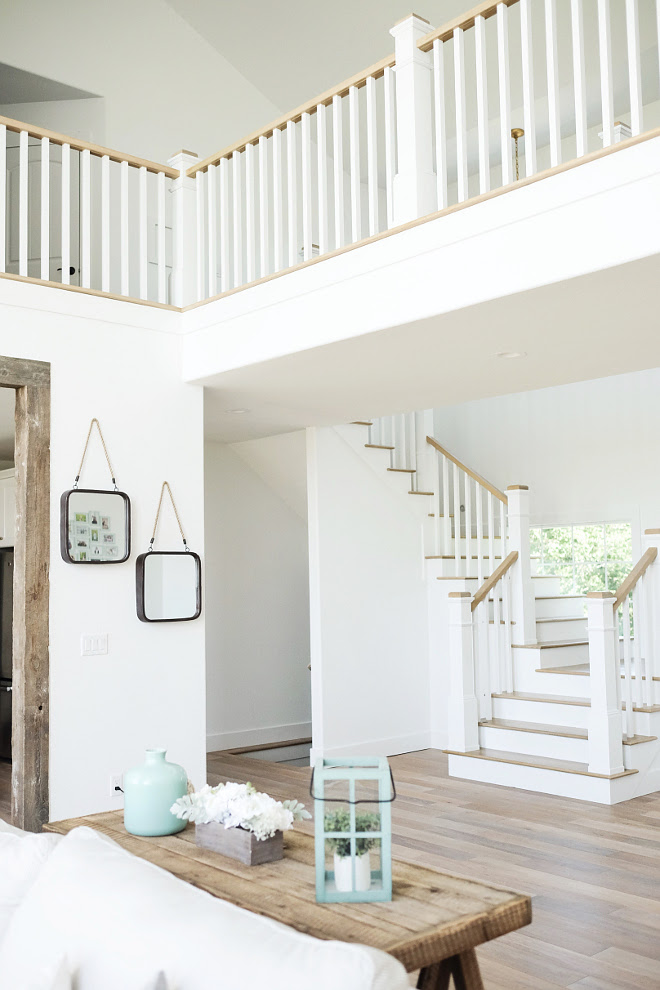 White Interior Paint Color: "Our whole house is pretty much this color – "Sherwin Williams Extra White".
Furniture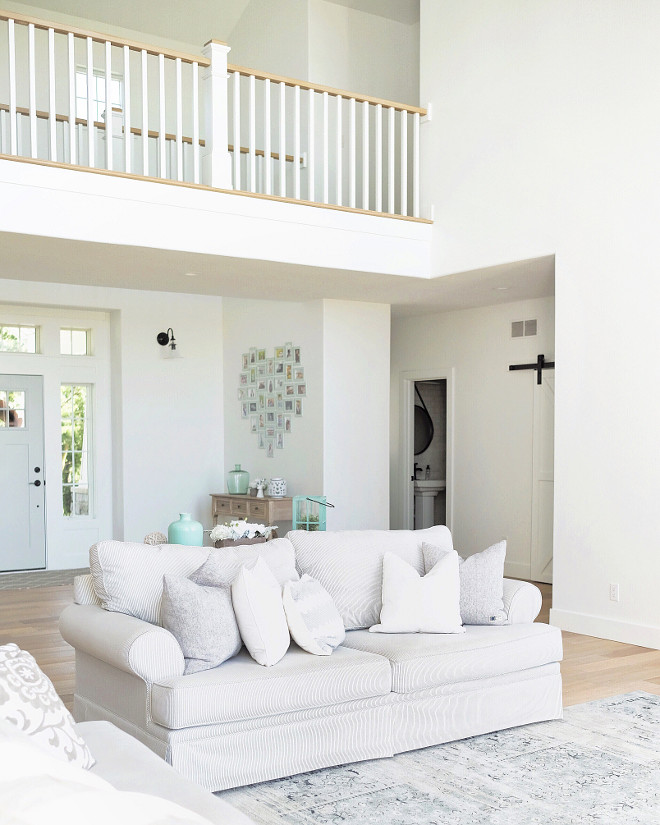 Nina is still looking for the ideal coffee table but she has already found the perfect couches! These are from Homemakers Furniture.
Console Table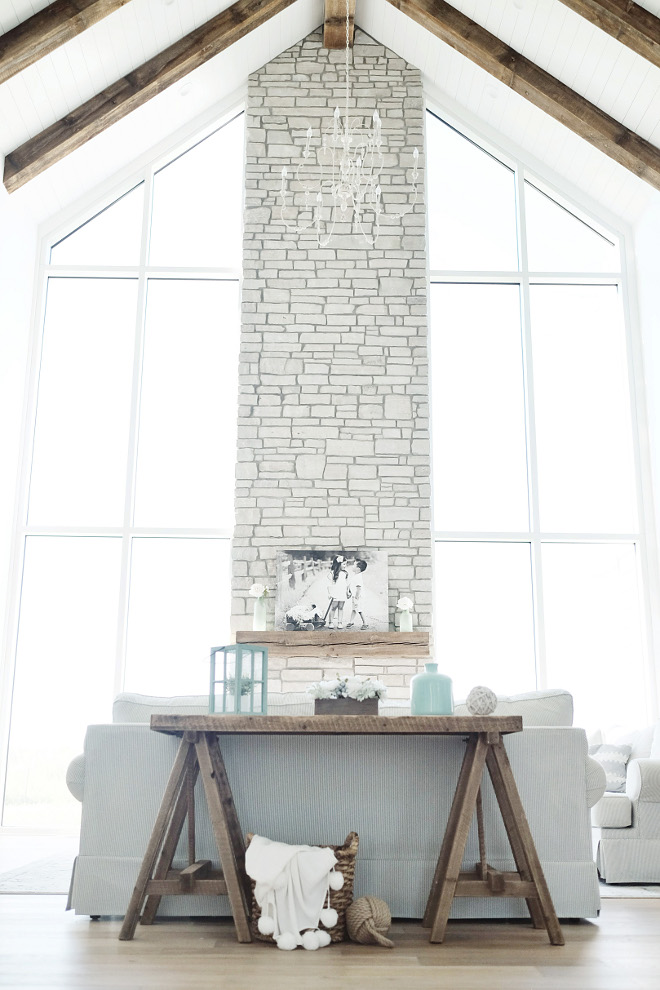 Right when you walk in from the front door, the first thing you see is the back of the couch. I've been looking for a table to put behind the couch and guess where I finally found it?!…While we were on vacation at the Gulf Shores this summer! I don't know how my husband was able to fit it in our suv!
Coastal Farmhouse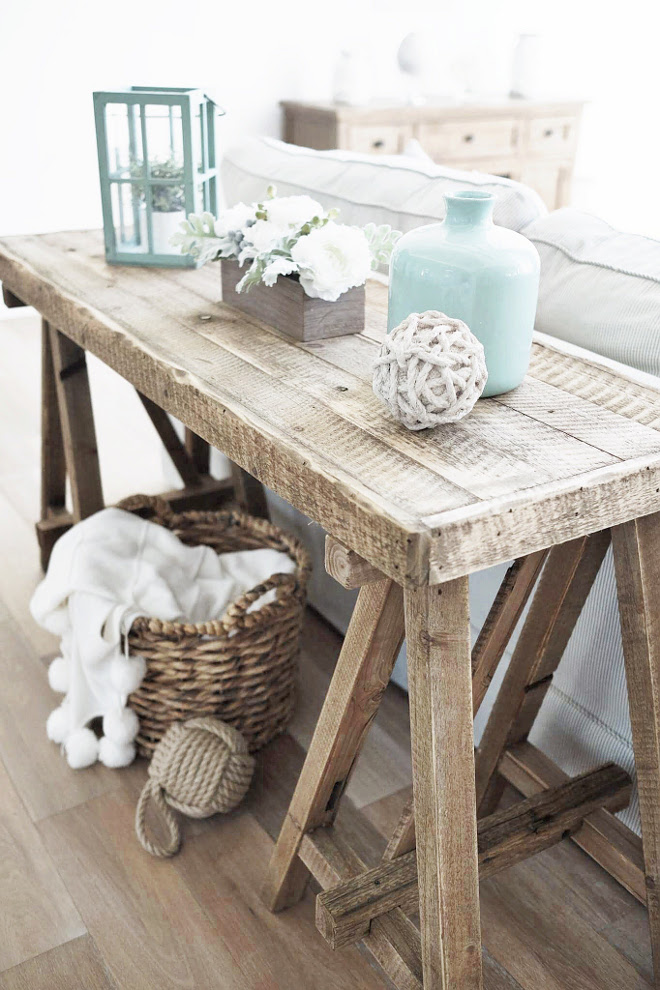 You can have a sofa table even if you don't have floor outlets. Instead of using lamps, add one lantern (or a pair) and a vase. Remember to keep it symmetrical.
Focal Point
We have a huge fireplace and tall windows that we wanted to be the focal point of the house.
The TV console is from HomeGoods.
Rug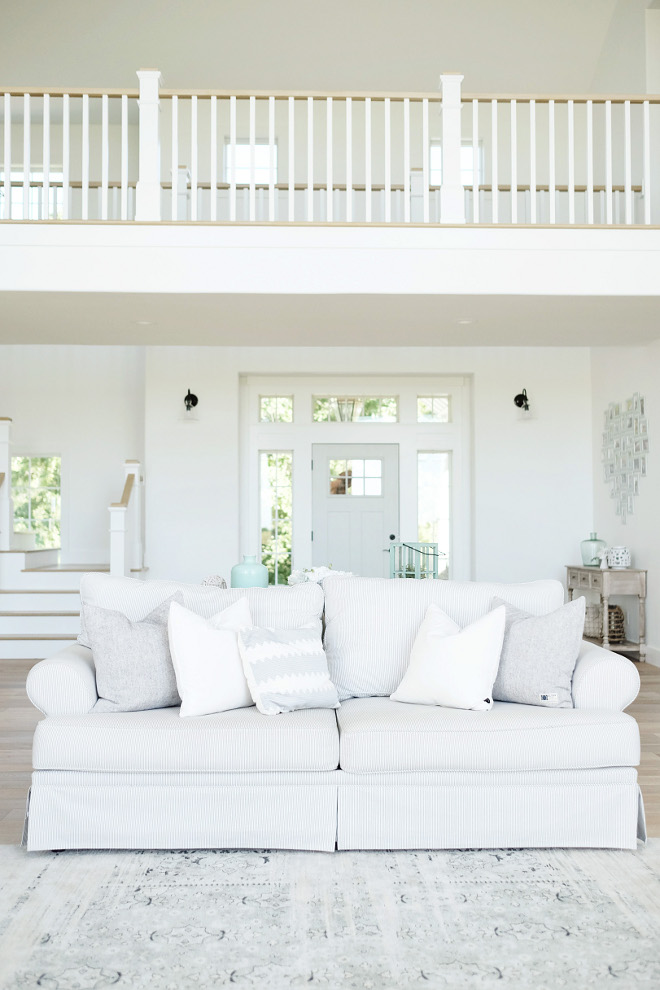 Rug is Rugs USA – ZG08 Vintage Abstract.
Fireplace Stone

The fireplace stone is Fairmont Stone.
Light fixture is Quorum Salento 9-Light 40 1/2″ Wide White Chandelier – $600
Chairs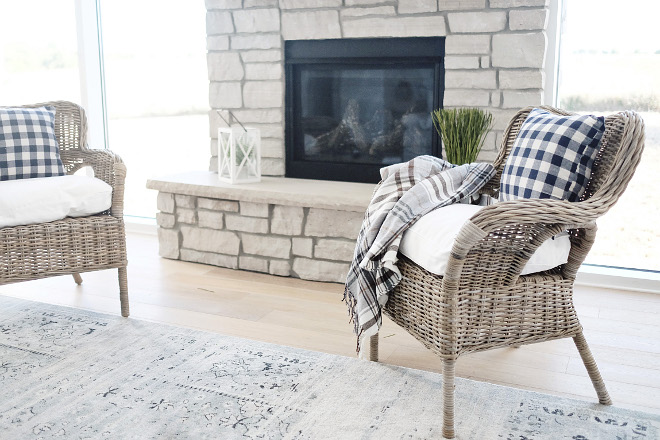 Wicker chairs add some texture and comfort by the stone fireplace.
Ceiling Beams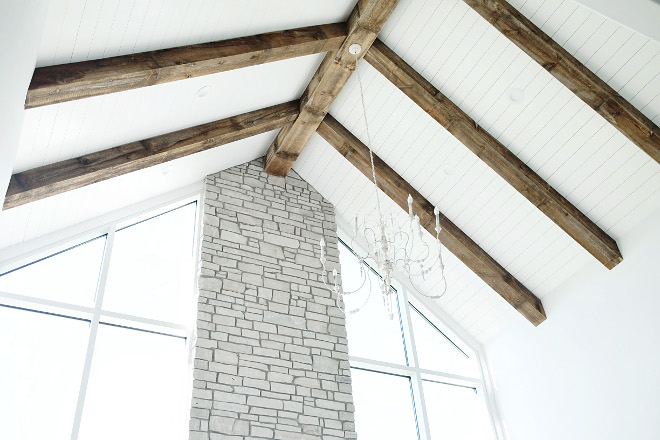 The beams are actually faux beams. Beams can get expensive and heavy, so these are just barn wood that got mitered together.
Rooms
The great room feels connected but isn't completely open to the kitchen.
Beamed Kitchen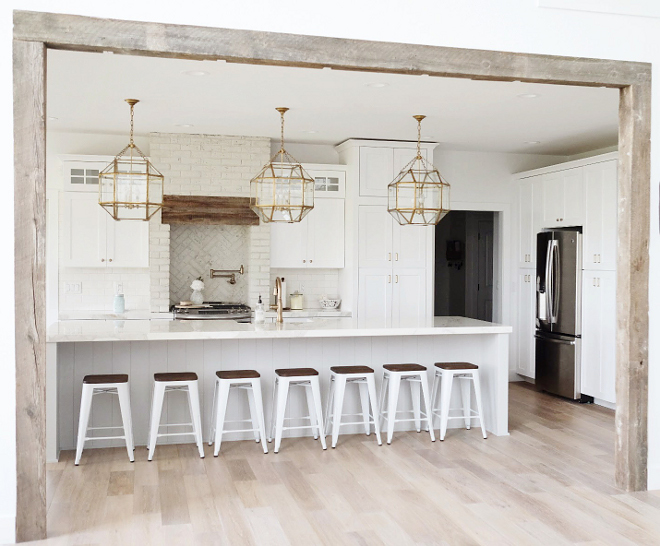 During our design process one of the things I really wanted was to incorporate barn wood. I thought the beams around the entry from the living room to the kitchen would be perfect. I love the look of barn wood, but didn't want it to take over my house. A little goes a long way!
Kitchen Island

Kitchen Island: This is my favorite room in the whole house! One feature I really wanted was a long kitchen island! Ours is 12 ft, and it's the perfect size for my family if we decide to eat there instead of our dining table, for all of kids when my twin sister come over for playdates, and my immediate family during holidays.
A Touch of Farmhouse Style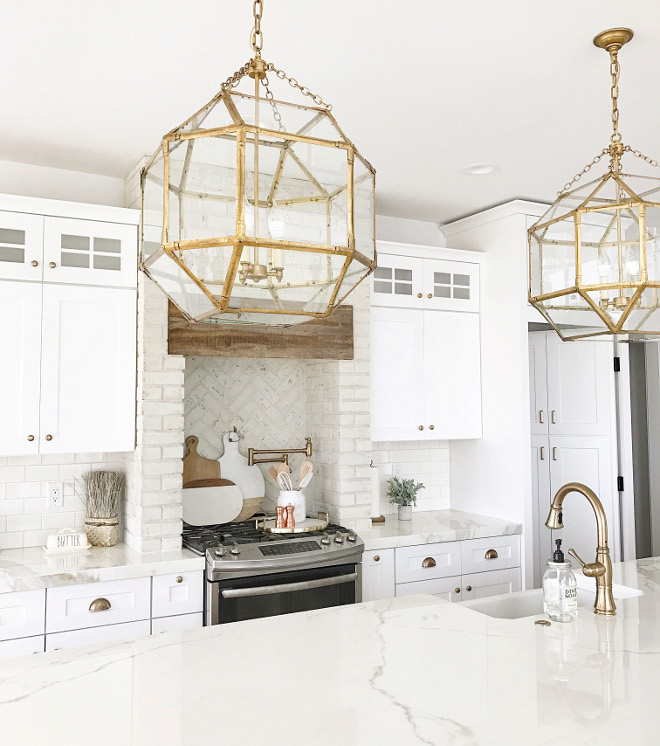 Even though I went with brass for hardware and light fixtures, I still needed that 'country' touch to the kitchen. That being said, we went with brick for the hood and added a piece of barn wood.
Painted Brick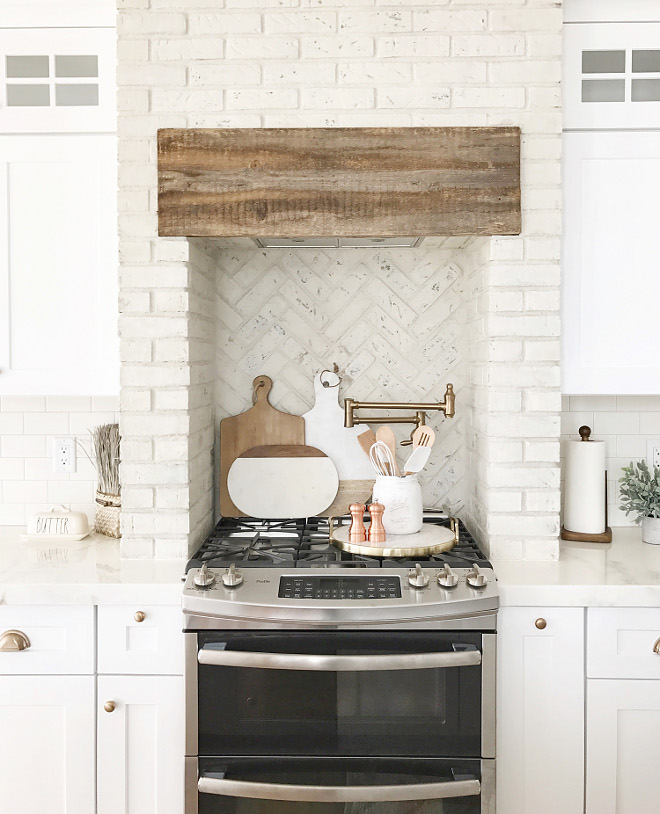 Using distressed painted brick in kitchens is a trend that is here to stay. I love that Nina chose to use the painted brick in a herringbone pattern behind the stove.
Gold & Marble Tray: Target.
Cutting Boards: Target, Hobby Lobby & Homemakers Furniture.
Kitchen Faucet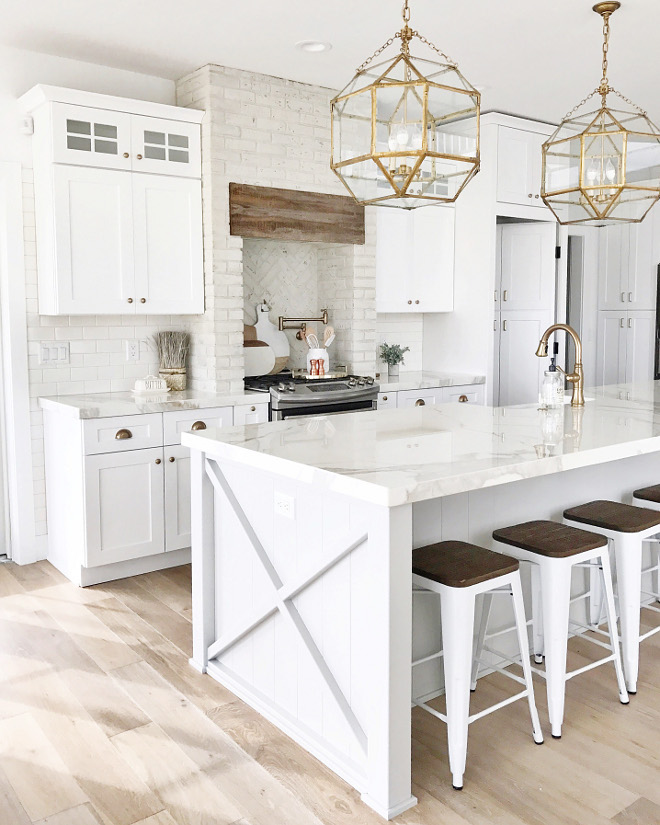 Kitchen faucet is Delta Cassidy Single-Handle Pull-Down Sprayer Kitchen Faucet in Champagne Bronze – $400

Kitchen Lighting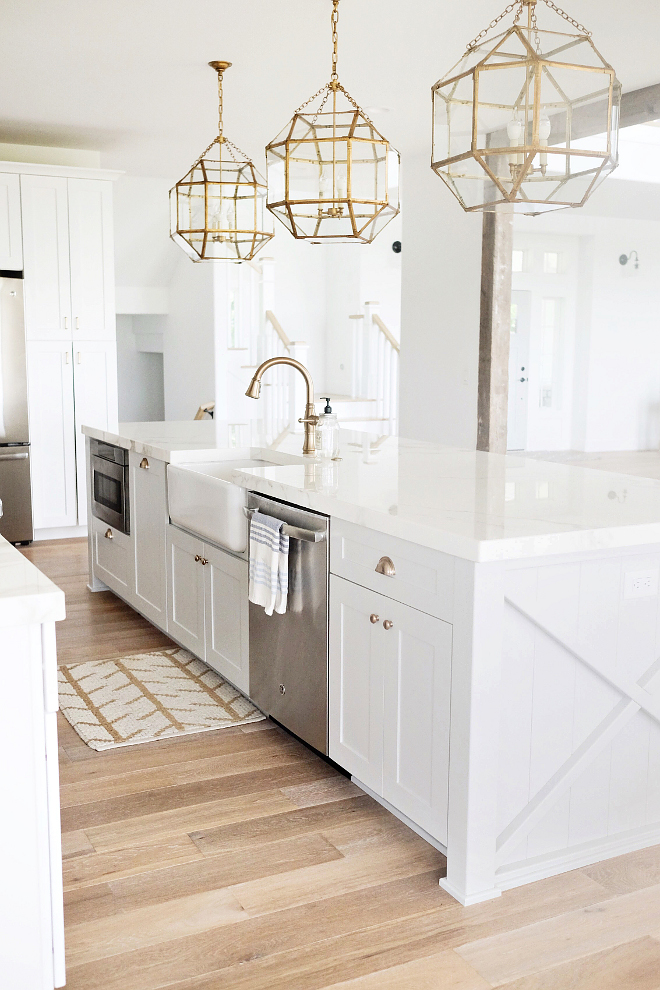 The kitchen lighting is Visual Comfort SK5008GI-CG Suzanne Kasler Morris 3 Light 14 inch Gilded Iron with Wax Foyer Pendant Ceiling Light in Clear Glass – $500 each.
Hardware: Hickory Hardware.
Pantry Door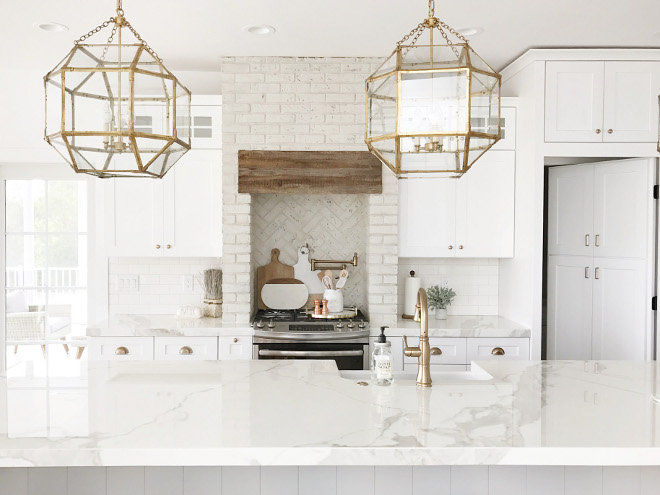 You might notice in this picture that there is a door that looks like cabinets. It's a hidden pantry…
Wake Up and Smell the Coffee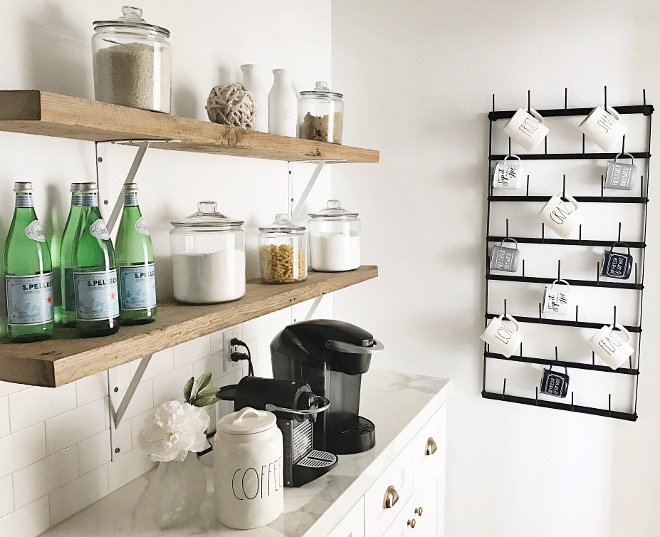 … and right when you open the pantry door, you'll see our coffee station!
Open Shelves
The shelves are actual barn wood.
Hang On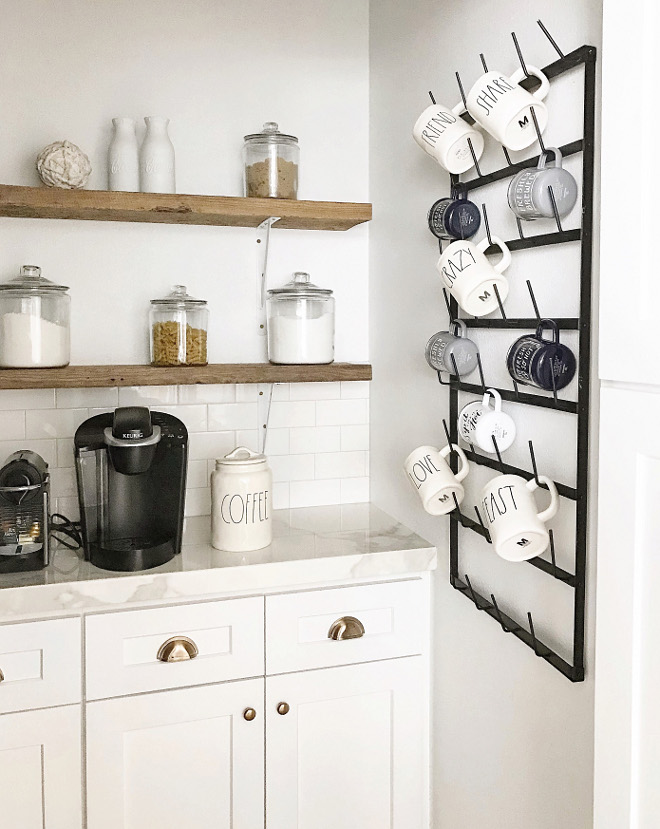 Have I ever mentioned I am obsessed about mugs? The mug rack is from Decor Steals Inc. Mugs are from Target and HomeGoods.
Kitchen Countertop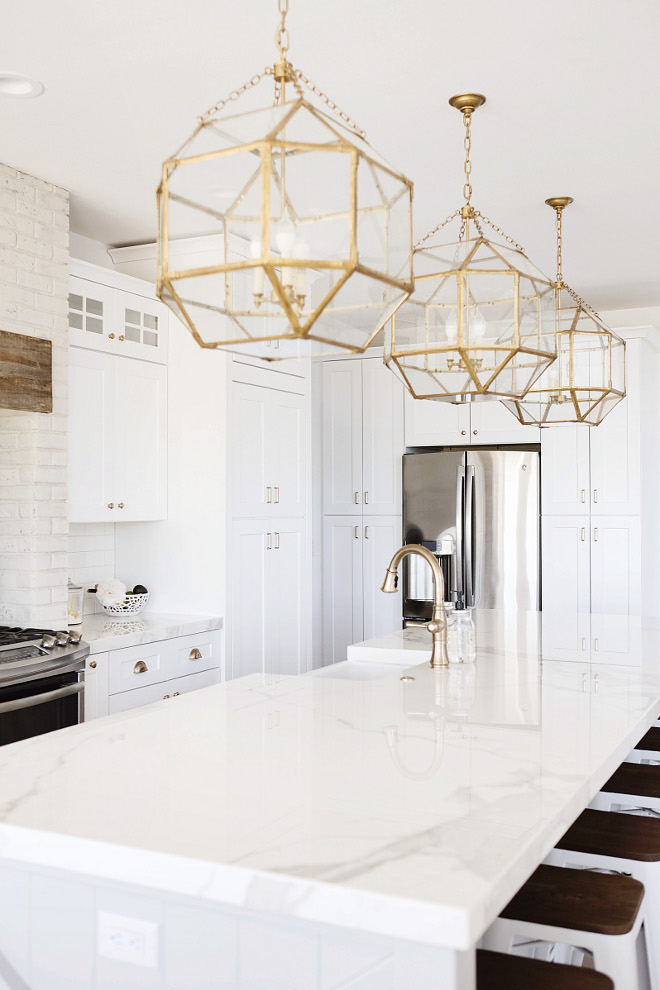 The countertop is Porcelain.
Soft Gray Kitchen Island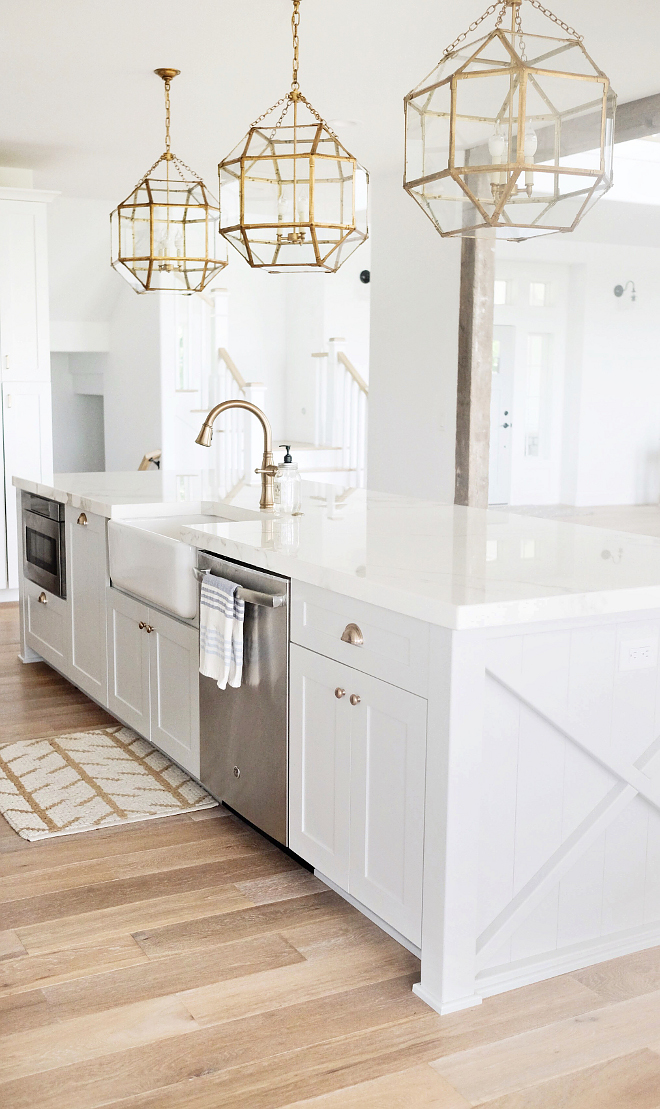 The kitchen island paint color is Light French Gray SW 0055 by Sherwin-Williams.
Counterstools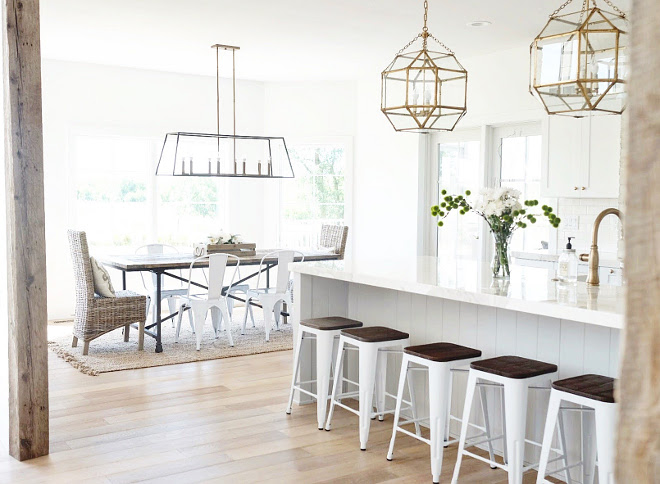 One thing that I love about this new series, Beautiful Homes of Instagram, is seeing where the homeowners are saving and splurging these days… The counterstools shown here are from Target.
Dining Room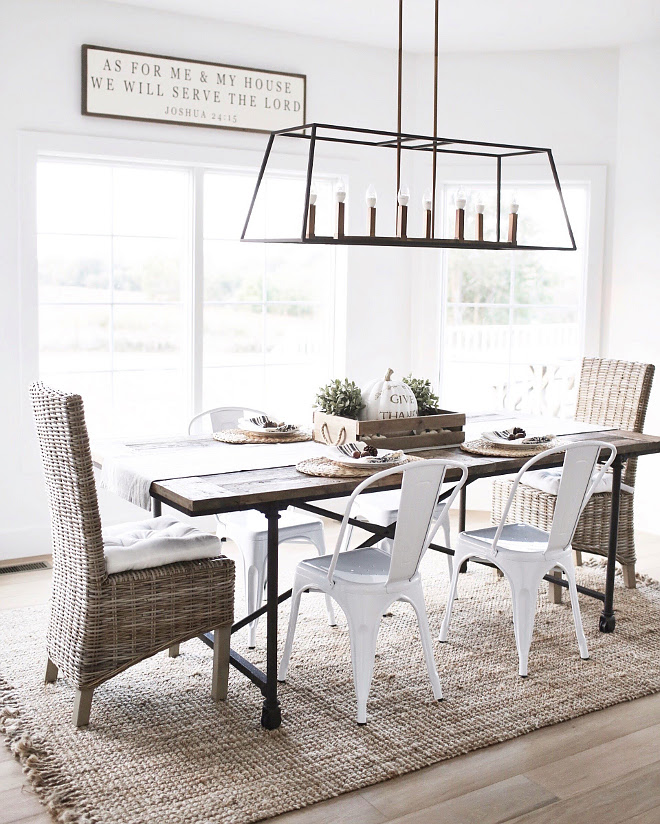 Dining room: I didn't want a separate "formal" dining space since an office was more important for us. All I wanted was a dining area by the kitchen where the tv was no where to be seen! I just had to get a few wicker chairs for my dining table. I love the look of wicker…especially when it has that white washed look!
Sign: Between You and Me Signs.
Dining Room Rug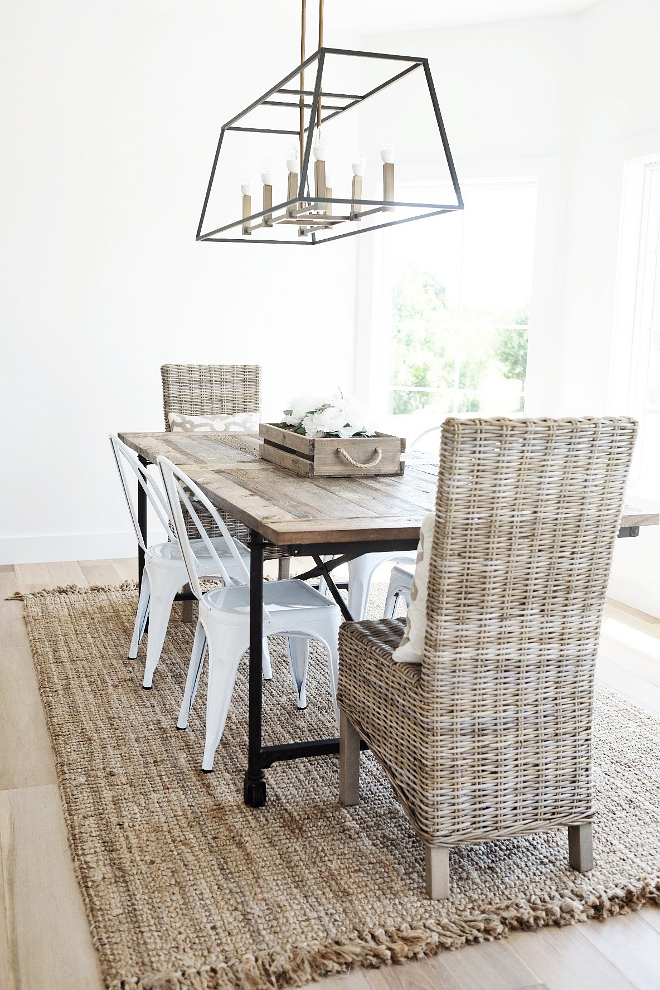 The jute rug is Maui Chunky Loop Rug from Rugs USA – Color: Natural.
Table: Restoration Hardware Flatiron Table.
The wicker chairs are Safavieh from Overstock.
White Chairs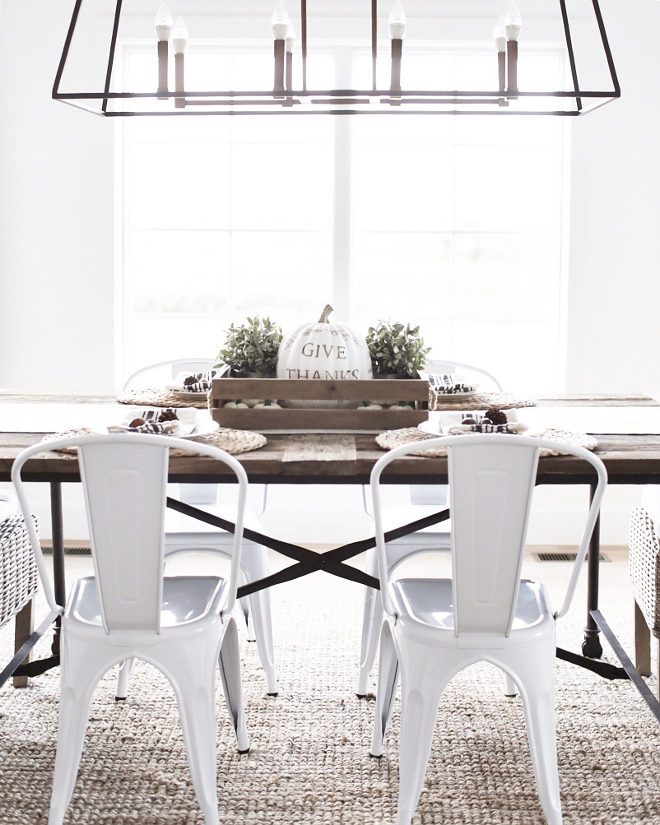 The Tolix style white chairs are from Walmart.
Linear Lighting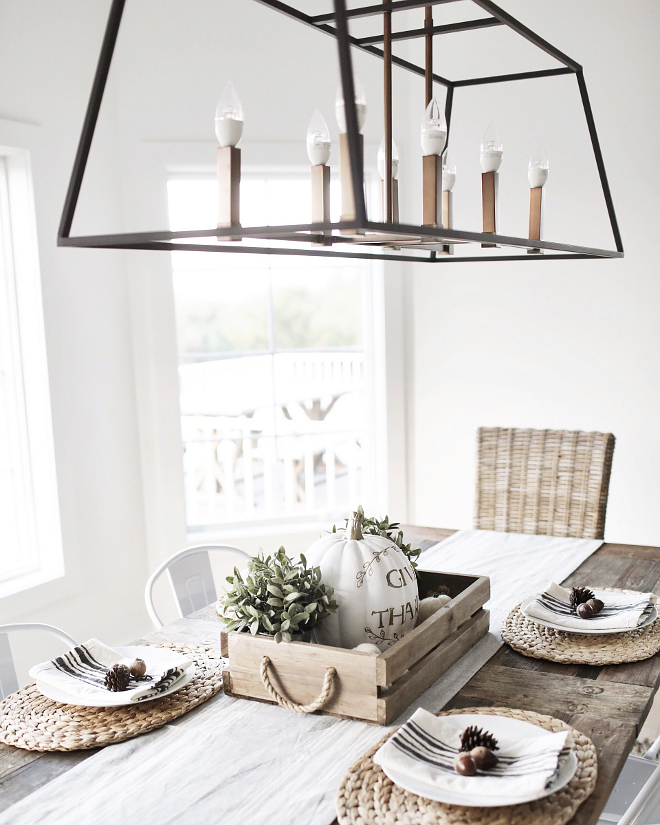 The linear lighting is Hinkley Lighting 3338DZ, Fulton Foyer Chandelier, Aged Zinc – $800
Powder Room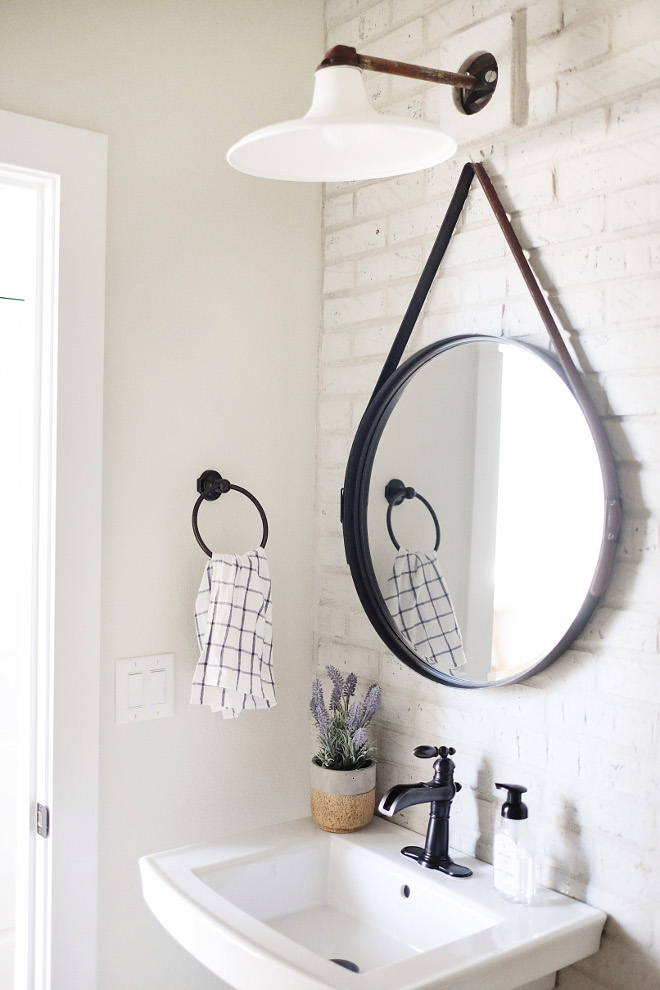 Powder room: We have two powder rooms on the main level. The barn lights are from an actual barn. The paint color is Benjamin Moore Classic Gray.
Mudroom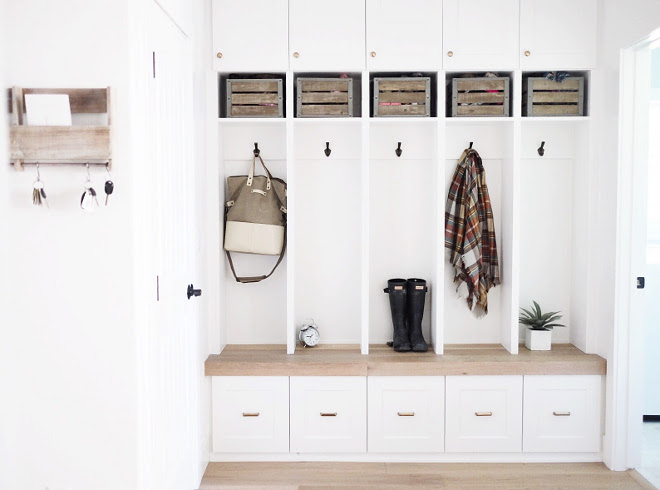 Farmhouse Mudroom: We had these wooden crates in our lockers at the old house, and I knew I wanted to use them again for the new house. I love them that much. 😉 The lockers were pretty much made to fit these crates in the them.
wooden shelf with hooks – target
calendar and wall art – hobby lobby
Wooden Crates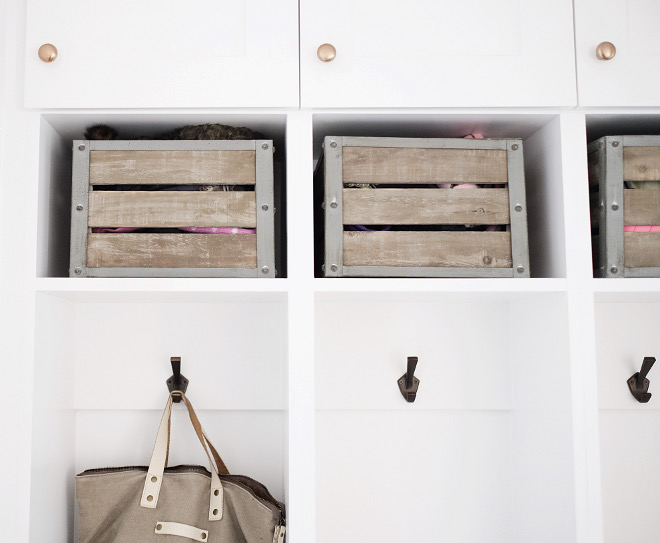 The wooden crates are World Market's Sebastian Crates.
Creative Bench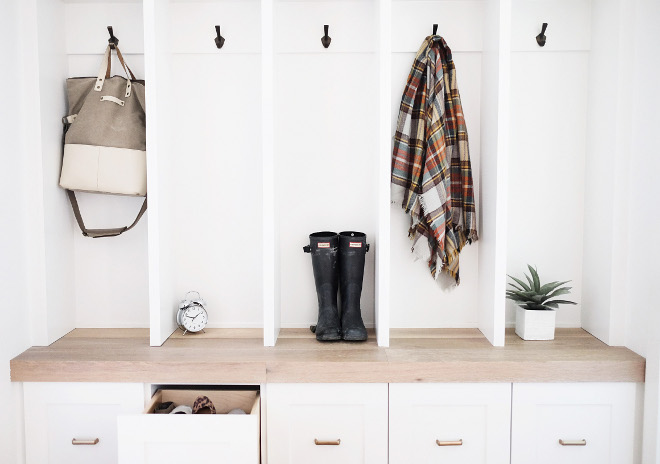 Our carpenters used our hardwood flooring to make the bench for the lockers. It turned out wonderful!
A 'must' for our lockers were drawers for our shoes. At our old house it was just an open cubby, and our shoes always looked like a big cluster mess! Our shoes is still a big cluster mess, but at least this time it's hidden.
Farmhouse Calendar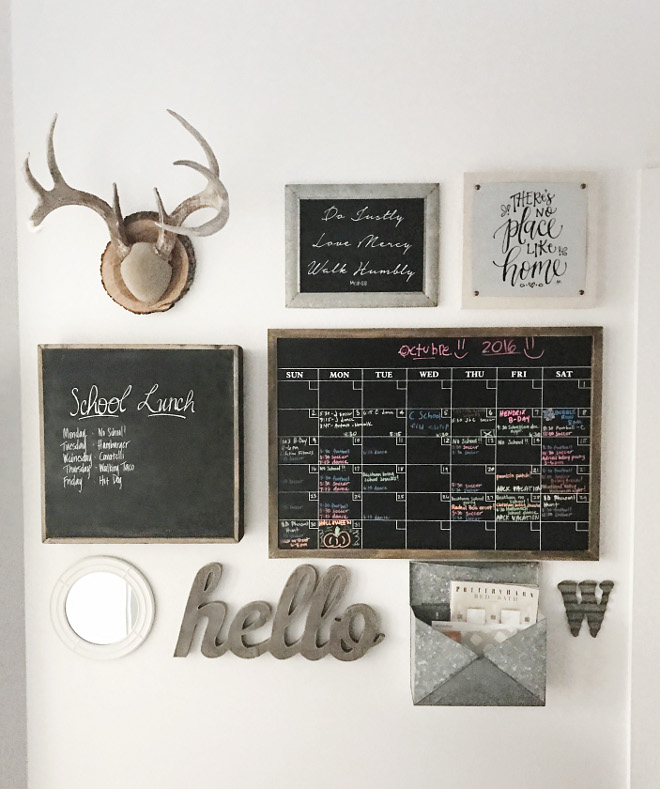 We are so busy with school activities, sports, birthday parties, doctor's appointments, and other random stuff, that a calendar was much needed. I decided to make a wall collage to give it that rustic farmhouse feel.
Square Chalkboard & Mail Holder: Homemaker's.
Laundry Room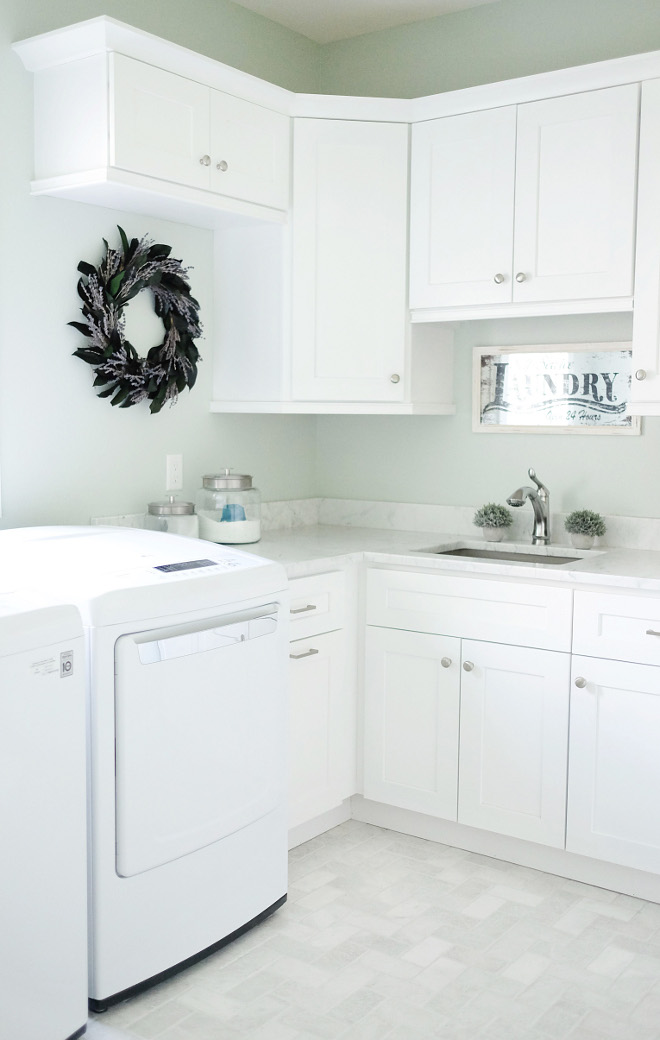 Laundry Room: My whole house doesn't have much color because I love neutrals, but my laundry room needed to have color. I spend a lot of time in there… I practically live in there! Paint color is Sea Salt SW 6204 by Sherwin-Williams.
Wreath: Target.
Tile: The Tile Shop.
Trim & Wall Paint Color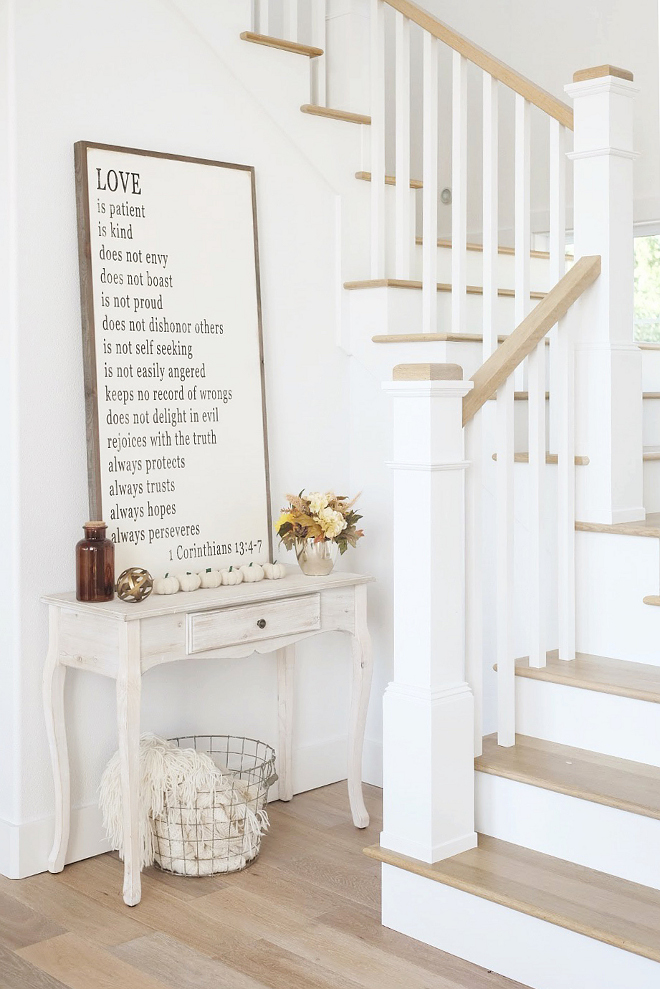 "Love is" art is from Between You & Me Signs on Etsy. Paint color is Sherwin Williams Extra White.
Kids Workstation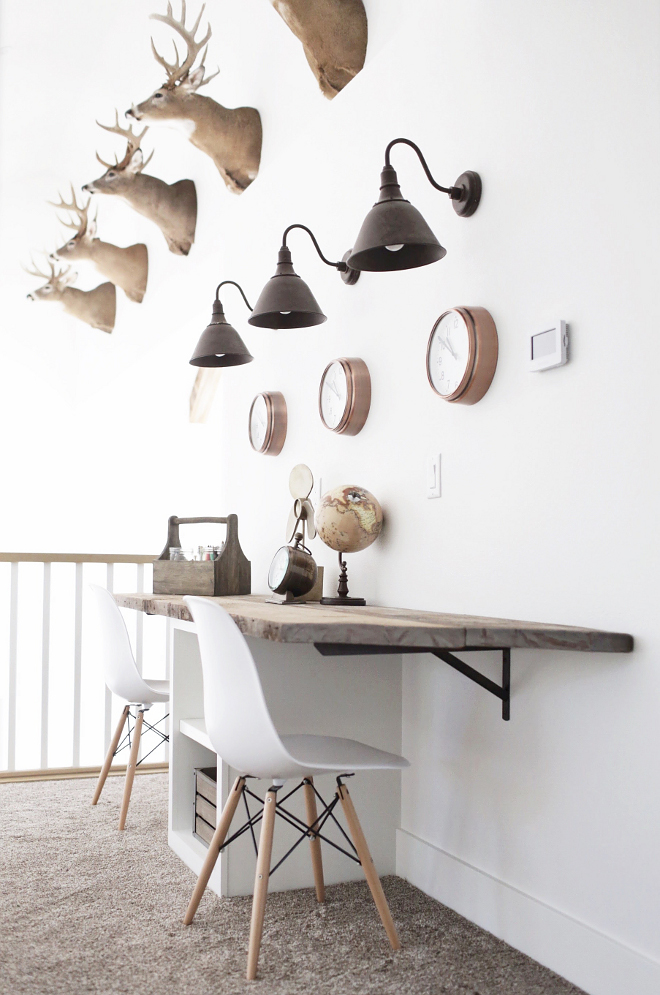 Kids Workstation: We weren't planning on having anything like this on this wall, but it was a last minute "let's have a work station for the kids" idea during the middle of building. I'm so glad we went with it! The carpenters built the shelves and used actual barn wood for the top.
Between Words & Numbers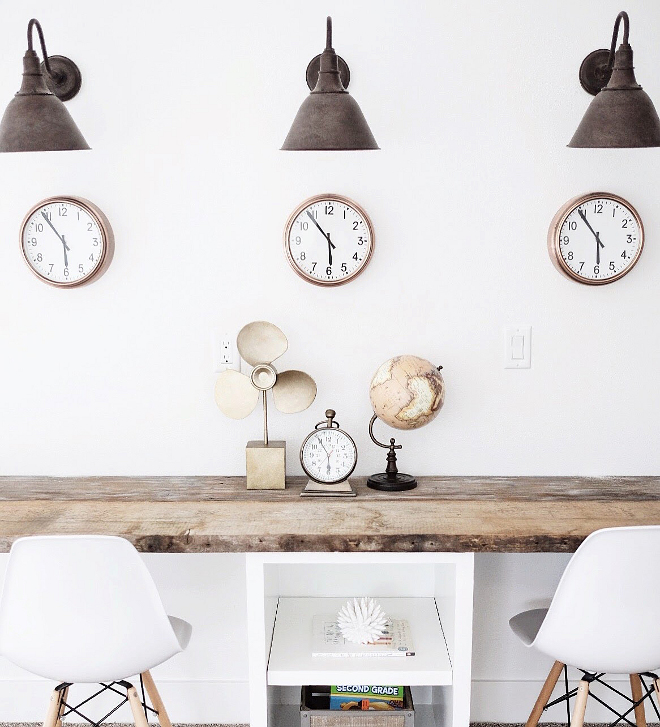 Lights are Restoration Hardware – Vintage French Farmhouse Sconce.
Chairs are from Walmart.
Clocks: Target.
Wooden Crate: World Market.
Little Girl's Bedroom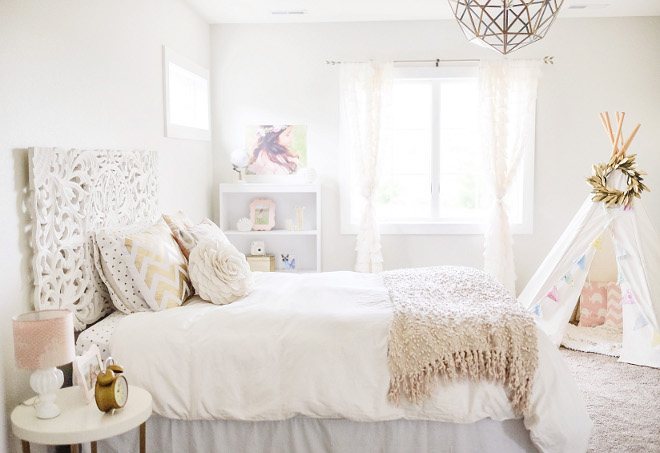 Johannah's Bedroom: I wasn't really going for the boho chic look for her room, but it just kinda happened! I wish this was my room!
The curtains are Urban Outfitters Waterfall Curtains.
Teepee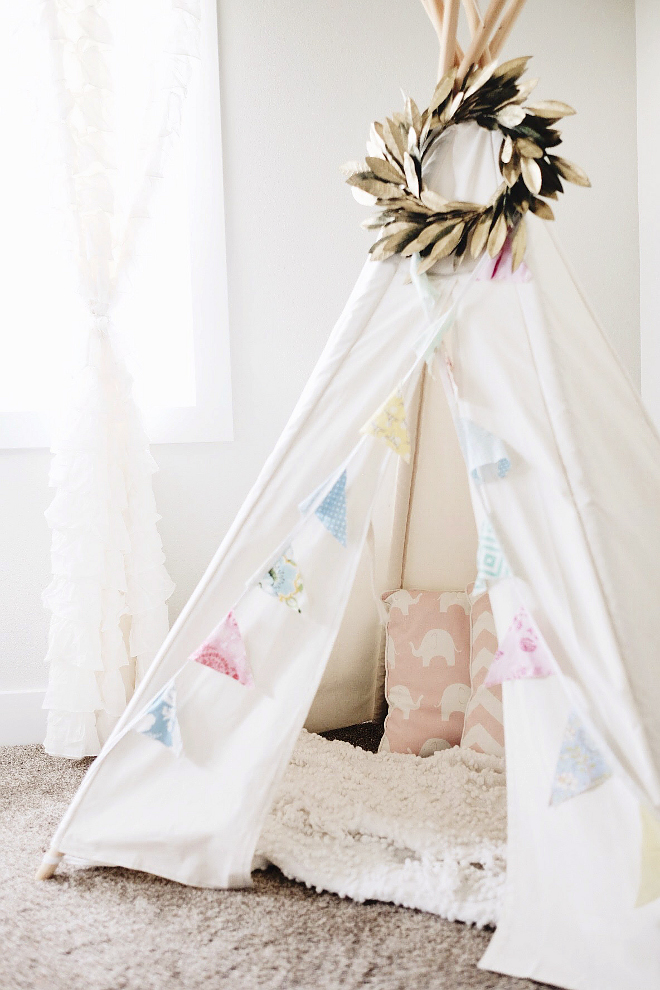 The teepee is from Amazon.
Paint Color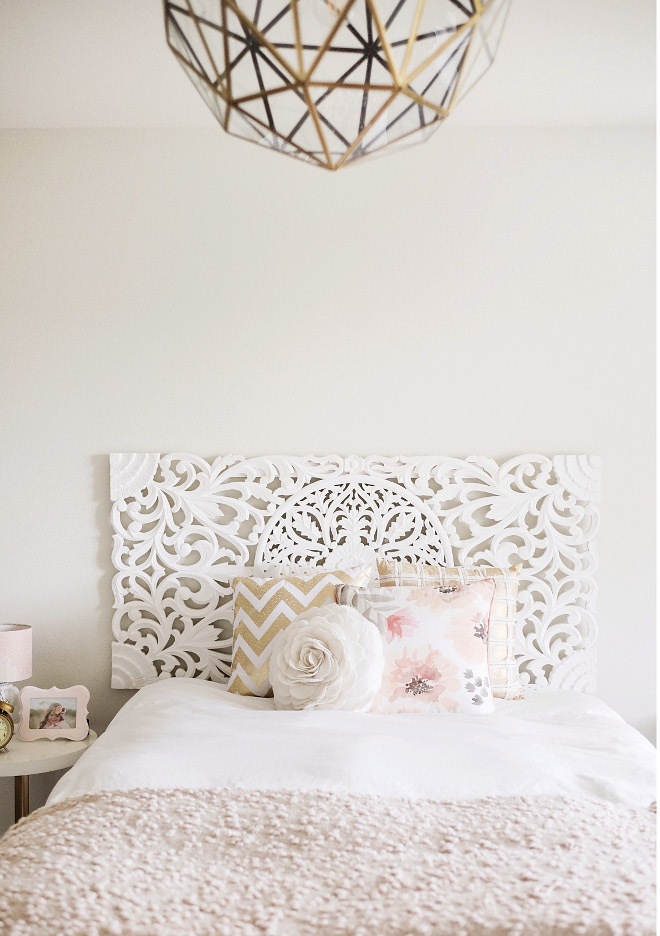 Paint color is Benjamin Moore OC-23 Classic Gray.
Headboard is Urban Outfitters Sienna Headboard.
Light Fixture: PB Kids.
Table: Target.
Boy's Bedroom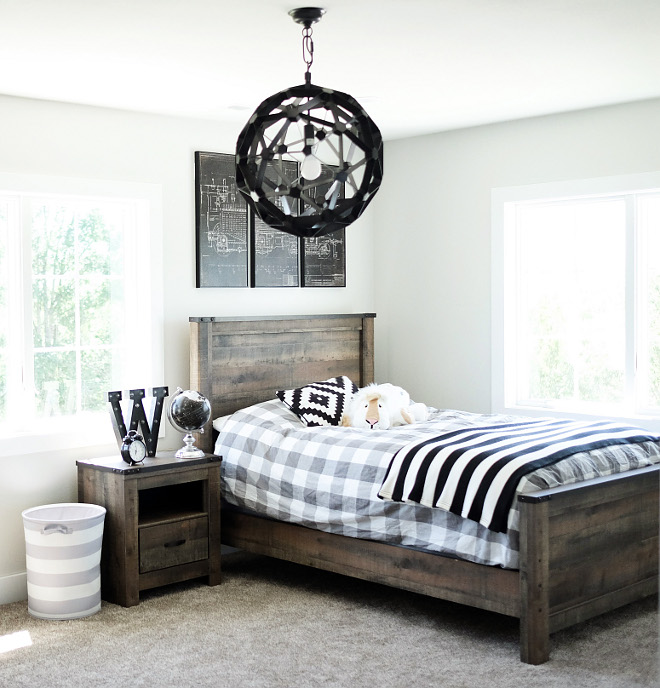 Since I have 3 boys, I wanted each of the bedroom to have different themes/styles. The paint color here is Behr Silver Drop.

Beckham's Bedroom: For this room, I wanted to do mostly black and white with touches of wood tones. The light fixture is from RH Teen.
Bedroom Decor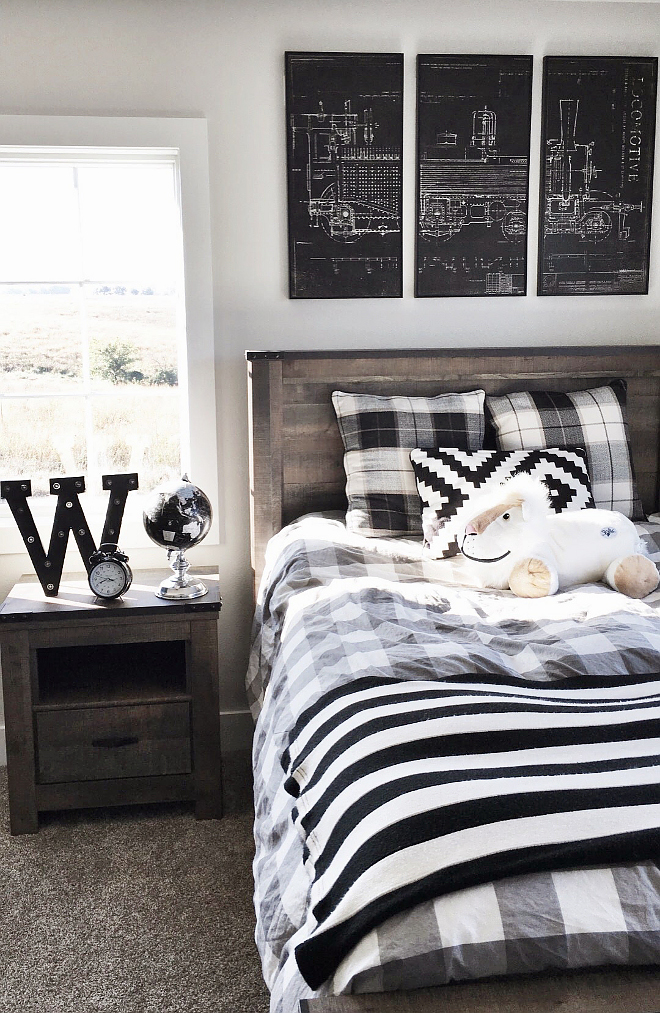 Bedroom Furniture Set: Slumberland.
Train Wall Art: World Market.
Farmhouse Kids Bathroom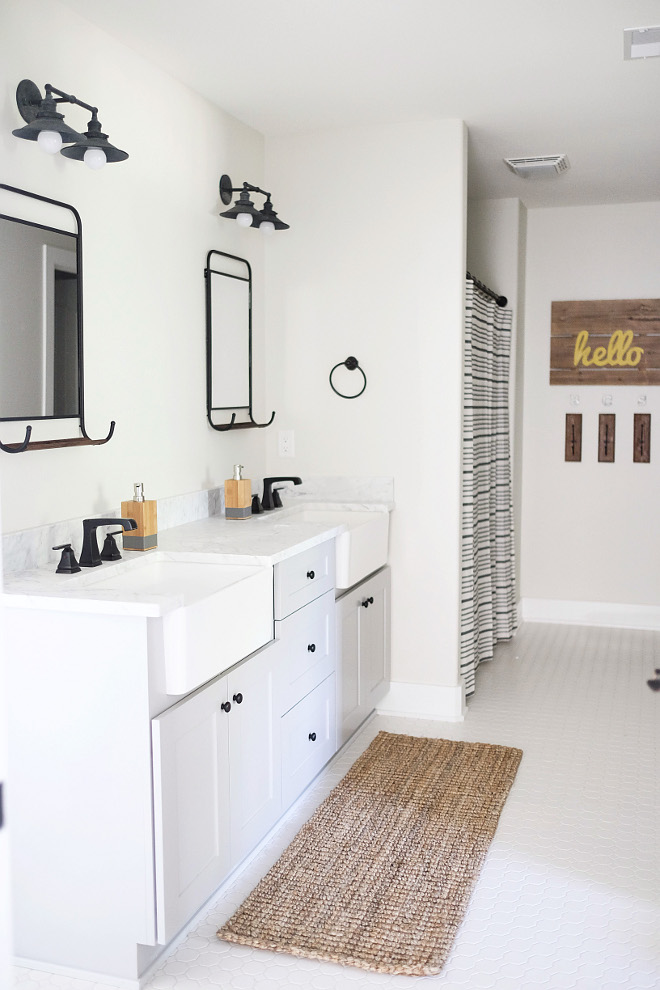 Farmhouse Kids Bathroom: I love how their bathroom turned out! I was trying to go for rustic modern, and it all came together perfectly. The paint color is Benjamin Moore Classic Gray.
Mirrors: Target.
"Hello" sign: Hobby Lobby.
Towel Hooks, Bath accessories & Shower Curtain: Target.
Rug: HomeGoods.
Spider-Man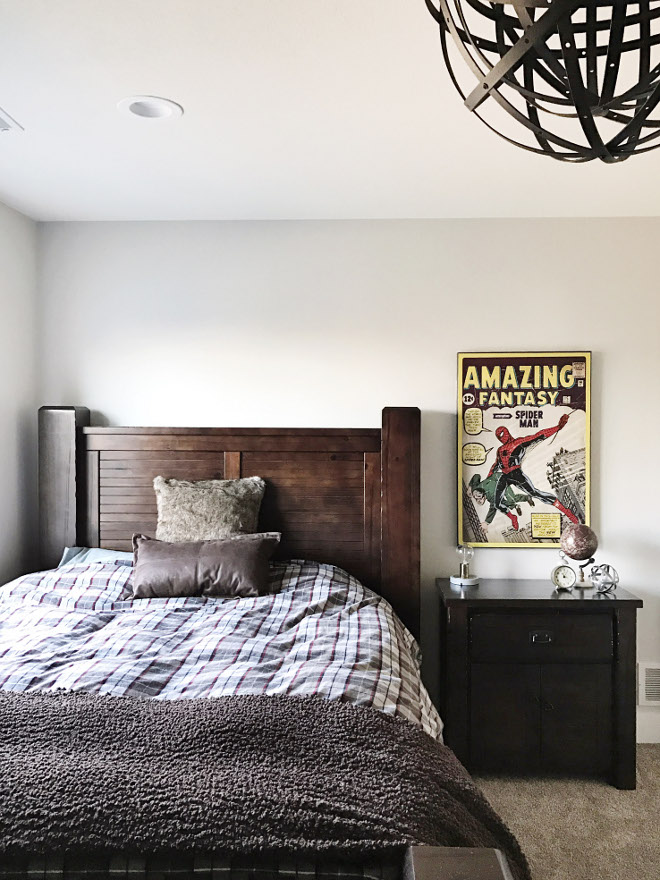 Christian's Bedroom: For this room, I wanted it to be more rustic with more browns, grays, and accents of maroon/red. Spider-man Wall Art is from Hobby Lobby.

Bedroom Furniture Set: Slumberland.
Light Fixture: RH Baby & Child.
Flannel Comforter: RH Baby & Child.
Paint Color: Behr Silver Drop.
Nursery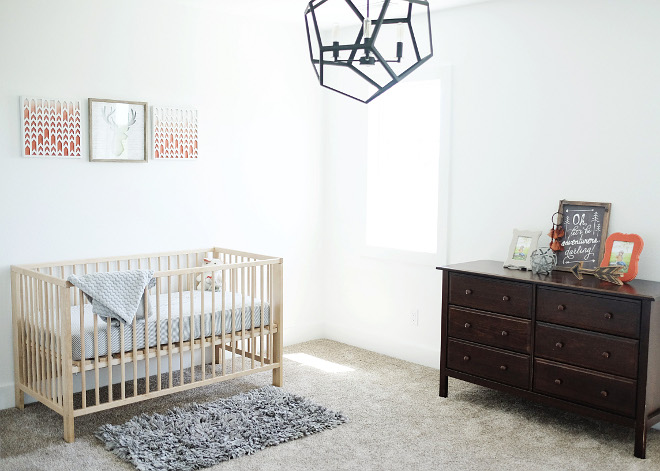 Sebastian's Bedroom: For this room, I wanted it to be more outdoorsy with different tones of brown, a few gray tones, and accents of orange. Paint color is Sherwin Williams Extra White.

Crib is Ikea and the light fixture is RH Baby & Child.
Master Bathroom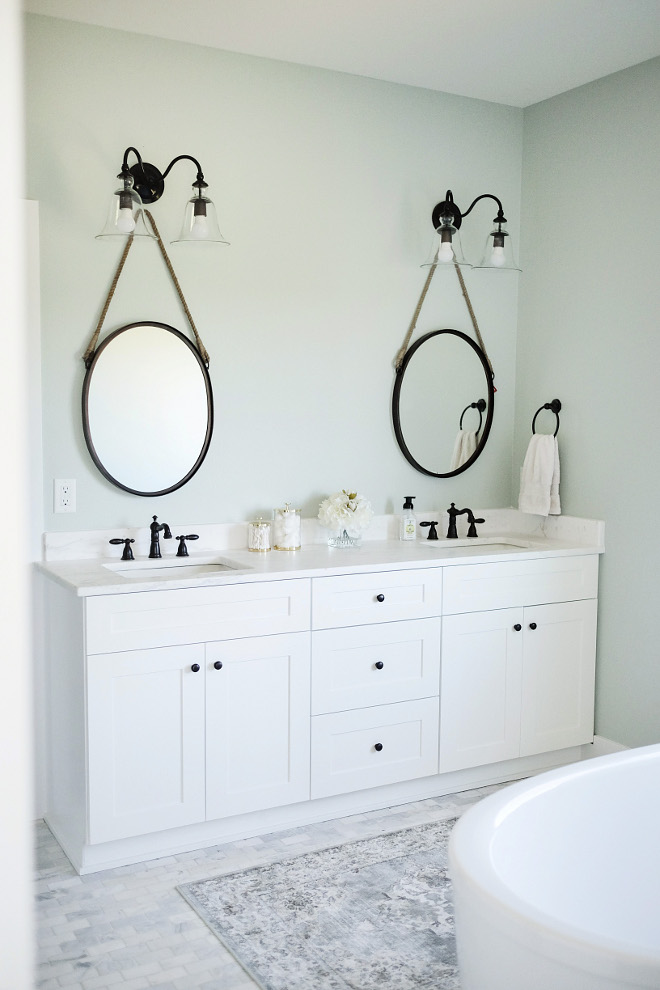 I like how this entire room feels calm but it still hold some strong elements. Rug is from HomeGoods and the floor tile is "The Tile Shop".
Mirrors: World Market.
Gold Bath Accessories: Target.
Light Fixture: Pottery Barn's Rustic Glass Double Sconce.
Bathroom Paint Color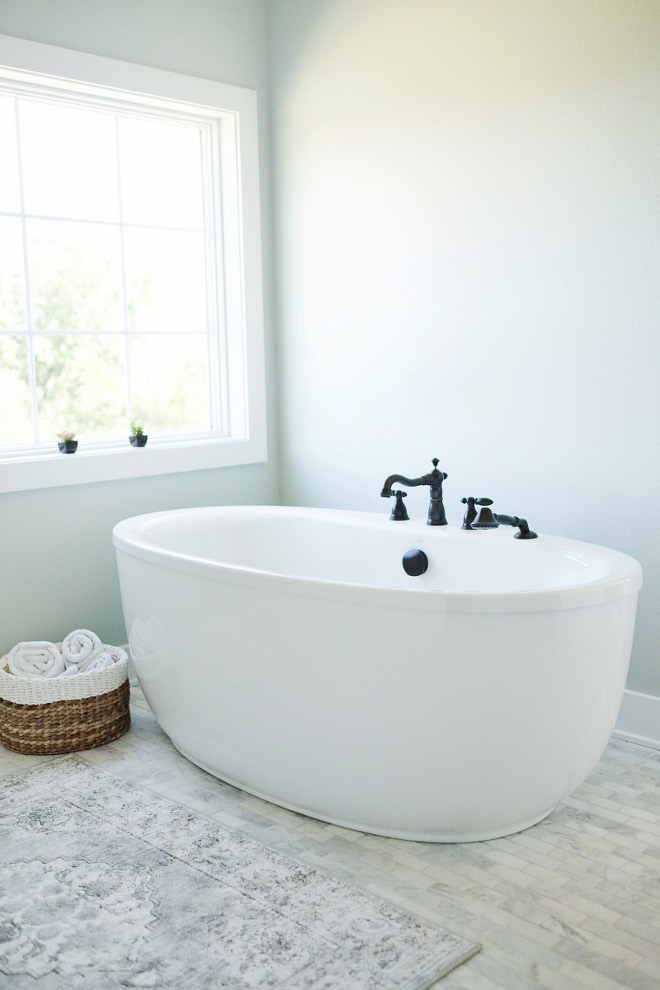 Master Bathroom: I told my husband that I needed a free standing. I had to have it. Guess what? I haven't used it yet and we've been in the house for 8 months. Whoops! My kids use it a lot! The wall paint color is "Sherwin Williams Sea Salt".

Basket: Target.
Master Bedroom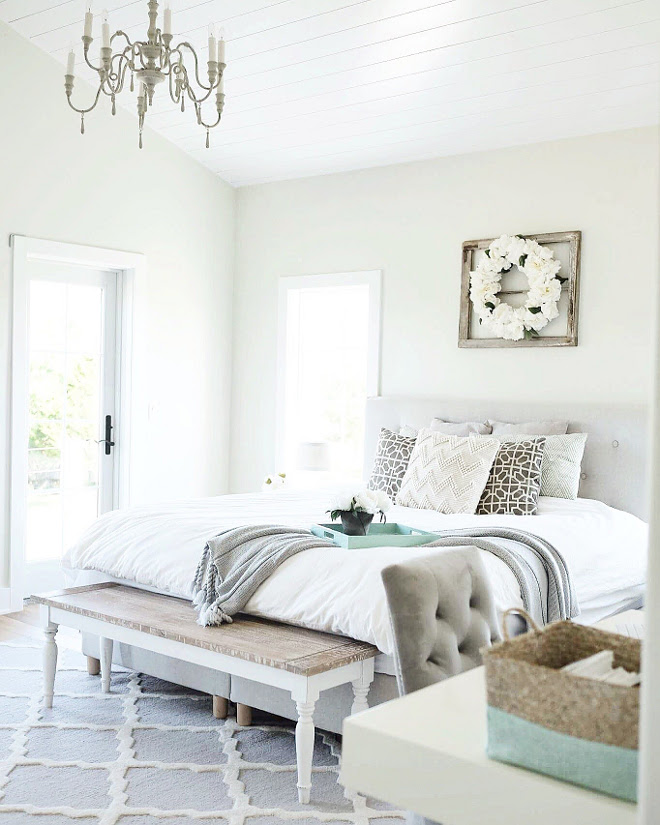 Master Bedroom: I wanted our bedroom to be calming and relaxing, so I went with a lot of whites and soft colors.
Wreath is from Target. The wooden window frame is from an actual barn (behind wreath).
Rug: Homespun Moroccan Trellis Rug from USA Rugs.
Bench: HomeGoods.
Bed: IKEA.
Nightstand Decor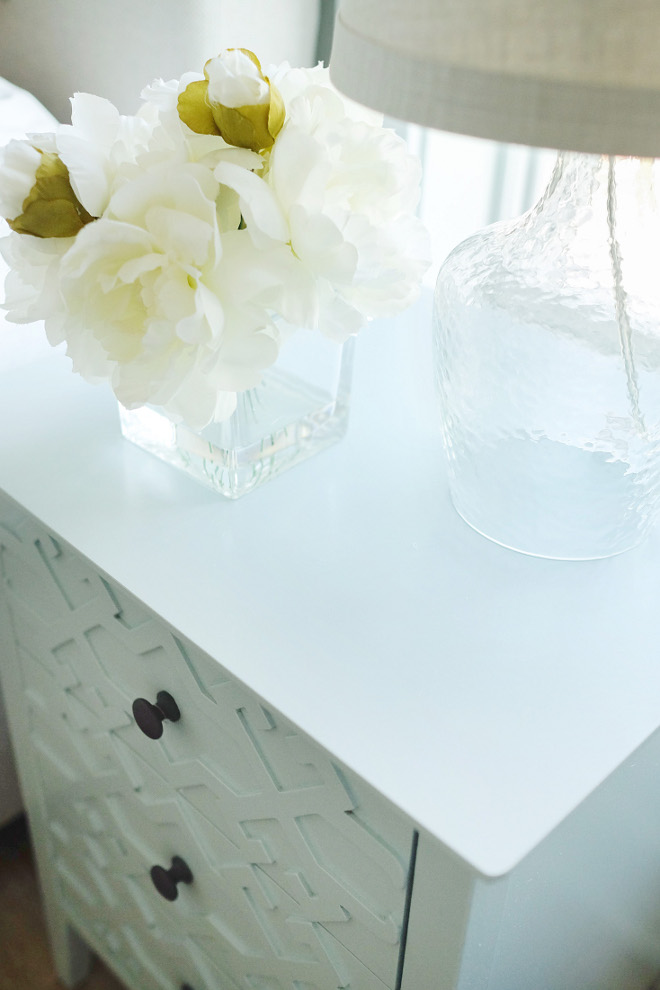 The nightstand and lamp is from Target.
Bedroom Paint Color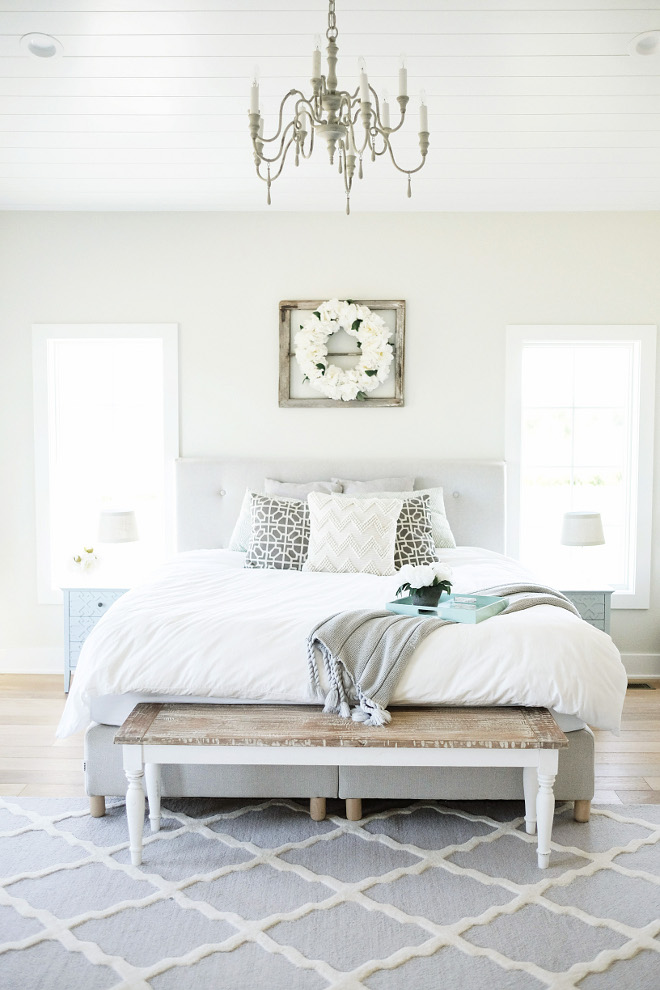 The paint color is Classic Gray by Benjamin Moore.
Light fixture is RH Baby & Child Lutèce Chandelier – Oatmeal – $340
Exterior Paint Color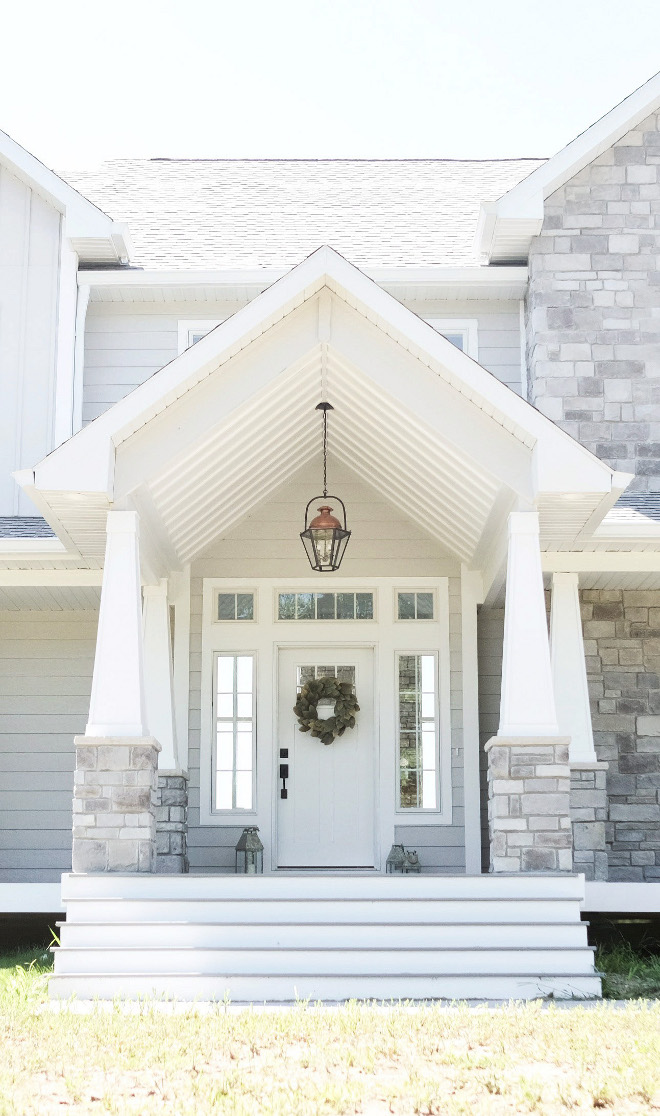 The home exterior paint color is Diamond Vogel Place of Dust – 0539.
Make sure to follow Nina from @ninaandcecilia on Instagram to see more photos of her beautiful home!
Click on items to shop:
Best Sales of the Month:

Thank you for shopping through Home Bunch. I would be happy to assist you if you have any questions or are looking for something in particular. Feel free to contact me and always make sure to check dimensions before ordering. Happy shopping!
Serena & Lily: Pillow & Throw Sale!
Wayfair: Up to 75% OFF on Furniture and Decor!!!
Joss & Main: Up to 70% off Sale!
Pottery Barn: Bedroom Event Slale plus free shipping. Use code: FREESHIP.
One Kings Lane: Buy More Save More Sale.
West Elm: 20% Off your entire purchase + free shipping. Use code: FRIENDS
Anthropologie: 20% off on Everything + Free Shipping!
Nordstrom: Sale – Incredible Prices!!!
Posts of the Week: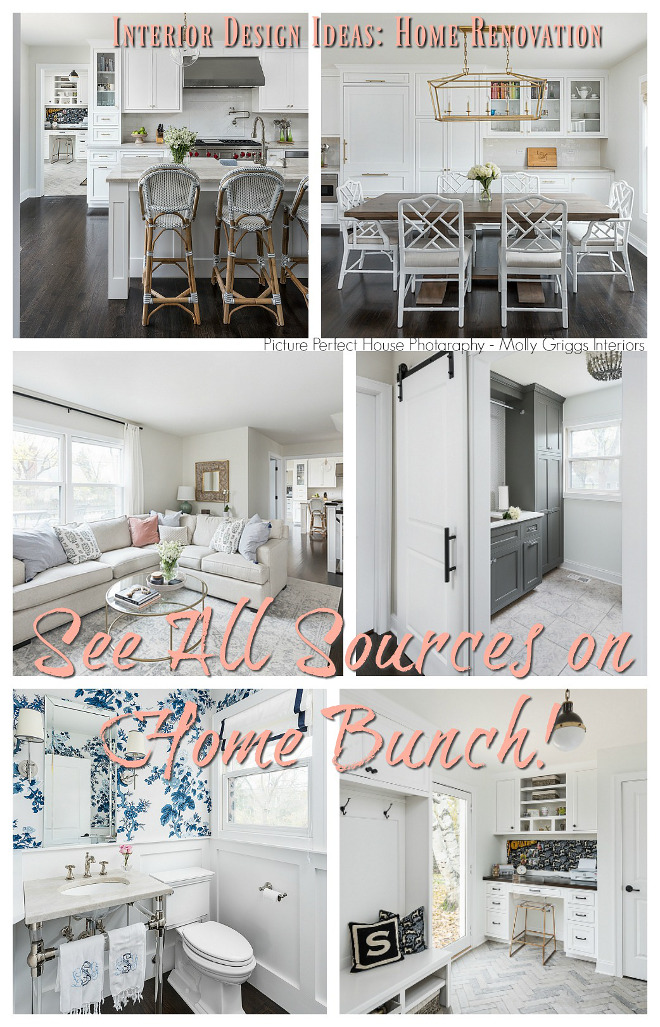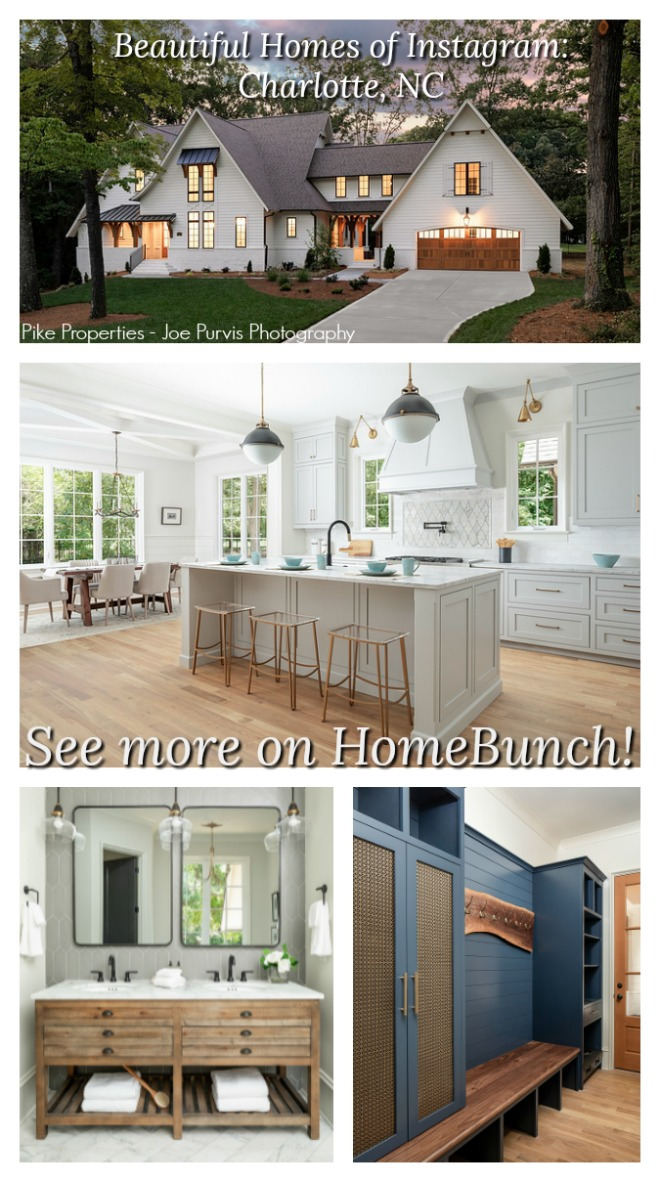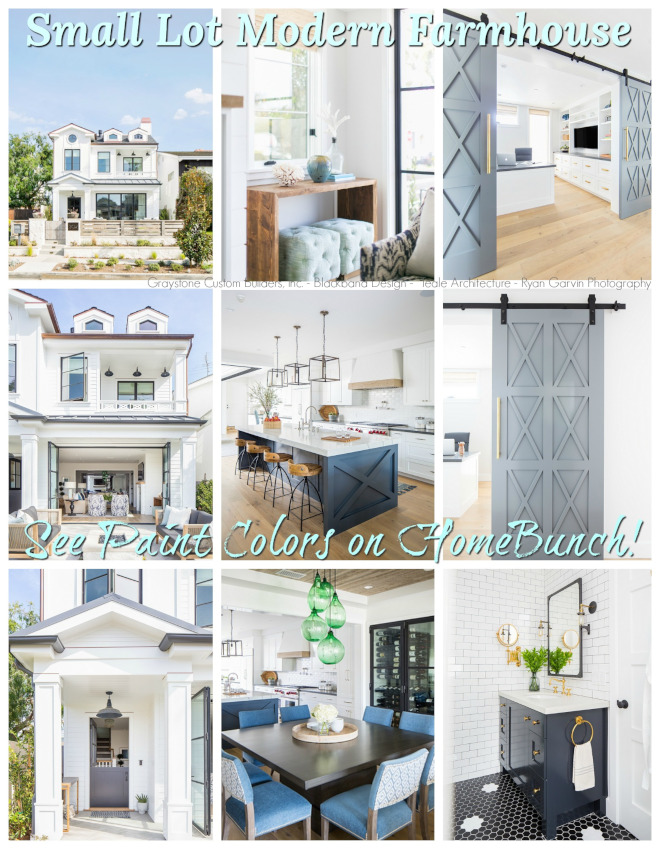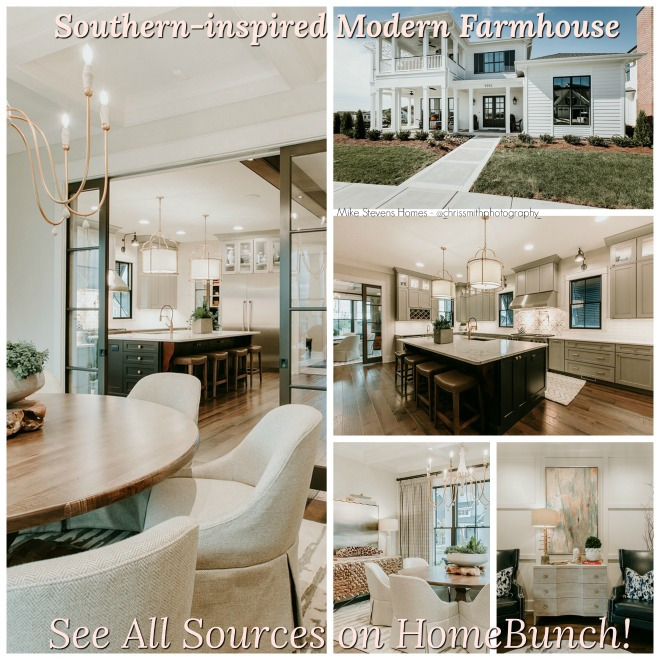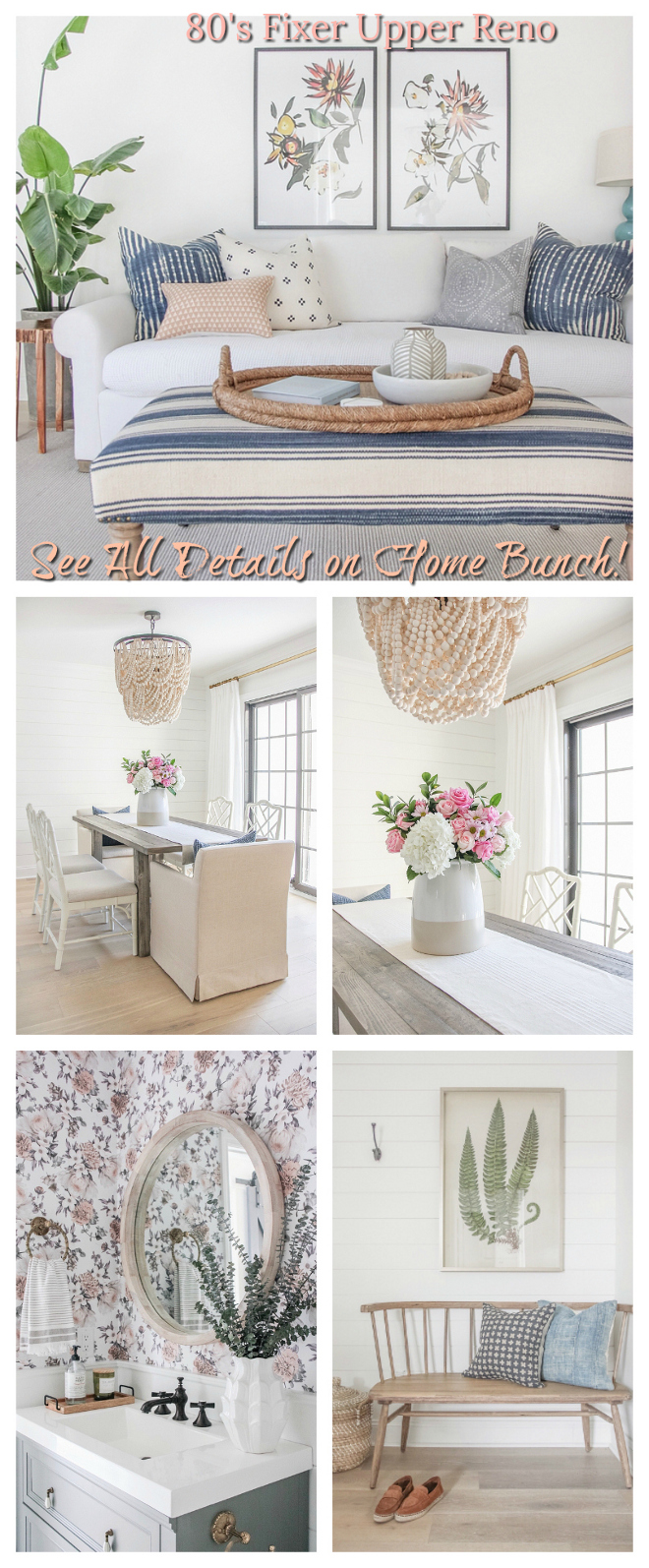 Follow me on Instagram: @HomeBunch

See more Inspiring Interior Design Ideas in my

Archives.
"Dear God,

If I am wrong, right me. If I am lost, guide me. If I start to give-up, keep me going.
Lead me in Light and Love".
Have a wonderful day, my friends and we'll talk again tomorrow."
with Love,
Luciane from HomeBunch.com
Get Home Bunch Posts Via Email

"For your shopping convenience, this post might contain links to retailers where you can purchase the products (or similar) featured. I make a small commission if you use these links to make your purchase so thank you for your support!"