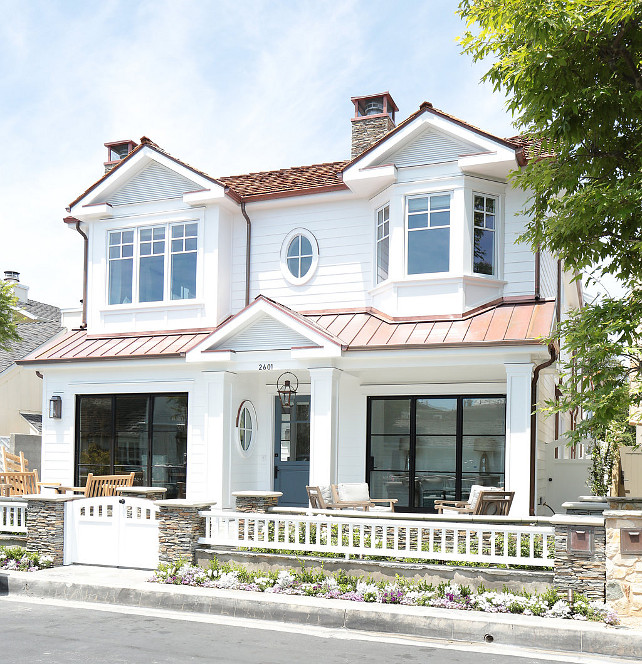 Just steps away from the ocean in Newport Beach, California, the interiors of this home boast a perfect mash-up of reclaimed woods, marble, and brick making it the perfect coastal retreat.
This coastal home is tucked away in the prestigious neighborhood of Bayshores in Newport Beach and it was designed by Blackband Design and built by Graystone Custom Builders. The designers perfectly combined neutral hues with coastal decor and colors. When asked by the clients to keep it rustic, the designers decided to complement it with a classic coastal look that should last for many years to come. The result is a beach house that feels fresh yet carries timeless coastal interiors.
I hope you enjoy it!
California Beach House with Coastal Interiors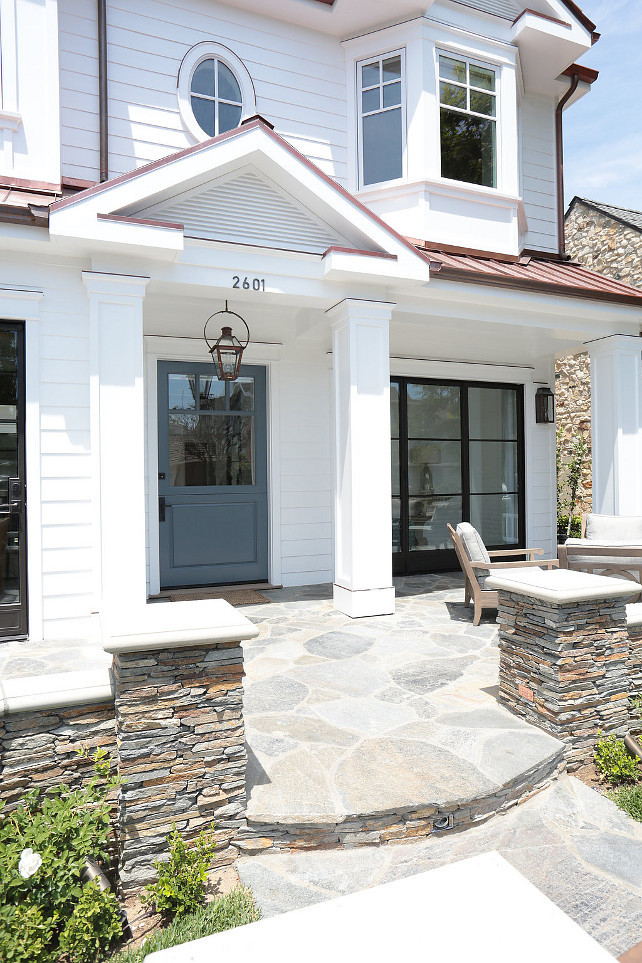 Natural stone beautifully contrasts with the white exterior of this beach house. I am loving the grey Dutch doors and the metal roof.
Outdoor lantern is by Bevolo.
Foyer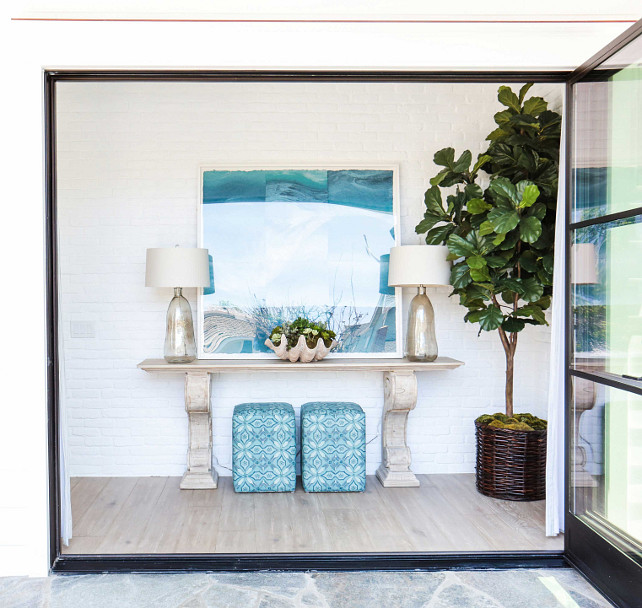 Folding doors open to a coastal foyer featuring a pair of turquoise stools tucked under a carved console table. Beautiful blown glass lamps and a large clam shell bowl together with a turquoise art tie this space together.
Turquoise Decor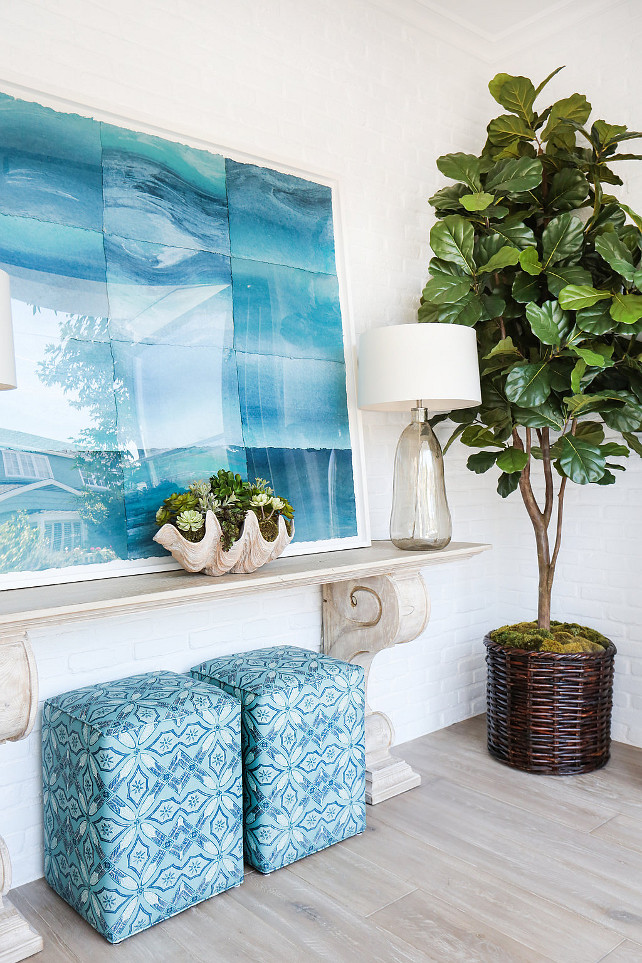 Turquoise – a favorite color of mine – is always a great choice to bring a coastal feel to any home.
Dining Room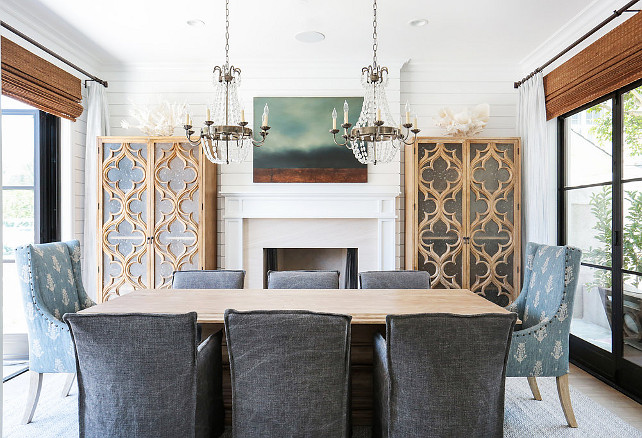 This gorgeous dining room features a pair of Paris flea market chandeliers over a wood dining table, lined with charcoal gray slipcovered dining chairs as well as blue wingback dining chairs. You will also notice the shiplap accent wall and fireplace flanked by quatrefoil glass cabinets. The patio glass and steel doors are dressed in bamboo roman shades and white linen draperies.
New Dining Room Ideas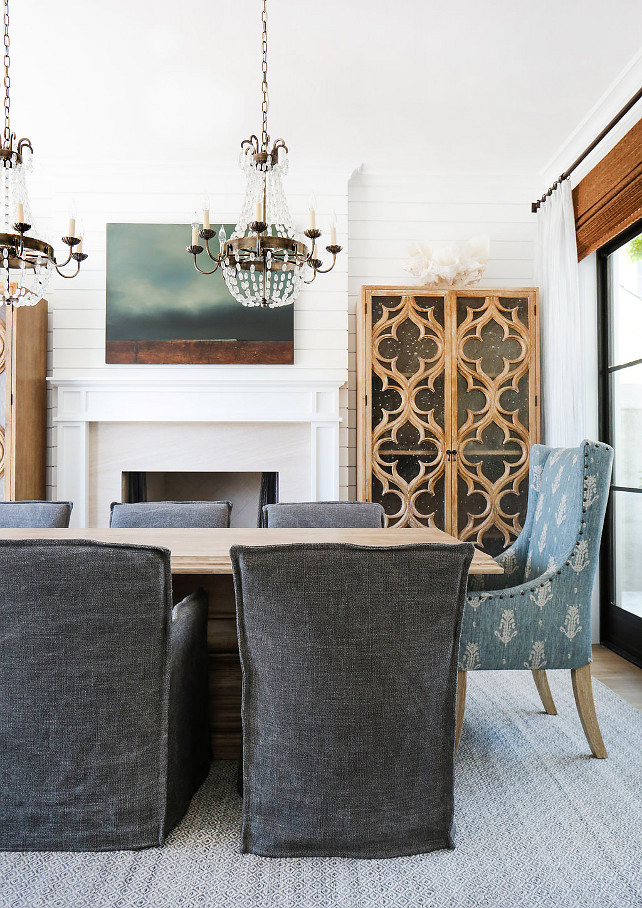 I love how fresh and unique this transitional dining room looks. I am particularly loving the shiplap fireplace and the cabinets.
Kitchen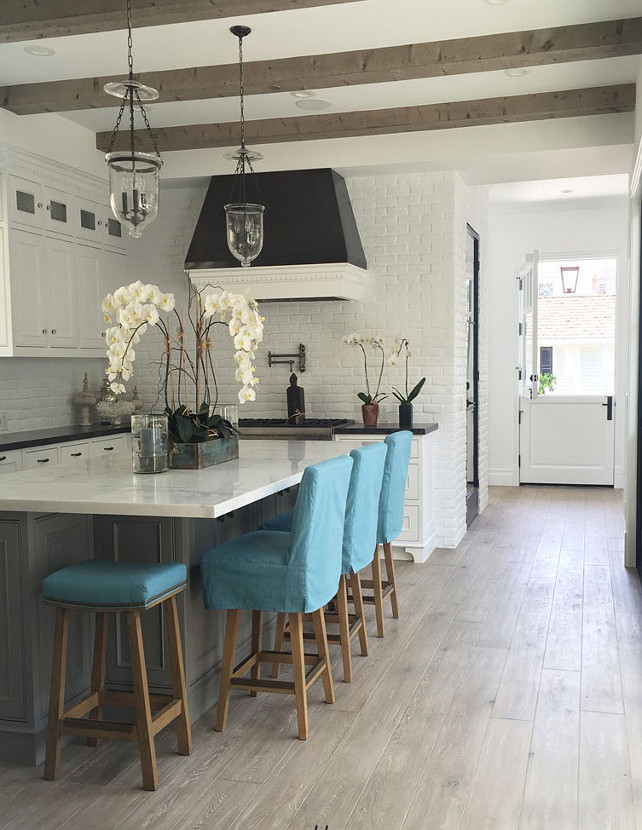 When it comes to new kitchen ideas, you should always look to practicality, durability while keeping a classic look. This will assure the longevity of the overall kitchen design. Here, the designers used brick, painted in white, as accent wall and backsplash – a classic and very durable material presented in a new perspective.
Kitchen Details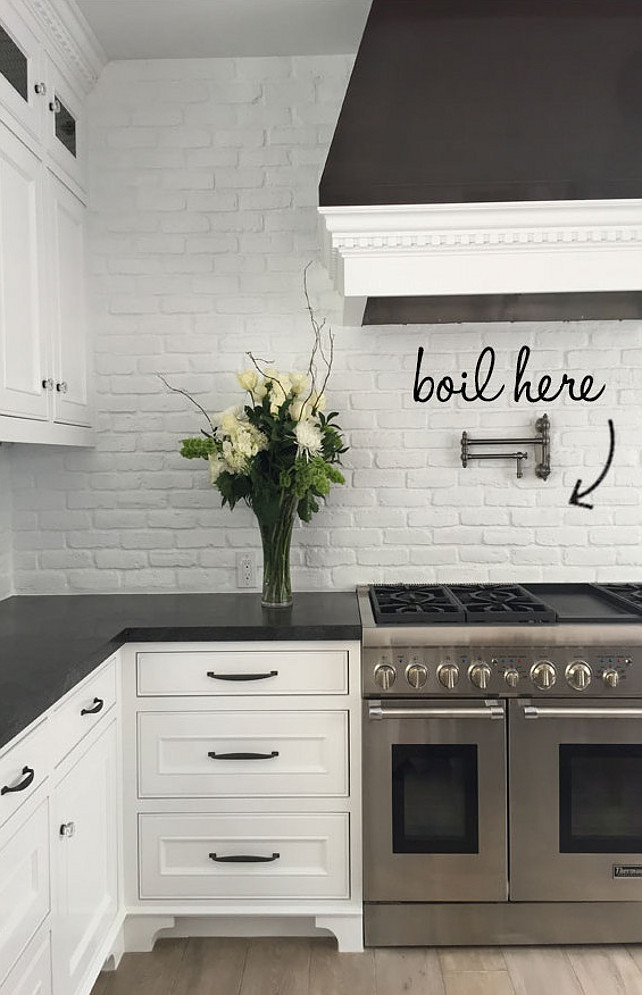 Besides white painted brick backsplash, this transitional kitchen also features honed black granite countertop on the perimeter cabinets.
Notice the beautiful swing arm pot filler. It surely makes cooking a tiny easier!
Kitchen Countertop Decor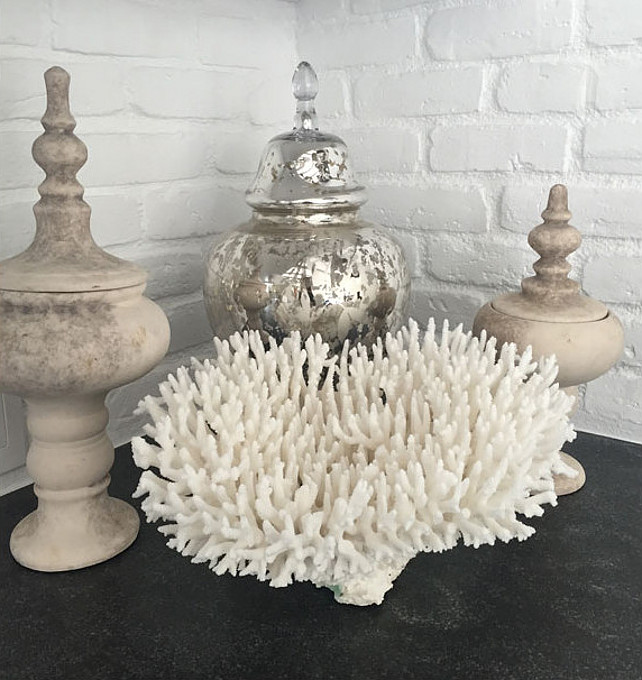 If you have extra space, try to incorporate some subtle decor on the kitchen countertop.
Turquoise Linen Slipcovered Counter Stools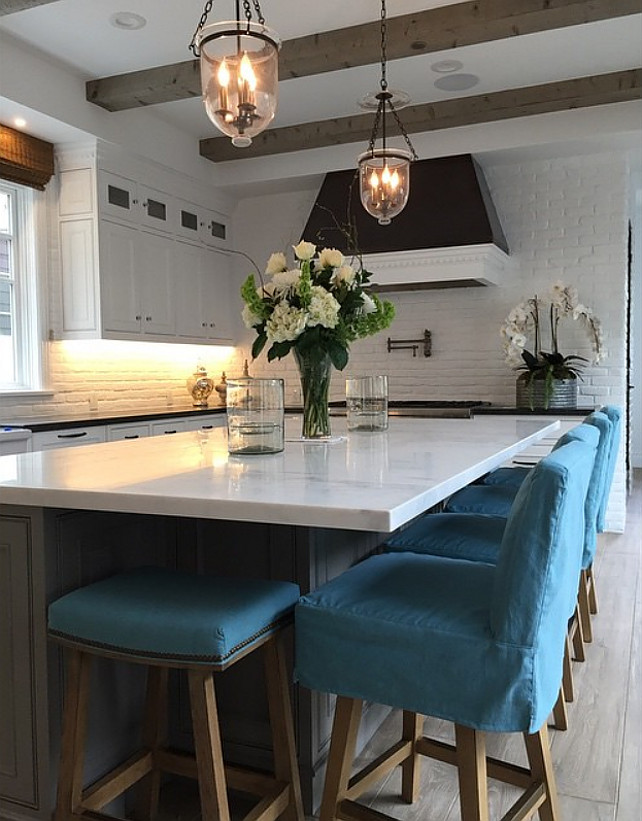 The turquoise linen slipcovered counterstools are from Blackband Design store. Aren't they gorgeous?
Bright White Kitchen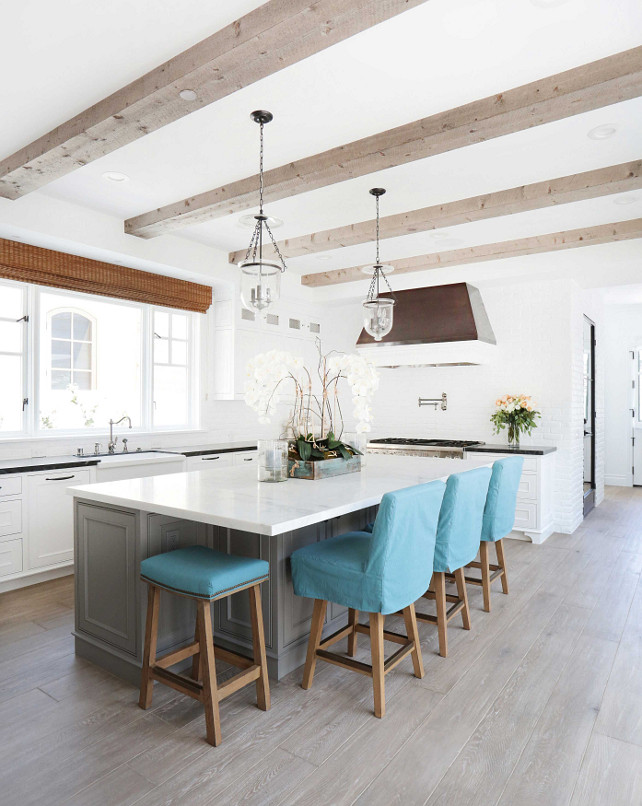 The turquoise linen slipcovered counter stools bring some color to this bright white kitchen.
Brick Wall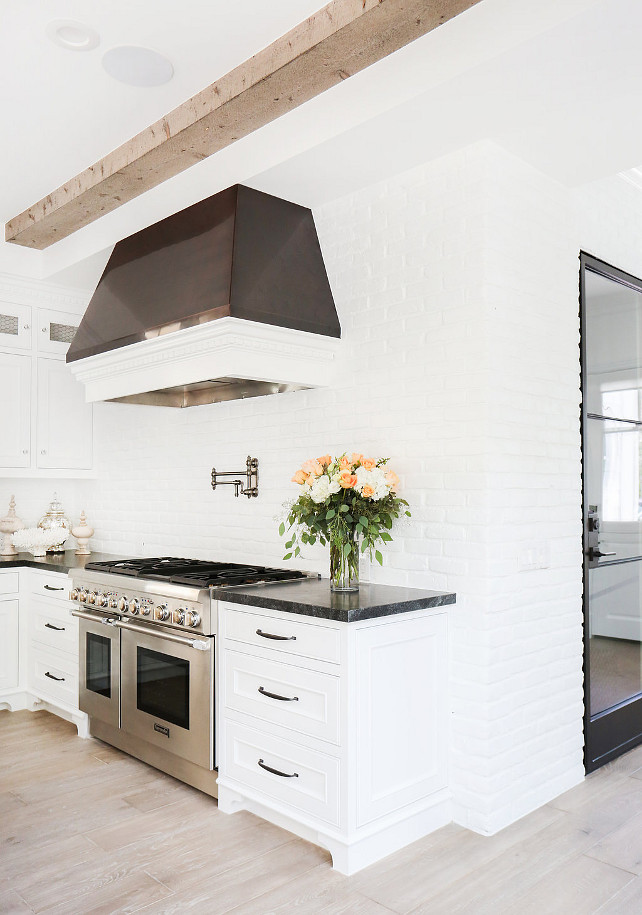 The kitchen features a black and white kitchen hood which stands over a swing arm pot filler and a Viking stainless steel range.
Kitchen with White Cabinets & Gray Island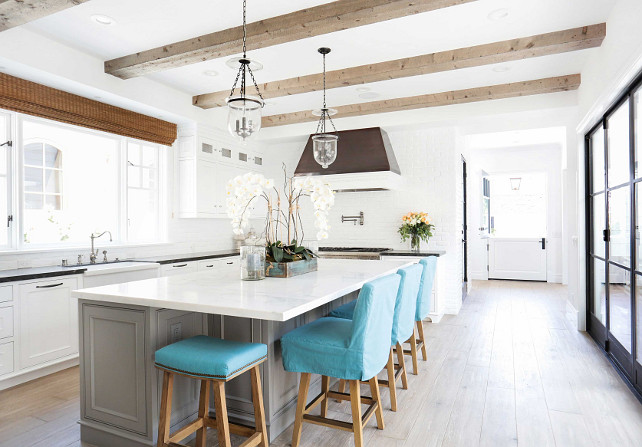 It's easy to admire this white kitchen with gray island. I also love the wood beams, the glass lanterns illuminating the large gray island topped with white marble and the gray wood floor.
Family Room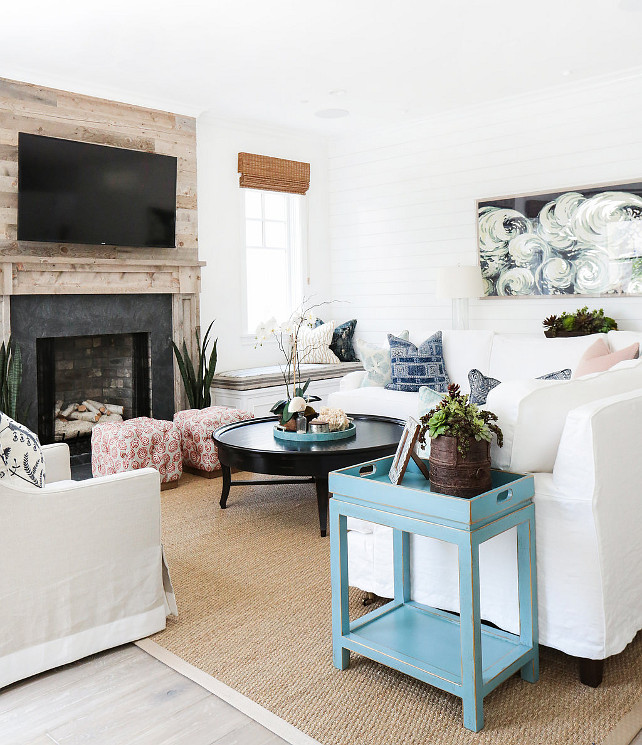 Not far from the kitchen, you will find a family room full of character and comfort.
Plank Wood Fireplace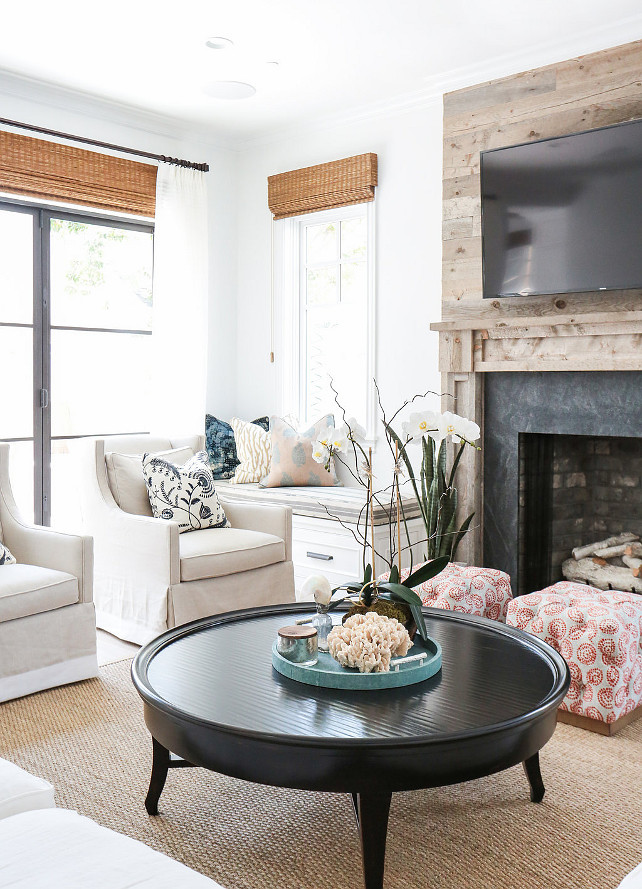 The family room features a rustic plank fireplace mantle adorned with a black stone surround under a flatscreen TV flanked by built-in window seats accented with white and gray striped cushions.
Coastal Decor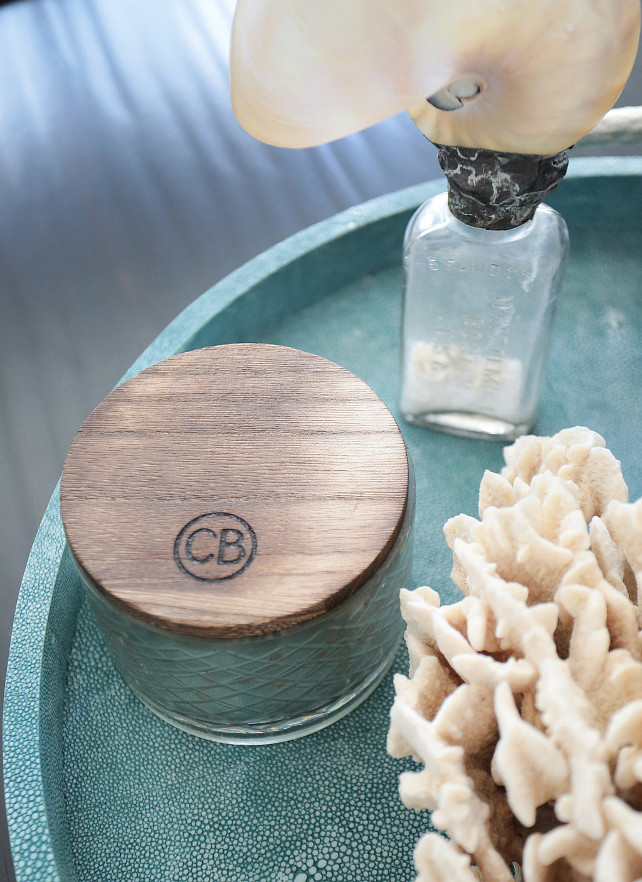 Beautiful coffee table decor.
Furniture Layout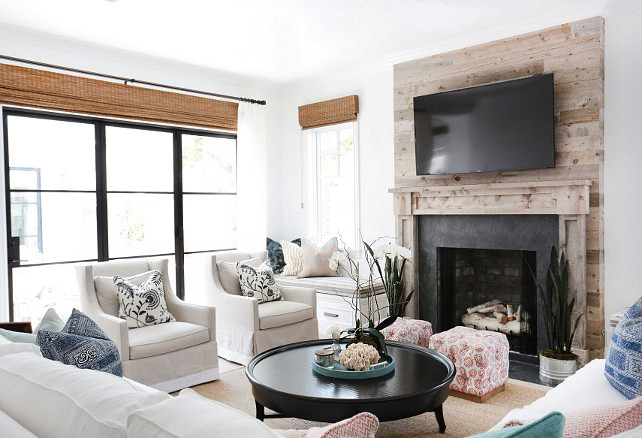 This airy family room has a great furniture layout.
White Sectional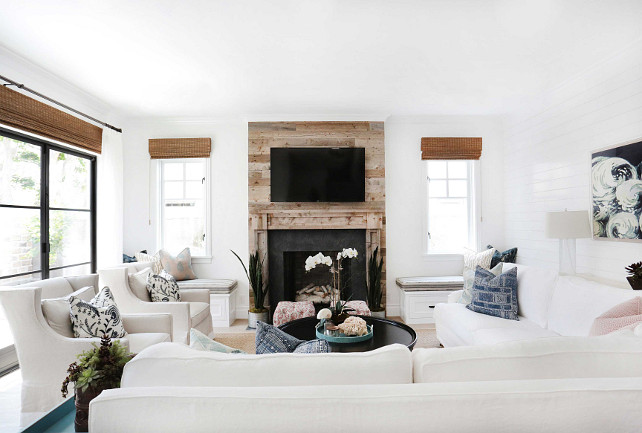 In this space, a large white sectional faces a round black coffee table and a pair of white curved chairs are lined with black and white pillows.
Powder Room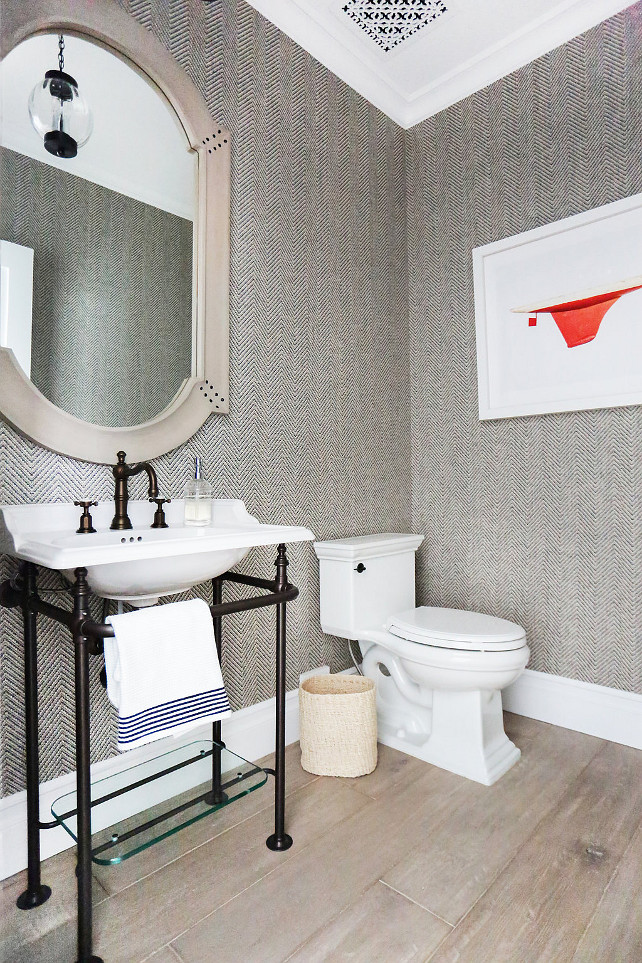 This chic and masculine powder room features Phillip Jeffries Herringbone Wallpaper in Ashbourne Azure.
Staircase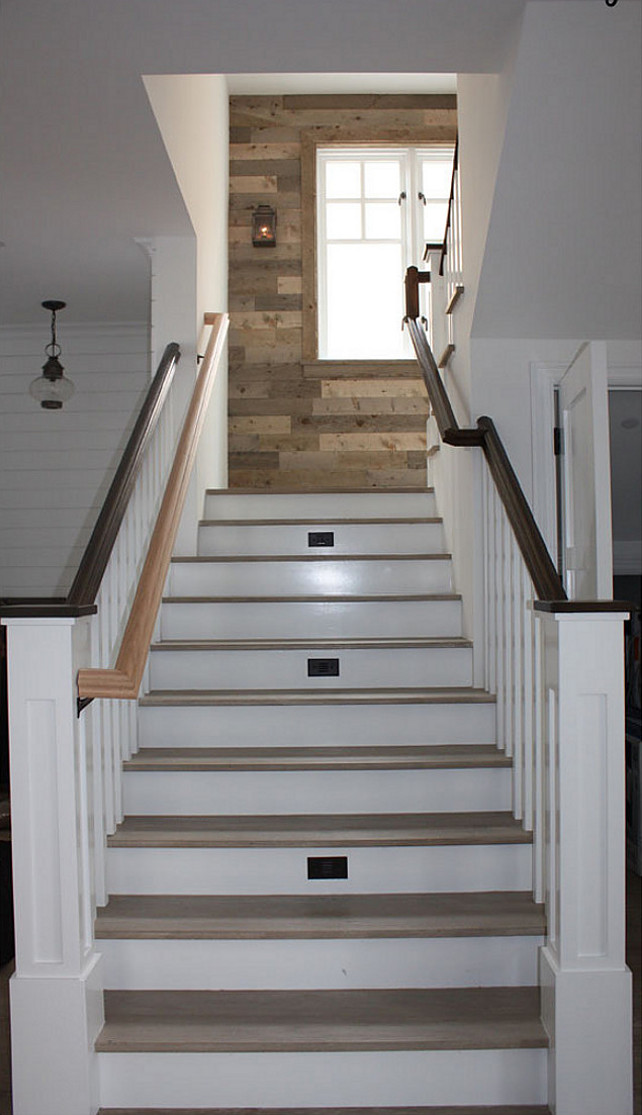 A simple yet architectural staircase leads you to the second floor of the house.
Upper Floor Landing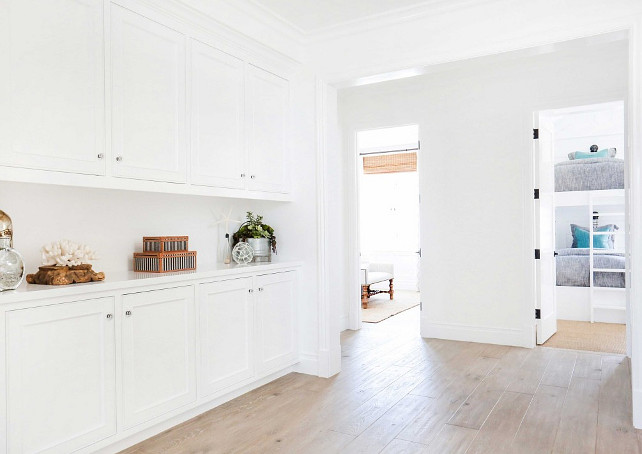 The bright upper floor landing features an expansive built-in cabinet and hardwood floors.
Guest Bedroom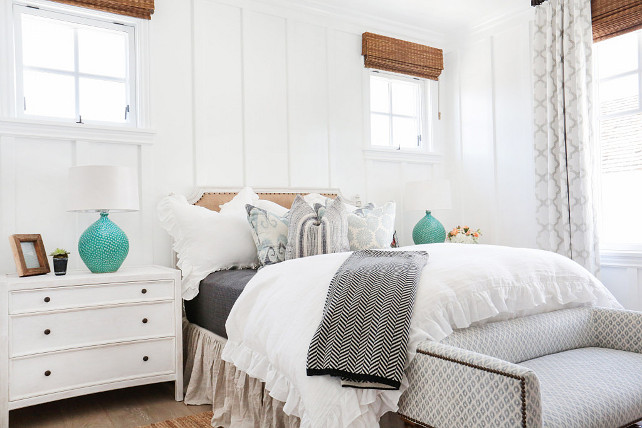 The guest bedroom is a calming and serene space for friends and family to enjoy. I love the neutral tones and layered textures.
White Nightstand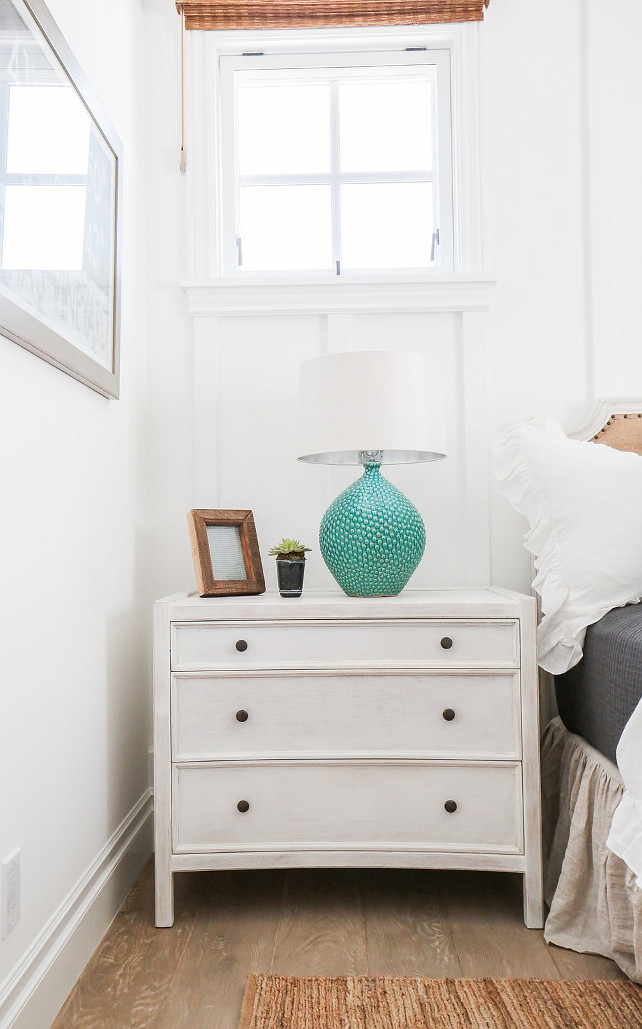 A turquoise lamp brings color to this white nightstand.
Coastal Feel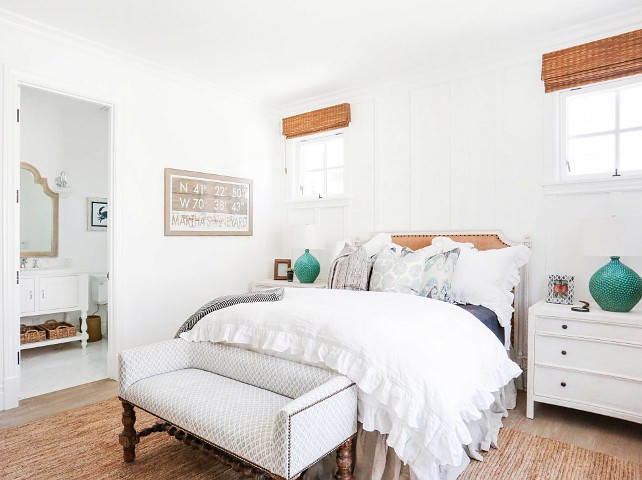 This bedroom features a board & batten accent wall.
Guest Bathroom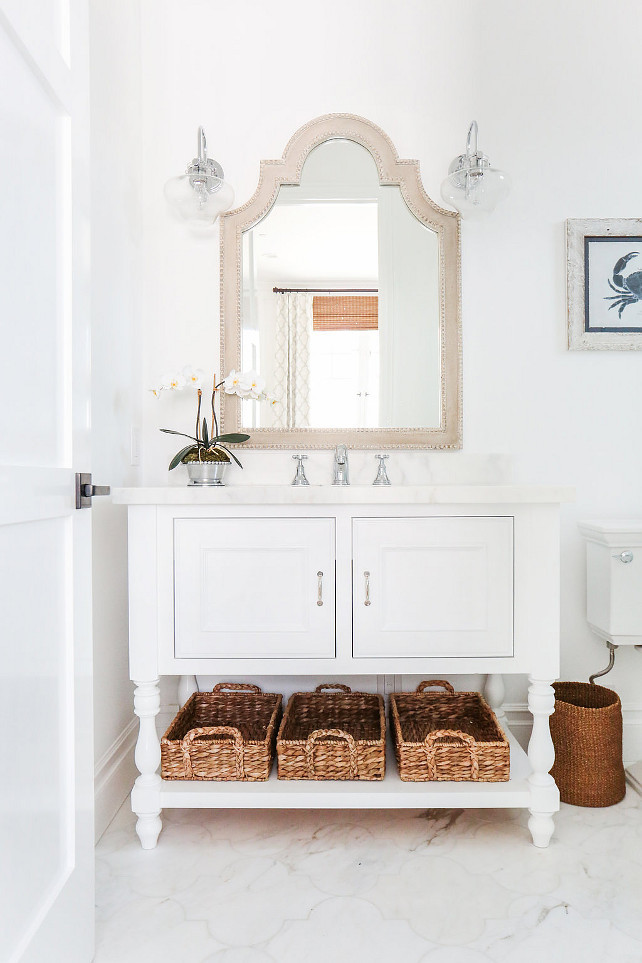 Beautiful coastal bathroom with white vanity, marble countertop and arabesque marble flooring.
Bunk Room
The clients wanted a fun space for their future grandchildren to stay when they are over. Isn't this space amazing?!
Coastal Bunk Room Design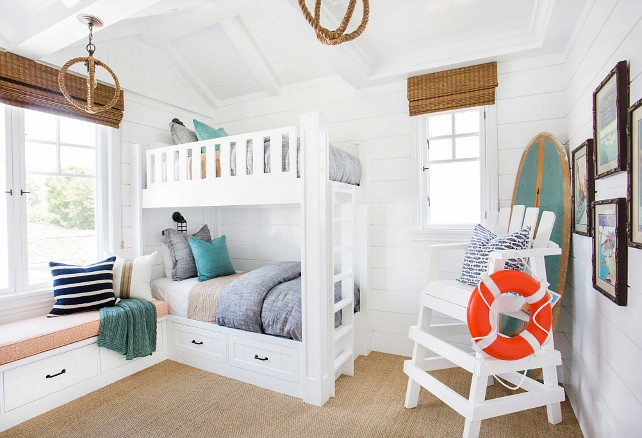 This white bunk room features white bunk beds with gray bedding, turquoise decorative pillows, rope pendant lighting, bamboo shades, window seat, sisal carpeting and shiplap walls.
Colors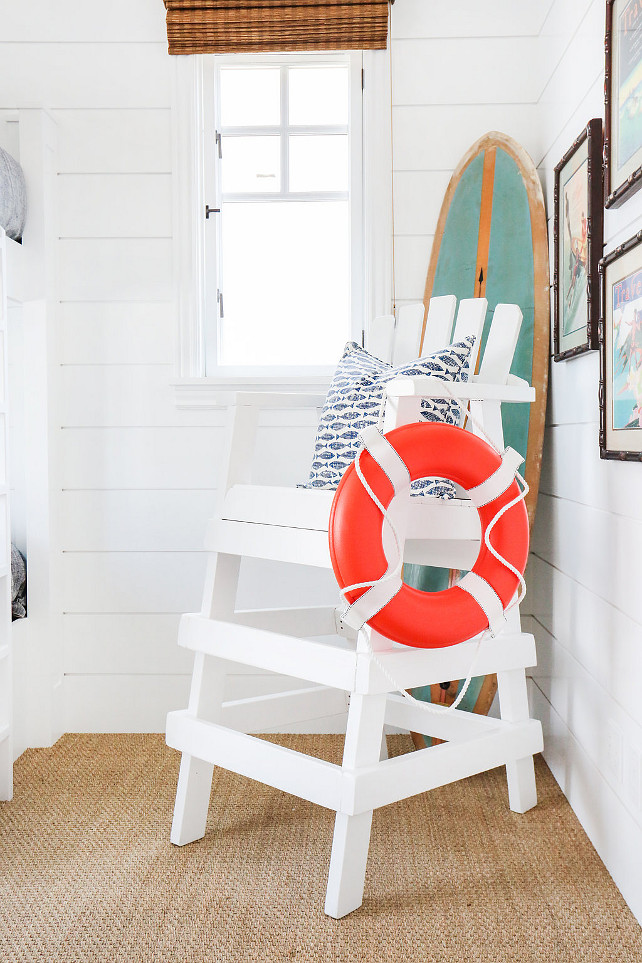 I love the coastal decor and colors found in this space. Isn't it a fun idea to add a lifeguard chair and a vintage surfboard in this bunk room? Similar ones can be found on Amazon!
Pendant Lighting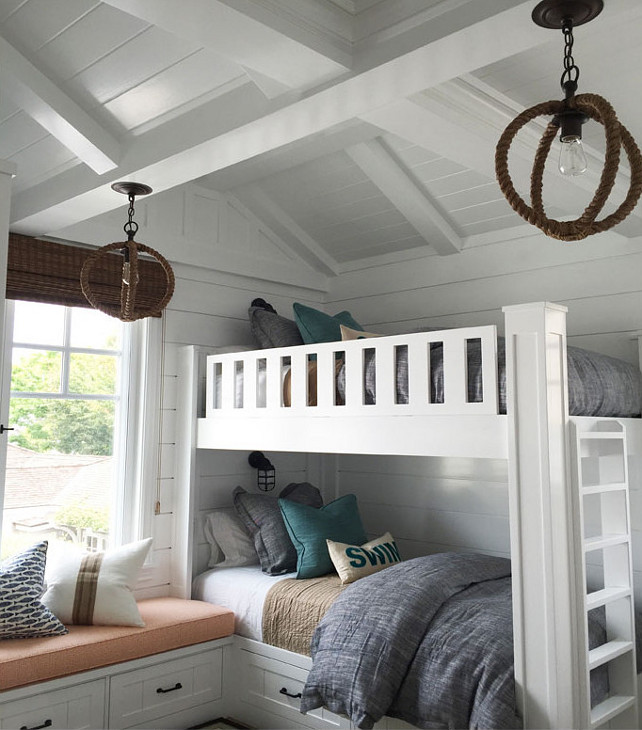 The Natural Jute Rope and Wrought Iron Pendant Light are from Our Boathouse.
Bedding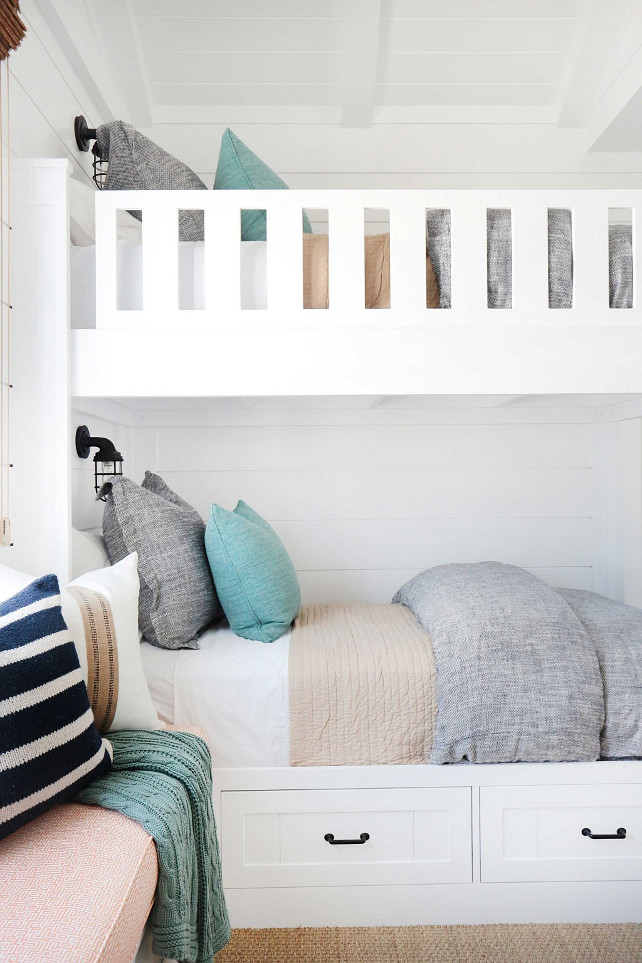 I love built-in bunk beds but if you have it at home you know how hard it is to make the second bed, right? It's bever an easy task. I count it as a workout! 🙂
Master Bedroom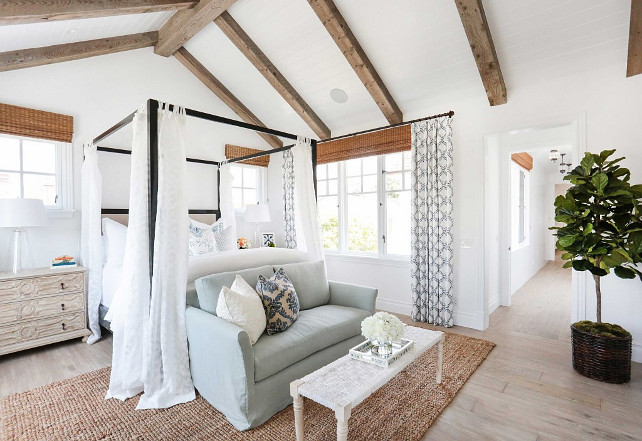 This coastal master bedroom features beams and vaulted ceiling, shiplap ceiling, plank floors, four-posted bed and coastal bedding and decor.
Window Seat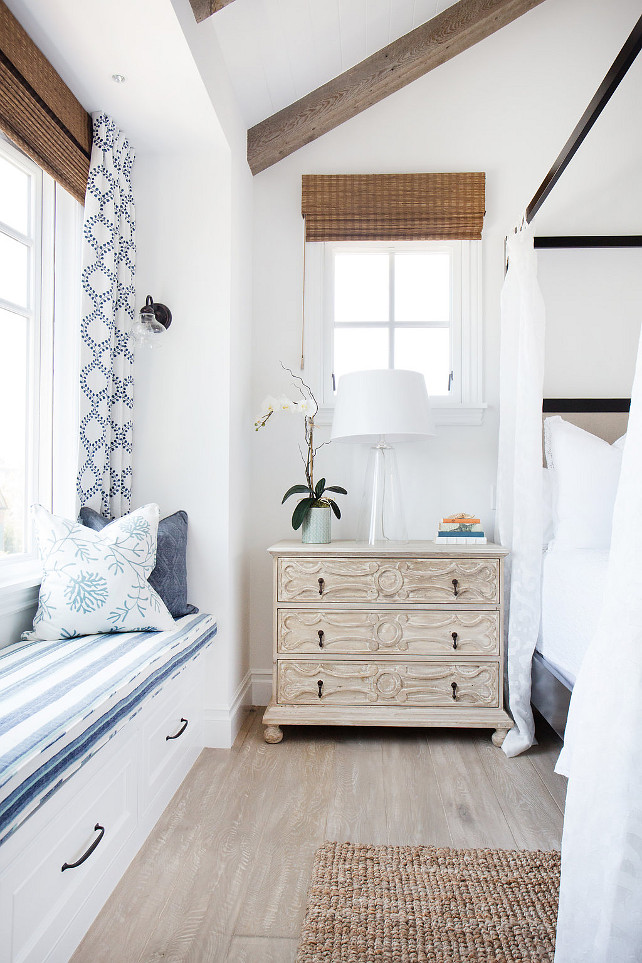 This bedroom has everything a coastal bedroom should have including a window seat.
Shiplap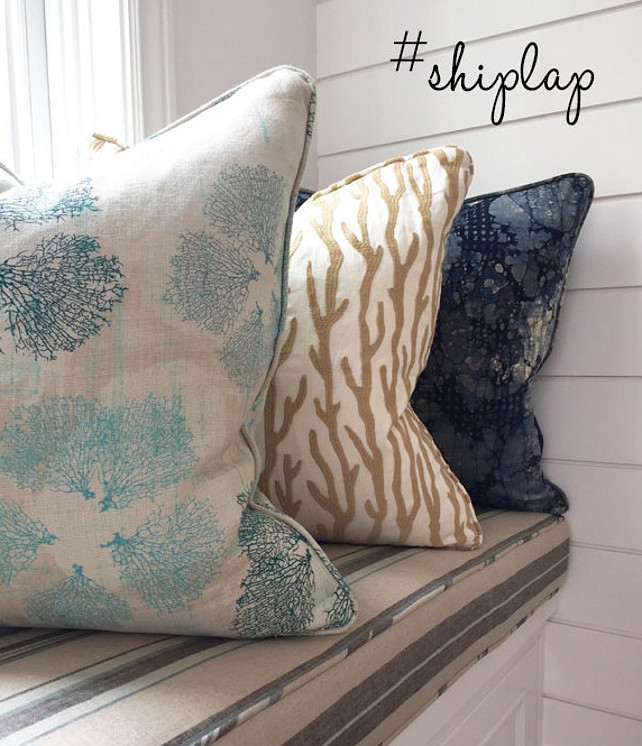 Attention to detail is evident in this space.
Master Bedroom Paint Color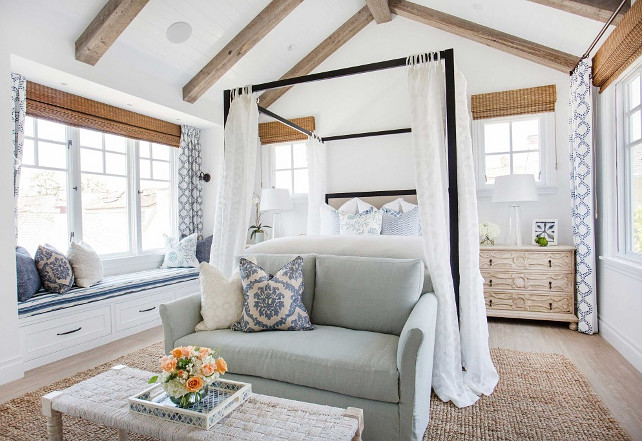 Wall paint color is Droplets by Dunn Edwards.
Ocean's Breeze
Since this home is a few steps from the beach, it would be wonderful to open all the windows and let the ocean's breeze in…
Bedroom Fireplace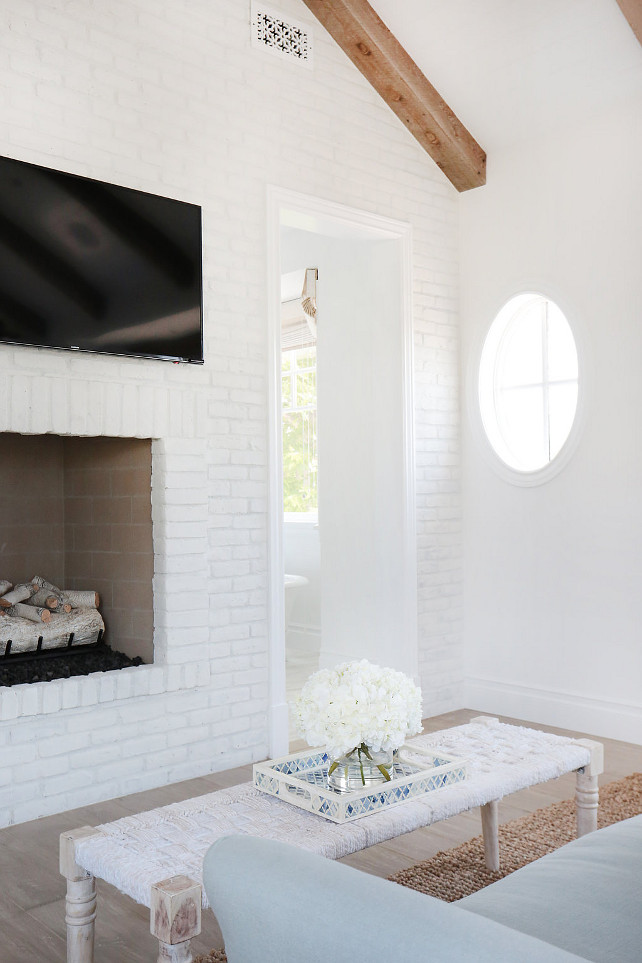 White brick is once again used in this beach house. I love how natural this feels with the light wood.
Master Bathroom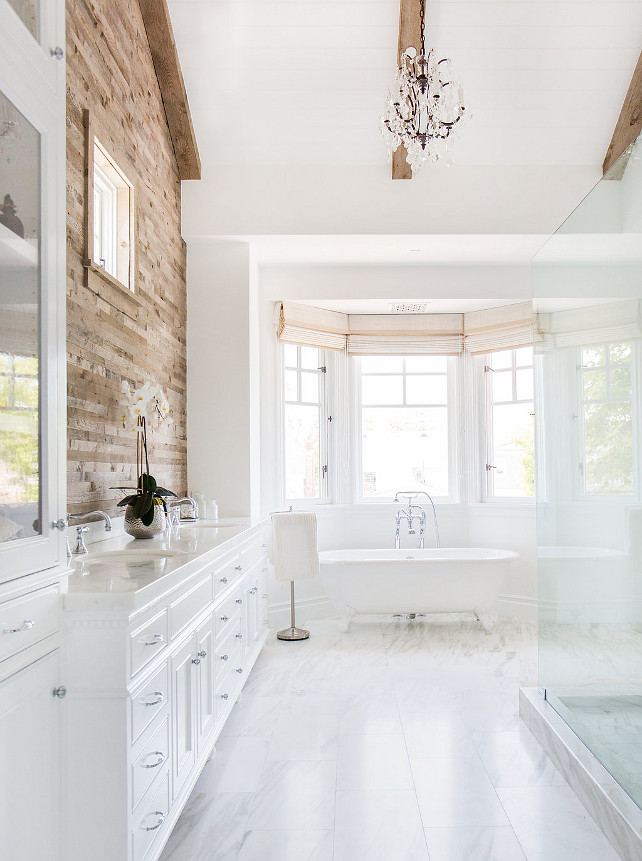 Gorgeous white bathroom with reclaimed wood accent wall, ceiling beams, vaulted ceiling, French chandelier, marble flooring, bay windows and classic freestanding bathtub.
Bathroom Accent Wall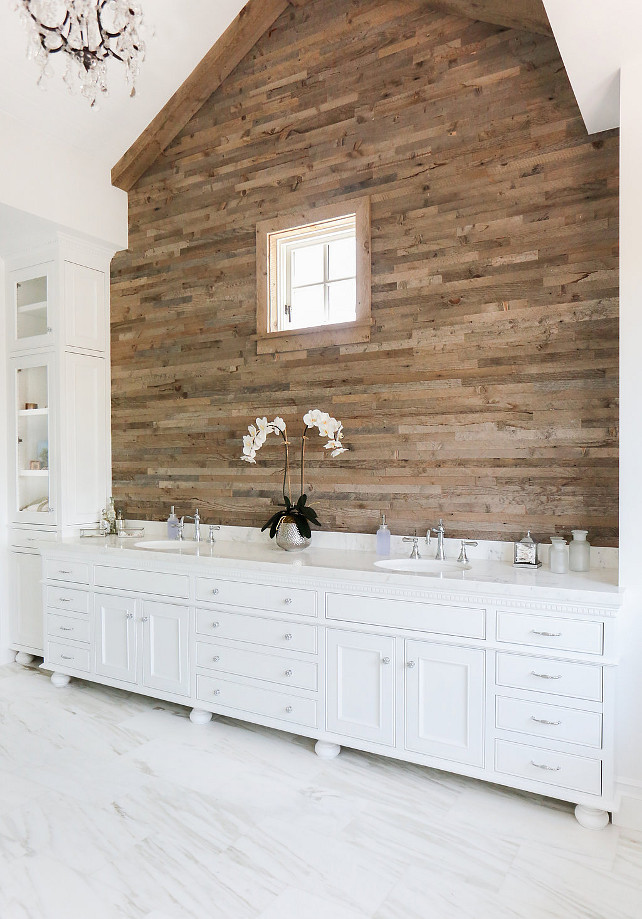 This bathroom is elegant without being too feminine. The reclaimed wood adds texture and a beach-y feel to this space.
Bathroom Layout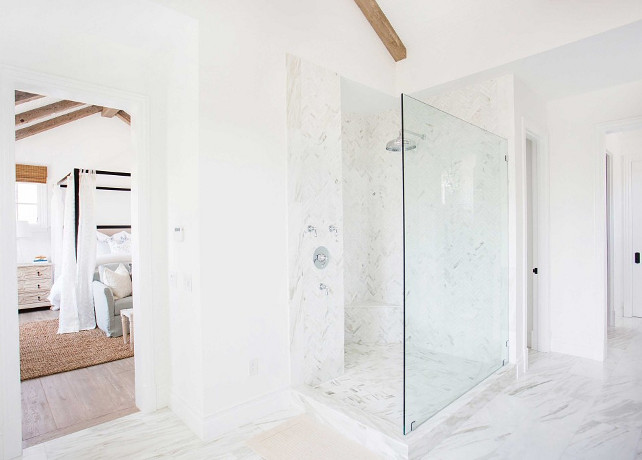 A large shower is placed in front of the vanity. A water closet is located just ahead.
Shower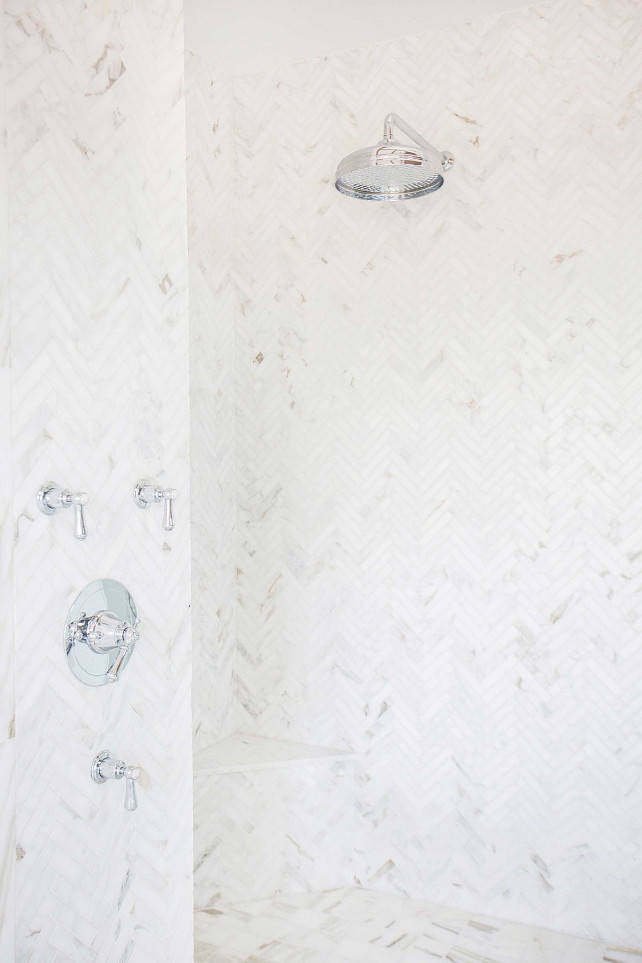 The shower tiling is marble set in a herringbone pattern.
Handle Me
The bathroom shower faucet is by Perrin and Rowe. This is the perfect match with the white calacata herringbone wall.
At the End of the Day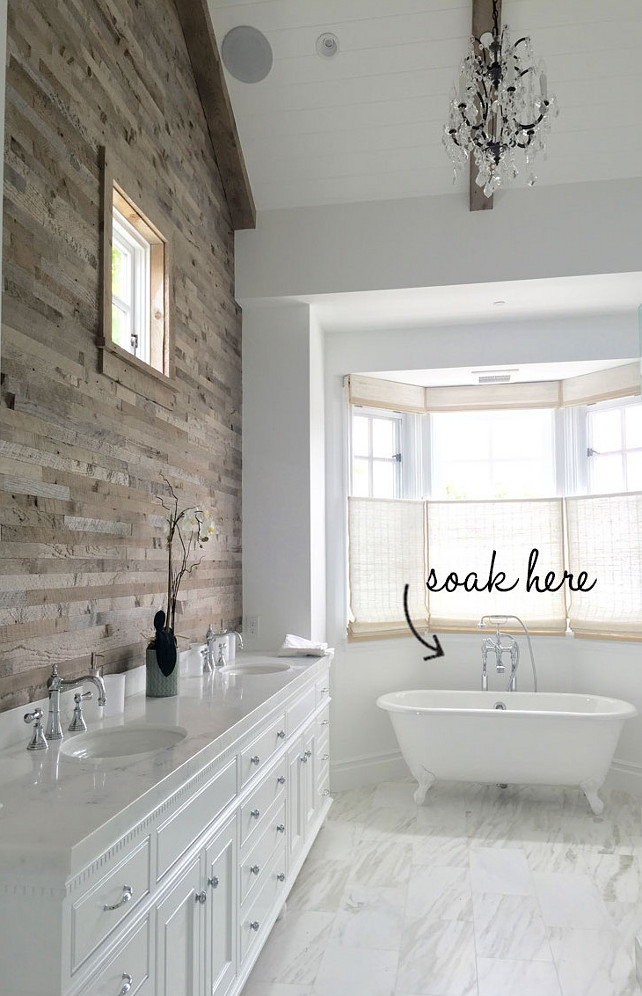 Wouldn't you love to end your day with a relaxing bath here?
Many thanks to the designer for sharing the details above!
Sources: Blackband Design. Graystone Custom Builders. Photos by Tessa Neustadt.
Can you tell I am obsessed with homes designed by Blackband Design and Graystone Custom Builders? I have posted several homes by them before and you can find them here:
Small Family Home with Coastal Interiors.
Displaying Picture Frames Around the House.
Modern Farmhouse with Transitional Interiors.
California Beach Cottage for Sale.
Click Bellow to See More Coastal Homes:
Family Home with Classic Transitional Coastal Interiors.
Relaxed California Beach House with Coastal Interiors.
Small Shingle Beach Cottage with Coastal Interiors.
Beach House with Casual Coastal Interiors.
Balboa Island Beach House with Coastal Interiors.
New Construction Beach House with Coastal Interiors.
Renovated Beach House with Rustic Coastal Interiors.
For more posts, click here.
See more Inspiring Interior Design Ideas in my

Archives.
Interior Design Ideas:

Paint Color
Hi, my wonderful friends!
It's truly great to start a brand new week with you here.
I am happy today! My weekend was super productive and I love when it happens.
I have to admit I have been incredibly lazy around my house. I am not sure if it's the warm weather, the crazy schedule and more other thousands of things going on right now, but I didn't have much energy to work around my house lately. Of course, I did the basics of every day (the things no one notices unless you stop doing them) but I didn't do the big cleaning that should be done often, especially when you have small kids and a dog around the house. But something happened to me this weekend and I felt as if I could climb a mountain. I had so much energy and I used it to clean my entire house… almost every inch of it and trust me, my house is not small, so I worked really hard.
My beautiful kids, seeing "mama" work so much, wanted to help and ended-up scrubbing the floors with me. We all cleaned on Saturday and I finished the basement today. I am exhausted but I look around and see my house just the way I love! It's such a good feeling…

Another reason I am so happy is that we're going on a small trip to one of my favorites cities to celebrate my birthday this week. I am in my mid-thirties and I feel great! Life is wonderful – not perfect, but wonderful and I have many reasons to look up and thank God.
I really hope many Blessings come to your life this week. May you also have many, many reasons to be grateful for!
Talk to you soon!
with Love,
Luciane at HomeBunch.com
Interior Design Services within Your Budget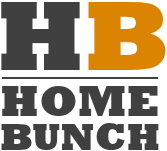 Get Home Bunch Posts Via Email