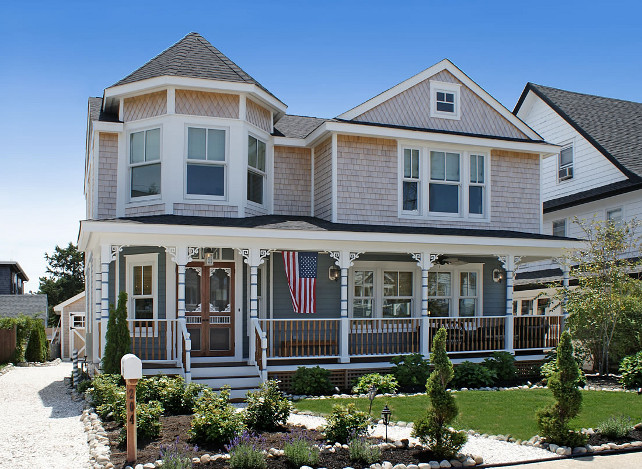 The complete renovation of this beach house was meticulously done by Caroline Lechaux from OutinDesign. This Beach Haven, NJ cottage is the culmination of Caroline's work as it successfully marries her French and American coastal roots (Brittany, France and Norfolk, Virginia) and achieves an architectural meshing of the indoors and the outdoors. The house reflects her two cultures while being firmly anchored to its locality.
Take a look at this beach house and I am sure this home will refresh your mind about the rustic coastal style. You can't help but feel inspired!
Let me know your thoughts on this one!
Renovated Beach House with Rustic Coastal Interiors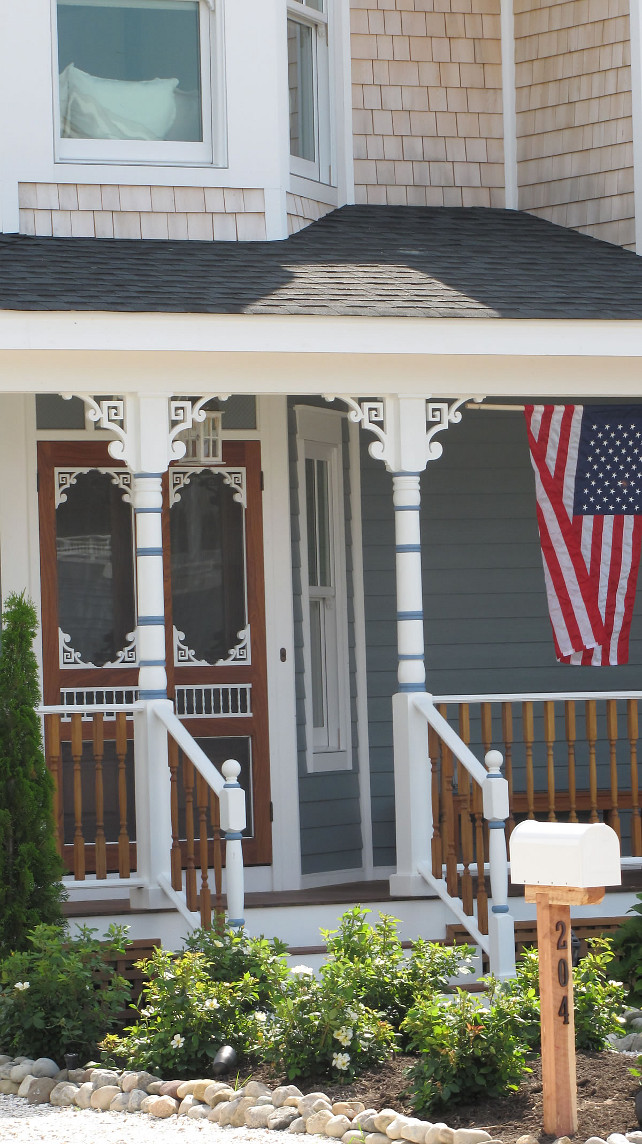 How charming is this beach house, right? A traditional front porch with flag, a cute mailbox and lovely landscaping add to this picture-perfect home.
Living Room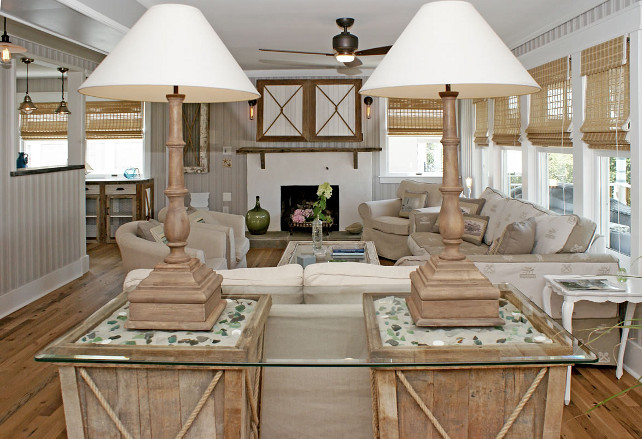 Gray Beadboard Paint Color: Revere Pewter by Benjamin Moore.
This neutral coastal living room features a custom-made console table with sea glass. Here the designer explains how she designed the console table: "This console was made from two reclaimed wood planters that I filled with sand from the beach, then laid with beach glass found at Barnegut Light House Beach at the top of Long Beach Island. I covered the two planters with a piece of tempered glass to make a console."
Coastal Furniture.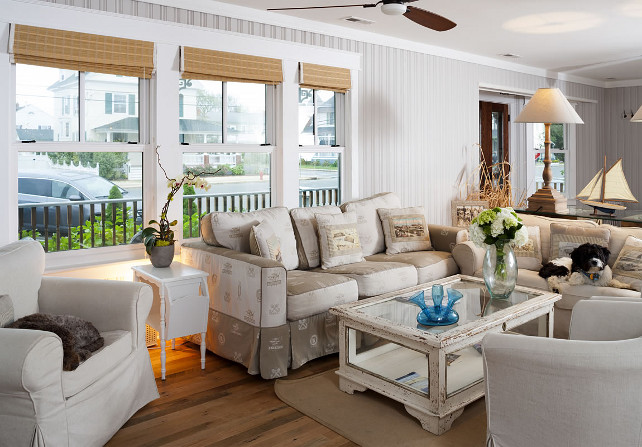 The distressed white coffee table was yet another custom piece of furniture designed and built by the designer. Outstanding work!
Fireplace TV Cabinet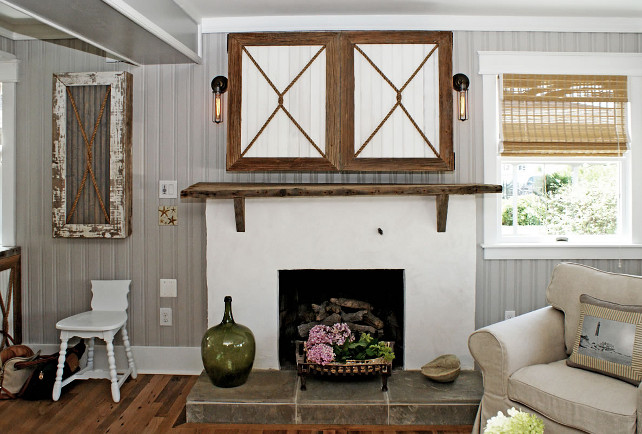 The custom TV cabinet above the fireplace is made of jute, bead board and reclaimed barnwood.
Sconces flanking the tv cabinet are from Restoration Hardware.
Fireplace Mantel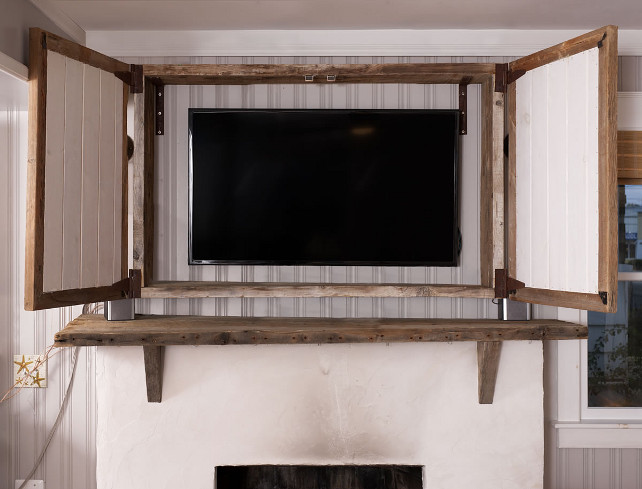 The mantel is a piece of reclaimed wood. I love how rustic and unique this fireplace and cabinet feels. This is perfect for a cottage.
Stairwell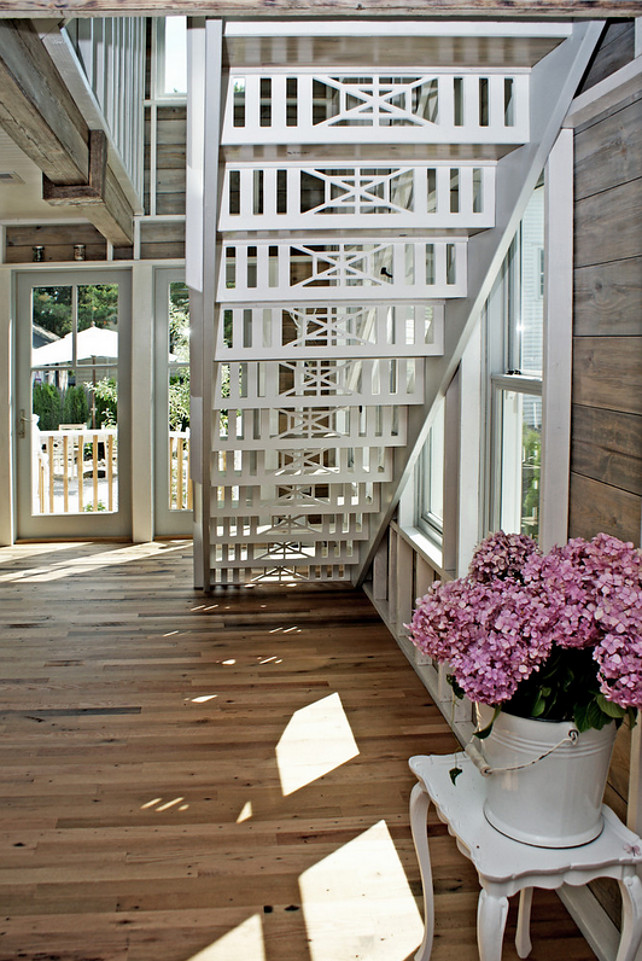 The custom millwork applied to the stairwell was inspired by a local yacht club motif. Notice the reclaimed wood floors and rustic plank walls.
Dining Room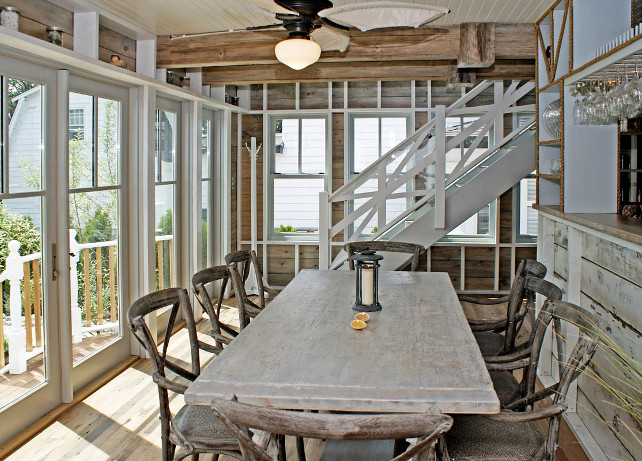 This dining room is filled with a warm, rustic feel. The dining table seats eight and is positioned by large floor-to-ceiling windows to let in the maximum amount of light.
The ceiling fan has sailcloth blades and oil-rubbed bronze finsih. It is from Fanimation.
Reclaimed Wood Flooring
The floors in this beach house are 100-year-old barn-wood hardwood red oak flooring from Western Pennsylvania and is finished with bona kepi naturale to give it a natural tone. Isn't this beautiful?
Uniqueness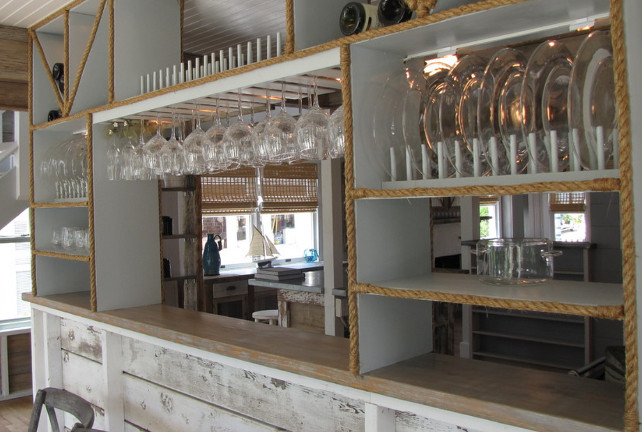 This rustic cottage features an unique kitchen with custom-made rustic wood cabinet, jute and open shelving.
Rustic Wood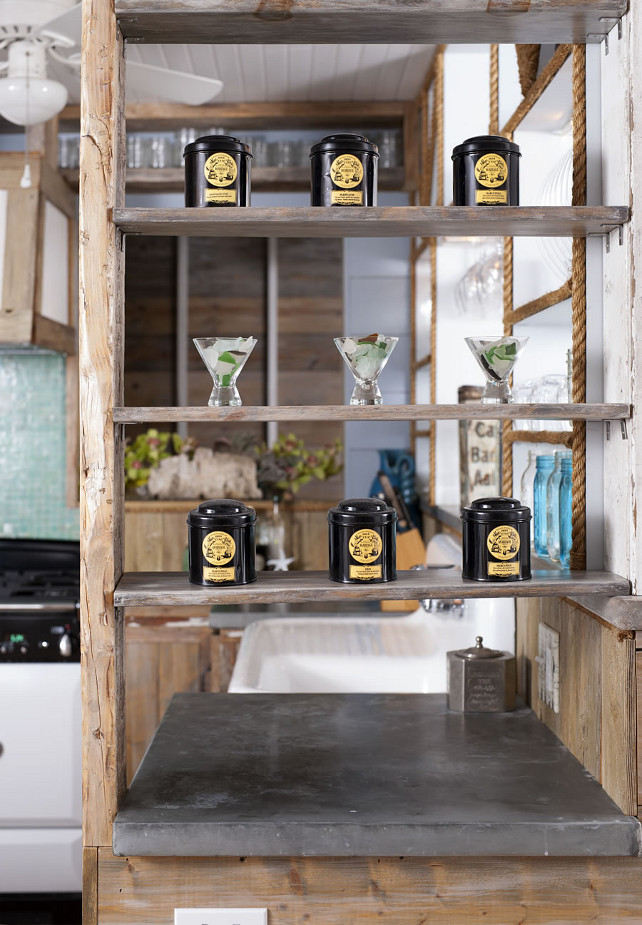 This rustic kitchen has some great ideas, including the usage of reclaimed wood to build cabinets, backsplash and shelves for storage.
Kitchen Pass-through Window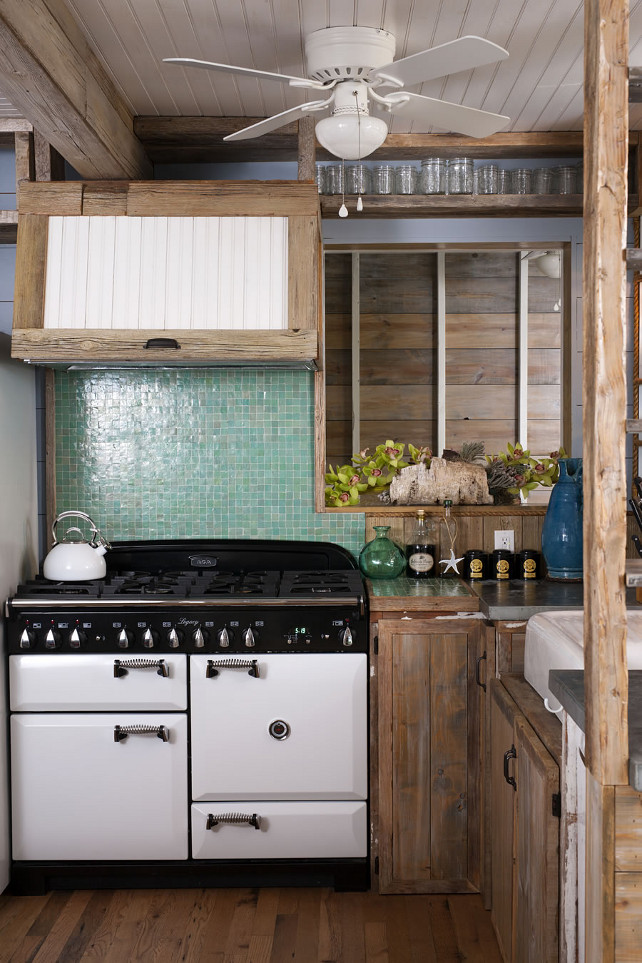 A pass-through window connects the kitchen to a small reading nook by the dining room.
Notice the AVA stove.
Reading Nook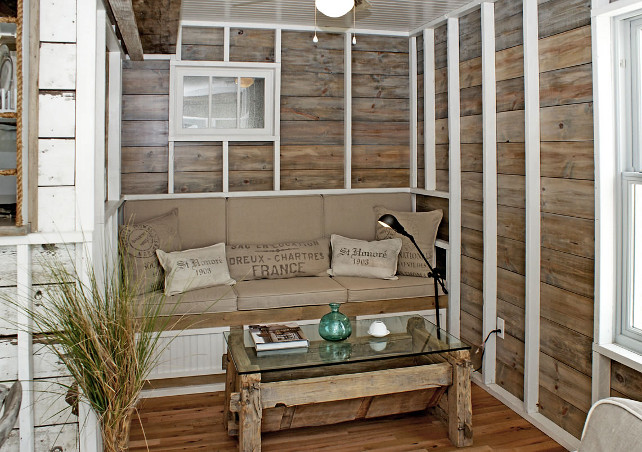 Isn't this a cute reading nook? I would love to have my morning coffee in here.
The walls are made of reclaimed wood with a painted white finish.
Kitchen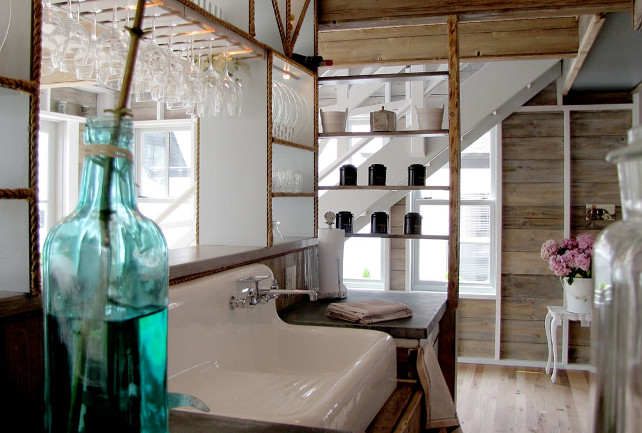 What I love the most about this cottage is the mix of styles that make this place feel so unique and inspiring. Take for example this kitchen, it has a rustic, French feel that incorporates coastal decor in a very subtle way. This entire space feels fresh and timeless!
Kitchen Essentials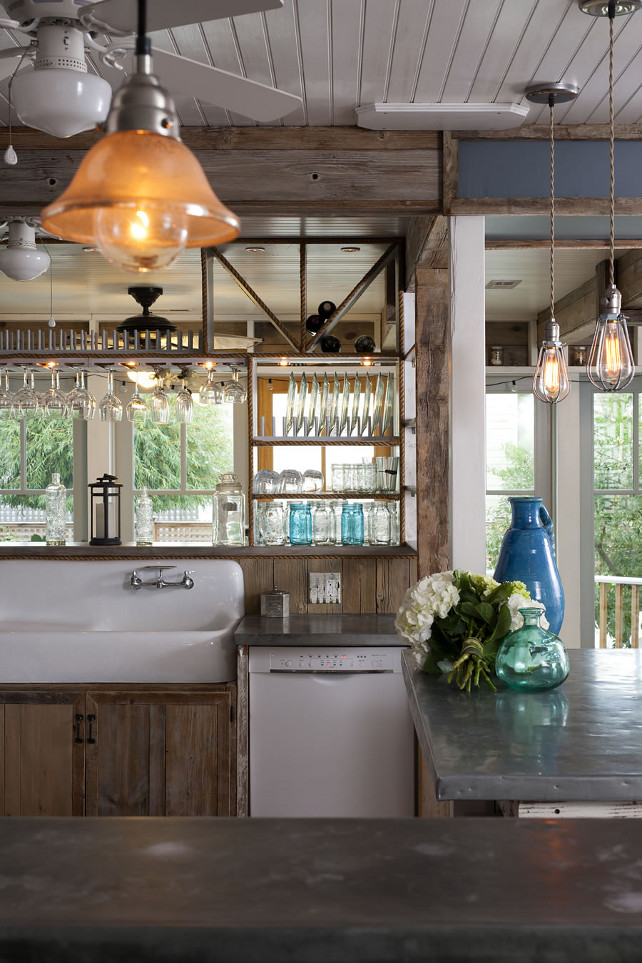 The custom kitchen features an AVA stove and zinc countertop. It was inspired by an old-fashioned walk-in pantry style, and it was specifically designed to celebrate good food and wine.
Kitchen Lighting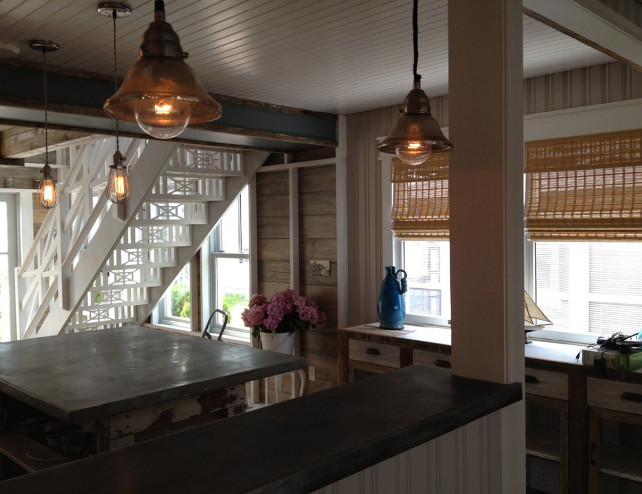 Wicker blinds, a white staircase and antique lighting adds charm to this cozy and welcoming kitchen.
Closet Laundry Room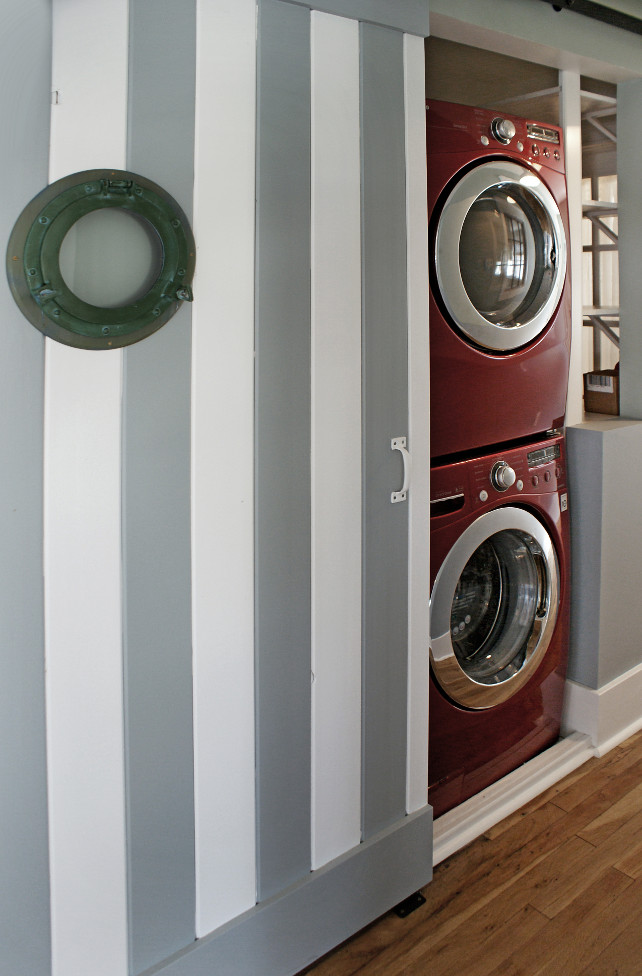 This closet laundry room is located in the hallway and features a striped barn door painted in gray and white. A marine window adds coastal charm to this laundry room.
Powder Room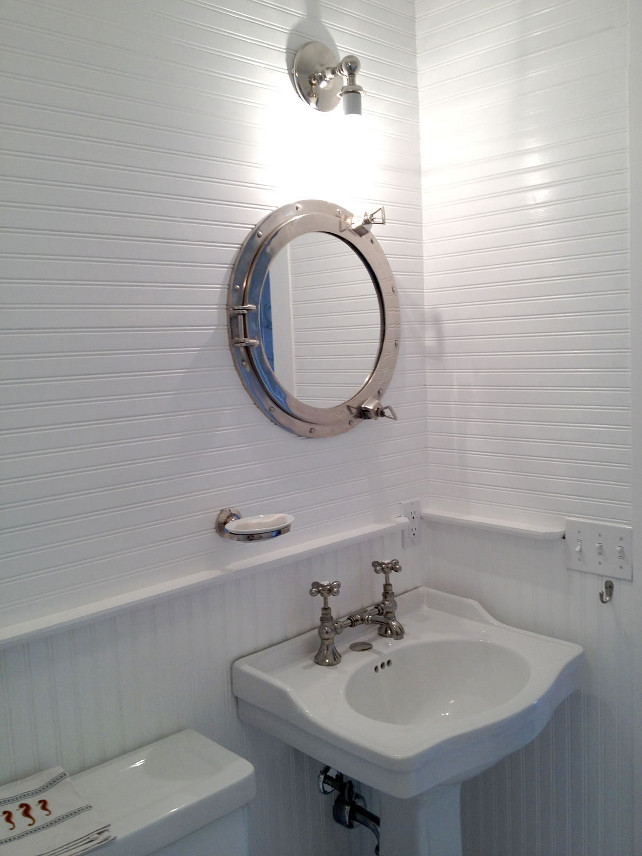 The powder room features custom white beadboard walls and a coastal mirror. This porthole was sourced from a shipyard graveyard, refinished and converted into a medicine cabinet. Fits perfectly with the theme of the house.
Second Floor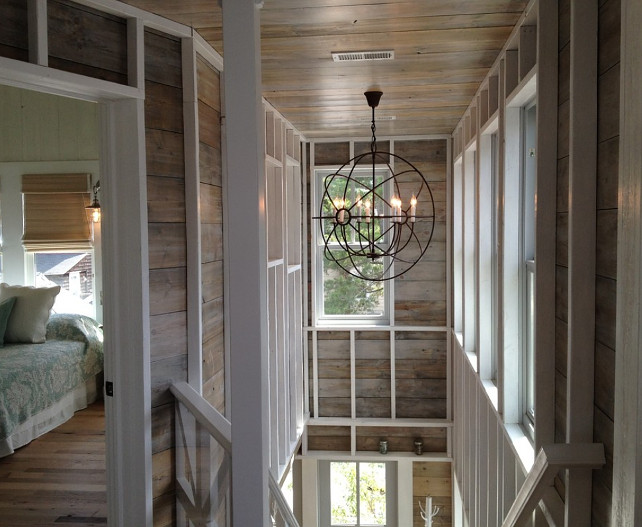 Going up to the second floor, you will notice the Foucault's Orb 32″ chandelier from Restoration Hardware, the large wood panel walls and exposed white planks painted in whitewash.
Master Bedroom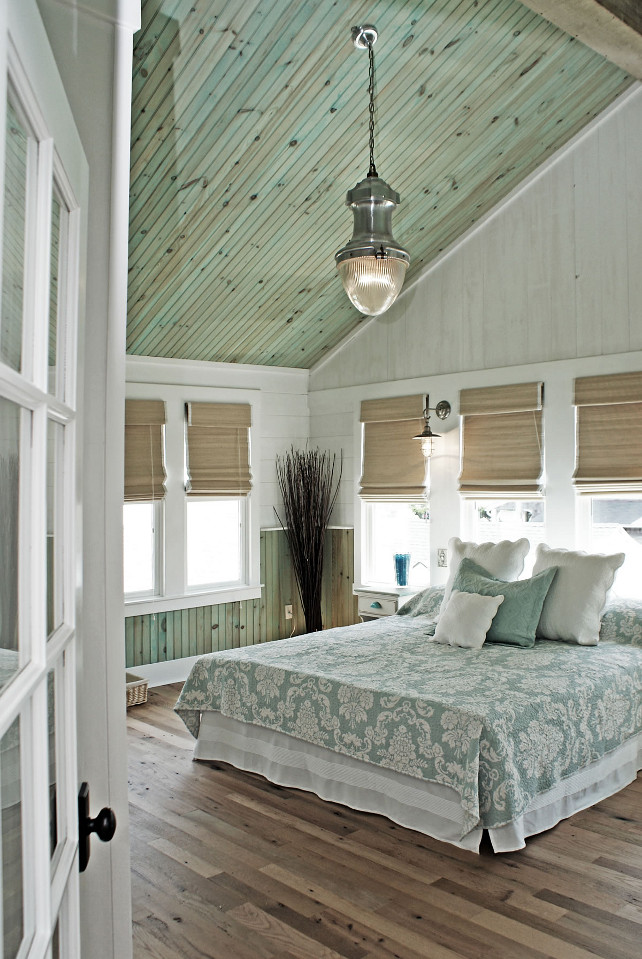 There's so much to love in here! This South Atlantic Coast inspired master bedroom features an aqua-hued color scheme. The floors are once again made from reclaimed hand-scraped barn wood red oak.
The ceiling wood is finished with highly diluted aqua tint to give it just a hint of color and left without varnish to assure the wood looks natural and that there is no reflection. The light fixture is the Vintage Streetlight Prism Pendant from Restoration Hardware. The bed linens are from Manuel Canovas.
The window shades are Extreme Woven Lorena Natural 27 w/ White Edge Binding & White BO Liner.
Bathroom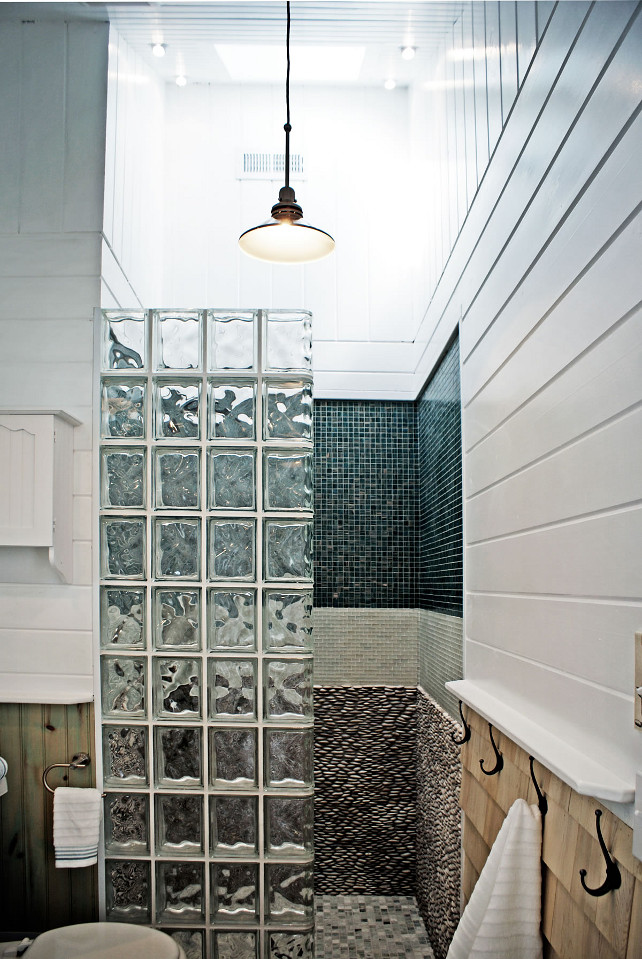 Great usage of space in this small bathroom.
Shower Tiling
This open shower boasts a beautiful three-tile wall with turquoise, white, and then stone tiling.
Kids Bunk Room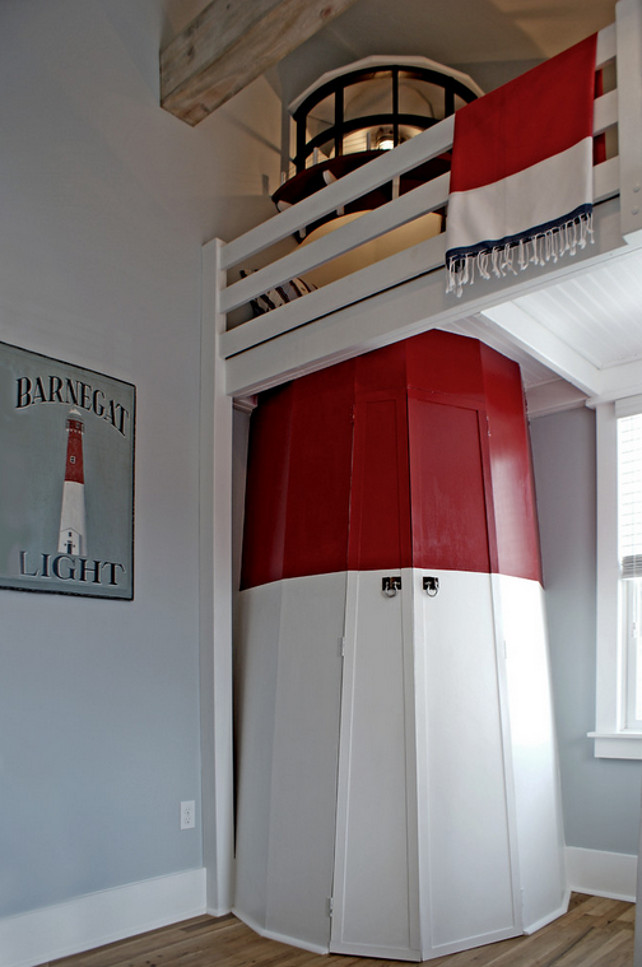 This is an adorable kids' bunk room with its own custom-made red and white lighthouse closet.
The coastal art is from a store in Beach Haven, NJ. "Called How to Live".
Children's Room with a Nautical Theme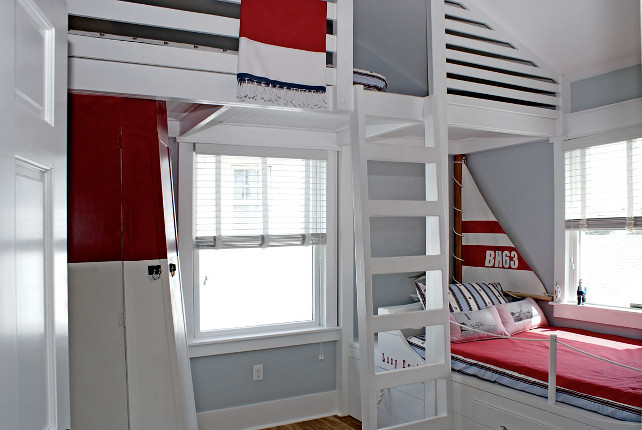 Sleeping in this coastal bunk room would be an adventure on its own! How fun!
Coastal Navy Blue Bedroom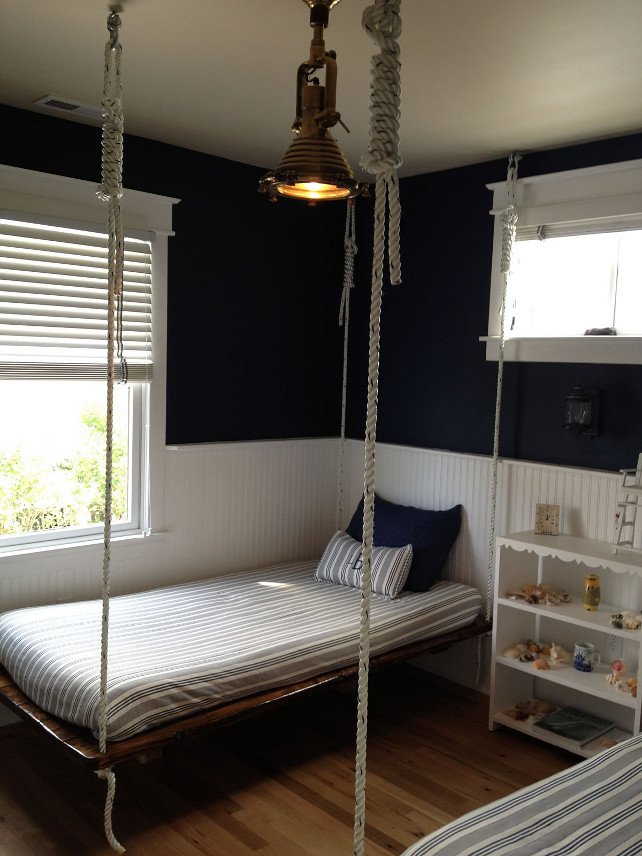 This guest bedroom features split-shine plank beds hanging from dock line and a sharp navy and white color scheme. I love every inch of this room!
Bedroom Window Seat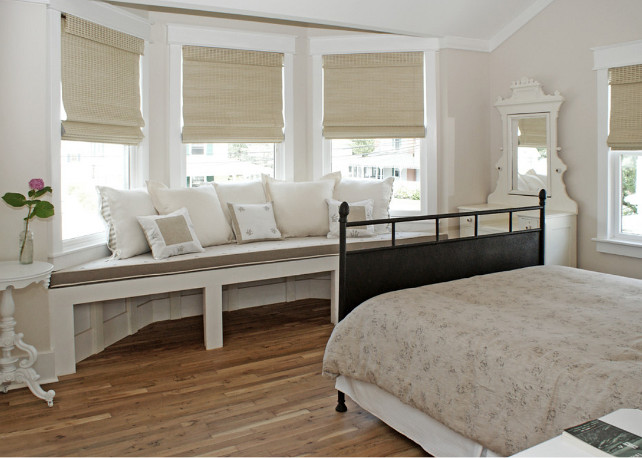 The guest room bedroom carries a romantic mix of late 19th century Americana and Provencial with a large window seat in the turret that affords expansive views of Beach Haven's most beautiful Victorians down the street.
The bed is from Restoration Hardware. Window blinds are from Select Blinds.
Bathroom Paint Color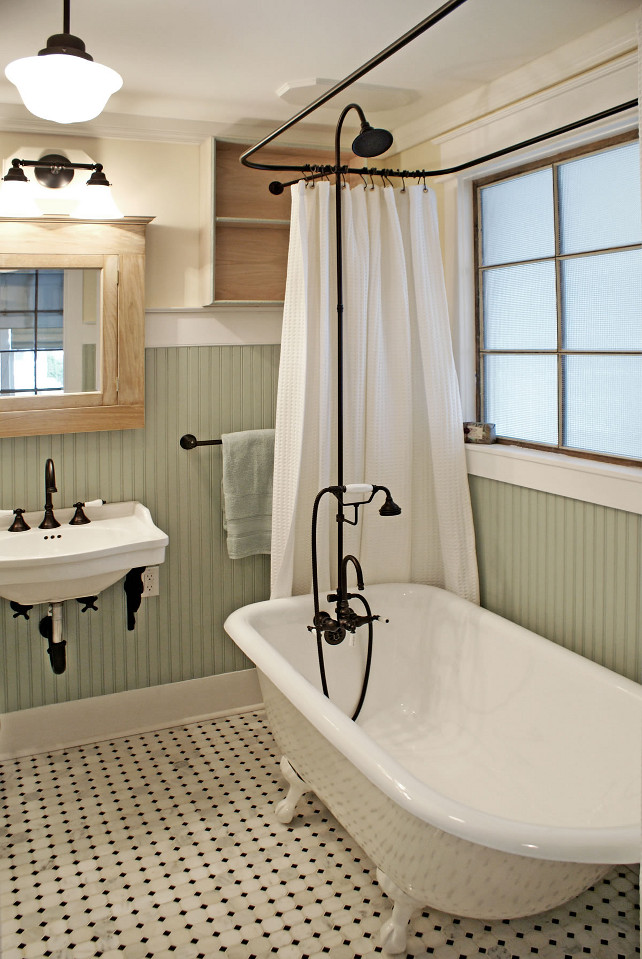 The paint color in this bathroom is Benjamin Moore Tree Moss.
Victorian Beach Cottage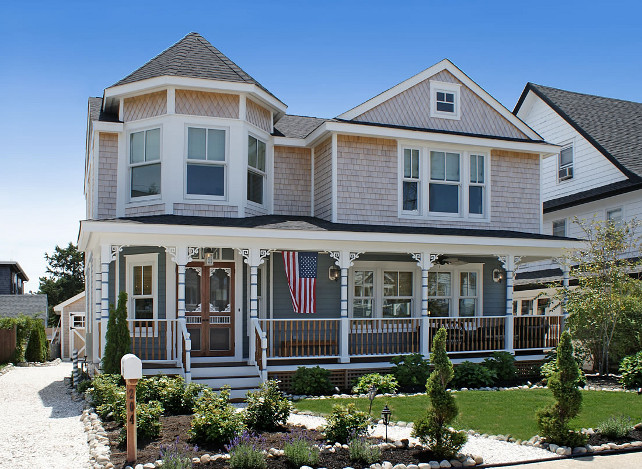 This Victorian beach house features a stunning curb-appeal.
Detached Garage
A gravel driveway leads you to the detached garage and to the backyard.
Back of the House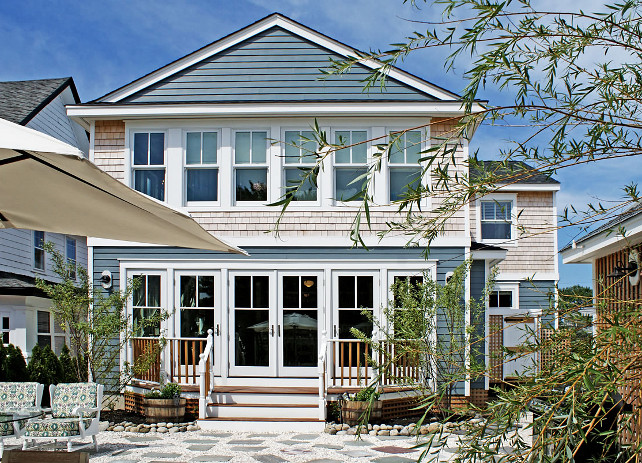 The exterior paint color of this home was inspired by the beach, which is located only a few blocks away.
Paver Patio Ideas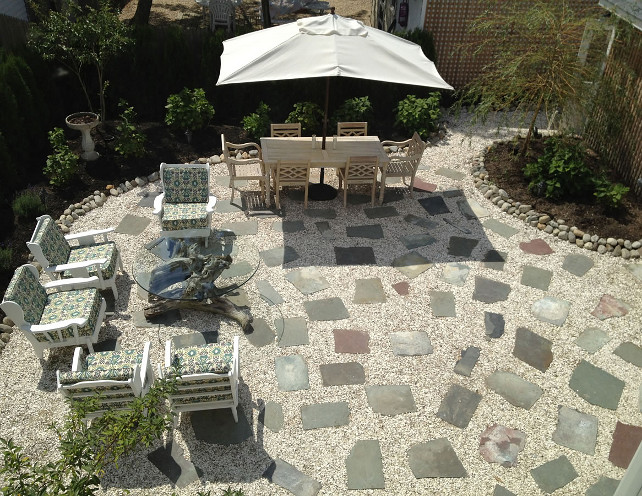 This is a very inspiring backyard layout. Adding gravel and pavers make this backyard almost maintenance-free!
At Night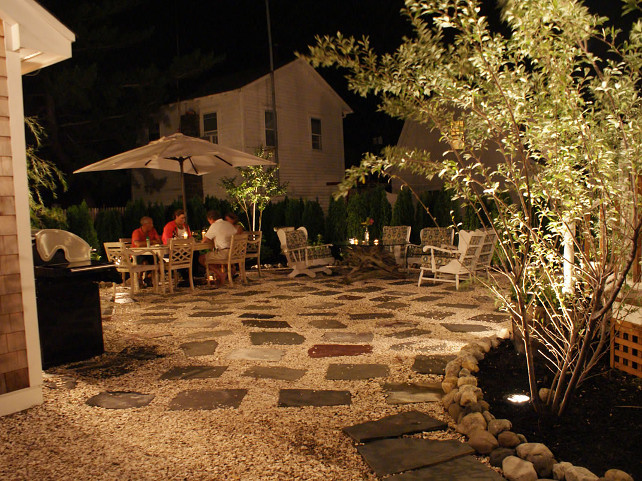 Always remember to invest on landscape lighting to extend your time enjoying your outdoor living areas.
Sources: OUTinDesign.
See more Inspiring Interior Design Ideas in my

Archives.
Interior Design Ideas:

Paint Color
It feels so good to be here today and share this new post with you all! How are you feeling?
I spent my weekend and yesterday finalizing a project for a client and I am very happy with the results… take look at what she wrote to me this morning after seeing the project:
"Luciane,
Absolutely beautiful! There is so much to look at and lots of decisions to make. All the options are so light and lovely, easy on the eye, while at the same time have a finished elegant look.
(…)

I am so impressed with your hard work. The work and details you put into the email project design alone is very impressive, both with the kitchen project and this one. You choose things that I love and when I see something that stops my breathing, I know that is the choice. It happened with many of the items: couches, chairs, fabrics, lights, mirrors etc.
I can't imagine ever designing a home without your expertise! Thank you. Thank you.
(…)
You have left me with a big smile on my face. What a great way to start the day! Thank you!!!!!!"
_ B. A. from California.
It makes me so happy to see my client feeling this way about the project. I won't lie, I am a perfectionist when it comes to my work. I take pride on the carefully choices I make and I immensely value my clients' trust. Nothing makes me happier than seeing that my work is making someone living a littler better and finally finding their true personality expressed in their homes.
I just thought of sharing a bit of my day with you guys and how happy I am right now. 🙂
I hope you have a lovely day, filled with sunshine and good surprises!
We'll talk again tomorrow!
with Love,
Luciane at HomeBunch.com
Interior Design Services within Your Budget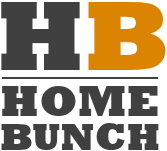 Get Home Bunch Posts Via Email