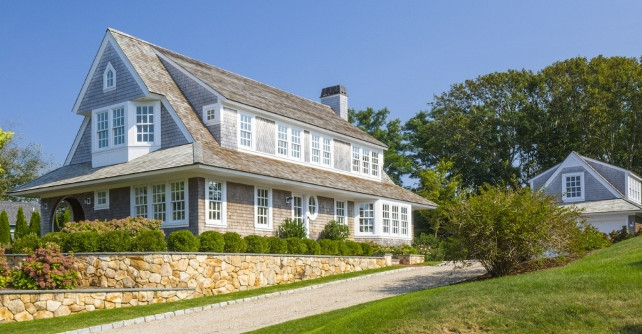 Brilliantly designed with 3,857 square feet by Polhemus Savery DaSilva, and located in Cape Cod, MA, this shingle beach house with neutral coastal interiors sits on a quiet street on the edge of a quaint seaside village. The clients sought a unique but traditional house that would feel like a compact cottage when viewed from the street but function like a spacious family home. The house sits on a rise up from the street, providing some separation from the street and situating the house to capture a peak of an ocean view. The large bay window in the second floor master bedroom and the second floor deck off the master bed room take advantage of this view.
This home embraces its location with charming decor and a relaxed lifestyle, which is truly an irresistible formula.
Cape Cod Shingle Beach House with Coastal Interiors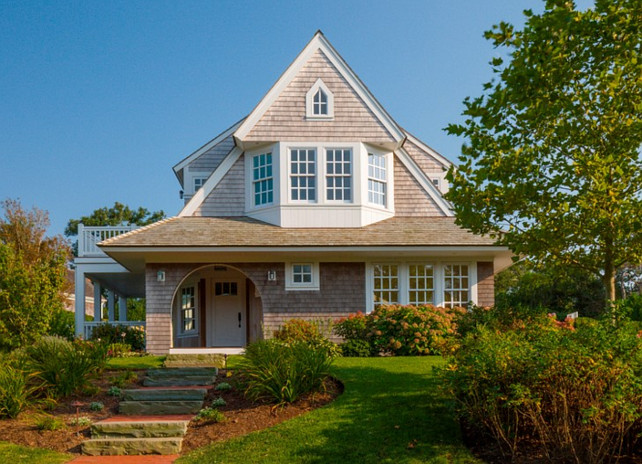 An arched opening announces the front door emphatically but casually.
Architecture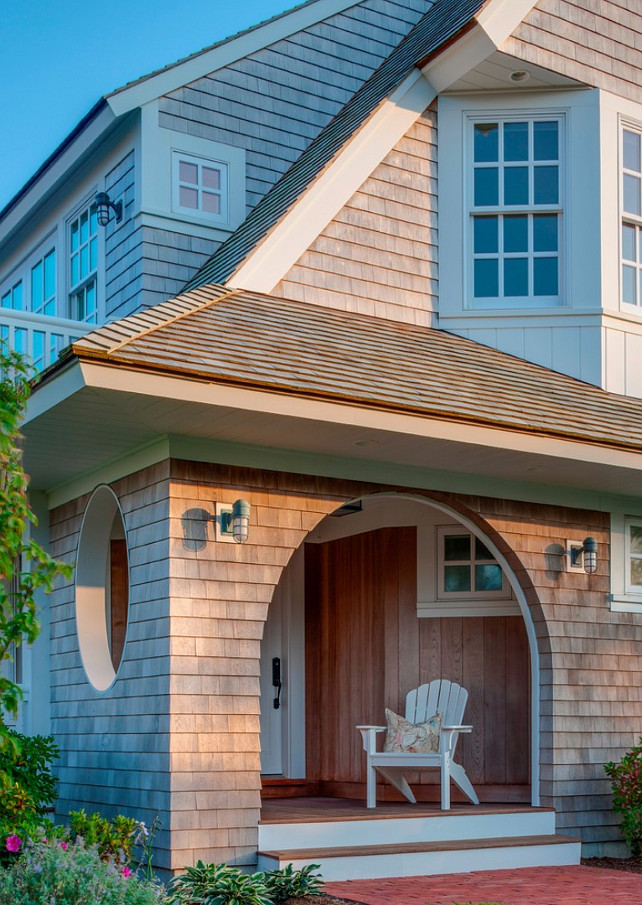 Whimsical but simple details like a small, off-center square window by the front porch and an oval window tight against the side door enliven the simple but well-proportioned form.
Timelessly Designed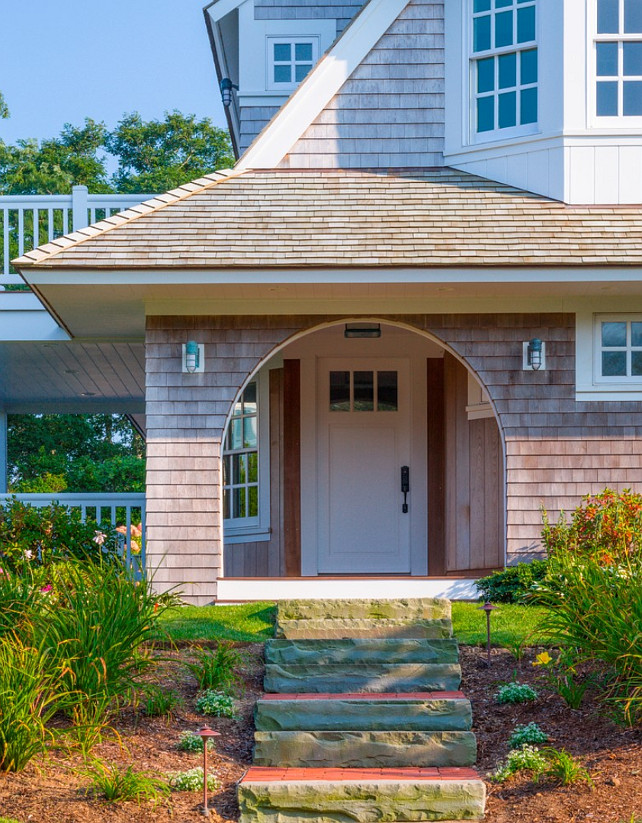 A steep roof furthers the whimsical feeling and helps give the house a touch of story-book character. Large overhangs shade the first floor windows.
Pure Charm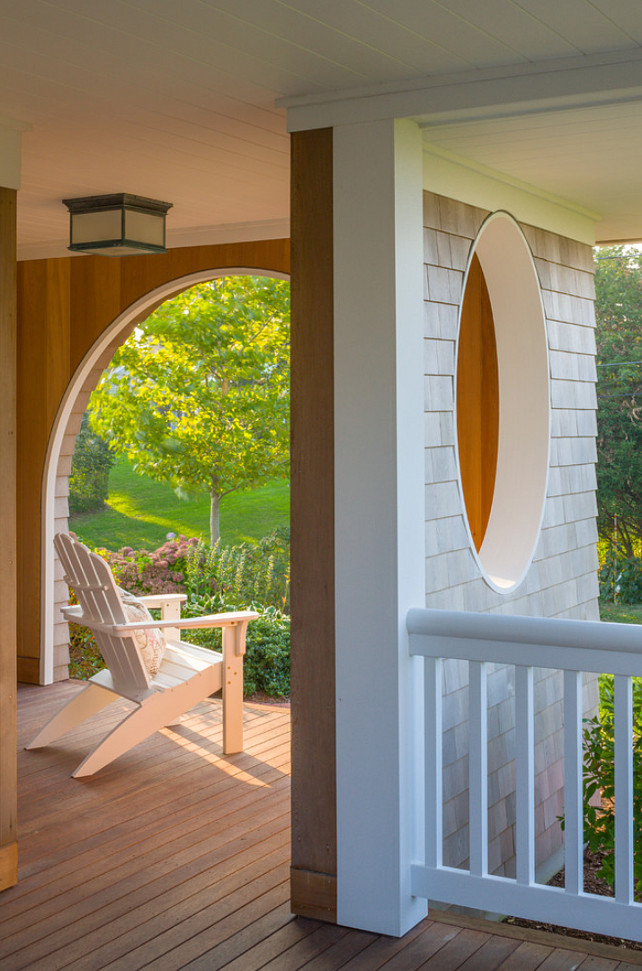 Small, but creative details shows that this house is meant to be seen as a charming cottage not a grand estate.
Picture Frame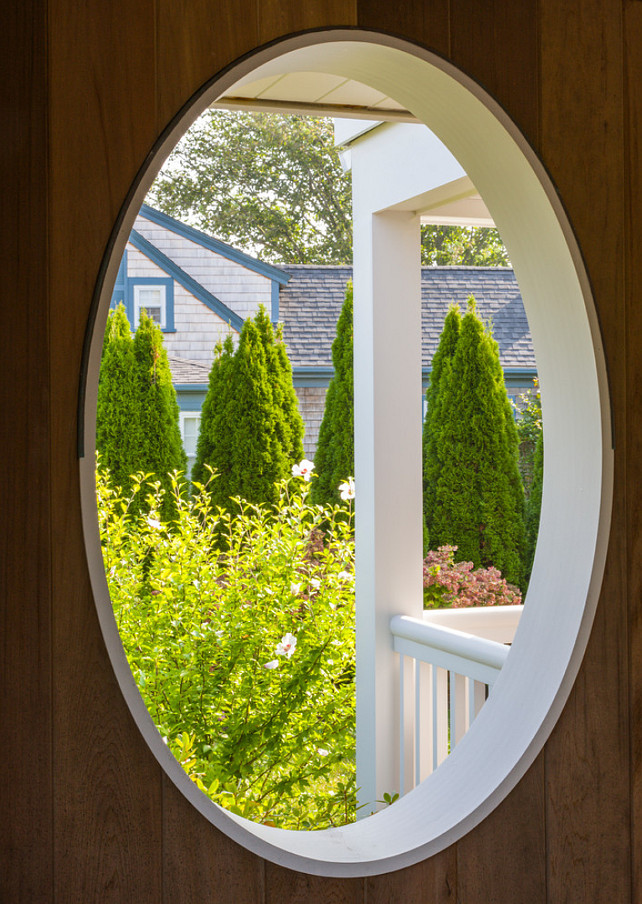 Isn't this special?
Porch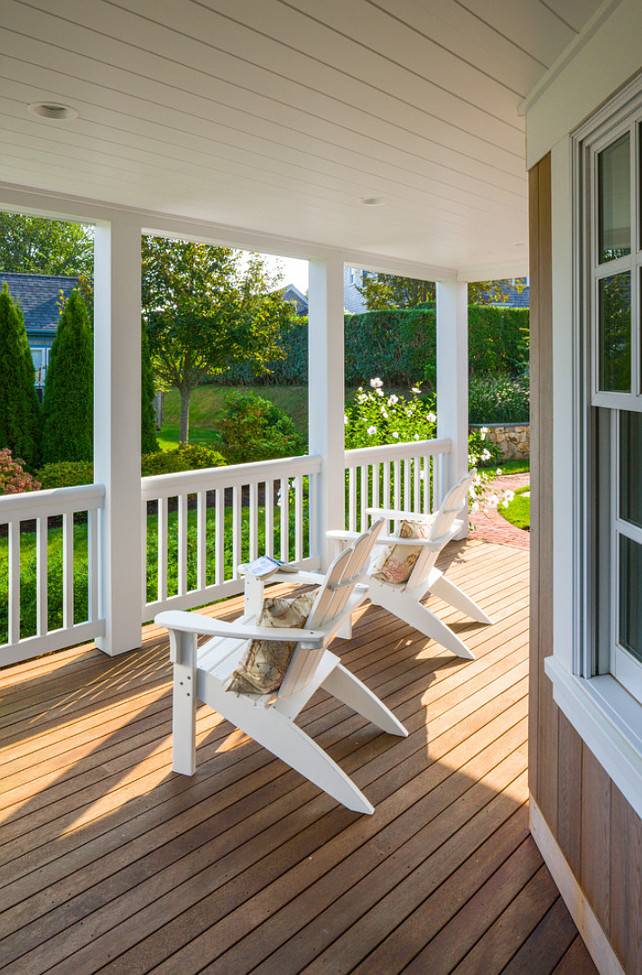 The front entry porch merges with a side porch that opens up to outdoor living space at the side and back of the house.
Front Entry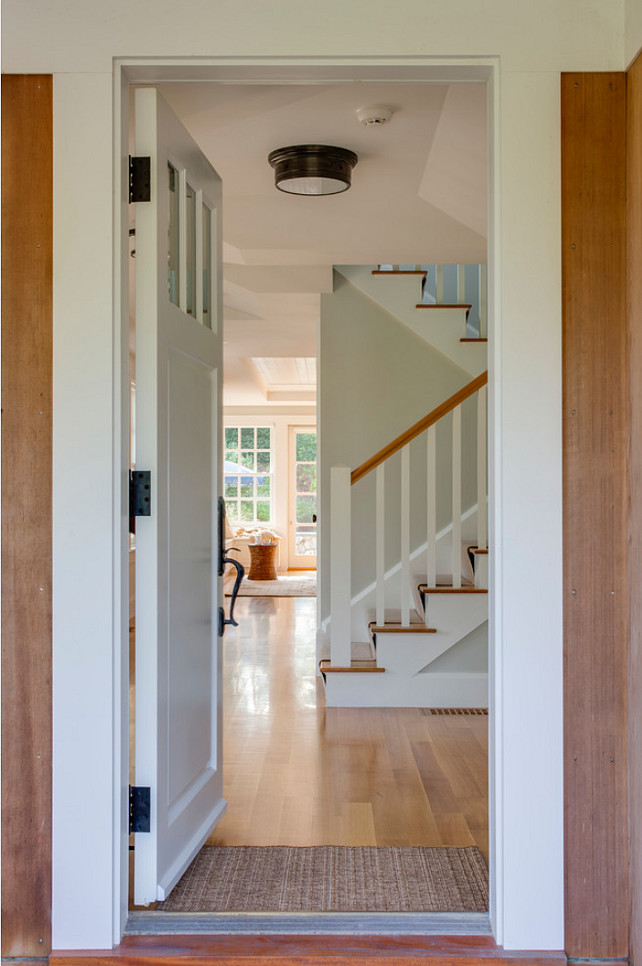 As soon you open the door you notice how light and airy this home feels. Generous amounts of natural light flood the spaces through large windows that wrap around three sides of the living spaces and two sides of the bedrooms. A guest bedroom suite occupies one corner of the first floor, a master suite with a sitting area in the view-facing bay window occupies the front of the second floor, and two bed rooms occupy the back of the second floor.
Foyer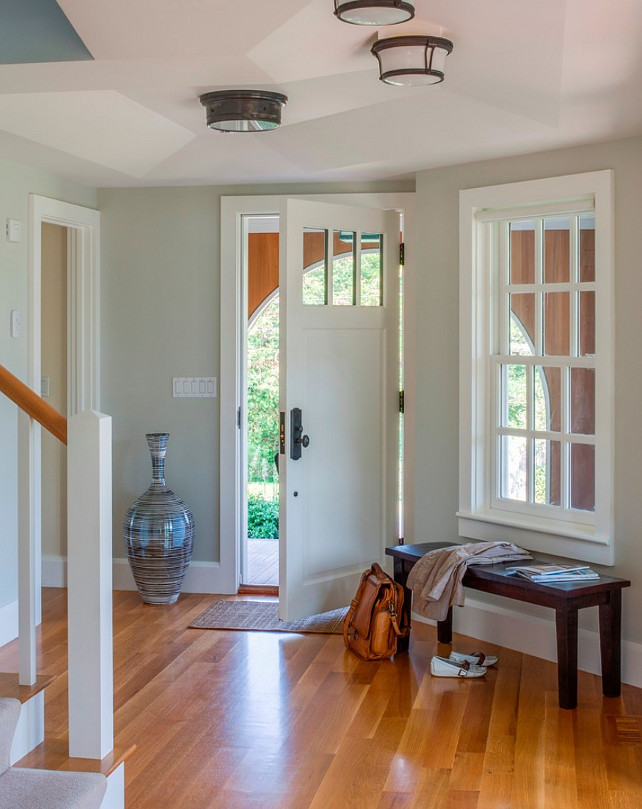 A small but open entry hall connects the street side of the house to the stair and open living/dining/kitchen space beyond.
Kitchen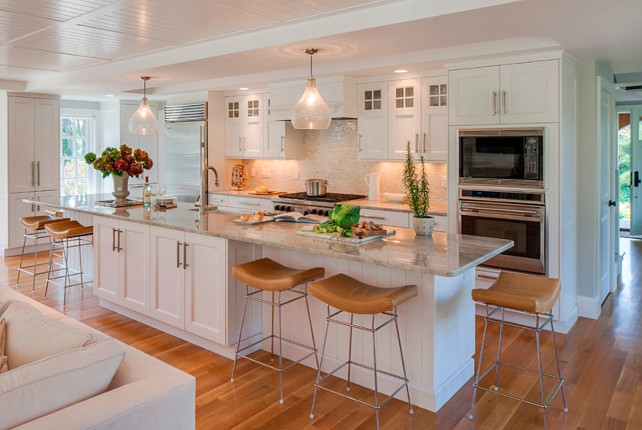 Simple white kitchen cabinets are beautifully complemented with modern hardware and a long kitchen island.
Kitchen Ideas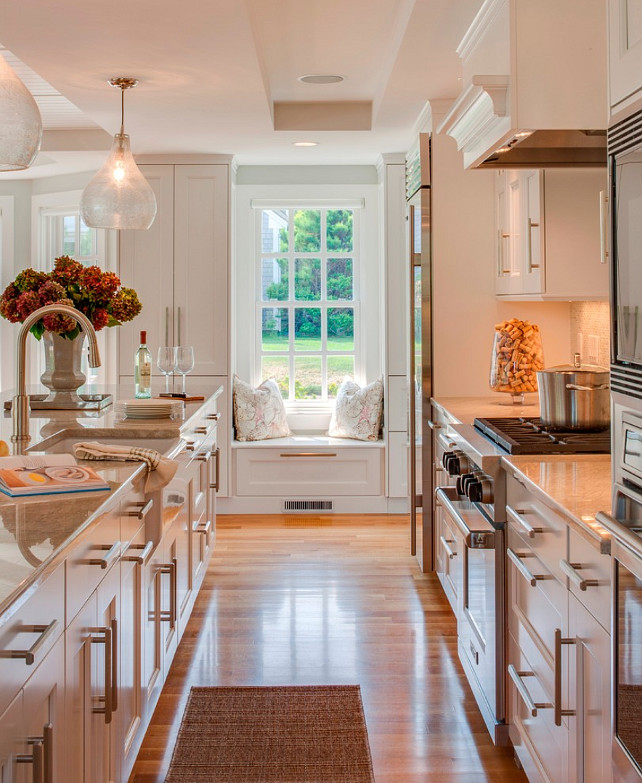 I am loving kitchens with window-seats. They make kitchens feel cozier and more family-friendly.
Open Concept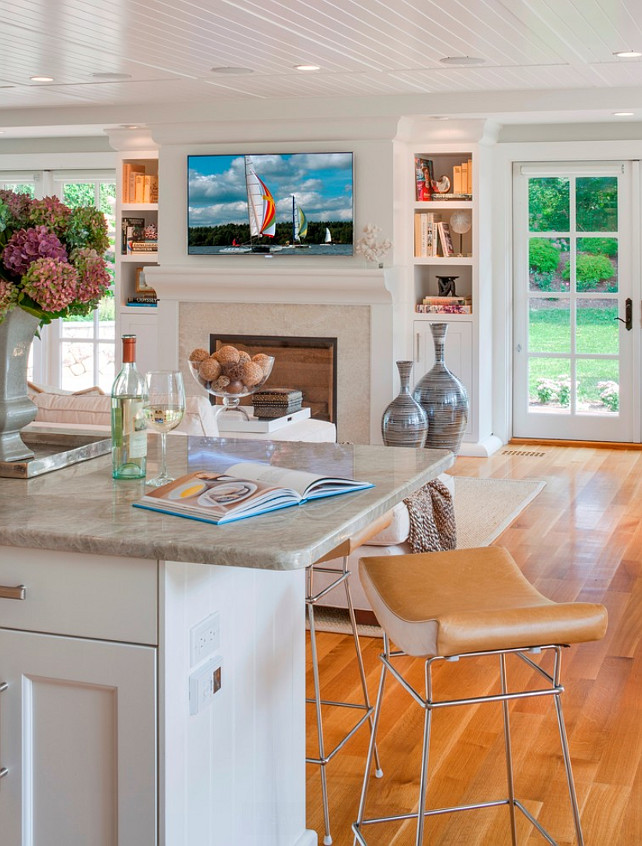 The kitchen opens to a spacious family room with custom built-ins.
Family Room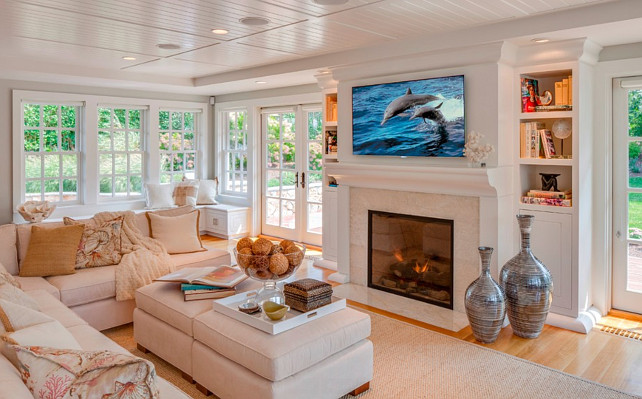 The living space is wide open but has simple ceiling soffits and a big bay window by the dining table to subtly define sub-spaces within the larger whole. A fireplace and built-in housing display space and an entertainment system is flanked by windows and doors that open up the interior to a large deck and the yard beyond.
Sunshine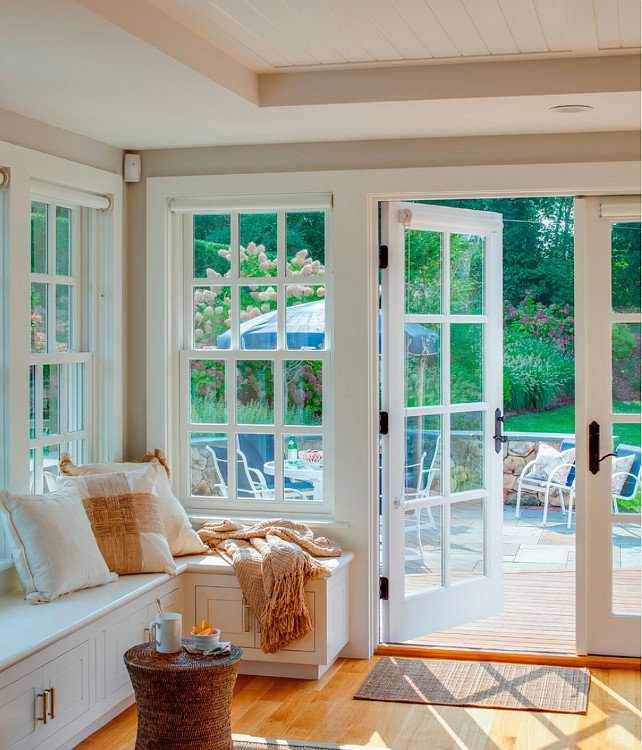 Wouldn't it be lovely to spend an afternoon here?
Master Bedroom Paint Color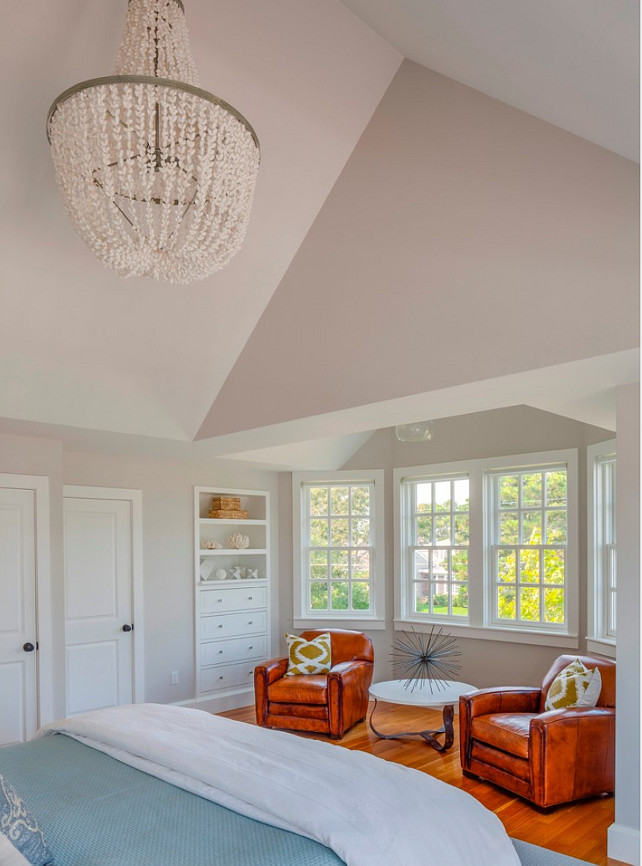 "Benjamin Moore Baby's Breath 873".
Waves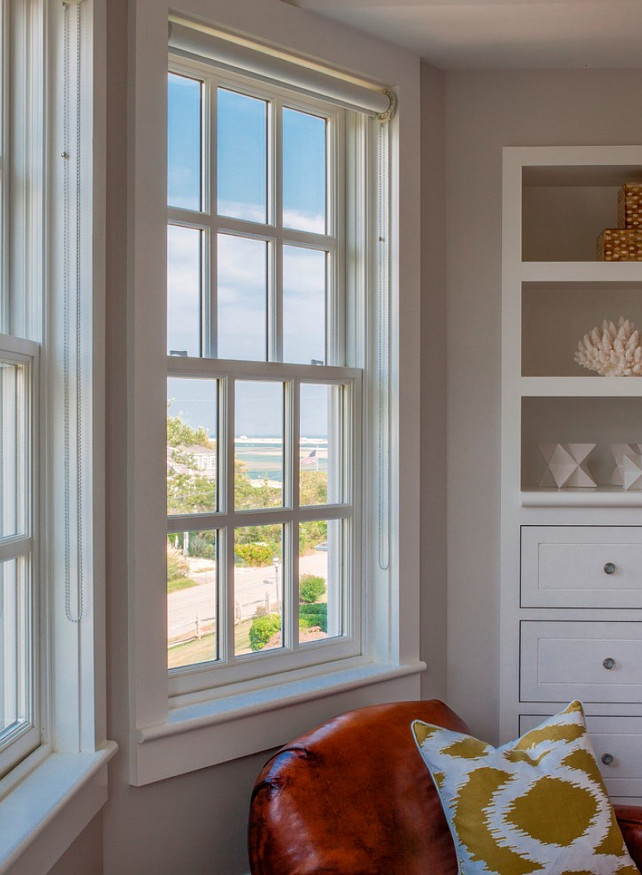 Dreamy ocean views can be enjoyed from the master bedroom.
Balcony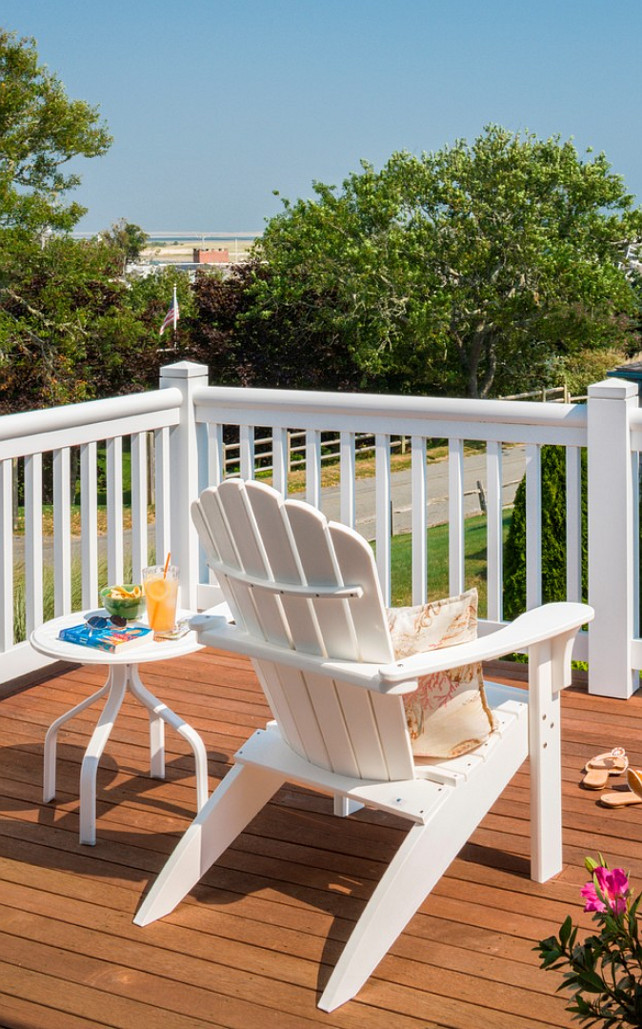 A moment of peace and some vitamin D.
Built-in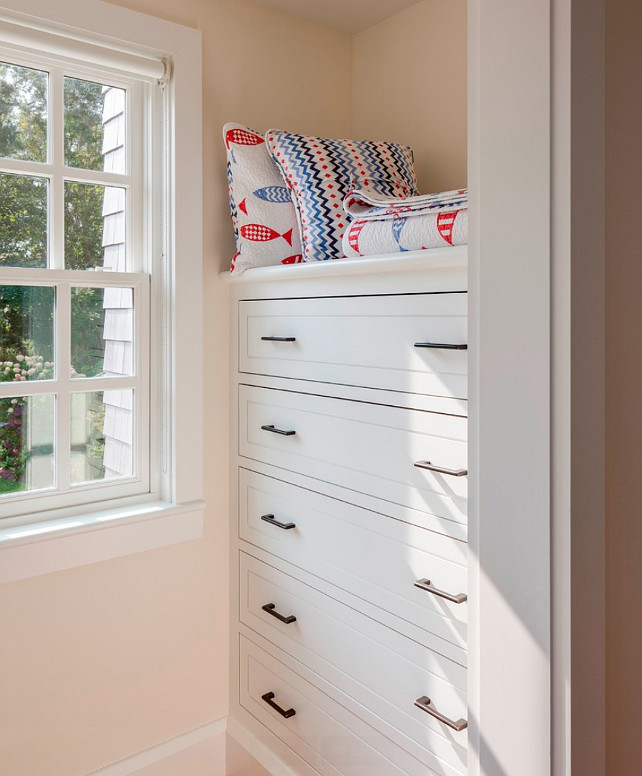 Built-ins are always worth the investment!
Bathroom
The master bathroom is simple and inviting at the same time. I like the casual decor.
Mudroom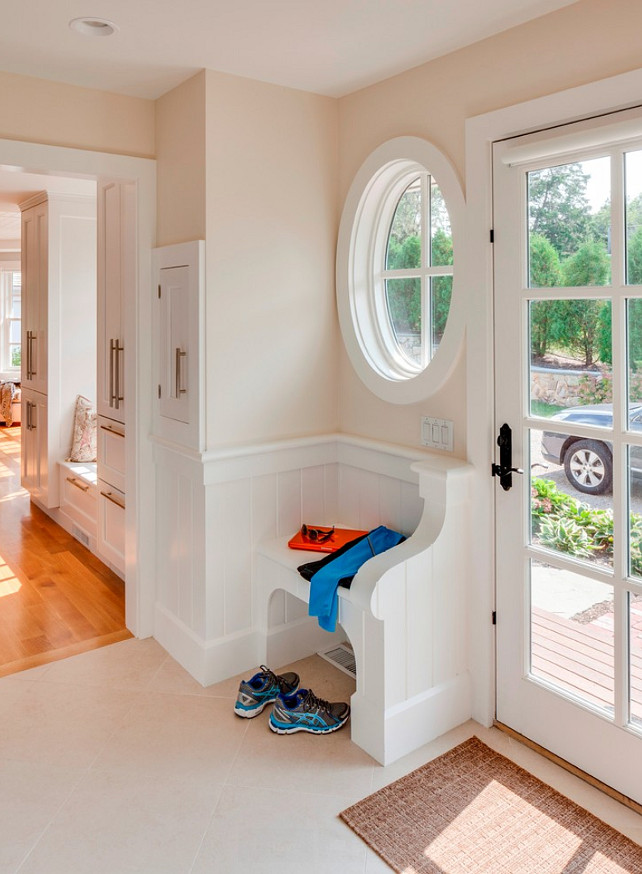 A mudroom with a whimsical built-in bench seat is just inside the side door and also connects to the living space at the back of the house.
Garage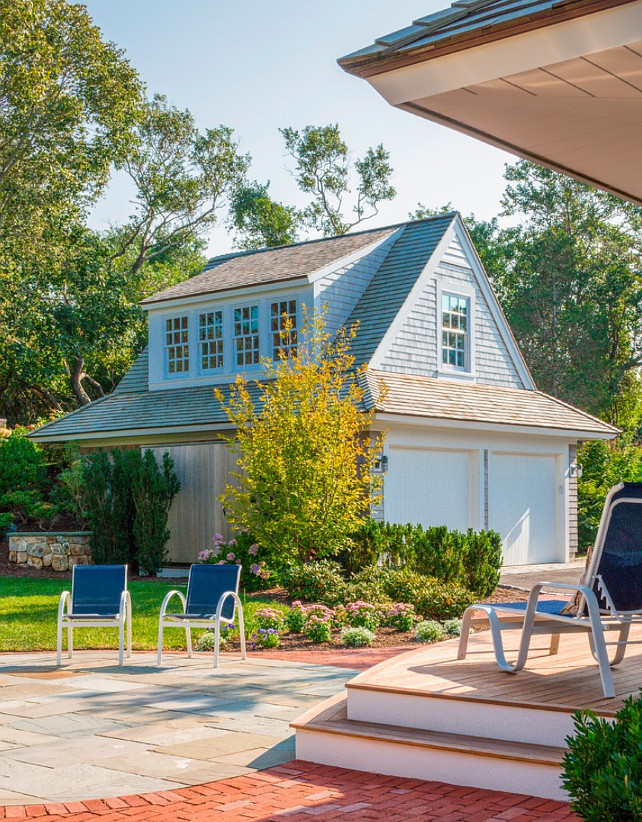 The detached garage is a miniature version of the house itself, with a similar roof shape, overhang and windows.
Roof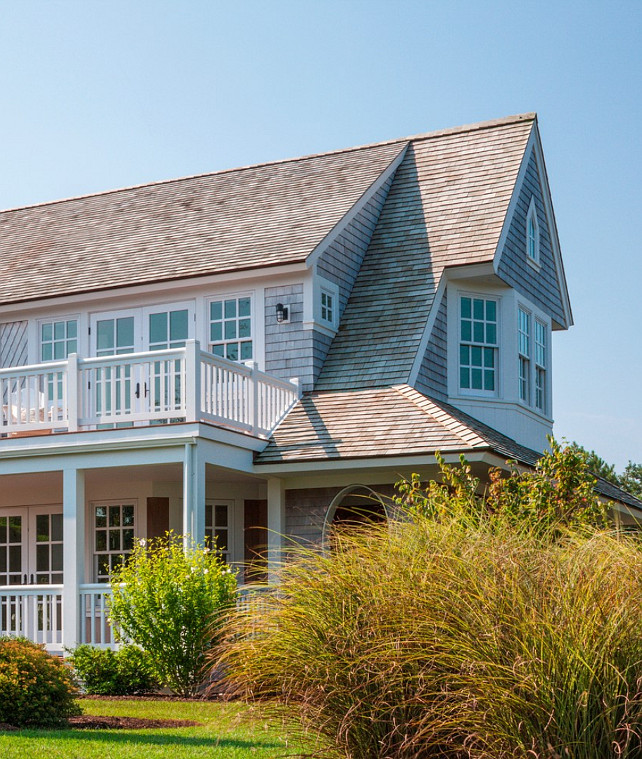 Stunning shingled roof and side porch.
Backyard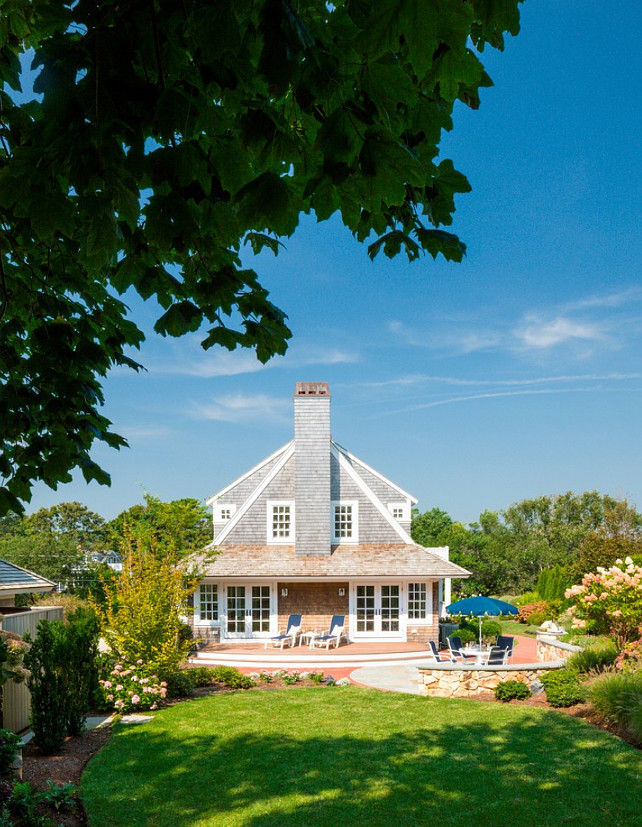 The yard, designed by landscape architect Hawk Design, is enclosed by retaining walls, natural slope lushly planted and an outdoor kitchen built into the grade.
Moonlight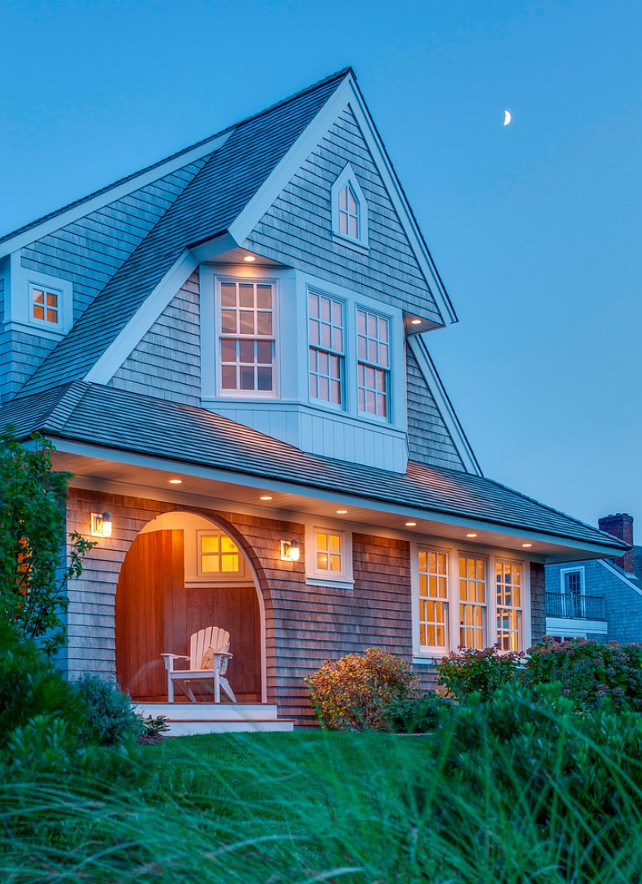 A special spot to dream away…
See more Inspiring Interior Design Ideas in my

Archives.
Interior Design Ideas:

Paint Color
Interior Design Ideas:

Paint Color
It's truly wonderful to be back here to talk with all of you. It is always great to prepare these posts and know that you will take a minute of your time to come here and take a look at what I have to share with you.
I remember when I first started the blog and I used to check where the readers would come from. I used to be so excited to see that people would come from almost every place in the world and you wouldn't believe how happy I used to be. It was incredible! Another day my husband asked me if I still check where the readers come from and, honestly speaking, thank God, I have more readers than I have ever dreamed, but I still do check sometimes. Like I said to my husband, readers, for me aren't numbers, they're people with whom I share so much of my life with. I imagine you stopping doing what you doing to come here and spend some time checking on the new post, or surfing around…
It doesn't matter how long I sit on the other side, I still carry this passion for each post and especially, I still carry a huge gratitude for each and every one of you. I can't thank you enough for allowing me to keep sharing my dreams, my inspirations and my heart on these "pages".
Thank you so very much for being here today!
May you all have a very Blessed week!
with Love,
Luciane at HomeBunch.com
Interior Design Services within Your Budget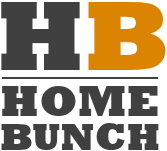 Get Home Bunch Posts Via Email

Sources:Polhemus Savery DaSilva. Photo Credits: Brian Vanden Brink.