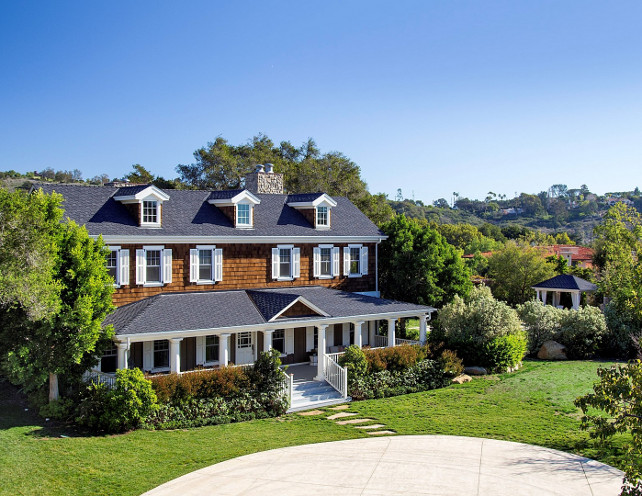 We all have a dream home. Some of us already live in their dream home, others plan to build it some day and others try to transform what they have into their dream home.
Imagine finding your dream home for sale and being able to buy it as soon as it hits the market. Wouldn't that be an exciting moment? This East Coast-style shingle home, located in Montecito, California, might be just that for someone, you just need to sign a $7 mil check.
Down a tree-lined road behind gates, this fabulous East Coast-style shingle home sits on approx. 1.62 acres. Mountain views abound from the tastefully appointed yet comfortable floor plan, with 6 bedrooms in the main house and a wonderful 2-bedroom guest house. The covered patio enjoys views of the rolling lawns, pool and lush, detailed gardens. An outdoor kitchen, bocce court and pool gazebo allows for the quintessential indoor/outdoor living for which Santa Barbara is known. The majestic oak trees surrounding the property creating a peaceful setting.
Take a look and tell me… would you pay $7 mil for this home? As always, location sets the price.
East Coast-style Shingle Home for Sale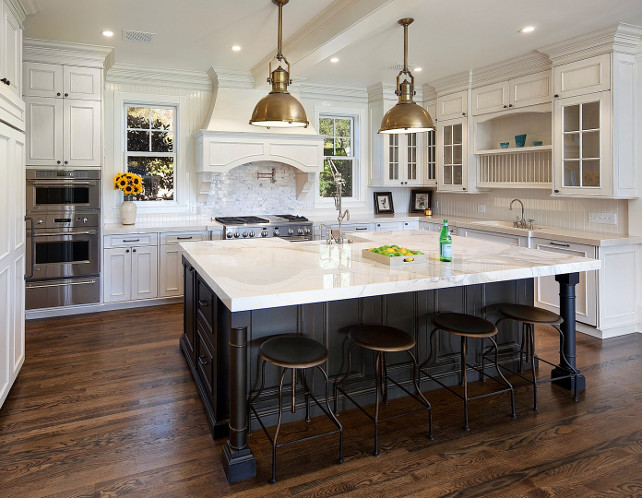 This easily could be a dream kitchen for many of us, right? I love the ivory cabinets painted in Linen White by Benjamin Moore and the ebony island with marble countertop.
Kitchen & Dining Room Lighting Combo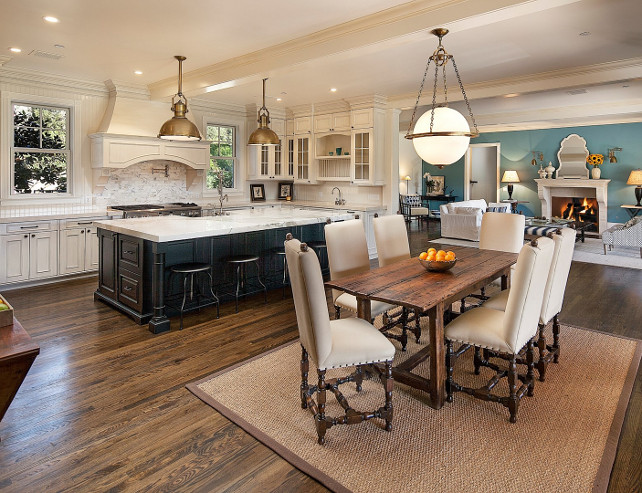 Using lighting that complement each other is important but they don't really need to match. Here, the designer used a pair of Large Country Industrial Pendant with Metal Shade above kitchen island. Light in the dining room is the E.F. Chapman Modern Globe Pendant.
Flooring is oak.
Accent Wall Family Room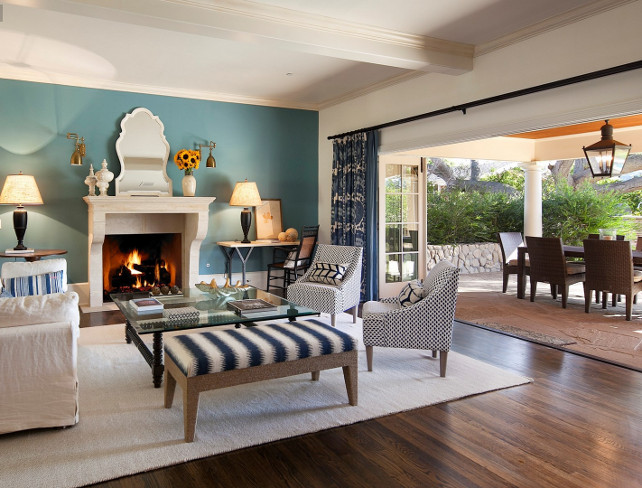 The dining room opens to an elegant family room. This space showcases a gorgeous color palette and an accent wall painted in a beautiful shade of blue. Bi-fold doors open to a covered patio area.
Dining Room Lighting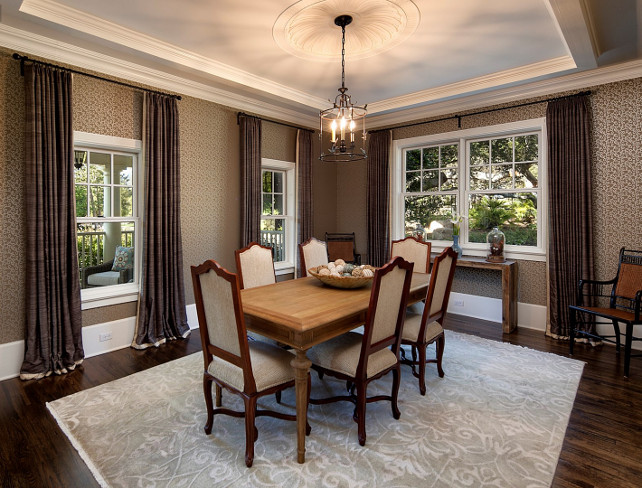 The dining room lighting is E.F. Chapman Diego Grande Classical Perching Bird Lantern in Gilded Iron by Circa Lighting.
Living Room Wallpaper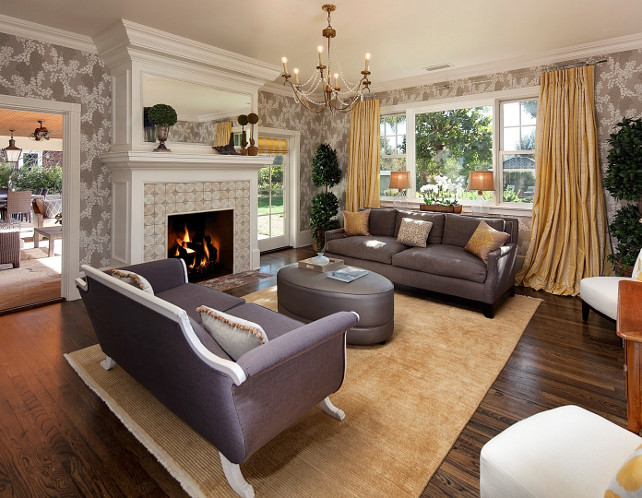 The living room has a more traditional feel and features the Farrow and Ball Wisteria BP 2202 wallpaper.
Lighting is the E.F. Chapman Marigot Six-Light Chandelier With Seeded Glass Beads from Circa Lighting.
Master Bedroom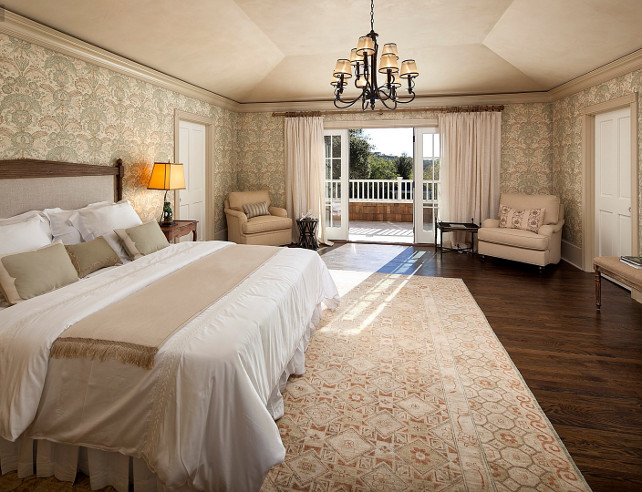 Wallpaper can add interest and style to any space. Here, this wallpaper brings a sophisticated and traditional feel to the master bedroom.
Bathroom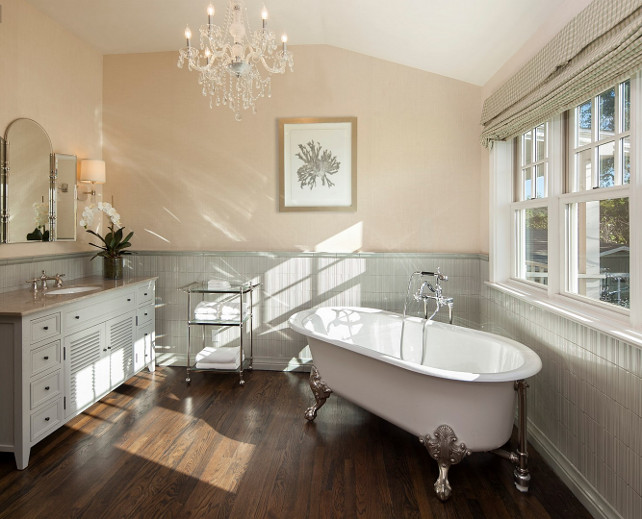 I love the soft gray color scheme and the half wall glass tiles in this bathroom. Isn't this calming?
Gray Paint Color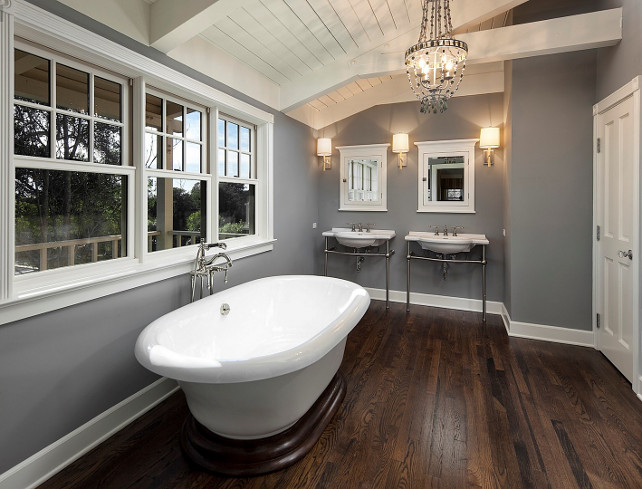 Gray paint can make any bathroom feel more modern and sophisticated. Paint color is Whale Gray by Benjamin Moore.
Backyard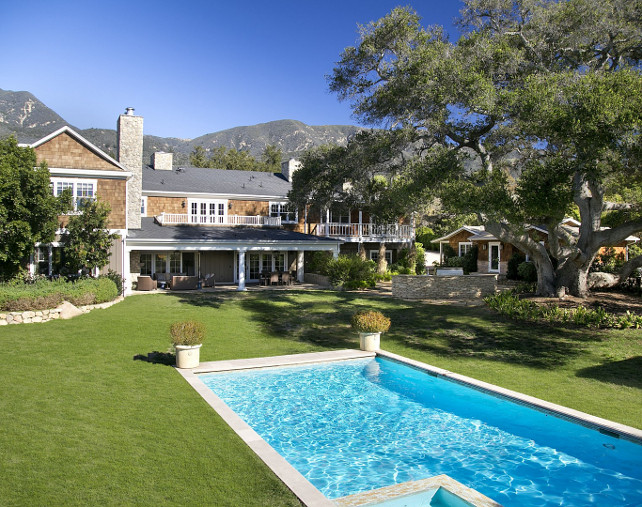 This backyard has everything you could wish for! Privacy is always crucial for me and this one has plenty of it.
Outdoor Kitchen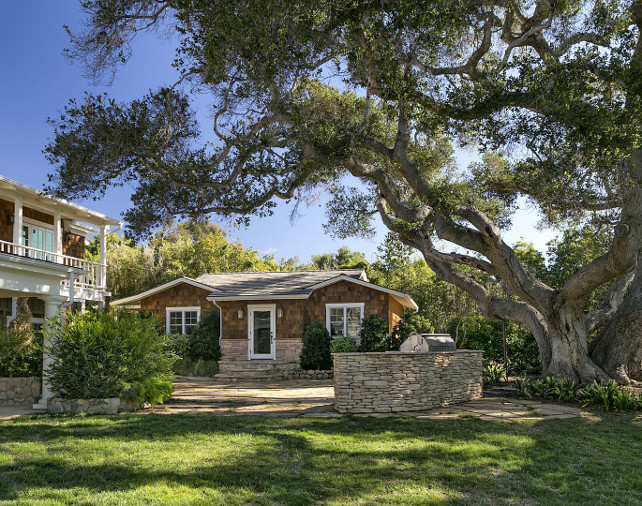 A must-have in any backyard right now is an outdoor kitchen. This one is located under a marvelous oak tree… how dreamy!
Pool Cabana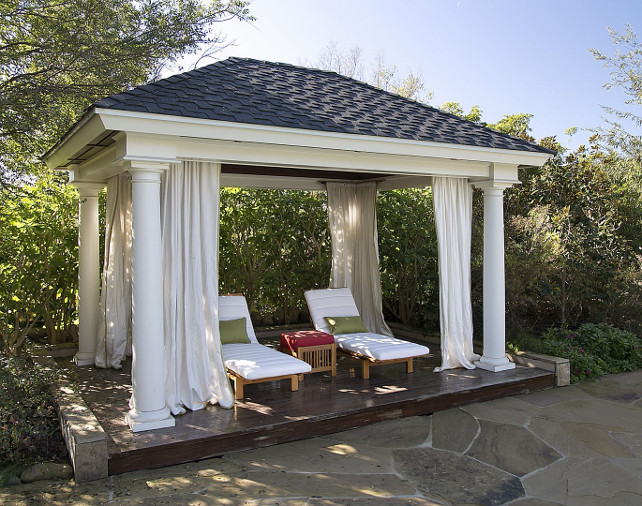 The pool cabana is set at the end of the property.
Pool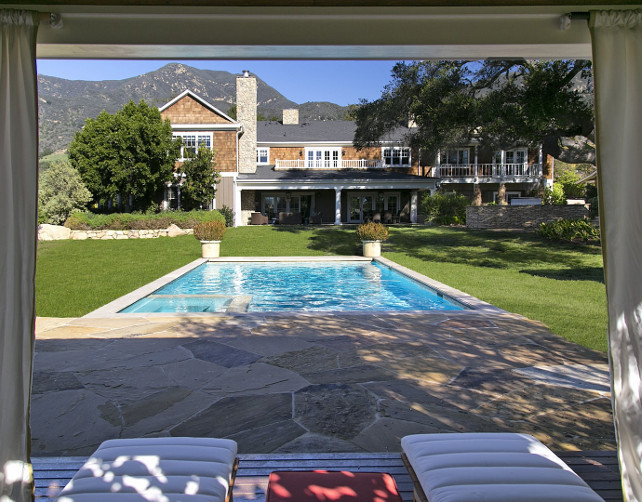 What a great place to rest and enjoy a sunny day.
Backyard Layout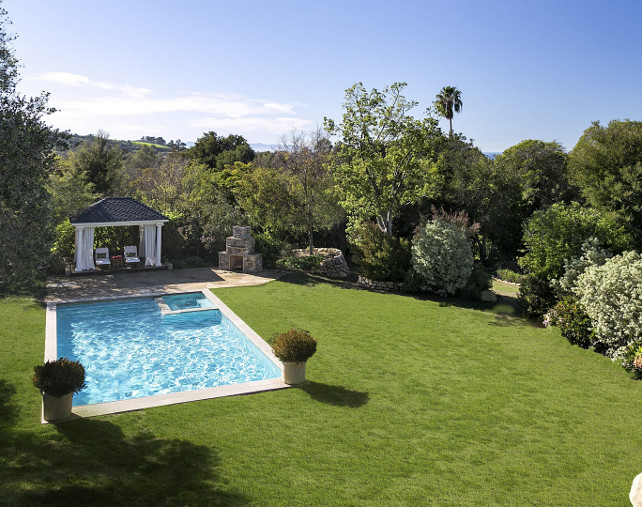 Collecting backyard aerial views is a smart idea if you're planning on working on your backyard layout. This backyard features a rectangular pool, patio with outdoor fireplace and a cabana. Trees add privacy to the pool area.
See more Inspiring Interior Design Ideas in my

Archives.
Interior Design Ideas:

Paint Color
Isn't it fun to see houses for sale? I love seeing them even when they're a little over my budget, like the one above. It's always good to know what's out there, just in case I win the lottery… 🙂
Are you guys having a good day? It's beautiful and sunny here and I am planning on going for a walk soon.
As many of you know I found out not too long ago that I am gluten intolerant and this has being a battle for me. I feel that's not easy to stay away from gluten but, like every change, you need to be persistent if you want to achieve your goal.
Being gluten intolerant has made me more aware of my health and of what I eat. I have being reading a lot not only about gluten free food but about nutrition in general and the more I read, the more I feel aware of how badly I was eating.
I always been aware of junk food and I always tried to stay away from most of it, but sugar and bread was my biggest problem. I watched a documentary called Fed Up that I feel that has helped me and my older kids. This documentary opened our eyes about what we're bring from the supermarket to our pantry and being aware is always the first step. Taking action is the next.
Being healthy is not easy! Honestly! Being healthy has become hard in this world where every food is modified or full of pesticides. Eating organic food is not cheap and it's something that many families can't afford. In fact, it's much cheaper to eat junk and processed food in our country than healthy food which is so absurd. I grew up where whole food, vegetables, grains where cheap and cookies, chips, soda was sold as "treats", as something you would eat only sometimes, not on a daily basis, not only because they were bad for your but also because they were costly. This, as we all know is very different nowadays and the sad news is that it won't change. Vegetables, meat, especially organic is overpriced where junk is sold for little money and easily accessed by everyone.
I am being "forced" to change my eating habits thanks to my gluten intolerance and although I hate it at times, I am actually thankful at others. I am slowly waking up and changing my way to see food. I am CHOOSING what I eat. Eating is no longer a blind motion, an automatic habit. I am being aware and this is already showing improvements in my daily life.
Being healthy – or at least healthier – is a choice that we must make every day. It's not an easy one and I know that very well, but I feel that's the best choice we can make for ourselves, for our families and especially for our kids. I see this now.
Enjoy your day, my friends and we'll talk some more tomorrow.
with Love,
Luciane at HomeBunch.com
Interior Design Services within Your Budget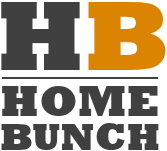 Get Home Bunch Posts Via Email

Sources: Sotheby's Homes.