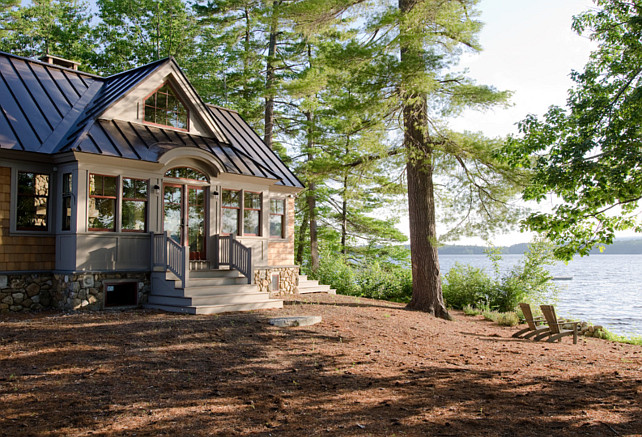 Imagine finding a place that you can call home every summer. A place where you can leave all the errands and craziness behind and only bring the people you care about. Doesn't that sound perfect? Just ask this Boston couple who drove up and down the coast of Maine, from the New Hampshire border to Bar Harbor (and everywhere in between), in search of the perfect summer getaway. They had started to lose hope when they happened to come upon this particular spot.
"We had looked at a lot of properties, and seen a lot of lakes, but we knew before we got out of the car that this was a special piece of land," says the wife.
The couple had kept interior designer Kristina Crestin in the loop as they looked at houses. Once they decided to rebuild this rustic lake house, they contacted architect Art Dioli, who happened to have his own vacation house nearby. Dioli brought in local builder Ron Dunn and a summer dream team was born.
Though the homeowners love the clean lines and openness of contemporary architecture, they wanted something that fit the rural landscape. Something like a camp. "I like contemporary buildings, but I also knew that we loved this place for the natural environment," says the wife. "So with Kristina's help, the architect and the builder were able to marry something that was fairly clean lined yet traditional looking on the outside. It has a very modern functionality even though we used very natural ingredients."
At 2,200 square feet, this new lake house sits about ten feet farther back from the water. The interior layout was designed around the homeowners' desire for a large living space that was open and connected to the outdoors. As you'll see, this is a perfect combination that allows the homeowners to create many special summer memories for year to come.
The breathtaking images are by James R. Salomon.


Rustic Lake House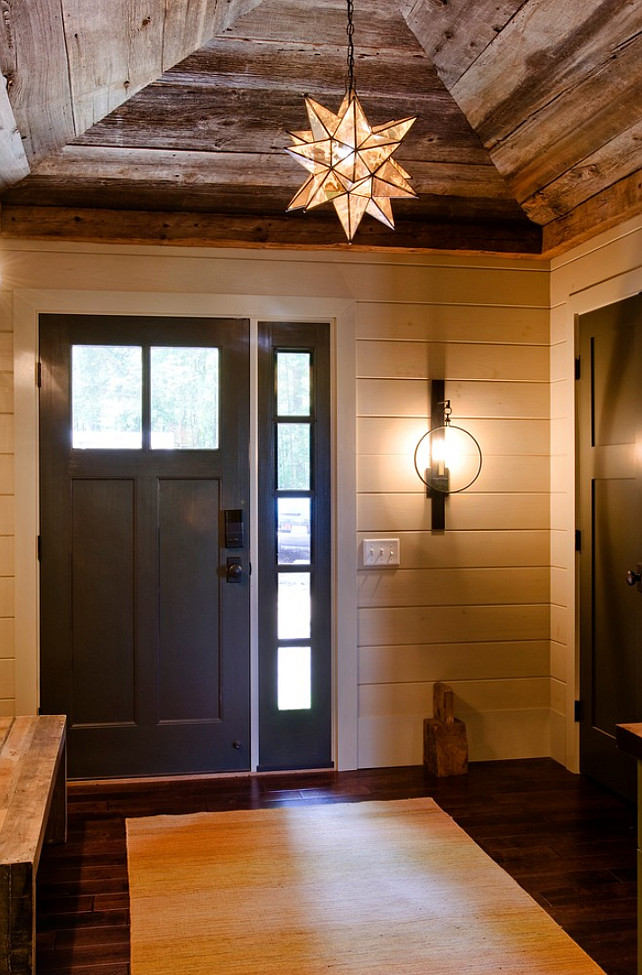 What an incredible foyer with reclaimed wood ceiling! Finding enough barn board for the ceiling and trim for the foyer and throughout the house presented quite a challenge, until builder Ron Dunn discovered a seller who'd been taking down old barns since the 1950s. It took Dunn multiple visits to sort through numerous large piles of wood—which happened to be covered in snow at the time—carefully choosing and sweeping clean each piece until he had 10,000 board feet of wood.
Foyer Lighting: The wall sconce is the Visual Comfort Gilded Iron with Wax Suzanne Kasler 1 Light Alice Wall Sconce in Aged Iron. The pendant is the Moravian Star Pendant.
Kitchen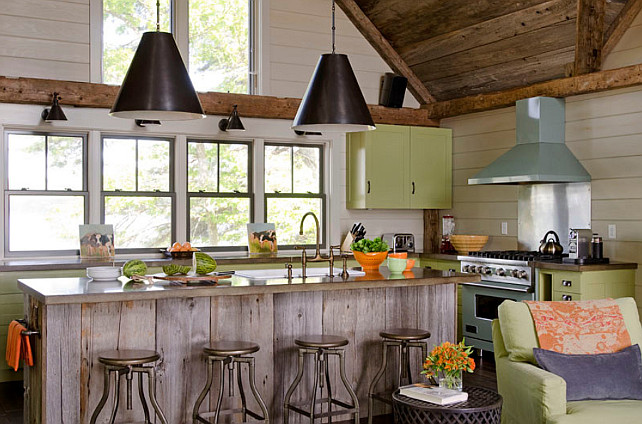 This rustic kitchen features reclaimed barn board planked cathedral ceiling over a barn board kitchen island with farm sink and gooseneck faucet. The island features industrial backless counter stools illuminated by a pair of Goodman Hanging Lamps in Antique Nickel. The green cabinets are painted in Valspar La Fonda Olive and are accented with oil-rubbed bronze cup pull hardware.
Countertop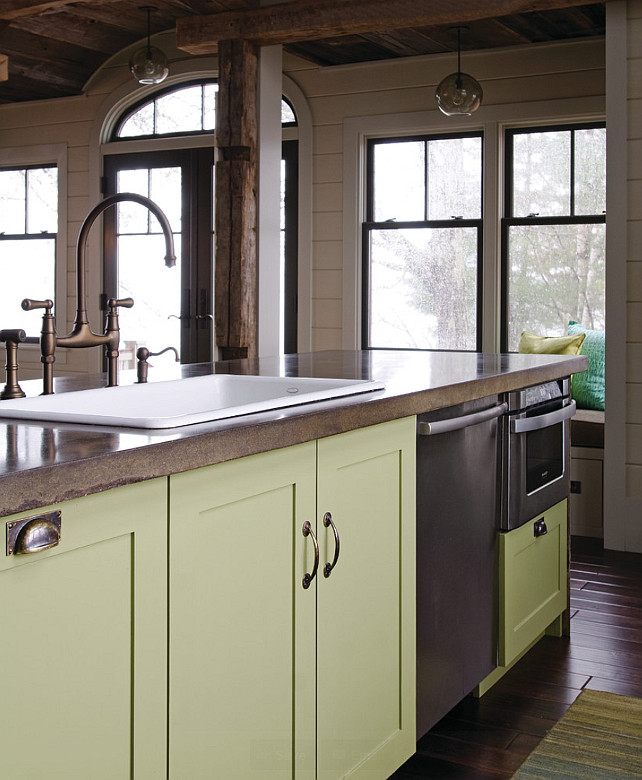 The kitchen countertop is concrete. The designer used concrete as they couldn't find a stone color that was just right. 1 1/2″ thick on the island and 2″ thick on the perimeter.
The kitchen faucet is the Perrin & Rowe. It is in an English Bronze finish.
Cabinet paint color is Valspar La Fonda Olive.
Kitchen Island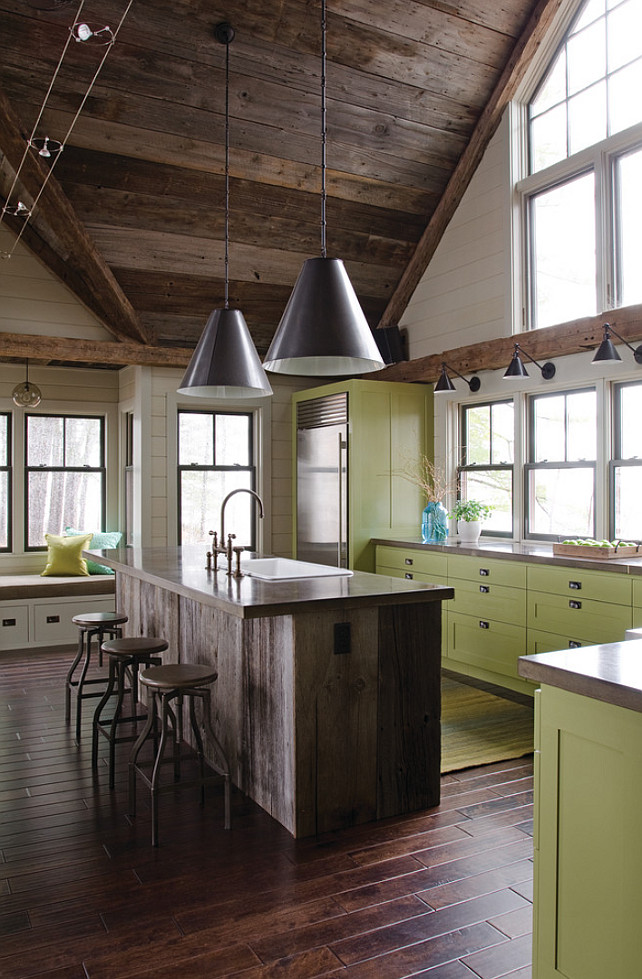 The polished concrete counters are at the right height to comfortably wash, chop and cook. Barn board slabs on the kitchen island are run vertically to avoid seams.
Kitchen Elements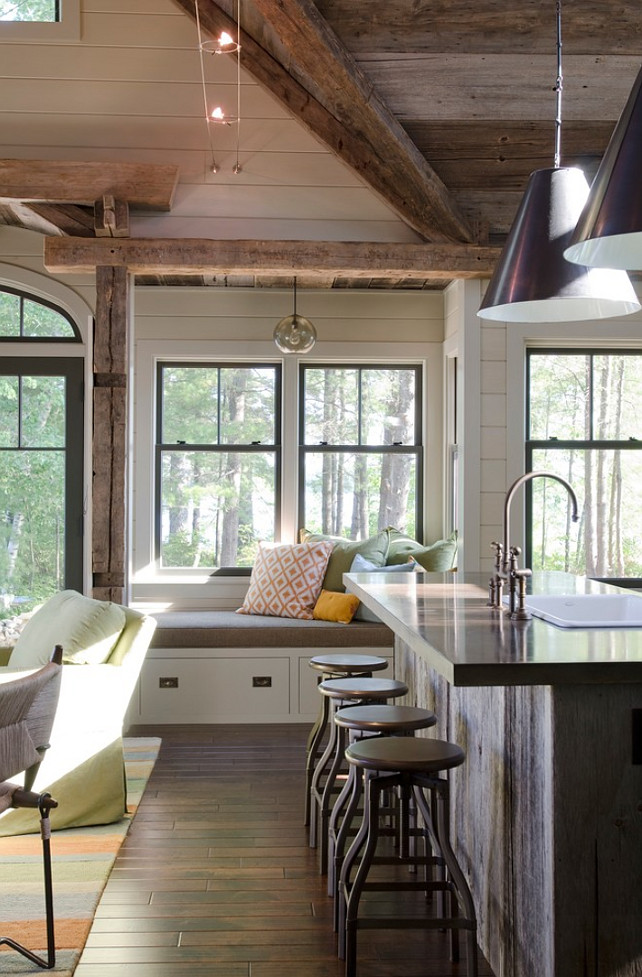 Lights above the kitchen island are kept slightly high so as to not impede the view.
The floors are maple. It was an engineered floor as there is radiant heat. The designer got it at Eco Modern in the Boston Design Center.
The bar stools are Crate & Barrel.
The track lights are from Newburyport Lighting.
The Magic of Reclaimed Wood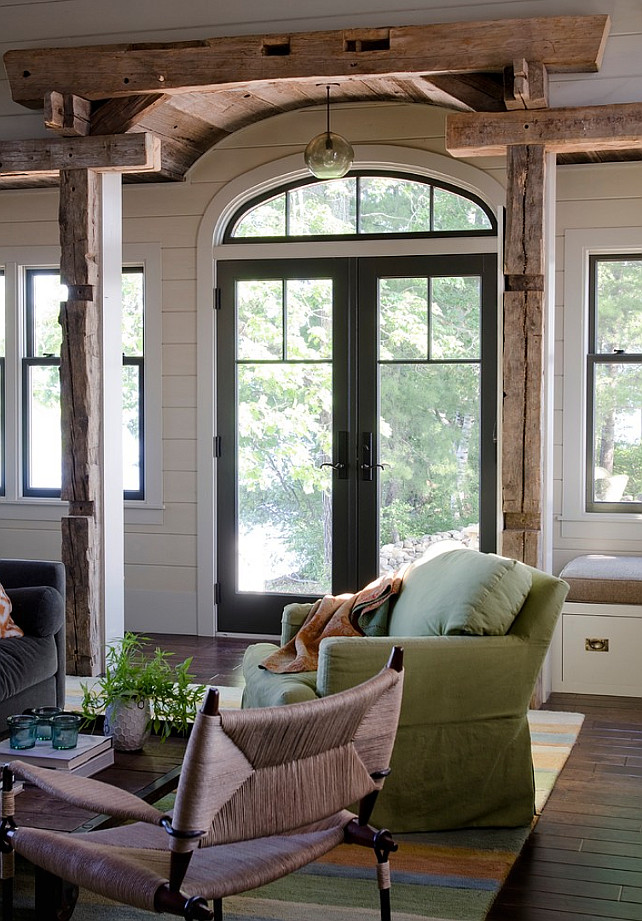 In this space, the charcoal French doors open to imbue the space with a porch-like feel.
Living Room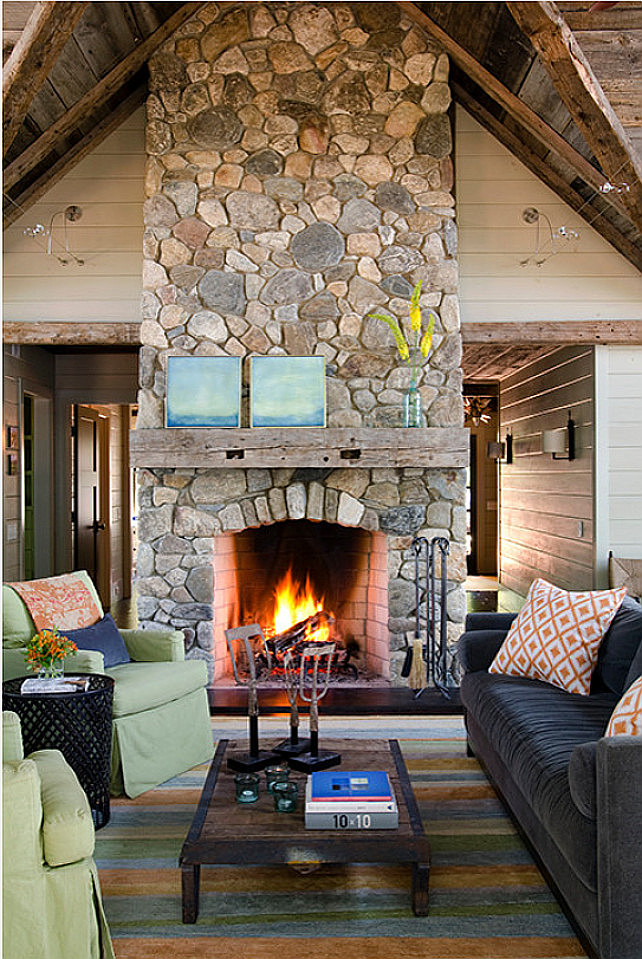 A large stone fireplace and chimney forms the focal point of the living room, and timber-frame beams reach up from v-groove walls to a ceiling clad in barn board.
As we know, the point of a lake house is to hang out and relax, so although the majority of the furnishings are new, nothing is too precious or irreplaceable in this space. A low vintage coffee table is the perfect height for sitting on the living room's plush striped rug and playing board games by a roaring fire.
Reclaimed Fireplace Mantel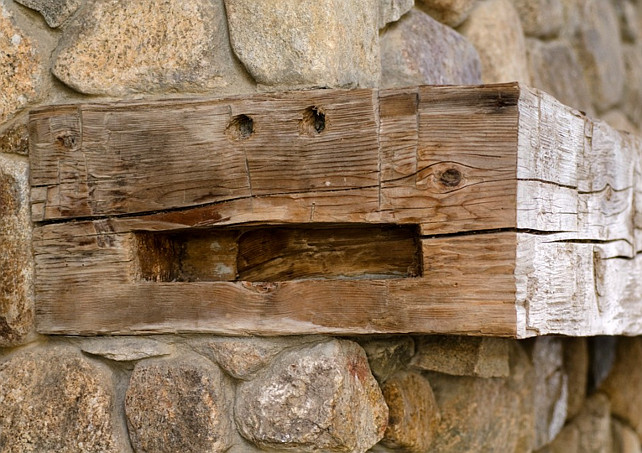 Builder Ron Dunn executed a perfectly mitered corner for the fireplace mantel.
Washed Shiplap Walls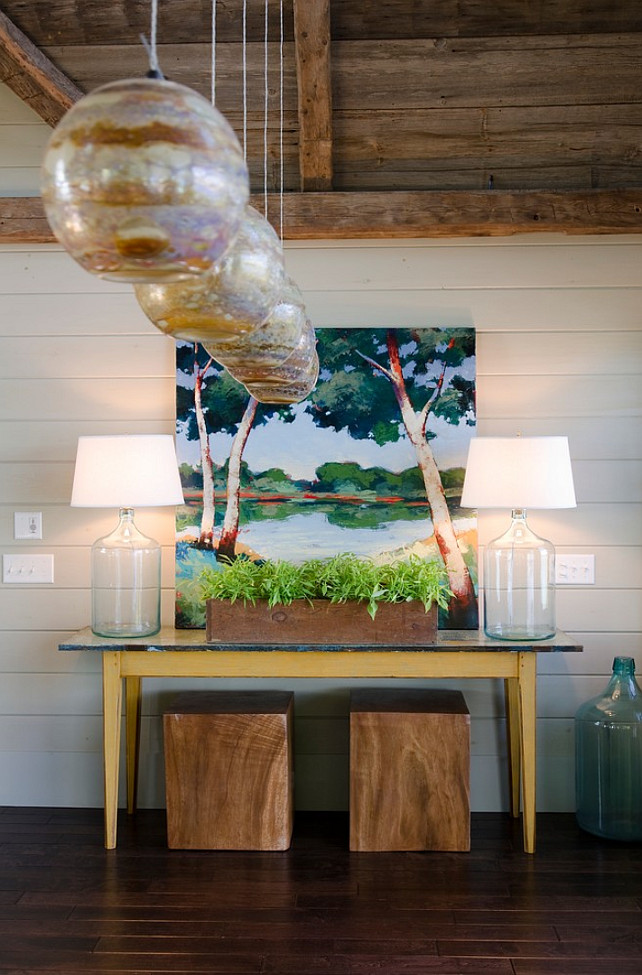 The designer used an inexpensive pine shiplapped V-Groove, then she added a wash of the grey color over it so that some of the knots would show through the color wash.
Lighting: these are actually vintage bottles the designer found antiquing in Maine and had her husband put the lamp socket kit on them for her! Isn't it beautiful? I love the patina.
Green Cabinet Paint Color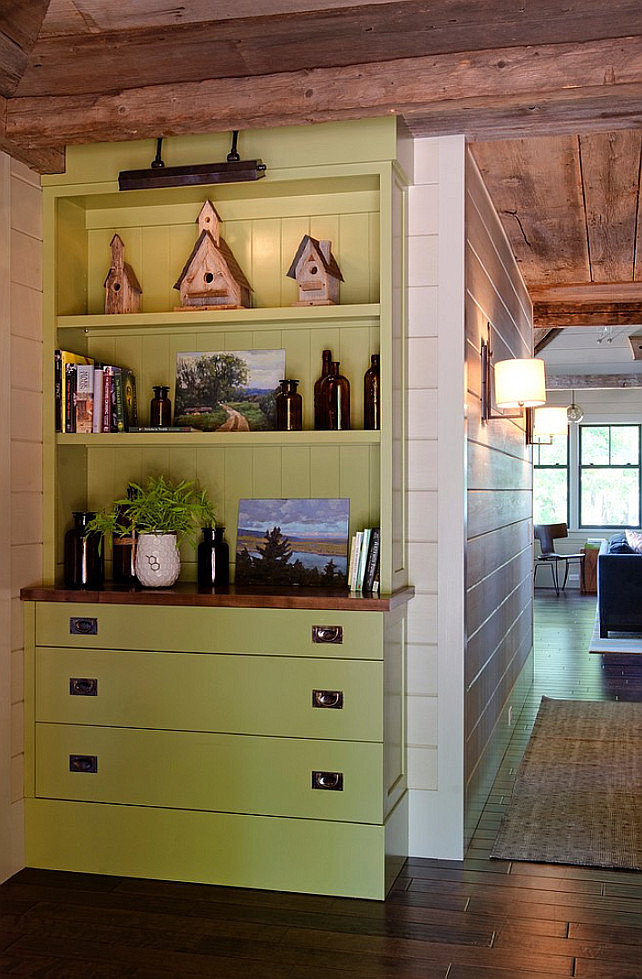 Paint color is Valspar La Fonda Olive.
Rustic Bunk Room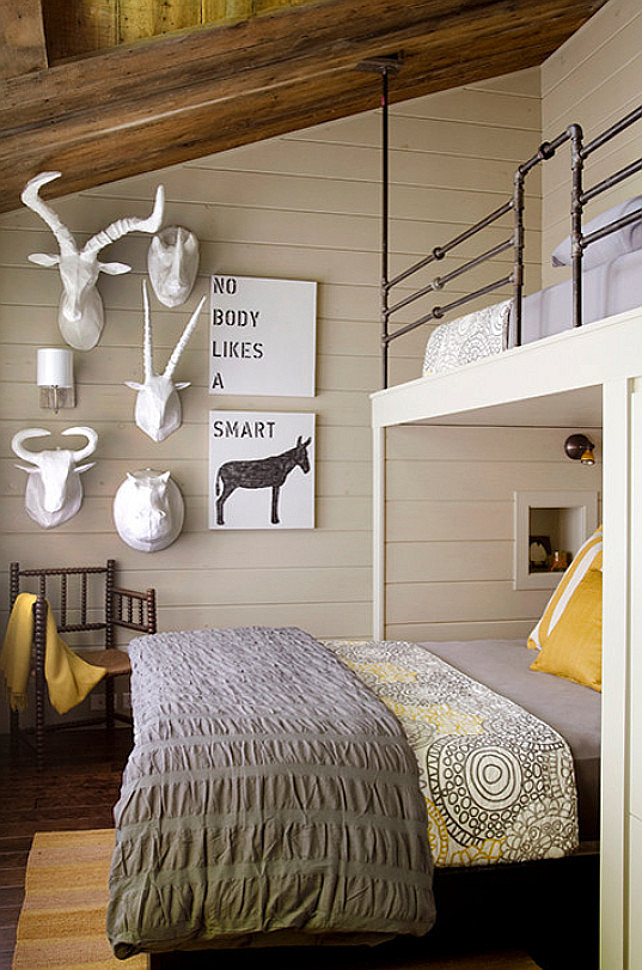 A pipe railing along the upper bunk in a daughter's bunk room sounds a creative note. In fact, the daughter's space is modern and fun with a color palette of gray and mustard—what Crestin calls "earthy but updated." The papier-mâché animal heads and funky artwork are a tongue-in-cheek nod to the lake house's fun vibe.
Sliding Vintage Door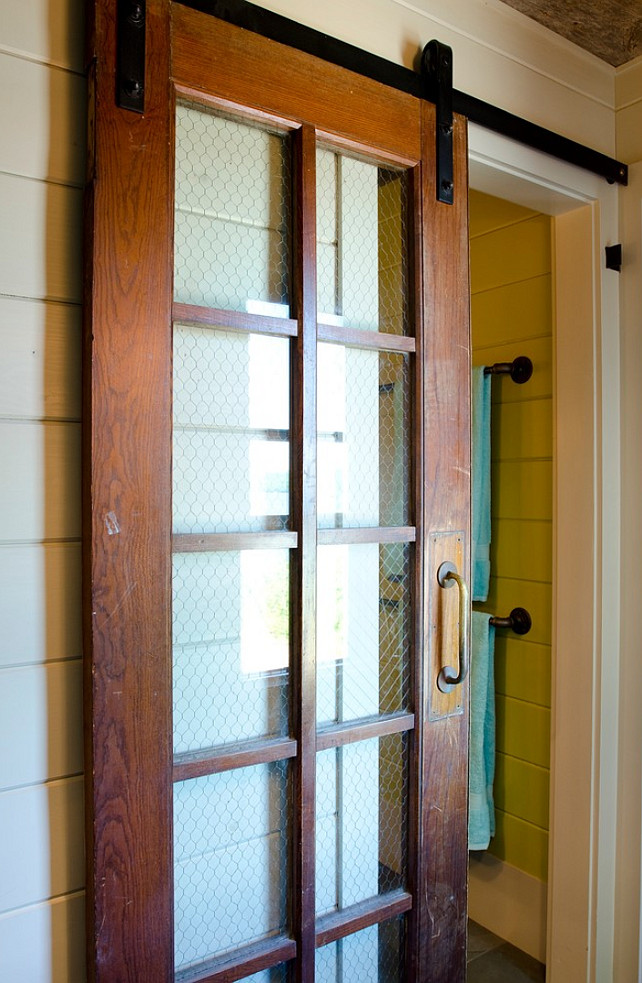 The sliding door is vintage and chicken wire was added to deliver some character. The designer got it at Old House Parts in Kennebunk Maine.
Bathroom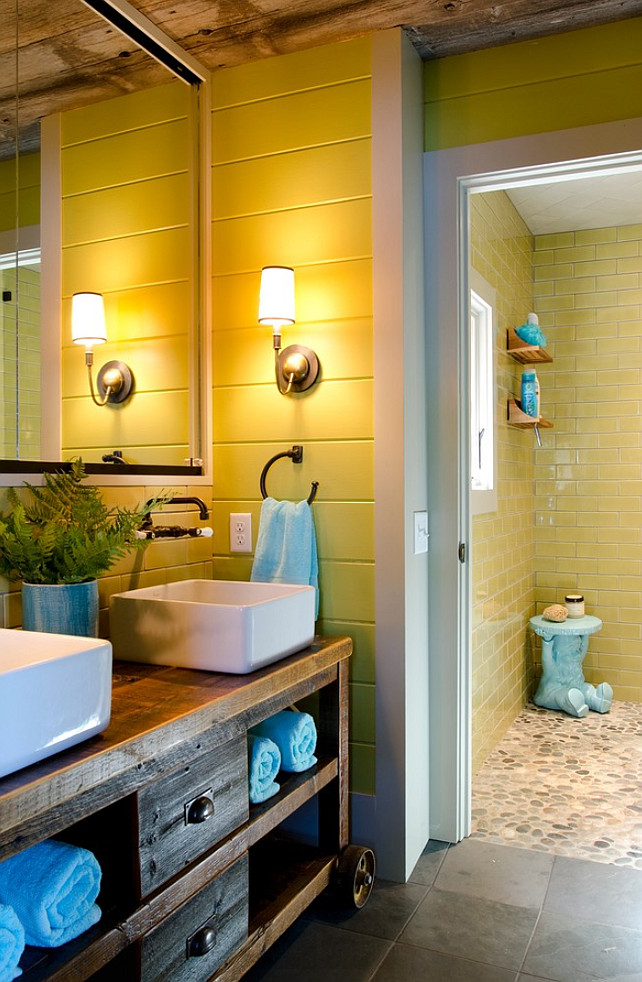 The kids' bathroom features rustic cabinets and natural stone for an organic feel.
Shower Tiling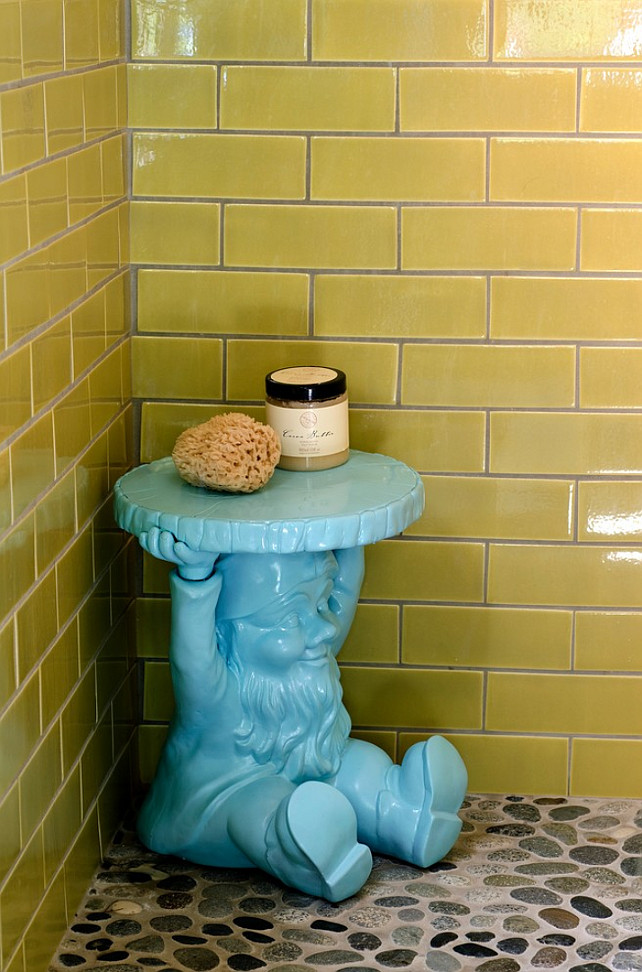 The shower wall tiles are Ann Sacks, and Angela Adams color. Notice the pebble flooring.
Bathroom Sconces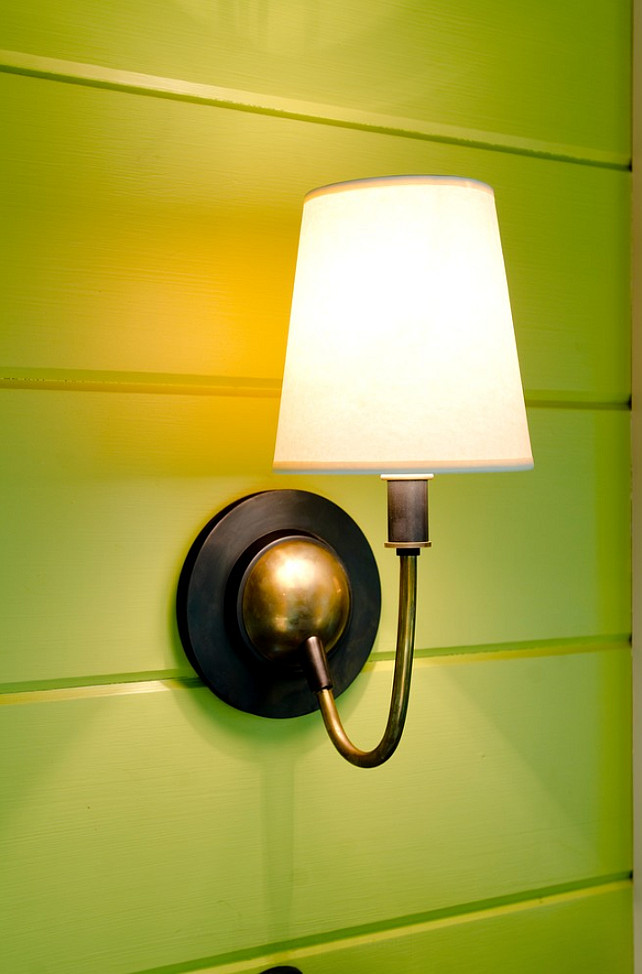 The bathroom sconces are the Elkins sconce from Circa Lighting.
Bathroom Faucets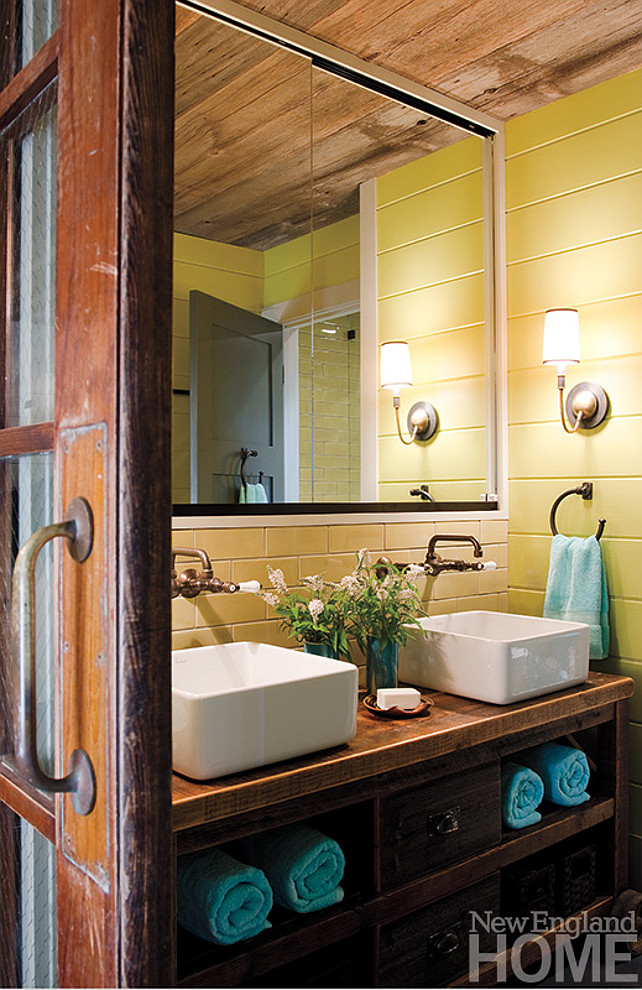 The kids' bathroom closes with a sliding barn door outfitted with glass panes that sandwich chicken wire.
The faucets are from Rohl.
Master Bedroom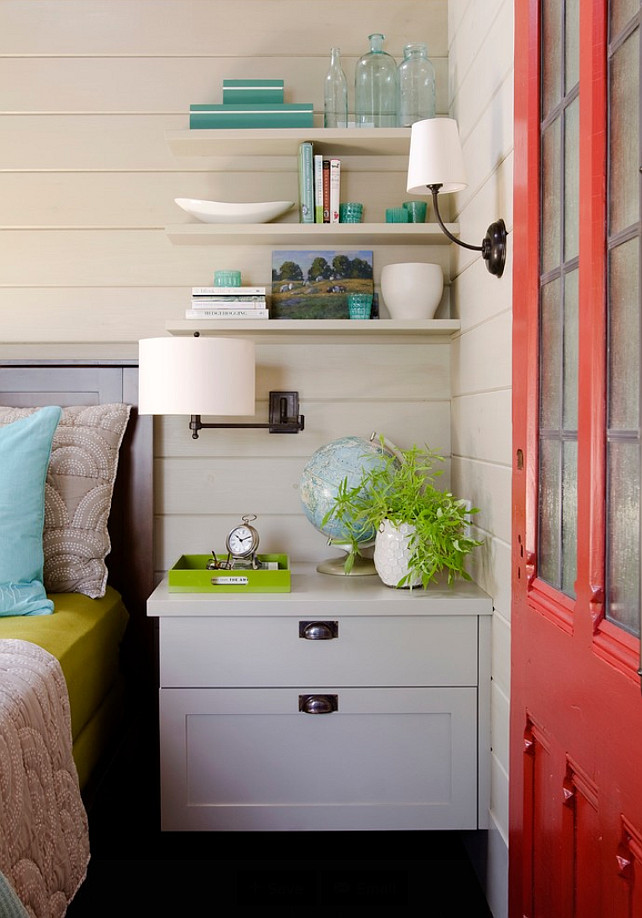 The master bedroom, bright in cooler hues of turquoise and creamy pale gray, remains a private retreat for Mom and Dad, tucked away behind a red, salvaged sliding barn door. More built-ins and floating shelves serve as extra storage space and a vintage glass bottle collection adds additional character.
Door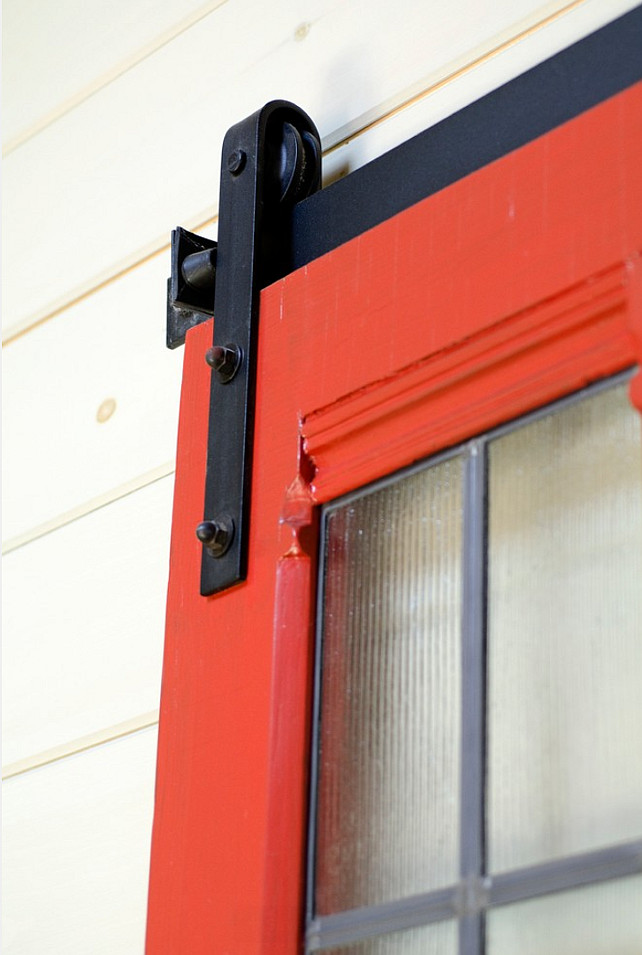 Gorgeous vintage red sliding barn door.
Bunk Room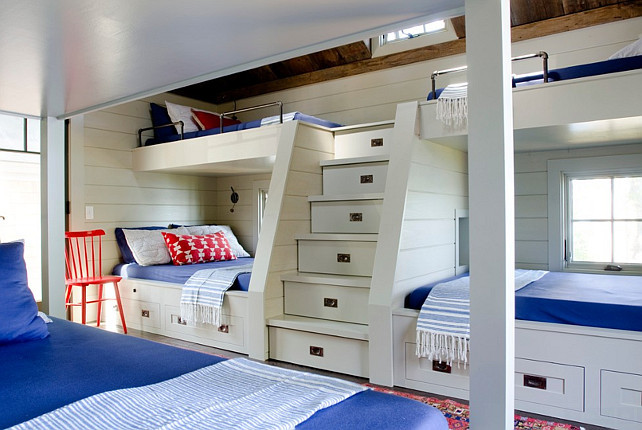 The boys' bunk room is a study in space planning with a mix of double and twin bunk beds that sleep eight, steps that double as storage drawers and custom wall niches that have their own reading lights and outlets. A John Robshaw throw pillow, a vintage first aid poster and a small child-size chair from Casa Design are amusing accents to the smart red, white and blue color scheme.
Bunk Bed Stairs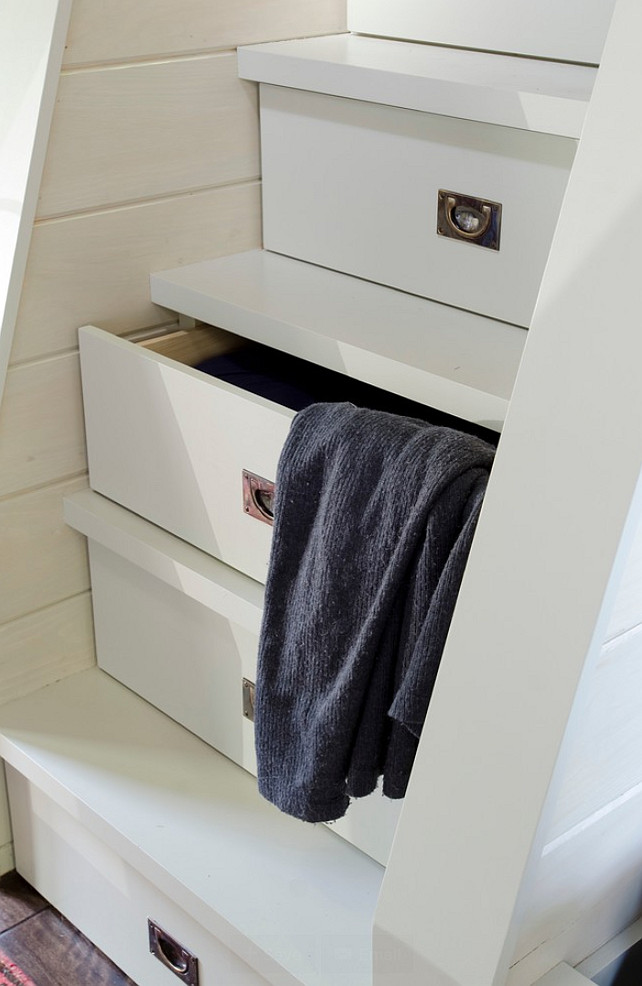 Plenty of hidden storage drawers take the place of closets and dressers in the bunk room. I'm loving the practical idea of adding drawers to bunk bed stairs.
The hardware is from a vendor called Whitechapel.
Bunk Bed Bedding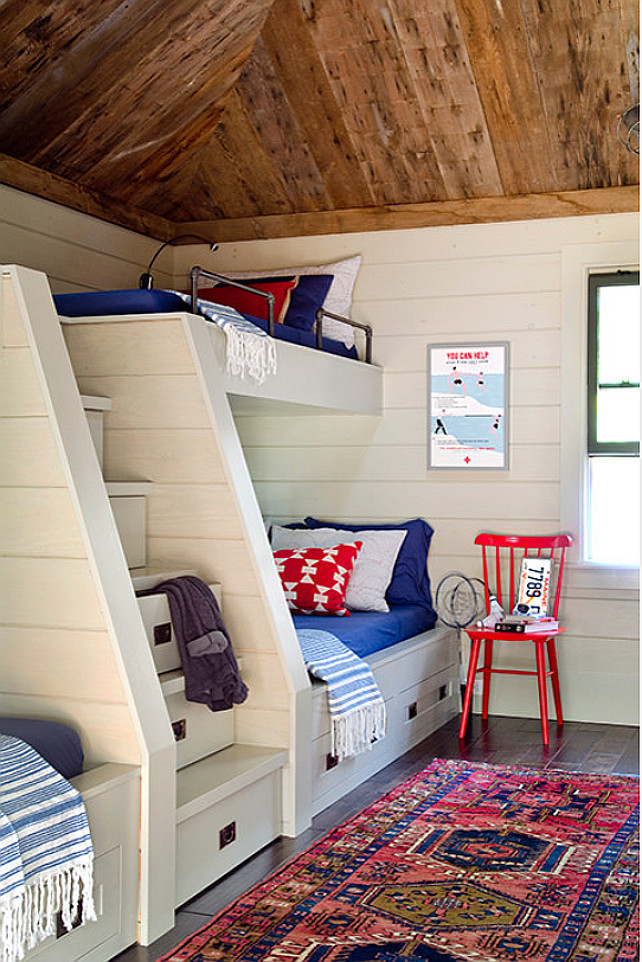 Easiest Way to Make the Bed on Bunk Beds: The fitted sheets have enough room around to actually get the sheets on without scraping your knuckles – no flat sheet to tuck in. Fold or roll up the blanket, place it on the mattress and that's it!
Bunk Room Decor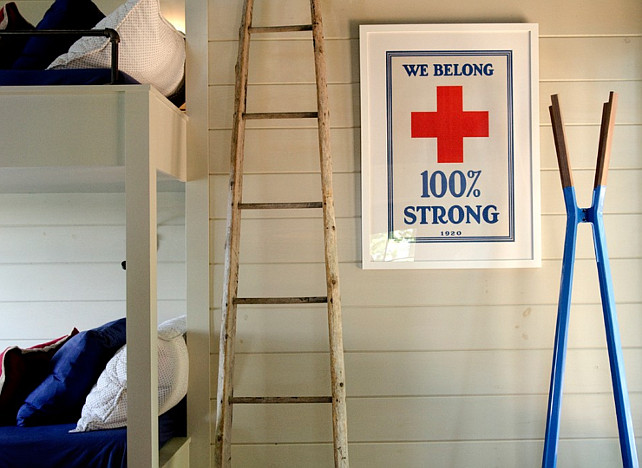 Coat rack is the Blu Dot Splash Coat Rack.
Maine Lake House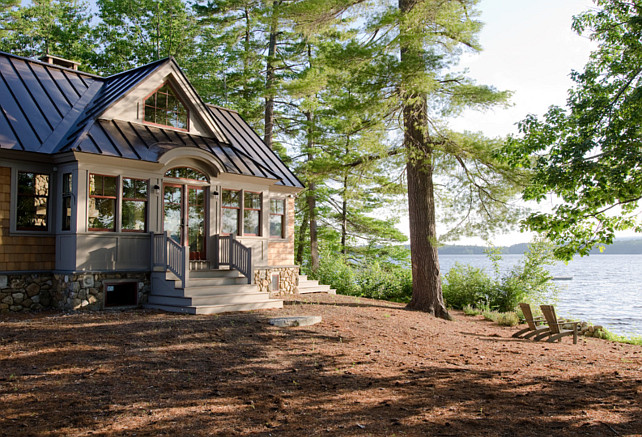 Here, the architect describes this property: "I like to have the structure feel like it's growing out of the ground," says Dioli, who used stone around the perimeter topped with red cedar shingles and a traditional metal roof. "Because of its location—it's on a peninsula, twenty-five feet from the water on both sides—we really wanted to give it a flavor of blending into the landscape instead of being a wart on the landscape. Our goal was to make it seem as if it has always been there."
Before the Sun Sets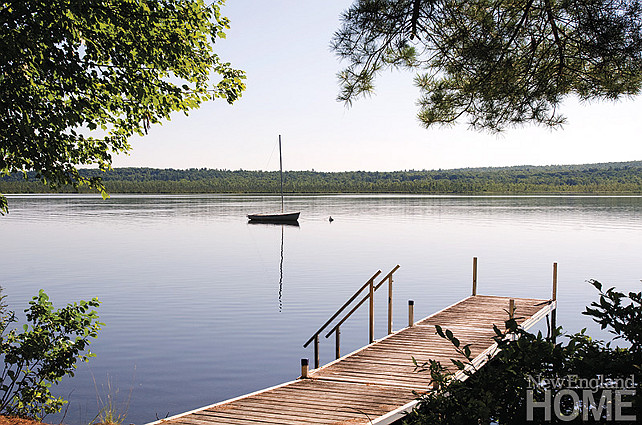 Boating, swimming and docks to leap off make this the perfect spot for family fun. Wouldn't you love to spend your summers in this place?
See more Inspiring Interior Design Ideas in my

Archives.
Interior Design Ideas:

Paint Color
Hi, everyone! What a special place this is! I love how warm and cozy every room feels. Reclaimed wood always delivers this homely feel, doesn't it?
I hope you're having a great Tuesday. I'm working a lot this week on an online interior design project for a client that I adore. I love the fact that I always become close friends with my clients. It's wonderful to work with people you feel connected with.
I hope your day is full of Blessings. May you feel that you're in the "right place" at this moment of your life. But if, for some reason you don't – because life is always in motion and changes are inevitable – may you have the courage to start planing a life where you can feel at peace. I am a stronger believer that health and peace are one of the most important Gifts we can receive in this life.
Learn to have the courage to seek for your inner peace and be more conscious about your health.
We only achieve our goals if we believe and focus on them.
with Love,
Luciane at HomeBunch.com
Interior Design Services within Your Budget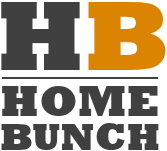 Get Home Bunch Posts Via Email

Sources: Interior Design: Kristina Crestin Design. Builder: Dunn Builders Inc. Architect: Art Dioli, Olsen Lewis. Photographer – James R. Salomon. Some pictures via New England Home Magazine.