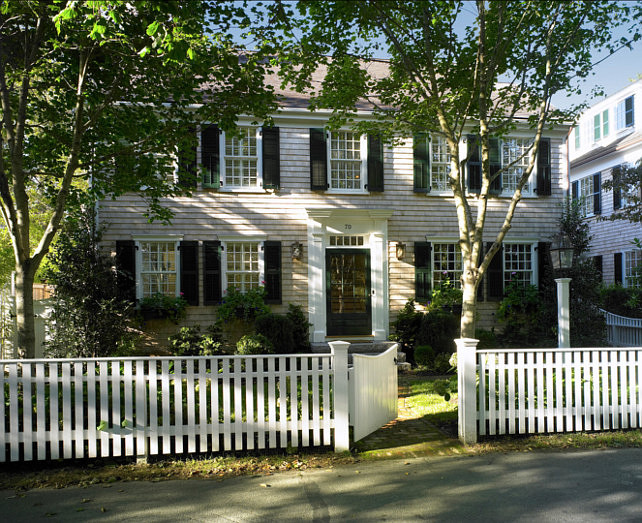 Do you like traditional homes with a hint of coastal decor? If so, this home will make your day! Located in Edgartown, on the beautiful island of Martha's Vineyard, in Cape Cod in Massachusetts, this 1700s Federal Colonial has history and charm stamped on its architecture.
The house was restored by Patrick Ahearn Architect and combines contemporary comforts of modern times and casual island living with its gracious patina and timeless architecture. The architectural language of this traditional home has integrity in the context of its environment and reflects on the culture of Edgartown.
If you're looking to renovate or build a home, make sure to take notes on how this traditional home was decorated (notice that this home was restored in 2005 and its interiors still look current). This is because, if you opt for classic furnishings and architectural details, your home will look current for decades to come. Eventually, you might want to make some small changes but you always save money and time if you choose to live in a home with traditional elements.
You will also find in this post some important tips on how to design a classic, traditional kitchen that can stand the test of time _ and save you money!
I hope you enjoy your time here.
Martha's Vineyard Traditional Coastal Home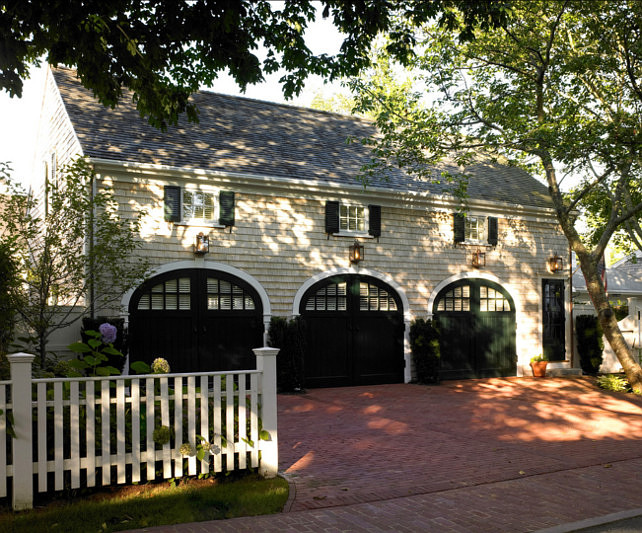 Traditional architectural details make this triple garage contribute beauty and class to the exterior of this home.
Notice the lanterns strategically placed above the garage doors.
Once Upon a Time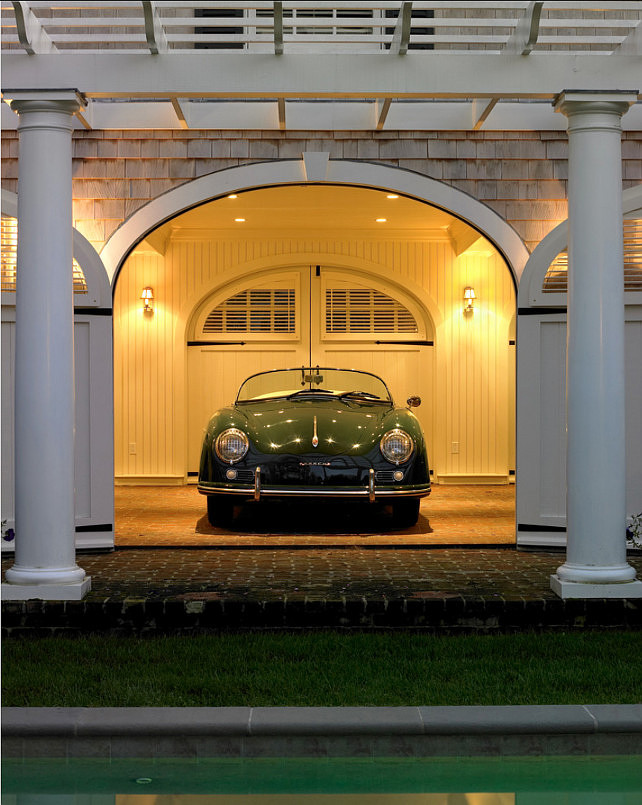 The garage has doors on both sides of the building. One from the street and the other opens to the backyard.
Take a look at the outstanding details of this garage. It has custom arched doors, brick flooring, wood paneling and even sconces!
Foyer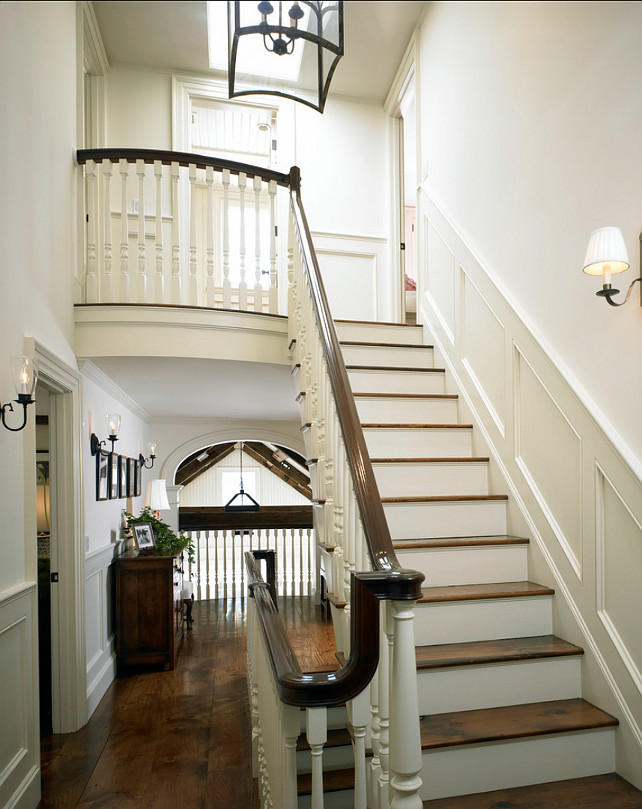 I could look at this foyer for some quite time. I love the traditional elements found here. Notice the incredible millwork and stunning wide plank hardwood floors.
Living Room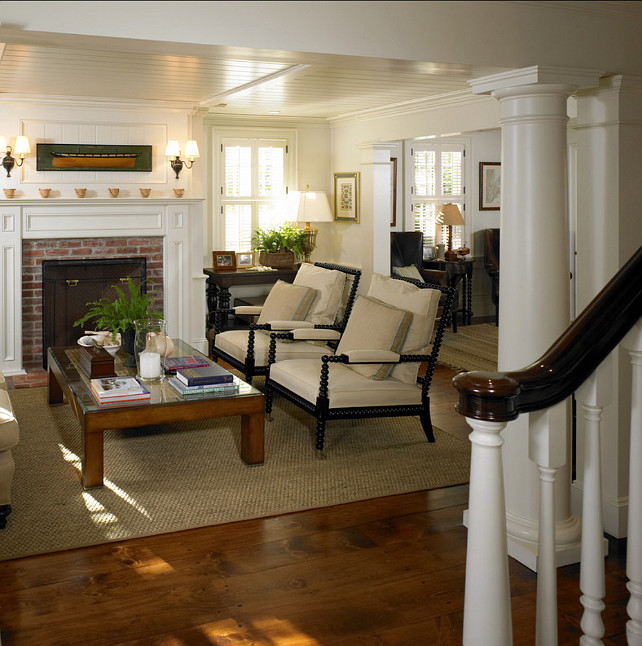 An elegant and comforting feel is soon noticed in the living room. A traditional brick fireplace beautifully contrasts with creamy white walls and neutral furnishings.
Living Room Furniture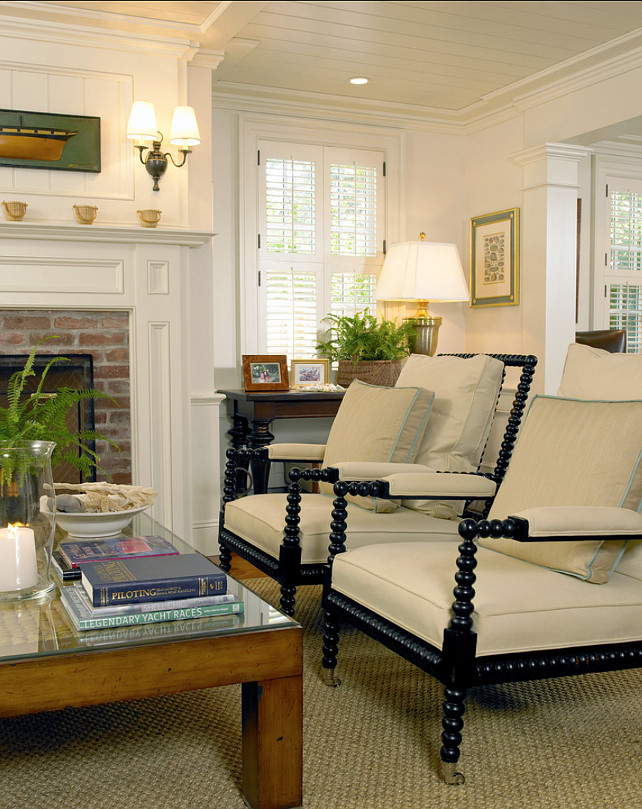 I love these classy and timeless spindle chairs.
Traditional Coastal Kitchen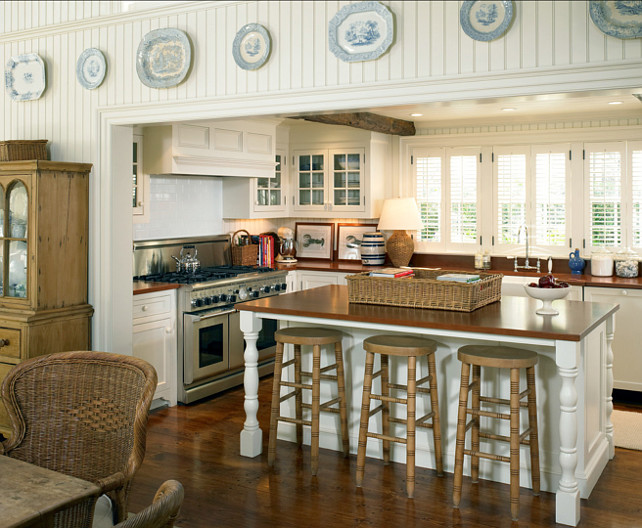 We often see kitchen trends come and go and making the right decisions when designing your kitchen can save you thousands of dollars and lots of time! The trick is very simple; design your kitchen in a classic way and you won't have to renovate it for many years to come.
Take this kitchen for example, it was designed almost ten years ago and still looks great.
Here's a small list of classic kitchen materials that won't go out of style:
White Cabinets: White is classic simply because it's neutral. White cabinets will always look fresh and chances are you will never get tired of them. Choose simple door styles to keep it looking current for a longer time.
White Subway Tiles for Backsplash: Another easy and affordable choice! You can use the classic 3×6 size or be more "adventurous" and choose 2×8 tiles and lay them in a herringbone pattern.
Countertop: Don't complicate things with this one. Go for natural stone if you can afford and if are looking for durable surfaces. If you have a limited budget, opt for butcher block countertop _ these can be quite affordable depending on the type of wood you're choosing. Ikea's butcher block countertop is well-known for its price and you can find many kitchen DIY projects on the net using this type of countertop.
Architectural Details: Do you want your kitchen to have a look that will last longer? Forget the over-the-top or ornate details. They tend to make your kitchen have a "heavy" look instead of classy.
Designing a traditional, classic kitchen doesn't mean it should look boring. You can always add lots of character into a kitchen with lighting, counter stools, paint color and decor!
As you might know, I am always sharing many kitchen design ideas here on the blog and you can always contact me if you need specific help with your kitchen.
Great Room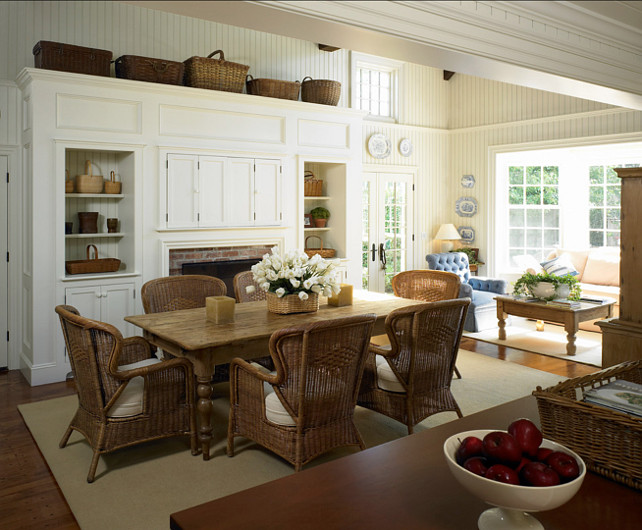 The kitchen opens to a two-story great room.
Dining Room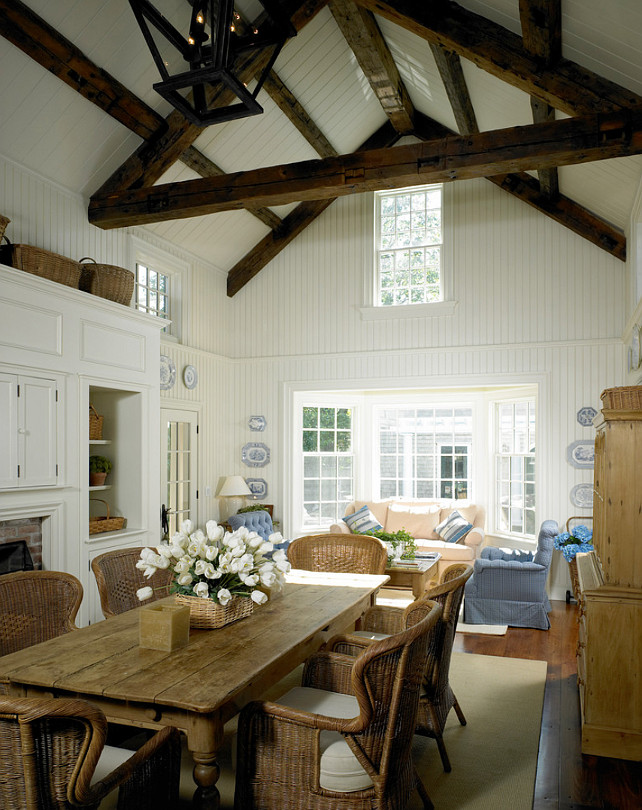 How perfect is this?! I love how casual and beautiful this entire space feels, not to mention the white tulips! They're my favorite flowers!
Notice the extraordinary reclaimed beams.
Walls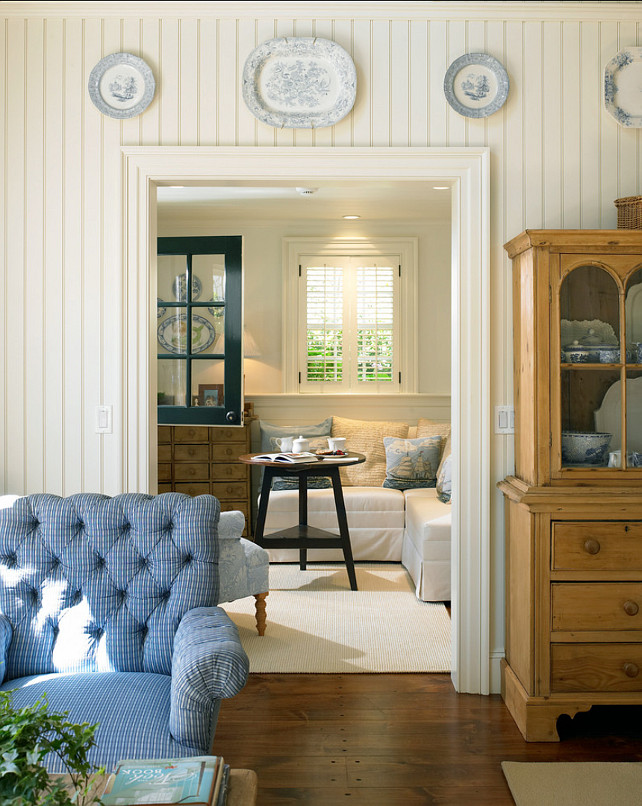 A small den just off the family room is a great place to have some private time.
Notice the Dutch door and the plates on wall in the family room.
From Above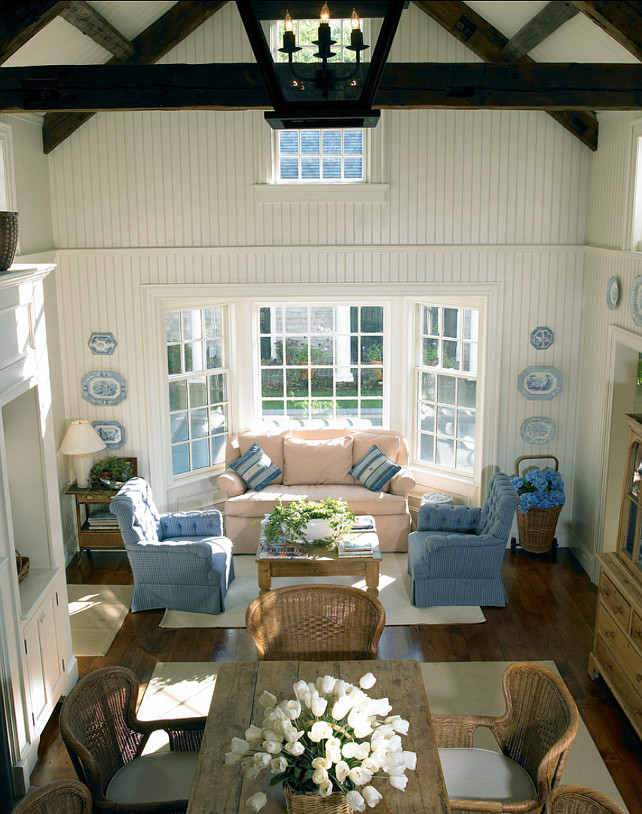 What comes to my mind when I look at this room? Good taste!
Written Letters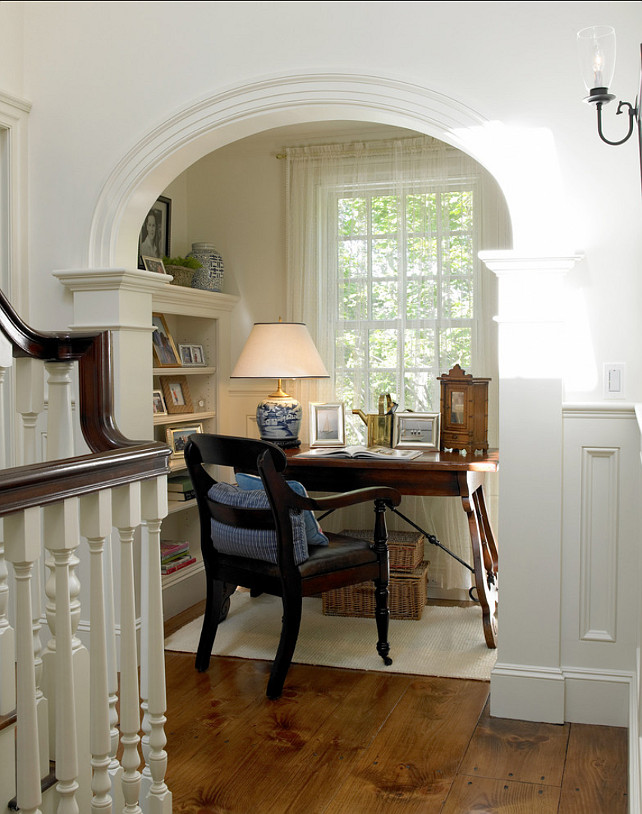 An archway leads you to a small but well-designed office space.
Flooring is wide plank pine with walnut stain. Isn't it gorgeous?!
Bedroom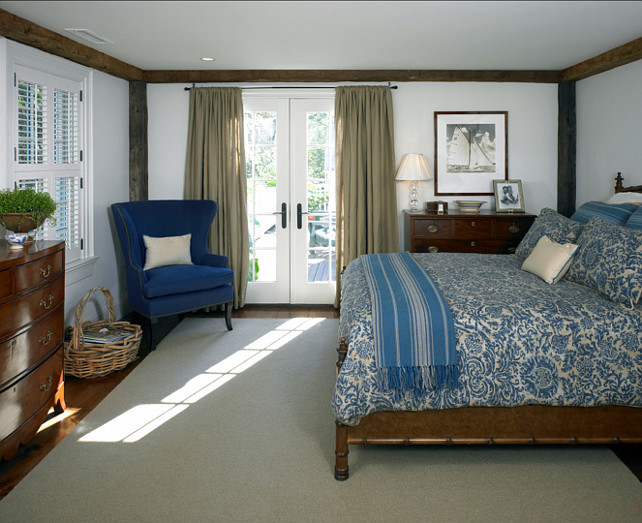 The master bedroom is simple, but comfortable and display some handsome vintage pieces. My favorite part? The French doors that leads you to a lovely balcony.
Balcony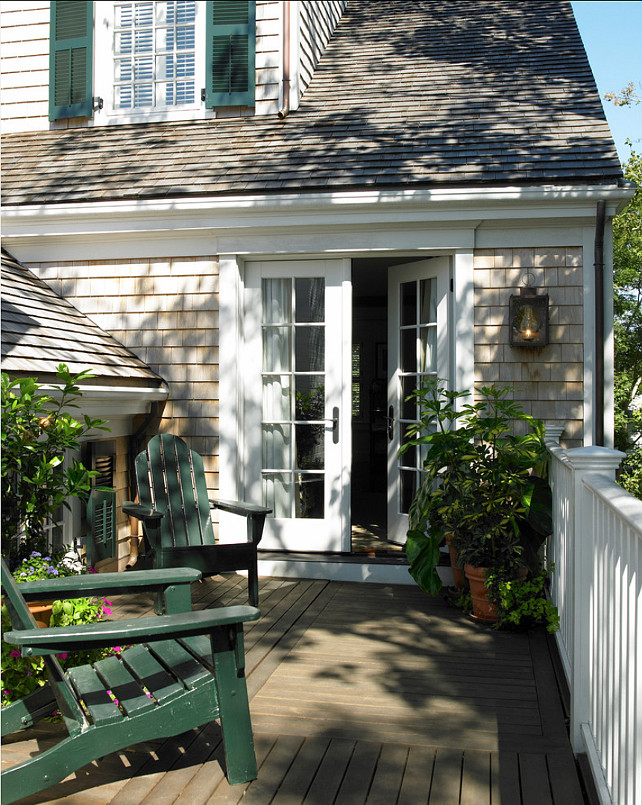 This is a perfect place to have your morning coffee!
Bathroom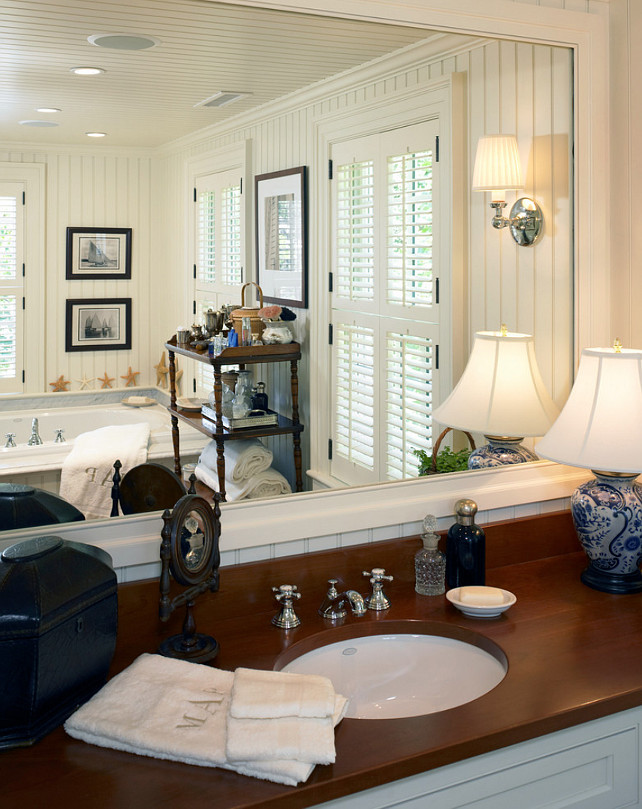 A coastal feel is evident in this bathroom.
I am in love with this rich wooden countertop.
Laundry Room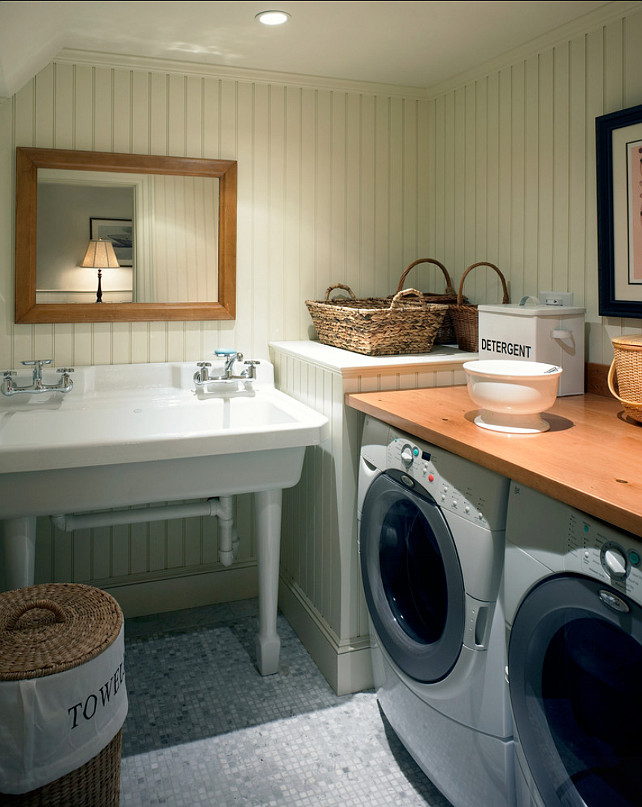 Located in the basement, this laundry room carries the classic approach found in the rest of the house. I am loving the sink and the beadboard paneling.
Backyard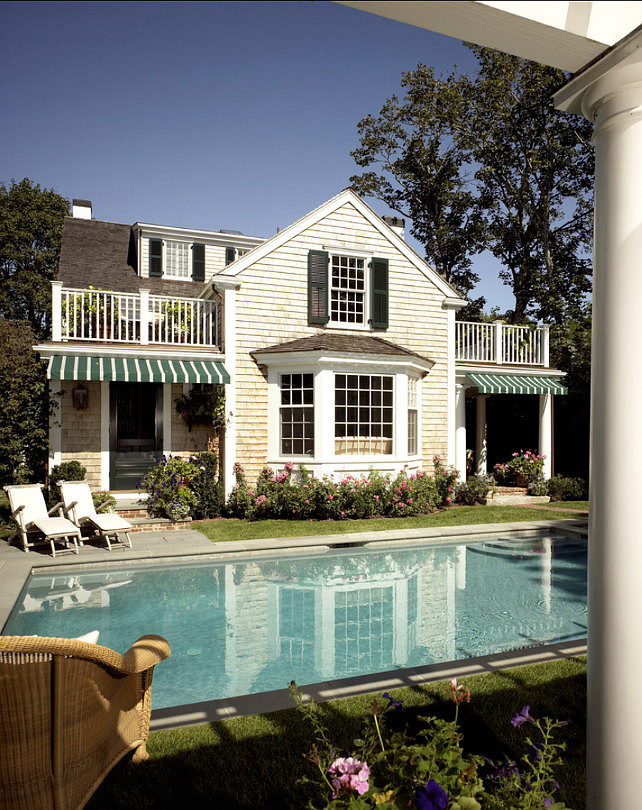 This backyard is perfect! You have your garden to work on and a relaxing pool to cool off during the warm days of summer.
Porch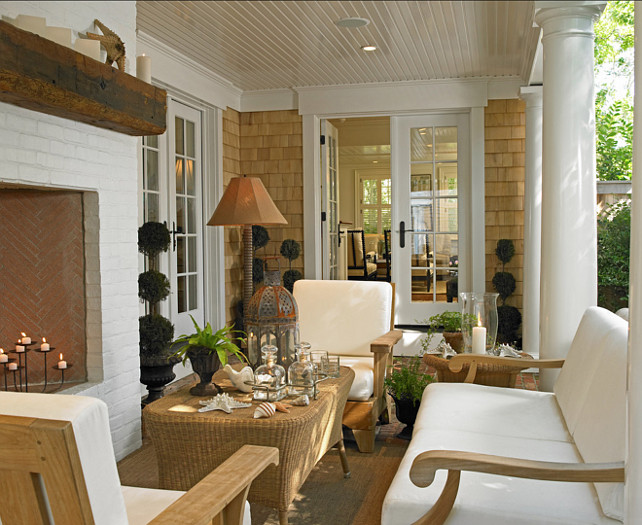 What a wonderful porch! I am loving the topiaries, outdoor furniture and the coastal decor.
Pool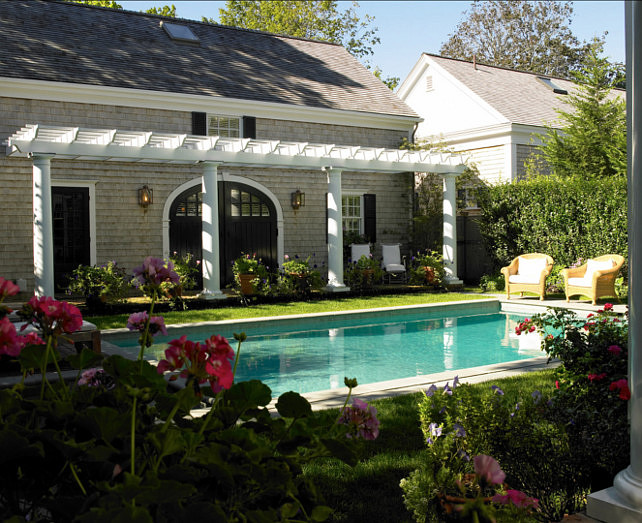 A view of the pool and the garage.
Many thanks to the architect for sharing the details above!
Sources: Patrick Ahearn Architect.
See more Inspiring Interior Design Ideas in my

Archives.
Interior Design Ideas:

Paint Color
Interior Design Ideas:

Paint Color
I hope you had a good time here and I hope you could relax, feel inspired and dream! Isn't that best part of it all?

Have a wonderful day, my dear friends!
with Love,
Luciane at HomeBunch.com
Interior Design Services within Your Budget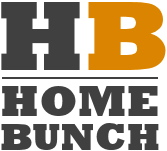 Get Home Bunch Posts Via Email