Posted in:
Architecture
,
Bathroom Design
,
Beautiful Homes
,
Beautiful House
,
Bedroom Design
,
Classic Design
,
Coastal Decor
,
Coastal Homes
,
Coastal Interior Ideas
,
Coastal Interiors
,
Cottage
,
Gardens
,
Home Decor
,
Interior Design Blog
,
Interior Design Ideas
,
Interior Designers
,
Interior Paint Color Ideas
,
Kitchen Design
,
Living Room Design
,
Neutral Interiors
,
Paint Color
,
Patio Ideas
,
Small Space Design
,
Traditional Interiors
,
Transitional Interiors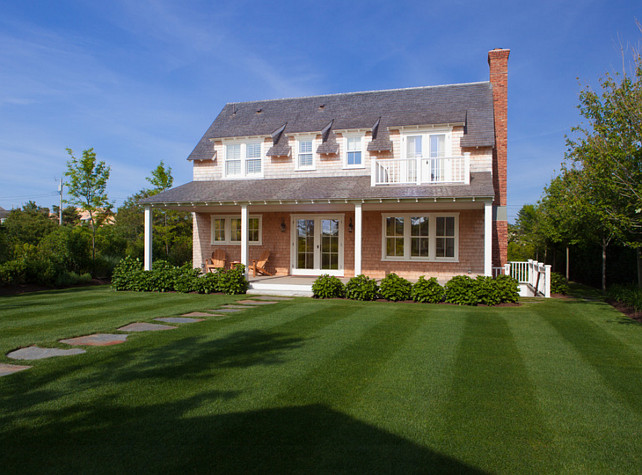 Build by one of my favorite builders, Jonathan Raith Inc., and designed by Sophie Metz Design, this cottage exudes inspiring ideas for modern coastal interiors.
With a soothing, neutral color palette and shiplap walls covering most of the rooms, this shingled-style Nantucket cottage is full of originality and character.
Quality materials such as marble and wide plank flooring add value to this place, while a private backyard makes this cottage a great place to spend your weekends.
Embrace the quietness of this home. Somehow its white interiors seem to have the ability to calm you down and open your mind to peacefulness.
Nantucket Shingle Cottage with Modern Coastal Interiors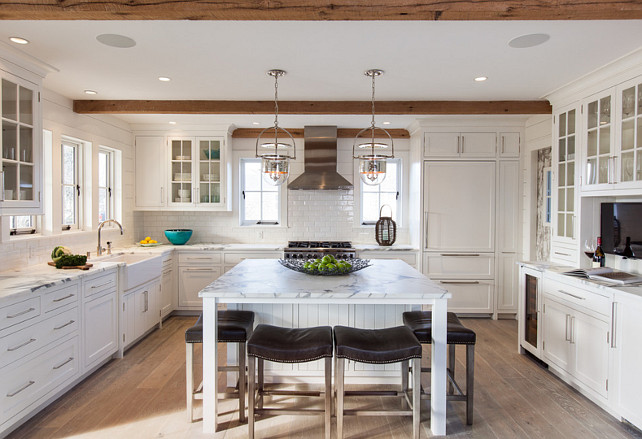 The kitchen in this cottage is full of great ideas. I love the easy layout and the soothing color palette.
As you see here, the refrigerator, located on the left, is a Sub Zero IT-36CI integrated model that accepts finished cabinets panels. To the right is a pull out pantry.
Pendant lighting are from by Urban Electric.
The kitchen island is approximately 6′ square.
Kitchen Flooring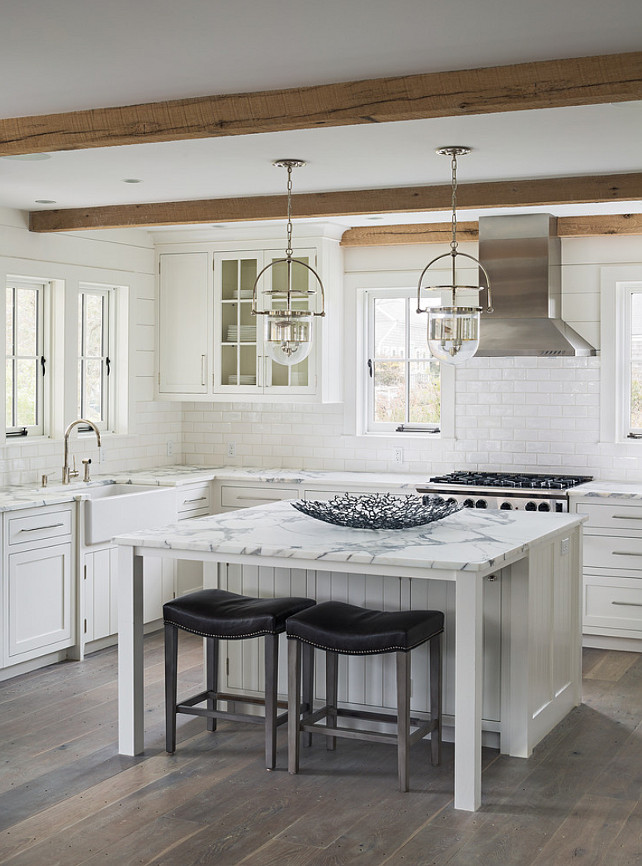 The flooring is newly sawn white oak commonly referred to as "character grade". The widths are 7″,8″,9″,10″ and the finish is from Rubio Monocoat.
Kitchen Backsplash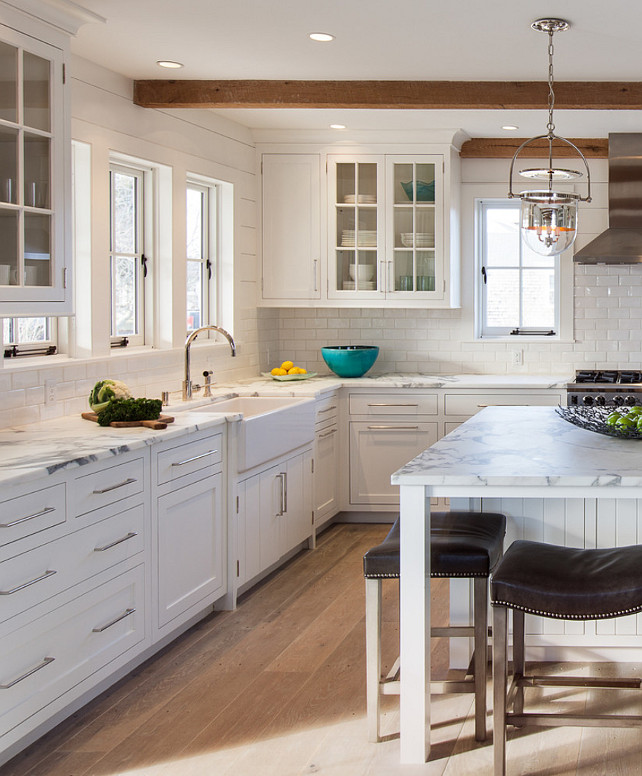 The 3×6 subway tiles are from Mexican Handcrafter.
Rare Kitchen Countertop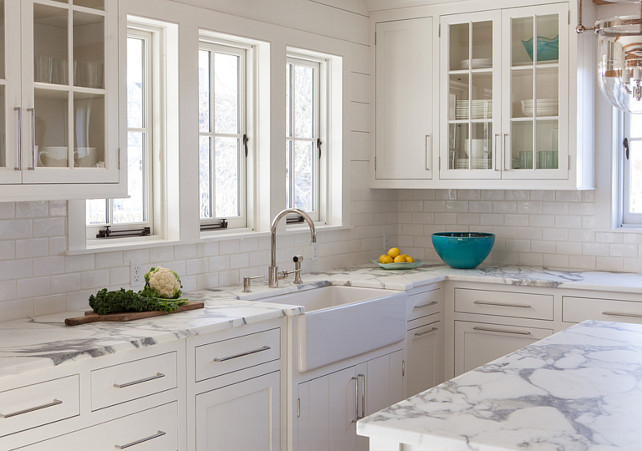 The countertops are 3cm Calcutta gold marble without the gold, which is quite rare to find.
Adding Patina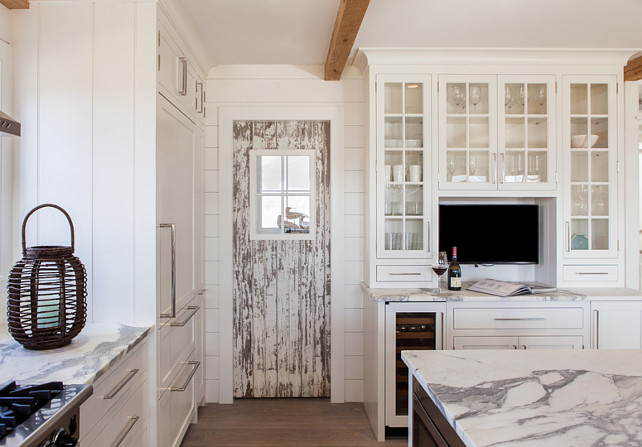 This reclaimed pocket door was constructed from parts and pieces of very old garage doors. The window panel is new with old restoration glass laminated to safety glass.
Isn't it a great way to add patina to a brand-new kitchen?
Breakfast Nook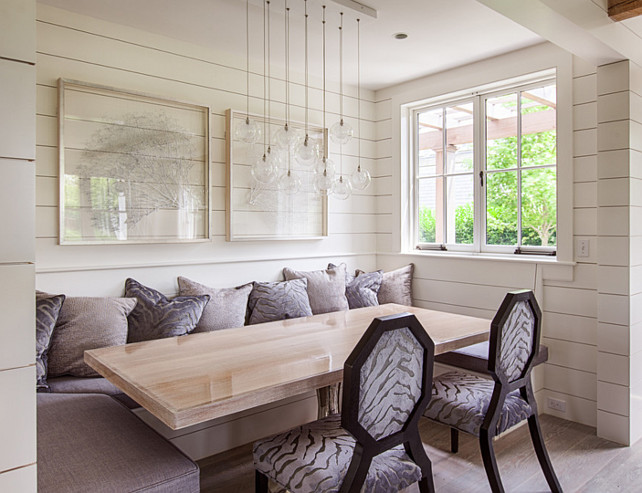 This cozy breakfast nook is just off the kitchen and opens to the family room.
Breakfast Nook Table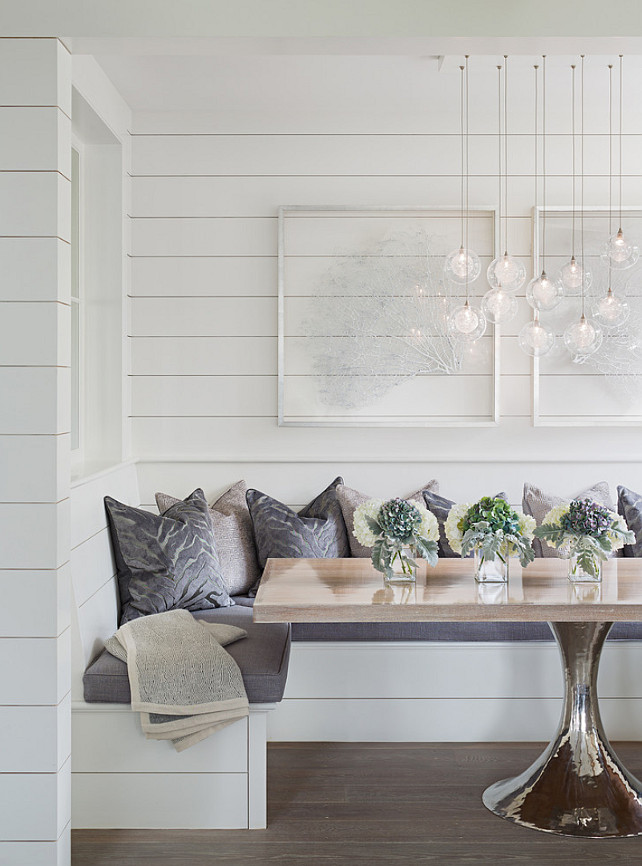 According to the builder, the tulip table base and dimensions where given to him by the designer to build a solid white oak top. The finish was a lengthy process that involved sealers, washes and top coats, but as you can see it here, it was all worth. The table is a fabulous one-of-a-kind piece.
Family Room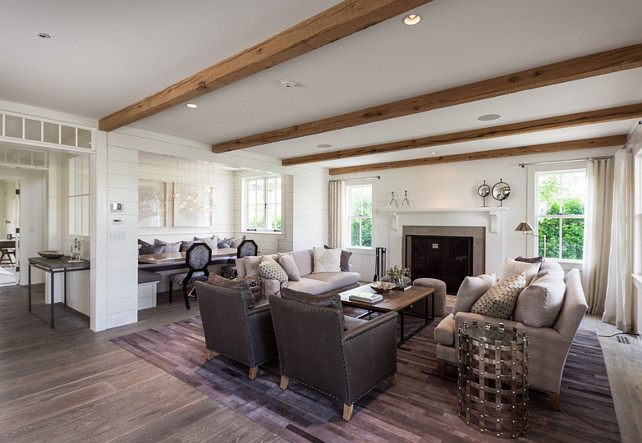 Family Room Dimensions: The living room is approx. 20′ x 20′.
Shiplap Living Room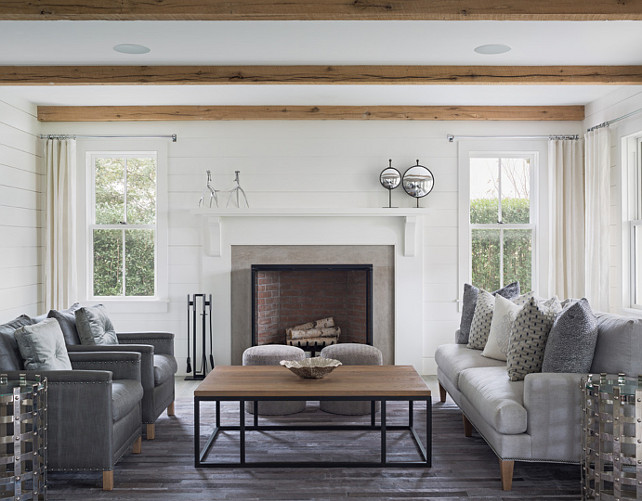 The walls are 1×8 shiplap fabricated from Poplar wood with a 1/8″ space between each board. This type of wood is commonly used for paint grade interior finish work.
Notice how beautiful shiplap looks with ceiling beams.
Paint Color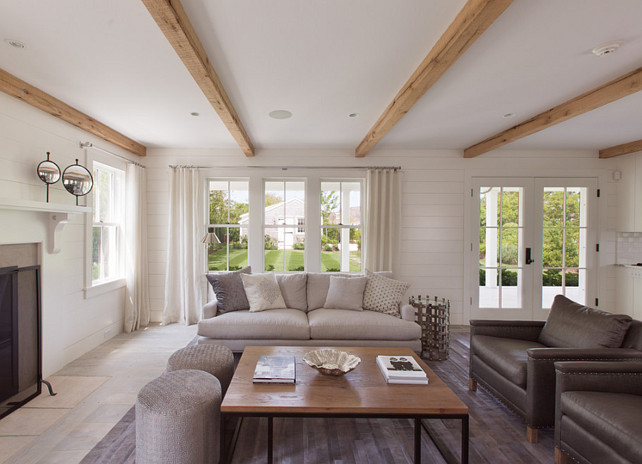 The builder used Benjamin Moore White Dove in satin impervo with a semi gloss sheen on the walls. The ceilings are Benjamin Moore latex ceiling white.
Natural Light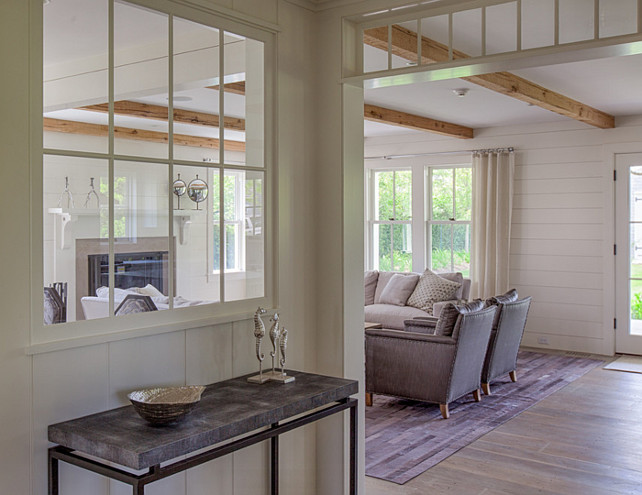 An interior window allows more natural light into the foyer.
Basement Bunk Room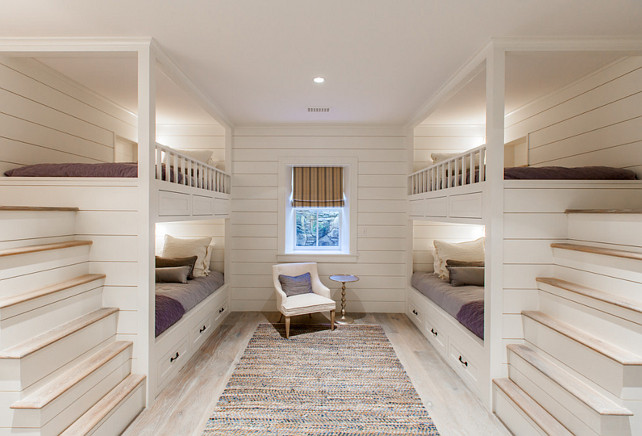 Isn't this bunk room great? I love the idea of using a staircase-like ladder to go up to the upper beds.
Storage: Although it appears there is storage below the railing of the top bunk, that space is where the mattress sits – there are active drawers below the bottom bunk mattress.
Family Room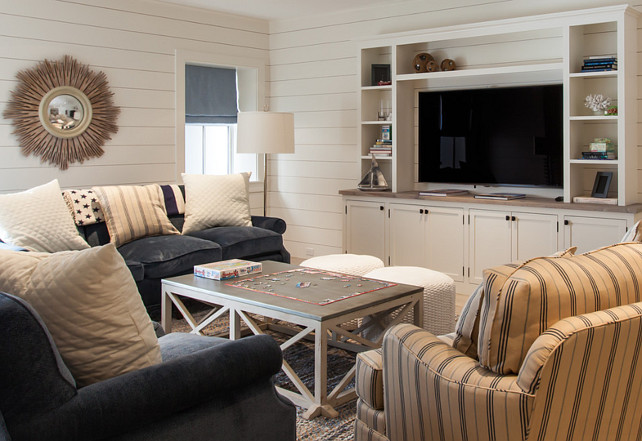 The wall and cabinets in this cozy family room were painted in Benjamin Moore White Dove satin impervo.
Den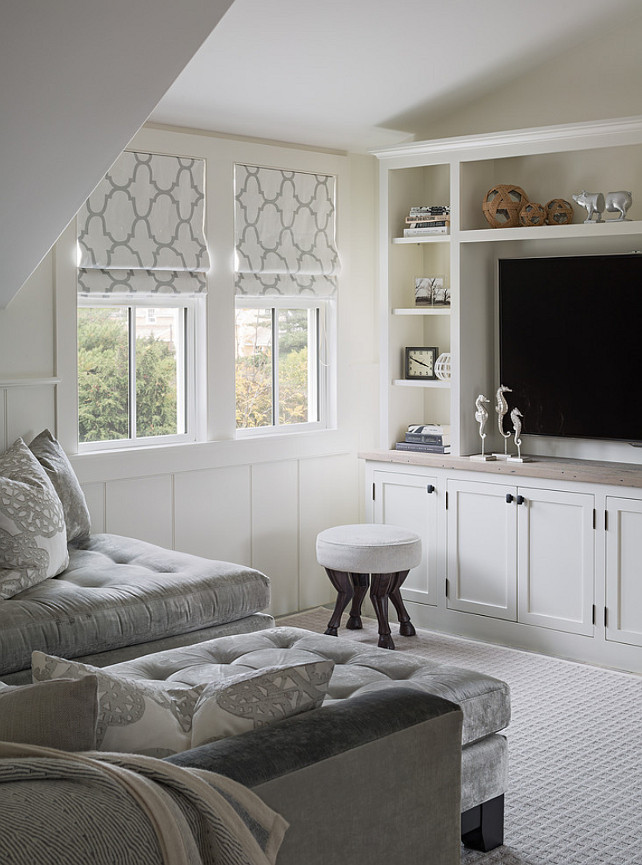 This den is perfect to read a book and relax for a couple of hours.
Guest Bedroom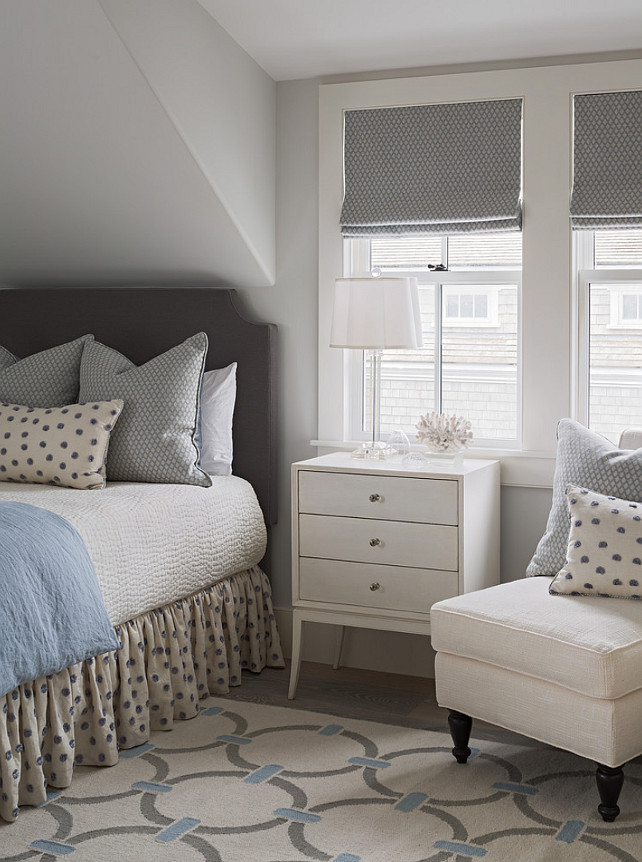 Gorgeous color palette! Notice how the furniture was placed in this small guest bedroom.
  Master Bedroom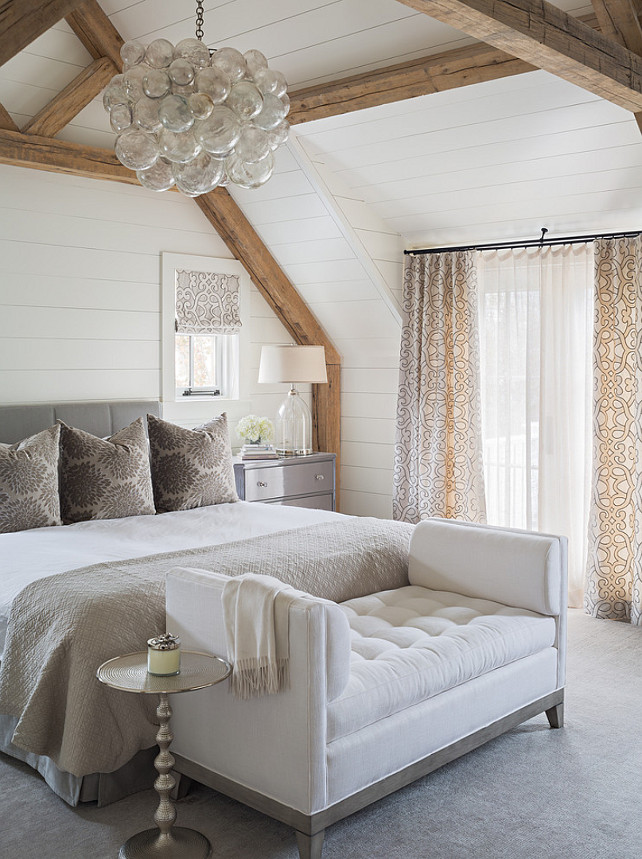 This master bedroom is just perfect! I love the soft colors, the beautiful furniture and the millwork.
Lighting is a Muriel Chandelier.
Decor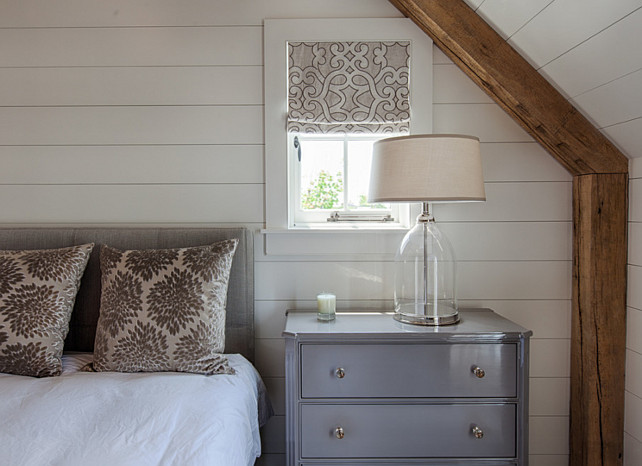 The bedroom was decorated with pale color to create a soothing environment.
Mirror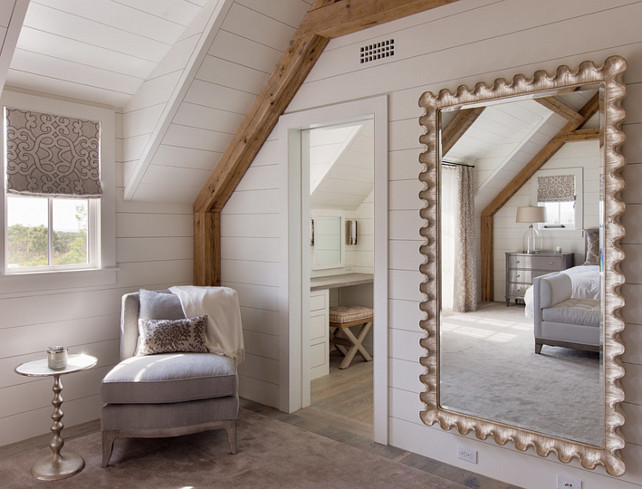 A large mirror reflects light and add dimension to this bedroom.
Bathroom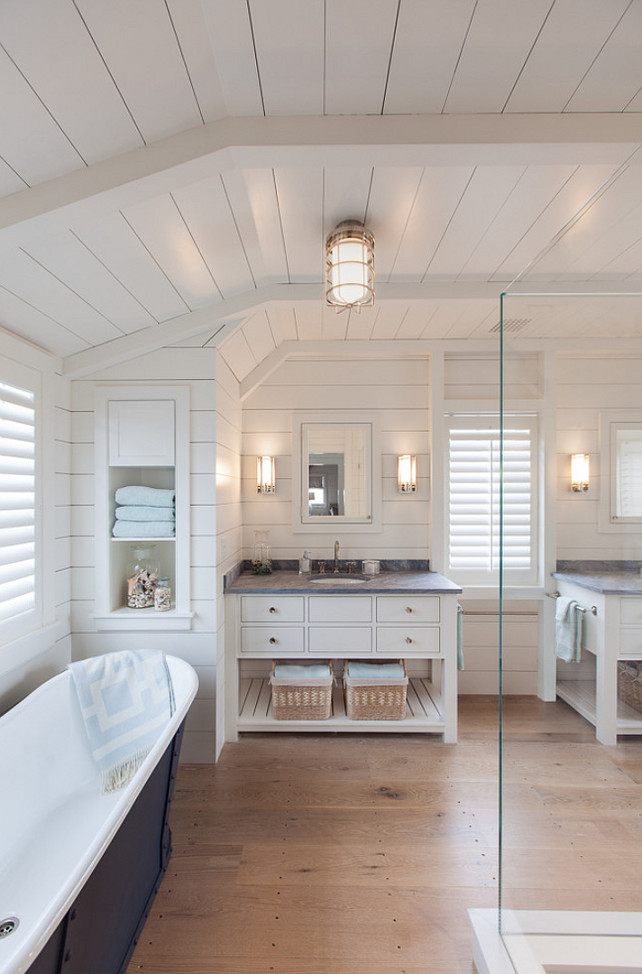 The wall and ceiling material used in this bathroom is 1×6 ship lap with a 1/8″ gap between the boards. Inside the shower, the builder milled Corian to match the the wooden shiplap coming in from each side.
The vanity base is custom made and the countertop is 3 cm honed Bardiglio marble.
The flooring is a "Character Grade" white oak from the The Woods Company.
The medicine cabinets where custom made by the builder.
Bath & Millwork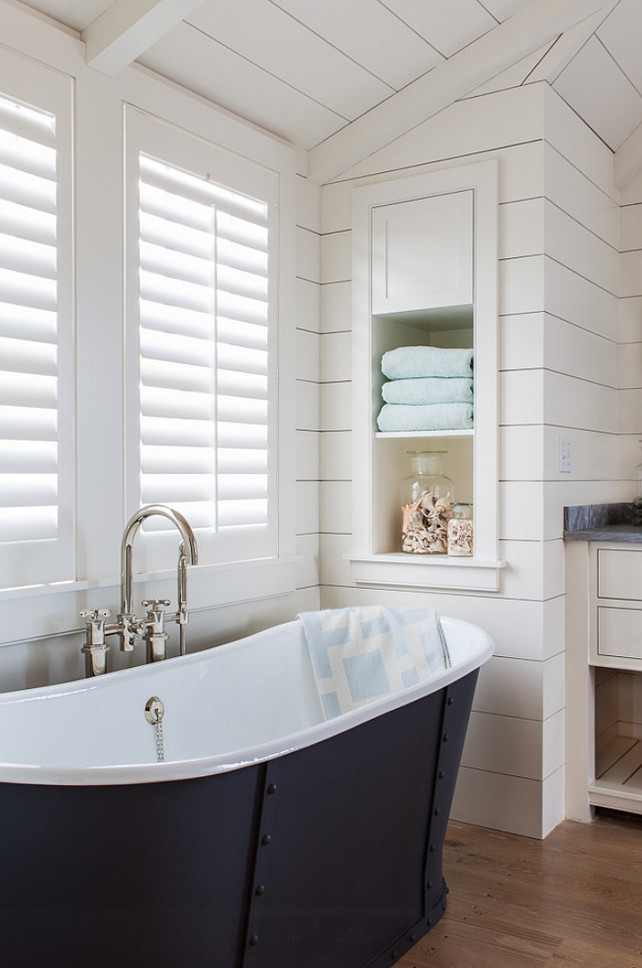 As mentioned above, the shiplap in this space has a 6 7/8″ face with a 1/8 intentional gap between the individual boards. It's important to have your painter pre-prime all surfaces before assembling the boards on the wall and ceiling. This is done for two reasons. First to seal the wood making it less susepital to moisture migration, and second so that the gap doesn't read as raw unpainted wood.
Tub is Waterworks, Henry line.
Shower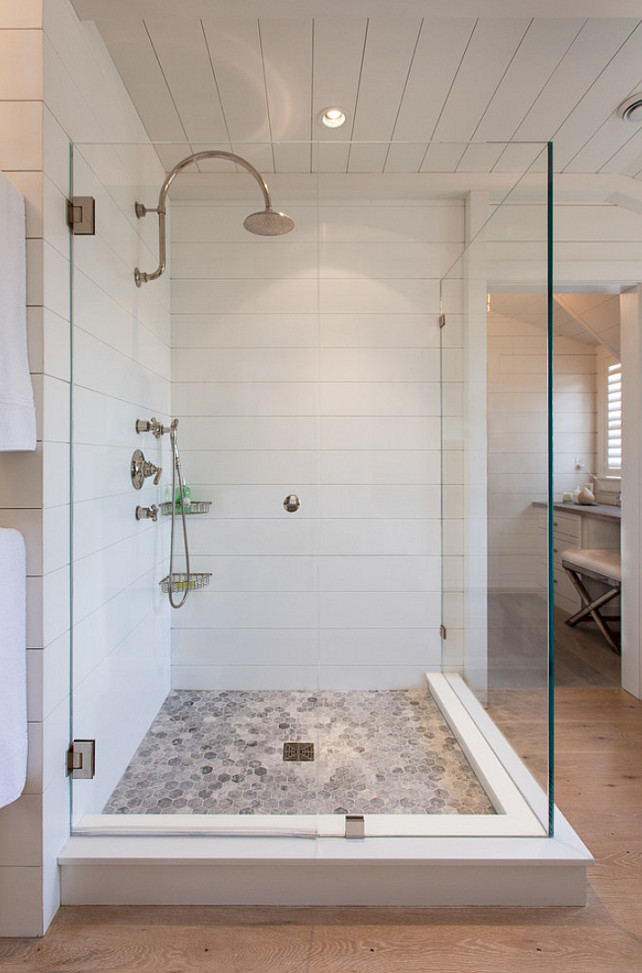 The wall surfaces in the shower are not tiles, they are Corian sheets fabricated to match the wood ship lap walls outside of the shower. The shiplap in the shower has held up fine since it was milled from Corian. The transition from the wood ship lap to Corian takes place behind the 4×4 and at the mitred corner to the left of the shower.
Shower Flooring: Flooring is Bardiglio marble in a hexagonal pattern.
The shower arm and controls are from the Waterworks, Henry line.
Shower Dimensions: The dimensions are 40″x 40″.
Back Porch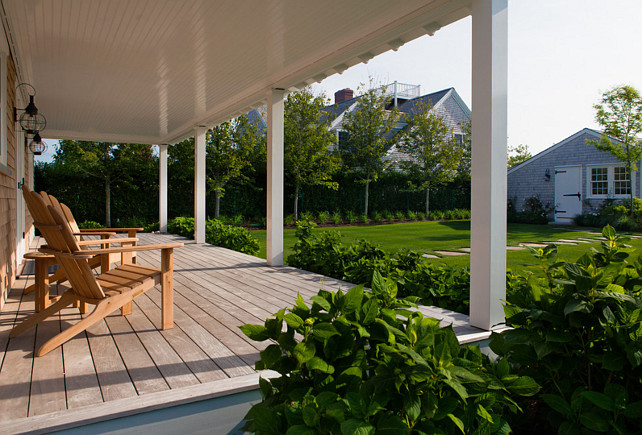 The depth of this porch is 8′. Depending on your needs, porches generally range from 6′ – 10′ in depth.
The decking material is Garapa Gold 1×6.
Landscaping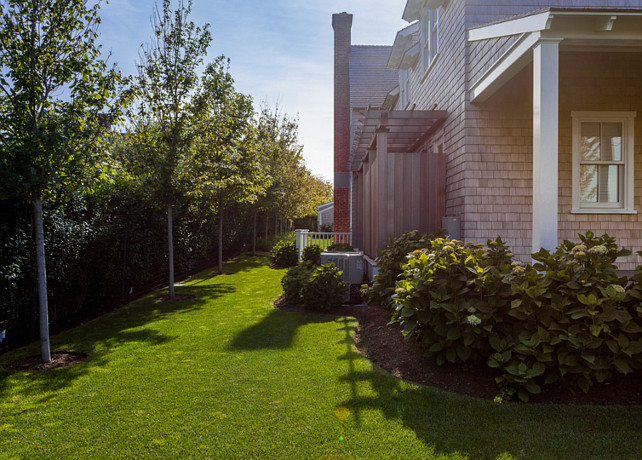 The trees by the fence are Sunset Maples.
Garden Shed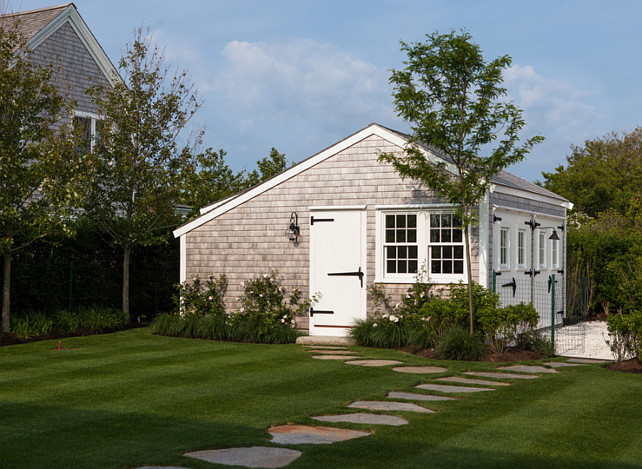 The beauty of this home extends to the gardens and the garden shed.
Isn't this a wonderful place? Let me know what you liked the most about this cottage.
See more Inspiring Interior Design Ideas in my

Archives.
Interior Design Ideas:

Paint Color
Hi! It's great to have you here today. I hope you enjoyed spending these few moments seeing this special place.
Today should be a fun day! I am going downtown to buy some gifts for my family back in Brazil. I want to surprise them… I love buying gifts for my niece and nephew and to my grandfather. I know he loves chocolate and I will get some of his favorites.
I am not sure if everybody feels this way, but I prefer giving gifts than receiving them. Sure it's fun to be surprised, but nothing feels better than seeing the other person's reaction when they get something that they really like.
I hope to make my family a little happier on the next few weeks. I can't wait for that! 🙂
Wishing you a day full of happy moments!
We'll talk some more tomorrow, my friends.
with Love,
Luciane at HomeBunch.com
Interior Design Services within Your Budget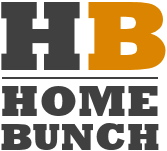 Get Home Bunch Posts Via Email

Sources: Jonathan Raith Inc.. Sophie Metz Design.
Photos by Nantucket Architectural Photography and Sam Oberter.

Posted in:
Architecture
,
Bathroom Design
,
Beautiful Homes
,
Beautiful House
,
Bedroom Design
,
Classic Design
,
Coastal Decor
,
Coastal Homes
,
Coastal Interior Ideas
,
Coastal Interiors
,
Cottage
,
Gardens
,
Home Decor
,
Interior Design Blog
,
Interior Design Ideas
,
Interior Designers
,
Interior Paint Color Ideas
,
Kitchen Design
,
Living Room Design
,
Neutral Interiors
,
Paint Color
,
Patio Ideas
,
Small Space Design
,
Traditional Interiors
,
Transitional Interiors

18 comments
18 Comments to 'Nantucket Shingle Cottage with Modern Coastal Interiors'
Subscribe to my RSS Feed
Leave a Reply