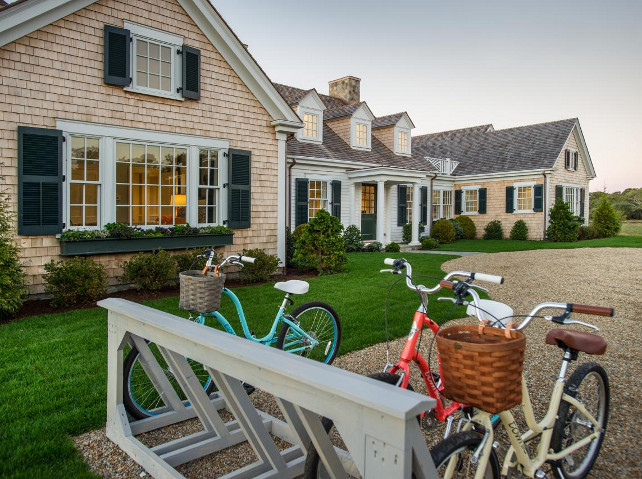 As soon HGTV reveals their new house each year, many blogs, newspapers and any kind of media often shares pictures and some decor details about this popular home. Today, I went the extra mile and collected all the information I could find to share with you here! You will not only see the new HGTV 2015 Dream House pictures, but you will get to know the paint color of each room, the furniture, decor and other important details.
Located in Edgartown, one of the most charming towns on Martha's Vineyard, and designed by one of my favorites architects, Patrick Ahearn, with interiors by Linda Woodrum, this classic cape cod is as good as it gets!
Find out all the details under each photo. I know you will love this home!
New HGTV 2015 Dream House with Designer Sources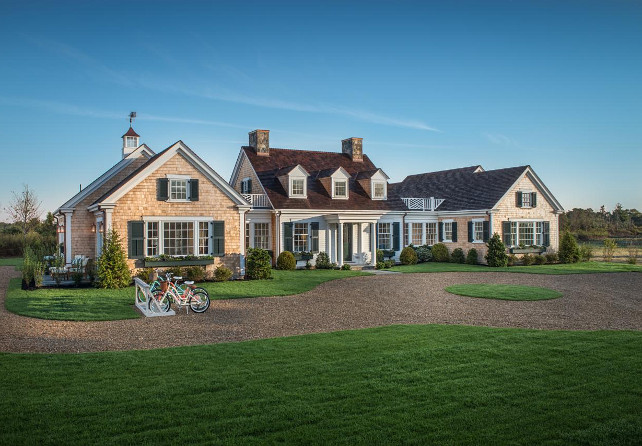 This house is 100% my style… not more, nor less. I could simply move right in!
Timelessly Designed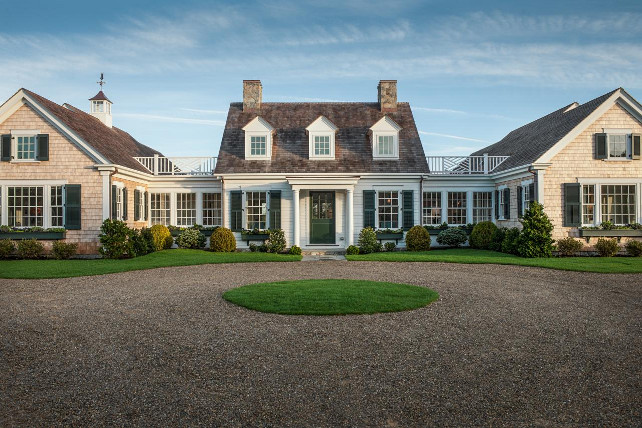 The architect was very careful to pay close attention to Cape Cod style and details when choosing every aspect of this home. Rather than a paved driveway, a traditional pea-gravel drive adds to the home's New England style.
Traditional Beauty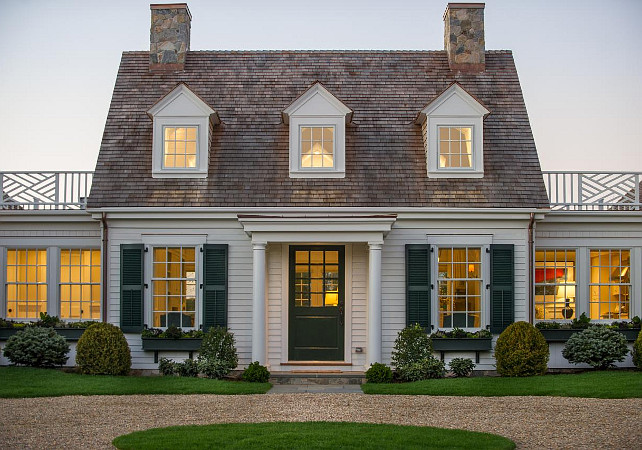 The house blends cottage-y charm with traditional architecture.
Portico Paint Color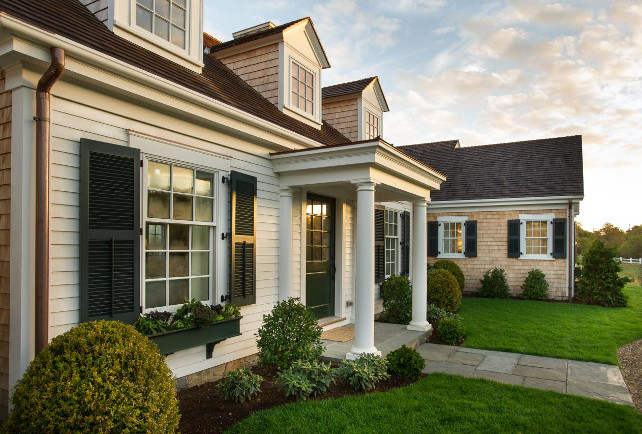 "Sherwin Williams SW 7005 Pure White"
When Spring Comes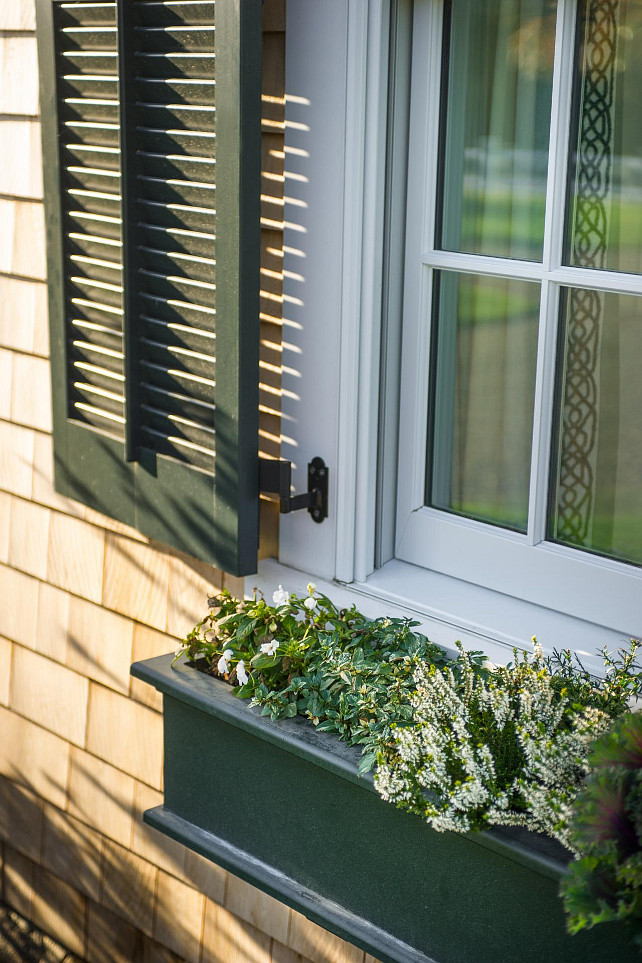 Window-boxes add charm to the exterior of this home.
Front Door Paint Color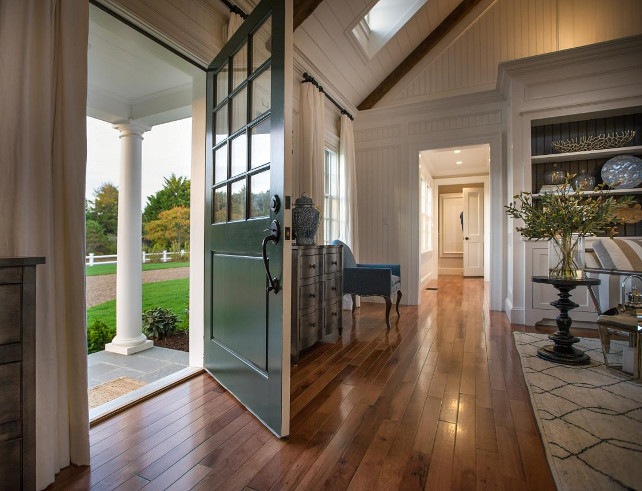 "Benjamin Moore Essex Green"
Foyer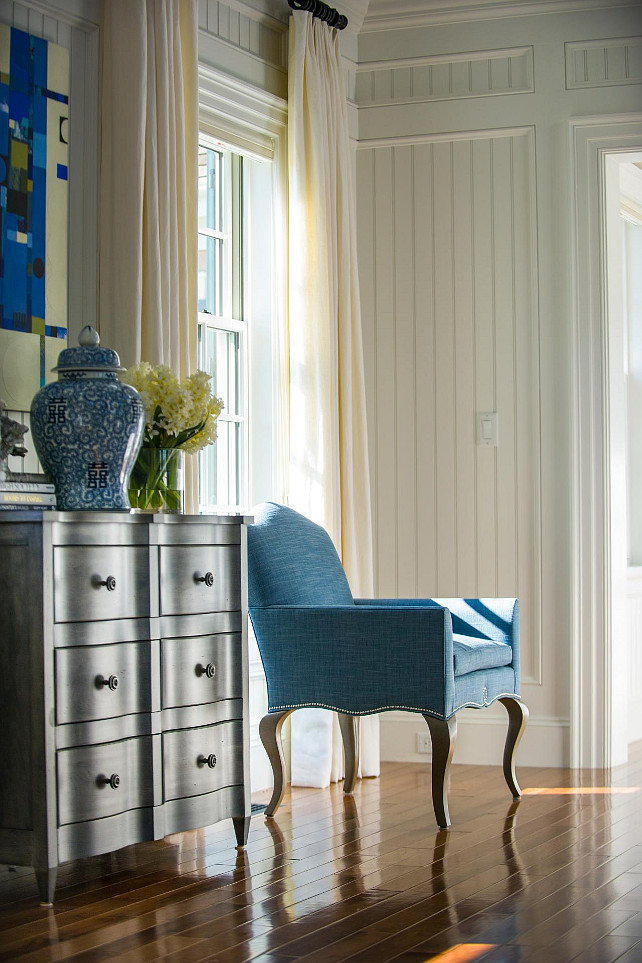 The foyer is open to the the grand room, making of this entire space perfect for entertaining.
Art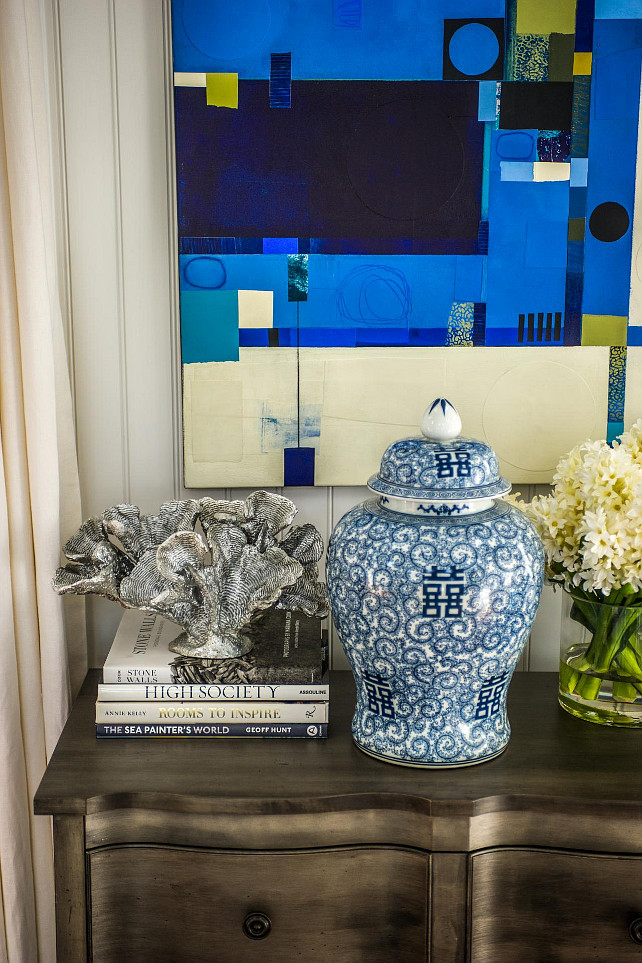 According to the designer, the two large paintings on either side of the front door were sourced locally — much of the art in the house is local.
Jar is the "Blue and White Temple Jar" from Ethan Allen.
Flooring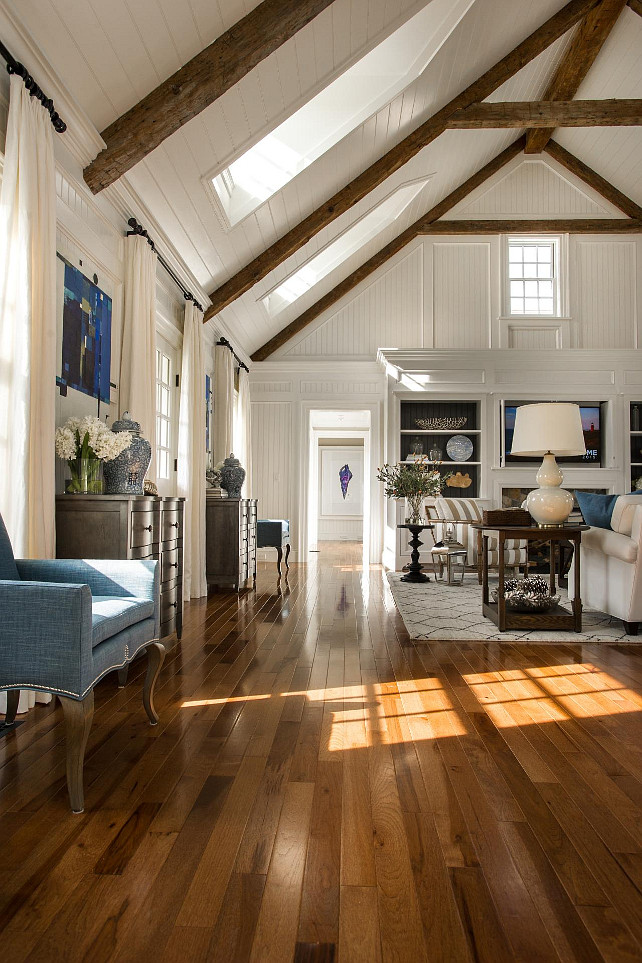 Floors are "Casa de Colour 3/4″ x 3-1/4″ Walnut Hickory".
Architectural Details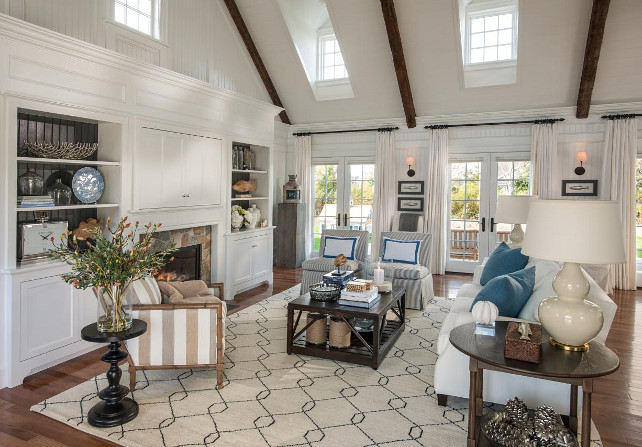 This home makes use of classic architectural elements, such as beadboard and traditional wood flooring.
Coffee table is the "Beam Small Coffee Table, Portabello" from Ethan Allen.
Bookcase Paint Color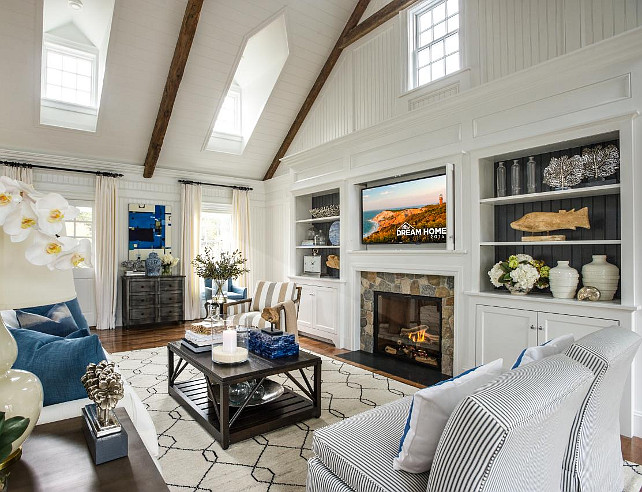 The bookcase is painted in "Sherwin Williams SW7674 Peppercorn".
Rug is the Tulu Trellis Rug, Natural/Black, from Ethan Allen.
Paint Color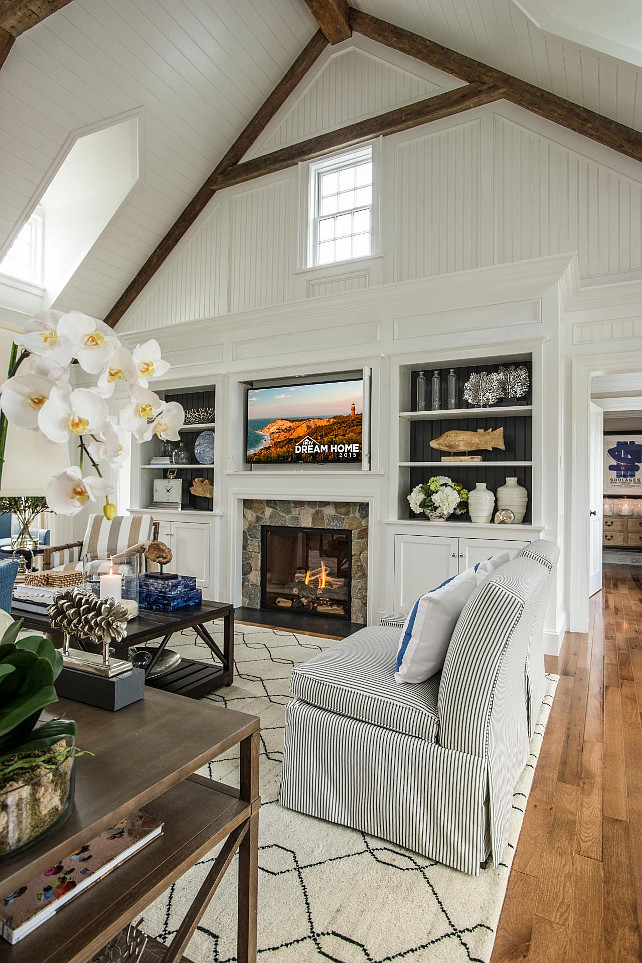 The entire space is painted in "Sherwin Williams SW 7005 Pure White".
Notice the clerestory window above the fireplace.
Durable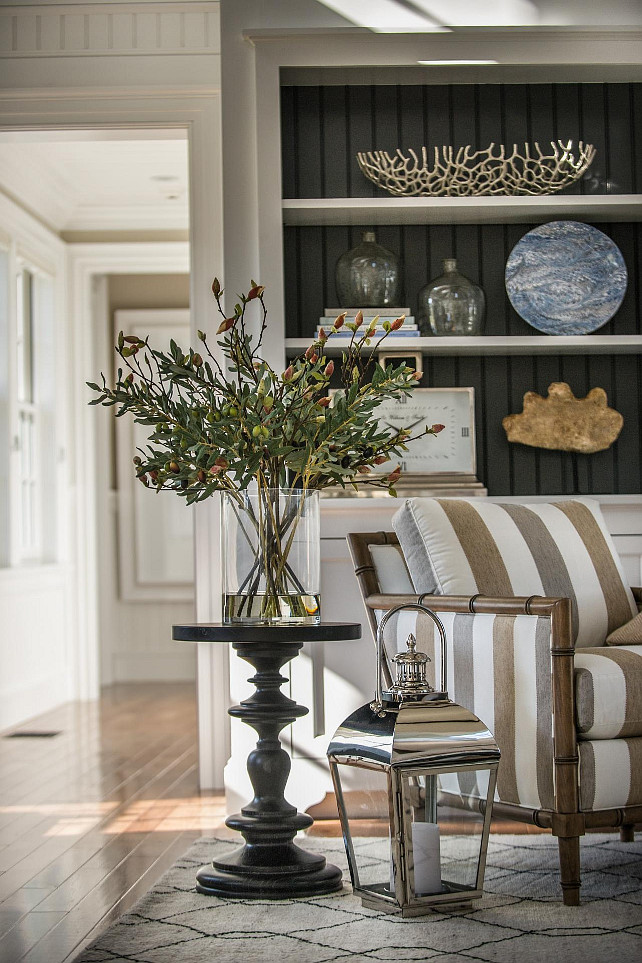 Many of the furniture was upholstered in Sunbrella fabric for its durability.
Higher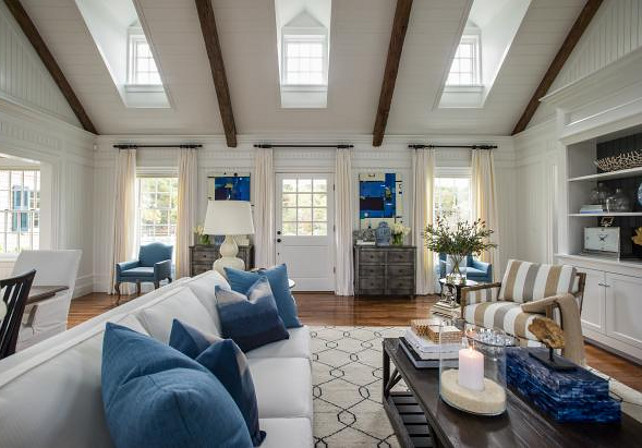 The two-story high ceiling contributes to the room's open, airy design.
Ocean's Breeze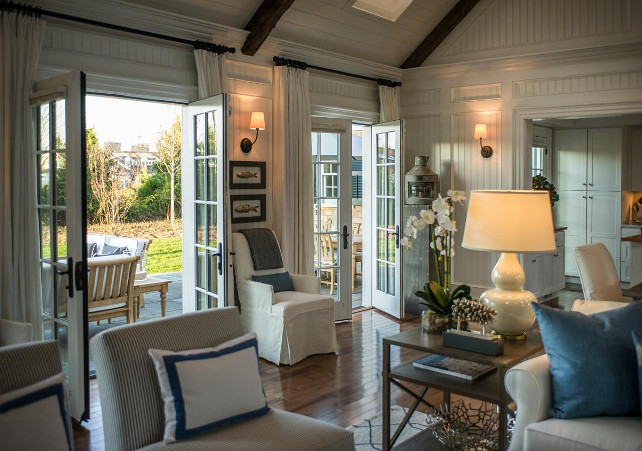 Two pairs of French doors open up to the patio outside, a space that offers even more seating and acts as an extension of the family room.
Classic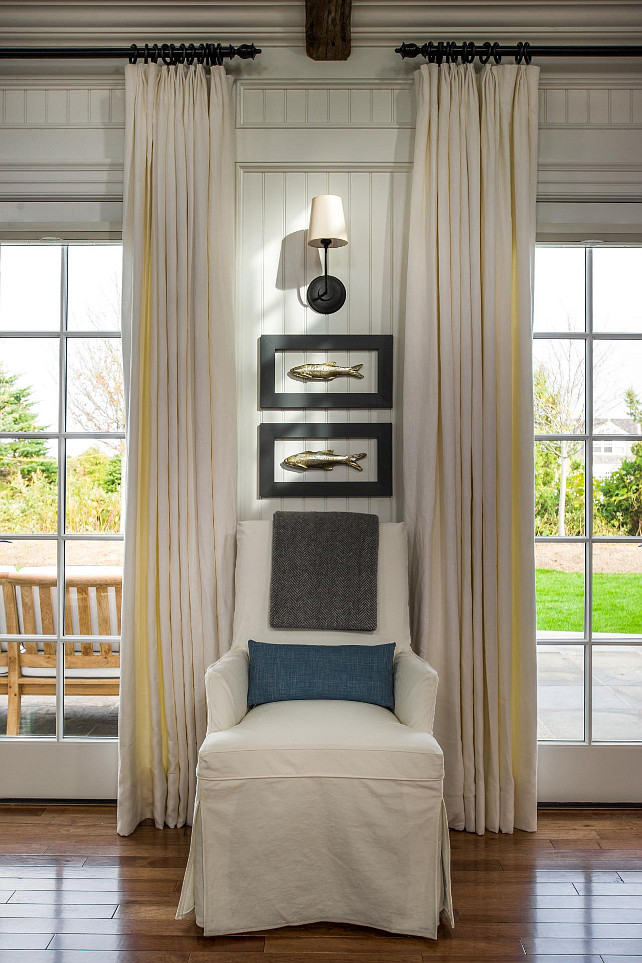 Classic and timeless details are found everywhere in this home.
Reclaimed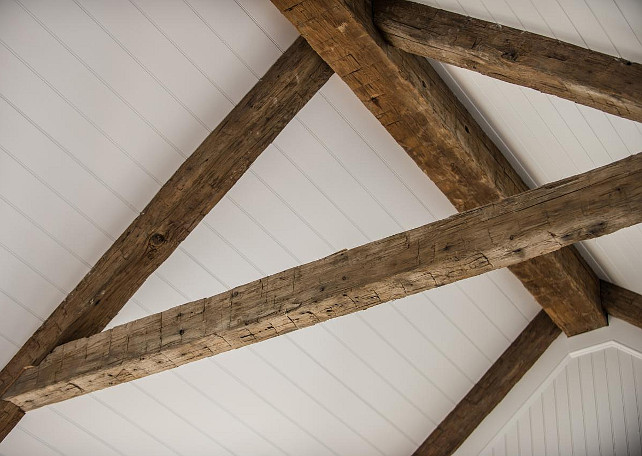 Reclaimed vaulted beams bring a rustic charm to the family room.
Dining Room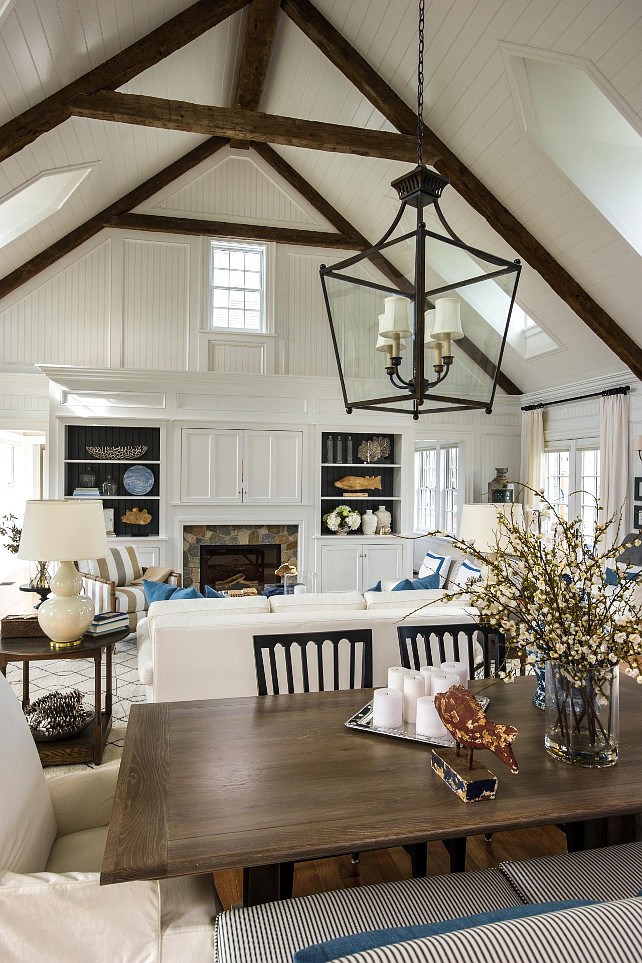 The dining room is a bright, open area with stylish mixed seating and classic cottage charm.
Dining Room Seating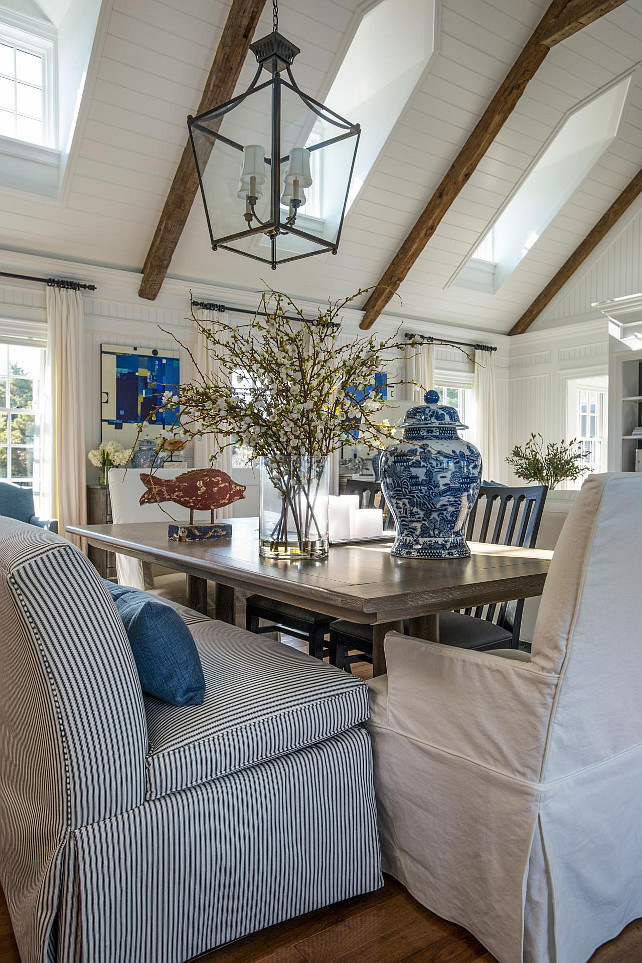 The dining room seating (all from Ethan Allen) was given a mix-and-match approach in order to keep the space from feeling too stiff.
Entertaining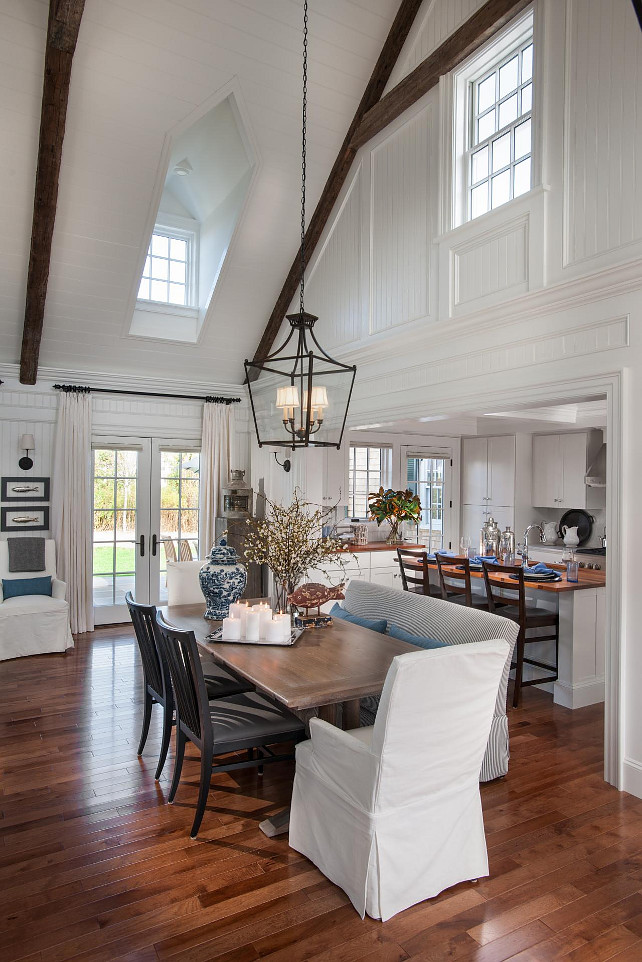 The open kitchen leads straight to the dining room, making the entire home feel bright and airy.
Lighting is the "Stockton Bronze Lantern" from Ethan Allen.
Open Layout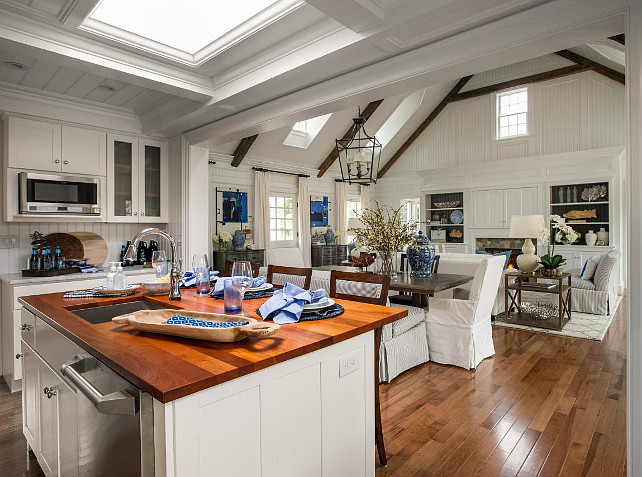 A kitchen with open layout makes it easier for entertaining and family living. I love the flow this home has.
Crisp White Kitchen
This small kitchen is all about the detailing and the trim.
Cabinets Paint Color is "Sherwin-Williams Pure White" _ a great white for crisp white kitchens.
Mix-and-Match Kitchen Countertops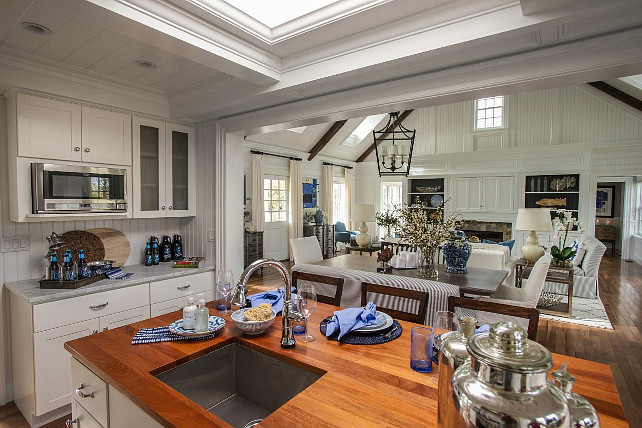 The designer mixed simple white marble with butcher block countertops to bring interest to this kitchen.
Faucet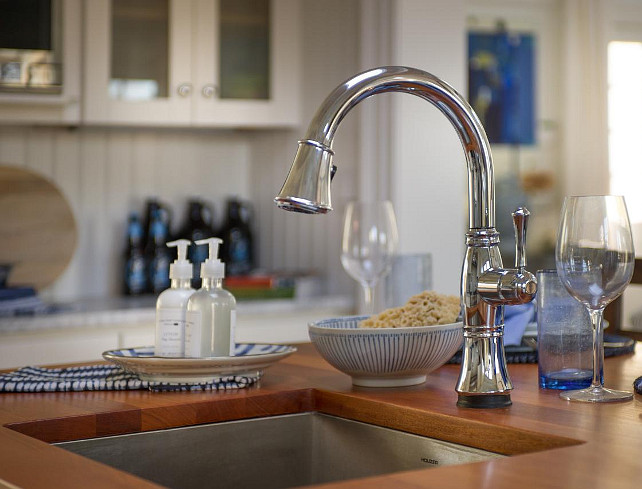 A classic chrome faucet features a single pull-down handle as well as modern touch technology that makes it easy to run the faucet even when hands are full.
Kitchen Island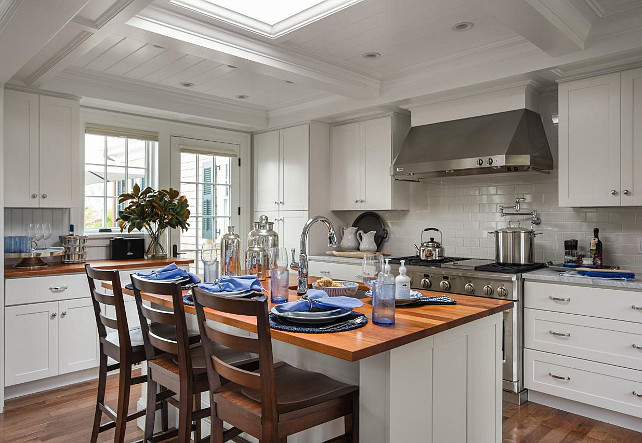 A large skylight was added above the island instead of pendants.
Counter Stools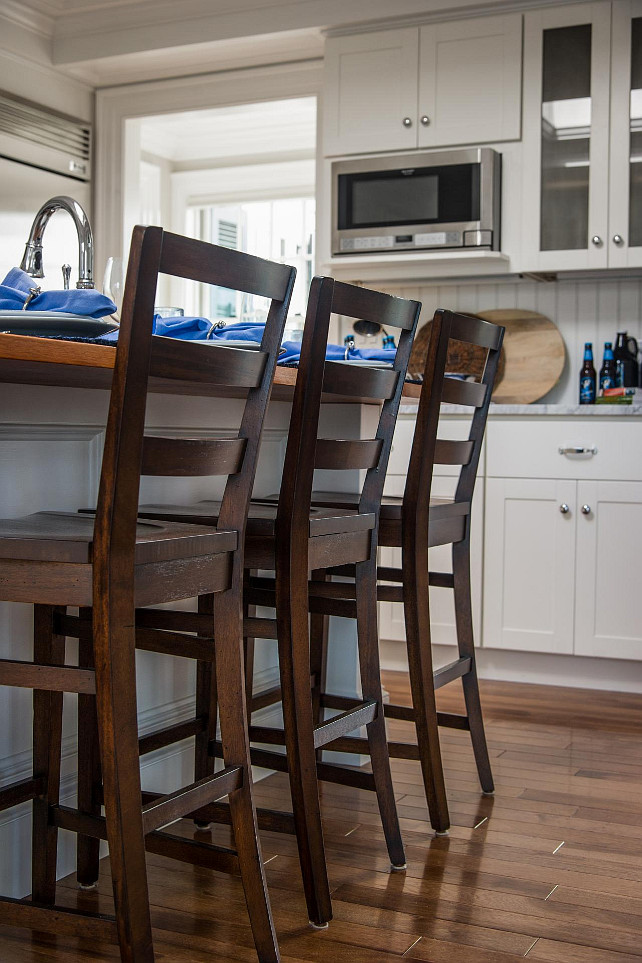 Counterstools are the "Blair Barstool" from Ethan Allen _ $339.00/each.
Doors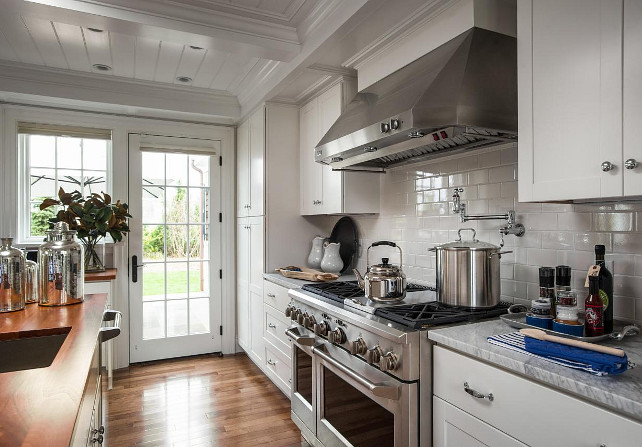 French doors leads you to the backyard.
Cooking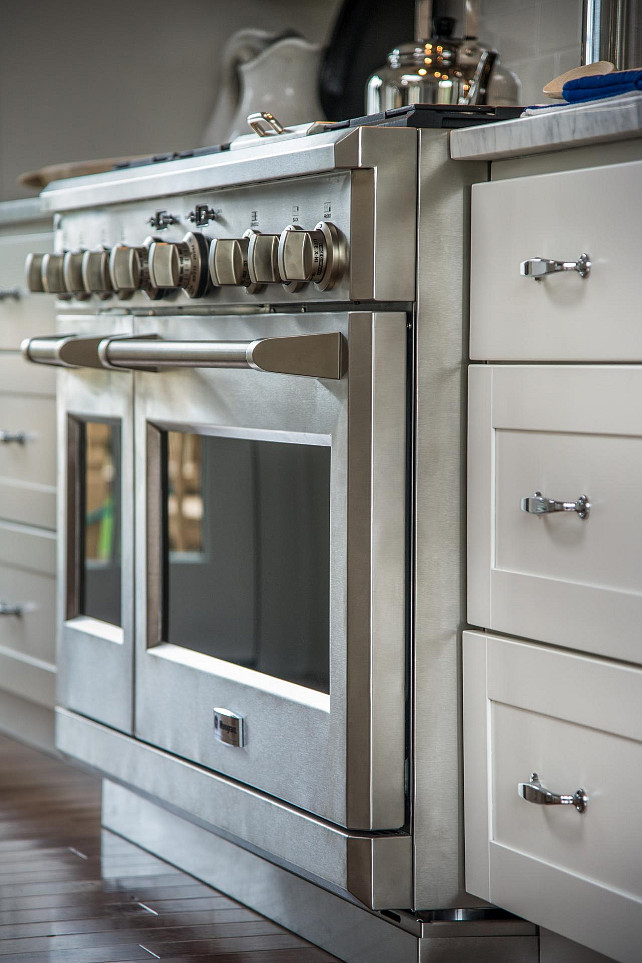 Gorgeous kitchen range.
Backsplash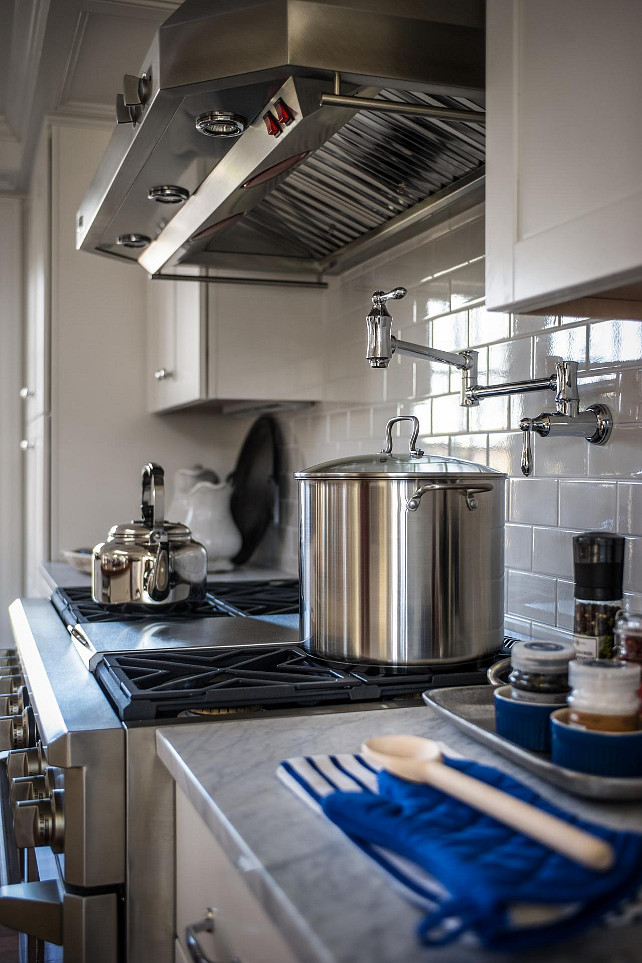 Simple white subway tile sets the stage for classic stainless steel fixtures, including a handy wall-mounted pot filler.
Hallway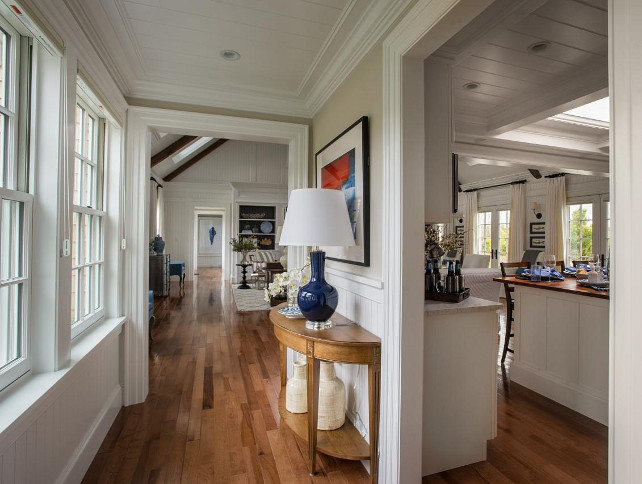 A long hallway leads you to the guest bedrooms.
Hallway Decor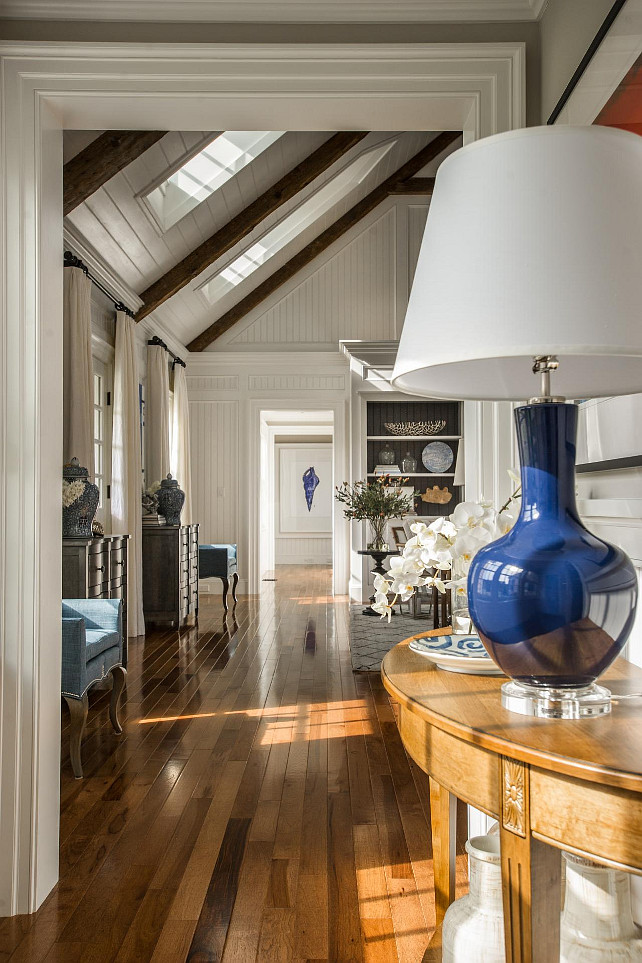 The "Barrow Sofa Table" and the "Lia Table Lamp" are both from Ethan Allen.
Boy's Bedroom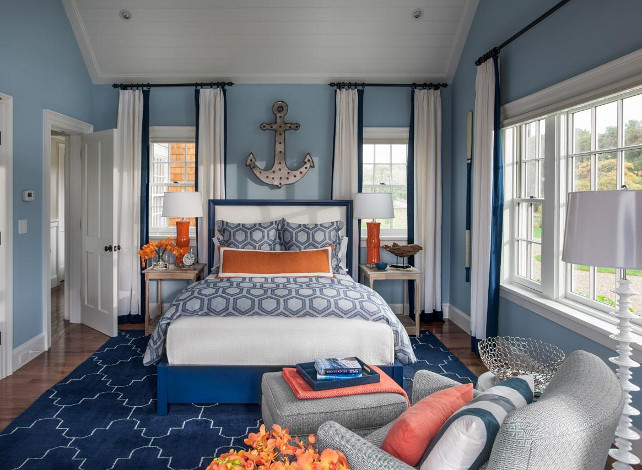 This bedroom is full of personality and fun! It displays a classic nautical theme with a modern twist. Blue and orange hues, as well as geometric shapes, are repeated in the wool rug and bedding, while vaulted bead board ceilings and floor-to-ceiling drapery expand the space for an open and airy feel.
Bed & Breakfast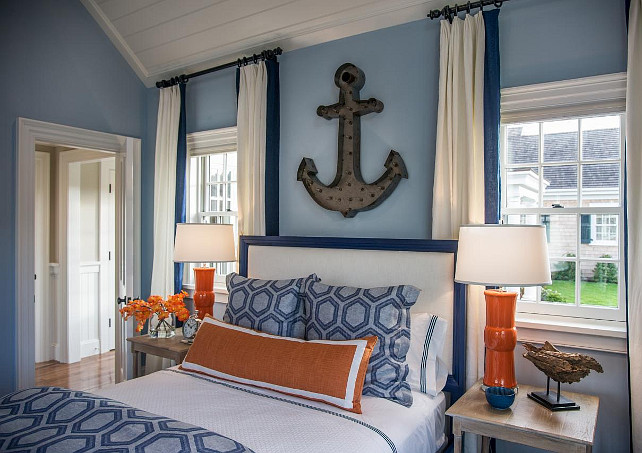 Bed is the Fairmont Bed, Marine Blue/White from Ethan Allen.
Rug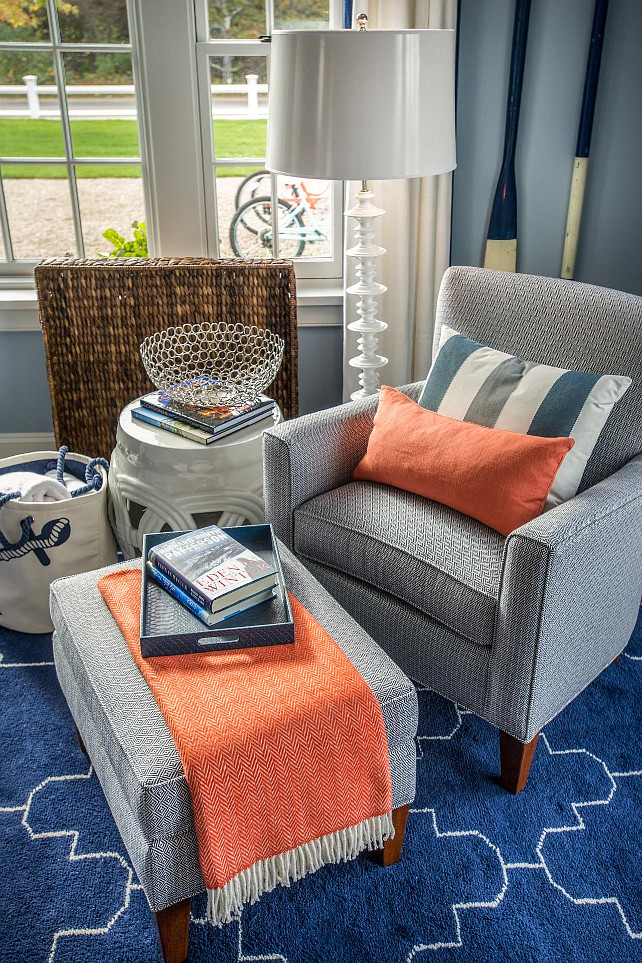 Rug is the Tulu Tracery Rug, Blue/Natural from Ethan Allen.
Bedding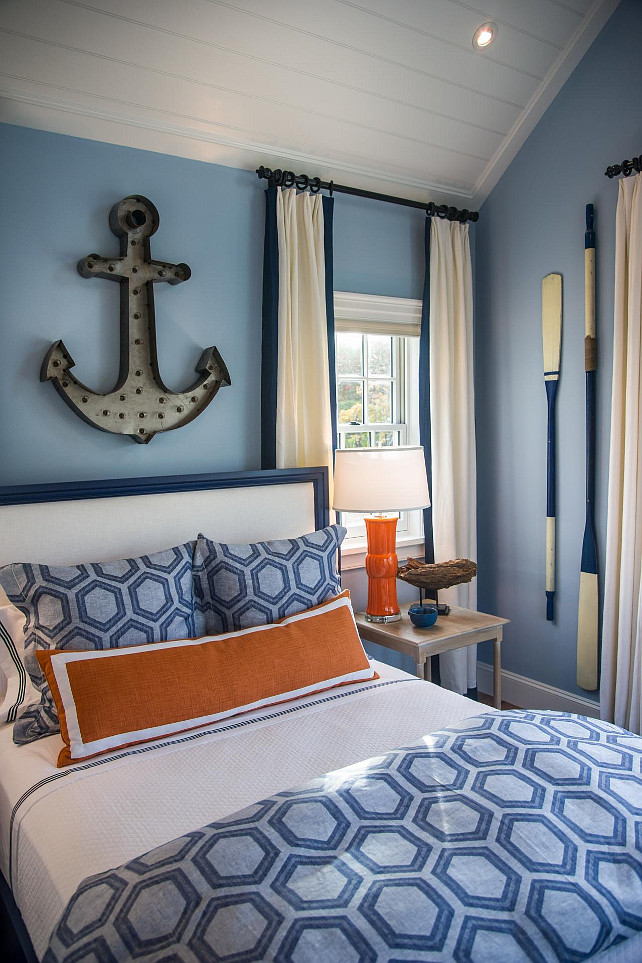 Bedding is the "Geometric Linen Duvet Cover, Navy" from Ethan Allen.
Blue Bathroom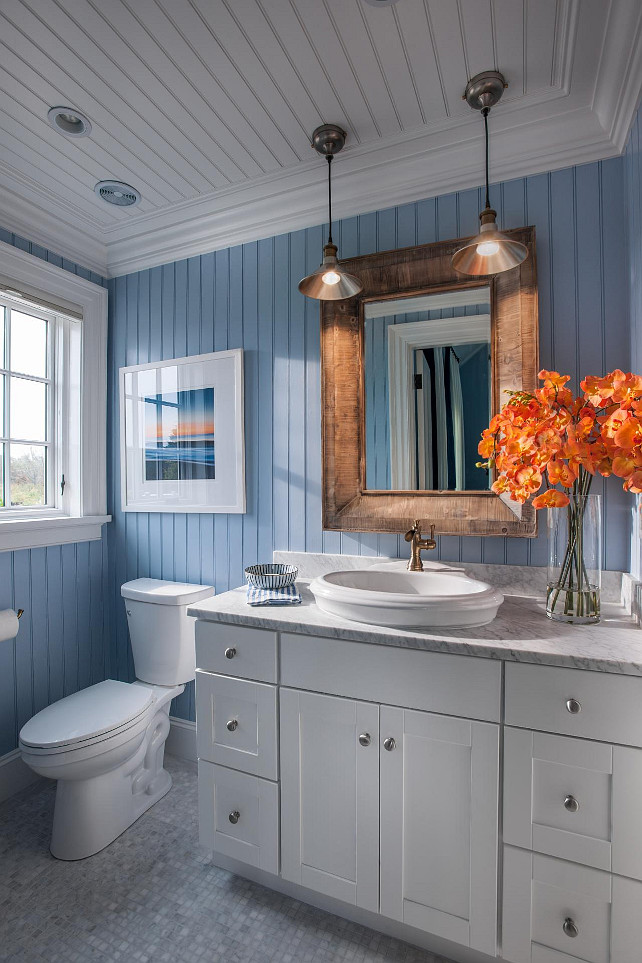 Blue bead board walls bring New England charm into this bathroom, while a Carrara marble vanity top and accent pieces add a touch of elegance.
Faucet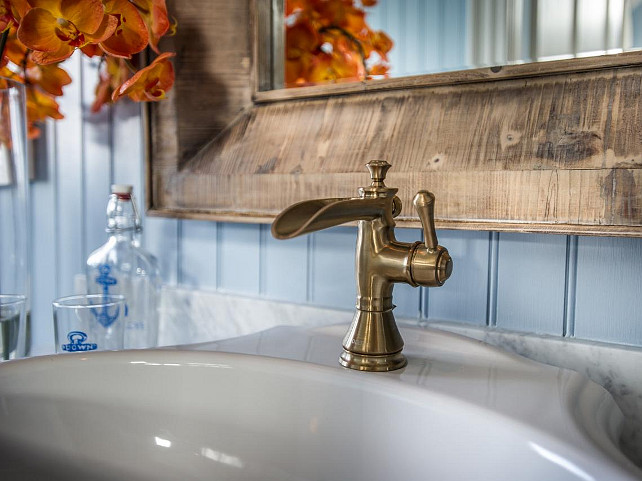 Beautiful channel spout faucet in a bronze finish.
Hues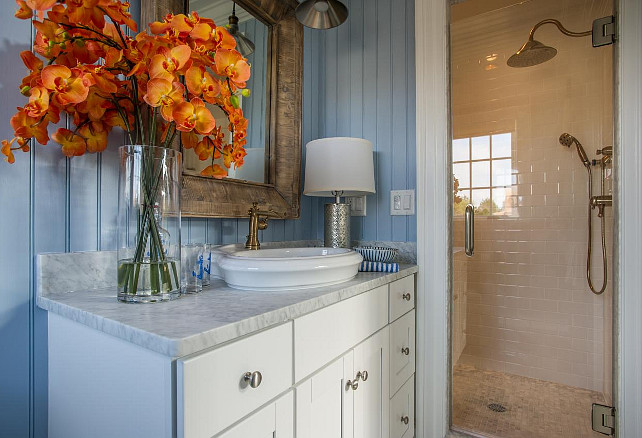 Crisp white hues displayed in the vanity cabinetry and above the sink transition through the glass shower door into classic subway tiles.
Touch-Free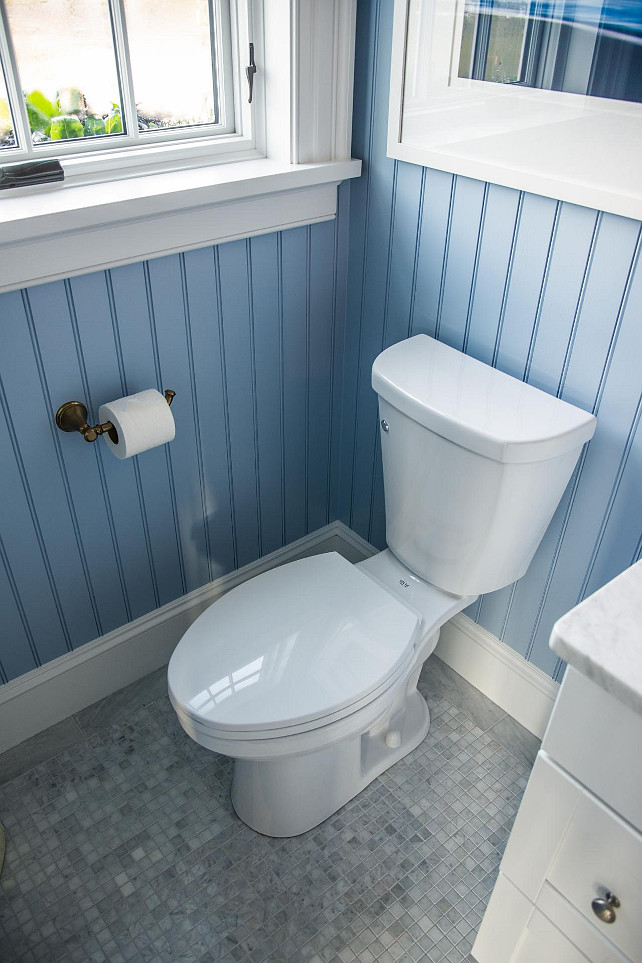 Say goodbye to germs with a simple wave of the hand over a touch-free, flush toilet. Genius!
Girls' Bedroom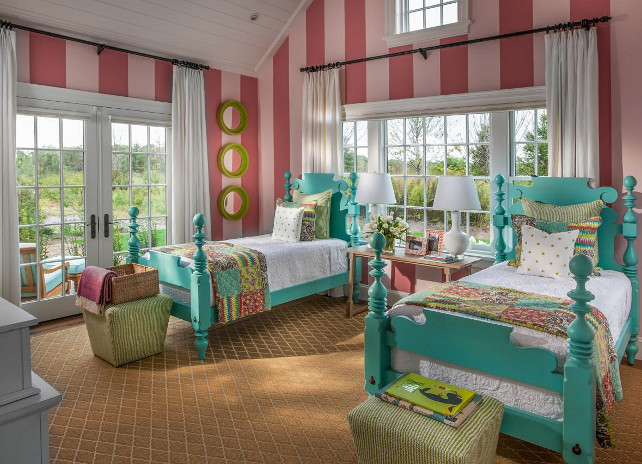 The paint color in this kids bedroom is "Sherwin Williams SW 6311 Memorable Rose" and "Sherwin Williams SW 6309 Charming Pink".
Beds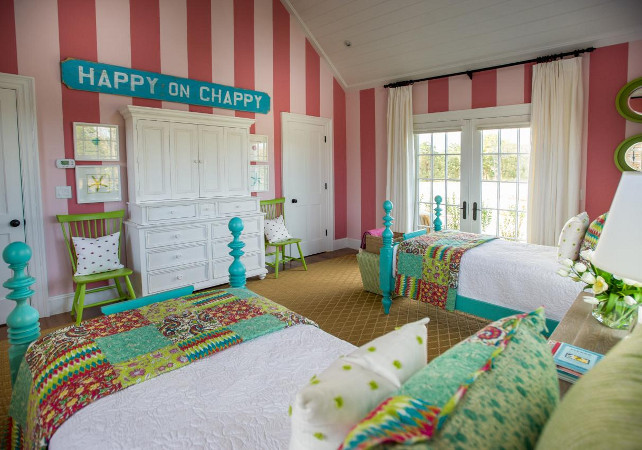 Beds are the " Quincy Bed, Turquoise" from Ethan Allen.
Girls Bathroom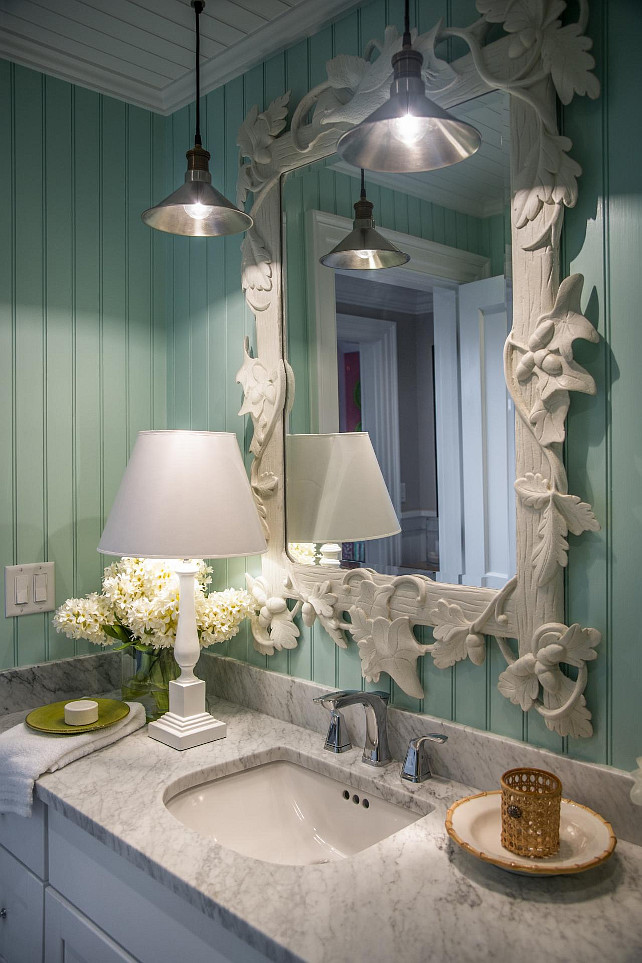 It's easy to fall in love with this bathroom! The nature-inspired style of this decorative mirror offers a whimsical statement piece that pops against pastel beadboard walls.
Paint Color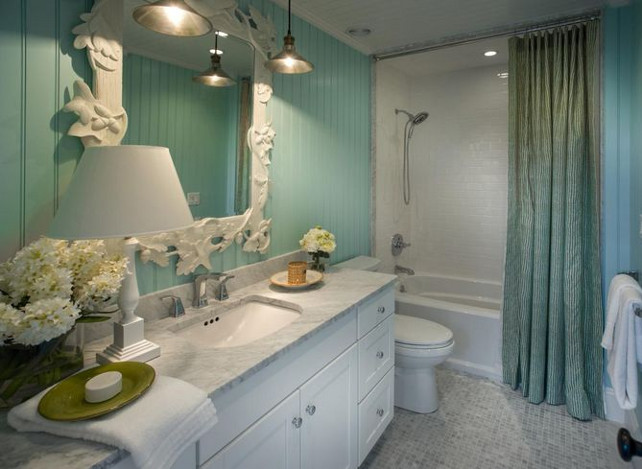 "Sherwin Williams 6478 Watery".
Pendants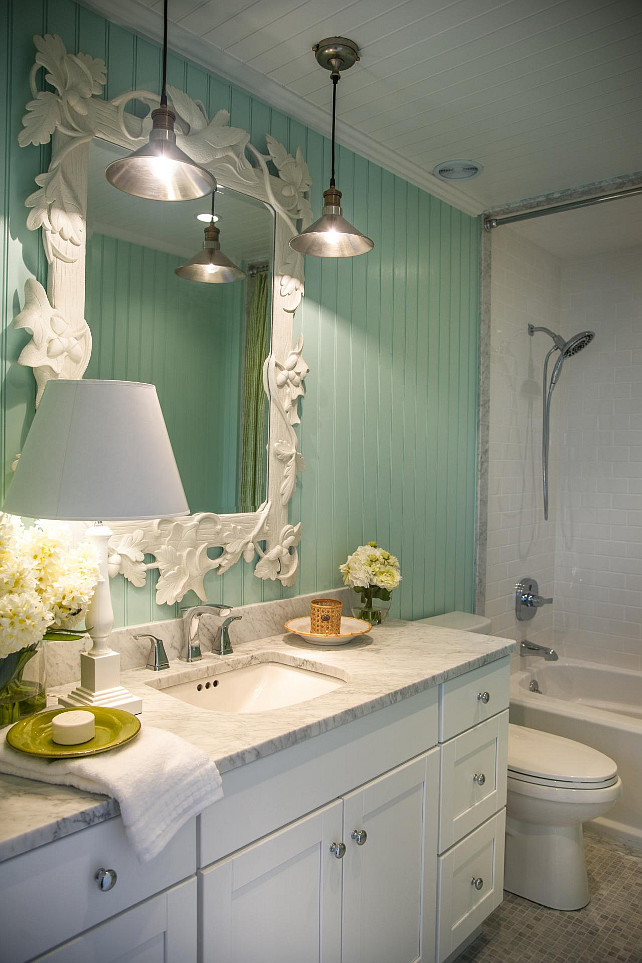 Hanging pendant lights and a table lamp radiate a soft glow and set the mood for evening bath time.
Laundry Room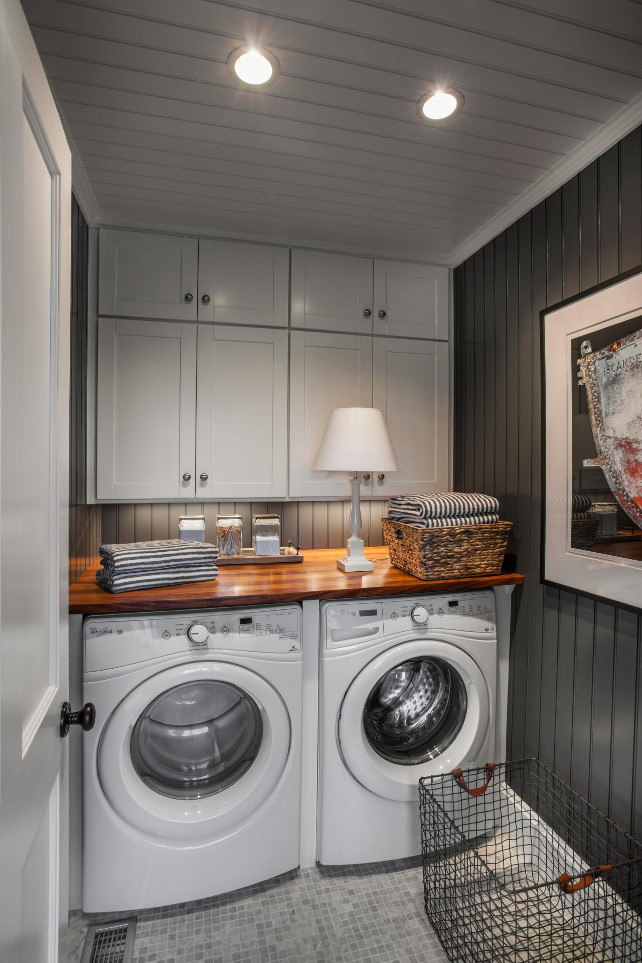 Charcoal beadboard walls contrasts to white cabinets and appliances in this small, but tailored laundry room
Notice the butcher block countertop.
Paint Color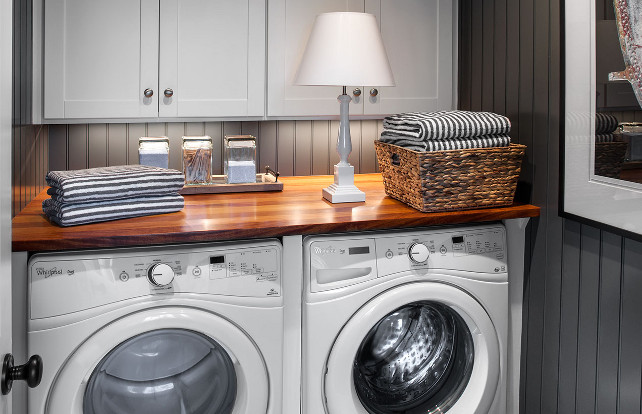 "Sherwin Williams SW 7674 Peppercorn"
Master Bedroom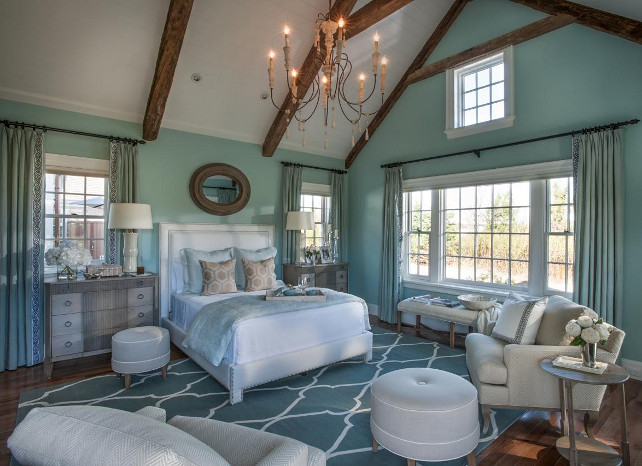 This stunning master bedroom combines neutrals with calming shades of blue as a nod to the soft coastal style found in the Cape Cod home.
The queen bed combines white with soft blue for a gentle calming effect. The upholstered headboard with a nail-head trim is a luxurious addition that frames the bed and exudes a soft, cozy vibe.
Rug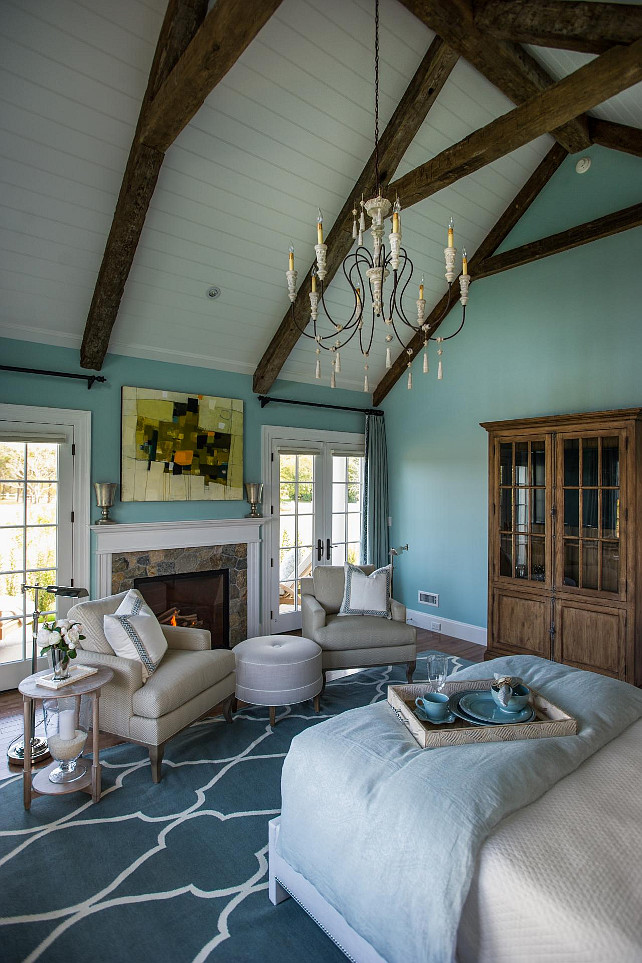 Rug is the Fretwork Dhurrie Rug, Seafoam from Ethan Allen.
Fresh Air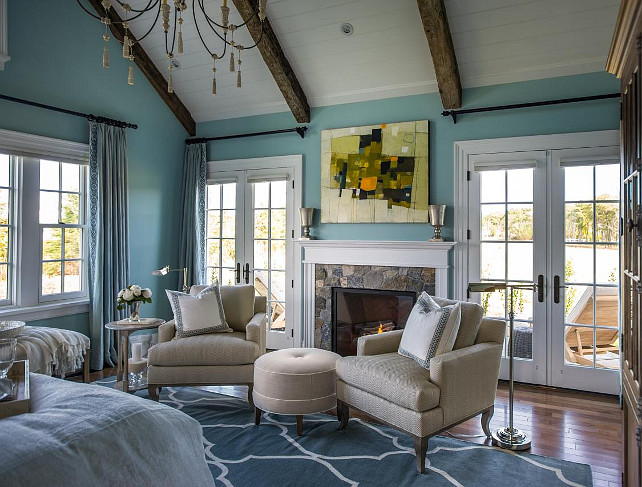 Large windows and French doors flood the master bedroom in natural light and offer sensational views of the breathtaking landscape surrounding this home.
Patio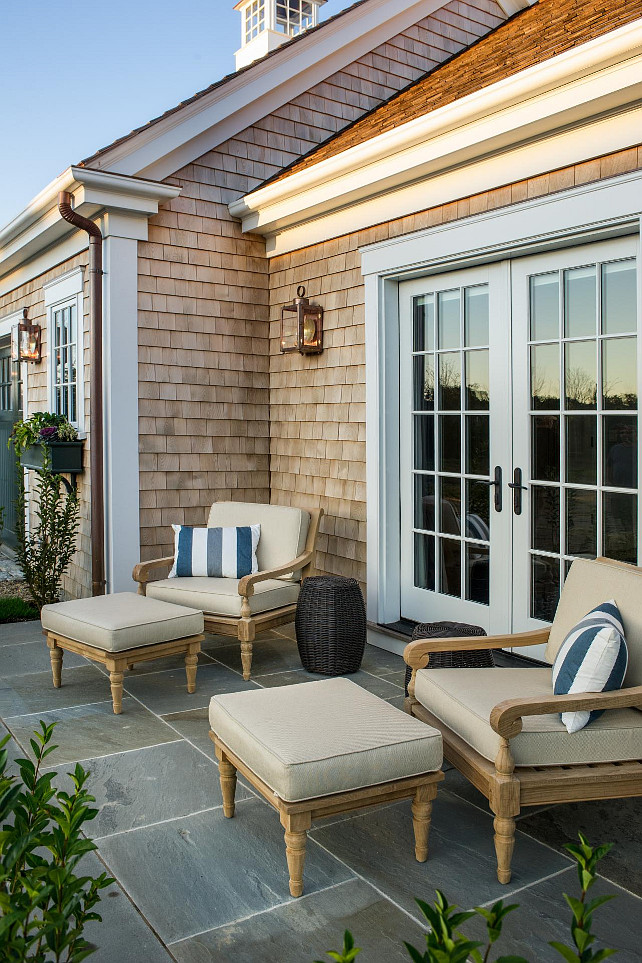 This private patio is truly a quiet retreat.
Bedroom Color Palette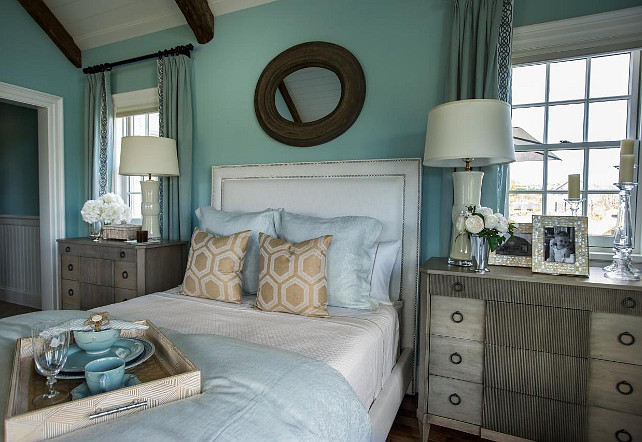 The queen bed combines white with soft blue for a gentle calming effect.
Luxury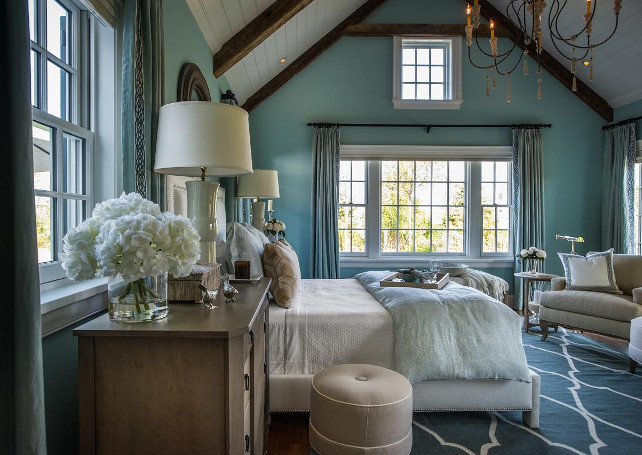 The master bedroom suite takes up the entire right wing of the house and includes the master bedroom, master bathroom and a spacious master closet. Each area is painted in a gorgeous blue that separates the suite from the rest of the home, making it a beautiful, calming escape.
Paint Color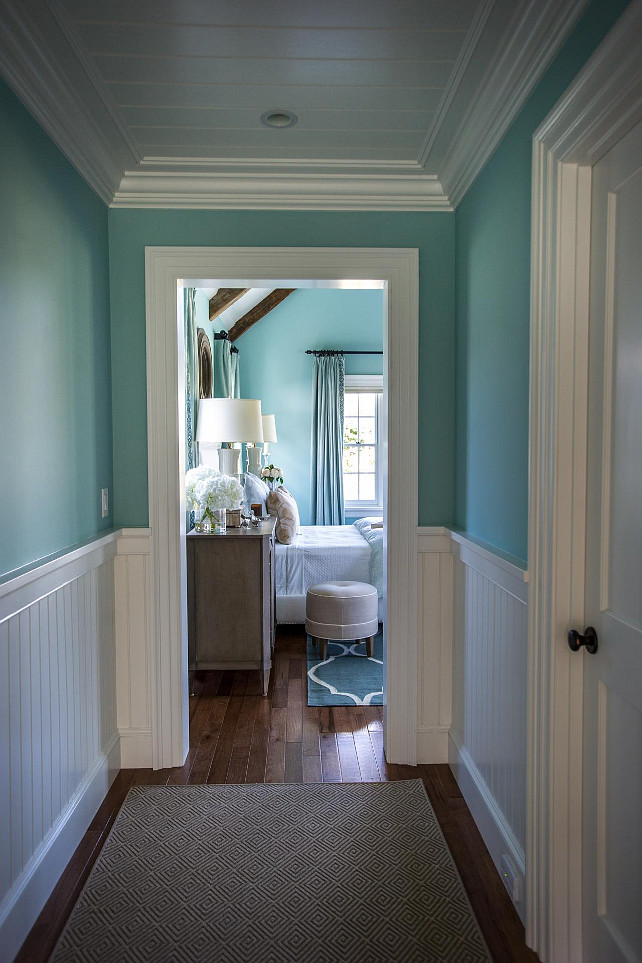 "Sherwin Williams 6478 Watery"
Dressing Room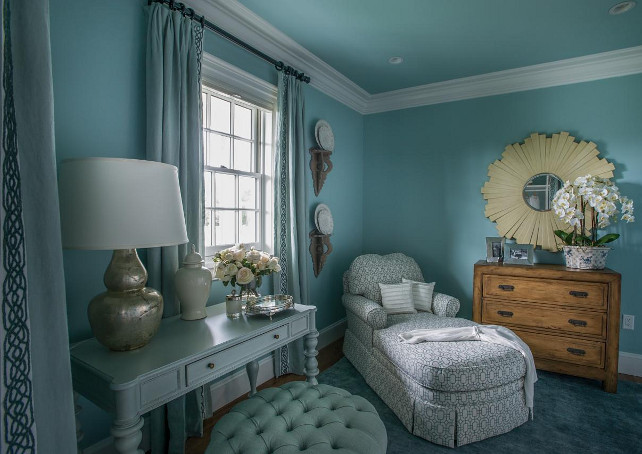 A separate dressing room is any girl's dream.
Decor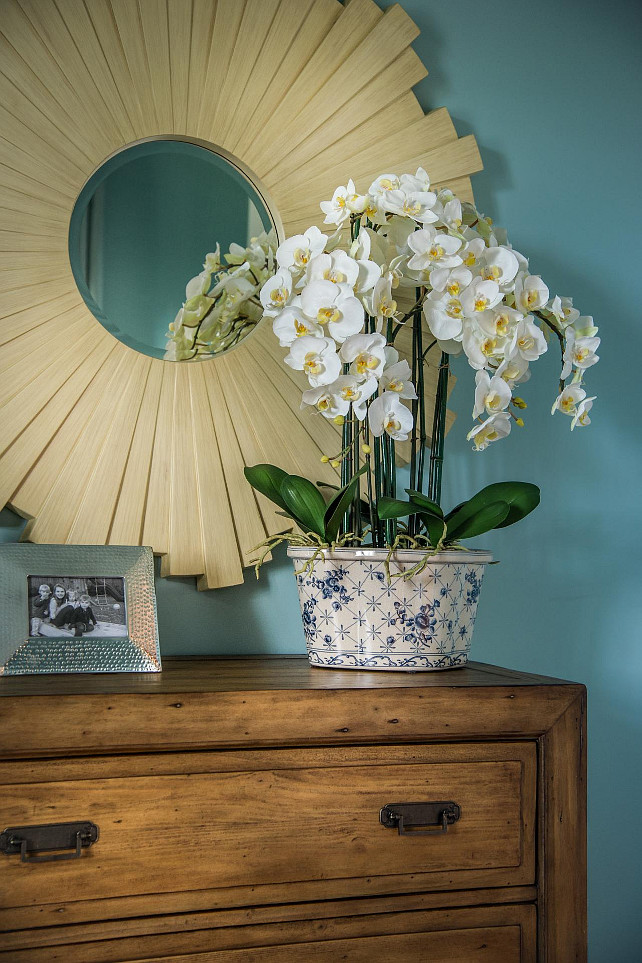 A rosette mirror complements the blue walls, emphasizes warmth from the wooden chest and highlights yellow accents in the floral arrangement.
Closet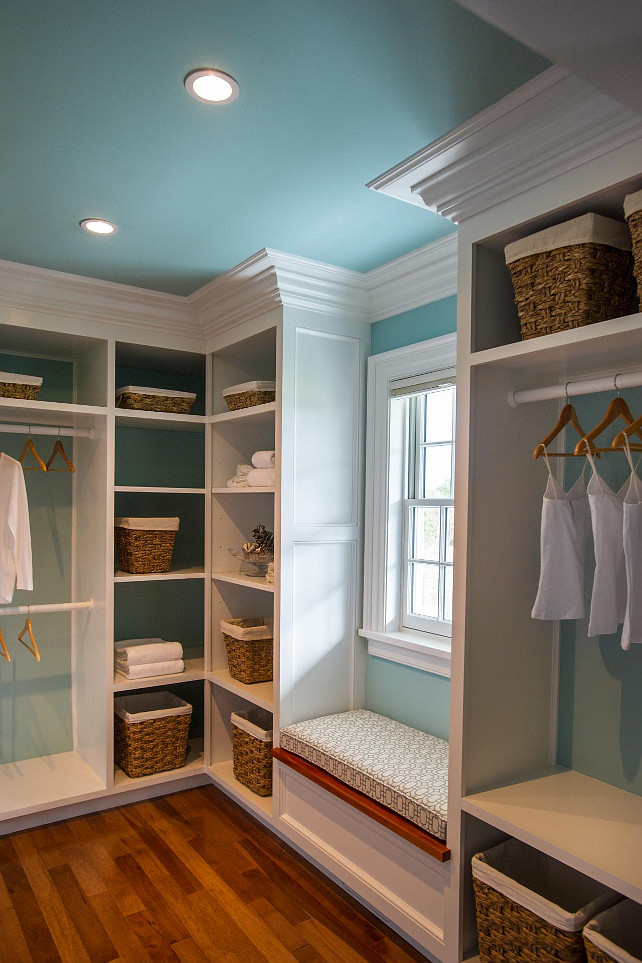 A cozy window seat separates custom-built closet units and offers a comfortable place to rest while getting ready.
Master Bathroom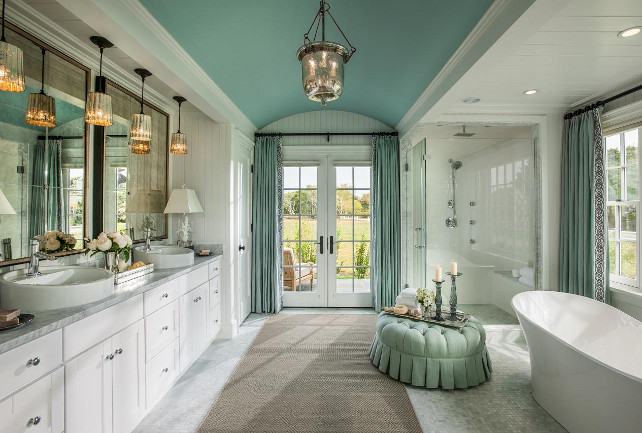 Stunning tile work, soft fabrics and a calming color palette blend perfectly to form an inviting space designed for relaxation.
Lighting is from "Ethan Allen".
Paint Color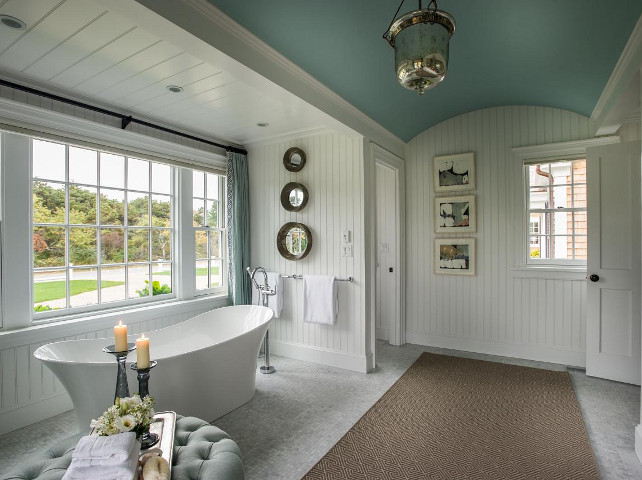 The window behind the tub features remote-controlled blinds, and the lovely blue curtains match the curtains in the master bedroom.
Ceiling Paint Color: Sherwin Williams 6478 Watery.
Trim: Sherwin Williams Pure White.
Decor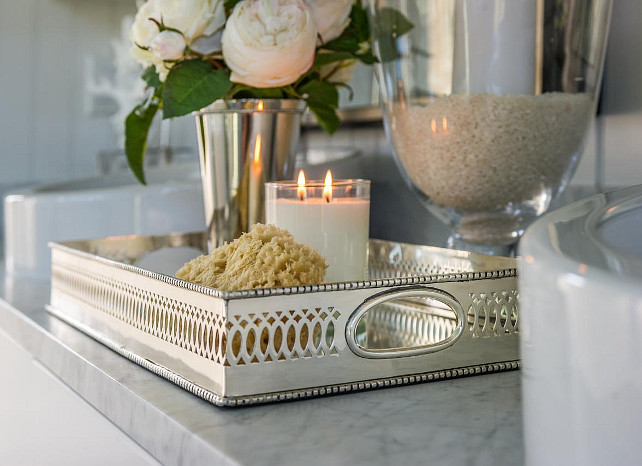 Bathroom counter decor… just beautiful!
Mirrors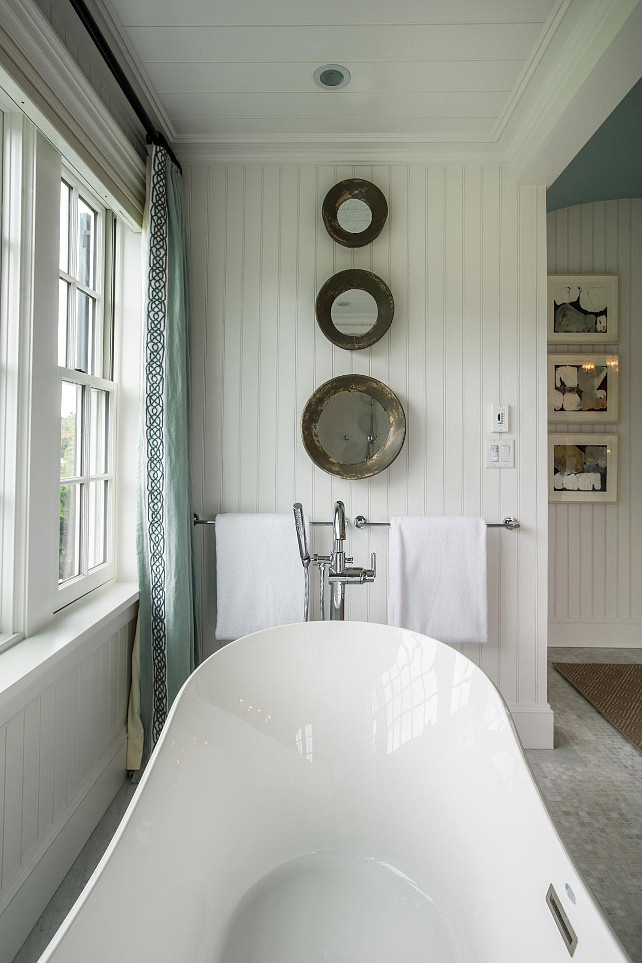 To reflect light and add depth to the room, a trio of mirrors descends from the ceiling to the towel rod.
Tub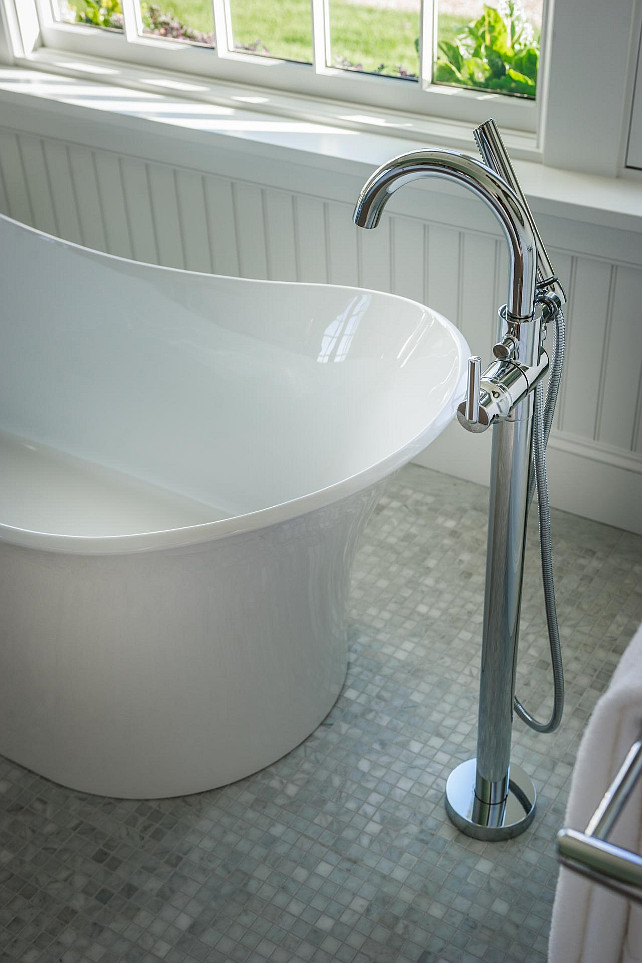 A free-standing tub sits on eye-catching mosaic Carrera marble flooring.
Ottoman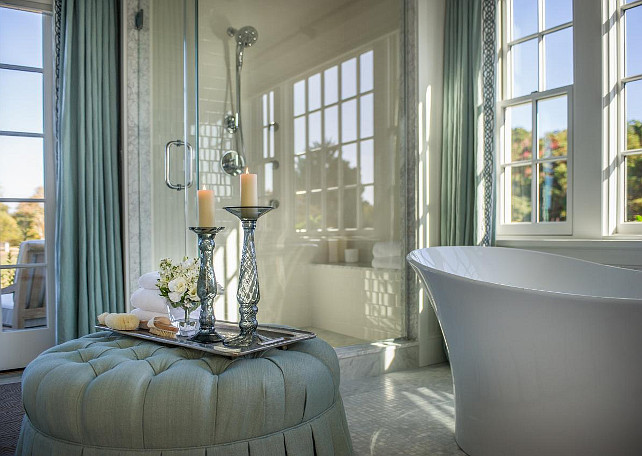 Ottoman is the "Coco Ottoman, Cayman/Sky" by Ethan Allen.
Shower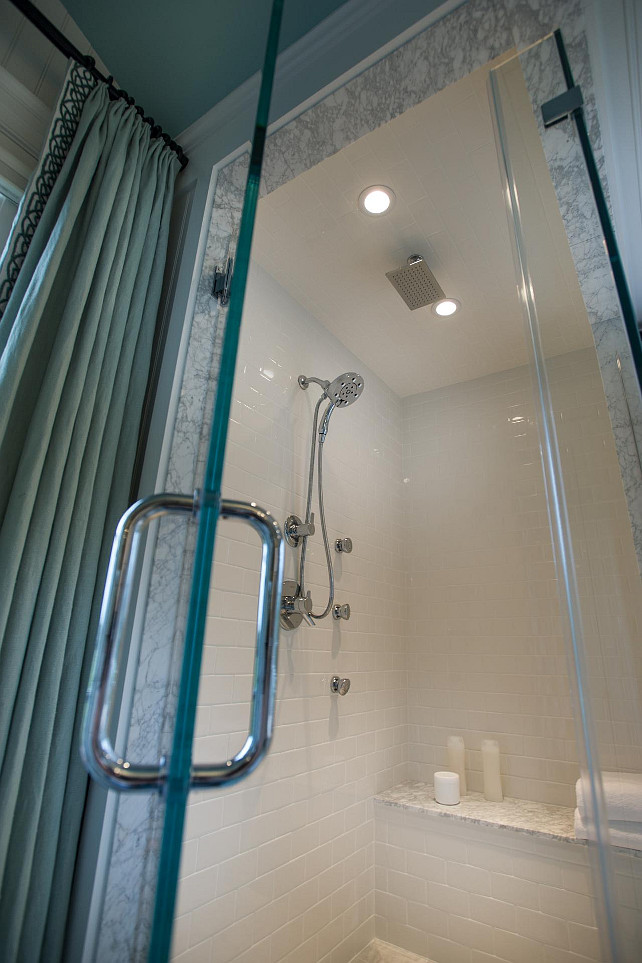 The sleek glass shower is completely lined in white subway tile and features a convenient seat, recessed lighting, and both a wall-mounted and overhead showerhead.
Backyard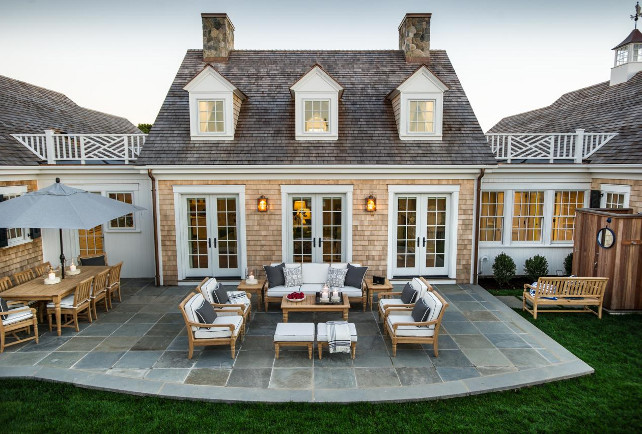 The backyard offers a place for dining and a comfortable place to sit and relax. Plenty of seating makes this the perfect spot for entertaining.
Patio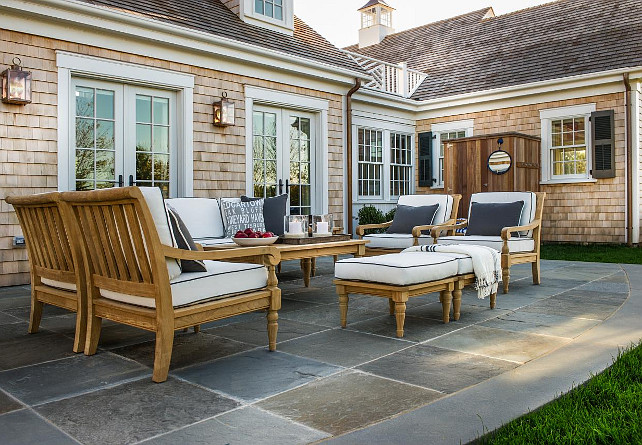 Large stone tiles give the back patio a classic look that easily hides dirt and makes cleaning a breeze.
Inside-Out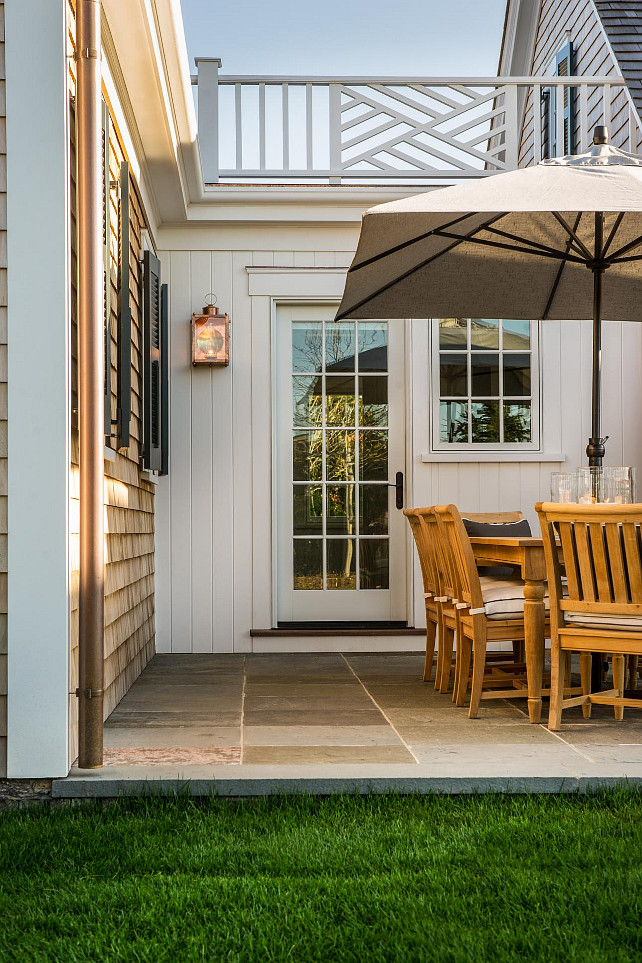 The back patio is just off the kitchen, making it easy to prepare meals indoors and transfer everything to the table outside.
Outdoor Decor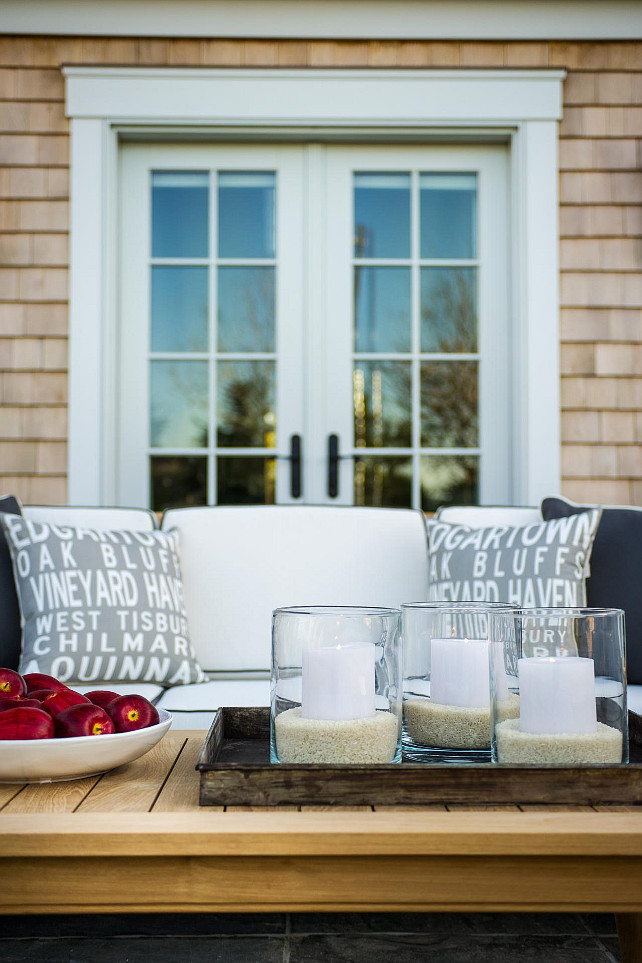 The teak furniture and white cushions echo the home's neutral colors.
Sunset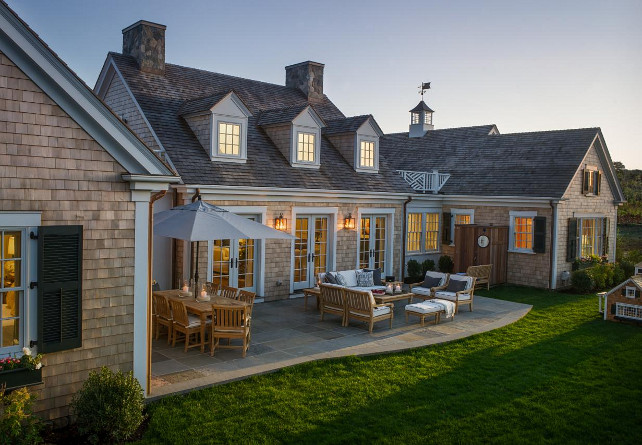 Dreamy!
Summer Nights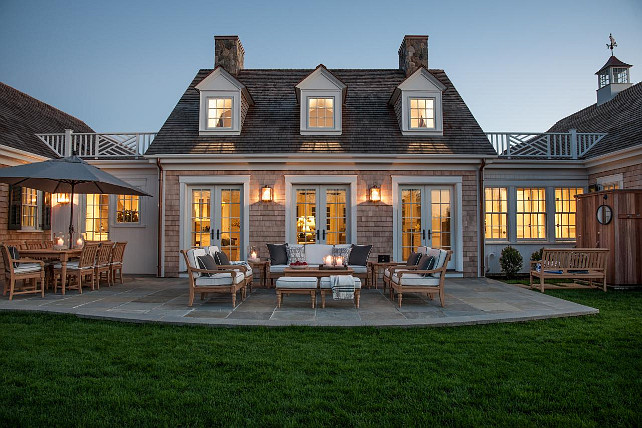 Wouldn't it be nice to spend your summer nights here?
Floor Plan
Here some other posts on "Home Bunch" featuring homes designed by Patrick Ahearn:
See more Inspiring Interior Design Ideas in my

Archives.
Interior Design Ideas:

Paint Color
Interior Design Ideas:

Paint Color
I hope you guys had a wonderful weekend! It was calm around here… I am still not feeling 100% and I am getting pretty tired of it. 🙁 It turns out that I am not allergic to our puppy, but instead, I am fighting a virus that should take about two weeks to get better. It can gives you fever, hives… not fun! Send your prayers this way… I know this is not serious, but it's not easy to feel sick when you have to take care of three kids, right? 🙂
I hope we all can have a healthy (please, God! 🙂 ) and Blessed week!
We'll talk again tomorrow!
Many Blessings,
Luciane at HomeBunch.com
Interior Design Services within Your Budget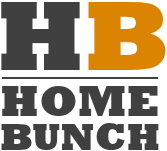 Get Home Bunch Posts Via Email

Sources: Surroundings, HGTV 2015 Dream House, Ethan Allen.