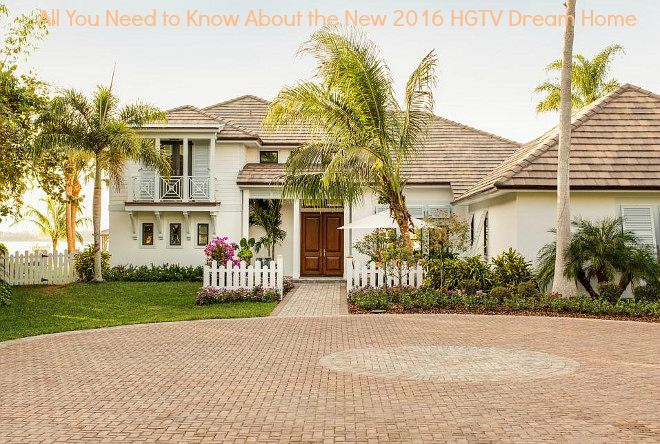 Are you curious to know more details about the new HGTV Dream Home 2016 ? If so, you're in the right place! Enjoy seeing the 2016 HGTV Dream Home photos, paint colors, furniture, before and after pictures and find all the sources here, including tiles, flooring, floor plan and more. This post has everything you need to know about the HGTV Dream Home 2016!
The new HGTV Dream Home is located in Merritt Island, Florida, and uses color in abundance. The interior designer of this year's HGTV Dream home, Brian Patrick Flynn, chose a mix of bright, beachy hues and shades with lots of grey undertones. The overall look is happy, fun with a casual elegance.
This time around the designers decided to remodel an outdated beach house instead of building from the ground up. They count on the expert help of Josh Temple to make all the changes, including building an addition to maximize the living space of the home.
The best part of it? Well, this home could be yours! According to HGTV, "you can win this waterfront paradise dressed with furnishings from Ethan Allen, plus a 2016 GMC Acadia Denali and $250,000 provided by national mortgage lender Quicken Loans. The grand-prize package is valued at over $1.5 million". Enter daily here and let me know if you win… I am crossing my fingers!
All You Need to Know About the New 2016 HGTV Dream Home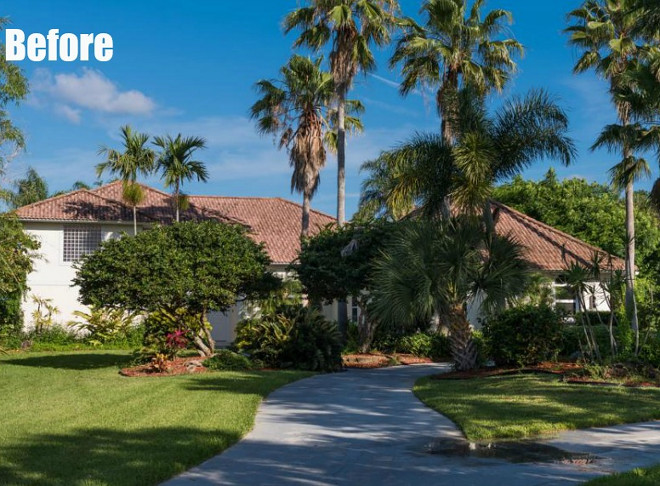 The 2016 HGTV Dream Home Before Photos: The 3-bedroom, 3-bathroom, approximately 3,100-square-foot home was a blank canvas for an exciting renovation.
The New 2016 HGTV Dream Home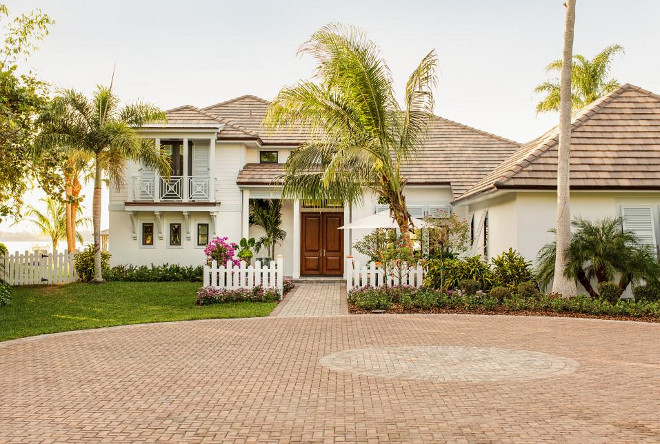 2016 HGTV Dream Home Front Exterior: According to HGTV, the design team at HGTV Dream Home 2016 took their cues to design this home from the styles of those found in the Hamptons on New York's Long Island.
The exterior of the house is now painted in "Glidden Swan White". Shutters are "Glidden Blue Light".
2016 HGTV Dream Home Front Door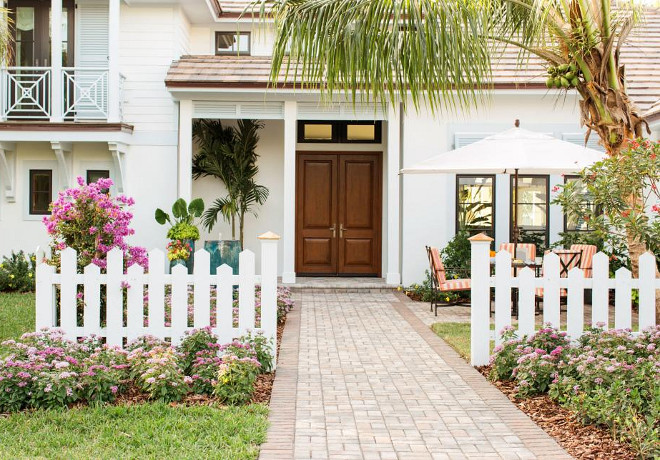 2016 HGTV Dream Home Front Door: Front Door is Aurora custom fiberglass doors by JELD-WEN.
2016 HGTV Dream Home Before Photos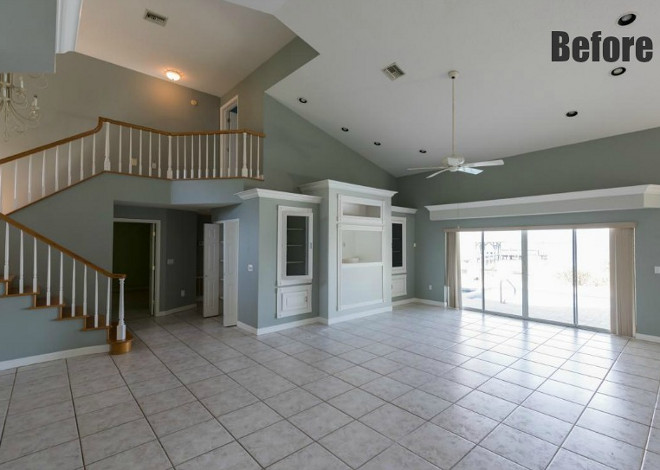 The main floor of the house was not too bad, but the ceramic tiles and the dark gray walls made it feel outdated and cold.
After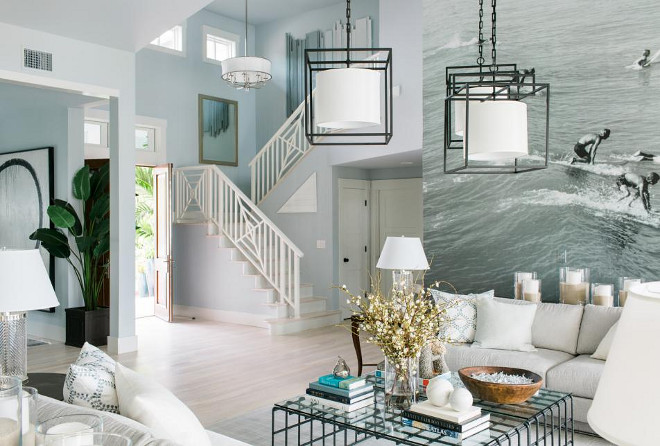 A blue-gray paint color was added ("Glidden Quiet Rain") along with new flooring, new lighting and new railings. These changes certainly make this home feel fresher and more elegant.
For the trim and doors, the designer chose Grab-N-Go™ Glidden White.
Foyer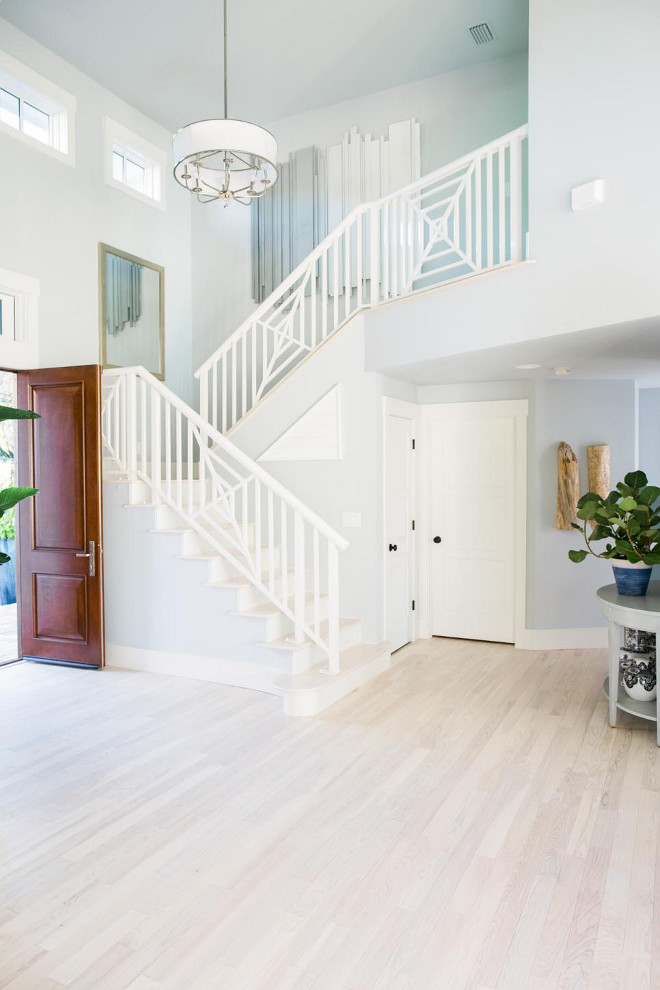 HGTV Dream Home 2016 Foyer: The foyer's geometric staircase railing gives a hint of the home's luxe design motif and overall design approach.
Chandelier is Ethan Allen Zoe Eight-Light Nickel Chandelier – $594.00
Living Room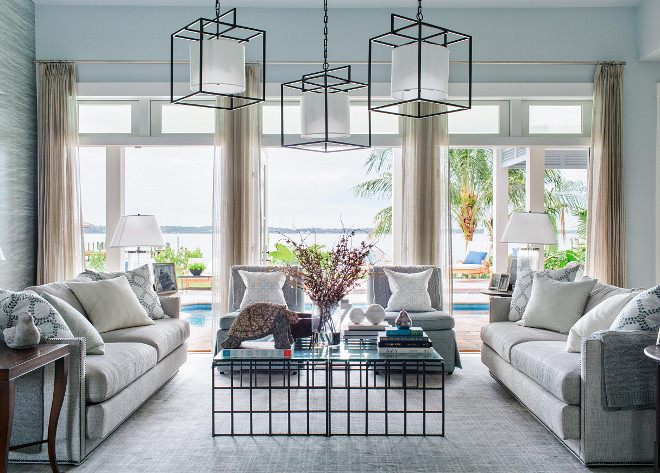 HGTV Dream Home 2016 Living room: Taking its cue from its spectacular seaside setting, the living room in the HGTV Dream Home 2016 is gently layered in shades of gray, blue-gray, silver-gray, and ivory.
All the furniture and decor, including the hand-tailored sofa, the delicate end table with cabriole legs, and hand-cut crystal lamps are from Ethan Allen.
Chairs are Ethan Allen Baldwin Chair, Opulence/Delft – $1,535.00
Mixed Elements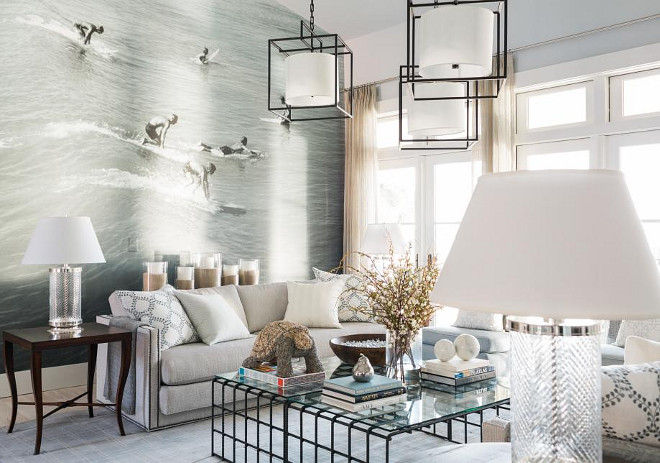 The more elegant lines of the side tables mixed with the industrial-style coffee table gives this living room an updated, transitional style.
The sofas are the Ethan Allen Abington Sofa, Jace/Gray – $3,167.00 each
Beachy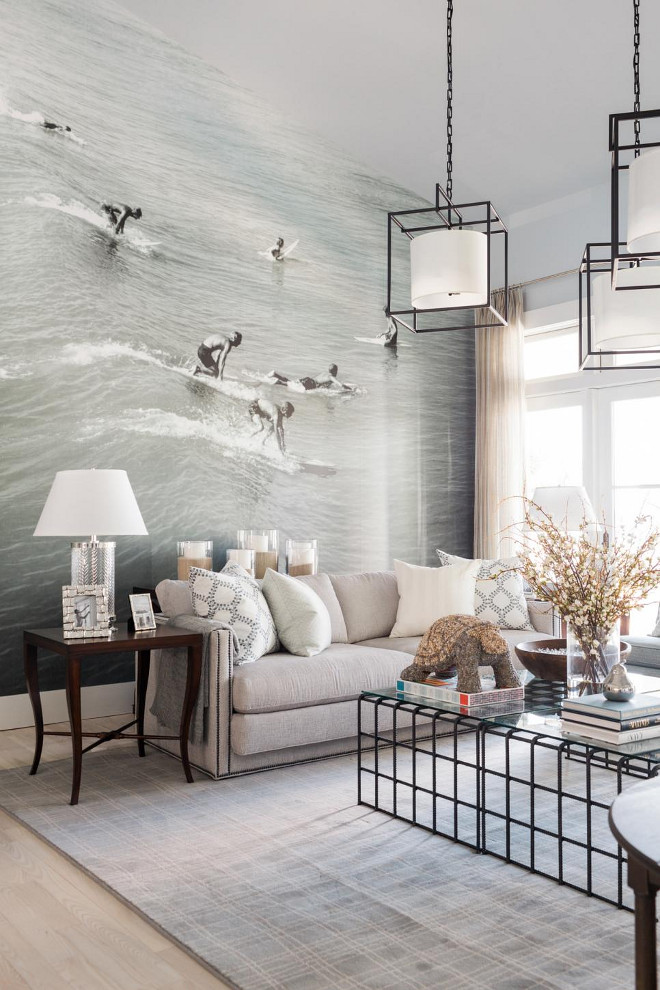 Mural from 2016 HGTV Dream Home: A beach-worthy accent wall makes a stylish statement and focal point in the living room, which serves as the central gathering space in the home.
The mural is a photograph from 1970.
Coastal Elements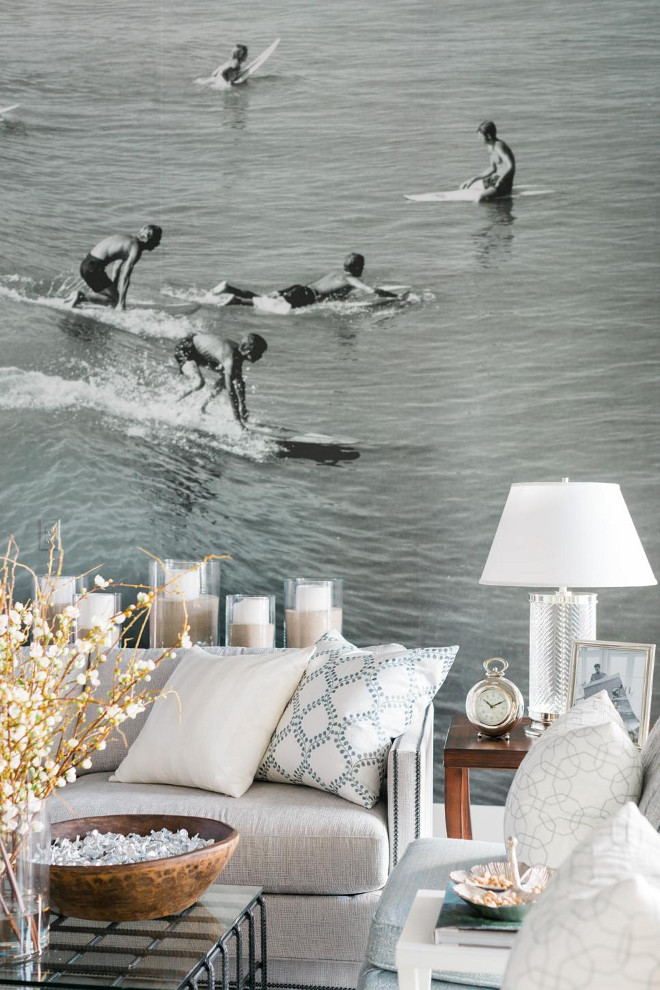 The coastal vibe comes from earthy accents made of natural fibers, clear glass, terracotta and the simple geometry of twin coffee tables completes the coastal look of this space.
Paint Color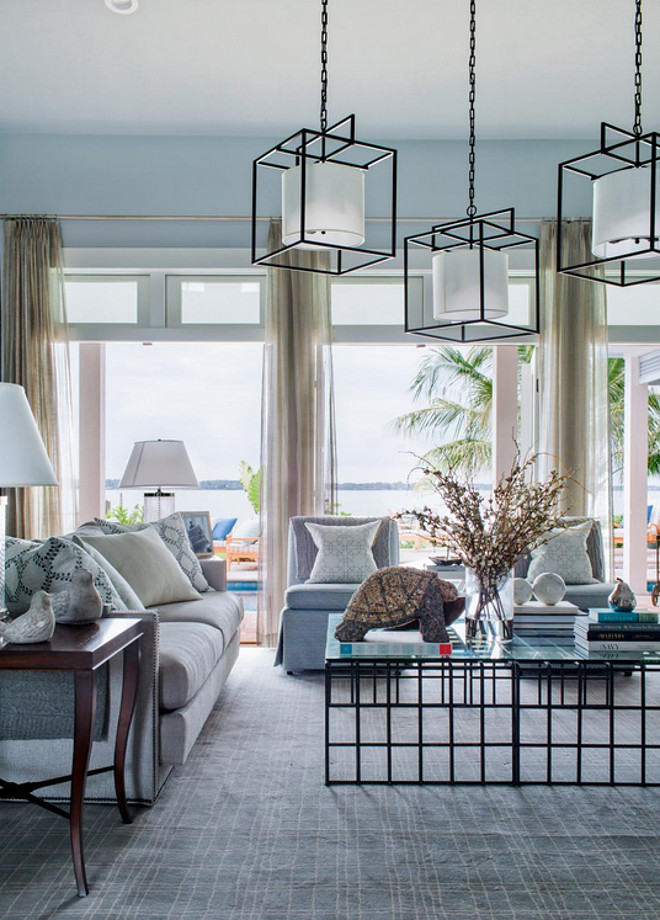 "Glidden Quiet Rain".
Coffee Tables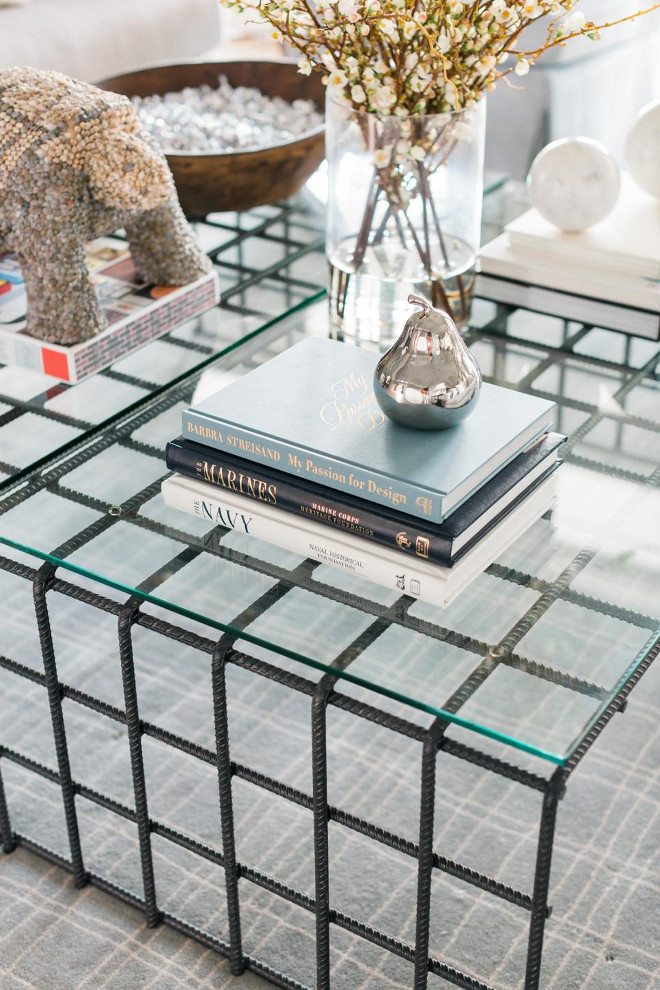 Ethan Allen Gage Coffee Table – $769.00 each.
Lighting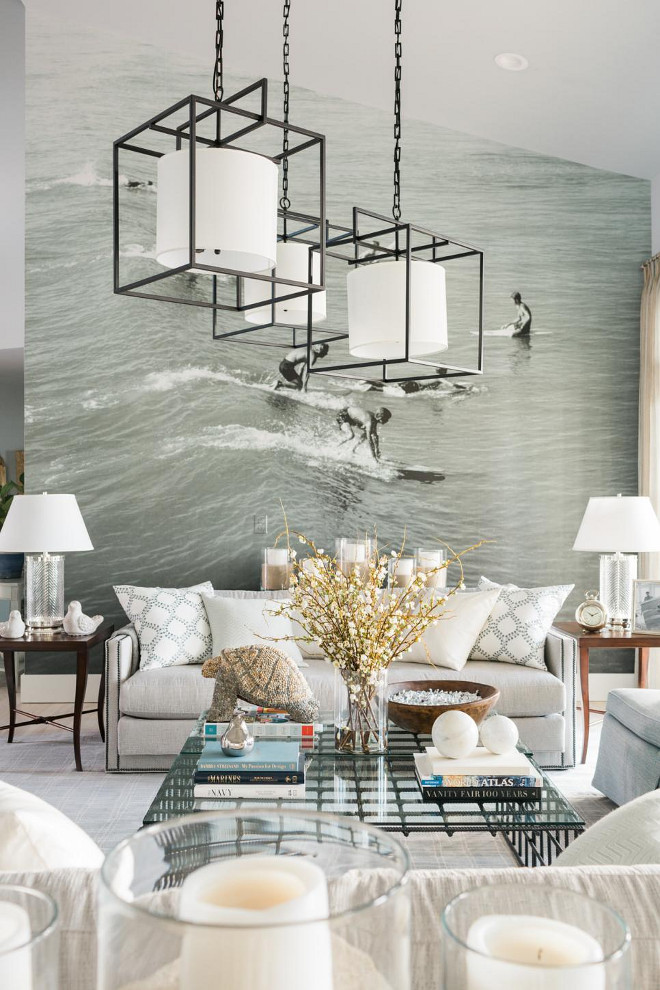 The furniture in the 2016 HGTV Dream Home living room is sophisticated and features soaring ceilings.
Pendants are Ethan Allen's Modern Cage Chandelier – $479.00 each.
Table Lamp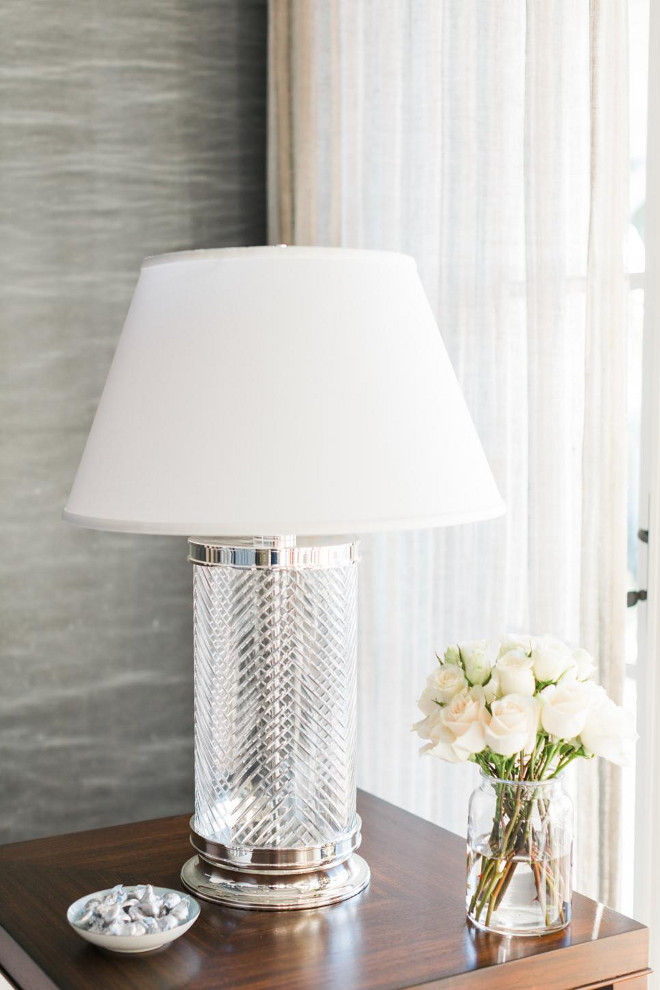 I'm loving this table lamp from the 2016 HGTV Dream Home's living room. What a classic piece!
Table lamp is Ethan Allen's Herringbone Crystal Table Lamp – $559.00
Draperies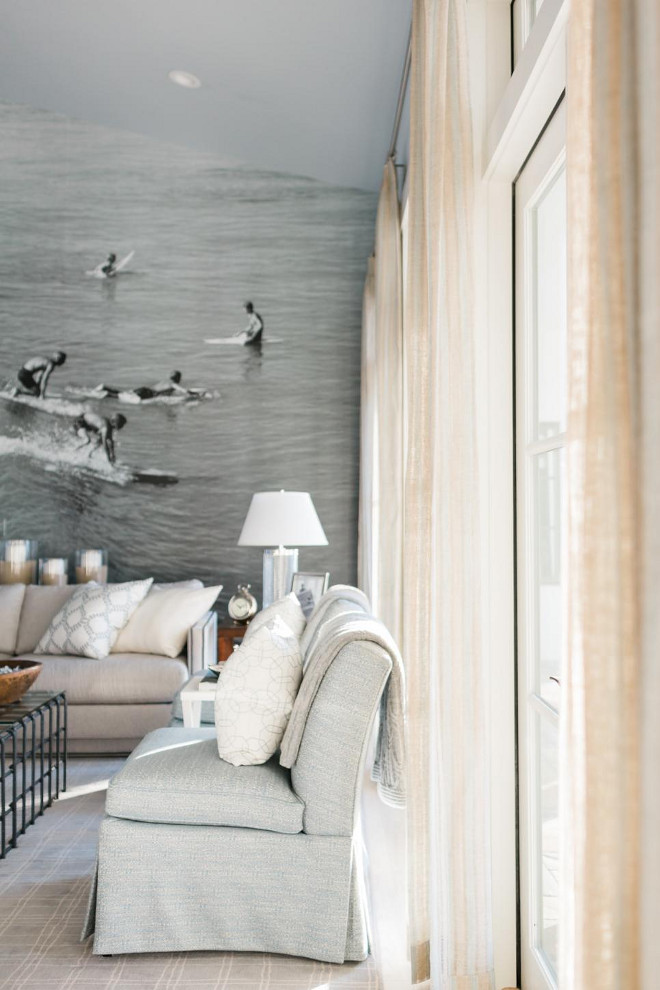 To soften all the windows without fighting the view, sheer curtains with sandy taupe, blue-grey and medium grey stripes line the windows and help bring the living room's color palette all the way to the ceiling.
Openness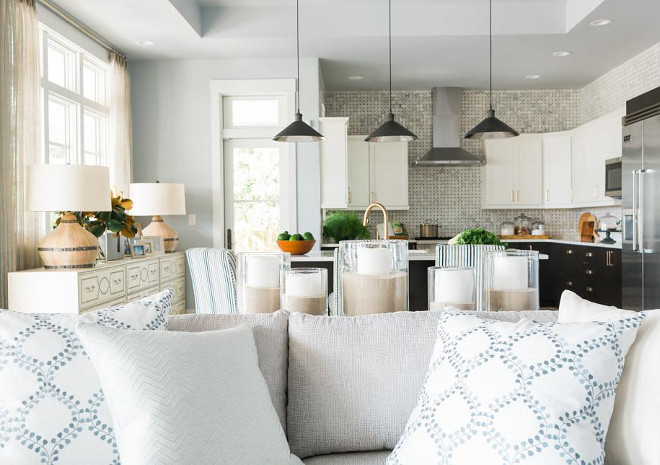 The new 2016 HGTV Dream Home offers an open floor plan.
2016 HGTV Dream Home "Before" Kitchen Picture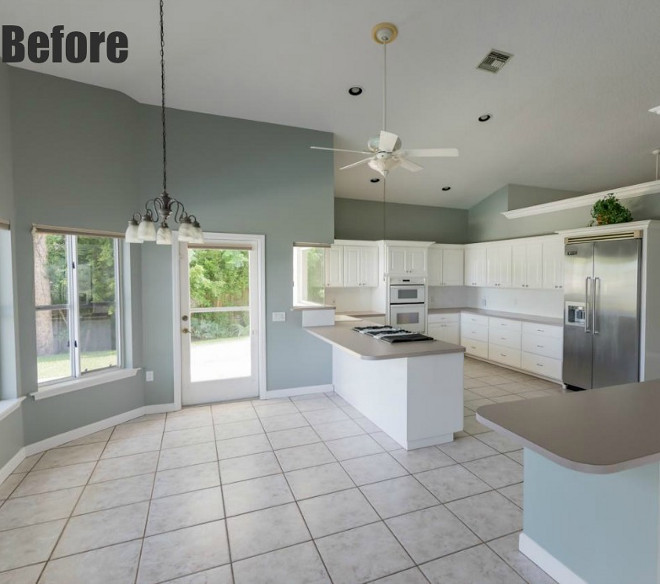 The old kitchen carried the same ceramic tiles and had the cooktop placed in an awkward and unsafe spot.
Newly Renovated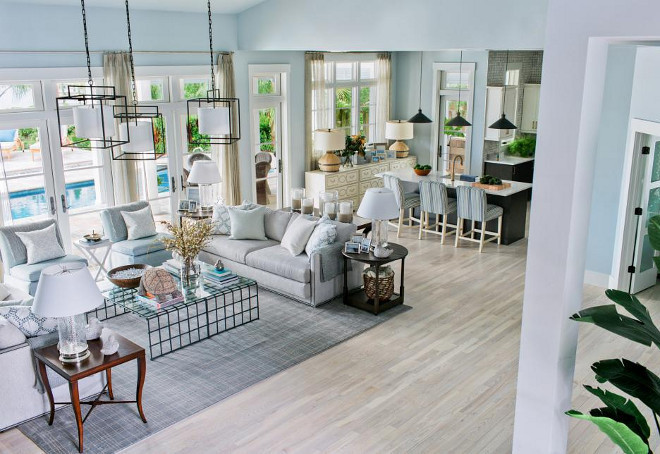 The wall of French doors and windows allow lots of natural light inside the newly renovated home.
Flooring is BELLAWOOD 3/4″ x 3-1/4″ Matte Carriage House White Ash.
2016 HGTV Dream Home's Kitchen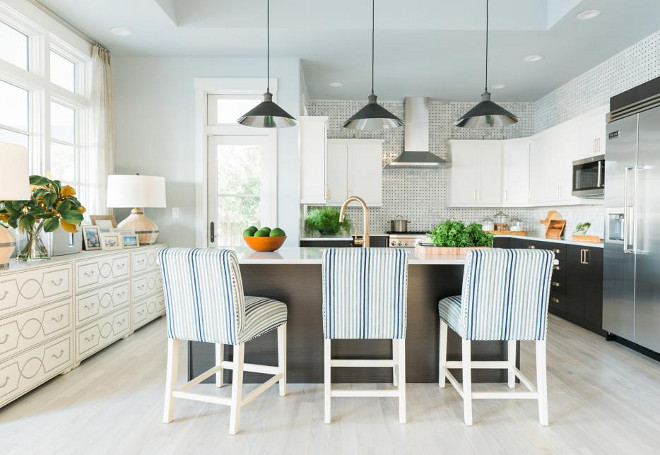 2016 HGTV Dream Home Kitchen: The recipe for the kitchens' extraordinary design includes modern and traditional styles. The backdrop: whitewashed floors, sleek surfaces, and a cool mix of brown and white kitchen cabinetry. The centerpiece: A kitchen island furnished with four nautical-striped barstools and lighted by industrial-style pendants. The pièce de résistance are the three glamorous white Bowen chests with nailhead trim lined in a series below the window to create a remarkable high-style storage solution.
2016 HGTV Dream Home Barstool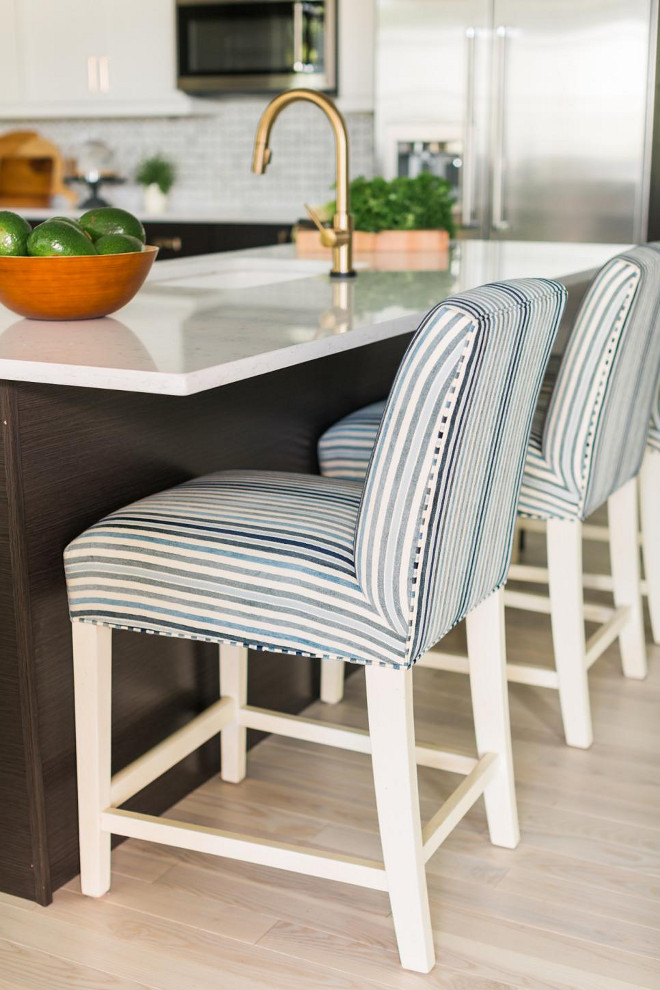 The 2016 HGTV Dream Home's kitchen barstool is Ethan Allen's Thomas Counter Stool, Karla/Blue – $639.00 each.
2016 HGTV Dream Home Kitchen Countertop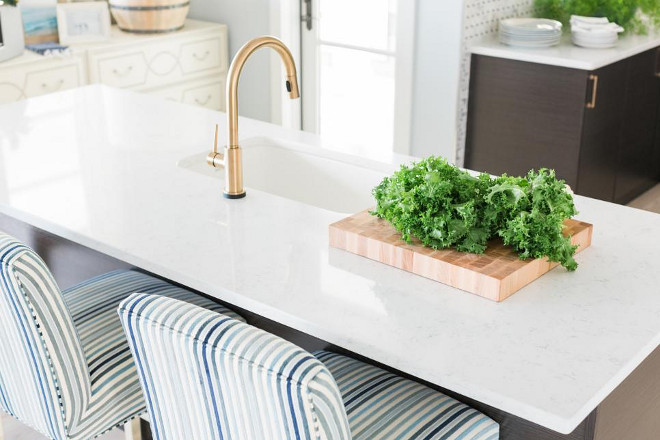 2016 HGTV Dream Home Kitchen Cuntertop: The island countertop is quartz so it's cool to the touch and reflects the natural light coming through the nearby window.
Kitchen Faucet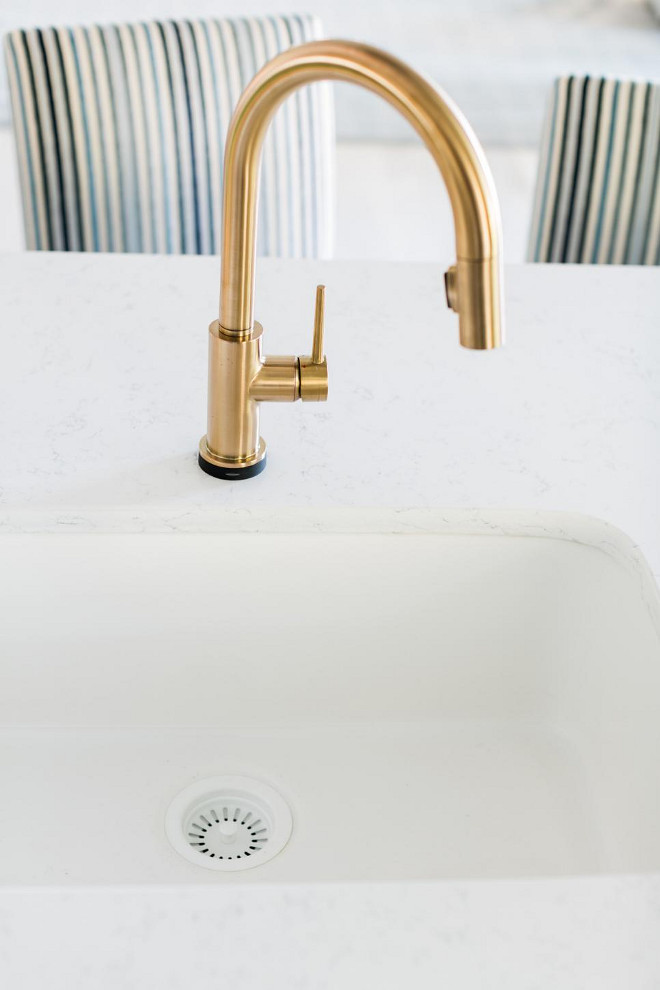 Kitchen faucet is Delta Trinsic® Single Handle Pull-Down Kitchen Faucet with Touch2O Technology Model #9159T-CZ-DST. Color is Champagne Bronze.
Kitchen Pendants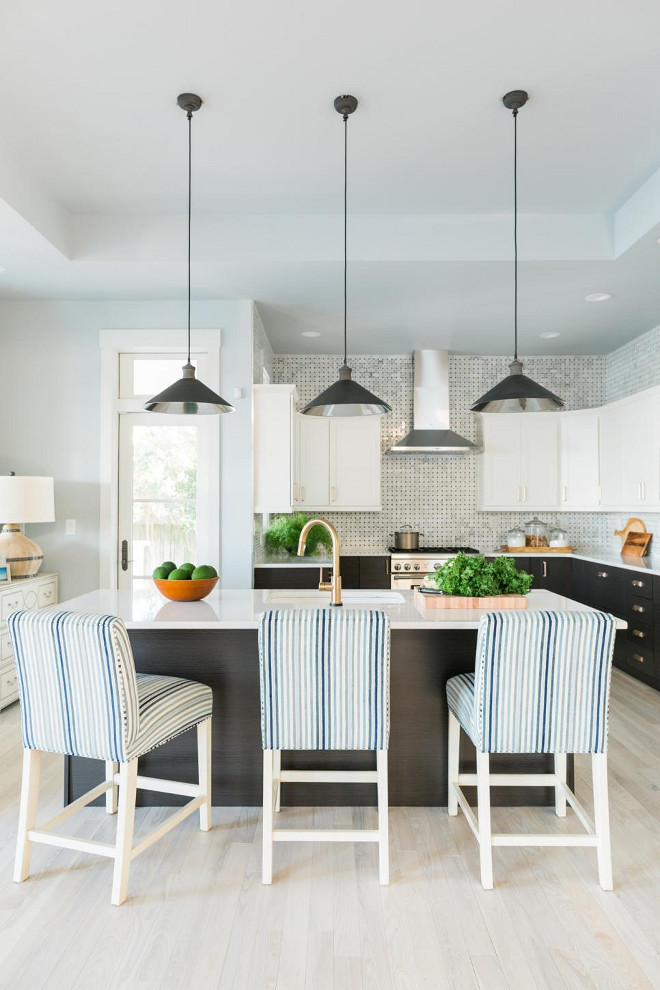 Bright, white, and airy, the HGTV Dream Home 2016 kitchen is the perfect place to whip up a meal or enjoy breathtaking views at breakfast.
Ethan Allen Aged Zinc-Finished Pendant $84.00 each.
Industrial Touch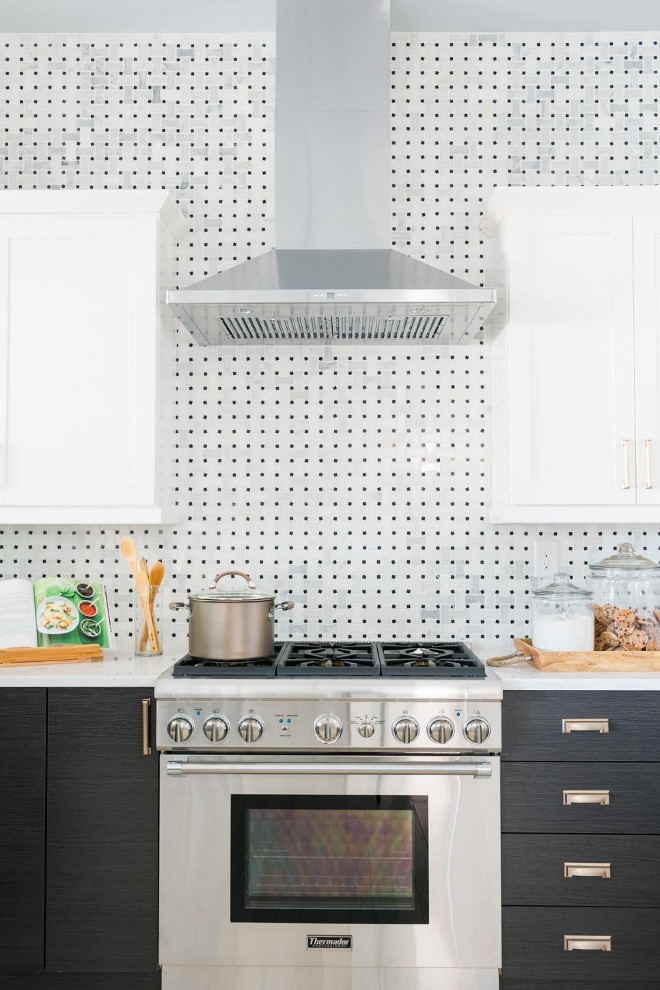 HGTV Dream Home 2016 Kitchen Hood: The industrial looking range hood and stove gives the kitchen a restaurant feel.
2016 HGTV Dream Home Kitchen Backsplash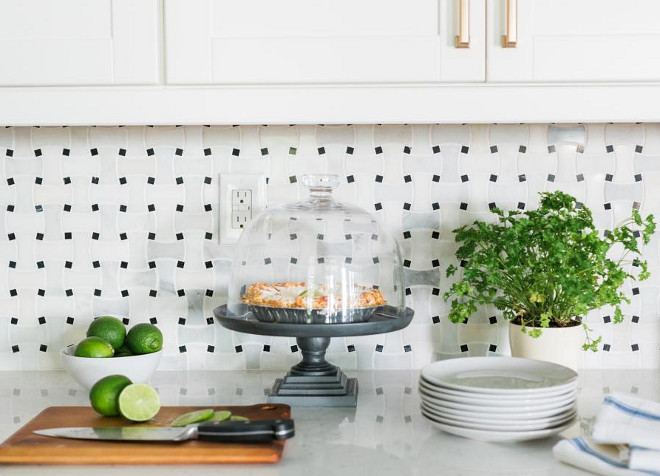 2016 HGTV Dream Home Kitchen Backsplash: Mosaic marble basket weave will stand the test of time anywhere and works well as a kitchen backsplash. In addition to adding graphic pattern and contrast, the colors of the mosaic can help tie hues from your color scheme together.
Two-toned Kitchen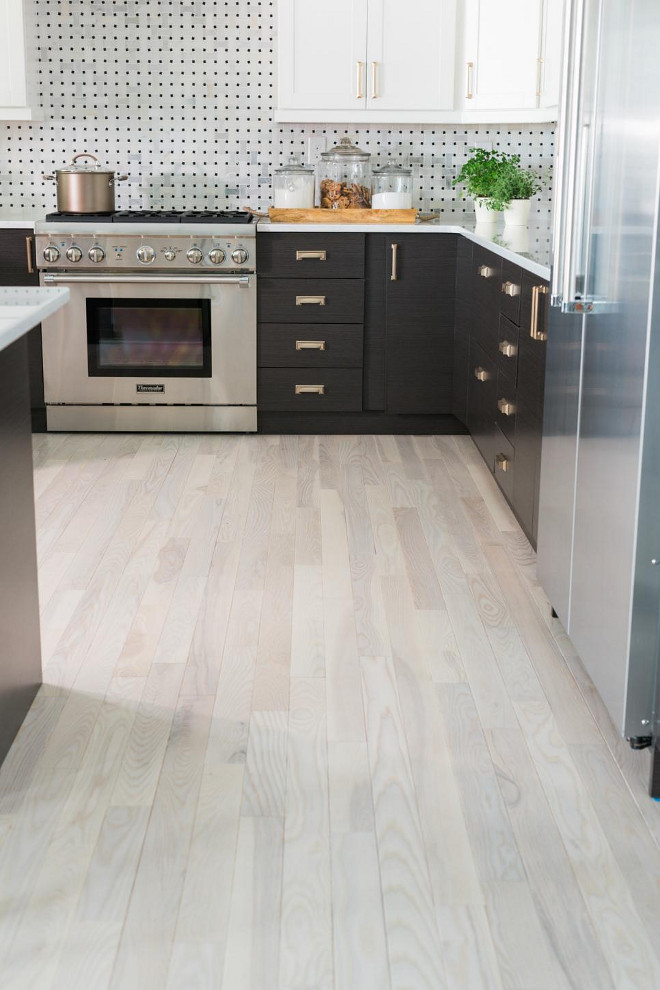 The backsplash is rendered in mini dove gray and black tiles. Its subtle design creates a big impact tying the white upper cabinets to the darker ones below.
Kitchen Pull-out Shelves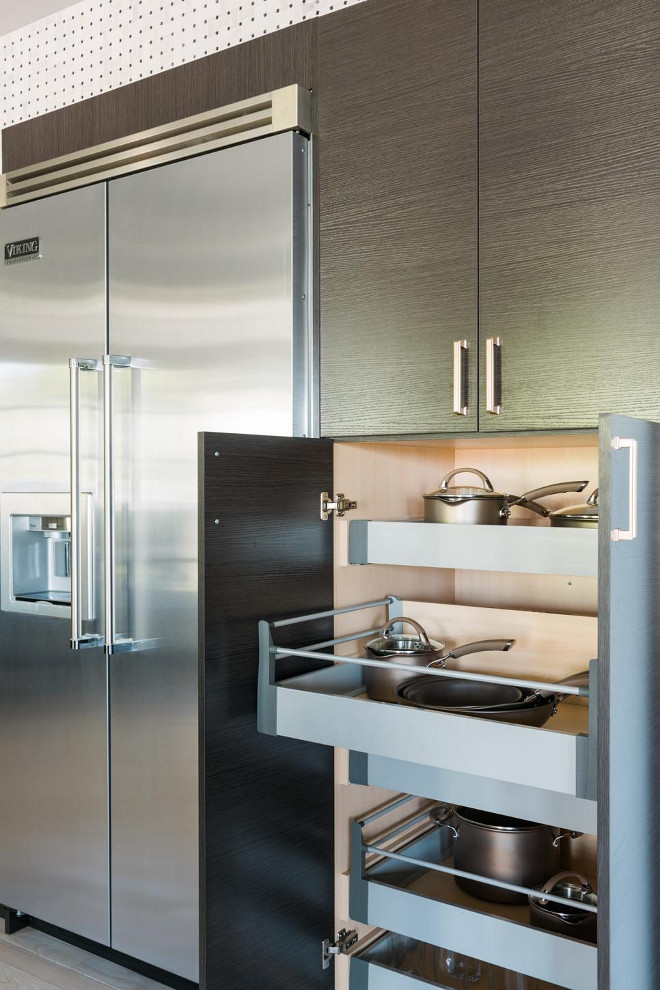 In the kitchen, pull-out shelves where added in the long cabinets beside the double wide refrigerator to hold pots and pans within reach of the cook.
Wall Paint Color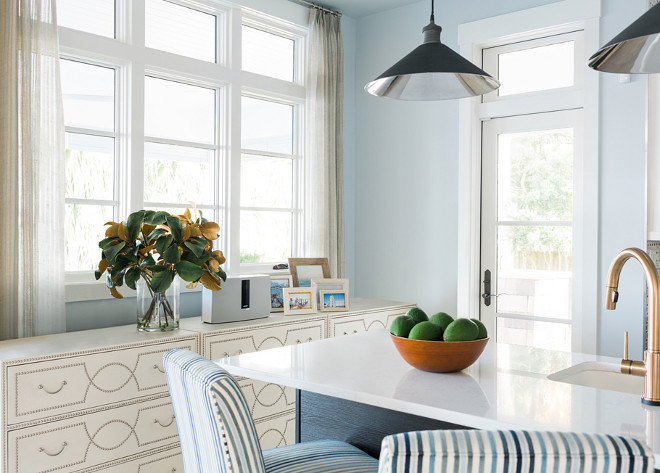 The HGTV Dream Home 2016 Kitchen Paint Color is "Glidden Quiet Rain".
New Take on Kitchen Storage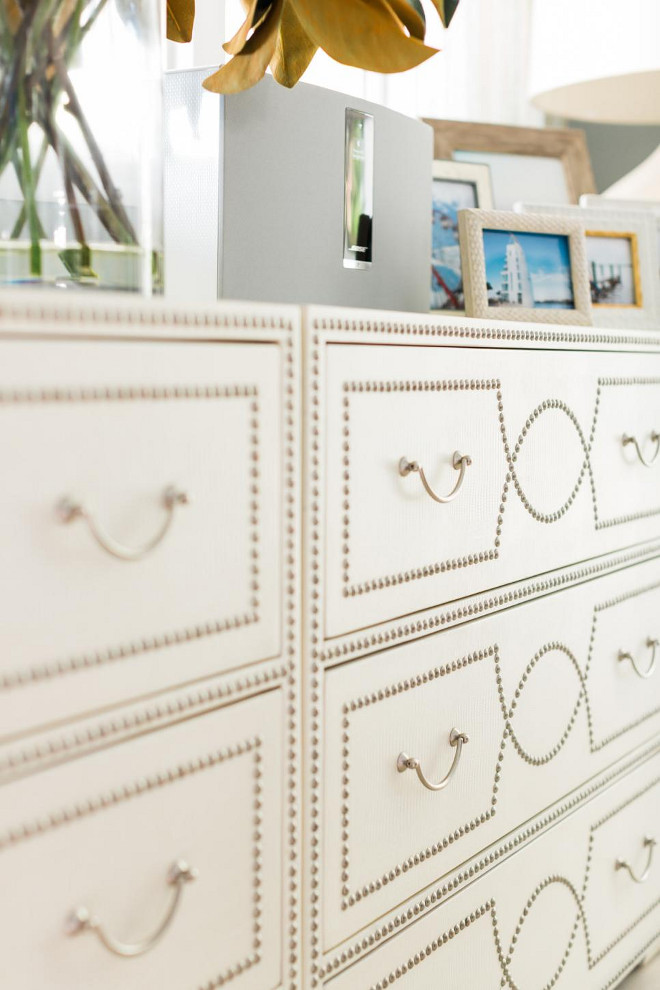 The designer added upholstered crocodile pattern dressers to add extra storage in the kitchen.
Bowen Chest from Ethan Allen. Color: White Clutch (549). Price: $1,575.00 each.
Muted Design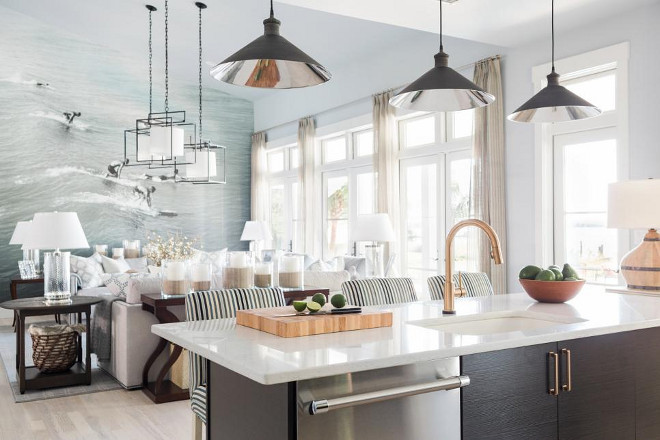 The great room's accent color of black seen in the living room was also used in the adjacent kitchen and rest of the great room, which helps tie all the spaces together.
Dining Room Before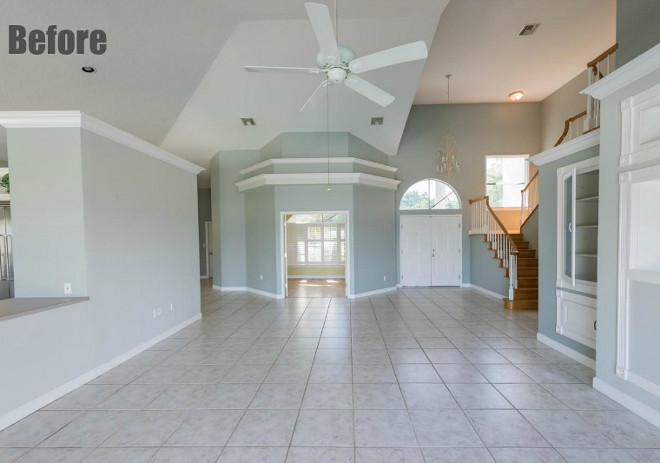 Before the renovation, the dining room used to be close in and felt small.
Make a Connection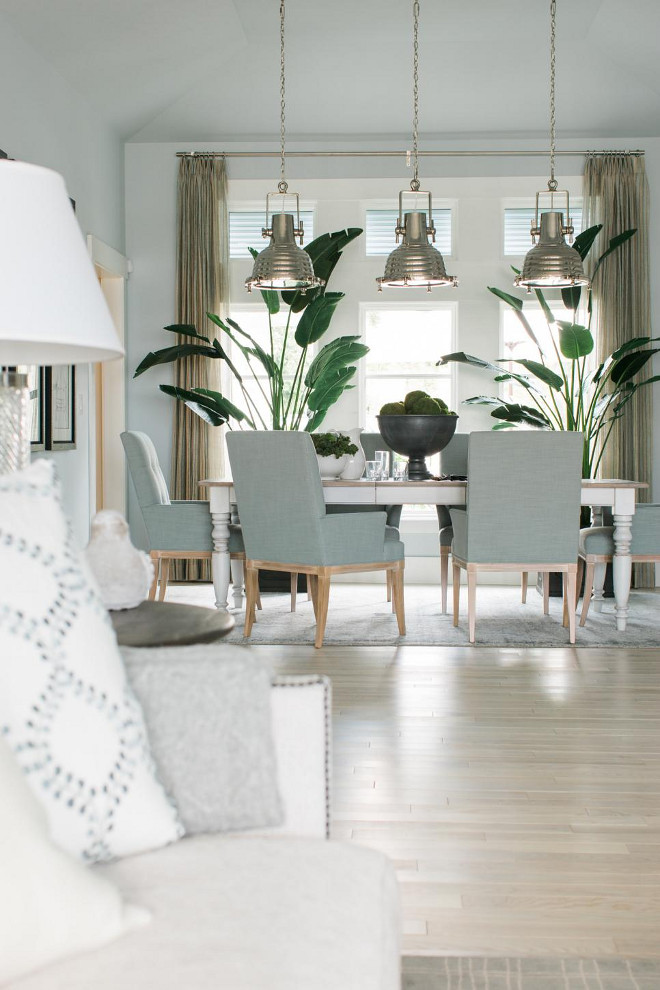 The room is now open and feels connected to the rest of the house.
2016 HGTV Dream Home Dining Room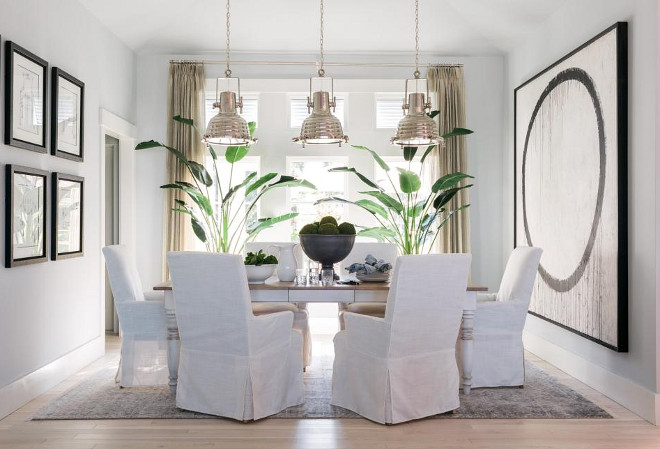 2016 HGTV Dream Home Dining Room: Looking towards the front of the house, the great room's approximately 15×13 foot dining area has a comfortable coastal style that invites guests to linger.
2016 HGTV Dream Home Dining Room Furniture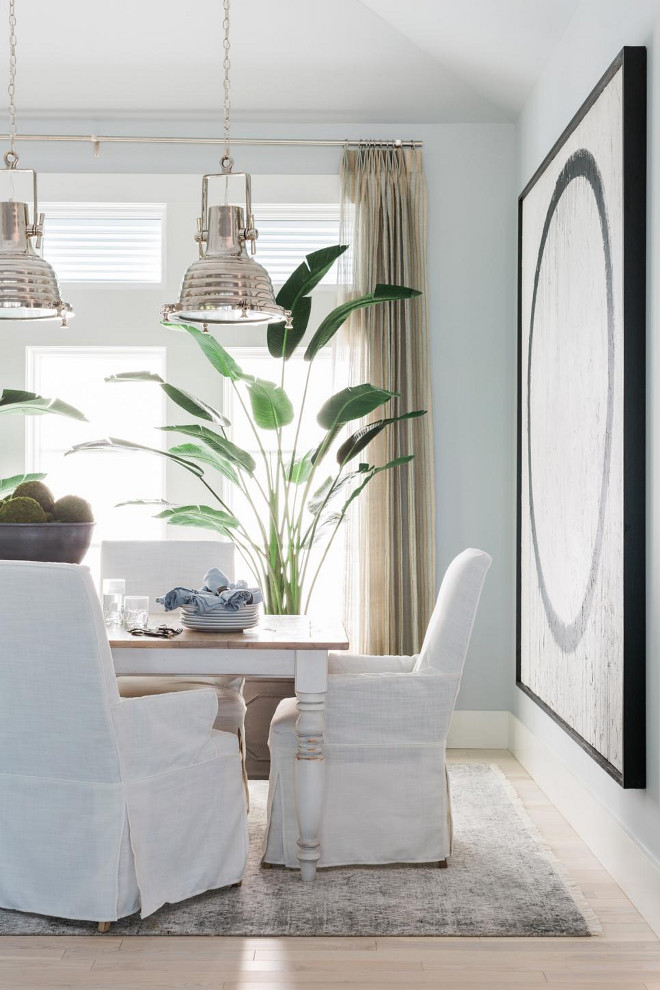 Table is Ethan Allen Miller Large Rustic Dining Table. Color: Dakota / Milk White (209/635) $1,649.00
Chairs are Ethan Allen Dayton Slipcovered Chair, Archer/White $669.00
Rug is Ethan Allen Ikat Rug, Gray/Ivory $1,479.00
Ceiling Paint Color: The interior designer Brian Patrick Flynn says that "if a room's walls and trim are white, add a soft shade of blue-grey to the ceiling".
2016 HGTV Dream Home Dining Room Lighting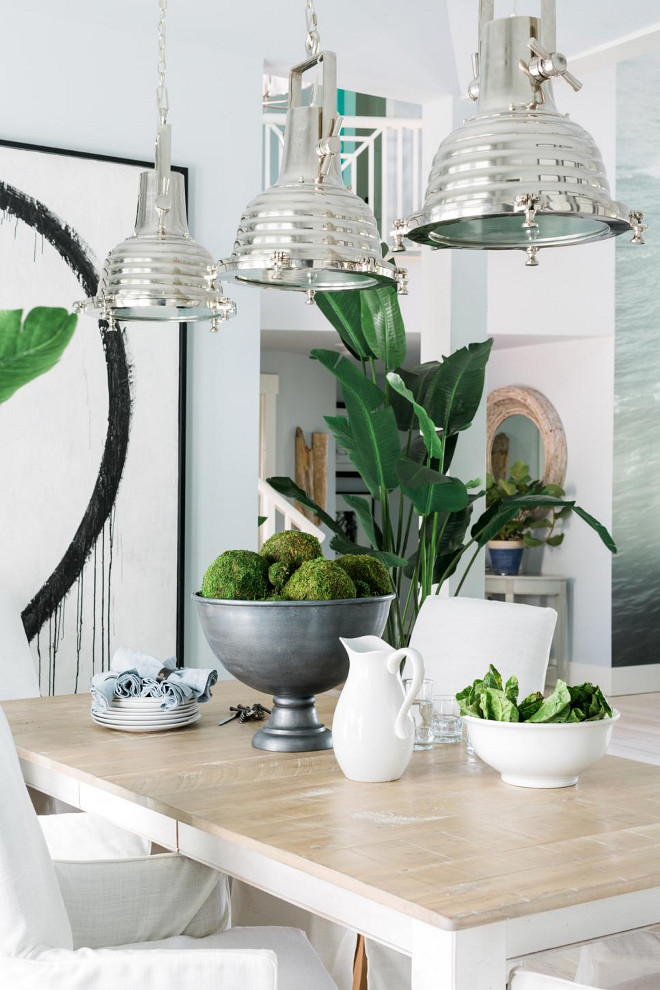 Lighting is Ethan Allen Polished Nickel Industrial Pendant $399.00 each.
Media Room Before Picture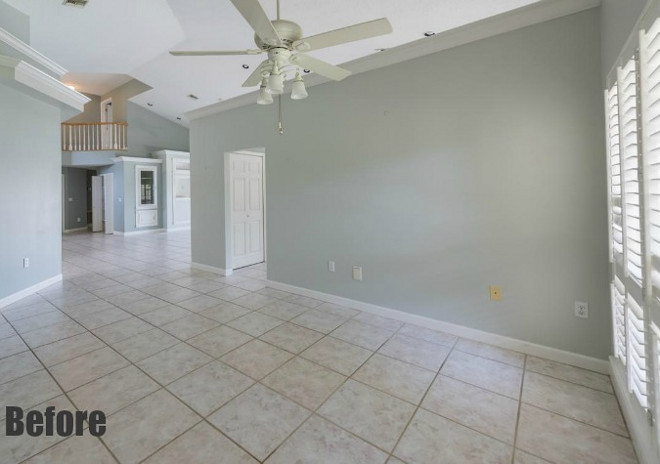 According to "Hooked on Houses", the designers enclosed this open space to create a media room.
2016 HGTV Dream Home Media Room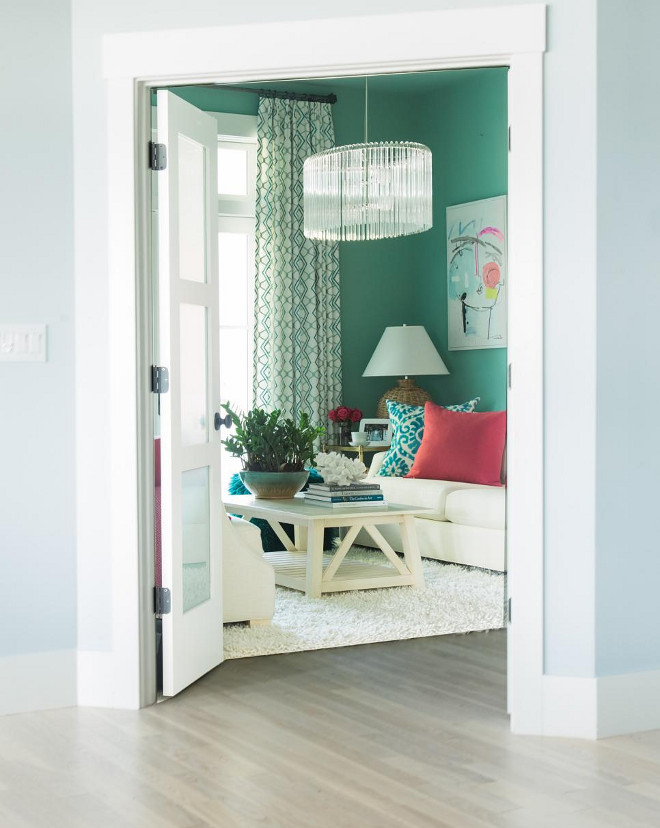 2016 HGTV Dream Home Media Room: Vibrant and energetic, the media room is the perfect escape to watch tv or relax and read a book.
Color!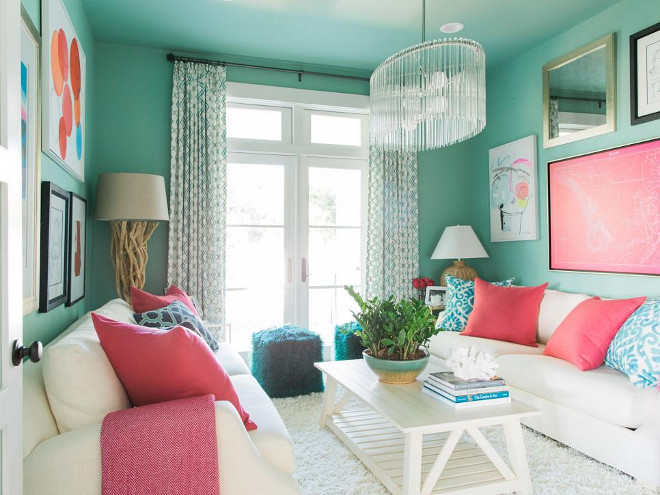 Accents in hot pink and fuchsia contrast the bright grey-green walls to give the media room a vibrant and energetic look and feel. The teal paint color Kentucky Blue by Glidden.
Lighting is Ethan Allen Orchard Chandelier. $1,741.00
Sofas are Ethan Allen Lynn Sofa, Natural/Parchment $2,239.00 each.
Ethan Allen Cottage Coffee Table Glacier (658) $575.00
French Doors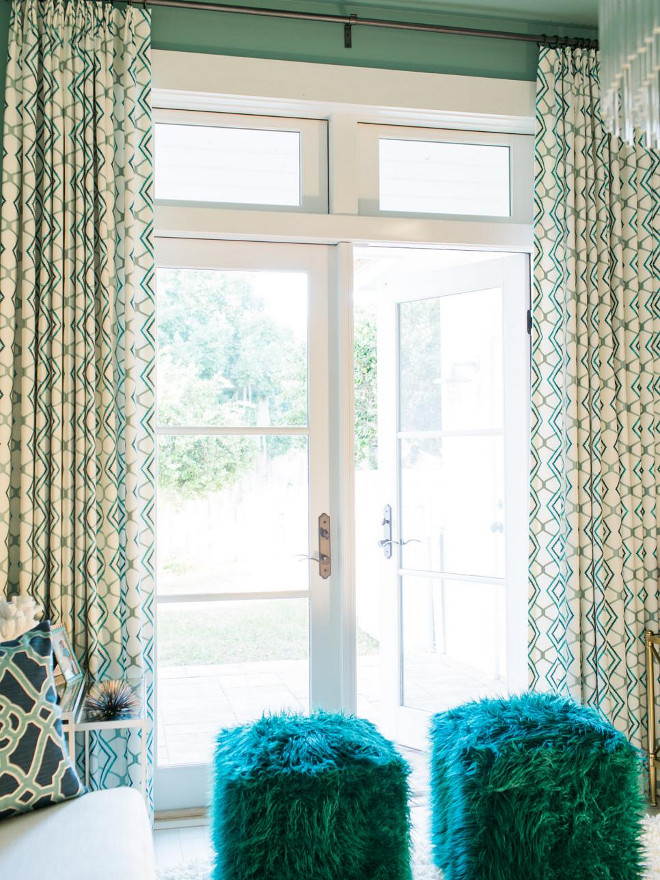 Doors are JELD-WEN Custom clad-wood patio doors.
Patio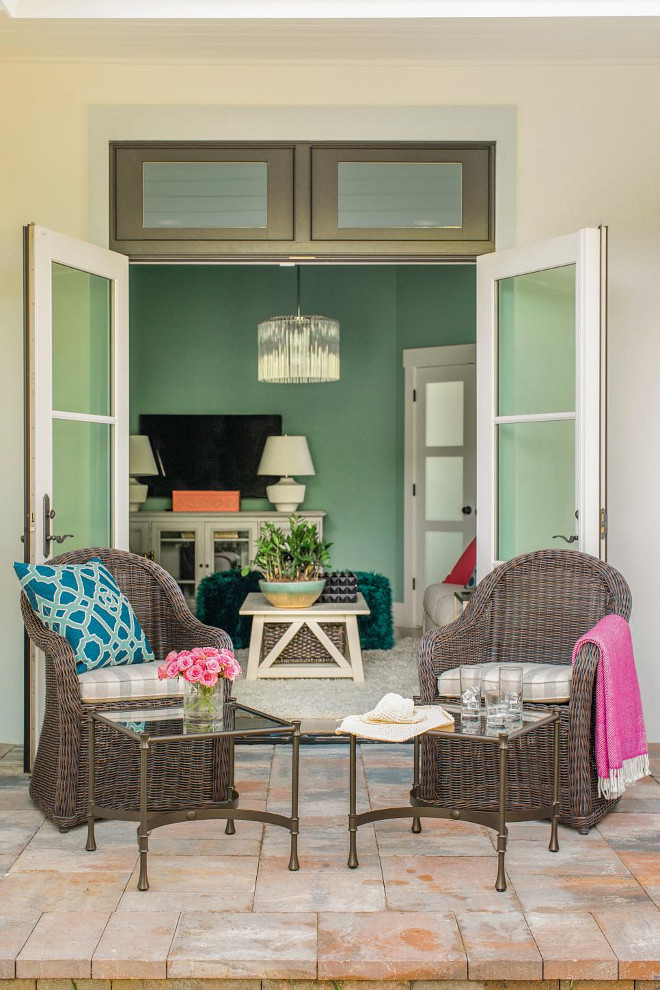 A pair of French doors open the media room up to a side yard with seating area.
Mudroom Paint Color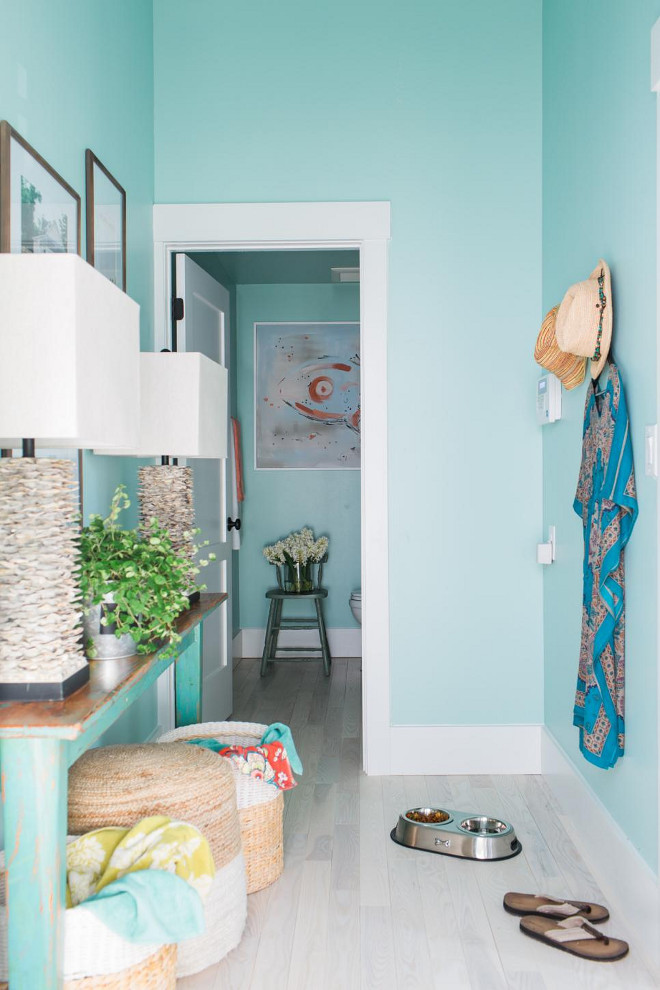 "Glidden Opal Silk Green".
Powder Room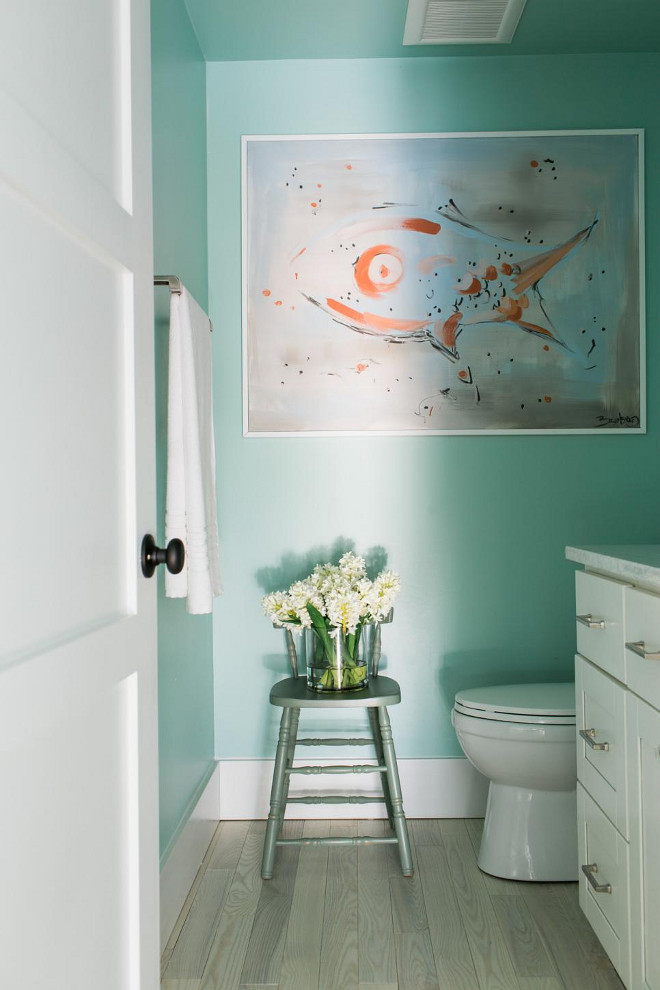 Attached to the mudroom, this powder room is the main bathroom for guests. The walls are covered in the same beach-y shade of gray-green used in the mudroom.
Pool Bathroom Paint Color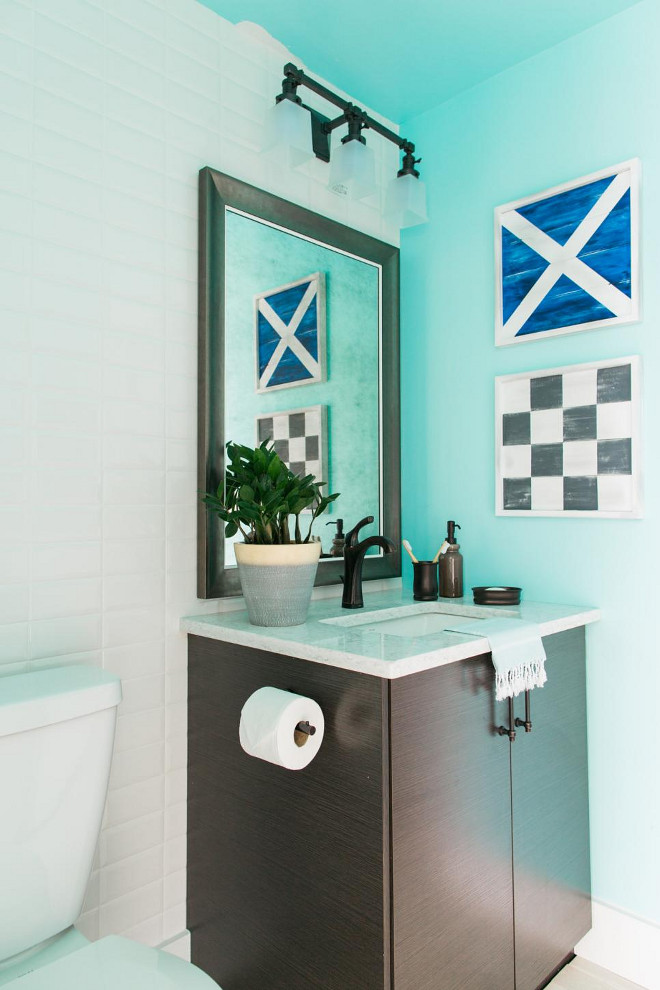 "Glidden Island Shores".
To the Second Level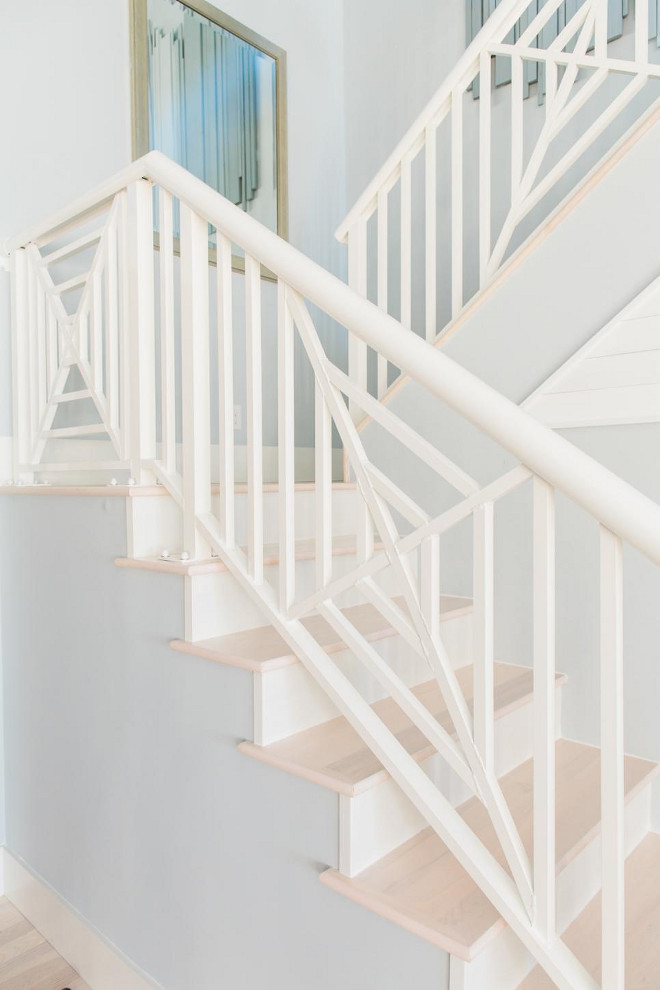 Made from welded steel and then powder coated in the same color used for the trims throughout the home, the geometric staircase railing is one of the most striking architectural details in the house.
2016 HGTV Dream Home Before Photo of the Master Bedroom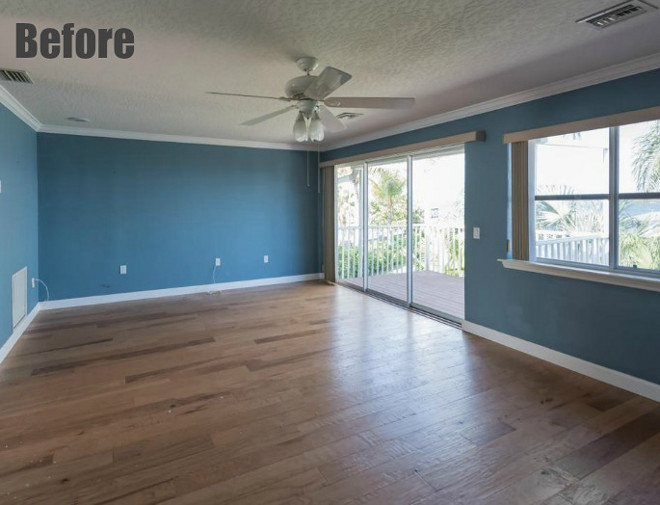 The old bedroom in the 2016 HGTV Dream Home was too dark and the fan and window treatments had to go.
Whoa!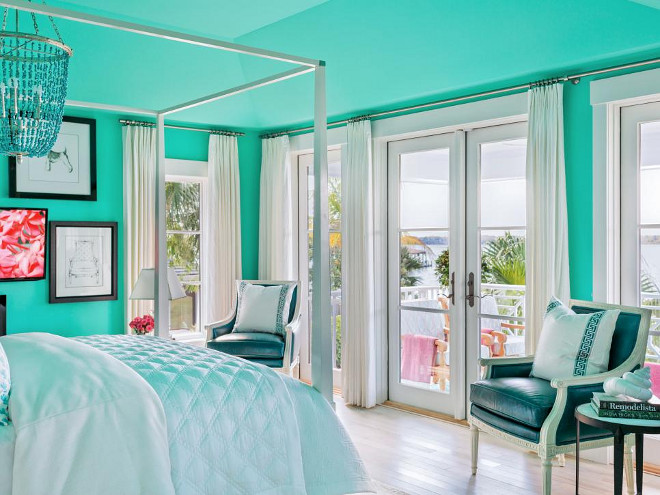 2016 HGTV Dream Home Master Bedroom: Did I hear you say "whoa"? The designer surely loves teal, huh? To create this chic bedroom retreat, the home's designer Brian Patrick Flynn balanced the hue's energetic personality with whitewashed floors and pristine white furnishings. An airy white poster bed dressed in crisp white bedding acts as the focal point of the room while a turquoise beaded chandelier, faux coral accent lamp, and sexy teal leather armchair enhance its stylish seaside sensibility.
Paint Color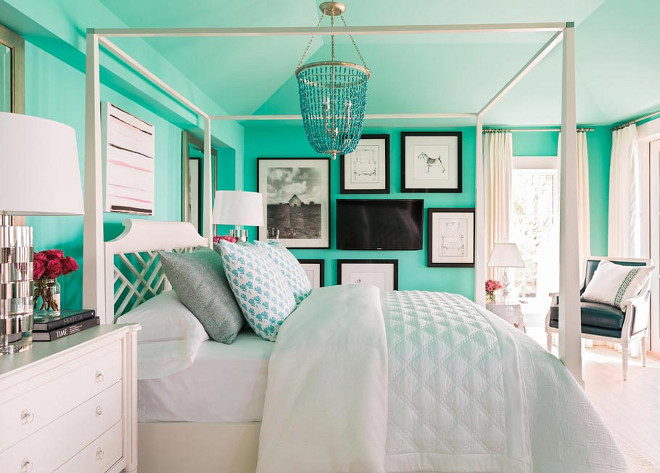 A collage of black and white artwork adds depth and dimension and disguise the TV.
Paint Color is "Glidden Thai Teal".
Turquoise Beaded Chandelier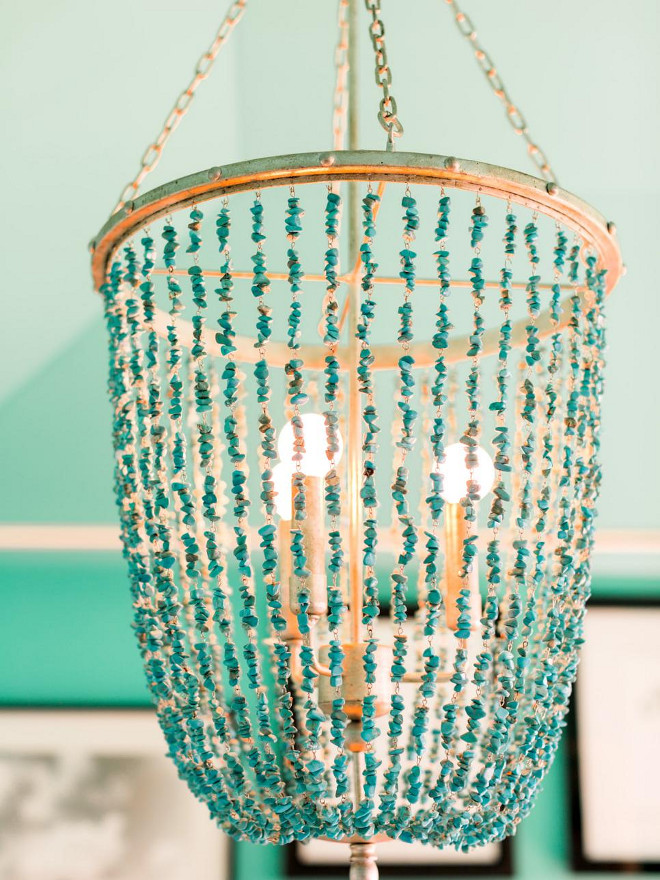 The turquoise beaded chandelier is Ethan Allen Valerie Chandelier $1,104.00
Open the Doors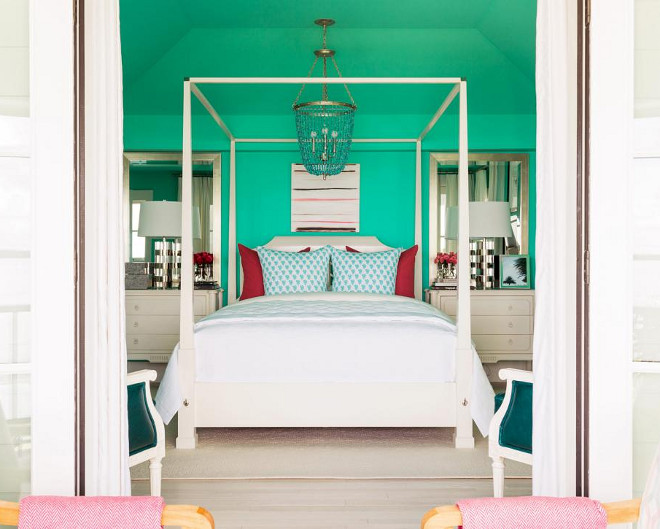 The covered balcony off the master suite creates a private sanctuary, an extension of the bedroom designed to take advantage of the beautiful water views.
Master Balcony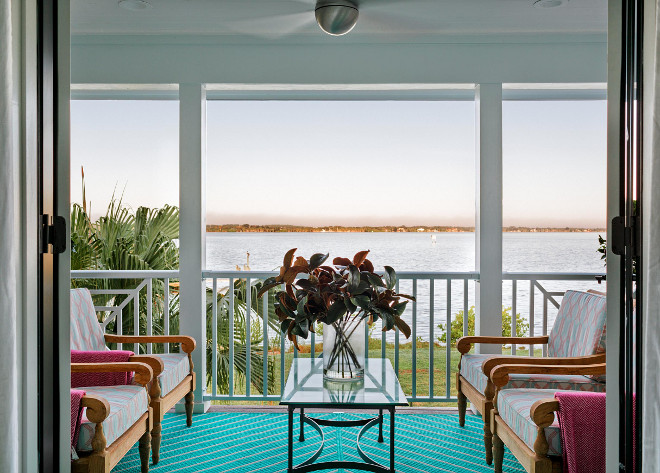 Outdoor furniture and rug is from Ethan Allen.
Master Bathroom Paint Color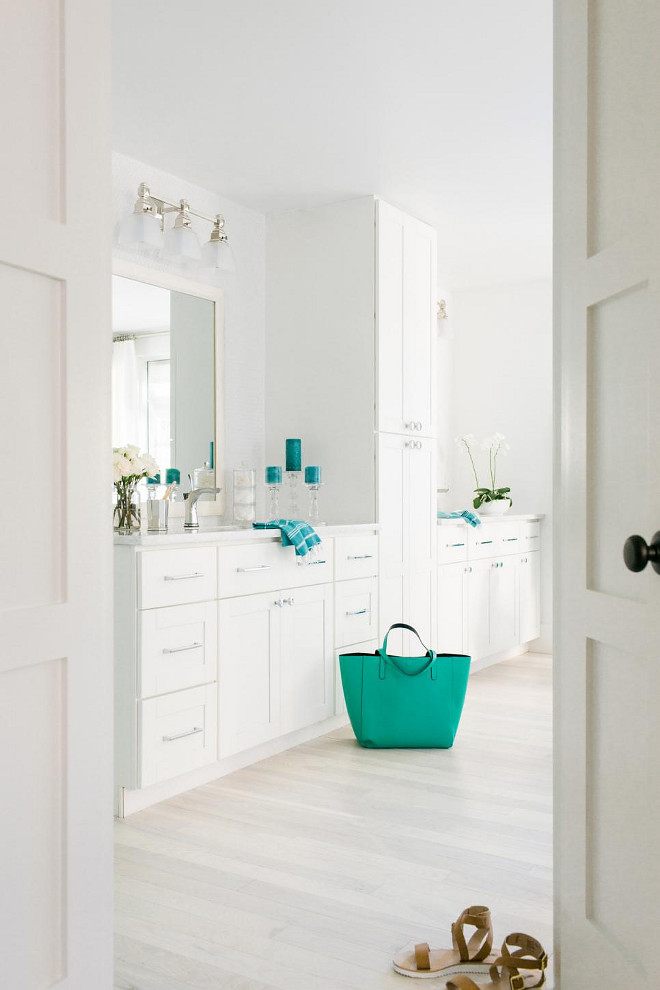 "Glidden Swan White".
2016 HGTV Dream Home Master Bathroom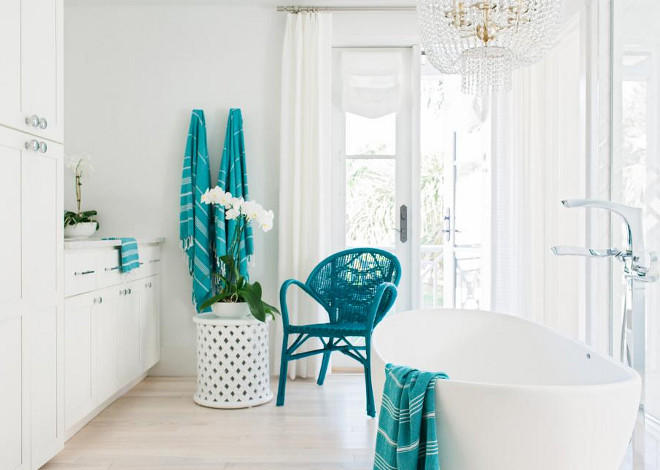 2016 HGTV Dream Home Master Bathroom: The master bathroom stays true to the home's breezy chic aesthetic with a cool, spa-like palette punctuated by fashionable accents. Faux white orchids and dazzling glass candlesticks add warmth and interest to the room's sleek, white-on-white palette, while ocean blue Turkish cotton towels deliver a punch of color with a unique style twist.
Chandelier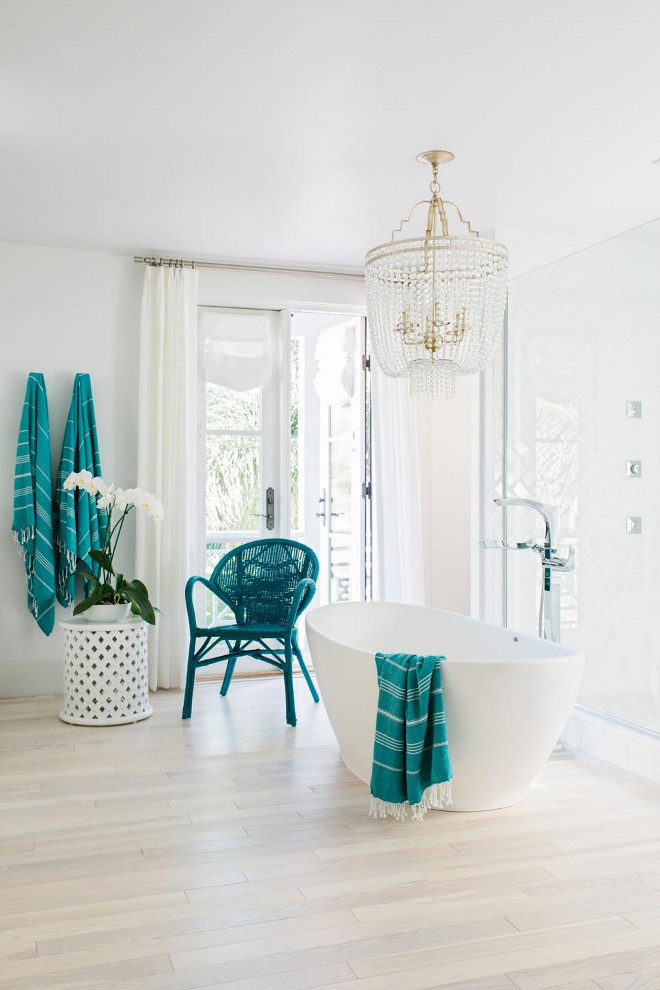 Ethan Allen's Large Alexa Chandelier – $1,119.00
Bathtub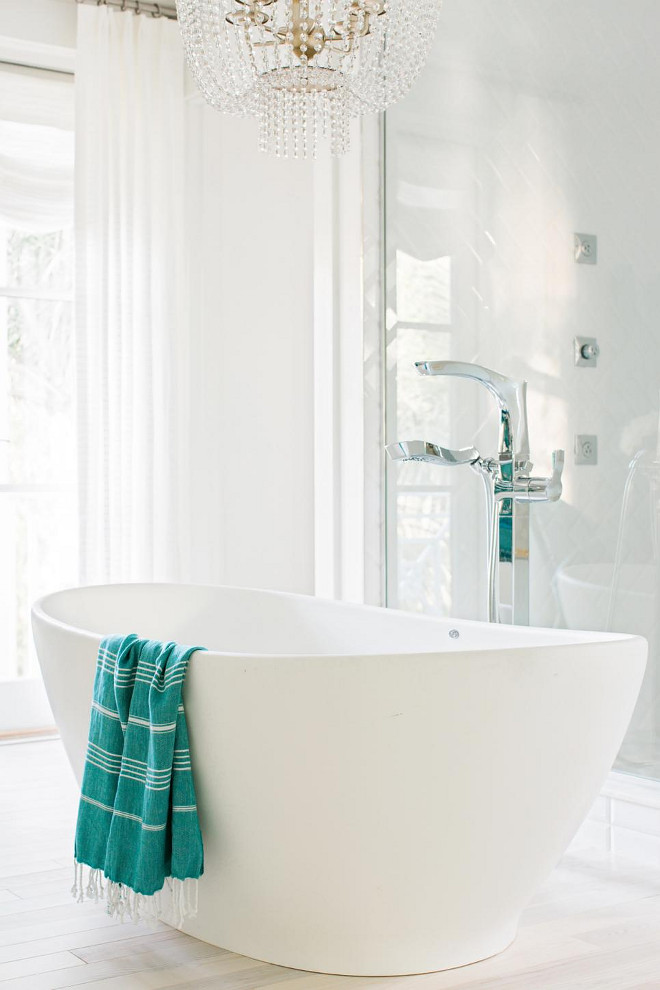 The deep, modern, freestanding Roman soaking tub in the center of the room is the main focal point.
The walk-in shower behind the tub measures nearly 10-feet long.
Tub faucet is Delta Tesla Floor Mount Tub Filler with Hand Shower.
Shower Tiles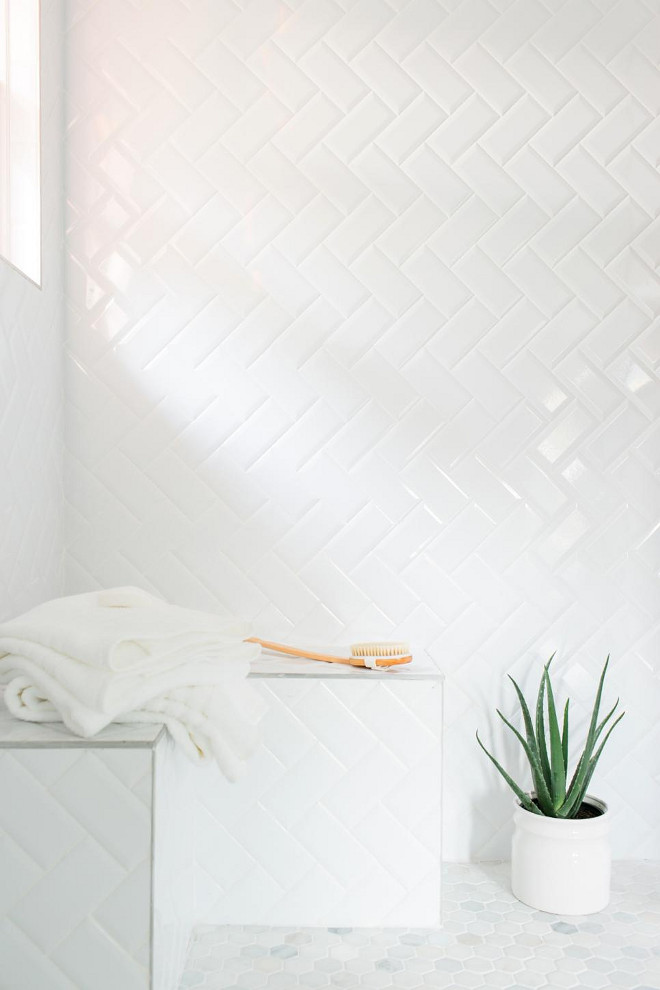 An inexpensive alternative to more pricey tiles, simple subway tiles were installed in a herringbone pattern in the shower. White grout between the tiles lends a more cohesive look.
View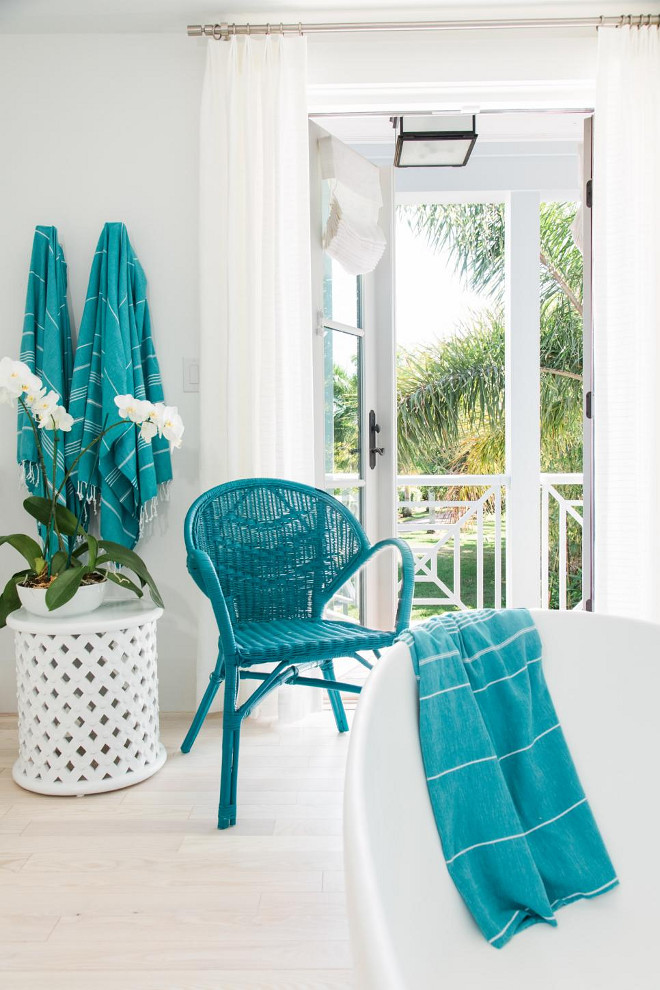 Simple, wispy, white window treatments hang on the French doors leading out to the small balcony off the master suite bathroom.
Guest Bedroom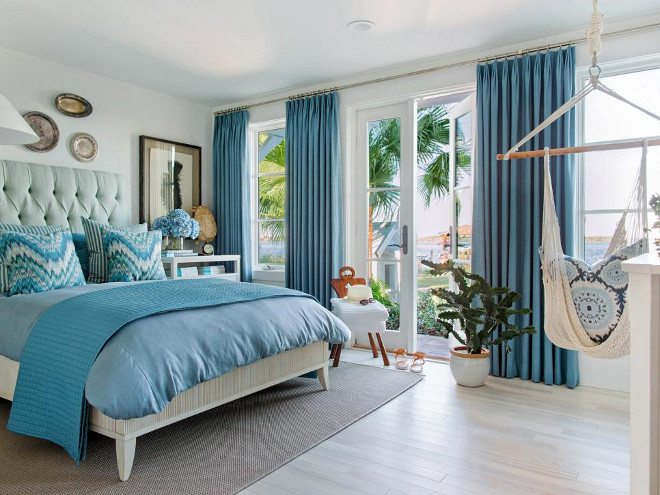 2016 HGTV Dream Home Guest Bedroom: This is my favorite bedroom in the house! Paint color is "Glidden Swan White". This white paint color seems to work everywhere!
Bed is Ethan Allen's Griffin Bed, Cayman Sky/Parchment – $2,149.00.
Rug is Ethan Allen's Nikko II Serged Rug, Silver – $692.00
Blues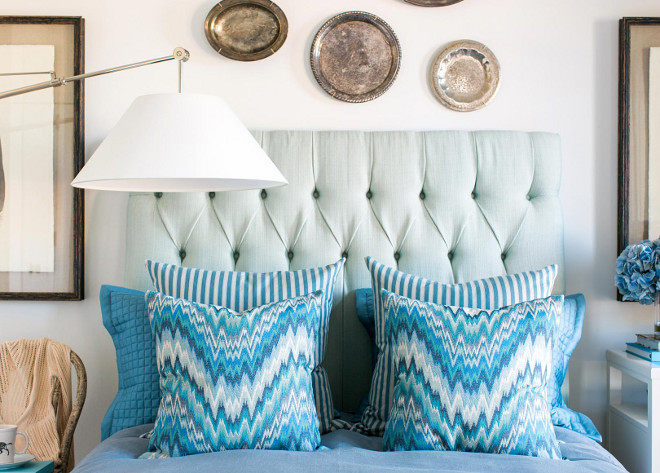 The soft white walls, ceiling and trim is the perfect back drop for the sea foam green, linen tufted headboard. Pops of bold color stand out in the classic flame stitch and ticking stripe pillows.
Lamp is Ethan Allen's Long Reach Floor Lamp – $959.00
Accessories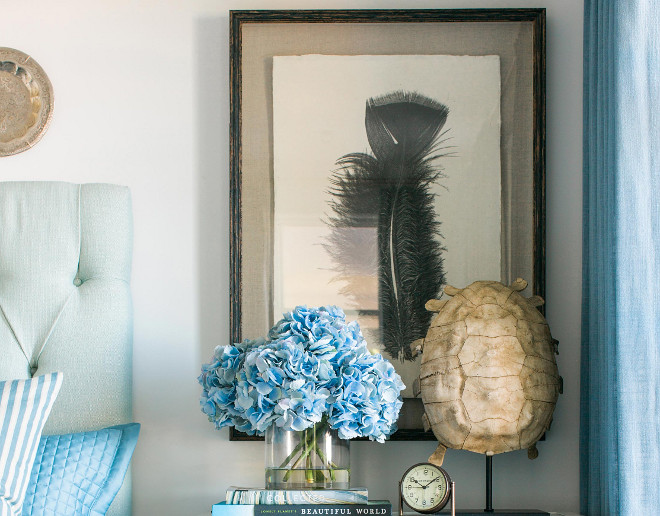 Turtle Shell: Ethan Allen African Turtle Shell Replica – $249.00
Faux Hydrangea: Ethan Allen Blue Hydrangea Water Garden – $319.00
Artwork: Ethan Allen Feather Study IV – $619.00
Reflecting Light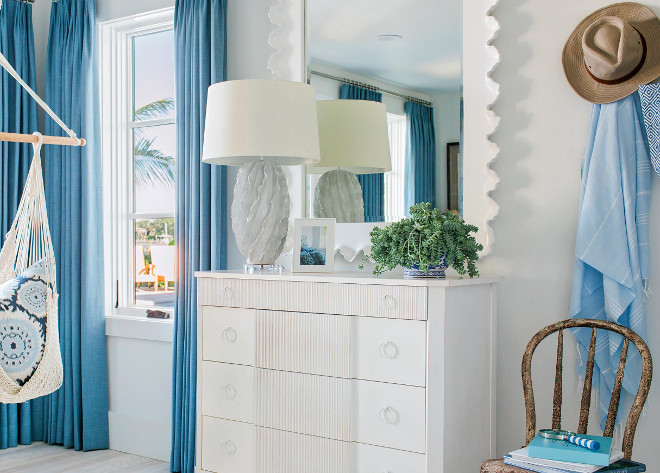 I'm loving this coastal look!
The chest is Ethan Allen's Adelaide Chest – Cotton (610) – $1,699.00
Lamp is Ethan Allen's Lucca Table Lamp – $415.00
Mirror is Ethan Allen's Scalloped Mirror – $485.00
Special Paradise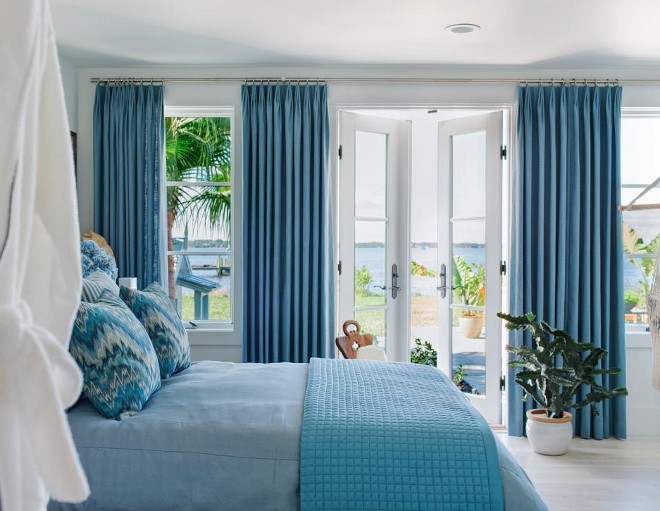 Located in the back of the house, this bedroom suite has French doors that open out on to a terrace. The blue-gray linen draperies frame the view of the yard and nearby river.
Bathroom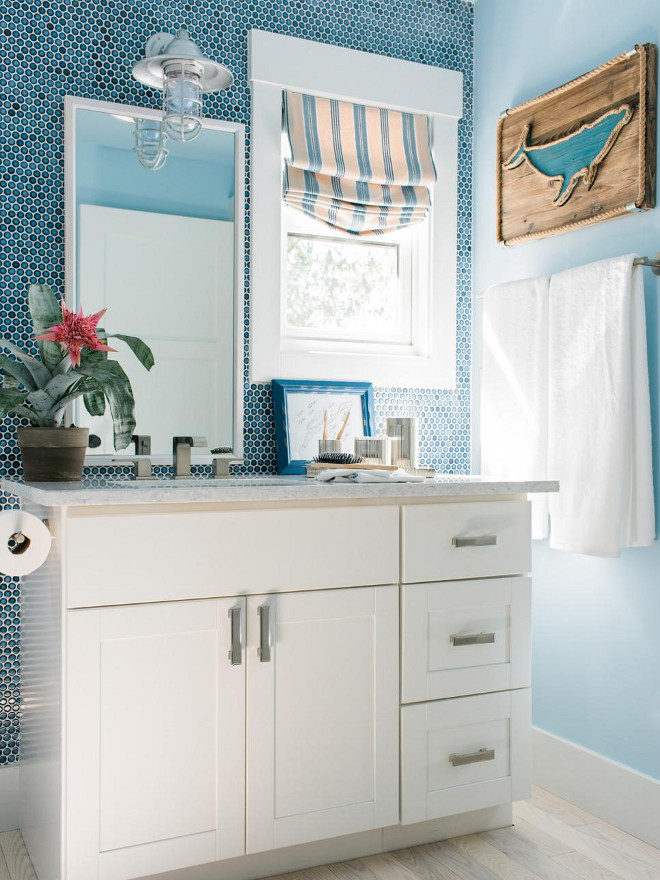 In the guest bathroom, a white vanity offers plenty of storage for bathing and grooming products. The counter top surface offers ample room for more products and accessories.
A maritime style sconce with cage above the bathroom's vanity mirror reinforces the coastal theme and provides illumination for the space.
Sink faucet is by Delta.
Blue Bathroom Paint Color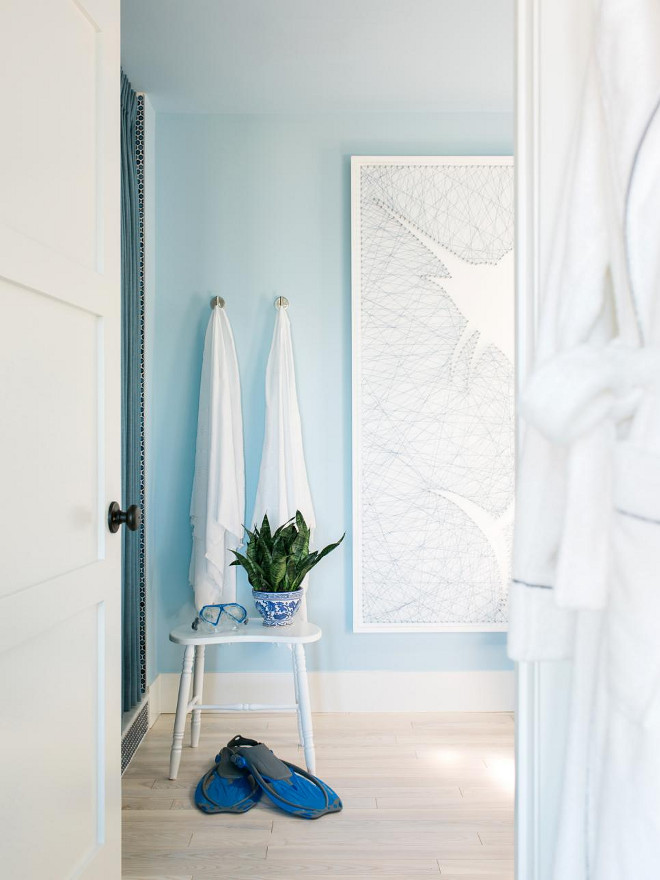 "Glidden Bastille Blue".
Blue Shower Tiling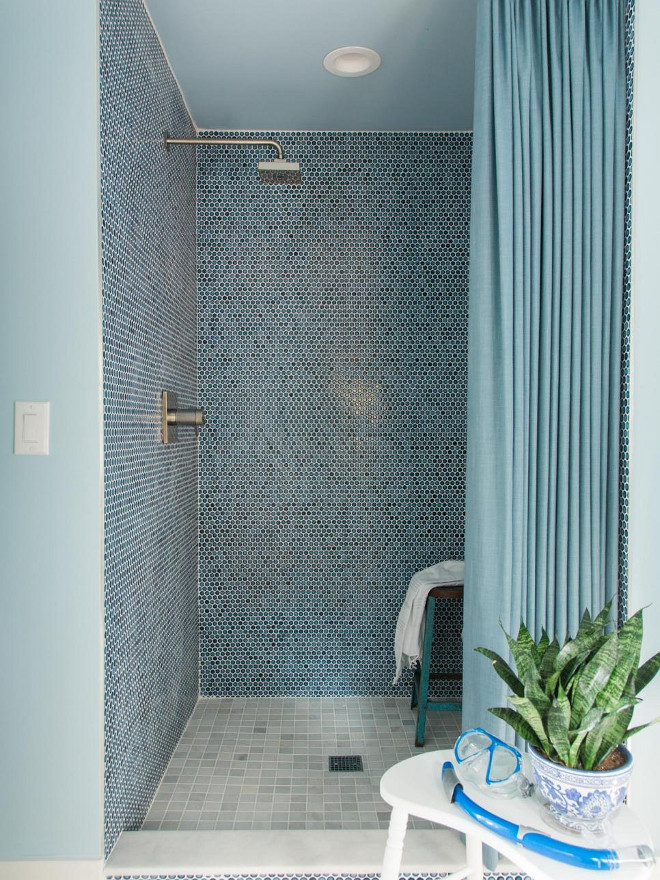 Cobalt blue penny round tiles with contrasting white grout lines the interior of the shower. It lends a beachy feel to the room and pairs well with the French blue painted walls of the space.
Shower faucet is by Delta.
Coastal Bathroom Design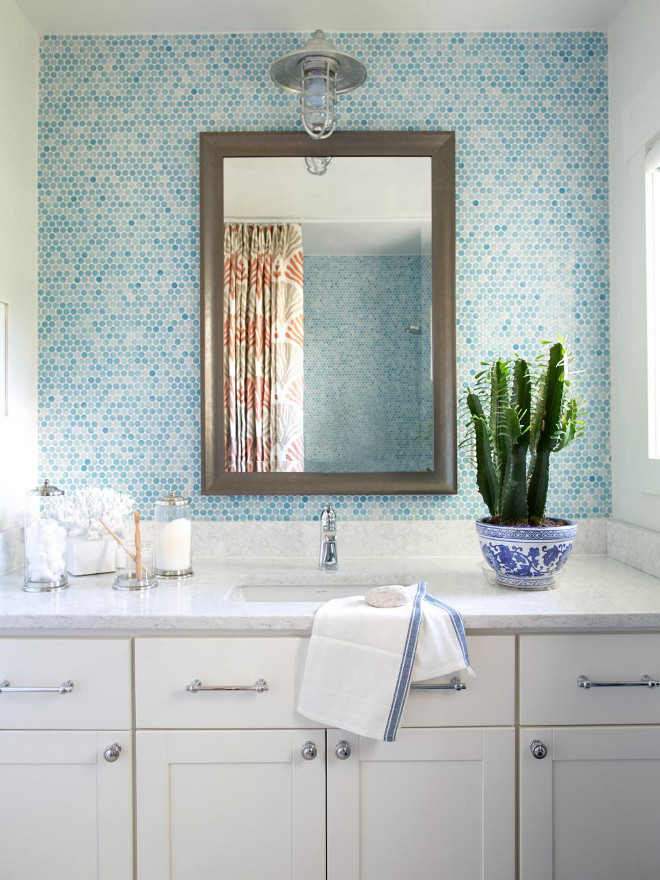 In this coastal-inspired bathroom, a handsome framed mirror creates a focal point behind the vanity, and contrast for the surrounding blue tiles and white ceiling and walls.
Sink faucet is Delta Ashlyn Single Handle Lavatory Faucet – Metal Pop-Up.
HGTV Dream Home 2016 "Before" Outdoor Pictures
The backyard of the old house looked tired and uninviting. Also, the pool was too close to the house, making it unsafe.
HGTV Dream Home 2016 Backyard Pictures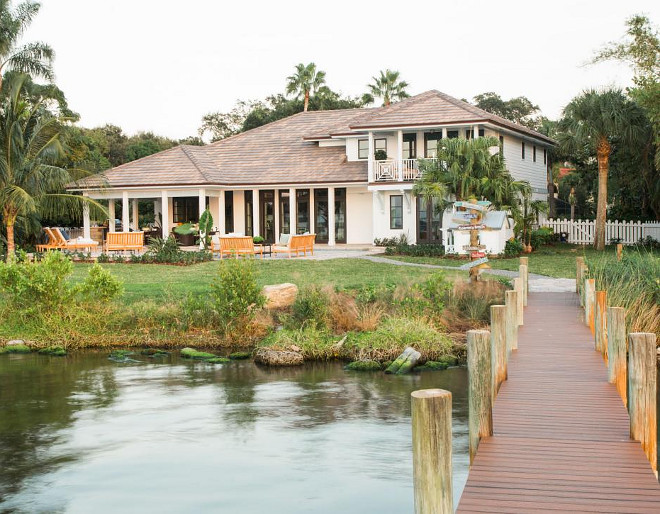 2016 HGTV Dream Home Backyard: There are several areas of visual interest in the new 2016 HGTV Dream Home: the pool, two discrete sitting areas framed by palms, then the lawn, the sea, and the horizon line. Isn't this stunning?
Perfectly Designed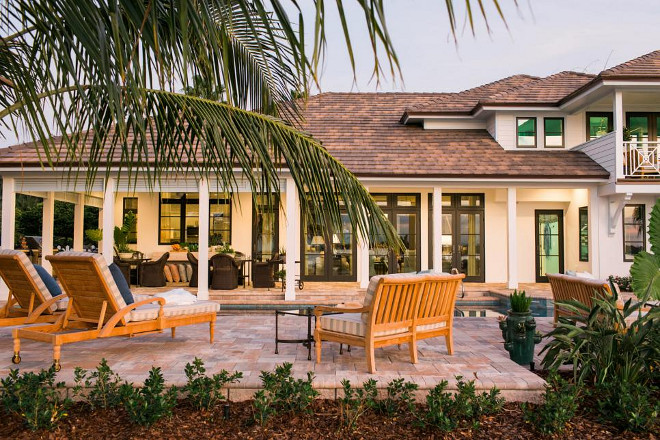 This backyard was perfectly designed and it's great for entertaining.
Doors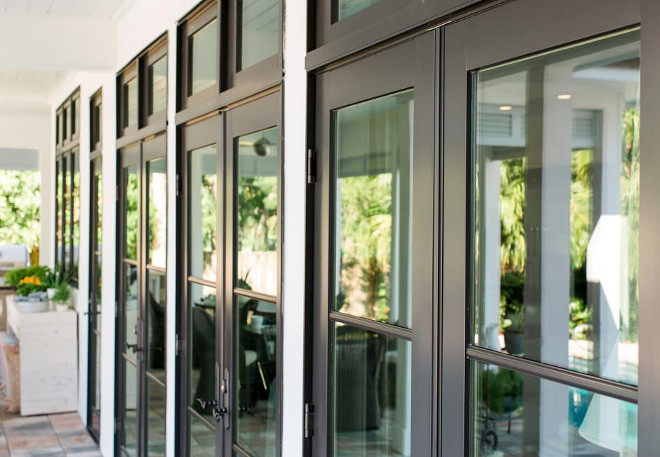 Doors are JELD-WEN Custom clad-wood patio doors.
Lanai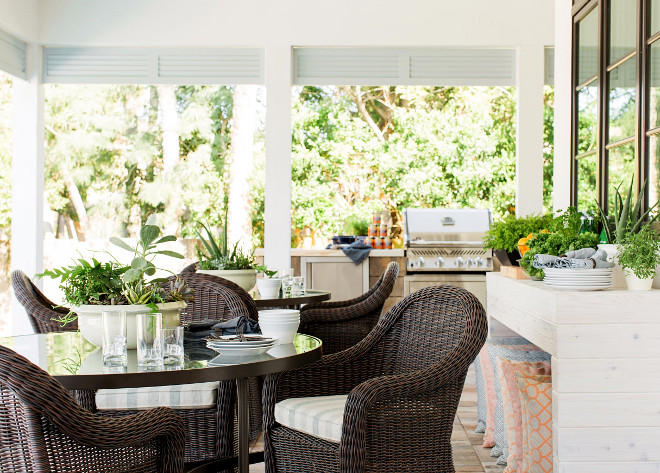 The lanai features outdoor furniture by Ethan Allen and a spacious outdoor kitchen.
Stone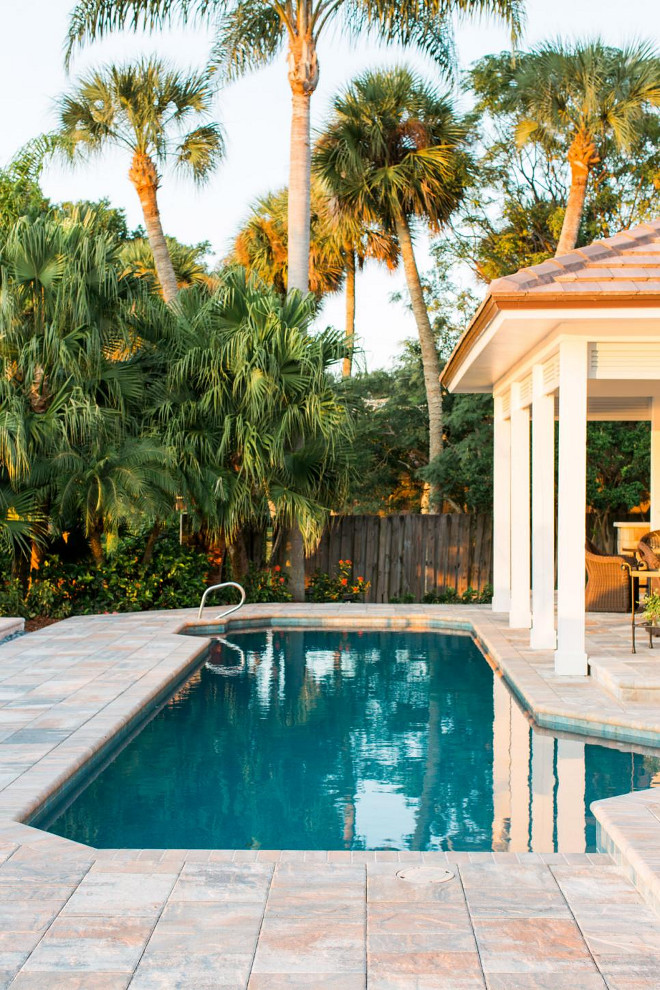 Selected for their pinkish gray hues, the engineered stone pavers give an Old World look to the patio and lanai in the back of the house and resemble natural stone.
The stone is Belgard Lafitt Rustic Slab.
Raised Patio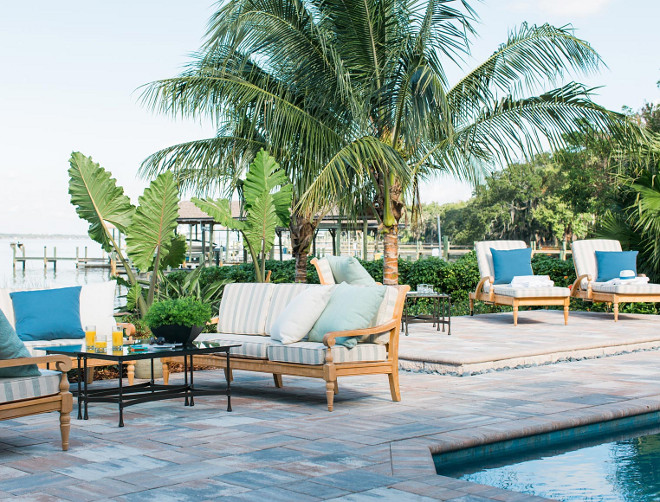 The raised pool patio and the outdoor living area are separated by a bank of Floridian palm trees to create distinctly different rooms on the lanai.
Teak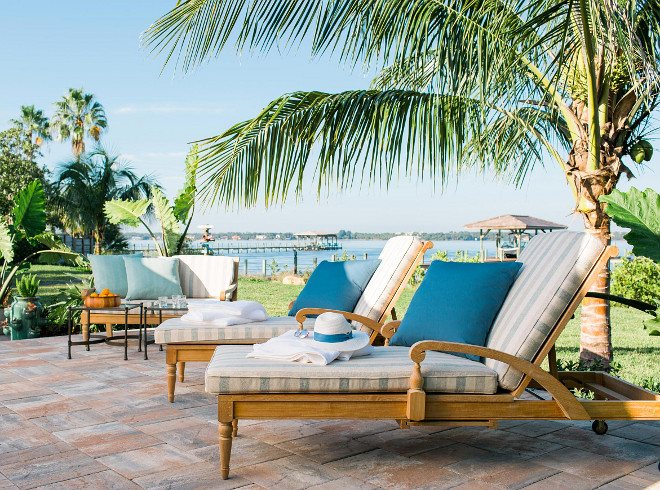 The teak wood lounge chairs are Ethan Allen's Millbrook Chaise, Belize/Mist – $2,189.00
Outdoor Shower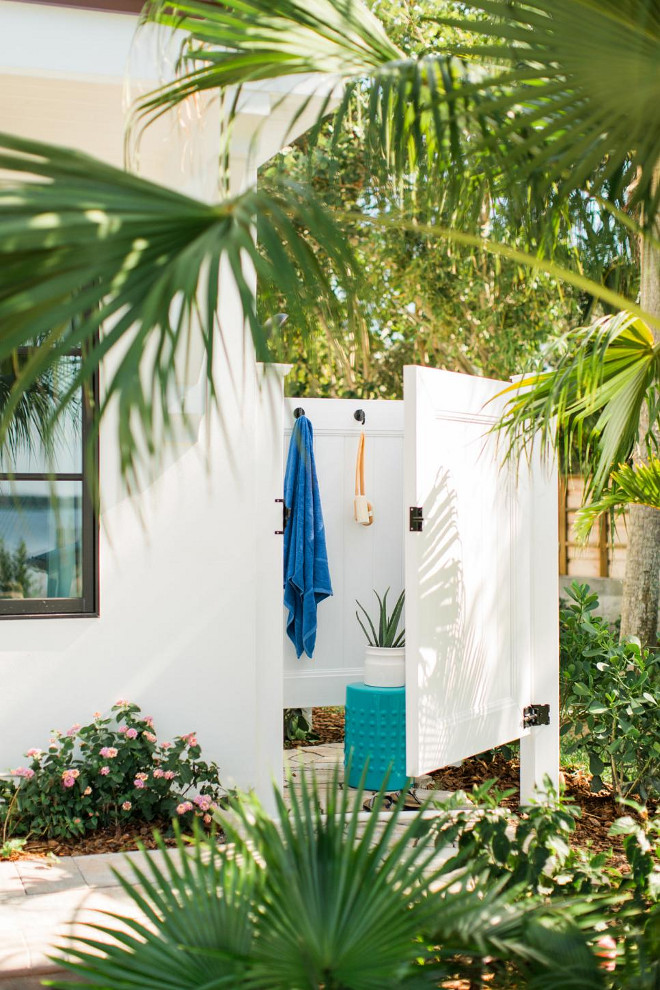 An outdoor shower tucked into the corner of the outdoor living space provides a place to wash off beach sand. I love the turquoise decor!
Storage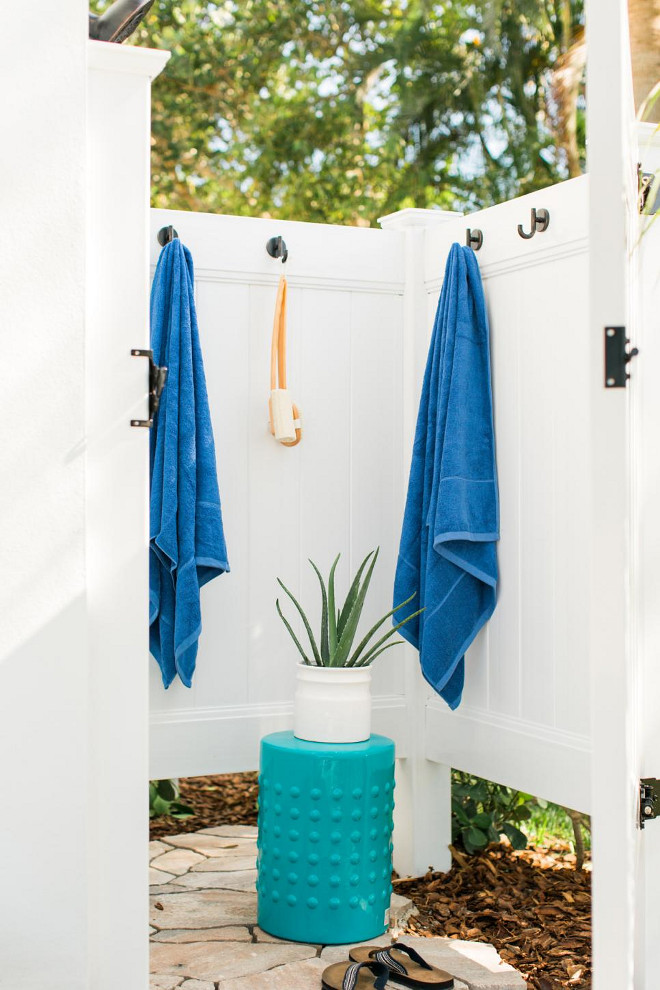 Towels and bathing essentials are offered inside the outdoor shower for friends and family to use.
Under the Sun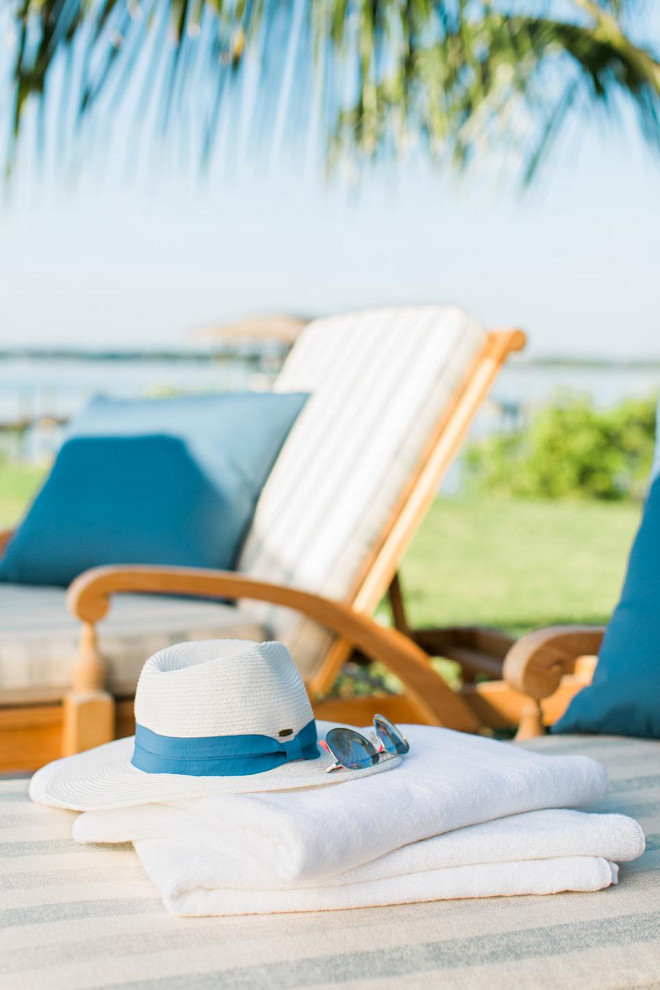 I would love to be right here, right now… 🙂
Lucky Dog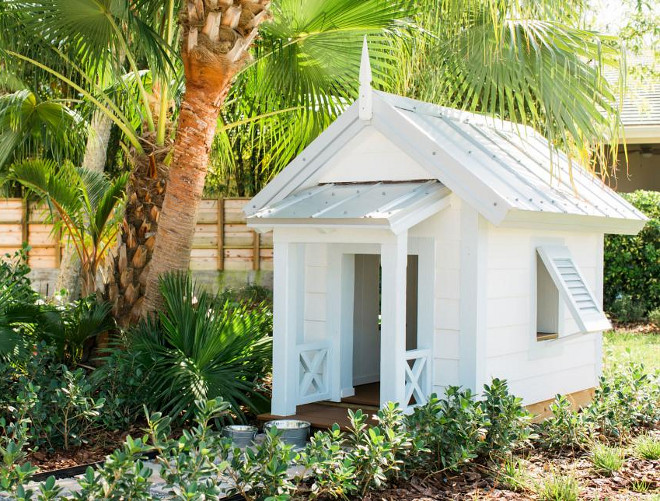 An large architectural dog house mimics the look, feel and color palette of the main house. Isn't it cute?
Landscaping
It's about 200 feet to rivers edge from the back of the house. A verdant green lawn, coconut palms and flowering shrubs create a serene scene as visitors look out to the dock and water.
Sunset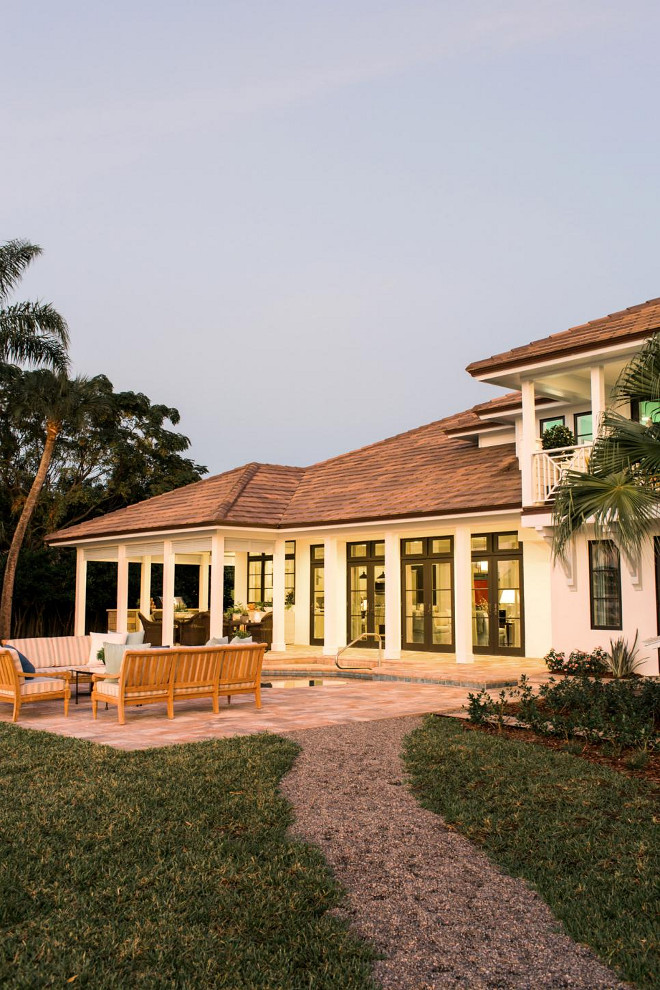 Isn't this home stunning?
Summer Breeze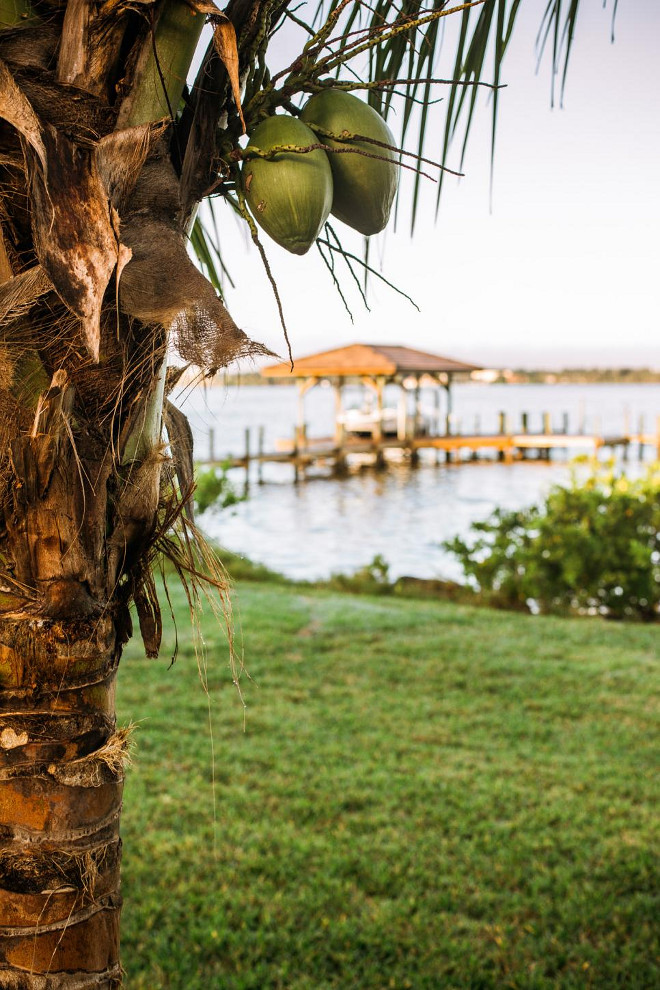 Inspiring…
Dock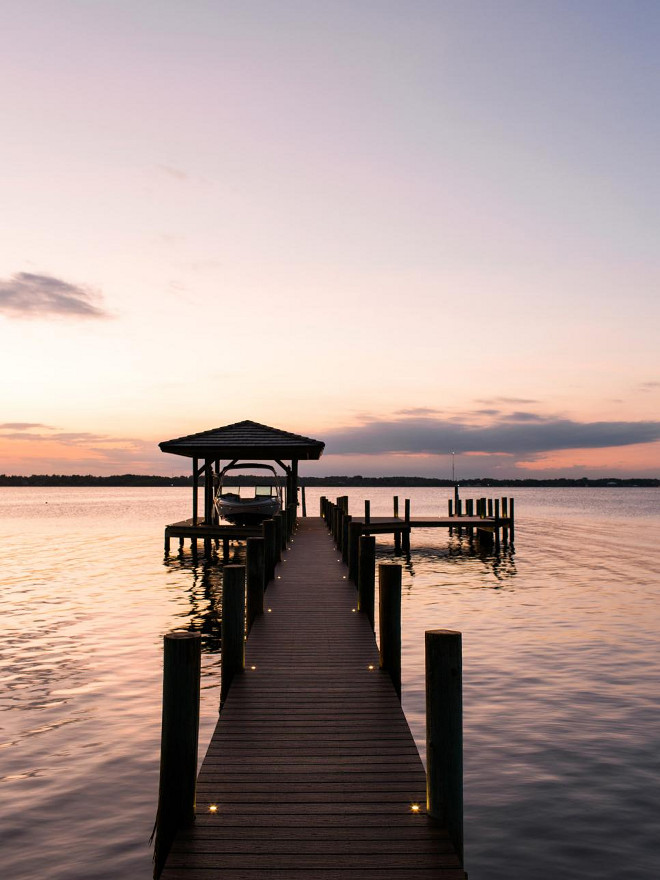 At about 150 feet long, the dock reaches out into the Indian River, a perfect place to catch the sunset.
Gifted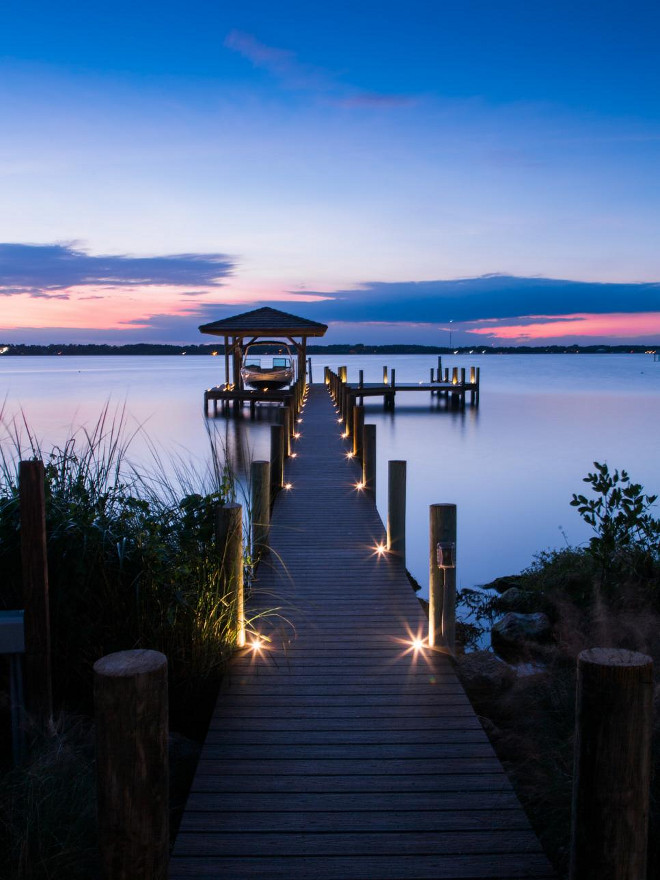 A power boat is included in the HGTV Dream Home 2016 prize package. How cool is that?!
Floor Plan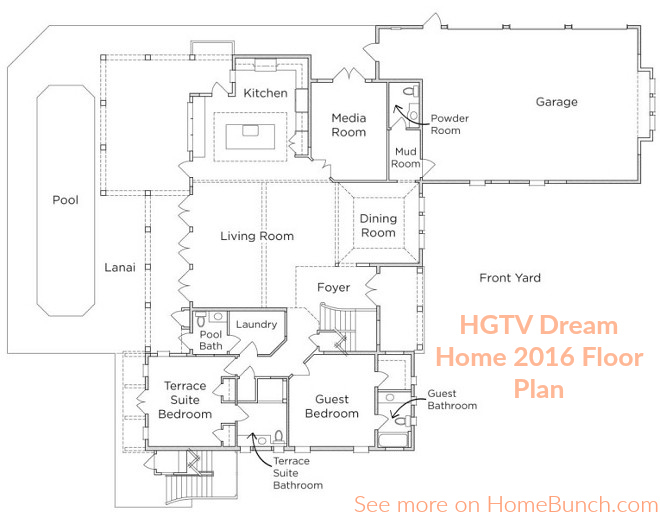 Isn't this home incredible? HGTV truly knows what they're doing, right? Now, do you remember their Martha's Vineyard 2015 HGTV Dream Home? You really need to see it if you haven't yet! Take a look and let me know which one you like the most. I have to say that my heart beats a tiny little faster for shingle style homes… I'm sure you already knew that, right? 😉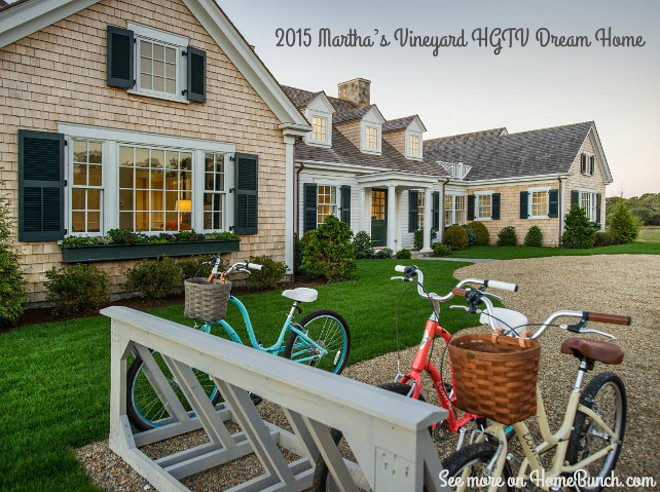 Martha's Vineyard 2015 HGTV Dream Home.
Many thanks to the designer for sharing the details above!
Sources: HGTV Dream Home 2016. Photo Credit: Rustic White Photography, LLC. "Before" photos from Hooked on Houses.

Best Sales of the Month:

Thank you for shopping through Home Bunch. For your shopping convenience, this post may contain AFFILIATE LINKS to retailers where you can purchase the products (or similar) featured. I make a small commission if you use these links to make your purchase, at no extra cost to you, so thank you for your support. I would be happy to assist you if you have any questions or are looking for something in particular. Feel free to contact me and always make sure to check dimensions before ordering. Happy shopping!
Wayfair: Up to 75% OFF on Furniture and Decor!!!
Serena & Lily: Enjoy 30 to 70% OFF on Sale Styles!
Joss & Main: End-of-Decade Dash Sale!
Pottery Barn: Buy More, Save More Sale + Free Shipping.
West Elm: End of Season Sale – Up to 75% Off.
Anthropologie: Extra 40% off Sale Items!
Nordstrom: Save Up to 50% Off!
Posts of the Week: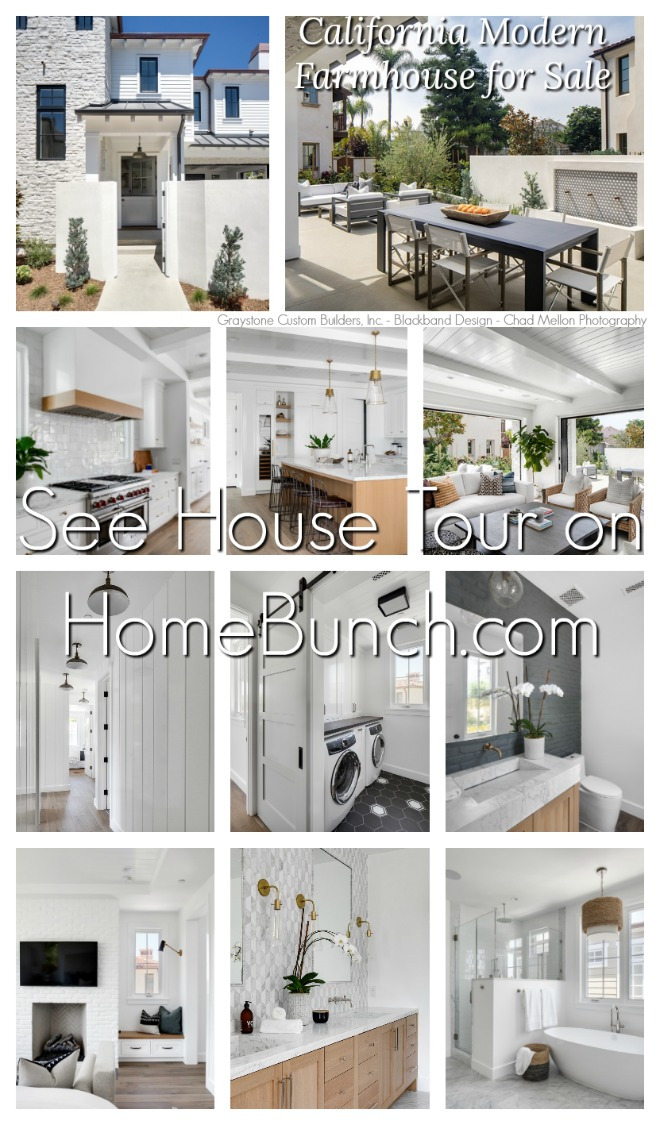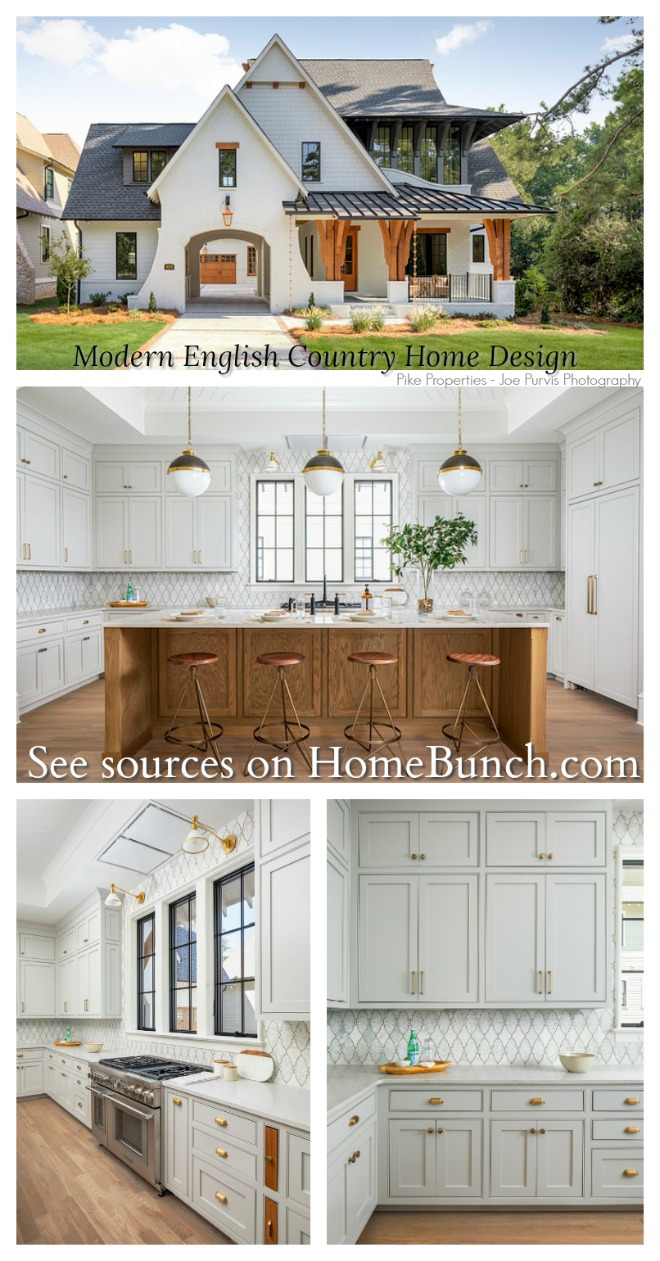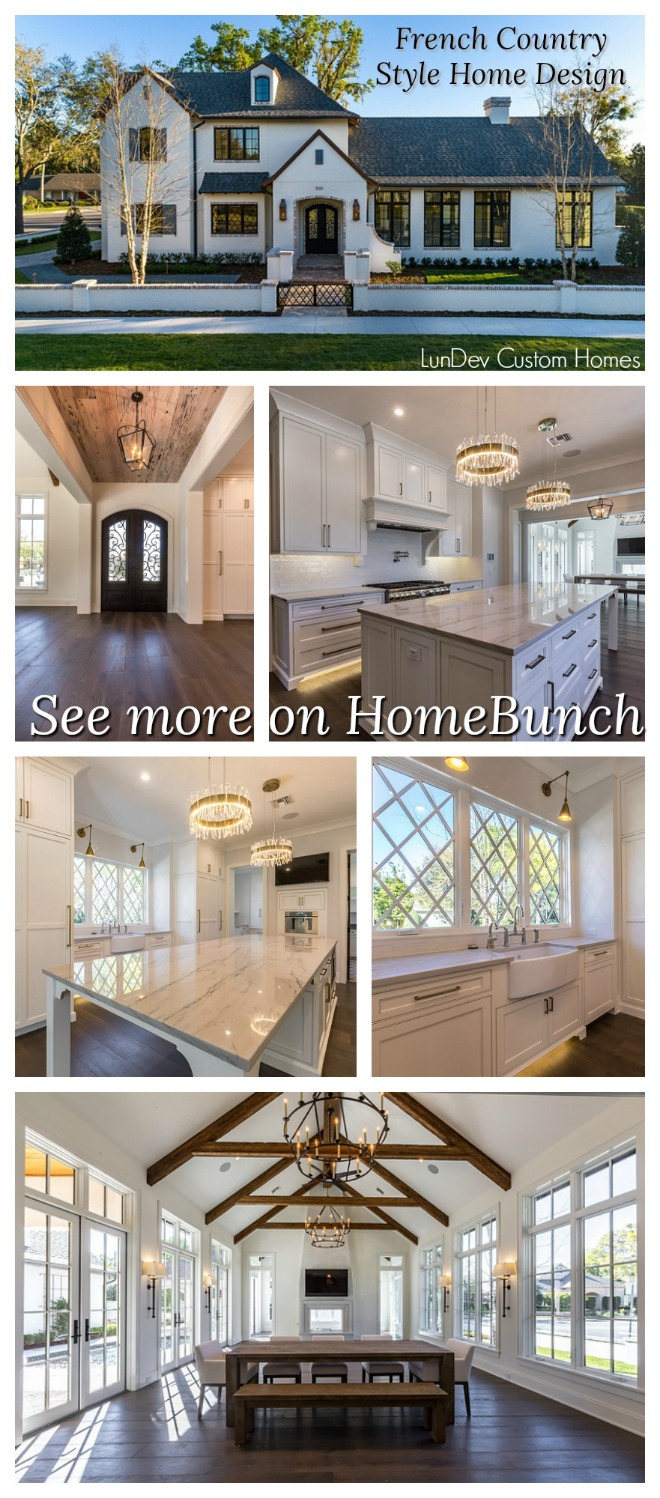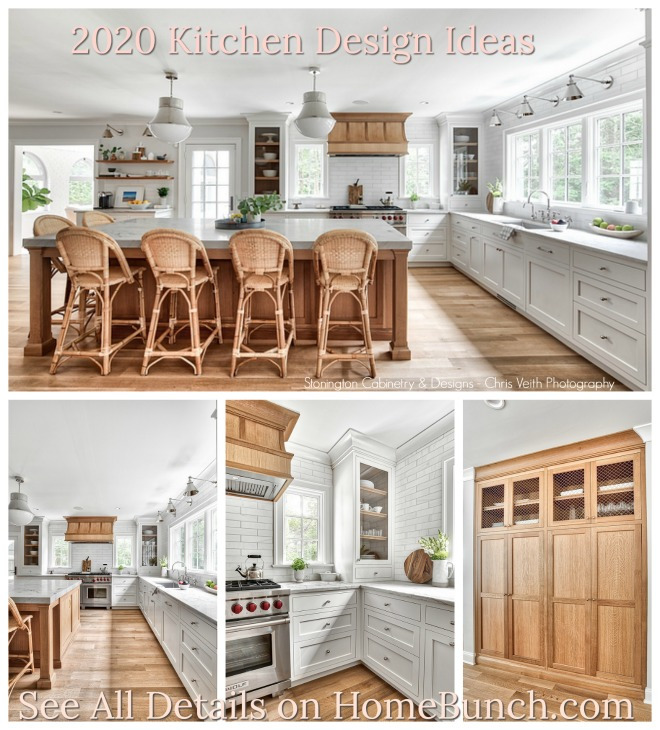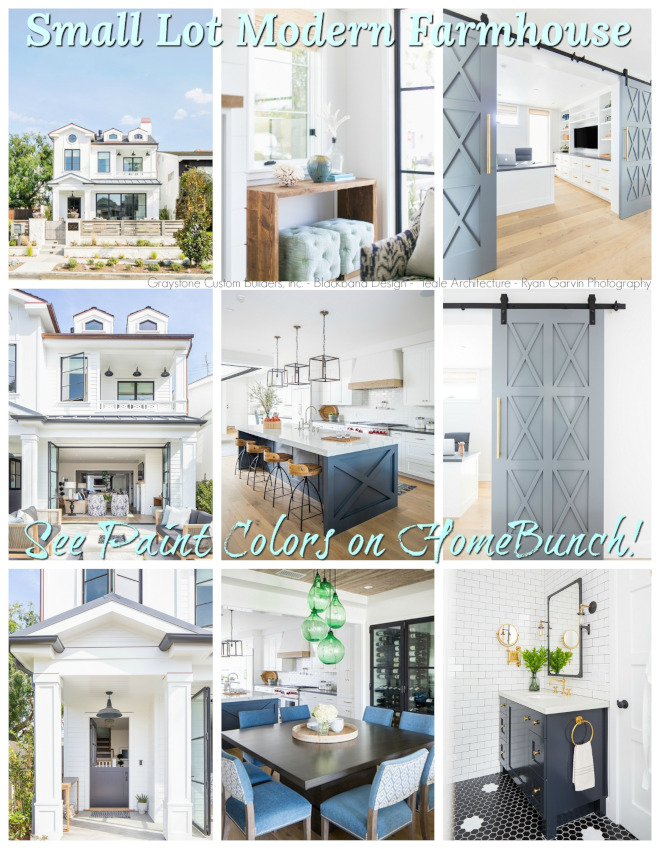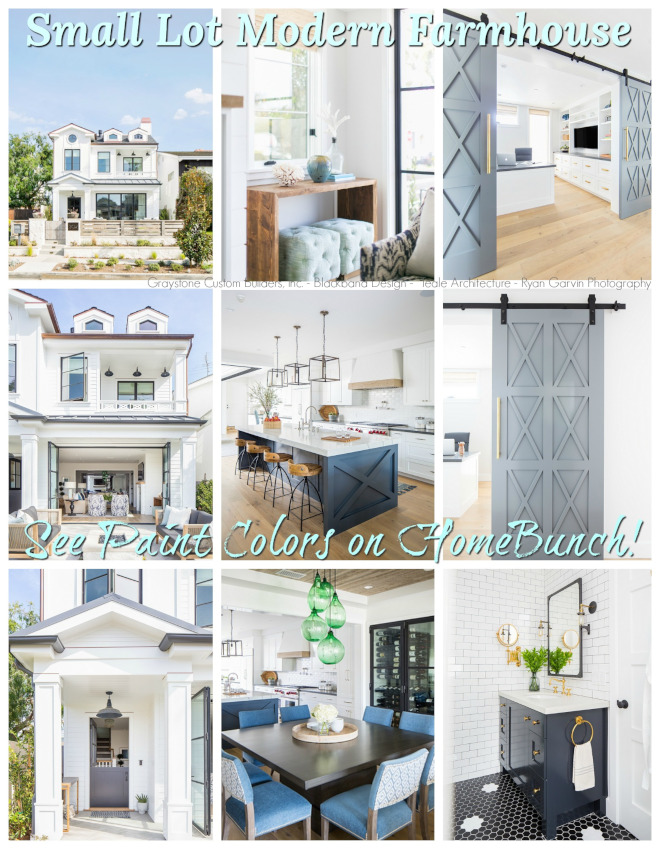 Follow me on Instagram: @HomeBunch

See more Inspiring Interior Design Ideas in my

Archives.
"Dear God,

If I am wrong, right me. If I am lost, guide me. If I start to give-up, keep me going.
Lead me in Light and Love".
Have a wonderful day, my friends and we'll talk again tomorrow."
with Love,
Luciane from HomeBunch.com